SPA REVIEW
Thai-style wraps and rubs
Now Thailand spas are rolling out the red carpet – with mud, seaweed, wraps, and yoga. The best hideaways and wellness resorts from Chiang Mai down to Phuket.
updated by staff reporters
SEE ALSO Australia Spas | Bali Spas | India Spas | Malaysia Spas | Taipei Spas | Bangkok Hotels | Bangkok Shopping | Phuket | Koh Samui | Chiang Mai | Resort weddings | Hua Hin Guide | Pattaya guide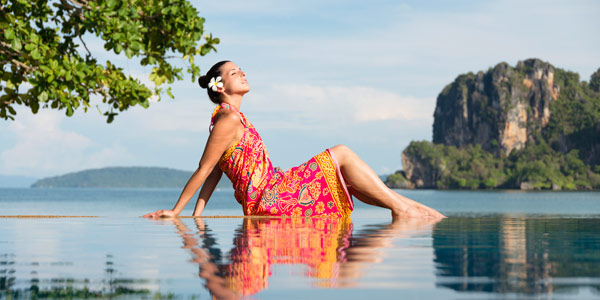 JUMP TO Bangkok | Chiang Mai & Chiang Rai | Hua Hin | Khao Lak | Koh Samui | Krabi & Trang | Pattaya, Koh Chang & Trat | Phuket | Hotel Contacts
WHETHER IT'S a quick pummelling, or a languorous kneading you crave, don't head to the bakery, hot foot it to Thailand.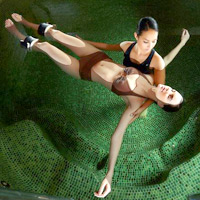 Watsu stretch at Chiva-Som Hua Hin/ photo: hotel
Wellness escapes of all shapes and sizes beckon in our Thai spas guide. You'll find everything from romantic, family-friendly, and eco-conscious to the damnably luxurious. There's Javanese lulur, Swedish, Balinese, Dead Sea mud, and much, much more. Couples are welcome, too. When it comes to top Asian spas for serious coddling, these escapes – many housed at chic beachfront resorts in Hua Hin, Phuket and Krabi – offer endless treatments for every taste, and then some.
Of course you can always get your hair braided and back massaged on the beach as you battle a swarm of trinket vendors but why not move up some gears and take the pampering to a new level at an upscale resort, or day spa if you don't have the time for a languorous afternoon? And there's wellness options for kids too as hotels roll out the small red carpets to catch tiny tykes and save them from a midday scalding.

E-mail Page

Print

Hotel Contacts
Thailand Spa resorts, a guide to Hua Hin
Royal endorsement and proximity to brash Bangkok doesn't concern the sleepy coastal town of Hua Hin. Content with a night market and notable for its lack of girlie bars, this small town is a world away from Bangkok – or a two-hour drive. Stepping into a spa may just take you from relaxed to supremely unconscious. So why wait? Let's walk you through some top options. The 240-room Sheraton Hua Hin Resort & Spa graces the quiet beachfront of Hua Hin, its nine low-rise buildings encircling a 200-metre lagoon-style swimming pool with views out to the ocean.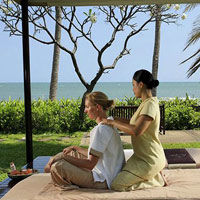 SPA Cenvaree treatment at Centara Grand Beach Hua Hin/ photo: hotel
Slumber peacefully in the signature "Sheraton Sweet Sleeper Bed", in front of a flatscreen 40-inch LCD TV, before heading to the Shine Spa for Sheraton (9am to 9pm) for treatments good enough to eat. All manner of wraps and scrubs and of course the Shine Massage. Delicious.
High ceilings and dark wood on white marble, lend a colonial feel to the Centara Grand Beach Resort & Villas Hua Hin (formerly Sofitel). Launched in 1923 as the Railway Hotel, today, this heritage Centara is arguably one of the top Thailand spa resorts. It is certainly head and shoulders above the competition on this coast, the red-tile roof meandering elegantly through 16 hectares of manicured grounds.
Plenty of stretch space. SPA Cenvaree (9am -11pm, www.spacenvaree.com) blends Western and Thai therapies in nine treatment suites amidst eye-popping garden topiary of squirrels and elephants. Enjoy an outdoor massage or one of the sumptuously designed packages – try herbal compress, Swedish massage, aromatherapy, or a 'deep muscular massage' for tired backs. Packages range from Bt2,000-Bt2,400 depending on whether you're blissfully passing out for 60 or 90 minutes. Cenvaree spas (formerly Centara spas) also feature at the other rebranded Centaras.
Send us your Feedback / Letter to the Editor
Neighbouring highrise Hilton Hua Hin Resort & Spa boasts The Eforea Spa, featuring several spacious woody and classical treatment rooms and top therapies and products from around the world. Hilton's offering to the Thailand spas scene is a complete package with beauty treatments and wellness menus drawing upon the varied qualities of tea extracts.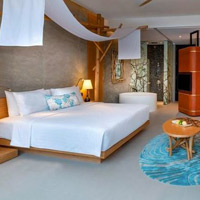 So Sofitel Hua Hin, cheerful, mod and modular/ photo: hotel
Those in the know regard the stylish Chiva-Som resort as the mother of all Thai spas. It is more like a spa with a hotel attached, and offers 100 therapies in 52 treatment rooms. Take your pick – there's anything from Thai and Swedish massage to flotation and honey polish. Chiva-Som's spa facilities include a hydrotherapy suite, flotation tanks and relaxation rooms with heated waterbeds. The menu is vast, ranging from beauty and detox treatments to stress management and weight loss. Don't miss out on the exceptional spa cuisine.
Sample 'A Taste of Chiva-Som' a beauty and relaxation package with three wellness meals per day, one restorative treatment per night, unlimited use of water therapy suites, and personal consultation. Be warned though that its no-technology policy - which means no photos or phones in public spaces (including the very romantic pool area with its sea-fronting Thai sala) - will be seriously irksome for many trying to capture a romantic memory on their iPhone or camera. A much needed new look is being introduced to the rooms and the resort May-Oct 2018 and again May-October 2019 during which periods the resort will be closed for renovation. Stays commence 1 November each year.
A fun choice with great vibes and a luxe feel is the intimate, mod, cubist So Sofitel Hua Hin. The SoSPA with its starry disco lights and cocoon is an experience. Look forward to marine 'biotech PHYTOMER wellness and beauty treatments'. A 'So Exhilarating Body Massage' for 90 minutes costs about Bt3,500. Try rice scrubs, Balinese massage, and Thai herbal hot compress. There's bunk beds at the resort for kids so bring the family along.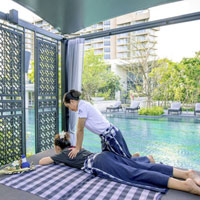 Breezy massage at Ba Ba Beach Club Hua Hin/ photo: hotel
The small but popular and friendly Ba Ba Beach Club Hua Hin serves up an intimate 'cottage' feel getaway with smart contemporary rooms in pastel tones with patios or verandahs with plunge pools. Pick a Beachfront Pool Suite and have a breezy massage poolside or wander indoors to the Baba Cool Spa for a 90-minute 'Sweet Surrender' package at Bt2,800 with a salt radiance scrub and deep massage or a Swedish rub.
The newish InterContinental Hua Hin Resort is set along the beachfront at Petchakasen Road. The 119-room resort includes ten rooms with direct pool access and three beachfront villas with private plunge pools. At the Spa InterContinental check out the signature 90-minute 'Touch of Siam' massage with yoga stretches and workouts on pressure points. Also explore the Indian head massage, aromatherapy, Jasmine rice body scrub and marine clay smoothing body wrap.
The sprawling beachfront Hyatt Regency Hua Hin offers a "lifestyle" spa experience. THE BARAI (www.thebarai.com/) residential spa, a Khmer-inspired destination retreat, sits within four-and-a-half acres of grounds, sumptuous in deep plum furnishings. The Barai features eight spa suites for overnight stays, 18 treatment rooms, a tranquility court, yoga, and the McFarland House – a beachfront dining area.
The Anantara Hua Hin Resort, organiser of the yearly King's Cup Elephant Polo tournament, houses the eponymous Anantara Spa (www.anantara.com/en/hua-hin/spa): Anantara means the flow of water without borders. Enjoy exactly that with alfresco rain showers, and plunge pools that feature in each of the seven garden courtyard spa suites.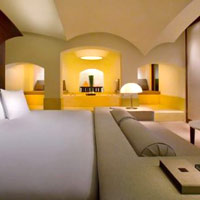 BARAI residence at Hyatt Regeny Hua Hin / photo: hotel
Think steam rooms, couple treatments and alfresco tubs, all in a designer-chic Bill Bensley setting. Among the exotic treatments available is the 165-minute Anantara Hua Hin Signature Journey with turmeric skin polish, massage, and a warm sand compress. And why stop there? Multi-day body beautiful journeys are available for the connoisseur.
The Quan Spa at the 220-room Hua Hin Marriott Resort & Spa, which occupies 14 acres of landscaped garden a kilometre from the town centre, offers a simple range of treatments from Quan Spa and massage lessons for some at-home DIY, or at least DIYP: do-it-to-your-partner. This longtime family favourite was completely rebuilt and relaunched in its original location thus confusing many who thought this is a separate resort. Look at scrubs, massages, body wraps, manicures, waxing, and children's services. If there's time, opt for the signatire 120-minute Holistic Sea Package with marine immersion. Sound exotic enough?
For more beach-front pampering try the spa at the trendy Veranda Resort and Spa Hua Hin - Cha Am, where you can watch the sunrise, and start the day with massage, body exfoliation or a facial treatment. The Veranda has 13 pool villa suites and 84 guestrooms.
The Ayatana Spa at The Regent Chaam Beach Resort has a contemporary façade concealing traditional Thai treatments in private rooms and outdoor treatment lounges at on the beach front (with outdoor Jacuzzis). You'll find the usual relaxing mix of massages, scrubs, wraps and facials with a focus on Thai and Asian treatments.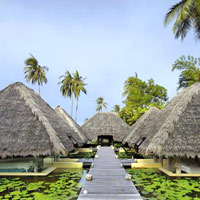 Stylishly rustic Evason Hua Hin/ photo: hotel
A 30km drive further south brings you to Pranburi – a rapidly developing region for upscale resorts and Thai spa escapes – and the tucked-away 20-acre Evason Hua Hin. The holistic Six Senses Spa Hua Hin, offers its own treatment menu, which takes care of body, beauty, well-being, male needs and even the kids – if they've behaved themselves.
A wellness consultant can fix you up a lifestyle programme or simply attend a yoga or tai chi session. Highlights include the unnerving sounding Yogic Intestinal Cleanse, along with ayurveda (including Shirodhara), yoga and more.
The Sheraton Hua Hin Pranburi Villas (formely the Six Senses Hideaway Hua Hin, www.sheratonhuahinpranburi.com/) rebranded in 2014 with very spacious Pool Villas and Pool Villa Suites averaging 300sq m give or take a bit. Enjoy private treatments in your very own Spa Villa.
Another alternative for a Hua Hin spa hotel is the old-world colonial style Worabura Resort and Spa with 77 rooms. Focused on romance and intimacy the Wora Spa has a Wora Honeymoon package and even a Lover salt scrub. It's not all rose petals and crooning couples, you can also get down to aerobics, or get out for elephant trekking.
Phuket wellness guide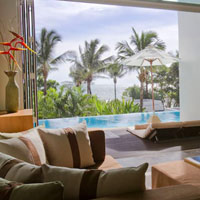 Breezy and relaxing Aleenta Phuket photo: hotel
NORTH of Phuket in the direction of Khao Lak, about a 20-minute drive from the airport, is the enticing Aleenta Phuket on a stretch of Natai Beach. Accommodation marries conical-thatch-roof villas with modern cubist design. Pick from an array of Pool Villas, Pool Suites or Pool Residences. The Ayurah Spa and Wellness centre is a boutique set-up with a range of exotic treatments from a 'Vichy Rain Mist Shower' and 'Hydrotherapy Healing Bath' to the 'Ayurah Holistic Chomotherapy Bath' (120 minutes Bt8,200) and regular massages. Interestingly this resort has a special focus on fun treatments for children too with massage, body polish, hair braiding, pedicure and 'oxygen and music' therapy.
Before gettingt to The Naka Island, a Luxury Collection Resort & Spa Phuket, you'll need to figure out how to say it all - and you'll need to get some sea spray in your hair. The resort is sited on the small Naka Yai island off the northeast tip of Phuket just far enough from the madding crowd to be romantically endearing and close enough to be a 25-minute hop from the airport by car and speedboat.
Seclusion and privilege is generously ladled out at private villas with a pleasingly rustic but polished finish with private pools, and outdoor showers. Spa Naka (9am to 9pm) has the benefit of nature and wondrous seclusion in primitive but posh earth-tone surrounds. It does the customary scrubs, massages, steams and healing therapies.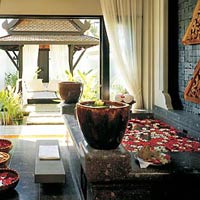 JW Marriott Phuket/ photo: hotel
On Mai Khao Beach in the far north, a fair distance from the airport and Phuket town, is the stylish and sprawling JW Marriott Phuket, set in landscaped gardens. The Mandara Spa (www.mandaraspa.com) has added new treatment suites and offers menus for one or two, including herbal wraps and facials, Thai herbal steam and a selection of fresh water baths (there's a 'romantic getaway' for couples, 'blissful delight' with a choice of three scrubs, and a four hands Mandara signature massage that incorporates five different styles). Who said Thailand spas were predictable?
Not far from here, the chic, laundered-white cubist SALA Phuket Resort and Spa serves up smart villas and suites with contemporary design, clean lines, blue private pools and gardens. It is an unobtrusive lowrise setting. The SALA Spa offers soothing virginal white treatment rooms offset with volcanic pebbles underfoot and rain showers to create a relaxing escape where guests may sample a range of massages.
Also dabble in 'stone therapy', herbal compresses, and more. Or simply opt for a breezy beach Sun Down massage with aloe vera.
Also in the area are the Anantara Mai Khao Phuket Villas with the Anantara Spa facing a tropical lagoon. Expect six treatment rooms, steam and salon for hair and nails beauty care. Try the exotic 'Chakra Crystal Balancing', 'Bambo Signature Massage', or a 120-minute 'East to West Bliss' using oriental massage techniques, a foot ritual and skin soother.
Just before Bang Tao Bay, perched atop a vertiginous hill is the chic The Pavilions Phuket with 21 one-bedroom pool pavilions and nine three-bedroom pool villas.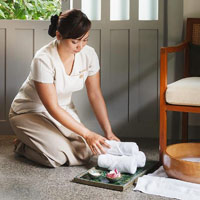 Surin Phuket treatments/ photo: hotel
The views are astounding, the setting romantic and the breeze enough to dry your hair in an instant, but it is a steep climb up to get here. You will need to buggy up a vertical road and then down again. This may be problematic for some. Spa out all day in the privacy of your own breezy hilltop villa. The Pavilions Spa is neat and stylish and simple. It features a lap pool, a sala for Yoga and treatment suites with the benefit of air-conditioning.
The thatched cottages of The Surin Phuket share the private and pristine PanSea Beach with the Amanpuri. The spa wraps you in a peaceful, natural environment with granite boulders and green foliage while you enjoy its range of massages and scrubs, which use tamarind, sesame seed and sea salt.
Perched atop a hillside, The Spa offers a breezy vantage point for surveying the azure bay. Try a 90-minute Surin Signature Massage at Bt3,500 with a floral milk foot bath and warm stones gliding along your back for a sensory escape.
Off neighbouring picturesque Surin beach are the clean, contemporary lines of Twinpalms Phuket. Its Sun Spa Esthederm serves up treatments like cellular facial and body treatments as well as sun spa programmes, wraps and scrubs. A 75-minute Cellular Lift "Qi Gong" is recommended. Also pick pre-sun exposure treatment or a soothing post-rays SOS wind down.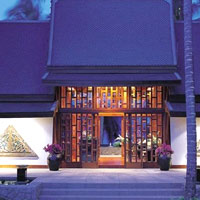 Chic Amanpuri has its Aman Spa, Phuket/ photo: hotel
Phuket has a number of sophisticated spa resorts. The Aman Spa at the elegant and discreet Amanpuri is one of the most sophisticated you will find in Thailand. Amanresorts claims some of the best locations and Amanpuri's traditional Thai architecture is set in a secluded natural coconut grove above a crescent shaped beach. Aman Spa is Amanresorts' first full-service spa and offers consultation and endless indulgence.
Treatments include 'wellness immersions' of three to 14 nights. Pick from fitness, weight management, detox, and awareness. All products are handmade and completely natural. Yoga and meditation salas (pavilions) are located amidst the coconut grove that slopes down to the Andaman Sea.
Close by and up a breezy hill is Ayara Hilltops Boutique Resort & Spa, a pleasant choice with charming villas (that require stiff climbs or a buggy ride) and an extensive spa. The spa hosts a long list of holistic treatments, with relaxing décor, and private treatment rooms. This is an attractive villa resort with a dedicated spa area. The spa is open rather less than generously 11.30am to 8pm.
The 200-plus-room Hyatt Regency Phuket Resort is just south of here off a hill spur beyond Kamala Beach and set up on a vertiginous hillside. Its Nahm Spa runs 9am to 10pm and does massage, facials and beauty treatments. Not far from here the whimsical fantasy hideaway Keemala with its Hobbit houses and birds' nest designs set along a hillside, serves up items like a Holistic Slimming Massage and the exotic sounding Raindrop Healing therapy at its Mala Spa. Also enjoy a sauna, heaps of steam, an aromatherapy bath, and an 'ozone-filtered' pool.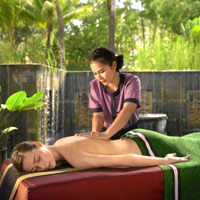 Spa Sanctuary at Banyan Tree Phuket/ photo: hotel
At the heart of the popular Laguna Phuket eco-development, on its own small island in the middle of a lagoon on Phuket's west coast, is the child-friendly Angsana Laguna Phuket (formerly Sheraton Grande Laguna Phuket). Sessions at the Angsana Spa include a foot wipe, herbal drink and relaxation time. With pampering sessions named Floral Chic, Vitality Starter, and Sweeten Up (with a 30-minute candlenut polish and facial), you should walk out feeling, um, revitalised. Sweeten Up starts at Bt3,500 or so so your wallet will feel a tad lighter too if not unduly so. Visitors are asked politely to keep noise to a minimum. In other words gag your kids.
Also in the Laguna complex is the Banyan Tree Phuket Spa, offering scores of massages and special packages, as well as body conditioners (such as aloe and lavender, turmeric and honey), scrubs and facials. Banyan Tree pampers you top to toe (try the Stimulating foot treatment), and even your hair – "Papaya and chamomile volumiser". Pick from therapies like 'Sense of Place - Chevit', the coconut oil 'Sense of Place - Cheva' or 'Royal Banyan' with a cucumber scrub.
At the Spa Sanctuary, enjoy unlimited massage in your villa, set in a vast private compound with cobalt blue pool, gardens, and a raised pavilion perfect for breakfasts, yoga, or a good book. In-villa expect beds under tented canopies looking out through full-length glass windows on three sides, twin vanities, steam and shower room, outdoor tub, Palazzo Espresso machines, flat-screen TV, DVD player, work desk and free Wi-Fi.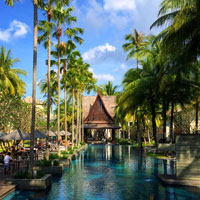 Twinpalms Phuket, awesome escape/ photo: Vijay Verghese
The Dusit Thani Laguna Phuket is nestled amidst acres of tropical gardens including native casuarinas and coconut palms. An Angsana Spa offers traditional to remedial treatments and more for your relaxation. This is a welcoming family-friendly resort right on the beach and with access to golf and other distractions.
Not far from here is the Anantara Layan Phuket Resort, an intimate compact affair with rooms, suites, pool villas and pool residences. The small scale and somewhat secluded location enable the place to be relatively informal and uncrowded. The Anantara Spa dishes out wellness remedies in seven suites using Elemis products. Try the 90-minute Anantara Signature Massage.
Close by farther to the north of the island is the tasteful and secluded The Slate (formerly Indigo Pearl) resort in the national park at Nai Yang Bay. Head for their spa to try out a signature scrub or wrap. Or indulge in Pilates, power-flexing, and yoga. The Slate with its playful design will instantly put you at ease and it has stretch room to boot, with mature gardens and Nai Yang beach. An indulgent 90-minute 'Coqoon Awakening Massage' with two therapists will set you back a decent Bt5,500 while a 'Traditional Thai Massage' for an hour costs around Bt2,200.
On Nai Yang Beach, a few kilometres out on the curve of the bay, is the smart and recently rebranded Phuket Marriott Resort & Spa, Nai Yang Beach (formerly Adamas Resort & Spa). It is a spread out low-rise getaway with a central pool offering open sea views and cooling breezes. The Quan Spa does the usual mix of wraps and scrubs with special services for kids as well as body waxing.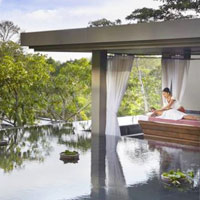 The Avista Hideaway Phuket offers a breezy perch for massage/ photo: hotel
The Jara Spa (trisara.com/jara) at the luxury all-pool-villa Trisara perched on a secluded northwestern headland comprises private spa suites. The treatment suite for two leads to an open-side pavilion surrounded by tropical ponds and gardens for outdoor treatments. Spa sessions can also be enjoyed in the luxurious Pool Villas. The signature 'Royal Trisara' is a six-hand massage performed by three therapists, while the six-hour 'Jara Well Being' will serve up a facial, aromatherapy foot soak, massage and physical assesment for a cool Bt18,500.
Looking over one end of Patong Bay, Amari Phuket (formerly Amari Coral Beach Resort), runs the relaxing Breeze Spa, with treatments enjoyed alfresco or in a teak sala. The whimsical and feminine Burasari Phuket with splashes of colour and funky design in a quiet Patong side soi has its Spa Burasari described as a 'sanctuary for the senses'. Look at a 90-minute 'Burasari Signature Massage', a half-day 'Buraliscious Experience' or the intriguing 'Ranshower Quench'. This is a fun establishment with an unfussy friendly vibe.
Up a hill from here with fabulous Patong vistas is the Aman look-alike Baan Yin Dee. This is a cosy, boutique resort with fine dining, great views, a breezy – albeit above-the-beach location – and occasional traffic noise as a tuk-tuk whizzes by. Farther up the hill, villas are quiet and secluded. Thai massage is available but the spa is similarly small-scale. South from Patong, past Baan Yin Dee and up a low hill is the striking Avista Hideaway Phuket Patong, MGallery by Sofitel, an amazing confection of differing styles that strive to blend in with unique spaces at each tier of this retreat. There's no beach but the views are tremendous, especially from the Moorish square-cut brick entrance with its array of sharp angled arches and a dazzling geometric mirror-work 'compass' at its centre. The Aqua Spa offers traditional Thai full body massage with a blend of meditation, stretching and acupressure. There are eight treatment rooms as well as open cabanas for nature views.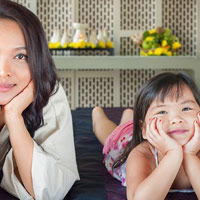 Angsana Laguna Phuket, great for families/ photo: hotel
The 1,500sq m spa at the Hilton Phuket Arcadia Resort & Spa resembles a Thai village, set in landscaped gardens with timber walkways overlooking a generous lagoon. It has 10 single treatment suites, four double treatment suites and one exclusive spa villa. This is a sprawling dedicated complex for serious spa-goers not content with a throw-in massage-room offered at many hotels. The Hilton prides itself on an away-from-it-all experience within a stone's throw of an annual board meeting, convention, or even a large family holiday. The signature therapy at the Eforea Spa uses a blend of wild mint massage oil and herbal mix.
Like mum, like daughter: there's a "Princess for the day" package for under-12s, including a kids massage, hair braiding, "princess" nail art and floral foot bath. Next door the Mövenpick Resort & Spa Karon Beach Phuket offer a spa with an extensive treatment menu and a few Thai beauty treatments too. This property is a lively reincarnation of the old Karon Royal Villas. It sports a hotel-style highrise linked to meetings facilities and clusters of villa complexes. Expect seven tranquil treatment villas, the breezy Sala Lounge, and outdoor bathing pools. For the fussy or in need, there's manicures and pedicures too.
Accessed via a spaghetti-slim track the Kata Rocks experience is an adventure in itself. It is worth the stagger up the hill as the views that will assail you from the virginal white pool deck are as unblemished as you will find on any picture postcard. Along with the laundered Santorini setting is the Infinite Luxury Spa with chic design flourishes and a selection of Thai massages, age protection, rest and recovery and detox and cleansing. Luxe though it is, the spa does wellness treatments for kids too.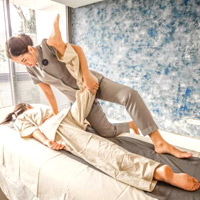 Kata Rocks' Infinite Luxury Spa. Wrestling anyone?/ photo: hotel
An easy walk from Patong beach, but slightly removed from the crowd, is the Deevana Patong Resort & Spa in modern Thai style. The Orientala Wellness Spa, with five couples' rooms, offers a huge range of spa services, including fragrant baths, scrubs and wraps as well as "Ocean mud therapy" and a slimming massage.
On Kata Beach are the well-regarded Boathouse and the 27 villa suites of Villa Royale. Both offer guests access to Mom Tri's Spa Royale with massage rooms, steam baths and soaking tubs. Try ancient Thai remedies or just have a rejuvenating scrub.
In the far south of the island on Nai Harn Beach, is the all-white rustic chic stucco plaster The Nai Harn (opened early 2016, a relaunch of the former Royal Phuket Yacht Club). As one of the first trendsetters on the island, this address has first dibs on the beach and those grand bay views as you heave up red ceramic-tile open corridors that let in wind, rain, and sweeping panoramas. The Spa at The Nai Harn does bespoke treatments and offers its own unusual menu of offerings like the 'Bronzilliance' organic spray tan to leave you with a 'golden glow' and a facelift using electro-stimulation of the muscles.
The small and intimate all-villa The Mangosteen Ayurveda & Wellness Resort on a breezy hilltop nearby offers a perfectly adequate list of treatments at its Ayurveda Health Spa that comes with a doctor in residence. Pick simple wellness treatments, opt for three-day packages or a marathon four-week cure. The resort plans your meals and treatment from start to finish if you so wish..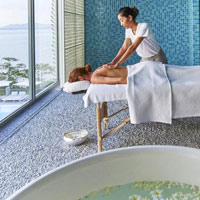 COMO Point Yamu Phuket/ photo: hotel
Hillside villa retreat The Vijjit Resort Phuket has four open salas and four air-conditioned salas that make up The Spa, with views of the sea and villa community. The treatment menu is Thai in essence – local Lemongrass House products are used – the pressure-point Siamese massage will leave you invigorated, or descend into spa-abandon with the three-hour V signature treatment.
Also in the far south is the family-run Thai luxury villa resort Sri Panwa with several minimalist settings. Enjoy a secluded beach, great views, and private infinity pools. Plug-in to WiFi and enjoy its Cool Spa. Treatments range from aromatherapy and body wraps to reflexology, exfoliation and yoga. All ingredients are locally sourced and of the highest quality.
Along the secluded non-touristy east coast shoreline of the island a country road snakes out towards Cape Yamu, a quiet hamlet with a gravely beach and a few private villas. Up the cape past a row of luxury residences is the grey and minimalist COMO Point Yamu perched unobtrusively on a low promontory, open to the winds and the elements with vast wraparound views but, alas, no beach. That is a trifling niggle in an otherwise interesting ensemble that strains to be schoolroom perfect with a relentless raw cement finish that is sparse to the point of being spartan in a youthful advertising office kind of way, but with an occasional "wow" factor like the 100m pool strung out across a sun-drenched timber deck with panoramic vistas. Holistic treatments await at the COMO Shambhala Retreat with an array of facials, massages and body care. A COMO Shambhala Massage uses special oil blends for a soothing rubdown. Guests might also opt for deep tissue massage, reflexology, or a traditional Thai massage with stretches to loosen joints and muscles.
Yoga in Krabi and Trang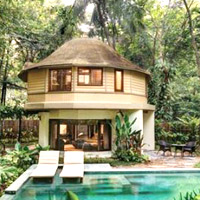 Stunning Rayavadee Krabi setting and Hobbit Houses/ photo: hotel
Across the bay in Krabi is the Rayavadee Krabi, a deluxe resort accessible only by boat and set in 26 landscaped acres with three beaches (one of them fairly pristine). The accommodation is in one or two-bedroom Thai-style pavilions at the base of an impressive limestone cliff. Personalised treatments at private spa pavilions focus on massage and aromatherapy. There's a special health food menu. The Rayavadee Spa does facials, scrubs and runs a salon too.
The Amari Vogue Krabi, overlooking the Andaman Sea, has its Breeze Spa. Set over three floors, it has a large VIP room if you are feeling flush. If not then just sit back and flush out those city-life toxins Thai style. Expect the usual alluring range of wraps, potions and scrubs. Later, leave your footprints on the sand.
The Linger Longer Spa at the Dusit Thani Krabi Beach Resort (once the Sheraton Krabi till its move across in 2015) has four private treatment rooms for couples in 3,533sq ft of space with 1.8km of beach ready to roll onto as soon as you step outside. There is a single treatment room too as well as a hammam. The sprawling Pimalai Resort & Spa on Krabi's Koh Lanta island has a 900m of excellent beach. The Pimalai Spa features small, walled treatment rooms named after local flowers. You can enhance the Royal Siam massage (Bt2,500) with aromatic Thai herbs, prepared as steaming poultices. Sports and Swedish massages are also on the list.
The Zen-style SriLanta resort, also on Koh Lanta, about 70km south of Krabi town, is a 49-villa hideaway for nature lovers. The resort's SriSpa has a healing approach and with au naturel therapies "from the sea and the earth". It offers beach massage and yoga.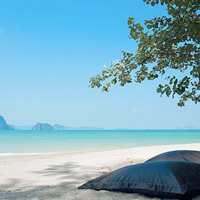 Tubkaak Krabi has wooden cottages and white sand/ photo: hotel
Also in Krabi, the Layana Resort & Spa's Linger Longer Spa is secluded within its own walled garden. Be massaged and scrubbed (fancy some Thai coffee?) to your heart's content, or make it a wrap (papaya, coconut and more). A European theme lingers with the French imported products for facials and the optional German language website. Luxury packages include the intriguing "Secret of Andaman". Amidst all this tranquillity be prepared for the sauna's "shock shower". Also available are yoga and meditation.
Situated on picture-postcard Phi Phi Don (off the Phuket and Krabi coastline) is the Zeavola, with 52 villas offering an away-from-it-all boutique hotel experience. The ambience is charmingly rustic and dinners on the beach are a must. Get a full treatment at the Zeavola Spa. A 60-minute Sun Soother Body Wrap uses yoghurt and cucumber to hydrate sunburned skin.
Hard-to-find Nakamanda is a very chic boutique resort with clean lines, grey-slate roof tiles, airy rooms, great views and charming Thai decor. The beach is not the best at low tide but the Naga Spa offers a well-balanced range of packages and massages. Choose from Oriental or Thai treatments. A one-hour Royal Thai Massage is just a snip at Bt750. Close by is the boutique-flavour Tubkaak Resort Krabi with several interesting flourishes, a stylish Thai design and a dedicated L'escape Spa offering everything from sea salt scrubs to cream banana body wraps. There are three beautifully designed wood-nest treatment rooms large enough for couples. Private and relaxing. Check out the library, splash out in the pool, head off sea kayaking, or enjoy some meditative yoga.
The Centara Grand Beach Resort & Villas Krabi is in a class all of its own. Usefully, it is also in a secluded bay of its own, serving up 500m of pristine white sand beach lapped by gin-blue waters, a clear invitation for honeymooner footprints. Head straight for SPA Cenvaree. It takes its spa seriously, with its own philosophy and rituals that create a unique experience. Pick from just over 50 treatments including Ayurvedic workouts and spa journeys.
Khao Lak getaways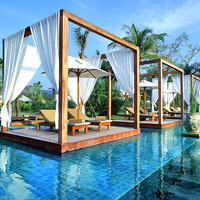 Sarojin, Khao Lak/ photo: hotel
The Sarojin in Khao Lak, just an hour north of Phuket airport, aims to provide an experience "reminiscent of staying at a friend's private estate". Its Pathways Spa is reached by a boardwalk leading into the mangroves. Get in touch with your wild side while lounging on the two double and two single treatment pavilions with outdoor tree showers and secluded couples' baths, or while practicing yoga and tai chi. Try a 90-minute warm stones massage, traditional Thai herbal compress, or a Royal Oriental Massage among others.
Farthest up the azure coast, the Robinson Club Khao Lak (the former Pullman Khao Lak Katiliya Villas which in turn picked up from the tsunami-hit Le Meridien) arrived after a 350 million baht redevelopment to offer several swimming pools, manicured grounds and a ROBINSON WellFit that serves up a wellness and fitness regimen, with the usual essentials like sauna, massages and yoga. Add to this cycling and a splendid beach. Pick from Finnish sauna (nude) and other local options plus a nude indoor and outdoor relaxation area (as well as non nude). There is a clothed sauna too. Whew!
The Spa La Flora at the compact and green La Flora Resort & Spa offers reflexology, yoga and a host of stress-busting treatments. The Moracea by Khao Lak Resort offers its very own Baimai Spa and an exclusive range called the Anda Thai Touch. The resort offers a choice of rooms, villas or bungalows. There is a sleepy air to the resort and the beachside pool is perhaps the best place to succumb to the rays and the sound of lapping water.
Koh Samui spa retreats for all pockets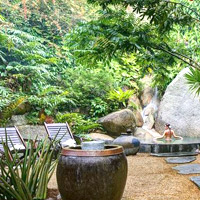 Tamarind Springs Samui and its iconic ROCK/ photo: hotel
On Koh Samui, Thailand spas are an epidemic. For the traveller, this means great choice and competitive prices. Koh Samui is Thailand's third-largest holiday island and here you will find something for every style and every pocket. The hillside Tamarind Springs has a handful of villas with private gardens and one large focal granite rock that provide the inspiration for the Tamarind Springs Forest Spa. The day-spa emphasis is on rest and reflection – guests are asked to switch off mobile phones, put away their cameras and leave "to do" lists behind. Expect a host of fabulous treatmentsFrom the Bt1,500 'Steam and Dream' to the five-hour 'Really Stoned' package with hot-cold stone massage and assorted treatments. Or pick an 'Oh Baby' pregnancy massage for mothers-to-be. There's yoga and tai chi too.
Much of the Tamarind Springs formula – including the welcome ginger-and-tamarind drink and THE ROCK – has been unabashedly cloned at the Eranda Herbal Spa (tel: [66-77] 422-666). A 'Samui Sensation' deal here for two and a half hours will set you back just Bt3,300 with herbal steam plus plunge pool, massage and foot treatment. Or try the 'Miracle of Pure Gold' a three-hour treatment priced around Bt6,500 with a turmeric and honey scrub, massage and pure gold face treatment. Scrape it off and melt it into a ring for him/her.
The hillside retreat of Tongsai Bay, with open vistas, private beach and villas the Prana Spa's cottages for couples, sport herbal steam rooms, outdoor floral baths and foot treatment areas. Soul-seekers can experiment with aromatherapy massage, herbal compresses, tamarind or salt scrubs, or try the signature couples' 'Return to Prana' for 150 minutes with herbal steam, scrub, milk bathand relaxing oil massage.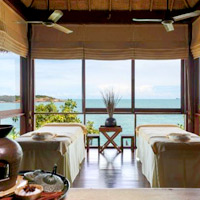 The Six Senses Samui spa is set high above the ocean/ photo: hotel
The Six Senses Samui Spa at the spread-out Six Senses Samui, set on the northeastern tip of Samui Island, has treatments with a view – a panoramic ocean view to boot. You can't go wrong with this spa for aficionados. This super luxury hideaway has excellent service to match. For a truly different wellness experience the resort offers one of the best Thai-style spas around where you can additionally dip into yoga reiki and Pilates.
Signature therapies include a Three-Day Zen Na Tai (to improve lymphatic flow), Chakra Balancing, a four hands massage with heated basalt stones, and two-day treatments to help those with sleeping difficulties. The spectacular cliff-edge views are a bonus. Certainly one for the diary. Shame about the tiny beach (shared with other resorts).
Just around the hill spur is long in the making The Ritz-Carlton Koh Samui (opened October 2017). It got into its full stride by April 2018. This is a top luxury Koh Samui resorts escape with just 175 pool villas and suites so expect personalised pampering. You'll need a buggy to get up and down and around the hillside.
Its Spa Village uses local ingredients and signature touches like the Songkran Shower, a pre-spa work up. Expect eight treatment suites, three massage pavilions, a lap pool with shaded cabanas and yoga. Sample 'Thai Aquatic Freedom' in an aqua therapy pool, 'Samui's Coconut Heritage' (scrub, shower, and massage), or a floral skin exfoliation.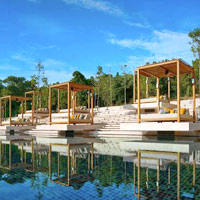 Ritz Samui spa lap pool with cabanas/ photo: hotel
Along the north shore of Bo Phut Bay is the renamed 82-room Anantara Bophut Koh Samui Resort with its signature orange-ochre entrance walls, spa, attractive freeform infinity pool, plenty of dark teak underfoot and generous lashings of iridescent silk. The name change from Anantara Samui was occasioned by the arrival of a second property on the island (the Anantara Lawana Koh Samui Resort). Anantara Bophut is a compact rectangular plot – with the resort built along two "arms" embracing the pool. As a consequence, balcony views are not particularly private. The deep-soak terrazzo tub will comfortably host a romantic couple heading to candlelit soapland bliss after a morning of yoga. Delve into the Anantara Spa, all 3,000 square metres of it. Expect six glass-walled treatment rooms, alfresco soaking tubs to see and be seen, and rooms for couples.
The Shine Spa at the Bandara Resort & Spa Samui focuses on plant-based ingredients and herbal anti-oxidants. Sink into infusions of Thai herbs or fragrant blossoms during an aqua-therapy session.
At the western end of Bo Phut is the fast-developing and cheerful Zazen Boutique Resort & Spa. The youthful and energetic Alexander and his Thai wife Ti (Thitima) are the odd couple that run this constantly evolving, and very endearing, establishment. It's charmingly created Le Spa Zazen does massage and various treatments with a view to creating spiritual awakening with the help of a herbal steam room, alfresco jacuzzi and more. The young couple lends a special personal vibe to this unfussy place.
Also along this stretch, the more solid boutique style Bo Phut Resort & Spa, managed by the Santiburi Group, also has its own Bo Phut Spa (9am - 9pm) and fitness centre. A Bo Phut Signature Massage for 90 mintes comes at Bt2,650with experienced fingers working your pressure points using relaxing oils. Or try a Hot Stone Massage or a balinese Massage.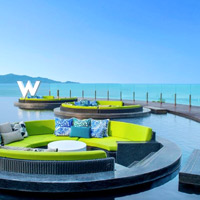 W Koh Samui, stunning setting and ounge pools/ photo: hotel
The hippest and most happening place on the north shore is without a doubt the W Koh Samui that runs down a hillside at the intersection of Maenam and Bophut (throwing open sunrise and sunset possibilities). The hideaway is cool and stylish in parts, its signature circular lobby-level pool with "floating" sunken sofas and impressive views being very much the photo-op selfie mainstay. Its Thai-inspired AWAY Spa does a fabulous array of treatments with therapy baths, a spa restaurant, massage lessons, plunge pools and even eye treatments. Get a good kneading here and then head to one of six bars and restaurants for a cocktail under the stars.
Sala Samui Choengmon Beach Resort, around the coast heading east, is an elegant hideaway with a SALA Spa, offering spa detox packages, romantic getaway couples' packages and other indulgences. For an al fresco pampering session, swap your luxurious spa suite for a traditional Thai massage around the pool. A 90-minute Signature Massage will set you back around Bt3,300 while a one hour Asian White Clay Body Wrap is priced about Bt2,300. Or go whole hog with a three day (seven hour) SALA Lifestyle Journey.
The rebranded Centara Grand Beach Resort Samui on a great stretch of Chawaeng offers guests its extensive spa menus and wellness treatments at SPA Cenvaree with 10 treatment suites and a dedicated area for massage and reflexology workouts. This is a sprawling colonial-style Gone With The Wind affair, perfect for families, couples or honeymooners. The Pavilion Samui Villas & Resort on Lamai Beach has its dedicated Spavilion for indulgent treatments and creat-your-own stuff.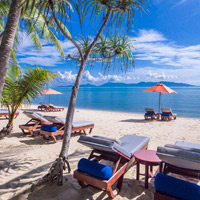 Santiburi Koh Samui: beach acres and salty attitude/ photo: hotel
Also on Koh Samui's quiet north shore, on Mae Nam Bay, is the luxurious and re-kitted Santiburi Koh Samui. The enormous focal pool area is perfect for some, um, lazy lounging. Santiburi works equally well for families, honeymooners and conferences. Dabble in golf, tennis, Thai boxing or squash, sail off into the blue, or opt for the full works at The Santiburi Spa, with its must-try arsenal of lotions and potions and treatments from body wraps and scrubs to soothing oil rubs, shower workouts and Turkish massage. Expect the purest local ingredients. Think aromatic coconut, rice, scented jasmine, betel leaves and even Thai silk to heighten sensory perceptions.This is one of the top Samui spa resorts.
On Mae Nam Beach too is the small Health Oasis Resort. All its cottages have fans and some also have airconditioning. The place is basic but clean, with a vegetarian restaurant (you can order seafood in advance), colonics and fasting programmes. A Bt38,000 Total Transformation includes exotic items like liver flush, oxone treatments, heavy meta; detox and daily cellulite or aroma massage.
Spilling down a quiet hillside, the Belmond Napasai Koh Samui (formerly Orient-Express) offers smart, airy Thai-style villas with small balconies, private pool, terrace, and even an inhouse maid's room for extra fast service. Grassy slopes lead down to a generous pool fronting a large stretch of beach that has been revamped along with a swimmable lagoon helping in some measure to overcome the island's lack of coastal allure. Indulge in a feast of water sports before retiring to the Napasai Spa for an Ancient Royal Treat with deep tissue massage and a five flowers scrub. If that doesn't do it, there's yoga and tai chi.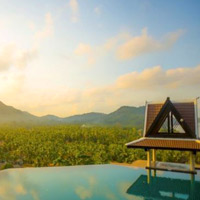 InterCon Samui is perched cliff-top with panoramic views/ photo: hotel
Hidden away on the far west of the island is the luxurious InterContinental Samui Baan Taling Ngam Resort, with a plush spa featuring indoor and outdoor treatment rooms with views, furnished with antiques. Sip herbal tea and ponder the vast cliff-edge views. The Baan Thai Spa by HARNN faces the sea and is immersed in nature with its 'Tropical Samui Passage' a 180-minute treatment using local produce like coconut and sea shells. Or try a 'Chinese Rose Passage' at Bt7,800 with Oriental Rose Exfoliation, aromatic massage and foot scrub.
The Four Seasons Resort Koh Samui is a top-end entrant, offering a verdant hillside escape with the obligatory sea views and swaying coconut palms. The 63 villas (and residences) come with private pools and cinemascope views. This luxury Thailand spa resort offers a full range of treatments and three to seven-day spa retreats, including a fasting and detox programme. All this at its Secret Garden Spa hidden away and surrounded by nature, where the tranquility is seriously infectious. Try a coconut massage, 'bespoke bodywork' (for deep relaxation and cures) and four hand signature massages.
Slipping into the sands of quiter Chaweng Noi Beach is Vana Belle, a Luxury Collection Resort, Koh Samui. The name is a mouthful but its style is gentler on the senses and understated. Expect traditional Thai touches and natural colour palettes – think dark wood contours, beige decor and bright white linens. The Vana Spa (9am to 9pm) dishes out couples' massage, steam, scrubs, foot baths and the de rigueur massages with Thai flourish and ingredients. The spa is set away in its own compound with a unique design and treatment rooms with soaking tubs.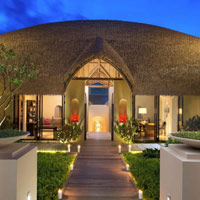 Vana Belle Samui hideaway spa for luxury trippers/ photo: hotel
The SALA Samui Chaweng Beach Resort was fashioned October 2017 out of the old and charming Muang Kulaypan resort. The Beach Wing serves up 52 Pool Villas and Suites while the 83-room Garden Wing late 2018 provides a second pool, a SALA Spa and a SALA Gym.
The Briza Beach Resort Samui, is located right on Chaweng Beach with panoramic views and smart, roomy villas (some with pools) designed in the Srivijaya empire style. At the secluded southern end of Chaweng, the Sheraton Samui took over from The Imperial Samui Hotel in late 2014. The place projects a profoundly Mediterranean ambience with its white stucco cake-icing exterior. There are quite a few steps down past the freshwater pool through the gardens to the beach and the seawater lagoon-pool. Its Glow Spa serves up an assortment of treatments including some wellness menus just for children.
The Quan Spa at the Renaissance Koh Samui Resort & Spa has open-air salas and some airconditioned suites (with twin tables for couples). A full range of treatments is available here. Also on Lamai Beach is the laid-back The Spa Samui Beach offering basic, wallet-friendly accommodation: small huts with thatch roofs. Fasting and colonics, as well as morning meditation and reflexology, feature here. There is a newer hillside sister property in Lamai (3km from the beach) called The Spa Samui Village.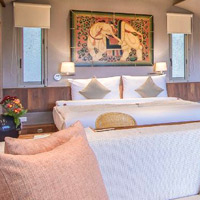 Once rustic Kamalaya has moved upscale - luxurious suite/ photo: hotel
On the southern coast of Koh Samui about 25km from the airport, is Kamalaya Koh Samui. The emphasis is on personal development. Wellness services range from life consultations and treatments in traditional Chinese medicine to naturopathy, homeopathy, Ayurvedic and Western medicine. Guests stay in villas, bungalows or suites furnished with natural materials and Asian textiles aiming to blend in with the landscape, but not to the exclusion of 21st century amenities such as WiFi. Pick from detox treatments, stress and burnout work, emotional balance, and yoga. Tailormade programmes are available. The place is unique in its approach and setting and ranks high on our Thailand spas review.
Pattaya and Koh Chang, Trat
Below a private headland close enough to, but quite removed from the bars and bustle of Pattaya, is the four-in-one Royal Cliff Beach Resort. The Cliff Spa is situated in two separate areas of the resort, the Royal Cliff Grand and the Royal Wing & Spa. Combined they offer 18 treatment suites. Try an exfoliating scrub using fruit extracts, or something more mundane like an oil massage with none of that sly Pattaya wink wink that has overwhelmed the south of the strip. The resort location is therefore quite an asset. You will likely be here for a conference, so stretch out.
The 156-room InterContinental Pattaya Resort (formerly the Sheraton Pattaya) on the cliff headland south of Pattaya has the Amburaya Spa, with six large, private treatment rooms with Jacuzzis surrounded by restful gardens. As the resort likes to say, 'balance mind and body' after that long flight and get rid of stress, jet-lag, and everyday worries. Over 30 wellness treatments are on offer including the signature Amburaya Embrace.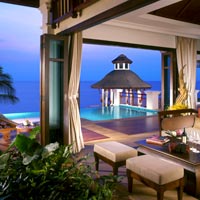 InterCon Pattaya/ photo: hotel
More treatments are available at the rocking Hard Rock Hotel Pattaya where the Rock Spa dishes out 'music and magic'. Several treatments are also on offer at the Beach Club cabanas. Set by the poolside, the spa has five treatment rooms offering Thai massage, reflexology, steam and sauna.
At the Renaissance Pattaya Resort & Spa (arrived late 2017) find everything from body rubs and scrubs to massage lessons, body waxing and special treatments for kids. This is a new and contemporary hotel with smart functional rooms and a pool embraced on two sides by the hotel wings. The highrise Hilton Pattaya offers spectacular views from its rooftop pool and its Eforea Spa offers a good range of treatments including hand and feet repair. Explore its Escape Journey.
The refurbished Pullman Pattaya Hotel G rebranded from Aisawan. The Aisawan Spa is surrounded by tropical gardens, with lotus ponds spanned by wooden walkways. You'll be welcomed with a Thai herbal juice, before you can indulge in a wide selection of exotic treatments and massages, from soothing foot reflexology to the spa's signature aromatherapy therapies with exclusively blended oils such as the "Asian Refreshing Blend" and the "Romantic Blend". Detox and water therapies are available too. The "Aisawan signature massage", is said to be very effective in relieving tension, aches and pains.
Farther east on rustic Koh Chang (Elephant island) is the large and relaxed Ramayana Koh Chang Resort & Spa with its secluded Sita Spa the perfect escape for none too pricey holistic remedies, traditional Thai massage, aromatherapy and a fitness regimen for the energetically inclined.
Need beauty treatments? They have a few in their bag. Accommodation is rustic on the outside but with fairly modern interiors.
Chiang Mai and Chiang Rai spa options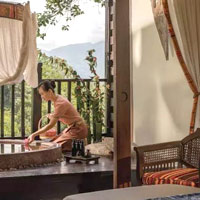 Anantara Golden Triangle Chiang Rai/ photo: hotel
Chiang Mai and Chiang Rai spa resorts offer both exotic locations and healthy mountain air – with the occasional monsoon lashing. The Shangri-La Hotel, Chiang Mai in the centre of town offers vast infusions of steam, incense and aromas at CHI – the spa. There is a yoga pavilion for those practising their asana and pranayama. CHI, The Spa by Shangri-La is an extensive retreat with a wide range of holistic remedies, both local and international. Book into a large spa suite and get those muscles rubbed down. There are Premier Spa Rooms too with their own balcony whirlpools. A one-hour aromatherapy massage will set you back a none-too-taxing Bt2,200.
The five-star Anantara Resort & Spa Golden Triangle in Chiang Saen, Chiang Rai (at the confluence of the Ruak and Mekong Rivers, overlooking both Laos and Myanmar), is on the site of the former Baan Boran Resort. Guests can explore the forest on an elephant, then ease stiff muscles at the luxurious Anantara Spa. Ancient Thai herbs complete the picture. Try a 135-minute Mahout Relaxation Package with traditional Thai massage, stretching, herbal compress with moringa oil, facial and foot ritual.
The Spa at the luxurious designer chic Anantara Chiang Mai Resort (formerly The Chedi, Chiang Mai), has gardens and water features as backdrop for its 10 treatment rooms (five for couples) and suites, and manicure/pedicure parlour. Some of the suites have built-in saunas. Treatments include massages such as warm stone massage, as well as all the usual wraps, scrubs and herbal baths.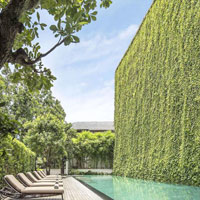 137 Pillars House Chiang Mai - luxury heritage retreat / photo: hotel
A 90-minute signature Lanna Ritual serves up a full body massage with plai oil using Indian, Chinese and Burmese techniques. mint spray and a herbal foot bath. Or try a 120-minute Detoxifying Chocolate Therapy. Sounds yummy. This is one of the top Thailand spa resorts with a great location.
The 137 Pillars House, a stately teakwood ensemble with a 125-year pedigree, goes through a restorative upgrade to return 2019 with its usual mix of elegant Thai accommodation with photographs and artefacts to send you back in time, far from modern-day bustle, a perfect setting for a spa escape at Wellness by Design with its tranquil spaces and 25m lap pool.
The compact but pleasant Puripunn styles itself a "baby grand boutique hotel". The hotel compound is built around a pool with attractive rooms featuring flat screen TVs (DVDs in suites), wooden floors and bright walls, often in a deep olive green that is surprisingly soothing on the eye. Puripunn's spa offers a classical Thai massage menu along with aromatherapy rubdowns.
The stylish and tranquil Phu Chaisai Mountain Resort & Spa (literally "mountain with a clear heart") near Chiang Rai has 34 rooms – most without television – which is perhaps not a bad thing at all. The rooms, in traditional hill tribe style, have open views and feature lots of bamboo.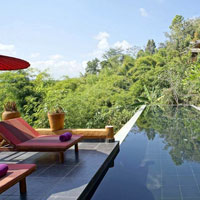 Phu Chai Sai Chiang Mai/ photo: hotel
Continuing the theme, the open-air and indoor Bamboo Spa uses a host of herbal formulas and fresh ingredients (in addition to the rabbits that roam free in the spa garden). Treatments include Asian blend massage, floral bath sensation and Thai herbal beauty wrap. Or opt for a Swedish massage, a "Soften skin salt glow" or a slimming massage. Water is drawn fresh from a mountain spring and care is taken to ensure that the atmosphere and services are authentic and natural.
The Four Seasons Resort Chiang Mai, with its Lanna-style pavilions finished in teak and rich cotton, features the three-storey The Spa with suites for couples or individuals, herbal aromatherapy steam rooms and deep-soaking tubs on semi-enclosed terraces. Each spa treatment starts with "The welcome touch", a warm aromatic compress on your feet to remove the urban environment, focus your senses and centre your thoughts. Greet the sun at the yoga barn. Set in lush rice fields this is a therapeutic getaway just on the basis of the views alone.
Designed by well-known Thai architects and designers, The Rachamankha offers an authentic 24-room immersion in Lanna North Thailand culture. The temple design and peaceful surrounds combine harmoniously with chic design touches and Lanna motifs, statues, and artefacts drawn from Burma, China and Laos. Grassy courtyards add a sense of space and scale. An open sided sala above the pool area serves as the massage area.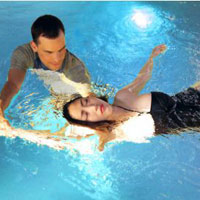 Dhara Dhevi aquatic yoga/ photo: hotel
Expect simplicity and style. The Rachamankha offers therapeutic oil massages in a breezy sala by the pool, and offers wellness treatments in-room too. This is a no-smoking hotel (unless you're outdoors).
The 3,100sq m Dheva Spa and Wellness Centre at the beautifully sculpted old-world Dhara Dhevi with its traditional Lanna architecture is modelled on the Burmese royal palace that stood near Mandalay in Myanmar, with a seven-tier roof symbolising the seven steps to nirvana. There are 19 treatment rooms and suites and the treatments encompass European and Asian (including Indian) therapies. Indulge in the rarely practiced Tok Sen or Lanna massage or the Mandalay ceremony (using the traditional Myanmar cosmetic thanaka). The Rhassoul and Hammam treatments are derived from ancient Arabic cleansing rituals. Explore aquatic therapies, 60-minute Watsu (Shiatsu and meridians) at Bt4,500, a Floating Massage, and aquatic yoga. View some spa treatments in Chinese.
Friendly and stylish 131-room Dusit D2 Chiang Mai set smack in the heart of downtown close to the Night Market, is a hip hangout with vibrant colours that will appeal to the younger set. Its Devarana Spa offers up five treatment rooms for singles or couples. Try a 60-minute Ayurvedic Head Massage for a relaxing unwind. Great for jet-lag too.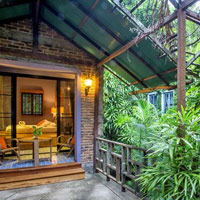 Kaomai Lanna Chiang Mai - soothing greens/ photo: hotel
Another alternative for a North Thailand spa escape is the Tamarind Village with 38 rooms in a simple, traditional Thai village setting. This is a Chiang Mai boutique hotel, set, as the name indicates, around the spreading vines of an ancient tamarind tree. The Village spa at Tamarind has high ceilings and low beds, with slowly whirring ceiling-fans to present a picture of calm and space. The tamarind herbal polish is of course obligatory in a place that carries the same name.
The Chiida Spa at the elegant Sukantara Cascade Resort & Spa offers peaceful surroundings and a host of treatments, including the three-hour "Chiida gold: India paradise" package comprising an Indian herbal foot bath and warm massage, Indian herbal sauna, the mysterious sounding "Gold body mark", light and sound therapy, as well as a shower and Indian head and body massages. Herbal tea and refreshments are part of the deal. There is a men's spa programme which focuses on stronger, deep tissue massage. Step through the large teak doors to enter a world of Gandhara motifs and aspiration.
Set in a traditional teak house on the east bank of the Ping River RarinJinda Wellness Resort has 35 boutique rooms with balconies overlooking the swimming pool. Its spa promotes holistic healing and prides itself on modern technology, including a fully equipped, indoor, heated hydrotherapy pool, infrared sauna, herbal steam room and whirlpool with chromotherapy. It's worth a pop into the Rarinjinda Wellness Spa. The 'Rarinjinda Royal Touch' is a Bt5,600 escape with herbal foot soak, guava foot polish and a four hands massage. Can't go wrong ith that.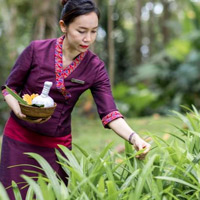 Gathering spa herbs at Four Seasons Chiang Mai / photo: hotel
The Kaomai Lanna Resort consists of 18 barns, renovated into 36 guestrooms and decorated in contemporary Lanna style with teak antique furniture, and set in verdant gardens. Expect ivy crawling up exterior walls and a rustic setting through the interiors are designer chic with timber flooring and attention to style. In one word, 'Cool'. The Thagarn Spa does a range of treatments from face masks (honey lime juice) to body scrubs and massage.
The Chiang Mai Oasis Spa is an upscale day spa in several locations, including the Amora Rydges Hotel. Guests can choose from a range of two to four-hour packages. The "Oasis pampering" package includes a soothing aromatherapy massage and facial.
Reflexology is performed using the traditional Tibetan hands-on method. Don't put your foot in it. Aroma oils, treatment masques and refreshments come in decorated gold chinaware.
The Maninarakorn Hotel, a small unfussy hotel with boutique aspirations has long-stay options and is set in the heart of the city and linked to a shopping arcade. Its spa offers a number of treatments and massages. If you're in the vicinity armed with an over-stuffed shopping bag, the spa may be worth a quick pit-stop to recharge before tackling the rest of the day.
Bangkok hotel and day spas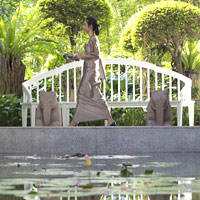 Oriental Spa at the Mandarin Oriental Bangkok/ photo: hotel
On to Bangkok, or Krung Thep (City of Angels). The Oriental Spa at the grande dame of hotels, The Oriental, Bangkok on the Chao Phrya river, is famous for attracting movie stars and VIPs. Set in a beautiful Thai-style teak house, the spa has a range of over 50 different treatments, including the Oriental massage, Jet lag recovery treatment and Oriental herbal pack served up in 10 treatment rooms with shower and steam. Some of the spa's innovations include a treatment facility incorporating a Moroccan Rhassoul bath, using a blend of Thai clays, and a new whirlpool bath. A two-hour Oriental Qi treatment will set you back a cool Bt6,500 with essential oil body massage. Or try the inovating Muay Thai massage at just Bt3,900. No boxing, just smooth oil strokes.
Conveniently adjacent to the Saphan Taksin station on the river is the brisk twin ensemble of the Shangri-La Bangkok and its executive Krungthep Wing. This was one of the first properties to truly exploit Bangkok's riverside location with a tall glass-front lobby. The CHI spa offers river views and plenty of space and style (the Garden Suite is 107sq m). The signature bathing and cleansing ritual is based on the Sowa Rigpa, a 1,500-year-old healing tradition from the Himalayas. The standalone, holistic, wellbeing spa covers a fair bit of area and is very much a city escape into dim, aromatic candle-lit interiors where the latest, innovative therapies await. Check out the one-hour and rather exotic Hydrasea Blue Facial for just under Bt3,000. Ladies can opt for the Endermologie® Cellulite Reduction treatment that runs one hour or opt for a multi-day live-in Spa Retreat.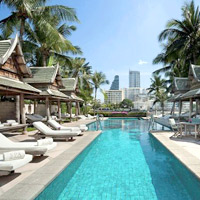 Riverside romance at The Peninsula Bangkok/ photo: Vijay Verghese
At the luxury end of the scale, this Peninsula Bangkok spa review is one for the connoisseur's diary. The spa occupies a three-storey Thai colonial-style building overlooking the river and set in the hotel's lush gardens. It has 18 treatment rooms including four large rooms for couples. The set-up is typically lavish and a smoothly run operation. Try aromatherapy, Balinese treatments, a volcanic hot stone massage, four hand massage and more. This is another top-notch Thailand luxury spa hotel with numerous awards in the bag. The accolades are well deserved.
The Anantara Siam Bangkok Hotel (formerly the Four Seasons Hotel Bangkok) has its Anantara Spa with state-of-the-art treatment rooms and suites in traditional Thai architectural style. Pick its signature 'Siam 2482 Spa Treatment' with eight herbal compresses, massage, bamboo stick treatment for blood circulation, and culminating with two gold leaf patches. Spa suites come with private plunge pools, steam and complimentary herbal tea and cookies.
The Grand Hyatt Erawan's innovative i.sawan Residential Spa & Club (9am to 11pm) offers residential villas and treatment villas. If you're up to it a 'Heavenly Retreat' runs for six hours at a cool Bt13,500 with body scrub and wrap, traditional Thai massage, spa meal and a hand or foot ritual. A three-hour Signature Escape for Bt9,500 serves up a scrub, massage and hydrating facial. Also explore tradional Thai aromatherapy compress, foot massage and white lotus skin conditioning. Quite a spread here and service and style to match with a splendid central Bangkok location right on the BTS train line. Overnight at a spoiling Spa Cottage and go really over the top.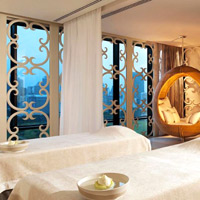 St Regis Bangkok spa treatment/ photo: hotel
Next door excellent facilities are available at the darkly elegant marble slathered The St Regis Bangkok where the Elemis Spa (10am-10pm) offers a brighter space with virginal white treatment rooms for couples, rattan snuggle pods, and Jacuzzi and vitality pools on separate floors. Explore therapy baths in between waxing and scrubs and light treatments. The hotel is directly connected to a BTS SkyTrain station.
At the Siam Square train terminal positioned in the midst of giddy designer brand shopping at Paragon is the majestic and regal Siam Kempinski Hotel Bangkok. Unsurprisingly, with its soaring lobby pillars, cream marble, resort-style pools and stunning floral creations, this is an urban resort for discerning leisure trippers with the Kempinski the Spa on hand for lotions, potions and every manner of rubdown. Think collagen treatments, floral baths, the 'Spring in your Step' detoxing massage, or the 'Grand Siam Experience' that runs three hours at Bt8,200 with herbal bath, exfoliation, compress and massage.
On Wireless Road the 382-room The Athenee Hotel, a Luxury Collection Hotel Bangkok (which rebranded from Plaza Athenee in October 2017) offers its Spa Athénée on its fifth level. The spa has a veritable arsenal of treatments from an equally diverse range of countries, including Indonesia, Thailand and China. The cherry atop this mollycoddling ensemble that we enjoyed was "The Athenee retreat": 130 minutes of head-to-toe pampering, starting with a tantalising foot ritual, with an "Exotic ginger body polish" and ending with an energising massage. Check if that's still around. There's a beauty salon and large swimming pool set in a Thai garden, too.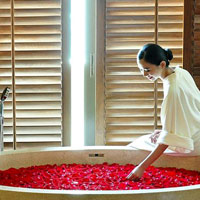 The Siam Kempinski Bangkok turns up the floral volume/ photo: hotel
With a walkway to the Ploenchit BTS SkyTrain station, neighbouring The Okura Prestige Bangkok ensures the smiles of its largely Japanese clientele stay unbroken. They certainly enjoy the Okura Spa treatments that range from a 30-minute Calming Retreat to exfoliations and massages.
The stylish Sheraton Grande Sukhumvit has the attractive self-contained Grande Spa. Signature body treatments include "The Grande daily wrap" using fresh local products. On deadline? Get the lemongrass or natural salt express scrub in 25 minutes. Across the road at the Westin Grande Sukhumvit, the Vareena Spa offers an array of options from exfoliations and scrubs to body masks and facials. They will also give you massage lessons. Also look at paraffin hand treatments and massages for couples.
The fully renovating Conrad Bangkok (starting its new look October 2018) on Wireless Road has a Seasons Spa, which is extensive (there are 12 treatment rooms), relaxing and rather swish. The Conrad itself is a silk and teak experience where, post-spa, you can see and be seen at the chic and happening Diplomat Bar.
The tropical-themed Royal Orchid Mandara Spa at the Royal Orchid Sheraton Hotel & Towers overlooks the Chao Phraya "River of Kings". It has nine treatment rooms, offering luxury facials, raps and scrubs, Thai and modern massages. The signature "Mandara sanctuary" combines a floral foot bath with and Asian herbal scrub, steam fruit bath, Thai spice massage and refreshments.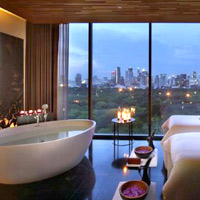 So Sofitel Bangkok plays rub-a-dub-dub with a tub - and a splendid view
Devarana Spa at the Dusit Thani Bangkok has a modern look, with 14 private treatment rooms, a relaxation area and its own special recipe scrubs. The Dusit Thani Bangkok closes on 5 January 2019 for a major mixed-use hotel-office-and-shopping redevelopment . There are also Devarana Spas at the Dusit Thani Pattaya, and the Dusit Thani Hua Hin.
Overlooking verdant Lumpini Park from the Sathorn Rama IV crossing, So Sofitel Bangkok is an ultra-modern 30-storey touchy-feely designer hotel for the selfie-crazed, with themed rooms, a small but awesome pool that hosts full moon parties, and the dark and chic SoSPA, mundanely described as an urban spa retreat - but it more than lives up to the description. Try a one hour So Exhilarating Body Massage for Bt3,200, a Rassoul Cream Wrap, a Moroccan Massage or a Bali Flowers and Fruit Facial. The menu goes on and on and on... You get the drift. Drift in here for a weekend's workout and glowing finish.
The towering and highly acclaimed spa at the vertiginous high-rise Banyan Tree Bangkok on busy Sathorn Road has 25 treatment rooms. Therapists have undergone over 400 hours of training at Banyan Tree academies, ensuring you're in safe hands when succumbing to a heady mix of aromatic, herbal and spicy massage oils. Next door, the COMO Metropolitan Bangkok is a contemporary style hotel with modern Oriental touches and a holistic spa, part of the COMO Shambhala wellness exercise. Get your treatments and add in a dash of wholesome reflexology and private yoga instruction. Check out its massage therapies and 'cleanse' programs.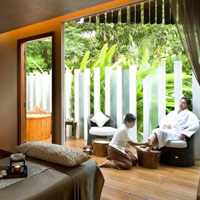 Spa Botanica at The Sukhothai Bangkok/ photo: hotel
The The Spa Botanica at the Sukhothai Hotel (9am to 10pm) on Sathorn Road provides a selection of beauty, massage and spa treatments. The Jasmine and Orchid Suites with Thai herbal steam baths or showers, among other luxuries, accommodate two people. The Sukhothai is a stylish Thai-style complex with signature colonnades, water features, serene statues and gardens, a perfect setting for relaxation amid the Bangkok bustle. Sample a Sukhothai Signature Massage that runs an hour and a half for a meridian workout at Bt4,500 or do a faster Flight Reviver or Jetlag Tonic. Or dip into a skin polish, a salt scrub or a 'Moor Energizing Wrap' (as a stress reliever).
The JW's Health Club & Spa at the JW Marriott Hotel Bangkok has a good stock of treatments, as well as foot baths, paraffin hand treatments and massages. The hotel's new woody and understated renovated rooms were available by early 2018. The 90-minute "Four hands ginger back and feet relaxation" approach, with two therapists working together to relieve tension in the back, scalp and feet and using ginger as the main ingredient, is a real treat. The workout begins with a foot scrub.
Then, while one therapist massages the feet, the other massages the hands. A mask is applied to the feet "to purify the skin and reduce water retention", followed by a head, shoulder and stomach massage, and palm-pressure massage of the legs. Finally, a back scrub and massage. Relaxed yet? There's a spa restaurant and lap and plunge pools to cool down in.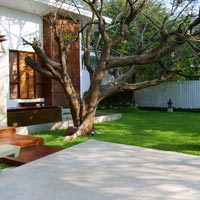 Oasis Spa Bangkok/ photo: Nina Nanta
On the river, the splendid Anantara Riverside Bangkok Resort (formerly the Bangkok Marriott Resort & Spa runs an extensive facility with scrubs, wraps, paraffin hand treatment, plunge pools and waxing. This resort hotel with a laid back vibe is a leisurely ten-minute ferry ride from the nearest SkyTrain station at Saphan Taksin. Try an Anantara Signature Massage (90 minutes) or an Oriental Rice Compress Massage (90 minutes) with blended rice bran oil. \
Dahra Beauty and Spa is located on Silom - between the Pullman Bangkok Hotel G and the junction of Narathiwat Road and Silom. By 2018 it also had a retreat at Sukhmvit between sois 20 and 22. This is a well regarded establishment with plenty of tradition and history. It has treatments aplenty including de rigueur Thai massage, green tea aromatherapy facials, collagen fibre masks, and even a three-hour chocolate hydrotherapy experience (Bt3,900) where spa-goers are smothered with the sinful stuff. Licking your fingers is not an option. Opt for coffee, tamarind, green tea or black sesame scrubs.
The Oasis Spa Bangkok is one of five Oasis Spas (the other four are in Chiang Mai). The spa's concept is that of a garden villa in the middle of the city, surrounded by bird song and peaceful greenery – to provide luxury "without unnecessary formality". Located at 64 Soi Swaddee, 31 Sukhumvit 31 Road, the 15-room spa has treatment rooms furnished with waterfalls and uses authentic Thai herbs in its treatments. This Bangkok day spa has been a longtime favourite with local residents.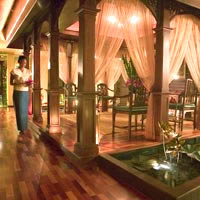 Nibhana Spa Bangkok/ photo: spa
Packages include the four-hour "Oasis Experience", including delights such as Thai herbal steam, a body scrub, Morocco red clay body wrap, an aromatherapy bath, four-hand massage and traditional Thai facial. An Oasis Journey for two with herbal steam, compress, Ayurvedic shirodhara and more will set you back Bt9,999 but leave you feeling like a king.
NIBHANA Spa, located in the Natural Ville Executive Residences near the Chidlom Sky train station (exit 4), has 10 treatments rooms, including three premium couple suites. Therapies at this highly rated day spa combine Indian, Chinese and Thai elements. To spice things up, choose the "Siamese Princess" treatment, comprising a ginger body scrub, warm, detoxifying ginseng oil and a warm herbal compress filled with Thai herbs, combined with specially designed massage techniques.
Almost opposite the National Stadium (one of the last stops on the BTS SkyTrain line) near Siam Square, is the Siam @ Siam Design Hotel with 203 rooms and free WiFi throughout. The designers clearly pulled out all the stops with this converted office block. It blends – if not always successfully – minimalist Zen, Thai flourishes, and hip-hop grunge with original grey cement walls smeared with bright casual daubs of orange and red oil paint. This is factory-floor-art-gallery chic. There is a dedicated wellness spa with a fitness area and gym.
The wild and wilder Dream Hotel Bangkok on Sukhumvit Soi 15 offers a somewhat surreal escape into blue-light fantasy. Funky bedrooms offer 42-inch Flat Screen TV, Broadband access, Egyptian cotton linen, and iPods. Pop by the Coran Boutique Spa for relaxing treatments after a busy day around town. The spa occupies 110sq m with three treatment rooms running 10am till 9pm.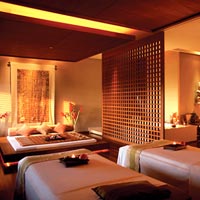 Bangkok Shangri-La's CHI Spa/ photo: hotel
Samsara Spa near the Saphan Kwai skytrain station (N7; exit 3) and just a few minutes' walk to the famous Chatuchak weekend market, offers "holistic traditional Oriental treatments". Treatments – from body oil massage and shiatsu to "marble hot stone therapy" and head massage – are designed to strengthen your immune system and prevent disease. You'll need them if you're going to brave the market's masses. Check out its Samsara Special Ayurvedic Package for two and a half hours at Bt3,700. Expect herbal steam and the forehead oil-drip shirodhara.
Also in the developing business area near Chatuchak market, the Centara Grand at Central Plaza Ladprao Bangkok (quite a mouthful) has a SPA Cenvaree that offers a comprehensive range of treatments. Soaring above the ceaseless adrenalin thrum of Bangkok, the gleaming Centara Grand at CentralWorld is a remarkable edifice. Its iconic lotus-petal crown presides over an integrated development encompassing the convention centre, hotel, cinemas, dining, and some of the best shopping in the city – by the acre – at the CentralWorld mall. Spa out here with a view over Bangkok.
Divana Spa has three branches dotted around the city. The first was the Divana Massage & Spa at Sukhumvit 25. Divana Nurture Spa at Sukhumvit 35 just opposite The Emporium shopping mall, and Divana Divine Spa at Thong Lor17, completes the circuit. There's a huge range of treatments, massages and facials for men and women. Dull skin? Try the "Caviar and collagen body serum", including oxygen body massages, steam treatment, a warm milky bath and the signature caviar and collagen body massage.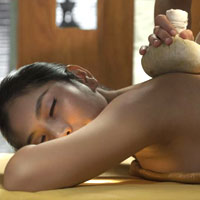 Poultices at Mandarin Oriental Bangkok spa/ photo: hotel
The Palm Herbal Retreat in Bangkok's Thonglor area has everything from massages, baths, and wraps to paraffin treatments for hands and feet. Anyone for a "Chinese crushed pearl body scrub"? There are half-day, full-day and lovers' packages. New mums can recover with the special post-natal treatment.
Another day spa is the C T Spa Life on Soi Thonglor off Sukhumvit Road. Therapies include the curious-sounding "Indian ear massage", but there's hydrotherapy, aromatherapy, Thai massage and facial treatments too. The St Carlos Integrated Medical Spa (part of the St Carlos Group of Health Services) in Pathumthani offers a range of programmes and packages – from a post-natal package for new mothers wanting to regain their ideal weight after delivery, to a honeymoon package and smoke toxin release package. There is also a range of more conventional treatments.
The Siri Giriya Spa on Sukhumvit 60 offers the usual body wraps, scrubs and Thai massage, in addition to herbal hydrotherapy and the saucy-sounding "Double comfort" massage, as well as an 80-minute slimming massage.
That's the dope on the best Thailand spa resorts for all pockets and moods. Go on, spa out.
Send us your Feedback / Letter to the Editor
FAST FACTS

/ Hotel Contact List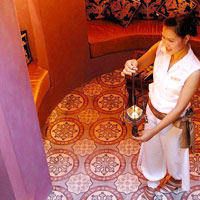 Sp at Zazen Samui - atmospheric/ photo: hotel
Our review of Thailand spa resorts includes hotels and products that our writers have visited and inspected. Products, of course, change over time. This is a directory of some of the more interesting options for top Thai spas.
Bangkok Hotel Spas Guide
Anantara Siam Bangkok Hotel. Tel: [66-2] 126-8866, (siam-bangkok.anantara.com).
Anantara Riverside Bangkok Resort. Tel: [66-2] 476-0022, (www.anantara.com/en/riverside-bangkok).
Banyan Tree Bangkok. Tel: [66-2] 679-1200, (www.banyantree.com/en/thailand/bangkok).
Centara Grand at Central Plaza Ladprao Bangkok. Tel: [66-2] 541-1234, (www.centarahotelsresorts.com).
Centara Grand at CentralWorld. Tel: [66-2] 100-1234, (www.centarahotelsresorts.com/centaragrand/cgcw/).
COMO Metropolitan Bangkok. Tel: [66-2] 625-3333, (www.comohotels.com/en/metropolitanbangkok).
Conrad Bangkok. Tel: [66-2] 690-9999, (conradhotels1.hilton.com).
CT Spa Life. Tel: [66-2] 714-9481, (www.bangkokspa.net). BTS train to Thonglor and taxi.
Dahra Beauty and Spa. Tel: [66-2] 235-4811, (www.dahra-spa.com).
Divana Spa. Tel: [66-2] 661-6784, (www.divana-dvn.com).
Dream Hotel Bangkok. Tel: [66-2] 254-8500, (www.dreamhotels.com).
Dusit Thani. Closed from 5 January 2019 for redevelopment. Tel: [66-2] 636-3596, (www.dusit.com/dusitthani/).
Grand Hyatt Erawan Bangkok. Tel: [66-2] 254-1234, (bangkok.grand.hyatt.com).
JW Marriott Hotel Bangkok. Tel: [66-2] 656-7700, (www.marriott.com).
Nibhana Spa. Tel: [66-2] 250-7082, (e-mail: contact@nibhanaspa.com).
Palm Herbal Retreat. Tel: [66-2] 391-3254, (www.palmherbalspa.co.th).
Royal Orchid Sheraton Hotel & Towers. Tel: [66-2] 266-0123, (www.marriott.com/royal-orchid-sheraton).
Samsara Spa. Tel: [66-2] 278-4054, (www.samsaraspathailand.com/).
Shangri-La Bangkok. Tel: [66-2] 236-7777, (www.shangri-la.com/bangkok).
Sheraton Grande Sukhumvit. Tel: [66-2] 649-8888, (www.marriott.com/sheraton-grande-sukhumvit).
Siam Kempinski Hotel Bangkok. Tel: [66-2] 162-9000, (www.kempinski.com/en/bangkok).
Siam@Siam Design Hotel. Tel: [66-2] 217-3000, (www.siamatsiam.com).
Siri Giriya Spa. Tel: [66-2] 741-5199, (www.sirigiriyaspa.com).
So Sofitel Bangkok. Tel: [66-2] 624-000, (www.so-sofitel-bangkok.com/).
The St Regis Bangkok. Tel: [66-2] 207-7777, (www.marriott.com/st-regis-bangkok/).
The Athenee Hotel, a Luxury Collection Hotel Bangkok. Formerly Plaza Athenee. Tel: [66-2] 650-8800, (www.theatheneehotel.com).
The Mandarin Oriental, Bangkok. Tel: [66-2] 659-9000, (www.mandarinoriental.com/bangkok).
The Oasis Spa, Bangkok. Tel: [66-2] 262-2122, (www.oasisspa.net).
The Okura Prestige Bangkok. Tel: [66-2] 687-9000, (www.okurabangkok.com).
The Peninsula Bangkok. Tel: [66-2] 861-2888, (www.peninsula.com/en/bangkok).
The Sukhothai. Tel: [66-2] 287-0222, (www.sukhothai.com).
The Westin Grande Sukhumvit Bangkok. Tel: [66-2] 207-8000, (www.marriott.com/westin-grande-sukhumvit/).
Chiang Mai and Chiang Rai
137 Pillars House. Tel: [66-53] 247-788, (137pillarschiangmai.com/en/).
Anantara Chiang Mai Resort. Tel: [66-53] 253-333, (www.anantara.com/en/chiang-mai).
Anantara Resort Golden Triangle. Tel: [66-53] 784-084, (www.anantara.com/en/golden-triangle-chiang-rai/).
Chiang Mai Oasis Spa. Tel: [66-53] 920-111, (www.oasisspa.net/).
Dusit D2 Chiang Mai. Tel: [66-53] 999-999, (www.dusit.com/dusitd2/chiangmai/).
Kaomai Lanna Resort. Tel: [66-53] 834-470, (www.kaomailanna.com).
Maninarakorn Hotel. Tel: [66-53] 999-555, (www.maninarakorn.com).
Dhara Dhevi, Chiang Mai. Tel: [66-53] 888-888, (www.dharadhevi.com/).
Phu Chaisai Mountain Resort. Tel: [66-53] 918-636, (www.phu-chaisai.com).
Puripunn. Tel: [66-53] 302-898, (www.puripunn.com).
RarinJinda Wellness Spa Resort. Tel: [66-53] 247-000, (www.rarinjinda.com).
Tamarind Village. Tel: [66-53] 418-896, (www.tamarindvillage.com).
The Rachamankha. Tel: [66-53] 904-111, (www.rachamankha.com).
Shangri-La Hotel, Chiang Mai. Tel: [66-53] 253-888, (www.shangri-la.com/chiangmai/shangrila/).
Sukantara Cascade Resort & Spa. Tel: [66-81] 8814-144, (www.sukantara.com).
Four Seasons Resort Chiang Mai. Tel: [66-53] 298-181, (www.fourseasons.com/chiangmai).
Hua Hin wellness resorts
Anantara Hua Hin Resort. Tel: [66-32] 520-250, (www.anantara.com/en/hua-hin/).
Ba Ba Beach Club Hua Hin. Tel: [66-32] 899-130, (www.bababeachclub.com/huahin/)
Centara Grand Beach Resort & Villas Hua Hin. Tel: [66-32] 512-021, (www.centarahotelsresorts.com).
Chiva-Som. Tel: [66-32] 536-536, fax: 511-154, (www.chivasom.com).
Evason Hua Hin and Six Senses Spa. Tel: [66-2] 632-111, (www.sixsenses.com/evason-resorts/hua-hin/).
Hilton Hua Hin Resort & Spa. Tel: [66-32] 538-999, (www3.hilton.com/hilton-hua-hin).
Hua Hin Marriott Resort & Spa. Tel: [66-32] 511-881, (www.marriott.com/hua-hin-marriott/).
Hyatt Regency Hua Hin. Tel: [66-32] 521-234, (www.hyatt.com/hyatt-regency-hua-hin).
InterContinental Hua Hin Resort. Tel: [66-32] 616-999, (huahin.intercontinental.com/).
Sheraton Hua Hin Pranburi Villas. Tel: [66-32] 708-000, (www.marriott.com/sheraton-hua-hin-pranburi-villas/).
Sheraton Hua Hin Resort & Spa. Tel: [66-3] 270-8000, (www.marriott.com/sheraton-hua-hin).
So Sofitel Hua Hin. Tel; [66-32] 709-559, (www.so-sofitel-huahin.com/).
The Regent Chaam Beach Resort. Tel: [66-32] 451-240, (regent-chaam.com/).
Veranda Resort and Spa Huan Hin - Cha Am. Tel: [66-32] 709-000, (www.verandaresort.com/).
Wora Bura Resort and Spa. Tel: [66-32] 536-999, (www.worabura.com).
Khao Lak spa resorts
La Flora Resort & Spa Khao Lak. Tel: [66-76] 428-000, (www.lafloraresort.com/).
Robinson Club Khao Lak. (www.robinson.com/khao-lak/).
Moracea by Khao Lak Resort. Tel: [66-76] 428-111, (www.moraceakhaolakresort.com/).
The Sarojin. Tel: [66-76] 427-900, (www.sarojin.com).
Koh Samui spa guide
Anantara Bophut Koh Samui Resort. Tel: [66-77] 428-300, (www.anantara.com).
Bandara Resort and Spa, Samui. Tel: [66-77] 245-795, (www.bandarasamui.com).
Belmond Napasai Koh Samui. Tel: [66-77] 429-200, (www.belmond.com/koh-samui/).
Bo Phut Resort & Spa. Tel: [66-77] 245-777, (www.bophutresort.com/).
Centara Grand Beach Resort Samui. Tel: [66-77] 230-500, (www.centarahotelsresorts.com/centaragrand/).
Eranda Herbal Spa. Tel: [66-77] 422-666, (www.erandaspa.com).
Four Seasons Resort Koh Samui. Tel: [66-77] 243-000, (www.fourseasons.com/kohsamui).
Health Oasis Resort. Tel: [66-77] 420-124, (www.healthoasisresort.com).
InterContinental Samui Baan Taling Ngam. Tel: [66-77] 429-100, (samui.intercontinental.com/).
Kamalaya Koh Samui. Tel: [66-77] 429-800; (www.kamalaya.com).
Pavilion Samui Villas & Resort. Tel: [66-77] 424-030, (www.pavilionsamui.com).
Renaissance Koh Samui Resort & Spa. Tel: [66-77] 429-300, www.marriott.co.uk/renaissance-koh-samui-resort-and-spa/).
SALA Samui Chaweng Beach. Tel: [66-77] 905-888, (www.salahospitality.com/chaweng/).
Sala Samui Choengmon Beach Resort. Tel: [66-77] 245-888, (www.salasamui.com).
Santiburi Koh Samui. Tel: [66-76] 425-031, (www.santiburi.com).
Sheraton Samui Resort. Tel: [66-77] 422-020, (www.marriott.com/sheraton-samui-resort/).
Six Senses Samui. Tel: [66-77] 245-678, (www.sixsenses.com/resorts/samui/).
Tamarind Springs. Tel: [66] 85-926-4626, (www.tamarindsprings.com/).
The Briza Beach Resort Samui. Tel: [66-77] 231-997, (www.thebriza.com).
The Ritz-Carlton Koh Samui. Tel: [66-77] 915-777, (www.ritzcarlton.com).
The Tongsai Bay. Tel: [66-77] 245-480, (www.tongsaibay.co.th).
The Spa Samui Beach. Tel: [66-77] 280-855, (www.thesparesorts.com/). Also Spa Samui Village.
Vana Belle, a Luxury Collection Resort, Koh Samui. Tel: [66-77] 915-555, (www.marriott.com/vana-belle).
W Koh Samui. Tel: [66-77] 915-999, (www.marriott.com/w-koh-samui/).
Zazen Boutique Resort & Spa. Tel: [66-77] 425-085, (www.samuizazen.com).
Krabi and Phi Phi
Amari Vogue Resort. Tel: [66-75] 607-777, (www.amari.com/vogue).
Centara Grand Beach Resort & Villas Krabi. Tel: [66-75] 637-789, (www.centarahotelsresorts.com/centaragrand/ckbr/).
Dusit Thani Krabi Beach Resort. Tel: [66-75] 628-000, (www.dusit.com/dusitthani/krabibeachresort/).
Layana Resort & Spa. Tel: [66-75] 607-100, (www.layanaresort.com).
Nakamanda. Tel: [66-75] 628-200, (ww.nakamanda.com).
Pimalai Resort & Spa. Tel: [66-75] 607-999, (www.pimalai.com).
Rayavadee Krabi. Tel: [66-75] 620-740, (www.rayavadee.com).
SriLanta. Tel: [66-75] 662-688, (www.srilanta.com).
The Tubkaak Boutique Resort Krabi. Tel: [66-75] 628-400, (www.tubkaakresort.com).
Zeavola. Tel: [66-75] 627-000, (www.zeavola.com).
Pattaya, Koh Chang, Trat
Hard Rock Hotel Pattaya. Tel: [66-38] 428-755, (pattaya.hardrockhotels.net/).
Hilton Pattatya. Tel: [66-38] 253-000, (www3.hilton.com/hilton-pattaya).
InterContinental Pattaya Resort. Tel: [66-38] 259-888, (pattaya.intercontinental.com/).
Pullman Pattaya Hotel G. Formerly Aisawan. Tel: [66-38] 411-940, (www.pullmanpattayahotelg.com/).
Ramayana Koh Chang Resort & Spa. Tel: [66-39] 551-033, (www.ramayana.co.th).
Renaissance Pattaya Resort. Tel: [66-38] 259-099, (www.marriott.com/renaissance-pattaya-resort/).
Royal Cliff Beach Resort. Tel: [66-38] 250-421, (www.royalcliff.com).
Phuket spa resort directory
Aleenta Phuket – Pha Nga Resort and Spa. Bangkok office tel: [66-2] 514-8112, (www.aleenta.com/phuket/).
Amari Coral Beach Resort. Tel: [66-76] 340-106, (www.amari.com/coralbeach).
Amanpuri. Tel: [66-76] 324-333, (www.aman.com/resorts/amanpuri).
Anantara Layan Phuket Resort. Tel: [66-76] 317-200, (www.anantara.com/en/layan-phuket/).
Anantara Mai Khao Phuket Villas. Tel: [66-76] 336-100, (www.anantara.com/en/mai-khao-phuket).
Angsana Laguna Phuket (formerly Sheraton). Tel: [66-76] 324-101, (www.angsana.com/en/phuket/).
Avista Hideaway Phuket Patong, MGallery by Sofitel. Tel: [66-76] 681-681, (www.avista-hideaway-phuket-patong.com/).
Ayara Hilltops Boutique Resort & Spa. Tel: [66-76] 271-271, (www.ayarahilltops.com).
Baan Yin Dee Phuket. Tel: [66-76] 294-104, (www.baanyindee.com).
Banyan Tree Phuket. Tel: [66-76] 324-374, (www.banyantree.com).
Burasari Phuket. Tel: [66-76] 292-929, (phuket.burasari.com/).
COMO Point Yamu. Tel: [66-76] 360-100, (www.comohotels.com/pointyamu).
Mövenpick Resort & Spa Karon Beach Phuket. Tel: [66-76] 396-139, (www.movenpick.com/resort-phuket-karon-beach/).
Deevana Patong Resort & Spa. Tel: [66-76] 341-414, (www.deevanapatong.com).
Dusit Thani Laguna Phuket. Tel: [66-76] 362-999, (www.dusit.com).
Hilton Phuket Arcadia Resort & Spa. Tel: [66-76] 396-433, (www3.hilton.com/arcadia).
Hyatt Regency Phuket Resort. Tel: [66-76] 231-234, (phuket.regency.hyatt.com).
JW Marriott Phuket Resort & Spa. Tel: [66-76] 338-000, (www.marriott.com/hotels/travel/hktjw-jw-marriott).
Kata Rocks. Tel: [66-76] 370-777, (www.katarocks.com/).
Keemala Phuket. Tel: [66-76] 358-777, (www.keemala.com).
The Naka Island, a Luxury Collection Resort & Spa Phuket. Tel: [66-76] 371-400, (www.marriott.com/the-naka-island).
Phuket Marriott Resort & Spa, Nai Yang Beach (formerly Adamas Resort & Spa, Phuket). Tel: [66-76] 316-000, (www.marriott.com).
The Pavilions Phuket. Tel: [66-76] 317-600, (www.pavilionshotels.com/).
SALA Phuket Resort and Spa. Tel: [66-76] 338-888, (www.salahospitality.com/phuket).
Sri Panwa. Tel: [66-76] 371-000, (www.sripanwa.com).
The Boathouse. Tel: [66-76] 330-015, (www.boathousephuket.com).
The Mangosteen Ayurveda & Wellness Resort. Tel: [66-76] 289-399, (mangosteen-phuket.com).
The Slate (formerly Indigo Pearl). Tel: [66-76] 327-006, (www.theslatephuket.com/).
The Surin Phuket. Tel: [66-76] 316 400, (www.thesurinphuket.com/).
The Nai Harn (formerly The Royal Phuket Yacht Club). [66-76] 388-210, (http://www.thenaiharn.com/).
Trisara. Tel: [66-76] 310-100, (www.trisara.com).
Twinpalms Phuket. Tel: [66-76] 316-500, (www.twinpalms-phuket.com).
Vijitt Resort Phuket. Tel: [66-76] 363-600, (www.vijittresort.com).