BUSINESS TRAVEL
Taipei guide for pin-stripers
The A to Z of Taipei business hotels, budget stays, boutique hotel options and even the odd golf resort. But what about Wendy?
updated by Vijay Verghese with additional photography
SEE ALSO Taipei fun guide | Taipei spas and Beitou hot springs | Taipei nightlife | Beijing hotel reviews | Hong Kong business hotels | Hong Kong shopping | Seoul guide | Shanghai business hotels | Tokyo guide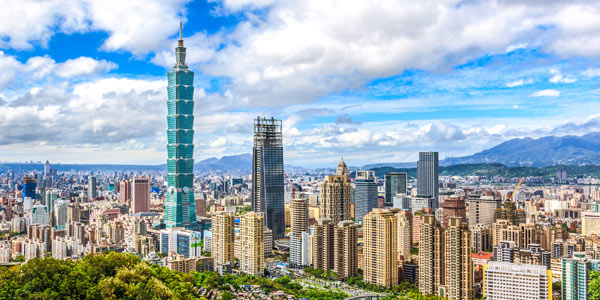 JUMP TO Getting around Taipei | Taipei business hotels | Midtown area | Xinyi district | Taipei north, West, and Beitou | Hsinchu and Taoyuan | Hotel Contacts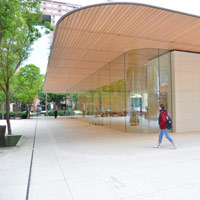 Xinyi cool - minimalist Apple store / photo: Vijay Verghese
AS THE calling cards and messages slipped under room doors once proclaimed: 'All Business Men, Wendy wants you.' And – if the massage ads that fill the classifieds are to be trusted – so do her friends Misty, Ella, Aiko and Jessica. It's the kind of image that had the mandarins over at Taiwan Tourism sputtering with frustration.
Truth be told, Taiwan has taken great leaps forward in terms of its hospitality industry. Relegated well and truly to the backburner are the seedy short-time motels and gaudy love hotels that once would have been a likely misstep for any unwary visitor.
All hail a new age of hip boutique hotels and long-term serviced apartments with de rigueur broadband access at the fastest speeds technology can supply. NextGen accommodation is springing up in modern developments like the cloud-tickling Taipei Sky Tower near Taipei 101 (that will uniquely house both an Italian-designed Park Hyatt and an Andaz by 2021). Taipei business hotels are among the best anywhere, perhaps the friendliest too, and always with some scrumptious local fare to tempt even prudent palates.

Send us your Feedback

Hotel Contacts
Indeed, now is the time to call all businessmen and discerning travellers to Taipei, with four-star quality rooms and service often coming at two-star prices. It's time to reassess Taiwan's much maligned capital city, fluff-up the pillows on your king-size bed, switch on the 50-inch flatscreen TV, indulge in some of Asia's finest cuisine, sample some throbbing nightlife and possibly even make that big deal in the shadow of the world's tallest building.
Thanks for the offer Wendy, but Taipei is strictly open for business.
Getting around the city
Getting around Taipei has never been easier. Thanks to an ever-expanding MRT train network and famous stick-out-your-hand-and-it's-there taxi availability, no place is far away. You can stay in the hot spring foothills and commute to the swanky sky-rise Xinyi business district in a matter of minutes.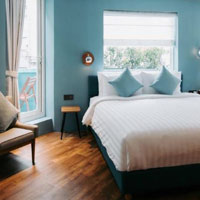 Arty touches at the small design hotel Hoyumi near Regent/ photo:hotel
And now that the High Speed Rail (HSR) bullet train is up and running, farther flung accommodation options are available, too. Taxis are easy to find and will cost an average NT$150-NT$200 for rides across downtown (with flagfall at about NT$105). A taxi from the Regent hotel to Xinyi will set you back not more than NT$350 while Regent to Daan SOGO is around NT$145. After the carnage of a Bangkok or a Shanghai, traffic in Taipei - punctuated by yellow cabs - is modest with a preponderance of two-wheel scooters (but not many motorcycles).
The drive in from Taoyuan International Airport (www.taoyuan-airport.com) takes around 45 minutes on the newish elevated highway and will set you back around NT$1,200 (to the Regent say) to NT$1,400 (for Xinyi hotels). The yellow cabs are to the far left as you exit the arrivals concourse. The renovated airport is neat and quick with a 20-minute gate-to-taxi experience if there are no crowds. The immigration area is not vast but reasonably efficient with arrivals required to take a face photograph and leave two finger impressions. There is an x-ray for food and meat products.
Taipei Airport Terminal 1 duty-free prices are reasonably attractive with one litre of 12-year-old Johnnie Walker Black Label setting you back just about US$24, with a 12-year-old Chivas (750ml) priced at US$21. A nicely presented Glenfiddich 'Reserve Cask' cherry oak, single malt is US$67. Buying alcohol in twin packs is cheaper. A 50ml bottle of EDP J'Adore by Dior is US$94 and a 7.5ml COCO Chanel parfum at US$140. If in the mood for silk ties expect to fork out US$236 for a bright Hermes. Several international brands are to be found in Terminal 1. Expect COACH, BVLGARI, Burberry, Hermes, Cartier, Ferragamo, Dior, Gucci, TOD's, Longchamp, Bottega Veneta, Tory Burch (handbags), BOSS, TUMI and more. Pick up Sunmai craft beer and potter about the Taiwan Museum shop while departing.
Send us your Feedback / Letter to the Editor
Approaching Taipei in geographical terms is the best way to get one's head around the dizzying array of hotel options now on offer, and the following Taipei business hotel and wild city guide begins, appropriately enough, in the heart of Taipei's old downtown neighbourhood.
Taipei business hotels downtown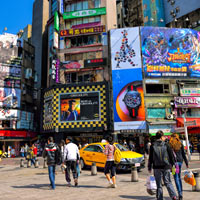 Hip, young Ximending District looks like it was pulled out of a video game
The easiest place to find accommodation in Taipei is close to the Main Station (where rail and metro intersect), an imposing if gloomy brown-stone mausoleum to the east of the spot where most airport buses terminate. Guided by the 45-storey beacon of Shin Kong Tower to the southwest, one exits the railway station and enters a world of computer malls, local fashion boutiques, stationary and CD stores, coffee shops and round-the-clock-cramming bushiban language schools.
Deep in the interior of this urban jungle is the three-star 200-room Hotel Flowers, a fixture of Taipei's accommodation scene for many years, and one that, like an aging tai tai (wealthy wife), keeps rejuvenating herself for successive generations of admirers.
Cheap, no-nonsense and well-located, Hotel Flowers offers an authentic taste of a disappearing Taipei. The coffee shop here is on street-level and is a popular meeting point, a place to stare through expansive windows and marvel at the antics of all the weaving motor scooters and frantic pedestrians outside.
Also within hollering distance of Taipei Main Station is the small but cheerful, friendly, and excellently located YMCA (www.ymcahotel.tw/) also referred to as Y Hotel. Rooms are comfortable if plain. Also find triple rooms and family 'quad rooms'. Its location right next to Nanyang Street that bristles with food, milk tea, noodles, Japanese savouries, and excellent Taiwan fried chicken (as at Two Peck, No.8 Nanyang Street), is an added plus. The area is nondescript but fun and prices won't hurt the wallet. Rates at the 99-room YMCA start at NT$2,100 for a standard single with a Family Quad (Superior) priced substantially higher at NT$5,100 (with some solace in the fact that this is inclusive of tax and service charge.
Across the Taipei Railway station is the Caesar Park Hotel. Rooms range from bland but well equipped Superior rooms in cream to a brighter Metro Room in lime green and the smart Station Suite with bright floral art behind the beds. The whimsical Lady Room with its feminine touches has disappeared. Room facilities include free WiFi, safe, hairdryer and large flat-screen TV. Guests can utilise the business centre, health club, rooftop garden and in-house spa.
The 286-room Palais de Chine Hotel (opened May 2010) on Chengde Road is conveniently located right next to Taipei Station and at the intersection of two subway lines. It sits right above the hip shopping mall Q Square (www.qsquare.com.tw/) bursting with brand names like Zara, agnes b, sport b, Swarovski, Tissot and Kiehl's. It has a huge vertical garden and restaurants too but most do not open in time for early breakfast.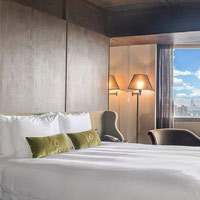 Palais de Chine Executive Room/ photo: hotel
Just across the road is an old street market area with aromatic food stalls and bric-a-brac by the yard. Palais de Chine is an unblinkingly in-your-face faux-Swiss-castle fantasy from the moment you step into the tiny crimson-curtained street-level foyer with its full size horse statue peering out of the dark. While there is no pull-in drive for taxis, once you've entered the foyer, smiling staff snap briskly into action and will escort you up to the even darker lobby with a back-lit stone wall, huge wood wall panels and eclectic statuary glowing under pinpoint lights.
The rooms are lux yet minimalist with a plump white bed to give you your initial bearings. With light at a premium, guests are well advised to figure out the light switches first. After that it is smooth sailing and, if whimsy is your style, this is a fun choice. If you prefer classical and predictable, shop elsewhere. Daytime, throw open the curtains, flood the room with light, and get to know your room better.
Stark wood panel walls rise up from timber floors. A small circular bathtub – with a wraparound curtain – greets you on one side as soon as you enter the room as does the open-plan washbasin with its tall swivel mirror. In the small bathroom is a Japanese toilet with an imposing array of buttons that, once mastered, will soothe and pamper business traveller bottoms to perfection. A small cubicle houses the hand shower. The basin is connected seamlessly to the work desk behind the mirror so don't splash about excessively. Walking into this area at night activates motion sensors that turn on the lights.
The rooms feature e-butler service, flat-screen TV, WiFi access and safe. Also find a comfy settee, a digital clock, and a data-port at the desk with three square pin sockets (220AC and 110DC). A semi-classical touch is provided by the well-lit wooden pantry cabinet and cupboard. Utilise your windows fully and the room is a dreamy escape. Beware of the dark though. Recreational facilities include a gym, and a plush executive lounge with deep seating leather chairs that serves up drinks and delicious evening morsels. Blink and you could be in Paris circa 1920.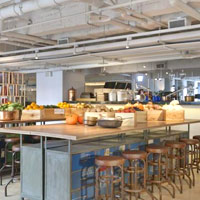 Funky amba Taipei, CHiba Restaurant with exposed pipes/ photo: hotel
The Grand Hall for meetings and events continues that playful deception with purple velvet draped chairs and vast banks of glittering chandeliers hanging voluptuously from the copper ceiling with the usual focus on pools of light rather than floodlights. Bring your girlfriend here – and a good torch. The business centre is another whimsical escape and not for overly serious bankers.
A few blocks across and you are in the oldest area of Taipei, Di Hua Street with its traditional medicine shops and herbs and spices spilling out onto the sidewalk. It seems fitting that the city's most ancient neighbourhood – one that narrowly avoided the demolition ball in the 1980s – should now host City Suites (www.citysuites.com.tw/), a hotel that exemplifies chic modernity. (There were four City Suites in Taipei by January 2020, each with trendy touches. The Nandong offering is a bit more plush and filled in.)
A stunning find along this section of Nanjing West Rd, the City Suites showcases graceful, open interior design, with themes of wood, water and stone playing throughout. The boutique "English" reading room is particularly noteworthy, as are the wide flatscreen TVs and DVD players in each suite. The emphasis here is on making long-stay guests feel at home and this translates well in the deluxe suites, which include their own Japanese gardens. Modern rooms feature light woody tones, many with suitcase storage under the bed, a clever idea. Family rooms come with two double beds and the same signature minimalist woody style.
Close by Taipei Railway Station is the busy nightlife teen district of Ximending. This area is worth a prowl for all ages and best viewed at night when the markets and street stalls are in full swing. In side alleys find good budget hotels, stylish escapes, spas, novelty shops, cinemas and fresh food (street food will start at NT$35 or less). Taxis are blocked in several pedestrian-only areas after 6pm but there's never any shortage.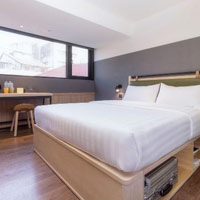 Chic City Suites, woody and airy/ photo: hotel
Tucked far inside in a pedestrian-only area (but accessible by taxi) is the staid Ambassador's younger and livelier sibling, the amba Taipei. There are taxis lurking in the morning to effect your business meeting escape. A nondescript grey cement building greets visitors but the interior could not be farther from the exterior. This is a fun, fantasy world where art meets lounge and bookshelves line the cafe. Take the lift up to the 5th floor reception and prepare for your eyes to pop out.
Explore sticker art, modern sculptures, mood lighting, a skylight beer garden table lobby lounge, and staff that is eager to please. The 160 rooms start from 20sq m and average 25sq m. Use a key card to operate the lift. Rooms are compact but there is space enough as the toilet, rain shower and washbasin is set up along the entranceway saving space for a spartan white-walled room with a flat screen LCD. There's no cupboard but a roll-up canvas hangar serves as the wardrobe. This is where you'll find the mysteriously hidden TV remote, tucked into a pocket. The bed is wide and is actually two twin beds joined, there is a laptop-size safe, and the rain shower is fast, powerful and refreshingly hot. Rooms are simply labelled - Smart Room, Medium Room, Large Twin Room etc. If you are claustrophobic opt for a bright Balcony Room with plenty of light, space, and of course a terrace.
Everything about the hotel is hip and relaxed. Unlike Eclat, which tries really hard, amba is almost effortless in its approach and the smiling faces packing the cafe attest to some success. The open plan design works as do the raw touches like the stripped away ceiling with white paint over the pipes. This could be an advertising agency in Hong Kong. A good spot for leisure and even for business travellers in a bind.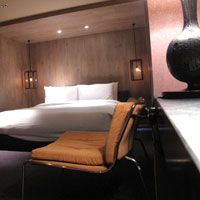 Young at heart Quote/ photo: Vijay Verghese
The open plan design works as do the raw touches like the stripped away ceiling with white paint over the pipes. This could be an advertising agency in Hong Kong. A good spot for leisure and even for business travellers in a bind.
You can't miss your room if you're staying at the Hotel Quote Taipei – room numbers glow in the dark on glass panels outside the doors. Nearby are the Taipei Arena (where major concerts are held) and the Nan Jing East Road MRT station. There are seven room categories – a lot for a small hotel. The Q room is the starting category with an E room being the top-line offering, just below thre Quote Room. All 64 rooms offer free Wireless internet access, complimentary use of mini-bar and designer sound systems.
Quote is a converted former karaoke parlour and it still carries much of its previous history in the architecture and style. Walk in from the street into a nightclub with beaten silver metal walls and an adjoining reception check-in desk. Turn right to dance and left to pick up your room key. On the second floor is the mod and well equipped 24-hour HQ Lounge with TV screens and a couple of iMacs. Grab free candies, shoe wax, fruit and other sundries. There is a welcoming and informal feel to the place.
A 53sq m E room serves up a king-size bed, flat-screen TV, large tan sofa, large work desk with big table lamp, comfy chair and a coffee gizmo. Also expect an iPod dock, two three-pin multi sockets, internet cable, DVD player, and plain scrubbed wood walls (the hotel was designed by the same person who did Palais de Chine). There the similarity ends as Quote is well lit.
The bathroom features a large rain shower, Jacuzzi tub, Japanese potty with electrical commands, floral wallpaper in certain sections and a tiny balcony. Business travellers will appreciate the top-loading flat laptop-size safe, weighing scales and a hairdryer. Quote is a fun choice among Taipei boutique hotels. Not for the straitlaced. Taxis at peak time may be a tad problematic. Better to go up to the rooftop terrace to catch a glimpse of the Taipei city skyline.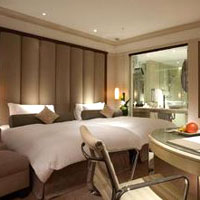 Hotel Royal-Nikko Taipei/ photo: hotel
For many business travellers to Taipei the name Zhongshan Road is a familiar one. Heading north directly from the Main Station this busy, tree-lined boulevard is home to some of the city's best accommodation solutions. Heading east of City Suites one first hits the Japanese-run 202-room Hotel Royal-Nikko Taipei. Rooms feature flatscreen TV, DVD, ironing machine, safe and hi-tech toilets. The top-drawer Royal Suite and 89sq m Premier Suite offer the added luxury of a Jacuzzi and a steam room. This sumptuous place comes replete with some of Taipei's most exclusive designer brands on its doorstep.
The Le Café has a Parisian appeal; elegant, airy and always full of well-heeled customers comparing purchases over lattes. With fine dining in mind, the Japanese kaiseki-ryon (country inn-style) Nakayama restaurant is well regarded, even by Taipei's spoilt-for-choice public. The majority of the customers to Hotel Royal-Nikko Taipei are Japanese business executives, so the bathroom fixtures are top-notch, complete with heated-toilet seats. And for workouts there's the rooftop swimming pool and gym. By January 2020 the hotel also boasted a Royal VIP Lounge in the basement. A nice addition.
Just around the corner from the Nikko and The Regent in a hidden backstreet is the excellent value Japanese-run K Hotels Taipei I with 53 rooms. Pick the K Suite for extra space and a clean corporate environment with HUGE television, a sofa set, work desk and free WiFi. Also expect a coffee-making facility and a second GIANT TV in the bedroom. The bed is more than ample for American biz bods set in pastel surrounds. There is a giant safe, a DVD player, a Japanese toilet, a hairdryer, and a shower-tub combo. The more budget inclined can opt for a smart Executive room. Staff is very much on the ball and pleasant.
Just next door is the tiny five-room Hoyumi Hotel with its doll's-house appeal and bright colours (starting with the striking blue esterior) with whimsical design and pastel monochrome rooms with wooden floors and simple layouts. Expect balconies, an electric kettle, WiFi, bottled water, hairdryer, and a laptop safe. A Quadruple Room is available for four persons. Expect rates of around US$85 at this tiny well-sited art hotel.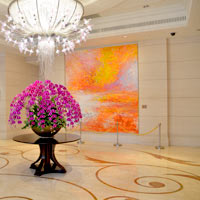 Okura Prestige lobby: Is that enough crystal bling for you?/ photo: Vijay Verghese
Rooms at the 426-room Ambassador Hotel Taipei are mostly decked out in European fashion with pastel tones and patterned carpets. Executive rooms are darkly elegant with huge flatscreen televisions.Those in need of a quick, relaxing fix can head to the sauna that offers massage and beauty services. And for a bit of spicy Szechuan Chinese food, head up to the 12th floor. The Ambassador, long a mainstay of the Taipei hotels scene has been greatly reworked into a contemporary palette with a modern lobby and a fresh exterior though its age is clearly visible. This is a pretty decent location.
Down Zhongshan Road North, around the corner from The Regent at the Nanjing East Road crossing, is a 208-room Japanese offering, The Okura Prestige Taipei (opened August, 2012). This steel and glass mid-rise hotel breaks the traditional Japanese mould with a modern and very European touch from the airy small lobby with its crystal chandeliers to the bright beige and pastel rooms. Unlike other Okuras that tend to be sombre with dark woods predominating, this address is welcoming of light with large window panels. Expect deep bows and courteous Japanese-style service, big smiles and attention to detail. Bronze nymphs and cherubs will welcome you to the lobby along with bright art works.
A 56sq m Junior Suite features pale greys - including the grey leather headboard - a frosted glass sliding door leading to the bathing area, and two large flatscreen TVs, one in the bedroom and the other in the living room. Enjoy plump twin beds, wooden parquet flooring with orange-tone floral carpets under the bed, black-and-white marble lintels, Nespresso coffee, free WiFi, work desk with dataport and two three-pin multi-plug sockets, touchscreen controls for the room electronics (no switches alas), two washbasins, a rain shower, separate tub and a steam room.The toiletries are from Aromatherapy Associates. There is state-of-the-art Japanese potty and a semi walk-in closet.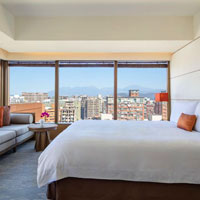 The Regent Taipei new-look Corner Suite/ photo: hotel
Road Warriors will be pleased to spot a laptop-friendly top-loading safe by the bed. All in, this is an unfussy and smart establishment that will be equally comfortable for Asians and Europeans. While corporate meetings facilities are available the limited number of rooms means this is not a large MICE establishment. Bring the CEO here though.

What can one add to the praise already heaped upon The Regent Taipei (once Grand Formosa Regent)? For those on a generous travel budget and sights set on one of the best Taipei business hotels, this is it, with features such as a personalised butler service, several international restaurants (including the Cantonese cuisine Silks House and the remodelled steak house Robin's Grill), three floors of haute couture duty-free shopping in the basement Regent Galleria – think knee-and-wallet-weakening brands like BVLGARI, Dior, Piaget, Hermes, Chanel, Cartier, LV, COACH, Bottega Veneta and more. The lobby is girdled by Louis Vuitton, Chanel, Harry Winston and Mikimoto.
Walk through the spacious brisk and busy cream marble lobby, up fast lifts, and down dark-wood corridors with dim lights, to your room. Everything about the colour scheme in pastel earth tones and muted browns is aimed at soothing frayed corporate nerves. As a hotel of a certain venerable vintage, rooms are vast. Bring your Frisbee along. All that space would have had any designer in a lather trying to cram in all manner of bric-a-brac, but no. The Regent has stayed regally simple and this is what sets it apart as a class act. The room is unfussy and comfortable, bordering on bare, with just enough accoutrements to be homey. It is hushed, dark, and elegant.
There is a large flat-screen TV, DVD, and one simple master switch to kill all the lights. On either side of the headrest are classic reading lights with shades while assorted lamps provide that lived-in feel. Depending on your orientation, you can see across to Taipei 101 in the distance. Business travellers will be pleased to see two new three-pin international electric sockets, HDMI and USB ports (replacing the meagre two-pin plug points at the work desk) and WiFi is reassuringly fast while posh toiletries beckon in the bathroom with an array of stuff from soap (remember that?) to toothpaste and a hairdryer (in its own towel bag). The hairdryer, at 1,350 watts, is best described as 'coyly gentle' and needs more power if you are to do more than your eyelashes. The rainshower is easy to operate unlike some B747 cockpit contraptions at overly clever design hotels, and the hot water arrives fast with back-soothing pressure.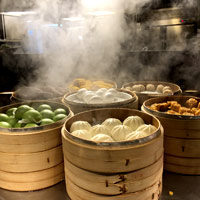 Regent Taipei serves scrumptious breakfasts in the basement Azie atrium cafe/ photo: Vijay Verghese
Hop into the tub for a languorous soak, watched by a rubber ducky that doubles a temperature gauge. And an automated Japanese toilet awaits to heat, soothe, wash and pamper all bottoms. It's not all autopilot however. Use the flush handle to operate it at will. Linen is changed once a day on request or leave that 'eco leaf' on the bed to leave your sheets unmolested. Irons can be had on request. And the inroom safe is a monster in a vertical format about the size of a self-respecting mini-bar (big enough to house your mother-in-law or bawling kids). If you head to the real mini-bar you'll find Kirin and Heineken beer at NT$160 and a can of Coke at NT$120. The toilet nightlight is wondrously muted and effective, and old-fashioned brass keys will enable you to slip into your room with a reassuring thunk as you turn it in the chamber. Who needs an electronic card?
Executive Rooms offer modestly plusher surrounds, 53sq m of work and play space, walk-in closets, a fax, soothing pastel tones and a marbled bathroom. For something brighter and less corporate pick a Corner Suite with its light pastels and wraparound views. These rooms work for all but are a tad more 'feminine'. The 19th floor hosts a small but cosy club lounge. For weary muscles there's the Wellspring Spa atop the hotel with a battery of treatments from jet-lag therapy to massage and wraps. Or head up to the refreshing rooftop swimming pool. The hotel's location is superb. Close by is the terminus of Taiwan's magnificent HSR bullet train, ready to whisk you the length of the country in under two hours. Sung Shan domestic airport is only 10 minutes away. Service at this hotel is excellent and the doormen are polite to a fault.
(Regent Taipei is showcased in our exclusive by-invitation Top Asian Hotels Collection, featuring the best Asian hotels, resorts and spas in a printable A4 page with stunning visuals.)
Moving along Zhongshan, one reaches one of the more impressive and competitive entrants to the Taipei hotel scene, K Hotels Taipei II (the K-Hotel group has around half a dozen properties dotted across Taipei now). K II is located directly opposite an old business favourite, The Fortuna, whose doors finally closed in June, 2007. "Out with the old and in with the new" seems to be the K-Hotel mantra. Compact, clean and functional, with very affordable rates, it remains one of the city's best bargains. Up Zhongshan Road North after the Ambassador is another, bigger, brighter K Hotel.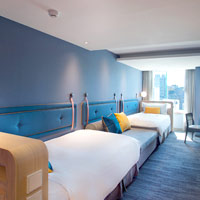 Just Sleep Ximending features a unique twin bed layout/ photo: hotel
For something fun but less pinching on price in the Regent Hotel area opposite the Okura, try the quirky Dandy Hotel which, despite the odd name, is not a bad choice at all. Run by the Taipei Inn Group, the 30-room Dandy is modern, small, smart and minimalist with pastel tones and light wood decor. It also has a sense of humour. The thematic rooms are modern and clean with 43-inch LCD TV (with video on demand), mini-bar, kettle, safe, hairdryer and complimentary WiFi as well as free plug-in Broadband.
Not far from Dandy is the ultra-small 4 Plus Hostel with dorm accommodation bunk-style at NT$550 and single rooms at NT$1,700. Instant coffee is available but no breakfast. This is no deal breaker as the place is in the midsts of affordable eateries.
Also from the Regent Group's Silks Hotel Group is the budget hotel chain Just Sleep, which has an option close to The Regent at 117 Linsen North Road. There are two more choices in Taipei including at Ximenting and one at the National Taiwan University campus. The lively Just Sleep Taipei Ximending (www.justsleep.com.tw/ximending) had returned by September 2019 after a massive NT$100m makeover. Sited at the bustling intersection of Zhonghua Road and Hankou Street, the brand was part of the development of this hip quarter a decade back and was also the first of its line from the group. Rooms are bright with dollops of cheery colour and practical touches like lengthwise twin beds (with the luxury of a luggage rack along one wall) and a triple bed offerings.
Just Sleep Linsen is a tiny blue building with compact spaces that manage to exude a sense of friendly simplicity. The finish is good and the interiors are clean and well maintained. In-room you'll find a small safe (not really for laptops), an indented arched recess that holds hangers for your clothes, two-pin plug sockets, and a tiled bathroom with a hand shower. The space is tight but well utilised. You will not feel unnecessarily cramped in an 18sq ft Superior. There is mineral water, free WiFi, small desk, a TV and self-service laundry. A Deluxe will stretch your elbow room to 21sq ft. On the 10th floor is a dispensing machine for soft drinks and snacks and one floor up (by the stairs this time), is the small but cheery Just Cafe. Somehow, the hotel manages to squeeze in 70 rooms in slightly varying configurations and all with comfortable beds. The immediate vicinity has street food and markets so there is much to explore.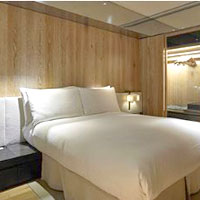 Gloria Residence Infinity Room for longstays/ photo: hotel
The Gloria Prince Hotel Taipei, not far from Regent at the junction of Min Sheng East Road and Lin Sen North Road, is an old-style war horse that has weathered many tourist storms with its unfussy woody interiors, and simple rooms with beige carpets, wood panels and long divans set under the windows to complement long working desks beneath the flat-screen TV. The 40sq m Junior Suites up the ante with bedside lamps, comfy living rooms and smart toilets. The hotel is popular with local visitors with an attractive price point. Try out its new L'Idiot Restaurant & Bakery for steak, pasta and more.
Immediately adjacent is the more upscale and designer-chic 51-room Gloria Residence, aimed at long-stay guests though you can wangle a short stay if you choose. Having the same designer, the place shares much intriguing DNA with Hotel Quote. Expect lots of black marble, minimalist white corridors - almost hospital-like in their simplicity - and lots of wood. In a 43sq m Abundance room you'll get compact but well thought out open-plan space with a stained black-wood desk (with two-pin plugs), free WiFi, a swivel TV that separates the 'living' area from the bedroom, a top-loading laptop-friendly safe, stressed wood cabinets, and a compact bathroom with tub, electronic Japanese potty, and a rain shower cubicle. The walls are endearingly in pale wood. Think Japan or Scandinavia. For long-stay guests there's a kitchenette with fridge, microwave and a washing machine (set outside on the small balcony). The cabinets are well designed and make full use of the space. Moving up one level to a 51sq m Infinity room is like stepping into Sweden. Rich woods adorn the walls with a more private bedroom and separate living area. Gloria Residence is an excellent choice if you're hunting for well located downtown Taipei longstay hotels.
The Tango Taipei Nanshi is part of the hip Tango Hotels brand so expect all things stylish and hi-tech. Rooms feature designer furniture and an all-in-one remote control system, while bathrooms have the luxury of Kohler Hansgrohe fixtures, flat-screen TV and electronic toilet. There is a lounge and business centre and with the Zhongshan MRT station just down the street, transportation won't pose a problem.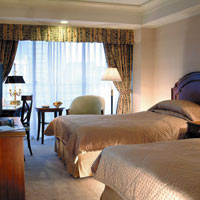 Hunker down in classic fashion at the Imperial/ photo:hotel
The Imperial Hotel has undergone a few facelifts over the years and is regarded as a reliable Taipei business hotels option. Apart from being within staggering distance of "The Combat Zone", Taipei's most notorious bar area at one time but now a tamer version with a decent night market, the Imperial also features several business-friendly touches. These include irons, ironing boards and WiFi and fax machines, as well as conference facilities for up to 300 guests. The lobby is personal, small and in white marble. The rooms run around a modest if neat atrium and 35 more were added in late 2012. Decor is sombre and classic in a vintage European fashion.
Also expect flat-screen TVs, a hairdryer and classic furnishings. Its Vibes Open Air Veranda is a useful hangout at the end of the day, and The Imperial Grill is a steak house of some renown. Enjoy Chinese Cantonese fare or pop outside to a sun-umbrella timber patio for an evening cocktail.
It is easy to get around if you stay at the Taipei Garden Hotel – two MRT stations, Xiaonanmen and Ximen, are within walking distance. There are 241 rooms and a choice of dining options: a bakery, deli, bar and two restaurants. Ximending, the place to be seen for the young and hip, is nearby. Rooms are in cream and pale gold with dark wood furniture. A rooftop timber-floor deck is a nice retreat for a city view and a spa is on hand too.
"Midtown" area hotels
As the pedant responsible for putting the apostrophe in Taiwan's erstwhile To'go travel magazine, Chris Stowers would like to exercise a degree of journalistic authority here and introduce a new term to Taipei's cartographic lexicon: "Midtown". It's in this indeterminate slot of real estate – bordered roughly to the south by the main drag of Zhongxiao East Road, and on west and east by Xinsheng N and Fushing N Roads – that some of Taipei's best business hotel bargains are to be bagged.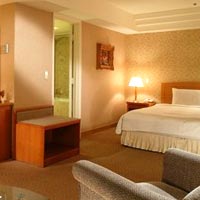 San Want Hotel/ photo: hotel
The San Want Hotel is just minutes from the corporate hub and both the entertainment and shopping districts, making this 268-room property suitable for both business and leisure travellers. Rooms are very spacious and decorated simply, but tastefully with a 'suite' feel - think a sofa living room arrangement, side desk and bed.
Dine Japanese, Chinese or French whilst putting up here. Adjacent to the Lin Sen Park and on Nanjing East Road is San Want Residence. This 81-room hotel is adorned with works of contemporary Taiwanese sculptors and earthy tones of brown and gold echo from the fairly elaborate lobby to the rooms. Room amenities include rain shower, sunken bath, work table and Internet access. A fully equipped gym is also on site for fitness buffs.
On Renai Road, running parallel to Zhongxiao East Road is The Howard Plaza Hotel Taipei. It has just over 600 rooms and suites. Set in an old block in the heart of downtown, Howard enjoys an excellent location. Room décor is haltingly modern with an oriental flair. The lobby is busy and bright (with an atrium skylight) with marble floors, piano music and water features. General decor can border on twee as with the alfresco pool. Facilities include a business centre, secretarial services and function areas for small seminars and company meetings.
Up the street is the popular Sogo Department store. Head there and you will pass Zhongxiao Fuxing MRT station along the way. This is a terrific area for street food, fried chicken stalls and local nosh mixed in with funky bars and eateries and bric-a-brac shops. Pop into Din Tai Fung for scrumptious dumplings.
The august Leofoo Hotel has eternally cheap rates as our Taipei hotels survey revealed, and while it does offer a wander down memory lane into the carpeting concepts and bathroom fixtures of the 1970s, one will need to persevere to struggle with the antique furniture, old fixtures and smallish rooms.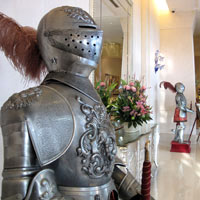 Miramar Garden knight/ photo: Vijay Verghese
By 2020 the internet had made welcome inroads to all rooms finally. Standard rooms are plain but the Chinese Suite is, well, floridly Chinese with four poster bed and carved rosewood. Think winter off season rates starting at US$50 and you get the drift with regard to customers and groups.
A prime example of Taipei hotels breaking and remaking all the rules is the splendid Miramar Garden Hotel, which opened a while back in May 2006. The developers of this hotel have not been stingy with space. All rooms are over 40sq m, the ceiling's a good 3.1m up. The handsome mid-rise hotel facade faces an elevated highway but the street noise does not percolate in unduly.
Step into the lobby to be confronted by two knights in shining armour. This is not the general manager hiding from irate guests. European touches are much in evidence starting with the classic furniture and tall lobby windows with smart frames and long gauzy drapes. The place has a well lit welcoming feel.
A standard room in muted pastel tones and earth colours serves up a large king-size bed with brown runner, a laptop-friendly safe, a sliding door wardrobe that can be accessed simultaneously from the bedroom and the bathroom, an electric kettle, flat-screen TV, elegantly curved glass-top work desk, and carpeting. While WiFi is free in the lobby it is charged in-room. The bathroom offers well presented compact space with a stylish loo, rain shower and separate bathtub, hairdryer, and a well lit mirror that will make makeup and shaves a doddle. The open-plan lounge/breakfast buffet area sees chefs working at a central counter, with floor-to-ceiling windows letting the sunlight flood in. There's also a very good outdoor heated swimming pool with a gym and sauna.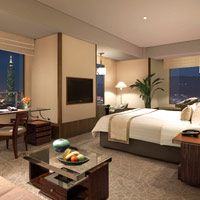 Shangri-La earth tones/ photo: hotel
Or pop into the health club. A blend of 50 percent Japanese, 30 percent European/American and 20 percent local guests make the Miramar Garden one of the more cosmopolitan of Taipei's hotels and its only downside is the 10-15 minutes it takes to walk from the nearest MRT station.
Looming large over Taipei's central business district and right next to The Mall, the traditional 420-room Shangri-La's Far Eastern Plaza Hotel is the place to stay for easy access and good views. This address had a US$50 million makeover and re-emerged by early-2015 with a jauntry stride and new look rooms in 'natural' earth tones and a decidedly contemporary feel. Recreational facilities are a standout with two pools (one on the roof), exercise studios, a health club, and gym.
Guests can enjoy the Japanese-style Qi Shiseido Salon and Spa (open since April 2013) on the 40th floor. Nothing will be lost in translation here. Sit down with a therapist and explore "qi therapy" focusing on balancing your energy flow. Nothing better than a solid dose of qi before the next CEO chinwag. Despite the upgrades, the busy hotel still retains those unmistakable Sung Dynasty touches.
Business facilities are comprehensive. Renting your own temporary office here comes with the lure of your own OSIM massage chair. All 420 rooms are spacious with panoramic skyline views, and you'll find your bathroom adorned with a large flatscreen TV.
Expect a classic Sung Dynasty style overlay on things with soft colour tones, high ceilings, free WiFi throughout, an iron and ironing board, jewellery safe, walk-in closets and a fair bit of space from 36sq m up. There's a DVD player and an Xbox is available should gamers need one. WiFi is free in rooms that range from 36sq m up to the 229 Presidential Suite.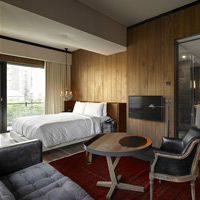 Hotel Proverbs, woody tones/ photo: hotel
Lacking the glitz and soaring atrium lobbies of its competitors, the Shangri-La instead serves up smaller spaces for convivial chats and business discussions and ramps up the attention to personalised detail and service. Walk in to a small lobby wrapped around the cylindrical central tower structure to find ficus trees, a coffee shop and deep seating rust-red leather sofas. The hotel is located close to jazz bars and a small night market. Expect top-notch Shangri-La service.
Something of a newcomer to the Da'An district is the stylish upscale sibling of boutique Hotel Quote (also part of the Gloria group), the Hotel Proverbs Taipei (September 2015), a darkly appealing hotel with flashes of colour and inspiration. With the same quirky design flourishes and DNA, this 42-room property serves up smart 33sq m Urban Rooms going up to 49sq m Proverbs Rooms dressed up in rich woods, copper tones, red rugs, gauzy drapes, see-through bathrooms with hugely textured grey ice-cream swirl marble and other luxe fittings.
Spot vertical gardens, bric-a-brac casually tossed around, a striking mini-atrium with dangling crystal chandeliers, pale wood walls with mounted gazelle heads and lifts decked out in hallucinogenic salmon. Expect complimentary WiFi, in-room safes, flat-screen televisions ranging from 42 inches to a mammoth 50 inches, Yamaha sound systems, and Nespresso coffee. The textured wooden walls and comfy leather furniture will appeal.
This is a personal and appealing upscale bolthole for those who'd like something more than just a simple hotel room. Fine dining restaurant TK Seafood & Steak uses smoky oakwood ovens and grills for an aromatic touch. The East End bar serves up curated whiskey and outdoors is the Cigar Patio for blowing smoke rings.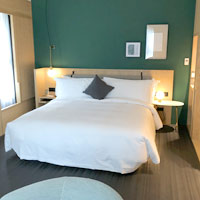 Clean-lines and greens of Kimpton Da An Hotel/ photo: Vijay Verghese
The much sought out L'Idiot Bakery has opened a branch at the hotel so alluring morning aromas are never in short supply. And yes, there is a small rooftop 12th floor pool (6.30am to 9pm) for a quick calorie burn or show-off tanning.
New kid on the block is the intimate 129-room Kimpton Da An Hotel (2019) a boutique offering on the other side of the main artery in a quiet residential block. This high end lifestyle offering from InterContinental represents a new foray into Asia (Bangkok is the centrepiece from mid 2020) with fun touches like Club Monaco displays, an honour bar, a rooftop terrace, an informal ground-floor lobby lounge (with smoking outside) and complimentary drinks from 5.30pm-6pm. There's unlimited flow on the wine and beer. Hurrah!
White corridors lead to compact woody rooms with mirrors (to create space), open wardrobes, coffee machines, Taiwan Beer (NT$120), Coca-Cola (NT$80), blue-green head-walls, a three-pin multi-plug electric socket on each side of the bed, top-loading laptop safe, steam iron, wooden massage roller, free WiFi, flatscreen TV with BlueTooth sound, 400-thread-count linen, rain shower and small white tub.
The Japanese toilet in a private cubicle completes the ensemble. It's a fun grab-bag for millennials and service is excellent. Yet, overall, the hotel - and the rooms - have a studiously plain look that is not quite Japanese zen nor Swedish minimalist. Spaces are quite compact (accentuated by dark greens) and in need of some pizzazz. Evenings can be lively during the wine session downstairs.
Opened 2010 in Taipei's Da-An district the burgundy "boutique art" hotel Éclat is a box of surprises from the word go. A member of the Small Luxury Hotels of the World, this is a 60-room hotel featuring the owner's personal art collection and vintage wines.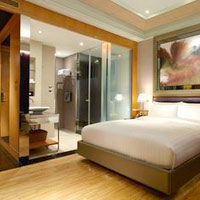 Eclat Premier Room/ photo: hotel
You'll spot Salvador Dali casts, classical faux-Euro oil paintings with heavy gilt frames, deep seating velvet sofas, fat flying cherubs with a mischievous Chinaman grin, and an arrestingly playful and plump Miss Piggy in a pink mini grinning toothily at buffet guests.
Needless to add, everyone lines up for the obligatory Miss Piggy shot and the V sign. An ornate lavender glass bulb chandelier dominates the ceiling.s Photos done, head up a darkened lift to your floor.
In-room expect a TV-hook-up wireless keyboard, 42-inch flat-screen television, Bang & Olufsen CD player and sound system, Montblanc desk sets and pens, Reidel glassware, Philippe Starck chairs, Salvatore Ferragamo toiletries… The list goes on.
Each room also features an original piece by contemporary Chinese artist Tang Yuen Hei. At night pick from an extensive pillow menu. The 30sq m Premier rooms offer blond-wood parquet flooring, a classic dial phone (with digital innards), a wooden work desk (with two three-pin multi-plug sockets) and free WiFi (throughout the hotel).
There's Nespresso with daily shots of coffee, Molton Brown toiletries, a large rain shower for an après-work drenching, and a sleek push-button Japanese toilet seat accompanied by a trashcan that opens automatically. At the flick of a switch, the glass bathroom wall turns opaque.
The Premier 9 rooms offer a Jacuzzi set on a raised plinth bathing area in an attractive open-plan bedroom with a large flatscreen TV, a flat laptop-size safe, and a "valet box" for the private collection by the butler of laundry and shoes for shining. There's no pool or gym, but with so much distraction around, who cares?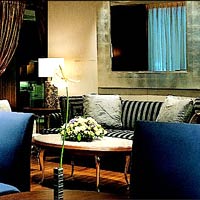 Les Suites Taipei/ photo: hotel
The hotel is centrally located on a leafy boulevard next to a traffic intersection where taxis can sometimes find it hard to stop or wait. If in search of Taipei boutique hotels, this could be a whimsical option.
Right around the corner from Eclat is the smart and neat 124-room Madison Taipei, which is small enough to offer a level of intimacy on service that will appeal to many. It also manages to roll out a spiral staircase in the lobby to set the business tone. Rooms offer 46-inch flatscreen TVs, WiFi and high-speed Internet, an inroom safe, hairdryer for untousled mornings, glassed-in bathrooms with rain shower and morning newspaper delivery. Colours are dark, earthy and pastel-grey aimed squarely as business sensibilities.
Try a Classic with its silver satin quilts, pale wood floors, and modern bathroom, or move on up the ladder to an Oasis Room with plump beds swaddled in grey-checked bed covers facing a large wall-mounted flatscreen TV with a settee adorning a narrow window.
A bright and well-lit Madison Room offers an elegant partition to create a separate working space while the Madison Suite is a duplex split-level affair with a spoiling round bathtub. Urban 331 is a clubby deep leather seating bar-lounge while Gustoso serves up international morsels. Madison is a contemporary retreat with polish and poise that makes up for a somewhat awkward street corner location where cabs are sometimes hard to halt.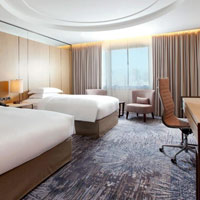 Sheraton Taipei twin room/ photo: hotel
Also in the district is Les Suites Da An. The boutique business hotel has spacious rooms and room amenities include safe, iron, fluffy terrycloth robes, hairdryer and flat-screen TV. Neat freaks will be pleased with the twice-daily housekeeping service and there is a mini fitness studio on the ninth floor. The VIP Suite and Deluxe Suites have large living room areas that can adequately accommodate informal business meetings or small private parties. Within a short radius are the Chunghsiao Tunhua MRT station and Sogo II department store.
Les Suites Taipei Ching-Cheng is an 84-room Taipei boutique hotel with WiFi, and chic decor blending East and West.
The 688-room Sheraton Grand Taipei Hotel is a business hotel heavyweight that underwent a complete top to toe renovation in 2005 and has watched its figure since. People still call it the Lai Lai Sheraton (or simply Lai Lai) as it was once known. Find it next to the Shandao Temple MRT for a swift commute around or out of the city.
Facilities are sleek and fairly expansive, with high-speed Internet access and butlers on hand for those champagne – sorry, conference call – concerns. Bi-level suites are also available here for the ultimate home-away-from-home feel, helped along by the resident medical clinic and squash court.
In Premier rooms find lights for in-bed reading, a work desk with two multi-pin sockets, a flat-screen TV, iron and board, flat laptop-friendly safe, coffee machine, weighing scales, and an easy-to-use master switch. No fiddling required in the middle of the night. Bathrooms are simple in grey granite with just a shower cubicle (hand shower only). Club floors offer high end toiletries with burnished rich-wood walls and a very corporate feel.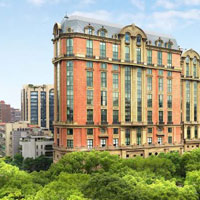 Mandarin Oriental's classic 'mansion' style exterior/ photo: hotel
Things are reassuringly familiar here, like visiting an old friend. Nothing camp, risque or karaoke. Just good old-fashioned business. The lobby setting is in pale earth tones with cream marble floors and a scalloped ceiling. This is a central location next to important government offices and, for late night urges, there are at least two 7-Elevens around the corner. Take a moment to stroll across to the handsome colonial-style Control Yuan, the former Japanese prefectural headquarters that now serves as a government office.
In the northeast of the city near Songshan Aiport is the grand unmistakable 'old-world' brick facade of the Mandarin Oriental, Taipei (opened May 2014) that appears to have stepped out of a storybook. The intimate high-ceiling white-marble foyer is awash with hanging teardrop crystals, large mirrors, two turquoise high-back faux-crocodile leather chairs and generous lashings of brass tracery on the cream pillars and along the white walls. You'll be excused for thinking you've walking onto a set for Lord of the Rings or stepped into a fantasy dessert. Mysteriously beckoning archways lead from here to a hushed reception and the satin-draped Jade Lounge with yet another 'crystal' cloud overhead and vaulted ceilings with plenty of gilt. Colours are muted pastel and multiple textures manage to interweave rich veined marble with peacock feathers (on lampshades). It is a heady mix.
In a 55sq m Club Deluxe. expect the rustle of 480-thread-count satin, pale gold hues, and peony wall patterns, all contributing to a lavish and deliciously "rich" experience. Looking over the city or the hotel's courtyard and pool the rooms offer Illy coffee, peekaboo baths, 46-inch flat-screen televisions, three-pin multi-plug electric sockets, HDMI access, classic square clocks, push-button light controls, a well-stocked bar, goose and feather down duvets, and a pillow menu for fastidious necks. Valet boxes ensure discreet laundry removal and return. This is useful as club guests get free pressing for three garments per stay and shoeshine, in addition to complimentary WiFi, and access to the club lounge for sumptuous breakfasts and refreshments through the day. WiFi is charged in regular room categories.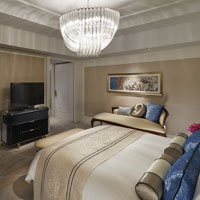 Mandarin Oriental Club Boulevard Suite/ photo: hotel
A 133sq m Club Premier Suite serves up light welcoming floor-to-ceiling windows, a private bar, heated marble floor bathrooms for fussy feet with bathtub and separate rainforest shower, and late checkout up to 6pm where possible. If you still crave 1,000-thread-count linen you'll need to upgrade to a Mandarin Suite with its diptyque toiletries. For best value, opt for an 86sq m City Suite with the de rigueur heated bathroom floor, diptyque toiletries, pale blue peony headboard, fawn carpet, and lounging settees.
It is an exquisite spot to bed down for a night or more - if you can afford it. The hotel has over 1,700 art pieces to explore during your visit. Elsewhere, a two-floor luxury spa retreat offers crystal steam showers, ice fountains, sauna and vitality pool. Apres-work unwind in six F&B outlets that include Cantonese, Italian and an international buffet. Meeting planners can explore larger conferences or intimate corporate meetings at this address, which also offers a Grand Salon for weddings and intimate occasions. The roomy 960sq m Grand Ballroom can seat 936 banquet style and offers a 7.3m-high ceiling. Mark it down as one of the top Taipei conference hotels with stylish rooms that conference-goers are not normally familiar with.
One of Taipei's original homegrown business hotels with flair (stretching back as staggeringly far as 1990), The Sherwood Taipei on Minsheng East Road has many a devoted follower. A traditional, old-style clubby feel runs through the place, though it keeps up with the times in terms of tech. Walk in to a pinewood lobby that is classic, bright and airy with marble floors. The club feel is nowhere more in evidence than in the Brit-clone Henry Bar with its deep leather seating for sombre men sans the walrus moustaches.
A variety of meeting rooms and formats are available and a good selection of dining options, while rooms feature WiFi as well as Broadband plug-ins by the desk and bed. Rooms are simple and easy on the eye in light pastel and pale-gold tones and lots reassuring grey-whites.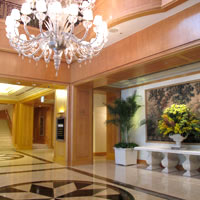 Sherwood lobby, clubby woody old-style feel/ photo: Vijay Verghese
Deluxe rooms weigh in at a healthy 43sq m with flatscreen TV, granite-top work desk with a three-pin multi-plug socket, easy chair, and a classic clock. White louvred cabinets add a homey touch. The look is unfussy and borderline plain.
The Executive Suites run to 89sq m with a spacious living area. Expect a bathtub with shower, a separate shower cubicle with hand-held jet, flat laptop-size safe, weigh scales and good toiletries.
The bright rust-pink marble bathroom counter-top is the sole splash of colour in an otherwise calm and muted scheme with white doors, a simple padded headboard and two pillows. This is a good functional address for small corporate meetings in Taipei and function rooms handle from 50 to 250 in varying seating styles.
At the end of the day there's always the top-floor Xihua Spa for everything from facials to aromatherapy massage. Enjoy a daily shoeshine and free run of the pool and health club facilities.
The Hotel Cozzi Minsheng Taipei is in the Songshan Airport general area with 135 rooms done up with all the "elements" - read, water, wood, stone. Rooms are bright and spacious with tartan carpets and plenty of natural light. The muted powder tones will appeal to corporate travellers, both men and women. Expect pale wood work desks and sliding partitions revealing the bathroom perhaps with a standalone tub. A 29sq m Corner Room (of which there are quite a few because of the building's design) offers a top-loading safe, an electric kettle, a 46-inch interactive television, SONY iDock, and newspapers and breakfast at the lounge.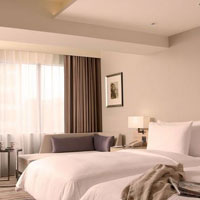 Cozzi Minsheng/ photo: hotel
A 46sq m Comfort Suite is pleasantly contemporary with a large L-shape sofa for an extra reclining corner. Expect a 12-person meeting room and a workout area too. There is also the Hotel Cozzi Zhongxiao Taipei along very similar lines with a fun art space.
The Westin Taipei was a 20-year workhorse that closed end 2018 giving up its 288 rooms and central location in the Nanking East Road district.
The Landis group has been setting the standard for business hotels around Taiwan for some years. According to many its hotel in Tainan is the single most memorable thing about the place. So, as one would expect, The Landis Taipei is right up there with the best Taipei business hotels, lacking a little in originality but nothing in terms of creature comforts.
The exterior is modest but step into the bright cosy lobby for an offbeat art deco experience all in startling white, grey and black. The New York look is omnipresent and you might half-expect to find King Kong rampaging through the corridors in search of Fay Wray. Fortunately staff is very much on the ball.
A tasteful 40sq m Deluxe Room has a living area in beige pastels with a flat-screen TV, a work desk, sofa, and free WiFi. Walk through a half partition to find a queen bed with lots of light and a second flat-screen TV, a classic-face bedside clock, Japanese toilet, weighing scales, a bathtub and a hand shower cubicle. The decor is minimalist and aimed squarely at corporate travellers. Also find an iron, a notebook-size safe (it won't hold a large laptop), and lots of three-pin electric sockets in both AC and DC power. A 50sq m Executive Suite offers more space in an open-plan design with powder green wallpaper. A Jurlique Spa makes its appearance late 2012.
There's a great sweeping vista from the health club balcony that stretches across to the Taipei 101 Tower. The individually designed spa rooms are noteworthy, as is the Tien Hsiang Lo restaurant, which is of international repute for its Hangzhou cuisine.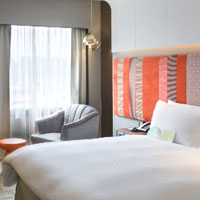 Clean line Landis offers a more traditional Superior Room/ photo: hotel
The next property is technically just beyond the grey boundaries of Midtown , but since I set them, I'll take the liberty of stretching them. The Howard Garden Suites is a long-stay residence, with the added attraction of being close to Hooters. Suites are spacious – the executive suite at 86.7sq m is larger than my flat – and replete with kitchenettes. There's a laid-back feel to the Garden Suites, and if it lacks the designer edge of close competitor City Suites, this is made up for by its excellent location.
Then there's the Brother Hotel (motto: "We treat our guests like brothers"). I remember finding a visiting newspaper photographer friend of mine on his knees in his room at the Brother in the mid '90s. Surrounding him were the stripped-apart remains of his room telephone, a spouting Vesuvius of coloured wires, various plugs and adaptor sockets, intriguing Bond-esque electrical gadgets of indiscriminate domain and a hotel handyman, displaying the patience of a saint. That was before the invention of Broadband Internet.
Today it's a simple, if less romantic, matter of switching your laptop on and plugging it in. Being a mere five minutes from Sung Shan domestic airport and right on the doorstep of Taipei's MRT system, Brother wins the transportation stakes, and exudes a tangible air of friendly familiarity. Don't expect too much. The place is steeped in - and likes - its history.
A whimsical mix, allegedly inspired by both the traditional French chateau and a "luxury yacht", the Evergreen Laurel Hotel is a little frou-frou, but fully functional. The hotel has a large selection of conference rooms with all the accompanying audio-visual equipment for rent, as well as a Chinese restaurant and large health club with spa. Rooms are modern and kitted out with free Internet access and a four-purpose (fax, copier, printer, scanner) machine. All rooms have been soundproofed to ensure a silent night. There are floors dedicated to the no-smoking masses, so book ahead for a fume-free spot.
Top beds in Xinyi District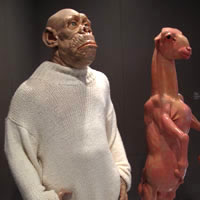 Funky neighbours at Le Meridien/ photo: Vijay Verghese
Taipei's Xinyi District can be spotted from miles away thanks to what was once the worlds' tallest building before Dubai's Burj Khalifa eclipsed its reign – the 509m Taipei 101 Tower – which thrusts up through the centre of it. Japanese department stores, international banks, multiplex entertainment venues, the Taipei World Trade Centre and its offspring convention halls along with most government, foreign trade and visa offices are all found within walking distance here.
Not bad for an area that was little more than swampland and rice paddies a couple of generations ago. Not surprisingly, some pretty upmarket hotels have got in on the action, too.
The delightful Le Meridien Taipei opened its doors a decade ago December 2010 with a menu of just 160 rooms (including 61 suites) and is still going from strength to strength. This minimalist grey-stone hotel serves up an extensive 700-piece art collection with works scattered throughout the lobby and all floors. The first bit of "arrival art" to greet guests is the giant steel giraffe, prostrate in genuflection, with the title: "Be my guest". The hotel is awash with thoughtful touches like a breastfeeding room next to the conferencing facilities.
What more does a hotel have to do to make its point? The customer is king. Walk in past the "Inner Waves 01" artwork created by Hisham Bharoocha, and enjoy giant honeycombs and life-size models of apes in suites. The hotel owner is a collector and his creative flair has found expression throughout the hotel. The end result is playful but unobtrusive, partly on account of the space, much of which has been left unadorned. There is a museum-like quality to the lobby, above which hangs the intricate Swarovski crystals work illuminated by mood lights.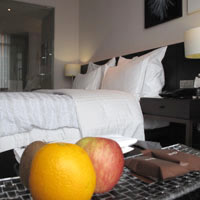 Le Meridien style/ photo: Vijay Verghese
A Junior Suite offers 68sq m of briefcase-swinging space, with stark black-and-white X-ray art by UK artist Nick Veassey depicting lotus flowers and baggage innards, adorning the main wall behind the headboard. There is alas no X-ray of Silvio Berlusconi's brain, which might make for interesting viewing. Some suites have an outdoor patio for smokers.
The three-metre-high ceilings add to the sense of personal space, which generously serves up a 42-inch flat-screen TV, Blu-ray DVD player, BOSE sound system, Nespresso machine, a flat laptop-size safe, and a large white-pine desk with media hub and data-port with two three-pin multi-plug sockets for all Road Warrior needs.
The traditional desk lamp is reassuringly familiar as are the simple light switches. Après-work guests, especially the ladies, will enjoy the HUGE white-marble bathroom with HUGE shower cubicle. In an area where hotels traditionally scrimp on space, Le Meridien has expanded stretch room with wondrous results. Soak in the tub and watch the small LCD screen, rummage about the L'Occitane toiletries and marvel at the electronic Japanese potty that whirs to life at the press of a button. Yes, there are instructions. Also find a weighing scale, twin vanities, hairdryer (not permanently affixed to the wall which is very civilized) and a make-up mirror with ring light. And while you are freshening up, the butler will grab your laundry and shoes for a quick polish from a private in-wall valet box from the dressing room. It's all very discreet.
The Deluxe King rooms offer 38sq m of stretch space and the usual throw-ins with a smaller semi-open-plan toilet. There is no spa at the hotel but there is a fine indoor pool. There are several fine dining outlets including a chocolate cafe, and 1,700sq m of meeting space. This is a hotel aimed squarely at the discerning business traveller and it offers a sense of privacy and space while providing very personalised service. The Le Meridien rates high on our Taipei business hotels review and is an excellent pick for a lavish Taipei conference or an intimate CEO chinwag.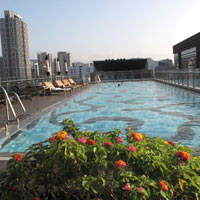 Humble House pool/ photo: Vijay Verghese
Next to the Le Meridien and sharing the same owner, Humble House (2013) displays much the same artistic DNA and flair. Walk into a small 'confetti' foyer to take the lift up to the sixth-floor reception where clean straight woody lines await - along with playfully plump wooden fish of all description, amazing black-and-white photo montages of fantasy urban landscapes, and all manner of art. On the sixth-floor too is a small timber-deck open-sky alcove featuring a vertical garden, while on the seventh floor is a vast multi-tier 'Sky Garden' with timber flooring and bursts of verdant foliage through which, past the blue, breezy sun-dappled pool, you can spot the unmistakable outline of the soaring Taipei 101. The seventh floor is also home to the Espace Beaute Spa. The hotel is a refreshing changing from humdrum routine and everywhere are elements of whimsy designed to distract and inspire the senses.
The hotel has a brisk feel with guests of all ages gawping at the art or locked in intense meetings over a coffee.
The 235-room Humble House is devoted to "green" concepts and strives to keep the smallest environmental footprint possible. It is certified as a "LEED-Diamond" green building with careful use of recycling techniques and large windows that make full use of natural light. A starting category 26sq m room is compact and neat with rustic stressed-wood floors, sliding doors leading to the compact bathroom - with a tub behind a bed-facing glass partition, hand shower, large and well-lit wall mirror and vanity mirror, plus Japanese potty that will do your bidding electronically. Find a Nespresso coffee machine, a flat-screen television and push-button light switches.
The lavender-grey herringbone weave carpet sets off the striking signature blue butterfly wall images that are the sole adornment in an otherwise spartan room with a flash of orange courtesy the settee. The look is simple, clean, quiet and appealing. The desk is fitted against the wall - some will look onto Taipei 101 - with two three-pin multi-plug power sockets. The darkwood cabinet is home to a laptop-friendly safe.
Purple floral carpets lead through quiet corridors lead to larger rooms that serve up roomy bathrooms with a separate shower cubicle and walk-in dresser. Expect a Sealy mattress, down pillows, Heyland & Whittle toiletries, 40-inch SONY flatscreen TV, blu-ray DVD, Nespresso and free WiFi. A Grand Premier room ups the ante with 36sq m of stretch space, complimentary movies and the same elegant deep woody tones, timber floor and blue paintings behind the bed.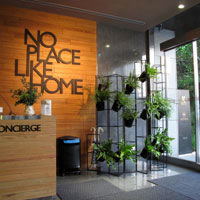 Home Hotel/ photo: Vijay Verghese
Best of all is the Art Gallery and all-pervasive sense of creative spirit. A modern hotel with style and friendly service, this is one to mark down in your diary. Don't be fooled by the word 'humble'. This hotel punches way above its class. While it is a fully functional and well fleshed out address it is also regarded as one of the best Taipei boutique hotels around with a style all its own.
With a teasing catchline - "No place like home" - Home Hotel in the Xin Yi area, a five-minute stroll from Xian Shang MRT station and fairly close to the Taipei City Hall station, is a design revelation with a 27sq m "Original" bedroom serving up a large television, iPod dock, rain shower, handicrafts, Taiwanese tea and complimentary WiFi. Rooms in general are rustic chic, modular and woody with straight lines and an unfussy feel with occasional bursts of green or blue. Bathrooms are neat and functional.
A marginally younger contender is the bright and playful W Taipei (opened February 2011). Set above the bustling Hankyu department store in a new highrise, a short stroll from Taipei 101, this address is part home, part club, and part karaoke lounge where the ever-present uptempo chill-out music is played loud enough to reverberate through your ribcage and remind you that you need to keep tapping your toes to fit in.
Of an evening, a myriad colours unabashedly bathe the high-floor lobby. Walk on glowing blue discs set in the floor over to the Woo Bar, or stroll out to the alfresco pool also swathed in blue, pink, green and yellow. It is an assault on the senses all but guaranteed to banish jetlag.
And this is where the W differentiates itself from the rest as a hip Taipei business hotel with attitude. Why be trussed up like a turkey when you can enjoy an open-necked conversation without throttling the vocal chords? And who said business travellers can't be cool? The W is not for all, but it certainly is catchy and it works – perhaps a tad too hard – to make that point.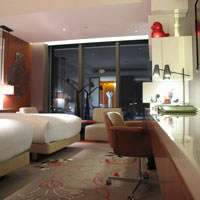 "Wonderful" W/ photo: Vijay Verghese
The "Wonderful" room presents 43sq m of space with a signature "mixology bar" (a mini-bar by any other name), white and red artefacts with modern zodiac designs, touch-button dropdown drapes (no humdrum curtains), BOSE stereo sound, iPod dock, flat notebook-size safe, and a long white table that runs the length of the room along the wall with data port and two three-pin multi-plug sockets. The 42-inch flat-screen television faces the bed and WiFi is everywhere (but charged).
A sliding door reveals the bathroom with its orange-glass divider and generous shower cubicle with a rainshower at one end and the water controls on the other – to prevent a cold drenching. Get the temperature just right and then step in. There is a bathtub for longer soaks and an iron and ironing board to winkle out stubborn creases. Later, step out into a lipstick red lift lobby with video art panels to remind yourself that this is not just any hotel.
Coming onto the scene in the last quarter of 2006 was The Tango, one of the hotels belonging to the K-Hotel group. Exuding a funky, Tokyo-style vibe, entering the lobby here feels more like arriving at a nightclub. Subdued lighting and shiny, linear surfaces predominate.
Mixed bunches of Taiwanese and European businessmen confer discretely around a table at one end of the library-like lounge, while others surf free computers. The Tango boasts 42-inch plasma TVs and a DVD theatre system in most rooms, making trips to the close-by Warner Village (the cinemas are now listed under the new name, "Vieshow") perhaps unnecessary, though to ignore this district in the evenings would be to miss out on one of the biggest buzzes in the capital.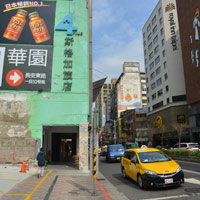 Taipei streets are sedate and the walking pace is relaxed/ photo: Vijay Verghese
The United Hotel (200, Kwang-fu Road South Road) may look a little outdated on the outside, but the inside tells a different story. Sharp, modern and leaning heavily towards minimalism, this Taipei boutique hotel spells chic comfort. It also scores brownie points for being just minutes away from Sun Yat-Sen MRT station, the business hub and shopping enclaves.
Despite being set amid a less-than-inspiring section of concrete jungle, the Fullerton Hotel East (formerly City Crowne Hotel Taipei) is one of the most brisk and workmanlike Taipei business hotels. With around 60 percent of its guests being from Europe or the US, staff are likely to understand English – a problem that the travel and hospitality industry in Taiwan still needs to do more about if the country is ever to compete with other regional business centres. The Fullerton Hotel East is a short walk from the T101 area and close to the space age Core Pacific shopping mall. All rooms have free Internet access.
Where the hotel really forges ahead is in its meeting and conference facilities. These include a personal meetings director – your point of contact for the planning and managing of events. All in all, the Fullerton Hotel East is a worthy Taipei conference hotels contender.
A trade show was on when we arrived in the lobby of the Grand Hyatt Taipei, with buyers and manufacturers alike taking over this quintessential Taipei conference hotel for the week. Delegates in colourful Hawaiian shirts vied to ask the dumbest questions of unflustered staff and there was an electric charge about the place; it lives to be hectic and offers a mammoth 853 rooms including suites and Grand Club Rooms - all refitted with a contemporary pastel feel following a US$100 million renovation. The freshly minted rooms range from 33sq m to 40sq m. Spring 2015, was the hotel's 25th anniversary rollout. Now in 2020, in the shadow of on-the-horizon siblings Park Hyatt and Andaz, the Grand Hyatt management future is under discussion.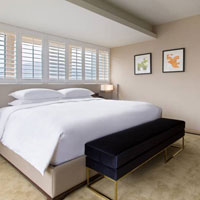 Grand Hyatt newlook Executive Suite/ photo: hotel
The pace is always busy and the place exudes a strong business vibe especially so after the room renovations concluded in September 2013. The expansive white-marble lobby with its soaring pillars, skylight atrium, lit-up ficus trees, and calming central fountain, does little to quell the buzz. You get a sense of all this from the outside. This is a muscle hotel, a colossus that is hugely competitive.
Yet there is much finesse. Service is outstanding and black-liveried staff leap to deal with every request and the clicking of fast moving high heels echoes constantly through the lobby. A freshly minted Deluxe room serves up clean pastel tones and straight lines with a dash of orange on the settee by the window. Expect a large flat-screen TV, long pale-wood work desk with data-port and two three-pin multi-plug sockets, tan carpet, and bright toilets with glass shower cubicles. This is a smart revamp for a classic property with palomino textured wood doors replacing the blonde wood of yore. The Grand Club is on the 22nd floor and looks out at the Taipei 101 tower. Grand Club floors run from floors 20 to 25. An Executive room offers 35sq m of fairly compact but well designed space with a marble bathroom at the entrance offering a tub and shower cubicle. Find a get-to-work hand shower and a rain shower. The potty is reassuringly normal with no Japanese instructions.
A small foyer with celadon bowls leads to the bedroom. Find a big flat-screen TV, easy chair, a work desk with two three-pin multi-plug sockets, coffee machine, a small hairdryer that packs a mighty wallop, and a GIANT vertical safe that can house your mother-in-law. Best of all, WiFi is free for Club guests. Need more space? Move on up to the mammoth Presidential Suite, which at 221sq m will spoil you silly along with panoramic views of Taipei 101. It goes without saying that even before the refurbishment, this was one of the best Taipei conference hotels. There's much to expect of this address in the near future.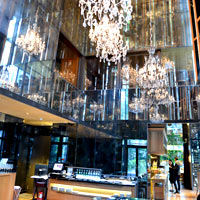 Hotel Proverbs chandelier atrium lounge / photo: Vijay Verghese
And in late 2016 this otherwise staid conference bolthole launched its high end luxury spa, Oasis. Pick from scrubs, facials and massages and wrap yourself in mineral-rich mud flown in from Hungary.
The redeveloped Club Oasis carries a water theme throughout its facilities that include an aerobics room, fitness area, yoga rooms and an outdoor heated pool.
Adjoining the Taipei World Trade Centre and a short overhead walk away from T101 Tower, the Grand Hyatt plays host to most visiting dignitaries, business magnates and pop stars.
Its Ziga-Zaga Italian bar and nightclub provides some of the best live bands in town, while haute Shanghainese cuisine is offered at its Shanghai Court restaurant.
Unsurprisingly the Business Centre stands by to adhere to your every translation, courier, secretarial and audio-visual-related requirement. The Grand Hyatt is a top performer among the leading Taipei business hotels.
Just a little farther out but still in Xinyi District overlooking the green water features of the Songshan Cultural and Creative Park is the rigorously lower-cased eslite hotel (opened 2015) brought to you by the book publishing powerhouse Eslite. Unsurprisingly, the 104-room hotel is stacked with books and reading space, as well as a good selection of local art with an art gallery feel. Photographs abound lending rooms and corridors a homey feel. Much of the subject matter is old Taiwan.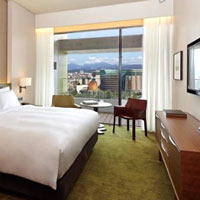 eslite smart rooms and books galore/ photo: hotel
Balconies open vistas onto mountain ranges or the city's burgeoning skyline. Rooms start at around 36sq m with carpets, dark-wood furniture, and floor-to-ceiling windows with long gauzy drapes to let in the light.
Expect light-frame cherry-rust stretch-leather chairs, green tones, cream settees, and variegated patterned cushions. Suites serve up 56sq m with much the same sense of style and comfort with larger work desks and the de rigueur flat-screen TVs. The Library Suite does exactly as it promises with wooden floors and stacks of books across the shelves. For small corporate meetings and events for 80-120 people there's the panoramic The Penthouse on the 16th floor. There is a well equipped gym too. All in this is a very interesting construct from a quality company that promises competitive sparks at the top end of the Taipei room game. This is a fully featured address that also provides engaging Taipei boutique hotel flourishes.
Taipei North, West, and towards Beitou
Just north of Zongshan airport (that does a lot of domestic flights) and farther north from The Mandarin Oriental and Sherwood across the Keelung River, is Marriott's first foray into Taiwan, the 320-room Taipei Marriott Hotel. Rooms are in light pastels with pale wood and light grey-check carpets.
The pale stressed wood and large windows ensure there is plenty of light and visual space. The hotel wishes to be seen as an urban city resort with green spaces but it also offers vast conference facilities and one of the largest ballrooms in Taipei.
There is 32,292sq ft of meetings and conferencing space ideal for events or weddings. Also expect a heated rooftop pool, a fitness centre, and five dining outlets including a teppanyaki diner. ANother advantage is its proximity to Zongshan Airport (a couple of stops on the MRT). The hotel is also conveniently sited for visits to the National Palace Museum.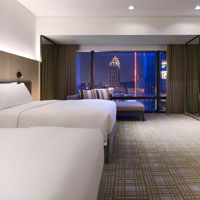 Taipei Marriott pastels/ photo: hotel
Also in the Zongshan Airport vicinity is the newish Grand Victoria Hotel with - you guessed - Victorian red stone accents and a bell tower. Premier and Executive rooms are quite lush in navy blue with floral wallpaper. British design is worked into the Executive rooms that stretch over 49sq m with queen-size beds. Expect a European-style ballroom, a wedding garden, an alfresco swimming pool, and gym. Chinese and Western settings can be arranged for meetings for up to 700.
Somewhat out of the central city, but still easily reachable by either MRT or cab, the northern suburbs of Taipei offer welcome greenery and mountain scenery. The grandfather of all Taiwan's hotels in this zone is the appropriately named Grand Hotel, a stunning red-pillared castle that sits in expansive grounds, overlooking the Dajia Riverside Park. Generalissimo Chiang Kai-Shek stayed here and the opening scenes of Ang Lee's movie Eat Drink, Man Woman were shot in its kitchens.
Yet staying here these days is not out of the question for even the budget-conscious business traveller. According to one Hongkong-based frequent visitor, rooms at the Grand can be bagged for considerable discounts through HK travel agents – well below rack-rate. These include complimentary breakfast and a room with a large balcony. The Cantonese restaurant here is world class and highly recommended; a sure-fire place for impressing local colleagues, or letting them impress you. Enjoy the old world feel, strong Chinese decor, gardens and water features.
A newer arrival in the west of the city is the highrise Hilton Taipei Sinban with high floor roomy 40sq m executive rooms (complimentary WiFi, 50-inch HDTV, and ample USB ports) and an executive lounge on the 27th floor with big views. Suites serve up 50sq m of stretch room. Expect contemporary decor with earth tone pastels. The pillar-less grand ballroom can host up to 900 and there are nine meetings rooms for special events and product launches. A second ballroom holds 480.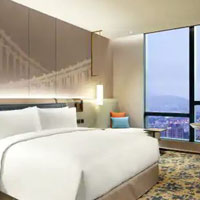 Hilton Taipei Sinban style - and views/ photo: hotel
Located just 35 minutes from the airport makes access easy for international business and leisure travellers. After work guests can enjoy a breezy high-floor swimming pool and fitness centre, both with sweeping views.
Taking the MRT 30 minutes from central Taipei to Hsin Beitou station, one enters a completely different and much more relaxed suburban world.
Nestling in the volcanic foothills of Yangminshan National Park is a community of old fashioned hot spring spa hotels, some hailing back to the time of the Japanese occupation of Taiwan when Peitou was a popular entertainment haunt for the imperial officer corps.
A modern addition to the hot spring hotels here, and one suited best to the needs of the travelling executive, is Spring City Resort. For what better way to unwind at the end of a long day of meetings than in the sulphuric waters of your own private marble and cypress bathtub? For the full unravel there's also a Health Club offering reasonable rates for massages, reflexology and aromatherapy treatments. Lots more detail on Beitou hot springs and spa resorts covering reviews from Aloft to the Japanese zen Grand View Resort and delightful hideaway Villa 32. Beitou with its low rolling hills is about 30-40 minutes by the metro train from downtown.
Hsinchu and Taoyuan
Since the opening of Taiwan's HSR bullet train at the beginning of 2007 a number of new accommodation options around Taipei have become accessible to the business traveller. Many executives will find themselves en-route to Taiwan's Silicon Valley: the Science-Based Industrial Park, in Hsinchu. Formerly a 90-minute drive, getting to Hsinchu now takes just under half an hour on the HSR (US$18 round trip) from Taipei Main Station.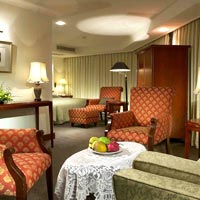 Leofoo, a blast from the past / photo: hotel
The Howard Plaza Hsinchu aims to attract the Science-Based Industrial Park's executive crowd. With its skyline swimming pool and Kurhaus spa, La-Z-boy recliner chairs in each room and Simmons deluxe beds, the Plaza keeps guests from wandering too far, though the HSR station is just a cab ride away should the big city prove irresistible.
In direct competition with the Howard Plaza is the Nikko's Hotel Royal Hsinchu. Offering those automatically heated toilet seats and with trouser presses in each room, the hotel has good recreational facilities, among them a sauna and health club, a heated swimming pool, Jacuzzi and a billiards room.
This is the closest high quality hotel to the Science-Based Industrial Park, five minutes away.
For those who visit Taipei with that king of recreational pursuits – golf – in mind, then the HSR has also made it possible to mix work with ultimate leisure. The Westin Tashee Resort Taoyuan is set within the grounds of its own 27-hole International Golf Course, and hosts most of the professional tours that come through Taiwan. It also boasts night-lit tennis courts, squash courts, both indoor and outdoor swimming pools, a golf driving range, jogging tracks and a well-equipped gymnasium.
If you've any time or energy left after that little lot the Tashee also includes several multi-purpose convention rooms. The resort is a 40 to 50-minute drive southwest of Taipei, and can be reached via the Taoyuan HSR Station.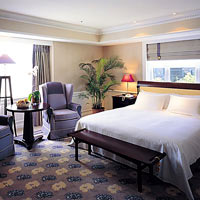 Royal Hsinchu corner suite/ photo: hotel
The Novotel Taipei Taoyuan International Airport may be a mouthful when directing taxi drivers, but it houses good enough facilities for you to overlook that. The 360-room property is a family-friendly hotel: there is a kids' club, babysitting service on request and video games area.
Besides the fitness centre, there is also an indoor heated pool and jogging track for more sporty fun. Standard rooms cater for up to two adults and two children, and come with a sofa bed.
The hotel provides a free regular shuttle service to and from Taoyuan International Airport and express flight check-in is also available at the counter.
That's the scoop on the best Taiwan business hotels, conference options and budget stays. Suit up, book and fly in. Hotel contact details are listed below.
Of course for that intriguing massage, call Wendy. No, don't tell us about it.
FAST FACTS

/ Hotel Contact List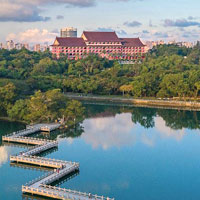 Stalwart red-lacquer Grand Hotel/ photo: Chris Stowers
Room rates may be subject to a five percent government tax and a 10 percent service charge. The exchange rate is US$1=NT$29.74. The rates below are a combination of rack rates (published rates) and best available Internet deals. These will vary constantly and are mainly for a guide to relative cost and value at Taipei hotels. Check with your travel agent about actual rates at time of travel.
A rather bland menu page from Taiwan Tourism (eng.taiwan.net.tw/pda) leads into a fair bit of useful information with pictures. The Taipei Metro (english.metro.taipei/) site offers news and tourist information and route map.
Downtown Taipei hotels guide
amba Taipei. Tel: [886-2] 23755111, (www.amba-hotels.com/en/ximending/).
Ambassador Hotel Taipei. Tel: [886-2] 2551-1111, (www.ambassador-hotels.com/).
Caesar Park Hotel. Tel: [886-2] 2311-5151], (taipei.caesarpark.com.tw).
City Suites. Tel: [886-2] 2550-7722, (www.citysuites.com.tw/zh-tw).
Dandy Hotel. Tel: [886-2] 2541-5788, (www.dandyhotel.com.tw).
4 Plus Hostel. Tel: [886-2] 2562-9117, (www.facebook.com/fourplushostel/).
Gloria Prince Hotel Taipei. Tel: [886-2] 2581-8111, (www.gloriahotel.com).
Gloria Residence Taipei. Tel: [886-2] 2531-0699, (www.gloriaresidence.com).
Hotel Flowers. Tel: [886-2] 2312-3811, (flowers.taiwanhotelstaipei.com).
Hotel Royal-Nikko Taipei. Tel: [886-2] 2542-3266, (www.royal-taipei.com.tw).
Hotel Quote Taipei. Tel: [886-2] 2175-5588, (www.hotel-quote.com).
Hoyumi Hotel. Tel: [886-2] 2563-1010, (www.facebook.com/).
Imperial Hotel. Tel: [886-2] 2596-5111, (www.imperialhotel.com.tw/en-gb).
Just Sleep Linsen. Tel: [886-2] 2568-4567, (www.justsleep.com.tw/linsen/en).
Just Sleep Taipei Ximending. (www.justsleep.com.tw/ximending)
K Hotels Taipei I. Tel: [886-2] 2542-2222, (www.khotel.com.tw).
K Hotels Taipei II. Tel: [886-2] 2525-5555, (www.khotel.com.tw).
Palais de Chine Hotel. Tel: [886-2] 2181-9999, (www.palaisdechinehotel.com/).
Regent Taipei. Tel: [886-2] 2523-8000, (www.regenthotels.com/regent-taipei/).
Taipei Garden Hotel. Tel: [886-2] 2314-6611, (www.taipeigarden.com.tw/en/).
The Okura Prestige Taipei. Tel: [886-2] 2181-5111, (www.okurataipei.com.tw/en).
The Tango Taipei Nanshi. Tel: [886-2] 2567-9999, (en.tango-hotels.com/).
YMCA. Tel: [886-2] 2311-3201, (www.ymcahotel.tw/).
Midtown hotels in Taipei
Brother Hotel. Tel: [886-2] 2712-3456, (www.brotherhotel.com.tw).
Éclat Taipei. Tel: [886-2] 2784-8888, (www.eclathotels.com/taipei/).
Evergreen Laurel Hotel. Tel: [866-2] 2501-9988, (www.evergreen-hotels.com).
Howard Garden Suites. Tel: [886-2] 2718 7323, (www.howard-hotels.com.tw).
Hotel Proverbs Taipei. Tel: [886-2] 2711-1118, (www.hotel-proverbs.com/en/).
Kimpton Da An Hotel. Tel: [886-2] 2173-7999, (www.ihg.com/kimptonhotels/da-an-taipei).
Leofoo Hotel. Tel: [886-2] 2507-3211, (www.leofoo.com.tw/hotel/en/).
Les Suites Da An Tel: [886-2] 8773-3799, (www.suitetpe.com/en/).
Les Suites Taipei Ching-Cheng. Tel: [886-2] 8712-7688, (www.suitetpe.com.tw).
Madison Taipei. Tel: [886-2] 7706-3600, (www.madisontaipei.com/en/).
Mandarin Oriental Taipei. Tel: [886-2] 2715-6888, (www.mandarinoriental.com/taipei/).
Miramar Garden Hotel. Tel: [886-2] 8772-8800, (www.miramargarden.com.tw/).
Hotel Cozzi Minsheng Taipei. Tel: [886-2] 7706-3399, (hotelcozzi.com/en/minsheng).
San Want Hotel. Tel: [886-2] 2772-2121, (www.sanwant.com/en/).
San Want Residences. Tel: [886-2] 2511-5185, (www.swresidences.com/en/).
Shangri-La's Far Eastern Plaza Hotel. Tel: [886-2] 2378-8888, (www.shangri-la.com/taipei).
Sheraton Grand Taipei Hotel. Tel: [886-2] 2321-5511, (www.marriott.com/sheraton-grand-taipei-hotel/).
The Howard Plaza Hotel Taipei. Tel: [886-2] 2700-2323, (www.howard-hotels.com.tw/taipei).
The Landis Taipei. Tel: [886-2] 2597-1234, (taipei.landishotelsresorts.com/).
The Sherwood Taipei. Tel: [886-2] 2718-1188, (www.sherwood.com.tw).
Xinyi District
eslite hotel. Tel: [886-2] 6626-2888, (www.eslitehotel.com/).
Fullerton Hotel East. Tel: [886-2] 2763-5656, (www.taipeifullerton.com.tw).
Home Hotel. Tel: [886-2] 8789-0111, (www.homehotel.com.tw/).
Humble House Taipei. Tel: [886-2] 6631-8000, (www.humblehousehotels.com/).
Le Méridien Taipei. Tel: [886-2] 6622-8000, (www.marriott.com/le-meridien-taipei/).
The Grand Hyatt. Tel: [886-2] 2720-1234, (www.hyatt.com/grand-hyatt-taipei/).
The Tango XinYi. Tel: [886-2] 2528-8000, (www.thetango.com.tw/).
The United Hotel. Tel: [866-2] 2773-1515, (www.unitedhotel.com.tw).
W Taipei. Tel: [886-2] 7703-8888, (www.marriott.com/w-taipei/).
North of Keelung River, West, and Peitou hotels
Grand Victoria Hotel. Tel: [866-2] 8502-0000, (www.grandvictoria.com.tw/).
Hilton Taipei Sinban. Tel [886-2] 2958-300, (www3.hilton.com/hilton-taipei-sinban).
Spring City Resort. Tel: [886-2] 2897-2345, (www.springresort.com.tw/).
Taipei Marriott Hotel. Tel: [886-2] 8502-9999, (www.marriott.com/taipei-marriott).
The Grand Hotel. Tel: [886-2] 2886-8888, (www.grand-hotel.org/TW/).
Hsinchu and Taoyuan hotels
Novotel Taipei Taoyuan International Airport. Tel: [886] 3398-0888, (www.novoteltaipeiairport.com/).
Hotel Royal Hsinchu. Tel: [886-3] 563-1122, (www.hotelroyal.com.tw/hsinchu/).
Howard Plaza Hotel (Hsinchu). Tel: [886-3] 528-2323, (www.howard-hotels.com.tw/hsinchu/).
The Westin Tashee Resort Taoyuan. Tel: [886-3] 272-5777, (www.marriott.com/westin-tashee-resort-taoyuan/).