ADVENTURE
It's high time for Gulmarg
Head to Kashmir for the world's highest gondola ski lift and eye-popping views. A Gulmarg guide to skiing, snowboarding, luxe resorts, summer vistas, and good beer.
SEE ALSO Andaman Islands | Bangalore Guide | Chennai | New Delhi Business Hotels | Goa Resorts | Himachal | India Spas | Kerala Resorts | Ladakh Guide | Mumbai Business Hotels | Rajasthan Palace Hotels | Zanskar treks | Bhutan Guide | Nepal Treks
JUMP TO Pick up your gear | Bunny slopes, sleds, and golf | Beds with a Himalayan view | A bite of food – and rescue | Hotel Contacts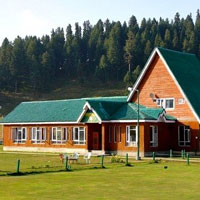 Gulmarg Club/ photo: club
SKIING in India seems an oxymoron. Travellers expect heat, dust and humidity. But, occasionally, you can throw some snow into the mix. Up north, there's this region called Kashmir. Yeah, there used to be a war of sorts on, but someone forgot to tell the chaps in the tiny hill resort of Gulmarg, 40-odd kilometres from the capital, Srinagar. There, they went and built the northern hemisphere's highest gondola ski lift. Reaching a lung-shrivelling 4,200m (taller than most alpine peaks), it's high enough for your average, middle-of-the-rung snowboarder like me.
Getting off the plane in Srinagar used to be very interesting – blast-protected hangars for fighters lining the runway and soldiers watching your every move. Photography is prohibited at the airport. We might all be foreign secret agents. You never know. But now the airport has become "international" (in other words, Air India flights to Dubai and Jeddah), and there's a big new glass building (filled with roosting birds in the winter) that will come as a shock to you if you knew Srinagar Airport before.
The port and starboard views from the plane are pretty amazing. Just like the view from the top of the gondola station in Gulmarg. It is stupendous. Mind-boggling. Dizzying. I could throw a Roget's Thesaurus full of adjectives at you, but they'd still be mildly inadequate. On the crystalline horizon are the Nun Kun peaks and the legendary Nanga Parbat, with its Mazeno ridge stretching into the distance.

Slide Show

E-mail Page

Print

Hotel Contacts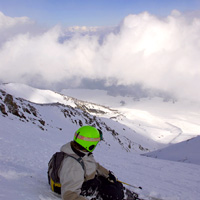 Snowboarding down Apherwat
Gulmarg is an all-weather resort with beautiful summer meadows, alpine forests and pastoral scenes to keep the camera busy. It has the world's highest golf course, invented by the Brits stationed here back in the day, of course, and a few popular day trips and hikes such as to the nearby Baba Reshi shrine.
The main reason to come here, at least in winter, is the off-piste, deep-powder, long-run skiing and snowboarding. The Himalayan resort of Gulmarg is an increasingly popular ski destination. When I first visited here in 2006, it was so new that of the 70-odd foreign travellers who were there during my visit, at least a third were media people extolling its virtues to everyone back home. (And enjoying a free holiday in the process, of course). Today, it's become the de facto winter destination for India's cognoscenti.
The ski resort of Gulmarg is remarkably easy to access, especially compared to other Himalayan resorts and hill stations such as Manali in Himachal Pradesh. In terms of travel time, it's pretty much three hours from Delhi. All major airlines have daily flights from Delhi to Srinagar. The flight takes an hour and 15 minutes. From Srinagar, a prepaid taxi will get you to the twinkling lights of the small Gulmarg ski resorts, 45km away (one-and-a-half hours by car).
Send us your Feedback / Letter to the Editor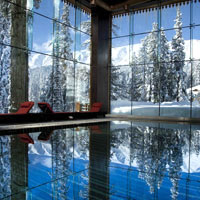 The Khyber pool/ photo: hotel
Currently there are daily flights from several metropolitan cities. There isn't much of a price difference between premium full service airlines like Jet Airways (www.jetairways.com) and Air India (www.airindia.com) compared to the budget options such as Indigo (recommended, goindigo.in), Jet Konnect, Spice Jet and others. Average fares range from Rs7,500 to Rs10,000-plus for the roundtrip from Delhi depending on when you book. An easy way to book is through the price comparison shopper MakeMyTrip (www.makemytrip.com). The exchange rate is about US$1=Rs66.
You can walk right out Srinagar airport and grab a prepaid taxi to Gulmarg. That costs about Rs2,800 for the trip. It's cheaper if you book in advance through your hotel, and many will bundle it into your total package. Keep in mind that in winter you may be expected to change vehicles at Tangmarg, the last town below Gulmarg, because the average airport taxi doesn't have 4-wheel drive or snow chains. This is a pain in the ass because it leaves the possibility wide open for more haggling and potential scams. Confirm with your taxi-wallah if he's taking you ALL THE WAY TO GULMARG AND NOT STOPPING IN TANGMARG.
The taxi stand is in front of the J&K TDC (Jammu & Kashmir Tourism Development Corporation) Tourist Reception Centre (TRC Taxi Stand, tel: [91-0194] 245-2527). My taxi driver was Shah Zahoor Ahmad. Try his cell phone (tel: [91-941] 972-9634) if nobody picks up the landline at the taxi stand. Don't be surprised if this happens.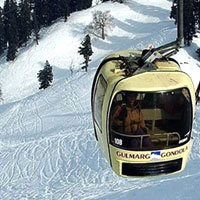 Gulmarg Gondola's cars/ photo: GG
But on with our Gulmarg guide and fun for all stripes, rain, sun, or snow. Postpaid mobile phones from most major providers work in Gulmarg. Some phones usually stop working up at Kongdori mid-station, but you can get 2G access elsewhere, and WiFi at many hotels. Be warned that nothing here, like in the rest of India, always works as it's supposed to. Caveat emptor.
It's a heck of a lot more crowded – chock full of local tourists – in the summer. Kashmiris from the bigger town of Tanmarg, just below the hill, and from Srinagar, often show up for weekends. But during the quieter weeks, when the locals meet an Indian-looking guy (such as me), they momentarily lose their hostility towards "mainland" Indians, cheerfully patting him on the back and shaking his hand, loudly proclaiming, "Where are you from? You Indian? Wonderful! Me Indian too!"
At Kongdori, the gondola mid-station, you'll find the largest crowds of middle-class Indian tourists, there for the mighty adventure of "touching snow". For those born in the heat and dust of the plains (or tropical humidity of the south), the sharp cold and white expanse of mountain are rare and wondrous. Watch them get pushed along on wooden skis, vintage 1975, rented by cart-pushing "ski-wallahs". Or join in for a totally bizarre experience.
The Gulmarg Gondola (gulmarggondola.com) itself remains the star attraction of the place. It's Rs200 per single ride up Phase 1 to Kongdori meadow, Rs600 for a day pass (one way only), while Rs300 gets you a single ride up Phase 2 to Apherwat Top, or Rs1,000 for a day pass.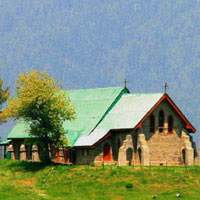 The scenic church
Double it if you need a ride down. All this means that you're paying Rs1,600 a day if you're looking to repeat, all day, a thigh-numbing 1,270m descent over six kilometres in the patrolled and avalanche-controlled zone, from the very top station all the way down (as mapped by my Suunto Ambit 2S). This kind of riding is great value for money, compared to ski resorts all over the world.
Another warning though – the whole business of buying tickets and waiting in line at the gondola station at the bottom is terribly managed. The locals just don't bother with the queue, claiming "guide's rights" to jump lines in order to buy tickets for their clients. The ticket counter is worse than an Indian train or bus ticket counter, and isn't at the Gondola station itself but outside it. Buying a ticket doesn't always mean that you'll get a ride (the hours of operation are a mystery to everyone involved – we got our last ski run of the day by pleading desperately with the guy manning the metal grill entrance).
And, finally, tickets are valid for the day of purchase only, meaning you'll have to queue up again to repeat the process again the next day, unless you buy a multi-day or season pass. Your previous day's purchase will not be refunded unless approved by the general manager of the gondola, without whom nothing happens. And of course, no one will tell you any of this since there aren't any signs, posters or brochures on hand. I wasted a bunch of money by smartly pre-buying tickets for the next day – only to be told they were invalid.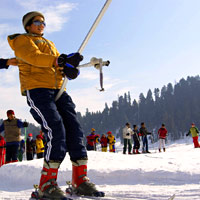 Poma bunny slope/ photo: Apoorva Prasad
Also, up on Kongdori there's another wonderful addition – the chairlift to Mary's Shoulder on skier's left in the main bowl (alternate Kashmiri spelling: Merry's Shoulder). For another Rs200, (Rs600 for skier's day pass) this lift carries you up halfway up Apherwat, to a more blue-grade intermediate terrain. If Phase 2 isn't running, as is sometimes the case; or if you're not sure of your double-black skills, then the chairlift is definitely the best possible thing to happen here. It has opened up the big mountain to less experienced riders and skiers, as well as to kids. On good condition days this is where you should be headed up to for a fun session with the family and kids, assuming everyone is solid on blues.
If you've got about US$1,000 to spend for a powder fix, Kashmir Heliski (www.kashmirheliski.in) will be happy to oblige with a ride up high into the backcountry, in good weather only. The helicopter operation is run by local hotelier Billa Bakshi (who also manages the Global Ski Shop, café and hotel).
First pick up your gear
The air is thin up high. If you're skiing or boarding, take it easy for the first few days. Ride straight down, in the easier, avy-controlled (avalanche monitored and protected) bowls. It's possible to hike half an hour further up to the very top of Mt Apherwat, or left or right along the ridge to choose any of the couloirs to drop into. But initially it'll leave you gasping for breath – both because of a minor lack of oxygen and the stupendous views. The other couloirs and bowls are also out-of-bounds – so you should travel in groups, check the avalanche advisory and have all avalanche gear with you (beacon, probe and shovel).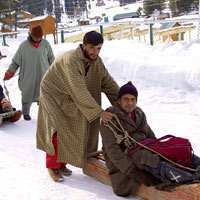 Some prefer being hauled on a sled/ photo: Apoorva Prasad
A word of warning: The gondola is supposed to operate both during winter and summer, but it can be shut for several days for repairs or due to bad weather. During closures, it is possible to hike or pony up, depending on the season and your personal inclinations. In the Himalayas, the afternoons often get hazy and cloudy. Not to mention the dark line of pollution that's visible from higher up.
For the ski season, J&K Tourism (www.jktourism.org) also operates two bunny-slope Poma lifts on the snow-covered golf course in Gulmarg proper. They're also the only groomed trails, apart from the one descending from Kongdori back to Gulmarg. The crotch-pull lifts are not for snowboarders. About Rs60 gets you a full day's use (Rs40 for a half-day). Everything shuts at 4pm anyway.
Bunny slopes, sleds, and golf
Basic instruction is ridiculously cheap – this is probably the cheapest place in the world to learn to ski and Rs250 gets you a whole day of being cajoled along (or yelled at) while falling repeatedly on your backside.
One new friend spent the day learning snowboarding on the bunny slopes, trying to overcome the language barrier and the stupidity of having both your feet tied to a wooden plank. You see vast numbers (comparatively) of Kashmiris from Srinagar and elsewhere learning here, including, surprisingly, many women and children. You can also hire a local, personal guide to take you around for one-on-one snowboarding instruction, like our friend Ibrahim (tel: [91] 880-398-2435, or [91] 959-639-6746), but that is more expensive – up to Rs2,500 for the whole day.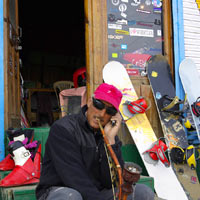 Yasin Khan at his shop/ photo: Apoorva Prasad
If you already know what you're doing and want a guide on the big mountain, grab someone at the government shop for Rs1,000. Yasin Khan of the Kashmir Alpine Ski Shop (tel: [91-1954] 254-638; or cell phone [91] 941-952-5606; www.kashmiralpine.com; close to the Poma slopes, near the Hotel Highlands Park) will also find you guides. Yassin is a helpful chap, even if his prices are a little more expensive. Skis and snowboards with bindings cost Rs750 per day. J&K Tourism's ski rental shops are certainly cheaper. Boots, skis and sticks (or board and boots) are half the price at Rs450 a day and are great value if you don't need powder gear. Add goggles and gloves for a total of Rs300. And if you're under 12 years old, or a student of any age, you get 50 percent discount.
Don't get rooked by various chaps running around offering their own rental gear – it may seem easier than slogging around looking for the shop, but you'll get crap gear for ridiculous prices. A lot of hotels have also started offering rentals.
There's also supposed to be an ice-skating rink run by the J&K TDC, but like the Health Spa (see below), we never found it open. Nevertheless, in the hope that it actually does sometimes open, I'll mention it. Alternatively, provide the locals with some additional income by jumping on a wooden homemade toboggan for a ride. There are scores of sled-pullers around. Just let them know that sledding means riding downhill and not being pulled along on the main road, as you might see local tourists doing.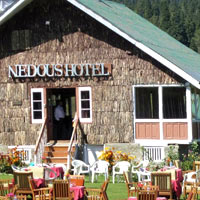 Quieter Nedou's/ photo: hotel
In summer, muck about on the world's highest golf course. The 18-hole, par 72 Gulmarg golf course is quite hilly. The Gulmarg Golf Club (gulmarggolfclub.golfgaga.com) was built in 1904 by British residents feeling lost without the bare necessities. It also offers table tennis and billiards, should you feel the need for knocking other little balls about. For green fees and rental rates, talk to someone at the J&K TDC (tel: [91-1954] 254-507, 254-424; www.jktdc.org), which manages the place.
According to Ptor Spriceniek, an all-round action-sports specialist who has trained Kashmiri ski patrollers, it's possible to paraglide off the slopes of Mt Apherwat. I haven't done so yet, but the wind direction and conditions are known to be decent. Bring your own canopy if you fly. I didn't come across any certified local tandem pilots or instructors.
The 180sq km Gulmarg Biosphere Reserve is the natural habitat for Himalayan musk deer, red fox and black and brown bears. It is also said to be a bird-watcher's paradise (the best months for bird watching is March to May). You could also check out the famous Muslim Babareshi shrine, several kilometres below Gulmarg. The complex mingling of religion everywhere in India means that there's also St Mary's Church in the middle of Gulmarg, and a small temple nearby.
The Indian Institute of Skiing and Mountaineering also conducts courses in the area, apart from taking groups out on "adventure courses", which are basically treks. The institute is not considered one of India's best, but it's an option. The Indian Army's High Altitude Warfare School (HAWS) is nearby, at Sonamarg, but it's not usually open to civilians – unless you're a buddy of the President or something.
Beds with a Himalayan view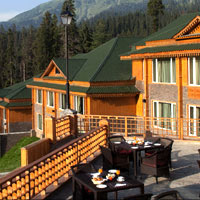 Sunrise at The Khyber/ photo: hotel
The smaller the town, the deeper the political intrigue. Or so I've discovered. In a tourism-driven place like Gulmarg, the politics are all about hotel choice.
One development in G-town may bring a tear of joy to your eye, dear weary traveller. The Khyber Himalayan Resort & Spa (opened winter season 2012) is a privately owned 5-star property with all the bells and whistles to satisfy the beau monde. Finally frequent Gulmarg visitors can avail of a soothing, piping hot shower (for as long as they want) after a whole day of powder and a fast schuss perhaps. In addition to that heavenly hot shower, also expect a soaking tub, an LCD TV, a wonderful view of the Apherwat massif if you've got a mountain-facing room, a spa by L'Occitane, decent Kashmiri kahwa (spiced tea), room service, a fitness room, an indoor pool, a Jacuzzi… the list goes on.
All of a sudden, Gulmarg is no longer a place where you are forced to slum it for lack of choice. At around Rs20,000, a double room (depending on when you book), is definitely the most expensive game in town – but worth every penny. After a decade of enduring every godforsaken flea-ridden bed in this otherwise charming resort town, I revelled in snowbound luxury. After one particular day of repeatedly throwing myself off a steep cliff in the hope of landing a perfect jump, I found my aches and pains much improved with a steaming soak in my tub while gazing upon the snow-clad vistas outside. This was probably the best bathroom with a view in all India.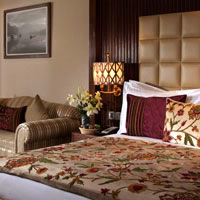 Luxe Khyber room/ photo: hotel
The lack of adequate trained, quality staff is apparent at most lodgings, including the fabulous Khyber, which struggles to cope at times with bursting occupancies. During my stay, a few guests muttered under their breath at whimsical service, light outages, and late night revelry in some rooms – not something you'd expect at the five-star Taj in New Delhi. Call it growing pains. All in, Khyber is a beautiful hotel in a beautiful part of India, and one of the very few places in the world where you can get unabashed luxury with a view of the Himalayas. Savour it at the incredible Chaikash lounge, sipping an après-ski recovery shake, staring at the runs you made down Apherwat as the sun sets, painting an orange flame on the tip of Sunset peak. Life doesn't get a lot better than this. Do remember to bring your own booze – the Khyber does not sell any. Guests are welcome to bring whatever they like, however, and drink wherever and whenever.
The Khyber has forced the old favourite and earlier crumbling Hotel Highlands Park to renovate. In the 2014 season, its dining room sported new upholstery, fresh lights replacing old, terribly dim bulbs, new wall panelling, improved room furniture and more. Alas, no new service.
One of the older kids on the block, Hotel Highlands Park, was seemingly built in the dawn of time by the Brits. Alpine-chalet-like, it's spread out over a hillock just above the bunny slopes and golf course. At Rs9,000 a night for a double room (or Rs10,500, all meals included), it's one of the steeper places in town. But then, it's the classiest place around. Visiting Australian, Canadian and American heli-skiers and other cognoscenti hang out here. With its superbly heated but dimly lit bar and tiny discotheque, it has possibly the only après ski scene in town. As long as you bring your own date, that is (it seems the locals believe in parthenogenesis).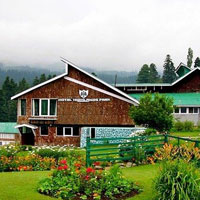 Highlands Park/ photo: hotel
Alcohol is hard to get in Gulmarg, but they do sell beer here (Rs200 for a bottle of Kingfisher). It's probably easier to bring your own bottle of Schnapps, and an iPod and boom box – that way, you can create your own nightlife wherever you want it. Oh, and the bathrooms are nice and have hot, running water.
The middle end of the spectrum sees no major novelties. My explorations around the nearest cluster of mid-range hotels to the Gondola brought me to Hotel Pine Spring. This seems a decent, well-heated and furnished place and, being new, offers better quality rooms and furnishings. Worth a try.
Slightly older, Pine Palace Resort is centrally heated and claims to be one of the few ski-in, ski-out hotels. Odd extras like a barber service and masseuse (currently men for men only, at least in winter) add value. The owner's son studied in the US and is keen on promoting Gulmarg. Pine Palace also has something of an après ski scene, with the mid-budget foreign crowd choosing to hang out in the bar, attend the snow-safety lectures on Tuesday and Thursday evenings, and once in a while you'll have a serious party. There is an overpriced bar here but beggars can't be choosers. There's also a scene at the adjacent Alpine Ridge, which runs happy hours from 4pm to 6pm even in winter. Keep an eye out for posters advertising the newest thing-to-do – as the resort grows, the scene can only get better.
Other B-list hotels include Hotel Hilltop, which is similarly priced at Rs4,000 for a double room. That and Hotel Grand Mumtaz are large, commercial resort-type hotels, with lots of rooms and long corridors where you don't meet anyone (unless parked snowboards count). These hotels are packed in summer. We were immediately shown the honeymoon suite. Discounts are possible with a little bargaining.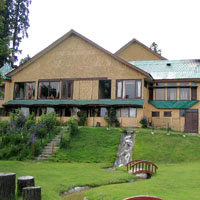 Pine Palace/ photo: hotel
Farther from the gondola end of Gulmarg are hotels such as Nedou's and Kingsley, near the main market and taxi/bus stand and about a 20-minute walk away. On the opposite end are more hotels, including the newer Royal Park (which used to be a hospital). The rack rates at these hotels are all quite similar – about Rs3,000 for a standard room, but negotiable depending on the season. They're either quite empty or closed during the ski season. If you like isolation, you could stay at these places, which – with some cajoling – offer some sort of shuttle service to the gondola base station.
The best budget hotel is Green Heights. At around Rs900 a night, it has clean wood-stove (bukhari) heated rooms, buckets of hot water and a dining room-cum-lounge. Plus it's just two minutes from the gondola station. Your average world-traveller ski bum hangs out here, along with families complete with four-year-old skier kids and globe-trotting couples in search of endless winter. It's not bad, apart from the terribly kitsch flowery pink lamps. Probably someone's idea of a pun on the name Gulmarg, which means "Meadow of Flowers". Quick history lesson: Gulmarg was named by the Mughal emperor Jahangir, who was an avid horticulturist when not conquering India and chopping people's heads off.
The J&K Tourism Bungalows (www.jktdc.org) offer a viable alternative, but are probably best in summer. We stayed in a two-bedroom hut, but the bathroom had no running water and the single tap was left running to prevent the water from freezing. Try sleeping with a dripping tap all night! Two electrodes in a plastic barrel was the makeshift water heater, and the room oil heater ran out of oil by the morning. Hey, I'm not complaining… but central heating ain't bad once in a while.
A bite of food – and rescue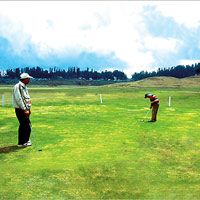 Summertime golf in the crisp air
The Kongdori Restaurant at the Gondola mid-station appears oddly Western but has seen decay over the last decade, and turned pretty dingy, with a bio-hazard bathroom outside. The food used to be all right, but nowadays is hit and miss. Try the sweet Kashmiri kahwa tea with its nuts and spices. It was my non-alcoholic substitute for Jagermeister in a flask. The Indian food is better than the Western. A meal for two is about Rs500.
Much better (in terms of taste, not ambience) is the Big Bite Fast Food café, below Hotel Hilltop. Strangely, its winter menu is restricted to pizzas and burgers. All the pizzas are great, but the chicken, mushroom and capsicum version really hit the spot. Nothing like junk food to combat a sports hangover. In the summer they have a wider selection, including meat-filled wraps.
Each hotel also has a restaurant. The Khyber's Cloves restaurant is pretty good. You can get imported New Zealand lamb, a steak, Norwegian salmon, pasta or traditional Indian food. The chefs appear to change with the season though and palates might be alternately pleased or perturbed.
At Highlands, a meal for two is about Rs1,000 not including beer. We didn't find any wine. Hotel Hilltop's food is overpriced and pointless. Pine Palace offers acceptable Kashmiri food. Try the meatballs in gravy and the Mutton "yakhni" – meat chunks in a yoghurt-based sauce. Mountain goat is rather chewy though, so stick to chicken for everyday consumption. There's enough choice if you're vegetarian, but very little if you're vegan. Salads are hard to come by in winter and the staff may not understand the concept of "no dairy products".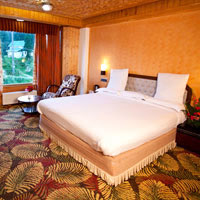 Grand Mumtaz, bigger/ photo: hotel
Gulmarg is small, basically resembling a largish alpine village. It has aspirations to become a great ski resort in winter and a cool mountain getaway in summer. After the gondola opened in May 2005, platoons of intrepid skiers and film teams from around the world showed up. But as with everything in India, a progressive spirit and zen-like attitude is required to enjoy the place. There's a Health Spa supposedly run by the Gulmarg Development Authority, but we never found it open. It might be functioning in summer.
There is a rescue service provided by Gulmarg's Ski Patrol team, which has been trained by experienced American professionals over several years. While the team is somewhat undermanned, it is well trained enough to be able to pluck anyone off the mountain and provide basis medical aid. The patrol also manages some proper avalanche control with cutting and explosives to ensure that the "green zone", covering a large bowl area and the central ridge, remains avalanche-free. But there are no groomed slopes on the mountain and minimal hazard warnings.
You mostly see men on the streets, dressed in loose, dark woollen phirans (gowns). Gulmarg itself has no real inhabitants, with the locals all coming up for work from Tangmarg and other neighbouring villages. I don't think I saw a single Kashmiri woman in Gulmarg.
The town is surrounded by deep forests of birch, pine and deodar. In the evening light, the scenery is like a watercolour painting. It's eerily empty at night – you could probably walk around the three-kilometre perimeter without meeting anyone. There are lots of animals in the forest reserve surrounding the town – foxes, wolves, bears and possibly a snow leopard or two. We saw fat snow monkeys and ravens. But it's Kashmir, and Kashmir is beautiful, if a little odd.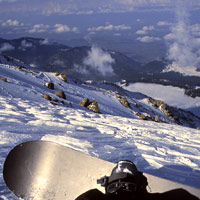 All set to snowboard down Apherwat/ photo: Apoorva Prasad
Militancy is still sometimes an issue, so it might also be a good idea to mainly hang out in Gulmarg and make quick, lightening sorties to Srinagar, where the occasional strike, curfew or (yes, it does happen) bomb blast is not unheard of. The 2,000-year-old city has houseboats, the biggish Dal Lake, famous Shalimar Gardens and various mosques and temples. The accessible glaciers of Sonamarg and wetlands of Hokersar aren't too far away either. In summer, thousands of migratory ducks and geese arrive at the sanctuary of the marshes. Dachigam National Park and Pahalgam are great spots for camping and fishing.
Kashmir is stunning – as soon as you get off the main road and escape the plastic litter that's all over the place. Army presence is ubiquitous, and often it's the soldiers who are the best dressed and prepared. Apparently, theirs are the only vehicles with snow chains – our taxi came perilously close to skidding off the road at every switchback (although the driver did tell as that he used chains "when necessary"). Perhaps we should have got off at Tangmarg, ditched the haggle, and walked.
Send us your Feedback / Letter to the Editor
FAST FACTS

/ Hotel Contact List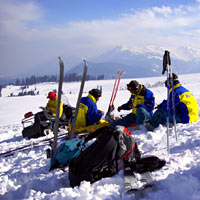 Ski patrol takes a break/ photo: Apoorva Prasad
The best skiing in Gulmarg is to be had in winter (from December to March), but the town sells itself as a holiday destination throughout the year and is an excellent family-friendly place, packed with verdant views and brightly hued flowers in the summer. The exchange rate is roughly US$1=66 Indian Rupees.
A 10 percent service tax is standard at the better hotels. There is also 12.5 percent VAT for service industries, including hospitality. Restaurant prices may or may not include taxes. Tips of 5-10 percent are customary, but not absolutely required.
The following is a select list of Gulmarg ski resorts from budget hotels to pampered pinewood retreats, several of which are open year round as summer getaways. Book through your agent or check for the best available internet rates online (BAR) where available. Room rates will fluctuate and climb during peak seasons summer and winter. Prices in general range from Rs3,000-Rs4,000 at lower end establishments (higher during peak summer weekends), to Rs8,000-Rs9,000 at a quality five-star hotel and touching Rs20,000 for a top-of-the-line stay at a luxury resort.
Gulmarg hotels and family resorts
Alpine Ridge: Tel: [91-1954] 254 527, (e-mail: ​Hotelalpineridge@gmail.com or www.hotelalpineridge.com).
Green Heights. Tel: [91-1954] 254-404.
Hotel Grand Mumtaz. Tel: [91-1954] 254-563, (www.grandmumtazkashmir.com).
Hotel Highlands Park. Tel: [91-1954] 254-430, 25-4491, fax: 254-407, (hotelhighlandspark.com).
Hotel Hilltop. Tel: [91-1954] 254-445, 254-486, fax: 254-477, (e-mail: hilltopgroupofhotels@gmail.com or hotelhilltopgulmarg.in).
Hotel Pine Spring. Tel: [91-1954] 254-537, (www.hotelpinespring.com).
J&K Tourism Bungalows. Tel: [91-1954] 254-507, 254-424, (ktdc.in).
Nedou's: Tel: [91-1954] 254-428, (e-mail: Reservations@nedoushotelgulmarg.com or www.nedoushotelgulmarg.com).
Pine Palace Resort. Tel: [91-1954] 254-504, 254-466 (e-mail: info@pinepalaceresort.com and www.pinepalaceresort.com).
Royal Park. Tel: [91-1954] 254-561, (e-mail: royalpark_gul@yahoo.com or www.hotelroyalpark.net).
The Khyber Himalayan Resort & Spa: Tel: [91-1954] 254-666, fax: 254-660, (e-mail: reservations@khyberhotels.com or khyberhotels.com).