ISLAND GUIDE
Hawaii Ten-O for Honolulu
A Honolulu fun guide with ten tips plus one extra because we're experiencing a surge of that loving aloha feeling. Hi Hawaii.
SEE ALSO New York guide | San Francisco guide | Bali guide | Phuket guide | Asian resort weddings | Child friendly resorts | Dubai guide | Hong Kong guide | Maldives resorts | Underwater hotels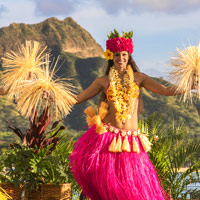 Hula dancer at Royal Hawaiian
ONE could be easily forgiven for thinking Hawaii is simply Little Asia with a modest American garnish. If it wasn't for the American twangs, Honolulu could be just another Asian city. With a population that is largely Japanese, Korean, Chinese, and Filipino, this is an extension of Asia Farthest East, not including Vancouver perhaps. Native Hawaiians account for less than 10 percent of the population.
The local population is intermixed with haole (Hawaiian for white people), mostly 'mainlanders (from continental USA) who are often deeply confused about their island state. I recall a casual island summer job at a hotel in the '80s when a 'mainland' delegate approached me and solemnly asked, "Do you accept American money?" That has all changed with the exposure offered by its most prominent son and occasional returning golfer, US President Barack Obama.
A five-hour flight from the US West Coast, the island state comprises eight main islands – Niʻihau, Kauaʻi, Oʻahu, Molokaʻi, Lānaʻi, Kahoʻolawe, Mau'i and the Island of Hawaiʻi. Okay, if the apostrophes are confusing, just write Hawaii or Oahu or Maui… Our Honolulu fun guide for a fast trawl.
Finding the hip crowd
Once frowned upon by missionaries of yore who fortunately departed with their opprobrium to the Pearly Gates, the hula is now revered as one of the most beautiful dance forms in the world and midriffs are commonplace. I have long been swayed by this mesmerising dance. Performed at various ceremonies and rituals, and not just by wahines (ladies) of all ages, the dance is also vigorously performed by kanes. From graceful, lithe movements to the spirited hip shakes, each movement has a meaning to it.  Mai tai in hand, at sunset at most top hotels along Waikiki, this is what you'll likely peruse. If you need a workout, free lessons are available at the Royal Hawaiian Centre along with tips on lei making, quilting, lomi lomi massage (ancient Hawaiian healing massage), story-telling , ukulele plucking and lauhala weaving .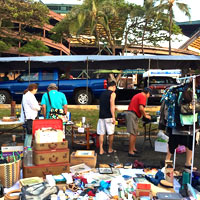 Aloha Stadium Swap Meet/ photo: Hi Hawaii Home
Swap fleas for flip-flops
Besides the growing number of retail outlets in Waikiki, visitors and locals flock to Ala Moana Center, the world's largest outdoor shopping centre. Mainland brands such as Macy's, Nordstrom, Neimann Marcus and Bloomingdale's have hit this centre big time. There are also gift shops bearing island goodies such as coffee, macadamia nuts, pineapple and chocolates.  Hawaii's craze for flip-flops or Hawaiian slippers has led to the opening of the Flip Flop Workshop where customers can design their own flip-flops through a fun, creative process of mix and match.
Bargain hunters will do well to head for the Waikele Premium Outlets, half an hour away from the tourist belt. Like the rest of the Premium Outlets found on the mainland, this location is packed with designer and leading brands like Banana Republic, Calvin Klein, Michael Kors. Kate Spade, UGG, Samsonite and more with savings of 25 to 65 percent. A shuttle service is available from selected hotels.
Send us your Feedback / Letter to the Editor
My personal favourite is the Aloha Stadium Swap Meet held every Wednesday, Saturday and Sunday at Hawaii's largest sports venue, the Aloha Stadium.  This is Hawaii's largest open-air flea market with over 400 vendors displaying rows of local products and produce at extraordinary deals without sales tax. From inexpensive souvenirs, aloha wear and treats for dogs to intricate woodcarvings, ukuleles and popular ethnic snacks and taffy, the Swap Meet serves up a treat, a one-and-a-half-hour public bus ride from most hotels.
Another shooting in Hawaii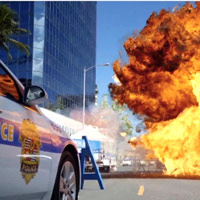 Another day in Honolulu, Hawaii Five-O film shoot
As a hardboiled fan of the Hawaii Five-0 series, I have been religiously tracking down the key filming sites on my very own crime scene investigation.  The island's main landmarks in the opening scenes are not hard to find. The police station is set in downtown Honolulu by the statue of King Kamehameha. It's worth a walk through the old section where Ali'iolani Hale, the fictional headquarters of the Five-O team, Iolani Palace (a former home to the Hawaiian monarchy), Hawaiian Mission Houses, Hawaii State Museum and Chinatown are located.
Another popular filming site is Kualoa Ranch – 4,000 acres of majesty  in the Ka'a'awa Valley which provided the backdrop for the TV show Lost and  a host of other Hollywood movies – Jurassic Park, Godzilla, 50 First Dates,  Pearl Harbor, and Hunger Games to rattle off a few, as well as some of  the 1960 Elvis hip-shimmying classics. Take a bus tour around the Valley first before embarking on a very pleasant horse ride to soak in the breathtaking views of the landscape. Spot the gigantic dinosaur prints, the Jurassic Park fallen tree and a second world war bunker among the props. I recall watching Tom Selleck filming Magnum PI many years back in Honolulu. For a film aside, try Hummer Tours.
A whale of a time
Why not be a modern day Captain Nemo from Twenty Thousand Leagues Under The Sea? Atlantis Adventures assures a safe submarine romp to the depths of 120 feet in air-conditioned comfort. It's a great way to explore the Atlantis Reef filled with two wrecked ships, two sunken airplanes and other colourful marine life.
If whale watching is more your thing, board an Atlantis hi-tech vessel for a smooth ride to the heart of prime viewing locations in the Humpback Whale National Marine Sanctuary during the whale season. An on-board naturalist provides detailed commentary to accompany the gasps of gawping families and kids.
A stand-up kinda surfer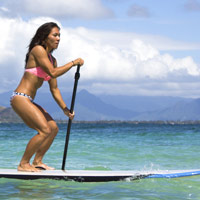 Paddle surfing/ photo: Endless Adventures Hawaii
While surfing was firmly put on the map by local legend Duke Kahanomoku, the Hawaiian Olympic swimmer, stand-up paddle surfing (SUP) is the hottest new water craze. All you need is a very broad aerodynamic surfboard, a lightweight paddle and a good sense of balance, an even suntan, and a body like burnished ripening corn. Hmm… Not trusting my sea legs, I was content to watch enthusiasts in action. Surf N Sea on the North Shore provides lessons and rentals; while Twogood Kayaks does the same on Kailua Bay. If you are lucky, you will spot sea turtles, fish and other marine life too as they wonder what on earth you're doing. Surfing is, of course, a must-do on most tourist lists and Waikiki Beach is a great place for beginners to catch the waves or rent canoes.
Mermaid or merman for a day
Denmark has The Little Mermaid immortalised in bronze but Mermaids of Hawaii allows you to be a real life mermaid for a day via a photo shoot. You will be bewildered and bemused by the variety of tails, tops and accessories available in all shapes and sizes. Later, when you've pushed your mouth shut and retrieved your eyebrows from the ceiling, get yourself snapped at scenic locations around the island. From tiny 'merbabies' tucked in shells to sexy sirens underwater, the photographic possibilities are endless. A perfect photo to send the folks back home – fins for the finale.
Inside the volcano
It's hard to miss one of the most recognized landmarks, Diamond Head, on Oahu. It's worth taking a hike to the top of this extinct volcanic crater for some of the most stunning views of the island.  In the 19th century, British sailors had mistaken the calcite crystals glistening in the sunlight as diamonds hence its name.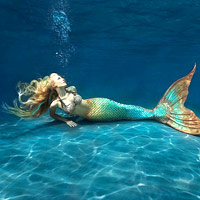 Be a mermaid for a day - and do hold your breath
It's an exhilarating 2.6km trek taking about two hours meandering through a 70m tunnel popping out on the west side of the island. It's best to do this at sunrise.
As any Honolulu fun guide will never cease to tell you, the area around Diamond Head towards the Kahala district parades some of the plushest residences belonging to a veritable who's who of Hawaii and Hollywood. If you are lucky enough to know a local, he might just point you to the homes of Jim Nabors aka Gomer Pyle and the late Jack Lord who played the original Steve McGarrett in Hawaii Five-0.
A belly filling lu'au
It's impossible to leave the State without experiencing a luau (yes you can drop the apostrophes if you must) or a big feast with all its attendant revelry and festivity, which makes for a wonderful introduction to Hawaiian culture and heritage. The highlight of the luau is the kalua pig, slow roasted for long hours in an underground oven before its rapturous exhumation. Other staples include poi (mashed taro paste), ahi poke (raw marinated tuna), lomi lomi salmon (fresh tomato and salmon salad) and lau lau (meat wrapped in leaves and steamed). Notable luaus are found at the Polynesian Cultural Center, or Germaine's Lu'au and at top hotels. A lot of singing and performances follow the feasting. Don a lei, aloha shirt or a muu muu and get into the aloha spirit.
Singing in the rain
With the departure of the legendary Don Ho and the gentle giant Israel "Iz" Kaanaoi Kamakawiwoole, known for his soothing version of 'Somewhere over the Rainbow', wickedly talented younger musicians are doing their thing at hotels, bars and clubs.  The action starts at Pau hana time (end of work) with 'happy hour' sessions for imbibing mai tais, chi chis, daiquiris and more with a yummy selection of pupus or light bites. Hawaiian music stalwarts include the Brothers Cazimero, Beamer Brothers, and the young and energetic ukulele maestro Jake Shimabukuro, who has made a name for himself on the world circuit with his unique sounds. Do check out Shimabukuro's performances in Hawaii well in advance.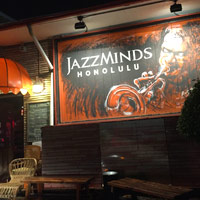 Jazz is a rare treat/ photo: Selena Oh
For live, authentic Hawaiian performances in the evenings, check out the Kani-Ka-Pila-Grille at the Outrigger Reef Waikiki Beach Resort or the House without a Key at the classic Halekulani Hotel, made famous in a 1925 Charlie Chan novel, House Without A Key.  This gorgeous dining spot has preserved the delightful sunset cocktails and Hawaiian music with dances performed by former Miss Hawaii beauty queens under the century-old Kiawe tree.  It's an almost surreal scene against the setting sun with Diamond Head in the background.
For jazzy sounds, visit Jazzminds , Honolulu's only jazz club. The repertoire churns out fusion jazz, funk, bebop, hip hop and surf rock in a casual ambience.
Just local treats, no tricks
The burgeoning aquaculture on the North Shore, just over an hour's drive from Honolulu, has led to the evolution of shrimp trucks. The first shrimp truck from Giovanni's appeared in 1993 and this was soon followed by other competitors. The waft of garlic butter in the air does compel a stop to relish delicious shrimp lunches. Another delightful institution on the North Shore since 1951, Matsumoto Shaved Ice offers shaved ice in a mind boggling array of flavours such as  lychee, pickled mango, green tea, bubble gum, root beer and more served in civilized cones. Expect long queues. Ted's Pies, a historical café bakery on Sunset Beach is synonymous with pies, particularly its chocolate haupia pie. Also dig into pastries, cakes and breads.
It takes a lot of will power to resist the popular malasadas or Portuguese style fried sugary, doughnuts sans-holes from Leonard's Bakery  founded in 1952.  Initially sold on Shrove Tuesday (the first day of Lent in the Easter run-up), this treat is now sold daily with delicious fillings such as chocolate, guava, pineapple and mango.
Liliha Bakery is well known for its Coco Puffs – not the puffed grains cereal but a butter icing covered cream puff with chocolate filling.  For a twist on apple pies, try the delish 'napple' or fried apple pie at Napolean's Bakery.
Baby you can drive my car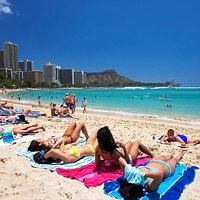 Bodies beautiful at Waikiki Beach/ photo: terragaelleria
For a real feel of the scenic coastline, hire a car, better yet an open-topped one, to go on a breezy spin around the coast. Beaches worth stopping at include the enchanting Hanauma Beach, filming site for Elvis Presley's Blue Hawaii; Sandy Beach for great body surfing; Kailua Beach for swimming and sunbathing, and the world famous Sunset surfing beach on the North Shore.
For panoramic views with historical significance, the Nuuanu Pali Lookout is one of Oahu's most picturesque points known for its howling winds.  Pali is Hawaiian for cliff and this was the location for a violent battle fought in 1795 which led to the unification of Oa'hu under King Kamehameha I. Capture brilliant views of the coastline, mountain peaks and a landscape scattered with various landmarks.
The Round Top Drive, a winding, 12km loop to the top of Mount Tantalus is arguably the best route to take in sweeping views of Honolulu, Waikiki and Diamond Head especially on date nights. Among the several lookout points along the way, the Pu'u Ualaka'a State Park offers the most amazing views of Diamond Head in the east to Honolulu International Airport and Pearl Harbor in the west.
Standing on its main lookout point, I am reminded of the lines from Honolulu City Lights, the perennial musical favourite by Keola Beamer, sung by homesick Hawaiians: "Each night Honolulu city lights bring me back again… You are my island sunset; you are my island dream."
Send us your Feedback / Letter to the Editor