CITY GUIDE
Pattaya survival kit
Ditch the sleaze and bag yourself a great-value stay in a funky guesthouse, chic boutique hotel or lush beachfront resort. Our Pattaya resorts review. Plus golf, spas, and diving.
SEE ALSO Small meetings in Asia | Phuket guide | Bangkok hotels | Bangkok shopping | Koh Samui resorts | Chiang Mai guide | Krabi resorts | Thai spas | Golf | Vietnam Resorts | Isan, Khao Yai guide | Lombok guide
JUMP TO Northern isle | Central Pattaya resorts | South Pattaya boutique hotels | Jomtien beach | Attractions and shopping | Hotel Contacts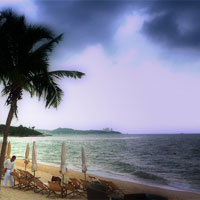 Last of the monsoons
THERE's a lobster-pink man breathing beery fumes in my face and pointing to a restaurant menu. A quick glance indicates it's written in Russian and not knowing the Cyrillic alphabet (or craving a bowl of borscht) – I smile sweetly and march off. Sadly I collide with a gang of testosterone-fuelled Russians who manage to conjure a few poetic words of English – "how much?" – and they weren't talking about beetroot soup. Welcome to the Thai beach town of Pattaya.
It was US servicemen who helped put Pattaya on the map initially, not always for the right reasons – they came here for "rest and rehabilitation" during the Vietnam War. In the decades that followed the city grew into a labyrinth of urgently prurient neon and seedy go-go bars (with wild themes including nurses, kittens, and even superheroes). These days it's the Russians who help keep the city's sex industry alive and if you're not Slavic, or a girlie bar dancer, you may feel a little out of place.
But the throbbing red-light district hasn't stopped modestly gentrified Pattaya developing into one of Thailand's more popular seaside resorts. Only 150km southeast of Bangkok, it's the closest beach resort to the capital and hordes of Thais flock here at weekends for some sun, sea and sand. Talking of sand, if you're a beach lover don't expect too much – it's basically a narrow strip packed sardine-like with umbrellas, sun-loungers and hawkers. Sea quality has supposedly improved and if you're brave enough to swim, make sure it's in the cordoned off areas where you'll be safe from roaring jet skis and speed boots. More in our Pattaya guide.

E-mail Page

Print

Hotel Contacts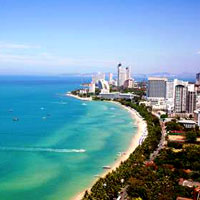 Glorious view from the Hilton/ photo: hotel
Despite the in-your-face sleaze, one significant plus point for flag-following visitors is the cost of accommodation. Room rates are competitive and you can easily bag a luxurious stay with a wallet-friendly price tag. Find the right deal and you could be admiring the coastal views from your secluded Ocean Deluxe Suite without ever stepping foot downtown. The international business community has also been tempted by value packages and Pattaya conferences are a recurring item on Asia's MICE and seminar map. Again, the proximity to Bangkok is a huge factor. So, for business or leisure, our Pattaya resorts review with a hit list of properties, bold and brash to boutique, from whence to ponder your escape from (or inevitable embrace of) all that naughty nightlife.
Pattaya guide to tranquil escapes in the north
It might look like a scene from Jurassic Park but, thankfully, all the dinosaurs are busy bothering young girls at downtown go-go bars, leaving Centara Grand Mirage Beach Resort Pattaya a stegosaurus-free zone. Themed around a "Lost World" concept, this family-friendly hotel is located directly on 230m of sandy beach with pools, wooden bridges and meandering walkways hidden among towering palm trees and lush tropical plants. You'll feel like a Lion King or queen in the lobby, which resembles a plush African hut with a thatched roof, stone floors and incredible views out to sea.
Stroll past giant elephant sculptures and towering tiger totem poles as you explore the two 18-storey towers containing 555 rooms, all with ocean or garden-view balconies or terraces. Rudyard Kipling's Jungle Book folk would feel quite at home in the 42sq m standard Deluxe room with engraved stone walls, bamboo furniture, driftwood mirrors and tree-trunk lamps.
Send us your Feedback / Letter to the Editor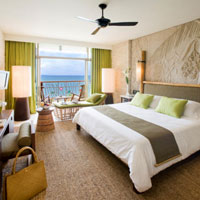 Bright Centara room/ photo: hotel
You won't be expected to draw cave paintings for entertainment – there's a 32-inch flatscreen TV, WiFi Internet, minibar and tea and coffee facilities. The bathroom is concealed by a curtain not a door but the toilet is in a separate room. There's a walk-in rain shower, hairdryer, a set of scales and even a wooden branch to hang your towel on. Balconies are big enough for two loungers and a small table and, if you leave the door open for longer than five minutes, the air-con will automatically shut down and the fan will kick in.
Family units include brightly-coloured rooms with bunk beds and packs of child-friendly toiletries. There are no computer consoles in the children's bedroom instead young guests are directed to the hotel's pay-for kids' club. There are daily outdoor activities on the beach and around the pool and Camp Safari offers children under nine supervised indoor games and toys (Bt50 per hour). For teenagers there is the E-Zone (Bt100 per hour), which has PSPs, Wiis, and table football and hockey.
Last but not least is the Games Room with pool and snooker (Bt100 per hour). But most popular is the water park, which is free for hotel guests and includes splash-tastic slides and cooling pools with inflatables and gushing waterfalls. Adults are far from neglected. All manner of massages and treatments are on offer at Spa Cenvaree, you can hire a private karaoke room at Zulu bar or watch a live band every Saturday night at beachfront restaurant Flame.
Also hoping to attract families and beach-loving couples is the refurbished Pullman Pattaya Hotel G rebranded from Aisawan. If you can find your way through the maze of disorienting white curtains in the lobby, and don't collide with the randomly placed red piano, you'll arrive at the hotel's pride and joy – its Beach Club. Attempting to mimic the stylish seafront hangouts of Miami and LA, it is a spacious area with two swimming pools, an alfresco bar and restaurant, and steps down to a semi-private beach. Everything from cocktails and ice cream to steak sandwiches and spicy papaya salad is available, plus the hotel's spa and fitness centre is close-by as is the free kids' club.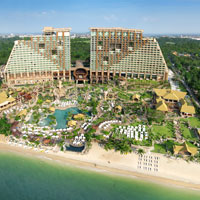 Centara: endless fun/ photo: hotel
Show off your golden tan at the hotel's White Session Party on the first Saturday of the month. Less attention seems to have been paid to the hotel interiors, in particular the bare corridors, which wouldn't be out of place in a budget hotel.
The rooms lack attention to detail but are pleasant enough. The decor is contemporary, the facilities clean and some rooms are equipped with media hubs including DVD, iPod docks, free WiFi and multimedia cables. Standard rooms are 38sq m and include the usual tea and coffee facilities, safe and 32-inch flatscreen TV, bath and separate shower. Family Rooms also include a bedroom with bunk beds and a PSP with up to 10 games.
A five-minute stroll inland, close to the dolphin statue (that marks the boundary between Central and North Pattaya), is the Woodlands Hotel and Resort and the newer Woodlands Suites Serviced Residences. The hotel consists of nine low-rise blocks within a tangle of jungle, around a large swimming pool. All of the 134 rooms have either a balcony or terrace and although basic, have the charming appeal of a Thai-style cottage.
The standard Superior comes with a TV, minibar and small safe. Apart from the steady trickle of the water fountain, there is a hushed atmosphere punctuated only by birdsong. Guests at this mid-range hotel are families and couples seeking peace and quiet in a lush tropical environment.
Towards the back of the property is a new block housing 74 modern studios and apartments, all with private balconies. Guests at this property can use all hotel facilities (including a spa and Italian restaurant), plus have their own private pool, gym and business centre.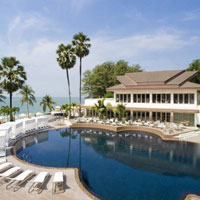 Pullman poolside/ photo: hotel
Decor is contemporary and minimalist with modern art and funky lampshades. You'll enjoy more high-tech facilities with every room from the standard Premier Studio (48sq m) to the two-bedroom apartment (155sq m) offering a 32-inch flatscreen TV, DVD, complimentary WiFi and a kitchen with microwave, two electric hobs, fridge and cooking utensils. The bathroom includes a bath and separate rain shower. There is also a walk-in wardrobe, safe, hairdryer, a set of scales and iron and ironing board.
Less than a two-minute walk from the beach is Amari Orchid Pattaya – one of the first hotels to open in the city. Although 38 years old, the hotel has a new five-star wing called Ocean Tower that opened in 2007 offering balconies with sea views in almost all of its 297 rooms. In contrast to the towering 20 storeys of Ocean Tower, is the low-rise, four-star Garden Wing. This older block has 228 rooms with garden views only. They cost around Bt1,500 less than rooms in the tower and are popular with long-stay guests.
But if you want to wake up with the sun and fall asleep under the stars then try an Ocean Tower Junior Suite. The king-size bed faces a wall of glass looking out to sea and there is a second large window on the side wall looking along the coast. The light and spacious 63sq m suites are open plan with wooden floors, velvet sofas and glass-top work desks. Automated blinds partition the bedroom and bathroom.
The Deluxe is almost identical only without the sea-facing window and is only 49sq m. All rooms have a LCD TV, DVD, WiFi (Bt589 per day) and tea and coffee facilities. In the heart of the resort are two large swimming pools surrounded by gardens with sunbathing terraces. There's also a spa, two fitness rooms, banqueting and conference facilities and the Horizon Club for guests staying in Executive rooms and suites. The beachfront restaurant Mantra has open kitchens dedicated to six types of cuisine including Japanese, Chinese, Thai and Mediterranean.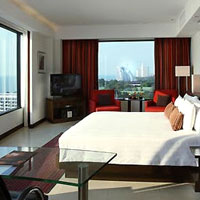 Suite at the Amari/ photo: hotel
Next door to Amari is the surprisingly fresh and funky Holiday Inn Pattaya that does a great job of providing good value, cosy and contemporary accommodation. The lobby has an air of underwater tranquillity with fish-like sofas, huge shimmering aqua walls and floaty music. Rooms are flooded with light from the huge windows that lead out to a balcony overlooking the sea. Although simple in design, little touches like blue vases and cool art help give the rooms a likeable charm.
Instead of a pricey minibar there is a fridge for your own stash of beer and juice plus, tea and coffee facilities, 32-inch flatscreen TV, laptop-size safe, WiFi (Bt696 per day or free in the lobby and by the pool), iron and board, hairdryer and shower (no bathtub). Although only minutes from the beach you may find yourself seduced by the panoramic infinity pool. Kids can duck and dive in their own pool next to the free kids' club (open 10am until 6pm for ages four to seven). There are also three Family rooms where children can sleep in the mouth of a whale. This is a family-friendly Pattaya hotel that fares well on our review.
If your idea of a fun holiday is elbowing someone in the face then Fairtex Sports Club and Hotel is the place for you. The hotel is packed with martial arts lovers and sporty types who flock to this rather niche establishment to train with some of Thailand's best fighters. Room packages include one-on-one lessons and training camps in the dedicated muay thai gym. If kicking ass isn't your thing then you'll have no problem working up a sweat elsewhere. Scramble up the outdoor climbing wall, take one of 80 aerobic classes per week, swim in the 25m pool or play tennis, squash, badminton or basketball.
There's also a spa offering colon hydrotherapy and a raw food cafe. The rooms themselves are a bit naff with dated decor and tired furnishings but if you've been working out all day, you'll probably be content with a hot shower and a bed. Likewise the lobby is a garish mishmash of leopard print sofas, tacky bird ornaments and OTT crystal statues. Go for the activities not the interior design.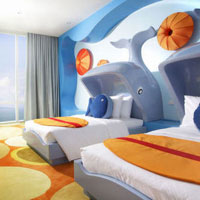 Kids' room, Holiday Inn/ photo: hotel
Occupying a secluded stretch of beach at the northern tip of the bay is Dusit Thani Pattaya. Not only do many of its rooms have private balconies (not overlooked by neighbouring guests) but the hotel is also set among 40 acres of tropical garden making it a lush and leafy retreat. You certainly know you're in Thailand when you stay here thanks to tasteful artwork, rich fabrics and attractive wooden furnishings.
All rooms are being gradually refurbished with Club and Grand almost complete end 2010 and Superior earmarked for the next refresh. Measuring 80sq m, the Grand rooms are decorated in hues of cream, brown and silver, accented with modern Thai furnishings. Relax in a sun-lounger on your balcony or take in the panoramic views as you enjoy an outdoor shower. Other features include a 32-inch LCD TV, DVD, cosy L-shaped sofa and vanity dresser.
You'll never be short of things to do thanks to four tennis courts, two swimming pools, a large high-tech fitness centre called DFit, spa and kids' club. Choose from seven bars and restaurants but for the best views head to The Peak for contemporary Chinese cuisine or check out The Bay on a Saturday night for an alfresco barbeque buffet. The hotel also caters to businesses and can arrange anything from small meetings to conventions of up to 3,000 people. Indeed this is an address to mark down if Pattaya conference hotels are on your research schedule.
Central Pattaya resorts – in the heart of the action
The Hilton became the new kid on the Pattaya block when it flung open its doors December 2010. Rising 34 storeys above Central Festival shopping mall, it may not have a beachfront location, but it does have a cool seaside theme.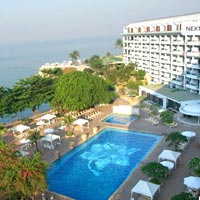 Dusit Thani Pattaya/ photo: hotel
On arrival at the ground floor welcome lounge you'll be escorted to the 16th floor lobby, which has a dramatic white wave-effect ceiling and is dotted with silver pebble sculptures. Like a chic and stylish beach house, the Hilton is all about natural elegance. Expect blonde wood, sand-coloured walls, huge glass windows and bright sunlight. The 302 rooms and suites feature 180-degree ocean views with private balconies. For true seaside decadence stay in the 48sq m Hilton Deluxe Plus Seaview and while away the hours on a spacious balcony with outdoor bathtub and stunning coastal views. There is a sliding door leading from your walk-in rain shower to the balcony, plus a walk-in wardrobe and work desk with a flip-up top that doubles as a make-up mirror. Clever, and one of the reasons we think it is a high ranker in this Pattaya hotels review.
Top-notch facilities include a 37-inch flatscreen TV, alarm clock with iPhone/iPod dock, WiFi (Bt500 per day), freestanding egg bathtub, minibar, laptop-size safe and iron and board. Holiday travellers and business folk should be equally impressed by the Executive Lounge on level 33, the 635sq m ballroom with outdoor balcony, three meeting rooms, spa, outdoor infinity swimming pool and fitness centre. Each of the five bars and restaurants radiates elegance and the Horizon rooftop bar arrives 2011 with 360-degree views of the city. The shopping mall car park below has 100 spaces reserved for guests. There are direct lifts to the hotel from the shopping mall and the car park.
Firmly on the list of Pattaya hip hotels is the trendy Hotel Baraquda Pattaya (until May 2014 a Dusit d2 brand), a boutique-style offering. The place has made waves with its contemporary style and breezy service. In stark contrast to the jumble of neon go-go bars in the vicinity, this 72-room hotel has a clean white exterior that is refreshingly modern. Step inside and the sandy wooden floors, cool blue art and smooth cream furnishings set the tone. Shimmering gems hang like jellyfish tentacles above the reception desk and, if you're still not in the holiday mood, then sip your generous welcome cocktail and munch on spicy Thai tapas.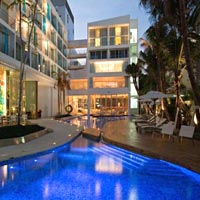 Barracuda pool: the art of cool/ photo: hotel
Barracuda is in a great location (the night market is right outside), staff are super friendly and breakfast is superb (especially the homemade jams). The lobby is undeniably cool. There is a large swimming pool for calorie-burning laps and a funky rooftop cocktail bar with balmy sea breezes and open views. That said, the room design while visually impressive, is at times impractical. There are no bedside tables so books and glasses of water need to be placed on the floor. Switches are scattered around the room making lights-off a frustrating business. This neighbourhood is a high-decibel party zone so bring along your dancing gear, or a set of sturdy ear plugs. On the other hand, if you're with that special someone, none of this will really matter.
A small hotel with a shabby-chic guesthouse vibe is Baboona Beachfront Living, located between Soi 3 and 4 on busy Beach Road. Its mix-and-match decor sees red lanterns hanging in the lobby next to a flatscreen TV, black leather deck chairs and Thai vases. As you stroll down the lime and electric blue corridors you'll also spot lots of vintage Mercedes-Benz posters – the owner is a fan. A favourite with long-stay guests, it has 39 simple, clean and functional rooms, roughly half of which offer sea views. In the 28sq m Deluxe Sea View rooms you'll find a balcony with table and chairs, 32-inch LCD TV, DVD and CD, free minibar (excluding alcohol), tea and coffee facilities, safe, and a loud blue and yellow diamond-patterned bathroom with walk-in rain shower and hairdryer. There's no swimming pool and one spa treatment room in case you fancy a Thai, foot or hot stone massage. If you want a book or DVD head to the backpacker-esque library room where you can borrow films or novels or just hang out and watch TV on squishy sofas.
The beach may only be a few minutes stumble from the Hard Rock Hotel but that's one stumble too far for some of its beer-swilling, air-guitaring guests. So, Hard Rock has brought the beach to them. Possibly the biggest attraction of this hotel is the fake beach and bamboo cabanas, which surround the enormous swimming pool. There's real sand, craggy rocks and for Bt450 per day you can hire your own swanky beach hut and sip cocktails in the shade. Don't expect relaxed lazing with a good book though – poolside singers and dancers will attempt to get your "hands in the air" while sporty guests try to rope you into a game of pool volleyball.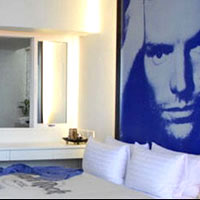 Hard Rock with Sting/ photo: hotel
Families seem at home here too and for Bt600 per day kids can head to the Lil Rock Club where they can do arts and crafts or play the latest games on Playstation2 and Nintendo Wii. There's also a family foam party every Saturday at 5pm – the more adult Beach Foam X happens later from 9:30pm until 1am.
Sadly the rooms rock far less hence the hotel is currently refurbishing all 320 of them. The refresh is expected to be complete by mid 2012 so until then you'll face fairly tired and dated decor and the possibility of sawing and hammering. If in-your-face Eighties colour schemes and giant, blue murals of Sting, Tina Turner and Michael Jackson above your bed are your thing, you'll enjoy a great location with killer tunes and wild pool parties. New rooms will have a more subtle and contemporary design, a new bathroom (the current Japanese-style bath is difficult to get in and out of) and more high-tech facilities. Still, this remains a popular address among Pattaya child-friendly hotels.
Walk a couple of minutes up a quiet side street (Soi 4), away from the hectic seafront, and you'll see the glass balconies and white stone exterior of Hotel Vista. If you want to be within spitting distance of the pumping bars but still want to sleep at night, this is a good option. Many rooms have a good-sized balcony with sliding glass doors that allow natural light to flood in. You won't have a sea view but you will be able to wave at your neighbours in the Mike Orchid Resort opposite. There's a saltwater swimming pool out front by the road and the hotel has its own deckchairs on the beach, which guests can use for free (chairs usually cost around Bt30 per day).
The 135 rooms, spread over eight storeys, have a contemporary, minimalist design with white and grey walls and light wooden furnishings. The standard Deluxe rooms are 32sq m and have a frosted glass wall separating the bedroom and bathroom, which includes a small square bath with overhead rain shower and hair-drier. Other facilities include 32-inch LCD TV, free WiFi, coffee and tea, minibar and laptop-size safe.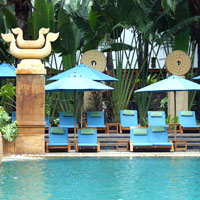 Avani Pattaya style/ photo: hotel
Avani Pattaya Resort & Spa (which took over on 1 November 2016 from Pattaya Marriott Resort & Spa) masters the art of being a tranquil and leafy city centre retreat. As you relax on the alfresco pool terrace under the shade of towering palm trees, with birds chirping and the wind rustling through the leaves, it's hard to believe the hustle and bustle of the Central district is raging only metres away. Old-fashioned ceiling fans keep the lobby cool while elephant statues and wooden furniture add a Thai flavour to the overall contemporary mood. There are 295 rooms including 33 suites with balconies or terraces facing the ocean or gardens. Rooms are equipped with 32-inch flatscreen TVs, minibar, laptop-size safe, coffee and tea facilities, and hairdryer. Wireless Internet is available for Bt642 per day.
With eight function rooms, a 300-capacity ballroom and eight acres of gardens, Avani Pattaya (the former Marriott) has always been a popular choice for business conferences and seminars although the current refurbishment of its kids' club hints at a desire to attract more families. Located between Beach Road and Pattaya Second Road, guests have direct access to the Royal Garden Plaza shopping centre and there is also a path leading from the gardens to the beach. Expect a 650sq m swimming pool with a waterslide for children and Jacuzzi plunge pool for adults. Keep an eye out for the hotel's pet macaws (Big C and Peter Pan) who like to sing, chat and nibble your toes. If you're feeling really adventurous head to the aerobic studio, two floodlit tennis courts or grab one of the hotel's mountain bikes and pedal off into the sunset.
Headland hideaways, South Pattaya
The spectacle of Walking Street is both mesmerising and maddening so when you've had enough of haggling for trinkets, avoiding boisterous Russians, and secretly peeping into girlie bars – then escape to the oasis of calm that is Siam Bayshore Resort and Spa. Situated on the southern tip of Pattaya Bay, between Walking Street and Bali Hai Pier, the hotel consists of 12 low-rise pavilions, which blend perfectly with the 20 acres of manicured gardens and ponds. Despite being so close to the action, the resort is surprisingly peaceful yet hugely convenient for those wanting to shop, dine out or sample the local nightlife. This independently owned hotel has a warm character and although contemporary in style, embraces subtle yet attractive Thai design elements.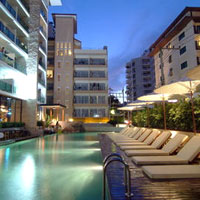 Hotel Vista is close to the action/ photo: hotel
Each one of the 270 rooms has a balcony or terrace overlooking the garden, pool or ocean and is designed to provide maximum privacy. The newly renovated signature Tropical Deluxe rooms have a warm and cosy jungle atmosphere accentuated by teak wood furnishings, an autumnal colour scheme and Thai motifs. Facilities include a safe, minibar, Wireless Internet, coffee and tea facilities and hairdryer. If the red neon and throbbing dance music doesn't appeal, then head to The Explore Bar, which is a true snooper's paradise. Sip a cool drink and examine the array of bizarre antiques, old maps, curios, and paraphernalia from around the globe. Or you can just play Scrabble or a game of pool.
Fight your way through the foliage to the Lotus Spa or work up a sweat on one of six tennis courts. You can cool off in the two swimming pools then refuel in one of four restaurants including Thai and Chinese. Or just knock up a quick green curry yourself at one of the Thai cookery classes. A perfect romantic hideaway for couples who want mellow days and adventurous nights. Sister property Siam Bayview Hotel is located on Beach Road in Central Pattaya between three major shopping malls – Central Festival, The Avenue and Mike. This contemporary nine-storey hotel has 260 rooms many with ocean and city views. A Pattaya budget hotel option closer to the beach but not on the beach road is Red Planet Hotel Pattaya (formerly a Tune hotel).
Expect a boisterous atmosphere at the Best Western Premier Signature Hotel Pattaya, which is popular with tour groups from Turkey and the Middle East. There is nothing particularly Thai about it. Once inside you could be in any big cookie-cutter hotel. Still, the 132 rooms are modern and comfortable although corridors are a little bland and sterile. The Premiere rooms come with 32-inch flatscreen TV, tea and coffee facilities, hairdryer, safe, minibar and bath with overhead shower. A cute old-fashioned tuk tuk doubles up as the hotel shuttle bus offering free scheduled rides to Jomtien beach, Central Festival Shopping Mall and Walking Street (only a five-minute stroll away).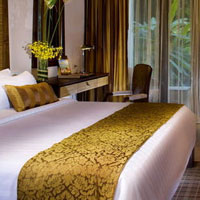 Siam Bayshore room/ photo: hotel
You could easily cruise right on past Manita Boutique Hotel and never give it a second glance but this would be a shame. Although rather unappealingly located at the side of a busy road leading out of Pattaya and up towards the southern headland, this six-storey hotel has a unique charm and some good value accommodation. Popular with local Thais, in particular groups of friends and young couples, the rooms are simple yet funky and amenities are basic but adequate. There's a TV (not flatscreen), small hairdryer, minibar, tea and coffee facilities, small safe and shower. The location is not hugely convenient unless you've hired a motorbike or car or are happy to jump in a songtaew (pick-up truck) or taxi. The spacious penthouse suite is a good option for large groups looking to party all weekend. It sleeps up to 10 people and includes a large corner sofa, fully equipped kitchen, dining table and four chairs, DVD, CD and flatscreen TV – all for Bt9,999. Lucky number?
The minute you're presented with a cooling hand towel and a glass of icy fruit punch in the breezy open-walled lobby of the InterContinental Pattaya Resort (rebranded 1 April 2016 from Sheraton Pattaya Resort), you know it's time to chill out. Perched atop headlands south of Pattaya, this 156-room resort offers stunning views across the Gulf of Siam and nearby islands. Steep pathways lead through the resort past lush gardens and three swimming pools, until you reach its secluded private beach. This artificially sanded area is perfect for soaking up some rays but the sea is quite choppy at times. The hotel advices guests to use the pool. If you're feeling lazy call reception and they'll send a buggy to whizz you around this hillside resort. A sunset dinner at Infinity beachfront restaurant is a must as is a moonlit cocktail at Latitude Lounge.
The spacious and picturesque grounds allow plenty of personal space and are not overlooked by other hotels. Those keen to explore the city's nightlife will need to make use of the shuttle bus, which takes around 10 minutes. Rooms are light and spacious with subtle Thai accents blended with elegant modern design. The standard Ocean View rooms are 45sq m and come with spacious balconies and modcons such as 32-inch flatscreen TV, DVD and CD, minibar, tea and coffee facilities and iron and board. The bathroom has a deep tub and an impressively large walk-in rain shower. Wireless Internet is free in the lobby and costs Bt495 per day in your room. This escape fares well in our Pattaya resorts review.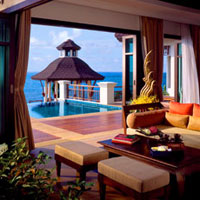 InterCon Pattaya: chic/ photo: hotel
Just around the corner is the less attractive concrete-fronted Royal Cliff Hotels Group (formerly the Royal Cliff Beach Resort). There are four hotels in total covering 64 acres of land with the Beach Hotel catering more to tour groups and the Grand Hotel and Spa aspiring to attract visiting royalty and government officials. As a result the rather past-its-prime Beach Hotel tends to be packed with chattering crowds wheeling armies of suitcases while the Grand Hotel and Royal Wing feel distinctly empty.
What can't be ignored is the exhaustingly long list of facilities including 10 restaurants, four bars, five swimming pools, two health spas, a Thai cooking school, a fitness complex, seven floodlit tennis courts, two squash courts and a practice golf course. There's more – two beaches, three ballrooms, 54 meeting rooms, the nearby Pattaya Exhibition and Convention Centre (PEACH) and a 120-seater catamaran for charter to the nearby islands. That may be enough to persuade some but others seeking quality service, attention to detail and home comforts might want to consider looking elsewhere.
Chill out in sleepy (and less sleazy) Jomtien
If the craziness of Pattaya rattles your brain and you fancy something a little sleepier, cheaper and generally more chilled out – head to Jomtien. It's a 10-15-minute drive south along the coast and costs around Bt50 in a songtaew. The beach is still narrow but isn't packed with so many umbrellas so you can spread out and relax. You're also less likely to get mown down by one of the many jet skiers or speed boats that plague Pattaya beach. The seafront is less developed with areas of green land yet to be built on and lots of small local cafes and shops. Girlie bars are few and far between so the sleaze factor is much lower. The accommodation of choice in this much quieter town is condos and serviced apartments but you will find some budget guesthouses, a few boutique-style properties and some run-of-the-mill mid-range hotels.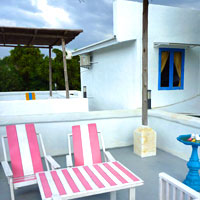 Costa Village roof
Rising up 38 storeys on the beachfront road is Furama Jomtien Beach, a contemporary hotel offering simple but comfortable accommodation with some funky design. All 450 rooms have small but not hugely private ocean-facing balconies that are overlooked by neighbouring guests. A refurbishment in 2008 means the facilities are clean and modern and rooms come with 35-inch flatscreen TVs, coffee and tea facilities, minibar, small safe, hairdryer and bath with hand shower. There's also an outdoor swimming pool, Vietnamese restaurant and five meeting rooms.
A real hidden gem tucked away up a side street (Soi 9), just a five-minute walk from the beach, is Costa Village. With its whitewashed walls and blue wooden shutters, this small boutique guesthouse wouldn't look out of place on the Greek island of Mykonos. Enquiries can be made at the little garden cafe then follow the path through ornate gates, past pretty potted plants, into a courtyard around which there are nine light, spacious and homely rooms. Try the Costa by the Moon room, which includes a private plunge pool and roof terrace. Facilities include 27-inch flatscreen TV, DVD and CD, hairdryer and tea and coffee facilities. You can borrow free films and books at reception. This is a perfect place for honeymooners seeking a bohemian hideaway. Costa is a high scorer in our Pattaya hotels review.
Back on the beachfront and closer to Jomtien town centre is The Grand Heritage Beach Resort and Spa. Blending contemporary and traditional Thai-style architecture, it comprises three buildings – one with an ocean view and two with a pool view. Expect a conference centre and generous outdoor swimming pools surrounded by gardens and sandstone sculptures. The Lagoon room has a large terrace with private steps down to the main swimming pool and includes facilities such as touch-screen TV, DVD, minibar, safe, bath with separate shower and WiFi Internet. Rooms are light, spacious and tastefully designed with tropical shades and Asian art. If you can drag yourself away from the pool, then Pattaya Park is right next door so check out the water park, cable car, zip wire and revolving restaurant.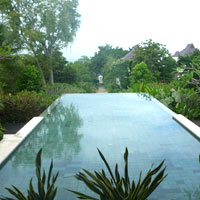 Sea Sand Sun retreat
About 15km south of Pattaya, along the coast from Jomtien, is the Sea Sand Sun Resort and Spa – a 60-room high-end jungle retreat for couples wanting some secluded slap and tickle time.
There's no piped mood music only the sounds of birds and frogs as you stroll among 160 acres of coconut palms and banana trees. The location makes this place a serene and lush hideaway but also means it's less convenient for sightseeing or sampling local nightlife. But then again why would you want to leave when you could check into a 200sq m Pool Villa Suite and spend your days lazing in your own private pool, cooling off in an outdoor rain shower or having romantic dinners on a raised decked pavilion complete with dining table and chairs.
Choose from 27 pool villa or garden suites – all nestled within the scented foliage, allowing for maximum privacy. You'll also enjoy a 24-inch LCD TV, DVD, MP3 player, minibar, safe, hairdryer, tea and Lavazza coffee facilities and Wireless Internet (Bt177 per hour or free in the lobby). If you can tear yourself away from your villa then the swimming pool offers sea views and the resort has its own secluded stretch of private beach with cordoned off swimming area. Beach babes should check out the newly built Ocean Villas with a terrace that leads straight to the sand.
Pattaya is desperate to cast off the shackles of sleaze and swap its high heels and saucy stockings for some khaki shorts, leather sandals and a nice baseball cap. Easier said than done. It's true that the seafront, Walking Street (pedestrian-only from 7pm) and many of the sois are packed with swarms of pole-dancing girls and beer-crazed men. Men will be pestered by scantily clad ladies (and men) who are often reluctant to take no for an answer. Female visitors can be mistakenly propositioned, particularly late at night. Yet, there's more to this beach strip than might meet the eye. On then with our family-friendly Pattaya guide.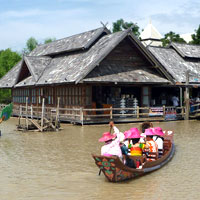 Floating Market tour
There's no shortage of things to do especially if you're a sporty type. There are 18 golf courses in the area surrounding Pattaya, the nearest around 45 minutes away. Popular courses include Laem Chabang, St Andrews and the newly opened 27-hole Siam Country Club Pattaya Plantation. Wreck diving is also popular, in particular trips to Coin Wreck, Hardeep Wreck and HTMS Khram. Book with PADI-accredited Dive South East Asia (www.dive-sea.com). For an underwater encounter without the wet suit – try Underwater World Pattaya (www.underwaterworldpattaya.com).
A popular Pattaya seafood restaurant is Moom Aroi, at the end of Naklua Road, about 3.5km from the Dolphin monument. A local songtaew to the restaurant from town will be about Bt100-Bt150. It's a well known place. The restaurant is large and open-sided, fronting the sea, and is open from 11am to 11pm.
If you're not a fish-fancier then why not monkey around at Flight of the Gibbon (www.treetopasia.com). This rainforest adventure allows you to zip-wire through the treetops in gibbon-like fashion. You won't actually see any of the furry fellows though. Speed demons can get all revved up with some go kart racing (www.easykart.net) and adrenaline junkies might consider a spot of kitesurfing (www.kiteboardingasia.com). Although Tiffany's (www.tiffany-show.com) is tipped to be the best transvestite cabaret show in town, Alcazar (www.alcazarpattaya.com) comes in a close second. Expect glittering costumes, dazzling show tunes and lots of quizzical looks. Once sated with all those heaving silicon bosoms, view miniature replicas of famous Thai landmarks plus a few global biggies such as the Eiffel Tower and Statue of Liberty at Mini Siam (www.minisiam.com) or take a scheduled ferry (or more expensive but faster speed boat) to the nearby island of Koh Larn. Ferries leave from Bali Hai pier and beaches are much wider and whiter than Pattaya's.
If you are keen on spending then head on a Pattaya shopping spree through the malls – try Central Festival (www.centralfestival.co.th), Royal Garden Plaza (www.royalgardenplaza.co.th) and Mike Shopping Mall (www.mikethailand.com). If you're a bargain hunter try haggling at the night and weekend markets or explore the Floating Market (www.pattayafloatingmarket.com). These wooden shops are surrounded by murky brown water and are aimed squarely at tourists. They mainly sell cheap trinkets but there are some nice little cafes and for Bt450 you can hop in a small wooden boat and be paddled around.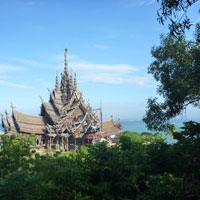 Sanctuary of Truth
But if you can only do one thing while you'll in Pattaya, pay a visit to The Sanctuary of Truth (www.sanctuaryoftruth.com). This beautiful and enormous wooden temple has taken 30 years to build and is still a work in progress. Inspired by temples across Asia, it is a maze of intricate carvings ranging from tiny flower petals to giant elephant heads. High above the faces of gods and goddesses gaze down upon a team of 400 workmen and women who continue to preserve and promote Thailand's ancient art. Visit the workshop and see them in action or watch as they hang from the rafters chiselling away at the fearsome mane of a dragon.
If you're still standing, wallet intact, and the ladies didn't get you we clearly did well with this Pattaya resorts review and guide. So, how good is your Russian now?
Send us your Feedback / Letter to the Editor
FAST FACTS

/ Hotel Contact List

Getting there: Pattaya is around 150km southeast from Bangkok and if you are arriving by plane to Suvarnabhumi International Airport, the fastest and easiest option is a taxi. Make sure you get a metered taxi that should cost around Bt1,500 and take around 90 minutes. To get an air-conditioned bus to Pattaya take the complimentary airport shuttle bus to the Transport Centre. The bus costs around Bt100 and leaves every two hours. You'll arrive at the North Pattaya bus station where you'll need to get a taxi or songtaow (a pick-up truck also known as a baht bus). Flag a songtaow down, jump in the back then ring the bell when you want to get off. Hop out then pay the driver Bt10. Scooters and motorbikes are also easy to hire and will cost around Bt150 per day. Taxis divers often don't use their meters so confirm a price before you set off.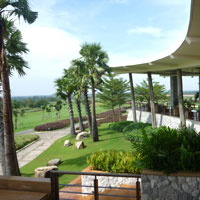 Siam Country Club
Peak season in Pattaya is during the nominally cooler and drier months from December to February. Demand is high and so are hotel prices. It's worth considering visiting during the rainy season (July to October) when there are less crowds and accommodation is much cheaper. Rain tends to come in short but intense bursts so shouldn't prove too disruptive to sightseeing schedules. Pattaya enjoys an exuberant Songkran festival in April – avoid this time if you're not a fan of getting wet.
Exchange rate roughly US$1= Bt31.9. Some rates listed here are rack or published full rates while others are the best Internet deals. Rates tend to fluctuate with the season so do check.
North Pattaya hotels and resorts
Amari Orchid Pattaya. Tel: [66-38] 418-418, fax: 418-410, (e-mail: reservations@orchid.amari.com or www.amari.com/orchid/).
Centara Grand Mirage Beach Resort. Tel: [66-2] 101-1234, fax: 101-1235, (e-mail: reservations@chr.co.th or www.centarahotelsresorts.com/cmbr/).
Dusit Thani Pattaya. Tel: [66-2] 636-3333, fax: [66-38] 428-239, (e-mail dtpa@dusit.com or www.dusit.com).
Fairtex Sports Club and Hotel. Tel: [66-38] 253-889, fax: 253-870, (e-mail: sport001@fairtex-pattaya.com or www.fairtexpattaya.com).
Holiday Inn Pattaya. Tel: 800-968-688, fax: [66-38] 725-562, (www.holidayinn.com).
Pullman Pattaya Hotel G. Formerly Aisawan. Tel: [66-38] 411-940, (www.pullmanpattayahotelg.com/).
Woodland Hotel and Resort. Tel: [66-38] 421-707, fax: 425-663, (e-mail: res@woodland-resort.com or www.woodland-resort.com).
Woodlands Suites Serviced Residences. Tel: [66-38] 052-299, fax: 052-290, (e-mail: booking@woodlandssuites.com or www.woodlandssuites.com).
Central Pattaya hotel guide
Avani Pattaya Resort & Spa (formerly Marriott Pattaya Resort & Spa). Tel: [66-38] 412-120, fax: 429-926, (e-mail: pattaya@avanihotels.com or www.minorhotels.com/en/avani/pattaya).
Baboona Beachfront Living. Tel: [66-38] 488-720, fax: 488-723, (e-mail: info@baboonabeach.com or www.baboonabeach.com).
Hard Rock Hotel Pattaya. Tel: [66-38] 428-755, fax: 421-673, (e-mail: rooms.pattaya@hardrockhotels.net or pattaya.hardrockhotels.net).
Hilton Pattaya. Tel: [66-38] 253-000, fax: 253-001, (www1.hilton.com).
Hotel Baraquda Pattaya. Tel: [66-38] 769-999, fax: 769-900.
Hotel Vista. Tel: [66-38] 052-300, fax: 052-317, (www.thehotelvista.com).
Red Planet Hotel Pattaya. Tel: [66-2] 613-5888, (https://www.redplanethotels.com/en/).
Siam Bayview Hotel. Tel: [66-38] 423-871, fax: 423-879, (e-mail: siambayview@siamhotels.com or www.siamhotels.com/siambayview/).
South Pattaya resorts and hotels
Best Western Premier Signature Hotel Pattaya. Tel: [66-38] 422-452, fax: 710-715, (www.bestwesternpremier.com).
InterContinental Pattaya Resort. Tel: [66-38] 259-888, fax: 259-899, (www.starwoodhotels.com/sheraton/).
Manita Boutique Hotel. Tel: [66-38] 489-490, fax: 489-495, (email: contact@manitahotel.com or www.manitahotel.com).
Siam Bayshore Resort and Spa. Tel: [66-38] 428-678, fax: 428-730, (e-mail: siambayshore@siamhotels.com or www.siamhotels.com/siambayshore/).
Royal Cliff Hotels Group. Tel: [66-38] 250-421, fax: 250-511, (e-mail: reservations@royalcliff.com or www.royalcliff.com).
Jomtien and the coast beyond
Costa Village. Tel: [66-38] 231-555, fax: 231-556, (e-mail costavillage@hotmail.com or www.costavillagepattaya.com).
Furama Jomtien Beach. Tel: [66-38] 418-999, fax: 418-989, (e-mail: jomtienbeach@furama.com or www.furama.com/jomtienbeach/).
Grand Heritage Beach Resort and Spa. Tel: [66-38] 250-888, fax: 364-900, (e-mail: info@grandheritagepattaya.com or www.grandheritagepattaya.com).
Sea Sand Sun Resort and Spa. Tel: [66-38] 435-163, fax: 435-171, (e-mail: rsvn@seasandsunpty.com or www.seasandsunpty.com).