CITY GUIDE
New York fun guide
If the gators at the Metropolitan rooftop cafe don't get you, check out the yoga for dogs, priceless paintings, grand views, and Sicilian soap. Belissimo. meanwhile R.I.P Hotel Chelsea and Manny's.
SEE ALSO San Francisco guide | Bali guide | Bangkok shopping | Barcelona guide | Child friendly resorts | Dubai guide | Hong Kong guide | Maldives resorts | Phuket guide | Singapore guide | Underwater hotels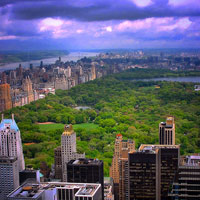 Views from Rockefeller's Top of the Rock
EVERYTHING ABOUT AMERICA IS BIG. Roads. Skies. Pizza. Shorted stock. And outstretched palms the size of Manhattan every time your bags so much as graze a porter. This is a country where shoes are canoes, cars resemble aircraft carriers, and prophylactics can double as sleeping bags. It's enough to drive any self-respecting Asian insane.
A single burger can feed a starving Indian for a week or obliterate Tora Bora if dropped from a sufficient height. At the very mention of the term "American portion" people run, if for different reasons, from alfafa-chewing New Age dieters to gerrymandering Iraqi politicos who need to be reminded that while George Bush may have exited, the years of mushroom cloud diplomacy are far from over with a whimsical Trump thumb on the button.
This largesse, so quintessentially American, is at once endearing and unnerving. Malthus will roll in his grave at the mountains of waste. Yet to be in New York at sundown, in Times Square, within the vortex of hurrying humanity and that incandescent neon frisson, is to be visited by an exhilarating adrenalin rush unlike anything other than perhaps watching your mother-in-law sail away on the Titanic.
There's enough power here to light up Sudan but who cares about a few misplaced megawatts? Plug into the seething current and be swept away to Carnegie Hall, the quietly poignant John Lennon memorial Strawberry Fields at Central Park, The Metropolitan Museum of Art, Harlem's storied Apollo Theater and the neo-Gothic Abyssinian Baptist Church, the rocking BB King Blues Club & Grill, and the vertiginous heights of the Rockefeller Center's Top of The Rock (with its own loyalty programme no less) where nose-to-infinity views await.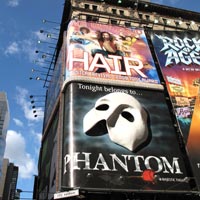 No escaping the Phantom of the Opera and other oldies
The undisputed capital of BIG is New York's Manhattan. It may be a "sucked orange" as Ralph Waldo Emerson once cavilled but John Steinback set the record straight. "Its climate is a scandal… Its traffic madness… [But] once you have lived in New York and it has become your home, no other place is good enough." Make yourself at home. Crackhead gunslingers are largely a thing of the past. There were just under 300 homicides in New York in 2017 (a record low) compared with 2,605 in 1990. This may be 300 homicides too many for some – Hong Kong averages just 40 annually – but this is the Big Apple after all where hyperbole, hysteria and histrionics are all part of the allure. Who would visit if things were sane? For that we have Singapore. On with our New York fun guide.
Send us your Feedback / Letter to the Editor
In the taxi I watched a TV show on yoga. This was "doga" for dogs. Slobbering St Bernards that should be bounding up Alpine slopes to save avalanche victims, sat nonplussed on mats having their paws massaged. Alsatians had their backs rubbed and forelimbs stretched while listening to the sound of whales singing. Next time a burglar calls these mutts will assume the lotus position while the silver disappears. The last time I was in a New York cab I was handed a small poster with a mug shot headlined "SCREWDRIVER MURDERER – Have you seen this man?" Times have changed.
In my hotel I pondered an intriguing label in the bathroom. "Skin cleanser," it read. The fine print extolled the many virtues of the ingredients including "olive oil, and extracts of Sicilian Blood Oranges rich in vitamin C and other powerful anti-oxidants." Should I eat this or bathe with it? Why not just call it soap? It's the American way. Where else can you get an iPhone doctor like Brendan McElroy (www.drbrendan.com) who'll fix your gizmo from his New York den and mail it back to you? America's youthful try-anything enthusiasm is infectious. Now, along with my Mafiosi-sounding surname Verghese, I even smell Sicilian. Okay, it's citrus, not cordite. But it'll do.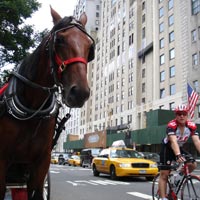 Horse buggy near Central Park
It is a sobering thought in a city where one square foot of land cost an average US$1,700 in 2017 that the Dutch West India Company bought Manhattan from the Indians in 1626 for a handful of gewgaws worth just US$28. These were of course the insouciant Red Indians. Had Christopher Columbus not miscalculated quite so gravely and actually found India – instead of this vast immovable continent – the outcome would have been different. The haggling over New Delhi would be continuing today. The conquistadores gave the New World "Western civilization" and took back to the Old World tobacco and syphilis, a fair trade some might say.
There is more than glitz. Look harder at the core of Americana and you will detect a discernible undertow of thrift and respect for old-fashioned values. Take the Land's End jeans I picked up from Sears for US$49 with a "lifetime guarantee". I throttled a chuckle. Seriously? "Yes sir," said the sales lady. The jeans were made in China and wouldn't last a month in my mother's old washing machine. But I was tickled at the prospect of finally unearthing something that did not have obsolescence sewn into its warp and woof. A lifetime guarantee on anything is as rare as someone who can pronounce Eyjafallajokull.
On my first Greyhound bus ride into New York as a student I had watched with mounting apprehension and excitement as the tips of the skyscrapers loomed closer above the enveloping smog, evoking visions of subdued menace on a cinemascopic scale that somehow transcended reality. This was fantasyland. The large black man seated next to me leaned over. "Do you drive elephants over in India?" he enquired. It is just this sort of inclusivity and unquenchable thirst for answers that has made this country great. It has placed a man on the moon as well as given us The Attack of the Killer Tomatoes and Donald Trump.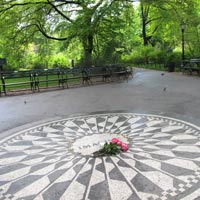 Strawberry Fields Lennon mosaic
America is not all Land of the Free and Home of the Depraved, as Hollywood would have you believe. Despite its hard-boiled pretensions, New York is a city with heart and taste. Take the early industrialist Henry Frick who while ruthless with union strikers in Pittsburgh, moved to New York, bought up an entire block upper east side and built a stately home museum that he went on to populate with some of the most priceless European classical and English romantic paintings from Rembrandt and Renoir to Titian, Bellini, Turner, Constable and Gainsborough. The Frick Collection (tel: [1-212] 288-0700, 1E 70th Street at Fifth Avenue, adult ticket US$18, www.frick.org) is an eye-opener.
So when Arizona gubernatorial candidate Tim James came on the telly snarling about the indignity of allowing state driver license tests in 12 languages ("This is Alabama. We speak English. If you want to live here, learn it"), I shrugged it off peaceably. It was water off a duck's back. That's a state where tough new immigration laws mean if you don't have enough talcum powder on your face the police might pull you over. I wasn't worried about Arizona. The Yanks will take it in their stride, as they always do.
A few blocks up from here along Central Park is The Metropolitan Museum of Art (tel: [212] 535-7710, E 82nd Street at Fifth Avenue, www.metmuseum.org) with over two million works of art including its crowd-puller Egyptian artefacts and mummies, an eye-popping mediaeval armour display and lush European painting. The rooftop cafe offers grand views over Central Park and zany sculpture exhibits. Later, at The Met Store, pick up some finely crafted memorabilia, like a bejewelled Russian dragonfly pin (US$90) or a gold Egyptian snake bracelet (US$150). The prices are lower for Met members.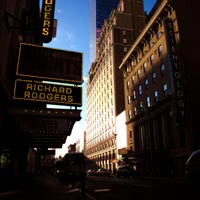 Off Broadway theatre is a must
As any New York guide will inform you, the art deco Chrysler Building (42nd Street and Lexington) had a brief reign as the world's tallest skyscraper until it was eclipsed by the Empire State Building (350 Fifth Avenue between 33rd and 34th Streets, www.esbnyc.com) in 1931. Architecturally the photogenic Chrysler easily outclasses the somewhat dowdy Empire State Building but the latter has firmly captured the world's imagination with the exhilarating views from its famously advertised viewing deck (open 8am to 2am every day).
No less impressive are the views from the "Top of The Rock", the roof of the Rockefeller Center (between Fifth and Sixth Avenues and 48th and 51st Streets, www.rockefellercenter.com). Built during the Depression in the 1930s as an endeavour to inspire the nation, this art deco masterpiece employed 70,000 people who toiled assiduously to make an elaborate point. The observation deck at the Top of The Rock (tel: [212] 698-2000, www.topoftherocknyc.com) occupies three floors with grand views over the city in all directions including Central Park. Take a look at the Empire State Building from an entirely new perspective. This is a place with attitude and zest. It even has its own loyalty programme. Get your rocks off daily. The deck is open 8am to midnight.
The magic intersection of Broadway and Seventh Avenue is the hub of Times Square. A stroll down Broadway is easier now with vast tracts now demarcated for pedestrians only much to the unconcealed ire of cab drivers. The Midtown Manhattan theatre district rings this maelstrom and no visit to New York is complete without some high drama at low prices courtesy same-day tickets from the Theater Development Fund (www.tdf.org), which has a booth at Times Square. Take in a show at the celebrated Carnegie Hall (www.carnegiehall.org/), the Biltmore Theater now renamed Samuel J. Friedman Theatre (www.manhattantheatreclub.com) or the art deco mural-and-plaster New Amsterdam Theater (newamsterdamtheatre.com/), the oldest performance house on Broadway. Updates on Broadway shows can be found here. Watch for 2018 hits like Beautiful, the Carole King musical, The Book of Mormon by Eugene O'Neill, and John Lithgow - Stories by Heart. The Phantom of the Opera continues its endless run, often on the national tour circuit (at the Majestic).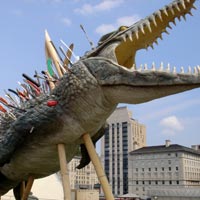 Metropolitan Museum roof art can be eccentric
The Broadway hustle runs well into the wee hours. Later, if the 40DD silicon distractions of Flash Dancers (1674 Broadway, www.flashdancersnyc.com) fail to impress, sit in on a taping of the hilarious Late Show with Stephen Colbert (www.cbs.com) and his special brand of oddball humour. Book online or visit the CBS theatre at 1697 Broadway between 53rd and 54th Streets. For more late night laughs – apart from drive-by muggings and Broadway's very own busking Naked Cowboy (seen less frequently nowadays) – there's stand-up comedy galore at the long-running seven-nights-a-week Dangerfield's (tel: [212] 593-1650, First Avenue and 61st Street, www.dangerfieldscomedyclub.com), the Gotham Comedy Club (tel: [212] 367-9000, 208 W 23rd Street, gothamcomedyclub.com), and the Broadway Comedy Club (tel: [212] 757-2323, 318 W 53rd Street, www.broadwaycomedyclub.com).
At Birdland (tel: [212] 581-3080, 315 W 44th Street, www.birdlandjazz.com) jazz greats of all hues perform. Named after Charlie "Bird" Parker the late bebop saxophonist, Birdland has since 1949 hosted the likes of Miles Davis, Stan Getz and Thelonius Monk.
Meanwhile seedy peepshow alley 42nd Street has been born again as a vital artery of commerce and clubbing and it's here you'll find the basement BB King Blues Club & Grill (tel: [212] 997-4144, 237 W 42nd, between Seventh and Eighth Avenues, www.bbkingblues.com) and sibling Lucille's Bar & Grill. While the performances at Lucille's are free (with patrons charged for just the drinks or eats) the grill has a modest entry fee. BB King's line-up includes diverse acts like Lovin' Spoonful, Denny Lane of the Moody Blues, and the Harlem Gospel Choir. On the evening I visited, Strawberry Fields (www.bbkingblues.com) was orchestrating a Beatles meltdown with a high octane performance showcasing the Fab Four's greatest hits that had the audience on its feet, jiving and bopping.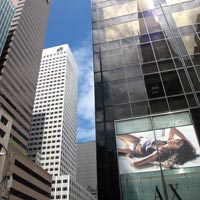 Skyscraper city with fashion trimmings
Another New York landmark is St Patrick's Cathedral (tel: [212] 753-2261, www.saintpatrickscathedral.org), whose stately sky-piercing steeples and stained glass windows will be spotted at 460 Madison Avenue. In contrast to this expansive Roman Catholic celebration, several blocks south tenuously straddling the narrow, toe-pinching angles of the Fifth Avenue and 23rd Street intersection, is the anorexic and impossibly svelte Flatiron Building (pronounced "flat iron"), just six feet across at its narrowest. Once described as "folly" the building is a huge tourist draw today, surrounded by gawping Japanese trying to figure out the best way to photograph this architectural whimsy. Stroll out of an evening to enjoy the greens, birds, and snuffling dogs of Madison Square Park before grabbing a chic cocktail at the retro glam Flatiron Lounge (tel: [212] 727-7741, 37 W 19th Street between Fifth and Sixth Avenues, www.flatironlounge.com).
If you have the money and the moxie and reserve shoe leather, Bloomingdales (tel: [212] 705-2000, 1,000 Third Avenue and E 59th Street, www.bloomingdales.com) and the 10-storey luxury siren Saks Fifth Avenue will attend to most sartorial needs.
Built in 1883 and surviving the creative excesses and moods of an endless succession of artists, writers, actors, poets and rockers from Bob Dylan to Jimi Hendrix, the red brick Hotel Chelsea at 222 W 23rd Street played host to a generous slice of New York history but was sadly closed - falling under a developer's hammer - in 2011. The hotel proudly noted once that it "is also known as the place where the writer Dylan Thomas died of alcohol poisoning in 1953, and where Sid Vicious of the Sex Pistols may have stabbed his girlfriend, Nancy Spungen, to death." Impeccable credentials such as this kept the punters coming in. Well, visit the site.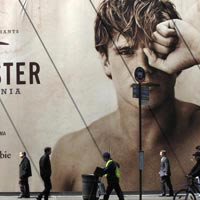 Hollister billboard: fashion capital?
While no New York guide commonly mentioned it, for music and guitar lovers in particular - from The Beatles to Jimi Hendrix - there was nothing quite like a lazy afternoon browse at Manny's, an institution at 156 West 48th Street since 1935. Alas this New York icon was earmarked for demolition in 2017. RIP.
After a blowout South Indian dosa lunch on "curry hill" (Lexington and 28th Street) with old school chums, I bravely contemplated my third gyro lamb sandwich of the evening and pondered the recklessly proliferating inches along my very own Wild Waist. Theirs not to reason why. Theirs just to munch and die. Oh for some dim sum and the comfort of a paltry 40 homicides. Hello Hong Kong. I've no idea if I still smell Sicilian.
Send us your Feedback / Letter to the Editor