COVID-19 AND THE FUTURE OF TRAVEL
Please no more hand shakes Mr Nice Guy
Hoteliers ponder the way ahead in the brave new world of social distancing. We look at honjok (solitary) Korean millennials, smart apps, staycations, virtual fashion shows, digital check-in, how tai chi is replacing gyms, and some 2001 Space Odyssey airline crew uniforms. So what happens to those destination weddings?
May 2020
SEE ALSO Asia medical tourism | Travel health risks in Asia | Taipei guide | Bangkok hotels | Bangkok shopping | Hong Kong hotels | Airbus vs Boeing | Travel pricing in Covid times | Covid-19 travel updates | Covid travel restart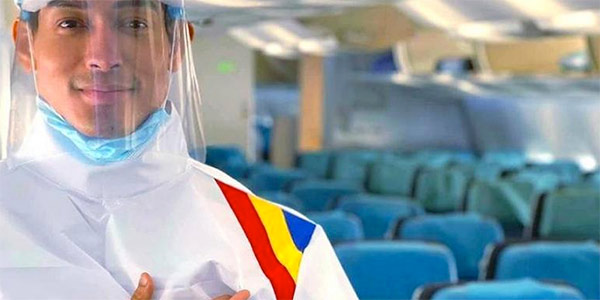 AS TRAVEL vaporises with on-off lockdowns, airlines, airports, and hotels are pondering the future of hospitality in these fluid and fearful socially distanced times. While it may appear oxymoronic, professional hosts are examining how to safely distance yet offer hospitable warmth without turning everything into a set from 2001 Space Odyssey.
If travellers today feel journeys are an out-of-body experience surrounded by masked stewardesses – a smile only gleaned from crow's nests crinkling eye corners – and hazmat suits, how about, perhaps, hotels of the future?
Architects and designers are furiously ripping up traditional blueprints to envision straighter lines, wider corridors, bigger spaces with improved ventilation and energy-saving natural light, lower density low-rise, less fuss, and minimal human contact. Think robot room deliveries or lobby scrubbers, smartphone-operated lifts with restrictions on numbers, facial recognition, motion sensors, and 'contactless' routes for staff and guests.
While this may appeal to the South Korean honjok (solitary tribe) millennials who prefer their own company, robot-partnering Japanese, or privacy conditioned Hongkongers for whom social distancing comes naturally, many will quail at the prospect of touch-me-not travel when human interaction and intimacy is, after all, a great part of the allure of discovery.
What's the Philippines or a Thailand without those incandescent smiles? Would any click-happy tourist attend a transvestite show to watch a titillating romp by a bunch of people in gumboots and beekeeper suits? Might masala dosas suffer the ultimate indignity of being consumed with preppy knives and forks rather than curry-dribbling fingers in a Covid-19 world?
Airports, the central clearing houses for human traffic, are becoming the first line of defence. Arrivals at Hong Kong International Airport are bussed to the neighbouring Asia World-Expo where deep-throat swabs are analysed while passengers wait 12 hours or more for their coronavirus test results. It is a bold frontline move but not a feasible long-term solution without rapid testing as the facility is able to handle just a single planeload in a day (and not the customary 197,000 daily throughput of which roughly half would be arrivals). With Cathay Pacific operating at three percent of capacity in April and several airlines having pulled out, health processing while severely taxed was just about manageable in April.
Some relief was on offer with the takeover of the Regal Oriental Hotel in Kowloon 29 April as an alternate holding site for incoming air passengers who are bussed straight in and provided electronic wristbands with strict instructions not to leave their rooms (with a penalty of six months in jail and a HK$25,000 fine). Hong Kong International Airport is also testing a disinfecting booth (from CLeanTech) that sprays passengers for 40 seconds with a sanitising spray. Antimicrobial coatings are being sourced for common surfaces along with robot cleaners. Airports from London's Heathrow to Singapore's Changi are examining fast scanning and testing measures as the world prepares for a return of traffic and airlines plan limited services from June.
In the air, travellers may be presented with more of The Mummy's Revenge. Airline crew have had gloves and masks on for a few months but protective uniforms may take a novel sartorial twist with the sort of avant-garde gear being explored by Philippine Airlines and others. Among the PAL designs are full white spacesuit body coverings and headgear with long visors, straight out of a nursing home or a motor-welding garage. Chic if cheerless this may be but a return to the singing stewardesses of Asia's swinging budget carriers of yore seems improbable. Emirates, which suspended all flights from 25 March for a period, had its airhostesses kitted out in translucent PPE with delicate gloves, a standard issue medical mask, and the de rigueur maroon cap, just enough protection with a vague hint of femininity to keep passengers – chasing the advertised promise – engaged. And AirAsia has rolled out a red Santa Claus 'fireman' outfit for air crew...
Airlines that are still solvent (see OAG chart on reduced air traffic) are gearing up for limited services with middle seats or alternate rows left empty and perhaps higher fares. Richard Branson who once famously smacked down British Airways for seeking a government bailout is heading for the same queue to save Virgin Atlantic. And beleaguered Boeing, still wrestling with the B737MAX fallout, has walked away from a US$4 billion deal to control Brazil's small-jet leader Embraer. Boeing, which snarkily derided Airbus for being government subvented, was also briefly in line demanding a government rescue package. Other airlines like Cathay Pacific and SIA have handed out (or maintained) mileage status to ease traveller woes and THAI Airways International offered a novel 'Stay at Home Miles Exchange' through an app that awards one point for every four hours tracked at home.
Hotels, snobbish, saucy, or skinflint, have been hit hard with meetings, weddings and banquets rudely eviscerated, the disappearance of this cash-cow business noted on sagging P&L sheets the world over. Can hotels combine social distancing with the human touch? And how will brands respond as service becomes increasingly invisible?
Some properties, like the Hyatt Regency Bali, are hard at work redirecting their energies creatively into the community. The Hyatt has kept on staff and put them to work sewing colourful batik cloth facemasks that are distributed to underprivileged villages and offered for sale as well. Any proceeds go towards buying more material and sustaining the project. The hotel has its chefs and cooks working on sauces for sale and earnings are put into the Hyatt Fund (that helps needy employees). There is some cheer then amidst stories of staff layoffs and unpaid leave migrations.
In Asia, there is bullishness tinged with wariness. A senior Bangkok general manager who wished to stay anonymous put it thus, "Have the natural resources changed? No. Have demographics changed in any material way? No. Once the danger has subsided – in this case, with effective medication – people will tend to return to their comfort zones."
Lily Udomkunnatum, the livewire founder and managing director of the Bangkok-headquartered Burasari Group is a profound optimist and, in something of a pathfinding move, plans a phased reopening of her shuttered hotels from 5 May, 2020. This is perhaps unsurprising for Burasari, which has been a pioneering boutique and lifestyle brand. Says Udomkunnatum, "Travellers don't simply need to be persuaded it's safe to travel, they need to see actual physical changes that will make travel safer." The group is introducing careful and innovative social distancing with guests booked into alternate rooms (with empty space in between), lifts operating for a single room at a time, and restaurant tables set at least two metres apart. Central to this kick-start with its heightened sanitisation features is a "Covid-free Island Escape" from June at the new all-villa Koh Mapraw, off Phuket.
Mid-April we checked in with some leading hotel GMs, CEOs, people in the field and brand specialists to get their take on the road ahead for travellers and the hotel industry. This has been trimmed down into a simple Q&A format.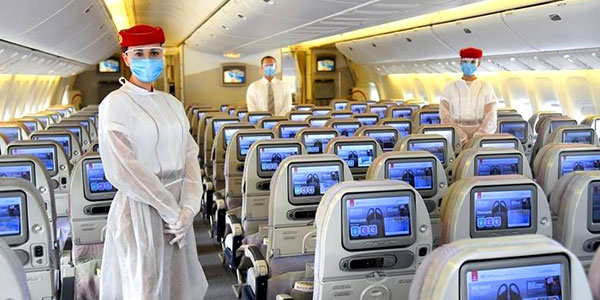 Smart Travel Asia: How might social distancing affect hotel management style in the near term or the long-term? This seems to be a critical issue as many hotel managers depend on face time with guests in the lobby, at check-in and at breakfasts. Face time with staff too is critical for leadership roles.
Carina Chorengel (Senior VP – Commercial, Hyatt Hotels, former Senior VP – Brand and Commercial Strategy Asia-Pacific): For an industry that thrives on empathy and human connection, the near term post Covid-19 world poses a unique challenge. We cannot entirely do away with face time but we will make every effort to ensure that both our guests and colleagues are able to do so safely.
Social distancing is temporary and will ease once the infection abates. However, what is here to stay in our "new normal" is heightened attention to hygiene. I expect that some or all precautionary measures Hyatt has implemented – temperature checks, masks and gloves for staff, more frequent sanitisation of "high touch" areas etc, will become standard or even mandatory across our hotels.
We also expect an increased usage of contactless options within the World of Hyatt app. Features such as digital check-in and mobile keys will give guests personalised and more intuitive service.
Markus Engel (CEO and Founder, Urban Resort Concepts, Shanghai that operates luxe boutique hotels like The PuLi and The PuXuan): I believe that at the heart of every crisis lies an opportunity for businesses to take stock, redefine priorities, and rebound. The outbreak has accelerated digital transformation and pushed us to think about how we can conduct our businesses more effectively, even without the need for face-to-face meetings.
That said, true quality of the guest experience is determined by the human interaction between our staff and our guests. As with every crisis, this pandemic too will come to an end and human connection will be more important than ever.
Gregory Meadows (Swiss Education Group Professional and former GM Conrad Bangkok and The Sukhothai Bangkok): I have no doubt that the current crisis will be used as an opportunity for the mega-chains to re-engineer (much as I hate this term) their operations. Where there were 400 employees in a hotel, say, there will now be 300 because artificial intelligence will feature even more heavily in future and this will be rolled out as a response to the epidemic.
Head office gurus are always moaning about team size… it's in their DNA. I can see how the notice to the guests will be phrased: "We always care about the health and safety of our guests. We are therefore going to give you less interaction with our team members in order to protect you better." It was always in the long-term plan and now is the time to get it done without too much negative feedback.
The differentiation between the monster chains and the independents and smaller groups will become greater. The smaller groups will reap dividends, as the big chain modus operandi is anathema to many consumers, and not just the well heeled ones.
As I spend some time teaching at hotel schools in Switzerland, my thoughts turn to the graduates who are going to have to make careful decisions about their career paths. Do they want to make a difference, guiding and mentoring team members to excel or do they want to embrace the other [bureaucratic] aspects of the industry. I'm not sure the two are compatible.
Hans Jenni (Former Partner and President GHM, Singapore, known for launching boutique brands like The Datai Langkawi, The Legian Bali and the The Chedi Muscat): Covid-19 will go into the history books but the majority of people will eventually continue to enjoy life as they did before. Social distancing would be a nightmare for our industry and destroy ambience and guest experience in no small way. There will always be the cautious traveller but this sort of guest has been around long before the virus created its havoc. Long term social distancing will simply not work in our industry.
Giovanni Angelini (Advisor & Consultant to the hospitality industry and former CEO and MD of Shangri-La Hotels & Resorts): Social distance and personalised service don't go together well. We can operate hotels following social distancing guidelines but we are not in an ideal position to extend 'warm and friendly' service. Check-in and checkout can be managed fully online. Rooms can be cleaned as per guests' wishes and/or when they are out. Room service orders can be left in front of the door. For meal service, restaurant tables are well apart and staff protected with masks and gloves.
Anne Arrowsmith (Group GM 137 Pillars Hotels & Resorts, Thailand): Perhaps I might clarify that what we have is 'physical distancing' with an increase in social connectivity. So if you ask me about the long-term impact of physical distancing, I believe most of us can't wait for normality to return – dining in restaurants, sitting at a bar, catching a train, plane or bus and normal face to face interactions.
We might now see, the normalisation of everyday facemasks, which will cease to be considered an 'Asian' propensity. It may be wishful thinking, but it would be ever so nice that we maintain a physical distance when queuing for anything. We all become irked when people push up against us – unless they are drop-dead gorgeous, and then of course all is forgiven. And how nice would it be if cleanliness became an obsession with public transportation, public places and public spaces.
As for hotel interactions, I think it places small, luxury properties as being in the right 'space'. Resort style and low-rise vs high-rise. Space becomes part of the definition of luxury.
Jennifer Cronin (President Wharf Hotels – Marco Polo Hotels and Niccolo Hotels, Hong Kong): We have been able to stay ahead of the curve with new technology. Internally, we use WeChat, WhatsApp, Viber and Microsoft Teams to form groups by department or leadership. Microsoft Teams has become an incredible vault of information in real time, whereby every hotel can update its vital statistics and share best practices for current and timely decision making. We are also active users of Skype and Zoom for conference calls. In these trying times we make regular calls to stay connected with and to support all our hotels across China, Hong Kong SAR and the Philippines.
Vincent Guironnet (GM The Apurva Kempinski Bali): Hospitality may take on a different look with travellers more concerned with health and safety. Hotels need to adapt to this new paradigm by elevating cleanliness and hygiene in all areas and providing regular training for staff. In addition, luxury travellers will expect more personalisation and safety in all aspects with a touch of extra personal care.
Ulf Bremer (GM Island Shangri-La Hong Kong): It is a challenging time for us as the hospitality industry is built around personal interactions with our guests and colleagues. While the current conditions mean we cannot extend the traditional handshake as a welcome gesture, I am of the strong belief that the current steps will have a positive impact on personal hygiene, health and wellness, and growing respect for personal space.
Face time will find renewed celebration amongst people. Like many around the world, I am optimistic that this time will soon pass and we will be able to shake the hands of our many guests as they enter our hotel!
Ronald Nomura (Senior, long-serving Bali-based hotelier and marketer): We have not changed social interactions and we still meet and speak with guests. The difference is that we do not shake hands anymore… just a slight nod or bow and we maintain a safe distance.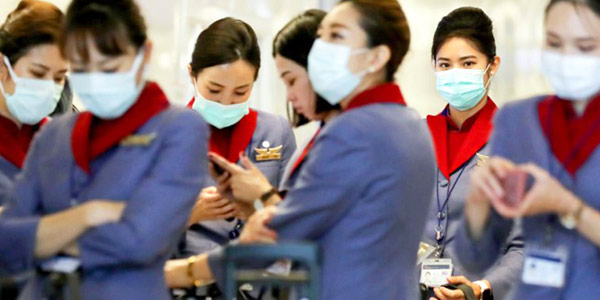 Smart Travel Asia: How might the coronavirus jitters affect guests' brand perceptions. Do brands need to change their positioning for a 'new' audience?
Jeannette Ho (Vice President, Raffles Brand & Strategic Partnerships): Trust in our brand is going to be our biggest asset. The fact that Accor has partnered with Bureau Veritas, a provider of testing, inspection and certification, to develop a label designed to certify that the appropriate safety standards and cleaning protocols have been achieved to allow our hotels and businesses to reopen, will reinforce this trust.
The label will cover both accommodation and catering, and will set the sanitary standards applicable to all Accor hotels, as well as to other chains and independent hotels. The project was carried out in partnership with doctors and epidemiologists and has been developed in collaboration with Accor owners and trade associations.
Carina Chorengel: As a global hospitality company, Hyatt has the advantage of being able to swiftly implement elevated hygiene measures and protocols. We can design, test, procure, and implement new operational procedures at scale. Across all relevant departments, we are stepping up the frequency of inspections by independent third parties. As international travel restrictions ease, we want our guests to feel confident in our care, and can expect to experience the highest standard of safety and hygiene across every one of our properties – in the rooms, public spaces, recreational spaces, restaurants and bars.
Markus Engel: Amidst the uncertainty of the crisis, people's attitudes and expectations has changed and will continue to change, with a greater focus on safety and wellbeing. During this time, guests are also paying attention to ways brands are responding to the crisis, and it is all the more important to continue building trust by acting decisively and sensitively adapting to new realities while maintaining clear and purposeful communication.
The central premise of the URC [Urban Resort Concepts] guest experience is the exclusive focus on our guests at all levels. Our proprietary "Hostmanship" guest service philosophy creates an environment that is more personal, more generous, more intuitive and more engaging. This can only be possible with our people at the core of this philosophy. Therefore I am personally very grateful to have been able to safeguard all our staff's employment during this unprecedented period, and look forward to coming out of the crisis together and more unified.
Send us your Feedback / Letter to the Editor
Jennifer Cronin: While we continue to provide the highest standard of services for our guests at all times, the health and safety of our guests and colleagues is our highest priority. We have initiated the strictest of protocols, including health declaration forms of travel history and family contact. We had implemented this in January before the height of the crisis. We believe our guests are appreciative of the measures and have been compliant to help us limit the spread of Covid-19.
Vincent Guironnet: The perception of luxurious travelling will change. Travellers will demand more visible safety and hygiene measures and will incorporate these aspects into their journey. The 'experience' [will be the key] and with different [traveller] expectations personalisation will need to be elevated. In the hotel industry, brands need to work with select hotel partners who operate at the same level of awareness and with the same principles.
Anne Arrowsmith: Good question and I'm unsure how to answer. I am however reminded of some of the brand disasters in play – Boeing, Marriott with yet another data breach, and WHO (it's rare that I am in agreement with Trump but I think they played a political game vs the role they are mandated to do). Thus I think that 'institutions' in all industries will be viewed with increased scientism and globalisation will take a knock. We will look to small, community-centric entities that operate in their own playground vs trying to conquer the world.
Ron Nomura: When we go out of our way and do exceptional things to help guests during these difficult times they will appreciate the effort and always relate it to the brand.
Giovanni Angelini: As for brand perceptions and image, I strongly believe that safety, security, and empathy are what customers are looking for during this unusual period and hotel groups are being judged on this.
Gregory Meadows: The way the brands behave now will determine future support and client perception. In the UK, Britannia Hotels, Liverpool Football Club, and the Weatherspoons pub chain, have all had to make humiliating u-turns over rotten decisions they made with regards to care of their staff, or rather lack of it. They showed little or no empathy with the plight [of staff] in these difficult times. It was only when the public screamed, "Not fair," that they reversed their original decisions.
If hotels, restaurants, travel companies, and airlines put their shareholders first at the expense of their employees who generate the profits for them in the good times, then the public will not like it.
If anything comes out of the current crisis then, hopefully, it will be greater focus on the worth of the people who make businesses work – the pot washers, the delivery drivers, the barmen and waitresses working hard for tips to make ends meet. It is always these people who are the first to be laid off or 'furloughed', and rarely if ever, the higher ups.
Ulf Bremer: Clearly visible – whether it's large corporations or small restaurants and bars – all are [incorporating] sanitation and hygiene philosophies with strong emphasis on training and reassurance. It has been beautiful to observe the empathy towards people in need and the Samaritans who stepped in. I don't believe uncertainties around the coronavirus will impact guests' perception of our brand – this is a global phenomenon and we're all in this together, so long as brands exercise the necessary precautions and practice responsible corporate governance.
Hans Jenni: Travellers will remain loyal to their preferred brand irrespective of what's happening in the world. The current situation has been blown out of all proportion by the media. Statistics show that last year over 40,000 people died of the flu in the USA alone and I can't recall reading or seeing anything about it in the press. Hats off to Sweden – they didn't opt for the sort of lockdown that has had such a devastating effect on so many economies.
I don't think you want to change the vision of a brand because of Covid-19. It is here. It will go and will be forgotten by 2023 and people will look back and say, "What a terrible time that was." But you cannot change the brand philosophy because of a crisis. The giants like Marriott, Hyatt and InterContinental will of course emerge stronger [with fire sale acquisitions] and true, authentic, hospitality may ultimately lose out.
Neha Pandey (Country Director, Brand & Marketing, Sun Hospitality Group, Vietnam): From a personal perspective as a traveller first and foremost I am looking at how a better brand can assure me of a completely safe environment. It will be a challenge for hotels to bring back business travel because people have had a taste of the convenience and economic benefits of working from home. But leisure travel is there to be claimed as people come out of the downtime. Whether travelling solo or with a loved one or family, safety will be a topmost priority. It is now the responsibility of brands to focus on this and this has to be communicated. People are not going to scrimp on safety. They may be less budget driven. But luxury will have to claim back its throne. It will not be an easy win for any brand.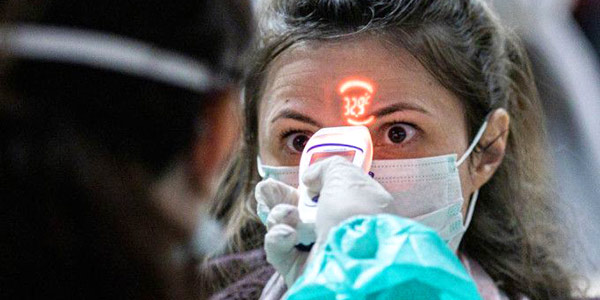 Smart Travel Asia: How might social distancing – if at all – creatively apply to weddings, banquets and events? And will thermal imaging cameras become a normal fixture at hotel entrances?
Sammy Carolus (GM Hyatt Regency Bangkok Sukhumvit): We had an enquiry for a small Thai wedding of 20-25 persons for late May 2020. Due to current government restrictions on gatherings we suggested that they might look at a later date. But this is how we envisioned the occasion with current controls in place.
All of the guests must be registered as in-house guests, which means they must check in the day before. All of the guests must be immediate family members and Thai residents only (no tourists). They must undergo a temperature check upon arrival, each day, and upon arrival at the wedding ceremony and dinner. They would need to wear masks at the ceremony. The wedding couple may be an exception (this, at their discretion). But we asked the bride and groom to wear white gloves. No public water pouring ceremony and no wedding procession. There will be physical distancing with theatre-style seating and chairs at least one metre apart. Each banquet table, normally for 10 persons, would seat a maximum of four. There would be a set menu and no buffet. There can be no dancing, live music, cake cutting or group photographs. And the event would need to conclude by 9pm (in case curfew is in force from 10pm).
Jennifer Cronin: We are seeing green shoots beginning to appear in China. Our sales offices in Beijing and Shanghai have started to receive business and event enquiries while there is pick-up in regular business across China.
While social distancing is still recommended we believe event organisers will see physical meetings as more favourable. We are exploring how to enhance our services for MICE [meetings, incentives, conferences and exhibitions]. Technology allows for new ways of presentation so we may see keynote speakers streamed live from another city in the foreseeable future.
We currently have a thermal imaging camera at the entrance of Marco Polo Hotels – Hong Kong. At this stage we have no plans to implement thermal imaging cameras at all Niccolo and Marco Polo Hotels.
Vincent Guironnet: It is a bit early to see growth in corporate events as the economy needs to recover first. People are tending to gather in more intimate groups. Yes, guests are more concerned with health and well-being and are demanding systems that ensure their safety while travelling. They expect visible hygiene and safety measures from the moment they enter the hotel and, of course, it follows that staff needs to be highly trained in these procedures.
Ron Nomura: In many countries by law there can be no gathering of more than five or 10 people, which makes weddings very difficult. We cannot space the people two metres apart during a reception and buffets are a definite no-no. Thermal imaging cameras could stay on but I don't believe this will last. What we are seeing in Bali is something similar to what happened after the terror attacks. Many major hotels set up security x-rays and magnetic detectors at their entrances but we see far less of this these days.
Markus Engel: Due to the need to adhere to safe social distancing measures, we are already seeing a global phenomenon where couples live-stream their weddings. Shanghai Fashion Week became the world's first entirely live-streamed fashion show and virtual concerts, plays, and museum tours are being made available.
We are also hosted our first live-streaming event in April at The PuXuan Hotel and Spa in collaboration with Guardian Education, where one of the most well-known and respected art professors in the country was invited to speak on Chinese traditional paintings and calligraphy. Thermal cameras? Absolutely. Hotels need to up their game when it comes to protecting the health and wellbeing of guests. We are looking into the procurement of thermal imaging cameras, which can be installed in unobtrusive ways that do not affect the luxury experience.
Hans Jenni: Social distancing simply cannot be enforced. Weddings, banquets and social events will vanish from the calendar. Imagine a wedding where everyone keeps two metres distance? Imagine going to see The Rolling Stones with social distancing in place or going to the World Cup final with just 25 percent of the stadium seats occupied? As for thermal cameras, I would say, not in any of my hotels. Travellers have been inconvenienced due to terrorism with extended security checks at airports and luggage scanning at the entrance of hotels so what is next? A medical check-up before you can check in to a hotel? I don't think so.
Carina Chorengel: We are working closely with local health authorities for guidance on the right time to reopen for meetings, events and conferences. If social distancing guidelines remain in place we can adapt our venue layouts to ensure tables are 1.5m apart, as well as limit the number of people at a table. We have implemented measures across all our dining outlets and event spaces such as extra sanitisation, temperature checks and placement of hand sanitisers. In addition, we are setting up even more rigorous hygiene checks for food preparation, set-up and service. Thermal imaging cameras that we see at airports are definitely worth evaluating.
Anne Arrowsmith: I'm a firm believer in 'less is more.' Small is aspirational. Thus I think it bodes well for small, bespoke events where others can be connected via zoom etc. I can imagine a good many fathers of the bride delighted at this prospect. So again, small properties and outdoor out-of-the-way destinations should have an advantage. Folks will favour this rather than the overrun and overdone.
Giovanni Angelini: Weddings and banquets might not be promoted for large groups during this time. Also, hotels will insist on shorter functions without 'strangers'. Keeping thermal imaging cameras as a normal fixture is being considered by a number of hotel groups. Most guests will appreciate the care and safety this signifies. In addition to expanding hygiene controls, Asian hotels will move away from protected and wild animal food sources. Many guests are very sensitive to this as in the last four pandemics – SARS, H1N1, MERS, and most probably COVID-19 – the root of the original infection was traced back to animals.
Smart Travel Asia: Other hospitality functions that you anticipate might change the guest experience as a result of Covid-19. Spas, gyms, pools, fine dining, nightclubs...?
Jennifer Cronin: Staycations in all cities will become an important aspect of travel and we will need to be even more creative when it comes to adding wellness elements to the packaging. We have to show a compassionate side and we're reaching out in new ways. Hong Kong didn't close hotels outright like in Bangkok and elsewhere. We found other ways to deal with things and try to retain staff.
Ronald Nomura: Many of these [gyms, pools, spas] are becoming much more difficult to operate, however, as a cure or vaccine becomes available, we will see these come back. People are social creatures.
Giovanni Angelini: Sustainability and respect for nature will become much more important. We cannot keep damaging our precious planet. Also, retaining good people is a priority for many. Handling unusually large layoffs is tough, and perhaps the most painful task for any leader.
Markus Engel: I think the consumer shift online as a result of the pandemic will be here to stay and hotels need to go beyond the traditional means to build deeper connections with guests. For instance, during the lockdown period in China, we incorporated wellness tips from our experts into social media posts for guests to create spa-worthy rituals that could be easily incorporated into the daily regimen at home. We also made products available online with home delivery.
Hans R Jenni: Basically you can't change any of the standard operating procedures for the spa, the pool or nightclubs without significantly changing the overall experience for the guest. We have done away with gyms in our Ahn Luh hotels [the luxury boutique brand in China] replacing it with tai chi. We have tai chi masters available to offer the guest a totally different experience – not because of any fear but because we want to offer something different. Everyone has access to a gym at home but very few have access to tai chi. Some things will change, like ventilation systems, air-cons, air treatment, robots cleaning the lobby and so on. But many solutions can be simple. You might bring back what was so popular in the old days – a boy in the lobby pressing the lift door open.
Vincent Guironnet: The pandemic has a silver lining. For luxury travellers, safety and wellbeing will be the primary concern in choosing the ideal brand.
Anne Arrowsmith: Hotels may rethink the 'social spaces' trend that replaced business centres and restaurants. In terms of gyms and spas, new hygiene practices will become part of the USP.
Send us your Feedback / Letter to the Editor