COMPENDIUM
Best travel sites for sore eyes
From travel reviews and hotel bookings to couch swapping, eco-friendly adventures and tracking planes in real time, a sane guide for insane surfers on the road in Asia.
updated by staff reporters
SEE ALSO Biggest travel gripes | Fake travel reviews| Editor's rant | Top Asian hotel reviews | Child friendly resorts in Asia | Travel deals and news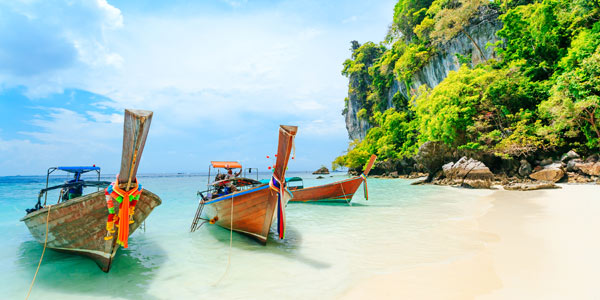 JUMP TO User-generated review | Journalistic reviews | National tourist office sites | Blogs
IT IS FOUR in the morning, and we've rushed to Barcelona Girona Airport only to find that the flight has been delayed, further delayed, and then spoken of no more. With 16 hours to kill and heavy check-in bags, it is difficult to leave the airport, let alone waddle to the counter. The information desk assures us it is worthwhile to explore Girona's old historic quarters. She is sadly mistaken.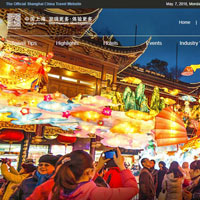 Lively 'Meet in Shanghai' site: watch for shopping discounts and more
After hours of sitting on a bus and dragging our impedimenta aimlessly through a supposedly "picturesque" neighbourhood, we return to the airport, defeated. It is at times like these that travel sites like Sleeping In Airports (www.sleepinginairports.net), with handy tips on where to doss in a modicum of comfort at outlandish flughäfens around the world, really come in handy. But what normal person cruises obscure sites like this?
With the avalanche of information online it is a cliché to say surfers are confused. They are lost. Some never return from that great big black hole in cyberspace. Finding the best travel sites for your needs is a hit and miss affair with no guarantee of success. A decade ago in the infancy of the Internet Age we remained glued to our screens at AmIGoingDown.com, punching in possible air journeys and waiting for macabre readouts of survival chances based on route and carrier. Am I Going Down got straight to the point. The site was a hit. So much so, it got taken over by a nondescript retailer. Some may even stumble upon amusing travel sites like Ghost Tours (www.ghost-tours.com.au), offering spooky white-knuckle tours of Australia's seemingly most haunted locale, Brisbane; Dog Friendly (www.dogfriendly.com), with useful titbits for travellers who insist on sharing their pillows with their slobbering Rottweilers; or Couch Surfing (www.couchsurfing.com), a social website enabling backpackers and adventurous young 'uns to find welcoming hosts and comfy couches in destinations far and wide.
Of course if you wish to stay in someone's home, comforting or creepy as that may sound, Airbanb (www.airbnb.com/) was by 2018 one of the biggies as travellers moved away from costly hotels to a more comfortably homey set-up
Send us your Feedback / Letter to the Editor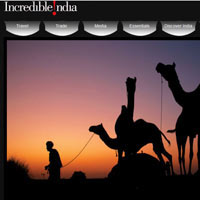 Incredible India, an incredible let-down after a decade of excellence
There is much mindless mirth and musing online, but when it comes to taking actual travel decisions that will directly affect your wallet, wedding, wife, babes, boss and promotion prospects, the choice for feedback really falls into two broad categories – sites with professional reviews (think drab bespectacled editors and reporters trawling hotel rooms, beaches and business centres and reporting back to their readers, much like a CNET for laptops and cameras), or sites with user-generated reviews serving up feisty opinions in a no-holds-barred format. The latter format is popular and attracts a big following. It does, however, raise one troubling question. Who is the reviewer? And therein lies the rub. Since reviews are highly relative and depend entirely on experience and travel exposure, there is a huge difference between a spotty pre-teen observation, and balanced, professional evaluation. Anyone can have an opinion. But publications with seasoned journalists generate credible, dispassionate content that carries hugely more weight. There is the significant issue of trust. On then with our review of the best travel sites for Asia and a few whimsical oddities.
User-generated review travel sites
The big daddy of Cyberia's user-generated travel reviews is undoubtedly Trip Advisor (www.tripadvisor.com), with mountains of bumf on hotels, restaurants, and more. This was its sole raison d'etre until it was gobbled up by Expedia to become a front-end for a vast cash-crunching booking machine. This hugely popular site provides some astute holiday tips and user reviews on anything from Bali bike tours to Vietnam hideaways.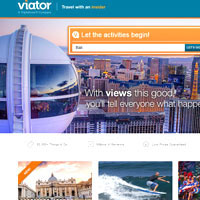 TripAdvisor subsidiary Viator carries information on sights and activities
Visually, for some, it may be an overload of icons, bargain rates and boxes that encumber a very densely packed site. It can be tedious to surf while its nuggets delight. The information may lack clear review criteria (like "room cleanliness" or "staff attitude") that many sites have now adopted. Usefully though the reviews are separated into categories from "terrible" to "excellent" so surfers can browse a full range of opinion, and these are also further categorised under "business reviews" "couples reviews" "solo travel reviews" and so on. Trip Advisor is a very handy stop on the trip-planning trail.
Viator (www.viator.com/) run by TripAdvisor is packed with what-to-do info once the hotel and air bookings have been dealt with. It opens with a large photograph and an inset search box breezily headlined 'Let the activities begin'. Drill into Bali for example to get information on everything from horse riding on the beach to the zoo and cabs.
For many travellers it might be one of the last stops, after they have evaluated and narrowed their choices elsewhere. At this stage it is fun to see what others think of your choices. As a starting point, however, Trip Advisor can be overwhelming. There is just too much to wade through and some hotels rack up hundreds of reviews. Then there's that ever-niggling question of reliability? Who is the reviewer? Was it the general manager heaping kudos on his scrapheap hostel, or a genuine, seasoned traveller? Of late, claims of fake reviews have been mounting.
Of similar ilk are travel agencies and booking engines like Zuji, Travelocity (partnering with Zuji), Agoda, and Wotif. Farther afield with a focus more on North America and Europe, are biggies like Expedia (www.expedia.com) and Orbitz (www.orbitz.com), stuffed with highly visible Caribbean escapes, less so Bali hideaways, though one can drill down after quite a few frustrating clicks. Sponsored by a group of Asian airlines, Zuji (www.zuji.com) has grown and offers specialist services through dedicated sites for Hong Kong, Singapore, Australia, and New Zealand (with Travelocity).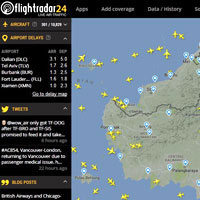 Flightradar24 maps with live air traffic activity are hugely addictive
The thrust is on cheap deals and bookings leveraged in part by its ability to secure good airfares. There is some limited hotel review information fed in by Travelocity and Trip Advisor. Zuji offers car rentals, cruises, hotel bookings and flights. It is not an information site. Navigation is not the easiest and pop-up ads will keep you busy looking for the "close box" buttons. Similar in thrust is megasite Priceline (www.priceline.com) with website offshoots for Australia, Singapore and Hong Kong.
A cheerful site that focuses unusually, but rightly, on the flying happiness index is routehappy (www.routehappy.com/). Enter your destinations and the site will toss up airline comparisons ranging from seats and timings to nonstops or indirect along with a smiley 'happy face' and a number from one to ten. A more popular airline route enquiry site is skyscanner (www.skyscanner.com). Yet, top of the lot for air travel is a wildly addictive site - Flightradar24 (www.flightradar24.com/) - that does not focus on bookings but shows you in real time an aircraft map at any given time for anywhere in the world. It is insanely appealing and once on you won't wish to sign off.
Agoda (www.agoda.com) is a travel agency site that keeps it simple. The layout is neat in pale pastels and well signposted. A key feature is its reader hotel reviews with ratings for cleanliness, comfort, dining, value, staff performance and location. Another plus is the extensive library of hotel photography, some of it in large format. It is more than enough however to draw an intelligent impression from these visuals. Wotif (www.wotif.com) is an accommodation specialist and, like Agoda, gets straight to the point, perhaps more so. Select your city, customise the search by picking type of accommodation, location, star rating, and facilities, to zero in on the available choices. C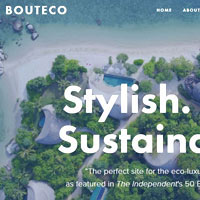 Bouteco for luxe sustainable eco-resorts and boutique hideaways
hoose from hotels, motels, and inns as well as – in an interesting twist – backpacker lodges. Wotif was launched in Brisbane but there is nothing laid back about its performance. Fill in the details and one click will pull up a range of choices. The layout is dense and tightly packed but easy to navigate. The fact that the site focuses only on hotels and accommodation makes search less taxing. There is a small selection of room pictures to browse.
Apart from Booking.com (www.booking.com) for hotels (over 1.7 million listed) and just about anything else, the biggest among 2018 contenders - this from China - is CTrip (english.ctrip.com). This site serves up hotels, airlines and trains and has a mobile phone interface as well. Some of the best travel deals are to be found on CTrip. Or cut to the chase and look at the rock-bottom hotel and airline prices from someone like CheapoAir (www.cheapoair.com).
For sustainable hip hotels with a boutique luxe vibe, try the visually appealing and well presented Bouteco (www.bouteco.co/). Founded by a seasoned traveller, the site aims to use travel as a force for good.
Hostel World (www.hostelworld.com) with 36,000 properties signed up is undoubtedly among the best travel sites in this review for unabashed bottom-feeders. This is a booking website with a vast database where visitors can research and compare holiday accommodation. This site also boasts a wide array of informative user podcasts, travel itineraries and reviews on everything from how to make a quick buck while backpacking in Australia, to city pocket guides that highlight the hippest and most happening venues from Tokyo to Bangkok. The majority of information on this website is focused on the trials and tribulations of backpackers, cash strapped youths, and those willing to travel down and out in Asia's most glamorous locales. This is a travel Bible for the thrifty set, not bankers.
Journalistic reviews and travel guides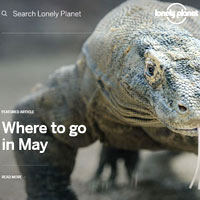 Lonely Planet: Clean, neat, with big photos and catchy headlines
For professional reviews of holiday destinations and more balanced insights into travel, visit a travel guide like Lonely Planet (www.lonelyplanet.com). The general layout is neat, with large photos and catchy hooks like "10 Islands for Romance" and "How to see Peru's ruins more responsibly." This will echo with travel do-gooders and eco-purists keen to reduce their destructive footprint. The standard of information is good and includes reviews of a huge assemblage of destinations, hotels, and more. Need feedback on a hotel in Kabul? They have it. The website is user-friendly, with high marks for both the quality and quantity of information. There are useful "fast facts" for each destination. The information is kept up to date, with maps for every destination, and several highlighted key words link on to other stories and reviews. Lonely Planet also includes a "top picks" section with its 10 best travel destinations picked by reviewers.
The Conde Nast Traveller website (www.cntraveller.com) is another user-friendly, professional medium. Featuring a "travel facts" section for every destination, the easy-to-use layout creates a clear navigation path for visitors. Backed by the quality editorial and visual content running in the print editions, the site is information rich but not wordy with deals and luxury options. The focus is on higher-end properties. While easy to read, the destination guide sections lack specific detail and insight and are very general when it comes to items like shopping and sightseeing. The site recommends hotels and destinations and also handles bookings. More advice, weather forecasts, events, currency conversions and tips from Conde Naste Traveller sister site Concierge (www.concierge.com).
Fodors (www.fodors.com) on the other hand, should be approached with caution. The website was quite disorganized and came across as one big advertisement, littered with promotions, ads, and booking prompts. It was difficult to spot where the real information was buried. The site went through a revamp and returned with a more glossy and organised face. There is not much emphasis on Asia. Despite the limited spectrum of travel destinations offered, the ones that are reviewed do contain some quality information. The reviews are a mix of professional opinions and user reviews, giving the reader a well-rounded idea of the subject.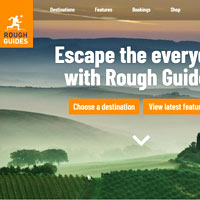 Rough Guides: Meaty info
CNNGo had a user-friendly design and was tailored to showcase feasting, fun, and fiesta. it changed its focus shortly after launch and merged with CNN and has all but disappeared with an all-Flash site (Flash has been discontinued by many browsers) that is neither user-friendly nor mobile friendly.
Rough Guides (www.roughguides.com) is an easy to use website with a snappy layout utilising large pictures. Its 'destination' tab drop-menus allow readers to quickly access different places in one click or by using an alphabetic listing. Drill down to Cambodia and then Phnom Penh and you're instantly on a large text page with lots of clean spacing making it dead easy to read. Drill down to Indonesia and Bali and you can find further submenus for Ubud and Sanur and so on. Alas these sub-pages just carry a para or so of general information. These pages include useful information on weather, visa requirements, key sights, and so on. There are also a host of features ('Five under the radar Middle Eastern cities you should visit now') and buys to be found on this website, including country phrasebooks, which are both cheap and pocketsize. If this does not suit you, most phrasebooks can be downloaded as e-books. The company has partnered with Booking.com for hotel bookings and more but there will be annoying pop-ups from Kayak and Trivago and others. Pity.
For an overall view on travel, visit Frommers (www.frommers.com). The website offers a broad palette of destinations (more focused on USA and Europe) and also serves up a complete guide to each place, including an overview, travel tips, attractions, nightlife, shopping, and outdoor fun and activities. Over the years the information has been sadly compressed and much edited out to cater for low attention spans online. No demographic is ignored, from gays and lesbian LGBTs to honeymooners, wheezing seniors and the disabled. Pick a profile and surf the options. That wraps up the serious biggies in this review of the best travel sites for Asia. On to other stuff and some offbeat venues that will raise mirthful eyebrows.
National tourist office sites, from dull to dishy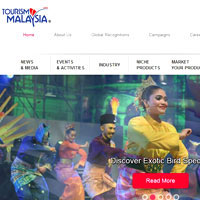 Tourism Malaysia: Megasales
National tourist office websites wield much clout when it comes to spend, rah-rah design and SEO (or search engine optimisation). They bully and cajole their way into high search engine rankings but don't always deliver. Expect less advertising, a lot of visual information, and occasional chaos.
Here are a few of note. The Tourism Malaysia (www.tourism.gov.my) website is brisk, colourful, and to the point with large photos. If there's a megasale on, you'll know it. The site is reasonably well designed, easy to navigate, and the information is a mixed bag with a strong focus on travel 'wholesalers' and trade and industry activity. The immediate focus is on attractions and sights rather than hotels though if you drill down there's accommodation information with links and also stuff on 'niche products' like 'weddings and honeymoons'. In general there's not too much text and lots of white space, a welcome change from bloated sites that attempt to pack too much into their home pages.
Muscle site Incredible India (www.incredibleindia.org) has gone through a makeover. The new look alas has slipped from brilliant to banal with a wholesale emphasis on politicians and the advancement of Indian tourism as an industry with, more recently, a more useful but crowded home page pushing a range of tailor-made tours across the country on popular circuits. The good news is multi-language functionality as well as a 24-hour helpline. Hopefully the site will not degenerate into an instrument of bureaucratic preening - so fashionable with national tourism offices a few decades ago - rather than the 'incredible' Incredible India slogan it pioneered over a decade ago.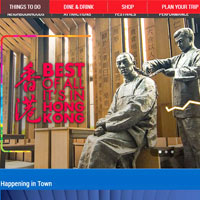 Discover Hong Kong: big choice of languages, Russian to Arabic
The big and hard-working Discover Hong Kong HKTB site (www.discoverhongkong.com) offers an array of language options from Bahasa to Russian, Thai and Arabic. The main home page has a new visual look with a better rhythm than before. There's everything here from cruises, and things to do to a section called 'Beyond Hong Kong' that promotes Beijing, Shanghai and the Pearl River Delta. For general punters, as is the fashion on NTO sites, all the accommodation detail has been artfully swept under the "Plan your trip" subhead. Of course, hotel booking is not the raison d'etre here so to attempt a booking you'll need to dig down to the "Hotel search" page or wander back to MEHK. An interesting feature is the Quality Tourism Services (QTS) Visitor Accommodation Scheme with budget options by location.
The Visit Singapore website (www.visitsingapore.com/) is a businesslike page with a corporate feel, lots of white space and to-the-point headlines. In the midst of this online prudery is the misplaced tagline 'Passion made possible'. Attractions, shopping and hotels are pretty easy to find on this page though the 'wow' factor is missing. Hotels listed seem to be those that have won awards on Trip Advisor. There's an informative Festivals & Eevents section with a 'what's on' listing for the month. Visitors, as in HK, may also browse a 'Beyond Singapore' section with a huge focus on cruises as well as tips for millennials.
From here we move on to the sunny side of life, as they like to term it in the Indian Ocean. The Maldives Tourism Promotion Board's website (www.visitmaldives.com) is a breath of fresh air with its vibrant colours (and turtles and marine life) that get the holiday spirit pumping through your veins. It is full of useful information, accompanied by serene holiday snaps that capture beautiful Maldives sun-and-sand vistas.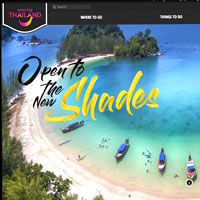 Amazing Thailand - colourful with monthly events
Expect lots of drill-down resort links but less information than before. Still, it's one way to find your dream resort. Visitors can also explore guest houses and liveaboards. Interestingly, the section on guest houses does carry an introductory paragraph to offer a quick editorial snapshot including distances from the capital Male.
The Tourism Authority of Thailand website (www.tourismthailand.org) serves up a bright home page with a large attractive lead-in picture set on a black background. This continues down to a monthly calendar that takes up perhaps too much space for the information it serves up. Then you get into the destinations section. As with other National Tourist Office sites, this one has a trip planner and information on 'things to do'. Understandably the focus here is not on hotels. There are too many. . The "Travel deals" section offers current hotel packages while the "Travel finder" utilises a drop-down menu to access information by destination and category (including farmstays, homestays, B&Bs, hotels, boats and rafts). That's quite a spread. The information on inside pages is well presented and to the point. A second iteration from the Tourism Authority of Thailand, Discover Thailand appears to have been removed but there is a similar named private sector offering called Discovery Thailand (www.discoverythailand.com/) with an old-fashioned unfussy format and plenty of information for the research inclined.
Meet in Shanghai (www.meet-in-shanghai.net/) is the official Shanghai tourism site and is a colourful and easy-to-navigate offering with concise and clear information ranging from travel tips (visas to railway stations) and events to hotels organised from three to five stars. There is a boutique hotel listing with a single property, surprisingly, and yet to be filled sections for budget hotels and serviced apartments. Watch for special events and giveaways like shopping e-coupons from time to time.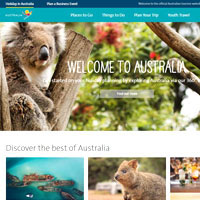 Tourism Australia: Everything from luxe beds to backpacker motels
From Tourism Australia (www.australia.com) an appealing and fun travel site. This is a very visual array with lots of white space making it easy to find accommodation from backpacker establishments to luxury digs. Interactive maps help to track down destinations in one click. Hotel information is accessible along with e-mail and web links. High marks for Oz. "Places to Go' also clearly breaks down the destinations offering clear insights into location on the map as well as points of interest.
The Department of Tourism Philippines site (www.tourism.gov.ph) is set on a deep blue 'official' background and carries a lot of official information and statistics and investment and tourism strategy that turns what should be a visual feast – a country with over 7,000 islands – into a rather dull browse. Yet if you wait a few moments, a scrolling image and ideas screen springs to life informing you about the Boracay 26 April 2018 shutdown, wildlife destinations, and special promotions. Many other Wow Philippines sites that once set travellers hopping have fallen into disrepair and disuse. Visit my Philippines (www.visitmyphilippines.com) is livelier and pretty old-fashioned but packes a punch when it comes to information.
Whimsy and blogs, from couches to cruises
"Stay with locals and meet travelers". So says the website for Couch Surfing (www.couchsurfing.com) that has been around since 2004. Conceived as a non-profit organization, the model evolved to become commercial by 2012 - despite membership objections - and apps were rolled out with popular features like 'hangouts' to link up members. Though, couch surfing has grown in stature – yes indeed – and popularity, accommodating thousands of new members every month, its objective remains the same: to create a cross-cultural network where people can share their experiences, local knowledge and, importantly, their couch with passing travellers.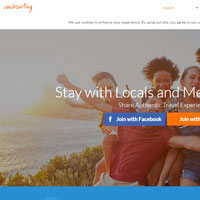 Couch Surfing: Not just for couch potatoes
So how exactly does this website work? You'll have to set up an account first. Couches are not for any Joe Blow. Once you have supplied your personal interests and hobbies and other details it is easier for prospective couch-letters to decide on whom to interact with. New members can enjoy a world of possibilities. There are no strings attached. Each member decides what they want to take from the couch surfing experience. Some choose to be welcoming hosts time and time again; others simply use this website to meet potential friends and contacts whilst far from home.
Is couch surfing safe? The answer is a resounding yes. The over two million members think so. With the exception of a few bad apples, most couch surfers are inviting, friendly people who entertain and travel with no hang-ups. This is not to say the system is not open to abuse. A favourite example is that of the "friendly" Catalan host who generously suggests all his female guests sleep with him in his Casanova set-up – or on the floor. Well, you do have an option. Unflattering peer reviews usually filter out this sort of listing.
Airline Meals (www.airlinesmeals.net) offers reviews of the various airline catering options. The layout of the website leaves a lot to be desired. You'll find Hong Kong to Macau Turbojet food reviews too with photographs. Despite this you can still dig in for some interesting traveller observations on food on the go.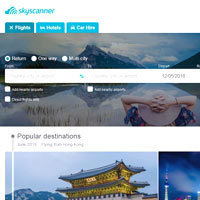 SkyScanner: fast airline route and ticket searches
Cruise Mates (www.cruisemates.com) is a useful online cruise resource that combines comprehensive and well researched professional reviews with a peer review system. Its extensive archive covers a host of cruise lines, from the more adventurous Azamara cruise holidays to the luxurious Royal Caribbean fleets that include state-of-the-art cabins with audacious skating rinks and artificial surf rider wave pools. While most of the cruise lines reviewed on this website traverse the Caribbean, Mediterranean and North American regions, many of the cruises companies have ships that pass through Asian waters. Among these are Costa Cruises and Cunard.
A lot of vacationers are out and about tearing their hair, families and bawling kids in two. Travel for Kids (www.travelforkids.com) is a site for them. The website is a bit of a Plain Jane but is dead easy to navigate. You can drill down to India then Delhi and then look at 'Walk the bazaars'. Fun. Some information is outdated. The site also includes travel tips and information on family hotels and tours.
For vacationers seeking an adventurous experience – in someone else's home – the welcoming and utterly minimalistic Airbnb (www.airbnb.com) website may be the answer. This site is essentially a market for homeowners anywhere in the world to offer their place to travellers for a fixed rent. This innovative idea of accommodation sharing adds a touch of homeliness for visiting travellers, with most amenities of a normal functioning house present and intact. The website narrows down and filters searches effortlessly, and allows browsers to sort properties by price, space, and even by the language spoken by the owners.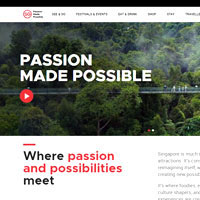 Visit Singapore: a bit corporate and formal but very informative
Reviews from previous guests are helpful. The site is served straight up without fuss with several bright photos on a white background and quick captions. Interestingly, by 2018, high end hotels were getting onto Airbnb with several seeking listing. So will Airbnb move into this commercial money-spinning realm or stay with the small guys? Time will tell.
Along a similar theme, though not offering something commonplace in Asia, is Motor Home Holiday Swap (www.motorhomeholidayswap.com). This site arranges temporary campervan and trailer-home trades. Great for New Zealand or Europe. In Hong Kong? Well, a two-seater Smart car can certainly pack in a family of eight at least. That's how most people live in their flats anyway. Then again, why fly when you can hitch a ride? If you need to figure out airport car parking in the UK, try skypark (www.skyparksecure.com/).
For those seeking an 'out-of-the-box' travel experience, check out Unusual Hotels of the World (www.unusualhotelsoftheworld.com). This fun travel site lists only the most unique hotels in the world, including tree houses, ice igloos, tepees and wigwams, safari spots and lighthouses. From the chilly Ice Hotel in Sweden, to the Ariau Amazon Towers Hotel, perched high amidst the canopy of the Amazon Rainforest, the website has it all. The site itself is strewn with photos and has a user-friendly layout. Each accommodation listing comes with an overview, pricing and booking details, and comments by previous customers.
For the younger generation going through that transition period from high school or university to the working world, it is becoming increasingly popular for people to take a year off and experience the world. Websites like Gap Work (www.gapwork.com) and Volunteer Travel (www.volunteertravel.com) give you the opportunity to travel to various destinations at a fixed cost, whilst taking up community service, an internship placement, or other volunteer work. The sites are well organised, and do well to visualise the needs and concerns of a young adult, including information about travel insurance, prices, accommodation, and general travel resources.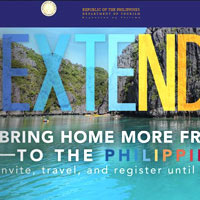 Department of Tourism Philippines has a colourful site with a bureaucratic tone
The blogger driven TravelPod that let you chart your trips on a map, share unlimited photos and videos with fellow bloggers, and stay in touch while on the road, has sadly gone, not the sole casualty in the race for private equity-driven commercial models.
Let's Go (www.letsgo.com) sports a simple layout that is both appealing and intuitive. Navigation is a doddle. However, while its travel sections on Indonesia, Thailand and Vietnam contain a reasonable breadth of information – from national landmarks to itineraries – its coverage of Asia in general is rather narrow.
Couch surf, borrow a home, crash in a campervan, or doss at the airport. Take your pick. That's our guide to the some of the best travel sites for Asia.
Send us your Feedback / Letter to the Editor