FAMILY FUN
Penang dosa fest and spas
Your wallet will not be unduly exercised forking out about RM1 for an excellent dosa. Or grab a cheap hotel room for under US$50. Our Penang spa resorts review and guide to the best shopping and nightlife.
updated by Kate Springer
SEE ALSO Langkawi guide | Malaysia spas | Kuala Lumpur shopping | Kuala Lumpur hotels | Sabah guide | Tioman guide | Kuala Lumpur Nightlife | Pattaya guide
JUMP TO Airport duty-free shopping, car rental and taxis | Penang shopping | Temples, sightseeing | Nightlife and dining | Heritage hotels | Budget hotels | Batu Ferringhi resorts | Tanjung Bungah | Georgetown, business hotels | Airport hotels | Spa resort | Hotel Contacts
PENANG lays vigorous claim, and rightly, to being the original "Pearl of the Orient". Yet, when the monsoons break, sending roasting bodies scurrying for cover, the beaches are alive with the sound of music – usually Arabic. Veiled ladies in full-length black burqas (or hijabs) stroll the sands and avidly scan the discount stalls, accompanied by burly men wearing bored expressions and shorts, trailed by a caravan of plump kids. This could just as easily be Dubai without the oil and the eye-popping architecture. The only oil here is slathered by the gallon onto willing bodies in search of that perfect spa escape. Thus, when the hawker pulled me aside to display his gigantic fake BVLGARI watch collection with a smile bearing the unmistakable banner headline – "Another Arab Sucker" – I pointed to my starving Indian stomach and anorexic wallet. The children behind me snickered and held out their arms festooned with large glittering watches worn like bangles.
Whatever became of those sultry, Casablanca destinations with grand monikers of yore – like "Venice of the East" and so on – promising all manner of whimsy and wonder? Thus it was we set sail, in Somerset Maugham's footsteps, bound for Penang and some sultry romance. Just about every Asian sandbar with swaying palm trees, blotto locals and a hint of sweat and spice lays claim to being the real Pearl of the Orient but, Penang Malaysia, is perhaps the original and most worthy claimant. It is certainly the most colourful. And where else in the world can you pick up a dosa for just RM1?
Send us your Feedback / Letter to the Editor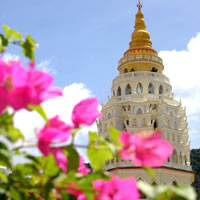 Kek Lok Si Temple pagoda
Viewed from the towering Komtar building – a mind-boggling warren of creaking elevators and musty security, where flashing ID cards and coloured passes will see you eventually to the blue elevators that judder up to the briskly efficient modern hush of the 53rd floor Tourism Penang offices and its sweeping 360-degree view – the island of Penang (or Pulau Pinang) is a 285sq km turtle-shaped affair with a rapidly expanding girth as reclamations continue apace and smart condominiums thrust up into tropical blue skies. It is clearly a city on the move.
Pulau Pinang literally means "island of the betel nut". Modern Penang however is better known for its swank mega-malls, mega sales, respectable big-city mega-traffic, golf, and preening mega-resorts hosting plump sun-burnt travellers from countries as diverse as Saudi Arabia, UK, Hong Kong and Japan. The city remains a melting pot of gawping, sweaty visitors, splendid turn-of-the-century colonial architecture, nose-twitching spices, hot curries, football-field-size shopping malls, excellent spas, ancient temples, modern oddities, and resident Malays, Indians, and Chinese.
Send us your Feedback / Letter to the Editor
Story has it when Francis Light arrived on the island (which he originally named Prince of Wales Island) he was confronted by a vast tangle of seemingly impenetrable jungle. To convince his unwilling men to clear the land for settlements, he filled a cannon with gold sovereigns and fired it into the jungle thus inspiring his merry men who marched into the rainforest, machetes in hand, offering us the opportunity some 200 years later, to present a robust Penang guide for latter day adventurers who can now enjoy multi-lane highways and air-conditioning. We're not sure if any gold coins survived the melee but it's always worth a poke around when no one is looking.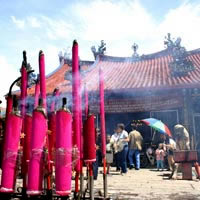 Goddess of Mercy Temple
While the rush hour traffic tends to clog up historic Georgetown (the business and heritage heartland) and even the ribbon of road running up the coast to the beach strip of Batu Ferringhi (also called Ferringi Beach), the island still has a welcomingly slow, sleepy feel to it. If you sensibly can, avoid roads 7-8.30am and 5.30-7pm. So on to our Penang resorts review, with a hotel, shopping and dining guide. Drop by the informative Tourism Penang website for a rummage to bone up on Penang heritage homes, accommodation, more shopping, Penang golf holiday options, good golf courses, and information on Penang conventions and meetings (for the specialist MICE market). See also our quick-look printable Penang Map.
The island boasts acres of space, choking with lush eye-soothing green, punctuated everywhere by magnificent old mansions, some with manicured estates that could host a fox hunt and still leave room to swing a cat by the tail. This is an east-meets-west mélange that will have shutterbugs enthralled. Food is terrific with a real spicy curry zing to it.
Big multinationals like Dell, Intel and AMD Athlon maintain manufacturing bases here, largely in the south near the airport, so why has the world seemingly forgotten Penang? Hotels are rarely full like neighbouring resorts up in Phuket, though Penang business hotels in Georgetown do reasonably well, and summer does see a huge influx from the Middle East. At the end of the day, if you bargain hard and shop carefully, some great Penang holiday deals are to be had for all tastes and purposes. Above all, as a laid back escape, Penang is ideal for family holidays even if the shoreline water is not always up to snuff.
Airport duty-free shopping, car rental, taxis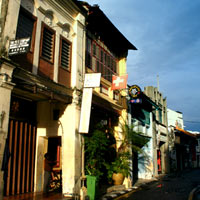 Atmospheric Armenian Street
Arriving is pretty painless. Those flying in to Penang from Malaysian destinations might be venturing to try low cost airline FireFly (www.fireflyz.com.my), which also has a route to Koh Samui. A taxi from the airport in the far south of the island will cost RM70 (US$1 = 3.19 Malaysian Ringgit) for the 45-minute drive to the northern beach area of Batu Ferringhi (where several of the best five-star resorts are located) or RM60 or so to get you into Georgetown.
Taxis do the 25-minute run from Georgetown to Batu Ferringhi for about RM35 or, if you have a busy day planned, haggle with your cab driver for an hourly rate of around RM30 or better. There is a 50 percent surcharge midnight to 6am. Taxis all have meters though drivers are often reluctant to use them so establish rates beforehand.
If you prefer to rent a car at Penang International Airport, Hertz (tel: [60-4] 643-0208, 7.30am-10pm, www.Hertz.Com) can offer a Ford Focus automatic at around RM260 per day or a Hyundai Getz manual for around RM175. Departure formalities at Penang Airport are quick. Do your eating beforehand as the food selection airside, especially during the early morning hours, is limited to curry puffs and cardboard sandwiches.
If you plan on some duty-free shopping at Penang Airport a quick 10-minute round will cover it all. A one-litre bottle of 12-year-old Chivas is about the same as at other international airports or about US$35, give or take. And a litre of Johnnie Walker Black Label, 12 years, is priced about the same. Explore Dunhill silk ties, Chanel perfumes and more. Other Penang duty-free shopping options include COACH and Bally. If you feel adventurous, try some Durian chocolate. And there are t-shirts galore.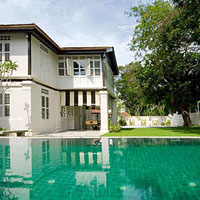 Clove Hall: atmosphere/ photo: hotel
Shopping in Penang is not bad at all, especially if you consider that mall prices are at times 30 percent cheaper than in Hong Kong even if the selection isn't always the most current. Serious shoppers – and hikers – should straight for the humungous Queensbay Mall (www.queensbaymallmalaysia.com) along the east coast where they'll find everything from Guess, Forever 21 and G2000, to Body Glove, British India, Esprit, Adidas, Nike, and a decent Aeon Supermarket.
Also worth a visit is New World Park (www.newworldpark.com.my) with its The Park street market. You can dine semi alfresco in the restaurants while the adjacent food court houses over 28 stalls with most of Penang's famous hawker fare. There is also a centre stage where performances such as live bands, dance shows and aerobic sessions are held. Other popular Penang shopping malls include Gurney Plaza (www.gurneyplaza.com.my), Penang Plaza, and Prangin Mall (www.prangin-mall.com). Pacific Hypermarket, having opened as Komtar's Departmental Store has brought some much needed life back to the once-glory-hangout of Penangites.
There's a bustling Night Market from 7.30pm till midnight running through Batu Ferringhi (starting just across the road from the Rasa Sayang Resort & Spa by Shangri-La). You'll find it packed with authentic Malaysian handicrafts like inflatable plastic sharks, trinkets and that staple of beach shopping – t-shirts, some rather good. The market is peppered with restaurants, several of them catering for Indian and Arabic palates. If you're so inclined, pick up BVLGARI watch knockoffs for RM250 that look like, well… RM10 knock-offs. A few are well put together. I was shown a Bulgari three-dial watch with a scratch-resistant sapphire crystal casing. "Scratch it, TRY and scratch it..." the salesman implored, handing me a screwdriver. I declined. Imitation Rolex gold watches and Omegas change hands for about RM160-RM200 as well, and the ubiquitous t-shirts are from RM20 up. A fake Rolex Oyster watch retails from RM85 (before bargaining) and a Pateke Philippe will be in the RM160 range.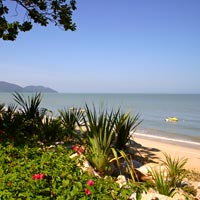 Rasa Sayang: Batu Ferringhi Beach
Definitely browse the stalls and doddering tradesmen of Little India and Chinatown and check out traditional hand embroidered Nonya kebayas produced by venerable tailors like Yeap Seong Kee at 180B Jalan Air Itam. If you're interested in joss sticks, gold, rattan weaving and fortune tellers, head down Georgetown's Jalan Masjid Kapitan Keling to the junction with Lebuh Pasar that runs into Little India. Fortune teller Aunty Sim is usually parked in a side lane near 156 Chulia Street and she'll be happy to examine your face, and palms, and pore over dog-eared cards to coax out their secrets.
Penang spas and herbal saunas tend to be quiet home grown affairs usually located in rural kampungs though hotels like Shangri-La's Rasa Sayang Resort & Spa, Parkroyal, The Northam, and Gurney Hotel, are breaking the mould with upscale offerings (more on these Penang spa resorts in the hotel review section). Local options include places like the Danai Spa (tel: [60-4] 899-0899, www.danaispa.com) in Tanjung Bungah and the Ancient Herbal Sauna (where you can spend the day for a few dollars. Ancient Herbal Sauna is in Tanjung Bungah market. The speciality at the Danai Spa is the Hawaiian "Kahuna" massage, exclusively using forearm pressure. Also see the Jerejak Resort & Spa (at the end of this story).
The beaches in Penang are not much to write home about, the water often murky and sullied, but the island remains a family destination that holds considerable appeal with views no less impressive than from other tropical islands in the region. There is no dearth of activity for sun-and-sand boffins. At Batu Ferringhi beach you can parasail, jet-ski, thump along on a banana boat, head out for an island cruise, or hop on a pony and leave hoof-prints in the sand.
Temples, snakes, and a spot of sightseeing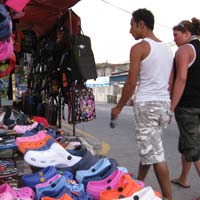 Night market at Batu Ferringhi
Penang is developing a reputation as an eco-friendly getaway and it now even boasts the world's "smallest" national park – the Penang National Park carved out of steaming mangroves. Penang Hill affords some of the best views of the island and the funicular railway taking passengers up the hill is back after considerable redevelopment. Sweeping views are available as well from the Chinese Kek Lok Si Temple at Air Itam and its signature Pagoda of Ten Thousand Buddhas that attracts big holiday crowds.
Other places of interest include the 33m-long reclining Buddha at Wat Chaiya Mangkalaram (bright and fun if artistically less compelling); the atmospheric incense-shrouded, smoke-filled Goddess of Mercy Temple; the sky-scraping landmark Komtar tower in the heart of Georgetown with its assortment of malls, theatres, and eateries; Fort Cornwallis, where Francis Light landed in 1786 to found the British trading post after securing the concession from the Sultan of Kedah; and the Snake Temple and its assorted dozing reptiles that are prodded awake for the benefit of gawking tourists.
The South Indian Sri Mariammam Temple (dating back to 1883) is a popular stop. And in January, visitors can observe the Thaipusam festival – another South Indian import – when devotees parade, skewered through limb and tongue with tridents, spears and iron rods. Ash-smeared celebrants claim to feel no pain and it won't hurt to watch. Who said Penang was boring? Swap that namby-pamby navel ring for a decent meat hook and impress your friends – and doc – back home.
For a peaceful but wet and wild adventure option, visitors can try Penang's new ESCAPE theme park (opened September 2019, www.escape.my/), with its mammoth 1,140m waterslide that loops and twists down the hill through dense jungle. The family-friendly park also serves up ziplines and a fun obstacle course.
A wee taste of Penang nightlife and dining
While the world teetered on the brink of economic meltdown, I savoured a dosa (South Indian rice pancake) in Penang for the astonishing sum of RM1. This at Batu Ferringhi. I was miffed. This works out to about a billion Zimbabwean dollars (leaving aside the small matter of two million percent inflation).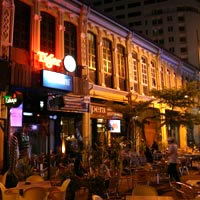 Penang bars near the Garage
Still, in terms of real money, this is just HK$2.50 or US$0.33. I calmed down. It was so cheap, I simply collapsed, wordless, on a plank bench and ate. I had already consumed a stupefying curry dinner. But such is the power of competitive pricing. I ate, and ate, and ate.
Elsewhere on the island, at Fatty Loh Chicken Rice (tel: [60-4] 899-0888), sweating diners clawed through generous portions of aromatic Hainan chicken at just RM3.50 per serving. While all the hotels offer a range of international fare, Penang's best street food is found in its smaller lanes and back roads. Kayu Nasi Kandar (tel: 264-4767) is a 24-hour place with terrific Indian Muslim food, curries, spicy fish, and dosas. There's one on Penang Street not far from Komtar Tower. Of an evening, promenade down Gurney Drive and pick from hawker stalls and noodles by the mile. In Georgetown the best hunting ground for traditional food is between Jalan Penang and Lebuh Cintra around the linking street Jalan Chowrasta. And local flavours abound in the charming converted shop houses of Nagore Place (off Burma Road).
The 360 degrees waterfront view QEII (tel: 261-2126) is a popular spot, occupying two floors on the pier at Church Street with wraparound verandahs and breezy views across the marina. Eat by the balcony, pick a more classic indoor air-conditioned spot at the grill, or prowl the bar. Pizzas here will set you back RM23-RM50 but you could dive into a generous lamb shank. Around 10pm or later on the weekends the DJ cranks up the volume and the party gets going. Next door is a restaurant serving "stylish" Chinese cuisine.
Thirty Two (tel: 262-2232), a quick walk along the seafront from the E&O is a characterful restored peach-coloured villa with a lounge and restaurant serving Western fare. This is a stylish, somewhat formal, venue with white tablecloths, a small garden and nice alcoves. For more curry, banana leaf spreads or tandoori, try Maharaj (tel: 262-0263). Another excellent choice for Indian food is Kashmir, located in central Georgetown, on Penang Road. Malay hawker stalls and Chinese noodle shops abound in central Georgetown. For an excellent dining experience focusing on BBQ and steamboat delights in a small but atmospheric row of heritage shophouses, check out 8-Row.
The Hainanese Colonial Restaurant (tel: 261-4489, 35 Armenian Street) is a whimsical retreat, the walls covered with eye-catching oil paintings of birds, some rather good. The classic gilt-frame paintings are in sharp contrast to the echoing ceramic tile floors and rickety wooden tables.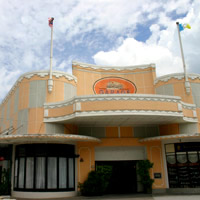 The Garage nightlife complex
Almost across the road is the atmospheric Edelweiss Kafe (tel: 261-8935, 38 Armenian Street, www.edelweisscafe.com) where the knowledgeable and irrepressible owner Terese Pereira Capol and her jeweller husband serve up hearty fare. Choose from Swiss, German, or Western. Grab a pint or two of Paulaner while you dip into a cheese fondue. Terese is well versed in the twists and turns of exotic Penang heritage trails and is always more than happy to suggest a nice walking route. Of course, for a serious hit of the dark stuff there's no better place to start than at the Penang Chocolate Mansion (tel: 250-2488, 22 Leith Street). It even boasts a Chocolate Boutique.
An interesting option up in the rarefied environs of former colony on Penang Hill is high tea – or a bangers and mash meal – at David Brown's Restaurant & Tea Terraces (tel: 828-8337, www.penanghillco.com.my). You'll need to plan in advance and reserve if possible. Once up, bask in the sunshine on the lawns and enjoy a breezy afternoon or more.
For something different with the family in tow, pop into the Tropical Spice Garden (tel: 881-1797, www.tropicalspicegarden.com) not far from Batu Ferringhi, offering an eight-acre escape with lush foliage, several hundred plant species and, best of all, a WiFi Café. Other eating choices might include places like Hai Nan Town at Church Street Pier (tel: 263-8633) for good old fashioned Straits cooking, Mama's (tel: 229-1318) for more of the same, Lemongrass (tel: 641-5988) for Thai, and Sri Ananda Bhawan (tel: 264-4204, www.srianandabahwan.com) for spicy South Indian fare.
If you fancy gnawing on a rib or a steak, check out Smoky Jack (tel: 262-8826, www.smokyjack.com). Seating 60, the interior is all old-world ambience, accentuated by wood panelling and intimate lighting. Faux wooden branches hang from every corner of the ceiling and walls while huge cocoon seats ensure privacy for its diners. While the selection on the menu isn't extensive, what's available is quite decent.
A fair bit of Penang's nightlife and dining is centred in the area between the E&O Hotel and the Cititel around Upper Penang Road. Here you'll find smoky English pubs with darts and not-so-posh accents, bars, discos and small posh nosheries. Check out places like Opera (tel: 263-2893, 3E Penang Rd), Soho Freehouse (tel: 263-3331) D Joint and Mois. Next to Cititel are a string of karaoke parlours where crooning companions charge extortionate sums per half hour. KTV economics is simple. The fewer the tourists, the higher the prices. Fortunately, right next door is the morally uplifting Catholic Information Service and a decent wine bar. Hurrah!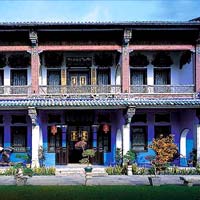 Cheong Fatt Tze Mansion/ photo: hotel
Pop into Slippery Senoritas (tel: 263-6868, www.slipperysenoritas.com/penang/) across the road from the E&O with its tapas finger foods, dance floor and pub. Cover charges normally kick in after 10pm. Also in the vicinity are Momo, Soi 11, Beach Blanket Babylon (café and wine bar with WiFi), and the smoky Uptown bar teeming with old gents with alarmingly young companions on their arms.
Slightly off the happening street in the city, Bagan (tel: 226-4977) is also a chic place to check out. Renowned for its live jazzpop band featuring soulful Malay diva, Roz, Bagan offers a cozy bungalow transformed into a dining and drinking bar. The interior is well decorated with Thai silkworm cocoon lamps, overstuffed lounge chairs and gigantic framed mirrors. A water-feature in the middle of the stage adds to the classy romantic ambience.
Heritage hotels and homes
The historic Chinese courtyard house Cheong Fatt Tze Mansion, dating back to 1880 when work commenced on this "blue mansion", is worth a look. Cheong Fatt Tze brought in artisans from Southern China to ensure attention to detail while select material was shipped in from places as far afield as Scotland. The place eventually became the residence of his most favoured seventh wife. Stays, meetings and special theme events can be arranged here. The mansion hosts 38 rooms arrayed around five breezy courtyards; all built to exacting feng shui standards. There is a reading room, a TV room, and an open-air breakfast area in the courtyard. Guestrooms range from simple to grand in varying layouts, with timbered floors, plenty of dark wood furniture and ceramic lamps.
Other Penang heritage homes in Georgetown include the stately 14-room Segara Ninda Residence on Penang Road that was once owned by Ku Din, the King of Satun in Southern Thailand. Much of this colonial mansion's interior retains its old woody flavour, tile flooring and marble and there is a mini museum providing further historical insights. The decor is simple, homey and basic with bright bedspreads. Don't expect too much.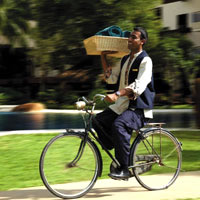 Rasa Sayang cycle service/ photo: hotel
The quaint lowrise 1926 Heritage Hotel (formerly Hotel 1926) was built in that year to house British immigration officers. After a major restoration in 1999 the place opened as a hotel. The original structure remains largely unchanged though the roof tiles – and the starchy British colonels – have been replaced. The 1926 Heritage Hotel has never quite lived up to its potential and service is desultory, if friendly, and the place has a derelict feel to it that would appeal to writers and poets. Wi-Fi is free throughout the property.
Opened November 2013 in the city's historical old-world district at 139 Lebuh Carnarvon, is the 92-room Armenian Street Heritage Hotel managed, oddly enough, by no-frills Tune Hotels. This however is a relatively premium product with a roof deck with broad views of the district. Expect rooms in varying sizes with a simple feel, timber flooring, flat-screen televisions, and old photographs on the wall.
Restored colonial home Clove Hall is nestled among clove trees and palms. French doors and open archways allow natural light to flood into airy rooms strewn with antiques and vintage furnishings. The six suites are named after spices and range in size from the 530sq ft Saffron Suite to the 800sq ft Clove Suite, which boasts a wraparound verandah and an outdoor granite bath. You'll find the Ginger Suite in a private courtyard filled with ginger lilies and frangipani, and the Star Anise Suite has an outdoor shower under a mango tree.
All rooms feature four-poster beds and have modern comforts such as LCD TVs, aircon and WiFi. There's a small swimming pool and lanterns illuminate the garden in the evening. Dining options are limited to breakfast and there is no spa or gym.
Sister property Muntri Mews claims to offer "boutique accommodation for today's flashpacker". In days of yore this grade two listed building housed carriages and horses belonging to the street's wealthy residents. The drivers' quarters have been converted into nine suites all of which have 32-inch LCD TVs and air-conditioning.
The first-floor rooms are the biggest at 400sq ft and come with verandahs overlooking the garden. The ground-floor rooms are only 300sq ft and have twin beds. Arty bric-a-brac and historical paraphernalia create a bright and welcoming atmosphere. The Mews Café serves up everything from steak sandwiches to nasi lemak and there is also WiFi, a shop and a small business centre.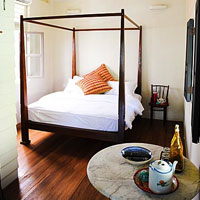 Muntri Mews/ photo: hotel
Also in Georgetown is Hotel Penaga, a property converted from three rows of terraced shophouses dating back to the late 1940s. Every room has been individually decorated with antique furniture, old maps, and original work by up-and-coming local artists. There are eight entire houses available with two bedrooms and bathrooms and a balcony overlooking the garden. Guests can even bring their pets.
The top-floor Transfer Suites have two balconies, one with a view of Penang Hill, but you'll have quite a few stairs to contend with. The Hutton Rooms can be accessed by a lift and are disabled-friendly. Families requiring more room should consider the 60sq m Penaga corner suite, which has two bedrooms, two bathrooms and a lounge. All rooms have air-conditioning, WiFi, TVs, tea and coffee facilities, hair dryers and minibars. Every bathroom has a Jacuzzi and separate shower. The swimming pool is more suitable for a refreshing dip than furious laps and the spa has a menu of Malay-inspired treatments. There is also a small meeting room and business centre, a library and shop.
Another property converted from old shophouses is the Straits Collection, managed by the Bon Ton group (who manage a wonderful escape on Langkawi Island). Pick from a row of four houses tucked away on Armenian Street neighboured by a Chinese and Indian temple, a mosque and a Christian church.
The suites are spacious, especially Number 93, which stretches 1,200sq ft and includes a downstairs living room, upstairs bedroom with desk, daybed and a queen-size bed. Rooms are decorated in a bright and funky fashion with antiques and curios adding extra character.
Originally built in the mid 1800s as the home of a wealthy Indian Muslim merchant, Yeng Keng Hotel is now a 20-room boutique property offering free WiFi, a cafe/bar, complimentary breakfast, swimming pool and small meeting room. Mansion Double Rooms are boldly decorated with drapes and silk cushions in spicy shades. You'll be able to make tea and coffee and watch films on your flatscreen TV. The Garden Suite looks out over a cluster of bamboo trees while the Yeng Keng Suite has a tasteful mix of antique and contemporary furniture, plus the added perk of a DVD player and separate living room.
Budget hotels, guesthouses and apartments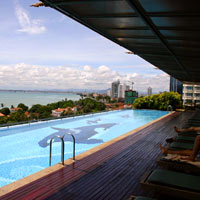 The Northam Pool: grand vistas
Condos, some rather good, others the product of grotesque architectural miscalculation, are sprouting everywhere offering ridiculously cheap budget stays. Some like the Sri Sayang opposite the venerable Rasa Sayang Resort & Spa run by Shangri-La, offer room deals from around RM120 for a two-bedroom apartment. This is with a small pool, tennis court and Arabian restaurant. While the Sri Sayang offers fair accommodation and service, try these sorts of insta-hotel places at your own peril and lock your valuables. It is unlikely you will find yourself located on a beach.
Budget guesthouses and cheap Penang hotels in Georgetown's Chulia Street and Penang Road are a decent in-town option if you simply want to potter around and are not chasing some humungous business deal. Tourism Penang lists places like the Broadway Budget Hotel (35F Jalan Masjid Kapitan Keling, www.broadwaybudgethotel.com) and the YMCA of Penang Hostel (211 Jalan Macalister, www.ymcapg.com). At the Hongkong Hotel with its whitewashed colonial promise, a little outside town in Tanjung Tokong, you may come across slick Brylcreemed gentlemen with svelte high-gloss lady companions booking in for a very short stay. Just smile and look the other way.
A prime hunting ground for Penang budget hotel options in Georgetown is along the Penang Road area leading in from the E&O towards Komtar Tower. The Hotel Continental (5 Penang Road, www.hotelcontinental.com.my) is not a bad choice if the wallet needs rest. It is a fully-fledged hotel with restaurants, conference room and even a massage centre. Rooms are clean with the usual modcons including TV and coffee-making facilities. The place has a rooftop swimming pool. The hotel's Internet rates are RM15 per day. Hotel Malaysia (www.hotelmalaysia.com.my) has WiFi in-room at RM12 for a day, aircon, TV, mini-bar, and a raft of facilities including a health centre, coffee shop, and conference hall.
Oriental Hotel is more down-at-heel but boasts "affordable hospitality". There are 100 aircon rooms with 24-hour room service, and restaurants. At the whitewashed but rather basic Peking Hotel, a kindly and candid lady at the front desk looked at my tie, grinned, and waved me off. "This is not a good hotel," she said, "budget...you understand? Budget." Such honesty alone should be enough to recommend the place, which starts at just around RM80 without aircon and Internet. The Federal Hotel is rundown but The Merchant Hotel is modestly organized with a manned reception counter.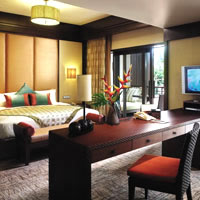 Classic Rasa Sayang/ photo: hotel
Tune Hotel, an AirAsia spin-off and now a regular on the chic budget hotel scene, sports another cheap and cheerful inn that opened in April 2009. This new 258-room budget choice is strategically located next to New World Park where food abounds, and is just minutes from the city's nightlife. The brightly coloured façade – white with a splash of pillar-box red – makes it hard to miss, and if on a tight budget you wouldn't want to. True to its famous phrase of "5-star sleeping experience at 1-star price", rooms start from RM28 for a simple, clean interior with a host of chargeable extras like hairdryer, WiFi, aircon and towels. A couple of wheelchair friendly rooms are also available.
Batu Ferringhi resorts
Shangri-La's Rasa Sayang Resort & Spa is a stately sprawl dominating the Ferringgi strip. The ageing grand dame underwent a mammoth overhaul to transform itself into a swank, younger and chic, self-contained escape – a "mini destination with a par 3 executive golf course". It also has one of the few air-conditioned hotel lobbies, a life saver in the muggy summer months.
The main Rasa Wing sports a contemporary interior and a CHI Spa Village, an oasis of private villas, suites and yogic meditation. Rasa Wing rooms are large, with flat screen swivel TVs, DVD player, a long work table with Broadband access (and three-pin square sockets), comfy sofas and a balcony with a soaking tub looking onto the secluded Rasa pool. The electronic safe can house a small laptop.
The colour scheme is a tad heavy with earthy browns dominating, enlivened by orange cushions. A see-through glass wall separates the dressing and bathing area from the bedroom with Venetian blinds for privacy. The shower cubicle is roomy with the additional allure of pressure jets and Aigner toiletries. There are twin vanities with separate, large swivel mirrors with lights. There is also an iron and ironing board. In-room WiFi is free.
Shangri-La's fresh-faced Garden Wing has its own freeform pool, a kids' club called Adventure Zone for children aged four and up, a beach-load of activities, extensive gardens, and free WiFi in public areas. These public areas, right through the hotel, have been freshly energised with bright colour schemes and artistic flourishes.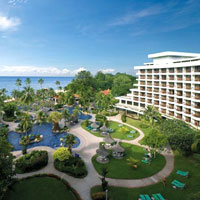 New-look Golden Sands/ photo: hotel
The CHI Spa with its 11 villas and suites is easily accessed through the gardens or from the Rasa Wing lobby. It is a therapeutic enclave surrounded by landscaped green, water features and delightful, thoroughly professional, staff that will get to the bottom of every ache to work out a customised menu for you, be it scrubs, wraps or potions. CHI has put Penang spas on the map, with élan and substance. Enjoy Rasa Sayang as a honeymoon escape, a Penang family resort, or as a Malaysian spa holiday.
Just next door is the family-friendly and bustling Golden Sands Resort by Shangri-La, with lots of activities for children and a popular seaside alfresco dining venue. Splash out on water sports or trek off into the jungle. The Broadband in-room is complimentary. Children can look forward to a kid's paradise at Adventure Zone, with 3,000sq ft of play space. The club includes dry slides and air-conditioned games rooms that can be utilised by Rasa Sayang guests as well. Children and adults alike will have endless fun at the club, and the friendly staffers will ensure your safety as well. The three Shangri-Las (including business property Traders Hotel Penang that switched brands to the more informal Hotel Jen - November 2014 - in Georgetown) are also good Penang conference hotels.
Heading along the coast in a westerly direction, the charming and unassuming Lone Pine Hotel dates back to 1948. It was one of the original expat hangouts on this strip and returned in a more upscale boutique mould after extensive renovations. There are 90 rooms ranging from the cosy 45sq m Deluxe to more spacious suites with seafront terraces, balconies or private courtyards. The Colonial-style simplicity of lily-white walls and dark wooden floors is tastefully contrasted by bold contemporary art, richly textured fabrics and clusters of cushions in bright, spicy shades.
The 118sq m Grand Premier Suite offers the most cat-swinging space with two bedrooms, sea-view balcony, lounge, dining area and kitchenette. If you must log on or zone out, there's complimentary Broadband and DVD players in all rooms. Enjoy a private stretch of beach, gardens overlooking the sea, shady casuarina trees and an L-shaped swimming pool next to a tempting Jacuzzi.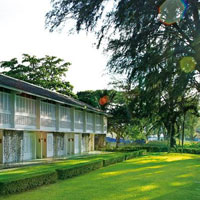 Lone Pine lawns/ photo: hotel
Make the most of the coastal breezes with a tropical massage in one of Pure Energy Spa's outdoor cabanas. If you're looking for a romantic hideaway this stylish Penang boutique hotel is well worth remembering.
The Holiday Inn Resort Penang comes with an additional tower wing on the other side of the road (away from the beach). Of course, everything is connected by walkways. It is a fairly compact sort of place and you won't need to kill yourself walking.
There is a kids' club and, interestingly, specially designed Kid Suites with bright colours and bunk beds. These range from a Treasure Island theme to rumble in the Jungle, or Outer Space. Jump into the pool or opt for a spot of foot reflexology on the beachfront garden. Keep in mind that the Tower Wing rooms are larger and cheaper than the Beach Wing options. You do need to pay for sea views. WiFi is free throughout the hotel. This is a simple, child-friendly hotel, homey and unfussy.
Adjacent is the 309-room Parkroyal Penang Resort hotel (formerly Grand Plaza Park Royal). Rooms have a contemporary design with orange and beige tones. Amenities include a flat-screen TV, small jewellery safe, iron and ironing board, long glass work table (with one three-pin square plug point and one multi-pin socket), bright bed-runner, hairdryer, and generously large 500ml bottles of complimentary mineral water.
The bathtub and shower are combined and water pressure is not bad. If you really need the space, opt for one of the 48sq m Lanai Suites. The good news is Broadband is now available free, in all rooms. Just remember to pick up a login and password from reception. Internet access was one of the earlier headaches here but pin-stripers can now rest easy.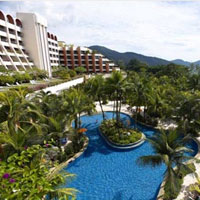 Parkroyal's freeform pool/ photo: hotel
There is WiFi too in the lobby and restaurants. Older rooms have box TVs and a bed-panel digital clock with alarm. Expect a wall-mounted hairdryer in the bathroom and lots of colonial chic white paint on cupboards and tables. This place was one of my favourites in years gone by and it still retains much of its laid back charm and a chic high-ceiling lobby with gauzy drapes and lounging areas. The excellent Koko-Nut Kids Club continues to thrive (9am-9pm, for four to 12-year-olds) with a riot of face painting, collage, and plastering.
There are two pools, one with a splash slide. The overall breezy ensemble is dampened somewhat by the limitations of the original building design – rows of piled-up arches now painted orange. The place is cheery nonetheless and service is keen and friendly.
Parkroyal is a good value among Penang family resorts especially with the addition of the St Gregory spa offering everything from aromatic rubdowns to Balinese massage for harried parents. Try a "Thalgo marine facial" or opt for something more lavish like a "Bengkung Wrap", which comes with a healthy Malaysian meal. St Gregory at Parkroyal is a calming afternoon escape. The hotel's function rooms along with the grand ballroom can host up to 510 people without too much of a squeeze so keep it in mind as a possible small meetings or Penang conference hotels choice.
A younger arrival on the Batu Ferringhi strip is the throbbing 250-room Hard Rock Hotel Penang where the action never seems to stop. The re-invented hotel is on the north shore along the beach in the midst of more classic company. Rooms are contemporary and mod with flat-screen LCD televisions, DVD players, iPod docks, all-day movies through an inhouse channel and, those saviours of any sand-in-the-hair beach holiday, hair dryers.
Expect one of the largest free-form pools on the island at 2,400sq m – complete with sand islands and slides – and the Lil' Rock Kids Club for families. And then there's that Teens Club to take care of all those hormonal 13 to 18-year-olds with a distracting array of pool tables, foosball and electronic games. The kids have a busy schedule running all day including cyber fun, cooking, art and craft, and movies, leaving plenty of time for adults to get some romance back into their lives with a capital R.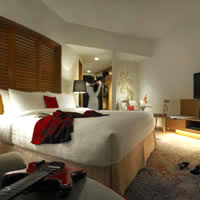 Hard Rock chic/ photo: hotel
Check out the Rock Spa for wellness by the yard. Assorted music memorabilia is littered throughout the complex with a glossy museum-style booklet showing guests the way from James Brown's "metallic black eyelash lame robe" (in the lobby) to Elton John's striped jacket and Ron Wood's bass guitar. Madonna's mischievously irreverent black and gold bustier is at the mezzanine level.
The Bayview Beach Resort makes a stab at modernity, presenting a marble floor lobby with hideous pink trim up the atrium. It will doubtless cheer some and the promo rates are usually attractive. Expect a gigantic free-form pool, gardens and extensive recreational facilities plus a Spa Centre. There is also a kid's club at the resort. Children can run wild here without bothering stuffy sorts and WiFi is free.
(There is a Bayview Georgetown Hotel as well, which offers business facilities and a central location.) A few minutes drive from here to Teluk Bahang brings you to the secluded Mutiara Beach Resort Penang which is currently closed.
Tanjung Bungah area hotels
Backtracking past Batu Ferringhi again, to head east this time, you'll come upon the neat but unremarkable, and rather intriguingly named Hydro Hotel Penang (formerly Ferringhi Beach Hotel). Getting to the rocky cove is an arduous trek across a pedestrian bridge and down several banks of stairs. There are 322 rooms, reasonably comfortable and featuring bright floral paintings to ease the eyes. Again on the bright side, higher floors offer decent sea views. The renovated lobby is mod with a chill-out lounge and WiFi. Staff are polite and welcoming.
Farther on in Tanjung Bungah the trio of properties is now a twosome – The Crown Jewel is closed. Plodding on are the breezy Roman-columned Rainbow Paradise Beach Resort (formerly Paradise Sandy Beach Resort), and the 318-room Copthorne Orchid Hotel. It is a long haul down to the rocky beach from here. The Copthorne has the feel of a hotel albeit with a decidedly slow pace.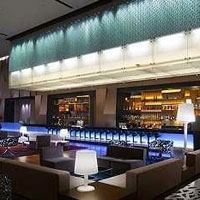 Boutique-style g hotel bar/ photo: hotel
There's a long awkwardly sloping stepped entranceway that leads through a desultory corridor to a tired reception. The place is drab but makes a stab at providing a clubby feel with wood panels. Some of its rooms have nice sea-facing balconies. All have free WiFi, as well as a spa centre, gym and sauna. Both hotels here are narrow and long, jutting out towards the sea.
Also in the vicinity is the renovating three-star Tanjung Bungah Beach Hotel with its starched-white facade. When redone completely, it will be a decent mid-range hotel close enough to both the town as well as the Batu Ferringhi strip.
Penang business hotels and Georgetown options
A standout Georgetown hotel is the magnificent colonial E&O Hotel that dominates a corner of the sea-face with its own colonial trim. The relatively new G Hotel, and the highrise all-suite The Northam are two other picks for a Penang business hotel choice. The Northam All Suite Penang is all reflective gold and glitter on the outside but remarkably tasteful inside. Suites are elegant with lots of gleaming wood and sharp finish. There is a Samsara Spa on Level 9 with treatment rooms, all with Jacuzzi, steam room and sauna. The stunning pool, on the same level, offers breathtaking views of Georgetown and the sea. There is a broad-timber lounging deck if you simply wish to snooze or enjoy a cocktail while surfing the Internet with complimentary WiFi. You can tan here or lounge in the shade. Staff are very much on the ball and attentive. The hotel likes to call itself an all-suite business hotel. The hotel is wired for in-room Broadband and, best of all, it's free.
The 312-room G Hotel (the hotel actually prefers to lower case the "g") is, in keeping with its lower case name and stylish website, a modern boutique-style hangout for the hip, young and restless. The hotel fronts the Gurney Drive ocean boulevard. The building is an unexceptional modern high-rise raised seven feet above the normal plinth height to avoid damage from any repeat of the 2004 tsunami.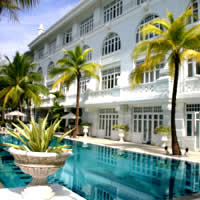 White and starched E & O Hotel
Décor is minimalist and Zen with cool colours and splashes of light. Hotel staff are busy, brisk and pretty competent. Rooms are clean-lined with dark wood panelling, bright white linen, beige runners, and the occasional four-poster bed – in the middle of the room (Superior King, without seaview). In regular rooms expect free high-speed Broadband, a hairdryer, a large safe and, thoughtfully, an iron and ironing board.
Toilets are a bit compact with showers only. There are suites and service apartments too. Executive Suites offer flat-screen plasma TVs in the living room. Hotel facilities include a pool, wading pool, Jacuzzi, spa treatments and a gym. The outsize numbering on the doors in orange will ensure you always find your room.
Rising prim and starch, an almost eye-numbing dazzling white above the junction of Farquhar Street and Penang Road, is the old world E&O Hotel. This splendid Penang heritage hotel is a delightful colonial confection that enjoys a prime seafront location in the heart of Georgetown (but no beach) with charming nooks and crannies for walks, afternoon tea, or even a swim in a small inviting pool.
Along the waterfront promenade are a couple of hefty canons to remind you of the location's historic roots. The hotel started off as The Eastern in 1884. The Sarkies brothers later combined their two properties (the second being The Oriental) into what became The Eastern & Oriental. After a long five-year restoration and a fresh lick of paint, the E&O Hotel reopened for business in 2001 winning numerous accolades. The hotel is converting a neighbouring block to develop an extension wing, the Victory Annexe (spring 2013). The Annexe wing features 122 sea-view suites with private balconies, as well as more function space for the MICE (meetings and conventions) market and permit some stretch room for this property.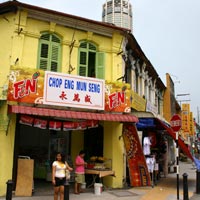 Penang street corner shophouse
Suites have satellite television and the mini-bar, quite properly, is locked with a key. These rooms are plush colonial (minus the dust) with a fold-out Davenport writing desk, classic Roman numeral clock, a full length mirror, dark wooden cupboard, and a gleaming, spacious toilet with twin vanities.
White louvred shutters open onto glorious sea views. The floors are dark timber and pretty much everywhere the emphasis is on dark period furniture. In-room, find an iron and ironing board, two sarongs for a quick wrap-around, and a large safe that will hold your notebook, video and camera. WiFi is available throughout the hotel and better still, it's free.
The Grand Ballroom can host 400 people, seated, and smaller function rooms can manage groups of 20 to 150. Among the guests that have passed through its portals are the likes of Noel Coward, Somerset Maugham, Rudyard Kipling and Hermann Hesse. The E&O is easily one of the best heritage hotels of Asia and it does not rest on its laurels. Best of all, it is situated right next to Penang's most interesting nightlife offerings.
Right around the corner is the recently renovated Bayview Hotel Georgetown that provides decent enough facilities for unfussy travellers, without razzmatazz. You'll get 24-hour room service, a business centre and free WiFi. The 443-room Hotel Jen (formerly Traders Hotel, Penang) run by Shangri-La, is smack in the heart of town, conveniently located for business or shopping, with a health club and sauna and a good business centre. Privileges here include signing facilities at any other Shangri-La resort restaurant or bar on the island. Service is brisk, the rooms brighter with the hipper makeover, and the ballroom is a handy venue for a crowd of around 600.
Also in Georgetown, a fizzy addition for business travellers on the go is GLOW Penang (by Zinc), the first foray by this hip Thailand-based brand into Malaysia. The 131-room hotel is bright and brisk with a Superior starting at 17sq m and a Family Triple at 31sq m. The 34sq m Family Grand offers a queen with twin beds on the side for the ankle-biters.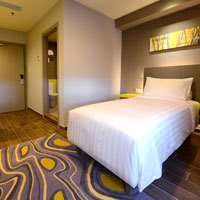 Glow Penang Superior/ photo: hotel
Expect free WiFi, a 32-inch LCD television, coffee-making facilities and a working desk with a multi-plug socket for most international gadgets. The beds are a substantial plus with a focus on comfort and sink-in pillows. Think wood parquet flooring, pastel greys, bright yellow walls, and patterned carpets. That's not all. This hotel also serves up a small meetings facility (for up to 12 persons), a gym, and a modest pool.
Other Penang business hotels in the downtown Georgetown area include the smart, modern, meetings and high-speed Internet-equipped 276-room Hotel Royal (free Broadband in room), the clean and neat Evergreen Laurel Hotel (free Broadband in the room), The Gurney Resort Hotel & Residences (free Broadband in room), the Georgetown City Hotel (formerly Berjaya Penang Hotel), and the cheap and lively Cititel Penang smack in the middle of curry houses, nightlife and shops. Popular with Taiwanese and Hongkong visitors, Cititel has gained some notoriety for its popular massage parlour as well. Cititel offers Wi-Fi in-room at RM40 per day. The Gurney Resort Hotel offers a spacious Two-Bedroom Suite and reasonably decent rooms while Georgetown City Hotel is part of the Midlands Park condominium complex is close to shopping, entertainment and food. The 320 rooms come with satellite TV, hairdryer, safe, and business amenities.
Airport hotels
Farther south near the airport is the large and well-equipped Hotel Equatorial Penang bristling with facilities and high speed Internet. Equatorial is patronised by conventioneers – and golfers, headed to the neighbouring 18-hole Bukit Jambul Golf Course. This Penang conference hotel is a five minute drive from the Bayan Lepas Industrial Zone and under 10 minutes from the airport. If you have an early flight out this hotel will save you an hour – if the front office remembers that wake-up call. A main claim to fame of the Equatorial is two pillar-less ballrooms that can host up to 2,000 guests. Just a few kilometres from the airport, the not-too-pricey Seri Malaysia offers simple and clean aircon rooms with facilities including a pool, banquet hall, meeting rooms and parking space.
Time for one more spa resort?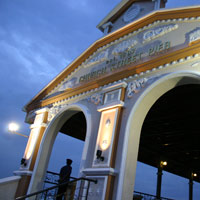 Church Street pier lit up at night
Last but not least, should you be in the mood for a different sort of island resort experience, check out the Jerejak Resort & Spa, a short ferry ride from near the Queensbay Mall on the east of Penang. Set in jungle surrounds on its own island, Jerejak is a specialist Penang spa resort with a Spa Village and the Jerejak Spa. Standard rooms cater for budget travellers while the chalets offer a bit more comfort – including welcome "spine-support mattresses" – and themed décor. I shudder to think what might happen to me without spine support. Normal practice here is to buy a package starting at two nights and three days at RM297 nett per person.
Welcome to the Pearl of the Orient. Found any gold coins?
Send us your Feedback / Letter to the Editor
FAST FACTS

/ Hotel Contact List

The exchange rate is around US$1 = RM3.19. The Malaysian ringgit is often referred to as the Malaysian dollar as well. Rack rates in this select Penang hotel directory where listed are liable to change at short notice and fluctuate in high and low season. Rates may also be subject to 10 percent service charge and 5 percent government tax. See our easy to print Penang Map.

Useful Penang websites: Tourism Penang (www.tourismpenang.gov.my), Discover Penang (www.pulaupinang.com), Penang Heritage Trust (www.pht.org.my), Penang Development Council (www.pdc.gov.my), Tourism Malaysia (www.tourism.gov.my).
Penang heritage hotels and homes
1926 Heritage Hotel. Tel: [60-4] 228-1926, fax: 229-1926, (e-mail: info@1926heritagehotel.com.my or www.1926heritagehotel.com.my).
Armenian Street Heritage Hotel. Tel: [60-4] 262-3888, (www.armenianstheritagehotel.com).
Cheong Fatt Tze Mansion. Tel: [60-4] 262-0006, fax: 262-5289, (e-mail: resv.cftm@gmail.com or www.cheongfatttzemansion.com).
Clove Hall. Tel: [60-4] 229-0818, fax: 229-4818, (e-mail: manager@clovehall.com or www.clovehall.com).
Hotel Penaga. Tel: [60-4] 261-1891, fax: 261-1893, (e-mail: sales.reservation@hotelpenaga.com or www.hotelpenaga.com).
Muntri Mews. Tel: [60-4] 263-5125, fax: 263-4125, (e-mail: info@muntrimews.com or www.muntrimews.com).
Segara Ninda Residence of Ku Din Ku Meh. Tel: [60-4] 262-8748, fax: 262-8748, (e-mail: segara@streamyx.com or www.segaraninda.com).
Straits Collection. Tel/fax: [60-4] 263-7299, (e-mail: info@straitscollection.com.my or www.straitscollection.com.my).
Yeng Keng Hotel. Tel: [60-4] 262-2177, fax: 262-3177, (e-mail: reservations@yengkenghotel.com or www.yengkenghotel.com).
Airport area hotels
Hotel Equatorial Penang. Tel: [60-4] 632-7000, fax: 632-7100, (e-mail: info@pen.equatorial.com or www.equatorial.com/pen).
Hotel Seri Malaysia Pulau Pinang. Tel: [60-4] 642-9452, fax: 642-9461, (e-mail: central@serimalaysia.com.my or www.serimalaysia.com.my).
Budget hotels
Hongkong Hotel. Tanjung Tokong. Tel: [60-4] 890-8515.
Hotel Continental. Tel: [60-4] 263-6388, (e-mail: hotelconti@po.jaring.my or www.hotelcontinental.com.my).
Hotel Malaysia. Tel: [60-4] 263-3311, fax: 263-1621, (e-mail: reservation@hotelmalaysia.com.my or www.hotelmalaysia.com.my).
Oriental Hotel. Tel: [60-4] 263-4211, fax: 263-5395, (e-mail: sweesang@streamyx.com or www.oriental-hotel-penang.com).
Peking Hotel. Tel: [60-4] 263-6191.
The Merchant Hotel. Tel: [60-4] 263-2828.
Tune Hotel Penang. Tel: [60-3] 227-5807 (www.tunehotels.com).
YMCA of Penang Hostel. Tel: [60-4] 228-8211, (e-mail: ymcapg@streamyx.com).
Batu Ferringhi luxury resorts and family hotels
Golden Sands Resort by Shangri-La. Tel: [60-4] 886-1911, fax: 881-1880, (e-mail: gsh@shangri-la.com or www.shangri-la.com).
Hard Rock Hotel Penang. Tel: [60-4] 881-1711, fax: 881-2155, (e-mail: info.penang@hardrockhotels.net or penang.hardrockhotels.net).
Holiday Inn Resort Penang. Tel: [60-4] 886-6666, fax: 881-1389, (e-mail: hirp@holidayinnpenang.com or www.penang.holiday-inn.com).
Hydro Hotel Penang. Tel: [60-4] 890-5999, fax: 890-5100, (e-mail: res@hydrohotelpenang.com or www.hydrohotelpenang.com).
Lone Pine Hotel. Tel: [60-4] 886-8686, fax: 886-8600, (e-mail: style@lonepinehotel.com or www.lonepinehotel.com).
Parkroyal Penang Resort. Tel: [60-4] 881-1133, fax: 881-2233, (e-mail: enquiry@pen.parkroyalhotels.com or www.parkroyalhotels.com).
Shangri-La's Rasa Sayang Resort & Spa. Tel: [60-4] 888-8888, fax: 881-1800, (e-mail: chi.rasasayang@shangri-la.com or www.shangri-la.com/penang/rasasayangresort/).
The Bayview Beach Resort. Tel: [60-4] 881-2123, fax: 881-2140, (e-mail: chelvakumar.c@bayviewhotels.com or www.bayviewhotels.com/beach/).
Georgetown business hotels guide
Bayview Hotel Georgetown. Tel: [60-4] 263-3161, fax: 263-4124, (e-mail: reservations.bhgp@bayviewhotels.com or www.bayviewhotels.com/georgetown/).
Georgetown City Hotel (formerly Berjaya Penang Hotel). Tel: [60-4] 227-7111, fax: 226-7111, (www.georgetowncityhotel.com).
Glow Penang. Tel: [60-4] 226-0084, (www.zinchospitality.com/glowbyzinc/penang).
Cititel Penang. Tel: [60-4] 370-1188, (e-mail: info@cititelpenang.com or www.cititelpenang.com).
Hotel Jen Penang (formerly Traders Hotel Penang). Tel: [60-4] 262-2622, fax: 262-6526, (e-mail: hjp@hoteljen.com or www.hoteljen.com/en/penang/).
Hotel Royal. Tel: [60-4] 226-7888, fax: 226-6615, (e-mail: info@hotelroyalpenang.com or www.hotelroyalpenang.com).
E&O Hotel. Tel: [60-4] 222-2000, fax: 261-6333, (e-mail: reservations@eohotels.com or www.eohotels.com).
Evergreen Laurel Hotel Penang. Tel: [60-4] 226-9988, fax: 226-9989, (e-mail: elhpen@evergreen-hotels.com or www.evergreen-hotels.com).
G Hotel. Tel: [60-4] 238-0000, fax: 238-0088, (e-mail: g4u@ghotel.com.my or www.ghotel.com.my).
The Gurney Resort Hotel & Residences. Tel: [60-4] 370-7000, fax: 370-5000, (e-mail: reservation@gurney-hotel.com.my or www.gurney-hotel.com.my).
The Northam. Tel: [60-4] 370-1111, fax: 370-2222, (e-mail: sales@northam-hotel.com.my or swissgarden.com).
Tanjung Bungah area
Copthorne Orchid Hotel Penang. Tel: [60-4] 892-3333, fax: 892-3303, (e-mail: rsvn@copthorne.com.my or www.millenniumhotels.com/copthornepenang/).
Rainbow Paradise Beach Resort (formerly Paradise Sandy Beach Resort). Tel: [60-4] 899-9999, fax: 899-0000, (e-mail: reservation@paradisehotel.com or www.paradisehotel.com).
Tanjung Bungah Beach Hotel. Tel: [60-4] 890-8808, fax: 890-8333, (e-mail: beach@po.jaring.my or www.tanjungbungahbeachhotel.com).
Penang's dedicated spa resort
Jerejak Resort & Spa. Tel: [60-4] 658-7111, fax: 659-7700, (e-mail: reservation@jerejakresort.com or www.jerejakresort.com).