GAMING
Asian casino hotels unplugged
There's something for everyone at these rambunctious gambling hideaways. Pick from hardcore gaming, or family friendly hotels with a slew of MICE facilities as well. How safe are Manila casino hotels?
SEE ALSO Small meetings in Asia | Macau guide | Singapore business hotels | What hotel guests steal | Child friendly resorts | Asian cruises | Asian dives | Asian resort weddings | Trabs-Siberian Railway | Manila casino hotels
JUMP TO Macau casino hotels | Singapore | Australia | South Korea | Cambodia | Philippines | India | Cruises | Saipan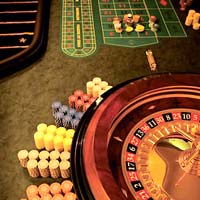 Goa Marriott roulette/ photo: hotel
I'VE NEVER won big at gambling. Actually I've never won small either. I'll pick the loser in a two-horse race, and betting ten dollars is about as painful to me as the cardiac arrest at the roulette table next door. Another Dallas cowboy bites the dust. Or is that a Beijing billionaire? The Orient's pearls have taken a shine to the Wild West. The result? An almighty coin-spewing roar throughout Asia. Word on the blackjack table is that Las Vegas is over.
Asian governments can be surprisingly coy on the subject. China has a tough anti-gaming line. Yet its citizens are the biggest gamblers anywhere, eagerly welcomed from Macau to Vegas. Casinos ring no bells for Japan or Hong Kong, but scratch beneath the surface and there's a pair of hungry tigers' eyes staring back. Moral holdouts in Asia produce one of two things: casinos in sheep's clothing or an all-out gambler diaspora.
In Hong Kong the punters head to the horse races every Wednesday and Saturday. Or they tick off numbers in the weekly Mark Six lottery. Hard core gamblers not being chased by tattooed men with choppers might opt for less taxing blue-rinse cruises on the high seas where one-armed bandits clang merrily all night in unrestricted international waters. In Japan, inoffensive distraction is provided by the mad and inventive Pachinko. The game, a mixture of pinball and slot machines, pays out in cute toys or household goods, not hard cash. Naughtily though, the toys are often exchanged for cash at shops next to the game parlours.
Send us your Feedback / Letter to the Editor
Capitalising on the mainland's thirst for games of chance, Taiwan serves up its outlying Penghu islands. Just across the China border, unfettered Macau teeters with neon promise. It's hard to keep a good chip down. And everyone, it seems, is cashing in.
Singapore casinos have made a remarkable entry with Resorts World up and running by mid-February 2010, and in South Korea, gaming is welcome, but locals will have to entertain their wallets elsewhere. These are foreigner-only establishments. From Vietnam to India, publicly at least, such cultural "pollution" is kept out of the local community at all costs. Governments may be hostile, or discretely permissive, but there's one more thing Asian casino hotels need to get right – feng shui. This is no small beer. And while casinos are no strangers to lawsuits, cases of feng shui blackmail can spiral into mindboggling figures. The angle of a chair or the colour of a towel can become a portent of bad luck and million dollar losing streaks. So if you're swayed by feng shui, book a sea view, make space for dragons, use side entrances and, whatever you do, don't walk under a red lantern…
Macau casino hotels and the Cotai Strip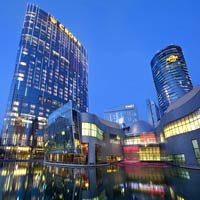 City of Dreams, Macau/ photo: hotels
Our review of the best Asian casino hotels starts in China's tiny territory of Macau, a Special Administrative Region that enjoys extended freedoms, including the ability to host casinos. One of the most densely populated places on the planet, packing around 560,000 people into 29.2sq km, Macau enjoys relatively easy access to Asian cities, directly, or via its neighbour Hong Kong. This is the land of the "whales" (high stake gamblers) where gaming revenue has overtaken Las Vegas and Atlantic City combined. And the juiciest live bait dangling from Macao's line? The 3.1sq km area of reclaimed land known as the Cotai Strip.
The City of Dreams (tel: [853] 8868-6688, www.cityofdreamsmacau.com/), Macau's newest addition to its whirling dervish casino hotels opened to fireworks and fanfare mid-2009. The City of Dreams IR (Integrated Resort) is a composite of three hotels, connected by reams of designer brand shops, restaurants and bars. Here, find Crown Towers, the twin-towered Grand Hyatt Macau and Hard Rock Hotel. A flowing water theme links the hotels that rise up from a humongous casino base. After you've finished gawping at the giant screen and waterfall cascading over it, step inside the whopping 420,000sq ft casino. Over 520 gaming tables and 1,350 gaming machines offer every game you can think of.
Flexing new muscle along the Cotai strip is Studio City Macau (studiocity-macau.com), which mid-2015 brings an immense 500,000sq ft casino and gaming space along with Studio City Hotel (aimed at the luxury market), and Golden Eye (the highest ferris wheel in the world at 130m above the ground). The hotel features two modern blocks - the Celebrity Tower and Star Tower with 800 rooms in each. There is conference and MICE space for up to 6,000 persons, luxury brand shopping at The Boulevard at Studio City, endless dining, and all this in an art deco 'Gotham City' package. Look out for Batman. Everything's possible here.
Part of the same family, at the top of Taipa Island is the impressive but understated Altira Macau (tel: [853] 2886-8888, www.altiramacau.com). This stylish and contemporary 38-storey casino-hotel offers distinct experiences for its guests by creating separate entrances for gamers, residents and diners.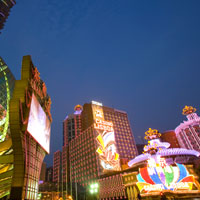 Macau casinos neon glitz
The hustle and bustle from the 200-plus high-end gaming tables is confined to the casino resulting in a serene hotel atmosphere complemented by low lighting, endless vases of vivid red roses and floaty music.
In Macau, slot players win if they line up lucky eights, not sevens, and certainly not fours, which are akin to the Chinese word for death. You'll find craps and poker tables but baccarat dominates. The tea terrace is as important here as any bar, and the tea master can dispense traditional medicinal herbs, keeping gamers in top form. Defibrillators are installed like fire extinguishers at the behest of over-worked local hospitals. Heart attacks will be speedily dealt with. Let nothing stand in the way of a good roll of the dice.
The Venetian Macao-Resort-Hotel (tel: [853] 2882-8888, www.venetianmacao.com) holds the current title for brass and bombast on the Cotai Strip. A concept flown in from Las Vegas, The Venetian Macao has the famous gondola filled canals and, for a taste of Asia, a Chinese sampan or two. The 546,000sq ft gaming floor boasts about 6,000 slot machines and over 700 tables. Four Seasons Hotel Macao, Cotai Strip (tel: [853] 2881-8888, www.fourseasons.com/macau/), a more sedate affair, is connected to the Venetian and the casino by a luxury shopping mall.
Stanley's Ho, Macau's aging gambling magnate, lost his monopoly with the 2002 liberalisation. Ho's original Hotel Lisboa and Casino Lisboa (tel: [853] 2888-3888, www.hotelisboa.com) make Macau's longest-standing perfect pair – perfect for a whiff of old-world nostalgia, albeit with a serious fetish for gold leaf. Built in the 1960s, the three-storey casino complex looks tired and dated in the cold stare of day, but sparkles as enticingly as ever when night comes on.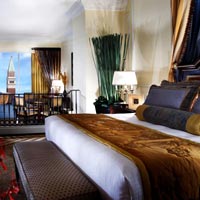 Venetian Macao/ photo: hotel
European roulette, craps, baccarat and the ever-present slots all feature in vast abundance, as does a colourful cast of suited "business women" strolling purposefully around the basement. The casino's cabaret and famous Crazy Paris Show, coupled with a 1,000-room hotel, set the benchmark for high camp and a touch of mischief. Newcomers have hit back with bigger, brighter shows of form, but Lisboa retains its popularity and a jackpot central location.
New sibling Grand Lisboa (tel: [853] 2828-3838, www.grandlisboa.com) is a lotus-flower-shaped monolith of gold reflective glass. This rather impressive piece of structural engineering, gaudy costume jewellery by day, transforms into crown jewels by night. Under a starless night sky the casino resembles a giant psychedelic flashing globe with petals. It offers 300 gaming tables and more slot machines than you can shake a stick at. The hotel has 430 rooms of unrestrained opulence, a spa, Michelin-rated restaurants and conferencing facilities.
Next door, the Wynn Macau (tel: [853] 8986-9966, www.wynnmacau.com), first foreign competitor to Lisboa, has its own tradition. Players head straight to the Louis Vuitton store where a rumour, happily propagated by Wynn, has it that the roomier your handbag, the better your chances to win big. Give it a go and you could walk out in style, your bag bulging with cash winnings. Lose and you can jam it full of miniature shampoos instead. The designer outlet is now the most profitable store, per square foot of retail space, in handbag-mad Asia. Walk on to the 10,000sq ft of gaming tables and one-armed bandits, and gawp up at an 11-metre "Tree of Prosperity" at the centre of the casino's atrium. The 200,000sq ft Wynn casino is laid out in intimate pockets with rich drapery creating a sense of privacy and seclusion. For those who don't like to mix their vices, a non-smoking section is available. With a constantly evolving interior, Wynn's 600 rooms are kept as fresh and lively as its staff.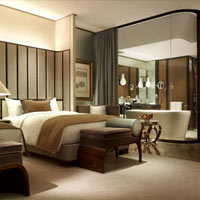 MGM Grand Macau/ photo: hotel
Opposite the Wynn is the lavish MGM GRAND Macau (tel: [853] 8802-1888, www.mgmgrandmacau.com). It cuts a fine figure on the waterfront with its reflective wave design. Filling any gaps in Macau's casino-hungry belly are over 400 table games and more than 900 slot machines. Baccarat remains the game of choice amongst patrons, but you won't be short of choice. In the realm of slots, MGM has a "Robocon" series especially for visitors from Hong Kong, Mainland China and Japan who have grown up with the cartoon figure. The MGM PR machine regularly churns out lucky draw campaigns to win high-end cars and cash prizes.
Close by, the lobby of the 39-storey, 500-room StarWorld Hotel & Casino (tel: [853] 2838-3838, www.starworldmacau.com) is all giant chandeliers, marble, and fluorescent escalators. Along with panoramic views of downtown Macau, the hotel has an infinity pool, gymnasium, and vast conference facilities, while the casino boasts 240 gaming tables and 500 slot machines. The Macau casino hotels list goes on and on, with Venetian's, slightly more restrained sister property Sands Macau (tel: [853] 2888-3388, www.sands.com.mo), Pharaoh's Palace casino attached to Landmark, Macau (tel: [853] 2878-1781, www.landmarkhotel.com.mo), and the Grand Waldo Casino (tel: [853] 2888-6888, www.grandwaldohotel.com), which offers a membership loyalty program, rewarding frequent game-players with discounts for its restaurants, rooms, shops, entertainment venues and spa. No question, some of the best casino hotels in Asia are to be found in Macau. If you want to flash that cash, start here.
Strait-laced Singapore throws the dice
Strait-laced Singapore and free-wheeling Las Vegas make strange bedfellows. Yet the republic presses on with ambitious plans for a new crop of Singapore casino hotels set amidst a staggering array of shopping malls, greens, amusements, and family-friendly hotels. With an entrance fee for local residents and permanent ID-card holders, and no advertising in local media, the new gaming developments are set to be as clean-cut and well managed as the rest of the city.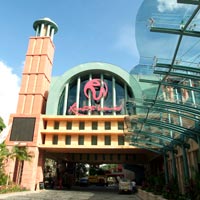 Resorts World Casino/ photo: Ivy Tsang
So far just two casino licenses have been issued: to Las Vegas Sands Inc at the Marina Bay Integrated Resort, and Resorts World at Sentosa. While Marina Bay appears to have ground to a halt, Sentosa's integrated resort, spread over 100,000sq m, will be able to house 52,000 people when in full stride. Resorts World Casino (www.rwsentosa.com) opened in mid-February 2010 with a host of luxury Singapore casino hotels for high rollers. Pick from upscale Hotel Michael, by-invitation Crocksford or the family-friendly Hard Rock Hotel. A Universal Studios theme park is the main attraction here (a big thumbs up for families), and the six hotels offer a total of 1,840 rooms, and of course, a whopping casino whose neon lights have sprung to life.
Marina Bay Sands Hotel, part of Marina Bay Sands integrated resort, will offer three 55-storey towers (by 2010) of approximately 2,600 rooms and suites. The three towers will be connected with a one-hectare roof sky park offering 360-degree views of Singapore's skyline. The casino will be host to Las Vegas-style gaming with the Paiza Club reserved for high rollers. The ever-vigilant PR machine is at pains to project Singapore's squeaky clean family-friendly image. Official figures claim that casinos will take up a mere three percent of the total floor space – but they will certainly wield a disproportionate amount of revenue muscle.
Aussie casino hotels and some Kiwi distractions
In Oz you'll find the mega casino complexes, neon signs and batman light beams, but you'll also spot a keen family-friendly hotel aspect to many gaming resorts where wildlife exhibitions take the place of raunchy cabaret shows. Our Australian casino guide begins right in the middle, at Lasseters Hotel Casino, Alice Springs (tel: [61-8] 8950-7777, www.lassetershotelcasino.com.au). The four-and-a-half star hotel sprawls over the land, posing no challenge to the MacDonnell mountain range peaks that serve as an impressive background. The casino has 15 gaming tables including American roulette, big six, pontoon, casino war and craps. The 300 slots are a mixture of link and standalones with 89 machines reserved for non-smokers. This is true bush-tucker country, a taste of the outback with air-conditioning within easy reach. Rooms are large and simply furnished and the Alice Springs Convention Centre is right next door.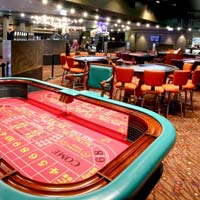 Lasseters casino/ photo: hotel
Darwin, in the north, hosts SKYCITY Darwin (tel: [61-8] 8943-8888, www.skycitydarwin.com.au), a beachside property sat on 18 acres and close to the centre of town. If you can tear yourself away from the pool and tropical gardens there are games to be played at 534 slots and 15 tables. The casino also plays Keno and is the only casino in Australia to use a live draw – keep a beady eye on those balls.
Heading south along the East coast, the Pullman Reef Hotel Casino, Cairns (tel: [61-7] 4030-8888, www.reefcasino.com.au), looms next on the horizon. Topping the casino is the Cairns Wildlife Dome, an all-weather rooftop wildlife exhibit featuring over 100 species of native birds that fly freely around the dome. Reef's casino offers mini baccarat, money wheel, the popular "TouchBet Roulette", over 500 gaming machines, and TAB and Keno. Pullman hotel has 128 good-sized rooms, all with Jacuzzi-style bath and private balcony.
Despite being the largest urban centre in Queensland, Townsville still feels like its namesake, a country town, with a smattering of cosmopolitan cafés and boutique shops. Its casino-hotel offering, Jupiters Townsville Hotel and Casino (tel: [61-7] 4722-2333, www.jupiterstownsville.com.au), boasts a good location between Magnetic Island, the Breakwater Marina and the Strand. Another Australian four star, with an extra half added for good behaviour, the hotel has 194 rooms, all light and spacious, if sparsely furnished. The casino hosts over 320 slots and gaming machines and 20 tables. Traditional table games include the popular Texas hold 'em poker, and for something different, try the latest in virtual gaming technology "Vegas Star Roulette".
Brisbane might not be the most thrilling of cities, but the Conrad Treasury Casino & Hotel (tel: [61-7] 3306-8888, www.conradtreasury.com.au), does its best to liven things up with 80 tables and 1,300 slots. Its location, within a vast heritage building, sets the scene for old world charm and a top-end casino-hotel experience. Veteran Las Vegas-style casino hotel Conrad Jupiters, Gold Coast on Broadbeach Island (tel: [61-7] 5592-8100, conradhotels1.hilton.com/en/) strikes again one hour south. The huge two-armed structure comprises 594 rooms, an expansive column-free convention centre and a 24-hour non-stop casino. Covering 60,000square feet over two levels, with more than 100 tables and a never-ending line of 1,300 gaming machines, the Gold Coast is set up for as much casino as it can handle. This remains a classic among Asian casino hotels.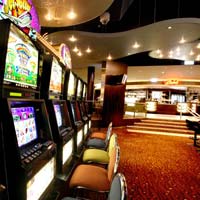 Slot machines, Lasseters/ photo: hotel
Sydney serves up the immense Star City, Sydney Hotel & Casino (tel: [61-2] 9777-9000, www.starcity.com.au). Located on Sydney Harbour, Star City is the only casino in New South Wales, but deserves its ranking as one of the top choices for gaming and accommodation in the city. The casino operates 200 gaming tables, and includes a 480-room hotel, a 2,000-seat theatre, six restaurants and eight bars over a 3.34-hectare complex (about the size of seven football fields), in Darling Harbour precinct.
Crown Casino, Melbourne (tel: [61-3] 9292-6666, www.crowncasino.com.au) is at the centre of a three-hotel complex set on the banks of the Yarra. At the centre of the complex, Crown Casino is the largest gaming facility in the southern hemisphere. The casino's 300 tables include all the home-grown and import games, as well as the latest touch-screen technology for "Rapid Roulette", "Rapid Sic Bo" and "Rapid Big Wheel". Crown Towers, Crown Promenade and Crown Metropol have over 1,600 rooms, with broad ranging prices – Crown Towers is considered the premier property.
Adelaide boasts another SKYCITY casino, SKYCITY Adelaide (tel: [61-8] 8212-2811, www.skycityadelaide.com.au), which does its thing with 1,000 machines, 100 tables and a poker room. This is not a hotel but a pure gaming centre, a lone-wolf casino in the Australian city of churches.
Clinging to the coast of Western Australia, Perth's Burswood Entertainment Complex (tel: [61-8] 9362-7777, www.burswood.com.au) covers a seriously vast amount of space: putting a roof over a casino, 14 restaurants and bars, shops, seven conference halls and two hotels. A dedicated poker room hosts weekly and major tournaments throughout the year. If you don't feel like popping the air-conditioned bubble, bed down in the mid-range, 291-room Holiday Inn Burswood or the lux-option InterContinental Perth Burswood.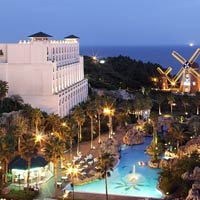 Lotte Jeju hotel/ photo: hotel
Tasmania and New Zealand offer up further choice. Wrest Point Hotel in Hobart. Tasmania, (tel: [61-3] 6225-0112, www.wrestpoint.com.au) is a well respected, waterfront hotel with a boutique casino and two separate areas for gaming machines. Smarter still is Launceston Hotel and Country Club (tel: [61-3] 6225-7092, www.countryclubtasmania.com.au) that houses a casual casino and gaming area. Go back to basics at tell-it-like-it-is SKYCITY Auckland Casino (tel: [64-9] 363-6000, www.skycityauckland.co.nz) with a spread of 1,600 gaming machines and 100 tables over two levels. Choose from two hotels, SKYCITY Hotel and SKYCITY Grand Hotel.
Casino hotels in South Korea
Walk unannounced into Paradise Walker-Hill Casino Seoul (tel: [82-2] 450-4805, www.paradisecasino.co.kr/Eng/) and you'll be greeted by a group of tough-nuts with penetrating stares. No, they're not the secret police. This security detail ensures entrants are genuine foreigners. It is foreigners-only at Paradise Walker-Hill, and all Korean casinos for that matter. (Gangwon Land Casino, in Gangwon province, is the only casino in Korea that can accept both Koreans and foreigners). Paradise Casino is open 24 hours, with 89 reel slots, 87 mystery jackpot machines and tables playing American roulette, baccarat, blackjack, Caribbean stud poker and tai sai. All tables have a W10,000 minimum bet. Adjoining hotels Sheraton Grande Walkerhill and W Seoul Walkerhill provide practicalities of food and shelter. W does it with flair in 252 hi-tech and hi-hip rooms, while the 589-room Sheraton Grande has a more sedate bent.
7Luck Casinos (www.7luck.com) has a full house of Korean-style gaming at three downtown locations: 7Luck Casino Seoul Gangnam, 7Luck Casino at Millennium Hilton Casino and 7Luck Casino Busan Lotte, Lotte Hotel.
Golden Gate Casino (formerly Paradise Casino Incheon, (tel: [82-32] 745-8800, www.goldengateparadise.com) was the first casino open to foreigners in 1968. Now spruced up with a sleek modern interior, it sits next door to Hyatt Regency Incheon, just two minutes from Incheon International Airport.
High in the Sorak Mountain National Park of Sokch'o City on South Korea's west coast, the Sorak Park Casino is a touch of classic Monte Carlo within the five-star, 121-room Hotel Sorak Park (tel: [83-3] 636-7711, www.hotelsorakpark.co.kr/english/). The casino is well equipped with table games and slots. Rooms have mountain views, balcony, separate bath, safe, TV and a natural spring water supply.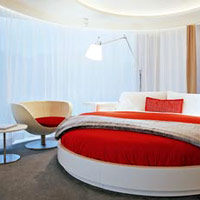 W Hotel, Seoul/ photo: hotel
Outlying Jeju Island (also known as Cheju, off the south coast of Korea) is one of many outpost islands in Asia picked especially for use by the gambling tourist community. The idea? Keep the super-casinos and their rowdy clients out of sight, funnelling cash back to the mainland. The reality? Struggling hotels and dwindling casinos, plagued by the small, but crucial inconvenience of a 90-minute flight. Gambling or no, Jeju is a delightful destination, offering dramatic verdant landscapes and heaps of history.
There are three top choices on Jeju, none of whom tout their casino as the main draw for guests. First up is Lotte Hotel Jeju (tel: [82-64] 731-1000, www.lottehoteljeju.com) and the sixth floor Lotte Casino. One of the largest at 2,574sq metres, Lotte Casino offers European and Chinese-style games and slots, although baccarat clearly dominates with 34 tables to roulette's three. Those who enjoy a good weep at Korean TV soaps might recognise the scenery – the casino is the background setting to the Korean TV series "All-In".
Next up, 429-room The Shilla Jeju (tel: [82-64] 735-5114, www.shilla.net/en/jeju/) is an excellent Jeju hotel (with prices to match), set in a white colonial-style property with views of Mt Halla from light-tone, shuttered rooms with fireplaces. The casino is European-style with a smattering of tables and slots open 24 hours. Hyatt Regency Jeju (tel: [82-64] 733-1234, jeju.regency.hyatt.com), part of the Jungman Resort Complex on Jungman (or Chungman) beach, has 224 rooms, 50 minutes from the airport. The casino offers blackjack, roulette and baccarat and a few slots.
There are other mid-range casino hotels and gaming options on the island including the extravagantly named T.H.E Hotel & Vegas Casino, Crowne Plaza Hotel and Casino Jeju.
Cambodia cashes in on chips
Cambodian casinos have benefited greatly from peripatetic gamblers and as such fall neatly into two categories: city or border-town. The first casinos opened in 1994 and have charged forth to multiply in Phnom Penh, Bavet, Poipet and the coastal resort town of Sihanoukville. A recent ban on slot machines in entertainment clubs will see many of them moved to hotels, where they remain legal.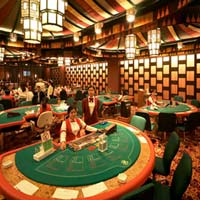 NagaWorld Hotel, Phnom Penh/ photo: hotel
Phnom Penh's biggest casino hotel is the cavernous NagaWorld (tel: [855-23] 215-831, www.nagaworld.com. The casino wing houses 352 machines in a Khmer-themed public hall. The 14-storey hotel wing continues entertaining with 20 karaoke parlours, 23 spa treatment rooms, five restaurants and a large ballroom, plus 508 guestrooms. At tables expect all the big games with minimum bets as low as US$2. For more casinos in Phnom Penh (minus room facilities) look up Golden Tower Slot Club in Nehru Boulevard for roulette, baccarat and sports betting. Other electronic gaming machines clubs include the Tin Tin Slot Club, Comfort Slot Club, Macau Club, Koreana Club, Pacific Club and Elysees Club. That's a lot of slots.
A two-hour drive north of Phnom Penh is Kampong Thom on the banks of the river. Here the 108-room Grand Dragon Casino and Resort (tel: [855-23] 430-481, e-mail: hr@granddragon.net) in Chrey Thom Village offers 55 gaming machines and 48 table games including blackjack, baccarat, roulette and tai sai.
Between Aranyaprathet, Thailand, and Banteay Meanchey, Cambodia, the small border town Poipet trails a fairly rotten reputation. Flush with tacky casinos, Poipet is frequently largely by day-tripper Thais. Claims of cheating are rife. If intent on sampling Poipet's grizzly gambling wares, your best bet is perhaps the Holiday Palace Resort (tel: [66-8] 1984-1935, www.holidaypalace.com), where 1,000 baht will get you a simply furnished room and bathroom with separate tub.
Similar to Poipet, Bavet located on the Moc Bai border with Vietnam, has developed as a casino town catering for Vietnamese day-trippers. Vietnam is developing its own legal clubs and casinos but for many these remain less accessible.
Seaside Sihanoukville falls into the "city" category, developing through international tourism, rather than a bordering feeder destination. Holiday Palace Resort & Casino (tel: [855-34] 933-808), across from Victory Beach is Sihanoukville (and Cambodia's) longest running casino. It features ten table games, 40 slot machines and a 141-room hotel. Fortuna Casino (formerly the Golden Palace Casino, tel: [855-34] 933-581, e-mail: info@fortunahotelcasino.com) on Golden Lions Circle has renovated rooms and its large casino is in line with a whole town upgrade. On the top of Victory Hill, New Peak Hotel and Casino (tel: [855-34] 320-301) offers slots, baccarat and roulette. Rooms have views over the town and the Gulf of Thailand. Kampong Som City Casino & Hotel (tel: 855-34 933-736, e-mail: info.kpscity@gmail.com) is the newest and biggest offering. Book rooms for around US$20-$35 a night in the casino resorts, but cheap US$2 guesthouses all the way up to US$500 beach villas are also available.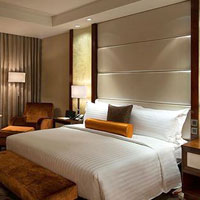 Solaire Deluxe/ photo: hotel
Serious betting types may want to experience one not-so-legal pastime before they leave Cambodia – betting on rain. Particularly popular in the 1960s, groups of elderly men can still be found placing bets on what time it will rain and how much rain will fall. If you're lucky you'll win enough for an umbrella.
Philippines – Manila, Cebu
Another option is the Resorts World Manila (Tel: [63-2] 836-6333), an integrated entertainment and gaming complex, which was briefly shutters-down on casino operations and rooms after the 2 June 2017 incident when a lone gunman stormed the Resorts World casino in Manila, setting it on fire. He was "not a terrorist" said officials. The gunman, carrying an assault rifle, decamped with chips worth US$2.3m before being shot by by security guards. Calls were raised for heightened Manila casino hotels safety and security was tightened in the city and elsewhere.
Rooms, the casino, and shopping and entertainment reopened after a brief closure. Hosting the Marriott Hotel Manila, Maxims Tower and Remington Hotel, there's plenty to do for everyone. Kids might stop by the Game Zoo, a two-storey complex with 54 games and activities including a 4D rollercoaster and a mini bowling alley. Adults can enjoy traditional table games like baccarat, poker and roulette, and but might also try their hand at Pai Gow Tiles and Sic Bo, an ancient Chinese version of Big or Small. Resorts World Manila is also the location of the exclusive members-only Genting Club.
Right across Ninoy Aquino International Airport on Andrews Avenue facing Terminal 3 and right in the casino scrum is the gleaming new business-and-leisure Sheraton Manila Hotel (www.marriott.com/sheraton-manila-hotel/) with 393 rooms including some lofts and some deluxe rooms with private gardens. Newer faces here include Hilton Manila (www3.hilton.com/hilton-manila) that arrived in 2018 and Hotel Okura Manila (late 2019, www.hotelokuramanila.com/).
Security - with sniffer dogs and metal detectors - is tight at the vast, smooth gold caramel custard Okada Manila (www.okadamanila.com/) which opened mid 2017 and is setting the tone for Manila casino hotels and gaming with a slew of food and beverage outlets, a humungous casino decked out in signature plum, luxe rooms, a club, and acres of designer brand shopping. The casino launched in December 2016 and its tucked-together purple drapes soar to the ceiling above vast chandeliers under which high rollers spin, ponder, and shell out. There is a bustling vibe to the place. The spacious rooms (there are 993 Suites and Villas in the first phase) offer cool cream marble floors with lush pink, plum carpets, gold-hued bedspreads and cushions, comfy living areas, deep seating sofas, open views and tall satin drapes.
The Solaire Resort & Casino (March 2013, www.solaireresort.com) is a high end and very successful gaming establishment located on the coast of Manila Bay on Solaire Boulevard with its iconic Sky Tower. Security is tight and this Manila casino hotel is regarded as a safe option for guests - largely families and conference-goers - and gamers. The hotel hosts 500 rooms, suites and villas, as well as a whopping 15 restaurants and a Grand Ballroom that can accommodate up to 1,000 guests for a sit-down dinner.
The resort's suites – ranging from 600sq m to 1,000sq m – are outfitted with Jacuzzis, flat-screen TVs, hi-tech controls, and bay views. The jewel in the crown? An 18,500sq m casino with 1,200 slot machines and 6,000sq m of VIP gaming salons. The new SkyTower adds rooms and views and restaurant options.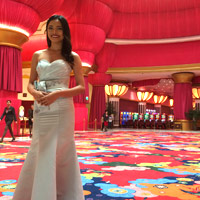 Okada Casino/ photo: Vijay Verghese
Also along the Bay are the signature twin-towers of Entertainment City. Splash out at Hyatt City of Dreams, Manila (January 2015, cityofdreamsmanila.hyatt.com). Occupying two stylish towers a few kilometres from the airport, the Hyatt serves up 365 rooms, a fitness centre and pool along with easy access to nightclubs, and DreamPlay, a family entertainment venue - a first from Dreamworks.
City of Dreams provides a 6.2 hectare international retail and gaming mini-Las Vegas offering with an upscale Crown Towers (March 2015, www.crowntowers-manila.com). Crown Towers is very much a corporate retreat as well as a high roller den but can effortlessly double up as a leisure escape (baby-sitting requires 'prior appointment'). Now you know. Casinos and shopping are all close at hand.
At COD Manila there's the additional allure of the Nobu Hotel (www.nobuhotelmanila.com) from no less a personage than film celebrity Robert de Niro. The 321-room Nobu offers boutique accents in a hip setting. A 36sq m Nobu Deluxe offers 36sq m of stretch space with panoramic views and Japanese accents in interior design with a contemporary twist.
Pagcor Entertainment manages casinos in a few Manila hotels. Pagcor Heritage at the Heritage Hotel Manila (tel: [63-2] 854-8751, www.pagcor.ph/heritage/) on Roxas Boulevard, has 401 slot machines and 57 gaming tables. Step it up a notch in one of three themed VIP gaming rooms. You'll find 14 tables at the Sofitel Philippine Plaza Manila, all with minimum bets of 500 pesos. The Pagcor casino at The Manila Pavilion Hotel & Casino (tel: [63-2] 523-8691, www.pagcor.ph/pavilion/ or waterfronthotels.com.ph) is well regarded and spread over two floors of the hotel and cranking up the fun with extra games like Pula at Puti and Bingo. Stay over for around US$70 a night.
Historical capital city of the Philippines, now a prime beach and diving resort hub, Cebu has two casinos, both by Waterfront hotels. Waterfront Airport Hotel and Casino Mactan (tel: [63-32] 340-4888, www.waterfronthotels.com.ph) is a stone's throw from Mactan Airport and 15 minutes from the beach and its Casino Filipino offers international favourites. Better yet, head to Waterfront Cebu City Hotel and Casino (tel: [63-32] 232-6888, www.waterfronthotels.com.ph), to go wild in its 41,000sq m "historic Cebu" themed casino. Play runs 24 hours and includes three kinds of baccarat, blackjack, super 6, pontoon, stud poker, craps, red/white and many more.
You can also expect chips and action in Davao, Bacolod, Pasay and Tagaytay.
Indian high rollers and Nepal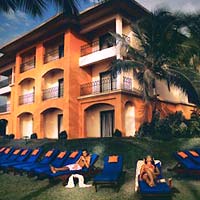 Goa Marriott has a casino/ photo: hotel
Goa is where it's at for Indian casino hotels. The original party state is transforming itself into a gaming star amidst no small amount of controversy. Goa's combination of good beaches and five-star hotels, have encouraged a few casinos to muscle in alongside the breakfast buffets and kiddie pools. No Las Vegas just as yet, these small casinos are tolerated as part of Goa's tourist dependent economy. Gaming machines and slots are favoured throughout Goa's casinos, as are more lighthearted versions of reel and poker – there's too much sun and fun going on outside for anything more than a casual flutter. But if you do want to splash your cash, take yourself offshore and onto a floating casino.
The plush, award-winning The Leela Kempinski Goa (tel: [91-832] 287-1234, www.theleela.com) is in southern Mobor, 47km from the international airport. At 75 acres it is one of the bigger resorts in Goa and includes a spoiling Club area with 15 private villas. The two-room Las Vegas Casino is comprised almost entirely of electronic gaming, including two semi-electronic roulette wheels. If the arm bending slot machines aren't exercise enough, head to the 10-hole, par-3 golf course. You'll be pampered here – for a price.
The five-star Holiday Inn (tel: [91-832] 287-1303-13, www.holidayinngoa.com) nestles beside The Leela, but caters to a more cost-conscious clientele. It has 187 rooms, many of which overlook the sea, a small casino of mainly slots, and a disco.
More cost-conscious still, is the Majorda Beach Resort (tel: [91-832] 668-1111, www.majordabeachresort.com), in the more crowded area of Varca. Its sprawl includes 120 rooms and 10 cottages over 20 roomy acres. Check out its mini Treasures Casino, more famed for its food hall than its hard-core gaming. Step up the price scale again at beachfront The Zuri Varca, Goa White Sands Resort and Casino (formerly The Radisson, tel: [91-832] 272-7226, www.thezurihotels.com) where you'll find a more sedate, high-end set, design-centric accommodation, a spa, six restaurants and casino.
Moving along the coast to Miramar Beach you'll find the three-floor Goa Marriott Resort (tel: [91-832] 287-1303-13, www.marriott.com), which enjoys an infinity pool, 155 rooms, 10 suites and a casino, which like most of the Goan casinos mentioned, is outsourced to a British company.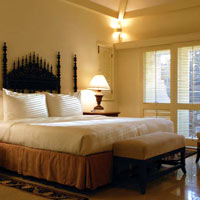 Leela Kempinski Goa/ photo: hotel
Wave goodbye to the beaches, it's time for serious gamblers to set sail and get their clothes wet. Caravela, named after the first Portuguese ship that came to Goa in the 16th century, is India's first offshore casino – so popular that ten more offshore casino licenses have been dealt out to ships crowding the lazy Mandovi River. The 215ft Caravela cruise ship sails thrice daily: 10.30am to 4.30pm, 5.30pm to 9.30pm and 10pm to 6am. The open deck is the perfect spot to be photographed, the wind in your hair, the sun turning your face cherry red…on second thoughts, head below deck where you can safely play American roulette, blackjack, rummy, stud poker, baccarat, pontoon and flash, well away from the Indian summer heat.
Illegal in India, not so Nepal, it is not uncommon to find casinos of varying sizes deep within the belly of a Kathmandu or Pokhara hotel. There are big peaks to climb and small fortunes to lose. The minimum stakes are low enough for novices, and dollars, Indian and Nepalese rupees, traveller's cheques and credit cards are accepted. Expect to pay around US$150 for a standard room in the top-drawer hotels. Here are some of the best Nepal casino hotels on offer.
The five-star Radisson Hotel Kathmandu (tel: [977-1] 441-1818, www.radisson.com) is in Lazimpat, neighbouring the Royal Palace. On the other side of the Royal Palace is Hotel Yak & Yeti (tel: [977-1] 424-8999, www.yakandyeti.com), a huge property, steeped in history, on Durbar Marg. There are no yaks, nor yetis, but there are two wings – one is more than a century old. It was once the third palace of a prime minister of Nepal. Along with 270 rooms there's a poolside bar and, for partying, a nightclub and Casino Royale. Little ones don't lose out either with a dedicated kid's corner. This is a family friendly Kathmandu hotel. Also on Durbar Marg is the four-star Hotel de l'Annapurna (tel: [977-1] 422-1711, www.annapurna-hotel.com), which has a ground floor for beginners, and a second floor for high rollers and tournaments.
Everest Hotel (tel: [977-1] 478-0100, www.everesthotel.com.np) lies east of the city centre and, because of its close proximity to the airport, it is a popular hotel for offloaded passengers. Players get free breakfast, lunch and dinner buffets and the higher you roll the better the benefits with room discounts and other goodies.
Casino cruises to nowhere hit the jackpot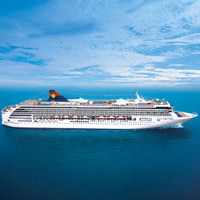 Starcruises/ photo: Starcruises
Casino cruises to "nowhere" are slinking surely and steadily into the gaming scene, sailing past official raised eyebrows with all the ease and grace of an elephant stepping into Victoria's Secret's flimsiest. A short chug into international waters and the rules are out. If you think being locked onboard a floating casino is scary, there is plenty more to distract aboard the 50,000tonne beasts. Single, three or five-day packages offer all inclusive entertainment, buffet food, swimming and a huge range of family activities, with gambling available to adult cruisers. Starcruises (tel: [852] 2317-7711, www.starcruises.com), the largest provider of local cruises in Asia, has a fleet of five star-sign inspired ships sailing into the ports of Hong Kong, Singapore, Taiwan, Phuket, Penang, and Port Klang (near Kuala Lumpur). Check out the Superstar Aquarius if in Hong Kong or the Superstar Virgo in Singapore.
If in doubt the Internet has countless gambling websites ready whenever you are – unless you're in China. Watch the storm clouds in Cambodia. And there's still time to catch that cruise liner.
Head to the Pacific, Saipan
Should you wish to venture farther east into the Pacific, there's always Saipan island where the popular Kanoa Resort Saipan (www.kanoaresort.com about US$180 a night with free WiFi and breakfast) and other casino hotels turn on their twinkling lights for high rollers. Kanoa faces the sea and offers breezy balconies. The former Grand Mariana - now the Imperial Pacific Resort Hotel Saipan (www.imperialpacific.com) - is a faux Spanish colonial confection with 180,000sq ft of gaming space including 350 slot machines and 250 tables. There's nothing musty about its marble-lined corridors and top notch facilities. The hotel reopened in stages over late 2017, backed by Hong Kong developers importing a bit of Macau to the Pacific. The Imperial is a 14-storey 340-room luxury holiday resort in the Garapan area close to DFS duty-free shopping and the American Memorial Park on the west coast of the island.
Best Sunshine Live (www.facebook.com) is another Garapan casino - temporarily filling in for the muscle developments in the area. Put the Northern Mariana Islands on your casino holiday map, especially if you are flying in from Seoul, or Shanghai, both around a four-and-a-half hour flight. Hong Kong budget airline HK Express connects the city to Saipan as well as does Philippine Airlines from Manila. And for quality digs without the casino carnage, there's the handy Hyatt Regency Saipan.
And that's the long and short of Asian casino hotels and resorts, from sea to sky. Coy or cash-rich, there's a place for you and your bulging LV bag.
Send us your Feedback / Letter to the Editor