BUSINESS TRAVEL
Non-stop Hong Kong bed factory has rooms for all tastes
A detailed Hong Kong business hotels review and some brash boutiques. The Fullerton arrives to coddle families at Ocean Park, the Regent returns and Madera Hollywood brightens up SOHO in eye-popping pinks, yellows and blues.
with reporting by staff reporters
SEE ALSO Hong Kong fun guide | Hong Kong shopping | HK Yuen Long coffee, cafes | Top Asian hotel reviews | Small meetings in Asia | Beijing business hotels | Chengdu fun guide | Guangzhou business hotels | Shanghai business hotels | Shenzhen guide | Singapore business hotels | Macau guide | Tokyo guide | China coast guide | Songdo, Incheon business hotels review | Covid-19 responses | Behind the scenes - Staycations
JUMP TO Hong Kong Island Central | Admiralty | Mid-Levels, SOHO, Sheung Wan | Wanchai boutique hotels, budget inns | Causeway Bay, East, South | Kowloon, TST | Mongkok | Airport Hotels, New Territories | Hotel Contacts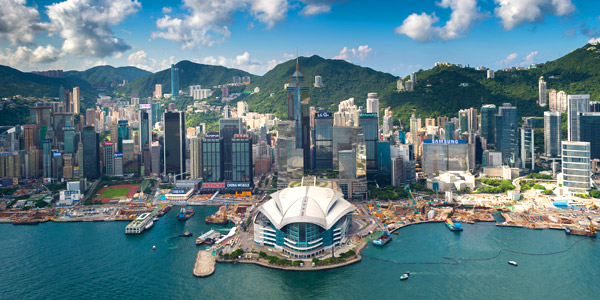 THE changing face of Hong Kong's shoreline must have Mother Nature in a tizzy. It has relentlessly pressed outwards from Queens Road, to Harbour Road, and still the derricks and earth movers scurry about doing their unfinished work, heaving girders and freshly excavated dirt this way and that as battle-hardened pedestrians consider ever more inventive ways to navigate whatever obstacles 'progress' throws up.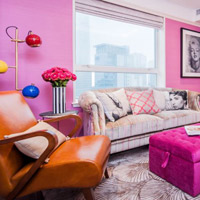 Hotel Madera Hollywood out-Barbies Barbie / photo: hotel
Just thinking about bagging a room deal in Hong Kong as thundering jackhammers relentlessly force gleaming spires proudly skywards, borders on blasphemy. Yet, new MTR lines are making travel ever quicker if that could be humanly possible.
After all, this is one of the global financial centres and a regional powerhouse, no matter McDonald's staff still serve you with that time-honoured greeting, "Mepchu" (roughly translated as "May I help you"). But times are changing and by 2018 the China tide had slowed, making room deals easier to pick, especially if there was no mega-MICE conference in town. Then came Covid. In 2023 the city stirred anew but with small steps. Prices are rising again. The Airport Express one way ticket is HK$115 (up from $100) and HK$205 return, while the taxi flagfall is HK$27.
This is not the rough-and-tumble territory of the sixties where young lads lured by the thrill of reckless adventure sought out dosshouses and inns manned by golden hearted Suzie Wongs. This is a steel-and-glass metropolis where harried bankers hurry and salaried suits scurry, and hardened Wanchai bars beckon with their feral promise of a peek and rip-off. The city never sleeps. And blazing neon lends a permanent glow to the sky, the first thing people notice as their cruise ship nears. Green clouds. Late night Hong Kong shopping haven Causeway Bay is lit brighter than the Sahara at midday and de rigueur shades are not just fashionable, they are life-savers.
We have explored the best beds this city has to offer in our detailed Hong Kong business hotels review, district by district. While hotels and decor change constantly, these thumbnails of downtown corporate havens, trendy boutique hotels, and budget beds in suburbia will offer you some fast brand comparisons and benchmarks to narrow your list before you head off, wallet in hand, shopping for discounts and deals.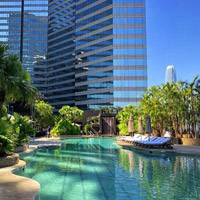 The Grand Hyatt is back with a spruced up lobby, meetings rooms and more / photo: Vijay Verghese
There, we said it. Deals. Shop around for rooms during the low season (in summer) or shoulder seasons around the high traffic and high-rate April-May and October-November periods when business travel peaks along with trade conferences and MICE events. Hotels also offer daily best available rates or BAR in trade parlance. Booking in advance, 14 days or earlier can have its advantages.
And the aforementioned MICE (meetings, incentives, conferences, and exhibitions) refers not to rodents but the teeming throngs of conference-goers destined for a three-day Power Point binge. Deals – shopping this time – also abound during the city's phenomenal seasonal sales as multitudes of visitors from the Mainland and scrambling tourists snap up bargains by the armload. Ten iPhones? No problem. Infant milk formula? Well, there's a limit on that... Combine business travel with those shopping sales and you could be laughing all the way to the bank.

E-mail Page

Print

Hotel Contacts
Business hotels review, HK Island, Central
Central district is a world of glittering high rises, each straining to outdo the other on design, bawdy trimmings, decorative lights, and lasers that rake the skies nightly at 8pm during the light show. There are some stunning buildings like the cleanly soaring IFC, the mirrored chocolate layer Exchange Square, the sky-piercing jagged diamond pattern China Bank, and the Meccano set Hong Kong Bank, all arrayed around the stately, colonnaded former Legislative Council building. Streets teem with brisk-stepping people accoutred in the latest fashions as ongoing reclamation work ensures the harbour promenade is ever receding, leaving ever more space for brisk-stepping people, trundling trams, and sweaty shoppers. Queen's Road (Central and East) demarcated the original northern shoreline in the 1840s. This is where you'll spot the HSBC bank headquarters with its signature bronze lions. Central is where some of the top-rated Hong Kong hostelries are to be found, the crème de la crème of Asia, with prices cranked up assiduously for every sliver of harbour view that can be delivered to your room.
Send us your Feedback / Letter to the Editor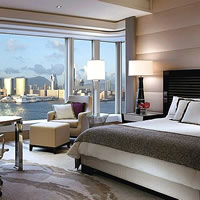 Four Seasons Hong Kong/ photo: hotel
The reclamation is good news for at least one hotel that towers above it. The 399-room Four Seasons Hotel Hong Kong and 519-unit Four Seasons Place strut out in front of all their competitors, contentedly gobbling up the views. As room numbers suggest, it's a giant property – big rooms, massive multiple lobbies, high-ceilinged restaurants, an extensive spa… you get the picture. It makes you wonder whether a hotel can get a little too big. The lobbies almost feel like an extension of the posh IFC shopping mall next door. Still, this proximity to the mall is another useful magnet for work-and-play visitors. The Four Seasons Hotel is a highly regarded among top drawer Hong Kong hotels with a raft of excellent facilities, fine dining, attractive, hi-tech rooms (both short and long stay), a plush spa, and two stunning swimming pools. Wired and wireless Internet access is available in all rooms for a fee – for guests in suite rooms, WiFi is free.

In contrast, grande dame the Mandarin Oriental, Hong Kong, sits back along the original waterfront not far from the younger Four Seasons. The consternation was palpable when renovation plans were announced – its ancient regulars shaking their silver-topped canes in dismay. The hotel bravely closed in 2005 and re-emerged in 2006, a remastered classic with many familiar trimmings as patrons raced to The Chinnery and The Captain's Bar - with its silver plated beer tankards - to resume their familiar tipples at these iconic Hong Kong watering holes. Sanity was restored. With the 21st century quietly in evidence - from business frills to technology butlers - and a garnish of Asia to always serve up a sense of place, the hotel chose to stay with a 'warmer' approach, retaining the Mandarin Barber, where the brisk snip of forelocks has been honed over generations and the mosaic tiled floor and coloured glass panels create some splendid old Shanghai nostalgia.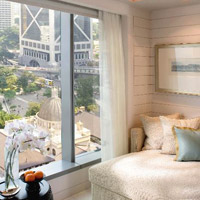 Mandarin Oriental Statue Square View Room/ photo: hotel
An Hermes leather chair hoicked all the way from Paris is on hand for a lazy afternoon's shoe shine. There's no better example of confidently measured pace in the heart of the city's borderline hysterical banking district. The lobby serves up deep sofas inviting a sit-down to gaze at intricate wood carvings set against black marble walls. The "couture" cake shop, one floor up, is rapidly turning into an art institution.
The first thing you'll notice about a 40sq m Harbour Room, is the light and the muted pastel colours. Walk up to the generous windows through the extended verandah (the old balcony, now enclosed), to spot a pair of binoculars, a playful touch to gaze across the harbour or linger on the profile of another Hong Kong stalwart, The Peninsula, to see what their guests are up to. Separated by a curtain, the verandah is an alcove for both work or reading on a small divan. The desk has a data port with two three-pin multi-plug sockets, a flat-screen TV faces the invitingly plump bed, and a laptop-friendly safe in the wardrobe has a power socket as well as a velvet-lined jewellery box. The valet box ensures laundry and shoe shine is accomplished with minimum fuss. The bright marbled see-through bathroom may feature a tub, and a twin-head power shower, with exclusive Hermes toiletries. Study Rooms on the other hand are far simpler and plainer in their set-up. At 72sq m the specialty suites provide greater stretch room. Pick the classic wood panelled 80sq m Oriental Suite, or opt for the modernist black-and-white Lichfield Suite. There are some rooms in the hotel with windows that can be opened – a rare luxury.
The spa has an old-China feel, an indoor lap pool, and an array of treatments and Chinese herbal remedies. On occasion, a visiting wellness therapist, nutritionist, or even face reader, may be on hand to offer advice. Fine dining options include Man Wah with impressive views, and the intimate Pierre, which serves experimental, Michelin-star French cuisine. This is among the finer Hong Kong business hotels on show in a highly competitive city. A must-see. And concierges going back over 30 years with the hotel will link you up with some of the best the city has to offer.
(The Mandarin Oriental, Hong Kong features in our exclusive by-invitation Top Asian Hotels Collection, featuring the best Asian hotels, resorts and spas in a printable A4 page with stunning visuals.)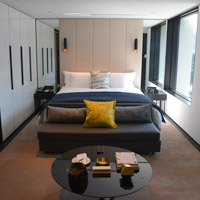 The Grand Room at The Murray Hong Kong, is an elegant pick/ photo: Vijay Verghese
Just up Cotton Tree Drive is an unusual new and quiet retreat. The handiwork of Ron Phillips - of the Architectural Services Department - who launched this resolutely 'green' building in 1969 - and, later, Foster + Partners who eased it forward into the realm of contemporary luxury, The Murray Hong Kong, a Niccolo Hotel (opened 15 January 2018, www.niccolohotels.com/the_murray), is a benchmark offering from Wharf Hotels that also runs the long established Marco Polo group. The Niccolo brand launched with the Niccolo Chengdu in 2014 and plans to build a new high end marque to take on the top dogs.
Set apart from the steel and reflective glass properties housing some of the world's top financial muscle, this is an understated construct identified at once by its unassuming laundered white arches, straight lines, and symmetrical square windows, all angled in a bit to allow a triangular fin overhang that provides cover from blazing summer sunshine and takes pressure off the interior cooling systems. It was a design ahead of its times and it still works splendidly, ensuring that while the hotel is hugely welcoming of light, no direct sunlight really falls within for any length of time. If you need a tan, head outdoors. There's plenty of manicured green space.
Stepping into the work of celebrated architect Lord Norman Foster - or in this case, his company - is reason enough for a must-see, and business travellers as well as leisure trippers will enjoy the proximity to Central and Pacific Place as well as the Peak Tram Station. Cars come in through Cotton Tree Drive (St Johns side) and circle around a remarkably preserved 100-year-old tree to drop guests at a starkly minimal black marble lobby with tall windows running its length framed in gold, before departing from the HK Park side. Views throughout are aplenty, skimming the skyline none too vertiginously, from 25 floors - a separate lift runs up to the rooftop Popinjays restaurant with its wraparound balcony that presents an extraordinary perspective on Hong Kong, especially as the neon comes on. This will be a space for entertaining, a stylish snuggle, or a camera with all the megapixels you can muster for the selfie of a lifetime. Popinjays gets into its stride January 2019 when the wraparound terrace gets the nod but by mid-April 2018 it was servicing inhouse guests for breakfast (excellent eggs Benedict with a view starting at HK$190 with juicy Canadian ham and going up to HK$400 for lashings of Boston lobster).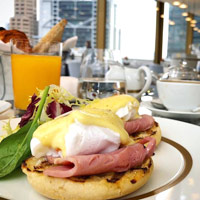 Eggs Benedict at The Murray / photo: Vijay Verghese
Nibble on soft burrata, chomp guiltily on a giant chocolate cookie, slice and dice assorted cold cuts, and savour choice breads with real butter that you can sink a knife into (not the tiny foil-sealed airline cattle-class variety). A spa on Level 3 with two treatment rooms for couples (think private steam and saunas) and three single rooms, is paired with a bright fitness centre. Much of this and the pool will hit full stride by mid-2019.
The 336 rooms range from 50sq m to an elephant-swinging 75sq m in the suites. Expect a light textured palette with pale wood, white-and-black offsets, pastel grey leather chairs and divans, Smart TVs for media hijinks and Bluetooth connections from phones, and free WiFi. The decor is comfy, homey, and intentionally sparse. A 75sq m Signature Suite sets the pace with stained-black wood doors opening into a cubist chapel of white walls, high ceilings, and smart black trim around windows with a study desk set in a small alcove. Expect a dataport with two three-pin sockets (one a multiplug) and USB connections.
The black-wood herringbone floor is covered by a soft tan carpet in the bedroom. If you're in the mood, the humungous 78-inch flatscreen TV will hold you in thrall as you flop on a comfy grey sofa bookended by slender standing lamps with gold shades. The bedroom serves up an invitingly plump white bed - with a pert green throw - facing another none-too-niggardly 65-inch flat screen wall-mounted telly. Take your pick.
The bathrooms will entertain you for hours should you wish with generous slatherings of Carrara marble (or more accurately large veined Calacatta), twin vanities set before a big and well-lit triptych mirror adorned with Grown Alchemist toiletries from Melbourne, a standalone soaking tub with bronze knobs and a 'waterfall' inlet, glass bedroom partition with an instant-opaque switch, and a rear-up Japanese-style TOTO potty that will burnish your derriere to unknown levels of perfection at the required temperature. Also expect a laptop-friendly safe, Nespresso coffee, three-pin and multi-plug electric outlets and USB ports in pullout bedside drawers and even on a sofa side. It's all rather spoiling. And, everywhere, are the views - the greens of the Botanical Gardens and the wonderful foliage of the Hong Kong Park Aviary.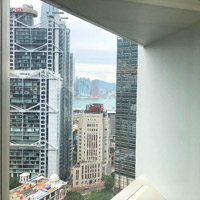 The Murray Suite shower room faces HSBC/ photo: Vijay Verghese
An entry level Deluxe weighs in at 45sq m (with similar amenities), while a Grand Room is a smidgen bigger at 50sq m with a navy blue throw on the bed and a gold cushion setting of the pastel sofa. The Grand will be a room of choice for many with a simple layout and just the right dimensions for work or play. If you have an elephant to swing by the tail, The Murray Suite will get the job done in 250sq m of angled stretch space with a generous living room (with pantry), a spacious bedroom and a vast toilet flooded with natural light offering a sculpted grey-stone bathtub and a cheeky shower cubicle facing HSBC. Any banking issues? Well...
The 25th floor houses the 425sq m Niccolo Room that accommodates 250-300 theatre-style in a long space that can be subdivided into eight units with LED ceiling panels that will set the mood or give you a peek at your very own designer sky. There are video walls at either end of the room but no windows, so focus on the meets. Other function spaces include the semi-open The Arches, The Murray Boardrooms, and Cotton Tree Terrace.
The Murray represents a stunning transformation from staid government office block - where Hong Kong Chief Executive Carrie Lam once toiled - to a virginal white, quietly reticent monument to a slice of the territory's history, with some of the coolest beds and views in town. Staff is intuitive and attentive. Expect brisk service on rails. As Director of Sales and Marketing Maxine Howe puts it, the address is "experiential with unique engagement to create memories." Well there's a lot of those, starting with 1969.
Down the road, The Landmark Mandarin Oriental Hong Kong is aimed at the sort of hip crowd that appreciates a Harvey Nichols next door and the MTR train line right underneath. Though boutique in expression, with an intimate book-lined lounge and one bar, it houses one of Hong Kong's larger spas and has a small indoor pool. Rooms are very spacious and serene. They edge towards a minimalist tone – well, except for the three plasma TVs per room, the large round soaking tubs, 400-thread-count sheets waiting to glide over your body, and wellness touches such as a nutrition-packed minibar and yoga mats in every room.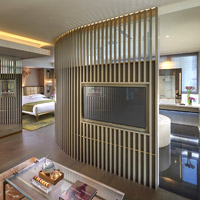 Landmark Mandarin Oriental L600 Deluxe/ photo: hotel
The two-floor 25,000sq ft Oriental Spa and Wellness Centre will take care of the foot-weary and pummel and cajole limbs into executive ecstasy with an amethyst crystal steam room, Turkish hamams, and yoga and pilates classes. Mark this in your "Best Hong Kong spa hotels" diary. It will not disappoint. Here's why. Think Ivo Pitanguy (the Brazilian plastic surgery whiz), whose treatments like the the 90-minute Dermo Lift that smooths wrinkles and tones the skin, will have you communing with your inner teen in no time at all. Or pick the Time Reversal treatment from the Somme Institute with a cold stone facial and massage.
All rooms emerged after a major makeover by Hong Kong designer Joyce Wang with a grey pastel pallete with pale wood accents and televisions running up to 55 inches of eye-popping viewing space.
The expansive 56sq m L600 showcases its signature curved birdcage bathroom partition that will have metrosexuals and the touchie-feelie crowd purring in no time. This is a contemporary easy-on-the-eye space for men, women, and suits racing for a corporate chinwag. The spacious L900 suite serves up a stark-white bathroom with round bathtub and dual sinks.
No business centre, but guests can borrow laptops and fax machines free of charge anytime to work in the comfort of their own rooms.
Dine sumptuously at the chic Amber and, later, take home a set of artistic Tao postcards by JD Chou whose signature ink strokes have been immortalised for Landmark guests. Or, more mischievously, pack the beautiful ceramic chocolate box that comes with the turn-down service each evening. No worries - the inscription at the bottom reads, "honestly acquired" from the Landmark Mandarin Oriental Hong Kong. There are two intimate meeting rooms at the Landmark, each managing about 50 persons for a reception and 36 each theatre-style.
Above the neon mayhem of Lan Kwai Fong, the popular 95-room Hotel LKF remained humming until 1 July, 2017 when owners Rhombus closed shutters to make way for an office tower. The place cut a smooth impression design-wise, with a lobby full of the hip and well heeled with the pricey but pretty split-level bar and restaurant Azure up top pulling in the crowds. R.I.P.
Admiralty business and meetings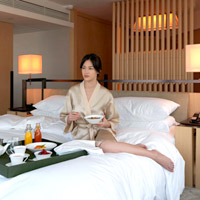 Upper House, grab a bite in bed/ photo: hotel
Above Admiralty's Pacific Place mall is a full-fledged high-end hotel foursome. It is a competitive bunch. The Island Shangri-La boasted the largest rooms in Hong Kong until the Four Seasons arrived, and now the new kid on the block, Upper House, has stretched the envelope further. The JW Marriott claims the largest selection of wines by the glass and the Conrad, you should know, has one of the largest ballrooms on the island, sans pillars. However in terms of views, access and location the three are much of a muchness: all very good.
Opened October 2009, all-suite hotel, The Upper House, is a modern incarnation of a small luxury hotel, stripping the room of clutter and even ceiling lights to make the point that simplicity is stylish. Step into Studio 70, the lowest category suite, a whopping 68sq m in "lavender and bamboo", by pressing your keycard to the wall, much like the Hong Kong Octopus proximity card. If you hadn't already guessed, technology is important – an iPod touch replaces all desk paper and provides a directory, room service and something to play with when bored. WiFi is free, as are soft drinks and beer in the minibar/wine-fridge. There's a laptop safe, 42-inch LCD TV, Illy coffee machine and three tubs of candies to munch with your beer.
A master panel controls the lights, but has the benefit of second generation hotel technology – it faces the bed and simplifies the choice to Night Light, Dim Down, Dim Up and Master Off. A small bedroom might get you wondering whether that was 68sq ft, until you slide the wall back – exactly half of the floor space has been dedicated to the bathroom. A smart move. This area incorporates a well-lit multi-plug-point dressing area, large wardrobe (with fluffy robes and a yoga mat), twin vanities, take-home travel kit, a large open rainshower and a square bathtub. The bathroom TV hides behind a full length mirror, and shines through when turned on.
More flamboyant in a classical manner, the
Island Shangri-La, Hong Kong
is an elegant empress dowager of sorts, packed with soaring paintings, giant gilded mirrors, deep carpeting, chandeliers, and red-tunicked staff who rush to do your bidding before you can say Louis Vuitton or TUMI. The open-air pool terrace is an old fashioned city-view treat; as is the informal alfresco corner outside the Lobster Bar at the lobby level. The crisp service and marble finish belie the hotel's imperceptibly advancing years.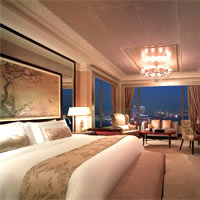 Island Shangri-La Presidential Suite/ photo: hotel
The standard 41sq m Peak-view rooms are popular with returnees. Those in the know will opt for a Horizon Club option, which is a deluxe with extra trimmings. Think oversized furniture in gold hues, Edwardian chairs with velvet covers, large cushions with silk tassels, solid wooden work desk and a commodious vertical safe that will comfortably house a laptop, large camera and a VERY SPECIAL rock for your significant other. WiFi is complimentary in-room as well as in public areas, and a dataport by the leather-covered desk offers three types of electric sockets along with an adapter plug. Enjoy a huge flat-screen TV, a DVD player, a BOSE iPod dock and speakers, iron and ironing board, a combi fax/scanner/copier/printer. The bedroom carpeting gives way to white marble in the bathroom with its Crispy Mint toiletries, bathtub with rainshower and a bidet for the fastidious.
The Horizon Club lounge is on the 56th floor next to Petrus, the French ensemble for gastronomes. Views are grand as is the furniture, again, classical deep seating with lots of bottom - and elbow - room for business travellers or giddy shoppers. Breakfasts happen here (or in Petrus) along with the usual seamless flow of cocktails and nibbles at various times. For more space, opt for an 88sq m Harbour View Suite that is more a residence than a hotel room. Walk in through a small marble foyer into a Living Room with an L-shape sofa set facing the window and a Chinese chest, all set on a soft tan carpet with swirling floral patterns. The bedroom is spacious with an oversize king bed, plumped to perfection with a silk runner and petite maroon boudoir cushions, set against a faded tropical wall painting. There's a small guest toilet at the entrance and the master bathroom offers BVLGARI toiletries, twin vanities modestly squeezed into a narrow space for him and her, a soaking tub, and a separate power-shower cubicle.
This Shangri-La offers a wide range of excellent restaurants and bars including the classical top-floor Petrus with fabulous views over Victoria Harbour. Laze at the remodelled poolside with a tall drink in hand. Internal direct access to the adjoining Pacific Place Mall is an added draw for those with shopping on their minds and, on the way down, stop by the deli for some orgasmic almond-and-chocolate "frou frou". This Shangri-La is a firm favourite with road warriors and ranks among the top Hong Kong business hotels.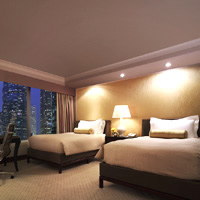 Conrad superior room/ photo: hotel
A comprehensive renovation has left the 512-room Conrad Hong Kong with an elegant residential feel, and it's much more inviting than most business environs. Strong Asian accents set the decor in browns and burnished gold, offset by elegant arrangements of fuchsia orchids. Mountain-view rooms offer green vistas and the highest harbour-facing rooms rise above the neighbours for unobstructed panoramas. Even the city-view rooms get a glimpse of the harbour and lots of greenery. The sunny rooms come with flat-screen TVs, DVD players and personal espresso machines. Bathrooms are large with deep bathtubs, separate showers and two washbasins. Expect a pillow menu for extra special slumber. Pick your level of fluff.
Executive floor guests (57F to 61F) have access to a business lounge with lovely views, as well as a separate check-in, butler service and a complimentary garment pressing. WiFi is available to all guests for HK$120 per day. The fine dining Nicholini's has won the lofty Insegna del Romano more than once in the past, branding it the best Italian restaurant outside of Italy, no less. With its decent fitness centre, outdoor pool (with the occasional sheesha for an after-hours unwind), efficient business centre and six versatile restaurants, the Conrad is a good Hong Kong business hotel. Try a curry in a hurry or relax awhile at the lobby lunch buffet.
The JW Marriott Hotel Hong Kong is a brisk business hotel, all glass and brass. It greets its largely executive guests with a vast lobby lounge, stocked to the hilt with 40 or so teas and offering bright, leafy views over the harbour. This centrepiece acquired a more upscale feel mid-2010 with a major makeover. Expect a more elegant and contemporary look in the 608 new-look rooms (late September 2018) with understated yet functional luxury that is easy on the eye and geared to equally serve leisure or business travellers. Think powder blue easy chairs and divans, ergonomic working chairs, thick carpets, plump whiye beds and the usual dollops of natural light. The Executive Lounge returns too with a fresh face, gleaming wooden floors and heaps of nibbles at a central kitchen counter.
Business amenities vary according to room type, but the JW Premium rooms feature large flatscreen TVs, Bose stereo systems, plug and play connectivity to iPods as well as other road warrior toys. Expect wired and Wireless Internet connection (charged), IP phones, and larger electronic safes that can house a laptop. Bathrooms are tidy and compact yet manage to offer a small bathtub as well as a shower cubicle. Fastidious travellers will be pleased to find an iron and ironing board stowed away in the cupboard.
The décor is warm, minimalist, and welcoming. Large cabinets and bulky items have been dispensed with altogether. The work desk is now glass, adjoining a dataport and two three-pin square electric sockets.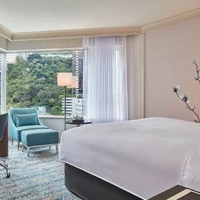 JW Marriott new look room September 2018/ photo: hotel
JW has upped the emphasis on personalised service too – a regular guest may arrive to the strains of his favourite music playing in the room. Business facilities are varied – there are several meeting rooms, a ballroom, public areas offer free WiFi access and the business centre has private work stations complete with coloured pencils and gummy bears.
Mid-2010 saw the arrival of a futuristic Telepresence Studio (Hong Kong's first) in association with Cisco and AT&T for virtual face-to-face meetings. Simply hook up with a similar JW studio across the Pacific and cancel those plane tickets. This is a comfortable way for up to six persons (on each side) to have a decent cost-saving chinwag. There are a number of fine dining options but, up by the poolside, the Fish Bar offers a rustic escape from the city. It also offers sustainable seafood on its menu, which is just one of JW Marriott's eco-friendly initiatives. After hours head to the intimate Riedel Room@Q88 for top line Champagne served in Riedel crystal glasses. This is a hotel that seeks to hear the "voice of the customer" so do offer your responses to this "new" JW, and not only after a swish tipple or two.
Mid-Levels longstays, SOHO, Sheung Wan
Perched above Central in the Mid-Levels district (about five to ten minutes on the escalator from SoHo), Bishop Lei International House comes highly recommended for the light of wallet. The Catholic diocese-run hotel is popular with long-stay visitors. You wouldn't want to spend too much time in the standard rooms here – space is tight. High-floor rooms are affordable, well maintained and clean. Free WiFi is yours throughout.
The fact that you also get a small terrace café, gym, a reading room and a nice outdoor pool makes this a gem. For a Hong Kong budget hotel, look no further.
For those seeking the comforts of home, the Oakwood Apartments Mid Levels East Hong Kong could have what you need. With 28 floors, each hosting just one apartment, Oakwood is centrally located on Kennedy Road and is a short walk, albeit uphill, from the Admiralty MTR station via Pacific Place mall or from Wanchai through Hopewell Centre (the 17th floor opens on to Kennedy Road). The cleverly-designed apartments feature loads of storage space, in-room LCD TVs, DVD players, stereo systems, Wi-Fi, washer/dryers and a fully equipped open-plan kitchen.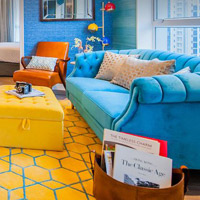 Hotel Madera Hollywood / photo: hotel
Large windows offer expansive hill views. This is an intimate Hong Kong longstay hotel (more a serviced apartment really as it does not have a daily-rate license). It lacks a pool, restaurant, and gym, but makes up for this with cosy touches, good design, a welcoming attitude and a quiet, green location. There is daily housekeeping, an Internet Corner, morning coffee at reception, and 24-hour security.
Lan Kwai Fong Hotel (not to be confused with Hotel LKF) is about a ten-minute walk west of Lan Kwai Fong, reasonably handy to Central and close to SoHo and the Sheung Wan MTR station. It is surrounded by older buildings; the area has more of a community feel as opposed to the bright lights of Central.
Lan Kwai Fong Hotel bills itself as a Hong Kong boutique hotel and there is no grand entrance, though two bowls of turtles will greet you at the door. Its 158 compact rooms are oriental in style and feature flatscreen TVs, Broadband Internet access, bathrobe and slippers, minibar, desk and portable phone. The five suites are roomy, have nice harbour views, balconies and traditional Chinese furniture and art. The quaint Breeze café, which offers a buffet breakfast, has an outdoor terrace hemmed in by bamboo plants. A free bus goes back and forth from the hotel to the Airport Express station.
Hotel Madera Hollywood (maderagroup.com/hollywood/en) is a bright new addition to Central Hong Kong, in the sparky SOHO district not far from the escalator. This smart property serves up 39 one-bedroom suites in eye-popping shades of blue, yellow and even Barbie pink (well before the movie burst onto our screens). Accompanied by Marilyn Monroe and Frank Sinatra on the walls, enjoy 55-inch TVs, roomy bathrooms, a fridge, washing machine, hairdryer, kichenette, safety box and coffee machine. This is very much a home away from home, ideal for Hong Kong long-stays smack in town or for a leisure honeymooner canoodle. The Hollywood Lounge dishes out coffee and wine and there are abundant options for nibbles all around the neighbourhood.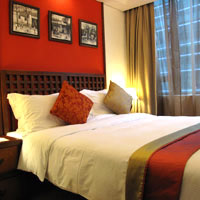 Butterfly on Wellington/ photo: Verghese
Five minutes further west on antique-shop-filled Hollywood Road is Butterfly on Hollywood (formerly Lan Kwai Fong Hotel's sister property, Central Park Hotel). The 136 rooms are white, bright and compact with small flatscreen TVs, internet, and tiny bathrooms. The six suites are double the size of a standard room and include a kitchenette, complimentary internet access, a separate living room, and 21-inch flatscreen TVs. Suite guests can enjoy free rental of the hotel's small meeting room.
The third in the original Butterfly Trilogy (after Morrison and Prat) is the Butterfly on Wellington, another somewhat boutique-style offering, with minimal fuss and lots of bang for the buck. Unlike the Morrison property in Wanchai, the Wellington hotel offers ample room to swing your shopping bags. This is a no-frills hotel with an understated sense of style. At the far end of Central on a busy one-way street in an area famed for street stalls and cheap nosh, the Butterfly on Wellington is a modern construct with the reception on the first floor and electronic card keys to access room floors. There is no café but there is morning coffee in the reception area and two iMacs waiting to plug into Cyberia.
The 80 rooms include Deluxe and Executive formats. The Deluxe is artfully compact without seeming so. You can actually walk around the bed without bruising your knees. Expect lots of woody tones, bright crimson head walls with small black-and-white paintings more for décor than any artistic value, a flatscreen TV, DVD player, an efficient washroom, a notebook-size safe, hairdryer, iPod dock and digital clock. The simple Chinese-style wardrobe has a slide-out brass key and sliding partitions reveal or enclose the bathing area. The Executive rooms are genuinely spacious with reclining sofas, long work desks, Nespresso machines, bigger toilets and lots of wardrobe space. A useful value hotel but not very close to an MTR station.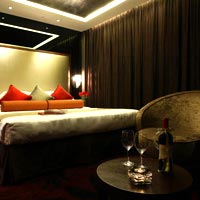 Sohotel Hong Kong
Island Pacific Hotel Hong Kong, in Sheung Wan is not a bad three-star option, with compact rooms in a quiet yet relatively accessible area, and good views. One serviced apartment newcomer in the general area is The Putman, a ten-minute walk from Central and a quick stroll from the MTR, the pet project of French designer Andree Putman. Also explore Le Rivage, sitting just a few blocks away on the Sheung Wan harbour front. Comprised of 50 sleek apartments, each 1,000sq ft unit offers complimentary WiFi, full kitchen, separate bath and shower, and bedrooms with 42-inch HDTVs, sound system, iPod dock and safes. Complimentary morning shuttles to Central, fully equipped gym, sundeck and business centre are just some of the services you can expect along with harbour views from higher floors. The Jervois at 88 Jervois Street serves up rustic-chic grey stressed wood walls and pastel tones set off by pale-wood floors supporting plump beds on leather frames with bright crimson runners and goose down pillows. Expect black trim, flat screen tellies, and white, all set in very well defined space.
At 139 Bonham Strand in Sheung Wan, an invigorating stroll from the MTR but closer to tram lines and buses is the 37-room Sohotel. This is a neat and clean establishment with two Internet-connected terminals in the small lobby for guests to use. There is in-room access as well. The location is just off the beaten track but rooms, starting at 160sq ft (suites will touch 350sq ft) are comfortable, mod and bright with whimsical splashes of colour, and prices are good.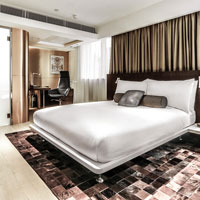 Ovolo 2 Arbuthnot Road/ photo: hotel
Just when you thought everything was bland, boring and blah, along comes a breath of fresh air in the form of Ovolo. The group has been around for a while running quality service apartments for Hong Kong longstays. It has extended its particular mix of thoughtful design, practicality, and informal personality to hotels. Transforming its first building from a serviced apartment to a hotel with head-to-toe renovations, the group opened its flagship Ovolo 2 Arbuthnot Road (Ovolo 2AR) in October 2012. A metallic elevator whisks you up to the lobby, where you'll find eager, smiling staff and a beckoning Lo Lounge. The laid-back lounge is equipped with comfy camel-coloured leather couches and free refreshments. The complimentary happy hour, do-it-yourself laundry room, and fully equipped gym are nice touches, too.
Each of the 42 rooms is identical, stretching a solid 500sq ft. There's no suite or penthouse, simply stylish, consistent accommodation cleverly equipped with everything you could possibly need. The first thing you'll notice upon entering is the patchwork cowhide rug. Its mix of brown tones and touch-me texture tie the room together. From the quirky icons on the light switches to the free mini bottles of "party starter" premium liquor to the bottle-cap pillow cases, the hotel injects its gregarious personality into every detail. Did we mention the mini bar (stocked with Stella Artois beer, water, soft drinks and Acai berry juice) is free too?
The rooms are equipped with the latest in ergonomic chairs, a high-back grey leather number reminiscent of Star Trek, large walnut desks with international adapters, copper wall panelling, Nespresso machines, bathrooms of onyx and limestone marble, a rain showers and hand showers, Apple TVs, and free WiFi. Breakfast is also included at the adjacent Cafe O. This is an attractive boutique option in the heart of Hong Kong's popular shopping, dining and entertainment district.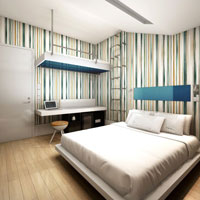 Ovolo Aberdeen/ photo: hotel
Also in a decent location and offering comparable freebies, Ovolo 286 Queen's Road Central opened June 2012 in a tucked away corner of Sheung Wan (a stone's throw from Central and a short walk from the MTR station). What is immediately apparent about this address is its reclusive understatement that belies the flair and fun within. Step in through an unassuming apartment entrance and take a lift up to the second-floor lobby. Staff is attentive, cheerily brisk, and disarmingly informal. Complimentary continental breakfasts are served in the Lo Lounge with its wooden high table, tan leather sofas and full-stretch armchairs. The space is small but cosy and welcoming. In-room expect free WiFi and the brand's whimsical "loot bag" for all guests packed with munchies, chocolates and fast nibbles. Also free are the minibar (stocked with Thai Singha beer, soft drinks and water), the laundry room, and a compact, well-equipped gym. You do need to pay for your room though.
Rooms run from around 140sq ft to 190sq ft with a surprising amount of wiggle room created by inspired design touches. Expect pebble flooring underfoot, compact bathrooms with small high-pressure rain showers, flat top-loading notebook safes with internal power socket, several plug points and adapters for every imaginable gadget, and a nifty pull-down coat-hanger rack that folds back up and away to create more space. Queen beds are plump and inviting, set on raised plinths with bottom lighting.
Reading pipe lights can be focused anywhere on the bed to pore over small print or discover naughty hidden moles on your weekend partner. A minor niggle for some might be the under-lit bathroom, where having a shave may require a bit more caution and care than usual. A ring-light vanity mirror will help with make-up for ladies. All in, a friendly place with the price point hitting the business travel sweet spot somewhere between HK$1,000 and HK$1,500. Shopping is not far away either. Also consider their property in West Kowloon and the renovated hotel in Aberdeen (100 Shek Pai Wan Road, Hong Kong South) that returns 1 August, 2013 with the signature playful yet mod Ovolo design accents, striped walls, pale wood floors, a soothing slather of white and super WiFi connectivity (including a free city-wide hot-spot service).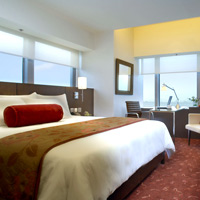 Courtyard Hong Kong
Courtyard by Marriott Hong Kong opened in this area in early 2008. The Courtyard brand offers "moderately priced" lodgings aimed squarely at the business traveller with a focus on the room and work functionality rather than grand lobbies and ballrooms. Courtyard by Marriott Hong Kong, in Sai Ying Pun has spacious, smart rooms with superb sea views from almost 70 percent of its bedrooms. Guests can expect wired and wireless Internet access, a rainforest shower in the bathroom, an oversized work desk, and a safe that will house a laptop.
Executive suites have a separate living area, although the space for bedroom and bathroom is open plan, so don't plan on sharing this style of room with a business colleague. There is a restaurant, a small snack bar in the lobby, a business centre, and a well-equipped fitness centre. Transport into Central and Wanchai is easy with the hotel's regular shuttle service.
Almost opposite Courtyard is Best Western Plus Hotel Hong Kong (formerly Ramada Hong Kong Hotel), a basic three-star option catering for large tour groups from the mainland. Sitting on busy Des Voeux Road where trams trundle by all day long, The place offers 307 rooms with a minibar, TV, Broadband Internet, hair-drier, desk, and small bathrooms. There are two restaurants, one bar and a small gym. A complimentary shuttle bus runs to IFC mall via Sheung Wan MTR station and the Macau ferry pier.
First opened in March 2008 on Queen's Road West, veering dauntingly off the normal business circuit but not far from Hong Kong University, the small-scale boutique-style Hotel Jen was soon rebranded as the Traders Hotel, Hong Kong. It returned as the Hotel Jen Hong Kong in October 2014. The hotel offers 280 rooms and suites with free WiFi in the lobby and complimentary hook-up Internet access in all rooms. There are some advantages to being a bit away from the Central thrum. The small first-floor lobby has reception counters, a lobby bar and two computer stations. Smiling staff will escort you up to a Standard room or, if mod-cons are your thing, a delightfully bright and airy room with flat-screen LCD TV, DVD player, and an iPod or MP3 dock. Expect startling laundry-white interiors and plenty of blonde wood.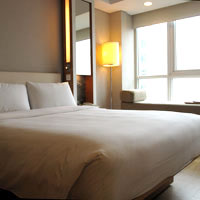 Hotel Jen room/ photo: Verghese
The fairly compact 250sq ft of space is artfully utilised. At the very entrance is a sink and a large well-lit wall mirror with a plugged in hairdryer. This is not as awkward as it sounds. The modular bathing areas are on the other side of the entrance. This leaves more living space inside the bedroom itself with light wood underfoot. Open views lead out through the windows, many high floor units offering some harbour view. There is a long work desk, an array of wall plug-points thoughtfully including a crow's feet socket, an iron and ironing board, and a large easy-to-spot wall-mounted clock facing the bed. The safe is not large enough for a bulky laptop alas but will hold your camera and video with aplomb.
One of the nicest features is the full length divan stretching across the entire window with cushions for a lazy lie-down or a reading session.
Suites on the higher floors serve up bolder views. Here again, the bed sits within a functional wraparound area with the toilets, washbasins and bathtub all somehow arranged around the bed, separated by blonde-wood partitions. Everywhere there is LIGHT. Interestingly, the bed looks onto the open-plan bathtub, which in turn looks out over the city through tall windows. Unlike in the Club Rooms, the in-room safe here is laptop size. Expect L'Occitane toiletries, a small kitchenette with microwave, fridge, cooking range and cutlery, and two 500ml bottles of mineral water. The 28th floor hosts the Trader's Lounge, which serves Club breakfasts and later in the evening turns into a cocktail bar for all guests. Steps from here lead up to the rooftop pool and a small gym. The hotel's function room can manage up to 50 persons.
The grey area between hotel and long-stay serviced apartments is becoming increasingly competitive. High quality contenders such as the Shama brand, Four Seasons Place and Ovolo offer a variety of choice.
Wanchai boutique hotels, luxe stays
There are two sides to the sprawling Wanchai district – the fun side with its neon, miniskirts, bars, hole-in-the-wall restaurants and bathroom fittings shops; and the less fun side, by the Hong Kong Convention Centre (or Wanchai North for those in the know).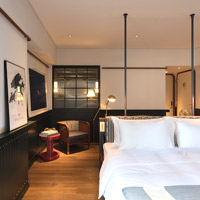 The Fleming re-launched with a new look 22 Oct 2017/ photo: hotel
The Fleming, a small and intimate 66-room Hong Kong boutique hotel known for its insouciant style and cheerful decor is set a little away from Wanchai's naughtier neon hubbub. It shut down mid 2016 for a complete overhaul and reopened with a new look 22 October, 2017, that will make eyes pop and purses fly open for a 30sq m 'Large' room (there's small, medium and extra large too). Targeted at business travellers - with an eye on conventioneers - the hotel offers a unique nautical design theme based on Hong Kong's iconic Star Ferry complete with elegant dark green wall borders and brass rivets.
The reborn hotel features large Hollywood lights at the entrance like a retro movie billboard and chic seafood restaurant - Osteria Marzia - at street level. This is a great move as the former 'Cube' eatery was a devilishly small space, for some reason totally obscured from public view. The reception-cum-lounge has been rearranged and shifted one floor up and accessed through a private and intriguingly dark 'gentleman's club' corridor leading to a tiny set of lifts and switched-on attentive greeters who will whisk you up for check-in. The cosy reception looks down over the restaurant.
A 'Large' room with wooden floors and a navy blue striped carpet under the beds is like stepping back in time on a cruise liner. Brass knobs and dimmers control brass lamps, a brass basin awaits in a compact herringbone marble-floor bathroom next to a brass rain shower. All that brass is brutal on maintenance, but glorious for travellers. Overstuffed beds sit next to old Hong Kong photographs - Sixties snapshots - facing a wall mounted pull out swivel flat-screen TV. The mini-bar stocks a record 42 items with Coke priced at HK$40 and a Peroni beer at HK$60. USB hubs are aplenty on either side of the bed but, mysteriously, three-pin plug sockets are a rarity and hard to find, whimsically placed (by the floor near the window, near the entrance, none free by the narrow table, and none within reach bedside).
The brass lamps are grand but make poor reading lights. Minor quibbles in a room that will transport all comers to a new Hong Kong state of mind. Think curved door borders, curvy companions, curved everything, black French doors leading to the bathroom, slim boudoir-red lifts, and lobby level washrooms with the flooring entirely made up of 50 cent coins (2,400 of them). Look but don't steal. The inroom designer pen is devilishly smart and has been nicked by many. The extra large umbrellas and large top-loading laptop-friendly safes are sensible touches in a room at once a home for an executive on the move, or a weekend leisure tripper. The Fleming is a top Hong Kong boutique hotels choice, more intimate than Mira Moon, and a tad closer to the MTR, transport options, and the convention centre.
Enjoying the harbour-views from Wanchai North, the Renaissance and the Grand Hyatt are conjoined at the waist, sharing a lovely outdoor pool which, on the Hyatt side, connects to the indulgent spa complex Plateau, and on the Renaissance side, to a large leafy private plaza with jogging trails, two tennis courts and a small putting range.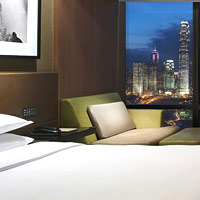 Grand Hyatt new look/ photo: hotel
Both hotels share the facilities and fine views. And sandwiched between the two is the Hong Kong Convention and Exhibition Centre. Along with a soaring signature black-marble lobby and popular restaurants, the 553-room Grand Hyatt Hong Kong offers Broadband (wired and Wireless) for busy fingers in all guestrooms and meeting rooms. Internet comes at HK$160 for 24 hours but is complimentary on club floors. Inroom expect welcome upgrades including 42-inch flat-screen or larger TVs offering white-knuckle clarity for your next movie night. Butlers are on call for suite guests while sweeping harbour views are on tap at several rooms in all categories.
The Plateau is the Grand Hyatt's 80,000sq ft "oasis" with a range of revitalising spa treatments, fitness facilities and a stunning alfresco poolside restaurant. Savour glass-walled bathrooms, extra-large infinity tubs and futon beds in this one-of-a-kind residential spa. Also opened early 2010 on the eleventh floor Plateau and pool level is the 35-seater Waterfall Bar with a seamless supply of premium Champagnes and Cuban cigars. No slouch when it comes to food and beverage options the hotel serves up a slew of fine dining venues from Grissini for Italian, Kaetsu for intimate Japanese, and The Grill up by the pool.
One of the Grand Hyatt's main advantages, in terms of location, is the proximity to the Hong Kong Convention and Exhibition Centre where many of the trade fairs are held. Wanchai Ferry is not too far away though the MTR is a small hike. The Grand Hyatt makes a good choice as a Hong Kong business hotel and a conference venue, with excellent F&B and service. For the musically inclined, the new-look Music Room (replacing the rockingly mischievous JJ's) offers a chic bar-cum-music-lounge. This is a venue in growing demand for chic events.
The Renaissance Hong Kong Harbour View Hotel is a slightly more affordable yet popular alternative. It favours white marble with large glass frontage in its large and very busy lobby, and has extensive function facilities, good harbour views and decent rooms that completed an upgrade in September 2011. In October 2016 the hotel unveiled a new lobby lounge concept called Mirage with an Island Bar serving bespoke cocktails and tapas - a venue for all occasions. In all this makes the lobby more upbeat and inviting.
An earlier renovation in 2008 lifted the decor for some rooms with a pastel scheme and lots of light-coloured wood. Find built-in USB and media jacks for connecting laptops to the flatscreen LCD TV, glass desks, and frosted glass panels separating bedroom and bathroom.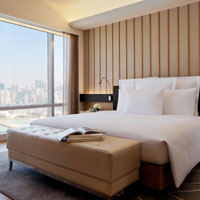 New Renaissance Deluxe Suite/ photo: hotel
One three-pin square plug is available by the desk. In-room Internet access is HK$120 per day. And the remodelled Club Lounge (November 2013) on the 41st floor offers private check-in and check-out services for executive guests staying on Club floors from levels 38 to 42. Expect 37-inch LCD television, iPod dock, Nespresso machine, and rain shower. In the living room find an even larger 42-inch flat-screen TV.
Rooms from the 2011 revamp are more contemporary with an airy, open-floor plan. Pale wood abounds and has replaced the carpeting for a homier feel underfoot. Clutter has been eliminated in this minimalist grey space save for an unadorned plump white bed. The bathroom is now separated from the main room with adjustable blinds (in fact you walk in to the room through the dressing/bathing area) and features a rain shower cubicle.
As in the other floors, there is no bathtub, just a businesslike shower for conference-goers in a hurry. The older room's larger work table has been shrunk to a small round table that is still fun to work on but the data port is a tad removed on the sideboard. Expect an iron and ironing board and a notebook-friendly safe.
Not far from here is a cheaper option, The Harbourview Hong Kong (formerly YMCA's Harbour View International House), which has 320 rooms with flatscreen TVs, Wireless Broadband, minibar, private bathrooms, and, unsurprisingly, harbour views. There is also a house doctor on call.
Scattered along Hennessy Road and Lockhart Road on the other side of Wanchai are a variety of mid-size three and four-star hotels, all very popular with mainland Chinese visitors. Staff here tend to be better versed in Mandarin than English.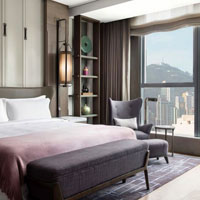 St Regis Grand Deluxe, bright views/ photo: hotel
Lending further appeal for mainlanders is a well-worn coach route from the Wanchai Star Ferry that zips passengers across the border to Shenzhen in about 45 minutes.
Housed in an intriguing medium-rise building with reflective blue glass windows framed by white angular overhangs and just a hop from the exhibition area, The St Regis Hong Kong (11 April, 2019, www.marriott.com/st-regis-hong) brings boutique luxury to Wanchai, upping the ante in the luxe bed bun fight and offering fresh choice for business travellers, meeting-bound suits, and leisure trippers. With just 129 keys and butlers always within earshot, this is an address where service is personalised and attentive.
Rooms - from 538 to 2,583sq ft - are in a well-lit residential style featuring lightwood floors and pale grey tones. Fret not there is Frette linen to reassure your back in 50sq m Grand Deluxe rooms, oak tables for your work, and the occasional Peak and Harbour view. Despite its diminutive scale and plush trimmings the hotel is no slouch on corporate meetings and events with 12,000sq ft of versatile space for up to 500 persons.
One option for business travellers as well as leisure trippers is the smartly renovated and rebranded 196-room Gloucester Luk Kwok Hong Kong hotel (which was the setting for The World of Suzie Wong in its original colonial incarnation and currently offers an excellent Cantonese restaurant).
The first generation Deluxe rooms are elegant with warm decor and silk bed runners creating a distinctly homely feel. Large windows offer views of either the bright lights of the city or the distant mountain peaks making the rooms feel light, breezy and spacious. New look Deluxe Plus rooms featuring a darker more sober corporate design scheme were in place by September 2017 on the 21st and 20th floors.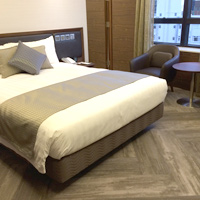 Gloucester Luk Kwok Deluxe Plus room/ photo: Vijay Verghese
The "designer" rooms feature darker lift lobbies with a geometric grey-and-white patterned carpet set in squares with dark metallic walls. The dark wood doors lead into a foyer with a faux-wood parquet herringbone floor (that extends into the compact but bright white marble bathroom with its rain shower cubicle - no tub). Find a laptop friendly safe, iron and ironing board, long dark wood working table beneath a large flat screen LCD TV and plenty of three-pin electric sockets as well as USB ports. There are two plug sockets and two ports at the desk and the same array bedside (twin or large double).
The single beds are an extra large size and will work well for corporate travellers and conference goers. A dark leather headboard and wood panels complete the minimalist mix. The herringbone theme carries into the bedroom with a carpet that seamlessly merges with the foyer floor. Premium Plus rooms serve up much the same with wood-panel walls and the added lure of a small bathtub with a power shower.
With the accommodation floors running from level 19 to 29, the views dramatically improve with the height. By the 24th floor you may be able to lie back in bed and look onto the evening lights and the hills without being overlooked. In-room facilities include large LCD TV, three phones, complimentary WiFi and plug-in Internet, a small in-room safe and coffee and tea facilities. A nice plus is the spacious black-wood work desk with three electric sockets. Expect brisk service, a fitness centre for end-of-day workouts, a 200 capacity function room and a business centre. The hotel is well located for MTR access, general transport, shops and offices and is a quick hop across the road from the Convention Centre.
Around the corner, the 358-room Wharney Guangdong Hotel Hong Kong is clean and compact with mid-range facilities and easy access. The Wharney's Canny Man provides a pleasant subterranean refuge for the whiskey drinker, and has a good international beer selection.
Location-wise the smart and clean OZO Wesley Hong Kong is a good alternative to the Admiralty bigwigs with attractive rates and a location striking distance of the Admiralty MTR and Pacific Place shopping. The Metropark Hotel that rebranded in late 2016 to the Kew Green Hotel Wanchai, a bright and lively affair close to bars and the MTR; the service apartment Burlington Hotel next door with bright touches and compact contemporary rooms - some with views on hgiher floors and rates from HK$600 - and the smaller and darker King's Hotel farther towards Causeway Bay all manage to mix three-star prices with a modern funky approach, with Kew Green flaunting LCD TVs and free WiFi throughout. It is also a tad pricier as a result of the rebranding and fresh decor. Close by, the renovated Empire Hotel Hong Kong plods on unremarkably but reliably.
The Novotel Century, Hong Kong, is a comfy, efficiently run four-star with a great Shanghai restaurant in the basement and tasty Italian fare. The hotel has 511 rooms, including 22 suites, with the latest hi-tech and offers easy walkway access to the Convention Centre.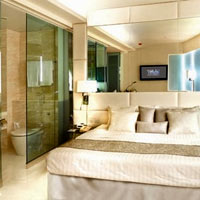 Regal iClub Deluxe Room/ photo: hotel
There is WiFi, Broadband and meeting facilities for up to 260 people. Also expect a health club, pool and sauna. Service is snappy and brisk. Expect rooms to be fullish during conference periods as this is a favoured spot for conference-goers to the HK exhibition centre across the road.
From Regal Hotels in the bustling Wanchai district at 211 Johnston Road, the new boutique-style smoke-free Regal iClub with 50 rooms and suites, a small spa with Jacuzzi, and a single iCafe for all-day dining (with complimentary WiFi).
In rooms expect light cream tones, glass walls welcoming of light, Internet access, microwave and fridge, rainshower in the bathroom, cordless phones, iPod speaker system and LCD TVs.
And on Wanchai Road, a bit further in and away from the harbour, is the low-price no-frills JJ Hotel with clean rooms, and a simple set-up. No lobbies and soaring arches or lavish business centre, though there are some meeting rooms.
Expect an LCD TV, a DVD player, an electric safe, hair drier and complimentary shoe-shine. There's Wireless in the rooms and good and cheap restaurants up and down the road.
An option for those watching their budget is the newish Wifi Boutique Hotel on Lockhart Road, close to eateries and a short walk from the Convention Centre. Behind this hotel's ultra-slim façade are 68 guest rooms sporting iPod dock, coffee maker, minibar, rain shower, safe, hairdryer, microwave and of course WiFi. Rooms are bright, modern and minimalist. The Wanchai MTR station is a couple of blocks away. During conference peak periods room rates may double.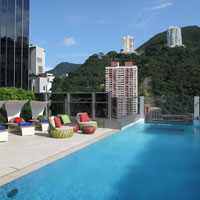 Hotel Indigo pool/ photo: Verghese
Looking over Wanchai's busy markets and historical buildings, the 25-storey, 138-room Hotel Indigo Hong Kong Island (opened May 2013) is a somewhat reticent arrival. It is easy to miss the slender polished glass and mood light construct at one end of Queens Road East – except at night when its colours glow – parked squarely in a neighbourhood better known for its pedestrian bedlam, meat markets, and steaming local foods. This contemporary address is betting on its gritty environs to pull-in cognoscenti who wish to sample the "real" Hong Kong. A symbolic "dragon" winds around the building, rearing its futuristic head above the inviting, if terribly slender, blue rooftop lap pool facing the hillside far above the bustle. Wanchai motifs abound from the Blue House to Central Plaza.
Glass mood light panels adorn both the small lobby at the ground floor as well as the elevators. Single straight corridors host just seven to eight rooms on each floor lending a convivial homey feel to the place. The 63sq m Corner Suite is surprisingly spacious with a square living area, a Wanchai tram mosaic occupying one wall and a large L-shape dark purple leather sofa much of the floor. Floor to ceiling glass frontage is welcoming of light with south-facing hill views. The flooring is in pale stressed wood with floral carpets placed in the centre of each room.
Walk past a huge flat-screen TV with its BOSE sound, a mini-bar with reasonably priced items, and a coffee maker, to the open-plan bedroom with a plump white bed set right in the middle with walk-around space on all four sides. A narrow working desk extends from the back of the headboard while a single basin is set to the right with an adjustable height mirror.
Find Molton Brown toiletries. On either side of this are a rain shower cubicle and the toilet. WiFi is free and there are two three-pin electric sockets. Open plan means this is more a romantic set-up and not for business mates really.
This intimate Hong Kong boutique hotel champions the island's heritage by displaying local artwork and offering curious excursions, such as the "Wan Chai Haunted House" or "Villain-Hitting in Gooseneck Bridge" tours.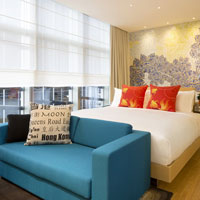 Hotel Indigo/ photo: hotel
Zap back to today with a classic cocktail at the rooftop Skybar (with a narrow alfresco section) or wander downstairs to Café Post for a nibble or a big-kick Ethiopian-Honduran cup of Joe from Rabbit Hole (the local supplier).
The Library, a living room with sofas, TV and a couple of iMacs, is being relocated and the current space will be remodelled for meetings (up to 30 persons) by September 2014 to augment the 10-person meeting facility on the ground floor. At this hideaway there's no fuss, lots of stretch, and staff who pretty much leap to do your bidding.
Set farther away from the harbour but within strolling distance of Causeway Bay shops and the Happy Valley racecourse with grand views from several rooms is the Dorsett Wanchai Hong Kong (rebranded April 2017 from the former Cosmopolitan Hotel). Next door is sibling Cosmo Hotel. You'll need to traverse an underground walkway to reach the main drags but it's nothing their regular shuttle bus service doesn't cover in a couple of minutes.
The curved Dorsett with its appealing ice-blue brand colour clocks in at around 454 rooms, the lobby cutting a light, clean impression - though it tends to be packed and busy - with lots of beige marble and the odd chandelier. The lobby was completely revamped with a minimal feel and relaunched 25 January, 2016. Good-sized deluxe racecourse-view rooms get an eyeful of the Happy Valley turf, as does the new themed Jockey Suite replete with horse shoes, riding cap, gold hues, and horses embroidered onto cushions.
The NextGen Grand Deluxe rooms that arrived late 2013 offer a classic yet contemporary Euro feel with two versions - grey-pastel accents, mirrors, lampshades, tactile switches and pulse-quickening bathrooms making the most of their limited space; or cream tones with gold fleurs-de-lis motifs along the headboards. A 280sq ft Grand Deluxe in a twin configuration is a tad compact but makes good use of space with a fold-out ironing board, a steam iron, hair drier and a notebook safe stowed neatly in the wardrobe.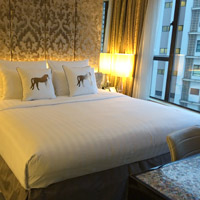 Jockey Suite at Dorsett Wanchai (formerlyCosmopolitan)/ photo: Vijay Verghese
The Grand Deluxe Course View is the top-of-the-line product here with more knee space around the plump king-sized bed, a packed but more generous bathroom with massage-jet shower cubicle, large wall mirror and vanity mirror with light ring. The cross-hatch mother-of-pearl inlay work desks are a signature, set between the bed and the 40" wall mounted flat-screen TV. Expect two three-pin electric sockets and two more, one on either side of the bed by the mod cream lamps. Two large 700ml bottles of complimentary mineral water await the intrepid explorer.
The rooms have spectacular almost unobstructed views of the entire race track. WiFi is free for those booking directly through the hotel's website; else it's HK$132 per day. Look out for the birds and horses in design elements, signifying a blend of British and Chinese influences as the property completes its incarnation under the new Dorsett brand.
Larger Family Rooms are something of a specialty here with two queen size beds, complimentary chips and snacks for typhoon tykes, and an elaborate pillow menu - pick from lavender scent or buckwheat and nine more choices - for exhausted parents. Expect a flat screen TV with DVD player, plain cream tones and an innovative "water bar" with an array of complimentary bottled water from distilled to mineral and sparkling. A great idea this.
The narrow wooden desk is a tad cramped with two three-pin plug sockets in the wall just behind it. The compact toilet features kid toiletries including a small toothbrush kit, and a bathtub with hand shower.
Why not go all the way and book into one of several theme suites for which this hotel is well known. Pick the OSIM Suite with massage chairs, or a 48sq m Ocean Park Suite (with tickets for two adults and one child to Ocean Park with limo transfers). stuffed toys galore, a Wii box for the young and restless, DVD cartoons, a small kitchenette (with microwave and faucet), and walls adorned with scrawled scribbles by children. Connoisseurs may opt for the SONY Suite with its 55-inch HD television and surround sound.
New theme suites that arrived mid-2015 are brighter, playful and with a lot more design flourish. Expect perhaps cool blues, slim turquiose desks, bubble wallpaper or an alphabet splash, mosaic walls in the bathroom, plenty of mirrors to create a sense of space, balloon lights, hanging lantern lights, teddy bear carpets and, in corporate suites, cream tone checked bed linen, goldy hues, and that indispensible Alcatel 'Handiphone' for guest convenience with free IDD for nine countries.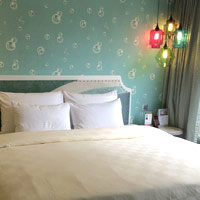 New themed suite at the Dorsett Wanchai/ photo: Vijay Verghese
Neighbouring sister property, the 142-room Cosmo, is a colourful Hong Kong option with three room options – orange, yellow or green. The bright colours work to open up the small, but well-designed rooms – bathrooms offer the best use of space. Larger executive rooms come with a PC, and pay package WiFi or Broadband is available in both hotels throughout.
Nooch Bar is a dark industrial style hangout on the ground floor, which also serves breakfast. A lighter, brighter breakfast experience is just a hop skip and jump next door to Cosmopolitan's buffet or Sunday morning dim sum. Cosmo is simple bordering on hip, a good value Hong Kong hotel with some design flourishes. Shop at these two for good Internet deals and longstay packages.
Nearby you'll also find the kitsch-and-karaoke The Emperor Hotel - a new sister hotel opened in Wanchai on Queen's Road East next to the Dorsett in 2018 - with a racy bar and good Szechuan cuisine, and South Pacific Hotel, both staples for business visitors from the mainland who like to cut loose a little after work. Beds in the South Pacific Hotel are a tad short for taller people, but the concierge here is enthusiastic and helpful. Don't expect too much at this basic hotel for unfussy travellers. Around the corner, squeezed into a narrow hard-to-find alley off Bowrington meat market is the 40-storey Best Western Hotel Causeway Bay. Not a whole lot to recommend here but prices can be attractive. Direct taxi access is poor though transport options are a short walk away. The hotel makes a stab at Philippe Starck mod but fails on account of the gaudy gold bling everywhere from mosaic walls to ornamental furniture and mirrors. Rooms are okay though and there are cheap eats in the neighbourhood and Internet access is free. Not a place to bring clients back to, but easy on the wallet.
Hotel Bonaparte by Rhombus, sister property of Hotel LKF (in Central) and Hotel Panorama on the Kowloon side, is set on a busy road, next to cheap eats cafés, and a short walk away from Causeway Bay and Wanchai MTR stations. Entry to the tiny, dark, and black granite lobby with its purple neon, is easy to miss in the bustle.
Not too far from the Hong Kong Convention Centre - but a stretched stroll nevertheless - it is aimed at the business traveller with 82 no-frills, pint-sized rooms, one up from the pod-hotels of Tokyo.. WiFi card and mobile phone (deposit of HK$800) are provided for use inside and out of the hotel – a nice business traveller addition. There is WiFi. The 100sq ft Business rooms are a squeeze while the 130sq ft Premium rooms serve up a tight twin arrangement with a separate toilet and hand shower cubicle, with tea making kettle, a tiny safe (not for a large laptop), and two three-pin electric sockets by the beds. For more you'll need to move up to an Executive room at 230sq ft. There are no cafes in the hotel. And the two lifts serving 25 floors make take a while to turn up. Still, room prices starting from HK$600 mid-2016 are not to be sneezed at and the complimentary smartphone with unlimited local 3G calls is a plus.
Butterfly on Morrison is located in Wanchai and is walking distance from the buzzing Causeway Bay district. The hotel's plain and simple but stylish design – pick a Superior room – attracts a young leisure-oriented clientele, while also appealing to those travelling for business on a tight budget.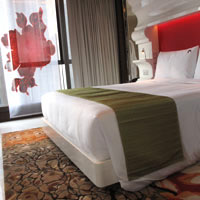 Mira Moon, bright/ photo: Vijay Verghese
The 93 awfully compact but unfussily pleasant guestrooms and suites include non-smoking rooms and facilities for the disabled. Pop into the Internet lounge for free online access. Expect a notebook-size safe in the room as well and, despite its avowedly no-frills persona, there is a Cantonese restaurant on the first floor of this budget boutique hotel. A sister property is in TST on Prat.
Occupying the tiniest footprint at the intersection of Jaffe Road and Marsh Road, Mira Moon (1 November 2013) is a quiet new contender in a quietish neighbourhood between Wanchai and Causeway Bay proper and a brisk flat-shoe stroll from the closest MTR. Part of the same stable as The Mira in TST, the similarities end there as this hotel's DNA is rudely different. It is saucy, giddy, wild, and a hormonal riot all rolled into one with tiny spaces - as the entrance foyer - peppered with mosaic flooring, dark wood lattice work walls, huge mirrors, crimson high-back chairs and demure hostesses in throwback Shanghai uniforms beaming dimly in the background. Smiles are aplenty. Staff is young, courteous and clearly excited at the prospect of helming this odd darkly inviting spindle of concrete as the latest Hong Kong boutique hotels entrant.
The main lobby on the fifth floor is similarly clad in mirrors and crimson chairs, the small space seemingly stretched by mirrors and all manner of eye candy both faux Euro and playfully eastern lending the place a Lan Kwai Fong club veneer while serving up some hospitality depth, There are four rooms per floor. Opt for the New Moon corner (12 numberings) with 380sq ft of rumpus space and a partial harbour view between two not overly close buildings. There's plenty of light through floor-to-ceiling windows with their signature crimson peony painted on silver satin. Dark wood walls with the ubiquitous square carvings make way for a white marble bedroom floor with a vibrant floral-pattern carpet. The bed is partially set into a white moulded wall that looks like a large grand piano crying out to be opened. The same smooth white touchie-feelie outcrop faces the bed with its large inset flat-screen TV. This design device burns up valuable space but may work for some.
The bathroom is extensive (almost 40 percent of the overall space) with a bathtub set by windows, a large well lit mirror and a single large washbasin with his and her amenities at either side. Expect a vanity mirror, and a walk-in rain shower with a hand-held power shower. The work desk is glass-top with a dataport that includes two three-pin electric sockets. Gadget lovers will delight in the two sets of three-pin sockets on either side of the bed ensemble, piped reading lights and push-button light controls for various moods. Thoughtful touches include two sizes of bedroom slippers, a borrow-and-use-as-you-please iPad plus dock (carry this around and download apps or whatever - it will all be deleted later when you check-out - a re-stocked complimentary minibar with local Hong Kong soft drinks and beer (the champagne is charged), a Nespresso machine, a flat laptop-friendly safe and iron and ironing board.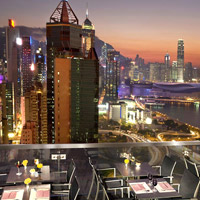 Goodbye Excelsior Hotel: TOTs alfresco bar view/ photo: hotel
The smaller Half Moon room is 220sq ft with all the amenities minus the tub while the larger Full Moon goes up to 410sq ft (the bathtub her is set a tad more privately should you wish to peek outside). This is a spot for the hip and happy with prices ranging around HK$2,000.
There's no pool and no meetings space. There is a 24-hour gym with video treadmills but Hong Kong will ensure you get your shopping workout anyway.
Later grab Spanish-Chinese fusion tapas and cocktails at the small and cosy Supergiant restaurant and bar.
Causeway Bay hotel choices, East, South
Moving eastwards into the retail jungle of Causeway Bay you'll find a few good Hong Kong business hotels. The Excelsior (closed 31 March 2019 for redevelopment) and the Park Lane Hotel (now a Pullman) go head to head in the four-star market. Both benefit from beautiful views of the harbour and the green lung of Victoria Park. Park-side hotels are a smart choice and a great way to take stock of this city's inhabitants at their most relaxed – jogging, playing soccer, doing tai chi or just feeding stray cats. Hong Kong is safe so do try a night time stroll.
The Excelsior (operated by the Mandarin Oriental group) was long a solid business and leisure favourite that lay right at the water's edge, looking onto the bobbing masts of the Hong Kong Yacht Club and typhoon shelter. In mid 2017 Mandarin Oriental proposed a sale of The Exelsior hotel. The offer was withdrawn late September 2017 after bids failed to meet expectations. It was decided later to close the Excelsior Hotel 31 March 2019 to make way for a redeveloped office block.
The Excelsior's solid range of eateries included the Dickens Bar, a well-trodden English sports pub in the basement and on the penthouse level the ever-popular ToTT's with wraparound views, champagne cocktails, and a pleasant alfresco sundowner balcony.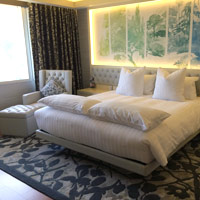 Park Lane Suite emerges in hip new Pullman livery/ photo: hotel
The Park Lane Hong Kong, a Pullman Hotel, is an old Causeway Bay stalwart, pleasant and upscale, offering smart rooms, some with views over the verdant green of Victoria Park. It has flirted with the hip factor before but, under the aegis of Pullman Hotels (part of French chain ACCOR) since early 2015, it has metamorphosed into a darkly alluring address, utterly contemporary, the lobby lit up by large video walls behind the reception desks where panoramas of Hong Kong flash by or images of sultry purple-toned models. The hotel has gone through a complete refit and the lobby has seen a sea change since its JAL flag-waving group days.
This is now a truly chic space with grey marble floors, charcoal walls, scalloped ceiling lights set in neat rectangles, and a bright concierge section against a wall 'mural' constructed of beige retro luggage. The lobby is welcoming with hushed lighting to create a sense of privacy. It will appeal to business travellers, metrosexuals and women alike. Look up and spot naked silver tubing snaking around the ceiling like at some advertrising agency and you get a sense of the hotel's playful design essence, at once mod, unrestrained, and a tad tousled.
A refurbished Suite (with a spot of green and side on harbour views) has transformed light years from yore, with a cheery pastel feel, rich wood floors, and strip wood wall panels that lend the place a bright yet hip feel. The window is not floor to ceiling - it runs waist high up - but light spills in relentlessly.
The bed is welcomingly plump set against a buttoned-down cream leather headboard above which runs a pale green painting. The bedside cabinets on each side have a three-pin plug socket. There is an extra three-pin socket in a flip-up data port by the side along with a media hub for connectivity. A grey carpet is stretched under the bed, contrasting with the gleaming wood. A large flat-screen TV faces the bed under which blinks a DVD/CD player.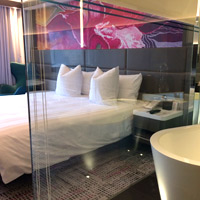 Park Lane Premium Deluxe Executive room with see-through bath/ photo: Vijay Verghese
The glass-wall bathroom is bright and cheerful with a rectangle white soaking tub (next to a rain shower), and square twin vanities with a well-lit mirror. The Japanese potty will work miracles on your derriere as you press buttons and fiddle about in your Man Cave. The Living Area features a second large wall-mounted flat-screen TV, a buttoned-down brown leather sofa, and a narrow glass wrking desk by the window with a single three-pin socket below. The strip wood design is carried into this space as well presenting a rustic chic look. Also expect an iron and ironing board, a Nespresso machine (in rooms above deluxe category), and a gas heater in the closet to keep clothes dry. The free WiFi at the hotel runs at Olympian speeds - a boon for business travellers.
A Premium Deluxe Executive has 34sq m of space with a grey slate floor entranceway and a smart see-through wall bathroom with soaking tub and rainshower looking onto the bedroom with its fluffed-up pillows, grey and white decor, bright bauhinia paintings across the headwall, flatscreen TV, round desk with two three-pin multi plug sockets, and green leather wing-tip easy chair. Expect a coffee machine, iron, hairdryer and, yes, a yoga mat.
Skye on the 27th floor offers pulse-quickening harbour views (some of it alfresco) and dining in light beige pastels with a mod all-white curved bar counter that 'glows' in changing hues, while the wonderfully remodelled cafe PLAYT (a play on 'play' and 'plate') is a super pit stop for those on the go, with a dash of art. Skye was designed by the same people that did the vertiginous Sirocco in Bangkok (if you've seen the movie Hangover), and the style is unmistakeable. For small corporate meetings, the hotel also has its signature Churchill room with views and a quick set-up for meets (up to 150) or private dining. There are other meeting rooms and a range of meeting packages are available at the hotel.
This is a very convenient and popular Causeway Bay hotel choice in the midst of the shopping action and right across the Hong Kong green lung of Victoria Park where you can jog, stroll, or simply people watch of a weekend when the families and kids turn out in force.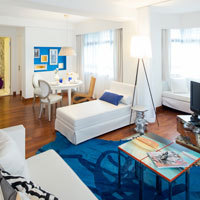 J Plus YOO shut down 1 May 2018/ photo: hotel
Rosedale on the Park and a second Metropark Hotel also take advantage of the park views. The former is set a few minutes away from the general spender-lust, and has all the necessary room amenities, free Broadband Internet, a cute Chinese restaurant and a top-floor lounge. The Metropark is probably a little farther out than you might like, (about a 10-minute walk across the park) with unremarkable standard rooms, but free Broadband Internet. Sunset views to the front of the hotel make an upgrade worth it. Scan the horizon as well from a small pool up on the roof.
Back in the thick of Causeway Bay - relaunched in May 2014 as the J Plus Hotel by YOO, the former J Plus Boutique Hotel was one of Hong Kong's more acclaimed wild-side scions, having been originally decked out head-to-shin by design extraordinaire Philippe Starck. The refreshed version offered a taste of street art - with a wall-high renaissance lady mural at the entrance - and a reworked lobby with dashes of colour but the whole ensemble was shut down 1 May 2018.
Not far from here Hotel Pennington by Rhombus (opened May 2013) serves up contemporary rooms in the heart of the shopping district with street markets around the corner. Rooms offer WiFi, childcare services and even pet care options for more manageable beasts. In-room expect 40-inch LED TVs, rain showers, goose down pillows, hairdryer and safe. There are rooms for the handicapped as well and coffee machines (in Studio Suites). This is a tall narrow building and guests may find the lifts and lift lobby a serious squeeze, especially if housekeeping is using one of the cabs. If you're an unhurried shopper, then it's a fine spot.
Around the block, the 194-room Lanson Place (closed for major renovations till late 2023) offers a different, much larger interpretation of the boutique hotel approach, starting with its solid cream stone walls. Its owner hails from the serviced apartment industry so rooms are big and comprehensively stocked, with kitchenettes and chests of drawers included. This is a hotel though and its homey touches are a plus. Rooms start at a generous 380sq ft. A 420sq ft Grand Luxe room (pick a corner) is well lit and airy. Walk down cream pastel corridors with pale striped walls into your marble foyer with a compact but bright bathroom by the entrance with a rain shower and hand shower. The small living area serves up a pale lavender carpet, white-border tables and chairs, sofa and kitchenette.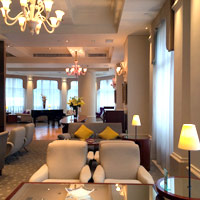 Chic Lanson Place lobby lounge/ photo: Vijay Verghese
There is one three-pin adaptor plug set on the floor under the small work desk. Expect a flat-screen TV in the living room as well as a second device in the bedroom, again in whites and pale lavender. Also find a laptop friendly safe with a three-pin power socket, a digital clock, a pillow menu, an iron and ironing board and, all around, those signature cream striped walls. It has much appeal, in a feminine sort of way.
A 600sq ft Prestige Suite is decked out in grey with a few bright cushions offsetting the bleached-wood floors and grey carpets. A set of louvred blinds cover the corner of the adjoining bathroom. The desk here features USB ports and two three-pin electric plug points. The pick of the lot if you have the money and the moxie, is the two-bedroom Penthouse Suite on the 28th floor with its pale wood-floor corridors, plain white walls and calming powder green hues. It has a clean virginal feel to it and offers HUGE views with plenty of natural light streaming in through the windows. The master bedroom toilet is in richly veined grey-white marble with twin vanities and a standalone claw-foot tub by the window. There is a rain shower cubicle too. The second bedroom serves up twin beds. Both bedrooms have walk-in closets. The entire ensemble with its three televisions and full size refrigerator retails for around HK$90,000 or so a month and might be picked up for a night at upwards of HK$4,000. The one-bedroom Penthouse weighs in at around 1,000sq ft with a somewhat different colour tone, a very minimalist design, and plenty of mirrored wardrobes for long-term storage.
The hotel building itself, in all its faux-European glory, was purpose-built, and the public spaces are few but large. There is a lovely club-like lounge with sofas and bookshelves, a 24-hour fitness centre and a conference centre. The entire hotel is Wireless enabled and WiFi is free. There is no swimming pool and no restaurants but there's a fine clubby breakfast in the lobby and an in-room menu is provided by neighbourhood eateries. Simply order and have it delivered.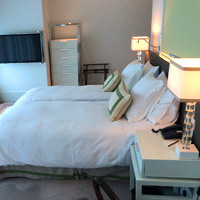 Lanson Place Two Bedroom Penthouse Suite/ photo: Vijay Verghese
Of an evening a resident pianist may be tinkling on the ivories accompanied on the cello for some jazzy apres-work notes. The playful crimson red corrugated metal toilet cubicles will keep you entertained too. Pick up your in-room mobile 'handy' phone and your room calls will seamlessly transfer to your pocket, ensuring nothing gets missed on the go.
The handy phone offers 3G mobile connectivity free and allows complimentary calls within Hong Kong and to six countries, including USA, UK, and Australia. Both Lanson and J Plus (formerly Jia) are popular options for accommodation in Causeway Bay with attitude.
But on a head-to-head if we compare Lanson vs J Plus, Lanson is clearly for better heeled corporates who need space and a greater measure of functionality with J Plus pitched at the younger leisure market. Unlike J Plus – which conceals its relatively viewless windows – Lanson Place flaunts them almost floor to ceiling. Go for the Victoria Park views or a slice of Hong Kong stadium above the eighth floor. Minor niggle here could be the paucity of convenient plug points in the rooms, and elusive taxis at times. No worries, the concierges and bell boys do a great job.
Next door is the Regal Hongkong Hotel, a somewhat ornate leisure-business option that's low on views but big on Broadband, buffets and bathtubs. L'Hotel Causeway Bay Harbour View Hong Kong is a 40-storey fresh, modern four-star hotel with 275 rooms and suites, and a rooftop pool. This group operates three hotels in Hong Kong. Also at the rear of shopping Mecca, Times Square, Express by Holiday Inn, offering the ultimate in comfortable no-frills accommodation, with identical, affordable rooms, big desks, American-style décor and powerful showers. Express has 282 rooms (including a wheelchair access room) with complimentary Broadband access, in-room safe, and satellite TV. An "Express Start" breakfast is included in the room rate.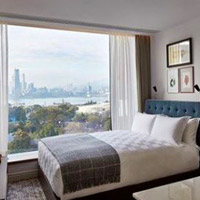 Bag a seaview at the long-stay Little Tai Hang in Causeway Bay/ photo: hotel
The lively and well designed Little Tai Hang has a playful website and a whimsical but well mannered appeal that will attract leisure trippers as well as long-stay clientele, not least because of its excellent and tidy room decor, views (some over the harbour), and a quiet location a short stroll from the Tin Hau MTR Station right behind Victoria Park on Tung Lo Wan Road. Rooms start at a wallet tickling HK$940 for 33sq m with flatscreen TV, complimentary WiFi, Simmons mattresses, hairdryer, fitness centre and Apple TV facilities. A studio Superior Harbour View with Balcony serves up up to 44sq m with plenty of natural light and wooden floors at around HK$1,750. The hotel doubles as a serviced apartment with plenty of homey features. If you're scouring for Hong Kong boutique hotels with access to MTR stations, this compares well vs, say, the Fleming, in Wanchai, with upbeat design flair and a welcoming feel. It is one of the 2018 HK boutique picks on this review.
Around the corner in Tin Hau is the eye-catching smoke-free TUVE (opened 2015) with its design emphasis on minimalism with lashings of textured wood, marble, brick, and wide open spaces. This is a another Hong Kong boutique hotels pick for contemporary style that will engage a more discriminating set. Premier rooms serve up a king-size bed with walk-in shower in a bathing area separate by translucent glass panels. Expect free WiFi and a 40-inch HDTV.
Deluxe rooms offer more of the same in a compact 21sq m with Le Labo toiletries. The hotel is rather discretely tucked away in a side street a short stroll from the Tin Hau MTR station and you will need to strain to spot the entrance as there are few giveaways.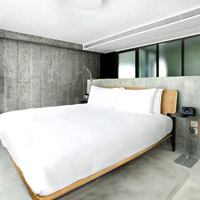 Design hotel TUVE is a boutique HK choice in Tin Hau/ photo: hotel
It is a separate world inside, quiet, unassuming, and self contained, while just outside is a cacophony of street food and more. Pick a room on a higher floor to get away from street clatter and be prepared for a very cosy fit.
An interesting and somewhat quirky choice on Hennessy Road is the Hong Kong boutique hotel, Walden. The Walden Hotel is a compact and colourful offering with the atmospheric Antique Bar featuring good chillout music, old Chinese lanterns, deep sofas and cosy nooks for a slow unwind. There is even a spa and rooms won't exactly pinch the wallet. Service can be patchy and has dipped considerably so be warned.
The Crowne Plaza Hotel Hong Kong at lucky number 8 Leighton Road will transform into an office space eventually. It is across the road from the Times Square shopping bustle and around the corner from the Happy Valley racetrack. Despite these entertaining credentials and a 28th floor rooftop swimming pool and trendy bar to catch the rays and sweeping Hong Kong vistas, this is a resolutely business hotel aimed at executives on the go with 590sq m of meeting space and 11 function rooms.
A more affordable option in this general vicinity is the The Vela Hong Kong Causeway Bay (September 2011). The Vela is an extended stroll from the MTR station, and close to the Happy Valley Racecourse. About half of its rather compact 98 rooms offer sweeping views of the greens. Expect 32-inch TV, iPod dock, complimentary internet and other mod-cons. Free WiFi is available in public areas, and you can even rent laptops, mobile phones and DVD players.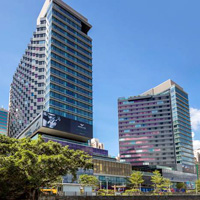 Hotel Vic in North Point transforms into the Hyatt Centric Victoria Harbour Hong Kong/ photo: hotel
To the east of Victoria Park, North Point district (also easily accessed by the MTR) is served by the Newton Hotel Hong Kong and Hotel Ibis North Point; both light, simple and good value for money. The Newton's website still proudly advertises colour television so don't expect a Wireless wonderland. However, both hotels have Broadband.
Another value choice in the area is the long running City Garden Hotel with 613 comfortable rooms a short stroll from the Fortress Hill MTR station. The hotel runs shuttles to the Times Square shopping mall as well as to the Hong Kong Convention and Exhibition Centre.
The 665-room Hotel VIC on the eastern Hong Kong harbourfront is undergoing a quiet pummelling and rework to rebrand as the Hyatt Centric Victoria Harbour Hong Kong. The Hyatt, one of the first in its class for Asia (Tokyo has one), flies its flag late 2019 under the new marque. The hotel remains open. Hyatt Centric Ginza Tokyo opened last year. The Andre Fu design turns the harbor-view rooms into socially connected spaces with Hirsch Bedner touches across two towers. Expect a specialty restaurant and bar, bakery, gym, and an outdoor swimming pool on the roof. The property is part of a large integrated development rolling together hotel, shopping, serviced apartments, luxe digs and a promenade.
The cavernous beige lobby of the Harbour Grand Hong Kong, punctuated with a handful of boudoir red velour chairs and somewhat timid flower arrangements, is a feng shui master's wet dream: high ceilings, lots of light, shiny minimalism, water features and an over-abundance of anything circular. The hotel is smart and functional without straining overly to make the point. Out of 828 rooms, serviced by 10 lifts, five have outdoor Jacuzzis on a balcony and there are 86 suites, three on each floor. Four standard rooms come with a small pantry including a hot plate, microwave and sink. Standard 30sq m rooms include work desk, 31"LCD TV, laptop safe, separate bathtub, hairdryer and WiFi (HK$130 per day).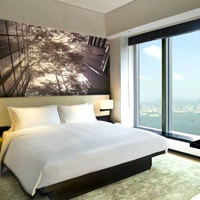 EAST, from Swire/ photo: hotel
The location in North Point is a little awkward but it's on the harbour with substantial views and is also within walking distance of the MTR. Le 188° Restaurant & Lounge, surrounded by floor-to-ceiling windows on three sides has 188-degree harbour views.
The Harbour Plaza North Point is a larger option with 669 rooms and serviced suites, some overlooking the harbour. This is convenient to the Taikoo Place office blocks in nearby Quarry Bay. The hotel has an outdoor swimming pool, business centre and a choice of four restaurants. You might want to avoid the rooms that overlook the crematorium if you're superstitious.
Tai Koo Shing (conveniently on the MTR line) in eastern Hong Kong Island is the location of Swire Hotels' latest offering, the 345-room EAST that opened January 2010. It is a minimalist easy-on-the-eye hotel with clean zen-straight lines and muted colours offset by contemporary art work.
In regular 28sq m rooms expect blond wood parquet underfoot, glass partitions, dark-wood details and black trim contrasting with white linen on plump beds and soft pastels. Large black-and-white photos create a refreshing focal point albeit without being intrusive or overly dominant. Floor-to-ceiling windows throw open vast city, mountain, and harbour vistas while large black tactile buttons enable guests to switch lights on and off without suffering hi-tech meltdown at 2am.
Corner rooms squeeze in more views and light through large-slat venetian blinds while open-plan suites are bright and airy with a swing chair and next-to-bed window-side bathtub for the truly reckless.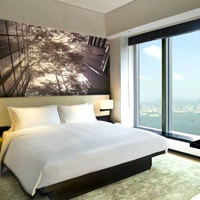 EAST, from Swire/ photo: hotel
This is a lifestyle retreat aimed at business travellers who will find among their in-room arsenal a 37-inch HD TV, complimentary Broadband and WiFi, and an iPod dock. Unwind at the hip rooftop bar Sugar, with huge views that perk up as the city lights come on at sundown.
The solitary east-west fusion restaurant is Feast (Food by EAST), a spacious hangout for creative foodies, while the gym is playfully named Beast (Body by EAST). The hotel has a nice outdoor swimming pool a tad hemmed in by city blocks but that's so Hong Kong. Remember the laundry-grazing Kai Tak landings?
Far out on the west of the island in the green suburbia of Pokfulam, the hi-tech Le Méridien Cyberport is one vast wireless hotspot. WiFi is free throughout all public spaces at this slick urban retreat but charged in-room. At this unabashedly modern building, technology married with art provides the theme for the minimalist design with angular lines and daubs of colour. Guestrooms are divided into Smart, Deluxe and Club rooms with many offering full floor-to-ceiling ocean frontage.
The bright and sunny "Art + Tech" rooms feature a 42-inch plasma TV. Some rooms come with playful glass-walled look-in bathrooms complete with oversize rainshowers. The starting category Smart room is bright, airy, and flooded with natural light. Expect timber underfoot with some mod carpeting trim, an invitingly plump white bed looking through a glass partition onto the rainshower cubicle and bathing area.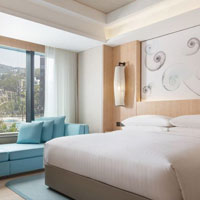 HK Ocean Park Marriott arrived early 2019 / photo: hotel
Two chairs with electric blue cushions are parked by the windows and two pipe reading lights will help you get through an in-bed browse without squinting. The large flat-screen TV is the obligatory 42 inches just above a sensually curving glass work desk and its extensive data-port with TV hook-ups and two three-pin sockets.
The bathroom blinds drop at the press of a switch to offer greater privacy in the toilet but, mischievously, are controlled from the bedroom, not the bathroom. There is no tub but the compact toilet is functional and well lit for shaving and makeup. Light switches are large, black and tactile and easy to find and use. Hurrah. Also find a flat laptop-size safe with power socket, an iron and ironing board.
About 30 minutes from Central by shuttle and far removed from the hurly-burly of Hong Kong, the hotel has a decidedly self-sufficient feel (it is a popular conference and training venue. If you're looking for an offbeat Hong Kong hotel for corporate meetings, give this one a good gander). This probably has something to do with the lawns outside that you're actually allowed to walk on. The hotel is also very proud of its celebrity visitations and rightly so – anywhere Gloria Gaynor and Art Garfunkel have laid their curly mops has got to be worth a gander.
L'hotel Island South is a 37-storey establishment situated in Aberdeen, sporting 432 smart rooms and suites with hill or open views, some looking across to the sea and Ocean Park. Not far from here is the 471-room Hong Kong Ocean Park Marriott Hotel. This is a clean and neat development with a strong leisure focus and one eye on the developing Wong Chuk Hang business district now connected by MTR.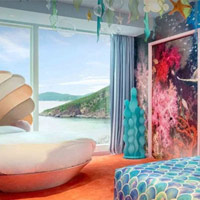 The Fullerton Ocean Park Hotel, Hong Kong, Mermaid Princess Room / photo: hotel
Expect themed accommodation for kids, pale pastel woody rooms with plenty of natural light, alfresco pool, spa, and 14,531sq ft of meetings and event space. The Grand Ballroom can be subdivided into four units. The hotel location right next to Ocean Park offers a huge advantage for leisure trippers who'd like to be close to this signature attraction.
The Fullerton, Ocean Park Hotel Hong Kong (18 July 2022), whose unprepossessing contours fully occupy a curving oceanfront plot, offers a sun-drenched pool and 425 light-filled rooms starting at 35sq m. A colourful Panda Party Room weighs in at 42sq m while the Mermaid Princess Room, of similar proportions, is packed with whimsy and marine motifs. Kids may prefer the Hong Kong Safari Room or perhaps the Rainbow Unicorn Room while dads pitch for a 121sq m Pool Suite. The business, conferences and weddings sets are wooed no less spectacularly with pillar-free ballrooms and function spaces that can accommodate from 200 to 550 persons for a cocktail. Spa till your shine, dine, and turn the family loose at Ocean Park next door.
Last but not least, for those looking to savour the sights, smells, pubs, beach, markets and seaside ambience of Stanley, the fishing village and tourist hotspot in the far south of Hong Kong Island, there is the new and mod The Stanley Oriental Hotel with nine large studio arrangements (starting at 590sq ft) including a few even more spacious suites.
Too much for just a day. Right. Thus you'll need to book a week or more at this service apartment-hotel. It's an all white affair with about one room per floor. Expect a large kitchenette (microwave, fridge and electric range), generous bathroom, flatscreen TV, stylish faded wood floors and free WiFi.
The larger suite rooms offer two large flatscreen TVs, DVD, modern sofas, balcony, separate shower, and a raised bathtub taking in the view of Stanley Bay. The hotel – small, quirky and clean – is right on the bayfront with easy access to all Stanley facilities and restaurants.
Guide to top beds in Kowloon, TST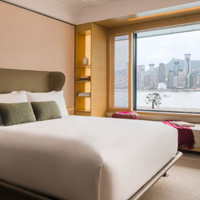 Classic Harbourview Room at the newlook Regent Hong Kong that returned March 2023/ photo: hotel
The Regent Hong Kong - rebranded InterContinental Hong Kong from 2001 as part of that group's luxury portfolio acquisition and then closed for renovations in 2020 - returned March 2023 under is original name. It remains part of the InterCon stable. This striking edifice is across the road smack on the Tsim Sha Tsui seafront, about a five-minute walk from the Nathan Road "Golden Mile". It has been completely recast though some old echoes remain.
Sit in the lobby and you'll feel like you're on a ship in the harbour (minus the motion) with the Star Ferry liners gliding past the floor-to-ceiling windows. The hotel enjoys a special status in the hearts of Hongkongers who have enjoyed its service and views since 1980. The original Regent group was started in the 1970s to give vent to the creative, futuristic imaginings of Robert Burns, Adrian Zecha (who went on found Aman Resorts) and Georg Rafael (whose brand needs no introduction in Europe and the US).
Two-thirds of the guest rooms have unadulterated views of the harbour. The new rooms are in unfussy pastels and earth tones. The accent is on simplicity. Try out a 43sq m Premium Harbourview Room, a 50sq m Studio Suite, or a 100sq m Corner Suite - Harbourview.
The hotel has trundled out a succession of fine dining Michelin star options over the years. Old timers will recall Spoon by Alain Ducasse, later to become Rech, the Parisian seafood favourite. There was a Nobu too. That chapter closed some years back. Now spot Yan Toh Heen (which remaind open right through) reclaiming its original name Lai Ching Heen, The Steak House and the Lobby Lounge and Harbourside. Nobu returns later in 2023.
While this upscale bolthole now serves as a splendid leisure retreat in Kowloon, the Regent is a top pick for those in search of Hong Kong conference hotels with quality MICE facilities and corporate meetings space. The hotel used to have a muscular feel in days of yore for peripatetic road warriors, becoming a legendary business traveller bolthole. The design has softened with age and appeals to all purses.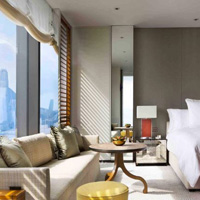 Light-filled Rosewood corner suite/ photo: hotel
With the Regent as the jewel in the ring, the Kowloon peninsula, with Tsimshatsui (TST) at its very tip, looks across Victoria harbour at Hong Kong. There's cut-price shopping, battalions of tailors, fake goods and a slew of high-end hotels along the waterfront on either side of busy Nathan Road. Tunnels, the MTR and the Star Ferry can whisk you across the fast-slimming channel in minutes.
Shaking up the waterfront competition facing Victoria Harbour is the sleek beige tower of the Rosewood Hong Kong (opened March 2019) - with a hint of New York. Expect some stylish if over-the-top marbled statements. Find 90 or so tasteful suites with plump beds basking in natural light with grand views across the harbour, the Manor Club - not only for the Manor Born - scurrying butlers, cigar lounge, jazz, stylish afternoon teas and a patisserie. Central to the hotel's meetings and conferencing muscle are a 1,000sq m pillarless ballroom, eight function spaces and an Event Studio. The location just east of the Regent is excellent for a waterfront pootle and is a modest stretch from here to the Tsim Sha Tsui MTR stop.
Farther inland, the Cordis Hong Kong at Langham Place (formerly The Langham Place Mongkok and rebranded 1 September, 2015) is a characterful and fun luxe choice for leisure trippers and business travellers in the neon buzz of Mongkok, just a stone's throw from the MTR with an underground connection that can be a tad confusing at times as you transit the mall and all its splendid distractions. It used to attract the hip, fun business and shopper set, with its modern Chinese artworks and hi-tech, but style-conscious décor, and direct access to Langham Place, one of Hong Kong's more sparky shopping malls.
With a clean pastel makeover and less artsy distractions by the yard, It is a sparky address for small corporate meetings too. Rooms start on the eleventh floor and all 665 have oversized baths and showers.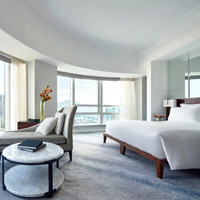 Cordis at Langham Place, Mongkok, Studio/ photo: hotel
Hallways open onto bright 310sq ft classic rooms, which make good use of space including a large bathroom with glass wall, 42-inch TV, DVD, IP phone and iPod dock. With a vast array of room choices, pick a Studio on the go with its stark and businesslike minimalism, the cream tones punctuated by a solitary blue divan.
A must-see is the Chuan Spa on the top three floors. This luxury affair is a frontrunner in the Kowloon heartlands of Mongkok, with 10 double treatment rooms dedicated to Chinese remedies and Asian treatments. Try hydrotherapy, massage, facials and wraps, before plunging into the rooftop pool. Breezy views abound, particularly at night when the Kowloon highrises are transformed into a sea of flickering lights. Enjoy the redesigned and fashionably friendly bar, Alibi, as well as the clean open marbled spaces of the reworked lobby. This is an excellent Hong Kong business hotels pick for men, women, and gleaming-haired metrosexuals.
Back in West Kowloon, the sky-piercing, über chic The Ritz-Carlton Hong Kong arrived stealthily through the spring mists April 2011 on the top floors of the soaring ICC building, one train stop from Central. With Cinemascope views in all directions, including prized ones of Victoria Peak and neon-bathed Hong Kong Island at dusk, this address plans to set a new benchmark for other modestly sea-level Hong Kong business hotels.
Melding contemporary decor and high glass panel windows welcoming of light, with spacious and rich yet reassuringly sober corporate rooms, this pin-striper eyrie runs from floors 102 to 118, the rooftop graced by the "highest pool in the world" (only for in-house guests). Eye-popping see-through glass walls girdle the water leaving nothing of Hong Kong to the imagination.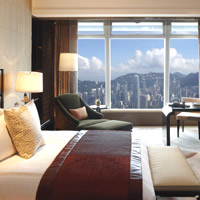 Classic Ritz-Carlton room/ photo: hotel
Burn off calories afloat and watch others less fortunate doing the same, if more sweatily, in bustling city streets far below. On Level 103 is the reception area and The Chocolate Library – for which long queues stretch – exerting forbidden appeal for lovers of the dark stuff (the main event is 2pm to 6pm), while the rooftop Ozone bar (with an alfresco terrace that actually gets wet when it rains), the already popular Italian Tosca, and the Cantonese dim-sum Tin Lung Heen work on other palates.
Rooms, starting at 50sq m, are in deep woody, earthy, olive shades with a fair bit of understatement and invitingly plump, white beds. The bedroom area is not hugely spacious, partly on account of the fact that the bathrooms are generous, and the vistas need to be shared, but the endless views more than compensate.
It is a civilized and cosseted space, contemporary yet classic, featuring large flat-screen TVs, DVD players, iPod docks, complimentary WiFi, old-fashioned round-dial clocks on the bedside table, flat electronic safes for your notebook, large tactile switches for the electricals (no alienating hi-tech gobbledegook here), LCD screens above the bathtub, and tastefully lavish twin washbasins set in alabaster onyx. In several rooms and corner suites guests may spot a telescope mounted on a tripod, underscoring the hotel's unfettered access to panoramic views in all directions. Why watch TV in your bedroom when you can check the channels in any highrise or hotel across the harbour?
An ESPA is set to coddle on the 116th floor, right opposite the Club Lounge and there is a fair sprinkling of creative meeting space. The ICC also has a viewing deck on the 100th floor, alas not directly connected to the hotel but, who cares? On a clear day you can truly see forever.
August 2008 saw the arrival of the stylish W Hong Kong, located in fast-developing West Kowloon. It's a handy choice for trendy metrosexuals and even starched bankers working directly opposite in the new ICC building. The hotel is whimsically designed around the five elements of water, fire, wood, earth and metal. The W brand strives to offer travellers a "sensory muliplex" with a riot of art and more.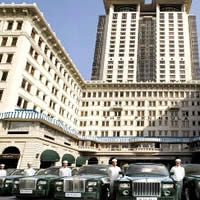 The Peninsula fleet/ photo: hotel
Entry is on the ground floor where you'll be greeted by a giant illuminated W "flame", but the sixth floor "Living Room" is where the actual reception area is situated. It's all ultra modern with funky furniture, bright colours, and bold art. The reception desk is backed by a giant plasma screen with moving images that change continually.
There are 393 rooms ranging from "Wonderful" to "Spectacular" to "Cool" and a few others in between with equally "Fabulous" names. The spacious rooms come in two quite different designs, so you might end up with bold and obvious (bright purple or red feature walls) or a touch more subtle. The latest technology is on hand – some rooms have sliding mirrors that reveal plasma LCD TVs, and there are DVD players, iPod docks, surround sound speakers, and funky light fittings. Expect a "Munchie Box" instead of a minibar. Bathrooms are stony grey with rainshowers, bathtubs, and Bliss amenities.
Spectacular harbour views can be enjoyed from the comfort of your bath, if you're in one of the suites. Subtlety is not on the menu at W's Bliss Spa where you'll get upbeat music, movie-watching with a manicure and vibrant turquoise blue carpet. Along with its idiosyncratic design and unique amenities, W Hong Kong follows in the footsteps of its global counterparts with a "Whatever/Whenever" service philosophy. Be sure to check out the stunning rooftop pool (called "Wet") and two glitzy restaurants.
With its white colonial frontage and flotilla of Rolls Royce Phantoms, The Peninsula Hong Kong presides over the waterfront like a matriarch. Visitors go gaga over its afternoon teas and line up patiently right after lunch. On 11 December, 2013, this grand address celebrated its 85th with a fine show that brought in celebrities and guests to marvel at an exceptional F&B tour de force as the restaurants were thrown open for a night of feasting. Over the years The Pen has expanded to a blushingly modest 300-odd rooms, which still allows for a degree of impeccable, personalised service unmatched at many city hotels. It broke with convention to introduce a tower block with a helipad and, later, added the de rigueur spa.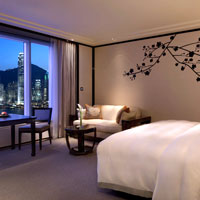 Peninsula Grand Deluxe Harbour View/ photo: hotel
The décor is stately and refined – gilded cornices, soaring pillars, and baroque and glittering this and that wherever you cast your eye. Nothing is out of place. Big brand boutiques like Chanel and a string of classy restaurants complete the ensemble.
After a HK$450 million overhaul in 2012, The Peninsula's rooms returned with all the classic feel that made them a hit in the sixties with guests lugging exotic travel-worn Louis Vuitton cabin trunks. But this is no idle nostalgia guff. The in-room pace is thoroughly modern with the latest in hi tech gadgetry and, rather generously, WiFi and international calls are complimentary. Expect to manage all room controls, the television, and much more, using a special iPad-style tablet that has been developed in-house with large friendly icons and an 11-language display. Switch to Russian or simplified Chinese and all the electronic displays in the room will in turn reflect the change. Check flight departures, menus.... the list goes on. This device is not as daunting as it sounds and even grandmothers may get addicted to it. Nevertheless, simpler buttons are also on hand for the timorous. There are three tablets set around the room so you can switch things on and off with ease.
The decor is endearingly plain rather than fussy, understated luxe in beige-grey pastels with a signature bronze peach blossom motifs on the wall. A 467sq ft Grand Deluxe Harbour View Room (in the Tower block) lives up to its promise with a panoramic display of Hong Kong Island and Victoria Peak. The working desk serves up a hidden data-port that rises up mysteriously at the press of the finger to reveal media connectors and two electrical sockets including one for 110 volts - the other is a three-pin multi-pin for 220 volt gadgets. A gleaming polished black cabinet conceals a HUGE 46-inch flatscreen 3D TV, another data port with plug sockets and DVD player.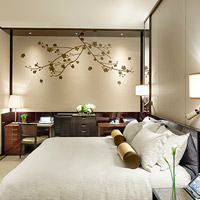 Peninsula new-look room/ photo: hotel
Also spot espresso machines, assorted bedside gadget chargers, noise-cancelling headphones, a large vertical safe for much more than just a laptop, a valet box for whisper-quiet laundry removal, and classy, retractable drink coasters. With the push of a button, you can even turn your marble bath into a spa experience with dimmed lights, mood music and a "do not disturb" sign. Order room service. Or watch TV while you soak and lavish Oscar de la Renta toiletries on your deserving self. A 1,344sq ft Deluxe Suite in the old wing is more an apartment than a hotel room with a cavernous but friendly living and dining ensemble - with a long L-shaped sofa littered with cushions - facing the Space Museum, with a rear-set bedroom featuring a lady-killer vanity mirror that again rises out of the cabinet at the press of a finger. Expect a nail dryer as well. The bathroom is all marble with a power shower and twin vanities.
For metrosexuals and discerning ladies, a variety of beauty and therapeutic treatments beckon at The Peninsula Spa by ESPA featuring 14 treatment rooms and a Roman style swimming pool. Get a facial or indulge in foot reflexology. You can always slap on the calories again at the penthouse Felix with its stylish décor and eye-popping harbour views through tall windows. Also look out for Salon de Ning, an East-meets-West lounge-cum-jazz bar in the basement with live music and a small dance floor.
Faced with a choice of razing to the ground a historic building or preserving it, Hong Kong developers opt with alacrity for the former. The Hullett House, formerly the Marine Police Headquarters, located on Canton Road, minutes from the Kowloon Star Ferry terminal, miraculously escaped the wrecking-ball. In 2019 it re-emerged as FWD House 1881, perched on a low rise above the new 1881 Heritage shopping complex. The white stucco colonial building houses 10 large, individually decorated suites and five restaurants and bars. Rooms range from 800sq ft to 1,000sq ft with a wide terraced balcony and a central courtyard. Choose from a romp in Imperial China, 1930s Shanghai or an English country manor.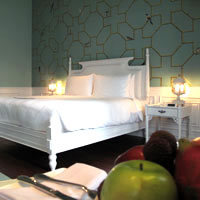 FWD House 1881, formerly Hullet House suite/ photo: Vijay Verghese
Each bespoke room design offers hand painted murals and original artworks. The latest in hi-tech gadgetry is present but discreet: LCD TV, DVD, iPod stations and WiFi (wondrously free), plus rain showers and standalone tubs in the bathroom (though combinations vary from room to room).
You'll look onto the 1881 Heritage shopping layers below but not the harbour. Still it is breezy and bright and redolent of yesteryear. The inviting Stanley Suite (a terrace suite) by comparison offers wooden parquet floors, a delicate powder-pastel blue-green hue on the walls with hand-painted bamboo trellis work and birds. Try and spot the concealed TV (all 42 inches of it squirreled away behind a sliding wall panel). It has a shared terrace and separate rain shower cubicle and tub in the bathroom with twin wash basins. Rooms in general are rather bare but the size is jaw-dropping.
Stately or simple, it depends on your point of view. A slice of heritage in Hong Kong is worth its weight in wonton meen, something that won't pass by unnoticed when the bill arrives. Take a visit, even if just to wander round the designer shops or grab a bite at one of the five new speciality restaurants servining fine food with flair.
Pick from outlets Fortune Villa, Stable Steak House, Stable Bar, Café Parlour and The Sergeant's Bar. If the names seem evocative, the decor and ambience will send you back a hundred years. Duck web? Try Fortunate Garden's Cantonese menu. The Stable Bar stocks 102 kinds of gin while the Sergeant's Bar offers craft beers. Expect antique wood doors, breezy verandah dining, modern menus and vintage twists.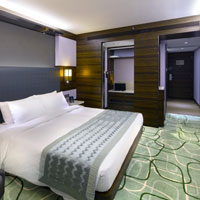 New World Millennium/ photo: hotel
The New World Millennium Hong Kong Hotel (formerly the Nikko) returned to the TST shores of Victoria Harbour mid-2014 with 464 smart rooms, and a US$120 remodelling that has added zing. Dining choices include Chinese, Japanese and French, and 10 meeting rooms are on hand including a Grand Ballroom with crystal chandeliers for functions and corporate get-togethers of various sorts. Also expect an attractive rooftop pool, gym, the open-views Bar on 15, and a club lounge facility on the 14th floor, now renamed the Living Room at the 'Residence'. A Deluxe Harbour Viiew Suite serves up contemporary space in grey pastels with dark woody tones aimed at business travellers. Expect a flat-screen TV, large tactile room control switches, free WiFi, a 'Handy' smartphone for city or in-room use with free IDD calls to five countries and unlimited data, iPod docks, flat top-loading safe for a notebook (not laptop) or valuables, walk-in closet, iron and ironing board, sofa, and a Jacuzzi bathtub for sheer indulgence. The desk-top data-port has three three-pin plug sockets and there is a socket on either side of the bed.
Deluxe Harbour View Rooms offer 35-37sq m of space, grey carpets with squiggles, vertical art strips as counterpoint, pipe reading lights and a more compact toilet, but with tub and rain shower. Mini-bars at the hotel may be ravished at no charge, one time per stay for non-alcoholic drinks. You'll need to stump up for alcohol though. The hotel, an earlier landmark, faces the TST harbour promenade that affords brilliant views of Hong Kong island.
Back across Salisbury Road sits the 782-room Sheraton Hong Kong Hotel and Towers. This was once a muted kind of hotel but is now at the tail end of a warmer revamp, with business angles softened by modern sculptures and mood lighting. Standard rooms here are a bit low on frills and technology but are high on space. All have bathtubs, with a floor-length glass panel between bathroom and bedroom. Pay more for a Tower room on one of the top two floors and you'll get private check-in, free Internet access, in-room printer and fax, DVD player, and access to the private lounge.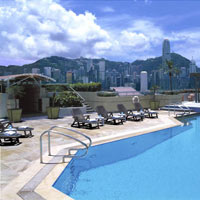 Sheraton pool/ photo: hotel
The gym provides a workout on top of the city, as does the rooftop pool. Smokers are banished to a cigar room in the lobby, but the Sky Lounge upstairs has a private ambience, as well as sweeping views and pricey cocktails.
Also in this bustling Nathan Road area is the Holiday Inn Golden Mile — great location, effusive staff and good food. From its new logo to the bright chandelier dressing up reception, it's clear the 614-room hotel has had a contemporary makeover. Renovated in 2009, the Holiday Inn updated 85 percent of its rooms, as well as its fitness centre, Crystal Ballroom, Executive Club Lounge, and four restaurants.
The revamp includes a notable addition of unique "groups rooms" with varied arrangements of double and twin beds — perfect for families and business travellers. Or opt for a three-bed arrangement for work or play. It all fits in without too much of a squeeze. Though WiFi costs HK$140 per day, the green-themed premier rooms come with broad, stylish desks, ergonomic chairs, international adapters and a 32" flat screen TV.
Also in this bustling Nathan Road area is Harbour Bay Hotel (formerly The Minden), a homey 64-room boutique hotel. This is a relatively new arrival in a nice location; a leafy patch near Nathan Road with some good bars and restaurants around.
A wander farther east along Salisbury and then Mody Road will introduce a queue of modern, well-equipped options – the Kowloon Shangri-La, the Regal Kowloon Hotel, and the smart InterContinental Grand Stanford.
A landmark on the Tsim Sha Tsui East waterfront, on Mody Road, is the Kowloon Shangri-La with 700 elegant guest rooms (among the most spacious in the city) and unobstructed views of Victoria Harbour and the Hong Kong skyline. The hotel – including its guest rooms, restaurants, function rooms, and Horizon Club lounge and 12-seat conference rooms, underwent a US$25 million renovation. The hotel is kitted with hi-tech facilities, and Horizon Club rooms have special touches such as binoculars for those facing the harbour, trouser presses and wireless telephones that work anywhere in the hotel.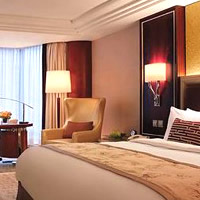 Kowloon Shangri-La/ photo: hotel
Apart from extensive banquet and meeting facilities, the hotel offers a range of excellent restaurants, from Angelini with its harbour views, bright, modern interior and excellent Italian fare, to the red-and-gold Shang Palace offering Cantonese food. There's also a stylish Japanese restaurant and the sumptuous, groaning buffet of Cafe Kool. The state-of-the-art health club and business centre are both open 24 hours.
For contemporary designer chic in Hong Kong, check out the 262-room Hotel ICON (opened mid 2011). With soaring glass walls, pale greys, woody hues, and clean minimalist Zen lines broken by an arresting 8,000-plant vertical garden that drapes one entire wall of the GREEN cafe and lobby, this is an address hugely welcoming of light - and people.
Step into the airy lobby to be attended on by brisk khaki-clad bellboys in riding Jodhpurs who do things at a canter. The mood is distractingly friendly, unsurprisingly so, as this is a training establishment managed by the School of Hotel and Tourism Management at the Hong Kong Polytechnic University. With 300 dedicated professional staff and over a 100 trainees at any given time, there is a surfeit of enthusiasm and can-do derring-do. Yet this youthful establishment is no novice and sets the bar refreshingly high, well above levels achieved by well dug in brands.
At the lobby, a sweeping glass staircase spirals up into the light. The Above & Beyond Club for executive floor guests offers ramped up facilities and treats including a round-the-clock concierge, American breakfasts, and a panoramic bar. There's paperless check-in – simply fill out electronic forms on a WACOM tablet – and two PCs for complimentary Internet access or work. WiFi is free throughout the hotel. Expect woody surrounds with darkened interiors and clean lines offset by pools of focused light and deep-seating furniture overlooked by large Hong Kong portraits in oils essaying everything from Mongkok streets to the blue evening skyline from Victoria Peak. After 8pm the lounge is opened to the public. Also on the 28th floor are the Chinese restaurant and three private dining rooms. Be sure to make time for the excellent Asian explorer lunch buffet at The Market.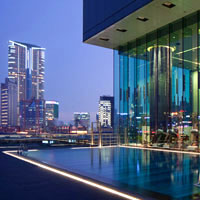 ICON pool/ photo: hotel
Rooms are understated and stylish. The smallest ICON 36 room starts at 36sq m with free in-room minibar, Wi-Fi, and local calls. In a CLUB 36 from the 23rd to 28th floors expect lounge access with refreshments and, in-room, a Nespresso machine, an iPhone dock, a large flat-screen TV, Blu-ray DVD, an iCloud wireless printer, a narrow wall-mounted work desk with a full-array data-port (two three-pin sockets with adaptor, USB and HDMI sockets) and an invitingly plump white linen bed set on a grey-jigsaw pattern carpet. The flooring is in cream tile. A laptop friendly safe is tucked away in the cupboard. The bathroom, while very compact, is thoughtfully designed with a space-age convex glass partition shaped like an eye, housing the rain shower. Best of all the mini-bar is free - and yes, there's beer.
Move upscale to a Club 38 Harbour, a CLUB SUITE 65 or an 80sq m CLUB SUITE 80. No fussing with standard and superior rooms. The room name defines your living space. On the 9th floor is the open air pool (heated in winter) with magnificent harbour views. The black and green-tile podium is backed by high glass panels shielding a well featured gym. This floor is also home to the Angsana Spa. The hotel's location is a tad awkward, being just a little out of the conventional lodging belt, but it is just a short walk down to the Tsim Sha Tsui East boardwalk and a coach shuttles guests every 20 minutes to the MTR station and the shopping areas of Nathan Road, iSQUARE and Harbour City.
Intercontinental Grand Stanford is a short hop up from the Kowloon Shangri-La in TST East and a bracing walk to the MTR but there are frequent shuttles to the Star Ferry. The upside of this slightly farther location is the uninterrupted harbour view that is more than picture postcard perfect. This smartly remodelled value business traveller bolthole is a homey yet engaging escape with the Zanadu health spa just for gentlemen who enjoy an evening rubdown and steam saunas. There is a separate salon for women as well. For an additional fee, all guests can enjoy the perks of the smart harbour-view Club InterContinental Lounge, aimed squarely at demanding executive suits who need big vistas and attention to small details like meeting facilities and separate check-in. Though WiFi is charged in-room, the lounge includes free internet access and local calls and two hours in the 10-seater meeting room. Of an evening, savour the Italian flavours of Mistral.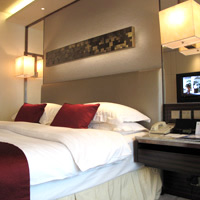 InterCon's Grand Stanford new look Premier/ photo: Vijay Verghese
The hotel went through a major overhaul with an all-new facade in 2005 that also ushered in a resort-style rooftop swimming pool and 24-hour fitness centre which, unlike at many hotels, is not open to outside "members". New-look rooms have been catapulted from dowdy old world to a pleasing pastel purr. Expect sleek, low-lit corridors, silver and lavender striped accents and richly toned woods. In-room, guests will enjoy brighter, more natural lighting and sophisticated feel-me textures, from the leather upholstered headboards to the crinkled bed runners. Though it may be a bit hard to find (tucked discretely in an unassuming bottom drawer by the TV), the flat top-loading safe will hold a laptop quite comfortably.
A Premier Harbour View room serves up a grey marble foyer leading to the carpeted bedroom presided over by a voluminous bed with excellent sea views when the weather is obliging, and even when not. Expect a teal blue runner and a navy divan by the window for a sundowner. This room offers a tub in a compact but but thoughtful bathroom with large, well-lit mirrors, while most Premier City View Rooms have just a power shower cubicle. Beds face a large flat-screen television, and working desks are set near data ports with two three-pin sockets (including one with an adapter plug). An excellent addition is the pillow menu with six choices. Try the lavender scented wellness pillow. Also fin an iPod dock and a three-pin power socket on either side of the bed.
The transformation has been dramatic, repositioning this hotel as a brisk yet stylish TST East retreat. The woody lobby remains a cheery and busy meeting spot. Also unchanged is the art deco throwback, Tiffany's New York Bar, with its clubby feel. This is a well regarded address for business travellers in need of a value escape with great views and shopping and nightlife peppered around the district.
Directly opposite Kowloon Shangri-La on Mody Road are two large hotels, The Royal Garden and Regal Kowloon Hotel.
The Royal Garden is about three minutes walking distance from Tsimshatsui East MTR station, and has 419 rooms with modern décor, plasma TVs, Broadband Internet, and mini-bar. Crown Club guests get benefits that include larger rooms, free breakfast, evening cocktails, and discounts on laundry and dining. There is a rooftop pool, tennis court and putting green overlooking the harbour, and the hotel offers a range of fine dining options from Sabatini (Italian) to Inagiku (Japanese), and Le Soleil (Vietnamese).
Right next door is Regal Kowloon Hotel, with a spacious marble lobby and helpful staff. There are 600 rooms with desk, TV (some are LCD plasma screens), wireless Internet access (complimentary in some rooms), and minibar. Guests on Regal Club floors get access to the Club Lounge (with its own buffet breakfast and all-day drinks), private check in, and complimentary airport transfers.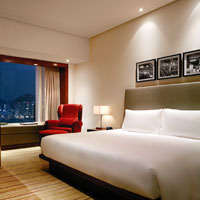 Hyatt Regency TST, Kowloon/ photo: hotel
The Hyatt Regency Hong Kong, Tsim Sha Tsui made a much-anticipated return to Kowloon late 2009. It's discreet entrance lies in the less than discreet, towering "Masterpiece" building that soars unrestrained above the TST skyline. Red woods and grey marble achieve a distinctly corporate feel in the fourth-floor lobby. This smart, business feel extends to the 381 rooms. Standard 28sq m rooms have a work desk, day bed, lots of light and mirrors and simple décor, including all-white linen. There's a minibar and laptop safe, rainshower, WiFi (charged) and a large LCD TV. Step up one grade to Deluxe and the 31sq m rooms have a bathtub and harbour views. The Regency Club for pin-stripers on the go offers an executive escape with a personal concierge and lounge with flowing refreshments. Hyatt Regency TST sits atop the K11 "art mall" bursting with brand shopping for the younger set. Higher floors offer unalloyed harbour views. Expect a breezy open-air heated pool, fitness centre, a pillarless ballroom capable of handling 400 guests reception-style, and versatile meeting rooms for corporate get-togethers. The stalwart fine dining Hugo's has been reincarnated here and the lobby-level Cafe serves up a splendid buffet, open-kitchen style with everything from tandoori to sashimi. This is a hotel comfortable in several roles with welcoming and attentive service.
Butterfly on Prat Avenue is a small but elegant and very affordable new budget hotel situated in a bustling area of Tsim Sha Tsui near Mody Road, surrounded by busy shopping lanes, malls, museums, and restaurants. This self-styled Hong Kong boutique hotel boasts 122 rooms and suites, sporting a basic, yet clean and modern décor. Internet access in the lobby is complimentary, but in-room Internet comes with a fee of HK$60 an hour or HK$130 per day. Although there are no restaurants in this no-frills hotel, there are several dining options nearby.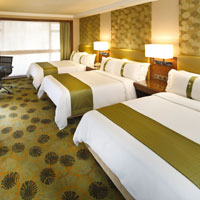 Holiday Inn triple room/ photo: hotel
On the southwest shoreline of Kowloon, close to the Star Ferry pier is the Marco Polo trio – The Marco Polo Hong Kong Hotel, Gateway Hong Kong and Prince Hong Kong. All three are part of the gargantuan Harbour City mall complex with over 700 shops and restaurants, making them the most dangerous choice for closet shopaholics. The 664-room Marco Polo Hong Kong Hotel is a swish five-star and is right on the harbour. Look out to watch cruise ships docked at Ocean Terminal. The hotel has updated its look and, in general, is large, comfortable, and a little sleeker than its two sister properties. It also has a small outdoor heated pool and a day spa run by Aveda. For business travellers, the hotel serves up its Continental Club with butlers, lounge and boardrooms. In its Hong Kong conference hotel persona, the Marco Polo can offer meeting facilities for up to 500 persons. This is a convenient Kowloon business hotel choice.
Gateway Hong Kong has 433 rooms and suites, two restaurants and a bar. All rooms offer Broadband Internet access, while suites have additional business facilities like fax machines and telephones in the bathrooms. The Gateway's gym is being converted to another restaurant, but guests are able to use the Fitness First Health Club nearby to satisfy their fitness needs. The pool at Marco Polo Hong Kong Hotel is also available to Gateway guests.
Prince Hong Kong has 394 rooms that are slightly smaller than those at Gateway. Amenities are similar though, and Marco Polo's staple Continental Club is also here. Guests are welcome to use Marco Polo's pool.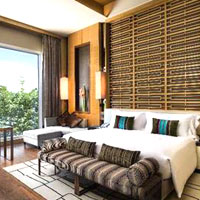 The Olympian/ photo: hotel
The Olympian Hong Kong (opened early March 2016) is a 32 room hotel that serves up a contemporary residential feel with spacious rooms and suites with 3.3m-high ceilings and full height windows welcoming of light. This is a stylish and spacious boutique option in blond-wood tones with dark timber floors in the developing West Kowloon district not far from the Olympic train station, which is linked to HK Island as well as the busy Kowloon Station where city check-in is available.
The Salisbury YMCA is another great option in this area, a bargain considering the locale and top-notch harbour views. It is still very much a Y though – with a community-centre feel stemming from its leisure facilities. These include squash courts and a pool that wafts chlorine through the lobby. A total of 16 floors hold 363 rooms, all comfortable and fairly well equipped. Suites are great for families and have flat-screen TVs. Room service is available during the day and the place is Wireless throughout. The Salisbury is also popular for its large function rooms, comprehensive gym and surprisingly modish dining room, with views of the cultural centre and psalms on the menu.
In the thick of Kowloon luxury brand shopping is the pretty-in-pink The Langham Hong Kong. Back with a US$30m makeover, the new-look hotel sports a brisk stride with generous lashings of Euro-chic. Think glinting scalloped baroque ceilings inbronze hues, metal statues in playful poses, and a contemporary new Palm Court lobby lounge with classic cream and powder blue furniture outlined in elegant black trim.
This is a brighter, cleaner space that has banished the dark recesses of yore. Renovation continues apace and by early 2015, the 100 or so revamped rooms included Grand Rooms and a few signature suites.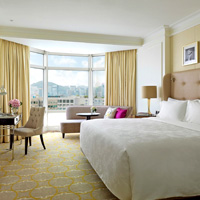 Remodelled Langham Grand Room/ photo: hotel
The 32sq m Grand Rooms in light earth tones serve up complimentary WiFi (and plug-in broadband) along with a 37-inch flat-screen TV, iron and ironing board, a glass work desk and coffee making facilities. The 34sq m Grand Langham Rooms are a good pick with tan-leather headboards behind a plump white bed, a window-side settee with a pink burst of cushions, a 40-inch wall mounted flat-screen TV above a faux marble fireplace, and an elegant wood desk for workaholics paired with a classic pucker-button beige velvet chair. The carpet is in pale mustard and the overall feel is homey and welcoming. There's a Nespresso machine for a morning boost and 'shopping butlers' are on call to do what they do best - help you shop. Also expect complimentary local and toll-free calls and free pressing of two garments per guest upon arrival.
The new-look Langham Suite ups the ante with 55sq m of playroom in hushed powder blue with a 46-inch television, pillow menu, pale wood parquet floors, shopping butlers, free minibar for non-alcoholic beverages, and an attractive mural featuring winged birds and blossoms. Everything is in soft focus pastel ensuring you'll feel like a floating Venus in a Botticelli painting. The Bostonian and Main St Deli restaurants will whisk you away to the US East Coast while the two Michelin star T'ang Court revels in Cantonese fare.
Looking on to at Victoria Harbour from a different angle is The Royal Pacific Hotel & Towers. The hotel offers an array of transportation options – MTR, Airport Express station, and the Star Ferry – all just a short stroll away. It is also directly connected to the China-Macau Ferry Terminal (in case casinos are beckoning). The 673 guest rooms (including 34 suites) sport a contemporary décor, and offer all the mod-cons and amenities, including a mini-bar, LCD flatscreen TV, wireless Broadband access, in-room safe, tea and coffee making facilities. Yes, of course there's an iPod dock.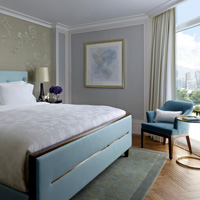 Langham Suite, shades of Europe/ photo: hotel
Just behind the Peninsula, The Kowloon Hotel is a more affordable alternative; fairly basic but still with a luxury touch here and there. It doesn't have a gym or pool, but facilities at the YMCA or the Harbour Plaza Metropolis (the latter five minutes away by shuttle) can be used for a small fee. Rooms are small, but renovations that took place at the end of 2007 have given them a fresh look.
On Chatham Road South, crammed with cheap Japanese restaurants and massage parlours, is Park Hotel. Loud package-tour groups crowd the small lobby, but this hotel offers basic rooms, a good location minutes from the MTR and endless shopping.
Just around the corner on Prat Avenue is the conveniently located Guangdong Hotel Hong Kong. The décor doesn't sparkle, but its 245 hotel rooms have basic amenities including desk, TV, and Internet access. The hotel has two restaurants, a small gym, and a business centre.
On Hart Avenue, Tsim Sha Tsui, the 324-room four-star Hotel Panorama (by Rhombus, which also runs the LKF boutique hotel in Central and Hotel Bonaparte in Wanchai) opened end March 2008 with easy access to the MTR train network. Expect small but smart contemporary rooms (in beige tones on the business "Platinum" floors, 26th floor and up, where the skyline opens out considerably) and floor-to-ceiling windows offering generous harbour panoramas. The hotel has just around 10 rooms per floor making things rather cosy for some.
Platinum rooms have iPod docks, a top-opening drop-in safe for jewellery and camera, if not a laptop, weighing scales, and flatscreen TV. Suites, of which there are 12, offer the luxury of double entrances, a more spacious toilet, bathtub and separate shower, two 33-inch flatscreen TVs, walk-in dressing alcove, electric suit press, and a retro coffee making machine. Hotel Panorama's Gold floors run from the 18th to 25th floors while tour groups will commonly be accommodated on lower Silver floors. There is no pool but facilities at this hotel include the breezy open-sided Sky Garden on the 40th floor where you can putt a ball and enjoy the views, a cafe, the 38th-floor Santa Lucia Restaurant and Lounge, a fitness centre, and the well-stocked Rhombus Club lounge.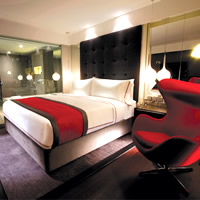 The Mira, City Red room/ photo: hotel
Hotel Miramar has been dramatically reborn as The Mira setting the tone for remodelled Hong Kong hotels. It is right in the thick of the action and offers both a stylish and contemporary business option and a decent leisure stay. Well entrenched at a busy Nathan Road junction and a few steps away from Tsim Sha Tsui MTR station, the hotel has easy access to some of the best shopping Hong Kong has to offer.
The August 2008 renaming ushers in a major facelift, upping the hip factor to appeal to arty, tech-savvy types. The main entrance is now super modern, with grey marble floor, a black marbled ceiling, mood lighting, glass reception desks, and smartly-attired staff. The hotel's rooms and suites come in one of four colour tones (purple, red, green, and silver), and are kitted out with Blu-ray PCs (with mobile keyboard), 40-inch Sony LCD TVs, free mobile phones for local use (which also offer some of the cheapest IDD rates in Hong Kong), iPod chargers, ergonomic work stations and designer furniture. Bedrooms and bathrooms are open plan, separated by a glass screen, though there are blinds for a bit of privacy if so desired. The entire bathroom encasing is glass and this opens up what is a compact area into an appealing visual extension. Flip open a concealed flap on the work table to find three adaptor plug points for all your gadgets and more. Plug in to Broadband. Down in the lobby find a free WiFi workstation with computers humming. At this hotel you'll also find Hong Kong's latest body-beautiful bolthole, the MiraSpa, a stylish affair with pool, sauna, whirlpool, steam and spa suites. The mod and minimalist Nail Bar offers pedicure stations in a space-age amphitheatre with hushed lighting so you need never peruse your calluses.
Guests on Mira Club floors get access to the Mira Club lounge, which has private access and a personalised check-in service. The chic Yamm restaurant serves up international fare, with an emphasis on Japanese cuisine (for dinner you might need to book a few days in advance), while Room One in the lobby is the place to go for an after work cocktail and some DJ-spun sounds. The Mira's 1,400sq m ballroom is located on the 18th floor and overlooks the green of Kowloon Park – a large event space up this high is a rarity in the city. Some of the rooms also look out over the park, so try to nab one that is rear-facing if you can – England 's Prince Edward did the last time he stayed over, and the man has taste.
Novotel Nathan Road is, predictably, on bustling Nathan Road and offers a newly renovated place to park your head along this stretch. It opened early 2008 and has 389 rooms, a business centre, fitness centre, a bar and restaurant. In the rooms expect wooden floors and contemporary décor, as well as standard amenities including flatscreen TVs and Broadband Internet (HK$98 per day).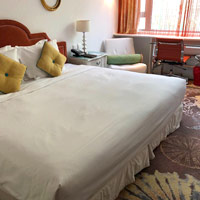 Luxe Manor new Deluxe/ photo: Vijay Verghese
The Luxe Manor, which opened in 2006 and introduced a new look in 2018 (with fewer curves and playful flourishes), has certainly injected a bit of fun into the average business or leisure stay. Surrealism is the order of the day at this 159 roomer, with fanciful mismatched furniture, trompe l'oeil (realistic imagery) flourishes on walls and a heavy emphasis on contemporary art. If all this and free WiFi sounds like your cup of tea, head to the new look rooms. A Deluxe now sports a narrow glass desk by the window with the same ergonomic chair and three three-pin sockets underneath. It faces a saffron string curtain. There is a three-pin socket on either side of the bed as well. Expect a brighter less cluttered feel with fresh carpets (also sporting circular patterns), a padded headboard, teal blue minibar cabinet with floral panels, easy chair, ottoman, faux fireplace with mantlepiece, flatscreen television, laptop-friendly safe, painted cupboards, and the FREEDY smartphone that offers free calls to 10 countries as well as free internet access. Thye bathroom is compact but bright with a round mosaic-frame mirror, hairdryer, scales, and a bathtub with handshower.
The Luxe Manor has six themed suites that transport guests to the desert (Safari Suite), ice (Nordic Suite), or a palace (Royale Suite). Each comes with separate lounge areas, en suite bathrooms, bespoke furniture, mood lighting, and whimsical wallpaper. The Safari Suite has a tented feel with wooden floor and tiny sparkling ceiling lights for a 'sleeping-under-the-stars' effect. Of course, you won't usually find a television in the desert, but if entertainment calls, just grab the remote and a flatscreen TV will rise up from a wooden cabinet. Honeymooners can play out their wildest fantasies in the Liaison Suite, which is vintage French, complete with satin curtains that draw back to reveal a huge oval bed.
Stanford Hillview is handy to the bars and nightlife of Knutsford Terrace. This mid-range hotel has 163 rooms with the basics, but you'll need to book a superior or deluxe room to get Internet access ports. There is free WiFi available in public areas. Two outdoor golf driving nets and a gym will satisfy the sportsters, there's a business centre for business travellers, and a free shuttle bus runs between shopping spots and train stations. Three restaurants serve a mix of Asian and western fare, but the choices along Knutsford Terrace will satisfy most appetites.
Down Cheong Lok lane (off Nathan Road, Exit B1, Jordan MTR), you'll find the sparky 88-room Madera Hotel (opened March 2012). A funky addition to Hong Kong boutique hotels scene, this quirky green-themed gem is popular among young professionals and creative fashionistas.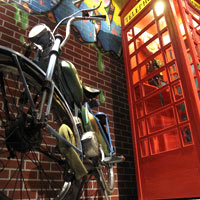 Boutique Madera, '60s gallery/ photo: Vijay Verghese
From the vertical garden foliage behind the gnarled wooden check-in counter to the delicate bamboo accents, it more than lives up to its name - Madera means "wood" in Spanish, and the Spanish designer's hand is evident throughout this enticing confection.
On the ground floor behind the lobby, peek through red velvet curtains into a large darkened "warehouse" to travel back to '60s era Hong Kong. The hotel's mini-museum is intended as a place for guests to gawp and lounge, but the vintage goods — everything from bicycles to bunk beds ("Life in Resettlement Estates"), advertisements to vintage radios, Victorian-era mailbox to the red telephone booth and mahjong table, will have your eyebrows arching and fingers pointing instantly. The British colonial touches continue upstairs at the hip, vintage coffee shop Cafe 1997, named after the handover. Here you'll find an outdoor patio, cafe, library (a comfy sitting area) and a meeting room for 12. Also expect a "boutique" gym with grainy black-and-white pictures on the walls and an eye-popping cool Games Room that transports kids and adults with itchy fingers to a movie theatre setting with purple lights, a huge wall screen, and two well-equipped consoles (PlayStation 3 or XBox 360). On the 29th floor, cool off with a cocktail while soaking up views over Hong Kong.
Book into one of the nine signature suites for a real treat. Here space really opens out with a curious combination of whimsy and careful thought. The 900sq ft Lush Suite is an essay in powder green pastel and pale wood set in a long virginal white room that extends from living area to bathtub to bedroom seamlessly as an open-plan progression. Along its length are floor-to-ceiling windows that let in both light and curious looks from neighbours (that can be blocked by dropping the wooden blinds). Outside is a gritty old Hong Kong view, unless you happen to be on a higher floor.
A white stag-coral lampshade sets the design tone above a six-seater table while you get down to serious exploration. The cement flooring, neatly executed, leaves a pleasingly rustic taste underfoot. An alfresco patio lies beyond the living room. Occupy yourself with a large 3D television, another flat-screen SONY facing the king-size bed (with wooden spoons and spatulas set into the head wall and bright reading lamps on either side). There are twin vanities - tall inverted cone ceramic basins - in a grey-purple-tile mosaic cubbyhole with rain shower to one side and Crabtree & Evelyn toiletries. This is a light airy space. And workaholics will enjoy the free WiFi and the three-pin sockets scattered about the room.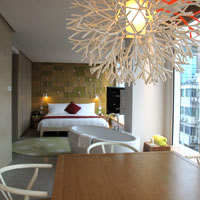 Madera Lush Suite/ photo: Vijay Verghese
The Madera Penthouse duplex suite serves up woody flavours with a split level arrangement connected by a vertiginous and awfully slender corkscrew staircase that will challenge anyone after a few stiff drinks. Understandably, this is not a room for children under 12. The cosy living room below offers a comfy sofa-bed and a 52-inch television. Upstairs is the bedroom with dark purple bed runner. Expect a free one-serve mini-bar with soft drinks and snacks and, again, a bathtub, this time protected well indoors. The duplex design will appeal to some but chops the space considerably.
Standard Grand Deluxe rooms are a squeeze by comparison with cheerfully plump white beds atop startling black-and-white ripple carpets with under-lighting. Red cushions set the Hong Kong theme while mirrored wardrobes, twin vanities, a power-shower cubicle with tub, iPod docks and a laptop-friendly safe complete the array of goodies. There are anywhere from two to five rooms per floor. Mark this boutique escape in your diary for a wondrous romp, all just a block from the train. And now on Hong Kong Island you can enjoy the boutique Hotel Madera Hollywood (maderagroup.com/hollywood/en).
Mongkok, Hung Hom hotel choices
The Cordis Hong Kong at Langham Place (formerly The Langham Place Mongkok and rebranded 1 September, 2015) is a characterful and fun luxe choice for leisure trippers and business travellers in the neon buzz of Mongkok, just a stone's throw from the MTR with an underground connection that can be a tad confusing at times as you transit the mall and all its splendid distractions. It used to attract the hip, fun business and shopper set, with its modern Chinese artworks and hi-tech, but style-conscious décor, and direct access to Langham Place, one of Hong Kong's more sparky shopping malls. With a clean pastel makeover and less artsy distractions by the yard, It is a sparky address for small corporate meetings too. Rooms start on the eleventh floor and all 665 have oversized baths and showers. Hallways open onto bright 310sq ft classic rooms, which make good use of space including a large bathroom with glass wall, 42-inch TV, DVD, IP phone and iPod dock.
With a vast array of room choices, pick a Studio on the go with its stark and businesslike minimalism, the cream tones punctuated by a solitary blue divan.
A must-see is the Chuan Spa on the top three floors. This luxury affair is a frontrunner in the Kowloon heartlands of Mongkok, with 10 double treatment rooms dedicated to Chinese remedies and Asian treatments. Try hydrotherapy, massage, facials and wraps, before plunging into the rooftop pool.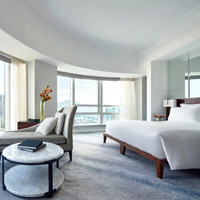 Cordis at Langham Place, Mongkok, Studio/ photo: hotel
Breezy views abound, particularly at night when the Kowloon highrises are transformed into a sea of flickering lights. Enjoy the redesigned and fashionably friendly bar, Alibi, as well as the clean open marbled spaces of the reworked lobby. This is an excellent Hong Kong business hotels pick for men, women, and gleaming-haired metrosexuals.
Deeper into Kowloon on Tai Kok Tsui Road another sweet price point is available at the Dorsett Mongkok, Hong Kong (rebranded from Cosmo Hotel Mongkok on 11 October, 2013). Expect early bird discounted rates of under HK$1,000 or better depending on season. The hotel is a modest walk from the Olympic MTR station. In-room expect free WiFi, iPod docks and 26-inch flat-screen televisions. Rooms are compact, if modern, well lit, with frosted glass panels separating the bedroom, with silken bed runners and mirrors to expand visual space, from the mosaic-tile bathing area.
Two Harbour Grand group hotels have laid claim to Hung Hom, a district served by its own Star Ferry routes (from Central and Wanchai) and about a fifteen-minute drive from the TST waterfront. The Harbour Grand Kowloon(formerly The Harbour Plaza Hong Kong) even has its own ferry dock for extra privacy, a touch favoured by many a visiting VIP. This hotel is large, light-filled and nicely perched at a bend in the harbour. Expect Broadband, cable TV and a dollop of something in short supply in Hongkong – space. The 506 refurbished rooms run from 38 to 68sq metres while suites go up to a capacious 104sq m. The hotel caters largely to the business traveller, with function rooms and executive facilities aplenty.
There is a 4,500sq ft ballroom should you be in the mood for a tango or a large conference. The "fish tank" rooftop pool area lends the place a resort feel and for those in search of a true wind-down there's a Jurlique spa service at hand. Be prepared to do battle with various wedding parties for use of the grand staircase. This is a popular venue. Harbour Plaza Metropolis goes for modern over "grand" and combines rooms with serviced suites opposite the MTR "East Rail" Hung Hom station.
The latest Hung Hom entrant is Kerry Hotel Hong Kong from the Shangri-La group, described as an 'urban resort'. Most of the hotel's 546 rooms serve up harbour views and there is the convenience of a new Whampoa MTR station as well as ample stretch room with a Deluxe starting at 42sq m. There facilities for the disabled as well as children (babysitting) and an I.T. butler on hand to get you hooked up. Attractive rooms are contemporary, in pastels, with woody tones.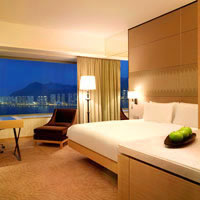 Hyatt Regency Shatin/ photo: hotel
Options tail off quite a bit as you head farther inland, but the recently refurbished and rebranded Eaton Smart hotel, between Jordan and Yau Ma Tei, gives good value for money and thoughtful service, as well as speedy access to the night market melee. More than HK$10m was spent on the refresh which includes a new bamboo-themed lobby, internet portal and outdoor bar.
Other Kowloon choices include Metropark Hotel Kowloon (sister property of the Metropark Hotels on Hong Kong Island), The Kimberley Hotel and the Empire Hotel Kowloon.
Gone are the days of flying between buildings when Hong Kong's airport was at Kai Tak. But if you're feeling nostalgic and want to go plane-spotting without the planes, try Regal Oriental Hotel. In days of yore, it was the closest hotel to the airport. It's now a more affordable option than its sister property in TST, is still reasonably handy to the city, and is also close to interesting spots like Wong Tai Sin Temple. Regal Oriental Hotel offers 400 rooms, 13 meeting and function rooms as well as a gym, pool and tennis courts.
If you start feeling dizzy when you walk into the lobby at Harbour Plaza 8 Degrees then don't worry— it wasn't the prawns you ate last night—it's actually the hotel's rather quirky design. Everything from the check-in desk to the restaurant buffet tables look wonky but it's actually a clever optical illusion. Just imagine you're Alice and this is Wonderland and you'll be just fine. Although the hotel's location in Tokwawan, out near the old Kai Tak Airport, is not the most convenient, there is a regular free shuttle bus to Tsim Sha Tsui, which takes around 10 minutes. Room rates are more the attraction with a 26sq m standard Superior starting at only HK$765 and including facilities such as 32-inch flatscreen TV, minibar, coffee and tea facilities, laptop-sized safe, lots of storage, a cushioned window seat and walk-in shower (but no bath) and hairdryer. Internet access is HK$120 for 24 hours and ironing equipment is available on request.
All second-floor rooms come with balconies and there are also 100 serviced suites for long-stay guests. Water babies will enjoy the large outdoor unheated pool (closed Nov-Feb), which includes a whirlpool. After working out in the fitness centre, then sweating it out in the sauna, head to the garden terrace and sample some truly amazing cakes. Try the delicious mango napoleon or the heavenly chocolate tiramisu. There is also 4,500sq ft of function space.
New Territories, Shatin, Lantau, Airport
In the burgeoning satellite town of Shatin in the New Territories is the Hyatt Regency Hong Kong, Shatin, not far from the Chinese University of Hong Kong and close to the train line. This reflective glass high-rise hotel offers 567 rooms (including 133 for long stays) with lie-back-and-blast-off 42-inch flat-screen TVs, Regency Club rooms for executive travellers, tennis, a 25m outdoor heated pool, whirlpool sauna, and a Melo Spa with nine spa suites. The long-stay units runs from 65sq m studios to 165sq m two-bedroom layouts that include larger work desks, a microwave, kettle, toaster and basic crockery. Longstay guests also get discounts for laundry, business services and car parking. And kids are not forgotten with a Camp Hyatt offering a wide array of activites for future business travellers aged three to 12. This Hyatt caters for meetings and conferences too.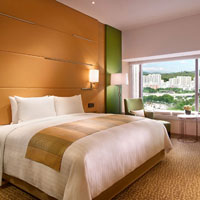 Courtyard Shatin/ photo: hotel
A well known face in this area is the older Regal Riverside Hotel with a staggering 1,138 rooms including the iClub Executive Floor. Located in downtown Shatin close to malls and offices with easy access to industrial parks, this is a hotel focused on both long-stay guests for whom cracker deals are available, and conferences. Two grand ballrooms can manage up to 600 persons.
Courtyard Hong Kong Sha Tin, by Marriott (mid 2013), brings a contemporary funky few-frills futuristic feel to this satellite town as well as meeting space for 430 in a 515sq m pillarless ballroom. The hotel is a short stroll from the Shek Mun MTR station on the Ma On Shan line, so it's not quite in Shatin proper but close, and not far from the river.
The 524 rooms are smart and functional in plain beige tones with views of the Shing Mun River or neighbouring city blocks. Expect flat screen TV, a work desk with several three-pin electric sockets (as well as by the bed), partially open bathing area with dressing alcove, rain shower, hairdryer, iron and ironing board and WiFi. Suites are brighter and upbeat with fuchsia sofas, marble, and pale wood tones. This is a simple unfussy address sited in a drab locality with modern industrial buildings with the result there is not much street activity at all. There is a McDonald's and a Mannings but that about sums up the local buzz. A plus point is the eager staff - seemingly all 20 years old (most are trainees) - who more than make up for service blemishes or boredom with tireless energy. The lunch and dinner buffets are popular and a car park in the basement is handy for local weekend trippers though you'll need to pay for parking.
Towering above the cityscape in Tsuen Wan is L'hotel Nina et Convention Centre, equipped with an arsenal of 1,589 rooms, spread across two buildings that are connected by a glass-floor sky-bridge. This structural behemoth boasts two floors (110,000 sq ft) of conference and banqueting space that can seat up to 1,200 guests.
If you're looking for fresher air and open spaces, head west. One choice is the recently developed Gold Coast; a pleasant foray away from all things chaotic and grimy, and into all things, well, pink. The neighbourhood has gone a bit overboard on the faux-Mediterranean vortex feel, and it looks like a small girl was unleashed on the colour scheme. However it is clean, ostentatiously wealthy and has a lovely beach. Amidst this is the 453-room Hong Kong Gold Coast Hotel. The hotel is pretty much the only top-notch self-contained resort in town, and it does its job admirably. Families flock from near and far to enjoy its cool marble innards, airy, hi-tech (and balcony-festooned) rooms, 10-acre grounds and big outdoor pools. The Gold Coast shuttle will have you in TST (or bring you back) within about 30 minutes.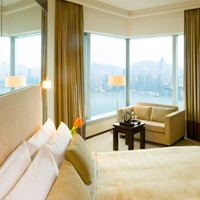 Hotel Panorama/ photo: hotel
Towards the China border in Yuen Long, Harbour Plaza Resort City is split into two gleaming tower blocks either side of a large plaza. The gargantuan property boasts one of the largest pools on the island, with recreational facilities to match if you include the park next door. It's far out of town – you can see China's Shenzhen through the haze on a "clear" day – but a shuttle bus can get you either to TST or the airport in about 40 minutes. It's quicker by cab. The Western Corridor Bridge offers almost instant access to China. Rooms are large and functional (both long stay and short). There are four dining outlets, drinks at the bar are cheap and all rooms have kitchenettes. There's also an outlet mall next door. Your toughest decision here will be whether to room near the pool or the bar. Choices, choices…
On to Lantau Island, and the Novotel Citygate Hong Kong is minutes away from the airport. With 440 rooms, a good business centre and leisure facilities this four-star is nicely set up for business bods on the go, and operates a free shuttle to the airport and the AsiaWorld-Expo complex.
Hong Kong SkyCity Marriott (opened January 2009) just minutes from the airport with a direct connection to the Asia World Expo, a concert and trade show venue. The hotel is smart, modern, and airy with plenty of natural light. Look out to the hills of Lantau, the waters of the South China Sea, or the planes making their descent to the airport. The lobby feels rather like a funky airport lounge, complete with TV screen displaying news and flight schedules. With 658 rooms, a large ballroom, and six generous-sized meeting rooms set apart from the main hotel wing, this is a good pick for Hong Kong corporate meetings and MICE events.
Business travellers and offloaded passengers alike will appreciate the spacious rooms that come with 37-inch plasma TVs, complimentary WiFi, a dataport enabling computer hook-up to the TV, a cordless phone, wardrobes containing flat safes that will house a notebook, irons and ironing boards. Quirkily, bathrooms offer a "choice" of a bathtub or standing shower. Expect lots of three-pin electric plug sockets for recharging just about any gadget on the go and large tactile light switches that won't have you tearing your hair at 2am. Enjoy grand views of aircraft landing within arm's reach, whisper soft, through double-glazed windows.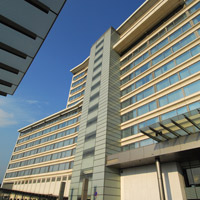 Smart SkyCity Marriott/ photo: Verghese
There are six restaurants and bars – including the convenient Java Plus stationed in the lobby for coffee on the run. A Hong Kong airport hotel that doubles as a resort getaway or a weekend break for red-eyed bankers with its 27m indoor heated pool, gym, and the first Marriott-branded Quan Spa in Hong Kong, which has seven treatments rooms within a contemporary, Zen setting. Golfers have a nine-hole golf course right next door. Work or play, this hotel offers buzz and cheery service from young, attentive staff - something a bit out of the conventional mould.
Regal Airport Hotel is connected directly to Hong Kong International Airport. It's a large affair with 1,171 rooms, 31 function rooms, and one of the biggest pillar-less ballrooms in the city, six restaurants, a spa, and fitness facilities. In rooms expect flatscreen TVs, complimentary wired and Wireless Internet, three telephones, a minibar, safes to house a laptop, tea-and-coffee-making facilities, plus nice views. As well as an indoor pool, there's also an outdoor option where you'll hear the roar of the jets as they take off. Regal is family-friendly Hong Kong airport hotel – Disneyland is just a short drive by car, and the hotel has its own 'Kiddieland', which has a bicycle track and play area.
Is it a wedding venue? A not too heavily muscled MICE escape? A spa retreat? Or a weekend hideaway for Hongkongers in search of birdsong and a lungful of cleanish air? Auberge, at one end of Lantau's chic suburban sprawl of Discovery Bay appears to have combined all that allure and more. At the helm of this bold enterprise, live wire general manager Anne Busfield skillfully navigated through the usual opening ructions to a fairly unruffled spring 2013 launch. Auberge is now firmly on the map, a 30-minute ferry ride from the Central piers, with a smorgasbord of calorie-burning activities, from the gym to hiking and cycling. Apres-exercise Spa Botanica is on hand to soothe muscles and slough off city stress with body scrubs, wraps and massage.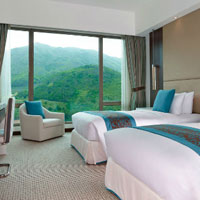 All purpose city escape Auberge/ photo: hotel
Uniquely, the hotel offers the oceanic swagger of tall ship The Bounty for up to 60 guests and the sleek waterfront White Chapel is welcoming of light with space for up to 100 wedding guests. For a place to say, "I do", Auberge has rustled up some ideal spots. There is a great deal of space for meetings and conferences with the Grand Azure holding 700 theatre-style. Versatile function rooms host 150-300 and alfresco venues are available too. At an Ocean Front Room expect a large 40-inch flat-screen television, internet and WiFi, iron and iron board for those crisp khaki creases, a pillow menu and for an indulgent soak, a sunken bathtub.
Mountain View Rooms offer a similar bright pastel array - without the sunken tubs. Upgrade to a suite or go whole hog with Suite 1801 and its 123sq m of stretch space. Auberge is not your average mainstream hotel. It is clean, simple, and well presented with equal allure for suits and families, with numerous child-friendly touches. Best of all it is an accessible in-city getaway that truly brings you out to the beach and the greens.
And, in the heart of Disneyland, is a large, Victorian-style oasis that's big on clichéd romance – the Hong Kong Disneyland Hotel. Nevertheless, it doesn't lay on Disney too thick. There are nice green grounds to stroll through and a whimsical Enchanted Garden restaurant for the character buffet. Also check out the almost hip Cantonese restaurant, and a nice club lounge that catches the fireworks show from a distance at 8pm – piping in the accompanying music.
Disney's Hollywood Hotel is a more durable family-style option with nice grounds and more perk, though it has no room service and few rooms with desks. Expect Mickey to make more of a visual assault with rooms in bright colours. Park-view rooms catch the fireworks, but the sea views are much nicer. Interestingly, the place does attract business traffic due to its proximity to the airport and it pitches itself strongly as a conferencing venue. Next corporate meeting with Mickey? Why not.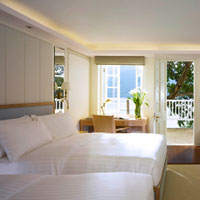 Classic colonial Tai O Heritage / photo: hotel
And for a real charmer that is not the easiest place to get to, try the tiny Tai O Heritage Hotel at Lantau's Tai O Fishing Village. With just 10 rooms and suites decked out in colonial fashion with white French windows, classic lines and a comfortable homey feel, this is spot for adventurers or true-blue romantics. Built in 1902 as a police station to guard against marauding brigands and pirates, the building has been carefully restored though not without the odd quirk or two. Sip tea in a verandah on a colonnaded balcony, or walk through the fishing village and breath in the country air. The glass skylight attic-style Tai O Lookout serves western and Asian fare. The downside? It's a 50 minute bus ride from Tung Chung (not far from the airport) to Tai O by bus No.11. Or a 30-minute drive on bus No.1 from the Mui Wo ferry terminal on Lantau. It's worth a peek if nostalgia is your thing.
Send us your Feedback / Letter to the Editor
FAST FACTS

/ Hotel Contact List

The exchange rate is US$1=HK$7.8.

Any room prices featured here are rule of thumb only and are subject to seasonal – and indeed daily – fluctuations. Always look for the best available rate or BAR on the internet or check with your local travel agent. Be prepared for an additional 10 percent service charge.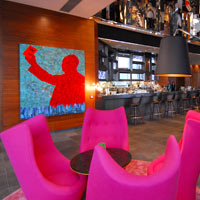 Vibrant W Hong Kong/ photo: Vijay Verghese
Hong Kong's low season with the best rates is the steamy June-August period, while April and the autumn months bring in trade shows and high occupancies at hotels. Watch for extra surcharges at some hotels during this period especially those well positioned for access to the Hong Kong Convention and Exhibition Centre (www.hkcec.com) in Wanchai.
Expect room prices in general to range from about HK$900-HK$1,000 for early bird discounts at budget and value establishments, to HK$2,000 at boutique hotels, and HK$4,500-HK$5,500 at luxury Hong Kong business hotels.
Hong Kong has banished smoking from restaurants and many bars, meaning that there's usually just one smoking venue in each hotel – often rather a small one. Smoking floors are an endangered species but sometimes available.
Hong Kong Business Hotels and Boutique Options, Island
Best Western Hotel Causeway Bay. Tel: [852] 2496-6666, (www.bestwesternhotelhongkong.com)
Best Western Plus Hotel Hong Kong (formerly Ramada Hong Kong Hotel). Tel: [852] 3410-3333, fax: 2559-8499, (e-mail: hotel@bestwesternplushotel.com or www.bestwesternplushotelhongkong.com).
Bishop Lei International House. Tel: [852] 2868-0828, fax: 2868-1551, (e-mail: resvtion@bishopleihtl.com.hk or www.bishopleihtl.com.hk).
Burlington Hotel. (www.burlington-hk.com/).
Butterfly on Hollywood. Tel: [852] 2850-8899, (e-mail: info.boh@butterflyhk.com or www.butterflyhk.com/eng/our-hotels/on-hollywood/).
Butterfly on Morrison. Tel: [852] 3962-8333, fax: 3962-8322, (e-mail: info.bom@butterflyhk.com or www.butterflyhk.com).
Butterfly on Wellington. Tel: [852] 3962-1688, fax: 3962-1689, (e-mail: info.bow@butterflyhk.com or www.butterflyhk.com).
City Garden Hotel. Tel: [852] 2887-2888, fax: 2887-1111, (e-mail: info@citygarden.com.hk or www.citygarden.com.hk).
Conrad Hong Kong. Tel: [852] 2521-3838, fax: 2521-3888, (e-mail: hongkonginfo@conradhotels.com or www.conradhongkong.com).
Cosmo Hotel. Tel: [852] 3552-8388, fax: 3552-8399, (e-mail: welcome@cosmohotel.com.hk or www.cosmohotel.com.hk).
Courtyard by Marriott Hong Kong. Tel: [852] 3717-8888, fax: 3717-8228, (www.Courtyard.com/hkgcy).
Crowne Plaza Hotel. Tel [852] 3980-3980, fax: 3980-3900, (www.ichotelsgroup.com).
EAST. Tel: [852] 3968-3968, fax: 3968-3988, (www.east-hongkong.com/en).
Dorsett Wanchai Hong Kong (formerly Cosmopolitan Hotel). Tel: [852] 3552-1133, fax: 3552-1166, (www.wanchai.dorsetthotels.com).
Express by Holiday Inn. Tel: [852] 3558-6688, fax: 3558-6633, (e-mail: rsvn@expresscw.com or www.expressbyholidayinn.com.cn).
Four Seasons Hotel Hong Kong. Tel: [852] 3196-8888, fax: 3196-8050, (www.fourseasons.com).
Gloucester Luk Kwok Hong Kong. Tel: [852] 2866-2166, fax: 2866-2622, (e-mail: rsvn@gloucesterlukkwok.com.hk or www.gloucesterlukkwok.com.hk).
Grand Hyatt Hong Kong. Tel: [852] 2588-1234, fax: 2802-0677, (e-mail: info.hkggh@hyatt.com or www.hongkong.grand.hyatt.com).
Harbour Grand Hong Kong. Tel: [852] 2121-2688, fax: 2121-2699, (email: hghk@harbour-grand.com or www.harbourgrand.com/hongkong/).
Hong Kong Ocean Park Marriott Hotel. Tel: [852] 3555-1688, (www.marriott.com/hong-kong-ocean-park-marriott).
Hotel Bonaparte. Tel: [852] 3518-6688, (e-mail: reservations@hotelbonaparte.com.hk or www.hotelbonaparte.com.hk).
Hotel Ibis North Point. Tel: [852] 2588-1111, fax: 2588-1123, (e-mail: business@ibisnorthpoint.com.hk or www.accorhotels.com).
Hotel Indigo Hong Kong Island. Tel: [852] 3926-3888, fax: 3926-3926, (e-mail: hotelindigohki@ihg.com or www.ihg.com/hotelindigo/hotels).
Hotel Jen Hong Kong (formerly Traders Hotel). Tel: [852] 2974-1234, (e-mail: hjhk@hoteljen.com or www.hoteljen.com).
Hotel LKF. Tel [852] 3518-9333, fax: 3518-9338, (e-mail: reservations@hotel-LKF.com.hk or www.hotel-LKF.com.hk).
Hotel Madera Hollywood (maderagroup.com/hollywood/en).
Hotel Pennington by Rhombus. Tel: [852] 3970 0688, fax: 3970 0699, (e-mail: pennington@hotelpennington.com.hk or www.hotelpennington.com.hk).
Hyatt Centric Victoria Harbour Hong Kong. Formerly Hotel Vic. Rebranding as Hyatt Centric end 2019.
Island Pacific Hotel Hong Kong. Tel: [852] 2131-1188, fax: 2131-1212, (e-mail: reservations@islandpacifichotel.com.hk or www.islandpacifichotel.com.hk).
J Plus Hotel by YOO (formerly J Plus Boutique Hotel). CLOSED 1 May 2018.
JJ Hotel. Tel: [852] 2904-7300, fax: 2904-7600, (e-mail: info@jjhotel.com.hk or www.jjhotel.com.hk).
JW Marriott Hong Kong. Tel: [852] 2810-8366, fax: 2845-0737, (e-mail: room@marriott.com.hk or www.marriott.com/HKGDT).
Kew Green Hotel Wanchai (former Metropark Hotel, Wan Chai). Tel: [852] 2861-1166, fax: 2865-6111, (www.kewgreenhotelwanchai.com/).
King's Hotel. Tel: [852] 3188-2277, fax: 3188-2626, (e-mail: hk@kingshotelhk.com or www.kingshotelhk.com).
Lan Kwai Fong Hotel. Tel: [852] 3650-0000, fax: 3650-0088, (e-mail: enquiry@lankwaifonghotel.com.hk or www.lankwaifonghotel.com.hk).
Lanson Place Hotel. CLOSED TILL LATE 2023. Tel: [852] 3477-6888, fax: 3477-6999, (e-mail: rsvn.lphk@lansonplace.com or www.lansonplace.com).
Le Meridien Cyberport Hotel. Tel: [852] 2980-7788, fax: 2980-7888, (e-mail: reservations@lemeridien-cyberport.com or www.hongkong.lemeridien.com).
Le Rivage. Tel: [852] 3607-3333, fax: 3607-3300.
L'Hotel Causeway Bay Harbour View Hong Kong. Tel: [852] 3553-2898, fax: 3553-2888, (e-mail: sales@lhotelcausewaybayhv.com or www.lhotelcausewaybayhv.com).
L'hotel Island South. Tel: [852] 3968-8888, fax: 3968-8899, (e-mail: info@lhotelislandsouth.com or www.lhotelislandsouth.com/eng/front).
Little Tai Hang. Tel: [852] 3899-8888, (www.littletaihang.com).
Mandarin Oriental, Hong Kong. Tel: [852] 2522-0111, (e-mail: mohkg-reservations@mohg.com or www.mandarinoriental.com/hongkong).
Metropark Hotel, Causeway Bay. Tel: [852] 2600-1000, fax: 2600-1111, (e-mail: info@metroparkhotel.com or www.metroparkhotel.com).
Mira Moon. Tel: [852] 2643-8888, (www.miramoonhotel.com).
Newton Hotel Hong Kong. Tel: [852] 2807-2333, fax: 2807-1221, (e-mail: newtonhk@newtonhk.com or www.newtonhk.com).
Novotel Century Hong Kong. Tel: [852] 2598-8888, fax: 2598-8863, (e-mail: booking@novotelcenturyhk.com or www.novotel.com).
Oakwood Apartments Mid Levels East Hong Kong. Tel: [852] 2746-1888, (e-mail: reserve.apteasthk@oakwoodasia.com or www.oakwood.com/serviced-apartments/HK/Hong-Kong.html).
Ovolo 2 Arbuthnot Road. Tel: [85-2] 2165-1000, (e-mail: info@ovologroup.com or www.ovologroup.com).
Ovolo Hotels + Serviced Apartments. Tel: [852] 2165-1000, fax: 2790-5490, (www.ovologroup.com).
Ozo Wesley Hong Kong. Tel: [852] 2292-3000, fax: 2292-3001, (www.ozohotels.com/wesley-hongkong/).
Regal Hongkong Hotel. Tel: [852] 2890-6633, fax: 2881-0777, (e-mail: rhk.info@RegalHotel.com or www.regalhotel.com).
Regal iClub. Tel: [852] 3669-8668, fax: 3669-8688, (e-mail: ricwc.rsvn@RegaliClubHotel.com or RegaliClubHotel.com).
Renaissance Hong Kong Harbour View Hotel. Tel: [852] 2802-8888, fax: 2802-8833, (e-mail: sales.marketing@renaissance-hongkong.com or www.renaissancehotels.com/HKGHV).
Rosedale on the Park. Tel: [852] 2127-8888, fax: 2127-3333, (e-mail: rsvn@rosedale.com.hk or www.rosedalehotels.com).
Shama. Tel: [852] 2522-3082, fax: 2522-2762, (email: info@shama.com or www.shama.com).
Sohotel. Tel: [852] 2851-8818, fax: 28519-933, (e-mail: info@sohotel.com.hk or www.sohotel.com.hk).
South Pacific Hotel. Tel: [852] 2572-3838, fax: 2893-7773, (e-mail: info@southpacifichotel.com.hk or www.southpacifichotel.com.hk).
The Excelsior. Closed March 2019.
The Empire Hotel Hong Kong. Tel: [852] 2866-9111, fax: 2861-3121, (e-mail: ehhresa@asiastandard.com or www.empirehotel.com.hk).
The Fleming. CLOSED for a complete overhaul and renovation till 2017. Tel: [852] 3607-2288, fax: 3607-2299, (e-mail: hosp@thefleming.com or www.thefleming.com).
The Fullerton Ocean Park Hotel, Hong Kong. (www.fullertonhotels.com/fullerton-ocean-park-hotel-hongkong)
The Harbourview Hong Kong. Tel: [852] 2802-0111, fax: 2802-9063, (www.theharbourview.com.hk).
The Island Shangri-La Hong Kong. Tel: [852] 2877-3838, fax: 2521-8742, (e-mail: isl@shangri-la.com or www.shangri-la.com).
The Jervois. Tel: [852] 3994-9000, fax: 3994-9090, (www.thejervois.com).
The Landmark Mandarin Oriental, Hong Kong. Tel: [852] 2132-0188, fax: 2132-0199, (e-mail: lmhkg-reservations@mohg.com or www.mandarinoriental.com/landmark).
The Park Lane Hong Kong, a Pullman Hotel. Tel: [852] 2293-8888, fax: 2576-7853, (e-mail: info@parklane.com.hk or www.pullmanhotels.com).
The Putman by Andree Putman. Tel: [852] 2233-2233, fax: 2233-2200, (e-mail: info@the putman.com or www.theputman.com).
The Stanley Oriental Hotel. Tel: [852] 2376-0686, 2899-1688, mobile: 6409-9501, (e-mail: sylvia@bondshkg.com.hk or www.stanleyorientalhotel.com.hk).
The St Regis Hong Kong. Tel: [852] 2138-6888, (www.marriott.com/st-regis-hong)
The Vela Hong Kong Causeway Bay. Tel: [852] 3755-1755, (www.thevela.hk).
The Wharney Guang Dong Hotel Hong Kong. Tel: [852] 2861-1000, fax: 2865-6023, (e-mail: info@wharney.com or www.wharney.com).
The Upper House. Tel: [852] 2918-1838, (e-mail: info@upperhouse.com or www.upperhouse.com).
Tuve. Tel: [852] 3995-8899, (www.tuve.hk/).
Walden Hotel. Tel: [852] 3678-3988, fax: 3678-3960, (e-mail: rsvn@walden-hotel.com or www.walden-hotel.com).
Wifi Boutique Hotel. Tel: [852] 3961-2288, fax: 2897-8891, (e-mail: mail@wifihotel.com.hk or www.wifihotel.com.hk).
Kowloon and Tsim Sha Tsui Hotels
Butterfly on Prat. Tel: [852] 3962-8888, fax: 3962-8889, (e-mail: info@butterflyhk.com or www.butterflyhk.com/).
Cordis Hong Kong at Langham Place (formerly Langham Place Hotel). Tel: [852] 3552-3388, fax: 3552-3322, (www.cordishotels.com/en/hong-kong/).
Dorsett Mongkok, Hong Kong (formerly Cosmo Hotel Mongkok). Tel: [852] 3987 2288, fax: 3987 2299, (e-mail: info.mongkok@dorsetthotels.com or www.mongkok.dorsetthotels.com/).
Eaton Hotel Hong Kong. Tel: [852] 2782-1818, fax: 2782-5563, (e-mail: enquiry@eaton-hotel.com or www.eatonhongkong.com/en).
Empire Hotel Kowloon. Tel: [852] 2685-3000, fax: 2685-3685, (e-mail: ehk@asiastandard.com or www.empirehotel.com.hk).
FWD House 1881. Formerly Hullet House. Tel: [852] 3988-0000, (www.fwdhouse1881.com/).
Gateway, Hong Kong. Tel: [852] 2113-0888, fax: 2113-0022, (e-mail: gateway@marcopolohotels.com or hongkonggateway.marcopolohotels.com).
Guangdong Hotel Hong Kong (GDH). Tel: [852] 3410-8888, fax: 2721-1137, (e-mail: gdhotel@guangdonghotel.com.hk or gdhotel.com.hk/).
Harbour Bay Hotel (formerly The Minden). Tel: [852] 2739-7777, fax: 2739-3777, (email: info@theminden.com or www.harbourbayhotel.com/).
Harbour Plaza 8 Degrees. Tel: [852] 3900-3000, fax: 3900-3008, (e-mail: rsvn.hp8d@harbour-plaza.com or www.harbourplaza.com).
Harbour Plaza Metropolis. Tel: [852] 3160-6888, fax: 3160-6999, (e-mail: rsvn.hpme@harbour-plaza.com or www.harbour-plaza.com/hpme).
Holiday Inn Golden Mile. Tel: [852] 2369-3111, fax: 2369-8016, (e-mail: reserv@goldenmile.com or www.ihg.com/holidayinn/).
Hotel ICON. Tel: [852] 3400-1000, fax: 3400-1001, (e-mail: info@hotel-icon.com or www.hotel-icon.com).
Hotel Panorama. Tel: [852] 3550-0388, fax: 3550-0288, (e-mail: reservations@hotelpanorama.com.hk or www.hotelpanorama.com.hk).
Hyatt Regency Hong Kong, Tsim Sha Tsui. Tel: [852] 2311-1234, fax: 3721-1235, (e-mail: hongkong.tsimshatsui@hyatt.com or hongkong.tsimshatsui.hyatt.com).
InterContinental Grand Stanford Hong Kong. Tel: [852] 2721-5161, fax: 2732-2233, (e-mail: reservations@grandstanford.com or www.hongkong.intercontinental.com).
Kerry Hong Kong. Tel: [852] 2252-5888, (www.shangri-la.com/hongkong/kerry/).
Kowloon Shangri-La. Tel: [852] 2721-2111, fax: 2733-8686, (e-mail: reservations.ksl@shangri-la.com or www.shangri-la.com/).
Madera Hotel. Tel: [852] 2121-9888, fax: 2121-9800, (e-mail: info@madera.hk or www.hotelmadera.com.hk).
Metropark Hotel Kowloon. Tel: [852] 2761-1711, fax: 2761-0769, (e-mail: hotel.hkkl@metroparkhotels.com or hongkonghotel.metroparkhotelkowloon.com).
New World Millennium Hong Kong Hotel. Tel: [852] 2739-1111, fax: 2311-3122, (newworldmillenniumhotel.com).
Novotel Nathan Road. Tel: [852] 3965-8888, fax: 3965-8833, (e-mail: booking@novotelnathanhk.com or www.novotel.com).
Park Hotel Hong Kong. Tel: [852] 2366-1398, fax: 2739-7263, (e-mail: info@tsthk.parkhotelgroup.com or www.parkhotelgroup.com/hongkong/).
Prince, Hong Kong. Tel: [852] 2113-1888, fax: 2113-0066, (e-mail: prince@marcopolohotels.com or hongkongprince.marcopolohotels.com).
Regal Kowloon Hotel. Tel: [852] 2722-1818, fax: 2369-6950, (e-mail: rkh.resvn@RegalHotel.com or www.regalhotel.com).
Regal Oriental Hotel. Tel: [852] 2718-0333, fax: 2718-4111, (e-mail: roh.info@RegalHotel.com or www.regalhotel.com).
Regent Hong Kong (www.ihg.com/regent/).
Rosewood Hong Kong. Tel: [852] 3891-8888, (www.rosewoodhotels.com/hong-kong).
Sheraton Hong Kong Hotel and Towers. Tel: [852] 2369-1111, fax: 2739-8707, (e-mail: res.hongkong@sheraton.com or www.sheraton.com/hongkong).
Stanford Hillview Hotel. Tel: [852] 2722-7822, fax: 2723-3718, (e-mail: hillview@stanfordhotel.com or www.stanfordhillview.com).
The Harbour Grand Kowloon. Tel: [852] 2621-3188, fax: 2621-3311, (e-mail: rsvn.hphk@harbour-plaza.com or www.harbourgrand.com/kowloon/).
The Imperial Hotel. Tel: [852] 2366-2201, fax: 2311-2360, (email: imperial@imperialhotel.com.hk or www.imperialhotel.com.hk).
The Kimberley Hotel. Tel: [852] 2723-3888, fax: 2723-1318, (e-mail: hotel@kimberley.com.hk or www.kimberleyhotel.com.hk).
The Kowloon Hotel. Tel: [852] 2929-2888, fax: 2739-9811, (e-mail: klnh@harbour-plaza.com or www.harbour-plaza.com/klnh).
The Langham Hong Kong. Tel: [852] 2375-1133, fax: 2375-6611, (hongkong.langhamhotels.com).
The Luxe Manor. Tel: [852] 3763-8880, fax: 3763-8899, (e-mail: info@theluxemanor.com or www.theluxemanor.com).
The Marco Polo Hong Kong Hotel. Tel: [852] 2113-0088, fax: 2113-0011, (e-mail: Hongkong@marcopolohotels.com or hongkonghotel.marcopolohotels.com).
The Mira (formerly Hotel Miramar). Tel: [852] 2368-1111, fax: 2369-1788, (e-mail:info@themirahotel.com or www.themirahotel.com).
The Olympian Hong Kong. Tel: [852] 3199 8888, fax: 3199 8899, (e-mail: info@theolympianhotel.com or www.theolympianhotel.com/en/).
The Peninsula. Tel: [852] 2920-2888, fax: 2722-4170, (e-mail: pen@peninsula.com or www.peninsula.com).
The Ritz-Carlton, Hong Kong. Tel: [852] 3760-9000, (www.ritzcarlton.com/en/Properties/HongKong).
The Royal Garden. Tel: [852] 2721-5215, fax: 2369-9976, (e-mail: htlinfo@rghk.com.hk or www.rghk.com.hk).
The Royal Pacific Hotel & Towers. Tel: [852] 2736-1188, fax: 2736-1212, (e-mail: reservations@royalpacific.com.hk or www.sino-hotels.com).
The Salisbury YMCA of Hong Kong. Tel: [852] 2268-7888, fax: 2739-9315, (e-mail: room@ymcahk.org.hk or www.ymcahk.org.hk).
W Hong Kong. Tel: [852] 3717-2222, fax: 2264-3800, (e-mail: w.hk@whotels.com or www.whotels.com/hongkong).
New Territories, Shatin, Lantau, Tsuen Wan, Hong Kong Airport Hotels
Auberge, Discovery Bay. Tel: [852] 2295 8288, fax: 2295 8188, (e-mail: enquiry@aubergediscoverybay.com or www.aubergediscoverybay.com).
Courtyard Hong Kong Sha Tin. Tel: [852] 3940-8888, Fax: 3940-8828, (www.marriott.com/hotels/travel/hkgst-courtyard-hong-kong-sha-tin/).
Disney's Hollywood Hotel. Tel: [851] 3510-5000, fax: 3510-5333, (e-mail: reservations@hongkongdisneyland.com or park.hongkongdisneyland.com).
Harbour Plaza Resort City. Tel: [852] 2180-6688, fax: 2180-6333, (email: hprc@harbour-plaza.com or www.harbourplaza.com/hprc).
Hong Kong Disneyland Hotel. Tel: [852] 3510-6000, fax: 3510-6333, (e-mail: reservations@hongkongdisneyland.com or park.hongkongdisneyland.com).
Hong Kong Gold Coast Hotel. Tel: [852] 2452-8888, fax: 2440-7368, (e-mail: reservations@goldcoasthotel.com.hk or www.goldcoasthotel.com.hk).
Hong Kong SkyCity Marriott Hotel. Tel: [852] 3969-1888, fax: 3969-2288, (www.marriott.com).
Hyatt Regency Hong Kong, Sha Tin. Tel: [852] 3723-1234, fax: 3723-1235, (e-mail: hongkong.shatin@hyatt.com or hongkong.shatin.hyatt.com).
L'hotel Nina et Convention Centre. Tel: [852] 2280-2898, fax: 2280-2822, (e-mail: info@lhotelhk.com or www.lhotelhk.com/eng).
Novotel Citygate Hong Kong. Tel: [852] 3602-8888, fax: 3602-8899, (e-mail: booking@novotelcitygatehk.com or www.novotelcitygatehk.com).
Regal Airport Hotel. Tel: [852] 2286-8888, fax: 2286-8686, (e-mail: rah.info@RegalHotel.com or www.regalhotel.com).
Regal Riverside Hotel, Shatin. Tel: [852] 2649-7878, fax: 2637-4748, (e-mail: rrh.info@RegalHotel.com or www.regalhotel.com).
Tai O Heritage Hotel. Tel: [852] 2985-8383, fax: 2985-888, (e-mail: info@taioheritagehotel.com or www.taioheritagehotel.com).