ADVENTURE
Boracay fun: oh what a waste!
Our Boracay resorts review and wacky fun guide came to a screeching to halt with the island closed from 26 April 2018 for a massive clean-up. It 'soft opened 26 October 2018, sort of...
with original reporting by Joaquin Paolo Gochoco
SEE ALSO Cebu fun guide | Manila busines hotels review | Palawan resorts review | Bali resorts review | Manila fun guide | Sanya fun guide | Best Asian dives
JUMP TO Flights to Boracay | Getting around | Dining | Cool bars | Boracay resorts | Station One – higher end | Station two | Cheaper at Station Three | Something different | Hotel Contacts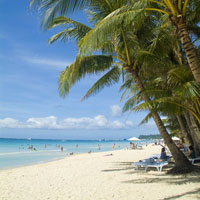 Boracay's legendary White Sand Beach

With raw sewage being dumped directly into Boracay's pristine blue waters, heavy with algae and seaweed, the government closed the entire island on 26 April, 2018 for a major clean-up. Boracay returned 26 October 2018 with a 'soft opening' and about 3,000 to 5,000 eco-compliant rooms back on the market
DIG YOUR toes into white sand, powdery-soft like sifted flour. Languorously stretch yourself across a squishy alfrescomassage bed beneath a star-strewn sky. Breathe in the sticky, salty tropical air as you listen to the turquoise-blue waves crashing onto the shore just a few feet away. Ah, paradise. But the idyll is shattered by the throbbing 'oontz-oontz-oontz' of the electronic dance music blaring from the club next door. You crack open a sleepy eye, and look around – here, a crowd of touts asking tourists if they want to scuba-dive-jet-ski-helmet-dive-parasail-rent-a-boat-or-do-really-anything-at-all; there – a group of spandex-clad fire twirlers dancing within mesmerizing whorls of flame; lobster-red, tank-topped tourists everywhere, swigging on cold beer, sipping from fresh coconuts and, generally, having a whale of a time.
Welcome to Boracay, one of Southeast Asia's most popular island destinations. In the past, it has ranked as one of the best islands in the world to visit. And with good reason. Boracay is a natural wonder, with gorgeous beaches and blue waters teeming with marine life. It's a truly beautiful place.
Nowadays, however, it's simply not the pristine haven of yore. Tranquillity is harder – though, fortunately, still not impossible – to find. The island is a handkerchief tiny 10 square kilometres. You can practically walk the length of it in under an hour. Yet, in 2014, an estimated 1.5 million tourists flocked to Boracay's shores. The impact of this influx is palpable.
The government has taken great pains to keep Boracay – the most popular tourist destination in the Philippines – spic and span, and the beaches are surprisingly clean. But development has changed the island. Boracay's famous White Beach is chock-a-block with hotels, restaurants and other establishments; and the other beaches, even the tucked-away Puka Beach, are now ringed by encroaching development. The island is home to some 300 hotels and resorts, more than 100 restaurants and bars, and more than 80 massage parlours. That's a lot for an island that's just one-seventieth the size of Singapore.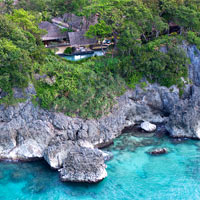 Aerial view of Shangri-La Villa/ photo: hotel
Just a look at Boracay's once-crystal-clear waters will give a sense of the impact that tourism has had on the island. The famously blue waters are now often green – coloured by algae blooms, which have become a common phenomenon in recent years. The Manila Times reported earlier this year that the boom in algae growth is "conclusive evidence that Boracay's waters are becoming polluted with 'waste' nutrients."
Doomsday talk aside, Filipino hospitality is at its best in Boracay and the island remains a fun place where everyone, from thrill-seekers and backpackers to honeymooners and families with children, can find a corner that they'll enjoy. You just have to know where to look.
Most easy to find are the water sports and all-night partying. Perfectly content to chill out on the beach all afternoon or splash about in the water before hitting the clubs, bars and discos until dawn? Boracay will be a perfect 10 for you. But finding peace and quiet, and some much-needed pampering, is not a pipe dream either. You may just need to be willing to either rough it out a little – or pay a pretty (though likely well-spent) penny.
Dive into our Boracay fun guide to learn more about the best Boracay resorts, spas, child-friendly hotels, and budget digs; all the ingredients of a dream island vacation. Mabuhay! First get familiar with this Boracay map. Then browse our detailed Boracay resorts review for editorial insights and tips.
Not all white-knuckle flights
The first thing that every traveller flying to Boracay needs to know is that the island does not have an airport of its own. Why? It's teeny. But there are two airports that are fairly close by: Caticlan (a tiny airport located a short boat and bus ride to Boracay); and Kalibo (a slightly bigger facility located a two to three-hour bus-boat-bus journey away).

Slide Show

E-mail Page

Print

Hotel Contacts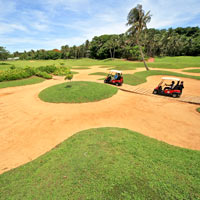 Fairways golf course/ photo: hotel
With a longer hardtop runway and night landing facilities, Kalibo is served by bigger planes, with early morning and late evening flights. Cebu Pacific Air, Philippine Airlines, AirAsia, Etihad, ANA and Tigerair are some of the airlines that fly to Kalibo, with direct flights from several Asian cities including Manila, Busan, Seoul, Kuala Lumpur, Singapore and Hong Kong.
In contrast, Caticlan's runway is a short, rough strip and for now, only propeller planes can make the approach. Flights can also only operate between sunrise and sunset. The main carriers flying here are Philippine Airlines, PAL Express and Cebu Pacific Air, mostly via Manila. In 2014, however, it was announced that corporate powerhouse San Miguel was working to expand and improve Caticlan airport, building a larger runway that will accommodate A320s with a new, souped-up terminal. The airport will reportedly be able to service larger jets by the end of 2016.
For now, flights to Caticlan tend to be slightly more expensive than those to Kalibo. When buying plane tickets, however, do consider the added cost of travel to and from the airport. Your hotel or travel agent will be able to organize the airport transfer for you; simply contact them with your flight details before your arrival. The airport transfer, when arranged through a hotel, will cost you about 3,000 pesos (US$1 = P45). Some hotels, like the Shangri-La, offer free transfers.
Send us your Feedback / Letter to the Editor
If you are flying from Manila to Caticlan and are booked on a small propellor plane, both you and your baggage will likely be weighed to make sure that the weight is evened out.
If you haven't organized transportation with your hotel, walk or rent a tricycle (or "trike"; about P50) from the airport to the jetty port. This will take around five minutes.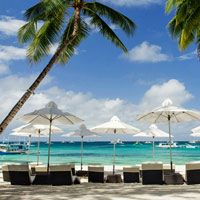 Villa Caemilla beach/ photo: hotel
At the jetty, your bags will be inspected again. The short boat trip to Boracay's southern drop-off, Cagban, costs around P25 but tourists must also pay a terminal fee of P50 and an environmental fee of P75. Make sure you bring small change as large notes often cannot be changed and baggage handlers expect small tips in exchange for heaving your luggage onto the roof of the boat. The boats themselves aren't lookers, but they are safe and reliable and subject to regular inspections by the port authorities. That said, boats often take on a bit of sea water so your luggage is best stowed on the roof or on your lap. Flip flops or sandals are advisable.
Again, if you haven't organized transportation, look out for a queue of trikes upon arrival. Jump in and be ready to pay between P100-P150 for a 10-minute journey to the White Beach strip where most hotels are located. If you're staying farther afield expect to pay more. The motorized tricycles can't go along the beach but will drop you on the main road, which runs parallel to the beach – about 15 to 25 metres from the shore. From there you'll need to wheel your suitcase five minutes or so to your hotel.
When leaving Boracay, be sure to give yourself enough time to travel to the airport, especially if you're headed to Kalibo. We'd recommend packing some food for the journey – the food at both airports is uninspired at best – and be ready to have about P700 per person on hand for departure tax.
Getting around – three wheels or two legs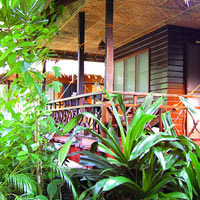 Boracay Beach Resort/ photo: hotel
Before getting stuck into our Boracay fun guide, get your bearings with our Boracay map. Generally speaking, hotels are arranged in clusters along Boracay's famous White Beach, which is four kilometres long and runs up the west coast of the island. The different beach zones on White Beach are called "Stations" and each has a unique personality that is worth considering before you choose a hotel.
Station One is the northern stretch of beach and is closest to many of Boracay's most upmarket resorts. It's fairly quiet, and seems to be popular with families and couples seeking some seclusion. This part of the beach has the finest sand and is also where the famous sea-sculpted Willy's Rock is to be spied. You haven't been to Boracay if you don't bring home a photo with this rock in the background. Station Two (near the centre of White Beach) is where the action is – most of the island's best food outfits and bars are in this area. As a result, it's bustling and busy into the wee hours. Here you can also find D'Mall, the island's shopping mecca where you'll be able to find everything from beauty products and swimsuits to kinky underwear. The southern stretch of White Beach is Station Three – this is where you'll find most of the island's budget and boutique accommodations. This end of the beach tends to be even quieter than Station One, with an easygoing, laidback vibe and cosy hotels and restaurants.
Getting around the island is a breeze. The two main options are walking along the beach or taking a trike along the main road. But with a beach like Boracay's, who wants to be in a tricycle on concrete? An interesting feature of Boracay's sand is that it's so fine it doesn't get too hot even in the mid-afternoon sun. From the Station One end, it takes about 15 minutes on foot to D'Mall. Along the way you'll pass a number of restaurants serving just about anything your hungry stomach desires.
Boracay dining and notes for foodies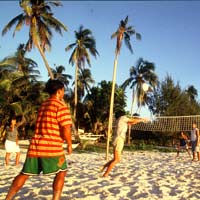 Beach volleyball/ photo: Vijay Verghese
Boracay offers everything from fine dining to Filipino turo-turo or street-side food stalls. The best resort restaurants are those at Fridays, Sea Wind, Estacio Uno (formerly Waling-Waling), Escondido and the Boracay Regency. These resorts all serve Continental fare with some contemporary dishes thrown in, save for Escondido, which specialises in crabs and prawns – arguably the best on the island – and the Regency, which has six F&B choices, including the Chinese restaurant Hap Chan and the well-reviewed Mesa, which serves Filipino fare.
Other excellent Filipino food options include the homey Pamana Restaurant, located in Station One, and Smoke, a hole-in-the-wall establishment in D'Mall that certainly lives up to its name. We'd recommend sitting outside if possible; or else risk suffocation by the thick, fragrant fumes billowing out of the tiny kitchen.
Also around D'Mall, you'll find several other good dining options of all different cuisines. There's Aria, an Italian outfit serving contemporary dishes alongside traditional ones. The menu and selection evolve constantly, according to Chef Gino who regularly comes up with new dishes. Don't miss the salads and specials for the day. Aria has a wood-fired oven for pizzas, while focaccia bread is baked to order (it takes about two minutes in the oven). A meal for two will set you back around P2,000, including a bottle of wine. Gasthoff is popular for its baby back ribs, the house specialty. The ribs are simmered with special ingredients for about an hour and then cooked for 10 minutes in a secret sauce. Here, nearly 100 kilograms a day are consumed in ribs alone. Don't miss the spicy crab, cooked in chilli and coconut milk, either. Dinner for two will cost around P1,000.
For a Mexican experience, complete with fresh salsa, try Mañana. The Triple Taco Platter with its four tomato sauces is a good choice. A meal for two and a couple of beers will come to about P1,000. Tilapia & Chips, which as its name suggests serves up beer-battered fish and chips, is also a delicious option; as is I Love Backyard BBQ.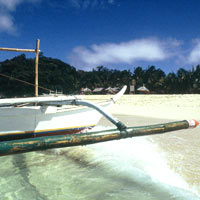 Boracay banca transfers will get feet wet/ photo: Vijay Verghese
For simple yet delicious Mediterranean dishes prepared with top quality ingredients and presented with care, try Lemon i Café, also in D'Mall. Expect healthy comfort dishes such as lemon and thyme roasted chicken or seared tuna with herb salad. Save room for the zesty lemon tart and coconut pancakes. The cafe is also a good choice for breakfast.
You may also want to check out the trendy Sunny Side Cafe for breakfast. It's located at Station Three and serves up the usual breakfast and brunch fare – omelettes, pancakes and the like. Another good choice for breakfast (and the island's best brownies and cookies) is Real Coffee and Tea House. The cafe, located further south from D'Mall, is known for its calamansi muffins, which are really more like tangy cupcakes without the icing. If you like citrusy sweets, definitely give it a try. The coffee is also good, by Boracay standards. Another option for a reliably decent cuppa is Starbucks, located at Station One.
Other food options include Station One's The Boracay Crab House, which has quickly gained in popularity for its Escondido Crab and Prawn dishes; ArmyNavy, where you'll find cheap and good burgers and burritos; and Jonah's Fruit Shake and Snack Bar, famous for its cold, frothy and fruity concoctions.
Also at Station One, Bamboo Lounge offers a number of modern and traditional cocktails, which include sangria, oyster saké shooters, and the signature "bamboojito". The menu has a wide selection of comfort food, perfect for sobering up a little before hitting the sack. Happy hour officially starts at 5.30pm, though this does get juggled around a bit if you happen to arrive early. It ends promptly at 8pm. The dining area is nothing new on the island – low tables and pillows for seats, which make nodding off a danger. A meal and drinks for two will set you back around P1,500.
One of the best restaurants on the island is Dos Mestizos, located near the Boracay Regency. With a menu comprising exclusively Spanish fare, everything originates from the chef's own family recipes. Try the 16 tapas selection dish if you're feeling indecisive. The house specialty paella is available in three serving sizes to cover all appetites. Operating hours are from 11am to midnight, or until the last customer leaves.
Cool bars and throbbing nightlife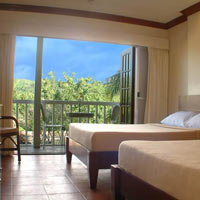 Simple Hey Jude/ photo: hotel
When the sun goes down, there's no shortage of drinking holes and clubs to whet your party appetite. For those who want to boogie on a dance floor, options in Station One include Cocomangas, the island's oldest and arguably most popular bar, Guilly's Island, which has outdoor seating and an indoor dance floor, and Club Paraw, a fun, though somewhat grotty joint, which plays a mix of hip hop and electronic dance music. At Station Two, there's the new lounge-restaurant Epic, located at D'Mall; and Wave Bar and Lounge, a club located in the Boracay Regency that blares EDM into the wee hours.
For a more sedate evening, there are establishments all along the beachfront. In Station One, you're more likely to find beachside restaurants serving cocktails and wine. Station Two is home to more "specialty" outfits, like hookah bars and drinking holes featuring performances by fire twirlers and live bands. Bob Marley fans should head to Bom Bom reggae bar where they can mellow out on squishy beanbags and get floaty on driftwood chairs. It's located at Station Two where D'Mall meets the beach path. There's also a Hey! Jude in Station Three -- a laidback drinking hole where you can lounge on hammocks on the beach.
Boracay resorts review
Whether you want a Boracay resort in the midst of the action or a quieter more romantic spot for a honeymoon, or a Boracay child-friendly hotel, options are certainly plentiful.
If its tranquility and seclusion you're seeking, your best bet would be to leave White Beach entirely and head north to the other beaches on the island. It's up there that you'll find fewer pumping bars and buzzing restaurants and more peaceful, although less convenient, hotels and resorts.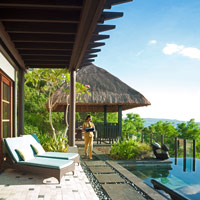 Elegant Shangri-La Villa/ photo: hotel
Located in the northwestern corner, between Puka Shell Beach and Banyugan Beach, the private and unashamedly plush Shangri-La's Boracay Resort and Spa is secluded and small. Thatched villas creep down the rocky hillside to 350m of private beach. Rooms start at 60sq m and villas range up to a generous 220sq m, including a private lap pool, outdoor shower, and a pergola for alfresco dining. Don't let the beach seduce all your time – save some for the sprawling CHI, the spa, set in its own spa village. Grab yourself a private villa for the day and dodge the midday rays with an hour-long treatment. This level of luxury may be unrivalled on the island, but so is the price. Still, if the wallet permits, this is one of the best Boracay spa resorts on the island.
Next door to the Shangri-La is The Panoly Resort Hotel, which opened way back in 1989. While it still manages to hold its own against the island's newer establishments, the 95-room hotel does show signs of age. Still, with tennis and basketball courts, a swimming pool, spa, and two restaurants and two bars, the hotel may be a good option for those who'd rather not venture too far from their hotel.
If you are so inclined, a comfortable wallet-buster is the Nami Resort, perched on the cliffs above Diniwid Beach. Staff strive to satisfy every whim and villas are spread out to maximise privacy. Bathtubs have magnificent ocean views and the immaculately maintained rooms feature exquisite hardwood furniture. Don't miss the champagne breakfast – it's a great way to start off the day.
Also on Diniwid Beach, but much cheaper, is the Microtel Boracay. The design is subtly Mediterranean and facilities include the usual swimming pool, restaurant, meeting room and wireless Internet in the lobby. All rooms come with chiropractic beds, air-conditioning, cable television, full-sized bathrooms with hot and cold water and window seats. Doubles are perfectly acceptable but for a little more luxury go for a suite and enjoy a fridge, coffee maker, bathtub and kitchen counter with sink and microwave.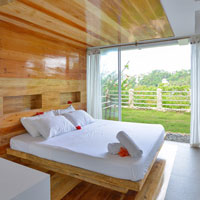 Stylish Diniview/ photo: hotel
For something more homey, explore the handful of delightful villas at Diniview, located between Diniwid Beach and White Beach. Expect generous living rooms and gardens and that most useful of tropical inventions, the air-conditioner. In the villas find a well stocked refrigerator, Wifi, a safe, and cable TV. The two largest, the Salt and Sand Villas, can host up to six persons in three bedrooms. The smaller villas can host up to four or five people. The thatch-roof 200sq m split-level Salt Villa is set just away from the rest with a tad more privacy, if that's what you had in mind. It also boasts the most space and the roomiest verandah.
All the villas offer stylish designer interiors with thatch, rustic bamboo balconies and modern marbled bathrooms. Some have an Asian feel with four-poster gauze-draped beds, while others are stark, minimalist, blond-wood Scandinavian (Moon Villa). All villas also have kitchens so you can get to smoking those sausages right away. There is a circular pool at the resort.
Diniwid Beach is located just north of White Beach. Station One will be your nearest hop-off point by boat. From Diniwid, you can access White Beach by trike, bike or on foot.
Station One – swank and swish family fun
Station One boasts the widest section of sand on White Beach, and is home to some of the island's more higher end resorts and hotels. Both swanky andfamily-friendly hotels seem to be set along this stretch of superior sand. Expect to be wowed by bling sunglasses and skimpy designer swimwear; but also expect families with kids splashing about in the pools. It's unlikely that you'll find total seclusion in Station One, but the vibe up here is relatively chill and it's not too tough to find some peace.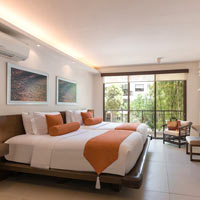 Contemporary Discovery Shores/ photo: hotel
One of the best, but priciest, hotels is the expansive and modern Discovery Shores Boracay, located near the northern-most tip of White Beach. The hotel has 88 rooms and suites, ranging in size from 45 to 120sq m, three restaurants, an alfresco beach bar and the highly-rated Terra Wellness Spa. The suites are spacious, with showers looking onto small gardens. The one and two-bedroom suites even have their own outdoor Jacuzzi.
The hotel has free Wireless access for guests, a children's lounge, and a complete range of water sports activities. A stay at Discovery Shores might blow the budget but it'll likely be worth every penny.
Another new luxury option is The Lind Boracay (July 2015), a stylish 5-star establishment. The Lind has 119 rooms and suites, starting at US$250. All of them have balconies with either garden or ocean views; 10 come with private pools. The hotel is also home to five restaurants and bars, an infinity pool, a spa, fitness centre, several function rooms, and a ballroom that can accommodate 280 people.
The Pearl of the Pacific is one of Station One's gems – or, at least, it was in its heyday. The scenic resort sits on eight hectares of forest with walkways connecting the beach and pool with hillside rooms. But though the hotel clearly holds promise, it has obviously seen better days and summer of 2015 saw signs of renovation. Still, the hotel's rooms and suites remain tastefully furnished, and the hillside rooms are some of the most private you'll find in Boracay. But be warned, your wobbly legs may regret the steep hike after a night of tequila shooters and exotic cocktails.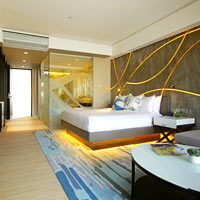 Lind beach room / photo: hotel
If you like a tipple (or two), request a room near the beach or by the pool instead. Whether you've got achy legs or an achy head the morning after – the resort's Neo Spa is the place to lessen the pain. Embrace your inner mermaid (or man) and try the signature treatment with sea minerals and algae. There's also a hair salon and even a shrine for couples wishing to renew their vows.
Open since 1982, Fridays Boracay has one of the island's best restaurants with a global fusion menu. Try the flavourful braised lamb shank, but remember to order ahead since it takes about four hours to prepare. The native cottage-style rooms have a rustic theme but come with thoughtful details and all mod-cons such as hot and cold water, air-conditioning and cable television. This 48-room resort occupies a nice stretch of beach with mature coconut trees. Premier Rooms come with king-size beds, 32-inch TVs, DVD players and coffee and tea facilities. Six plush Premier Suites offer 80sq m of space in a circular setting with private verandahs, soaking tubs and floor-to-ceiling windows.
Cool down in the fresh-water swimming pool, connect your laptop to Wifi at the beachfront restaurant, enjoy a rejuvenating rubdown at the Massage Hut, or chat to the activities officer if you fancy doing a spot of jet-skiing or mountain biking. In a pinch, Fridays can rustle up a venue and facilities for a small meeting for up to 40 persons. This is one of the more established Boracay resorts.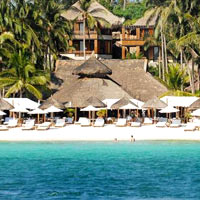 Trend-setter Fridays/ photo: hotel
Estacio Uno is a Thai-inspired resort with a bit more of an industrial feel than Fridays, although its ornate woodwork makes up for all the concrete. Chill out in one of the huts in front of the resort or nurse a beer while enjoying the riot of colours at sunset. Rooms at the back of the resort, recessed in the trees, are appointed as tastefully as their beachfront counterparts.
A tribute to local taste and design, the quiet, spacious SeaWind Resort offers rooms and villas with a homey atmosphere. No feeling of congestion here, unlike at many resorts in the area, which do tend to cram rooms into every conceivable bit of space. The forty rooms are cleverly positioned to maximise privacy. The resort has a modest pool and shaded lounge chairs on the beach.
Situated behind Cocomangas Shooter Bar, you'll find Escondido, one of the better non-beachfront resorts. Experience a different, quieter side to the island a convenient distance from its wildest parties. A relatively new outfit, Escondido is popular for its location and great food, and the staff are all smiles. The restaurant features a range of crab dishes in home-cooking style. This secluded Boracay resort has only 10 rooms and two suites, giving it a warm, exclusive feel. Rooms are furnished sparingly, and appear uncluttered and light. The suites come with mini-kitchens and Jacuzzis. Three hillside huts make for a great outdoor massage or chill-out venue. Who needs the beach? Well, it's only a three-minute trot away anyway for your daily dose of sun and sand. This is a good no-worries option. It rates well on our Boracay resorts review.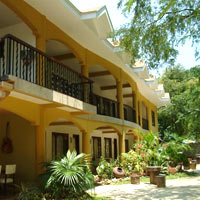 Escondido, relaxed / photo: Gochoco
Another top pick is the uber-cool design hotel Astoria Boracay, which has been making big waves in the area. Space-age sun loungers strike a pose around a 70ft pool, the rooms and suites are funky with zesty splashes of lime and aqua and, as the name suggests, the White Cafe is stylishly minimal. Architecturally the hotel is an angular fusion of white walls and glass creating a striking contrast to the natural beauty of the beachfront. There are 71 air-conditioned rooms ranging in size from 26sq m to 50sq m. All include home comforts such as 32-inch LCD TVs, cable television, free Internet, fridges, safes, tea and coffee facilities and hair dryers. And to make your stay even more carefree, there is a dollar exchange, back-up generators, 24-hour security and a water filtration system. Definitely one for the cool cats in town.
A few doors down, you'll find the Boracay Beach Resort, located smack in the middle of the action midway along White Beach between Station One and D'Mall. Despite the bustling location, the sleek, clean architecture feels spacious and serene. If you want extra special service, stay in a suite – they all have personal butlers or maids.
Those in Boracay for the party scene can't go wrong staying here; it's only steps away from the island's most happening clubs. Perhaps the resort's most distinguishing feature is its alfresco dining and bar where even the most intoxicated tourists can't miss the two mermaids that hold up the roof.
Station One is also home to several smaller boutique hotels, if that's more your scene. Zuzuni Boutique Hotel and Restaurant, one of Boracay's younger establishments, is one such example. With only four air-conditioned rooms, guests are guaranteed personal service and spared the usual wait for room service. Free Wireless Internet access is available too, and the Greek restaurant is fantastic.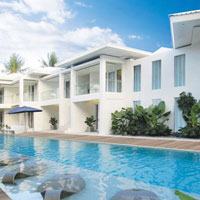 Astoria poolside/ photo: hotel
Other fine options include Blue Lilly Villa, Water Colors (a good choice for diving enthusiasts), and Blue Waves (you can't miss this one, with its bright green facade) – all basically big beach bungalows with simply furnished air-conditioned rooms.
Another, slightly bigger option is the Two Seasons, a simple and unpretentious, but comfortable beachfront hotel with an alfrescoAsian fusion restaurant. All in, Station One is the place for high end tanning and decent family fun options for kids of all ages in better than average lodgings. The area is safe with good stretches of sand and a quieter atmosphere sans the giant speakers vibrating your tummy incessantly.
Pump up the volume at Station Two
If you want to fall out of bed and onto the beach – or into a bar – then this is the place for you. The beating heart of Boracay, Station Two is unabashedly chaotic and endlessly buzzing with crowds, eager touts, pumping tunes and the tempting smells of beachside restaurants. It's also where you'll find D'Mall shopping centre and hundreds of smaller shops selling everything from pretty shell necklaces to silly tourist t-shirts. Don't expect any peace and quiet here, but if it's a party scene you're looking for, Station Two is the nearest thing to heaven.
The Boracay Regency Hotel is smack in the middle of Station Two and it's a monster of a place, with 285 rooms, three swimming pools, a club, several poolside and beachfront restaurants and bars, and a spacious convention centre that can accommodate up to 1,000 people.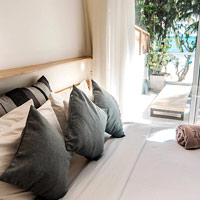 Trendy boutique Zuzuni/ photo: hotel
Now run by the Hennan Group (which also runs Hennan Lagoon Resort, formerly the Regency Lagoon, and the Hennan Garden Resort, formerly the Boracay Garden, both on Station Two), the hotel is a decent and reliable bet for families and suits looking for basic comforts and lots of amenities. When booking a room, just be sure to ask for one far away from Wave Bar and Lounge, which is located on the hotel's premises; or risk being kept awake into the early hours by pounding club tunes. Pick this spot for a small corporate meeting in Boracay or for a company team building exercise. All rooms have Broadband access and the hotel's WiFi coverage extends all the way to the beach for deck-chair surfing. The beachfront, incidentally, is the most spread out along White Beach. At the end of a hard day's sun-worshipping, indulge in a massage at the Asian-inspired KAI Regency Spa.
Another decent hotel in the area is the Best Western Boracay Tropics Resort Hotel, a simple family-friendly resort with 50 guestrooms and cabanas, many with balconies. Just a stumble away from White Beach, the place has a bustling feel, but clean modern touches make it a pleasant spot to stay in. The hotel has a spa, nail salon, pool, children's games room, karaoke rooms, a function room that holds up to 150 people and a business centre. There is also a restaurant called TropiCafe which serves set dinner menus by candlelight. Try the mango and cucumber mocktail for an unusual but refreshing thirst-quencher.
The District Boracay is one of the better options on Station Two. A laundered white tall-pillared modern resort with boutique flourishes, the resort is off the main road down a small pathway not far from D'Mall.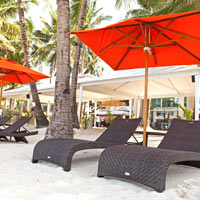 District Boracay/ photo: hotel
There are 48 rooms in a three-storey construct with wooden floors and dark-wood interiors. The 12 Premier rooms range from 37sq m to an expansive 60sq m, some enabling a walk-in from the verandah to the pool. Expect smart contemporary furnishings, a work desk, lightly patterned wallpaper, flat-screen LCD television and bright orange cushions.
A Premier Suite will go up to 70sq m in a split level configuration with a king bed in the loft. Exclusive sun loungers are available for District guests at the beach, which is just a short stroll away; and on-site there's a spa, small pool with Jacuzzi, and an Italian restaurant. District is a modern and neat bolthole if the rumpus gets too much for you. Despite the frenzied partying it also manages to be a pretty decent child-friendly hotel for harried parents.
The Paradise Garden Resort Hotel (formerly the One MGM Resort Village Boracay) offers larger apartment-style rooms and suites that can accommodate between three and six people, a potentially good option for families or those travelling in groups. The hotel can work as a Boracay conference hotel after a fashion if you must cart the whole office across but does equally well as a wedding venue or a family-friendly Boracay resort escape. There are two outdoor swimming pools and one Jacuzzi.
Le Soleil de Boracay Hotel is a Mediterranean-style resort with native materials in airy colours. It has a relaxed ambience. Rooms have a view of the resort's freshwater pool and its ornate landscaping. Lishui Beach Resort (formerly Mango Ray), a ten-room deal smack in the middle of White Beach is only a few steps away from D'Mall. All rooms are fully air-conditioned and come with cable TV, and bathrooms have hot water taps and a bathtub.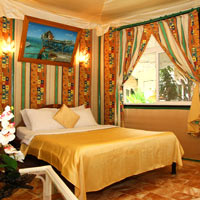 La Reserve, eccentric French blend/ photo: hotel
When the owners of Hey! Jude, one of the island's more popular bars, decided to expand with a nice set of rooms they did everyone a favour. Guests can now enjoy the resto-bar's fine menu, even finer cocktails and non-stop party action only a few steps from their room.
La Reserve is a French-inspired retreat; an eclectic blend of first-class European standards and native flair. Airy architecture and funky murals spice up each guestroom. The resort has 16 bamboo cottages all with private verandahs. All have hot and cold water from the tap, a safe and air-conditioning. The resort also has its own backup generator in case of power outages.
Set back about a five-minute walk from the sand is Nirvana Resort. Accommodation includes standard or large condominiums and one or two-bedroom villas. The standard condos have air-conditioning, TVs, hot and cold water, a minibar and a hotpot for tea or coffee. The newer and larger condos surround the pool and gardens and include a kitchen, lounge and two bedrooms while the villas crank up the luxury an extra notch with big terraces and even bigger gardens.
Cheap, cheerful Station Three
If you're on a budget and looking for a more relaxed beach environment or a bargain Boracay guesthouse, try Station Three. It was the last section of White Beach to be developed – a fact that's reflected in the more genteel pace of life, and the friendlier-on-the-wallet prices. But be warned that this could all change as more upscale resorts start to move in. Enjoy the tranquil ambience while it lasts.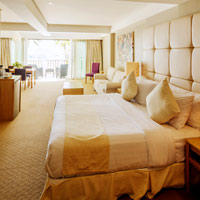 Villa Caemilla/ photo: hotel
Down on the beachfront you'll find 357 Boracay, a homey 10-suite boutique hotel with buckets of charm. Its pastel-hued exterior may seem fairly uninspired, but the hotel's native-inspired modern amenities have captured the attention of its guests almost as much as the gorgeous white powdery sand right outside its doors. Suites offer all the usual amenities: cable television, hot and cold water, that tropical beach must-have, air-conditioning and private verandahs. The restaurant's chilli crab is a must-try.
Villa Caemilla is another great boutique offering in Station Three. Quaint and clean, the hotel's rooms are modern and comfortable – though not spacious. There are, however, a few larger suites if you'd like more space. The hotel has a pleasant beachfront sitting area, a restaurant and a bar. There's also karaoke on premises, upon request.
For a larger establishment, you could try the blazing-white, Mediterranean-style Boracay Sands Hotel. The hotel has 55 comfortable rooms, starting at US$120. All come with flatscreen TVs, Wifi and the other usual amenities. The five Executive Suites and two Presidential Suites also come with spacious balconies that face the beach.
Value conscious travellers may want to give Orchids Resort at the far end of Station Three a try. The resort architecture is decidedly Filipino with furniture made from local materials. Air-conditioned and fan-cooled rooms are available, as is Wifi.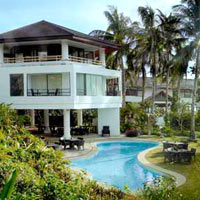 Pearl of the Pacific/ photo: hotel
Surfside Resort and Spa has 14 rooms and is one of the better Boracay spa resorts for those on a budget. Run by a Japanese family, it has a café serving popular Japanese dishes and there's also a dive centre with Japanese instructors. The in-resort spa, Yasuragi Spa, also has a Japanese theme. The spa offers a great variety of reasonably-priced services, including full body massages and facials. An hour-long massage costs under US$25.
If you're willing to splash out quite a bit more for some serious pampering, check out the Mandala Spa and Villas for the quintessential spa experience on Boracay island. This spa's day packages are perfect for rejuvenating tired limbs and clearing imbalances caused by nights of partying and afternoons of sinew-stretching shopping. It accepts walk-in customers for the day spa treatments, ranging from massages to exotic wraps. Reservations, however, are recommended.
Hidden among the lush foliage are 12 villas divided into two categories – Garden View or Sunset View. Expect teak floors, balconies, outdoor showers and freestanding bathtubs. As part of the villa package you also get complimentary daily yoga classes for two, a massage and floral bath.
If you want to get off the grid for a few days, opt to stay for one of the hotel's "digital detox" villas for an experience sans TV and Wifi. Instead of the internet, enjoy splashing around at the Pool Villa – your very own exclusive walled and gated retreat perched high on the cliff. Mark this one down in your diary as a top choice among Boracay spa resorts.
Now something completely different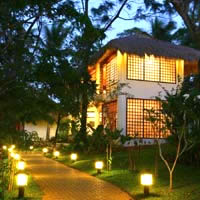 Boracay Mandala spa: soothing
The largest resort on Boracay, and a big hit with the tartan brigade, is the expanded and rebranded Fairways and Bluewater Resort (formerly the Centara Grand Beach Resort Boracay). This is located on the northeastern side of the island. Included in its sprawling 127-hectare site is the only golf course in Boracay. Designed by Graham Marsh, it is a swing-tastic 18-hole, par 72 championship stunner.
The mammoth hotel has more than 300 rooms and suites. Guests have access to one kilometre of semi-private beach, three swimming pools, a fitness centre, spa, marina and wedding chapel. The hotel also has several meeting rooms and a spacious conference hall.
Along the east coast on Savoy Beach, Aklan, below Fairways is the modern and friendly hotel-style Savoy Hotel Boracay with a contemporary flair and smart rooms with wooden floors, pastel decor and blue sofas and cushions, bright artworks and flat-screen televisions. Rooms start at a compact 27sq m (a Premier Deluxe serves up 34sq m with a 43-inch TV) or opt for the 55sq m Executive Suite. Find a large freeform pool, bars and live entertainment.
On the eastern side of the island is Bulabog Beach, another popular tourist area and also Boracay's main windsurfing and kite-boarding zone. Slap bang in the middle of the high-octane aquatic action is the boutique-style hotel 7Stones Boracay. Rooms are cosy and contemporary with interesting arty flourishes, glowing bamboo lamps and swish en suite bathrooms. Enjoy your 32-inch LCD TV with a large selection of international channels or plug your iPod into the home theatre system. Rooms also include a minibar, safety deposit box, air-conditioning and tea and coffee facilities. A perfect choice for luxury-loving watersports fans.
A high-end resort for those with bulging wallets and a desire to get away from the maddening crowds, located on the southern tip of the island, in Barangay Manoc-Manoc, is the stunning Asya Premier Suites that offers spacious rooms bathed in light with big balconies perfect for ogling dramatic views. And what facilities do you get for all that extra dough?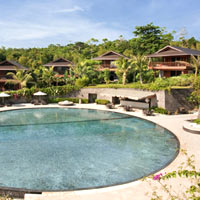 Asya, a cosy retreat/ photo: hotel
Well, for starters you'll be treated to a private shuttle speedboat, nanny and butler service, a 500sq m pool, wine room and fitness centre. A luxurious romantic sanctuary perfect for newlyweds or lovers wanting to lock themselves away for a few days of unabashed nookie.
Paradise Bay Beach and Watersport Resort is a good choice for the adventurous. Activities on offer include windsurfing, diving, kite-surfing, parasailing, and water-skiing. The resort is managed by a German couple and set against a small bay on the northeastern side of the island. If you're looking for a little more privacy than the norm, this is the place for you. Rooms have the usual amenities and each comes with a personal safe and a fan, should you wish to shun the air-conditioning in favour of the cool sea breeze.
That wraps up our Boracay fun guide and resorts review. Well? What are you waiting for? Get wet and wild. The party's started.
Send us your Feedback / Letter to the Editor
FAST FACTS

/ Hotel Contact List

Domestic airlines require passengers to check in an hour before the flight, but you can push this down to 30 minutes. Philippine Airlines (www.philippineairlines.com) is a good option, as are Cebu Pacific Air (www.cebupacificair.com), PAL Express, Tigerair (www.tigerair.com) and AirAsia (www.airasia.com). It's best to have your US dollars converted to Philippine pesos in Manila before you depart for Boracay, since the exchange rates are better in the city. The exchange rate is roughly US$1 = P46. Refer to our Boracay map with boat stations and beaches clearly marked.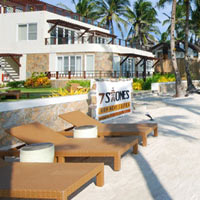 7Stones style/ photo: hotel
Room rates in Boracay run the gamut from the exorbitant to the budget-friendly. For five-star hotels, expect to pay upwards of US$300 a night; three and four-star hotels typically cost between US$70 and US$250. Some budget accommodations can cost as little as US$25 for a room for two. Any rates quoted here are a rough reference only. You should look for the online BAR (best available rates) on offer by various hotels or speak with your local travel agent who may offer a volume discount. Deals will fluctuate perhaps even daily but the peak (high) season for Boracay will be the winter non-rainy months from November to March. Summer sees the typhoon season and rates may be a lot more flexible June to September.
Most resorts will accept dollar payments, but not all shops and restaurants. Early morning arrivals are the best for sea transfers, since you'll have to cross a short stretch of open water to get to the island. Finding skincare products and garments isn't a problem on Boracay, but they may be quite a bit more expensive than in Manila.
Boracay resorts, spas and hotels
357 Boracay. Tel: [63-2] 899-1793/94, fax: 897-5052, (e-mail: inquirybooking@357boracay.com orwww.357boracay.com).
7Stones Boracay Suites. Tel: [63-2] 750-1999, fax: 813-7740, (e-mail: salesmanila@7stonesboracay.com or www.7stonesboracay.com).
Astoria Boracay. Tel: [63-2] 910-0557, fax: 632-9420, (e-mail: rsvn@astoriaboracay.com or www.astoriaboracay.com).
Asya Premier Suites. Tel: [63-2] 892-0138, fax: [63-2] 893-5278, (e-mail: sales.asyapremier@gmail.com or www.asyapremier-boracay.com).
Blue Lilly Villa. Tel: [63-36] 288-6404 (e-mail: boracaybluelillyvillaresort@yahoo.com.ph or www.bluelillyvilla.com).
Bluewaves Beach House. Tel: [63-36] 288-6544, (e-mail: info@bluewavesboracay.com or www.bluewavesboracay.com).
Boracay Beach Resort. Tel: [63-36] 288-3208, fax: 288-5565, (e-mail:info@boracaybeachresort.com or www.boracaybeachresort.com).
Boracay Hills. Tel: [63-36] 288-3315, fax: 288-3764, (e-mail: mail@boracayhills.com or www.boracayhills.com).
Best Western Boracay Tropics Resort Hotel. Tel: [63-2] 887-0581, (e-mail:info@boracaytropics.com or www.boracaytropics.com).
Boracay Regency Beach Resort. Tel: [63-36] 288-6111 (e-mail: manila.hgb@hennan.com or web.boracayregency-beachfront.com).
Boracay Sands Hotel. Tel: [63-36] 288-4966, fax: 288-5864, (e-mail: info@sandshotelboracay.com or www.sandshotelboracay.com).
Diniview. Tel: [63-2] 917-799-2029, (e-mail: info@diniviewboracay.net or diniviewboracay.com).
Discovery Shores Boracay. Tel: [63-2] 719-8888, fax: 719-6696, (www.discoveryshoresboracay.com).
Escondido. Tel: [63-2] 376-4535, fax: 413-5079, (e-mail: escondidoboracay@yahoo.com or www.escondidoboracay.net).
Estacio Uno. Tel: [63-36] 288-5558, fax: 288-5773, (e-mail: estaciounoboracaysales@gmail.com or www.estaciounoboracay.com).
Fairways and Bluewater Resort. Tel: [63-36] 288-5587, (e-mail: reservations@fairwayssandbluewater.com.ph or www.fairwaysandbluewater.com.ph).
Fridays Boracay. Tel: [63-36] 288-6200, fax: 288-6222, (e-mail: info@fridaysboracay.com or www.fridaysboracay.com).
Hennan Garden Resort. Tel: [63-36] 288-6672, (e-mail: manila.hgb@hennan.com or henann.com/boracay/henanngarden).
Hennan Lagoon Resort. Tel: [63-36] 288-2828, (e-mail: manila.hgb@hennan.com or henann.com/boracay/henannlagoon).
Hey! Jude Boracay Resort. Tel: [63-36] 288-5402, (e-mail: heyjudehotel@yahoo.com or www.heyjude-boracay.com).
La Reserve Beach Resort. Tel: [63-36] 288-3020, fax: 288-3017, (e-mail: info@lareserve-boracay.com or www.lareserve-boracay.com).
Le Soleil de Boracay. Tel: [63-36] 288-6209, fax: 288-6118, (e-mail: lesoleil@pjlhuillier.com or www.lesoleil.com.ph).
Microtel Boracay. Tel: [63-2] 899-7171, fax: 870-0319, (e-mail: sales@microtel.ph or www.microtel-boracay.com).
Mandala Spa and Villas. Tel: [63-36] 288-5858, fax: 288-3531, (e-mail:reservations@mandalaspa.com or www.mandalaspa.com).
Mango Ray Resort. Tel: [63-36] 288-6129, fax: 288-3301, (e-mail: info@mango-ray.com or www.mango-ray.com).
Nami Resort. Tel: [63-36] 288-6753, fax: 288-6382, (e-mail: nami.boracay@yahoo.com or www.namiresorts.com).
Nirvana Resort. Tel: [63-36] 288-3140, (e-mail: mail@nirvana-resorts.com or www.nirvana-resorts.com).
Orchids Resort. Tel: [63-36] 288-3313, fax: 288-5648, (e-mail: orchidslynn@hotmail.com or www.orchidsboracay.com).
Paradise Bay Beach and Watersport Resort. Tel: [63-36] 288-5124, fax: 288-5127, (e-mail:reservation@paradisebay.de or www.paradisebay.de).
Paradise Garden Resort Hotel. Tel: [63-36] 288-5124 (e-mail: info@paradisebay.de or www.paradisebayresortboracay.com).
Pearl of the Pacific Resort and Spa. Tel: [63-2] 926-0162, fax: 924-4482, (e-mail:info@pearlofthepacific.ph or www.pearlofthepacific.com.ph).
Savoy Hotel Boracay. Tel: [63-36] 286-2800, (www.savoyhotelboracay.com.ph/)
Shangri-La's Boracay Resort and Spa. Tel: [63-36] 288-4988, fax: 288-5088, (e-mail:slbo@shangri-la.com or www.shangri-la.com/boracay/boracayresort).
Sea Wind Resort. Tel: [63-2] 416-4010, fax: 416-4011, (e-mail: seawind@pacific.net.ph or www.seawindresort.net).
Surfside Boracay Resort and Spa. Tel: [63-2] 338-6899, fax: 521-6958, (e-mail: mail@boracaysurfside.com or boracaysurfside.com/osi/english/hotel_surfside.html).
The District Boracay. Tel: [63-2] 986-1075, (e-mail: reservations@thedistrictboracay.com or www.thedistrictboracay.com).
The Lind Boracay. Tel: [63-2] 656-5790, (e-mail: info@thelindhotels.com or www.thelindhotels.com).
The Panoly Resort Hotel, Boracay. Tel: [63-2] 812-2233, fax: 812-6434, (e-mail: reservations@thepanoly.com or www.thepanoly.com).
Two Seasons. Tel: [63-2] 410-2075-0581 (e-mail: bliss@twoseasonsresorts.com or twoseasonsresorts.com).
Villa Caemilla. Tel: [63] 917-526-9449 (e-mail: reservations@villacaemilla.com or www.villacaemilla.com).
Water Colors. Tel: [63-36] 288-6745, (e-mail: info@watercolors.ph or www.watercolors.ph).
Zuzuni Boutique Hotel and Restaurant. Tel: [63-36] 288-4477, (www.zuzuni.net).