CITY GUIDE
Saigon stays for all pockets
Our Saigon business hotels review as the metro digging continues, and a fun shopping guide with cool bars, one honest taxi driver, and some art as new boutique hotels arrive.
SEE ALSO Hanoi Guide and Business Hotels | Vietnam Beach Resorts | Bangkok business hotels | Hong Kong business hotels | Singapore business hotels | Luang Prabang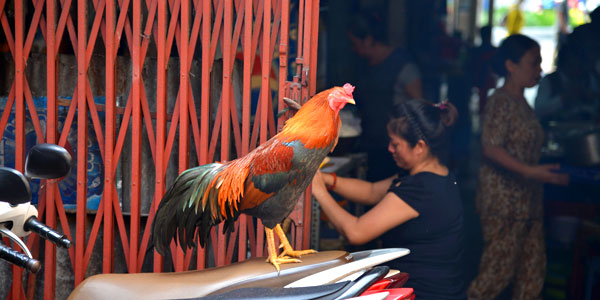 JUMP TO Saigon airport and transport | Shopping guide | Saigon nightlife | Saigon business hotels, Luxury | Heritage hotels | Airport hotels | Value hotels and Boutiques | Hotel Contacts
RUSHING from the airport to my hotel in Ho Chi Minh City I absentmindedly handed the taxi driver 1.5 million Vietnamese dong instead of 150,000 for the fare. It's the curse of the zeroes in a country where a red D50,000 note looks devilishly similar to a D500,000. An observant bellboy alerted the receptionist who gave me a kindly look, "Did you pay too much, sir?" I nodded. As I waited for my room key, a miracle happened. Within a matter of minutes the errant change was back in my hands. Unbeknownst to me the receptionist had called Vina Sun Taxi who promptly contacted the driver and, presto. I tried to imagine this happening in Bangkok or New Delhi, and gave up. It was the 'Case of the Honest Taxi Driver,' a very rare species indeed.
If Hanoi is all sleepy, if stately, French colonial buildings, art and literature, Saigon is all bustle and buzz, not always comprehensible to the foreign eye - and still dotted with Metro diggings that occasionally maroon hotels behind mounds of earth and trenches, as motorbikes swarmed through the inches of residual space.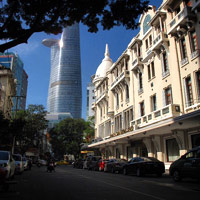 Bitexco Tower looms up beyond the old world Grand / photo: Vijay Verghese
I pondered the taxi "communication card" handed me by the bellman at a hotel. The conversational phrase list for the passenger ran thus: "Please slow down," "Please make it cooler," "Please turn down the radio volume," and finally, "Can you stop the car? I do not feel well." This about sums things up. Things can get unexpectedly exciting, so slow down. Keep cool. And all will be well. Much of the metro digging in the city centre is done with a few spots near the Opera still heaving (an underground station is due here). The first of the city's seven Metro lines may be in operation by late 2020 or in 2021 with an extension line for Tan Son Nhat International Airport under consideration. The main Line 1 runs 19km from Ben Thanh Market (District 1) past the Opera House, past the shipyards, across the river and on to Suoi Tien Park, the amusement zone in District 9. With more lines in the works, the diggings will continue alas.
Before we get into the meat of our Saigon business hotels review, there are two things you should remember never to do in Saigon (Ho Chi Minh City). The first is buying a postcard from a street urchin with a heart-rending story. The second is hopping on the back of a moped driven by an alluring silken-haired lady in a white ao-dai and long elbow-length gloves. Buy a postcard and screaming hordes of kids will materialise from nowhere – with postcards of their own – to make a meal of you. This is the Saigon Serengeti at its most unforgiving. As for the ladies on mopeds – hop aboard, and your wallet may get a bigger dent than you bargained for. Watch out too for shoeshine boys who will polish your bare feet if not stopped in time.
Send us your Feedback / Letter to the Editor
The country is changing fast. At Tan Son Nhat, Ho Chi Minh's international airport, I sank into a comfy chair at the business class lounge and looked around, reassured by the sight of well-groomed staff, all donned in green surgical masks.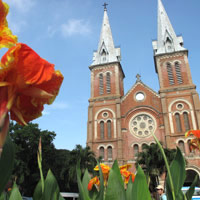 Notre Dame Cathedral/ photo: Vijay Verghese
It's things like this that demonstrate just how serious Vietnam is about getting ahead of the competition. I pointed this out to a fellow passenger, an American, it turned out. "Awesome," he said. An attendant came by in a mask and brought me some tea. Then he pulled his mask off and sneezed, right above the soup tureen.
The evening before, after a smoky rooftop barbecue my friends and I had watched karaoke-crazed Koreans downing whisky and dancing merrily, waving strips of toilet paper. Jolly stuff. Just another day in Saigon where nothing is quite what it seems.
Ho Chi Minh City is the undisputed financial hub of Vietnam. It has come a long way and you can now shop in relative comfort but at wallet-humbling cost in the new malls where duty is seemingly levied by the trillion. Glittering shops are sprouting all over Saigon sporting Louis Vuitton, Dunhill, Gucci, Calvin Klein, Dior and Chanel. Pounding jackhammers and giant cement mixers attest to Saigon's arrival as a city that may one day rival other Asian capitals. Hotels and offices are thrusting up impetuously, changing the formerly unruffled skyline.
Among the tallest buildings in Vietnam, the 68-storey Bitexco Financial Tower (www.bitexcofinancialtower.com) is a Burj wannabe with a helipad and panoramic views from an observation deck on the 49th floor. It offers offices, restaurants and shopping and an occasional vertical run for tower enthusiasts. The Metro train seems a tantalisingly distant aspiration as the city continues to endure sporadic diggings but the indomitable rise of those Kentucky Fried Chicken and Starbucks outlets is surely a sign of progress.
Whether you're shopping in Saigon, or simply a businessman in a tearing rush, you won't fail to sense the buzz, even if it's just the roar of traffic as a hundred motorcycles head straight for you. Unlike Hanoi, things are organised. Like the sign in my taxi that read: "Please do not pay in case taxi meter is out of work and just pay exactly for the total amount on taxi meter." Simple…
Send us your Feedback / Letter to the Editor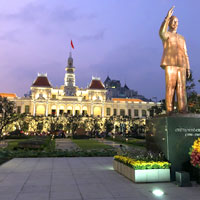 Stately City Hall lights up at night along with a bronze waving Ho Chi Minh/ photo: Vijay Verghese
Welcome to Saigon, Vietnam's Big Bad Apple that throbs day and night with a respectable glow of neon along refurbished and pedestrianised Nguyen Hue Boulevard especially on Friday and Saturday nights as elegant ladies in ao-dais (pronounced "ow-zais") glide past the new crop of Saigon hotels and eateries, sitting ramrod erect on dainty mopeds. It is a delicate art, and one that is quintessentially Vietnamese. It is a convivial press though when the traffic lights change it seems the Hoover Dam has burst. In some cases, entire families are perched atop their very own two-wheeler. Dine at an elegant French colonial villa and impress your date by ordering a hot Coca-Cola. In Saigon, Vietnam, everything is possible. On then with our Saigon fun guide.
Nguyen Hue Boulevard emerged mid-2015 from a frenzied bout of metro digging - for the underground train - suddenly revealing the range of perky hotels along its length, now featuring broad pedestrianised sections with manicured greenery and flowers. Say hello again to the swank newish Reverie. The Rex, farther up near City Hall (and the iconic Ho Chi Minh statue with an arm upraised seemingly beckoning the joggers and selfie-stick crowd) has been extricated and now gleams in marbled splendour after having been dug in on three sides for almost a year.
Airport tips and getting around HCMC
Saigon's Tan Son Nhat International Airport (www.hochiminhcityairport.com) has had a small facelift. It's roomier, marbled, with an Internet & Games Centre and the obligatory cobras pickled in evil looking liqueurs. It is quite efficient given the red tape. Best of all, arrivals to Vietnam will notice the absence of any arrival or departure forms. You just whizz up to the immigration counter and present yourself. Immigration staff gawp at each other, chat, laugh, scratch their heads with no seeming interest in you or your passport. The lines do move somehow and there is a marginally faster ABTC/APEC counter for a fortunate few.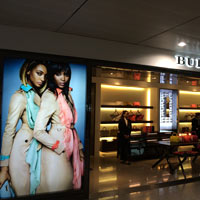 Duty free shopping at Saigon Airport/ photo: Vijay Verghese
Duty-free shopping options at Saigon Airport include a wide range of perfumes from Chanel and Bulgari (or BVLGARI as purists might say) to Victoria's Secret, and fashion brands galore. Expect Michael Kors, TUMI travel bags, COACH, and exotic perfumes sold by Sasco (the big local retail chain). A 7.5ml bottle of COCO Chanel Mademoiselle parfum will set you back around US$127 from January 2020. Staple perfume J'adore by DIOR (and sister fragrance 'Joy') both retail at US$89 for a 50ml EDT. Sasco retail stores dominate the terminal. All this is at Level 2 as you exit immigration and security with the gew-gaw stores lining the narrow corridor that runs ramrod straight on either side with a very small amount of seating and impossible-to-access WiFi though it is free. The boarding gates are on Level 1, a floor down.
Also find Bally, Swarovski, Tag Heuer, LeSportsac (accessories and handbags), Burberry, Mont Blanc, and Salvatore Ferragamo. For duty-free alcohol, a 12-year-old Chivas Regal one litre bottle is priced at around US$39 while a one-litre bottle of duty-free Johnnie Walker Black Label costs exactly the same (it used to be priced cheaper at US$36).
Or simply enjoy a foot massage at Level 3 on the way out at around US$25 for a half hour rub. There's a Burger King here too and the spacious Saigon Cafe with a smattering of tiny coffee shops. Alas, there's not much to do at the terminal except shop. Pick up some Vietnamese coffee. It's pretty decent. You cannot import coffee here but you can certainly carry it out by the cartload. The 'flavour' of the year seems to be 'Weasel Coffee' (digested beans) that retails for around US$20 for 300 grams, powdered or as roased beans.
Along with the speeded up immigration expect cursory security checks for domestic flights where there seems to be no need to whip out your laptop and water bottles for a separate screening. Just send it all through in your backpack or briefcase. International security is more tight (belts and shoes in a tray along with laptops) but water seems to get through.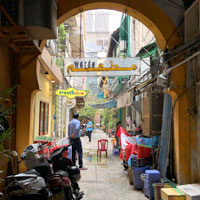 Ho Chi Minh City back alley/ photo: Vijay Verghese
The airport is compact, clean and reasonably efficient (gate to taxi in under 15 minutes if lucky early morning). But when a few flights arrive together this could take 45 minutes or longer.
Getting to town is relatively easy. Drivers with private cars will approach you demanding around US$20-$25 or more but metered taxis right outside the arrivals hall (to your left) are plentiful and use a meter for a 30-minute ride downtown to your hotel in the heart of Ho Chi Minh City for around 150,000 Vietnamese dong (about US$6-$7). The return trip is about the same though some taxi drivers will try and foist a pre-prepared receipt for double this. The more aggressive car rental counters inside the terminal will scalp you for up to US$30 if you look wide-eyed enough.
Within the city, taxi meters start at D5,000 or D12,000 or more depending on the state of the cab. This is not a rip-off. Over a medium distance, the prices all even out (Airport Taxi tel: [84-8] 3844-6666, Vinataxi tel: 3811-1111, Mai Linh tel: 3823-2323, or Vinasun Taxi tel: 3827-7178).
The centrally located Tourist Information Centre on Nguyen Hue near City Hall disappeared with the Metro diggings and the arrival of Union Square but appeared to have re-emerged by early 2017 at the Saigon Mini Hotel 5 not too far from Ben Thanh Market. Also check out Saigon Tourist (www.saigon-tourist.com) one of the biggest hotel and tour operators around.
Whether it's a silk ao-dai tunic you're after or a B-52 bomber compass or a wind-up Russian army watch that actually works, everything is negotiable right down to just this side of zero. Knock-off Ralph Lauren shirts in teeming Ben Thanh market can be had for less than US$5. The exchange rate is around US$1=D23,200. That's a lot of dong.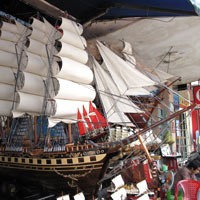 I saw three ships... model sails next to Caravelle/ photo: Vijay Verghese
Don't change too much and keep lots of small denomination dollar bills. Most stuff is quoted in dollars and, unless you're a math whiz, it's far easier working with fewer zeros. Ben Thanh is a must-see and represents a fair slice of old Saigon. There's tasty street nibbles here too.
Upscale Saigon shopping is best experienced along Dong Khoi Street where you'll find outlets like Prada, Brioni, Roberto Cavalli, Versace, Dolce & Gabbana, Giorgio Armani and other European designer brand accessories. And right across the main street from the Continental is the posh stark-white curving bulk of the classic Union Square with more designer brand shopping than you can shake a stick at. The Mandarin Oriental Saigon is due here on its upper floors. At Union Square find luxury brand shopping with names like DIOR, Hermes, Saint Laurent, Vertu, Bottega Veneta and more in gleaming marbled environs.
Along Dong Khoi savour hole-in-wall outlets selling chic outfits but the once highly-regarded Khai Silk - the Vietnamese equivalent of Thailand's Jim Thompson - is no more, after being unmasked and shut down October 2017 for selling counterfeit Chinese silk and goods. They had a good selection for men as well as women. You might still find them at some of the more upscale hotels. The Lotte Legend hotel's Khai Silk store was closed as well.
The amazing, if ungrammatical, it's happened to be a closet (tel: 3825-8325, 89 Mac Thu Buoi, itshappenedtobeacloset) has a wildly entertaining assortment of handbags (up to US$1,200), blouses ($245) and colourful bric-a-brac from Thailand's hugely popular Siam Square boutique. Also look out for Nagu (155 Dong Khoi - gifts and kids' stuff, handbags from D860,000), a bright selection of clothes for children at Ninh Khuong (83 Dong Khoi), and IpaNima (77-79 Dong Khoi), which retails flash designs with Indian inspirations and local flavour. Along Dong Khoi is Saigon shopping at its best.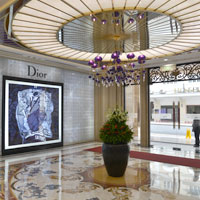 Marble slathered Union Square hosts top shopping brand slike Dior/ photo:/ Vijay Verghese
Around the corner from Caravelle as you head right from the main exit is the fascinating Tan Thanh (9 Lam Son Square, tel: 3825-7827) that sells replica wooden sailing ships, large 1.5m models going for around US$100. Across Dong Khoi is a large Louis Vuitton store and a huge Gucci emblazons one side of the Sheraton. Relentlessly upscale is the new shopping arcade that seems to have overwhelmed the formerly sleepy Rex hotel. The hotel has been reborn with glitz and marble as far as the eye can see and high-end watches and designer fashion brands on display include BVLGARI, Burberry, Chloe, Rolex, Cartier, Chanel, and Salvatore Ferragamo.
Farther up Dong Khoi opposite the Continental hotel is the Eden Mall with a more posh but not overly pricey collection of fashion and accessories covering everything from jewellery to Zippo lighters. The smart Parkson mall, a block from the Park Hyatt Saigon and right next to the Continental en route to the cathedral, offers upscale choices that are hugely overpriced but are gobbled up nevertheless by local shoppers. Browse Tag Heuer watches, Timberland, Shiseido, Porsche Design, and Dunhill.
Come armed with information as precious little English is spoken though staff will strain to help you. There are information leaflets available. Grab one as you enter and follow the map. Sounds simple but it's a genuine white-knuckle adventure. This is high end Saigon shopping.
For more upscale Saigon shopping, not far from here is the Diamond Plaza department store that also offers an array of goodies including Furla and Dunhill. The aforementioned Bitexco Financial Tower serves up six floors of high-end shops and restaurants. Start with Adidas on the ground floor.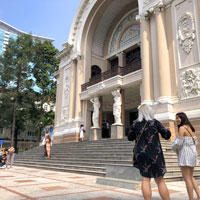 Beautiful Opera House facade/ photo: Vijay Verghese
The high-rise Vincom Center (70-72 Le Thanh Ton, District 1) offers shopping and restaurants. At handbag and accessory store Jess (tel: 3822-3670) you'll find Prada, Salvatore Ferragamo, Furla and Fendi. If clothes are not for you, ogle old but stylish Vespa and Lambretta scooters at 2S. They'll handle shipping and paperwork. You organise the helmet, the sultry Italian-speaking blonde and the cool shades. Watch out Angelina Jolie and Paris Hilton.
On the streets, t-shirts can be had for US$5 or less. Pick up antique-looking second hand Swiss watches for US$250 – of course at your own risk – and knock-offs for around US$25. If you must, there are real watch shops too. Places like Lucky Plaza on Nguyen Hue serve up handbags by the bushel, silk scarves, and costume jewellery.
Hai Ba Trung also features a seamless stretch of fashion shops, local designer offerings and larger wholesale places. Younger fashions predominate, like PT2000.
Downtown, at the junction of Nguyen Hue and Le Loi is the large and gleaming Saigon Tax Trade Center, which despite the name, is not a tax-free shopping haven at all. Prices are steep but there is a decent range of goods on offer from jewellery and cosmetics to watches, fashion and some electronics. And it's air-conditioned. Hop in to explore Triumph, Vera, Samsonite and Adidas.
The real Saigon bargain shopping action however is to be found at Saigon Square off Le Loi one block up from Saigon Centre. Here, pick up fake watches for US$20-$30 and up, and bargain hard for sports shoes, silk dresses, ao-dais, t-shirts, belts, CDs and DVD films for less than one dollar.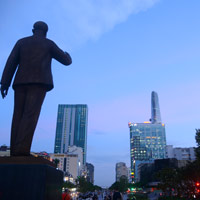 Ho Chi Minh waves at Nguyen Hue avenue/ photo: Vijay Verghese
If you're looking for fake watches and some genuine second hand antiques, try Dong Khoi where you'll spot cheerfully brazen displays of knock-off Patek Philippe, Rolex, Omega, Longines, Tudor, Bulova, Movado and more. You might get lucky and come home with a US$30 imitation Patek Philippe (with Taiwanese movement).
For cheaper Ho Chi Minh City shopping head to Chinatown and Cholon in District 5 where the giant An Dong Plaza awaits. This is a more local estaWblishment and prices can be flexible. Also in Chinatown, check out Binh Tay market. Another local market worth a peek is Tan Dinh near Vinh Nghiem Pagoda (Nguyen Van Troi Street) in the north of the city on the road to the airport.
If you're in search of Vietnamese art, much of it in striking colours, pop by Apricot Gallery (tel: 3822-7962 or www.apricotgallery.com.vn) at 50-52 Mac Thi Buoi Street around the corner from the Sheraton. There is also an Apricot Gallery in Hanoi. Sadly, several interesting art galleries have been squeezed out of Dong Khoi with rising rentals (and high-rises) but the vibrant and contemporary Galerie Nguyen (tel: 3824-2723, 139 Dong Khoi) chugs on. Look out for striking impressionist portraits and landscapes by younger artists like Nguyen Ngoc Anh (who specialises in photo-real bicycles) and Nguyen Hai Anh (impressionist portraits).
Much cheaper for bottom-feeders or those simply in search of fun buys are hole-in-the-wall places along Nguyen Hue where a small Mona Lisa replica or even a Homer Simpson portrait – if you are a real art aficionado – will pinch just a modest US$15 from your reluctant wallet. And that's just the tip of the mad Saigon shopping iceberg.
Nightlife, dining, bars and fun stuff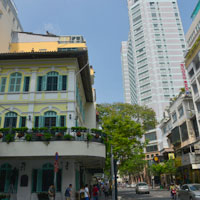 All new Vietnam House: atmospheric and newly luxe/ photo: Vijay Verghese
Dining choices are varied and good in this city. Some of the best 'banh mi' or a Vietnamese-style ham in a bun is at the popular and unfussy Huynh Hoa (26 Le Thi Rieng, www.facebook.com) or at the larger Nhu Lan, which is a bakery with other savouries on offer at 50 Ham Nghi Street not far from downtown and the Ben Thanh area.
Vietnam House (tel: [84-28] 3822-2226, vietnamhousesaigon.com/) with its louvred windows and high ceilings is one of the oldest restaurants in Saigon. It underwent a closure and refurbishment in late 2016 to return late 2017 spanking new under the supervision of celebrated Vietnamese chef Luke Nguyen. The outlet is now managed by WMC, which operates The Reverie Saigon. It has a lot more glitter and bling but the food remains terrific. Here, at 93-95 Dong Khoi Street in District 1, sample Hue-style spicy noodle beef soup or local fish. A decent meal for two should not cost more than US$25. It's well worth a visit for a brief respite from the motorcycle din and dust. Friendly service and occasional music.
If you can find it, check out the hideaway TIB (tel: 3829-7242, 187 Hai Ba Trung Street) that despite the fish 'n' chips name has excellent spring rolls and a scrumptious jackfruit salad with shrimp, served up in a secluded yellow villa. For stylish Vietnamese street food and rice-paper rolls in a nice courtyard setting a must-try is Quan An Ngon (138 Nam Ky Khoi Nghia).
Popular old-timer Quan 3 Mien (122b Tran Quoc Thao) serves up Hue, Hanoi and Saigon cuisine while the friendly and unassuming Pho 24 chain is well known for its pho, Vietnamese beef noodle soup. Pho 24 offers side dishes like spring rolls as well.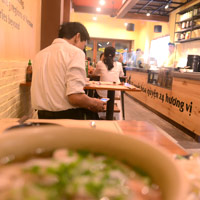 Smartened up Pho 24 on Dong Khoi/ photo: Vijay Verghese
Spot the upgraded and contemporary woody decor Pho 24 on Dong Khoi. It looks straight out of IKEA and the prices have climbed modestly to 60,000 Vietnamese dong for a do-it-yourself bowl of pho with a large pictorial ordering menu by the counter. Order, sit, and wait to be served.
More upscale choices are the trendy Temple Club (29 Ton That Thiep Street, tel: 829 9244, www.templeclub.com). For a smoky and excellent barbecue, try the rooftop Quan Nuong (29-31 Ton That Thiep Street, tel: 908-357-530) above Temple Club. The place is packed and looks like the final scene from the Titanic with everyone running about screaming wild-eyed. Do the same and shout for a waitress. Try the lotus rice and "five spices" beef. Or boil a hot pot. Or just shout some more. And on the ground floor is the hugely popular long-time stalwart Fanny (open 8.30am - 11pm, www.fanny.com.vn/en) ice-cream.
Around the corner from Caravelle in the gentrifying neighbourhood once swarming with girlie bars, the smart Xu restaurant and lounge (tel: 3824-8468 or www.xusaigon.com) at 71-75 Hai Ba Trung is always worth a potter and is a notch above the competition on design, quality of staff, attention to detail, and price. This two-floor establishment offers upscale dining upstairs as well as an attractive chill-out drinks and tapas area at street level. Try a Xu Tini (vanilla, vodka, tea, honey and a dash of cream) at the bar. Xu has an interesting food selection that is well presented but a tad fiddly on size when it comes to mains.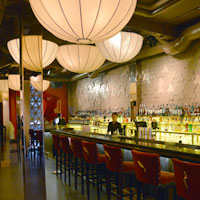 Smartened up Pho 24 on Dong Khoi/ photo: Vijay Verghese
This area is packed with Korean fried chicken for some reason. Also spot the Habanos Cigar & Whisky Shop, Temple Tree Spa, a mosque, and kosher Muslim halal food served Turkish or Malaysian style.
Sheraton's hip street-side venue Mojo (also on Dong Khoi) was a hip Saigon bar but closed in 2018 as the hotel renovated and the space was switched to a luxury brand store. To pump up the volume, head for the ninth floor of the Caravelle Hotel (and up a flight of stairs) where the exceedingly popular Saigon Saigon Bar (www.facebook.com) with its wraparound verandah caters for just about anybody in search of margaritas, pounding live Latino music, and superb vistas. The bar overlooks the historic Opera House.
The bar is being expanded and will get a facelift (but not a new face - it will still be just as bawdy and fun) late 2020. Or check out the younger and narrower street-style The Long @ Times Square by The Reverie (www.thereveriesaigon.com/the-long).
Not to be outdone, the very elegant and reworked 2 Lam Son at the Park Hyatt is a sensory refuge for the discerning. Make straight for the martini bar and watch the beau monde in action. This is a gloriously textured and unabashedly upscale watering hole that is never in your face. Yes, silence can be golden. Pick a bar stool under a flatteringly soft pool of light or lounge under gauzy drapes.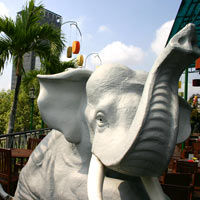 Mad rooftop elephant carouse at Rex/ photo: Vijay Verghese
In the vicinity decent Indian nosh is available at always bustling Ganesh (38 Hai Ba Trung, www.ganesh.vn/) with its varied fare and Chinese touches too. Or try Ganges (www.facebook.com) opposite the Park Hyatt just a little farther up the same road.
There's more to Saigon nightlife. A happening place at times is the Sax N' Art jazz club (tel: 822-8472, www.facebook.com) at 28 Le Loi where you can take in saxophone riffs and Vietnamese melodies. It is a small place with a cosy feel to it. Can get noisy and crowded late.
If you want a slice of seedy and throbbing history, try the foreigner-friendly Apocalypse Now (2C Thi Sach Street, tel: 825-6124, apocalypsesaigon.com/), one of Saigon's oldest bars, where US soldiers hung out while stationed in the city.
For those sleepless in Saigon, pop across from the New World to the Catwalk disco, KTV and nightclub (tel: 3824-3760, 8pm-2am) and the adjacent CHATS gaming and casino with its blinking slot machines and roulette tables. The Catwalk disco and karaoke serves up slinky hostesses with legs going up to heaven who will listen to your boring life story for a few dollars per hour (tips are extra). Is your tale worth it?
The Club Royale (tel: 3822-1888) behind the Renaissance Riverside Hotel is another bopping complex with a slot machine gaming centre called Joker, and the Faces lounge with karaoke, live band and, heck, even free Internet. Can't get away from technology. "Hi, my name Diem, I have legs going all the way up to heaven." "Well, hello Diem, but honestly, I really need to get onto Facebook right now and…"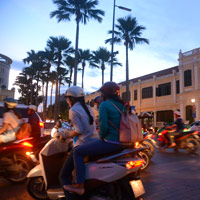 Saigon is abuzz Friday night/ photo: Vijay Verghese
A humungous lift - perhaps once a car elevator - done up like a Disneyland lounge, hoists you up to the reception level where you'll find ladies in strappy dresses waiting to sing with you for around US$15 per hour. It's cheaper to sing in the shower. And less embarrassing. A few hotels offer some sort of casino operation (for foreigners only). Look out for the Majestic Club at the Majestic, and Club Vegas at Caravelle.
Of course, if you still need refined pampering (read oil massage and a body scrub) you might try the Jasmine wellness spa (Number 45, Ton That Thiep Street, tel: 3827-2737) not far from the Temple Club where an anti-stress massage will set you back from upwards of US$25-$30. Sample hot stones, a rice body polish, salt body scrub, and then get a manicure afterwards. Jasmine Massage at the Continental hotel opposite the Opera House is a clean and safe bet, open 11am till midnight.
A great way to see the city - and grab a few local insights - is by using the services of Vespa Adventures (vespaadventures.com), which prides itself on maintaining a fleet of vintage scooters, some dating back over 40 years. Visit Chinese temples, a 'bird club', do an after dark circuit, or explore the Mekong. It's all possible at around US$72 per person with food, guide, raincoat, helmet, insurance and more. The visually restless may wish to take in the Artinus 3D Art Gallery (9am-6pm, open till 8pm on weekends and holidays, facebook.com/).
Later, finish up your dining and Saigon bars trawl with a postprandial stroll enjoying a kerbside height and weight check by local artificers who trundle their contraptions around town ringing little bells. This is family nightlife local style.
Saigon business hotels review, luxury beds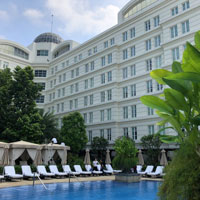 Park Hyatt reworked pool podium with cabanas/ photo: Vijay Verghese
Before you book into a hotel bear two things in mind. At older hotels the plugs are often French-style two-pin deep-socket affairs that will stymie some adaptors. Secondly, while faster internet connections and broadband are developing fast, general surfing speed often depends largely on how many guests are logged on at any one time. As internet usage in Vietnam tends to be private rather than corporate, nights can get jammed up.
We begin survey at the heart of the city at the Opera House. Most of the better establishments radiate outwards from this central district. So here's the crop of the top Ho Chi Minh business hotels. The metro digging has not directly affected the Park Hyatt, Continental, Sheraton, Caravelle and, farther down, the Asiana Saigon InterContinental.
The swish Park Hyatt Saigon, right across the road from the splendid Opera House, returned 14 June, 2015, after a three-month shutdown for a top-to-toe revamp of rooms, public spaces, the pool, and meetings facilities. In 2017 Opera restaurant was refreshed and continues to serve zesty Italian (try the lobster linguini if on the menu) with a new-look Opera Bar with splendid afternoon tea and private dining spaces. The Verandah with its lazily swirling palm-leaf fans is a comfy retreat with floor-to-ceiling windows looking on to Lam Son Square and the lobby lounge has smartened up with crystal chandeliers and more clubby appeal.
Dining is suitably stylish with menus to match. Square One continues with innovative Vietnamese and a dash of French (try the roast pineapple or caviar tart) and great "pho", and the splendidly chic split-level 2 Lam Son that has managed to cram in extraordinary detail and texture while still managing to remain understated, dark, and packed with snuggeries and, by 2020, bigger sound for the foot-tapping set. Check out the martini bar here.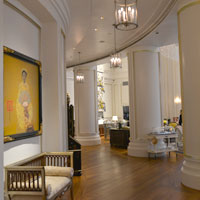 Park Hyatt's quietly luxe lobby sports familiar art and new chandeliers/ photo: Vijay Verghese
The good news is that WiFi bandwidth has been doubled and internet surfing is complimentary. The décor at the Park Hyatt Saigon is quiet and subtle, classical with a contemporary feel. It is an East meets West palette where most people will feel at home. Large Vietnamese paintings adorn walls, and from the lobby on you get an enormous sense of space. There is plenty of natural light. Service is brisk and friendly.
The Park Hyatt offers 245 bright and spacious rooms with marble-tiled bathrooms and rain showers. Expect rich wood floors with deep tan carpets featuring woven ferns and birds, virginal white louvred windows, bamboo trellises, slim ivory bamboo chairs, cream chest-of-drawers with gracefully curved cabriole legs supporting a large flat-screen television, BOSE sound, Bluetooth, coffee and tea making equipment, a laptop-friendly safe, iron, embroidered silk cushions, and an iPad (for dining menus, not in-room controls, sensibly).
The small bedside clock with a classical dial remains along with a lazy ceiling fan and a nice wooden biedermeier work desk for that hint of colonial nostalgia. There are two three-pin multi-plug sockets by the desk and one socket on either side of the bed so there's ample charging access for gadgets.
The room is easy on the eye with light tones and an invitingly plump white bed. The bathrooms are well lit so there's no make-up or shaving fumbles in the morning. The glass shower cubicle offers a marble bench for those who prefer to shower slowly, small touches that set this hotel apart as a classy address and one of the best Saigon business hotels. You may find a compact tub too. Perhaps the best feature for frequent travellers are the easy-to-use tactile room control switches.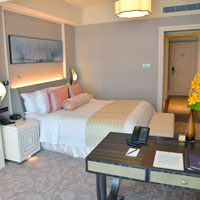 The Caravelle has rolled out sumptuous new Signature Studios/ photo: Vijay Verghese
Some rooms have been set aside for the physically challenged and, for those who prefer not to be financially challenged but expect all the perks of a top-drawer five-star, there are specials on offer from time to time. A pillar-less ballroom of 550sq m will set event-planners' hearts throbbing - this is a good pick for small corporate meetings in HCMC - while after hours, business travellers may wish to unwind with a spa treatment, a fitness workout, or some quick laps in the 20m outdoor pool with newish cabanas.
The third-floor pool area is green with tropical foliage, sunning spots, and meandering paths. Catch some rays. The space has been reworked substantially and in 2020 presents a well manicured escape. With a location smack in the middle of business and shopping – and entertainment by the block – guests only have to step out to get their city trawl started. It is by far one of the best Saigon business hotels around.
From here, just across the garden (that miraculously replaced an unsightly parking lot) is the once undisputed top address in town, the art nouveau Caravelle Saigon that looks over the Opera House with grand views. This address turned a gracious 50 in 2009 and completed its first phase of enhancements December 2014 with a splendid new lobby featuring cream marble and charcoal inlay. The feel is cool, uncluttered, and contemporary, with a flash of crystal chandeliers overhead and the brisk attentive service that is the hallmark of any stay here. The instant-on WiFi is a godsend for business travellers as it saves the fiddling about and peering at minute passwords. The earlier branded shops and outlets have been muscled out by an elegant, enlarged lobby offering generous elbow room for quick-stepping guests to mingle without mangle as they head to Café de l'Opera and the country's very first Champagne Corner in collaboration with Moet Hennessy, this at the Dong Khoi entrance. Spot the Tapas Kitchen too, tucked in on the side.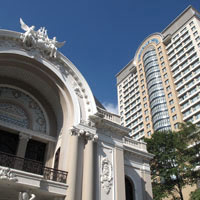 Saigon Opera House and the Caravelle/ photo: Vijay Verghese
The room renovations planned for several years have finally been unveiled after a closure and what a change it has made. The 335 new-look rooms for 2020 are bright and airy in a modern yet classical mould that will appeal to many tastes.
Expect white-wooden wall panels, floral beige carpets, and a creamy feel with plenty of natural light. Our pick is the 43sq m Signature Studio with its big bay windows, Opera view perhaps, gauzy curtains and drapes. Expect a cream settee, easy chair, abstract photos and paintings, a good sized slim wooden desk (with two three-pin multi-plug sockets and USB ports) accompanied by a cream puckered-button chair to make any CEO feel at home. An invitingly plump white bed takes centre stage with velvety cushions in pale rose with a light gold runner, flanked by white side cabinets and a black touch-sensitive light controls panel. There's a large flat-screen TV, Nespresso for your morning cup of Joe, an electric kettle to rustle up tea, and a mini-bar with a Pepsi priced at D75,000 (just over US$3) and Saigon beer at D95,000.
Also find smart white French doors opening into your wardrobe, a flat laptop safe, iron and ironing board, a cream pouffe for weary bottoms, and a white marble bathroom with large vanity, hairdryer, large rainshower cubicle and Appelles toiletry from Australia.
The Kara Spa at Caravelle offers wellness treatments along with a fitness centre and a terrace pool with swim-up bar. Pop across to the Vegas Club slot machines (casinos are big in Vietnam) for a casual flutter and don't miss the signature must-see rooftop Saigon Saigon Bar, which has been operating since 1959 when it held the distinction of being the 'highest' perch in the city. The place gets seriously bopping of an evening with Latino music (until late), dancing, and breezy views in all directions. In all, Caravelle is a brisk address with intuitive staff that ranks high on our Ho Chi Minh City business hotels review.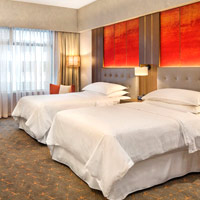 Sheraton Grand Premier Deluxe/ photo: hotel
Right behind the Caravelle, at 88 Dong Khoi, the Sheraton Saigon Hotel & Towers is a big, city hotel in every sense of the word. The gussied up lobby is still old-style and dark with space to swing a horse by the tail and with low ceilings over much of the new-look lounge bar area. It is a busy space, constantly in motion.
The new wing of the hotel completed renovations in December 2019. Rooms are light and airy with arresting splashes of crimson on the walls and smart modern touches.
The Grand Tower at the Sheraton has 112 studios and suites and this is the premium focus of this address. Grand Tower rooms are kitted out in corporate browns and earth tones with unfussy, contemporary, decor. The Grand Tower check-in is on the fifth floor (this is a separate tower from the main block) and there's a well-lit high-ceiling lounge overlooking the alfresco pool, with evening canapes and cocktails and breakfast. Staff is smart and and the service exceedingly attentive.
In a 53sq m Grand Tower Studio expect a dark wood foyer with wardrobes stocking an iron and ironing board, a notebook safe, a roomy sleeping area with a tan carpet, tall gauze curtains with city or river views beyond, a cozy alcove for the work desk and data port with four three-pin multi-plug sockets (there are lots of sockets in the room including on either side of the bed), iPod dock, 42-inch LCD TV, DVD player, Bose surround sound system, pipe reading lights, and complimentary WiFi. The bathroom features a window-side soaking tub and a large cradle-mounted shower.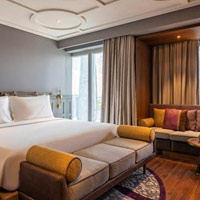 Fusion Original Saigon/ photo: hotel
For tired limbs there's the Aqua Day Spa on Level 5 (10am to 11pm) with all manner of pummelling and unguents available. Other recreation and relaxation options include tennis, squash, and swimming. This Saigon business hotel is well equipped to handle meetings and conventions. For large banquets and conferences, the spacious 739sq m grand ballroom can hold 700 guests (sit-down) or 1,000 (cocktail).
The Sheraton Saigon Hotel & Towers offers a total 2,500sq m of space for small corporate meetings, MICE events, or product launch events. This is among the top Saigon conference hotels. Don't pick it for its pink exterior; pick it for service and location at the heart of town, a hop from the Opera House and right next to the shopper-mad Dong Khoi Street.
For executives shopping for HCMC longstay residences or in-and-out business travellers, the hotel offers good service and a central location. At the end of the day, enjoy the open views up at the Level 23 Signature Restaurant, gawp from the breezy balcony of the Wine Bar, or head for the 24-hour slot machines at the Palazzo Club.
From zesty hotel group Fusion that has made a name already for its chic lodgings peppered across Vietnam, a whole new brand concept and a fresh beginning in Ho Chi Minh City. Here's the Fusion Original Saigon Centre (saigoncentre.fusionoriginals.com/) perched atop the Takashimaya store in the multi-use Saigon Centre Tower. The hotel, which occupies 10 floors, has an energetic youthful vibe with its creative use of colour, geometric shapes and bursts of whimsy. Expect an alfresco sun-dappled sixth-floor pool with grand views all around. Need to get your bearings? This is where you need to perch. Then lose your bearings swiftly over a tipple or unwind at the secluded lounge, The Nest. The restaurant, Miss Thu, serves local food with an immersive feel as women in ao-dais swish past.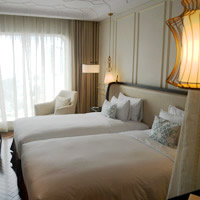 Hotel des Arts Saigon, pastel chic with curves/ photo: Vijay Verghese
Kevin Beauvais, CEO of Fusion Hotel Group and a longtime Asia hand - the founder of InVision and GLOW Hotels & Resorts - says, "Travelers these days want to connect with a story; they want to feel part of the distinct narrative of a place." This is what Fusion Original hopes to serve up.
Also in the city centre just a block from the Notre-Dame Cathedral, is a jaunty new contender, the Hotel des Arts Saigon MGallery Collection (August 2015), quite a mouthful but a breath of fresh air with a distinct new style. The slim cream building serves up 168 keys including 16 suites in a chic modern Indochina take on things. Curved corners in bedrooms are the first sign that this design is rather different, with its minimalism and panoramic TV-set windows (also with curved corners), all creating a soft and welcoming environment sans sharp corners.
Expect gleaming rosewood floors, pale furniture largely in cream and an oversized plain white bed that is inviting in its simplicity. The test of the pudding... dive in. A 30sq m Deluxe has a dark-wood herringbone floor, a generous flat-screen TV wrapped in a large and playfully baroque frame, a small work desk, easy chair, hanging lamps, cream tones and one three-pin multi-plug electric socket on either side of the bed.
The plaster scalloped ceiling is a nice touch. The open plan layout leads from the bathing area (at the entrance) to the bedroom with its plump bed. There is a gauze curtain partition. Great for romance, less so for business suits travelling in tandem.
There is a notebook-size safe, iron and hairdryer, and WiFi is, of course, free. With photo shoot lights the scene is quietly inviting. But step in and the first impression is of a rather plain space. It grows on you though and as you discover it you'll understand why less is more - not that you are shortchanged on any amenity. If you can, opt for a 60sq m Executive Studio Suite.
In general, think neat black trim echoing a fashionable Dior dress, tall windows with dreamy gauze curtains (as in the lobby) and you get a sense of this Parisian style hideaway that should be top of anyone's pick of Saigon boutique hotels. A plaster scalloped ceiling creates texture while occasional flashes of colour offset the pastel mood. The feeling is more home or apartment than impersonal hotel and this is what will click with both business travellers, romantics and the cognoscenti keen on sampling something different and non-cookie-cutter.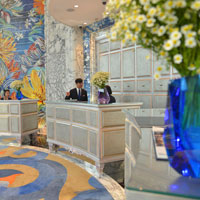 Ornate marble lobby at The Reverie, more bling than you can shake a stick at/ photo: Vijay Verghese
Hotel des Arts is a small luxury hotel with high standards of service and personalisation, something it is well placed to provide with the small number of rooms and emphasis on guest satisfaction. We rate it as perhaps the best Saigon boutique hotels pick.
Also check out a rooftop pool, a spa with five treatment rooms, two meeting rooms, a boardroom and a ballroom that can host 110 banquet-style.
Gastronomes will enjoy the Saigon Kitchen with all-day dining, Vietnamese and international fare, and the 23rd-floor Social Club designed by Super Potato with European menus and all-you-can-take-in views. Whether you pick this address as an apres-work bolthole for a chilled drink or a relaxing stay, it is one to mark down in your diary.
Meanwhile, moving Saigon's bedroom experience decidedly upscale - and with a classic European twist that will delight some and overwhelm others - is The Reverie Saigon (early 2015). The 286-room hotel is housed in the high floors of the giddily marbled Times Square on bustling Nguyen Hue Boulevard (with an entrance on Dong Khoi). You'll need to turn off your pacemaker and pop a Valium to take in all in the gilt, and crystal and marble and more marble slathered from floor to ceiling like a luxe tiramisu. There is wall to wall texture so take it in slowly.
Once you've absorbed the sight and pushed the jaw back into place it becomes speedily apparent that this is no slapdash construct. The work is fine and painstaking and the textured marbles, melding blushing lavender with grey and even blue is no trick of the imagination. It is a pellmell assault on the senses but some will relish the level of luxury and bold statement this address brings to the hitherto staid Saigon party.
Walk in through the gilt-edge marble Nguyen Hue entrance or via Dong Khoi, passing through inner chambers that get more ornate with each step. Expect high ceilings, soaring pillars and sudden bursts of whimsy as with the Italian Baldi clock at the seventh-floor lobby and the oversize velvet chairs. The shades of Burj al Arab continue as you proceed down a grand staircase or up glowing amber lifts.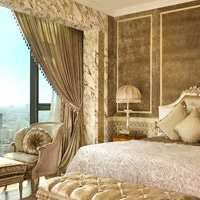 The Reverie Suite, gold and marble with more toppings than you can imagine/ photo: hotel
A standard Deluxe weighs in at 42sq m with a marble entrance foyer and dark wood parquet within. Expect 500 thread count Frette linen (going up in suites to 600). You may baulk at the marble but cannot fault them for the linen.
There's a free minibar, complimentary WiFi, Nespresso machine for a morning cup of Joe, huge flatscreen TV with DVD, jewellery safe (your laptop may not squeeze in here), a classic bedside clock, mustard settee, pastel wallpaper and easy-access silver one-press light switches.
The satin drapes are offset by the floral purple carpet. Toiletries in the bath come from Chopard (and Hermes in Suites). There's a soaking tub, rain shower, twin vanities, and an electronic Japanese potty that will keep the bottom briskly pampered. Three pin crow's feet sockets are the norm. Rooms vary in design themes but are equally plush. Given the marble finery at the entrance, the in-room feel is comparatively understated and quiet.
A Junior Suite is vast with mottled blue carpets and mother-of-pearl bird mosaic on the wall. Find an ornate gilt-edged settee, intricate tile-floor bathroom with small standalone tub by the window and a walk-in closet. Another thing that is never lacking, is grand views in all directions. There's 62sq m of stretch space here. The hotel's unique look is the result of a collaboration by four leading Italian furniture designers and there is no dearth of imagination when it comes to beds, fabric, texture and colours. Some rooms are in pastel textures redolent of Louis XVI with strong Parisian echoes, others are muscular and masculine with puckered brown leather headboards and timber floors. This being a designer playground, every room is different. Take your pick.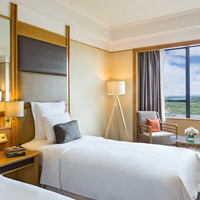 Renaissance Deluxe with river views/ photo: hotel
There are versatile function rooms for small corporate meetings too. For larger splashy events opt for the La Scala grand ballroom. Dining includes Italian and Cantonese, while apres-work to loosen those muscles, there's a two-level 1,200sq m spa and wellness facility as well as an outdoor 'resort-style' swimming pool. If this is not glitzy enough, try out the hotel's Rolls-Royce Phantoms or fly off from the hotel's helipad. Alternatively, it is a quick stroll to the river.
Situated on the busy riverside boulevard with splendid open views of the snaking waterway is New World's sister hotel, the 5-star Renaissance Riverside Hotel Saigon, also under the Marriott group. The hotel has 336 rooms, including suites, a rooftop pool, a fitness centre with sauna and massage, and conference facilities. A soaring atrium leading up 21 floors to a skylight is an architectural signature.
On the Renaissance Club Floor guests get a stack of complimentary nibbles, cocktails and breakfast as well as free local calls and some complimentary use of a boardroom. The Renaissance Club Lounge provides free Internet access. WiFi is available in public areas. New-look Executive rooms serve up bright blond-wood features, padded headboards, pastel checked carpets, and teal-green bed runners. Expect a flat-screen TV, iPod dock, WiFi (charged, but free for Marriott members) and a small flat safe that is not quite laptop size.
There is coffee and tea-making equipment, an iron, and a compact bathroom with a bathtub/shower combination and weighing scales. A throwback to the good old days are the large brass knobs of the radio and music console next to the bed. Deluxe rooms on floors five to sixteen got a soft refurbishment late 2012 and have been smartened up since. The feel of the hotel is laid back and in parts it shows its age.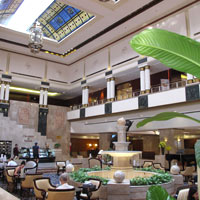 Lotte Legend offers staple business fare/ photo: Vijay Verghese
Conference and meeting facilities can take up to about 200 guests in a cocktail setting. The Renaissance has a laid back style and is well positioned on the river with open views that will appeal to holidaymakers. It is a family friendly Saigon hotel that can rustle up business muscle if required. This is a quieter location within a minute's walk to Dong Khoi and all that shopping. And if you're feeling hungry and adventurous, you can stroll upthe riverbank to dine alfresco - or indoors - on the Elisa Floating Restaurant, a large wooden junk with faux sails.
A skip and a hop from the Renaissance is 283-room river-facing Lotte Legend Hotel Saigon (formerly Legend Hotel). This is a simple and elegant pale pink building with neat square windows. Inside is hushed with marbled floors and cream tones. Two enormous metal horses look onto the lobby lounge (a carryover from the previous incarnation) and a fountain under a bright yellow-and-blue skylight surrounded by Roman bathhouse pillars. Spot a Khai Silk outlet. Outside in a garden setting is a circular pool that catches the sun. Old world and square-cut, it is a professionally run place with bright staff and will appeal to corporate travellers not expecting too much of the room product.
The rooms – with an old fashioned aesthetic – offer cable television, free WiFi, free local calls and tea and coffee-making facilities. Rooms start at a decent 37sq with the Executive Junior Suite weighing in at 72sq m. Executive guests can breakfast in the Executive Lounge, which also offers express check-in, a meeting room, complimentary afternoon snacks and evening cocktails. Think faded blue carpets, unfussy wooden tables, old-style plug sockets (not three-pin square), free WiFi and, the main offering - the Japanese style toilet seat.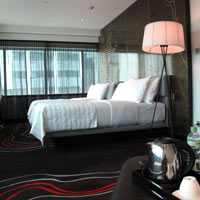 Le Meridien rooms are darkly smart and mod/ photo: Vijay Verghese
There are several restaurants and banquet space that accommodates 500 guests. Families will look forward to the services of the Kid Play Center to get tykes off their hands leaving adults some time for play of their own.
Right next door, also facing the river, is the new and very contemporary steel-and-glass 350-room Le Meridien Saigon (mid 2015). Walk into a cavernous and minimalist pale grey lobby with red and cream chairs clustered at either end and a central reception backed by a gold mural. the space is devoid of fuss save for a 'cloud' chandelier and soaring silver pillars.
The adjacent Latitude 10 is a dark timber-floored lounge and bar, again with a minimal feel and low seating. Overall, the hotel's initial design welcome will soothe some, or prove too stark or cold for others. Hints of Paris-chic are evident in the in-room modernist cube art (a representation of Saigon with a red dot to mark the hotel's location).
Take the lift up to the rooms arrayed around a sunlit atrium with mood lights pulsing in changing colours outside every door, and the feel is suddenly hip and mod with a hint of that W DNA lurking underfoot. Purple-charcoal carpets with playful red ribbons provide a motif seen throughout the hotel, and this continues inside the rooms too. A 42sq m Grand Deluxe serves up an efficient work and play space with a see-through black marble glass walled bathroom with soaking tub. There are twin vanities and an overhead shower.
The bedroom features a plump mattress, an L-shaped cream sofa, gold-hue lacquer wall murals, a long work desk with data-port and two three-pin multi-plug sockets (there's one by the bed too), flat-screen TV, flat laptop safe and iron. Windows are not floor to ceiling but are high enough to afford plenty of light. A 38sq m Premier Classic River View is a compact space, again with a see-through bathroom wall and a tub facing the bed.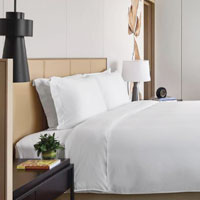 New World, new look pastel room, brisk and businesslike/ photo: hotel
Later pop down to the 9th Floor for a splash in the narrow blue-mosaic pool set along a balcony (with a roof overhang alas) to work off any calories and stress. Breezy but not sunny though there is a bright spot under the skylight with water features set apart for a splash and dash. There's a restaurant here and a well-stocked fitness centre too. Suits in search of function space will find five meeting rooms and a ballroom fronting the river that can handle 250 persons. There's a nice meeting foyer with river views.
The 533-room New World Hotel Saigon Hotel, close to Ben Thanh market, was the city's first five-star address and made a splash when it arrived. It is a sprawling, cheerful, building, its former bright mustard exterior replaced by creamy off-white while a renovated contemporary lobby, ballroom and about 200 rooms (in white and pale wood) add fresh lustre March 2020. The spacious new-look lobby tends to be abustle with quick-stepping executive suits and people headed for the lobby Parkview restaurant serving seafood buffets and, living up to its name, looking onto a verdant park through floor-to-ceiling glass walls. Expect a pool, a kids' area, a revamped spa for an aromatic rubdown, and a fitness centre.
Refurbished rooms at the New World Saigon Hotel are tasteful with muted pastel tones interspersed with pale goldy hues, light greys, and pale wood parquet flooring. Also expect a 42-inch flat-screen LCD television, iron and ironing board, a modest safe, and free WiFi. The toilets offer a bathtub with shower and hairdryer. Also find complimentary tea and coffee-making equipment and a minibar.
This bustling hotel offers 2,000sq m of function space and business facilities. Across the road is a pleasant park should you dare to stroll. Sporty types can swim at the open-air pool, play tennis, steam up at the sauna, get a massage, or spa out. The New World is a good pick among Saigon business hotels that doubles easily as a leisure address or a Saigon conference hotels venue. It's location close to the huge Ben Thanh Market offers a lively alternative to the sedate Opera environs.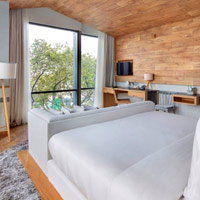 Fusion Suites, woody Alpine feel/ photo: hotel
Around the corner from here set amidst rows of tall and statuesque black-trunk dipterocarpus trees at 3 Suong Nguyet Anh Street is the delightfully avant-garde Fusion Suites Saigon that manages to meld woody Swiss Alpine cottage decor - complete with an A-frame ceiling - with minimalist Swedish chic. A woody sofa lounge waltzes out streetside - alfresco - from the high-ceiling lobby where artistic odds and ends jut from the walls. Spot the Vespa - the headlights on one side and the tail lights on the other along with other vintage bric-a-brac. The white pine walls and floors make a simple, elegant, statement with plump white beds offsetting the woody tones. Staff is friendly and attentive, in Vietnamese fashion, and the receptionist here saved me the aforementioned 1.5m dong that I had accidentally forked out to the airport taxi!
Rooms are spacious and well lit especially on higher floors where the views over the city open out. A pale grey carpet runs under the bed, which is set on a plinth with rim lights that create the sensation of floating or an awkward acid trip. A diwan is attached to the bed facing the city and in front of it is a lopped off tree trunk. Rustic and fun but don't bump into it at night en route to the toilet. A stylishly arty wooden chair sits before a small wooden work desk that offers the sole three-pin multi-plug socket in the room. The numerous other two pin sockets will need adapters for international plugs. Expect a flat-screen LCD TV on a swivel, Bluetooth speaker for your iPhone, polished cement floors underfoot for a rustic feel, two pipe reading lights, a semi-firm bed(that may prove too soft for some) and four fluffy pillows. The bathroom is in plain grey cement with patterned tiles and plenty of elbowroom, a tub, rain shower, toiletries, and a well-lit mirror with a hairdryer. A full length mirror leans against a wall in the foyer that also hosts a large glass water bottle (this is a no-plastic hotel), and a projecting rod to hang clothes. There is no concealed wardrobe. Walls are in grey tones as is a full wall photo-painting.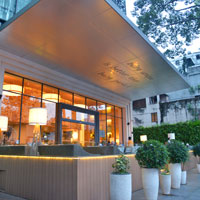 Fusion Suites: streetside open sofa lounge/ photo: Vijay Verghese
Pick a 42sq m Corner Suite for more light - not that you need more - and views, or a two-bedroom Family Suite with a queen bed in the master room and a bunk bed for the ankle-biters.
The feel here is resorty, Europe-meets-Hokkaido and will put guests in a holiday mood. For businessmen on the go there's two meeting rooms (one can host up to 30 persons), a sauna and gym and simple spa services for an evening unwind. There is no pool but there is a breezy rooftop bar and lounge with open views. Fusion Suites is one of the nicest HCMC boutique hotels and well worth the US$150 or so price tag despite its simple rustic demeanour.
Also in the Ben Thanh Market area is the newish 306-room Pullman Saigon Centre with modern pastel rooms in grey-green hues with purple flashes. The set-up is somewhat plain but the rooms are entirely functional with free WiFi, 40-inch LCD flat-screen TVs, safe, coffee maker and comfy beds. Picking your own pillow style is a small but thoughtful luxury. Expect a fun pop-up burger bar, a grill room with open views, a swimming pool and workout area. There are small meeting spaces for up to 500 persons. All in Pullman is a versatile address that will suit many pockets without scrimping on amenities.
Close by, on Nguyen Hue Boulevard is the modestly stylish, if ageing, Duxton Hotel Saigon that morphed into the Saigon Prince Hotel by mid 2016. Much of the feel remains unchanged. Staff seem to know what's going on and are anxious to please. The pace is brisk and the lifts are a decent size - unlike the mini cabin trunks that grind up and down the boutique riverfront buildings - with marble floors to boot. The pastel-beige rooms are surprisingly airy and come with cable TV, mini-bar, ironing board and laptop-size safes. The Duxton's older-style boxy TVs have been replaced by large flat-screens at the new Saigon Prince. Expect a reasonable work desk, silk cushions in beige or purple and other touches. WiFi is free. The hotel also manages to squeeze in a small outdoor pool on the third floor set in a timber deck, a gym, and well-equipped spa. There are 16 function rooms and meeting spaces for seminars and corporate get-togethers for ten to 300 guests.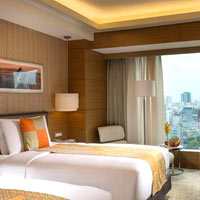 InterContinental twin with view/ photo: hotel
The 305-room InterContinental Asiana Saigon comprises three smart reflective glass blocks – one each for the hotel, residences, and offices. This is part of the Kumho complex. Walk into the lobby to find lots of dark woody tones and a chic sitting area. Deluxe rooms feature speckled carpets and wire swirls on the sliding frosted glass doors that open from bedroom onto the bath.
An orange runner on the bed enlivens the arrangement with a dash of colour. Expect a 42-inch LCD television, DVD, iPhone dock, sink-in cream leather reading chair, ergonomic work chair, iron and ironing board, laptop-size safe, and a standalone bathtub in a smart but somewhat compact bathroom. WiFi is charged alas but remains free for Elite members of the IHG Rewards Club. The work desk has three-pin square plug sockets.
Club InterContinental on the 19th floor serves cocktails with open views of Saigon. An InterContiental Suite offers plenty of wood in a huge well-lit space with parquet floor enlivened by blue swirl carpets and a gold striped bed runner. Find a large dark-wood desk with data port and two three-pin sockets, a large flat-screen TV and a HUGE bathroom with standalone tub. Also expect an iron, laptop-friendly safe, spacious living and dining area with yet another monster TV and a nifty Espresso machine.
The InterContinental is a strong contender for Saigon conference hotels business with a grand ballroom capable of holding 600 people banquet or classroom style. To unwind, pick from the spa, or the health club with a 20m outdoor lap pool encased in see-through glass. Cool, chic, and potentially embarrassing save for the well endowed. Service is attentive and brisk and the hotel location is not bad, five minutes from the Park Hyatt. This is a bit up from the much delayed and ill-starred Senla Boutique Hotel (a luxury concept) on Hai Ba Trung street.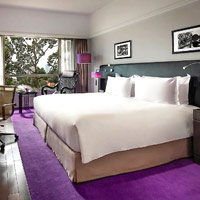 Sofitel Saigon Plaza has perky room interiors / photo: hotel
The suave and frequently upgraded Sofitel Saigon Plaza on Le Duan Boulevard, also in District 1 but set a little apart from the thrumming centre, is just minutes away by taxi. The lobby is chic, bright and roomy, featuring two enormous spiralling stacked-wood columns.
Opt for a roomy 30sq m Luxury Room (floors 14 to 15) with DVD player, flatscreen TV, free internet surfing and the heady aroma of Lanvin toiletries in the bath. The views won't disappoint either. Enjoy elegant timber floors, patterned headboards, and modular minimalist design with an interesting mix of French and Oriental design. Superior Rooms on lower floors from two to 13, offer eye-popping purple carpeting, black leather headboards and, of course the Sofitel My Bed with pillow menu. This is all a huge jump up from the bland powder greens of yore. The square purple fabric lampshades are a stylish touch.
Chill out at the Boudoir Lounge or head to the rooftop pool (and poolside bar) for fine views and undiluted sun. The pool is open to guests 6.30am to 10pm, a generous stretch, unlike many city hotel pools. Have a workout or steam bath before heading to the spa where organic treatments and assorted massages await. For small corporate meetings or mid-size events, the hotel has eight smart function rooms with 30sq m to 400sq m. The Sofitel Saigon Plaza is a smart address and compares well vs New World, Sheraton and other business hotel choices.
Farther away from downtown, a 15-minute drive to Nguyen Van Chu Street but still in District 1 is the Hotel Nikko Saigon. This construct, next to the Petronas Tower, is a modern high-rise with cubist intent visible in its square window frames.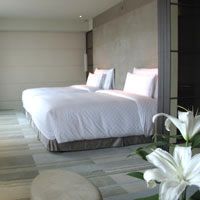 Nikko's textures and pastels/ photo: Vijay Verghese
While the Opera House may not be next door, Chinatown is not far from here and new office blocks sprout up by the month. Walk in to a large ultra-modern space-age lobby that is straight out of a science fiction set. All that's missing is Dr Spock. The grey-brown colour scheme runs uninterrupted past the cream marble floors, and up the soaring lobby with its metallic grey-ridge pillars.
The place is cavernous and devoid of furniture and designer detritus, minimalism carried to its conclusion, save for a white grand piano in the lounge cafe. Above, suspended light arrays are set in giant discs adding to the moon mission feel. The stark set-up will appeal to businessmen but deter others. However, the place is supremely efficient and relentlessly cheerful. Staff is quick and on the ball.
The 335-room hotel serves up rooms that are spacious but equally restrained. In Junior Suites, expect to be enveloped in pastel powder green textures. The colour extends from the walls to the smooth round seats and the cabinets, flush with the walls and barely visible with all the camouflage. This smart but bland serving is enlivened by large white beds and a large flat-screen TV. Expect a round leather-top table, grey this time, a second TV in the living space, free Wi-Fi, and two two-pin plug points. The flat top-loading safe is big enough for a laptop and the nice white marble toilet offers twin vanities, a separate tub and hand shower (no rain shower), if you can find it. The bathroom door blends into the wall completely. The overall appearance is a cross between solitary confinement and splendid other-worldly escape, depending on your point of view. On the fifth floor is the Ren Spa, gym, and large outdoor pool with sundeck.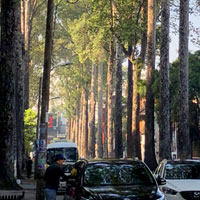 Saigon's signature dipterocarpus trees line streets near Ben Thanh Market/ photo: Vijay Verghese
Out in the neon razzle and clamour of Chinatown's Cholon district is the high-rise Windsor Plaza Hotel. It is a gleaming establishment with good city views, reasonable service, ample facilities including a kids' corner and a rooftop pool, a great deal of gratuitous glitz and more than a few quirks. The lobby is on the fourth floor and the hotel actually sits atop the huge and popular An Dong Plaza shopping mall. Consequently, the atmosphere is busy and the place can feel crowded at times.
There are 405 rooms and suites. Neat and simple 29sq m Deluxe rooms come with basic amenities and a 32-inch LCD TV, while 40sq m Junior Suites offer 40-inch LCD TVs. Broadband internet access is available in all rooms, and free WiFi is offered in public areas. Executive room guests get access to a private lounge with complimentary breakfast. There is the America Discotheque for itchy feet and the Windsor Spa & Massage has 20 treatment rooms with a nail salon next door.
On central Le Loi boulevard, housed in the Saigon Center, you'll spot the Sedona Suites Ho Chi Minh City with suites as well as one-to-three-bedroom apartments (with kitchen, furniture, king-size bed, satellite TV and broadband and WiFi), swimming pool, tennis, basketball, sauna and business centre.
The rooms are homey and inviting in a non flashy way with light woody tones and there is a washing machine and dryer on each floor. A one-bedroom Superior starts at a whopping 60sq m with a three-bedroom Deluxe going up to 110sq m. This is a popular spot for long stays in Ho Chi Minh City.
Another excellent HCMC long stay service apartment is the Somerset Ho Chi Minh City set farther towards the river not too far from downtown.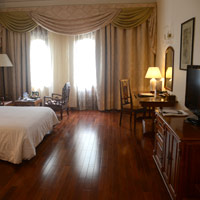 Continental rooms are vast and woody/ photo: Vijay Verghese
At the 333-room Hotel Equatorial Ho Chi Minh City opt for an Equator Club Deluxe that is pitched a cut above the more Plain Jane lower categories.
Expect personalised check-in, breakfast and evening cocktails at the Club Lounge, LCD TV, DVD, a pillow menu for insomniacs, and free WiFi and internet.
Look forward to a fitness centre, massage services, a 24m pool with a sunken bar, slot machines, KTV, several restaurants, and generous banquet facilities.
Heritage hotels, colonial stays, the river
One of Ho Chi Minh City's enduring charms is its smaller characterful hotels, often still housed in historic buildings. On Lam Son Square, next to the Park Hyatt, the 80-room Hotel Continental Saigon has been around since 1880, a similar vintage to the delightful Notre Dame Cathedral close by. Like the Rex, it is owned by the ubiquitous Saigon Tourist group.
A popular haunt for spooks and journalists during the Vietnam War, the elegance was graciously fading for a while but a smart renovation has transformed the place and staff is ever attentive and cheerful. Further renovations were completed by late 2015.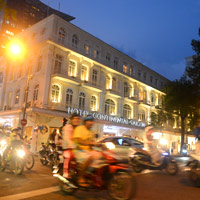 Hotel Continental: Genuine oldie/ photo: Vijay Verghese
The Continental offers a splendid downtown location right at the head of Dong Khoi Street. The building is an old world low-rise set around a courtyard flanked by assorted shops. Rooms are in a classical mould with dark blue carpets, lots of gleaming wood, flat-screen TVs, free WiFi, and coffee-making facilities. Expect a work desk with Edwardian chair, old fashioned furniture and cupboards and plenty of space. Suites may offer walled-in verandah alcoves (with access through wooden arches) to read the morning paper.
Compact bathrooms offer a tub and shower with hairdryer. Try to book a third-floor room overlooking the Opera House. These rooms are seemingly large enough to double as skating rinks - with all the attendant musty decor and feel. You will find CNN on the TV but not much else, a dimmer light, and a few two-pin sockets. Heineken beer in the mini-bar will set you back D65,000 (US$2.50). International travellers can use the extension cord thoughtfully provided on the desk. It has three, three-pin sockets. There's a notebook or jewellery safe.
If you part the large heavy drapes you can peek across to the Opera House. Step out to the balcony (of sorts) if you have the moxie and the mood. The room is an unadorned classic with a fading elegance that will appeal to many. The hotel has no swimming pool but it does have a somewhat whimsical business centre and massage services that may help your visit take a colourful turn. The hotel has a bright, airy lobby complete with grand piano.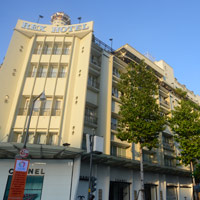 Morning light catches the popular Rex Hotel/ photo: Vijay Verghese
Breakfast is decent with bespoke eggs. Mark this one down as a good Saigon heritage hotels choice but watch out for street noise and perhaps the occasional karaoke wedding party.
The enduring and now all-new Rex Hotel's utterly mad Roof Garden with its cavorting plaster elephants still entertains on pleasant, breezy evenings on the fifth floor of the old wing. Large plaster cavorting elephants welcome guests to an alfresco terrace with an indoor section where breezy views await right above City Hall.
The landmark Rex, on Nguyen Hue Boulevard is centrally located, close to the Opera House and overlooking the magnificent City Hall. It has been supplemented by a brand new East Wing with 70 or so smart rooms and a sleek white-marble lobby – surrounded by gleaming high fashion designer brand outlets from Burberry, Cartier, Rolex and Paul & Shark – a far cry from the dimly-lit musty welcome of the old wing.
The original hotel was constructed around a large open courtyard called the Rose Garden, now a welcoming outdoor dining area with tables, chairs and sun umbrellas. Long dark corridors that radiated out from the lobby have finally been lit up properly and the lobby itself has been amazingly transformed. The dim and musty Rex old West Wing charmed in its heyday. All it needed was some 100-watt bulbs, SWITCHED ON. Now modernity beckons at the transformed West Wing.
The new East Wing rooms are bright and decked out in pastels with Vietnamese silk runners. Expect electronic room cards, parquet flooring, double-glazed windows to keep out traffic noise, a work desk, flat-screen TV, iron and ironing board, a fire sprinkler (a new addition), separate shower and bathtub (plus bidet), a hair-drier and laptop-size safe. WiFi is free.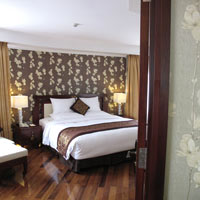 Rex New Wing Suite: spacious/ photo: Vijay Verghese
The Rex has been chugging along since 1927. It has lost its old world appeal (and the 'taxi ladies' of yore who danced with foreigners for an hourly fee) but has gained fresh contemporary clout. Need a massage? No problem. Head up to the La Cochinchine Luxury Spa and fitness area where you'll be greeted by two swimming pools, gym, tennis courts and a raft of activities from yoga and aerobics to modern dance and wellness treatments. The hotel has gaming options as well.
On to some genuine Saigon heritage hotels. Our pick of the oldies would be the Grand Hotel, a beautiful whitewashed corner property half a block from the river, right behind the Renaissance. The building came up in 1930. This three-star property moved up to four stars and now expects five. In 1998 a new Luxury Wing was added to the colonial Ancient Wing. And in November 2011 the entire shebang was hugely upgraded with a high-rise New Wing (with a rooftop river-view cafe) all slathered in white marble so painstakingly polished you may skate across the lobby if you pause your brisk walk too abruptly. From marble inlay lobby three tiny lifts chug up to the rooms.
Deep blue carpets lead through the corridors to rooms with wooden floors, flat-screen TVs, work desk with free WiFi, light dimmers, and an air-conditioning switch that needs to be found and turned on. The bathroom offers a hairdryer, a brightly-lit mirror, bathtub and separate rain shower glass cubicle and a few toiletries including shampoo and conditioner. There is an electric kettle for coffee or tea and shoeshine wax for scuffed shoes.
Expect a reasonably sumptuous breakfast in the spacious Saigon Palace restaurant. For slot machines and roulette expect the Club D'Palm and for the fitness inclined, a gym and spa. Staff is friendly and quick to assist and electronic proximity card keys are a new addition.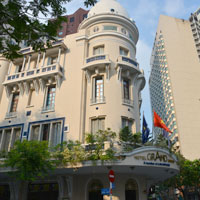 Historic Grand hotel/ photo: Vijay Verghese
Ancient Wing rooms in the low-rise heritage section are more expensive and offer dark-wood furniture, gleaming wooden floors and a terrific bathroom with separate shower, bathtub and hairdryer. Expect tall windows with brocade satin curtains, golden bed runners, flat-screen TVs, spacious living area and old style classic dial phones (albeit with buttons). They also have a GIANT safe that could hold an elephant – or your mother-in-law. There's a small and pleasant courtyard pool and all rooms have internet access. A splendid experience is provided by the tiny lift, rivalled only by the Majestic, which has a cupboard-size contraption in which drawing in a deep breath is a major accomplishment.
The wonderfully colonial camp Hotel Majestic, like its sister, the Grand, is run by Saigon Tourist. It offers a new wing as well. The hotel was built in 1925. The rooms feature wooden parquet floors, flat-screen TVs, dim lighting – which seems very de rigueur in Saigon – and a small safe. Internet is available in-room. On executive floors, avail of broadband, executive breakfasts, afternoon tea, shoeshine service and late checkout until 3pm. The Majestic also offers an outdoor swimming pool, a fitness centre and spa (where an hour's massage will cost US$30), and a 461sq m ballroom. There is a casino too. There are several options for wining and dining, including a breezy rooftop bar. Hotel Majestic is riding the green wave with water and energy conservation programmes in place. And, of an evening, an acoustic band will strike up in the old world lobby with its stained glass panels and Victorian chairs.
Next door to the Renaissance, is the three-star Riverside Hotel which, as the name declares, faces the river. It is a characterful low-rise with enough personality to lure a relaxed leisure tripper. There are 51 rooms, including suites, with satellite LCD TV, data-port, free WiFi, in-room safe, mini-bar, and hairdryer. Deluxe rooms start at 32sq m. Breakfast is usually on the house. Also expect sauna and massage facilities.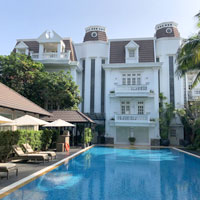 Villa Song on the river serves up a humungous alfresco pool / photo: Vijay Verghese
The laundered white riverside colonial Villa Song Saigon ups the ante across the river in District 2 with 23 stately rooms and prices starting at a stratospheric US$380 (winter high season) to give The Reverie a run for its money minus the slatherings of marble. But first your taxi driver will have to find it tucked away in a developing residential area, right on the river. In fact the hotel prefers guests use river access to arrive in style and a boat can shuttle you to a pier back downtown. Arif Gunawan the affable general manager pads about his lair like a genial tiger checking on guests. "This is a river hotel experience," he says. "We do tours in season upriver to Phnom Penh and Siem Reap."
This is a stylish bolthole with a huge sun-drenched saline pool (to rival the Park Hyatt's blue spread), fitness centre and spa (with a good range of wraps, scrubs, facials, and detox remedies). A wood-floored Sanctuary Room has virginal white interiors relieved by cream blinds, pastel ochre chairs, old fashioned writing desk, gold bedside table, light-tone paintings, and elegant reading chair by the window in cream with black-piping. Expect lots of dark timber underfoot in rooms - each one is different in shape, size and decor, with a wooden ceiling fan, black-wood desk, LCD LG television, white wardrobe, and possibly a balcony overlooking the pool or river. Find three three-pin multi-plug sockets for your many handy gadgets.
Toilets are compact with rain shower cubicles, a chic squeeze more than offset by the complimentary mini-bar. Running since around 2014, Villa Song is among the best Saigon luxury boutique hotels with an intimate scale to match. The location can be a plus or minus depending on your travel needs. Pick this for leisure or small corporate meetings or a riverside wedding across the small grassy frontage.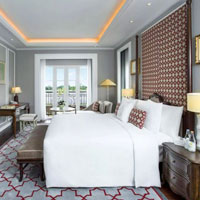 Charming, luxury boutique Mia is on the river/ photo: hotel
Cheek-by-jowl, just across a side street is the explosively verdant riverside Thao Dien Village that pitches strongly for events, small meetings, dining soirees, weddings, and spa escapes with minimalist rooms in classic white and charcoal. Rooms are nice, if simple with woody tones. The location is a plus despite the distance from town. You will need to brave some seriously lackadaisical service at this former gem on the 'wrong side' of the river (though a very relaxed area for HCMC residents and leisure trippers in the know).
The Mia Saigon - a popular 'luxury' boutique hotel - is a newer offering in District 2 (not far from Villa Song) with prices from an enticing US$100-$150. Think balconies, river views, and faux colonial accents that create a stylish, yet relaxing, riverside ambience. Expect lots of elegant touchie-feelie texture sans clutter. A Deluxe King River View serves up 48sq m of rumpus room with a balcony, river view (of course) and a separate soaking tub and shower in the washroom. Elsewhere expect pale grey pastel walls, patterned headwalls, carpets, reclining setees, sumptuous marbled bathrooms, textured wood cabinets, large flat-screen TVs, and general good taste. There is a generously large open air pool as well as a spa. If you like the butler treatment, mark this one down in your diary.
Also on this side of the river the new Burj Khalifa lookalike, the tallest tower in Vietnam at 461m, the Vinpearl Luxury Landmark 81 (2019) serves up plain but neat apartments with a fitness and spa facility on offer for exceptionally attractive rates from just US$50 and up for a one or two-bedroom space with breezy views. The sales pitch is more for the skyscraper experience and the thrill of height (not for the vertigo chastened) rather than a top quality 'luxury' hotel experience. This is a new business and residential district with space but awkward access.
Airport access hotels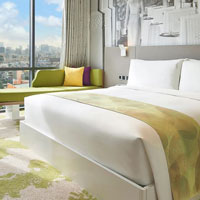 Light and airy Holiday Inn/ photo: hotel
Shaking up the airport location HCMC hotels landscape is the Holiday Inn & Suites Saigon Airport that offers a 350-key clean and green option with the additional bonus of 2,000sq m of meeting and event space. If you need to shimmy in and out of town this could be a spot for business travellers in a hurry and conferences. The ballroom can host up to 800 people and an LED wall adds a touch of tech. Rooms are contemporary, bright and airy, in pastel grey and pale green touches. The hotel is ten minutes from Tan Son Nhat International Airport and boasts an outdoor swimming pool with a separate kids' pool.
In the direction of the airport from town, a 15-minute taxi-ride will bring you to the Eastin Grand Hotel Saigon (formerly Movenpick, which took over from Omni). This five-star hotel has an interesting history. It was a US government building until 1975 when its occupants departed, presumably not all on the last helicopter out. Omni took over in 1994, adding a grand lobby, sweeping staircase and rooftop pool, to convert the lowrise apartment into a quality hotel with ample conference facilities. This means that unlike standardised modern hotels, every room here is slightly different in shape and orientation.
In mid 2008, the hotel was taken over by Moevenpick Hotels and Resorts. After extensive renovations the hotel reopened in August 2010 with a jaunty new stride, its 278 rooms graduating from "stately to chic". It is now a thoroughly contemporary address under the Eastin brand. Walk into a high ceiling minimalist white marble lobby with four square pillars at the centre with cutouts and pale blue lighting emanating from within.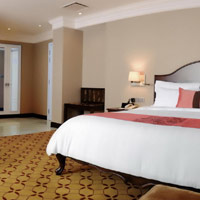 Eastin Grand Premier/ photo: hotel
This is matched by a few mod purple velvet seats. A staircase rises up grandly to one side. It is all pleasantly minimalist. Spacious rooms serve up mustard patterned carpeted floors, slim black cabriole leg beds, bright bed runners, flat-screen 37-inch LCD TVs, silk curtains and large desks with data-port and all manner of connectivity. The rooms are vast (34sq m to 70sq m - the top floor Executive Suites with large bathtubs and black swirl carpets), the toilets, with rainshower, bright but rather compact.
Also expect a gym, a spa and a circular outdoor pool. There are several F&B options including Chinese. Eastin Grand Saigon is very much among the better Saigon business hotels though its location a little way out makes it more of an airport hotel good for dashes to manufacturing plants and outlying offices. It has good meetings facilities with a grand ballroom that can host 460 for cocktails or 380 for a banquet. Consider it seriously if you are hunting for quality Saigon conference hotels with versatile space for corporate meetings.
Just up the road from here is the Parkroyal Saigon Hotel (formerly a Novotel and now under Pan Pacific), a modern, four-star atrium-style hotel with pool set in a courtyard, club floors for executive travellers, and small meeting facilities. It is a five minute drive from Tan Son Nhat International Airport and the Tan Binh convention centre. A fresh swirl of renovations by December 2011 sees the hotel emerge with cooler tones and generous dollops of purple. A Superior room is about 33sq m in earth tones with a fabric headboard for the bed, clean black cabinets, blue-line carpets, good size desks and free WiFi. Also find mod-cons like data-port with HDMI and USB ports, and two three-pin multi-plug sockets.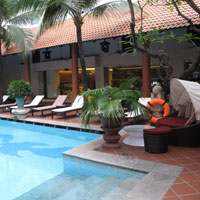 Courtyard pool at Parkroyal (now under Pan Pacific)/ photo: Vijay Verghese
The in-room safe is smallish (use it for jewellery and small cameras) as is the very compact toilet with the bathtub and shower combined of necessity. But it is clean and functional. The Orchid Deluxe rooms go up to 37sq m with a larger TV, a lavender wall framing the bed, blond-wood desk and sideboard, a glass partition separating a more spacious bathroom with a separate shower cubicle. The shower is handheld though. Business suits can easily fit their laptops into the safe here.
An elegant and contemporary option is the Vissai Saigon Hotel (formerly StarCity Saigon), a younger four-star, with tasteful 33sq m rooms and complimentary WiFi. Vissai can manage small corporate meetings in Saigon for 20 or stretch to conferences for 400.
Value stays and boutique hotels
Ho Chi Minh City budget hotel and value stay options are vast though prices are climbing rapidly. Service and facilities can fluctuate dramatically. Just off busy Nguyen van Troi, the bustling road linking the city to Tan Son Nhat International Airport, is the demure and charming The Alcove Library Hotel which, true to its word, offers a colourful array of books around the lobby check-in complemented by classic tiling on the floor. This small neat and unfussy boutique hotel is about 20 minutes from both the airport and town depending on traffic. Expect faux parquet flooring 18sq m rooms with a queen-size bed starting at US$53 late 2019, and a rooftop restaurant that also serves breakfast.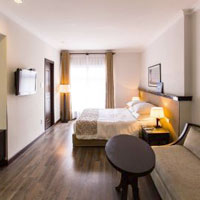 Alcove Grand room, minimalist boutique hotel pick/ photo: hotel
A king-bed Alcove Grand with 30sq m of space and rain shower, WiFi, hairdryer, 35-inch LCD TV (with HBO, AXN and Star Movies) and breakfast retailed at around US$70 December 2019. If location is not a prime factor, keep an eye on this Saigon boutique hotels pick for an HCMC layover.
In the heart of central Ho Chi Minh City not far from the Sheraton is the trendy The Myst Dong Khoi that rises above the road with its playful Gaudi facade peppered with neat square window cut-outs, plants, and the glow of room lights. The lobby is whimsical but homey and this spot is much loved by expats. Alas next door the slowly looming Hilton means a great deal of pounding and construction dust for a while into 2020. In rooms think darkwood flooring, carved wooden cabinets, wardrobes, and rustic walls with arches leading to the washrooms and flashes of cobalt or red wall.
A Saigon Room At Myst is pricey but bang in town. Expect a king-size bed set on a plinth, grey cement walls hung with paintings, low wooden diwan with cushions, tea set, coffee maker, low wicker chair, a darkwood table with a standard local two-pin plug with a third earthing pin. The random furniture is straight out of grandma's attic.
The 108 rooms have small angular balconies with a Jacuzzi. Also expect a flat laptop-friendly safe, a Japanese electric potty, a rain shower, complimentary mini-bar, and a hairdryer. There is no standard three-pin international multi-plug though an adapter is parked in a drawer.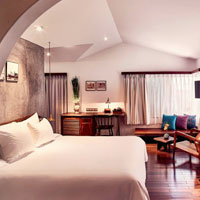 Myst has a homey designer feel with arches and balcony Jacuzzis/ photo: hotel
Leisure trippers will be please to find a rooftop pool, fitness centre and spa at this creatively-stylled boutique address. This is a quirky look at old Saigon with a modern twist. Myst is not cheap. Expect to shell out upwards of around US$190 for a night.
The three-star Bong Sen Hotel Saigon is a very decent downtown Saigon good value hotel option in the Dong Khoi vicinity with simple but nice rooms, clean bathrooms, TV, minibar, free high speed internet and WiFi, and a big safe for laptops. WiFi is available at the business centre and lobby lounge too.
Standard rooms start at a compact 25sq m while Superiors are 28sq m with en suite bathrooms, with a tub and hand-held shower plus useful toiletries, a hairdryer, and bathrobes. As with several local hotels, "couples wishing to share a room must provide proof of marriage". This quirky Vietnamese law holds particularly true of foreigners with Vietnamese partners. There is no pool, but guests are able to use the pool at Palace Hotel Saigon, its sister property about two minutes away. Enjoy a steam room, sauna and massage too. There are small conference facilities as well.
Next to Bong Sen on Dong Khoi is the easy-to-miss Hotel Catina Saigon (opened 2009) in a slim building that belies the inner marble and tasteful contemporary design. Walk in through the narrow air-conditioned corridor lined with gemstone and jewellery displays. Rooms are in pale pastel with large flat-screen TVs, free WiFi, a smart long gleaming wood work desk, cream carpets, notebook-size safes, hairdryers, and compact toilets with tub and shower. Keep in mind the cheapest Deluxe rooms start at 26sq m (with no windows). Continental breakfasts are complimentary as are morning newspapers. If your budget is tight, Catina is definitely worth a look. Room rates may start at around just US$65.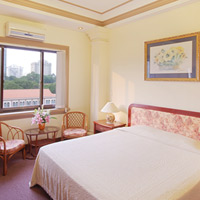 Spring Hotel borders on Hello Kitty but is neat and clean/ photo: hotel
On Dong Khoi too is the Huong Sen Hotel where a traditional dark-wood lobby awaits with ornate chairs featuring inlay work and intricate carving. Expect a pool and sauna. WiFi is free. Good rooms with parquet flooring and a great location smack in the middle of all that Saigon shopping madness. This is a value proposition but not cheap.
An interesting Saigon budget hotel option is the Unique Saigon Hotel (formerly Saigon Boutique Hotel), a cross between an art deco layer cake and an art gallery. The place is reasonably central (though District 1 is a huge sprawl) at 57 Pham Viet Chanh, 10 minutes from the Opera area and 15 minutes from Ben Thanh market. The 20 odd rooms are neat, if unremarkable and somewhat spartan, and now feature flatscreen LCD TVs and some dark wood furniture.
The rates are very affordable (starting from just US$35 or so for a Superior double with breakfast) and can be negotiated down further during summer or monsoon months. There is a small business centre and WiFi is wondrously free.
Close by Fusion Suites, a short walk from New World and Ben Thanh Market is the cheerful and unpretentious Cinnamon Hotel Saigon with bustling service, and bright white decor matched with neat black-wood accents and signature cobalt blue cushions. This is an older crowded area with an unremarkable location, a busy street ambience and a few local cafes. If the season is right you may bag a room here for just over US$50.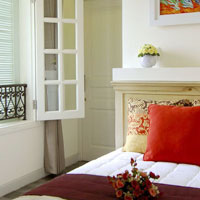 In a hideaway alley is Ma Maison with French touches for long-stay guests/ photo: hotel
Unique Saigon is not to be confused with the 18-room lowrise Little Saigon Boutique Hotel on Le Loi close to the Opera House and Ben Thanh Market areas. The 28sq m rooms are cheerfully kitted out with colourful cushions and bed runners plus flatscreen TVs and DVDs and WiFi. Also find a mini-bar, hairdryer, and safe. This place is a bit more cheery and rates start from US$38.
Or try the small but friendly The Spring Hotel at 44-46 Le Thahn Ton Street, close to the Opera. The 54-room Spring Hotel offers basic but clean and traditional accommodation on a quiet side street just a few minutes' walk from the shops and hustle of Dong Khoi, a few blocks from Notre Dame Cathedral. The tiny lobby crams in more ersatz Rome and Florence – complete with plaster busts, marble pillars, and sweeping staircase – than a nouveau riche Hong Kong home.
Higher floors afford nice views of the city. The rooms are bright with rattan furniture, air-conditioning, satellite TV (that includes Japanese channels) and a mini-bar. This is a well regarded Saigon budget hotels choice with friendly English-speaking staff.
The French accented and charmingly simple Ma Maison Boutique Hotel Saigon is in an alley off Cach Mang Thang Tam Street. It is a bustling area and sounds will carry into your room. Put it down to atmosphere and dive in. This address offers 12 homey rooms with white French windows, smart minimalist furniture, faux Euro vintage motifs, a bistro, and modest prices that won't pinch the wallet (starting at US$65). Small wonder it is an immersive longstay favourite with French expats and Asian travellers in the know. The location is about 20 minutes from the central Opera House and Dong Khoi Street headed in the general direction of the airport (which is a further 20 minutes from here).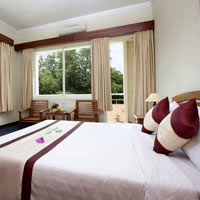 Victory Hotel deluxe/ photo: hotel
Also a short walk from Notre Dame heading away from downtown is the neat and clean three-star Victory Hotel, popular with European groups. There is a small but pleasant pool on the sixth-floor roof, a spa, and a fitness centre. There are 160 rooms, some served straight up with traditional wooden furniture and modern amenities like LCD TVs. Deluxe rooms start at 30sq m while Luxury rooms start at 45sq m with blue carpets, city views, welcome fruit baskets, air-conditioning, and showily carved wooden beds with ornate headboards and Baroque gilt-edge flourishes. A bit campy, if you like that sort of thing and wish to pretend you're Louis XVI (of course, before the execution). There are also conference facilities for up to 300 persons. Expect free Wi-Fi.
The three-star Hotel Saigon (opposite the Sheraton) has free WiFi in the room and while the exterior is unprepossessing, the rooms are none too shabby.
Moving upscale a bit, the 144-room Palace Hotel Saigon is four stars and looks the part with a crisp minimalist white-marble lobby and contemporary decor. The hotel is well located on Nguyen Hue avenue. Rooms are also smart and come with flat-screen TV, minibar, small camera-size safe, hairdryer, and tea and coffee-making facilities. Internet is available and Wi-Fi is free. Breakfast is included in the room rate. The hotel has meeting facilities, there is a business centre, a small pool, three restaurants, a gym, and a spa that is open until 2am. The Palace Ballroom handles MICE (meetings, incentives and exhibitions) business with conference and small meetings facilities for up to 280. A good value hotel.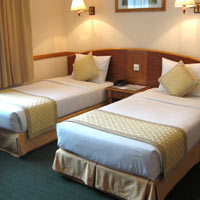 Oscar hotel room/ photo: Vijay Verghese
Also on Nguyen Hue, the Oscar Saigon Hotel has considerably spruced up with a smart marble lobby, clean rooms, fresh carpeting and free WiFi. Its four-star status is proudly emblazoned in bronze at the entrance. The Oscar also manages to rustle up a health club with massage and sauna and its penthouse Starlight Restaurant doubles as a wedding and banquet location with wraparound views of the city and City Hall. Starlight is no longer a disco and the taxi ladies (dancing companions) are, alas, gone. In-room expect large metal safes with large and threatening combination spin locks (that don't work) straight out of Butch Cassidy and the Sundance Kid. These safes have been reconditioned to work with a key that has to be obtained from reception at no charge. Oscar Deluxe and Oscar Elegance rooms are smart with timber flooring underfoot with flat-screen LCD TVs.
The bathroom offers a hair drier, a moulded bathtub with shower and toiletries. Rooms boast satellite TV and comfy beds with remote-controlled aircons. This is a good Saigon budget hotels choice for business or pleasure though prices can climb sharply in season. Rates can be hugely attractive if you are up for it. The best street views are from rooms ending in 01 or 02. Summing up, cheap and cheerful.
Right across the road, the breezily unabashed Kimdo Royal Hotel Saigon greets you at the entrance with Roman busts and intriguing white plaster statues. Inside it flaunts its health club offering massage, sauna, steam bath, fitness centre and Jacuzzi. The four-star Kimdo (a little pricier than Palace Saigon) offers conference space as well as a business centre. It has smart rooms with gleaming wooden parquet flooring, comfy beds and bright cushions. Expect a big safe, spacious rooms, a work table (with free WiFi) and flat-screen TV.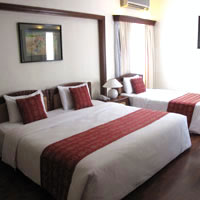 Kimdo room with wooden floors/ photo: Vijay Verghese
The bathroom is compact with a combination tub-and-shower arrangement. Kimdo has helpful staff and is a reliable address downtown if you don't mind something a tad cheesy. Kimdo is a value hotel popular with a certain certain class of businessmen and rates early 2017 started as low as US$50.
The Norfolk Hotel on Le Thanh Ton Street in District 1 not far from Ben Thanh market is a cheerful businesslike place and Australian-run. There is complimentary internet (broadband in rooms and WiFi in public areas), a business centre, a health club and baby-sitting services. It is a good value Saigon hotel with rates starting from around US$95.
That's the A-Z of our Saigon business hotels review with some budget options for the tight of wallet. Get there quick before yet another KFC opens.
Send us your Feedback / Letter to the Editor
FAST FACTS

/ Hotel Contact List

Room rates may attract a 5 percent service charge and a 10 percent VAT. Any rates listed below are an average of the best available internet rates (BAR) as a rule of thumb only. Check hotel websites for steep seasonal discounts. In general room prices in Ho Chi Minh City will start from around US$80 a night at three-star establishments, US$110 a night at good four-star hotels to US$245-$350 at five-star or luxury boutique hotels.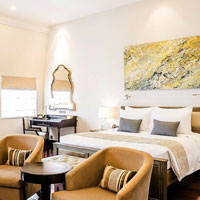 Villa Song style, period furnishing with balconies/ photo: hotel
Budget hotels are much cheaper. The area code for HCMC (Saigon) changed to 28 in 2017. Make a note in case your telephone calls don't connect. Exchange rate around US$1=D23,200 Vietnam dong.
Saigon business hotels, longstays, luxury
Caravelle Saigon. Tel: [84-28] 3823-4999, (www.caravellehotel.com).
Fusion Original Saigon Centre (saigoncentre.fusionoriginals.com/)
Fusion Suites Saigon. Tel: [84-28] 3925-7257, (fusionsuitessaigon.com/).
Hotel des Arts Saigon MGallery Collection. Tel: [84-28] 3989-8888, (www.hoteldesartssaigon.com/).
Hotel Equatorial Ho Chi Minh City. Tel: [84-28] 3839-7777, (hochiminhcity.equatorial.com/).
Hotel Nikko Saigon. Tel: [84-28] 3925-7777, (www.hotelnikkosaigon.com).
InterContinental Asiana Saigon. Tel: [84-8] 3520-9999, (www.ihg.com).
Lotte Legend Hotel Saigon. Tel: [84-8] 3823-3333, (www.lottehotel.com/saigon/en/).
Mia Saigon. Tel: [82-28] 6287-4222, (www.miasaigon.com/).
New World Saigon Hotel. Tel: [84-28] 3822-8888, (new-world-saigon.hotel-rn.com/).
Park Hyatt Saigon. Tel: [84-28] 3824-1234, (www.hyatt.com//park-hyatt-saigon/).
Pullman Saigon Centre. Tel: [84-28] 3838-8686, (www.pullman-saigon-centre.com/).
Renaissance Riverside Hotel Saigon. Tel: [84-28] 3822-0033, (renaissance-hotels.marriott.com).
Saigon Prince Hotel. Formerly Duxton. Tel: [84-28] 3822-2999 (www.saigonprincehotel.com/).
Sedona Suites Ho Chi Minh City. Tel: [84-28] 3822-9666, (www.sedonavietnam.com/).
Sheraton Saigon Hotel & Towers. Tel: [84-28] 3827-2828, (www.marriott.com/sheraton-saigon).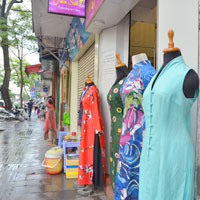 HCMC shopping starts at the leafy Dong Khoi where ao-dais are wall to wall/ photo: Vijay Verghese
Sofitel Saigon Plaza. Tel: [84-28] 3824-1555, (sofitel.accorhotels.com/sofitel-saigon-plaza).
Somerset Ho Chi Minh City. Tel: [84-28] 3822-8899, (www.somerset.com/vietnam/ho-chi-minh-city/).
Thao Dien Village. Tel: [84-28] 3744-2222, (www.thaodienvillage.com/).
The Reverie Saigon. Tel: [84-28] 3823-6688, (www.thereveriesaigon.com).
Windsor Plaza Hotel. Tel: [84-28] 3833-6688, (www.windsorplazahotel.com).
Saigon heritage hotels and landmarks
Hotel Continental Saigon. Tel: [84-28] 3829-9201, (www.continentalsaigon.com/).
Hotel Majestic. Tel: [84-28] 3829-5517, (majesticsaigon.com/).
Grand Hotel. Tel: [84-28] 3823-0163, (www.hotelgrandsaigon.com/).
Rex Hotel. Tel: [84-28] 3829-2185, (www.rexhotelsaigon.com/).
Villa Song Saigon. Tel: [84-28] 3744-6090, (villasong.com/).
Vinpearl Luxury Landmark 81 Ho Chi Minh City. Tel: [84-28] 3971-8888, (www.vinpearl.com/landmark81/).
Airport area hotels
Eastin Grand Hotel Saigon. Formerly Movenpick. Tel: [84-28] 3844-9222, (www.eastinhotelsresidences.com).
Holiday Inn & Suites Saigon Airport. (www.ihg.com/holidayinn/ho-chi-minh-city/).
Parkroyal Saigon. Tel: [84-28] 3842-1111, (www.panpacific.com/pr-saigon.html).
Vissai Saigon Hotel. Formerly StarCity. Tel: [84-28] 3999-8888, (www.vissaisaigonhotel.vn/en/).
Saigon boutique hotels and value stays
Bong Sen Hotel Saigon. Tel: [84-28] 3829-1516, (bongsenhotel.com).
Cinnamon Hotel Saigon. Tel: [84-28] 3926-0130, (www.cinnamonhotel.net/saigon).
Hotel Catina Saigon. Tel: [84-28] 3829-6296, (www.hotelcatina.com.vn).
Huong Sen Hotel. Tel: [84-28] 3829-1415, (www.huongsenhotel.com.vn).
Kimdo Royal Hotel Saigon. Tel: [84-28] 3822-5914/5, www.kimdohotel.com).
Little Saigon Boutique Hotel. Tel: [84-28] 3521-8464, (www.littlesaigon.com.vn/).
Ma Maison Boutique Hotel Saigon. Tel: [84-28] 3846-0263, (www.mamaison.vn/).
Norfolk Hotel. Tel: [84-28] 3829-5368, (norfolkhotel.com.vn/).
Oscar Saigon Hotel. Tel: [84-28] 3829-2959, (www.oscar-saigonhotel.com/).
Palace Hotel Saigon. Tel: [84-28] 3829-2860, (www.palacesaigon.com).
Riverside Hotel. Tel: [84-28] 3822-4038, (www.riversidehotelsg.com/).
Saigon Hotel. Tel: [84-28] 3829-9734, (saigonhotel.com.vn/).
The Alcove Library Hotel. Tel: 84-28] 6256-9966, (www.alcovehotel.com.vn/).
The Myst Dong Khoi. Tel : [84-28] 3520-3040, (www.themystdongkhoihotel.com/en).
The Spring Hotel. Tel: [84-28] 3829-7362, (springhotelvietnam.com).
Unique Saigon Hotel. Formerly Saigon Boutique Hotel. Tel: [84-28] 3833-0540, (theunique.vn/saigon/).
Victory Hotel. Tel: [84-28] 3930-4989, (www.victoryhotel.com.vn).