INTERVIEW
I chose the job because I like working with people
Getting to grips with NextGen issues, Covid, the promise-and-delivery gap, and even sweaty Muay Thai. Peter Caprez, GM of the JW Marriott Hotel Bangkok, talks about his 40 years in hospitality with Editor Vijay Verghese.
September 2023
SEE ALSO Franz Donhauser | Novi Samodro | Choo Leng Goh | Maria Helena de Senna Fernandes | Anchalika Kijkanakorn | Cavaliere Giovanni Viterale | Hans Jenni | Iwan Dietschi | Carina Chorengel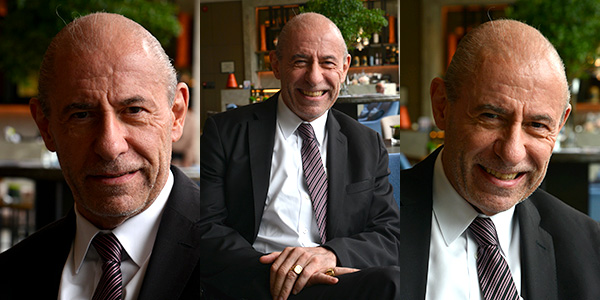 Tall, slim, dapper, Peter Caprez who turns a jaunty 68 this year is already pacing the lobby of the New World Millennium Hong Kong as I walk in at 2pm sharp to match his Swiss precision. He has on the same gold-bezel Omega Constellation he wore when we first met in the late Eighties at the Shangri-La Bangkok where he was resident manager — and I have my identical silver version. We both smile as we spot this and tap our watches. The handshake is as firm as ever. Peter had wanted to meet at The Peninsula — the storied 'Swiss' hotelier bootcamp that demanded and defined excellence — where he started his international hotel career. But schedules and weather rudely intervened. Visiting Hong Kong on the guest speaker circuit, Peter Caprez, the long-serving and highly-regarded GM of the JW Marriott Hotel Bangkok (with additional oversight of the Courtyard by Marriott Bangkok) was in his customary charcoal black suit with an impeccably pressed white shirt and a conservative striped tie. It has been a long journey from his Alpine hometown of Davos, Switzerland, to the JW Bangkok via The Peninsula HK (1984), Shangri-La Bangkok (1988), Amari (Airport and Watergate), and the Marriot Riverside Resort & Spa Bangkok. At various times he has been a 'cluster' GM with a regional role. We got talking over burgers and tea. "I chose the job because of people," he says.
Smart Travel Asia: How did you get into hotels?
PETER CAPREZ: [Looks thoughtfully out of the window and gestures with his hands] You know, after the War, our parents were part of what we called the Silent Generation. My parents were serious and spoke little. It took me time to find my own personality, my own voice. As flower power emerged for our hippie generation it was time for the Baby Boomers to exit the Silent Generation. We were far more demonstrative. Looking back I think, 'Holy Cow!' We learned to deal with Xers [Generation X], Millennials, and Zoomers [Gen Z]. It's a big deal. We did not develop just professionally but generationally, picking up knowledge along the way. We are the most flexible people on Planet Earth. And we listened to our parents.
Indeed, we listened and learned. What did your parents want for you?
PC: My father was an accountant. He helped me get a job at Credit Suisse.
You were a banker?
PC: I was there for nine months. But I felt I was in a prison [forehead furrows deeply] surrounded by glass behind the teller counters. I had to get out. I discussed this with my father and he eventually agreed to let me explore hotels. The building next door was a hotel, also run by my father's friend,  and I interned there at reception.
The hotel job suited you better?
PC: The feeling was great [face creases into a broad smile]. I had freedom to check-in customers and interact. It was the mid-70s and this was my version of hippie freedom [laughs]. The hotel business was very personal. We appreciated our customers and our customers appreciated us. Now we still appreciate the customers but customers don't appreciate us the same way. Of course I am generalising here, but there has been a change in the relationship. Our generation was career oriented. It was focused. It went the distance. Nowadays so many people take time off to 'discover' themselves after university [shrugs resignedly].
Now you were firmly on the hotel track
PC: Yes. I moved to Munich to work at the Hotel Bayerischer Hof, which is still around by the way. But I grew homesick for Davos and the mountains and moved back to join the Steigenberger Belvedere. Then in 1984, after spotting an advertisement for The Peninsula Hong Kong, I applied and was interviewed for a job. That year I arrived in Hong Kong to take up a position as Front Office Manager. I had been tossed in the deep end. But it was a big deal, and my first overseas job [smiles].
Ah, the Swiss 'Mafia'…
PC: Well, I cannot deny there were a lot of Swiss people around [grins embarrassedly] and I worked with greats like the late Peter Gautschi and Felix Beiger. There was certainly a Swiss connection. We all helped each other. But in the end, the Swiss are tough bosses and they make you deliver.
When you moved to Bangkok in 1988, what was your impression?
PC: Hong Kong was cosmopolitan and international. Bangkok in 1988 felt like a backwater. It was difficult to make friends and I wanted to leave. I had a hard time and really missed Hong Kong. Then over time I adjusted. [Caprez has lived in Bangkok since 1988 and has a Thai wife.]
As a hotelier, what does luxury mean to you?
PC: Something I don't have at home. Service, opulence, interior design, or a combination. When I have people looking after me, creating a seamless experience, it is luxury. This has nothing to do with the number of stars a hotel might have.
So it could be someplace very simple?
PC: Oh yes. Absolutely.
With so much changed over the years, what do you see as the role of the General Manager now?
PC: We are the face, the heart, and the soul of the hotel. It's the most versatile job in the world. I am not a specialist but I need to work with all stakeholders. We are the face. The GM can never be faceless.
Even today as pressure mounts for reports and desk time?
PC: Speaking of the industry, now we are often deskbound. I chose the job because of people. I am still dealing with people. Do I want to be in the lobby? Yes [emphatic]. I can proudly say, 'Here is my building. I work here day to day, week to week, month to month…' It's a process, building up service and reputation.
Have guest needs changed post-Covid?
PC: In the earlier days there was great appreciation for service. We often became friends with guests and we knew their needs. Then life became faster. Computers arrived. Tech took away our personal interaction. Meanwhile, expectations have increased, as have standards — and price [brow furrows]. Covid brought us to a stop. The tolerance level of customers is the lowest I have ever experienced. Of course, many hotels are understaffed…
You say technology interrupted your guest relationships?
PC: Yes. Social media drove a wedge between the guests and us. In general, perhaps 70% of guest complaints come through social media. Not in person. I mean, this is while the guest is still in the hotel room. But there is no interaction with hotel staff. It just goes online. Stay-cations were most challenging for GMs. We had hit rock bottom but the guests' sense of entitlement and expectation was way up.
And this is a problem?
PC: The expectation and delivery gap is a problem. Most hotels are unable to fulfil promises to loyal customers, especially with things like upgrades to suites. Of course most hotel owners would like their suites to be 'sold'. So there is pressure for some. Then the lounges… [frowns thoughtfully, then chuckles]… We built a lounge for 60 people, then expanded it for 100. Now at happy hour we might have 150 to 200 guests requiring attention. Loyalty perks and loyalty cards work but there are operational constraints these days. The sad truth is, no hotel has enough space for its executive lounge. So we need to fix the gap between the promise, and the delivery.
Is the industry prepared for a new pandemic?
PC: We didn't go to hotel school to learn how to close down hotels. But we are better prepared. Are we totally prepared? No. Every crisis is different.
What did Covid teach you?
PC: I learned that one single event can bring us all back to square one, the starting level. I also have a desire now to give something back. I'd like to share my experience and knowledge. [Caprez does a fair amount of pro bono work including guest talks.]
Do you think customers understand brand differentiation these days or do they simply go for the cheapest price?
PC: A bit of both I would say. Some are loyal. Some are into brands. Interestingly, I feel the younger generation is more into brands, luxury and lifestyle.
How does the younger generation fit into the hotel industry?
PC: Today's younger generation thinks in very broad terms. We had silos in our education and opportunities. Young people are all connected and they understand more at their age than we possibly did. But this NextGen is all about speed. They come fast and leave fast. Lifelong step by step learning is not for them. In a sense you might say, this is a right. But it means high turnover for our industry. Silos have been demolished and the older generation needs to get its head around this. If we know how to engage young people, we will be okay. The issue is not Covid. It's understanding young people. They want work-life balance. We need to respect that. Our generation was deprived of this.
What of your own work-life balance?
PC: It's better than in the past. But even on a holiday I'll be checking my email Problems don't go away [shrugs and gestures with his hands]. Balance doesn't mean stopping work one hundred percent.
What does your wife have to say?
PC: She's got used to it [laughs]. Bottomline, we need to adapt to the younger generation now. They will outlive us.
In 2005 you had a nasty health scare. How did that affect your thinking?
PC: I was diagnosed with a brain tumour three months before my 50th birthday. Marriott spared no effort to have me looked at by the best doctors, including at Johns Hopkins. In the end they decided the tumour was benign but they needed to remove it to avoid future complications. I underwent surgery in Bangkok so my family was close by and I made a full recovery [wry smile]. I started to be more conscious about what I was doing. I examined my habits. I have cut down on my alcohol, expanded on sport, and cut late dinners. I have also completed eight years training in 'Muay Thai' [the rigorous Thai sport of kickboxing].
And skiing? You had a great passion for that.
PC: Ah, not since Covid [looks wistfully out the window]. The last time I skied was in 2019. Will I get back to skiing? Yes. Absolutely [eyes light up]. You know, I learned skiing and walking at the same time. It's in my blood.
Send us your Feedback / Letter to the Editor