INTERVIEW
'Small but agile' Macau proves nimble as arrivals flood back
Banker-turned-tourism-evangelist Maria Helena de Senna Fernandes, the sharp and affable MGTO director, on how Macau tourism is emerging post-Covid. FITs are going off the casino grid in search of local bites and e-pay options are coming in.
April 2023 / May 2019
SEE ALSO Franz Donhauser | Novi Samodro | Choo Leng Goh | Iwan Dietschi | Anchalika Kijkanakorn | Cavaliere Giovanni Viterale | Hans Jenni | Carina Chorengel | Peter Caprez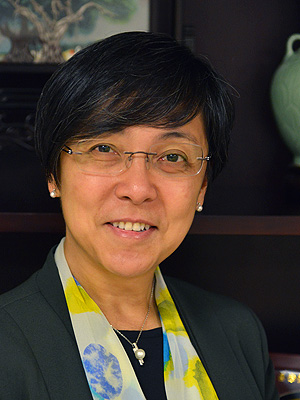 Charming, affable, thoughtful, Maria Helena de Senna Fernandes feels travel and local needs must develop hand in hand to avoid swamping Macau/ photo: Vijay Verghese
After a three year hiatus, Macau is back, packed and buzzing. Guiding this tumultuous sector towards sustainability while protecting local sentiment and lifestyle is a daunting task that has fallen upon the shoulders of the petite but dynamic Maria Helena de Senna Fernandes, the Director of the Macao Government Tourism Office. Politely reserved, quick to smile and prodigiously intelligent, she is at once elegant diplomat and candid intellectual, brimming with ideas, never more animated than when describing how her city is dealing with the challenges of tourism as it projects a post-Covid future. She spoke with Editor Vijay Verghese about the remarkable changes in her city. Verghese first interviewed her in May 2019 - much of that conversation in the second part below - and followed up with a breezy chat in April 2023, by which time Covid restrictions had been lifted and the tourism surge had begun in earnest.
APRIL 2023
How do you view the post-Covid road ahead?
MARIA HELENA DE SENNA FERNANDES: 1st quarter of 2023 we had almost 5m arrivals, 50% of the 2019 Q1 figure [just over 10m], and the numbers are improving. We might end the year on 20m. People are choosing to stay longer and profiles are different.
What has changed in the visitor profile?
The visitor composition is quite polarised. We have lots of group tours, especially from China. But now, the older FITs and independent travellers below 35 years are the biggest segment. There are more millennials now [compared with 2019] and these FITs are spending more time in Macau. We see them in integrated resorts and also around town.
So travellers are not wholly focused on hotels?
MHDSF: There is less time spent in big hotels. The level of business in streets and shops in Taipa is up. Things are heading in the right direction. Travellers are getting into little streets and exploring smaller shops and cafes on social media.
Are revenues trickling down into more pockets?
MHDSF: We see long queues for tripe, the cable car, egg tarts and other attractions. People are moving deeper into side streets for fish balls and more. On one particular street police had to set up barricades to enforce queueing. This is a good sign for small businesses. On long weekends at historic sights the police have to regulate the flow. People are spending more and small eating places are doing well.
During Covid times the majority of spending was on shopping followed by eating and then accommodation. Now prices have gone up to pre-Covid levels [shrugs and smiles wryly].
Preserving the Macanese way of life was very important to you when we last spoke. You hoped to plough in more gaming dollars into a variety of areas.
MHDSF: With the new gaming contracts there are new rules for concessionaires. They need to spend a certain amount, over 10 years, on non-gaming areas — meetings, conventions, sports, the arts, astronomy and maritime pursuits. There are new attractions and new investment coming in. Gaming will continue to be important but we'll diversify.
The new KPIs have moved to bringing in more diverse international visitors. Every September the six concessionaires present a list of their new activities. So we encourage movement in certain directions. The government will say whether it is happy or not with the proposals.
And how is gaming doing?
MHDSF: In Q1 2023 gaming receipts were 45% of where they stood in 2019 so it has been a fairly quick return [smiles].  
And what of Coloane?
MHDSF: Coloane's natural environment and greenery is being preserved. The building level is low.
How is Macau faring post-Covid with international flights and connections?
MHDSF: Our international visits Q1 are 16.3% of 2019. [Direct] flights are still very few. Pilots need to be recertified and planes bought. We need to create a positive cycle and not just with Air Macau. We are small but agile.
What role is Macau to play in Greater Bay and beyond?
MHDSF: Macau has been given a clear lead by China on "one centre, one base, one platform". Macau's growth is to be based on innovation for sustainable economic development. The territory must strive to be a world 'centre' for tourism and leisure; expand cultural cooperation with the broader Chinese community 'base'; and become a 'platform' for greater commercial, trade and training cooperation between China and Portuguese-speaking countries.
What was learned during Covid?
MHDSF: We gained a lot of experience in Covid times. We remained open to China and did local tours. But as groups were stopped [on the Mainland] we worked through social media to reach individual travellers. In the process we accumulated a big stock of videos. We relied more on local film production companies. The level of sophistication in these companies has shot up.
So this has opened up a new direction?
MHDSF: Now we're working with LINE, Kakao Talk [in South Korea] and Tik-Tok. Locally we're exploring expanding e-payment gateways to make transactions easier.
How do you view the post-Covid road ahead?
MHDSF: 1st quarter of 2023 we had almost 5m arrivals, 50% of the 2019 Q1 figure [just over 10m], and the numbers are improving. We might end the year on 20m. People are choosing to stay longer and profiles are different.
MAY 2019
Smart Travel Asia: What sort of career did you first consider?
MARIA HELENA DE SENNA FERNANDES: Definitely not the civil service [laughs, face creasing into a big smile], too much bureaucracy. It sounded boring and packed with red tape. But then the job was nine to five. It was stable and paid well. That was the image. I graduated in 1987 from the University of East Asia (now Macau) with business administration/marketing.
So how did you get into travel?
MHDSF: I worked for a year in a bank. Banks are not very interesting places at all. Then one of my aunts – very much a PR lady – asked if I would like to try out at the Tourism Office. That's how I arrived at MGTO. She was one of my role models... very glamorous. So I thought, 'Why not give it a try?'
How did you get started?
MHDSF: Travel was just opening up at that time. The Japanese were the main travellers. I joined MGTO 4 July 1988 [chuckles]… what an auspicious date! Our overseas representatives had started expanding around that time. [Appointed MGTO Director in December 2012, Ms Fernandes was in 2016 awarded a Medal of Merit – Tourism, by the Macao SAR government and in May 2018 she was elected as the Pacific Asia Travel Association (PATA) Secretary/Treasurer 2018-2020.]
How was travel viewed in those days?
MHDSF: Well, with about five million tourists including gamblers it was not very big. There were not many travel agencies. Tourism was not considered a powerhouse. Westin, Hyatt, Lisboa and Mandarin Oriental [in what is now the Grand Lapa] were the first hotels here.
How much have things changed since then?
MHDSF: Everything really. Back in the day we wanted as many tourists as possible. It was the main KPI [laughs]. Every year we needed more. Now the tables have turned and we're not sure if more is better. There is a point of 'over tourism'. Now we're all moving towards the 'quality' of the traveller. We don't have the land mass to cope with these huge numbers. Last year saw 35m visitors! People don't want tourists to barge in and interfere with their everyday lives.
So now less is more?
MHDSF: About when we hit the 20m mark people started asking, 'Oh, how many more can we cope with?' After all we have limited, finite resources. Certain businesses of course did not want to cap arrivals. Now we consider issues like social welfare, education and so on.
How are you able to leverage gaming for the 'greater good'?
MHDSF: We are pushing for more overnight stays. We focus on this and support these campaigns. But what can we offer? So we look at investing in products and working with other government bureaus and engaging in a lot of events – the light festival, concerts, art etc. There are lots of daytime activities. We thought we didn't have enough night activities until we did an inventory and found that it is not too bad actually.
Hotels generate a host of subsidiary activities. Gaming fills almost 40 percent of the government coffers – it is also the most highly taxed anywhere. So the government can plough this into medicare, education (15 years of education is free here and there are study subsidies for whatever from yoga to bakeries say). There are huge incentives to study. Unemployment is down to 1.7 percent. It's practically non-existent.
Do you think tourism is sustainable?
MHDSF: Anything can be sustainable as long as we work on it. On the supply side local operators need to opt into green practices on the food supply side and so on. On the demand side we have to start educating tourists [smiles]. Some feel that Macau could do more. Unfortunately some visitors are simply not used to the idea of sustainability. But they are moving to a better understanding of travelling in Macau.
Do local residents buy into travel?
MHDSF: [Macau's population is just over 630,000] Most residents are very tolerant of inconveniences and we are really blessed by this. But they do feel the pinch. Like when big crowds gather in certain areas. We're trying to address this with a lot of government and private coordination.
Is Macau still Macau?
MHDSF: Obviously there are many changes but many things remain – the Macanese way of life… good food, good wine… things are relaxed. It's a Mediterranean way of life mixed with the Chinese way of life, which is more busy and driven. That original feeling [of Macau] has not changed. People here don't like to queue up for example. They'll simply say, 'Oh I'll come back later to this restaurant.' They just like to be relaxed.
How has heritage fared in the melee?
MHDSF: People are very protective and care about pulling down old trees. They are very attached to old buildings. This helps us preserve some old traditions. And we are trying to preserve Coloane. The government is limiting land plots.
What about millennials. Are there many in your mix?
MHDSF: We're not very millennial driven. Our travel numbers are dominated more by people in the thirties to fifties.
Who do you see as your competitors?
MHDSF: In gaming we're still No.1. But this will not be forever of course. We always need to rejuvenate ourselves. It's not only about gaming. We don't need to promote it as it's already such a big jurisdiction. Our focus is on gastronomy, food, heritage, conventions. In terms of gaming, Japan will be an interesting destination to watch. But today we're not competing with destinations but concepts – like the virtual world [laughs]. When I started here not many people knew about tourism. People thought Macau was worth a half day. But it's changed and people see far more in Macau now.
How do you like to spend your spare time?
MHDSF: When you're in a travel job the last thing you want is to travel [smiles wearily] but I have to balance that with family needs. I think travel has become easier in some ways. High speed trains have changed the travel landscape in China for instance. We have more choices… say even to South America.
Does travel still offer a genuine buzz in this age of bucket-lists and selfie tick boxes?
MHDSF: It depends on the person. Some like to fill their Instagram with bizarre angles and pictures. Most popular on IG is food and travel. But there are others who like to dig deep. Of course the reading habit is down so we present the destination visually.
Do you have any final or enduring passion?
MHDSF: I'm not like one of those golfers who has to go and play around the world. I'd like a week of relaxation. That's my kind of travel. I'm not into anything too exotic. I don't have to rush to Antarctica [waves hands and chuckles].
How How has your job changed you?
MHDSF: In every job you understand you have to work with people. In school we worked ourselves. In working life you need to engage with people, listen to people, sometimes you have to slow down, talk less, and be realistic. There is an adjustment.
Has travel made you cynical?
MHDSF: No. Every journey is different. There's always something new to try
Was work and the industry very male oriented earlier?
MHDSF: In Macau we are quite blessed. Women are not discriminated against and given opportunities for education, jobs and in the political arena. Here at the MGTO we are about 60 percent female. It's the same with PR and marketing in Macau. So no there's no discrimination here.
What impact has the HK-Zhuhai-Macau bridge link had?
MHDSF: Since the bridge came into service on 24 October 2018 till the end of February 2019, over two million visitors entered Macao through the Hong Kong-Zhuhai-Macao Bridge checkpoint. It has also attracted more same-day visitors who represent 52.8 percent of total visits. The bridge has become a tourist attraction in its own right, being the world's longest sea crossing. Meanwhile the MGTO is working with the Hong Kong Tourism Board to study the travel patterns of visitors using the bridge.
What is your vision for Macau?
MHDSF: Five to ten years ahead we plan to be sustainable. The place must be liveable, with a good quality of life and activities for the local population.
Send us your Feedback / Letter to the Editor