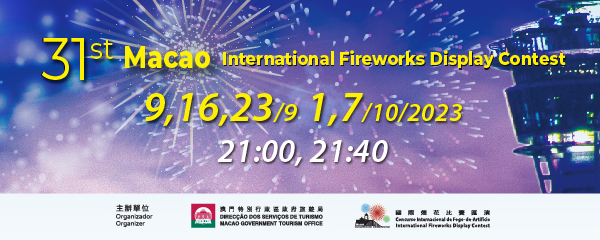 CITY GUIDE
Macau balances casinos, heritage art, and teeming crowds
A grab-bag of Macau hotels and casinos - fun guide to swank beds and gaming options with a peek at heritage walks, luxury shopping, zip lines and egg tarts. Grab a bite of the new Macau Magic.
with updates by staff reporters and Vijay Verghese
SEE ALSO Hongkong fun guide | Hong Kong shopping | HK Yuen Long coffee, cafes | Beijing guide | Shanghai guide | Taipei spas | Asian casino hotels
JUMP TO Getting to Macau | Vanishing heritage | Casino hotels review | Taipa, Cotai Strip casinos, Coloane resorts | Dining guide and Portuguese flavours | Macau nightlife and bars | Museums | Shopping | Historial Macau Walks | Hotel Contacts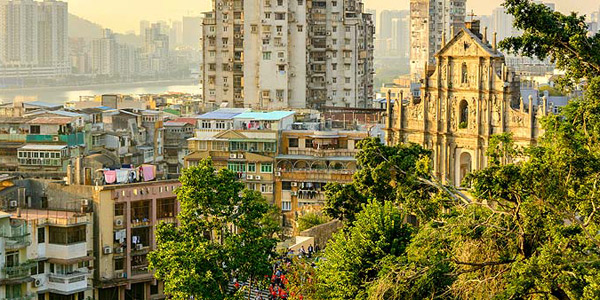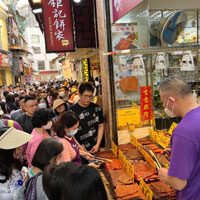 Post-Covid travel: crowds throng Macau's alleys lining up for sights and food treats / photo/ Vijay Verghese
CAUGHT in the press of bodies snaking their way to popular tourist spots as Chinese travellers flood into Macau post-Covid, it is hard to imagine that once upon a time, people flocked here for a bit of peace and quiet, to nibble egg tarts on the crumbling steps of St Paul's ruins and to marvel at the entwined Chinese and Portuguese culture in the city's historic quarter. They still can, as we illustrate in this sidepiece on Macao Magic.
Latter day adventurers drove sputtering open-top 'Mokes' carting wailing kids from Macau to Taipa and Coloane across thin chicken-neck causeways that flooded in the monsoons.
Crowds dodged firecrackers at the A-Ma Temple before heading off to feast on Macanese salted cod balls in cosy European-style taverns. It was merry mayhem, unpredictable, absurd, absorbing, languorous, and fun.
Then came the casinos and Muscle MICE (a silly acronym for meetings, incentives, conferences and exhibitions). Suddenly, the limelight shifted from this UNESCO World Heritage Site to spinning roulette wheels, Italian gondolas and hallucinogenic neon, while one survivor, Lord Stow's Bakery (that made Macau famous for its egg tarts), determinedly hung on, even expanding from its Coloane base to The Venetian hotel and elsewhere.
Hurrah! Egg tart in hand peruse history and heritage through the lens of art in Macau as this enclave is developing into a major art destination in Asia. And yes, there's some history on its side.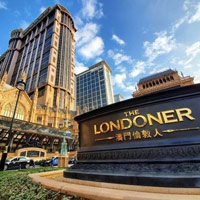 Londoner, mini Britain / photo: hotel
Five-star hotels brands on ther Cotai strip proliferated through 2021 and 2022 and the surge will continue in 2023. Think The Londoner Macao (www.londonermacao.com) that replaced the Holiday Inn Cotai (closed 2019), another replica marvel complete with the Big Ben and 600 classic British suites (from the Sands group) and sibling Londoner Court, a 368-all-suite luxury offshoot within the complex with butler service.
Casinos? Yes, of course. The mega 1,350-key Grand Lisboa Palace Resort Macau (www.grandlisboapalace.com) melds Chinese opulence with Western classical design and hosts its Made in Macau boutique showcasing local designers as well as a 1,000sq m secret garden. The rooms are modern and colourful. In the area, kids may enjoy Lisboeta Macau (www.lisboetamacau.com), a themed area with hotel staycations, unique experiences, weddings, shopping, dining, and ZipCity Macau described as the region's "first urban zipline attraction".
And for those in need of serious stretch room and bling there's 271-key The Karl Lagerfeld (www.thekarllagerfeld.mo/) where suites start at 645sq ft. The striking MGM Cotai (www.mgm.mo/en/cotai) with panels unfurled like a sleek and giant space project, arrived a little earlier in February 2018. These are muscle residences for gaming, conferences, small corporate meetings, shopping and art.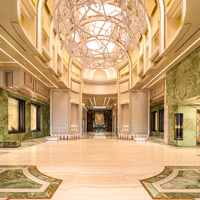 MGM Cotai has an unmistakably grand signature / photo: hotel
As the strip developed, the showy extravagance of this flamboyant Special Administrative Region (SAR) didn't stop with the casino glitz however. Soon came the fiery Dragon's Treasure in the world's largest special effects projection dome, followed by a Michael Jackson museum, the 3.7m gallon aquatic spectacle House of Dancing Water and an onslaught of pro boxers and Biebsters.
Many have shunned Hong Kong in favour of Macau's swanky venues, where dancing sirens, Dreamworks characters and digital mermaids join in the fun.

Slide Show

E-mail Page

Print

Hotel Contacts
Las Vegas saw Macau looming large in its rearview mirror and by the end of 2006 had been eclipsed on casino revenues. In 2013, gambling revenue in Macau hit a staggering US$45 billion – up 18.6 percent from 2012 and seven times more than the Las Vegas Strip. This once sleepy enclave has indeed woken up – fast.
Alas, Macau has also been dealt some dud cards. A China government crackdown on extravagant spending by officials had a huge impact on Macau's high-rolling revenues in 2014 to 2016. Resort operators were required by law to diversify from majority casino-focused offerings to embrace Vegas-style family entertainment. After a stubborn start, this begun to change as Macau is forced to consider new markets, and family travel becomes an important target.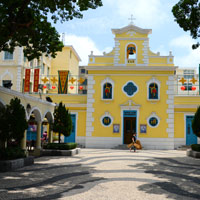 St Francis Xavier's Chapel in Coloane/ photo: Vijay Verghese
Enter Kungfu Panda and other Dreamworks characters at Sheraton Grand, a waterslide fun park and vintage carousel at The Parisian and the first-ever 4D Batman flight simulation ride at Studio City Macau, plus countless family themed packages and child-friendly guestrooms luring Chinese extended families which, aside from Hainan Island, have few choices when it comes to world-class integrated resort destinations in China. Perhaps not surprisingly, shopping in Macau has also become a major attraction for Chinese visitors with luxury retail arcades and high-street stores a feature of most resort developments.
Despite two years of successive monthly losses until mid-2016, Macau is still the top gaming market in the world – around five to six times larger than its nearest rival Las Vegas, and its fortunes appear to be growing once again. Bets are definitely still on for this fun-filled Asian holiday destination.
Before we leap into our Macau fun guide and Macau casino hotels review, a quick geography lesson to help you get your bearings.
Macau (also Macao), which returned to China in 1999 after more than four centuries of Portuguese rule, is located on the western bank of the Pearl River Delta in southern China. The 29.5sq km enclave includes the Macau Peninsula, the islands of Taipa and Coloane and the 5.8sq km area of reclaimed land known as Cotai, now linking Taipa and Coloane. Two bridges connect the Macau Peninsula with Taipa. Of the around 555,000 inhabitants, about 95 percent are ethnically Chinese. The rest are of Portuguese or other European descent, or from elsewhere in Asia.
Getting to Macau – a ferry tale come true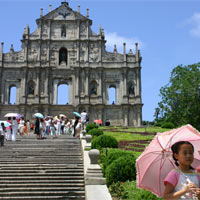 St Paul's church facade/ photo: Vijay Verghese
Zooming into Macau for a weekend from Hong Kong, chances are you'll arrive by high-speed Turbojet ferry (tel: [852] 2859-3333; www.turbojet.com.hk), about an hour's journey; sailings throughout the day and night). It is about 150 patacas (or Hong Kong dollars) one way. The price varies on the time of sailing and also the day (weekend ferries and night sailings may be more expensive). The Macau pataca (MOP) is common rated with the Hong Kong dollar (US$1=HK$7.8) and Hong Kong dollars circulate freely everywhere from taxis to shops and casinos. Increasingly, Chinese renminbi (Rmb) is also accepted at venues around Macau at the same rate as Macau and Hong Kong currency. Any Macau guide will say you can buy ferry tickets on the day of your departure, but it's best to pre-book as there can be long stand-by lines to get onto ferries, particularly on weekends and public holidays. Be sure to leave enough time for customs procedures at either end.
Send us your Feedback / Letter to the Editor | Historial Macau Walks
Turbojet also offers services between the SkyPier at Hong Kong International Airport and Macau, plus services between Macau and both Shenzhen and Guangzhou in southern China. Another option is the Cotai Strip CotaiJet (tel: [852] 2359-9990; www.cotaijet.com.mo) operating from the Hong Kong Macau Ferry Terminal to Cotai – the fast developing casino area. Again, expect to pay more for a ticket on weekends. First Ferry (www.nwff.com.hk) operates a service between Tsim Sha Tsui, Hong Kong and Macau. An average one-way midweek fare is around HK$100 rising to HK$150 for weekend evening services. The new Taipa Island ferry terminal arrives late 2016 and come 2018 (somewhat delayed from 2016), Macau will be joined by bridge to Hong Kong and the Chinese border city of Zhuhai. For now you can still enjoy that first glimpse of Macau's kooky skyline and dramatic flyover bridges as you gently rock into port.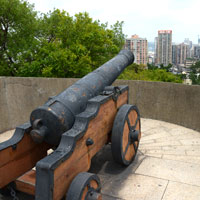 Old canon looks over Macau's old quarter from Mong-Ha Fort/ photo: Vijay Verghese
You can also enter Macau from China, through the Cotai frontier post or the "Barrier Gate" on the northern border of Macau. Money to burn? Fly in by helicopter (a 15-minute flight from Hong Kong; one-way ticket from HK$3,700, tel: [852] 2108-9898; www.skyshuttlehk.com) like the big boys do. The helipad is at the ferry terminal. You can also catch flights to a range of destinations from Macau International Airport.
Apart from Air Macau (en.airmacau.com.mo) and mainland Chinese carriers from major cities across the country, a growing number of low-cost airlines, including AirAsia (www.airasia.com), TigerAir (www.tigerair.com), VietJet Air (from Danang, www.vietjetair.com) and Cebu Pacific (www.cebupacificair.com), fly in and out of Macau linking up places like Bangkok, Singapore, Manila, Japan and South Korea. Erstwhile local budget airline Viva Macau, alas, did not survive the initial stampede and folded its wings after a short stint in the low cost skies.
Outside the terminals, look for the line of Macau hotel shuttle buses (most hotels have regular free services to the ferry and airport), or grab a taxi. First flagfall is MOP15, and fares are meter-regulated and reasonable. It should cost you about MOP25 to any point in the city. A journey to the farthest point on Coloane Island is between MOP75 and MOP100, depending on the traffic. It can be a frustrating ordeal to come by a taxi between 5pm and 7pm, when traffic is at its most congested and taxi drivers switch shifts.
If all else fails, you can always hail a pedi-cab (tricycle rickshaw). Not a cheap option, but a bit of an old-fashioned thrill. Do settle on a price before you set off.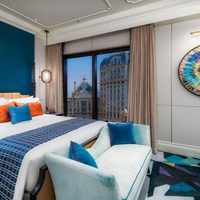 Grand Lisboa Palace - contemorary colour / photo: hotel
Buses are cheap (only MOP3.20 within Macau Peninsula, MOP4.20 to Taipa, and MOP5 to Coloane). With a little time and patience, they're a perfectly easy way to get about. All bus stops display bus numbers and destinations.
Chinese (Cantonese) and Portuguese are Macau's official languages, so all street and other signs are in these two languages. Many taxi drivers speak little or no English. Ask your hotel concierge to write out the Chinese characters for your various destinations in advance. Some Macau maps have the main tourist attractions and hotel addresses written in Chinese, so it's handy to carry one of these in your backpack or briefcase. Macau is spelled Macao in Portuguese.
That vanishing heritage
Before plunging into our Macau casino hotels review, kick off your sightseeing in Macau's "historic centre", a UNESCO World Heritage Site of which locals are justifiably proud. It feels Latin, with the churches to match. People whiz by on scooters, European-style, and it's not unusual to see two men greeting one another with a kiss on the cheek. The architecture is old world and you could wander the area for hours, exploring the alleyways and admiring quaint louvered windows and plant boxes. Walking is the best way to see the sights in this area.
Start with a selfie on the steps of the iconic Ruins of St Paul. Its façade (the only part of the church left after it burnt down when struck by lightning during a typhoon in 1835) is an imposing sight. Some steel steps and a vertigo-inducing podium have been constructed at the back, so you can climb up to admire the views of Macau all around. In Macau, there's a temple for every church, so also check out the little Taoist temple, Na Tcha, just left of the ruins, dating back to 1888.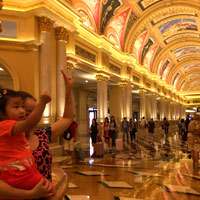 Busy and bright Venetian lobby/ photo: Vijay Verghese
A short walk along winding cobbled lanes lined with stores selling almond cookies and sweet pork jerky and you'll arrive at Senado Square, with its distinctive Portuguese paving off the busy thoroughfare Avenida Almeida Ribeiro, also known as "San Ma Lo". Here, old men cluster in groups at sundown and families gather to play. You can't miss the baroque San Domingos (St Dominic's) church, built by the Dominicans in the late 1500s and painted cheery yellow with white and green trimming. An adjacent museum – Treasure of Sacred Art – occupies what is left of the ancient cloisters and contains religious artefacts that date from the 17th century.
The 16th-century neo-classical Holy House of Mercy (the oldest institution in Macau, founded in 1569 as a home for widows and orphans) has a museum displaying historic paintings and artefacts. Macau's first municipal building, the 1784 neo-classical Leal Senado Building, also overlooks the square. A short detour uphill and you'll arrive at the Cathedral built in 1622, set in a tiny square edged with Portuguese patterned tiles. The sombre façade gives way to soaring pastel-mint interiors and beautiful stained glass.
From Senado Square, head to cobble-stoned St Augustine's Square (just cross the main road up Rua Dr Soares and follow the signs) for a traditionally Portuguese streetscape. Even on weekends, it's a quiet spot with pretty paving and beautifully restored and protected buildings. Dating back to 1591, St Augustine's Church (or Santo Agostinho) on the square has the distinction of housing the statue of Our Lord of Passion, which Roman Catholic worshippers annually carry through Macau's streets at Lent. Yes, this IS China.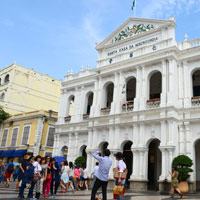 Holy House of Mercy at Senado Square/ photo: Vijay Verghese
Just to make sure, check out the Sir Robert Ho Tung Chinese Library with its peaceful garden dotted with reading tables close by. Sir Robert was a Hong Kong businessman who bought the house – built in the 1890s – in 1918 as a retreat and left it to the Macau government in his will. A stone's throw away is the oldest European-style theatre in China, the green-painted Dom Pedro V Theatre built in 1860. It still hosts regular symphony concerts and other recitals.
If you're up for more walking (or grab a taxi), head to the Rua da Praia Grande (the main road along the man-made lakes in the Macau Tower area), and turn right into Calcada do Bom Parto to reach the well-guarded, yellow-and-white colonial home of the Portuguese consul-general (formerly the Bela Vista hotel), set in a quiet residential neighbourhood.
Not far from here, at Barra Point, is the famous Ming Dynasty A-Ma Temple, built on terraces against the hill and dating back to 1488. No Macau guide would be complete without mention of this august spot. The temple is dedicated to the goddess of seafarers, A-Ma, and Macau's name is derived from "A-Ma-Gau" (or Place of A-Ma). Bring your earplugs – devotees come here to explode firecrackers to scare away the evil spirits (stock up at the temple kiosk). Malign spirits might be scarce, but there's a liberal sprinkling of beggars at this spot, which overlooks the Maritime Museum (www.museumaritimo.gov.mo), worth a visit for highlighting Macau's interesting seafaring history, but closed on Tuesdays.
Check out the Moorish Barracks on Barra Street nearby. This is another neo-classical building "with a Moghul influence" hailing back to 1874, originally built to accommodate an Indian regiment from Goa that was appointed to reinforce Macau's police force at the time.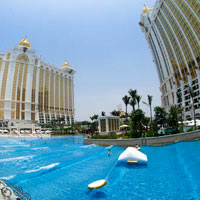 Galaxy freeform wave pool/ photo: hotel
Walk a bit further and you'll find the Chapel of Our Lady Penha. First built in 1622 and completely reconstructed in 1837, the chapel offers a contemplative lookout spot close to many of the city's cultural sights and beautiful old colonial buildings. Now neon-wrapped Macau casino hotels vie for space with churches and temples and for the best views you need to catch high-speed elevators whooshing skywards. The famous Hotel Lisboa with its distinctively gaudy neon lighting and colourful mosaics, once the main event, is now dwarfed by the (literally) rising competition.
Also charming is a 19th-century Chinese-style dwelling called Mandarin's House (Travessa de Antonio da Silva, closed on Wednesdays and Thursdays), which re-opened in March 2010 after an eight-year and US$5.3m restoration project. Step through the moon gate and admire the decorative tiles and carved doors of this tranquil former home of Chinese literary figure Zheng Guanying.
Leaving Macau Peninsula behind, Taipa's old village still has a laid-back feel. Given a loving rebrand in 2016 as 'Taipa Village – Authentic Macau' (www.taipavillagemacau.com), the historic enclave, just 10 minutes' walk from The Venetian along covered moving footways, aims to preserve and promote the former fishing village's nostalgic charm with a mix of Portuguese and Chinese culture to discover along cobblestone lanes and pastel-painted squares.
Take a stroll down its historical centre, Rua do Cunha, with ubiquitous cookie and cake shops, quaint traditional shop houses and a relaxed pace. Streetside maps and booklet guides with groovy passport stamps for each site point visitors to highlights in the area, such as Our Lady of Carmo Church, Taipa Houses Museum and the 160-year-old Pak Tai Temple with its billowing plumes of incense. Recharge with an iced coffee at traditional roaster Fong Da Coffee (No. 15 Largo Maia de Magalhães).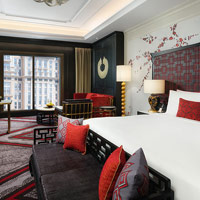 Karl Lagerfeld room, modern bling and geometry / photo: hotel
Cosy Casa de Tapas Macau (www.casadetapasmacau.com) nestled in the old village dishes up excellent Mediterranean tapas and tipples, while Portugália (www.portugalia.com.mo) is a traditional beerhouse with a Portuguese chef serving authentic dishes, such as spicy Macanese chicken. Local favourite Antonio (see Dining section below, antoniomacau.com/) is another great Portuguese restaurant in picturesque Taipa Village.
The old Praia waterfront is idyllic, with a row of five beautifully restored green and white neo-classical houses, grassy areas and benches to mellow out on. Until recently, the views from here were of tranquil, rural Coloane, but now The Venetian looms in the distance.
Coloane is the most untouched part of Macau, with two beaches, small eateries and low-rise housing. Locals like to hang out at Hac-Sa beach, with small beachfront stalls and barbecue areas. Take a stroll through Coloane village, where there are also a few small galleries and souvenir stores for browsing.
Macau casino hotels for a roll of the dice
There's no shortage of accommodation in Macau, but book ahead, particularly on weekends and China holidays when the city fills up to bursting point. Macau is the only Chinese territory where gambling is legal and, it has to be pointed out, until not too long ago, it had a bit of a reputation for gambling dens of a more sordid nature – not to mention the odd shootout or two.
Fear not. These days, the headlines are dominated by a burgeoning casino culture, and glamorous entertainment. On with our Macao casino hotels review.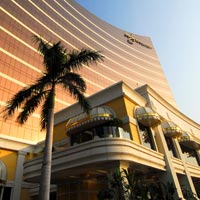 Wynn Macau: imposing sweep/ photo: hotel
Near the city centre is the 594-room Wynn Macau, the first foreign competitor to magnate Stanley Ho's original, glittering granddaddy of Macau gaming, the Hotel Lisboa. It is easily among the top Macau luxury casino hotels. The shiny, choc-coloured crescent has made its mark on the Macau skyline. And the fountain that explodes into some serious water-dance action outside the main entrance at quarter-hour intervals is quite a draw.
The hotel has been constantly evolving, a consequence of its owner Steve Wynn's mercurial style and taste. The result is a sense of freshness, brisk service and energy. No question, this is a large casino hotel in the Las Vegas mould. Within that ambit, however, it manages to exude an elegant, even formal, presence. The lobby, keeps you on your toes – literally – as it is curiously void of seating, but also manages to successfully juxtapose ancient Chinese ceramics (the four vases on display are worth US$10 million alone), a shimmering gilded ceiling and a slew of bright colours, including its own original shade of "tango" (yep, that's tangerine and mango). In any other hotel this contrast may look silly, but the Wynn pulls it off.
Deluxe rooms at the Wynn are huge (56sq m), with heavy, extra-large wooden doors, massive two-basin bathrooms and grand entrance halls. Tasteful creams and light browns abound and the facilities are extensive (from flat-screen LCD television sets in bathrooms, to safes that will fit a laptop, to Broadband Internet access, and ironing boards). One-bedroom Suites have a bit more glitz, with mirrors on the living room ceiling, blood-red couches, black marble entrances, an extra room with a massage bed, and Jacuzzis and LCD TVs in bathrooms.
For VIPs, there are ten 278sq m Sky Suites with spectacular city and harbour views out floor-to-ceiling windows, two bedrooms, TVs that ascend on remote command from the depths of sleek wood cabinets, a serving bar, an in-suite spa, a dining room, a kitchen, his and her bathrooms, and more.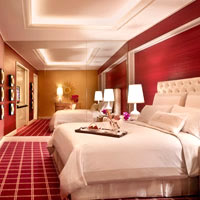 Encore Deluxe Suite/ photo: hotel
What else do you expect for a rack rate of MOP30,000 per night? There are eight bars and restaurants, and a 200,000sq ft casino, in the centre of which is an 11-metre, 24-carat 'Tree of Prosperity,' which rises up in all its golden glory from the floor.
The casino is laid out in intimate pockets with rich, cream drapery creating a sense of privacy and seclusion. For those who don't like to mix their vices, a non-smoking section is available, which is somewhat rare in the casino landscape. Take the opportunity to try Chinese speciality menus at two-Michelin-star Golden Flower restaurant, which has glowing teapots on the ceiling and a poet who will present you with some handwritten verse at the end of your meal. For a classy cocktail try a ginger and lemongrass margarita at Cinnebar – grab a table outside in the lush sculpted garden by the pool.
Wynn comes complete with a top-notch spa and a glitzy high-end mall for Macau shopping of the rarefied kind. The Wynn Esplanade features several top brands like Dior, Chanel, Fendi, Gucci, Louis Vuitton, Bulgari, Prada, Rolex, Versace, Miu Miu, and Vertu. This is where punters spend their winnings on trophy bags and jewellery (as scuttlebutt goes, the roomier your handbag, the better your chances to win big). This hotel is a top address on our Macau casino hotels review.
Under the same roof, you'll also find Wynn Macau's Encore tower. This all-suite, boutique-style tower is for the highest of high rollers. Check-in is a rather mesmerising experience thanks to 1,000 moon jellyfish housed in a giant aquarium above the reception desk. Watch carefully and you may see them being fed by one of four dedicated jellyfish keepers.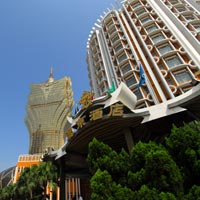 Grand Lisboa and Lisboa Hotel: old stalwart/ photo: Vijay Verghese
There is a crystal and jewel theme running throughout the hotel including rock crystal wall art and a chandelier so twinkly you almost need shades. Yet another reminder that you'll need to save up for that Macau shopping spree. The offerings here are mainly luxury jewellery brands such as Cartier and Piaget and even the classy Champagne den Bar Cristal has a jewel-box decor. You'll also spot hand-embroidered butterflies and ornate fish lurking among the zesty mango and lime decor.
Encore has 369 Deluxe Suites, 41 Grand Salon suites and four invitation-only villas, which are 7,000sq ft and include a hair salon, fitness centre and media room – perfect for a celebratory karaoke night. Interiors feature bold scarlet and blond wood, effusing a funky art vibe and all rooms have floor-to-ceiling views of Nam Van Lake and the city skyline.
For the Deluxe Suite, expect an average living space of 102sq m, twice daily housekeeping service, twin vanities, a LCD TV between the lounge and bedroom which swivels 360 degrees plus a smaller TV in the bathroom, iPod docking station, laptop-sized safe, free WiFi, Vidal Sassoon hairdryer, iron and board, and funky minibar snacks such as spicy prawn crackers and egg rolls. The 99 Noodles restaurant is decorated with hundreds of colourful chopsticks and serves nine different types of hand-pulled noodles and nine broths. Top it all with a signature four-hand massage at The Spa at Encore, designed to resemble the interior of a luxury yacht. Expect 34,000sq ft of gaming space at Encore.
Billionaire Stanley Ho, who controlled Macau's gaming market for four decades before it was liberalised, has answered back with the high-end Macau luxury hotel, the Grand Lisboa, which comprises of casinos, nightclubs, the largest LED dome in the world (with one million bulbs), and a hotel. At night, the casino resembles a giant psychedelic, flashing flower. It offers 240 gaming tables and 750 electronic games. The flame-shaped hotel, with 400 rooms, opened in December 2008 as a flagship for the group. It aims to be among the best Macau casino hotels.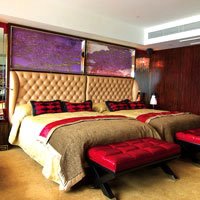 Grand Lisboa Deluxe/ photo: hotel
Beyond the expansive lobby dotted with museum-like exhibits from Ho's private collection, expect unrestrained opulence – rooms have handmade carpets, 500-thread-count sheets, down quilts, hi-tech facilities including 40-inch flatscreen TVs and smaller TVs in the bathroom, Turkish steam baths, rain showers, and Jacuzzis. Average room size is a sweeping 50sq m with suites touching 75sq m. Rooms start on the 11th floor offering open views of the city and the seafront. Swim in an outdoor all-weather pool and later unwind at the Lisboa Spa by Clarins. The Grand Lisboa is also positioned as a Macau conference hotel with a Grand Ballroom capable of accommodating up to 1,300 persons.
Bring your appetite. Grand Lisboa is home to Macau's only three-Michelin-starred restaurants; Robuchon au Dôme and The Eight. The latter hides behind a nondescript steel door that is opened by remote control to reveal a decadent ebony and red restaurant with rippling chandeliers and bold, goldfish-painted silk screens. Goldfish projections 'swim' underfoot as you glide across the marble entrance. The menu showcases Cantonese and Huaiyang cuisines, with more than 50 types of dim sum served at lunchtime. The Eight is highly recommended for a sophisticated Cantonese meal.
Right next door is the original Hotel Lisboa, which – with its low-ceilinged entrance halls and chandeliers, collection of priceless Chinese art pieces for viewing, 1,000 rooms, and many restaurants – is well worth visiting for a whiff of nostalgia, frescoes, or more. The hotel has been through extensive refurbishments that have produced brighter restaurants and bars and a brisk feel to things, not least due to the money coursing through the thrumming Casino Lisboa. The old wing offers comfortable rooms with a faux-Versailles touch and soaring half canopies above the beds.
Rooms feature all the mod-cons with the de rigueur hairdryer, in-room safe, and satellite TV. Broadband as well as local calls are free. It's high-camp fun, with a touch of mischief, and the location – smack at the epicentre of things – is unbeatable. Several rooms look out to city and lagoon views. The Lisboa Wing offers rooms that conform more to a conventional modern standard. Of an evening, the basement is commandeered by a colourful cast of fast-strolling ladies with long legs and business intent.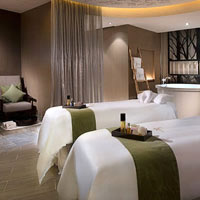 Sofitel's So Spa/ photo: hotel
The Grand Lapa Hotel (once a Mandarin Oriental) stands in the shadow of its shimmering neighbour, Sands. The changeover from stalwart Mandarin Oriental to Grand Lapa didn't see too much of a shift in room software, just a stronger Macanese influence on restaurant menus. Rooms come with Internet access, TV, small working desk, large safe and iron and board. It also has meeting facilities, a business centre, an outdoor swimming pool framed by lots of green, a well-equipped children's centre with an outdoor playground, and a spa where each treatment room has an outdoor garden with a Jacuzzi.
Daring guests can challenge themselves to a spot of rock climbing on the 10m and 360-degree outdoor tower at the back of the property, or smash some volleys on one of three tennis courts. The bar – Vasco – on the second floor of the lobby provides great views of the Macau Grand Prix route, held every year in November. The property is conveniently located close to the ferry terminal and offers modern comforts with a touch more understatement. It works both as a Macau business hotel within easy reach of the boat, as well as a child friendly family hotel.
Nearby, the Mandarin Oriental, Macau gazes out over the downtown waterfront in the area referred to as NAPE. The amber-hued hotel, integrated with the mixed-use development One Central, has 213 rooms including 26 suites and one presidential suite. In a district of gaudy spaces, the intimate zen lobby is refreshingly subdued, with glowing teak wood, geometric sculptures and a minimalist feel. Rooms are modern with subtle European flair, and dominated by warm tones of dark wood, caramel and gold. You'll also get to enjoy views of Taipa Island and Nam Van Lake.
Although not as spacious as some other casino hotels, the standard Deluxe Corner room is more than adequate at 40sq m and has plenty of perks such as Aromatherapy Associates toiletries, a bath with a view, a work desk and a Nespresso machine. There's also an impressive in-room entertainment system including a 42-inch flat screen TV and DVD that can be linked with your laptop or iPod. WiFi is not free, with Internet packages from HK$180 per day. If the thought of all those whirling roulette wheels is keeping you up at night, switch to the mood channel with soothing music and views of peaceful alpine peaks.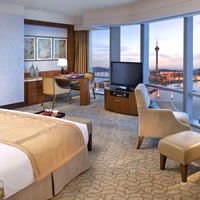 Mandarin Oriental Premier/ photo: hotel
Vida Rica Restaurant & Bar serves mainly Western food with some Chinese and Japanese dishes. Adjacent to the dining room, the bijoux bar is a glam spot for cocktails, offering stellar evening views of the waterfront and bridges beneath a glimmering spiral chandelier. Also on the premises is a spa and Mandarin Oriental cake shop. Don't expect roulette tables and jackpot machines here though – the hotel is strictly a non-gaming property. If you need to shed some coins, don't worry, the neighbouring One Central shopping complex is linked to the MGM casino.
Also in this area is the 301-room L'Arc Macau. An East-Meets-West theme is implied through a Renaissance-inspired mural on the ceiling but on the whole, this hotel is disappointingly conventional. The functional lobby includes an ATM, gift shop and café with rather distracting TVs. As a symbol of good fortune, the lobby also houses a giant pot of gold Chinese coins – shaped like hats as opposed to bricks. The ensemble does not do its aesthetic appeal any favours. In contrast to the somewhat ostentatious lobby, the standard Deluxe is surprisingly simple with contemporary touches in white, beige and peach, and a chaise lounge stretched along a marble-ledged window.
Amenities include a 42-inch flat-screen TV and DVD, laptop-size safe, work desk, hairdryer, tea and coffee facilities, minibar with cup noodles, and clock radio with iPod dock. There is free Broadband but ironing facilities are only available on request. The in-house casino comprises over 160 gaming tables and 310 slot machines. There are four restaurants including Chinese, Shanghainese and Japanese.
Hotel Lan Kwai Fong Macau waltzes in downtown cheekily exploiting Hong Kong's popular entertainment district of the same name. This is no relative of Hotel LKF or Hotel Lan Kwai Fong Hong Kong. The intimate 200-room hotel makes a sharp u-turn from all things Vegas, the gaudy gold and lucky red that make up Macau's usual fare. Faux Philippe Starck lamp shades set the scene in 300sq ft rooms which sport 400 thread count linen, iHome, BVLGARI toiletries and lots of light.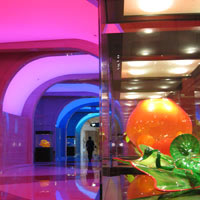 MGM GRAND art showcases are always fun/ photo: Vijay Verghese
The resort style Grand Suite almost doubles the floor space and extras include a coffee machine, multi device charger, hairdryer, rain shower and a huge wall safe with jewellery box.
There's the necessary casino offering, but also a large spa with hair salon, fitness centre, slimming machines, alongside 13 rooms and 11 more at the "clinic". Channelling the spirit of Hong Kong's hippest evening venue but dancing to a different tune might be just the ticket for Hotel Lan Kwai Fong Macau. Being painted bright purple doesn't hurt either.
In the vicinity is Sands Macao Hotel (along with the Sands casino), a gold, mirrored-glass creation that opened in 2007 (the casino opened a few years earlier). With the same owners as The Venetian and The Parisian (Las Vegas Sands Corp), it is more restrained than its Cotai Strip siblings with a relatively smaller number of rooms at 289. There's no shortage of in-room amenities though with plasma-screen TVs, iPod docks, WiFi Internet access, walk-in wardrobes, a clothes press, roomy safes, and microwaves. The feel is modern, emphasised by catchy art pieces and dark wood doors with pearl-shell mosaics.
The Landmark Macau, is attached to a larger-than-life 24-hour casino, Pharaoh's Palace. As well as its 450 rooms, The Landmark has Chinese, Shanghainese and Japanese restaurants, a business centre, an indoor swimming pool, and is your ticket if you're after a themed karaoke lounge. Return guests – which are largely from the business sector – rave about the comfort of the beds, and, because of its location close to office blocks, this is a reasonable Macao business hotels choice.
Next door to the Mandarin Oriental is the lavish MGM Macau, with 582 deluxe guest rooms, villas and suites. It cuts a fine figure on the waterfront with its waved design. For sheer wow factor, this is a place to see. The lobby is deep and wide with reception off to the left (backed by huge abstract square paintings in bright splashes and spatters), a sitting area to the right, and a huge red glass chandelier hanging in the centre, created by renowned American blown-glass artist, Dale Chihuly. The same artist has a store (one of two in the world, the other being at the Bellagio in Las Vegas) in the 'Art Corridor' off to the left of the main lobby – a surreal light-changing tunnel lined with more glass sculptures leading to one of the hotel's 12 eating outlets. The US$1.3 million MGM Art Space on the second floor showcases highbrow art exhibitions; its November 2013 launch exhibition featured a Botticelli loaned from Turin, Italy.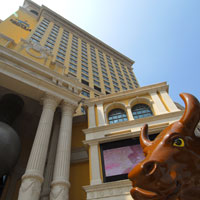 Why you may feel bullish at the Sofitel/ photo: Vijay Verghese
Through the lobby is an atrium, the Grand Praça. At the risk of being excessive, this sight to behold is modelled on a typical courtyard that you might see in Lisbon, complete with faux European buildings, tiled floor, a clock tower, a fountain, real trees, sitting areas, restaurants and a sweeping staircase often used by couples for wedding photos. At its centre is a giant glass bubble packed with exotic wildlife – sometimes fluttering butterflies, other times darting fish and coral.
Rooms at MGM, which start at 48sq m and vary in design because of the curved nature of the building, feature 42-inch flat-screen plasma TVs, Wireless (and wired) Internet access and possibly any other amenity you could wish for. Grand Suites have TVs embedded in bathroom mirrors. The Six Senses Spa has an array of treatments on offer, as well as 'Experience Showers' that spurt out different scents, a herbal steam bath, flotation and vitality pools and a 'snow' room – no room for skiing, but, yes, it does have real snow. There are also yoga, tai chi and meditation classes, or just pop outside for a swim in the infinity pool.
More wallet-lightening offerings await at the Grand Casino, with around 375 gaming tables with over 900 arm-exercising slot machines and a further 16 private gaming rooms. The Grand Ballroom can host 680 persons theatre-style while assorted function rooms and alcoves for those sound-and-fury board meetings provide versatile space for small meetings or larger conferences. This is another address to mark in your Macau casino hotels diary.
Close by, the lobby of the 39-storey StarWorld Hotel & Casino is all giant chandeliers, marble, flashing lights, and fluorescent escalators. The 505 rooms and 40 suites (including a 6,000sq ft presidential suite) offer Broadband Internet access, 42-inch plasma TVs, and panoramic views of downtown Macau. There are nine eating and drinking outlets, as well as a VIP lounge. The hotel also has an infinity pool, gymnasium, and vast conference facilities, while the casino boasts 249 gaming tables and 280 slot machines. For something over the top (yes, even by Macau standards), this is a worthy contender among Macau casinos and hotels.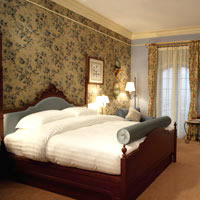 Rocks Hotel suite/ photo: hotel
Just across the road, a great value option is the Emperor Hotel. The four-star underwent a refresh in 2013 and offers the option of rooms and suites decorated in Chinese style, Western style (bright Portuguese blue) and the more subdued Business style. Apart from the super-convenient location, the service here is very friendly and there is free WiFi in public areas and most rooms.
Not far from the ferry terminal, is the "boutique" Rocks Hotel, a 72-room low-rise whitewashed building with balconies, wrought-iron railings and green shutters. Walking into the lobby feels like stepping back in time to 18th-century Victorian England. Oil paintings, flock wallpaper, a sweeping marble staircase and ornamental birdcages combine to give the place a cosy olde-worlde charm. Rooms are well lit, feminine, and kitted out with claw-foot wood cabinets, blue-and-white bed linen, free standing bathtubs, and Maxwell and Williamson floral teacups.
Every room has a spacious balcony with sea views, ideal for a romantic sunset dinner with a loved one. Rooms may be dainty, but they come with modern amenities such as 42-inch flatscreen LCD TVs, complimentary Broadband Internet access, CD stereo systems, and large safes. If you enjoy a wee dram of whiskey, check out the British pub and for cocktails with a view, try the rooftop Sky Lounge. There is also a charming banquet-hall style meeting room which seats up to 12 people.
Another attraction along the "Inner Harbour" is the Ponte 16 entertainment and resort complex that includes the mustard-yellow five-star Sofitel Macau at Ponte 16. Sofitel opened in August 2008, and offers an interesting location slap bang in the middle of Macau's historic quarter only a short walk from Senado Square, St Paul's Ruins and the A-Ma Temple. There is a casino attached, but the hotel manages to distinguish itself from the gaming world with its relaxed ambience and sense of history – the original clock tower from the old pier still stands. The sparkly lobby is marked by a central "time passage" – a spangled tunnel with escalators running to the casino. Marvel at the big pillars, ornate blue crystal flowers and Parisian bric-a-brac and then head on to the rooms.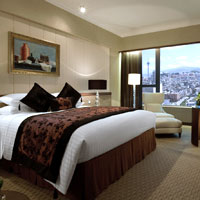 Warm hues of Sofitel room/ photo: hotel
Sofitel's 408 rooms are warm toned, blend French and Chinese design, and come with a flatscreen 37-inch TV, DVD, Broadband access, large safe, iron and L'Occitane toiletries. Some have nice open views out to the fishing boats bobbing on the Pearl River Delta with China just an arm's-length away. Guests in Club Sofitel rooms get access to a lounge, which offers breakfast and evening cocktails, free Internet access, as well as personalised check-in and additional services. A multi-function meeting room has a balcony attached, while the outdoor unheated pool with its blue tiled mosaic and water-spouting cherubs is a fine spot to cool down after work (or gaming).
Dinner or coffee served up poolside is perfect. There is a ginger-scented fitness centre with a dedicated room for yoga. Expect spacious, well-lit, colonial interiors with grand views in most directions. A slightly unusual but fun offering is the hotel's Michael Jackson museum, which pays tribute to the music legend (the property owner is a big fan). Entry is free and you can easily moonwalk around for half an hour or so checking out memorabilia such as MJ's famous rhinestone glove, a tattered shirt from Thriller and even a crystal-embossed sock. Expect music videos, album artwork, mini-dolls, a time tunnel charting the singer's career from 1958 to his death in 2009, and even an intriguing chamber escape game with a Thriller horror theme. Need de-stressing? Try the spa or French restaurant, Prive.
VIPS staying in the top category Mansion Suites get their own private entrance, lobby, lift and pool. The colonial building houses 19 suites with varying personalities. From the all-white Blanc Romance suite, popular among honeymooners, to the gold-encrusted Michael Jackson suite, these one and two-floor sprawls are in another dimension.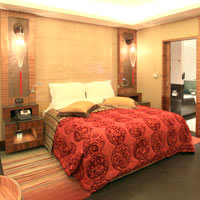 Pousada de Sao Tiago/ photo: hotel
Expect beds that look like thrones, giant Jacuzzis, crystal beaded drapes, rain showers, karaoke rooms, walk-in closets, free WiFi and butler service. This is an alternative in-city choice with gaming facilities but without the clamour and clutter of the other Macau casino hotels.
Up a low rise on Penha Hill just above A-Ma Temple overlooking the harbour and the Macau-Taipa Bridge, is the old world and unfussy 126-room Riviera Hotel. It has been around for many a long year, providing mid-range hospitality to weeklend trippers. The decor is staid oriental but cheerful with flashes of red and gold, flat-screen televisions and crimson bed runners. The hotel offers shuttle buses to the town centre, a Chinese restaurant, Western nibbles and a music lounge.
The atmospheric Pousada de Sao Tiago, set on Avenida da Republica near the A-Ma Temple, in the restored remains of an early-17th-century fort, is small and traditional with stone walls and floors. It's a cool, calm haven, where you might wake up to the birds singing from a 200-year-old tree out the front of the building. Almost all of the 12 rooms have their own balcony and, after an extensive refurbishment in 2007, the décor is an eclectic mix of modern and retro.
Expect black leather floors, leather-topped desks (made from crocodile skins), traditional Chinese paintings, 40-inch Bang & Olufsen plasma TVs and DVD players, free WiFi Internet, minibar and in-room movies, and the occasional antique – one room has a globe that is over a century old. Bathrooms have TVs embedded in the mirrors, bidets, Jacuzzis and Hermes toiletries. There's a small (but deep) pool on the premises, and a small chapel that can stand in for wedding or blessing ceremonies.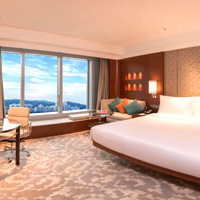 Crowne Plaza Macau room/ photo: hotel
Farther up north from the old Macau Ferry Terminal is a newer tower entrant, the Crowne Plaza Macau (opened 30 December, 2015). It is a tad removed from the St Paul's central area and Senado Square as well as the newer business district around the Mandarin Oriental. Yet it does serve up free WiFi and grand views across the sea (and city) from contemporary pastel rooms with a woody finish and mottled tan carpets. At the hotel, expect an indoor pool open from 7am to 9pm, a fitness centre, and a range of dining that includes a Chinese restaurant. The hotel also sports 11,840sq ft of meeting space with the largest room able to accommodate up to 800 persons.
Taipa, Cotai Strip, Coloane resorts
At the top of Taipa Island is the impressive Altira Macau (formerly Crown Macau). This stylish and contemporary 38-storey casino-hotel offers distinct experiences for its guests by creating separate entrances for gamers, residents and diners. The hustle and bustle from the 200-plus high-end gaming tables is confined to the casino resulting in a serene hotel atmosphere complemented by low lighting, endless vases of vivid red roses and floaty music. Everywhere you look you'll see stunning vistas, especially from Lounge 38 on the uppermost floor. This is one of Macau's finest sipping spots with a landscaped alfresco rooftop overlooking the Macau peninsula and a resident DJ. There are also some tantalising dining options such as Japanese restaurant Tenmasa, which specialises in tempura and has a traditional charm thanks to its grey stone walls, romantic candle-lit walkways and tatami-style seating.
The tranquil theme continues at the 6,000sq m spa that includes a stunning infinity swimming pool and healthy juice bar. There are 216 rooms (including eight villas) each with floor-to-ceiling windows. In-room features include a walk-in wardrobe, 42-inch plasma TV, iPod dock, portable keyboard, complimentary Internet and minibar (soft drinks only), posh teas, a long work desk separating the bedroom and lounge area, which includes a corner sofa, a circular Japanese-style bath and separate rain shower. A useful option for lovers of contemporary style, good food and high-end gaming.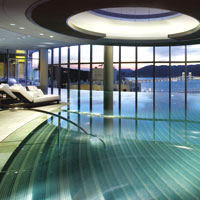 Altira pool/ photo: hotel
Taipa Island has an increasing number of hotel choices. One older stalwart is the Regency Hotel, the former Hyatt Regency. The Regency is an oasis of calm for family or business stays surrounded by thrusting condominiums. The 326 rooms are well appointed and attractive, several looking onto the bay. You'll find an open-air pool area with a Mediterranean feel, two restaurants, and 12 function rooms.
Flexing new muscle along the Cotai strip is Studio City Macau (studiocity-macau.com), which opened in late-2015 at the Lotus Bridge immigration point on Cotai bringing an immense 500,000sq ft casino and gaming space along with Studio City Hotel (aimed at the luxury market), Golden Eye (the highest figure-eight ferris wheel in the world at 130m above the ground), a multi-theatre resident magic show and 4D flight simulation ride. The hotel features two modern blocks - the Celebrity Tower and Star Tower with 800 rooms in each. There is conference and MICE space for up to 6,000 persons, luxury brand shopping at The Boulevard at Studio City, endless dining, and all this in an art deco 'Gotham City' package. Look out for Batman. Everything's possible here. The shopping space runs right around the central gaming area featuring all the major designer brands from Gucci, Fendi BOSS and Balmain, to Prada, MCM and Roberto Cavalli.
From the party isle of Ibiza, Pacha Macau (www.pachamacau.com) at Studio City is a clubbing favourite with electro beats, a large dance floor and terrific terrace bar. Clubbing isn't particularly popular with Macau's main tourist market so don't expect heaving dancefloors, but Pacha attracts the city's expat stage performers and hoteliers after their shifts making for a fun crowd if you're lucky.
Continuing our Macau casino hotels review, along the way from Taipa to Coloane, you'll drive by another newcomer. The Parisian Macao, which opened in late-2016, is the final piece of Sheldon Adelson's bold vision for the Cotai Strip, which was underwater when he conceptualised his six integrated resorts comprising a total of 13,000 rooms, 900 retail shops, 2.5m sq ft of MICE and conference space, 200 restaurants, seven hotel brands, entertainment facilities and arenas, plus some 30,000 staff, all operating under one gigantic roof.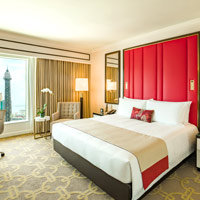 Parisian Macao room in lipstick red and gold hues/ photo: hotel
Look for the scale replica of the Eiffel Tower out front of The Parisian, at half the height of the original 324m construction with 6,600 lights and 26km of cabling you really can't miss it even amidst all the Cotai Strip bling. Adelson's Sands China has spent US$2.7 billion on the unabashedly French-style 3,000-room hotel and casino adjacent to The Venetian. If you ever fancied living in Versailles – here's your chance to waltz through endless corridors ensconced in colourful marble, crystal chandeliers and gold-framed mirrors to an ever-present symphonic soundtrack. It's all gloriously dramatic.
Guestrooms are fresh and chic, decorated in soft gold and dark rouge with a comfortable array of amenities, but no extra bells and whistles. The bedside clock that simply tells the time is actually quite refreshing. Several family guestrooms come with cool bunk beds and play areas for the kids. But you won't want to spend too much time in your room as there is all manner of fun to be had within the massive complex.
The Parisian Ballroom can host 2,600 guests for dinner with flexible spaces for all kinds of Macau conferences and corporate meetings from small to glitzy. Apres work or play, head to Le Spa'tique for a wellness workout. The 1,200-seat Parisian Theatre hosts visiting shows; the opening act was Thriller Live direct from London's West End. There are also three restaurants, including signature Cantonese establishment Lotus Palace, plus a glittering casino and conferencing spaces.
Families are well catered for with a children's indoor/outdoor playground called Qube Kingdom (for kids from six months to 15 years), complete with its own full-size vintage carousel. Parents will marvel at all the kid-friendly touches. There's also a beautiful pool deck plus a themed water park (at extra cost) with a pirate ship and waterslides, including two 12-metre-high slides that are fun for grown-up kids too, all in the shadow of the Eiffel Tower. Shoppes at Parisian is another highlight, offering a clutch of en trend French fashion brands and luxury favourites, including Isabel Marant, Maison Margiela, Maje and Zadig & Voltaire, along elegant retail arcades styled like Parisian streets.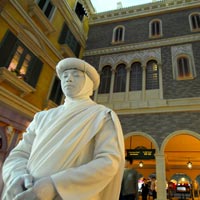 Venetian makebelieve is pretty real / photo: Vijay Verghese
Macau shopping has never been more fun - or distracting. Visitors can also take the express elevators to the top of the Eiffel Tower for views of Cotai, and selfies against the steel girders.
The Londoner Macao (February 2021, www.londonermacao.com/) is another bolthole from the Sands group and opened in stages bringing "the best of London to Macau." Expect MICE space including a 6,000-seat arena and themed entertainment.
It's a leisurely stroll from the Eiffel Tower to the canals of Venice. Next door to The Parisian is the shimmering and hard-to-miss Venetian Macao-Resort-Hotel, which opened in late August 2007 and is set on 10.5 million sq ft on the reclaimed Cotai Strip. The Venetian is a mega development and serves up one of the largest casinos in the world.
Any Venetian Macao review involves acres of walking. We came heeled in sturdy rubber. The Venetian has its sights firmly set on staying among the best Macau casino hotels around and is pulling no punches in the Cotai brawl. As an "integrated resort" with a spa, gym and vast 600-store shopping mall, 3,000 spacious suites and exhibition and conferencing space "large enough to hold 90 Boeing 747s", The Venetian is gigantic.
Expanding the empire was the Malo Clinic Spa, which got into its stride in 2010. The 85,000sq ft integrated wellness centre comprises 58 spa suites, six operating theatres, 50 doctors, and an army of therapists. The Malo Clinic SPA is a specialist in dentistry that has grown to embrace wellness, preventative care, and "implantology" (plastic surgery in plain English). Now it is branching out into newer Chinese medicine of scientific bent.
Then, lest we forget, there's the whopper of a casino to exercise your wallet further. The 546,000sq ft gaming floor boasts about 6,000 slot machines and over 700 tables making this one of the largest Macau casino hotels around. This resort is a gigantic whimsical recreation of the "canals and icons of Venice". If you've had enough of the Italian gondolas with singing gondoliers, you'll, reassuringly, be able to catch a Chinese sampan too. The place is ranked among the best Macau conference hotels while doubling as a child-friendly escape. Pick from small meetings or large conventions. There's no end to versatile MICE venues. Bring your team across for inspiration or plan a wedding at the Venetian Macao. And don't forget to bring sturdy walking shoes.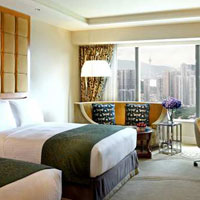 Conrad Macao/ photo: hotel
Best to simply kick back in one of the huge rooms that come with canopy-draped king-sized beds, sunken living areas, WiFi internet access, two large TVs, and all-in-one fax/printer/copiers. The more the merrier in these oversized suites, so invite your mates. It's easy to get lost in this monstrous complex, so pick up a resort map at the concierge. Macau shopping buffs can hunt the streets of Venice for the likes of agnes b, Zara, Anteprima, b +ab, Blancpain, Bossini, Giordano, i.t, BVLGARI, Calvin Klein, Emporio Armani, Versace, and Nike. Yes, there's a Starbucks too. As a gaming and entertainment capital, The Venetian rates high though at busy holiday times the complex is totally overrun by Mainland Chinese visitors armed with wheelie suitcases and selfie sticks. At such times the lobby is closer to a railway station than the pinnacle of Italian refinement.
Across the street, connected by a pedestrian bridge, you'll find more additions to the Sands family: The Conrad Macao, The Londoner Macao and Sheraton Macao Hotel (opened September 2012). The Conrad Macao, the largest in the Conrad family, opened in March of 2012 and brings a classy elegance to the otherwise over-the-top neighbourhood. From the lobby's big red doors and mosaics to the orange lotus hanging overhead in reception, a Himalayan theme is stitched throughout the hotel. The 636 rooms feel warm, with contrasting woods, cream furniture, amber and green granite and upholstered closets reminiscent of vintage travel luggage. In the 560sq m standard rooms, expect an iPod dock, complimentary Fiji water, large desk, Nespresso machine, spacious bathrooms, and, of course, a golden – not yellow – Conrad duck atop the tub. How fitting.
Those in need of a rubdown will appreciate the Bodhi Spa and Health Club. The 10 spa suites' dark wood, whispering staff, wine-coloured walls, mother of pearl inlay and huge Jacuzzis augur well for tailor made services. For those who'd rather make waves, choose from four pools and a slew of private cabanas. The Conrad is a chic, five-star Macau hotel option to note.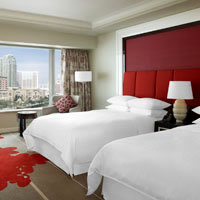 Sheraton deluxe room/ photo: hotel
Attached at the hip was the Holiday Inn Macao (opened August 2012) closed in 2019 to be replaced by the Londoner. The Conrad's lively little sister was home to 1,224 guest rooms and this room count was roughly halved in the new construction.
For family travel, the clear winner is the Sheraton Macao Hotel rebranded as the Sheraton Grand Macao Hotel in 2016. The world's largest Sheraton, this massive twin tower complex is home to 3,896 rooms, three outdoor swimming pools, three huge restaurants, and more than 160,000sq ft of conference and meeting space. From head to toe, the tropical-themed resort is brimming with energy.
At the special family check-in counters, kids can play on a touch-screen pad and munch on free popcorn while their parents take care of business. Outside, parents can lounge in a cabana while children shriek from pool to pool. Inside, the hotel hosts 33 family suites with bunk beds for kids, colourful bathroom amenities, mini closets and teensy bathrobes. For serious kiddie credits, go for the DreamWorks Experience Package where you can share your stay with characters from Shrek, Kung Fu Panda and Madagascar, complete with daily 'Shrekfast' and an All Star Parade. On the third level of Macau Sands Cotai Central, Planet J (www.planetj.com) is billed as the world's first live action role-play theme park. Grab your magic scroll and cape and engage with the interactive games as you race to save the fantasy kingdom. An entertaining option for kids and team building groups alike.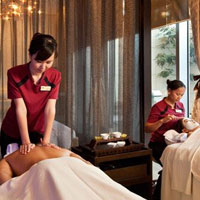 Crown spa/ photo: hotel
If you need a break from the packed hallways, head up to the Shine spa and find tailored service and relaxing surrounds. Upon arrival, expect to be handed a personal interactive tablet. The spa's app will guide you to touch your way to the perfect treatment based on your mood, Chinese zodiac and the natural elements. The spa menu then details options in these particular categories. Of course, if the evaluation is completely off-base, you can always go rogue and stick to your initial instincts. Either way, it's a playful and memorable way to personalise spa services.
While not pretending to be a luxury candidate, the middle path Sheraton is clearly an excellent child-friendly Macau hotel choice and can double as a conference hotels pick for mega events or small corporate meetings with zing. Unlike a lot of other family-friendly Macao hotels that segregate children's activities on separate floors to maintain decorum in common areas, the Sheraton manages to cater for kids at every level from entrance on to rooms. Not an easy feat.
The hotels share a bustling casino and the blossoming Shoppes Cotai Centre. The complex, set to rival Galaxy and City of Dreams, also houses the Conrad's signature Chinese restaurant, Dynasty 8, and several other dining options. This is a busy Cotai shopping area within one of the newest Macau casino hotels complexes.
With 1,400 rooms the MGM Cotai looms across the skyline between the Conrad and Wynn like a giant, glittering gold and blue Robik's Cube. With panels unfurled in welcome it could well be about to lift off into space. Expect an immersive theatre and . Book into the Emerald Tower, the M Tower or pick a Skyloft. An 87sq m to 94sq m Emerald Suite serves up breathtaking unimpeded views, 55-inch LED televisions and blonde wood highlights.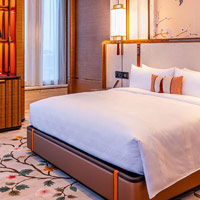 MGM Cotai's Emerald Villa style / photo: hotel
Or go full hog with a one to three-bedroom Emerald Villa - right atop the jewel box construct - with beautifully patterned floors, tasteful interiors and, yes, a gold-lined bathtub with a view. The 43sq m Skylofts are more than adequate with marble bathrooms and twin vanities. Later, indulge in a relaxing spa treatment, browse brand retail, pick your entertainment, or wind down at Bar 58 with its featured wines (or Grill 58).
Over the road from Conrad, the City of Dreams (COD) complex wages war against the Cotai big boys with an army of dragons and tigers, plus a few million gallons of water. Its September 2010 salvo came in the form of the multi-billion dollar Las Vegas-style show, "The House of Dancing Water". The action takes place in and around a stage pool, which holds 3.7m gallons of water (the equivalent to five Olympic-sized swimming pools).
Expect 90 minutes of spectacular high dives, frothing fountains, leather-clad hunks swinging from ropes, a token love story and some amazing (but puzzlingly non-aquatic) motorbike stunts. It's best to book in advance (tickets cost from HK$480) but also watch out for good value room packages combining accommodation and shows.
By the same creator as The House of Dancing Water, Taboo – The Show of Secret Fantasies is a spicy cabaret performance at clubbing hotspot Cubic, a Macau institution that has relocated to the City of the Dreams. A scantily clad cast performs cabaret, flamenco, aerial contortions and other raunchy routines. Discounts are available for those booking both COD shows.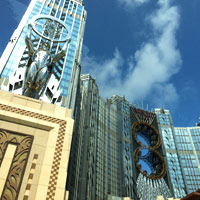 Studio City pins its hopes on Batman and a figure-8 ferris wheel/ photo: Vijay Verghese
Yet, another big draw at City of Dreams is the short (it's only 18-minutes long) but spectacular Dragon's Treasure show in The Bubble theatre – the world's largest special effects projection dome, which cost a cool US$40m to build. The 360-degree multi-media experience will bring you face-to-face with mighty dragons as they breathe fire and smash through ice in pursuit of the auspicious pearl. The show regularly sells out so reserve your tickets in advance. Hotel guests can skip the queue by collecting a priority pass from reception.
As well as eye-catching shows, COD comprises three hotels – Hard Rock, NUWA and Grand Hyatt. Written above the reception desk at the Hard Rock Hotel are the famous lyrics "Hello, I love you won't you tell me your name" by The Doors. Memorabilia such as Bob Dylan's hat and Metallica's guitar are displayed in glass cabinets and The Killers provide suitably rocking background music. Strangely there is a distant lack of long hair, leather jackets and nose piercings – most guests appear to be cool-looking couples and respectable 30-somethings (possibly hoping to relive their misspent youth).
The rooms aren't exactly "wild-child drug dens", but they do have fun rock 'n' roll touches like guitar motifs on the Egyptian cotton pillowcases and duvet covers as well as a mini record box in the bathroom holding the Rock Spa toiletries. The overall feel is fun and funky with facilities including iPod docking stations, free Internet, cocktail kits, cool black and red slippers, tea and coffee facilities (for the dreaded morning after) and ironing equipment. The 42-inch flatscreen TV has extra chunky speakers so you can crank up the Hard Rock music video channel and air-guitar till your fingers cramp.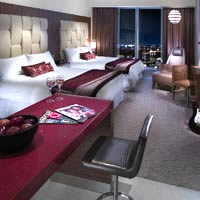 Hard Rock/ photo: hotel
The swimming pool plays underwater rock tunes, has a swim-up bar, plus there's a beach area with real sand for sunbathing and volleyball. Grab your tie-dye sarong and check out the poolside weekend barbecues. If luck has been your lady friend in the casino, and you just happen to be a fan of Chinese music star Jacky Cheung, then you may want to splash out MOP59,000 to stay in the Jacky-themed Rock Star suit, which includes a piano room, two F1 race car simulators and a range of toothpaste in Jacky's favourite flavours including bitter chocolate and cola.
If you suddenly hear lots of screaming and yelling, it's not those wannabe rockers adlibbing karaoke. Up the drum-lined escalator is Kids' City, the largest play area in Macau. This 1,000sq m children's paradise includes a climbing zone with zip lines and alpine slides, a bouncy tent, arcade games, a bubble fountain, an arts and crafts area, and a sing-a-long and dress-up room, where little girls can become princesses for the day. Kids' City is suitable for children aged between two and 12 and is open from 10.30am until 9.30pm. It costs from MOP90 per two hours (child and adult) on weekdays and MOP100 on weekends. This, as expected, is a top child friendly hotels pick.
If Hard Rock is the Jimi Hendrix of COD's hat trick of hotels, then NUWA (formerly Crown Towers) is the Gong Li. Elegant, contemporary and subtly stylish, it is a refined retreat from the chattering crowds, which pack the neighbouring casinos and shops. Cool jazz wafts through the softly lit lobby dotted with original Asian art pieces, fresh flowers and ornate gold screens.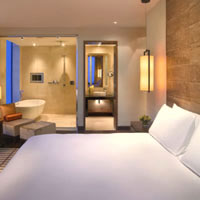 Grand Hyatt, Diplomat Suite/ photo: hotel
There are 290 guestrooms all of which offer floor-to-ceiling views of Cotai and include facilities such as complimentary Internet and minibar (soft drinks only), walk-in wardrobe, 42-inch plasma TV, iPod docking station, large safe, spacious square bath, rain shower, Vidal Sassoon hair dryer and electronic scales.
For more pampering stroll to The Spa at Crown for a foot massage or for more carnivorous activities, head to Jade Dragon for Cantonese delicacies. There is also an outdoor heated swimming pool and a well-equipped fitness centre.
Last but not least is the Grand Hyatt Macau, which distinguishes itself from the Crown and Hard Rock by setting its sights firmly on business travellers and the MICE market in general. The entire second level is dedicated to event space with 15 individual function areas spanning almost 8,000 9,000sq m and a huge pillar-less ballroom covering 2,000sq m and holding up to 2,500 people. This is among the top Macau conference hotels choices. The Grand Hyatt comprises two 36-storey towers with 424 rooms in the Grand Tower and 367 rooms in the premium Grand Club Tower, each with dedicated check-in areas. You may want to draw yourself a little map for those beer-goggle moments.
Entry-level Grand Suites in the Grand Tower are 64sq m and sport a classic decor including wooden floors, leather chairs and a muted colour scheme with photos of Macau on the walls. The work desk is slightly unusual in that it's a high table with four stools – power points are tucked neatly beneath. In fact there are handy power sockets everywhere, plus free WiFi, and a flip-out control panel for transmitting iPod, camera and laptop data through the two 40-inch LCD TVs. Storage is plentiful plus there is an iron and board, laptop-sized safe, a Nespresso machine and tins of Dragon Well and Iron Buddha tea. All rooms have floor-to-ceiling windows with open views, in some directions marred somewhat by ongoing construction.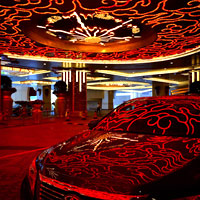 Studio City reflected neon on black sedan/ photo: Vijay Verghese
The equivalent in the Grand Club Tower is the Club Deluxe room, which is smaller at only 52sq m but has the added bonus of a freestanding elliptical bath and a walk-in dressing room. An added perk for Club Tower guests is access to the Grand Club across the entire 37th floor. Opened in 2013, this gorgeous lounge filled with contemporary Portuguese artworks offers opulent lounging areas, an open kitchen and a large rooftop terrace. There are also three private dining suites for fancy-shmancy VIP dining.
Linking all three hotels is 420,000sq ft of casino space with 400 gaming tables and 1,300 gaming machines and an equally huge shopping mall with brands such as Gucci, Burberry and Cartier. Look out for digital mermaids dancing behind a real waterfall (which gamers believe is good luck to touch). There are also more than 20 restaurants and bars ranging from the scrumptious Beijing Kitchen to Food Paradise and its array of treats. Several cafes don't accept credit cards, but not to worry – ATMs practically line the corridors. This is the very epicentre of the throbbing Macau casino scene.
Melco is adding to its City of Dreams and Studio City portfolio with the forthcoming City of Dreams Hotel Tower project. Designed by Zaha Hadid Architects, its creators claim that the building will enable guests to experience "the future of construction – it's not going to be a fake Venice or a fake Paris." Touche. The 40-storey building is encased by a striking exoskeleton steel structure – the first in the world built in tower form. Inside, a 40-metre atrium looks up to the unique exterior façade where glass lifts transport guests. Along with 780 guestrooms, suites and sky villas, there will be gaming rooms, restaurants, a spa and rooftop sky pool.
Four Seasons Hotel Macao, Cotai Strip is luxurious but not obviously so. It has a colonial Macanese feel with ochre walls, cream stone detailing, and hand-made tiles from the entrance through to the main lobby. The 360 rooms and suites mix Portuguese and Chinese decor with modern amenities, including 42-inch plasma TVs, WiFi Internet (HK$160 per day), large safes, and multi-pin plugs. For an extra HK$500 per day (for a single; HK$700 double), guests get access to an executive lounge, which serves up breakfast and all-day snacks in addition to its personalised business and concierge services.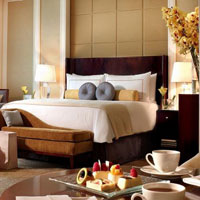 Four Seasons Macao, Cotai/ photo: hotel
Feeling indulgent? Try the Royal Suite, which has a balcony with sprawling views of Coloane and Mainland China, a separate living room with 42-inch TV plus DVD, Chinese art and tasteful décor, L'Occitane amenities, and spacious bathrooms. A 1,858sq m spa is on hand with treatments, saunas, ice showers, as well as yoga and Pilates. The hotel offers five pools (two for kids) and poolside cabanas come with LCD televisions. High-end designer brand Macau shopping is the name of the game here. Shoppers have three floors of spit-and-polish stores to explore at Shoppes at Four Seasons – ogle Dior, Chanel, Loewe, COACH, and the like – and after that big splurge, recover in one of the three restaurants.
At the head of the Cotai strip is the 550,000sq m Galaxy Macau megaresort (opened May 2011). Sold as a child-friendly "family-orientated" resort (not forgetting several thousand gaming tables) the menu includes 2,200 rooms through three hotels – Banyan Tree, Japan's Hotel Okura and the Galaxy Hotel.
Also find the world's largest sky wave pool, a 2,000sq m beach made from 350 tons of white sand, five more swimming pools, 50 food and drink outlets and 52,000sq m of garden space. A nine-screen 3D UA Cineplex includes a Grand Theatre complete with balcony boxes and a Director's Club with reclining sofas and waiters on call.
Enter Banyan Tree's zen lobby to find latticed dark woods, warm colours, bird cage chairs and smiling staff. As soothing Thai music chimes in the background, settle in at the inviting tea lounge or indulge at the Banyan Tree Spa. The refuge offers 250 graceful suites and villas in what it says is an exclusive "high-rise urban resort". Suites start at 100sq m and include relaxation pools overlooking the water or city, his and hers vanities, 46-inch flat screen TVs, iPod docks, daily scent choices, rain showers, Jacuzzis, mood lighting and more. There are also 10 villas each with private outdoor swimming pools.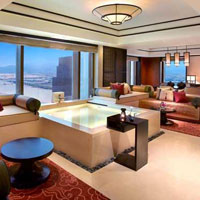 Banyan Tree Sky Villa Suite/ photo: hotel
Meanwhile, the 488-room Hotel Okura is covered in teak, bamboo, stone and sculptures. With its kimono-clad staff and minimalist feel, expect a Japanese-style experience in a classic yet modern environment. Unlike anything else in Macau, Okura aims to capture the essence of the Far East with natural details, simplicity, stone pathways, peaceful water features, signature paper cranes, an inviting sake bar and tea ceremonies in a one-of-a-kind rice-paper hut.
Rooms are designed with subtle, earthy green, beige, brown and lightwood in horizontal lines that seem to stretch the already spacious 46sq m. All rooms boast gaping windows, glass desks, in-room safes with internal power chargers, "smart" toilets that will polish your behind from all angles, 42-inch flat-screens in the bedroom, and 17-inch TVs in the bathroom.
With windows seemingly dipped in gold and lobby furniture to match, the dazzling 1,500-room Galaxy Hotel offers an unabashed five-star escape with rooms – some with balconies – starting at 44sq m, with 42-inch LCD televisions, complimentary minibar, Wi-Fi, "stone showers", and bathrooms with volume-controlled speakers. Of the three sister properties, this is the most lavish choice in terms of design.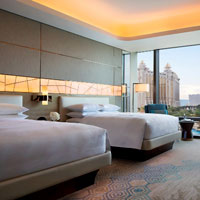 JW Double Deluxe/ photo: hotel
Phase 2 at Galaxy Macau has nearly doubled the complex's size and includes two luxury hotels – the first-ever all-suite The Ritz-Carlton, Macau, and Asia's largest JW, the JW Marriott Macau (with 1,015 lavish rooms and the world's largest JW Kids' Club), that were unveiled in late May 2015. As with all the grand behemoths lining this glittering strip, the JW Marriott Macau serves up both Muscle MICE - with 2,700sq m of event space for conferences, incorporating meetings, banquets and weddings - and splendid family distractions. As you walk in from the quiet adjoining Ritz-Carlton, the pace picks up immediately in the cavernous but minimalist check-in area with lit-up alabaster counters and a soaring spac-eage staircase rising up towards a host of chandeliers, one like a cloud of tiny pink squares that catch the light. The Lounge Bar just behind is quiter, set in a circle with grey velvet sofas and a low cluster chandelier.
A 44sq m Double Deluxe serves up functional and neat surrounds with top-loading laptop safe, iron and ironing board, foffee-maker, large flat-screen TV, pval glass desk with two three-pin international sockets (one more is positioned between both beds), plump beds, and a peekaboo glass partition bathroom with an on-off opacity switch. The bathtub faces the beds. And the potty is a Japanese style electric affair that does wondrous stuff at the press of a button. A 96sq m Pool Suite moves pamperinhg up a notch or two with resorty wooden floors, two flat-screen TVs, a mini powder blue divan next to the bed and a powder desk with mirror, twin vanities, and an outdoor patio with a plunge pool.
The JW Kids' Club blends education with entertainment to keep typhoon tykes occupied while parents head off for a spa workout or massage perhaps and, along with a kids' pool, offers access to Galaxy Macau's Skytop Adventure Rapids (a 575m river ride) and the wave pool. Rooms are smart and textured with clean minimalist lines, pastel tones, large flat-screen televisions, and good use of lighting. This aims to be one of the top Macau conference hotels. Mark it down.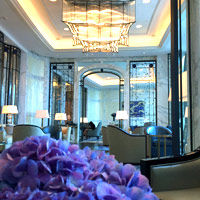 The Ritz-Carlton's white marble lobby is a delight/ photo: Vijay Verghese
The Ritz-Carlton, Macau, is a posh ensemble with 254 Suites and three Sky Villas. The 53rd floor Club Lounge offers in-room check-in, round-the-clock limousine transfers, complimentary clothes pressing on arrival, personalized stationery (if required), and flowing beverages and magic morsels five times a day - enough for the most hardboiled of travellers to relent and savour fine views, top dining, and the fabulous ESPA with 10 treatment rooms and three couples' suites. Best of all, the pool is a huge Olympic size outdoor set-up that catches plenty of rays and breeze.
This is a hotel with intimate spaces, almost all in textured white marble with a slab of heavenly blue marble in the hushed high-speed lifts and classic tall black iron grille doors to create a European touch. The lobby at the entrance is quiet and unassuming with a soaring chandelier. The 51st floor Sky Lobby is equally understated, albeit with breathtaking views. Expect service on rails here from the moment you step in. Full marks to staff for attention to guests and speedy action, always with a smile. The fewer room keys certainly help and even at full stretch it is clear this is not a bustling railway station casino hotel affair. The pace is gentle and unhurried and there is time to savour the textures, artefacts, and black trim everywhere like a classy Dior.
For CEOs in search of a classy chinwag, there's 900sq m of meeting space including a pillar-less ballroom for larger events. In general, expect cream and pastel tones, with Euro flourishes and lounge chairs with stylish black piping. Rooms are classical with ornate marbled bathrooms, deep carpets, large sofas and tall floor-to-ceiling windows. There is more than ample space. Premier Suites start at a generous 48sq m while the Carlton Club Suites start at 98sq m. This is a posh address with low noise levels, great service, and fabulous decor - imagine yourself wandering about in a multi-layered vanilla cream cake with eye-popping garnish, and you get our drift. The Ritz compares very well vs luxury competitors like The St Regis and Wynn, aided greatly by its small scale and grand views.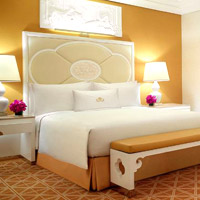 Wynn Palace Cotai, golden welcome/ photo: hotel
For more entertainment, the new and neighbouring Broadway at Galaxy Macau showcases Asian and international cultural events at its 3,000-seat Broadway Theatre. Broadway Hotel serves up 320 rooms with free WiFi and complimentary mini-bar for a one-time pillage. Pick a Deluxe or go up to a Broadway Suite with 180-degree river views. This is a hotel decked out in bright hues - think gold, rose and woody pastels - with a touch of luxe as well as a roll-up-your-sleeves street hawker market.
Steve Wynn's US$4 billion 1,706-room casino resort Wynn Palace Cotai (opened 22 August 2016), his third Macau resort, is just across the road from Grand Hyatt. The property is the first stop on Macau's new light-rail system connecting the ferry landing to the Cotai Strip. As a reference, the Fountain Salon Suite serves up 2,900sq ft of rumpus room with floor-to-ceiling windows, 500 thread count Egyptian cotton linen, humungous televisions, Bang & Olufsen audio and touchscreen controls for room electronics. Expect reassuring dollops of marble, a private spa salon, scalloped ceilings, Cotai white walls and cream decor with the signature gold hues. Also find three generously large televisions (as well as one in the bathroom), a walk-in closet, Jacuzzi, power shower, and a small dresser with its own miniature faucet.
Step into this reflective pink glass escape to marvel at the dancing fountains (above which a cable car does a lazy photogenic circuit), lobby ferris wheels with ornate floral decorations, prancing horse carousels, floral theme floor mosaics, and more extravagance. The casino is stylish, feminine, understated, and in cream tones.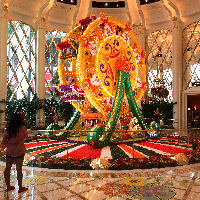 Floral ferris wheel welcome at Wynn Palace Cotai / photo: Vijay Verghese
A creamy Palace Room weighs in at 730sq ft with Chinese motifs, patterned linen, invitingly plump white bed, touchscreen tablet for room controls, and data port with USB and two three-pin international electric plug sockets. Also take in the 65-inch flatscreen TV slathered across one wall, scented bathroom with twin vanities and Molton Brown toiletries for an evening's perk-up, soaking tub, and a warm potty to give your bottie the heavenly treatment. There is a power shower cubicle but no rain shower. Wynn Palace Cotai is a carefully crafted Macau casino hotel that is tastefully glitzy and not too over-the-top. Enjoy flourishes of art and colour throughout, as well as excellent F&B choices (the stylish feminine Andrea's or Wing Lei Palace with its fountain show. Come here for fun with the family, with the boss for a bespoke meeting (the Grand Theater accommodates 1,200 cocktail style) or gawp at over 200 designer brand stores in the 200,000sq ft Wynn Esplanade with everything from Italian shoes to tweed. Macau shopping for ladies is a doddle. Browse Prada, Cartier, Ferrari and more.
Launched in late December 2015 to go head-to-head with the likes of The Ritz-Carlton and Wynn Palace, The St Regis Macao styles itself a Macau luxury boutique hotel. This may seem a stretch with 400 keys, yet guests are ensured a degree of pampering impossible at some of the other mega-complexes in the neighbourhood that run well over a thousand rooms.
The St Regis serves up an oddly quiet entrance through a small cube of a lobby with its staircase angling up to reception under an array of undulating bronze-glass rods. At the dimly-lit reception, legions of smiling staff will leap to your aid as you look up at yet another rippling 'cloud' chandelier that creates the disconcerting impression of peeking up a wedding dress. It's all rather surreal and in good taste, of course.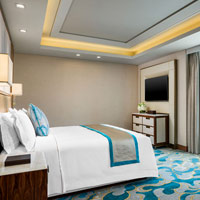 St Regis room, lots of natural light and a pastel setting/ photo: hotel
At the same level is the darkly welcoming bar in heavily muted tones with pin points of light and clubby seating, everything focused on a series of glass panels behind the bar in hallucinogenic turquoise, crimson and saffron. The hanging tiara-band lights are a classy touch, and look like illuminated bracelets. It is a comfortably private setting for sozzled corporate chinwags or an haute couture snuggle to the strains of flamenco or something more chilled out.
Elevators are swift and quiet as one might expect and you debouch into broad, well-lit corridors with pale wood hues, not dark mahogany or black marble. There's a different feel to this place. It's light and airy. A 106sq m St Regis Suite opens onto a white marble foyer with a side powder room and valet box for quick laundry pick-ups. This leads into a carpeted living room with the same pale wood walls, a round table and large square sofas facing a humungous flatscreen TV. Amid the dozy pastels you'll spot a coffee machine and wall art with flamboyant gold streaks.
The bedroom features yet another huge television facing a plump white bed with a mother-of-pearl head wall. Expect Bluetooth speakers, an Android hookup, press-out reading lights, USB charger ports and a press button arrangement to dim or brighten all room lights. As in other St Regis hotels, mastering individual lights or setting your own moods is not the easiest of tasks, but it can be accomplished to some extent if you find the foot switches (or dimmers) for the individual lamps. For a room of this size, there are surprisingly few electric plug points, just one three-pin 'international' at either side of the bed. Expect a top-loading laptop-friendly safe, bright dressing room mirror, and that de rigueur marble bathroom with an LCD screen in the mirror, power shower (not rain shower), hand shower, soaking tub, and Remede Spa toiletries that are worth the wait for that oomph when shampooing your tresses. Some bathrooms have rear-up Japanese potties with all the electronics you could throw at any pampered derriere. It's worth a dawdle here.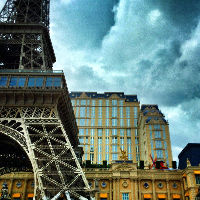 The Parisian's miniature Eiffel Tower/ photo: Vijay Verghese
Apres-work, head up to the 8th floor where a vast breezy pool deck awaits with Jacuzzi, cabanas, and grand views across Cotai. Also expect well trained butlers, the hotel's hallmark, a top floor Iridium Spa, a 600sq m ballroom to host up to 400 and a smaller scale by-invitation Dragon's Palace casino for high rollers. Guests have access to child-friendly facilities (like Dreamworks characters and events), shopping, dining and nightlife.
In south Cotai the lavish and quirky Louis XIII hotel and casino opens by early 2017 with an unmistakeable signature red facade and luxe boutique touches, the Michelin three-star L'Ambroisie restaurant with all its Parisian trimmings (it's the first branch outside Paris), and a focus on VIP travellers and gamers. Hong Kong finance whizz Stephen Hung is behind the US$1 billion project and his key 'advisor' includes none other than Princess Tania de Bourbon Parme, who claims direct descent from the 17th century French monarch. Expect 238 split-level luxury suites or 'villas' with stained glass marble bathrooms, Roman baths, vaulted ceilings, and baroque artefacts, each palatial hand-crafted residence with direct-entry lift access. Peter Marino, the Big Apple eye behind flagship stores for megabrands like Chanel and Louis Vuitton is the designer. Think big, think expensive, think lavish - the top suite at HK$1 million per night, a fleet of 30 Rolls Royce Phantoms (including two of the most expensive vehicles Rolls-Royce has ever built) to ferry guests around, and a 60-table casino with minimum bets starting at HK$10,000.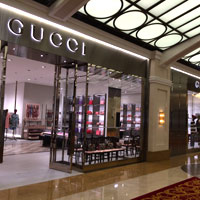 Gucci store at Studio City/ photo: Vijay Verghese
For a five-star experience in Coloane, the farthest island from Macau proper, the Grand Coloane Resort Macau (rebranded from Westin Resort, Macau June 2014) is a favourite among golfers and families with young children – or those who want to get away from the city lights (there's no casino, for a start, though The Venetian is only a 10-minute taxi ride away if the craving gets too much).
Enjoy an 18-hole golf course (Macau Golf & Country Club, www.macaugolfandcountryclub.com), sea views, pleasant gardens with a large swimming pool, friendly staff and an outdoor children's playground. The 208 well-equipped rooms have large balconies with outdoor furniture and vibrant colours. These are extraordinarily spacious at 66sq m and balconies, each large enough to manage a family of four. WiFi costs HK$120 per day.
With 13 meeting rooms, a permanent marquee for elaborate functions, and large grassy grounds, Grand Coloane is also a popular Macau conference hotel both for corporate meetings and company team-building exercises as well as larger events. By night the hotel doubles as a venue for fashion shows or a breezy Macau wedding dinner. The marquee can manage up to 250 guests. This is a family friendly Macau resort not to be missed if the quiet life is what you're after. It is, after all, the face of vanishing Old Macau.
The Pousada de Coloane, out on Coloane island, another friendly, quieter, traditional establishment, has 30 double rooms with balconies, long run by the same Portuguese family. There's a wonderful, spacious timber deck outdoor with tables to enjoy sundowners and the views. The once legendary buffet weekends are on the wane but the hotel sports a new contemporary and mod ambience that is refreshing without losing touch with "quaint". A smart pool will keep kids happy, and there are baby cribs available for the tots. This is a good Macau on a budget hotel for those seeking simple, old-world charm and an escape from the downtown crowds.
Dining and Portuguese aromas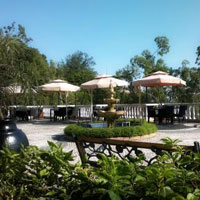 Pousada de Coloane/ photo: hotel
Pick your cuisine. Macau has Cantonese, Portuguese and "Macanese" (a combination of Portuguese, Chinese, Indian and Malay), and everything else, from Italian to Shanghainese and Japanese. You'll find dishes such as caldo verde (a potato vegetable soup), bacalhau (a type of fish), Portuguese sausages and "African chicken" cropping up everywhere. Good prawn dishes too. Here are some stalwarts with staying power.
Five-star hotels abound with high-end dining choices but for a real taste of Macau head to the side streets and alleys. For authentic Portuguese food, pretty interior and good prices, seek out A Lorcha (289 Rua Do Almirante Sergio, tel: [853] 2831-3193), just a stone's throw from the A-Ma Temple and Maritime Museum. Dishes to order include African chicken, clams, chorizo and bacalhau, washed down with Portuguese wine. Service is amicable but not speedy. This is not the kind of meal you want to squeeze in just before a meeting.
Nearby, Restaurante Litoral (tel: [853] 2896-7878, www.restaurante-litoral.com) has a good reputation for its Macanese dishes such as curry shrimps, sardines, fried prawns and stewed duck with herbs. The cheque here is a little higher than A Lorcha, but the service is more efficient and the setting more spacious and relaxed than its neighbour.
Let's move the focus of our Macau dining guide, to the offshore islands. For excellent but simple dining, cobble-stoned strolls and relaxed village life, head to the old part of Taipa Village. Every local knows Cozinha Pinocchio (tel: [853] 2882-7128), a spacious and quite famous restaurant, in Rua do Regedor, serving Macanese dishes such as charcoal-grilled squid and Portuguese sausage. You'll also get typical Cantonese vegetable dishes. A glass of sangria is around MOP25. The one-sheet menu has photos of every dish on the menu.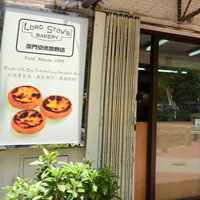 Fabled Lord Stow's Bakery Coloane is a must/ photo: Vijay Verghese
Moving on from wooden puppets to baby elephants, nearby Dumbo Restaurant (tel: [853] 2882-7888, www.macaudumbo.com) is a large space serving more Macanese food. You'll find it on the corner of Rua do Regedor Loja under a big Dumbo elephant sign. Small and unpretentious, A Petisqueira (tel: [853] 2882-5354), just off Taipa Village's main road, is popular with locals for its traditional Portuguese food and great cheeses. A more recent Taipa addition, Casa de Tapas (tel: [853] 2857-6626) serves contemporary Spanish cuisine in a heritage house with a lovely terrace. Don't miss the prawn tartar and sous-vide suckling pig. For aromatic egg tarts that visitors have been discovering and recommending since September 1989, head to the original Lord Stow's Bakery (tel: [853] 2888-2534, www.lordstow.com/) at 1 Rua do Tassara, Coloane. Just follow your nose, then listen to your stomach. You'll also find these delicious egg custard morsels at The Venetian (with a cafe), and in Coloane Village (Largo do Matadouro, No. 17E & 19D, Houston Court, Coloane Village).
Casa de Pasto San Tou Tou (tel: [853] 2882-7311) is recommended for Chinese food (especially the sweet and sour pork), though the staff may not speak English – take a Cantonese-speaking friend. Café Lisboa (tel: [853] 2884-3313) in Taipa is good for Macanese. Try the baked duck rice.
For brilliant Portuguese nosh in Taipa Village, Antonio (tel: [853] 2899-9998, www.antoniomacau.com) is an excellent bet. Try the flame-grilled spicy sausages, chouriço caseiro assado na canoa, assorted seafood stew, or the paella. Antonio is tucked away in a tiny local hamlet down a side street behind a temple and offers a coffee shop across the alley too with a rooftop cocktails venue. Another excellent and authentic old timer is O Santos Comida Portuguesa (tel: [853] 2882-5594, www.osantoscomidaportuguesa.com) at 20 Rua Do Cunha, Taipa with a selection of grills, sausages, pork belly, and more. It's a small two-storey establishment with a lot of character and clutter on the ground floor and open views and quiet on the first floor. Take your pick.
Also in Taipa, on Rua dos Clérigos, is Galo (tel: [853] 2882-7423), which has a cosy, rustic charm and serves a mix of home-cooked Macanese, Portuguese and Cantonese comfort dishes. This is a good value choice for families. For a down-to-earth yet stylish Portuguese restaurant try Banza (tel: [853] 2882-1519). Choose from classic dishes prepared with simplicity and flair or let the charismatic owner order for you.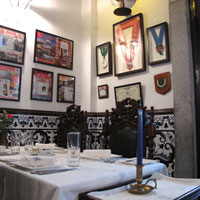 Antonio for Portuguese/ photo: Vijay Verghese
Lots of great wines, delicious desserts and a buzzing atmosphere. If you've had your fix of Macanese delights and fancy something different then Indian Garden (tel: [853] 2883-7088) is a big hit with the locals.
In Coloane, near the Hac Sa beachfront, you'll find one of Macau's most famous restaurants, the rustic Restaurante Fernando (tel: [853] 2888-2264, www.fernando-restaurant.com) – widely known as simply Fernando's. Don't expect anything grand, and the menu is only in Portuguese (there are photos to help you choose, though). The food is hearty, if less inspired than in days of yore, but the atmosphere is enjoyable. Rather frustratingly, you can't book a table in advance for weekends or public holidays and queues can get quite long – kill time with a glass of sangria or two. You can book during the week though.
On the same stretch of beach, but with sea views, is fellow Portuguese restaurant Miramar (tel: [853] 2888-2623). For some romantic alfresco dining ask for a table on the balcony overlooking the sea. Try chef specials such as the coffee-style steak or the stewed red beans with pork. The restaurant takes advance bookings plus has outside showers (for those wanting a pre-dinner swim) and staff can arrange a return shuttle bus for small groups coming from Macau or Taipa.
For more Macanese dining, try Fat Siu Lau (tel: [853] 2857-3580, www.fatsiulau.com.mo) near Senado Square. It is one of Macau's oldest restaurants and dates back to 1903, although the interior has been revamped with an art deco look. There is also a branch of Fat Siu Lau near the MGM GRAND. A '100-year-old secret recipe' is used for the roast pigeon marinade. The pigeon is a bit younger, of course.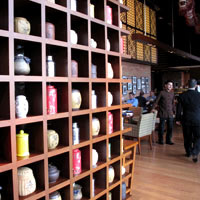 Beijing Kitchen, Grand Hyatt/ photo: Vijay Verghese
You may be a long way from the Mediterranean, but for Italian food those in the know swear by the humble Pizzeria Toscana on Calcada da Barra near the ferry terminal (tel: [853] 2872-6637). The walls are graced with signed photographs of VIPs who have dined here. For more upmarket Italian, try the Grand Lisboa's Don Alfonso restaurant (tel: 8803-7722).
Every sweet tooth must head for Macau's pastries, the most famous of which are Portuguese egg tarts. Margaret's Café e Nata (near Senado Square, on Rua Almeida Costa Cabral, tel: [853] 2871-0032) is a tiny, bustling sidewalk joint with wonky tables and grey plastic stools, offering arguably the best pastries you'll find anywhere. The egg tarts are fresh, creamy, straight from the oven and cost around MOP7. This is a great place for a cheap breakfast or coffee break, and you'll see the locals in action. A huge croissant with cheese and ham costs around MOP12.
The Senado area itself offers more than people-watching and old buildings. Find more Portuguese egg tarts (and great noodles and congee) in a more elegant (and touristy setting) at Wong Chi Kei (tel: 2833-1313) on the square. Wong Chi Kei has a famous sister branch on Wellington Street in Hong Kong.
Or take in the excellent views of the Pearl River Delta and city from the revolving restaurant at Macau Tower, 360° Café (tel: [853] 8988-8622, www.macautower.com.mo), serving an international buffet. The Fisherman's Wharf area close by the old Macau Ferry Terminal is in the process of redeveloping the current ghost town into a brand new set of attractions after a major overhaul.
Saucy nightlife and bars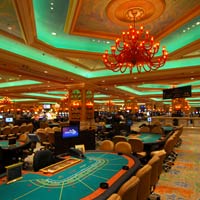 Venetian casino/ photo: Vijay Verghese
At the end of this Macau casino hotels review it's time for a beer – or more. When the lights come on in Macau, drab buildings by day become pulsating neon palaces. All the casinos and hotels have bars and nightclubs, many of which go on through the night. One old institution not to be missed is the free "Crazy Paris Show" that takes place on the first floor of the Grand Lisboa casino every day from 4.30pm until midnight. Expect long legs, feathers and frills. Don't get this show confused with the "Crazy Happy Show" at the Golden Dragon Hotel, which features exotic dancers who make the Playboy bunnies look like a bunch of nuns. More upmarket (with matching prices) is the Cinnebar at the Wynn Macau, where you can sip a cocktail or two in style until the early hours.
MGM Macau's Lion's Bar is a great choice for live music and an even livelier crowd. On a Friday night it's the only place to be. Or check out the great bands at The Venetian's Bellini Lounge. For cocktails with a spectacular view head to Altira's 38 Lounge which, as the name suggests, is way up high on the 38th floor. Sit outside for cooling breezes and a true appreciation of the neon skyline.
Those wanting to put their hands in the air should take note that Macau's Club Cubic has moved to City of Dreams. Join the cool clubbers writhing in the laser lit dance pool to the beats of the live DJs, or sidle up to the Perrier-Jouët Champagne bar and drink in the spectacle.
Macau is increasingly luring world-famous pop stars, too. Rihanna, Alicia Keys, Justin Beiber and the Rolling Stones are among the celebs that have performed at The Venetian's Cotai Arena, which has also hosted iconic boxing fights featuring the likes of Manny Pacquiao and Brandon Rios in the ring (check out www.CotaiTicketing.com for upcoming performances).
Take the plunge… or take in a museum
For "the world's highest bungy-jump" from a 233m platform, head to the landmark 338m Macau Tower (tel: [853] 8988-8656; www.macautower.com.mo). Not for the faint hearted. Macau guidebooks are quick to recommend this free-fall epicentre. Adrenaline junkies might also want to try the "Long Ironwalk", "Sport Climbing" or "Long Flying Fox" on offer on weekends and public holidays. No? Then take a lift to the top and simply admire the views from the balcony.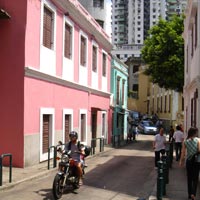 Old Macau/ photo: Vijay Verghese
For something more sedate, take in a Macau museum or two. The Wine Museum at the Tourism Activities Centre near the ferry terminal has displays and tastings (tel: [853] 8798-4188; closed Tuesdays; Free entry; wine tasting MOP10).
The five-floor Macau Museum of Art (tel: [853] 8791-9814; www.mam.gov.mo, closed Mondays) hosts temporary exhibitions by local and international artists. Permanent exhibitions include Chinese calligraphy and paintings and historical art. It also hosts the annual Macau Design Biennial in May. Art is by no means a newcomer to this laid back enclave. Its early expressions run back to the advent of the Jesuits who set about recording (writing and painting) the scenes around them. Foremost among the early arrivals was Giuseppe Castiglione (AD1688-1766) who arrived at the Qing court, aged just 26, to audaciously effect a complete transformation of Chinese imperial portraits while in turn adopting several Chinese techniques in his own works. At a time when the missionary Jesuits were under immense pressure and frequently expelled from the country, Castiglione found favour with not just one, but three, emperors.
Artists like George Chinnery (featured at MAM) in the 1800s lovingly built up a following for a brand of the adventurous East with striking romantic oil portraits and Turner-inspired landscapes. Later in the 1950s, foreign artists resident in the city and talented Macanese disgorged a torrent of watercolours to create some masterly works, many of which found homes in wealthy manors. Macau had arrived. And its art was prized and much sought by the cognoscenti.
The Formula 3 Macau Grand Prix (held annually in November since 1954) is a huge event for Macau residents and racing enthusiasts – if you too are a racing fan but don't happen to be in Macau for the event, check out the Grand Prix Museum (tel: [853] 8798-4108; closed Tuesdays; free admission). It's in the same location as the Wine Museum, and a joint ticket can be bought. Macau Sun Yat-Sen Memorial Hall (tel: [853] 2857-4064; closed Tuesdays; free admission) is a stately old building that pays respect to the "Father of Modern China" – family members lived here, and Dr Sun himself stayed at one time.
Expect to lose your children for at least half a day if you visit the fantastically interactive and hugely engaging Macau Science Centre (www.msc.org.mo). Corkscrew your way up the circular inside of this striking seafront building and you'll encounter themed galleries exploring all aspects of science, health, technology and the environment. Science is well and truly brought to life through an array of challenging hands-on tasks, which include building robots, eco-puzzles and sport tests.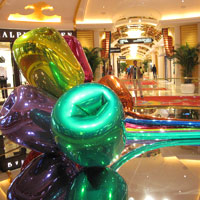 Bright Wynn Palace art is a shopping centrepiece/ photo: Vijay Verghese
On arrival remember to reserve your ticket for one of the mesmerising 3D screenings in the planetarium, the best of which is Dawn of the Space Age. There are only 135 seats and they regularly sell out. Admission to the museum is MOP25 and the 3D screenings are MOP50.
The Macao Arts Festival (icm.gov.mo/fam) is a month-long fiesta of theatre, dance, music and visual arts by local, regional and international troupes, with many of the performances staged in the old city's atmospheric UNESCO-listed World Heritage sites. The Macau Food Festival held every November is an outdoor culinary carnival showcasing the city's distinctive crossover cuisines, influenced by Portuguese, Cantonese, African and Indian cultures.
The territory is a free port with no taxes or duties, and Macau shopping is not bad at all. There are a few malls with all the usual goods and brands and the new trend is for glitzy malls attached to five-star hotels, such as the Esplanade at Wynn Macau. The notables here include Chanel, Fendi, Ferrari, Gucci, Hermes, Miu Miu, Rolex, Piaget, Prada, Van Cleef & Arpels, and Versace.
Between Wynn, MGM and the Mandarin Oriental is the sleek reflective glass One Central complex. The quiet corridors are home to 200,000sq ft of retail space with luxury brands. Lining the unruffled, white corridors, you'll find Burberry, Gucci, Dior, Hugo Boss, Louis Vuitton, Max Mara, Marc by marc Jacob, Rainbow, Salvatore Ferragamo, Montblanc, Ralph Lauren, TOD's, Hermes and Fendi, just to name a few. While Macau brand shopping is literally everywhere, this is a more sedate venue to pursue your high-end purchases.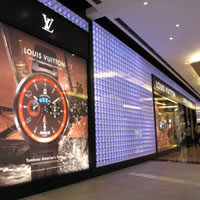 Designer brand shops at One Central/ photo: Vijay Verghese
The Venetian meanwhile has enough shops to run the coffers of a small nation dry including (among many others) Bulgari, agnes b, Tiffany & Co., CK Calvin Klein, Omega and Vertu. Some less expensive options can also be found such as Club Monaco, French Connection, G2000, Giordano, United Colors of Benetton and the super cool i.t.
Also on Cotai from the Sands family is the busy Shoppes Cotai Centre linking the Conrad and Sheraton. Amid the 100 boutique shops and galleries, you'll find jungle foliage, cascading waterfalls, enticing restaurants and an abundance of natural light. Despite its wild boulder-strewn jungle interior, the complex doesn't depart from the usual international brands, such as DKNY, Cartier, Gucci, Hermes, Omega, Louis Vuitton, Chanel, Dior, Juicy Couture, Marc by Marc Jacobs, Max Mara, Hugo Boss, Agnes b, Versace, Valentino, Guess, Vivienne Westwood, Coach, Kate Spade, Michael Kors and much more. Did we miss anything?
Shoppes at Four Seasons offers more than 180 luxury brands such as Coach, Audemars Piguet, Bottega Veneta, Marc Jacobs, Givenchy, Kent & Curwen, and Kate Spade, as well as the T Galleria Macau by DFS duty free store. Not only does Senado Square have superb architecture and a lively atmosphere, it also has dozens of mid-range shops including The Body Shop, SaSa, Bossini, Bonjour, Levis, Esprit, Mango and Bauhaus. Of course, Senado Square is not immune from the inexorable spread of Starbucks and McDonalds.
If you're looking for more of a "local" Macau shopping experience, you'll find it in older parts of the city. Popular purchases include jewellery (if you buy precious metals or gems, ask for a warranty card and a receipt you can read), Chinese antiques and porcelain, electrical appliances and watches and textiles. The best jewellery stores are on Rua de Almeida Ribeiro, where there are also many Chinese herb and dried seafood shops.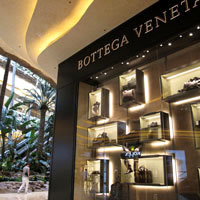 Shopping at Conrad/ photo: Vijay Verghese
Also browse the shops on Avenida Infante D Henrique, or Rua do Campo (for rice paper and Chinese calligraphy). Rua da Felicidade (commonly known as "Souvenir Street") has shops selling Macanese souvenirs as well as restaurants. It used to serve as a red-light district, but now pretty much the only red you'll find is reserved for the distinctive, lovely doors and shutters of storefronts. This area hosts a weekend flea market.
There are many shops between the Rua dos Mercadores and Rua de San Paulo near the Ruins of Saint Paul, selling anything from wooden and rattan goods to traditional medicines (don't be afraid to bargain). The San Domingos market in the streets behind Senado Square offers shoes, clothes and bags as well as souvenirs and lingerie, and the side streets around the Ruins of St Paul's (such as Rua do Santo Antonio and Rua das Estalagens) have lots of furniture and antiques shops to browse. Taipa Village has a regular Sunday flea market in the village centre, where you can pick up knick-knacks, toys and traditional crafts.
On a quiet street near A-Ma Temple, Signum Living Store (signum.mo/) is a new-gen design store gathering a chic collection of international designer pieces and cool souvenirs by local indie creators infused with Macanese and Portuguese influences. Check out the funky ceramics that mesh European and Chinese plate patterns.
Don't leave Macau without picking up some sweet souvenirs, especially Macau's famous almond cookies, sweet pork jerky and egg tarts. Koi Kee Bakery (www.koikei.com), which started off as a street cart selling peanut and ginger candy, now has 16 outlets across Macau and departing tourists are invariably seen laden with the brand's distinctive bags. You can sample the wide-range of goodies – from egg rolls, nougat and pineapple pastries to the famous gritty almond cookies made with mung bean flour – before you buy.
So, that's our Macau fun guide to hotels and casinos with a smattering of shopping and nightlife in a nutshell. Grab a phrase book or two and you're on your way.
Send us your Feedback / Letter to the Editor
FAST FACTS

/ Hotel Contact List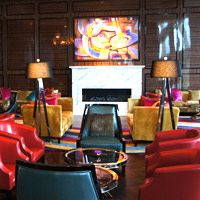 Ritz-Carlton bar/ photo: Vijay Verghese
The exchange rate is around US$1 = MOP7.9 and the Macau pataca is common rated with the Hong Kong dollar. Hong Kong dollars are used freely in Macau (though not the other way around). Macau has hot, humid summers (July to September; also the main typhoon season) and cold winters (January to March). Autumn (October to December) is a good time to visit, as it is generally sunny and not as humid as in summer. Rates may be subject to 10 percent service tax and 5 percent government tax. Hotels are generally more expensive on weekends.
Any room prices listed here are for rule of thumb only. Always check for the best available Internet rate or BAR. Daily rates or special internet offers will fluctuate a fair bit. In general hotel room rates may range from about HK$780 (or less) for a pousada weekdays (weekend rates are far higher in Macau for all hotels), HK$1,300 for a good family hotel and HK$2,600 up at luxury hotels weekdays.
A useful official website is www.macautourism.gov.mo.
Macau hotel directory and Pousada inns
Altira Macau. Tel: [853] 2886 8888, fax: 8867-6688 (e-mail: contactcentre@melco-crown.com or www.altiramacau.com).
Banyan Tree Macau. Tel: [853] 8883-8833, fax: [853] 8883-6088, (e-mail: macau@banyantree.com or www.banyantree.com/en/macau or www.galaxymacau.com).
Broadway Hotel Macau. Tel: [853] 8883-3338, fax: 8883-6668, (www.broadwaymacau.com.mo/en/).
Crowne Plaza Macau. Tel: [853] 2888-6888, fax: 2888-8686, (e-mail: info@crowneplazamacau.com or www.ihg.com/crowneplaza).
Four Seasons Hotel Macao, Cotai Strip. Tel: [853] 2881-8888, fax: 2881-8899, (www.fourseasons.com/macau/).
Galaxy Hotel. Tel: [853] 2888-0888, fax: [853] 8883-3988, (e-mail: info@galaxymacau.com or www.worldhotels.com/galaxyhotelmacau).
Grand Hyatt Macau. Tel: [853] 8868-1234, fax: 8868-1234, (e-mail: macau.grand@hyatt.com or www.cityofdreamsmacau.com).
Grand Lapa Hotel. Tel: [853] 8793-3261, fax: 2851-5303, (e-mail: glmfm-reservations@mohg.com or www.mandarinoriental.com/grandlapa/).
Grand Lisboa. Tel: [853] 2828-3838, fax: 2888-2828, (e-mail: reservation@grandlisboa.com or www.grandlisboa.com).
Conrad Macao. Tel: [853] 8113-6000, fax: 2882-9001, (e-mail: Macao.Reservations@ConradHotels.com or www.sandscotaicentral.com).
Emperor Hotel. Tel: [853] 2878-1888, fax: 2878-2287, (e-mail: info@emperorhotel.com.mo or www.emperorhotelmacau.com).
Grand Coloane Resort Macau. Tel: [853] 2887-1111, fax: 2887-1122, (e-mail: info@grandcoloane.com or http://www.grandcoloane.com/).
Hard Rock Hotel. Tel: [853] 8868-3338, fax: 8867-3338, (e-mail: contactcentre@cod-macau.com or www.cityofdreamsmacau.com).
Hotel Lisboa. Tel: [853] 2888-3888, fax: 2888-3838, (e-mail: reservation@hotelisboa.com or www.hotelisboa.com).
Hotel Lan Kwai Fong Macau. Tel: [853] 2880-0888, (e-mail: sales@macaulkf.com or www.macaulkf.com).
Hotel Okura Macau. Tel: [853] 8883-8883, fax: [853] 8883-2345, (e-mail: reservations@hotelokuramacau.com or www.hotelokuramacau.com).
JW Marriot Hotel Macau. Tel: [853] 8886-6888, (e-mail: mhrs.mfmjw.reservation.office@marriotthotels.com or www.jwmarriottmacau.com).
L'Arc Macau. Tel: [853] 2880-8888, fax: [853] 2822-3366, (www.larcmacau.com).
Louis XIII. (e-mail: info@the13.com or www.the13.com/)
Mandarin Oriental Macau. Tel: [853] 8805-8888, fax: [853] 8805-8899, (e-mail: momac-reservations@mohg.com or www.mandarinoriental.com/macau).
MGM Cotai (www.mgm.mo/en/cotai)
MGM Macau. Tel: [853] 8802-8888, fax: 8802-3333, (www.mgmmacau.com).
NUWA (formerly Crown Towers). Tel: [853] 8868-6888, (www.cityofdreamsmacau.com/nuwa/).
Pousada de Coloane. Tel: [853] 2888-2143, fax: 2888-2144, (e-mail: pcoloane@macau.ctm.net or www.hotelpcoloane.com.mo).
Pousada de Sao Tiago. Tel: [853] 2837-8111, fax: 2855-2170, (e-mail: reservation@saotiago.com.mo or www.saotiago.com.mo).
Regency Hotel, Macau. Tel: [853] 2883-1234, fax: 2883-0195, (e-mail: reservation@regencyhotel.com.mo or www.regencyhotel.com.mo).
Riviera Hotel. (riviera-macau.hotel-rn.com/).
Rocks Hotel. Tel: [853] 2878-2782, fax: 2872-8800, (e-mail: info@rockshotel.com.mo or www.rockshotel.com.mo).
Sands Macao Hotel. Tel: [853] 2888-3388, (e-mail: inquiries@sands.com.mo or www.sands.com.mo).
Sheraton Grand Macao Hotel. Tel: [853] 6269-9088, fax: 2882-9001, (e-mail: Res.sheratonmacao@staystarwood.com or www.sheratongrandmacao.com/).
Sofitel Macau at Ponte 16. Tel: [853] 8861-0016, fax: 8861-0018, (e-mail: H6480-F09@sofitel.com or www.sofitel.com).
StarWorld Hotel & Casino. Tel: [853] 2838-3838, fax: 2838-3888, (e-mail: rsvn@starworldmacau.com or www.starworldmacau.com).
Studio City Macau. Tel: [853] 8865-6868, fax: 8869-6868, (e-mail: reservations@sc-macau.com or (www.studiocity-macau.com/).
The Landmark Macau. Tel: [853] 2878-1781, fax: 2878-6611, (e-mail: info@landmarkhotel.com.mo or www.landmarkhotel.com.mo).
The Londoner Macao (February 2021, www.londonermacao.com/)
The Parisian Macao. Tel: [853] 2882-8888, (www.parisianmacao.com).
The Ritz-Carlton, Macau. Tel: [853] 8886-6868, (e-mail: rc.mfmmr.reservation.office@ritzcarlton.com or www.ritzcarlton.com).
The St Regis Macao. Tel: [853] 2882-8898, (www.starwoodhotels.com/stregis).
The Venetian Macao-Resort-Hotel. Tel: [853] 2882-8877, fax: 2882-8823, (e-mail: room.reservations@venetian.com.mo or www.venetianmacao.com).
Wynn Macau. Tel: [853] 8986-9966, fax: 8986-9900, (e-mail: roomreservations@wynnmacau.com or www.wynnmacau.com).
Wynn Macau (Encore). Tel: [853] 8986-9966, fax: [853] 8986-9966, (e-mail: roomreservations@wynnmacau.com or www.wynnmacau.com).
Wynn Palace Cotai. Tel: [853] 8889-8889, fax: 8889-8890, (e-mail: roomreservations@wynnpalace.com or www.wynnpalace.com/en/).