CONFERENCES & MICE
Small corporate meetings in Asia
Helping CEOs and hangers-on with events or company conferences. Some great MICE venues for 2021 and hot spots that may impress the boss, from palaces to beaches. Plus Covid-19 sweeteners like the TCEB's 'Ease up' deal and HKTB signs up RISE.
updated by staff reporters
SEE ALSO Asian resort weddings | Asian casino hotels | Asian golfing | Beijing business hotels | Sanya resorts | Hong Kong business hotels | Bangkok business hotels | Singapore business hotels | Bali resorts review | Phuket resorts | Palawan resorts | Rajasthan palace hotels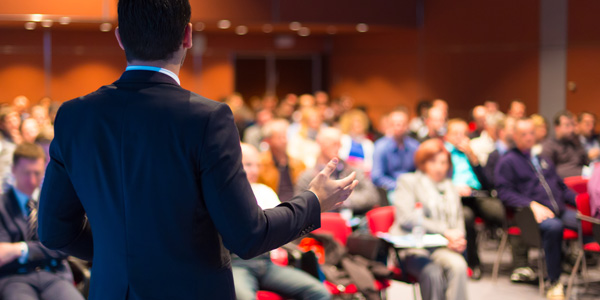 JUMP TO China | Hong Kong meetings | Macau | Japan | Thailand | Vietnam | Singapore | Bintan | India | Philippines | Indonesia | Malaysia | Brunei | Maldives | Korea | Taiwan | Mid-East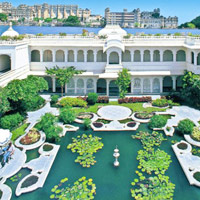 Historic Taj Lake Palace Udaipur , India - make a statement/ photo: hotel
AS COVID-19 continues to disrupt large conferences and events, the focus is shifting to smaller meetings with hotels rolling out imaginative offers and national bodies pulling out all the stops to be welcoming, if safely.
Hong Kong has signed up the RISE Conference - a leading and influential tech forum - from March 2022 for a further five years.
Meanwhile the Thailand Convention and Exhibition Bureau (TCEB) has rolled out an innovative 'Ease up' deal with partner hotels offering free airport transfers, sightseeing and complimentary rooms for event managers. By late August the TCEB had signed up 54 hotels and eight Destination Management Companies.
The Mandarin Oriental group has served up its Meetings with Purpose under its We Care programme weaving in corporate social responsibility activities as at say Mandarin Oriental Dubai where participants can head to an art studio for "individuals with special needs" to create works for their companies or head to a bio farm.
When storybook Bollywood couple Aishwariya Rai and Abhishek Bachchan checked into the oh so traditional Dusit Thani Bangkok - which alas disappears 2019 to re-emerge in the future as a multi-purpose complex - during an Indian International Film Academy (IIFA) awards show in Thailand, the hotel flew in top Indian chefs from Mumbai to cater for the celebrities' every culinary whim. After midnight, when their secretary announced that the stars were ready to eat, the white-knuckle kitchen sprang into action, bleary-eyed, starched uniforms and spices at the ready – only to be told that what the pair really wanted was hamburgers from McDonald's. This was duly arranged.
No matter how eccentric or mundane, it's business as usual for meeting planners and hotel event organisers from Bangkok to Bali. From a sit-down dinner on the Great Wall or kimono-wearing workshop in Tokyo to playing pirates in Phuket or brainstorming and team-building at a Java heritage site, there are plenty of options for rallying the troops around the conference table. Asian resort weddings are a cinch as well.
Send us your Feedback / Letter to the Editor
At times like these, hotel managers and event organisers need their wits about them. Late changes in guests' meeting plans? No problem. Unusual catering demands? Bring them on. When it comes to small meetings in Asia for gatherings of 20 to 50 people, Asian hotels pull out all the stops.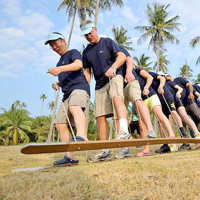 Company on the skids? Team building at Angsana Laguna, Phuket / photo: hotel
All the more so if it is a high powered corporate meeting in Asia's new top drawer establishments where state-of-the-art goes hand in hand with speedy service for a customer who is always right. And MICE venues in Asia need not be dull, boring, enclosed spaces. Think beaches, over-water, underwater, atop hills, and regally arrayed in historic palaces.
Think out of the box with companies like gaest (www.gaest.com/), acquired by Airbnb in January 2019, an innovatince space locator for everything from photo shoots and team building to meetings and seminars. The company offers locations in places like Bangkok, Sydney, Melbourne, Dubai though its main reach is in the UK, Sweden, Norway, Denmark, Ireland, Belgium and Brazil. The Airbnb association will doubtless expand its Asian reach. Watch for it.
Competition for Asian meetings and conferences is stiff, with tussles between resort favourites Bali and Phuket and business hubs Bangkok and Singapore. What are the benefits of a corporate meeting in Hong Kong vs Shanghai or Macau, say? How would you compare the benefits of a company conference in Bali vs Phuket? Danang and Phu Quoc island are emerging in Vietnam as serious contenders, as is Shenzhen across the border from Hong Kong. And how do meeting planners sift through their lists of the best Asian conference hotels to find the right location at the right price? With competition as fierce as this, PR claims are being stretched to the max with meetings floor sizes now commonly shown in square feet, not metres, to present a seemingly bigger number. Ballrooms have miraculously over the years expanded their square metre count as well with no obvious change or extension. We walk you through the fine print.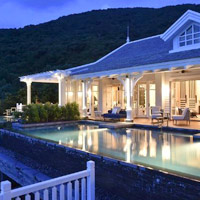 InterCon Danang villa, hillside perch and great meeting facilities/ photo: hotel
Political strife, sensational news reports, and airport closures also quickly change minds. The highly charged – and publicised – China-Japan face off over a group of islands in the East China Sea, cost Hong Kong much Japanese MICE business while the red-and-yellow shirt confrontations in Bangkok of yore - now fortunately in the past - proved a windfall for Singapore and Kuala Lumpur as meeting planners diverted their groups. The same thing happened when Bali's Mt Agung rumbled and heaved ash clouds end 2017 and early 2018.
Meanwhile, with growing hotel and exhibition inventory, powerhouse China is challenging conference stalwart Hong Kong, while booming India is giving Southeast Asian destinations a run for their money.
As air links improve and more luxury and boutique hotels spring up, Vietnam is joining the fray with ever more competitive deals - from Danang to tropical island Phu Quoc - and buckets of charm.
Many hotels will tailor-make packages (and rates), depending on group size, requirements and season. Just about every standard meeting package featured here includes lunch, at least two coffee or tea breaks, regular audio-visual equipment and stationery. Bear in mind that the listed rates generally exclude taxes and service charges. Push for the maximum inclusions.
Meeting package rates are per person, per day (or half day). Below is a sample of some of the options available for small corporate meetings at Asian hotels and resorts. This is by no means a definitive guide of Asian conference hotels but a rule-of-thumb to indicate broad costs and destination options for more intimate gatherings.
Prices are subject to constant change depending on season. We have a detailed guide to destination weddings in Asia too should that be your cup of tea.
China conference hotels - the art of big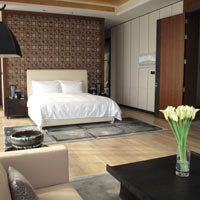 Yanqi Hotel by Kempinski, offers luxe Beijing style/ photo: hotel
Sporting a whole new crop of architectural wonders following the Olympic Games, flexibility is key in BEIJING, especially in the face of a bleaker economic outlook where booking lead times are notoriously short and competition is keen.
An hour's drove from downtown Beijing, the unmistakeable glass-and-steel orb of the Sunrise Kempinski Hotel, Beijing (www.kempinski.com/beijing/sunrise), reflecting across the tranquil Yanqi Lake, comes into view. It is surrounded by Chinese-brushstroke mountains and a range of developments that will please meeting planners in search of an offbeat venue for the next MICE break. The spreadout complex managed by Kempinski includes a scenic resort island that includes the luxe Yanqi Hotel and 12 designer-chic Boutique Hotels, each a unique self-sustained villa complex.
Yanqi Lake popped up on the map after hosting a grand APEC meeting in November 2014. There is an 18-hole golf course and, take note, the entire complex is non-smoking. With unique event space for small meetings or large glitzy banquets and weddings, this is a retreat where everyone from heads of state to corporate suits will feel at home. Think 2,866sq m of meeting space including a grand ballroom and 12 function areas at Sunrise Kempinski and further options including the Beijing Yanqi Lake International Conference Center. This is Chinese designed grand pavilion with Han and Tang Dynasty touches. The central meeting hall features a high ceiling with a huge jade and Swarovski chandelier set amidst painted wooden rafters.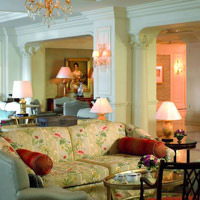 Classic touch at The Ritz-Carlton Beijing/ photo: hotel
The centre presents 8,277sq m of meeting space in various configurations. The luxe wood, lacquer and marble Yanqi Hotel offers 1,001sq m of function space in hushed surrounds, with views of the lake, and the secluded Boutique Hotels area serves up upscale and very private options from 27sq m to 186sq m. These private villas are perfect for a CEO chinwag or bankers' conclave.
Classical and intimate The Ritz-Carlton, Beijing (www.ritzcarlton.com/beijing), located in the central business district of Chaoyang, 35 minutes from the airport and close to the city's main attractions, offers various meeting packages. It is a small but brisk venue.
Room rates vary according to season. Value-added extras can include anything from dinner on the Great Wall of China or a function at the Forbidden City, to an art-gallery get-together. Think 1,110sq m of conferencing space and a 650sq m ballroom. Across the road with a more modest price-tag is sibling JW Marriott Hotel Beijing (www.marriott.com/jw-beijing/), a Muscle MICE hotel with over 30,000sq ft of meetings space, 13 event rooms and 1,100sq ft in the largest setting.
Funky The Opposite House (tel: [86-10] 6417-6688, www.theoppositehouse.com) at the shopping and entertainment destination The Village at Sanlitun provides flexible event space for small meetings. A level below the hotel, Bei Space, is a 180sq m meeting area specially designed to offer versatile set-ups for small corporate meetings or more. The space can handle banquets and exclusive fashion shows.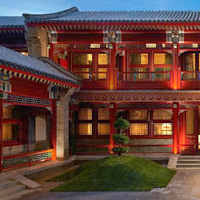 Waldorf Astoria Beijing's hutong space will transport you back in time/ photo: hotel
Expect good useful props like a projector, overhead screens, and quality sound system.This is a chic striped-down facility with a minimalist feel and exposed ceilings. Or opt for The Penthouse for a smaller CEO event.
Gastronomes will like the teambuilding option in the fully equipped professional kitchen next door. There's no standard meeting rate – all packages are tailor-made. This is an Asian small meetings hotel with a difference and plenty of flair and attitude from its minimalist cubist décor to the wooden bathtubs. For funky meetings in Beijing it could be a toss-up between The Opposite House vs The Park Hyatt, a more hushed but no less quirky contender.
Or pick the playful and borderline mad Hotel Éclat Beijing (www.eclathotels.com/beijing) next to the Parkview Green mall. Every level has a Dali sculpture (imitation of course) and some unique quirk (like the riotous Miss Piggy) that will have your camera clicking in no time. For example, you'll spot gold Buddha statues, a grand piano or a collection of limited edition pedal bicycles from the likes of IWC, Ferrari, Gucci, Chanel and others.
The innovative, multi-function 490sq m The Gallery on the third floor of the towering Park Hyatt Beijing (www.hyatt.com/park-hyatt-beijing/) is divided into seven areas, including a large open kitchen, library and quiet corner for small meetings. A "meeting concierge technology butler" is on hand at the Gallery One and Two venues. For inspiration up high, the four salons on level 61 accommodate groups from 14 to more than 100. One level up, five dark-wood boardrooms feature local art, espresso machines, panoramic city views, and a glass-encased showcase kitchen with dedicated chefs. This 246-hotel's largest corporate meetings space is 1,100sq m. Or pick the art-modernist residential style The Gallery with 490sq m of flexible function space.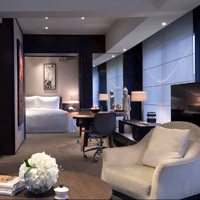 Rosewood Beijing: darkly elegant and very corporate/ photo: hotel
Another option is the luxurious China World Summit Wing, Beijing, Shangri-La (www.shangri-la.com/beijing/summit), which begins on the 80th floor of the China World Trade Centre. The hotel has a range of MICE facilities, ranging in size from 41sq m to 2,340sq m. There are two ballrooms, The Summit Ballroom and China Ballroom, an atrium, and 12 additional function rooms to accommodate between 10 and 300 people.
The curving 852-room Grand Hyatt Beijing (tel: [86-10] 8518-1234, www.hyatt.com/grand-hyatt-beijing) is a striking modern construct and well located downtown close to offices, shops and restaurants. This is a biggie. With more than 2,900sq m of function facilities, it ranks high among top Beijing conference hotels and can do smaller corporate meetings too with equal aplomb. Make sure you have a meal in the dumpling specialist Made in China restaurant.
With a downtown location next to multinational offices and government buildings around Wangfujing, the sumptuous dark-tone Waldorf Astoria Beijing (waldorfastoria3.hilton.com/waldorf-astoria-beijing) with its signature gold frame exterior, presents a splendid venue for small corporate meetings with an underline of style and elegant service. There is space for up to 200 persons. A more recent and atmospheric addition is the Hutong Courtyard with 171sq m and room for 30 (banquet style) or 55 (classroom style) or 120 (cocktails) with a 12-seat screening room. This is a unique venue for a small corporate meeting in intimate red-lacquer surrounds redolent of old China.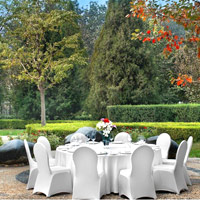 Classic St Regis Beijing's stately garden for summer events/ photo: hotel
Just off Wangfujing behind a traditional painted gate, the wing-roofed Peninsula Beijing (www.peninsula.com/beijing) has been around since 1989. The Peninsula may not look as cutting edge as its peers but a major renovation has transformed the hushed marble interiors of this Beijing landmark. Pick the Wang Fu Ballroom for 450 people theatre-style, Tang Shi for a banquet (100 persons), or smaller meeting spaces.
The 282-room and darkly elegant grey stone Rosewood Beijing (www.rosewoodhotels.com/beijing) has created more than just a few ripples in the luxury market as a popular bolthole for business travellers and corporate meetings that sizzle.
Set conveniently to one side is almost 38,000sq ft of space for events or a smart corporate chinwag. Pick from a pillarless ballroom (hosting up to 500) or a garden terrace. Large Marilyn lookalike paintings adorn the walls as you proceed into the function area. This is one of the best Beijing conference hotels in our review.
Situated in the green tree-lined embassy district in central Beijing, The St Regis Beijing (www.marriott.com/st-regis-beijing/) is an unassuming structure with perfectly spaced cutout square windows - set in neat rows the way a child might draw a bulding - but it hides a sumptuous marble classical elegance within and is well worth a gander for relaxed meetings with a difference. Apart from the ballrooms there's a garden for a stretch or an event and apres-meets check out the Iridium Spa. The new grand ballroom (2019) boosts capacity with ample space for 1,500 people for a grand cocktail.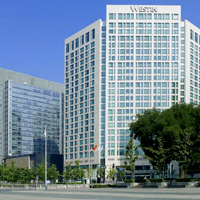 Westin Beijing Financial Street: vast space for conferences/ photo: hotel
With 1,686sq m of meeting space, including nine state-of-the-art meeting rooms resplendent with natural light, The Westin Beijing Financial Street (www.marriott.com/westin-beijing-financial-street) next to the huge Beijing Financial Street Conference Centre, has an outdoor Zen Garden for true enlightenment.
This is a place for well-run large scale Beijing conferences where everything will be oiled and humming. Choose creative meetings in the famous 798 Da Shan Zi art district or landscaped Song Qing Ling Courtyard in Houhai. Dragonboat racing and hill-side barbecues make for fun incentives.
Close by is The Ritz-Carlton Beijing Financial Street (www.ritzcarlton.com/beijing-financial-street), an upscale meetings address smack next to designer brands by the mile with 900sq m of function space and six event rooms. The ballroom can hold 450 for a reception. This address is a sparkling modern complement to the aforementioned Chaoyang property. Clean lines, sensual Sino design and cosy dimensions have won this 245-room hotel a slew of industry awards.
With more luxury hotels than you can shake a stick at keep an eye on these blue-ribbon new faces and pipeline developments - BVLGARI Hotel Beijing (www.bulgarihotels.com/beijing) that opened 2017 in the Chaoyang embassy area, with 119 rooms, a stylish 1,500sq m BVLGARI Spa, 25m swimming pool and a 520sq m ballroom for gala events; InterContinental Beijing Sanlitun (www.ihg.com/beijing/) that opened August 2016 with 8,611sq ft of meeting space, a ballroom (600 theatre-style), and team building options; and Mandarin Oriental Wangfujing (early 2019 www.mandarinoriental.com/beijing/wangfujing East Hutong Quarter, a newer venture - the old CCTV Tower project is still in the deep freeze) for smaller intimate events in 80sq m of luxury space in a classical-meets-contemporary style.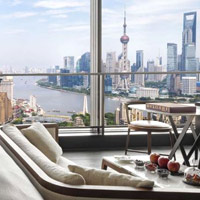 Bulgari Shanghai, tower views and a historic venue/ photo: hotel
For cosy gatherings look at the uber-chic lifestyle space; and The Puxuan Hotel and Spa (January 2019 www.urbanresortconcepts.com/the-puxuan/) by Urban Resort Concepts that also runs the darkly handsome The PuLi (www.thepuli.com/) in Shanghai. In Beijing, expect five small meeting spaces of 40sq m and a breezy rooftop terrace with 245sq m for a stylish event.
SHANGHAI, host of the World Expo 2010, is seeing a dramatic growth in conferencing venues from small to big. So how do you compare the MICE product, Ritz-Carlton Portman vs Park Hyatt Shanghai, or the historic Waldorf Astoria vs The Peninsula? At the larger end you have Grand Hyatt Shanghai vs JW Marriott across the Bund on the "other" side. Not easy choices.
Add to this 2017/2018 arrivals BVLGARI Hotel Shanghai (www.bulgarihotels.com/shanghai) with a 500-capacity ballroom, the restored historic 1916 Chamber of Commerce, and full-day meetings packages from Rmb1,088 per person; 111-room designer chic The Middle House (www.themiddlehousehotel.com/) from Swire's House Collective with stylishly intimate - but limited - venues like The Penthouse for small corporate meetings and clubby events; and The Sukhothai Shanghai (www.sukhothai.com/shanghai/) with six flexi-meeting rooms and a 300sq m ballroom with natural light. (Note: both BVLGARI - how it's spelled in capitals - and Bulgari are pronounced the same way.)
The Peninsula on the Bund, Shanghai (www.peninsula.com/shanghai) focuses on small- to medium-size meetings and, particularly, higher-level management summits.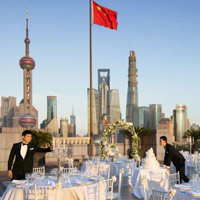 Shanghai skyline from the Peninsula/ photo: hotel
Check out the Rose Ballroom for a banquet of up to 430 and cocktails for 750 while the 306sq m Palace Suite offers an intimate environment for clubby get-togethers as well as outdoor terrace space with grand Bund views. It can hold up to 200 for cocktails.
For a quick chopper getaway, the 14th-floor Rosemonde Aviation Lounge – just below the helipad with city and Suzhou Creek views – holds 20 people, boardroom style, with a separate lounge for breaks. This is a top pick for Shanghai conference hotels if style is what you are after.
Waldorf Astoria Shanghai on the Bund (waldorfastoria3.hilton.com/shanghai) is home to three ballrooms, the largest of which can fit 550 people, as well as six boardrooms suitable for small meetings and conferences. WiFi is free for all and tailor-made menus can be created upon request. This is a classy and classic Shanghai corporate meetings venue with a huge dollop of history and heritage. The Tower wing is contempory with river views while the colonial-style Heritage Wing is a throwback to the days when this place was a gentleman's club with smoky interiors.
With a downtown residential-and-office location in Jing'an, Portman Ritz-Carlton (www.ritzcarlton.com/shanghai) is an old-time benchmark setter that has been revamped and upgraded. Its 5,636sq m of meeting space includes 11 different function rooms and a 900sq m atrium. This is an environmentally conscious hotel that does everything from full-scale conferences to themed events.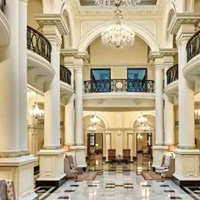 Waldorf Astoria Shanghai: a regal presence/ photo: hotel
For large events and conferences the JW Marriott Hotel Shanghai at Tomorrow Square (www.marriott.com/jw-marriott-hotel-shanghai-at-tomorrow-square/) has everything you need. Under one large roof, you'll find 15,230sq ft of meeting space (the largest with a capacity of 800) broken down into 17 meeting rooms a 6,265sq ft ballroom and 11 breakout spaces. There's also exhibition space on-site should the need arise. Mark this one down as a solid Shanghai meetings venue with service, views, and a renovated product.
Across the river in Pudong, the soaring The Park Hyatt Shanghai (www.hyatt.com/park-hyatt-shanghai/) is a slick tower hotel that boasts private dining and meeting rooms. If you suffer from vertigo, avoid the 93rd-floor dining and meeting spaces catering for anywhere from 22-person corporate board meetings to 228 guests for cocktails. Meeting packages (on the 86th floor where the salons are located) might include a butler, WiFi, audio-visual team on standby, coffee breaks and a business lunch.
Next to it is sibling Grand Hyatt Shanghai (www.hyatt.comgrand-hyatt-shanghai), another top-notch Shanghai conference hotel contender with sweeping views, classy facilities and attention to detail. The Grand Ballroom runs to a spacious 920sq m, which is useful space for conference planners as this is three interlinked spaces in one with a capacity of 1,200 persons cocktail style.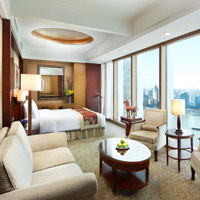 Pudong Shangri-La Grand Tower Bund View room/ photo: hotel
Between its two towers – the classic 577-room River Wing and the luxurious 375-room Grand Tower – the Pudong Shangri-La, East Shanghai (www.shangri-la.com/shanghai) serves up some of the largest MICE venues in the city. With 7,000sq m of indoor and outdoor event space, this veteran two-in-one hotel can accommodate groups from 10 to 1,700.
If you're working with a flexible budget, look for the Chairman's and President's rooms – ideal for VIP meets. Tech savants will appreciate an in-house simultaneous translation system, multi-microphone hook ups, and complimentary WiFi. Views of the Huangpu River won't hurt either.
Shaking things up just north of the Oriental Pearl TV Tower, is the Mandarin Oriental Pudong, Shanghai (www.mandarinoriental.com/shanghai/pudong/), a sleek and contemporary two-part mid-rise combining a hotel and a residential long-stay wing with the usual manor-born reserve. Set in grey-stone zen surrounds, the separate steel-and-glass twin buildings form an L-shape, linked via basement corridors to open-kitchen food outlets, versatile conference space, overly generous 2,900sq m spa, and a 25m indoor pool that is open to guests 24 hours a day – this last a small step for man and a giant leap for hospitality.
There's 5,000sq m of river-fronting alfresco event space to add to the 500-capacity basement ballroom that comes with a soaring entrance foyer embedded with stained glass giving it a cathedral-like aura. The hotel in all encompasses 23 generous hectares, manna for MICE planners.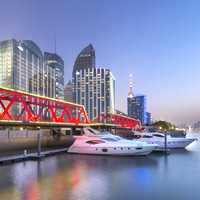 Mandarin Oriental Pudong Shanghai, on the river with alfresco event space/ photo: hotel
While a very different product, Mandarin competes in a sense with the polished newer Four Seasons Hotel Pudong, Shanghai (www.fourseasons.com/pudong/) - a chic compact space housing 805sq m of meeting space, including a 425sq m ballroom and four contemporary meeting rooms for up to 250 guests - and The Ritz-Carlton Shanghai Pudong (www.ritzcarlton.com/shanghai-pudong) with 1,700sq m of conference space, grand views of The Bund, and purportedly the highest ballroom ceiling in Shanghai. Need an event on stilts...?
GUANGZHOU remains a biggie. The Canton Fair lies at the heart of Guangdong's resurgent stride and it pumps in welcome dollars into the economy every April and October - this since 1957. The largest of its kind anywhere, the Canton Fair stretches across 1.16 million square metres of function space. To accommodate the twice annual influx, the trade fair moved from its previous location in Baiyun to the sprawling Guangzhou International Exhibition Centre on Pazhou Island, which is much closer to the downtown Tianhe District. The exhibition and display area continues to grow. This district is a tad closer to the Guangzhou South Railway Station that services high-speed trains from Hong Kong (commenced 23 September 2018), Shenzhen and elsewhere. The journey time to Hong Kong is 47 minutes
The striking Langham Place Guangzhou (www.langhamhotels.com) is by the Guangzhou International Convention and Exhibition Centre, in the thick of the Canton Fair action with direct access to both the convention area and the subway, ideal for those lugging heavy display material.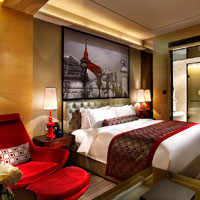 Sofitel Sunrich Guangzhou, Superior room/ photo: hotel
This 408-room hotel serves up spacious hi-tech meeting venues, some open air, along with a commodious 3,000sq ft Great Room for more lavish occasions. Other choices in the area include The Westin Pazhou (www.marriott.com/westin-pazhou)and the Shangri-La Hotel, Guangzhou (www.shangri-la.com/guangzhou). At the Shangri-La, pinstripers will enjoy the 6,000sq m of function space, including the 2,240sq m pillarless Pearl River Ballroom, a foyer with panoramic views, a 100-seat auditorium and eight smaller meeting rooms.
Away from the main exhibition area in a business district, at the Grand Hyatt Guangzhou (www.hyatt.com/grand-hyatt-guangzhou/), meeting planners have 1,315sq m of versatile function space at their disposal, including six meeting rooms and an impressive 979sq m Grand Ballroom that accommodates up to 720 banquet guests.
Not to be outdone, the Sofitel Sunrich Guangzhou (sofitel.accorhotels.com/sofitel-guangzhou-sunrich/), closer to the Guangzhou East Railway Station in Tianhe, has a smorgasbord of 17 meeting and conference venues to cater for MICE business.
The 900sq m Grand Ballroom is a splendid venue for 800 persons theatre style and two larger salons can host around 300 persons each. The Sofitel is a stylish, modern, Paris-meets-China themed hotel wqith good service, smart rooms and excellent F&B and breakfast spreads - just what savvy meeting planners are in search of.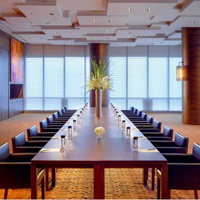 Stylish small meetings at Park Hyatt Guangzhou / photo: hotel
Also keep an eye on The Ritz-Carlton Guangzhou (www.ritzcarlton.com/guangzhou/) with more than 1,000sq m of conference facilities and the high-ceiling 648sq m ballroom; Four Seasons Hotel Guangzhou (www.fourseasons.com/guangzhou/) perched atop the 103-storey Guangzhou IFC between floors 74 and 98; the very residential resort-feel timber-floored Mandarin Oriental Guangzhou (www.mandarinoriental.com/guangzhou) where small corporate meetings are possible in the 200sq m Tian He Room if you're not in the mood for a major conference in the 750sq m Grand Ballroom; and the towering Park Hyatt Guangzhou (www.hyatt.com/park-hyatt-guangzhou/) with 1,300sq m of stylish minimalist residential style events space on the 66th-floor with wraparound views.
Farther along towards the river, on Shamian Island, a landmark that has seen it all is the 520-room White Swan Hotel (www.whiteswanhotel.com/en) that re-emerged with a new look 15 July, 2015. Ample meetings facilities are available at White Swan in a separate block (with its own elevators) for all those corporate dos or a Guangzhou river wedding if you're not too shy. A waterfront conference can be set up at the Grand Ballroom. Or pick the Shamian Room with its huge glass walls affording river views as well as green frontage with flashes of pink bauhinia in season. A huge plus for Canton Fair guests is a ferry service straight to the exhibition site, a 40-minute traffic-free run.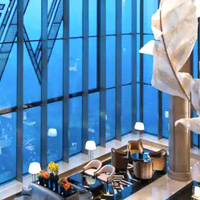 Towering views from the Waldorf Astoria Chengdu, a great spot for CEO chinwags/ photo: hotel
In fast-developing CHENGDU, the home of the panda, some of the grandest event space is on offer at the 555-room InterContinental Century City (www.ihg.com/intercontinental/chengdu), which is part of a complex of hotels sharing the 2,800-person Crystal Ballroom. This is a spot for large showy south-city conferences with a vast number of rooms and the Paradise Island Water Park for apres-meet big waves and make-believe seascapes.
In this general area also look at the upscale Waldorf Astoria Chengdu (waldorfastoria3.hilton.com/waldorf-astoria-chengdu) with its magnificent marble spaces, soaring ceilings, and grand views from atop a 220m 52-storey art deco tower, an excellent spot for corporate meetings, CEO chinweags and larger events with a Grand Ballroom and five function rooms with 2,000sq m of versatile space.
Niccolo by Marco Polo Chengdu (May 2015), is the new top-tier brand by the Hong Kong-based group better known for its stable of value business hotels.Find the spacious Niccolo Ballroom on the seventh floor, a circular belvedere 'Conservatory' on the eighth floor for ceremonial occasions, and 28 meetings rooms with versatile configurations. The Tiara Suite for bridal couples is the icing on the events cake.
The seventh floor opens onto the expansive IFS 'sculpture garden' that hosts a mad ensemble of giant pandas and bronze fruit, making this an excellent MICE venue as well as a fine Chengdu hotel for small corporate meetings. Like to drive a car into the ballroom for a motor show? No problem.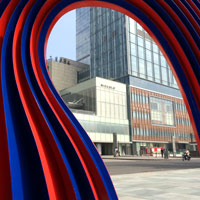 The Niccolo Chengdu is an excellent conference address/ photo: Vijay Verghese
Also check out the Grand Hyatt Chengdu (www.hyatt.com/grand-hyatt-chengdu) on South Chunxi Road not far from Taikoo Li with a spread of 390 rooms; the exquisitely textured marble highrise The Ritz-Carlton Chengdu (www.ritzcarlton.com) with two stylish ballrooms and 1,700sq m of function space; the businesslike 279-room The St Regis Chengdu (www.marriott.com/st-regis-chengdu/) and its Astor Ballroom; Shangri-La Hotel Chengdu (www.shangri-la.com/chengdu/) on the river with a ballroom for 580 theatre-style; and the ancient, but remodelled, and smartly refurbished business traveller favourite Kempinski Hotel Chengdu (www.kempinski.com/chengdu) farther south on the second ring road with its Jinxiu Ballroom that can hold 500 persons for a banquet.
In XIAN the delightful Angsana Xi'an Lintong is a perfect getaway for a corporate meeting with the family in tow for some seminar-plus-spa workouts. The Angsana Ballroom seats 720 for a round table banquet and 800 theatre-style. Smaller boardrooms and function areas are available.
Referred to as China's "Oriental Hawaii", manicured tropical resort SANYA on Yalong Bay and Haitang Bay at the southeastern tip of Hainan Island and including a swathe of beach stretching up towards Haikou, the capital city, boasts a number of international resort brands with modern meeting facilities. Attractions include nice beaches, plenty of sunshine but limited air links.
The Sanya Marriott Resort & Spa (www.marriott.com/sanya-marriott-yalong-bay), as with many local hotels, draws most of its business from the Chinese mainland. Take advantage of the location with meetings on the lawn or poolside pavilion, or try team building on the beach. Afterwards, nip off to the spa, or to the international golf courses nearby.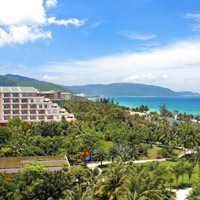 Breezy Sheraton Sanya/ photo: hotel
Next door the Sheraton Sanya Resort (www.marriott.com/sheraton-sanya) along Yalong Bay has been the proud host of several Miss World pageants and is no stranger to conferences and curious eyes. Designed a bit like a Balinese resort with plenty of space and water features, the hotel has a 1,250sq m grand ballroom but for smaller meetings one of the 11 function rooms will suffice.
Expect WiFi in meeting areas, audio-visual equipment, pre-function space and video conferencing facilities. So while the CEO tans to Greek God gold, his hangers-on can glumly look on with Skype connections and fuzzy cameras. The Sheraton Sanya is among the top Sanya corporate meetings choices and compares well versus even newer and flashier rivals. Its price point and space are big draws while planning a meeting in Sanya.
MGM Grand Sanya (www.mgmgrandsanya.com/en/) is a hip and happening retreat with 4,000sq m of conference and events space with a broad range of venues for meets as well as weddings.
Among the more unusual conference venues at The Ritz-Carlton, Sanya (www.ritzcarlton.com/sanya) are an ocean-front wedding chapel, the centre lawn or a sandy beach. There is more than 1,700sq m of meeting and banquet space too (full-day meeting for 20. Expect hefty discounts on rack rates for groups of 18 or more. Get that wax out of your ears while you're at it. Wind down with a choice of theme parties ranging from Hawaiian to a black tie, bar-foot do on the beach. Go on, leave your footprints in the sand.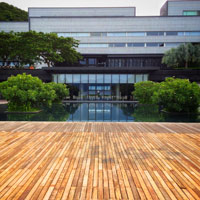 Contemporary cubist Park Hyatt Sanya/ photo: Vijay Verghese
Neighbouring St Regis Sanya Yalong Bay Resort (www.marriott.com/st-regis-sanya-yalong-bay) is a sprawling space with outdoor and indoor areas for meets of various descriptions. There are six meeting rooms and the 816sq m Astor Ballroom with natural light and marina frontage. This is a luxury offering, perfect for CEO get-togethers or more. Expect large marbled lavish rooms with balconies.
The newer development of Sunny Bay a few kilometres to the west of Yalong is accessed via a 5km private road leading to a pristine arcing bay hosting the ultra modern six-block cubist Park Hyatt Sanya Sunny Bay Resort (www.hyatt.com/park-hyatt-sanya) with eight stylish residential-style spaces from 42-335sq m (and neighbouring Andaz for 2019). Park Hyatt is a resolute city slicker with all the attendant comforts you might expect of a luxury lifestyle downtown escape, complete with seamless wall-to-wall air-conditioning. It may seem trite to mention aircon in a posh hotel but this hideaway takes it very seriously indeed. Extensive garden areas open up other possibilities for events and corporate celebrations. Unabashedly modern this is excellent MICE space but with an intimate feel with just around 200 rooms and villas.
Farther up the coast on Haitang Bay, for small corporate meetings and upscale events, The Conrad Sanya Haitang Bay (conradhotels3.hilton.com/conrad-sanya-haitang-bay) is worth a close look. This luxe spot has a relatively small banquet room, 182sq m, but offers unrestricted access to the neighbouring DoubleTree by Hilton resort (doubletree3.hilton.com/sanya-haitang-bay) and its extensive ballroom and meeting facilities. DoubleTree is a popular conventioneer hangout with a value price point to boot.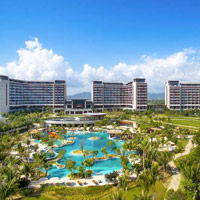 Sofitel Sanya Leeman Resort/ photo: hotel
This stretch is dominated by the soaring 'sail' or 'fin' of the Atlantis Sanya (www.atlantissanya.com/) that flexed its MICE muscle 2018 with 5,000sq m of function space not far from the dedicated Sanya conference hotels pick InterContinental Sanya Haitang Bay Resort (www.ihg.com/intercontinental/sanya/); the uber-chic multi-purpose designer resort The Sanya EDITION (www.editionhotels.com/sanya/) with a ballroom, the FORUM multi-purpose event space, and a breezy sea-fronting lawn; Grand Hyatt Sanya (www.hyatt.com/grand-hyatt-sanya); the immaculate and stylish Sofitel Sanya Leeman Resort (sofitel.accorhotels.com/sofitel-sanya-leeman) with its huge 8,000sq m central lawns, a 1,100sq m natural-light ballroom, and great breakfasts; and the more compact mid-rise tower of luxury getaway Rosewood Sanya (www.rosewoodhotels.com/en/sanya).
The sprawling but unassuming Raffles Hainan (www.raffles.com/hainan/) in Clearwater Bay, 20 minutes away is, at first glance, immediately a cut above the rest along this stretch with its understated clean lines and Balinese touches including a stone gate "candi bentar" with waterfall at the porte co-chere.
There's a scrubbed white chapel by the sea for an idyllic Sanya beach wedding and a 790sq m Raffles Ballroom for corporate suits and power presentations. For your stay pick from huge rooms with balconies, or smart villas.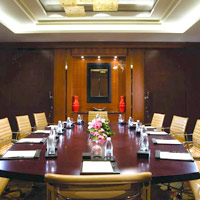 The Ritz-Carlton Shenzhen, clubby, classy meets boardroom style or bigger/ photo: hotel
SHENZHEN, China's southern business hub, would like to boost MICE events and rates can be competitive with burgeoning venues from new hotels to the 280,000sq m Shenzhen Convention & Exhibition Center (www.szcec.com/en/) in Futian District, the fast developing CBD with high speed trains and extensive metro networks.
Close by is The Ritz Carlton, Shenzhen (www.ritzcarlton.com/shenzhen/) an upscale option with top quality service. From the most exclusive board meetings to company retreats, you can find an appropriate corner in the 1,319sq m of function space. This includes a 608sq m ballroom that can be broken down into three smaller salons. Expect space for 600 and convenient underground car parks. Find a technology butler to smooth things for guests, excellent broadcasting systems and blindingly bright 12,000-lumen projectors. No one is going to fall asleep here.
Also in the neighbourhood are big guns the Four Seasons Hotel Shenzhen (www.fourseasons.com/shenzhen/) with a 610sq m ballroom and banquet capity of 360 and total event space of 1,292sq m; Futian Shangri-La, Shenzhen (www.shangri-la.com/shenzhen/futian); and the all-black Sheraton Shenzhen Futian Hotel (www.marriott.com/hotels/sheraton-shenzhen-futian).
Closer to the original east side border crossing of Luohu is The St Regis Shenzhen (www.marriott.com/st-regis-shenzhen), a literally towering venue slathered in crystal, which can likely accommodate most sizes and needs, with 11 meeting spaces totalling 2,100sq m. The Grand Hyatt Shenzhen (www.hyatt.com/grand-hyatt-shenzhen) is a favourite among business travellers.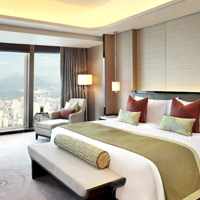 Soaring St Regis Shenzhen - rooms with views/ photo: hotel
No surprise this. Find extensive facilities, with more than 2,769sq m of event space and a 1,000sq m pillarless ballroom with sky-high ceilings. Nothing is standard here, so you can craft the perfect event on your own terms.
Heading to the opposite (western) side of the arcing Shenzhen strip you'll pass the stylishly boutique The Langham Shenzhen (www.langhamhotels.com/shenzhen/) with its 600sq m ballroom. This is worth a careful look. If entertainment and amusement jibe better with your corporate culture, try Raytour The Venice Hotel Shenzhen (en.szvenicehotel.com/). This quirky Italian-themed hotel is home to three ballrooms and eight meeting areas. The Venice Ballroom is among the largest, stretching 685sq m, and holding up to 700 people. Function rooms can accommodate anywhere from 12 to 150, and each is named (and designed) after a city in Italy.
The overland bus border with Hong Kong is at Shenzhen Bay in the far west (a pleasant surprise, with few crowds and an orderly taxi queue). Here you'll spot the all marble JW Marriott Hotel Shenzhen Bao'an (www.marriott.com/shenzhen/baoan). This is a 356-room Muscle MICE affair with elegant touches and more luxury trim than you could wave a stick at. It is about a 20-minute drive to the border. The scale and facilities at this JW will please meeting planners immensely. Consider this – eight meeting rooms with a combined space of 27,986sq ft (of which the Grand Ballroom serves up 2,070sq ft), assorted hi-tech paraphernalia for anything from stylish small corporate meetings to lavish conferences, trade shows, banquets or weddings.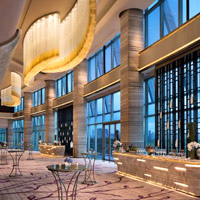 JW Marriott Shenzhen Bao'an ballroom grand foyer/ photo: hotel
Also expect a huge pre-function area with panoramic bay views welcoming of light. Mark it down as a top Shenzhen conference hotels choice.
Closer to the border and sited overlooking the bay, the sprawling Hilton Shenzhen Shekou Nanhai (www3.hilton.com/shenzhen-shekou-nanhai) serves up 2,900sq m of flexible events space along with a 1,200sq m pillarless grand ballroom and a 950sq m roof garden.
Make your Shenzhen conference hotels pick based not just on space but location (factoring in metro stations and distance from border crossings).
Macau's Mighty MICE
Macau's lucrative casinos may have put it on the map, but its MICE facilities are nothing to sneeze at. Many head here for top-notch meetings and events, with plenty of entertainment on the side. For elegant, contemporary meeting spaces, head straight to Wynn Macau (www.wynnmacau.com) on the Macau Peninsula.
One of Macau's most luxurious hotels, the Wynn offers up to 2,200sq m of meeting space, state-of-the-art technology and customised itineraries. You can expect excellent food, meticulous service and classy casino facilities.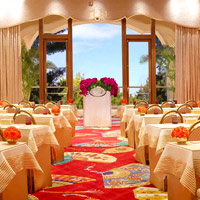 Wynn Palace Cotai, bright and plush / photo: hotel
Steve Wynn's newer US$4 billion 1,706-room casino resort Wynn Palace Cotai (2016, /www.wynnpalace.com/palace), his third Macau resort, is just across the road from Grand Hyatt.
Come here for fun with the family, with the boss for a bespoke meeting (the Grand Theater accommodates 1,200 cocktail style) or gawp at over 200 designer brand shops.
Situated on the NAPE waterfront not far from Wynn, the Mandarin Oriental Macau (www.mandarinoriental.com/macau/) is another serene, sophisticated option with three banquet rooms and two additional meeting spaces. Next door to the Mandarin Oriental is the marbled and artsy-quirky MGM Macau (www.mgm.mo/en), with 582 deluxe guest rooms, villas and suites. The Grand Ballroom can host 680 persons theatre-style while assorted function rooms and alcoves for those sound-and-fury board meetings provide versatile space for small meetings.
Also on the Macau Peninsula along the waterfront is the Sofitel Macau at Ponte 16 (www.sofitelmacau.com/). Located in Macau's Inner Harbor, this French-inspired property offers seven meeting rooms, all with natural light. The Baccara room has access to an outdoor balcony and pool, and all packages can include tailor-made menus upon request. Roll the dice or pop into Asia's first Michael Jackson Gallery – perfect for lunch breaks. With purportedly the largest LED dome in the world (with one million bulbs). The Grand Lisboa (www.grandlisboahotels.com/) comprises of casinos, nightclubs, fine dining - the three-Michelin star The 8 Restaurant - and a hotel, almost as an afterthought.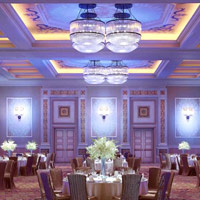 Sheraton Grand Macao's Kashgar Grand Ballroom/ photo: hotel
At night, the place resembles a giant psychedelic, flashing flower. The Grand Lisboa is positioned as a Macau conference hotel - as are they all - with a Grand Ballroom capable of accommodating up to 1,300 persons.
MICE space is spreading like a gambling addiction on the newer reclaimed Cotai Strip. The most notable addition to the meeting scene is the Sheraton Grand Macao Hotel, Cotai Central (www.marriott.com/sheraton-macao), a gargantuan 3,896-room property in the Cotai Central shopping and casino complex. This family friendly hotel has a lot going on under its hood, with 144,523sq ft of meeting space.
Try out the Kashgar Grand Ballroom and six smaller ballrooms. Of course, more intimate boardrooms are available as well. Or, spring for the hotel's "FIT Meeting" options, offering "healthy" meetings, fitness exercises and calorie friendly meals aimed at increasing team energy. The Sheraton is definitely a must-see on your top Macau conference hotels list. It is perhaps better suited to mega events.
The adjacent Conrad Macao, Cotai Central (conradhotels3.hilton.com/macao-cotai) is a bit more intimate with its spaces, with a more sophisticated feel. You can expect an impressive 53 conference and meeting spaces, as well as access to the Sands Cotai Central group's six ballrooms and 13,500sq m grand ballroom. The total floor area for conferences and banqueting is 62,100sq ft. The 400-key The St Regis Macao Cotai Central (www.marriott.com/st-regis-macao) billed as a Macau luxury boutique hotel but with a 600sq m ballroom with space can host up to 400 for luxury corporate meetings, gala events or flash CEO get-togethers.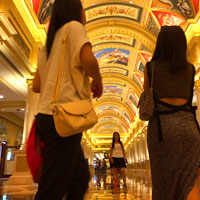 Dress up and spin the wheel en route to a meeting at the Venetian Macao / photo: Vijay Verghese
Just across the road, o f the Sands bunch, The Venetian Macao (www.venetianmacao.com) still steals the show along this strip, but it has a very different bustling, station-platform feel, the lobby swarming with selfie crowds. It's easy to get caught up in the canals and shopping, frescoes and food courts, but within the more than 100,000sq m of meeting space, you're sure to find a spot to park your group and buckle down. Full-day packages would usually come with lunch, two coffee breaks and typical presentation gadgetry.
Conferences of up to 10,000 can schedule events across sister properties, including the humungous The Parisian Macao (www.parisianmacao.com/) with its trademark Eiffel Tower and enough space to start a riot. The Parisian Ballroom can host 2,600 guests for dinner
In the glittering City of Dreams complex is the Grand Hyatt Macau (www.hyatt.com/grand-hyatt-macau), a polished and businesslike space for high end get-togethers.
Other Macau MICE and conference options in Cotai include Galaxy Hotel (www.galaxymacau.com) in the Galaxy Macau complex, a sprawling casino and conference complex; and The Ritz-Carlton, Macau (www.ritzcarlton.com/macau), an intimate affair for corporate meetings with 900sq m of event space including a pilar-less grand ballroom for 400.
In the Galaxy's second phase is Asia's largest JW, the JW Marriott Hotel Macau (www.marriott.com/jw-marriott-macau) with 1,015 rooms. It arrived May 2015. As with all the grand behemoths lining this glittering strip, the JW Marriott Macau serves up both Muscle MICE - with 2,700sq m of event space for conferences, corporating meetings, banquets and weddings - and splendid family distractions.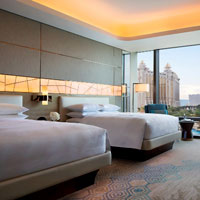 JW Marriott's Muscle MICE ensemble arrived May 2015/ photo: hotel
Rooms are smart and textured with clean minimalist lines and pastel tones. The grand ballroom can seat 1,600 theatre style and 904 for a conference. The meeting rooms can hold from 15 to 84 people theatre-style and a combination of two rooms can hold 216. This popular convention address is one of the top Macau conference hotels. Mark it down.
Four Seasons Hotel Macao, Cotai Strip (www.fourseasons.com/macau/) is luxurious but not obviously so. It has a colonial Macanese feel with ochre walls, cream stone detailing, and hand-made tiles from the entrance through to the main lobby. The 360 rooms and suites mix Portuguese and Chinese decor with modern amenities, including large flatscreen TVs. The hotel has 27,500sq ft of event and meeting space. The main ballroom is 7,513sq ft, or 698sq m.
Flexing muscle along the Cotai strip is Studio City Macau (www.studiocity-macau.com), bringing with it an immense 500,000sq ft casino and gaming space along with the 1,600-room Celebrity Tower and Star Tower (aimed at the luxury market), and Golden Eye (the highest figure-eight ferris wheel in the world at 130m above the ground).
There is conference and MICE space for up to 6,000 persons, luxury brand shopping at The Boulevard at Studio City, endless dining, and all this in an art deco 'Gotham City' package. Look out for Batman.
Hong Kong's can-do corporate spaces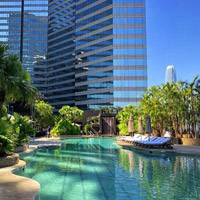 Wonderful Grand Hyatt HK pool deck/ photo: Vijay Verghese
On the doorstep of southern China and a stone's throw from major mainland destinations, vibrant Hong Kong conference hotels have a track record for technical expertise and world-class meeting facilities. Dealing with business travellers is a doddle. A convenient visa-free system allows several nationalities to pop in without formalities. As elsewhere around Asia, lead times have shrunk, with clients who used to book up to a year in advance now organising their meetings only a month or two ahead. This trend, along with the rapid development of neighbouring Macau and Shenzhen, has made prices more flexible.
Groups of 20 at the Grand Hyatt Hong Kong (www.hyatt.com/grand-hyatt-hong-kong) can meet in style in the opulent The Residence, with an open kitchen providing "creative" breakfasts and coffee breaks. Or choose semi-outdoor The Poolhouse, overlooking the swimming pool and gardens. At least 22 other function rooms cater for groups of all sizes. The largest space is 730sq m and the hotel can handle groups from 12 to 1,600. This popular HK conference address has had a full refurbishment (including at the iconic lobby) and the ballroom sparkles. Check if extras extras on meeting packages are available like head and shoulder massages during breaks, chef's showmanship dim-sum-making sessions or even professional tarot-card and palm reading.
Conjoined at the hip (via the 11th-floor poolside) at the other end of the Hong Kong Convention and Exhibition Centre is the Renaissance Hong Kong Harbour View Hotel (www.marriott.com/renaissance-hong-kong). It serves up 23,917sq ft of meetings space with 14 function rooms and the largest space accommodating 950 persons. Expect white marble, views, and a brisk manner.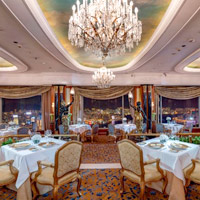 Island Shangri-La Hong Kong, Petrus restaurant/ photo: hotel
If the discussions get too heated at your team meeting at Island Shangri-La (www.shangri-la.com/hongkong), just peer out at the view if the weather is kind. Or have the hotel arrange a 'Go Green' coffee break with sustainable seafood and locavore menus; a guided green walk in Hong Kong Park with a packed lunch, or a meet-up with children from the 'Embrace' project and volunteer activities. Muscle-stretching in between long ho-hum speeches are led by fitness instructors so remember to wear your underwear on the outside of your suit and do like Superman. The Atrium rooms can handle receptions of 100 to 200 and theatre seating up to 180. On Level 5 the Island Ballroom can easilt hustle space for 1,000 reception style or 700 theatre-style. The Island Shangri-La has a deserved reputation as a fine business address with quick and attentive service. It should be on your Hong Kong conference hotels short list.
Centrally located above the Pacific Place mall and very popular with conferencegoers and meeting planners the glass-and-brass JW Marriott Hong Kong (www.marriott.com/jw-marriott-hong-kong) has 12,023sq ft of total meeting space, including 15 breakout rooms. Meetings packages are tailored on request. This is a central venue close to shopping, restaurants and cinemas should the keynote speech be too dull. Connected from the side, the uber-chic and understated The Upper House (www.upperhouse.com/) from Swire is not a muscle meet place but rather an address for hushed tones and thoughtful discourse with an intimate gathering at the 182sq m Penthouses, The Lawn or the 115sq m Sky Lounge. Characterful and understated. Should work bring you to the eastern island vicinity of Tai Koo Shing, Swire sister hotel The East Hong Kong (www.east-hongkong.com/) has Suite 3006 for a 13-person boardroom presentation or the breezy Sugar bar/deck for a larger event or party.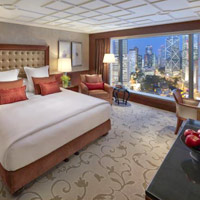 Mandarin Oriental Hong Kong/ photo: hotel
Neighbouring Conrad Hong Kong (conradhotels3.hilton.com/conrad-hong-kong/) is another brisk Hong Kong small meetings hotel that is good with larger conferences as well. This is a hotel with a special focus on pin-striped executives and is very much a dedicated business traveller bolthole.
The legendary and fully revamped Mandarin Oriental (www.mandarinoriental.com/hong-kong/) overlooking Victoria Harbour is connected by air-conditioned walkway to top business addresses in the Central district. The hotel serves what it calls 'Mindful Meetings' with a garnish of wellness elements and crafted cuisine to leave guests refreshed and less fatigued.
Expect energiser welcome shots, 30-minute yoga perhaps, a wellness gift for participants, high-speed WiFi and IT butlers. Yes, the butlers definitely did it. This is the group's original flagship hotel with 12,500sq ft of corporate meeting and events space.
Just up Cotton Tree Drive is an unusual and quiet retreat. The handiwork of the Architectural Services Department, which launched this resolutely 'green' government building in 1969 - and, later, Foster + Partners who eased it forward into the realm of contemporary luxury, The Murray Hong Kong, a Niccolo Hotel (January 2018, www.niccolohotels.com/the_murray), is a benchmark offering from Wharf Hotels. The 25th floor houses the 425sq m Niccolo Room that accommodates 250-300 theatre-style in a long space.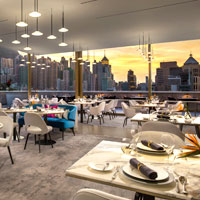 Spectacular sunsets and views from Popinjays at The Murray HK/ photo: hotel
This can be subdivided into eight units with LED ceiling panels that will set the mood or give you a peek at your very own designer sky. There are video walls at either end of the room but no windows, so focus on the meets. Other function spaces include the semi-open The Arches, The Murray Boardrooms, and Cotton Tree Terrace. Or head up to the rooftop restaurant Popinjays with its wraparound bar/verandah to get a fresh perspective on the city. Hold a breezy meet or wedding reception here.
Across the road overlooking Victoria Harbour is the curving reflective glass Four Seasons Hotel Hong Kong (www.fourseasons.com/hongkong), which serves up two ballrooms and seven meeting rooms with Wi-Fi for you to catch your favourite YouTube broadcast. A package with meeting facilities might include a fitness workout upon arrival, an afternoon at the shopping mall, a welcome reception in the Peak Suite, an evening of horse racing at the Happy Valley racetrack, and a gala farewell dinner. You can shake hands and make impassioned speeches in between.
If a corporate meetings planner were to compare the Mandarin Oriental vs Four Seasons Hong Kong, it's a close match-up with the Four Seasons having a small edge on space, harbour views, and parking. The Mandarin is right above the Central MTR station, however, while the Four Seasons is a short walk from a station exit. There's 2,000sq m of conference space with 15 function rooms and a 731sq m ballroom.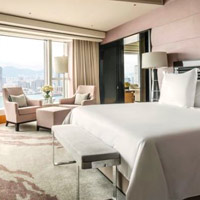 Four Seasons HK views/ photo: hotel
InterContinental Hong Kong returns to its original Regent fold and re-emerges in 2021 as part of InterContinental's luxury portfolio after renovations through till 2020. The five-bedroom Presidential Suite at 7,000sq feet with a stunning two-storey glass harbour-view frontage is touted as the largest in this category anywhere in the city, inclusive of a 2,500sq ft rooftop terrace with a panoramic infinity pool that even comes with a "resistance" current so you can keep swimming hell for leather but never get to the other side. Whether this stays remains to be seen. While awkward of access, this address is known for its quality MICE facilities and corporate meetings space.
Just around the harbourfront is the elegant beige and glass tower of the Rosewood Hong Kong (2019, www.rosewoodhotels.com/hong-kong) and almost across the road dripping with history and finery is the classic The Peninsula Hong Kong (www.peninsula.com/hong-kong/) offers a range of conferencing venues from the majestic Salisbury Room with its golden drapes and sparkling chandeliers to the Garden Suite, with a private terrace overlooking the harbour.
The China Clipper room is aviation-themed and can host 16 to 40 persons, while the more intimate Golden Pen room can accommodate 20 persons classroom style or in a U shape and 45 persons theatre-style.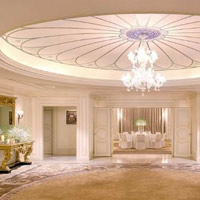 Virginal Salisbury Room at The Peninsula Hong Kong/ photo: hotel
This historic hotel is right next to the TST Station exit and offers completely remodelled rooms that made a grand appearance in 2012 with hi-tech features like interactive tablets for room controls. A full day meeting package may include a 9am-5pm meeting room, two coffee breaks, a Chinese or Western lunch, complimentary WiFi and free use of conferencing equipment like built-in projectors and flip-charts.
With excellent meeting facilities and quality service, we are often asked to compare The Peninsula vs The Ritz-Carlton Hong Kong (www.ritzcarlton.com/hong-kong). These two could have regular dustups but they are worthy, and stately, competitors. The younger and unabashedly contemporary Ritz soars over Kowloon West, 102 floors above the city in a gleaming steel-and-glass tower next to the ICC office tower.
The elegant Diamond Ballroom is a 7,279sq ft space with elaborate chandeliers. It can host 905 guests theatre style. Go for one of the larger meeting rooms or opt for a smaller leather chair function space for a CEO meet.
There is a total of 17,000sq ft of event space. The Sky100 event space offers wraparound views of the harbour and Kowloon. Options here are mod and hi-tech. The Airport Express station is close at hand as is the West Kowloon high speed rail terminus.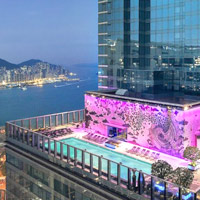 Partytime poolside at W HK/ photo: hotel
For something offbeat and hip in the same complex, look at W Hong Kong (www.marriott.com/w-hong-kong/). The hotel says it "puts the chi back in chic" and expect no less when it comes to conference venues and events. This 393-room hotel offers 10 meeting spaces with plasma screens, WiFi, high-speed Internet access and breathtaking views, not least of all from the pool. Run a small company meeting or a larger show with a touch of class, or mischief, as the mood demands. The hotel has 1,200sq m of conference space and is no slouch on Hong Kong corporate meetings.
Hip, dark and sultry, The Mira (www.themirahotel.com) is tucked away off Nathan Road in TST and pushes for a "wow" factor. Multi-function meeting space and a 10,000sq ft ballroom can manage everything from 800 persons to just the top brass for an annual budget cruncher. Trendy, different and with good innovative nosh too, in the midst of shopper neon.
Older and with classic décor, Kowloon stalwart The Langham Hong Kong (www.langhamhotels.com/hong-kong/) has a ballroom that can hold up to 450 theatre-style and function rooms for 20 to 50 persons. This is a reconstituted address with faux European touches - like the scalloped lobby ceiling - and a businesslike approach.
Offering panoramic views is the Hyatt Regency Hong Kong, Tsim Sha Tsui (www.hyatt.com/hong-kong-tsim-sha-tsui). Renovated in late 2012, the hotel's five versatile salons dance with natural light and can accommodate parties ranging from 12 to 217 guests.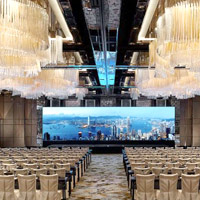 Ritz-Carlton Hong Kong ballroom/ photo: hotel
If it's a big ticket event you're after, size up the high ceilings of the 335sq m pillarless ballroom. The hotel is in the heart of Kowloon shopping and nightlife a short stroll from the underground train.
If you prefer to hang by the airport, try the Hong Kong SkyCity Marriott Hotel (www.marriott.com/hong-kong-skycity-marriott). With 12 meeting rooms totalling 13,885sq ft and a ballroom that can accommodate up to 650 people, this hotel can get the job done. The hotel offers a contemporary, colourful feel with a brisk pace and buzz. The meeting area is set apart from the residential area, cleanly separating the action from leisure. The airport is easily accessible as is the neighbouring AsiaWorld-Expo that hosts a growing number of exhibitions, conventions and concerts. This is a smart modern address for corporate meetings in Hongkong.
Regal Airport Hotel (www.regalhotel.com/airport) is connected directly to Hong Kong International Airport. This is the Big Daddy of airport meetings and its proximity to Terminal 1 is a huge plus. It's a large affair with 1,171 rooms, 31 function rooms, and one of the biggest pillar-less ballrooms in the city, six restaurants, a spa, and fitness facilities. The grand ballroom is 1,050sq m with crystal chandeliers and a high-definition LED wall for wow displays. Also expect 270-degree 3D Projection Mapping to transform the Grand Ballroom into what the hotel likes to call a "Mood Room".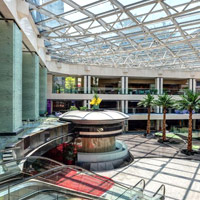 Spacious Regal Airport Hong Kong / photo: hotel
This space can accommodate up to 1,500 guests. Now that's a crowd - for any airport. In rooms expect flatscreen TVs, pastel minimalist decor, complimentary WiFi, safes to house a laptop, tea-and-coffee-making facilities, plus open views. As well as an indoor pool, there's also an outdoor option where you'll hear the roar of the jets as they take off. Regal is family-friendly Hong Kong airport hotel – Disneyland is just a short drive by car, and the hotel has its own 'Kiddieland', which has a bicycle track and play area.
Japan meetings for all reasons
Tokyo is a pricey business destination, but there are good deals to be had with hotels more inclined to be creative and flexible in accommodating requests and budgets. Savvy hoteliers have adapted their strategies to get through the downturn. By 2018 some great deals were on offer as the economy battled out of a downswing. This is good news for meeting planners.
Kimono-wearing classes and pre-meeting, mind-opening yoga sessions are but a sample of the special meetings offerings at times at the soaring big-view Mandarin Oriental, Tokyo (www.mandarinoriental.com/tokyo). Also look at Bushido martial art lessons for road warriors on the go, tea ceremonies, and having your own customised fan created by local craftsmen. The hotel's ballroom is equipped with as many as 36 projectors that enable a 360-degree projection of images. Add some wow factor to your presentation.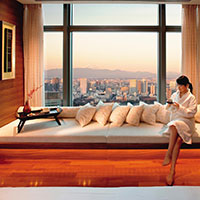 Mandarin Tokyo Asanagi Suite/ photo: hotel
A full-day package at Y29,000per person in late 2018 would include a meeting room for eight hours, water, one coffee break, pens, notepads and hi-tech amenities. This is available for up to 70 persons.
At the conveniently located The Peninsula Tokyo (www.peninsula.com/tokyo) in the financial district of Marunouchi, the Grand Ballroom has a capacity of 170 for a banquet while the Ginza Ballroom can accommodate 90 (with 160 guests for a reception). With more than 1,200sq m of banquet and meeting space and meeting consultants to offer seamless service, several function rooms in the hotel are perfect for groups of up to 30.
Stay in touch with complimentary high speed WiFi. A Full Day Business Meeting Package late 2018 at Y22,000 per person would include (for a little extra) themed coffee breaks, buffet lunch and unlimited soft drinks. You'll need a minimum of six persons for this. This package may be combined with other promotions.
Sleek and towering, the 290-room Conrad Tokyo (conradhotels3.hilton.com/tokyo) in the Tokyo Shiodome area has six meeting rooms and two ballrooms hosting from 10 to 480. The larger ballroom is Kazanami. Meeting rooms feature the latest in audio-visual gadgetry (this is Japan after all.
For large banquets and ballrooms, head to the longtime Tokyo MICE hotels leader the Imperial Hotel Tokyo (www.imperialhotel.co.jp/tokyo) that has played host to everything from IMF meets to the G7. It has a sister hotel in Osaka.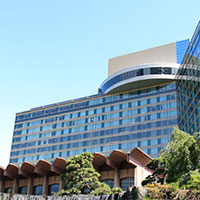 New Otani Tokyo, massive meeting space/ photo: hotel
A big plus here at this traditional but contemporary hotel are tea ceremonies at the "TOKO-AN" - three ceremonial chambers in the original sukiya style. Guests watch as their tea is prepared in the traditional manner.
Going back over 120 years, the Imperial is smack in the heart of Ginza with a super location for subway access. This is one of the oldest hotels in Japan (originally designed by Frank Lloyd Wright) and retains some of the earlier brick feel at its clubby Imperial Bar.
Two other top-notch traditional Japanese conference hotel offerings include the three-axis 1,000-key Hotel New Otani Tokyo (www.newotani.co.jp/tokyo/) with its magnificent gardens, extensive F&B, and multitude of spacious ballrooms - the largest is TSURU with a staggering 2,454sq m - and meeting venues; and the grand, traditional revamped Hotel Okura Tokyo (www.hotelokura.co.jp/tokyo) at Toranomon.
Leading the charge for NextGen designer hotels, the centrally located Palace Hotel Tokyo (en.palacehoteltokyo.com) in the heart of Tokyo's Marunouchi opened May 2012 and is well worth noting among the list of top Tokyo conference hotels for corporate meeting planners.
This refined addition to the skyline is within gazing distance of the Imperial Palace and can host up to 1,440 people in its main AOI Ballroom. Soaked in natural light with floor-to-ceiling windows, the remaining meeting spaces are smaller, and ideal for more intimate gatherings.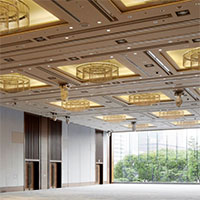 Palace Hotel Tokyo, AOI Ballroom with natural light/ photo: hotel
Hunting for more international hotel brands in Tokyo? Roppongi muscle meet venue, the Grand Hyatt Tokyo (www.hyatt.com/grand-hyatt-tokyo), serves up 16 event spaces and a 1,000sq m Grand Ballroom.In all there is 2,800sq m of conferencing space for Tokyo MICE or small corporate meetings.
Close by is trendy The Ritz-Carlton Tokyo (www.ritzcarlton.com/tokyo) in thrumming Roppongi. Also consider Four Seasons Hotel Tokyo (www.fourseasons.com/tokyo/)in Marunouchi for more intimate settings and smaller groups; the Shangri-La Hotel, Tokyo (www.shangri-la.com/tokyo/) close to the historic Tokyo Railway Station; and the humungous Hilton Tokyo (www3.hilton.com/hilton-tokyo) in the nightlife district of Shinjuku not far from the movie poster darling Park Hyatt Tokyo (www.hyatt.com/park-hyatt-tokyo) where nothing is lost in translation with a 405sq m ballroom and its signature 160-inch video wall.
River, beach and city events in Thailand
Comprehensive countrywide mobile phone networks, fast and efficient high-speed Internet and international teleconferencing complement outstanding services and facilities in the Thai kingdom. There are good domestic and international air links and top conference and MICE facilities.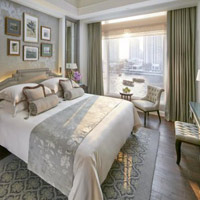 Mandarin Oriental suite, meetings on the river/ photo: hotel
BANGKOK alone houses the Queen Sirikit National Convention Centre (committed to 'green' MICE events, with ballroom, auditorium, outdoor space and a kids' area), the Bangkok International Trade & Exhibition Centre or BITEC (with 50,400sq m of MICE and convention space in Bang Na) and the large Impact Arena Exhibition Centre a little outside the city not too far from Don Mueang Airport in the north. The Impact Exhibition Center offers eight halls that can be flexibly repurposed for any event with 47,000sq m of MICE space at competitive prices.
The Thailand Convention and Exhibition Bureau (TCEB) runs a very competent and informative site with details on Thailand MICE destinations including Bangkok, Pattaya, Chiang Mai and Phuket. A few years earlier, political turmoil sent conference business scuttling to rivals such as Singapore and the market remains soft so bargains are to be had with the added advantage of great Bangkok conference hotels and top-line service. The city has far too many hotels to list here from small to big, each with meetings facilities ranging from stodgy to uber-chic or artsy. Below is just a sampling of whet the city has to offer from downtown to riverside locations.
Apart from more conventional meeting spaces and ballroom with the de rigueur built-in projectors and screens, the Mandarin Oriental, Bangkok (www.mandarinoriental.com/bangkok) also offers tailor-made private meetings in rich colonial surrounds. At Bt2,170 per person, expect a meeting room, a function host, lunch buffet, coffee breaks, mineral water, podium and microphone plus other meeting essentials. Get creative with massage breaks and ice sculpture too.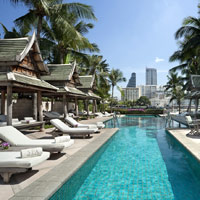 Peninsula Bangkok/ photo: Vijay Verghese
Just across the river and having celebrated its 20th anniversary in 2018 and with telescopes mischievously trained on its archrival, are the classy tower rooms of The Peninsula Bangkok (www.peninsula.com/bangkok/) where you'll find a grand setting, understated, with top notch service and a small river-fronting lawn for special events (or weddings).
Apres-work destress with offbeat unwinds like a longtail boat swoosh up the river, or learn Thai cooking and sweat it out with a spot of Thai boxing. One advantage of this serene and very corporate dark-wood resort-hotel is that it is on the "other" side of the river and thus keeps your audience corralled a bit better than a next-to-bars location.
Farther up the river is the breezy, resort-style Anantara Riverside (www.anantara.com/en/riverside) where you will never feel you're in a big city at all. Pootle down the river, a 10-minute boat ride from the Saphan Taksin SkyTrain ferry pier, to find the Chaophraya Ballroom that seats up to 600 theatre-style. The Garden Room can hold 200 while smaller spaces like the Thonburi Room are good for corporate meets of 50. There are other smaller breakout session rooms as well for groups of varying sizes. This is a popular venue for Bangkok weddings too.
Just behind this complex is the highrise and hip conference venue of the newer Avani Riverside Bangkok Hotel (2016, www.avanihotels.com/riverside-bangkok), a high-rise with arrogantly dominant views across the river and cityscape, nowhere better viewed than from the rooftop alfresco pool backed by vertical gardens and flanked by sun loungers. All the 245 rooms have some view or other of the river.
If you're looking for good value Bangkok river hotels with corporate meetings facilities, this fun and happening address may fit the bill with 20 function rooms, the largest accommodating 520 classroom style.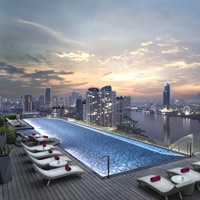 AVANI Riverside Bangkok - stunning views and hip meetings/ photo: hotel
The corporate Sheraton Grande Sukhumvit, a Luxury Collection Hotel, Bangkok (www.marriott.com/sheraton-grande-sukhumvit) is quite a mouthful but it has 12 dedicated event rooms and 15,769sq ft of meetings space. This is an excellent corporate meetings venue in the City of Angels. The direct covered connection to the Soi Asoke BTS SkyTrain Station is a huge added plus for meeting planners as traffic and access in Bangkok can be dodgy at times. Apart from themed coffee breaks in marbled surrounds and more expect blazing fast 210Mbps Internet. Also look at sister hotel on the river, the huge, friendly, and resorty Royal Orchid Sheraton Hotel & Towers (www.marriott.com/royal-orchid-sheraton).
Across the road, similarly favoured by a location next to a BTS train stop and the underground metro station, The Westin Grande Sukhumvit, Bangkok (www.marriott.com/westin-grande-sukhumvit) offers value stays in a refurbished and brightly humming - but clearly dated - building. Expect 14 meeting venues and a total conferencing space of over 1,725sq m. Keep an eye on the smart rooftop Altitude with indoor areas, a breakout space and alfresco options with vast views.
Also on Sukhumvit Road, the artery of commerce, the JW Marriott Hotel Bangkok (www.marriott.com/jw-marriott-bangkok) features new high-tech rooms and an IT concierge to cater for meetings, launches, events and incentives. This address is reassuringly classic in an old-school kind of way with black-marble interiors, signature Thai silk and delicate gold painted panels.
While it looks elderly in a statesmanlike fashion, it is no plodder and service runs on rails with new-look pastel-and-grey contemporary room interiors revving up the pace. Expect 14,412sq ft of meetings space with the largest accommodating up to 600 guests.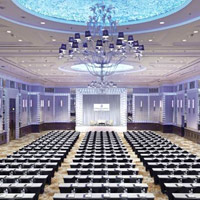 Sheraton Grande Sukhumvit ballroom/ photo: hotel
Along Sukhumvit at Soi 13 the soaring Hyatt Regency Bangkok Sukhumvit (Q1 2019, www.hyatt.com/hyatt-regency-bangkok) with a bridge linking it to the BTS Nana Station promises a unique lifestyle experience for business travellers, leisure trippers and meeting planners, exploiting the Klongtoey neighbourhood's historic roots. Kitted out in Thai style reflecting golden ages from Sukhothai and Ayutthaya to the Rattanakosin period, the hotel features a rooftop event venue and bar (in a two-storey ensemble with select whiskies and a speakeasy flavour). The Regency Ballroom offers 1,359sq m of flexible space to hold 850 delegates in a pillar-less environment. Also find an Events Lounge on the fifth floor and a Meeting Suite with flexi space from a boardroom setup for 24 to a reception for 140. Think of this as a stylish lifestyle stay. What better way to meet? Break the ice.
Farther up Sukhumvit set into Soi 22 is the humungous and newer Bangkok Marriott Marquis Queen's Park (www.marriott.com/bangkok-marriott-marquis) with a whopping 69,000sq ft of event space and 35 function rooms. The ballroom can handle up to 1,300, all this enough to make the most harboiled meeting planner cry with joy. This is a huge space (two hotels rolled into one) for major MICE events where bodies have to be moved, fed, and educated. This is one of the largest conference venues in Asia, not just Bangkok and is kitted out in earth tones and rich marble.
The corporate market has remained strong for business stalwart Anantara Siam Bangkok (www.anantara.com/siam-bangkok) with an 840-person ballroom perfect for MICE events, weddings, and banquets plus a range of breakout rooms accommodating anywhere from 40 to 200 people. This is a fine Bangkok conference hotels pick with a BTS SkyTrain location (Rajadamri), excellent service, and dedicated meetings coordinators to help plan any event. The hotel offers a contemporary experience in a very Thai-style setting that will please many.
Next door, gleaming reflective-glass 227-room The St Regis Bangkok (www.marriott.com/st-regis-bangkok), is conveniently linked to the Rajadamri station. This luxury address offers seven event rooms with the largest conference space - the 5,541 sq ft Astor Ballroom - able to handle 400. This all marble and darkly elegant address is a favourite with business travellers and offers splendid F&B too.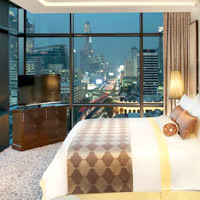 At The St Regis Bangkok, luxury suites like Caroline Astor are a big CEO draw/ photo: hotel
Next door in cream-marble contrast is the new 171-room Waldorf Astoria Bangkok (August 2018, waldorfastoria3.hilton.com) with open views over the Royal Bangkok Sports Club. Rooms start at a generous 50sq m - large by any standard - and the Magnolia Ballroom hosts 700-800 persons in a 730sq m space. The conference block has its own entrance.
Add to this a Junior Ballroom, an event suite and four floors of function space and you get an idea of how Waldorf is gearing up to be a Bangkok conference hotels address of choice with a central location, rail access, and spectacular facilities. Two BTS stations are a skip away.
A short stroll down the road, Grand Hyatt Erawan (www.hyatt.com/grand-hyatt-erawan-bangkok/) is a Bangkok conference hotel with excellent facilities and a splendid central location astride the Sukhumvit/Silom axis. The hotel offers 3,330sq m of conference space in 14 function areas. The ballroom can host up to 1,500, while six smaller rooms are able to host from 10 to 150 – ideal for corporate company meetings.
Or opt for "the residence", a series of event rooms set around a Loft Kitchen where coffee breaks are taken. There is space here for 700 for a reception or dinner for up to 200 persons. This is a clubby intimate setting that will help break the ice. And if nothing seems to be going your way, duck outside for a quick blessing at the sacred incense-wreathed Brahma statue.
Also consider the regal, Thai-style high-ceilinged cream marble Siam Kempinski Hotel Bangkok (www.kempinski.com/bangkok/) with its urban resort feel, and courtyard gardens and pools. This is a stylish meetings bolthole next to shopping and restaurants (ideal for accompanying families). Expect nine meeting rooms (the smallest for around 50 guests) and a ballroom for 1,200 (cocktails). The resort flavour in the heart of town is an added plus.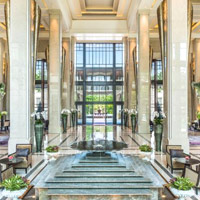 All marble urban resort Siam Kempinski lobby/ photo: hotel
The integrated hotel, convention venue and leisure complex Centara Grand and Bangkok Convention Centre at CentralWorld (www.centarahotelsresorts.com/cgcw/) in the heart of Bangkok's CBD has nine executive floors and meeting spaces for groups of any size.
The World ballroom can handle up to 1,000 persons and there are 17 Lotus Suites for between 10 to 400 delegates.
As a Bangkok corporate meetings venue, M23 is a useful choice situated on the 23rd floor with four rooms (plenty of natural light) plus a kitchen, reception area and even a quick-break putting green. Mega events and MICE shows can be held at the mammoth Bangkok Convention Centre where the Convention Hall can squeeze in 7,000 for a cocktail with room to spare. This is a pillar-less affair and a popular with large state and private events.
Across a busy road, the spacious and very popular InterContinental Bangkok (bangkok.intercontinental.com/) has built a MICE and meetings reputation second to none and is a big draw with both leisure and business travellers. The hotel has 22 function rooms and its Grand Ballroom can handle 1,000 guests cocktail-style. Apart from the convenience of a Meeting Instant Service team, techies will enjoy frills like ultra-bright LED lighting with colour mixing, conferencing, video streaming, and recording. The hotel picks up brownie points too for useful satellite communication, mobile projection systems, and LCD displays.
Gleaming The Athenee Hotel, A Luxury Collection Hotel, Bangkok (www.marriott.com/athenee-bangkok/) is a short skip from a BTS station and you'll find a quality spa, classy accommodation, and some of the largest conferencing facilities in town. New look rooms streamed in mid-2015. Public areas and the marbled lobby (following the switch from Plaza Athenee late 2017) - with its signature floral arrangement and grand staircase - are in place.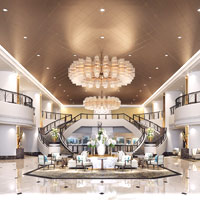 The Athenee Hotel, new look, and the grand staircase/ photo: hotel
Nowhere is the transformation more keenly apparent than on the fourth floor where an event space for about 60 (sit down dinner) opens onto the alfresco pool and its manicured surrounds and breezy sala.
This is a swimming pool that actually catches the sun for a leisurely tan. While green astroturf rings the pool, there is actual grass in an adjoining topiary. But if you don't need 5,600sq m of Muscle MICE conference and exhibition space, pick a smaller function room with state-of-the-art equipment and get cracking with a quality small corporate meeting.
Around the corner with direct access to Ploenchit Station are plush luxury meetings contenders, the futuristic, curvy cream-marble and distinctly feminine Park Hyatt Bangkok (www.hyatt.com/park-hyatt-bangkok) with 12 residential-style venues (the largest space weighing in at 540sq ft) and the gleaming corporate rather male and zen Okura Prestige Bangkok (www.okurabangkok.com/), a favourite with Japanese businessmen, with 1,000sq m of corporate meetings and banquet space.
Another option in the area is Sofitel Bangkok Sukhumvit (www.accorhotels.com/sofitel-bangkok-sukhumvit) a stylish art and business pick. Expect customised packages from the Inspired Meetings Concierge, and a choice of 15 diverse venues, all equipped with Bose surround sound and LED screens and a maximum capacity at Le Grand Ballroom of 630 for banquets.
Bangkok Sukhumvit's creative and funky sibling is the So Sofitel Bangkok (www.accorhotels.com/so-sofitel-bangkok), offering a more contemporary vibe. This darkly lit 238-room hotel has decked out its meeting spaces with hi-tech LCD screens, HD projection screens and free WiFi throughout.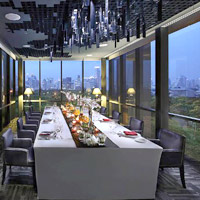 So Sofitel Bangkok - stylish spaces for CEO chinwags/ photo: hotel
If you need to get those creative juices flowing, ask for "The Box" – perfect for intimate brainstorming sessions. There are also four loft-style meeting rooms with open kitchens and a ballroom that takes after a Parisian opera house. There are nine meeting rooms in all with the main ballroom weighing in at 380sq m (400 theatre-style or 250 banquet).
A few minutes away on South Sathorn Road is The Sukhothai Bangkok (www.sukhothai.com/bangkok). This luxurious Thai heritage hotel offers a mix of green outdoor spaces, boardrooms and reception halls and several intimate or roomy courtyards for a fairytale escape. If you're in town and the weather is nice, try the two-storey Garden Villa (set in 7,000sq m of garden), which has a total of four meeting spaces and a courtyard for cocktail parties or coffee breaks.
For small corporate meetings, you'll find facilities for between 48 and 100 people. The ballroom can manage banquets for 200 or stand-up cocktails and events for 400. Excellent food and service. This is a standout for Thailand city conferences, not least for its beautiful design. However, this address is not near a SkyTrain station and Sathorn Road is plagued with heavy traffic. Still, all in, for meetings with a Thai flavour, this is one of the top choices especially for residential live-in .
The Dusit Thani Bangkok has long been a city icon favoured by royalty for major events. This stately address is shuttered from January 2019 as the space gets redeveloped as a multipurpose complex. Farther up the road is the sparky and whimsical Pullman Bangkok Hotel G (www.pullmanbangkokhotelg.com/) with its iconic white-brick lobby, great burgers, and a ballroom for 300 for cocktails or 200 theatre-style. For smaller meetings of 30-40 or so consider Gallery 36. Or for something intimate and homey yet smart with lots of natural light pick The Library.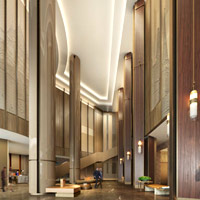 Stylish Conrad Bangkok has a new look - the bright lobby/ photo: hotel
On Surawongse Road, parallel to Silom not far from the fabled Patpong nightlife strip and night shopping neon is the mod and hip 282-room Le Meridien Bangkok (www.marriott.com/le-meridien-bangkok) with its Grand Atelier on the fifth floor offering five smart meeting rooms.
This is a jaunty hotel well set to cater for small meetings with a degree of flair in woody corporate surrounds much favoured by Japanese guests (many of whom have offices in the area). Find 559sq m of conference space with high-end BOSE AV equipment, including touch-screen IP phones and 40-inch LCD screens. For groups of 10 or more, explore special meeting packages. This property has a coveted ISO 20121 'sustainable meeting' certification.
The wood and silk remodelled Conrad Bangkok (conradhotels3.hilton.com/bangkok) was back late 2018 with a fresh and brighter pastel look. It is a smart address downtown with lots of Thai overtones on what is a very contemporary executive chassis. This is a chic address with style, functionality, and broad-spectrum appeal perfect for small meetings in Bangkok or larger corporate bashes with top notch service. There are 22 meeting or banqueting rooms with WiFi internet access and a veritable arsenal of audiovisual equipment. Expect tele-prompters, "intelligent" light systems, surround sound and video conferencing facilities. A good address for corporate meetings and small conferences. The space can hold up to 1,200 persons. New-look rooms are an added address at this hotel with attitude (with a quick bus shuttle to the Ploenchit BTS SkyTrain Station).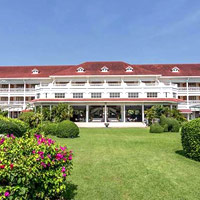 Centara Grand Beach Resory & Villas Hua Hin, colonial vibes/ photo: hotel
About 190km south of Bangkok, and varying driving times, the resort town of HUA HIN offers good options for those wanting to avoid an onward flight from Bangkok. The spread out Sheraton Hua Hin Resort and Spa (www.marriott.com/sheraton-hua-hin) offers great value, mixing family-friendly facilities - Star Club for kids - with good service in a neat package. The low-rise architecture - straddling a series of pools - is bright and airy with lots of nooks and crannies to give the Sheraton the feel of a much smaller resort. This works to its advantage as a MICE player. The hotel serves up a comfortable 4,800sq m conference and meeting space for corporates and has sufficient grounds to manage resort weddings, events, and a range of functions including team building exercises. The grand ballroom is a commodious - and versatile - 5,651sq ft while The Chandelier is is 9,558sq m.
Once a Sofitel, the iconic all-white Centara Grand Beach Resort & Villas Hua Hin (www.centarahotelsresorts.com) with its old-colonial style and distinctive topiary of sculpted animals and birds is an elegant place to get-together. With six 18-hole golf courses nearby and more within reach, this is an executive dream. Tailored rates are available. With five-metre-high ceilings the Colonial Hall can pack in 300 while outdoors at the beach or poolside this old world resort can host 700 with aplomb. Think off-the-wall coffee breaks, tai chi, yoga, kayaking, paintball and doing alms rounds with monks.
Take a close look at the red-tile-roof complimentary WiFi Anantara Hua Hin Resort (www.anantara.com/hua-hin/), which offers a range of small meeting options to accommodate 40 to 120 persons.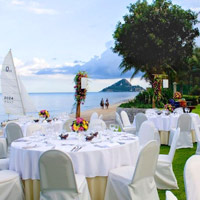 Hyatt Regency Hua Hin lawn events beachfront/ photo: hotel
The Hilton Hua Hin Resort & Spa (www3.hilton.com/hilton-hua-hin) serves up a conventional high-rise hotel with a convenient location in the centre of town with easy access to shopping, the night market, and a good beachfront. The rooms have been spruced up over the years and there is much swimming to be done. There is a spacious ballroom and meeting rooms to handle anywhere from 26 to 600 guests.
The longtime Hua Hin Marriott Resort & Spa (www.marriott.com/hua-hin) was completely rebuilt and relaunched in its original location thus confusing many who thought this is a separate resort. It is a well-managed all-inclusive Hua Hin spa resorts pick with 219 rooms on seven floors, minutes away from the town centre and a multi-purpose ballroom for 300 delegates.
Other picks will include the relatively younger InterContinental Hua Hin Resort (huahin.intercontinental.com/) set along the beachfront at Petchakasen Road with 119 rooms and corporate meetings space for 120; and the more established Hyatt Regency Hua Hin (www.hyatt.com/hyatt-regency-hua-hin) with spacious rooms at a quiet end of town. Hyatt is made up of clusters of low-rise buildings in traditional Thai design and the resort covers 12.5 acres stretching along the beach with six indoor and outdoor event venues.
The beachfront lawns can host up to about 250 persons. And the ballroom can accommodate up to 400. The Barai Spa is a huge plus.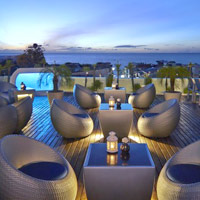 Barracuda Pattaya's rooftop Sunset Lounge/ photo: hotel
A convenient 130km by road from Bangkok airport, PATTAYA is rapidly shaking off its erstwhile reputation as a booze-and-babes bolthole. The city has in recent years transformed into a more family-orientated spot, and posh new hotels are coming up with plenty of decent business offerings.
Girlie bars still to be found, but there's also shopping, water sports, elephant rides, golf, base-jumping, high-end polo – and even a quality vineyard. This is now a gentrified family-friendly and certainly corporate-friendly venue so drop the pinstripe suit and don your bathers for a sizzling small meeting with attitude on the sultry Thai coast.
The chic Hotel Barracuda Pattaya MGallery by Sofitel (formerly the dusitD2, www.hotelbaraquda.com) is a designer hotel in the centre of town that sports bright meeting rooms for up to 50 people. The whole hotel is Wireless. The White Lounge on the second floor is modern, all white and minimalist with 120sq m of space. Expect timber floors, bright lighting and flashes of colour. The DNA meeting room can host up to 120 for a reception and can be split into two units with videoconferencing facilities and retractable projection screens. This is a hip address for small corporate meetings in Pattaya with the sixth-floor rooftop Sunset Lounge offering a breezy escape apres-meet or for a party.
For something bigger, much bigger check out the theme hotel Centara Grand Mirage Beach Resort Pattaya (www.centarahotelsresorts.com/cmbr/). This architectural marvel hosts kids and rattled executives with equal aplomb with a 1,200-person grand ballroom for MICE and other grand events. On a smaller scale, customised function spaces are available. Work hard and play harder. Coffee breaks might include 'chair massages'. Walk the beach, try the lazy river and explore the Lost World concept.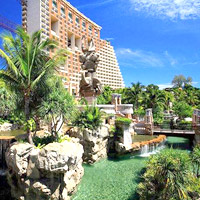 Muscle MICE and meets at Centara Grand Mirage Pattaya/ photo: hotel
Ideal for meeting planners who need to make arrangements for the family as well and kill two birds with one stone. While the facility is large and hugely popular, it is in need of a lick of paint and touch-up here and there.
InterContinental Pattaya Resort (rebranded mid 2016 from Sheraton Pattaya Resort, www.ihg.com/intercontinental/pattaya/) offers four meeting spaces and a ballroom with a total 7,338sq ft of meeting space. The Phratamnak Ballroom (410sq m) can host up to 200 theatre-style while Latitude by the Beach will manage 50. Also on the far shore across the headland - and in the quieter zone of this bar city - is the massive multi-hotel Royal Cliff Pattaya (www.royalcliff.com/), a monster MICE mini-destination with renovated spaces and sea views. Think 13,000sq m of function space for incentives, meetings, exhibitions and weddings and you get the picture. The Roytal-Cliff-run Pattaya Exhibition and Convention Hall (PEACH) with space for over 10,000, is an added plus. The conference space was expanded in 2007.
Perched atop the sprawling CentralFestival Pattaya Beach shopping complex, another worthwhile look-see is the 34-storey Hilton Pattaya (www3.hilton.com/hilton-pattaya). With a vast amount of exhibition space and more than a dozen venues, there's something for every type of event. Despite a dismally unattractive website, the views when you get from here are superlative.
Also consider the stately old timer Dusit Thani Pattaya (www.dusit.com/dusitthani/pattaya/) with its 2,500-capacity Napalai Convention Hall and 14 meeting rooms; contemporary arrival the Renaissance Pattaya Resort & Spa (www.marriott.com/renaissance-pattaya) with a Grand Ballroom for 500; and the irrepressibly stylish Pullman Pattaya Hotel G (www.pullmanpattayahotelg.com/) with 15 spaces for intimate and mid-size meets and its Infinity Ballroom for up to 420 theatre-style with LCD projectors and high ceilings.
Far from the madding crowds, a two-and-a-half-hour drive from Bangkok airport in KHAO YAI province, is the ultra tiny, or shall we say exclusive, SALA Hospitality Group boutique property sala khaoyai (www.salahospitality.com/khaoyai/) stretched over the green amids jungles and golf courses. For a high-profile corporate retreat, reserve the seven-villa resort exclusively. Expect quirky but luxe design blending beautifully into nature.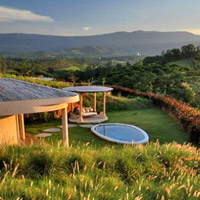 sala khaoyai, personal/ photo: hotel
Other distractions include golf courses, cave exploration, waterfall excursions and an obstacle course. After dinner, there's karaoke or quiet rooftop reflection. Great for team building and more in the lap of nature wth breezy views all around.
PHUKET is popular for corporate get-togethers, company seminars and team building retreats for all the same reasons that make it a holiday maker's paradise. There are easy flight connections, excellent conferencing facilities and more activities than you can shake a stick at. With good reason the island has earned plaudits as a top Asian meetings destination.
Banyan Tree Phuket (www.banyantree.com/en/phuket/) offers plenty of apres-work thrills as well as distractions for the family from the Laguna Golf Academy and world class spa treatments to the Turtle Club for kids in between team building exercises. Take a look at this address for small corporate meetings involving 20-80 people. The luxury villas are an added draw though it may take some work getting bodies out of comfy beds here.
Also in this verdant manicured neighbourhood, sibling Angsana Laguna Phuket (www.angsana.com/en/laguna-phuket), on the shores of Bang Tao Bay caters to large-scale events. We're talking 400-person poolside weddings and 358sq m ballroom. For small corporate meetings, you can book one of the nine meeting rooms for the day.
The XANA Beachfront offers a swinging club vibe with space for 700 (cocktails) or 350 (sitting at round banquet tables). This is a versatile and popular accommodation with a hotel-style rooms as well as villas set around the lagoons.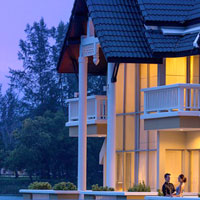 Angsana Phuket villa/ photo: hotel
Be a corporate Survivor at the JW Marriott Phuket Resort & Spa (www.marriott.com/jw-marriott-phuket). The resort has 25,865sq ft of meeting space with 10 function rooms (up to 600 people) and will happily tailor-make your corporate summit. This hotel is far up north beyond the airport and far from the madding crowd.
Nearby, utilising the simple lines and clean strokes of Phuket Sino-Portuguese architecture, the stylish, cubist all-white SALA Phuket Resort and Spa (www.salahospitality.com/phuket/), set on Mai Khao beach on the island's northwest shoreline close to the JW and surrounded by the Sirinath National Park, boasts a full-service 22-person boardroom and tranquil surrounds. You can fit 36 persons theatre style. The resort provides half and full-day meeting packages running from Bt1,600 to Bt2,000 per person with coffee breaks and meals, customised to suit your requirements. Expect WiFi, DVD, white board, flip chart, mineral water, scribbling stuff and a 42-inch television. Also look at team building activities (maximum 25 per group).
Also up north along the west coast at Nai Yang is The Slate (www.theslatephuket.com/), a tin-mine theme resort with acres of space and attitude. Take for example, perhaps, a collaborative meeting and brainstorming session kicked off by a blessing from a Buddhist monk and meals prepared by an inhouse nutritionist.
For something intimate and classy explore the stylish and contemporary Twinpalms (twinpalms-phuket.com) at Surin Beach (a couple of hundred yards from the sea). Expect light-filled seminar space, AV equipment, WiFi, and motivated eager-to-please staff.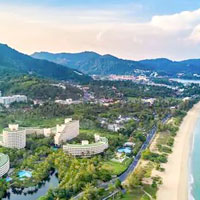 Size matters: Hilton Phuket Arcadia is a top Thailand MICE and conferences hotel/ photo: hotel
This is not a large cookie-cutter Asian conference hotel. It is small, discreet, and fun. Apres-work retire to stylish off-site (but close) venues like Catch Beach Club on Bang Tao Beach (with a beach butler perhaps), Palm Seaside for fine dining, or the HQ Beach Lounge on neighbouring Kamala Beach. Expect meeting package prices in the range of Bt2,000 per person.
Just a bit further north, perched on one of Phuket's most pristine beaches, sits Mövenpick Resort & Spa Karon Beach Phuket (www.moevenpick.com/phuket). Groups of up to 1,200 can enjoy the quiet location, golf courses and 12 meeting spaces, the largest being a ballroom that can house up to 800. The large pre-function space incorporates soothing waterfalls and reflective pools.
Also on Karon beach is Phuket MICE and conferences hotel biggie the Hilton Phuket Arcadia Resort & Spa (www.hilton.com/phuket-arcadia), with extensive MICE facilities for groups of 12 to 1,200. Especially popular are the range of outdoor venues and customised menus in the 9,418sq ft of event space. The five outdoor pools don't hurt either. The hotel is well spread out with lots of private nooks and crannies and garden area (that can handle an airconditioned marquee for 1,200).
Also look at the stylishly minimalist COMO Point Yamu (www.comohotels.com/en/pointyamu) on the east coast (no adjoining beach) where intimate space awaits for up to 120; the designer chic The NAKA Phuket (www.thenakaphuket.com/) that does excellent weddings and small meetings with secluded beachfront gardens and cubist villas; and The Nai Harn Phuket (www.thenaiharn.com/) in the far south with slightly fiddly access but grand views in a reconstituted virginal white resort with fabulous indoor and outdoor spaces.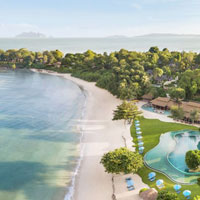 The Naka Island for luxe offshore intimate meets and weddings/ photo: hotel
To the northeast, just 25 minutes from the airport (including a wind-in-the-hair speedboat ride) on Naka Yai Island The Naka Island, A Luxury Collection Resort & Spa, Phuket (www.marriott.com/naka-island) serves up dreamy Robinson Crusoe locales for both weddings and small meetings with flair, style and a touch of romance.
KHAO LAK (about 70 minutes' drive north from Phuket's airport) offers unspoilt nature and a peaceful environment featuring the largest and oldest rainforest in southern Thailand, a lake, beaches and islands, perfect for team building. There's elephant trekking, canoeing, snorkelling and, one hour away, white-water rafting.
Farthest up the azure coast, the Robinson Club Khao Lak (www.robinson.com/khao-lak the former Pullman Khao Lak Katiliya Villas which in turn picked up from the tsunami-hit Le Meridien) arrived early 2018 after a 350 million baht redevelopment to offer several swimming pools, manicured grounds and a ROBINSON WellFit that serves up a wellness and fitness regimen, with the usual essentials like sauna, massages and yoga. Add to this cycling and a splendid beach. Expect 8,486sq ft of convention space with the largest for 940 persons.
At the JW Marriott Khao Lak Resort & Spa (www.marriott.com/jw-marriott-khao-lak) expect 8,815sq ft of meetings space with the largest venue accommodating 260. There are nine function rooms. Choose an open-air meeting, complete with lunch and brainstorming, or explore other creative ideas! Leave your Manolo Blahniks at home and leave footprints in the sand.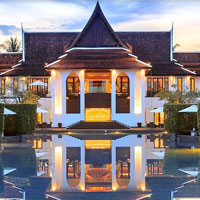 JW Marriott Khao Lak/ photo: hotel
Also look at the Centara Seaview Resort Khao Lak (www.centarahotelsresorts.com/centara/csk/) with its beachfront location and a generous meeting or conference space for 400. Expect the latest in AV equipment, overhead projectors, LCD screens and wireless microphones.
An alternative island meet venue is KOH SAMUI with a huge number of options but a little harder to reach though direct flights from Hong Kong and Singapore have kicked in to compliment the Bangkok frequencies. Look at the large, family-friendly Centara Grand Beach Resort Samui (www.centarahotelsresorts.com/centaragrand/csbr/), a colonial Gone With The Wind affair with green lawns, beach, and five meeting areas with the largest hosting 200 theatre style in a 240sq m hall. Lamai I and Lamai II meeting rooms on the lobby floor serve up more intipate spaces for meets or smaller events. If alfresco is what you crave, the resort can manage up to 600 guests.
On the Mae Nam north shore a fun and spacious option is Santiburi Koh Samui (www.santiburisamui.com/). The beach area is vast and beckoningly golden with plenty of quiet corners for lazy lounging. Santiburi works equally well for families, honeymooners and meetings and conference planners.
A full day meeting package will cost around Bt1,900 per person, 8am-5pm, with two coffee breaks and lunch. Expect a meeting room, white board, flip chart, projector, refreshments and AV equipment.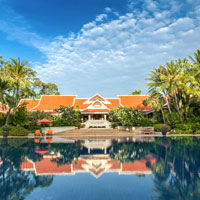 Santiburi Koh Samui has stretch room for all sorts of events/ photo: hotel
Later, dabble in golf, tennis, Thai boxing or squash. This is an excellent Samui conference hotels choice. It also offers grand locations for a spectacular Phuket destination wedding on the beach.
Other fine options for small corporate meetings in Samui include the secluded and stunning-vista east-coast InterContinental Samui Baan Taling Ngam Resort (www.ihg.com/intercontinental/koh-samui/) with 2,024sq ft of meeting space (up to 80 people theatre-style); the nearby all-luxury-villa Conrad Koh Samui (conradhotels3.hilton.com/conrad-koh-samui) that spills down a vertiginous cliff face with stunning sunsets and a meeting room for 20 to 130 persons; The Ritz-Carlton Koh Samui (www.ritzcarlton.com/koh-samui) in the northeast for small scale company meets; and the W Retreat Koh Samui (www.marriott.com/w-koh-samui/) on the north shores closer to the airport, with one meeting space of 150sq m for up to 80 persons.
In north Thailand's CHIANG MAI flanked by rolling hills, the Shangri-La Hotel Chiang Mai (www.shangri-la.com/chiangmai) offers larger facilities (3,500sq m function area) if you need versatile conferencing space. Talk to a meeting planner or event manager. This is a well-equipped Chiang Mai conference hotel for small or big get-togethers.
The in-town 384-room Le Meridien Chiang Mai (www.marriott.com/le-meridien-chiang-mai) is a modern, elegant, hotel construct featuring northern Lanna-style design touches in the interiors. It is well equipped to deal with meetings and conferences of all sizes and dispositions with 1,800sq m of space to play around with.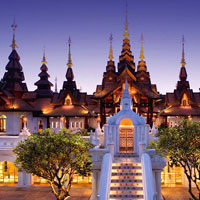 The Dhara Dhevi, for stylish intimate gatherings/ photo: hotel
Meeting rooms starting at 60sq m are on the third floor with a spacious 150sq m outdoor terrace. In the heart of the business district, offices and sights are all within easy reach of this hotel.
For something atmospheric and uniquely Thai, explore the cultural-replica Dhara Dhevi (once a Mandarin Oriental, www.dharadhevi.com/) that offers a magical wedding setting taking guests back in time. The ballroom can accommodate up to 500. A conference planner can assist with the setup and also arrange shows by local dance companies and elephant encounters.
Laid out over a spacious manicured site on the banks of the Kok River in Chiang Rai, the Thai-style Le Meridien Chiang Rai Resort (www.marriott.com/le-meridien-chiang-rai) is within striking distance of town yet set away in idyllic surrounds in a sea of rice paddy, ponds, and rolling hills. Along with brisk WiFi there's 4,565sq m of function space (inclusing alfresco lawns) with six event rooms and 1,024sq ft for the largest single space.
The Anantara Golden Triangle Elephant Camp & Resort (www.anantara.com/golden-triangle-chiang-rai) is about an hour from Chiang Rai Airport and offers an idyllic far-from-the-madding-crowd location for small corporate meetings and company events with a host of small venues for intimate gatherings. The Mae Khong Room, for example, can seat 144 theatre style or 80 for a banquet. Sited on a low ridge with jungle and river views this is a good spot for seclusion and contemplation.
Vietnam conference hotels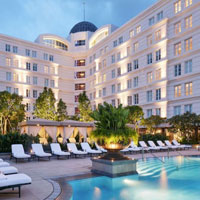 Elegant and classic Park Hyatt Saigon/ photo: hotel
Vietnam increasingly attracts meeting business with its historic attractions, charm and culture – not to mention inexpensive shopping, great art and food. Airport facilities and air links have improved vastly over the past few years and new destinations like Phu Quoc - an island in the far south - are offering new possibilities.
HO CHI MINH CITY, which has the added attraction of a newish exhibition centre and a host of five-star hotels with excellent facilities is a popular and atmospheric option for small meetings.
Some unusual past requests to the 245-room Park Hyatt Saigon (www.hyatt.com/park-hyatt-saigon)have included organising a special dinner for 30 delegates at the Performing Arts Academy of Ho Chi Minh City, and having special furniture made for a high-end fashion-brand launch. Regularly hosting regional and international top executives, the hotel also once set up a round-table meeting for only four people in its 550sq m ballroom.
The largest meeting space here is 5,920sq ft. Plan on small meetings with top service or larger conferences for 450. The main ballroom offers 550sq m while The Guest House at the mezzanine level seats 120 for banquets. The more cosy Drawing Rooms have a capacity of between 20 and 100 persons so there is great flexibility in arranging space and guest flow.
The Caravelle Hotel, (www.caravellehotel.com) in the heart of town has been around since 1959 and by 2019 sported a marbled new look. The focus here is on business travellers and group incentive travel. Pick a Vietnam theme event or customise your own experience.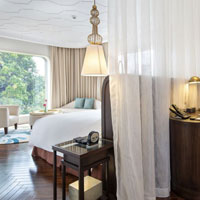 Chic modernist room at Hotel des Arts Saigon / photo: hotel
Ask about the hotel's 'Events on 26', a rooftop space with sweeping views of the Saigon River and the neon-lit city. This is a 215sq m space decked out in turf for 150 people (cocktails) or 60 guests for a breezy dinner. Find time for the bopping Saigon Saigon Bar too with its fun crowds and cool music. Great location next to the Opera House.
Anchoring the Kumho Asiana Plaza is the InterContinental Asiana Saigon (www.ihg.com/intercontinental/ho-chi-minh), another excellent choice for MICE functions. This 305-room modern hotel offers 10 meeting and conference rooms on the second floor, including an 8,808sq ft ballroom that can accommodate up to 1,200 guests. For smaller, VIP affairs (up to 12 delegates), try a smaller private room.
Located opposite September Park, New World Saigon Hotel (saigon.newworldhotels.com) has three ballrooms capable of catering to 486 people. The brisk 533-room hotel can accommodate smaller groups in one of its two 52sq m meeting rooms. The 371sq m Grand Indochine Ballroom is a pillar-less space fitted with the latest audio-visual equipment. Or opt for the 350-guest Terrace.
An unusual and more contemporary choice for stylish intimate meetings could be the newer Hotel des Arts Saigon (www.hoteldesartssaigon.com/) just behind the main cathedral overlooking vast green spaces. This boutique-style designer hotel is part of the MGallery Collection and serves up meetings for 10 to 160 in chic surrounds. The breezy Executive Sky Lounge on the 22nd floor offers a boardroom for CEO chinwags.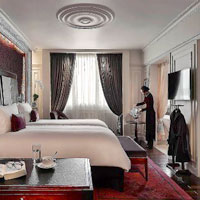 Sofitel Metropole, Hanoi, the No.1 address in Vietnam/ photo: hotel
Business is also picking up in HANOI, with meeting planners attracted to the city's comfortable climate, sightseeing, safety, colonial architecture and street life. There are several Hanoi small meetings choices but a couple are standouts.
Vietnam grande dame Sofitel Legend Metropole Hanoi (sofitel.accorhotels.com/sofitel-legend-metropolel) is a prominent and tranquil fixture in the heart of the frenetic city, having famously hosted literary characters such as Somerset Maugham and Graham Greene and several heads of state. All this since 1901.
Meeting groups come from all over the world. Expect simultaneous interpretation, flip charts, lecterns, catering and high speed Internet. Meeting spaces in various configurations will manage from 10 to 160 guests theatre style with indoor and outdoor options. This is one of the top Vietnam conference hotels with a classical construct right next to the Opera House.
Overlooking the 800-year-old Golden Lotus Pagoda on Hanoi's largest lake, the InterContinental Hanoi Westlake (www.ihg.com/intercontinental/hanoi/) has innovative full and half-day meeting packages in 8,600sq ft of function space with seven meeting rooms and a ballroom.
Right next door is the highly regarded and much sought after Sheraton Hanoi Hotel (www.marriott.com/sheraton-hanoi) looking out over the lake. This is a well managed and crisply-run establishment that gets its fair share of small meetings and conferences headed to the city.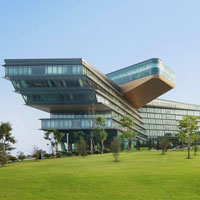 JW Marriott Hanoi Hotel - futuristic space/ photo: hotel
The Song Hong Grand Ballroom is a pillar-less construct that can accommodate 550 people, but for more modest needs there are a number of function areas like Song Da with its high windows and lake views. There is a total of 9,020sq ft of conferencing space in 10 flexi-spaces.
Also look at Lotte Hanoi Hotel (www.lottehotel.com/hanoi-hotel/) a more modern tower block. Opened September 2014, this 318-room high-rise hotel with its vertiginous The Lounge Sky and lobby on the 65th floor, offers unrivalled views around town - only on a clear day, mind you - and snappy service. The hotel is close to the exhibition areas and is itself a Muscle MICE venue with the Crystal Ballroom capable of hosting up to 1,200 guests. Lotte is just across from the ageing Hanoi Daewoo Hotel, a 20 minute taxi ride from the Opera House downtown.
Farther afield the JW Marriott Hotel Hanoi (www.marriott.com/jw-marriott-hotel-hanoi/) is another MICE hotel set within the sleek contemporary lines of a medium-rise polygonal construct that somehow blends a a ski lodge, I.T office, stadium, cruise ship, stealth bomber and hotel into a single comprehensive structure that is hard to miss. The rooftop pool juts out across a cantilever providing a touch of oomph and gee whizz for jaded travellers. Opting for space rather than height, JW offers a staggering 2,400sq m of meeting space in two ballrooms and 15 function areas with ample stretch for pre-function parties. The living room style Studio is aimed at CEO chinwags for up to 20 persons.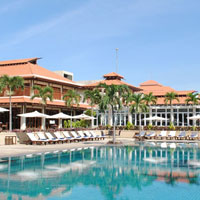 Furama Danang has vast space - right on the beach - and good prices/ photo: hotel
Heading south along the coast, DANANG is fast becoming a popular leisure and meeting spot. Head to Furama Resort Danang (furamavietnam.com/) for beachside villas and breezy service. Arrange large or small affairs with a choice of ballroom, ample conference space and a few smaller meeting rooms. Look at theme parties and team building that might include cyclo races and basket boat races. The vast International Convention Palace with newer ballrooms can host up to 1,000 people with 10 function rooms catering for meetings of 50 to 300. Popular here are culture-themed parties set on the beach or around the lagoon. Have your VIP guests arrive by helicopter on the Furama's private helipad. There are two 18-hole golf courses close by.
Also facing the sea is the Hyatt Regency Danang Resort and Spa (www.hyatt.com/hyatt-regency-danang). Its comprehensive conference complex has 7,500sq m of MICE facilities, including the 500sq m Banquet Central Hall and The Regency Ballroom, which can accommodate up to 400. Seven smaller function rooms are intended for groups of between 40 and 80. This is a good place for mixing family with meets though the resort is somewhat on the bland side. Yet it is functional with a good price point.
About a 30-minute drive from the airport, luxury InterContinental Danang Sun Peninsula Resort (www.danang.intercontinental.com/) overlooks a private bay from its perch on Son Tra Peninsula, also known as "Mythical Monkey Mountain". Unsurprisingly, playful monkeys are much in evidence in the design, in bronze and stone. This is a splendid spot for Vietnam resort weddings on the beach and planners are on hand to assist. Suits will also find a ballroom and function spaces for corporate meetings or bigger events.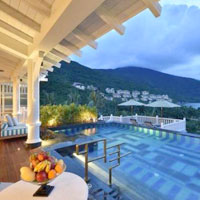 InterCon Danang style/ photo: hotel
The upgraded conference space at The Summit (high up the hill before the lobby) includes two ballrooms (one entirely new) for MICE, classy get-togethers, fashion events and more. This is one of the best Danang conference hotels and is a regular for State functions and international events.
Just south in HOI AN is the luxury retreat The Nam Hai (from Four Seasons, www.fourseasons.com/hoian/) that will do creative arrangements for two to one hundred. This is a swish villa hideaway on the beach, secluded enough but within reach of some of the country's more interesting sights. There is a spa on site and a nearby golf course for after-work distraction. This will not come cheap but you will not be disappointed. Look forward to apres-meet tours of the redeveloped silk town of Hoi An and, farther away, the Imperial capital of Hue.
A three-hour drive to the coast from Ho Chi Minh City at KE GA BAY is the Princess d'Annam Resort & Spa (www.princessdannam.com/) another spoiling high-end escape with luxury contemporary villas, a large spa complex and four swimming pools to work off all those dull speeches. For conferences and small meetings the resort can rustle up arrangements for 20 to 160. The Calathea ballroom can manage 160 people theatre-style. An interesting and calming away-from-it-all address yet within relatively easy access of Saigon and an international airport mark this down as one to watch.
Just north of here up the coast in MUI NE with its beautiful white sand and laid back rustic atmosphere is the Anantara Mui Ne Resort (www.anantara.com/mui-ne) with three meetings rooms and a ballroom (for 160 theatre-style). This is an interesting area for a beachside conference getaway with the family. Plenty of cheap food and fun.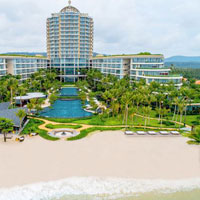 Megaresort InterCon Phu Quoc for Vietnam conferences/ photo: hotel
And all the way south in the fast-developing island of PHU QUOC are new and contemporary options like the 459-room InterContinental Phu Quoc Long Beach Resort (June 2018 www.phuquoc.intercontinental.com/) on Long Beach with an 870sq m Grand Ballroom for corporate meetings, MICE and lavish events; and the JW Marriott Phu Quoc Emerald Bay Resort & Spa (March 2017 www.marriott.com/jw-marriott-phu-quoc), a 243-key hotel that serves up a few grand villas as well and intends to be a top pick not just with business suits and MICE travellers but for weddings and family holidays. This JW offers 11,151sq ft of conference space with the largest area catering for 750 people. The InterCon in comparison offers a generous 2,300sq m of indoor function space with seven flexible meeting spaces. Or do a banquet in the Lava Beachfront or invite 130 for a movie or private show at the Theatre. Both JW and InterCon are megaresorts in the modern mould with something for everyone.
For something more colonial and atmospheric, meeting planners in need of a more intimate venue will enjoy the charms of La Veranda Resort Phu Quoc - MGallery by Sofitel (www.laverandaresorts.com/). Set on the southern end of Duong Dong beach, the resort offers 70 rooms and villas with private balconies. Thye bright an airy meeting room weighs in at just 65sq m and handles up to 60 for cocktails and 50 theatre-style. Just right for a small corporate meeting in Vietnam.
Singapore corporate summits
Singapore hotels have seen a steady boom in MICE business, chipping away at accounts previously headed for Bangkok and even Hong Kong.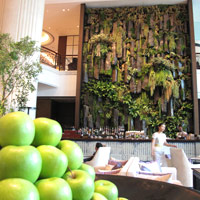 Shangri-La Singapore new look/ photo: Vijay Verghese
With an envious location in secluded and leafy Orange Grove Road, sufficiently far from city hubbub but close enough for a civilized pootle to shopping malls and eateries by the mile, the Shangri-La Hotel, Singapore (www.shangri-la.com/singapore) is a MICE-on-rails hotel with a surprisingly delicate touch. While the revitalised Tower Wing sports an entirely new-look lobby with soaring columns, clean zen lines, cream furniture with black trim and a stunning basalt rock vertical garden behind the bar, the Garden Wing slows the tempo with its waterfalls and atrium rock garden to entice leisure trippers and families, while the reticent Valley Wing beckons top corporates with ornate luxe digs and the Baroque-style chandelier-dripping Stateroom for corporate meetings or CEO chinwags. This is one of the best Singapore conference hotels with the Island Ballroom holding 1,200 for a reception. There are a host of cutomisable meeting rooms.
The storied 663-room Grand Hyatt Singapore (www.hyatt.com/grand-hyatt-singapore/) is an old pro when it comes to fashioning successful meets and nowhere is this better exemplified than at the dedicated meetings space The Gallery Levels 1 to 3 and the Gazebo, an outdoor space for up to 40. This is a flowing conferencing area encompassing meeting salons, a lounge, a loft kitchen, and a studio. Freedom of movement means it is easy to "construct" venues without constriction to conjure up the desired ambience, from a high-end corporate meeting in Singapore to a buzzing social event.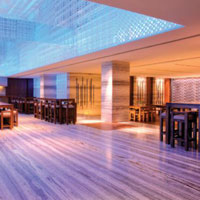 Grand Hyatt Singapore/ photo: hotel
Galleries one and two combined can accommodate 432 theatre style. The Grand Hyatt is well located downtown on Scotts Road close to the Orchard intersection and the underground train entrance.
The adjoining Goodwood Park Hotel (www.goodwoodparkhotel.com/) is a delightful colonial confection with a contemporary makeover and resolutely lowrise with courtyards and a friendly vibe. The hotel has two ballrooms for up to 450 but excells as a small meetings venue. It is hugely popular for its afternoon tea. Right across the road from the Grand Hyatt the Royal Plaza on Scotts (www.royalplaza.com.sg/) is an upgraded stalwart with the de rigueur grand staircase and slatherings of marble. This is a more group-oriented and busy place with meeting venues for 50 to 160 theatre-style. A Corporate Residential Meetings Package here may include at S$80 per person two coffee breaks, unlimited Nespresso served through the day, a halal buffet, WiFi, audiovisual facilities, and Deluxe Rooms from S$235 with breakfast.
In the Tanglin area at one end of Orchard Road, The Regent Singapore (www.regenthotels.com/singapore), has been a longtime meetings favourite for events with verve and great service. With over 1,500sq m of meeting space across several function rooms and a ballroom this address can effortlessly cater for a 10-person board meeting right up to 700 guests theatre-style in the Royal Pavillion Ballroom. Expect an emphasis on green meetings that encourage recycling, conference services managers, simultaneous interpretation and multi-screen projection.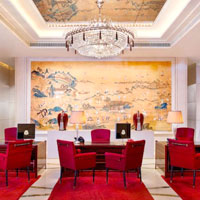 Luxe meets at St Regis Singapore / photo: hotel
This particular Regent is one of our favourites, it's food and beverage outlets and attentive service both standouts. The atmosphere is brisk and friendly.
Just across the street, towering, gleaming, and luxurious, The St Regis Singapore (www.marriott.com/st-regis-singapore) is also at this quieter end of Orchard Road. Walk in to find crisp welcoming service with brisk doormen, cool white marble underfoot with detailed stone inlay, classical artefacts, wall-to-wall art, and quirky plump Bottero statues serving as an innocent reminder that there is indeed hope for broader girths. Find a pool, a good fitness centre and a spoiling Remede Spa to get you in shape if need be. Expect over 1,000sq m of event space set up in five unique spaces.The John Jacob Ballroom servers up high ceilings and skylights and can be easily partitioned into two 349sq m spaces. All conference and meeting venues have built-in LCD projectors and audiovisual arrays. Expect high speed Broadband for video and satellite conferencing.
Just around the corner is the very classy and quietly corporate Four Seasons Hotel Singapore (www.fourseasons.com/singapore/) that was refurbished and upgraded 2018. This intimate 241-key address can rustle up a company meeting for 20 to 50 with aplomb or a ballroom event for 240. With 1,548sq m (16,662sq ft) of function space, this is a business traveller favourite close to shopping but set away from the hustle in green surrounds. Mark Four Seasons Singapore down as an excellent small corporate meetings venue with service second to none.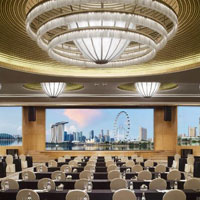 Ritz-Carlton Singapore meetings / photo: hotel
With a total of 13,314sq ft of meeting space, including 12 function rooms and a Grand Ballroom for 550, the new-look Singapore Marriott Tang Plaza Hotel (www.marriott.com/singapore-marriott-tang) sans the twee palm trees is a well located conference hotel worth a closer look.
Set on a vast property in the well developed Marina Bay commercial centre, The Ritz-Carlton, Millenia Singapore (www.ritzcarlton.com/singapore) has 35,000sq ft of meeting space in various configurations. Expect everything from a boardroom for 12 to a pillarless grand ballroom for 1,200. In addition eight meeting rooms are on tap.
Close by are the distinctive much-photographed triple towers of Marina Bay Sands (www.marinabaysands.com/) linked at the top by a rooftop pool where selfie queens preen. In between the entertainment and shopping at the Shoppes browse the 30,000sq m of exhibition space on two levels that can be subdivided. This is a Muscle MICE hotel much used to the tramp of conventioneer boots offering a staggering 250 meeting rooms and 24 ballrooms. The grand ballroom can host 9,225 guests for a reception. Need we say more? Great conference and exhibition facilities with excellent entertainment options, average rooms and somewhat variable service given the size and stretch.
With an imposing colonial exterior replete with soaring Doric columns that belie its sophisticated, modern interior, The Fullerton Hotel Singapore (www.fullertonhotels.com/the-fullerton-hotel) at the epicentre of business, the Boat Quay entertainment district, and various cultural and shopping attractions, has a range of full and half-day meeting options.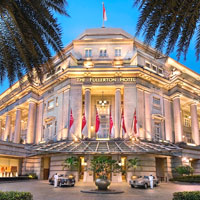 Fullerton lit up at night - grand facade/ photo: hotel
The building was gazetted as a national monument in 2015. The original structure dates back to 1928.
The grand ballroom with its sweeping staircase can host up to 600 guests in 7,524sq ft of space. Virginal white The Straits Room offers 1928 decor and a more intimate space for up to 220 while a total of seven meetings rooms break it down in smaller doses.
A full day 9am-5pm meeting package for 30 persons including buffet lunch will set each guest back around S$95 with free WiFi and coffee breaks. Once the stately General Post Office, this is now one of the top Singapore conference hotels with smooth service, décor to impress, and facilities to match. It is a frequent award winner.
Its designer chic sibling, The Fullerton Bay Hotel (www.fullertonhotels.com/the-fullerton-bay) arrived in 2012 – think shimmering 44sq m event pods that actually float on Marina Bay and can accommodate 15 to 40 people. Ideal for smaller groups, the Compass, Voyage and Port of Call pods can be customised for boardroom meetings, fashion events, showcases or weddings. Also explore the rooftop Lantern bar and restaurant venue with grand views of the bay and light shows. It's not just the novelty value. Guests can expect high level of service and attention to detail.
In the Marina area Pan Pacific Singapore (www.panpacific.com/pp-marina) has skybridge access to three shopping malls and the Suntec City Convention Centre, which lends considerable muscle when it comes to efficient Singapore conferences. Choose between 24 meeting venues and two ballrooms, including balcony suites overlooking the Marina Bay harbour. The new-look lobby arrived in 2012 ad there is 2,484sq m of event space available.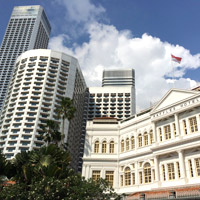 All in the family - colonial Raffles Singapore, Fairmont, and swissotel The Stamford tower/ photo: Vijay Verghese
An interesting vertical garden experience awaits at the PARKROYAL on Pickering (www.panpacific.com/pr-pickering.html) now managed by Pan Pacific. Expect two ballrooms for 150 guests each (banquets) and boardrooms for 15-30 suits. Mark this down for small corporate meetings in Singapore. The design is a standout with plenty of light and air.
For splendid Raj memorabilia and echoes of the past – albeit brilliantly whitewashed and gussied up to modern standards – the Raffles Hotel Singapore (www.raffles.com/singapore/) delights both gawping tourists and corporate connoisseurs. The hotel can rustle up all manner of meetings from small to large in sumptuous surrounds. The hotel re-emerges likely September 2019 after top-to-toe renovations and a general spruce up. Yes, Singapore Slings will remain on the cocktail menu. Next door - also part of the ACCOR family - are the elegant and popular Fairmont Singapore (www.fairmont.com/singapore/) and the iconic tower zone Swisotel The Stamford (www.swissotel.com/singapore-stamford/), which share the Raffles City Convention Centre with over 70,000sq ft of conferencing and function space.
Right across from the venerable Raffles is the 654-room Philippe Starck designed The South Beach, which rebranded as the JW Marriott Hotel Singapore South Beach (December 2016, www.marriott.com/jw-marriott-south-beach/).
This is a pleasantly hallucinogenic mix of pop-art video walls (minus Led Zeppelin's Stairway to Heaven), art, texture, and zany design. JW has cleared up somewhat but left some of the whimsy intact and created a two section check-in with a second group entry at the rear of the hotel. WiFi of course, is free.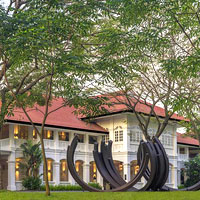 Gracious, colonial Capella Singapore/ photo: hotel
For Singapore conferences and stylish MICE space the hotel offers several corporate meeting rooms and a 1930s-style 8,000sq ft Grand Ballroom with one of the largest LED screens in town. Fit in 500 (cocktail style) or 370 (banquet) in this laundered-white colonial heritage block next door. 
On a secluded promontory on SENTOSA ISLAND and ideal for corporate meetings in Singapore, the starched colonial Capella Singapore (www.capellahotels.com/singapore) serves up meeting rooms with sweeping sea views and lush vegetation. The Sentosa Rooms and The Gallery can manage banquets for 100 to 180 with ease in light-filled intimate environs. For mood and mystique, this could be your spot.
Covered with manicured lawns and redolent of history, this is a stunning address for classy small meets in Asia should you need a powerful wow-your-CEO factor. It was good enough for President Donald Trump and North Korean strongman Kim Jong-un as the world watched on 12 June 2018. A stunning circular ballroom showcases a dome skylight and a glass sculpture dreamed up by a San Francisco artist. Plenty of stylish nooks and crannies for smaller get-togethers.
The Sofitel Singapore Sentosa Resort & Spa (www.sofitel-singapore-sentosa.com/) offers classy relaxed surrounds perched on a hillock with 1,300sq m of event space in two storeys. Think elegant rooms, a laid-back vibe and a distinctly resort flavour. The Straits Ballroom will accommodate 320 for a cocktail and 250 for a banquet while the Saffron Ballroom can host 170 theatre-style. Smaller meeting rooms are available like the 108sq m Ginger Room with garden access.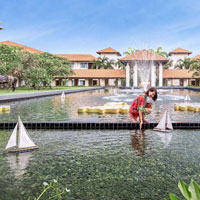 Sofitel Singapore Sentosa, resort vibe/ photo: hotel
Sister hotel So Sofitel Singapore (www.sofitel-so-singapore.com/) is a possible venue for luxury meetings on a small scale - the So Private Room for 10 up to the XPerience Restaurant (for 100 standing with projector) and the 1927 bar and lounge for a stylish poolside event of up to 120 with projector and sound system to help you dance the night away.
Also on Sentosa Island under the Resorts World integrated resorts mantle check out the family and casino high roller favourites Festive Hotel (www.rwsentosa.com/festive-hotel); the upscale Equarius Hotel (www.rwsentosa.com/equarius-hotel); and the child-friendly Hard Rock Hotel (www.rwsentosa.com/hard-rock-singapore) where you'll find a huge pillarless space, the 3,300sq m Compass Ballroom, with seating for 6,500 guests. Expect rock concerts, conferences and exhibitions, as well as 30 function rooms. Expect noise and action.
Keep an eye as well on the secluded and green W Singapore - Sentosa Cove (www.marriott.com/w-singapore-sentosa) with 1,500sq m of event space and the usual mix of mood lighting and adrenaline. If it's crystals and chandeliers you crave, head to the 720sq m The Great Room.
Just across the waters in Bintan
An hour from Singapore by ferry in Indonesia's Riau archipelago on Bintan Island is the all-villa Banyan Tree Bintan (www.banyantree.com/bintan) quality where space is available for small meetings of 20 for a roundtable chat or 50 theatre-style. From the same family, the larger Angsana Bintan (www.angsana.com/en/indonesia/bintan) has space for 150 people theatre-style.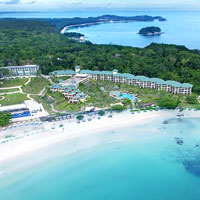 Angsana Bintan corporate meetings escape/ photo: hotel
With two championship courses at hand and much breezy open space on Pasir Panjang Beach, the Bintan Lagoon Resort (www.bintanlagoon.com/) always has a clutch of golf offers as well as corporate packages for meetings and events.
Consider its 'Unite and Conquer - team building' package priced at Rp2,520,000 per person weekday with a night in a deluxe room, ferry transfers from Singapore, buffet breakfast, lunch and dinner, and a half day team building exercise. This requires a minimum 10 rooms booked. The BBQ buffet outdoors requires at least 30 persons.
Curry favour with the boss in India
With a mind-boggling range of cultural and heritage sites, exclusive business hotels and modern convention facilities, India has one of the fastest growing economies in the world. Toss in a curry and it's reason enough for hotfooting it there.
For heritage and history check out Neemrana Hotels (www.neemranahotels.com). These ancient fortresses, castles, and stately mansions are brimming with stories. An overnight stay is a must, so think long-term when you're building this year's corporate retreat itinerary. The sprawling heritage Neemrana Fort-Palace set in spectacular, restored 15th-century stepped palaces cut into the hillside, is located on the Delhi-Jaipur highway. An hour's drive from call-centre hub Gurgaon and 100km from DELHI and the international airport, the hotel offers tailored open-air meetings in winter in addition to its more standard offers. This is an atmospheric choice for a small corporate conference in India.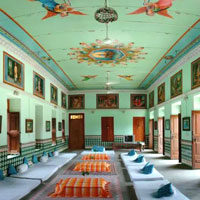 Piramal Haveli, meet Indian style, on the floor / photo: hotel
The group enigmatically calls its collection 'non-hotel hotels'. Explore places like Piramal Haveli in Rajasthan and the newer Tijara Fort Palace, all accessible from Delhi.
The Taj Mahal Hotel New Delhi (taj.tajhotels.com/new-delhi/) in the heart of India's green capital city is close to business and shopping districts, foreign missions and embassies. A range of meeting rooms are available. The Diwan-i-Am can hold 350 while the poolside lawns handle 600 and the Terrace Garden 400. For top-end incentives, polo can be arranged. This is a more intimate and central location than the specialist conference property Taj Palace Hotel New Delhi (taj.tajhotels.com/taj-palace-new-delhi/) in the leafy diplomatic enclave and a bit closer to the airport.
Oberoi Hotels & Resorts runs corporate retreats, incentives and small to medium-sized meetings at its hotels in Agra, Jaipur, Udaipur and Shimla in India, and as far afield as Bali and Egypt. With a great deal of stretch space and green and a complete refit in 2018, the award-winning The Oberoi, New Delhi (www.oberoihotels.com/delhi/) takes business seriously. Part of a very efficiently-run international chain, the seven-storey hotel overlooking Delhi's spiffy, 19-hole golf course brought with it oodles of pedigree along with a superb location. Expect great food and service at the hotel that set the original quality benchmarks for the country.
A garden setting with more history and a priceless art collection, the classy old-world The Imperial New Delhi (theimperialindia.com/) has stylish, wood-panelled meeting rooms perfect for conferences of 20 to 50 people. For fresh-air discussions, there's always The Imperial Lawns.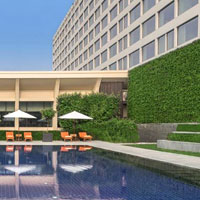 Oberoi New Delhi returns with a bright new vibe/ photo: hotel
This is a popular New Delhi hotel for business travellers, sited on Janpath just a short walk from the central Rajiv Chowk (Connaught Place) with a palm-tree-lined entrance.
In New Delhi also look at The Lodhi (originally built and run as an Aman, www.thelodhi.com/) with its clean contemporary minimalism, perfect for small corporate meetings in the heart of town, also close to the gold course; The Leela Palace New Delhi (www.theleela.com/leela-palace-new-delhi/), a very refined offering in the Diplomatic Enclave area farther south but still very much in Lutyens' green tree-clad city; the 507-room Hyatt Regency Delhi (www.hyatt.com/hyatt-regency-delhi) with a largest space of 6,923sq ft; and awkward to reach but spacious and green The Roseate (www.roseatehotels.com/newdelhi/theroseate/) on the Gurgaon highway just past the airport.
In the burgeoning Aerocity close by Terminal 3 of the international airport find a slew of conference-targeted hotels and business traveller boltholes like JW Marriott Hotel New Delhi Aerocity (www.marriott.com/jw-marriott-new-delhi) with over 22,000sq ft of event space (the largest holding 1,400 guests), Novotel, the budget minded Ibis, and the 401-room lifestyle Andaz Delhi (www.hyatt.com/andaz-delhi/) with its roomiest meeting space weighing in at over 10,000sq ft.
Just across the border from here in GURGAON also check the garden setting cubist designer chic Oberoi Gurgaon (www.oberoihotels.com/gurgaon/) and the businesslike and functional The Westin Gurgaon, New Delhi (www.marriott.com/westin-gurgaon) with 1,360sq m of indoor event space and over 800sq m of lawn area for outdoor events.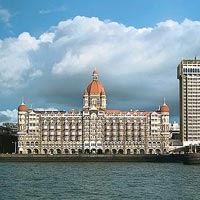 Taj Palace & Towers Mumbai/ photo: hotel
Headquartered in MUMBAI and established in 1903, Taj Hotels Resorts and Palaces is one of Asia's largest hotel groups. The Princes Room at the historic landmark The Taj Mahal Palace & Tower Mumbai (taj.tajhotels.com/taj-mahal-tower-mumbai/), one of four Taj hotels in the city, has hosted historic meetings of India's ruling princes, departing colonials and more. Today, the room with its Arabian Sea views and stained glass windows is one of a range of lavish meeting venues in the property, with 20,000sq ft of conference space divided into more than 10 rooms seating 30 to 500 participants. Incentives may include Bollywood Night and a Mumbai Roadside Yatra, celebrating local street food. Among India conference hotels and MICE venues, this is a hard act to beat. It goes head to head vs The Oberoi Mumbai (www.oberoihotels.com/mumbai/), a modestly more modern construct, at one end of Marine Drive with sea views and a reputation for fine meeting set-ups and service.
Midtown in the Lower Parel reconverted mill area the St Regis Mumbai (www.marriott.com/st-regis-mumbai/) is joined at the hip with bustling Palladium Mall bristling with more brands than you can shake a stick at. The cavernous lobby perched all the way up on the ninth floor, is a grand yet intimate affair where tall beige marble pillars keep the ceiling well out of the way of beehive hairdos.
Regular Joes have recourse to the boardrooms and several grand banquet spaces, including the verdant terrace gardens. This address is steadily positioning itself as a top Mumbai conference hotels choice, with over 60,000sq ft of event space (the largest accommodating 1,000 people).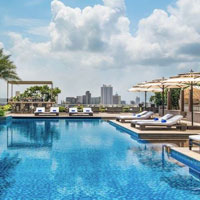 St Regis Mumbai rooftop pool/ photo: hotel
Also keep an eye out on the high-rise Four Seasons Hotel Mumbai (www.fourseasons.com/mumbai/) in the grungy but fast developing Worli district; JW Marriott Mumbai Juhu (www.marriott.com/jw-marriott-mumbai) farther north; the 547-room Grand Hyatt Mumbai (www.hyatt.com/grand-hyatt-mumbai) closer to the domestic airport terminal, with the largest meeting space of 30,000sq ft; the stylish Sofitel Mumbai BKC (sofitel.accorhotels.com/sofitel-mumbai) in the Bandra Kurla Complex with space for 36 to 700 in various configurations; and the futuristic designer hotel The Chedi Mumbai (2019, www.ghmhotels.com/en/mumbai/) overlooking Powai Lake with 1,200sq m of flexible function space.
In AGRA, just 600m from the majestic Mughal monument the Taj Mahal, The Oberoi Amarvilas (www.oberoihotels.com/amarvilas) with its Mughal and Moorish architecture and manicured gardens provides a peaceful, if stunning, haven with a range of excellent meeting and conference facilities a three-hour drive from Delhi down a new highway.
The faux-fort setting of The Oberoi Rajvilas (www.oberoihotels.com/rajvilas) in JAIPUR provides another retreat for smaller, high-level corporate retreats and incentives. Staff are happy to arrange theme dinners for 30 in the courtyard or at the poolside. Choose from Rajasthani folk dance to Indian classic music to complement the ambiance.
Also look at the modern but traditional style sandstone Fairmont Jaipur (www.fairmont.com/jaipur/) and the sprawling and elegant green acres of Rambagh Palace Jaipur by Taj (taj.tajhotels.com/rambagh-palace) with its peacocks and liveried horse carriages.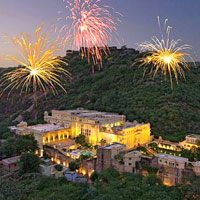 Samode Palace outside Jaipur is a gem for small meets or weddings/ photo: hotel
The wildly atmospheric Samode Palace (www.samode.com/samodepalace/) just outside Jaipur above a heritage village is a place to gawp at intricate frescoes and wall decorations. There are ample grounds and hidden snuggeries for events of all levels of glitz and regal pomp or romance. This is a popular rajasthan weddings location.
In UDAIPUR a candle-lit floating pavilion anchored in the middle of Rajasthan's Lake Pichola awaits at The Oberoi Udaivilas, Udaipur (www.oberoihotels.com/udaivilas). Spread over 30 acres on the banks of this Rajasthan lake, the hotel boasts several meeting rooms and an elegant boardroom.
Also on Lake Pichola, the romantic white marble The Taj Lake Palace Udaipur (taj.tajhotels.com/lake-palace) might be a lovers' dream, but it's also open for business, with 35 to 75-person meeting rooms perfect for small gatherings. Take advantage of the exotic location and splash out on a theme event on the Mewar Terrace. These two are the pick of Rajasthan conference hotels in this area.
The very impressive Umaid Bhawan Palace JODHPUR (taj.tajhotels.com/umaid-bhawan-palace) is another regal marvel built in sandstone with vast echoing chambers and green acres. With just 22 rooms and 42 suites this is not a spot for boisterous conventioneers but there are five meeting rooms to handle up to 300 guests in style.
In the southern techie city of BANGALORE or Bengaluru as it is now called, the JW Marriott Hotel Bengaluru (www.marriott.com/jw-marriott-bengaluru/), with dark woody bedrooms and versatile event space is on hand with modern settings with its largest space able to hold 1,000 persons. The Ritz-Carlton Bangalore (www.ritzcarlton.com/bangalore) with high quality in-room trimmings and over 18,000sq ft of meeting space is a splendid Indian conference hotels pick.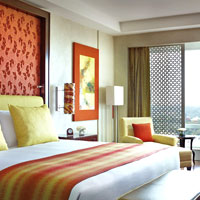 Ritz Bangalore for MICE/ photo: hotel
The Ritz is full of small intimate spaces - with high-back seats and art - and none of that screaming 'grand' scale that makes it a daunting task to simply find the loo. Staff is attentive and friendly and service proceeds briskly despite the low-key environs.
Importantly, staff is empowered to take decisions and this visibly speeds up processes. Pin-stripers can contact a "conference concierge" about MICE events or a small corporate meeting. Mark this address down for small meetings, corparate galas, or a quiet weekend kip.
For a slice of Portugal in India's seaside GOA, head to the all-suite The Zuri White Sands Goa (www.thezurihotels.com/goa/), about 40 minutes' drive from Goa's airport at Panjim. The hotel, part of the expanding Zuri Hotels & Resorts group, positions itself as a business-meeting and conference venue, as well as a holiday destination. The beachfront alfresco venues are excellent for both weddings and company cocktails.
Also on the coast are the faux-Portuguese Grand Hyatt Goa (www.hyatt.com/grand-hyatt-goa) that does small meetings for 35 and lavish weddings or cocktails for 1,200; and The Leela Goa (www.theleela.com/goa), a luxury offering that specialises in incentives and meetings of up to 400. A small get-together is a doddle.
Farther south amidst the rice paddy of KERALA explore The Leela Kovalam (www.theleela.com/kovalam) that occupies a scenic promontory overlooking an arcing sandy bay.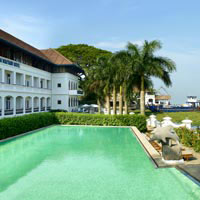 Old world Brunton Boatyard for small corporate meets / photo: hotel
All the rooms offer WiFi and you connect your laptop at the poolside too. Along with holiday credentials, this is a good business traveller option for small meetings in India.
The Casino Hotels group, now CGH Earth (www.cghearth.com) flexes its green credentials at stunning old-world resorts in the Cochin area like Coconut Lagoon on Vembanad Lake (southern backwaters) and accessed only by boat, with artfully reconstructed 19th century mansions in the traditional mould. Around the grounds, special Vechoor cows graze unmolested to trim the grass. A novel solution indeed. And it helps preserve this species too. Spice things up with a backwaters cruise in a traditional houseboat.
Or wander into their Brunton Boatyard, a resurrected shipyard that now hosts the travelling cognoscenti and glitterati near Fort Cochin (now called Kochi). Old stalwart Taj Kumarakom Resort & Spa (taj.tajhotels.com/kumarakom) a couple of hours' drive south is another splendid and atmospheric retreat on the green backwaters with acres of lawn and tiled-roof venues for weddings and corporate events of various sizes.
Meetings in the Philippines
In the heart of the MANILA business district and just 9km from the international airport is an oasis of calm, The Peninsula Manila (www.peninsula.com/manila), with excellent service and flexible event spaces for all sizes from small corporate meetings to larger weddings and launch events. There's the Rizal Ballroom with data-port set-up for computers and television screen and the Rigodon Ballroom (700 cocktail reception or 450 banquet), but several meeting rooms and areas like The Conservatory or the light filled Upper Lobby offer possibilities for mid-size receptions.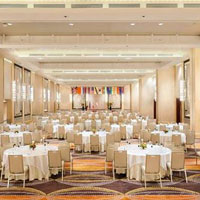 Fairmont Makati ballroom/ photo: hotel
Situated in busy Makati, the Manila Peninsula is set just away from the traffic, facing green. If you're searching for a classy Asian small meeting venue, explore Manila. Rates are attractive and there's always a sense of fun.
The 30-storey business-on-rails Fairmont Makati (www.fairmont.com/makati/ attached to the uber luxe Raffles Makati) is the larger sibling by far, its 280 rooms housed in a tidy grey reflective glass box that looks like it has just rolled smartly off the SONY assembly line.
The hotel is equipped with modern and flexible space to cater for anything from a 30-member corporate meet to a 600-guest conference or reception. Expect 18,000sq ft of function space with an 859sq m ballroom.
Avoid multilingual confusion by taking advantage of a simultaneous translation system, one of the state-of-the-art facilities offered at The Makati Shangri-La (www.shangri-la.com/makati). The Isabela Ballroom will comfortably host 460 theatre-style or 320 for a banquet while the Rizal Ballroom will stretch to 1,200 for a reception.
Several function rooms are available for classroom settings, U-settings, board meetings for CEOs or mid-size receptions and talks. The hotel is eliminating plastic with a green thrust that includes "selection of sustainable menu options featuring farm-to-table ingredients from local farmers and sustainable seafood that is Marine Stewardship Council-Certified." Eat without fear.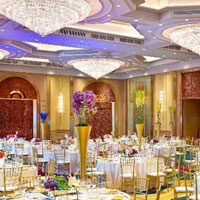 Royal Thai gold flourish at the Dusit Thani Manila / photo: hotel
Modestly better prices but with on-par facilities will be found at the upgraded neighbouring New World Makati Hotel (manila.newworldhotels.com/en/) with its 675sq m ballroom for 500 guests (banquet). Even better Manila meeting deals for smaller scale events may be had just around the corner from Raffles at the breezy Holiday Inn & Suites Makati (www.ihg.com/holidayinn/makati/) with its direct Glorietta shopping mall access. This is a lively New Age product with free WiFi, glass almirahs stacked with decorative vases, high ceilings and huge scenic windows at its fourth-floor lobby. Expect eight meeting rooms with the largest room capacity of 170. You'll get LCD projectors, whiteboard, flipcharts, podium and microphone.
The 538-room Dusit Thani Manila (www.dusit.com/dusitthani/manila/) is an old warhorse that has had a lick up paint and is catching up briskly with the competition with a renovated gleaming black-marble lobby showcasing its soaring golden pillars redolent of Thailand. The hotel comes with 11 meeting and banqueting rooms equipped with modern apparatus and the ability to host gatherings of up to 1,000 guests. This is a popular Makati conference hotel with ease of access into and out of the area (a big plus in Manila).
For a comprehensive, revamped resort-style option, look at the Sofitel Philippine Plaza Manila (www.sofitelmanila.com/). From the buffet brunches at Spiral to the apple golfing, this is a reputable locale for a corporate retreat of any size. If you are expecting up to 2,000 guests, head straight to the Grand Plaza Ballroom and Harbor Garden.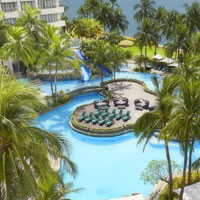 Sofitel Manila, breezy seaside location/ photo: hotel
For smaller functions, let the Inspire Meetings Concierge guide you to one of the 12 other meeting spaces.
The Shangri-La at the Fort Manila (opened early 2016, www.shangri-la.com/manila/fort/) is a gleaming mixed-use LEED-certified highrise tower with the conference area neatly segregated across the driveway in a separate block with its own entrance for boisterous conventioneers.
This is a Muscle MICE hotel and makes no bones about this with a mammoth 1,650m pillarless grand ballroom that can accommodate up to 1,200 people banquet style in various combinations. Keep an eye on this smart Shangri-La offering as a Manila conference hotels pick for large flashy events, gala weddings, or corporate meetings. The Fort Bonifacio area is a fast-developing business hub.
The Grand Hyatt Manila (late 2017, www.hyatt.com/grand-hyatt-manila), is a two tower construct in Bonifacio Global City with the 66-storey office block housing the 461-room Grand Hyatt on the uppermost 25 floors of the MetroBank Financial Center. Expect lavish meeting facilities and 2,281sq m of function space across two floors.
A casino option closer to the airport is the animated ResortsWorld Manila (www.rwmanila.com). Home to three hotels – the all-suite super lux Maxims Hotel, the business-oriented Marriott Hotel Manila and the budget friendly Remington – ResortsWorld has a mix of conference and entertainment possibilities.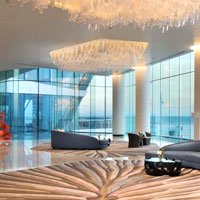 Conrad Manila offers sea views and space for 1,000/ photo: hotel
Farther up along the bay and a tad secluded is the vast, smooth gold caramel custard Okada Manila (December 2016 www.okadamanila.com/) that is setting the tone for Manila casino hotels and gaming with a slew of outlets, a vast casino in signature plum, a hip and throbbing indoor beach club, acres of designer brand shopping, and 4,522sq m of meeting space. There is versatile function and event space with three ballrooms – the Golden Ballroom in the Pearl wing can host up to 300 in a 502sq m space. Look at the Glass Ballroom, and the Grand Ballroom too (1,955sq m).
In this broad Bay area also look at the mid-rise Conrad Manila (September 2016, conradhotels3.hilton.com/onrad-manila), with its curving ship-bridge architecture, a pillarless grand ballroom for up to 1,000, and a direct airbridge into the SMX Convention Center; the three-in-one casino and family carnival City of Dreams Manila (www.cityofdreamsmanila.com/) with something for everyone and the Hyatt City of Dreams, Manila - 365 rooms, a fitness centre and facilities for mega-meetings; and the Solaire Resort & Casino (www.solaireresort.com/), which has become one of the more successful Manila casino hotels products by far with 500 rooms, suites and villas, as well as a whopping 15 restaurants and a Grand Ballroom that can accommodate up to 1,000 guests for a sit-down dinner.
Acutely aware of global warming and "earth-friendly" lifestyles, the popular and sprawling Shangri-La's Mactan Resort and Spa (www.shangri-la.com/cebu/mactan) in CEBU offers green meetings, encouraging delegates to save files onto flash drives instead of using paper, whiteboards and flip charts. Water is served in pitchers rather than plastic bottles and guests use one mug throughout the meeting, snacking on dried fruit rather than plastic-packaged mints. The Mactan Ballroom can comfortably handle 600 theatre style.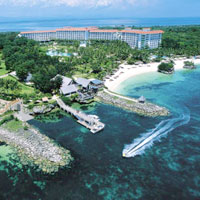 Shangri-La Mactan, Cebu/ photo: hotel
The hotel encourages combining corporate events with community support, like a boat ride to Olango where the hotel works with an elementary school on nutrition issues, sports and basic learning. Or swim with a school of fish in the Marine Sanctuary. Team building may include a guided snorkelling safari and even work on coral transplants.
Kayaking across emerald lagoons, rainforest hiking and snorkelling in a spectacular natural setting are among the 'low carbon footprint' offerings in PALAWAN at three sister eco-friendly El Nido resorts (www.elnidoresorts.com), Lagen Island, the newer luxury Pangulasian Island and the family-friendly Miniloc. Specialising in incentives, team-building and high-powered meetings, the hotel group offers customised corporate meeting packages including three meals a day and challenges designed to develop leadership and teamwork (max 70 people). Work, get a tan and save the plant. Sounds about right.
More accessible now with a new international airport, the charming Amorita Resort (www.amoritaresort.com/) on Panglao Island, BOHOL, just a hop from Cebu offers three function rooms with ample space for 120 (classroom style) or 200 for a theatre set-up. This boutique resort with stylish new villas and a friendly vibe handles meetings, conventions, training seminars and workshops as well as product launches and romantic weddings. This is a also a top pick for team building and small corporate events with ample space and a pristine beach.
Indonesia, Jakarta, Bali MICE guide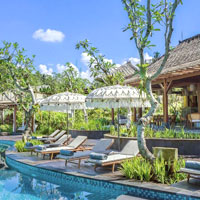 Mandapa - a Ritz-Carlton Retreat - is a classy corporate meeting venue for up to 40/ photo: hotel
BALI hotels have steadily pushed rates up though the market remains soft depending on the season and occasional volcano rumbles as in late November 2018, which threw the spanner in the meetings works albeit briefly. Guests and meeting planners have been able to take advantage of some very competitive rates with extra added value spa, shopping, and other bonuses thrown in. There is substantial demand for strategy meetings, team building - with a diverse array of options on the island - and corporate get-togethers. A look at small meetings in Bali and Jakarta. Be it a five-star luxury or a four-star property, push for the best price. It's available.
Apart from vast and versatile meeting spaces for smaller groups and venues for groups of 10 up to a gala 1,000-person cocktail at the renovated Ayana Ballroom, the secluded 77-hectare luxury AYANA Resort and Spa Bali (www.ayana.com/bali/ayana) also has a range of cliff-top gardens and poolside spaces for alfresco gatherings and meetings under the stars. Look at the 7,500sq m SKY, a spectacular outdoor lawn and cliff-edge cantilevred platform over the sea with 180-degree views. After hours, dip into the world's largest Aquatonic Seawater Therapy Pool. A good option among the top Bali conference hotels and plenty of space for corporate incentives and snazzy functions or weddings.
The Jimbaran bay stretch also serves up two excellent Bali conference and small meetings hotel choices - The sprawling InterContinental Bali Resort (www.bali.intercontinental.com/) a popular family and MICE retreat with extensive lawns and segregated meeting facilities for up to 750 with eight multi-purpose function rooms and the pillarless Puri Kencana Ballroom for up to 600 guests; and the elegant Four Seasons Resort at Jimbaran Bay (www.fourseasons.com/jimbaranbay/).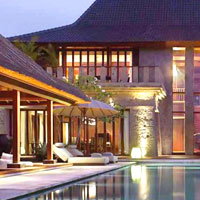 BVLGARI Villa Bali for stylish small corporate meetings/ photo: hotel
With a whopping 50,278sq ft of event space both indoor and outdoor, the hotel can comfortably handle groups of up to 240 persons.
In the Uluwatu area not far from here in the south of the island, is the magnificent Bulgari Resort Bali (www.bulgarihotels.com/bali) that exudes non-stop chic-by-the-cliff with chill-out music, soft lights, and beautiful people by the limo-load. Set up an elegant seminar at the 16-seater Boardroom with the latest AV gadgets or pick the function room with its open-air terrace and breezy views.
Try La Terrazza for a breezy alfresco dinner for 60 or go full-pedal upscale to the BVLGARI Villa for a private event. This is an address for small corporate meetings not MICE and convention hustle. After hours unwind at the splendid spa.
Close by are the contemporary dreamy low-rise units of the eco-friendly Alila Villas Uluwatu (www.alilahotels.com/uluwatu) where executive retreats and corporate meetings can be set-up with ease. This is a very different kind of resort, harmonious with nature, easy on the eye, a tranquil escape for brainstorming. The private room at the CIRE restaurant is a useful spot for theatre-style dos for up to 40 people. And later perhaps indulge in some aerial yoga.
Butler service is one of the extras offered by the opulent The St Regis Bali Resort (www.marriott.com/st-regis-bali), which easily hosts 240-persons for theatre-style presentations in its 290sq m Astor Ballroom. The garden setting Amphitheatre is another favoured venue for dazzling events and presentations. This is could become a favourite spot for board of director meetings and product launches.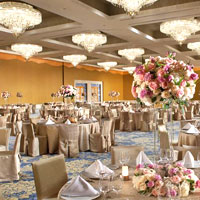 For classy functions and banquets it's hard to beat Mulia Bali / photo: hotel
If you have the money and the moxie, opt for the swish villa accommodation by the beach. Also look at neighbouring sister property The Laguna, a Luxury Collection Resort & Spa, Nusa Dua, Bali (www.marriott.com/the-laguna-bali/) that has a range of meeting facilities.
On this strip, from Jakarta haute hoteliers Mulia comes the sprawling Mulia Bali (or The Mulia, The Mulia Resort & Villas Nusa Dua - Bali, in its complete form, www.themulia.com/mulia-bali/) a mini destination on its own with three hotel experiences in one - and three wedding chapels. This is a huge megaresort on a grand scale with luxury trimmings and marble by the mile, hugely popular with Asian travellers and giggling selfie queens.
Mulia Bali is no slouch with the picnic basket – enjoy several swimming pools scattered around the complex, a kids club, kids pool, a Mulia Spa for wellness pampering, a fitness centre and business centre for workaholics. This is a top Bali MICE address with superb, glittering conference facilities. The Grand Ballroom, the Violet Ballroom and as many as 15 separate function rooms cater for up to 5,000 guests.
The Grand Ballroom alone can accommodate 2,000 for coktails and offers a 180-degree projection wall that curves around the space. Alfresco, the Unity and Eden Gardens serve up grass underfoot and vast ocean views. The Unity Garden can host a whopping 1,000 for an outdoor cocktail or 600 for a sit-down banquet.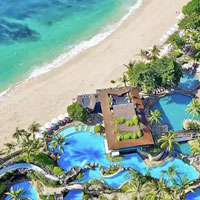 The upgrading Hilton Bali is a spa and meetings combo/ photo: hotel
Up along the coast is the secluded Hilton Bali Resort (formerly Grand Nikko Bali, www3.hilton.com/bali) perched on a cliff with four pools and occasional camel safaris on the beach. By October 2018, 185 Premier Rooms and Suites with their cliff-front location, had renovated in time for the IMF Bali summit.
Expect a 1,100sq m convention centre with banquet space for 760 persons. Clearly MICE and weddings (with the addition of a separate open air wedding pavilion for 30 guests) is the order of the day at this rebranded Bali spa resort.
In the vicinity are The Ritz-Carlton Bali (www.ritzcarlton.com/bali) with a cliff-top ballroom, four meeting rooms and three outdoor venues; and the stylishly cascading contemporary chic and minimal The Apurva Kempinski Bali (April 2019, www.kempinski.com/en/bali) in Nusa Dua, set atop a low hill where you'll find 475 rooms, luxury suites and private villas. Expect a vast pillarless ballroom, wedding chapel, and 2,200sq m sea-facing lawn for everything from conferences to elegant weddings. 
The Westin Resort Nusa Dua (www.marriott.com/westin--nusa-dua-bali/) is a specialist made-to-order atrium-style Bali conference hotel with vast facilities and a lagoon pool well sited along the beach. Catering for corporate meetings, teambuilding events or incentives is not an issue here. There are a total of 26 function venues, many welcoming of natural daylight and all with WiFi, as well as 2,700sq m of exhibition space should you be planning a monster meet.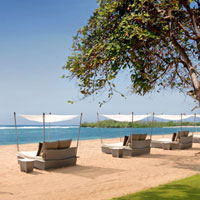 Westin Nusa Dua is a solid MICE hotel with a laid back resort feel/ photo: hotel
Should your MICE event require even more space look at the Bali International Convention Centre (BICC) next door with 2,400sq m of conferencing space including a ballroom. Despite its size the Westin can be flexible on rates and great deals are around depending on time of year.
Usefully, the Westin is also a very child-friendly Bali hotel (with a kids' club) so the family will be well taken care off. The resort was renovated in 2010 and expanded with a fun seafront featuring gauze canopy 'dream beds' and a jogging path all throbbing to the strains of chill-out music.
So who's the winner, Westin Nusa Dua vs Grand Hyatt Bali? Westin perhaps for mega meets but the Grand Hyatt has a definite edge on smaller corporate meetings with superb manicured grounds, an excellent beachfront and more swimming pools than you could toss a flock of flamingoes in.
Hugely popular Bali icon, the Grand Hyatt Bali (www.hyatt.com/grand-hyatt-bali) is on this tourist stretch with its simple yet spectacular lobby open to the elements and sea views with gamelan musicians. It has a spring in its stride with the addition of a spa enclave and a 1,202sq m grand ballroom that can seat 1,420. For smaller company meetings in Bali, this upgrading 636-key family friendly resort is a versatile venue that can set you up for intimate get-togethers for six to 12 and up.
There are 24 function rooms with the de rigueur audiovisual equipment and lighting arrays and the beachfront can accommodate 1,500. Pick team-building activities, a wedding, or a straight-up conference.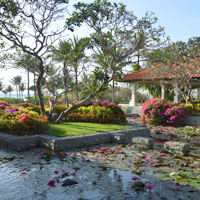 Grand Hyatt Bali offers a sprawling landscape for apres-work unwinds/ photo: Vijay Verghese
This is a venue that can handle most any request with verve and the grounds are a refreshing bonus - apres-work or for accompanying family members.
Almost at the end of the Nusa Dua strip - with a lot of fun and action thrown in and an informal vibe - at the oldest kid on the block, the Nusa Dua Beach Hotel & Spa (www.nusaduahotel.com/) the Keraton Ballroom can comfortably manage 400 theatre-style. Next door the stylish Sofitel Bali Nusa Dua Resort (sofitel.accorhotels.com/sofitel-bali-nusa-dua) occupies a prime stretch of beachfront with 415 elegant rooms radiating out in two wings from the soaring central 'banyan tree' lobby with arcing wood and breezy open views above and restaurant below.
As many as 12 function rooms are available for conferences and corporate meetings, while the main restaurant ripples down the centre of the resort towards the sea under a multi-section 'roof garden' that thrusts upwards at eye-catching angles. There is a ballroom for 545 guests theatre-style.
Heading up to hip and happening Seminyak, for classy and intimate small corporate meetings keep an eye on thatch-roof The Oberoi, Bali (www.oberoihotels.com/bali/) with one large meeting room seating up to 50 people and romantic weddings spaces beachfront; and The Legian (lhm-hotels.com/legian-bali), a swank choice with crisp service and a compact layout right on the beach - with extensive gardens perfect for weddings - that affords opportunities for both quick get-togethers and upscale chinwags.
The larger and newer Alila Seminyak (www.alilahotels.com/seminyak) is an interesting option with space for 500 and a variety of indoor and outdoor locations.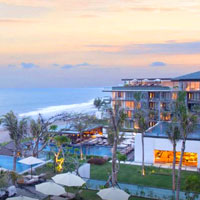 Alila Seminyak Bali can host up to 500 conference-goers/ photo: hotel
A minimum 20-person Meeting Package here will cost Rp1,150,000 per person for a full day session 8am to 6pm with lunch, LCD projector, refreshments and the usual meeting aids.
En route to Seminyak the 203-room Sheraton Bali Kuta Resort (www.marriott.com/sheraton-bali-kuta) has upped the ante on the formerly beer and bellies Kuta t-shirt sunset strip. Next to the Beachwalk shopping centre with a podium pool that looks over at the sea (the beach is across the main road), fine Italian dining at Bene, and super fare at its streetside all-pink Feast restaurant, this is a hangout for everyone from families to conventioneers. This is a pleasant and convenient address for small corporate meetings or big splashy events with the family in tow. There are nine meeting spaces with the largest offering 700sq m of MICE space. This is a well oiled conference hotel with reasonable rates and fine views.
Also on this strip is The Stones, Legian Bali (an Autograph Collection hotel by Marriott, thestoneshotelbali.com/). This contemporary resort is a bit of a recessed oasis with a residential feel - vertical gardens providing a green lung and eco eye candy - and it is situated far enough up the Kuta strip to be well away from the noise and bluster. There's a 1,800-person sit-down ballroom (classroom style) for MICE travellers. The hotel is no slouch on meetings and aims to set a new benchmark in Kuta as a fun Bali conference hotel.
In traditional and fairly non-touristy Sanur, the sunrise beach in the southeast where many prominent local families maintain their residences, a highly popular family-friendly option, is the 363-room Hyatt Regency Bali (formerly the Bali Hyatt dating back to 1973, www.hyatt.com/hyatt-regency-bali), which doubles as the official botanical garden with acres of eye-popping verdure set in vast water features, now in contemporary straight lines. The hotel closed 15 November, 2013 for a major refit and returns 1 January 2019 with several new features including 8,202sq ft for events as well as garden area for gala functions and weddings.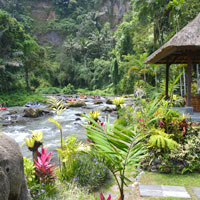 Royal Pita Maha throws in a river and breezy greens/ photo: Vijay Verghese
Expect a grand ballroom, three flexible rooms and a courtyard. Toss in a great dedicated spa and this one's a potential winner.
For a more conventional built-up luxe feel along this narrow stretch of Sanur sand with its jogging trail and dinky restaurants and bars there's the Fairmont Sanur Beach Bali (www.fairmont.com/sanur-bali/) with three meeting rooms of around 65sq m for groups of 20-80.
A full day Meeting Package here will set you back around Rp750,000 per person for an eight hour session with refreshment breaks and the latest in AV equipment.
With art and culture as main selling points, Ubud in the central highlands of Bali is popular for small- to medium-sized conferences running over three days or so. A river runs through it at The Royal Pita Maha (www.royalpitamaha-bali.com/), where you may meet in an open-air pavilion overlooking the picturesque Ayung River and surrounding forests. While the all-villa Royal Pita Maha is a particularly adept wedding venue with a new chapel by the river, it doubles as a distinctly Balinese corporate meetings resort with a capacity of between 40 and 200 people. Secluded location, nice villas and open green views across the valley. The spa is the icing on the cake. This is very much an Indonesian-style property packed with interesting carvings and statues throughout the extensive grounds.
The stunning Mandapa - A Ritz-Carlton Reserve (www.ritzcarlton.com/mandapa) is a luxury bolthole for up to 40 executives. The resort, cascading down the hill past rice fields to the river provides top service and surrounds for classy corporate events. Innovative team-building activities here may include river rafting, temple visits and Balinese cooking classes. Excellent accommodation including villas.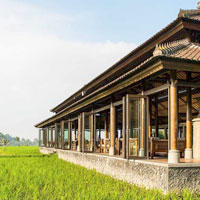 Rent out all 20 villas at Chedi Club Ubud for a rice-field fantasy meet/ photo: hotel
At the other end of Ubud past the busy marketplace are the spa escape Maya Ubud (www.mayaresorts.com/ubud) with yoga and wellness by the mile; and the upgraded Kamandalu Ubud (www.kamandaluresort.com/) set in rice fields with a romantic setting for weddings as well as informal conferences for eight to 35. A full day meeting package at Kamandalu is Rp810,000 per person. Check it out for a stress reliever session.
A wonderfully offbeat option in spectacular rice fields not far from here is at The Chedi Club Tanah Gajah Ubud (www.ghmhotels.com/tanah-gajah). Here's a thought - buy out the whole resort and have your friends enjoy the space and privacy of the place for an out-of-this-world Bali wedding or small meeting experience. That's 20 villas and five hectares of eye-popping green from US$7,500 a night. 
For something else off the beaten track, Arma (www.armabali.com/), a museum sponsored retreat (Agung Rai Museum of Art) is a charming getaway that can manage small intimate meetings and modestly larger gatherings in idyllic surrounds overlooking paddy fields, in a water garden or in an open-air Balinese theatre. The added plus is cultural dances and other cultural throw-ins.
In JAKARTA, if business calls, The Ritz-Carlton Jakarta, Mega Kuningan (www.ritzcarlton.com/jakarta) is a swish downtown address with impeccable service and excellent meeting facilities including a 1,600sq m ballroom, and 20 meeting rooms. Expect high-speed Internet and the ever-present technology butlers. Perhaps they can fix your iPhone too, if not the city's legendary traffic jams.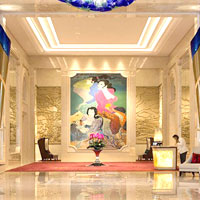 Cream marble and giant murals at Raffles Jakarta, a selfie stop/ photo: hotel
Sister property Ritz-Carlton Jakarta, Pacific Place (www.ritzcarlton.com/jakarta-pacific-place) is smack in the middle of the city's commercial district. Not only is it home to the largest suites in Jakarta, but it also has a whopping 3,800sq m ballroom that can accommodate up to 5,000 reception-style.
You can also expect hideouts for smaller functions, with five meeting rooms, two executive boardrooms and four private dining rooms. Here, too, technology butlers are at your service.
The chic 173-room Raffles Jakarta (March 2015, www.raffles.com/jakarta) is housed in the gleaming multipurpose Ciputra World 1 complex with its Lotte Shopping Avenue. Walk into the large cream marble 'museum vault' lobby and gawp at eye-popping art pieces including a multi-hued wall mural. The Dian Ballroom offers 2,500sq m of open unobstructed space for small corporate meetings, bigger conferences and grand Jakarta MICE events, weddings and gala banquets. All in, if you can pull your jaw back up and don your coolest shades, this is one of the top Jakarta conference hotels picks and a snappy business address with a total of 3,600sq m of event space in contemporary surrounds with the latest techno gadgetry.
Also competing for the grand-scale functions is Hotel Mulia Senayan (www.themulia.com/mulia-jakarta). This elegant, European option with draw-back curtains and classical decor has impressive MICE features as well, with a pillarless ballroom capable of hosting 4,000 guests and 17 other function rooms. There are two ballrooms at this elegant address - the Grand Ballroom and the Vanda Ballroom. Take your pick. With the hotel's 'Exquisite Meeting Package' book 15 rooms to get a full day meeting set-up for all 15 guests complete with a buffet breakfast.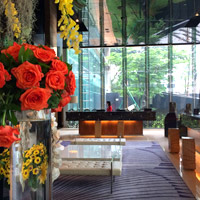 Hotel Indonesia Kempinski lobby/ photo: Vijay Verghese
The 'youngest' kid so to speak at the heart of downtown is Hotel Indonesia Kempinski Jakarta (www.kempinski.com/jakarta). Of course it's not the newest, but rather the latest incarnation of one of Jakarta's landmark addresses – having gone through Sheraton and InterCon already.
The original Hotel Indonesia was officially opened in 1962 by the former President Soekarno. While the hotel attracts younger luxury hipsters and business travellers, you may likely be in town for a conference and this is something Hotel Indonesia handles with aplomb.
There are two spacious ballrooms and 13 meeting rooms offering a range of venues for everything from small corporate meetings in Jakarta to MICE events (despite the smaller room count after the revamp), weddings, and assorted galas. Expect lots of versatile indoor and outdoor function space.
The Grand Hyatt Jakarta (www.hyatt.com/grand-hyatt-jakarta/) is an old stalwart for meeting planners and is linked at the hip to Plaza Indonesia mall. A Grand Ballroom on Level 2 is on hand with adjacent meetings rooms for everything from muscle MICE events and large corporate conferences to small CEO meetings (2,000sq m of event space). But what sets this hotel apart as a top address for Jakarta corporate meetings is the The Residence ONFIVE, with four spacious meetings rooms in a residential format with large uncluttered sofa arrangements and wall-to-wall wooden cabinets with books and artefacts. Natural daylight streaming in is another plus. Room updates and renovations were underway 2018.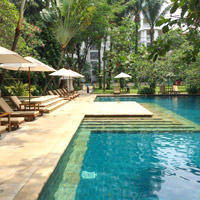 Resort vibe at The Dharmawangsa and space for outdoor events/ photo: Vijay Verghese
Mandarin Oriental, Jakarta (www.mandarinoriental.com/jakarta) underwent a full renovation after a 2007 closure and reopened in 2009 with more, if understated, marbled panache. A separate 3rd floor 590sq m ballroom has independent access and can host 600 people theatre style. There are additionally four meeting rooms and three areas for events with the entire meetings space amounting to a substantial 1,000sq m.
Stepping into The Dharmawangsa Jakarta (www.the-dharmawangsa.com) in leafy south Jakarta you'll be forgiven for thinking you've stepped into a home rather than a hotel. Arrive through a classic pillared porte cochere then blink and adjust to the dim light as your body starts decompressing and the pulse slows down.
The Dharmawangsa is uniquely Indonesian, proudly so, and it blends into the neighbourhood's low-rise mansions with an endearing reticence. Don't expect glitz and glamour, but rather subtle flourishes.
It is excellent for small corporate meetings, grand dinners, weddings and leisurely hideaway weekend 'staycations' with the kids. The fabulous lawns and extensive pool area are a treat and offer inventive options for meeting planners. The Bimasena private club at The Dharmawangsa offers yet more options for entertainment, meeting, and dining venues.
Also keep an eye on the 311-room InterContinental Jakarta Pondok Indah (late Dec 2018, www.ihg.com/jakarta/), the new muscle in the south with a touch of contemporary class and lots of premium shopping access. There's a golf course not far away too for a weekend swing and the hotel is set up for conferences and meetings with a ballroom that can hold up to 3,000 guests cocktail style (standing).
Small meetings in Malaysia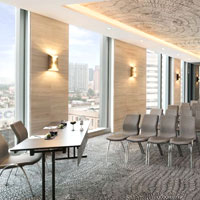 W KL has textured light-filled spaces for functions of up to 700 / photo: hotel
KUALA LUMPUR remains value for money as last-minute bookings (with short lead times) keep hoteliers on their toes. Shop around. With a broad spread of cities and beaches, Malaysia conference hotels serve up some exciting choices at attractive prices. And corporate meetings in Malaysia offer even more choice as you hunt down heritage stays in quaint locales.
The youngest and sparkiest small meets contender is the new W Kuala Lumpur (www.marriott.com/w-kuala-lumpur/) in the heart of town on Jalan Ampang with 15,887sq ft of event space and six highly textured meeting rooms. While the location can be subject to traffic stress, there is much to cheer about. The Great Room (think ballroom) can manage up to 700 delegates. Expect fast WiFi and a giant LED wall. Now how about this for a product launch?
The very central and well positioned Westin Kuala Lumpur (www.marriott.com/westin-kuala-lumpur) is a good option. Here, delegates might perhaps take part in customised cooking, baking and cocktail-mixing workshops, or shake their booty during salsa dancing lessons. Everything is possible.
Expect over 21,000sq ft of meeting space, 21 event rooms and the largest capacity hall for 600 (the 6,700sq ft Grand Ballroom). The Westin Workout fitness centre is an added plus for aching limbs after a marathon conference session. And do pop by the happening Qba.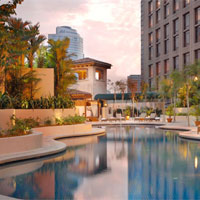 Sheraton Imperial KL/ photo: hotel
The smart and stately Sheraton Imperial Kuala Lumpur Hotel (www.marriott.com/sheraton-imperial-kl) is a crisply efficient venue for small meetings in Kuala Lumpur. The hotel boasts over 17,000sq ft of event space and nine function areas with varying configurations. The maximum capacity in one venue is 1,000 persons. Expect WiFi and the latest in audiovisual equipment. There is good F&B and the poolside Italian restaurant Villa Danieli doubles as an event venue. This is certainly one of the top Kuala Lumpur conference hotels around though newer competitors are nipping at its heels.
Right around the corner from Sheraton the lifestyle Hotel Stripes Kuala Lumpur (an Autograph Collection, www.marriott.com/hotel-stripes-kl/), is a fun location for small meetings of between 50 to 80 persons.
Opposite the Old Railway Station Autograph Collection sibling The Majestic Hotel Kuala Lumpur (www.marriott.com/majestic-kl) has a vintage dating back to 1932 when the old wing, then simply Hotel Majestic - still emblazoned across the historic entrance - set up shop in the then "heart" of town. It has since been joined by a linked Tower Wing that rises up to a rather modest height, despite its name, also kitted out in blazing white. This is Malaysian heritage at its best with echoes of the Raj at every turn. The Majestic can rustle up 1,200-guest banquets at its pillarless ballroom. Opt for a gala event or plan your next small corporate meeting or CEO chinwag here.
Hilton Kuala Lumpur is a fast paced venue with smart rooms/ photo: hotel
Small alfresco conferences are on the menu at Le Meridien Kuala Lumpur (www.marriott.com/le-meridien-kl), with participants relaxing on mats in the nearby Lake Gardens. Coffee break snacks and lunch are packed into individual picnic baskets. Strategically located at the transport hub of Kuala Lumpur Sentral (at the main train station and airport link), the hotel boasts 1,300sq m of meeting space, and function rooms for smaller events.
Joined at the hip with Le Meridien is the new-breed contemporary Hilton wild child with spring in its stride and flair in its functions, the Hilton Kuala Lumpur (www3.hilton.com/kuala-lumpur). This hotel breaks the old Hilton mould and demonstrates that even formerly stolid American chains can generate razzmatazz. The hotel offers 14 meeting spaces for up to 1,500. Also find a breezy high-floor pool, a spa and 503 stylish rooms.
The St Regis Kuala Lumpur (May 2016, www.marriott.com/st-regis-kuala-lumpur/) is a 208-key luxury affair with rooms starting at a whopping 138sq m. Atop the ONE IFC mixed development tower complex, the hotel is smack in the heart of the emerging KL Sentral business district close to the station. Butlers are on call at all times to manage your travel tedium and set you up for that corporate meeting, wedding, or shopping spree. For CEO chinwags or larget corporate events there's 27,028 sq ft of function space including a grand ballroom equipped with an LED wall.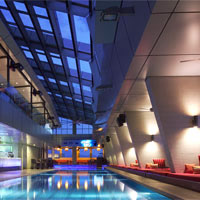 Traders KL has an informal vibe - SkyBar and pool/ photo: hotel
Smart and chic the 571-room Traders Hotel, Kuala Lumpur (www.shangri-la.com/traders/kl), just opposite the glinting much-photographed Petronas Twin Towers, is a breathlessly breakaway New Age product catering for upper-end business and leisure travellers. It has covered access to the Kuala Lumpur Convention Centre. What more do you need? Talk to an event specialist and they'll arrange something with zing in one of the light-filled meetings rooms. Think free WiFi and the latest in AV. The hotel has attitude and style in spades with a simple set-up and loads of informality.
For posh surrounds and an intimate feel, head to the Ritz-Carlton, Kuala Lumpur (www.ritzcarlton.com/kuala-lumpur). About a five minute walk to Bintang Walk's entertainment venues and restaurants, this renovated and upgraded urban retreat includes more than 20,860sq ft of meeting space with 15 venues. Carlton rooms 7 and 10 are perfect for corporate meetings for 20.
Nearby, another hotel with good meeting spread is the 569-room JW Marriott Kuala Lumpur (www.marriott.com/jw-marriott-kuala-lumpur/). Positioned in the heart of the Golden Triangle, this Marriott is a natural for larger events. It has 38,986sq ft of total meeting space, with the Grand Ballroom accommodating a 1,000. Good central location though there is traffic gridlock at peak times.
The Berjaya Times Square Kuala Lumpur (www.berjayahotel.com/kualalumpur) Kuala Lumpur is next to a monorail station and says 2.5 million people visit the huge sister mall every month for shopping and seasonal events. The hotel's Manhattan Ballroom can be subdivided into three and can hold 2,000 theatre-style while smaller meeting rooms cater for 36 to 80 persons classroom-style. A popular Malaysian conferences pick for many companies.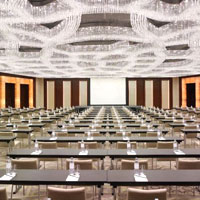 Grand Hyatt Kuala Lumpur - grand conferences/ photo: hotel
In the neighbourhood but closer to major conference venues and the KLCC, the Grand Hyatt Kuala Lumpur (www.hyatt.com/grand-hyatt-kuala-lumpur) opened late 2012 to hotly contend for MICE functions and grand events. It has six large function rooms and four smaller venues spread across 35,530sq ft. That means big venues for big occasions.
If you're not going all out, ask for one of the Grand Residences, meant to fit 20 to 100 guests. A "Grand Meeting package" can be arranged by an event specialist with a full-day itinerary, coffee breaks and LCD screens. This contemporary offering from Hyatt is smack next to the Kuala Lumpur Convention Centre KLCC (www.klccconventioncentre.com). Mark it down in your KL corporate meeting hotels shortlist and not just for its well-planned and laid-out event space. Service is on rails and business and leisure travellers alike are well taken care of.
The Mandarin Oriental Hotel, Kuala Lumpur (www.mandarinoriental.com/kuala-lumpur/) is tucked between the Petronas Twin Towers and Kuala Lumpur City Centre Park. This 602-room tower can pack 2,800 guests into Grand Ballroom, which the hotel says is the largest in the city and is big enough to house a Boeing 747. If it's not a wedding you're after, don't worry, there are three floors of function space and something for everyone.
Also look at the Diamond Ballroom and 11 function rooms, more suited for boardroom affairs covering three floors. The largest is the Crystal Room at 240sq m. The hotel is bang next to the Kuala Lumpur Convention Centre.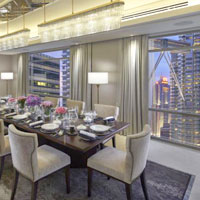 Dining event at the Presidential Suite, Mandarin Oriental KL/ photo: hotel
The InterContinental Kuala Lumpur (kualalumpur.intercontinental.com/) - the former Nikko - is centrally located in the business hub, a short walk from the Petronas Twin Towers and Kuala Lumpur Convention Centre. This modestly refreshed property offers two ballrooms for up to 1,300 and smaller function rooms for 30 to 70 people.
With its new 1,500sq m Grand Ballroom and 13 function rooms, The Shangri-La Hotel, Kuala Lumpur (www.shangri-la.com/kualalumpur) punches at the top of its class. While the meeting rooms range from 45sq m to 905sq m the pillarless ballroom is a state-of-the-art construct with three large LCD screens and two LED displays complemented by crystal chandeliers and free WiFi. This grande dame has hitched up its skirt with a younger contemporary-classic vibe.
Right across the road is the humming and usually great value Concorde Hotel (kualalumpur.concordehotelsresorts.com/), a staple four-star that gets its share of saucy nighttime revellers spilling over from the Hard Rock Cafe as well as neighbouring Jalan P Ramlee. Executive travellers should opt for the Premier Executive rooms, which are functional and comfortable. The Concorde Ballroom can accommodate 250 while smaller meeting rooms are on hand for groups of 21 to 40.
On the balmy island of PENANG, Shangri-La's Rasa Sayang Resort & Spa (www.shangri-la.com/penang/rasasayang) is located over sprawling hectares along Batu Ferringi Beach. The stately but thoroughly revamped resort features two connected wings with varying accommodation choices, a CHI spa, and flexible meeting venues. The Pelangi Ballroom can accommodate up to 700 for a cocktail reception, while 14 other function rooms service smaller groups.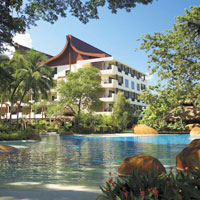 Shangri-La's Rasa Sayang Penang is a solid conference pick/ photo: hotel
For an air-conditioned outdoor venue, check out the marquee tent. Tucked between sea and jungle, this hub can accommodate up to 200 people for dinners or meetings. Themed events and team building are a cinch. Keep an eye on this top Penang conference hotel and mark it down for your future small company meetings in Asia.
Also on the Batu Ferringhi beach lies the quiet ParkRoyal Penang Resort (www.panpacific.com/pr-penang) now under Pan Pacific. It serves up several function rooms for gatherings of 10 to 80 persons and the Andaman Grand Ballroom can cater up to 300 theatre style. This is an older property with a pleasantly laid back feel but design upgrades have added some contemporary zing.
Time to loosen that tie? For an upbeat and fun corporate retreat, drum over to the Hard Rock Hotel Penang (penang.hardrockhotels.net/). From the music memorabilia to colourful decor, the facilities here will keep the team energised. Banquet halls can host up to 300, while smaller meeting spaces such as Abbey Road will get the ball rolling on corporate chats and rock n' roll theme parties. Ask about the offbeat team-building exercises if you want to mix things up. Fun meetings to say the least.
Elsewhere on the island, in bustling Georgetown, by the sea but not on the beach, is the colonial all-white Eastern & Oriental Hotel (www.eohotels.com) with large classically furnished suites, butlers and WiFi. Founded by the Sarkies brothers in 1885, this delightful slice of history comes accompanied by six function suites that can host from 20 to 150 persons while the grand ballroom can manage 400 for a banquet.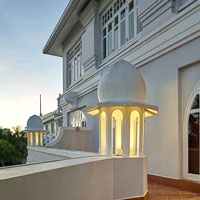 E&O, grand facade, colonial style small meets in Penang / photo: hotel
An Executive Meeting Package 'full day with lunch' may include welcome tea, meeting space, two coffee braks, conference materials, whiteboard and projector.
And for MICE events and major conferences for the hordes - but not on the beach - look at the longtime convention king Equatorial Penang (penang.equatorial.com/), a monster of a place with a grand ballroom for 1,300 (theatre) and 21 function rooms and more ballrooms in three mammoth wings.
Expect space (662 rooms), variable service, and the usual Penang curries just 15 minutes from the airport.
Sabah's KOTA KINABALU has direct air links, and short travel time, to major Asian capitals such as Hong Kong, Singapore, Seoul, Tokyo and cities in China. The area's attractions include golf, island tours, nature experiences and trips up Mount Kinabalu.
You'll find city-hotel-style rubber stamp properties from Marriott, Hilton and Le Meridient here but to enjoy the scene you will need something with a resort feel.
The well established and briskly managed Shangri-La's Tanjung Aru Resort & Spa (www.shangri-la.com/tanjungaru) is at one corner of town, on the beach, with good meeting facilities including a pillarless ballroom for 1,200 persons and eight function rooms. Cruise off to offshore islands from here. Ask for the hotel's Green Meetings Package.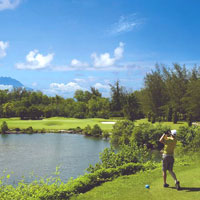 Golf is an added attraction at Shangri-La's Rasa Ria, Kota Kinabalu/ photo: hotel
Farther east on a pristine strip of beach, you'll find the Shangri-La's Rasa Ria Resort (www.shangri-la.com/rasaria). Like its sibling across town, Rasa Ria is an airy, meticulously groomed property with views and services to match. The resort is big for leisure, but also serves up big MICE facilities, including its 750sq m Grand Ballroom (banquets for 600 and cocktails for 1,000) and several other function rooms.
Party disco style at the Coast private venue and later, enjoy a golfing swing at Dalit Bay Golf & Country Club, the resort's 18-hole championship course.
Just outside town, you'll pass by the 27-hole golf course and 104-berth marina of the Sutera family: comprising Sutera Harbour Resort (www.suteraharbour.com), The Magellan Sutera Resort and The Pacific Sutera Hotel. Here, business meets pleasure. It is a busy area with boats, holiday-trippers and lots of group traffic. It is worth hunting here for a good price if your needs are not too complicated though the resorts can rustle up a fair bit of themed action and more.
The Magellan has the largest facilities, but the Pacific is the main stomping ground for MICE functions, with a more corporate feel. It has four outdoor venues, a mini-theatre, a large ballroom and 10 multi-purpose and meeting rooms suitable for smaller gatherings.
Way past the Jesselton Pier heading north is Nexus Resort and Spa Karambunai, (www.nexusresort.com). The 485-room complex sits upon 3,335 acres of lush surrounds, including an 18-hole golf course. Its ballroom and eight meeting rooms cover 2,745sq m. This is a good value and relaxing get-away-from-it-all MICE venue in East Malaysia.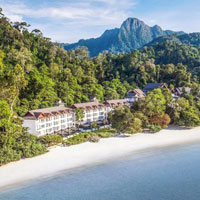 The Andaman Langkawi has pristine beach and meets for up to 500/ photo: hotel
Corporate meetings in LANGKAWI offer broad range. Whether it's a board meeting in a rainforest or an executive seminar on the beach followed by golf that you're after, The Andaman, a Luxury Collection Resort, Langkawi (www.marriott.com/andaman-langkawi), with more than 1,100sq m of meeting space including seven meeting rooms (the largest conferencing space for 500), will tailor a special package to suit every whim. The resort is in the forested far northwest of the island. Meet in a restaurant overlooking the Andaman Sea, on the beach after lunch or on a yacht before an evening barbecue. This is also a prime location for weddings. It is close by one of the top Malaysian golf courses, the Els Club Teluk Datai.
Neighbour, The Datai Langkawi (www.thedatai.com/), put on the map by GHM hotels and now run by Archipelago Hotels and Resorts, is a rainforest villa resort gem, set in the secluded northwest of the island (next to The Andaman) with a superb beach. The resort blends into nature with minimum intrusion.
The place returned from a major facelift late 2018 and updates continue in 2019. The 100sq m meeting room set in the main building is ideal for small corporate meetings of 20 to 50. The foyer can manage some overflow with a further 75sq m of chit-chat space. This is a spot for select company meets and CEO chinwags.
Far to the west of the island along the north shore the Moorish Four Seasons Langkawi (www.fourseasons.com/langkawi/) is a luxury leisure resort but it has 2,150sq ft of function space and outdoor banquet settings for 120.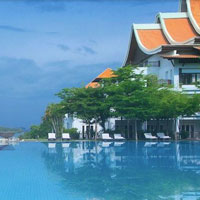 Distinctive Westin Langkawi and its tiled roof/ photo: hotel
The specialist Langkawi conference hotel on this patch however is The Westin Langkawi Resort & Spa (www.marriott.com/westin-langkawi). There are seven meeting spaces at this beachside hotel (conveniently located not far from Kuah town) 12,475sq ft of event space. Expect quality AV equipment, videoconferencing, and interesting function venues.
This is one of the best Langkawi conference hotels by a long chalk and not just on account of its space and room muscle. It has long been a favourite with meeting planners and conference attendees. The beach area can be imaginatively utilised for larger events while the access to Kuah town affords opportunities for duty-free shopping - something this small place is well known for. Don't hold your breath though.
Opened April 2016, neighbouring The St Regis Langkawi (www.marriott.com/st-regis-langkawi) adds fresh zest to the corporate meetings mix with a dollop of luxury and 1,082sq m of prime event space. The largest meeting space is 300sq m. Pick the Astor Ballroom for an elegant bash.
Along the east coast of the island within sighting distance of the airport is The Ritz-Carlton Langkawi (September 2017, www.ritzcarlton.com/langkawi), a swish upscale escape at the fringe of the rainforest (but not in the thick of it like The Datai and Andaman farther north), with an overwater spa with treatment rooms in a unique bamboo-cage fishtrap design, and a ballroom that can entertain up to 280 for a banquet withseating for 430 theatre-style.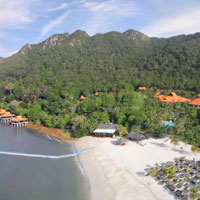 Berjaya Langkawi -over-water villas/ photo: hotel
And a little farther along heading east again are the unmistakeable red-tile roofs of the Berjaya Langkawi Resort (www.berjayahotel.com/langkawi). Some of the chalets are sprinkled across the forested hillside, but the draw here are the stilt chalets and suites on the water, all with private balconies to take in the sea views.
In the sidelines, by the tiered pools, Russian stewardesses try to acquire a tan. Look at a Full Day package from RM178 per person with welcome tea, two coffee breaks, and lunch with the meeting room use for eight hours, flipchart, writing material and microphones. The Berjaya enjoys a nice location with breezy views, watersports, and access to the rain forest that stretches out behind it carpeting the rolling hills. There is access as well to small islands with nice beaches. The hotel works well for families as well as conference-goers and this is a big plus.
Brunei boardroom romp - Empire strikes back
At The Empire Hotel & Country Club (www.theempirehotel.com) you'll find more gleaming marble and soaring Doric columns than in Ancient Rome. The state events venue for the Sultan of Brunei should be good enough for mere mortals. This is a lavish and spread-out resort with several swimming pools, spa, and numerous meeting options. Age and wear and tear was certainly visible late 2018 in the Lagoon Wing and elsewhere. But softer prices may outweigh the worries.
The Indra Samudra Grand Hall rolls in a spacious ballroom, flexible meetings rooms and open roof-deck areas. The grand ballroom seats up to 1,500 guests for formal dinners and effortlessly accommodates 3,000 for cocktail receptions or in a theatre style set-up. That's a lot of heft. Small wonder this is the premier spot for Brunei conferences and MICE events.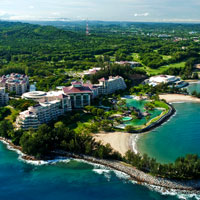 Empire Hotel, Brunei/ photo: hotel
Full day and half day meeting package rates have softened so do ask for a good deal especially if you have 20 or more executive suits in tow. You might kick off with a welcome reception and a sundowner at the marina. Pick from themes including a fisherman's village, or opt for an outdoor barbeque.
There are several meetings rooms, and some look onto the 18-hole signature Jack Nicklaus Golf Course, itself a major distraction. Save time for a swing. Look at the Country Club venues or explore the larger Empire Theatre.
Meeting packages include morning coffee break, buffet lunch, and standard audiovisual equipment. The afternoon could be for beachwear and sporty teambuilding exercises. At one time the hotel offered it's own version of the "Amazing Race" to test your endurance over land and sea. No James Bond antics here. Think slippery banana boats, soaring para-sails, kayaks, beach football, and muscle-wearying tug of war. Wrap up with a formal Cantonese dinner at Li Gong.
Sea and CEOs in the Maldives
Coral-fringed islands, sun-drenched beaches and azure seas, anyone? Who wouldn't want to meet up in the Maldives? It's a long way to go, but why not? Well, yes, cost could crimp your style but then, for a fabulous blue-water small meeting in Asia, there are few better spots. The Maldives works best for small corporate meetings and seminars rather than larger conferences due to the transport limitations. Back in favour after the 2018 elections that have brought a sense of democratic stability, travel is picking up again.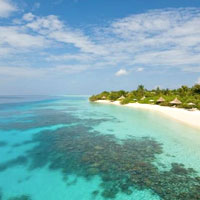 Four Seasons Landaa Giraavaru/ photo: hotel
For a top-level executive gathering on a private island, Four Seasons Resort Maldives at Kuda Huraa (www.fourseasons.com/maldiveskh) has it all. Group activities range from fishing and snorkelling to dolphin cruises. In addition to the dedicated meeting room, gatherings can be held anywhere – from the resort terraces to the beach and tropical gardens.
The resort offers full-day meeting packages for up to 16 in indoor space with floor-to-ceiling windows overlooking the ocean. Or opt for an outdoor banquet for 30 and later try your hand at stand-up paddling, sunset fishing and snorkelling. There are 89 rooms and seven suites and the island is available for a buyout should the wallet permit.
More corporate retreats beckon at sister property the Four Seasons Resort at Landaa Giraavaru (www.fourseasons.com/maldiveslg/), where big windows and high ceilings connect meeting participants in its three function spaces (perfect for 20 to 40-person groups) with the natural beauty outside. Up to 80 can be accommodated for an outdoor banquet. Restorative ayurvedic treatments, yoga and diving will help you wind down. The environmentally conscious will like to engage in manta ray conservation and regeneration of the coral. This is rather unique team building that corporates will remember long after they return to smog-filled cities.
The Conrad Maldives Rangali Island (conradhotels3.hilton.com/conrad-maldives) sprawls over two islands in fact, both connected by a wooden walkway. The seaplanes deposit you right in the middle.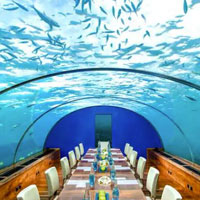 Underwater board meeting at Conrad Maldives, Ithaa restaurant/ photo: hotel
Apart from boasting the world's first underwater restaurant where you can look at sharks and vice versa (as well as stage a small event), the resort serves up stunning spa facilities and over-water villas. While not really a conference hotel, the resort has imaginatively rustled up venues for 10 to 20 persons at the business centre (with complimehtary WiFi), in the largest meeting room (for 104 guests) and even on a deserted island. No promises.
The hotel also offers 'bespoke events' on Rangali Island at the adults-only 'Quiet Zone' for groups of up to 100. Check on the hotel's 'Kingdom for Hire' plan (you'll need to book 50 to 150 rooms). Call the hotel to check on possibilities. Could you arrange a meeting underwater? Well…
Other Maldives resorts with some (limited) space for small corporate meetings and themed events could include the stylish Banyan Tree Vabbinfaru (very short boat-ride from the airport, www.banyantree.com/maldives/vabbinfaru); the old style and informal 225-room Bandos Island Resort (close to the airport, bandosmaldives.com/v2/) with meetings space for up to 350 and upgraded rooms and facilities and a good house reef; local favourite and the one that pioneered ocean resort holidays in 1972, the upgraded and friendly Kurumba Maldives (www.kurumba.com/) with 180 rooms and 350sq ft for meetings; the swish Anantara Kihavah Maldives (www.anantara.com/en/kihavah-maldives) with underwater dining and wine cellar; and Centara Grand Island Resort & Spa, Maldives (www.centarahotelsresorts.com/maldives/) in South Ari Atoll a 25-minute flight from Male that handles small meets and underwater weddings.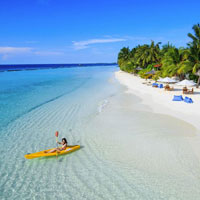 Small meets are possible at Kurumba Maldives, which started the tourist boom here in 1972/ photo: hotel
Shangri-La's Villingili Resort & Spa (www.shangri-la.com/villingiliresort/) for events, banquets and weddings farther south close to Gan Island, which has its own airport. The resort offers an arsenal of distractions including its signature CHI, The Spa - with an endless menu of holistic treatment - tennis, gym, dive centre with a decompression centre, kayaking, sailing, water-skiing, and yacht cruises.
For larger events (modestly so and with better access) meeting planners may need to explore the built up airport island of Hulule (linked to the capital MALE) and less luxe hotels like Hulule Island Hotel Maldives (http://m.hih.com.mv/dine-en.html) or, in the capital, newer but smaller The Somerset (www.thesomerset.com.mv/) with a boardroom for 12 and a seminar room for 50; and the ageing but spruced up Nasandhura Palace Hotel.
Nasandhura Palace was among the first hotels in the Maldives and dates back to 1981 when visitors cycled through dusty crushed-coral streets. Taxis arrived much later. Nasandhura has 31 rooms, three meeting spaces with the largest at almost 2,000sq ft for banquets.
Male hotels are not for leisure trippers. They are business oriented affairs gussied up with a bit of cheerful trim. But they can provide a base for small get-togethers at a far lower cost than the typical Maldives luxury resorts or even the mid-range family resorts. All offer tours and scuba activities (on outlying islands and reefs) and there is always the option of a short break in a better class of resort after the meetings are done.
South Korea: small meetings in Seoul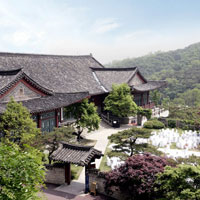 SamcheongGak for events with atmosphere/ photo: Seoul Tourism
Already a sought-after destination for the regional conferences market, Seoul regularly hosts major events like the Korea MICE Expo. This is a popular city, mixing the lure of shopping, sites, history and food with some excellent MICE locations for corporate meetings or larger events.
An interesting pick is the 1972 nostalgia construct, SamcheongGak that was built as a banquet spot north of the Han River. The place mimics a Korean royal home or palace with plenty of timbre, sloping shingle roofs and a green hilly setting.
Cultural items are often on the menu here. It was originally used as a place for Red Cross conferences between North Korea and South Korea. There is no rental fee for the space but a W100,000 or more catering fee per head is charged. The venue is about three kilometres from downtown hotels like Westin Chosun and Plaza. More information on atmospheric Seoul meetings (www.miceseoul.com). Also explore The Raum Art Center in the Gangnam area south of the Han River with meeting space for 50 persons. Or pop by Samwon Garden for a bite and a corporate chat.
Host to royalty, heads of state, celebrities and business leaders, the smart, restyled, relaunched The Shilla Seoul (www.shilla.net) prides itself in state-of-the-art technology and business facilities. Pick the Grand Ballroom for larger events that need careful attention and set-up for up to 1,400, or the Dynasty Halls that each hold about 250 banquet style. The hotel has a secluded location on a wooded hill and serves up great F&B too. The place was closed and re-emerged from a complete top-to-toe transformation in August 2013. It was worth the wait.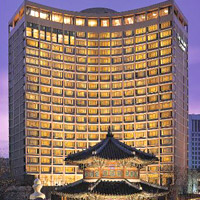 Westin Chosun Seoul - old but impressive for VIP meets/ photo: hotel
Built in 1967 for heads of state and VIPs the Korean-style slate-roof Yeong Bing Gwan at the Shilla is a garden and indoor venue for banquets of up to 300 (or receptions for 250). This space has a reputation for fine service and attention to detail if you have a fussy corporate conference to manage.
A floor-to-ceiling window view of Seoul's own historic Temple of Heaven inspires meeting delegates in one of the eight conference rooms in the downtown The Westin Chosun, Seoul (www.marriott.com/westin-chosun-seoul). Close to trendy shopping and other landmarks in Myeong-dong such as the Blue House, City Hall and Cheonggyecheon stream, the hotel's guest rooms and ballroom (which can be divided into two separate meeting rooms) holds 700 comfortably, while various function rooms can host 20 to 80.
There is a total of 35,500sq ft for conferencing and MICE activities with 12 rooms for events. This is a historic hotel with dollops of heritage along with a contemporary busy feel that business travellers like. Best of all is its central location.
Another top pick in this central downtown area is the Four Seasons Hotel Seoul (www.fourseasons.com/seoul/), a younger and very contemporary space with a 788sq m ballroom that can entertain up to 800. This is a 274-room hotel, a tad smaller than some competitors and service is friendly and personal.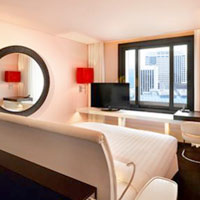 Plaza Seoul remains hip as an Autograph Collection hotel - Deluxe Room/ photo: hotel
The stylish and brisk new-look The Plaza Seoul (www.marriott.com/plaza-seoul or www.hoteltheplaza.com/en/), now an Autograph Collection hotel by Marriott since 2016, offers a 889sq m Grand Ballroom in classical-contemporary style that can seat 700 (classroom) or 520 for a banquet. Or pick a smaller function room like Ruby Hall (163sq m, 100 people theatre style) for an intimate Seoul corporate meeting venue. The smaller Pine & Bamboo Room will hold 20 people schoolroom style. Expect dark woody tones and textures, surprising sculptures and wall hangings and soft pools of lights. Staff are very on the ball. Electronic touch cards open the elevator doors as well as rooms, introducing a new level of security for women as well as for careful business travellers. The 30sq m Deluxe rooms are playful, with giant floor lamps hovering like Jurassic brontosauruses (now switched to red wall lamps), and spotlights casting a warm glow over plump white beds and cream stools. The bed is right in the centre of the room and you can walk all the way around it. A touchie-feelie experience.
In the same neighbourhood as the Chosun and Plaza is the massive and very popular Japanese-style Lotte Hotel Seoul (www.lottehotel.com/seoul) with oodles of meeting space and a huge room inventory. This address also sports a classic New Wing (that has been around for a while), which adds a fair bit of class and faux-European gilt-ceiling touches to brighten up the pace of the old block. The older wing actually has a bright and roomy lobby looking onto gardens, with marble flooring and pinewood pillars.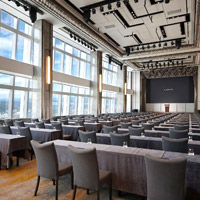 Signiel Seoul grand ballroom - natural light and grand views/ photo: hotel
With a staggering 1,200 rooms this is a Seoul conference hotels biggie and a stronge MICE contender. Its 1,113sq m Crystal Ballroom can handle up to 1,200 persons and several smaller function spaces are on hand for groups of 35 to 150. Other distractions include duty-free shopping, a Sulwhasoo spa, a golf driving range, the Lotte art gallery and a hotel museum.
Contemporary iconic tower the Signiel (www.lottehotel.com/seoul-signiel/) on the other side of the river in Songpa-gu not far from the general Gangnam area, is a striking new address (from Lotte) with a Grand Ballroom for 270 offering vertiginous views and cityscapes. There are Studio rooms with a capacity of 20-60 as well. Panoramic Seoul views and plenty of natural light for discerning meeting planners, VIPs, and senior executives.
It's all systems ago at the huge and businesslike InterContinental Grand Seoul Parnas (www.ihg.com/intercontinental/seoul/), with several elegant meeting and function spaces as well as a new grand ballroom weighing in at 1,494sq m with seven-metre-high ceilings and views of COEX. This is a corporate, woody and somewhat dark venue with an old style clubby feel that will reassure many traditional suits.
The subway is close at hand. Sister hotel Intercontinental Seoul COEX (seoul.intercontinental.com/iccoex/) is a more contemporary and colourful confection with more than 10 meeting and banquet halls, catering to anywhere from 20 to 1,200. Sophisticated soirees and VIP events can extend to the 30th floor terrace, which can accommodate up to 40 guests.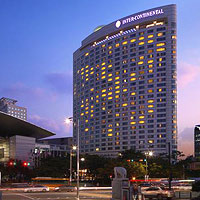 InterContinental Seoul COEX / photo: hotel
This is very much a busy convention hotel for MICE events and more and the Harmony Ballroom can accommodate up to 1,200 if need be..
Diagonally across from the COEX Convention and Exhibition Center, the Park Hyatt Seoul (www.hyatt.com/park-hyatt-seoul) is in a strategic location with a modest range of meeting facilities.
It has six modern meeting rooms as well as a ballroom for up to up to 85 guests. Not your normal muscle meet venue, this is ideal for a small and upscale corporate meeting in Seoul. Mark it down for your CEO chinwag. The minimalist zen setting with grey stone and wood is a big plus.
On the same side of the river joined at the hip - well, via the basement, actually – to the International Finance Centre in the heart of the Yeouido Business District, the 434-room Conrad Seoul (conradhotels3.hilton.com/conrad-seoul) is a tech-savvy luxury option with soaring ceilings and space for a Swan Lake pirouette or two.
Expect muted earth tones, plenty of wood and texture by the yard. On the third floor is the Grand Ballroom (with a capacity for 700 banquet style) with the Park Ballroom on the fifth level. The sixth-floor STUDIO offers flexible meeting space for events. In all, this is a prime Seoul hotel for corporate meetings with attentive service and quick response times.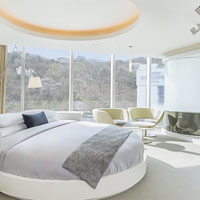 Vista Walkerhill, from scarlet to virginal white/ photo: hotel
Farther from the action and miles from the pack when it comes to design eccentricity, is the funky 252-room Vista Walkerhill Seoul (which took over from the W Seoul-Walkerhill in January 2017, www.walkerhill.com/vistawalkerhillseoul). Perched on a promontory above the Han River – and a snaking expressway – The W was less a hotel than a fashion statement for the hip and gloriously reckless. Vista has toned down the lipstick red decor and eye-popping colours, replacing them with no less inviting virginal whites and pastels. Some of the circular rumpus beds remain. Expect customised meetings and banquets and explore function spaces like "Aston House" (morer classic),and outdoor banqueting areas like "Camping in the city" and "Myongwolgwan". Clearly the hotel has retained some sense of fun.
Along with the Grand Hyatt Seoul (www.hyatt.com/grand-hyatt-seoul) a longtime conferencing stalwart with its spectacular city and river views, excellent service and set-up, pool that doubles as a skating rink in winter, and a grand ballroom for a staggering 1,500, also look farther afield at select INCHEON business hotels that take their lead from the modern and briskly run 524-room Grand Hyatt Incheon (www.hyatt.com/grand-hyatt-incheon) right next to the airport, a short distance from Songdo. It started out as a Hyatt Regency and morphed into its current Muscle MICE incarnation in 2014 with a total of 1,022 rooms and suites and residences. The hotel's West Tower has been given LEED certification and the 1,250sq m Grand Ballroom can handle 830 banquet style.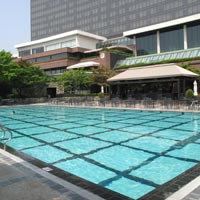 The Grand Hyatt Seoul pool turns into an ice rink in winter/ photo: Vijay Verghese
This is an excellent address for Incheon conferences or corporate meetings with 30 function areas including an outdoor event venue. WiFi is free and there are three swimming pools to unwind in including a pool for kids. The hotel is a child-friendly option too with a kids' playground to entertain minors.
Rooms in the new tower are clean and uncluttered with back-lighting on crisp white walls, grey carpets and woody accents. Look out through sloping windows, and walk on cool pale wood flooring. The hotel is a three-minute drive from the airport in a quiet as yet undeveloped district with some offices and a few eating spots.
The star of the show in Incheon's smart city SONGDO, is the traditional Korean 'hanok' style Gyeongwonjae Ambassador Incheon (May 2015) that maintains a discrete presence adjoining the southwest side of breezy Central Park with its handsome low wooden structure, sloping shingle roofs, and broad gravelled courtyards with flowering trees. This is a period construct paying homage to Goryo (also spelled Goryeo or Koryo) dynasty architecture using rustic rough-hewn wooden beams in a Buddhist-inspired pagoda design.
Not surprising then the ambience is one of quiet zen contemplation. What could be better for a small corporate meeting? With Korean style rooms and beds and not much English spoken inside, this address also has for larger meetings, banquets and events, an impressive Goryo-style hall, GyeongWonRu, set to one side of the hotel. It certainly beats run-of-the-mill hotel ballrooms.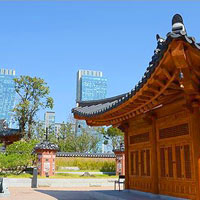 Looking past the stunning Ambassador Incheon at the wavy Songdo towers/ photo: Vijay Verghese
This function space can accommodate up to 400 people theatre-style or 250 for banquets. There's an outdoor space too that seats 1,000 theatre-style or 500 for a stylish wedding banquet.
Across Central Park, right after the Songdo Convensia, is the Sheraton Grand Incheon Hotel (www.marriott.com/sheraton-grand-incheon). This is a rectangular reflective glass building of modest height on Convensia Road. There's an element of bling (but not too much) in the bright lobby with its tan sofas and Link@Sheraton for those who need to stay plugged into the internet. Staff is brisk and accommodating. The 321 rooms are smart and uncluttered.
South Korea's first fully non-smoking hotel was also built entirely with eco-friendly materials – so keep up the good work and stay healthy at The Sp. The Sheraton has a grand ballroom for Songdo conferences and meetings and can handle 300 people banquet style. There are eight function rooms as well for small corporate meetings in Incheon should your company require this facility.
In Songdo International Business District (songdoibd.com/), the brighter half of Incheon (which also hosts Incheon International Airport that serves Seoul), an entire smart city has arisen driven by exceedingly clever computerised neural systems that manage everything from pneumatic waste disposal to education, via LCD screens and videoconferencing with top teachers around the world. It is a place well worth a visit, pleasant, relaxing, and efficient.
Let's talk Taiwan conferences and MICE
Taiwan's growing meetings market benefits from its advanced communication infrastructures, relatively affordable hotel rates and industrial excellence. Best of all, compared to other Asian capitals, there's little or no traffic. You can organise corporate dos that run on time especially if you are combining events and locations across town.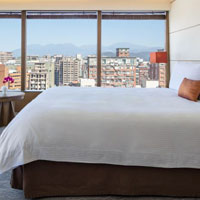 Regent Taipei Corner Suite/ photo: hotel
For those on a generous travel budget and sights set on one of the best Taipei conference hotels for pinstripers, this is it, with features such as a personalised butler service, several international restaurants and three floors of haute couture duty-free shopping. The award-winning Regent Taipei (www.regenthotels.com/regent-taipei) is a business traveller favourite with 24,000sq ft of function space (including an 888sq m ballroom) and can create tailored event packages for groups of four to 750 or more, just say the word. The feel is old world, grand, and measured. Don't rush it.
Joining the party nearby is the Okura Prestige Taipei (www.okurataipei.com.tw), which arrived in late 2012 with a small size well suited for smaller corporate events and CEO meetings. The plush ballroom, designed by a Hong Kong firm, is in an attractive Chinese style and there's parking for 200. Okura offers contemporary accommodation in pastel tones and interesting meetings spaces.
The Grand Hyatt Taipei (www.hyatt.com/grand-hyatt-taipei/), close to the Taipei World Trade Center and Exhibition Hall and Taipei 101 Finance Tower is a mammoth property with 11,000sq ft of function space in its grand ballroom that can hold 840 for banquets. It went through top-to-toe renovations in 2013/2014 and is now a crisp marbled product with serious conferencing intent. It is tailor-made for meetings and set a little apart from the scrum. While this is a dedicated Taipei MICE venue the hotel has a surprisingly light touch with small meets and intimate dining.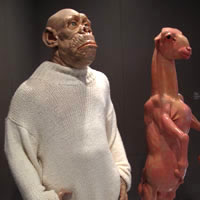 Whimsical art will greet you at Le Meridien Taipei/ photo: Vijay Verghese
Also located in the central business district close by, the delightful Le Meridien Taipei (www.marriott.com/le-meridien-taipei/) with just 160 rooms and very personalised service, offers 8 event spaces, accommodating between five and 800 with a total 14,563 function space. This minimalist grey-stone hotel serves up an extensive 700-piece art collection with works scattered throughout the lobby and all floors. The first bit of "arrival art" to greet guests is the giant steel giraffe, prostrate in genuflection, with the title: "Be my guest". What more does a hotel have to do to make its point? The customer is king.
Apart from the usual brand names, also look at the US$50m makeover Shangri-La's Far Eastern Plaza Hotel (www.shangri-la.com/taipei/fareasternplaza); the expansive and imaginative part-fantasy Mandarin Oriental Taipei (www.mandarinoriental.com/taipei) in Songshan for small corporate meetings and mid-size events; old stalwart The Sherwood Taipei (www.sherwood.com.tw/en-gb) with conference rooms for up to 100 people; the purpose-built meetings and MICE address Taipei Marriott Hotel (www.marriott.com/taipei-marriott) north of the Keelung River with almost 53,000sq ft of meetings space (the largest for 1,200) and 20 meeting rooms; the 286-room darkly atmospheric Palais de Chine Hotel (www.palaisdechinehotel.com/) with its Grand Hall for meetings and events - playful deception with purple velvet draped chairs and vast banks of glittering chandeliers hanging voluptuously from the copper ceiling; and the hip and hugely popular W Taipei (www.marriott.com/w-taipei/) in the new Xinyi District with over 30,000sq ft of function space (the largest for up to 950).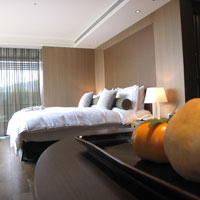 Japanese zen at spa and meeting retreat Grand View Resort Beitou/ photo: Vijay Verghese
Not quite in BEITOU but a short walk from the Qiyan train stop just before Xin Beitou, a hip addition is the Aloft Taipei Beitou (January 2017, www.marriott.com/aloft-taipei-beitou/) with small corporate meetings facilities for up to 80 persons. Need an upbeat company team-building jaunt? This may be the answer.
Up in the cool Beitou hills the ultra-modern and hugely popular Grand View Resort (www.gvrb.com.tw), which arrived 2011, is a very inviting and smart grey-stone retreat, exquisitely Japanese in design and execution with neat clean lines, and a central black-tile pool overlooking the valley. All the luxury rooms with cool design features pipe in hot spring water to scald you silly. This is an ideal and classy address for small corporate meetings in Taiwan. The Convention Center can hold 30 to 100, the Banquet Hall up to 250 while smaller VIP rooms cater for more intimate groups. The spa and hot springs are a huge plus as are the quiet design touches. Mark this down if size is not an issue.
Meeting madness in the Middle East
With excellent air links to most major cities, top Middle Eastern meetings destinations are perfected located to attract delegates from both Asia and Europe. With sky-defying towers and outrageous man-made islands, Dubai remains the region's conference hub (with top MICE hotels and the Dubai International Convention and Exhibition Centre, but neighbouring Abu Dhabi, capital of the United Arab Emirates, has poured a few billion dirhams into its own meetings and incentives market.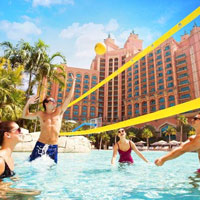 Atlantis The Palm Dubai, team building and family getaways/ photo: hotel
Adding to its conference appeal is the Abu Dhabi National Exhibition Centre (ADNEC), with one of the UAE's largest indoor auditoriums, accommodating almost 6,000 delegates. Following suit are booming Bahrain and Doha, with the sultanate of Oman not far behind.
In DUBAI, play with dolphins, feed some manta rays, have a romp at the Aquaventure Waterpark – it's all in a day's work at the mind-bogglingly opulent Atlantis The Palm Dubai (www.atlantisthepalm.com/), with an astonishing 1,500-plus aquatic-themed rooms and suites overlooking the Arabian Gulf or Palm Jumeirah.
Meeting packages are specially tailored for day delegates. Meet in one of the many conference rooms or in a natural setting outside. The hotel suggest team building in a buyout of the Aquaventure Waterpark or an art theme night in the Lost Chambers surrounded by marine life. Pick from beach football, beach volleyball, sand sculpture contests, or a Surf 'N' Turf Relay Race to get competitive juices flowing.
On the business stretch of Sheikh Zayed Road is the JW Marriott Marquis (www.marriott.com/jw-marriott-marquis-dubai/), a major MICE and meetings hotel with a whopping 79,000sq ft of event space, 32 event rooms and the largest venue for 1,500 guests. If you're planning a mega shindig in the Middle East this is a property to look at seriously.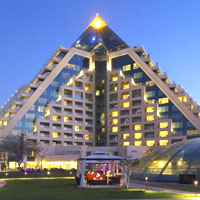 Distinctive Raffles Dubai/ photo: hotel
The hotel is spread across two towers overlooking the central business district. With its sleek and clean lines, this place is definitely a business traveller's delight and popular with Indian weddings.
Raffles Dubai (www.raffles.com/dubai/) cuts an iconic pyramidal figure on Sheikh Rashid Road, Wafi, with direct access to the Wafi Shopping Mall. Each of the 252 rooms and suites boasts a private terrace with eagle-eye views across the city with Middle Eastern and contemporary flair.
There's ample space for business and leisure events – nine flexible meeting rooms, The Library for networking, a 778sq m Raffles Ballroom, and a botanical garden. Expect a breezy pool, spa, and library (with 15,000 books, no less). The Raffles is not your typical Dubai stopover hit and run. It is a place to savour. The hotel is 10 minutes from the Dubai International Convention and Exhibition Centre.
Far down the coast, you'll see Dubai's most famous erection. The Burj Al Arab Jumeirah (www.jumeirah.com/burj-al-arab/), a self-styled "seven-star" hotel, is Dubai's thrusting, phallic symbol of luxury and business acumen. Despite its size, the hotel only hosts 28 double-storey floors with 202 bedroom suites. Expect the luxurious Al Falak Ballroom for top-drawer meets and a range of opulaent function spaces.
If these hallucinogenic delights are not for you try the slightly larger, and much more family-friendly sibling hotel, the wave-shaped 617-room Jumeirah Beach Hotel (www.jumeirah.com/jumeirah-beach) next door.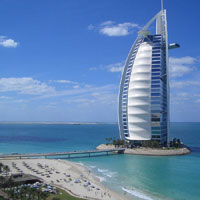 Unmistakable Burj Al Arab, phallic statement for luxury meets/ photo: hotel
It offers a standalone convention centre - the Meyana Auditorium for 400 - and several indoor and outdoor spaces for small meetings, gala events or weddings. The Beachcomber Gardens serve up an additional 400sq m of event space.
This was Jumeirah's original trendsetter at the forefront of the Dubai luxury hotels scene. One of the perks of stay used to be complimentary access to Dubai's Wild Wadi Waterpark. Check if this is available.
Al Bait Sharjah (2019, www.ghmhotels.com/al-bait-sharjah/) is a luxe yet understated 53-key resort in SHARJAH, part of a grand restoration known as the 'Heart of Sharjah' celebrating Arabic heritage and local architectural lines. This is the GHM hotel management group's second pure bred horse in the region after the award-winning Chedi Muscat. It is one to watch for small corporate meetings and CEO meetings that require local flair and a sense of differentiation from the steel-and-glass offerings that litter the skyline.
Post-meet watch for The Ice Cream Shop selling deliciously flexible and acrobatic Turkish ice-cream, and enjoy connectivity to a resorted Arab souk. Design features are reminiscent of an Emirati home, with four-poster beds in hushed minimal beige earthy surrounds going up to 103sq m in suites.
This is a business and leisure residence with equal appeal to both holiday trippers - in search of museums, art, and food in a part of the Middle East rich in maritime traditions - as well as corporates and business travellers in need of home-style indulgence.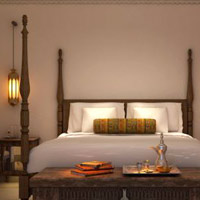 Al Bait Sharjah ups the luxury small meets ante / photo: hotel
While more a wind-down retreat, Al Bait can cater for small get-togethers. Or if you have the money and the moxie, book the whole place for an elegant wedding or memorable executive meet.
The ultra-luxury Emirates Palace Abu Dhabi (www.kempinski.com/abudhabi/emirates-palace/) by Kempinski at the far end of the ABU DHABI corniche is set among 85 hectares of landscaped gardens. In addition to a gigantic ballroom and auditorium, it offers more than 40 meeting rooms for tailor-made meetings.
This is a truly palatial prospect if Middle East style is what you're after for a stylish conference or top brass meeting. There is 7,000sq m of conferencing space with a ballroom capable of hosting up to 2,400. That's quite a crowd and explains why this address has corporate meeting planners drooling.
Also explore the architecturally spectacular Jumeirah at Etihad Towers Hotel (www.jumeirah.com/abu-dhabi/jumeirah-etihad-towers/). This is a complex of five towers – three residential, one office, and one hotel. This skyline set reappears in most photos of the city. The hotel has 382 rooms and suites, and 199 serviced residences for those shopping for Abu Dhabi long-stay hotels.
The vaunted Mezzoon ballroom can host up to 1,000 celebrants, while 13 furnished meeting rooms and the Bridal and Chairman Suites offer grand and versatile set-ups for small to mid-size meetings.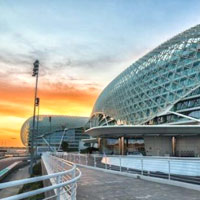 Yas Hotel Abu Dhabi, F1 vision and conferencing/ photo: hotel
A breakout room on a luxury yacht? Nothing is impossible at the futuristic Yas Hotel Abu Dhabi (yas-viceroy.hotelsofabudhabi.com), formerly Yas Viceroy, with its eye-popping design mimicking the throw of a local fishing net. Overlooking the Yas Marina Circuit (the scene of the inaugural Abu Dhabi Grand Prix), the hotel has 3,520sq m of conference facilities including six meeting rooms and four boardrooms. The pace has slowed down a tad after the Viceroy group's departure.
With its rich cultural heritage and natural beauty, OMAN has a number of outstanding incentive possibilities. Its Desert Nights Camp (www.omanhotels.com/desertnightscamp/) a couple of hours' drive from Muscat hosts group of up to 30 in Bedouin-style tents. Or go mountain climbing in the Hajar Mountains. The new 6,000-seat Oman Convention and Exhibition Centre is an added magnet for the capital Muscat.
Against a dramatic mountain backdrop, on an exquisite private beach and close to the fascinating Muttrah Souk, the luxurious 50-suite Al Bustan Palace, a Ritz-Carlton Hotel (www.ritzcarlton.com/oman/al-bustan) has 44,000sq ft of event space with 12 meeting rooms, a ballroom for 2,000 guests, outdoor gardens for 3,000, and a butler at your beck and call. Contact the hotel for specially tailored meetings and incentives. Team building corporate activities focus on community uplift and revival. Do some good while you're at it with the speeches.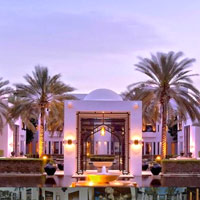 Stunning Chedi Muscat is hugely popular for small corporate meetings and leisure escapes/ photo: hotel
The boutique-style and hugely popular The Chedi Muscat (www.ghmhotels.com/muscat/) offers a designer chic getaway for that corporate seminar. Nothing like quality surrounds with crisp minimalist design and palm tree colonnades to conclude a meeting on a high note. The Salalah and Nizwa function rooms can be configured in various styles classroom or theatre for 15 to 50 making this an ideal small meetings venue for Oman.
Apres-work let the hotel take you out on a private catamaran on the Gulf of Oman for a spot of fun dolphin watching and later drive into the desert to spend time at an oasis camp, all part of imbibing the local culture.
If headed to DOHA in Qatar the contemporary tower marina-facing The Ritz-Carlton Doha (www.ritzcarlton.com/qatar/doha) is a classy act to follow with a ballroom for 1,600 and stylish meeting rooms for smaller corporate get-togethers of 15 to 200.
That's the long and short of small meetings in Asia, corporate seminars and long and waffling CEO sound bites. Take your pick of these top Asian conference hotels.
Send us your Feedback / Letter to the Editor