ODDITIES
Dive into an underwater resort
Are you getting that sinking feeling? Is it harder to keep your head above water? A new crop of luxury underwater hotels – from banal to bizarre – offer an undersea adventure quite unlike any other. Dive in, for spas, meals, and clubbing.
updated by Tenzing Y Thondup
SEE ALSO Pod Hotels | Maldives resorts | Palawan resorts | Asian cruises | Asian dives | Barcelona guide | New York guide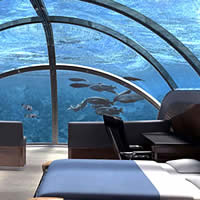 Poseidon Undersea Resort/ photo: hotel
FOR INSOMNIACS LIKE ME, sleeping with the fish is, at 3am, an alluring prospect of ironclad laboratory seclusion, devoid of light and TV chatter, and not just something the Godfather might recommend, along with a pair of the finest concrete shoes, to an errant capo di tutti. It is something travellers the world over will soon be doing in droves. Not because they forgot their wife's birthday, or sent Hezbollah their mother-in-law's GPS coordinates, but because, like Everest, the opportunity is there. So how deep is your love?

E-mail Page

Print

Hotel Contacts
With underwater hotels and venues sprouting everywhere, why sweat all the way down to 20,000 leagues under the sea when you can dine five metres below at the Conrad Maldives (conradhotels.hilton.com). This Maldives luxury resort offers free shuttles from nearby airports, but who wants to rub shoulders with plebians when you can hop on your own seaplane and arrive in style for US$434.70 a pop. It features the glass bubble Ithaa undersea restaurant where fish gawp at exhibits like the ebullient and colourful Americanus Ravenous. Also underwater is the Wine Bar, which will leave you spoilt for choice with over 800 wines and 100 cheeses. The furtive, bottom-feeding Journalistus Impecunious is not a common visitor to this habitat. For those not content with observing from the sidelines, there is an onsite dive centre for a more interactive experience. Ithaa is a breathtaking sight that provokes instant awe. My teen son stopped dead in his tracks and stared at the undulating coral and the swirling fish. "Not bad," he said. Keep in mind that some parts of the resort are undergoing renovation until the end of October 2011.
Send us your Feedback / Letter to the Editor
World weary travellers looking to renounce terra firma should head to Maldives Huvafen Fushi Resort (www.huvafenfushi.peraquum.com), which boasts the world's first underwater spa. Receive luxurious massages in two underwater treatment rooms then retire to contemplate the meaning of life over a cool cocktail.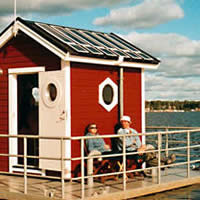 Utter Inn Sweden/ photo: hotel
Luxury underwater resorts will soon be making a splash. Perhaps the first true underwater hotel is the Jules Undersea Lodge (www.jul.com), a former research laboratory that saw service in Puerto Rico before being hauled across to Key Largo, Florida, to finally rest seven metres below, hosting tourists, weddings, and divers. You can dump your high-pressure modern life and head for a somewhat different high-pressure escape below sea level. Enter through the wet room chamber to enjoy two private bedrooms, a living room with DVD player, and 42-inch glass portholes.
Guests need a scuba diving certification – it can be done in three hours – as they'll need to don gear and flipper down to their pad. If you are short on time, take advantage of the three-hour stay option with unlimited diving. Open since 1986, Jules Undersea Lodge is best described as "mad scientist rustic". Bring three or more friends to cut some cost, but only if you don't mind getting intimately acquainted with each other's elbows. Don't plan on butler service and spa either. This is a bit like living inside a large washing machine. Amidst the mangrove, wave to parrotfish, barracuda and angelfish. Just don't open the window.
The Utter Inn in Vasteras, Sweden, is nothing more than a bobbing buoy – a tiny red doghouse with a small wooden terrace – offering a single room 3m below the surface of Lake Mälaren. Solar panels on the roof power the bathroom, kitchen and provide heat. With only the most basic amenities, the main (and only) entertainment is the aquarium outside the windows. The owner of this whimsy, artist Mikael Genberg, occasionally serves dinner. Otherwise guests are left to their own devices and have a canoe to paddle around. It's the sort of place you will be cornered into having a deep and meaningful CONVERSATION. Brush up on your vocab. The Utter Inn remains wildly popular in the summer months when Swedes, customarily given to doffing their clothes and shocking the world with cheeky displays of rosy bottoms and hugely healthy genitalia, head to Vasteras for a spot of underwater contemplation. "So, Nikolas, why don't you like my mother?" Utter bliss.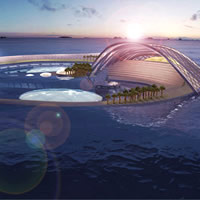 Hydropolis amphitheatre/ photo: hotel
Utter madness, you'd say if anyone suggested an underwater missile defence system, but this is exactly what the Hydropolis (www.hydropolis.com), a luxury Dubai underwater resort, will boast, along with glass-bubble accommodation 20m below and a giant ballroom and concert hall that rises above the sea surface enabling open-air shows and views of the surrounding skyline. In architecture-mad Dubai, this could be quite a sight.
Guests will arrive at a grand entrance on Jumeirah Beach from where they are whisked by train through a 515m transparent undersea tunnel to the resort. What more could you want? Plastic surgery perhaps? No problem. But there's nothing they can do about the deepening hollows in your formerly smooth, botoxed wallet. Lie back and enjoy the marine carnival. "Look ma, a whale being chased by a dolphin." "No son, that's the USS Nimitz and bin Laden." Look out for this amazing confection – a standout among the new underwater resorts set to launch. Although originally slated to open in 2009, the Hydropolis Hotel remains a work in progress in 2011. It may be a while yet before guests can sample one of 220 underwater suites at over US$5,500 a night.
Another work in progress in Fiji is the five-star Poseidon Undersea Resort (www.poseidonresorts.com), set 12m underwater on the sea floor of a 5,000-acre lagoon. No word yet on an exact opening date, but the specs are impressive. The panoramic-view underwater rooms, for up to 144 guests, will be complemented by 457sq m Beach Front Bungalows (or bures) with private plunge pools and wraparound verandahs to offer a multi-experience resort that should fare a lot better than The Poseidon Adventure.
The pressurised rooms at this underwater hotel have a safety dome with an entrance hatch for divers in the event of any emergency, barring guest flatulence. And sections of the hotel can be hermetically sealed off. A typical package here would be two nights underwater and four by the beach. A corporate retreat isn't out of the question either. You can even have underwater meetings and business events, perhaps followed by a company excursion in a 16-person submersible. The Poseidon Mystery Island will also serve up a wedding chapel, library, lounge, theatre, tennis courts, and a nine-hole golf course so it's not all stir-crazy underwater here. Catch some rays when you're not kissing mantas. Or fulfill your Verne fantasy by staying at the Nautilus Suite, designed after its namesake. Channel the Captain Nemo in you and learn to pilot your own three-person Triton submarine. Triton cruise missiles are extra.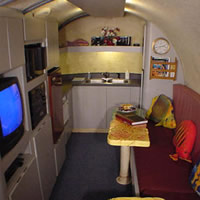 Jules Undersea Lodge/ photo: hotel
If your wife is still unimpressed, rent the entire island for a trifling US$3 million a week's stay. Or wait for the seven-story underwater hotel in Istanbul, slated to open in 2012 by the Hong Kong-based Shangri-La chain right on the shores of the Bosphorus.
Although underwater hotels may be just out of reach at present, you can still enjoy splendid adventures below sea level. Mentioned already is the Conrad Maldives' Ithaa Underwater Restaurant, which seats up to 14, but parents beware: children under the age of 12 are not permitted entry. Also in the Maldives is the brand new Sea Fire Salt Sky (www.kihavah-maldives.anantara.com, tel: [960] 660 1020), Anantara Kihavah's answer to the aquatically inclined patron. Split into three levels – an underwater restaurant, an underwater bar and a rooftop bar above sea level – it even boasts an underwater wine cellar. If you are trying to win points with the wife, the Red Sea Star Restaurant (www.redseastar.com, tel: [972-8] 634 7777) in Eilat, Israel is the perfect place for you. Enjoy scrumptious seafood in a romantic ambience while the fish look on in envy through windows next to and above your table. For live entertainment, head on over to Forbes Island Restaurant (www.forbesisland.com, tel: [1-415] 951 4900) in San Francisco, which features the only privately owned lighthouse in the United States. Be serenaded by sea lions while you down a cocktail at the island bar, then head underwater for a bite in a rustic dining room replete with nautical artefacts and hatch windows.
For your yearly dose of high culture, try out the Museo Subacuatico de Arte (www.musacancun.com) off the shores of Cancun. The world's first underwater museum, it is a massive undertaking to promote art, adventure and environmental awareness. Boasting over 400 sculptures that also double as coral implants to replenish depleted local marine life, the exhibits can be viewed by snorkellers, divers and through glass-bottom boats. New additions are constantly made, including contributions from artists all over the world, all this just a stone's throw from those rowdy Spring Break vacationers.
What's wrong with us Spring revellers you ask? Never fear, there's a little sub-aquatic something for you too. Even the most discriminating and jaded of clubbers will agree that the W Retreat and Spa – Maldives, and its 15BELOW (www.starwoodhotels.com/whotels/) is out of this world. Or rather, under it. As its name suggests, the nightclub is located 15ft below sea level next to Fesdu Island in the Maldives. With international DJs that are rotated every three months spinning the newest beats, and a drink menu that boasts over 95 bottles of vodka alone, there's hardly enough time to take in the marine life as you move and shake on the dance floor. But that's neither here nor there.
So forget about space travel (unless you have US$200,000 to spare). Explore a new frontier right on our own planet, with all the comforts of home at your fingertips. Dive suits, oxygen tanks and flippers absolutely optional.
Send us your Feedback / Letter to the Editor
FAST FACTS

/ Hotel Contact List

Conrad Maldives Rangali Island. Tel: [960] 668-0629, fax: [960] 668-0619, (e-mail: maldives@conradhotels.com or www.conradhotels.com).
Jules' Undersea Lodge. Tel: [1-305] 451-2353, fax: [1-305] 451-4789, (e-mail: info@jul.com or www.jul.com).
Poseidon Undersea Resort. (www.poseidonresorts.com).
Utter Inn. (www.privateislandsonline.com/utter-inn.htm).