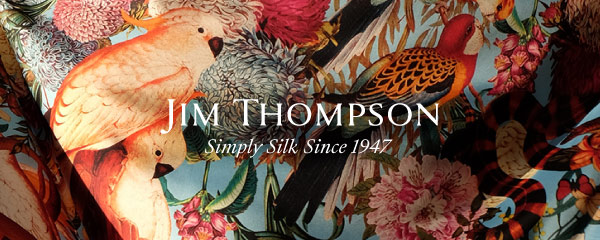 FUN STUFF
Bangkok shopping made easy
Separating glam from flimflam, as the sales hot up and malls Central Embassy and EM Quartier (Emporium) strut their stuff as ICONSIAM opens on the river. BTS tips, the best food courts, markets, Thai silk, and everything from shoes to designer brands.
with photography by Vijay Verghese
SEE ALSO Bangkok best sky bars and updates | Bangkok business hotels | Top Asian hotel reviews | Phuket resorts review | Shanghai shopping guide | Hong Kong shopping guide | Kuala Lumpur shopping guide | Singapore shopping guide | Pattaya fun guide | Vietnam Beach Resorts | Hua Hin Guide | Covid-19 and the return of travel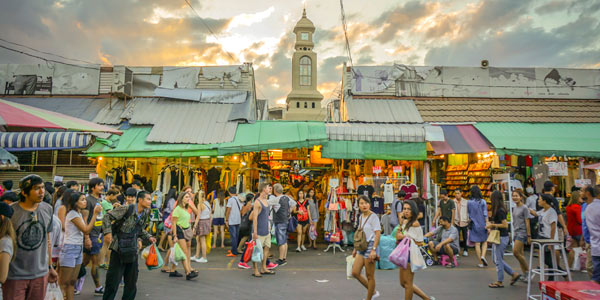 JUMP TO Siam Paragon | King Power duty-free | CentralWorld & ZEN | Jim Thompson silk | Siam Square | Gaysorn | MBK | Emporium | ASIATIQUE | Terminal 21 | ICONSIAM, River City | Chatuchak Weekend Market, Mixt, Asiatique
BANGKOK, with its tweeting police whistles, roar of traffic and the cry of street vendors, is not for the faint-hearted. Yet the City of Angels, or Krungthep, as it is called, has earned itself a deserved place - up there with the best - as a shopping mecca, with deals on wheels and glitzy shopping malls rubbing shoulders with alley wares and weekend markets.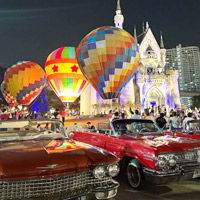 Jodd Fairs is a happening night market off Rama 9 with food and fun
The variety is mind-boggling and local Thai designers are producing some inspired stuff that will have your bags groaning in delight. This Bangkok shopping guide is for the intrepid but, with a stout heart, a good map and a stouter bag, you'll be bulk ordering bags, belts, jeans and blouses like the pros in no time. Stand your ground and bargain hard. And do visit the informative Tourism Authority of Thailand site.
Remember, your VAT refund of seven percent (the local tax) involves some paperwork and patience. Both involve you. First, you'll need to spend at least 2,000 baht "per store, per day" as per the rules, each time filling out a PP10 form that is usually promptly supplied by sales staff.
To be eligible to claim a refund, you'll need a total shopping bill of at least Bt5,000 so give that credit card some serious exercise. The PP10 form requires your passport number (though you may not be asked to actually produce it), and your departure flight number. Once that's all neatly entered, sign, and off you go. It's best not to pack your purchases into your check-in luggage. At least not yet. Here's why.
Send us your Feedback / Letter to the Editor
Jewellery, watches and gold purchases over Bt10,000 need to be inspected and other purchases may be checked at the airport. After immigration head for the VAT refund counter and present your credentials to get some cash in hand for that much-needed snack and coffee. And remember, if it does not have a VAT tag, there will be no guarantee of quality. That's easy enough. If you don't care about this minor quibble, get your hands dirty and jump right in.
There's much that's new and enduring in 2023. Not far from Rajinee pier and the Sanam Chai metro stop (newr the Grand Palace and Wat Pho) is the huge and aromatic Pak Khlong Talat flower market. It's nothing to sneeze at unless you're allergic to pollen.
The fabled Chatuchak weekend market (BTS stop Mo Chit, Exit 1, or Khampaeng Phet MRT Blue Line) will be familiar to many, but Jodd Fairs (4pm-midnight) is a newer name worth getting to know. This is a fun Bangkok night market for the young and restless. The Dan Neramit location (Phra Ram 9 MRT Blue Line stop) will change to Ratchadapisek sometime in 2024 after the current lease expires. Expect acres of food, drink, funky clothes, balloons, classic cars, and quite mad themed areas.
Duty-free shopping, alcohol to silk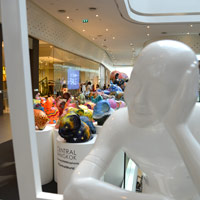 Iconic sculpture at Central World/ photo: Vijay Verghese
Bangkok duty-free shopping has been pretty much dominated by the ubiquitous King Power (www.kingpower.com) who have also set up a dedicated King Power Duty Free Shop at Rangnam not far from Ratchathewi. Catch the BTS SkyTrain to get there. This duty free complex offers a broad range of brands like Burberry, Coach, Chanel, TOD's, and BOSS. Top line designer labels may not end up here as they are already showcased at a Bangkok mall like Gaysorn.
Duty-free shopping at Bangkok's Suvarnabhumi airport is a breeze airside with acres of romp room. Prices can be a mixed bag with the dollar on a trampoline (exchange rate, US$1=Bt33) and several alcohol and fashion stores now quote in Thai baht. In October 2017, a Johnnie Walker Black Label one litre bottle was priced at Bt1,250 (around US$37 or a dollar more than in 2015), while a 12-year-old one litre bottle of duty-free Chivas Regal was priced at Bt1,300 (US$39). Ladies can follow the scent straight to Dior where a j'adore 50ml eau de parfum is priced at Bt3,900 (US$117, up from $102 in 2015). A Chanel 7.5ml parfum is a bit steeper at Bt4,520 (US$136). In general, duty-free prices for liquor and perfumes have climbed at Bangkok's international airport in the past year or two, well above the currency fluctuation adjustments but the Johnnie Walker duty-free price seems more attractive.
Also look at Jim Thompson (www.jimthompson.com/) for fine silk offerings and linens. Pick up a fine linen scarf for Bt3,500 (US$105), a men's linen shirt for Bt3,200, or a silk tie for Bt3,300. Prices are up. This is a signature brand that has put Thai silk firmly on the world map and there are conveniently located stores around town and at luxury hotels. Expect to find home furnishings, carpets and rugs, and a lot more besides silk and linen shirts and blouses.
Not far from the airport (from late 2019) is Central Village Bangkok luxury outlets (www.centralvillagebangkok.com/en/) with shuttle buses for duty-free-crazed shoppers. As the name suggests this is a stylish but spacious village-style layout with intimate shops and spaces along with food options. Expect everything from Adidas and Club 21, to Max & Co, Michael Kors, and Victoria's Secret. The place is open 10am to 10pm. Expect about 130 upscale stores with discounts touching 70 percent.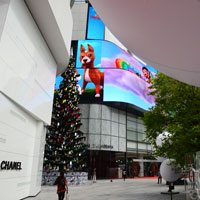 Bright and classy EM Quartier/ photo: Vijay Verghese
For sheer bragging rights, no would-be shopper can afford not to touch base at EM Quartier (www.theemdistrict.com - part of The Mall Group and right alongside Phrom Phong station) across from the glitzy revamped Emporium Bangkok (both collectively termed the EM District) and the cavernous but largely empty Central Embassy. More on these later as we proceed down busy Sukhumvit.
To get oriented and pick up transport bearings dive straight into the gleaming sprawl of the monstrous Siam Paragon (www.siamparagon.co.th) complex facing the renovated Siam Square One . This is at the Siam Square terminus and train interchange spot. If you're squeamish and the wallet timid, head for the anything-goes weekend market on the outskirts of town. Reminiscent of Hong Kong's IFC shopping mall, the gleaming Siam Paragon is right next to the BTS Siam Square station and tends to attract travellers with well-endowed wallets and an eye for luxury designer brands. Put on your walking shoes (or buy some new ones) and explore everything from Hermes, Giorgio Armani, TOD's, GUCCI, Bulgari, Jeffrey Cambell, Shanghai Tang and Coach to Swarovski and a fully functioning Ocean World. This combination of class, kitsch and kids' stuff makes Siam Paragon popular with families, if only for the frolicking fish and the vast open spaces where two-year-olds can scamper free, after you pay for the babysitting service, that is.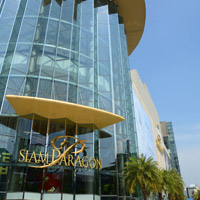 Siam Paragon: top notch displays/ photo: Vijay Verghese
In Siam Paragon you'll also find an increasing number of independent designers vying for elbowroom in this sparkling white space. Don't be surprised if you catch a fashion show strutting local wares in the central plaza. Madame Flamingo (tel: [66-2] 673-7268), on the ground floor, is a favourite among footwear enthusiasts on a creative bend. Waltz in for a pair of leather pumps, equal parts modern and vintage, designed by Bangkok-native Janet Pantila Promfang. Whether you're aiming to prance around in pretty pink florals or you make a dash for the bold black stripes, miss Flamingo offers a handful of memorable heels. Though a bit pricey at Bt2,490, these shoes won't make your toes curl.
If you miss Milin (www.milin.com) at Siam Paragon, don't worry, there is one in almost every high-end mall in Bangkok. The outpourings of an uber-talented, young designer, Milin has been a fun brand in demand for the last few years. The collections are feminine, curve-hugging, graceful and geometric. At Milin, the art is in the details. Hidden zippers, ruffled blouses and pops of colors accent all the right angles.
Flynow, located on the first floor, is another Thai collection that's definitely worth perusing (Floor 1, 106-107, tel: [66-2] 610-9410). Playing with a black-and-white palette, the label adds surprising textures, modern twists and unexpected splashes of color. Head here for posh pencil skirts, blouses and eveningwear, or simply to gawk. Perhaps the most popular store among young bargain-shopping fashionistas is Kloset (klosetdesign.com). The colourful collections come at more affordable prices and tend to sell out quickly.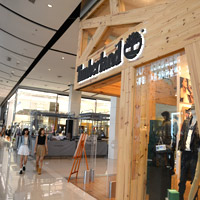 CentralWorld, hip Timberland shop/ photo: Vijay Verghese
Men can head to the third floor, or straight to TAKE 5 (tel: [66-2] 2654-6229), a warm, Wild West-themed store with wood interior and collectible bobble heads and robotic monkeys lining the walls. The air of nerdy enthusiasm is, surprisingly, equally as inviting as the flannel shirts, jeans and antique memorabilia.
Nearby, you'll also come across SONY, Bang & Olufsen, a well kitted-out Paragon Department Store and the excellent 3F Kinokuniya book store that stretches across seeming acres with a great selection of children's books and material in Thai, Chinese and Japanese. Next door is the avant garde TRUE Urban Park I.T. store with mobile phones, gadgets, an Internet cafe, sandwiches, and funky digital delights.
Take the escalator to the fourth floor, where Exotique Thai awaits with handmade skirts and scarves with unique stitching, elephant-embroidered pillowcases, and bangles of every colour. As you enter, look for Anita Silk on the left. The brand offers an upscale taste of Thailand, with embroidered bedding, bright ceramics and aromatherapy candles, soaps and lotions. Another popular counter offering must-sniff Asian body butters is THANN (tel: [66-2] 2129-4438, with stores in almost every Bangkok shopping mall. Don't be surprised if you see this all-natural hair and skin brand in your hotel spa as well. The best part? Smells are free. Pop into the basement - just follow the aromas - to enjoy a superb Food Court that has to be one of the best in Asia for sheer style, range of flavours, and expanse. Grab Japanese, Vietnamese, Korean, Thai, or simply nibble on a mouth-scalding serving of Chiang Mai sausage for a trifling Bt50.
CentralWorld, Gaysorn, Zen malls
Next door is the immense CentralWorld (www.centralworld.co.th) on Rajadamri Road that bills itself as the "largest lifestyle shopping complex in Southeast Asia." The shopping centre, famous for its excellent feng shui, started with Isetan then expanded to include the interconnected Zen and CentralWorld (previously the World Trade Center).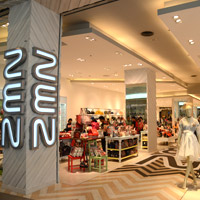 Zen is an all-in store at CentralWorld/ photo: Vijay Verghese
The phoenix-rising CentralWorld (after cranky red-and-yellow-shirt political kerfuffles brought business to a screeching halt for several months) is home to an increasing presence of local brands. As you stroll through the crisp, white building with classical music, spot Thai designer brands like Munchu's, Vickteerut, and Singha Life and Disaya.
Disaya (www.disaya.com), in particular, has been a mainstay of the Bangkok fashion world. One of the first local designers to enter international fashion shows, Disaya's flirty clothing and jewellery collections have racked up an array of fans in Hollywood, such as J Lo and the late Amy Winehouse. The bold black-and-white line has been especially popular among starlets, while "average" women flock to the new Boudoir by Disaya brand for lusty lingerie.
Also on the first floor is The Adjective, where you'll find young, wild designs featuring everything from feathers to animal prints. The punk interior complete with graffiti decals certainly caters toward younger shoppers, but expect interesting finds, memorable designs and quality jeans from this local boutique. A pair of embellished jean shorts runs around Bt6,000, while one of the more simple dresses costs roughly Bt4,000.
Flynow offspring Flynow III tends to keep it a little more casual. From maxi skirts to mosaic-patterned tops, fringe to off-the-shoulder tops, this indie Thai brand has the boho chic look down. The walls are decorated with mixed media slapped onto cardboard with sequins woven throughout, complementing the idiosyncratic designs on display. Originating in Siam Square, Flynow and its descendents are an excellent example of the creativity and unique style sensibilities bubbling over in Bangkok.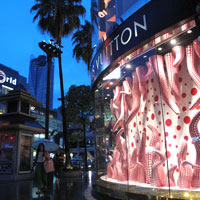 Gaysorn: designer brands galore/ photo: Vijay Verghese
Also explore a raft of upmarket designer fashion brands like bebe, BritishIndia, Calvin Klein Jeans, FCUK, Marks & Spencer, Kate Spade, Lacoste, Ted Baker, Zara, and more.
For French-infused, ladylike frocks, step into Twenty8Twelve. The London-based designer blends contemporary cuts with romantic silhouettes. The rouge-stained walls and nostalgic profile portraits lining the walls, hard-case travel bags on display and giant sunglasses are worth a second glance.
Apple computer buffs can head to the Apple Centre on Level 2. This level also houses ladies' accessories and shoe and bag stores like Esprit, Benetton, Footwork, Guess, Guy Larouche, Hush Puppies and Playboy. Also part of the growing mix are Miss Sixty, Mango, Massimo Dutti, Bershka (a funky Zara spinoff), Stardivarius, the biggest Topshop in Bangkok, and the largest Forever XXI in Southeast Asia aimed squarely at the young and eternally trendy.
Serial shoppers have it easy. CentralWorld offers lockers and free rides on small carts if your bags weigh you down. The best time for deals and sales? During June and July, when you can see markdowns and discounts as high as 80 percent.
Thanks to its relaxed ambience, extensive food offerings, frequent concerts featuring the likes of Justin Bieber and Katy Perry, and gimmicky ice rink, CentralWorld is a popular place to go on junior dates. Check out the SF World Cinema theatre on Level 7. When peckish, pop by the food floor with lots of on-the-go offerings for all tastes. For some Thai flavours, try Kub Kao Kub Pla on Level 6. This funky, yellow and gray restaurant serves an excellent (and spicy) fried Thai papaya salad, but is best known for its dessert counter.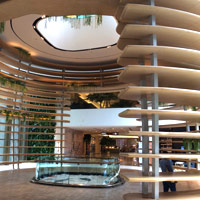 Gaysorn Village new look and woody tones/ photo: Vijay Verghese
Joined at the hip to CentralWorld, the popular seven-level ZEN shopping mall reopened early January 2011 with a huge range of goodies across 50,000sq m of display space, a new look and new shops. That's a lot of walking. It is a remarkable comeback for a mall that was burnt to a cinder in the street agitations of 2010. And above it is the 13-level ZEN World, a lifestyle shopping area with a further 30,000sq m to explore.
On the ground floor, you'll find one of the most important spaces: a kids' playground that offers babysitting services. Once your hands are free, explore the upscale storefronts such as Vivienne Westwood and Armani. "Coming soon" signs are nearly as common as actual shops. Though the offerings are constantly evolving, ZEN offers much of the same, upscale designer shops as CentralWorld. Mark this down as a child-friendly shopping mall for all reasons.
Heading north on Rachaprarop is the Platinum Fashion Mall, Thailand's largest wholesale marketplace. Take a deep breath before diving in. Open from 8am to 6.30pm, Platinum spills over with shops, shoes and accessories. You could easily spend all day wandering the aisles and marvelling at the dazzling ladyboys. It's a bargain shopper's paradise, brimming with hip, trendy ensembles seemingly thrown together on a whim, but don't expect high-quality stuff. The place is overrun by Middle Easterners who enjoy bargaining in the small shops. The mall is a sweaty 15-minute hike to the nearest BTS station. Since the place is a wholesale market you'll be expected to buy in bulk - of at least three items. Pick up jeans from Bt100 and shorts for about the same price.
On the first and second floors, brace yourself for a barrage of clothing shops, each more dizzying than the next. Alongside the unique pieces, you'll also notice recurring Topshop and H&M knockoffs with added flares at ridiculously reasonable prices. As normally goes with wholesale wares, buy more than one article and you'll enjoy a hefty discount, typically ranging from 30 to 50 percent off. On the price tags, the number on the left represents the price you pay for one, while the number on the right is the discount price for multiple purchases.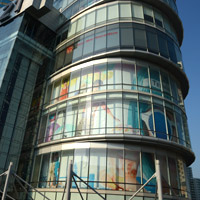 Terminal 21 is right next to the Asoke BTS/ photo: Vijay Verghese
As you machete your way through the narrow aisles, you'll wade through funky sunglasses, shorty shorts and glittering belts, dresses with draped backs and cut-out sides, pleated skirts and screen-printed, cut-off t-shirts. A different song seems to start and stop every few steps; an earful of Thai pop here, a hit of Rihanna there.
On the third floor, you'll find bags of all colours and materials. On the fourth and fifth floors, you'll enter the realm of shoes. As you try on heels, pumps and platforms, be careful to test out the quality with a flick on the soles of prospective purchases. If you hear a dull thud, the material is made of paper, not rubber, and you may want to put it back on the shelf. Don't be surprised to see locals hauling large suitcases filled with goodies or overflowing, industrial-sized shopping bags. At these prices, Platinum is the place to buy, buy, buy. And for Bangkok shoe shops this is the epicentre.
Clothes, handbags and heels ooze from every building orifice. Depending on your sensibilities, Platinum can be either bemusing or energising. To help you narrow down the options, here are a few of our favourites: Buddy Best, for casual button-up dress shirts in bright designs; Dong Dae Mun for a rainbow array of jeans; Misa Misa, brimming with Topshop knock offs; Season.y, with chic dresses, beaded blouses and stylish bags (Floor 2, tel: [66-8] 4536-2943); Phanthai T House, known for its graphic prints on soft top, maxis and vests (Zone 1, Floor 2, Shop 515; tel: [66-8] 1348-4856); Aloft, on top of Korean trends (Zone 3, Floor 2, Shop 28-29; tel: [66-8] 3076-5355); Walking in My Shoes, full of haute heels and sandals (Zone 3, Floor 5, Shop 528-529, tel: [66-8] 9685-3373).
Central Embassy luxe to the hip Terminal 21
Appearing May 2014 was the futuristic Central Embassy (www.centralembassy.com) that swirls and curves upwards in a muscular chrome anaconda ripple. This is a huge floor space, fronting Ploenchit Road close to Central Chidlom and diagonally across from Hotel Okura. While interiors are cavernous, with wall-to-wall designer brands, the layout will flummox many with its varying levels and escalators and lifts.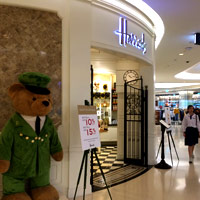 Harrod's and the bear at Central Embassy mall / photo: Vijay Verghese
This is prime exhibition space and a Royal Khon exhibition was one of several displays on offer. For now, walk in past the bronze bull kerbside to stroll through vast echoing spaces and gawp at brands like Chanel, Chopard, GUCCI, Hermes, Harrods, Prada, Ralph Lauren, Kenzo, Miu Miu, and Givenchy. Also spot a FlyNow outlet and several smart eateries, including much-in-vogue Din Tai Fung (from Taiwan) for steaming dim-sum morsels. The Gucci store is the usual glam and huge setup, popular for Gucci belts, shoes, and the latest bag designs.
Opened late 2011 at the Sukhumvit and Soi Asoke intersection, Terminal 21 (www.terminal21.co.th) is conveniently connected to the SkyTrain on the second floor as well as the underground Metro. This world-themed shopping mall popular among families and tourists is fun and whimsical, but the gimmicks are a little overkill. As soon as you walk through the metal detectors and gawk at the giant lighthouse, you'll see what we mean. But to be fair, the theme-park feel makes Terminal 21 more entertaining than your average mall, as do the weekly concerts featuring local bands every Friday night. Best part? WiFi is free, as long as you present a valid ID at an information desk.
Start with the Caribbean floor and work your way through the matrix of escalators to Paris, Tokyo and Rome, stopping for a nibble in San Francisco (fourth floor), where crispy ducks hang in the windows and a Golden Gate Bridge stands at attention for the inevitable photograph.
With roughly 2,000 stores and counting, Terminal 21 has all the usual luxury fashion brands – Mark Jacobs, Paul Frank, Jaspas – as well as a section for local Thai designers. A mix between Urban Outfitters and American Eagle, ESP is an affordable local fashion brand popular among students. Flip through plaid shirts, sundresses and casual jeans at your own pace. Nearby, Hybrid Outfitters offers more feminine apparel. Still reasonably priced, the local store with vintage ads lining whitewashed brick walls dresses up polo dresses and blouses with mish-mash patterns, funky fedoras and Aztec motifs.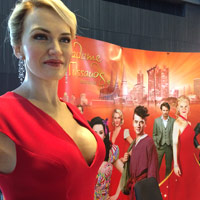 Madam Tussauds at Siam Center/ photo: Vijay Verghese
You won't find any horse riding gear at Chaps. Shop for edgy urban fashion trends such as glitzy heels and sheer tops in this darkly lit boutique store with electronic tunes thumping loudly enough to reprogramme your pulse. On the Paris floor, Poem, another popular local brand, takes aim at romantics. With its ethereal beige, black and pink colour palette, high-waist skirts and liberal pearl embellishments, Poem is a natural addition to the level's charming lampposts, bicycles and black-and-white striped awnings.
If you're clamouring for a more bohemian look, head to Promod, where you'll hum to jazzy pop tunes a la Regina Spektor while digging through bright bangles, spunky scarves and an array of maxi dresses. Professional ladies may want to peek into Espada, offering business casual wear that doesn't sacrifice a feminine silhouette.
From the notebooks at Folio to the leather bags at Coco, the Istanbul floor, or Level 3, is best for shoes, purses, wallets and home decor. For serious leather goods, head to Crazy Horse (Shop 3029). Though quite pricey, this corner store with red-stained walls reeks of quality. Whether you're looking for a faux Longchamp purse, a horsehair carry-on or a soft-bellied briefcase, you'll find it here.
More trendy and more affordable bags can be found down the corridor at Aqua Marine. Here, the graffiti-splattered clutches and urban chic wallets won't set you back so dramatically. Score a vintage watch offset by a neon band for just Bt450. Accessory aficionados will want to stop by MaryLou (Shop 3033, tel: [66-8] 4721-9888) across the aisle, where whimsical rings, charms and necklaces inspired by foxes, owls and other furry, woodland friends await.
Men will want to skip most of Rome, Paris and Istanbul and instead head straight to London town. From dapper sport coats to espadrilles, graphic t-shirts to patterned caps and belts. If you can get over the dainty, white-iron loveseat in the entranceway of Masque 17:09 (Level 2, Shop 2138; tel: [66-8] 1985-6186), gentlemen will be pleasantly surprised by the soft, neutral tanks and shorts with a '50s era, British feel. For a more contemporary look, men should head to Pause. There, you'll find leather loafers with a personality, tie-up boat shoes, patterned shorts and moustache-themed cufflinks. A funkier J Crew, and worth a visit. One of the best things about Terminal 21 is its relatively cheap and excellent Food Court. Check it out. This is a popular local and shopper hangout for resting weary feet in between binges.
EM District designer brand shopping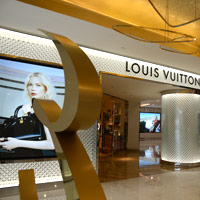 Louis Vuitton at Emporium Bangkok/ photo: Vijay Verghese
Heading back down Sukhumvit to the Phrom Phong Station you'll find the modern and humming EM Quartier (www.theemdistrict.com) that arrived early 2015 to really push this district - actually called EM District - up the high-spender scale. Both Emporium and Em Quartier (essentially Emporium 2) are monstrous affairs on either side of the station with easy access to each other as well as the train. This is Bangkok brand shopping at its immodest best with plenty of space to gawp at everything from Louis Vuitton to Zara - and everything in between. Shopping at Zara in Bangkok remains a popular past-time for many of the city's young and restless as well as visiting tourists.
Think Diesel, A Bathing Ape, Prada, Chanel, Dolce & Gabbana, Jimmy Choo (for shoes), Gucci or Salvatore Ferragamo, and it's there. GUCCI and LV slug it out for trendy fashion accessories with the former hugely popular for its stylish Gucci belts, shoes and handbags. EM Quarter is fronted by a grass 'garden' of sorts as you walk in from the BTS and this sort of sets the hip mood. It's upscale but friendly with flashes of humour.
This is a spot for high profile events with all the beautiful people, fancy dining or munches on the go. In short, EM Quarter and the new EM District - grandiose as the term may seem - is nothing short of Selfie Heaven. Get clicking. Parent company The Mall group has its hands in several glitzy malls. Look out for the local Thai designer showcase, Qurator that spotlights emerging talent An added lure is the Helix Quartier, to your left as you come out of the BTS station and head into EM Quartier. This is a multi-level circular promenade that slowly and gradually inscribes a corkscrew upwards - without steps - as you amble up, or down, past over 50 global restaurants intent on parting you from your wallet.
Emporium Bangkok (622 Sukhumvit Road), now refurbished, bright, and breezy, offers free WiFi. It's popular with tourists and young shoppers, though its prices are commensurate with the upscale window displays. The place has gone through top-to-toe remodelling and it works. There's Tower Records, Starbucks, a very good Kinokuniya bookstore and cinemas. The first floor is chock full of all the big makeup brands, as well as the usual designer brands on vivid display from Nautica, Rolex to Cartier. If you're in need of a Zara Bangkok store, there's a well stocked shop here.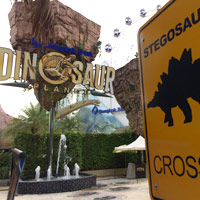 Dinosaur Planet - with a little help from Em Quartier / photo: Vijay Verghese
Glide up the ivy-lined elevator shaft to grab a snack at the art deco Greyhound café, with its Sixties-era advertisements, daily specials scribbled on a chalkboard. Though the modern, haute couture from the namesake store was once one of the most popular brands in the city, love for the cafe has quickly eclipsed the clothes. Sibling brand, Project, is still quite popular among men. It has a little different DNA: more relaxed, youthful and most importantly, more affordable.
Music lovers can check out Classik (tel: 2664-8867) at level 3 of Emporium where a Linn home theater system from the UK will set you back just around US$10,000. Classical CDs, DVDs, operas, symphonies, and original master recordings. Emporium is open 10.30am-10pm. All in it's a good all-round place with a bit of this and that to keep everyone happy.
Not far from EM District near the Holiday Inn Sukhumvit is the fun theme park Dinosaur Planet (from 25 March - 31 December 2016), a blast for kids and parents with dino replicas and a volcano at Bt600 for adult entry (special rates for kids and groups) 11am to 10pm. Kid-friendly shopping in Bangkok? This could be it. You shop close by
while the kids dig into paleontology.
If you're looking for something more eclectic, try the giddy and colourful store-restaurant It's Happened to be a Closet (moved from Siam Square to Soi 23 Sukhumvit and an outlet in Paragon, itshappenedtobeacloset) that despite the idiosyncratic grammar, serves up a delightful concoction of funky fashions, chocolate cake, and Italian food, along with a sometime resident hairdresser and a pedicurist.
It's a jumble of colours, playful patterns and custom-made apparel, making it a favourite among locals and tourists alike. And who can resist the ancient newspapers decorating the walls, antique piano, or mosaic tiled floors? Since opening its first shop in Siam Square several years ago, It's Happened to Be a Closet has expanded and opened shops in Hanoi and elsewhere in Vietnam. In 2011, the brand also introduced its popular cafe, outside its location at the Emporium mall.
Farther on Sukhumvit is Century The Movie Plaza (www.centurythemovieplaza.com/) near Victory Monument, a newer offering with shopping, movies and food.
Chatuchak weekend fun, Mixt, Asiatique
Any serious spending binge, however, has to start at the sprawling and sweaty Chatuchak (Kampaengpet Road) weekend market which hasn't slowed down at all. It's also spelled Jatujak Market. Wildly popular among locals and expats alike, the market is packed each weekend with everything you could possibly need (if you're patient enough). Chatuchak is a riot and will assail the senses. Be prepared and bring along a bottle of water. You'll need it.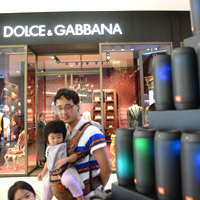 Dolce & Gabbana, EM Quartier: easy BTS train access/ photo: Vijay Verghese
Haggle your way through the warren of shops selling trinkets, funky lights, candles, lacquer ware, statues, fake antiques, pillowcases, silk bedspreads, cushion-covers, chopsticks, dining plates and a lot more. Yes, you can buy roosters, cats, dogs and even pythons but this may raise eyebrows as cabin baggage. Set aside at least half a day, if not more, for this expedition.
Surprisingly, Chatuchak's "streets" are numbered, so note your route mentally and leave a breadcrumb trail as it's easy to get lost in the press. The best time to drop in is 10-11am, on weekends. Take the BTS SkyTrain and hop off at the last station, Mochit. Or tube it underground on the Metro. There's a station for Chatuchak. Aspiring art collectors will find affordable acrylic paintings on canvas (Bt5,500, US$129) at places like Jakkrit Ridswaeng (Chatuchak Section 2, tel: [66-2] 618-4080).
You'll also spot an array of shops that sell everything from home decorations to hip ready-to-wear apparel. Pick up silk fabric lamps in striking colours at prices from Bt500 and up.
Throughout sections 2 to 4, 7 to 9, and 22 to 26 you'll find woven and handmade bags, ceramics, Oriental antiques, paintings and vibrant home decor. After all this browsing, you're sure to work up an appetite. Fortunately, there are several shops selling snacks, meals, ice-cream, soft drinks and mineral water in sections 1 and 27.
Opened 30 August 2019 is the long low-rise strip mall with, yes, airconditioning and much of the Chatuchak bargain fare at Mixt Chatuchak (www.mixtchatuchak.com/) and also offers fair food selections, promotions and other diversions. This is a simple set-up and not a glitzy marble affair. But it makes it easier to negotiate the wares when the weather is unkind. For fashion browse brands/stores like Hippo Po, Mickly Spory, Seventh Heaven and Indian Dream (for accessories). For more accessories, explore Handmade Earrings (Rm 2226), Color Over, And Fashion Station.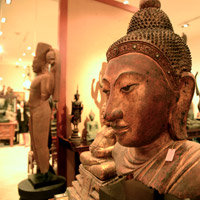 Antiques at Rich Collection, River City Bangkok/ photo: Vijay Verghese
Adjoining Chatuchak, the old Talat Lod Fai (Train Market) has moved across to Sri Nakarin along Sukhumvit. This is an informal collection of gew-gaws and items for the home or as gifts. For a lively night market head to Ratchadapisek.
Though the Suam Lum Night Bazaar (formerly on Wireless Road) has shut down, many of the shopkeepers here have found a new home at ASIATIQUE the Riverfront (www.asiatique-sky.com/), which opened in 2011. The easiest way to get to this happening night market is via the SkyTrain. Hop off at Saphan Taksin BTS, then catch the quick (and crowded) 10-minute boat ride down the Chao Phraya River between 4.30pm and 11.30pm. Originally a warehouse district, the open-air market has kept its industrial design with husky buildings and grid layout.
The mixture of silks, handicrafts, soaps, beaded Thai jewellery and leather stalls sets the market apart. Though you may end up paying 10 to 15 percent more than at a more rough-and-tumble market, the well-manicured walkways, lengthy boardwalk and wide selection of alfresco eateries make up the difference.
Sure, there are plenty of stalls hawking keychains and coin purses, but you can also find quality goods like the leather passport covers and iPhone cases from Kor Por Or Things Cafe (tel: [66-8] 9113-1707, www.korporor.com). Even better? Monogramming is on the house.
Knickknacks, fashionable boutiques and accessories line the spacious pathways, but one of the market's highlights has to be the home decor. From hand woven rugs to wooden carvings, it is easy to think beyond Pottery Barn. In Warehouse 8, you'll find one of the most amusing vendors. Expect Qualy, an interior design concept that merges nature and offbeat humour, to pleasantly surprise you.
Don't worry, it's normal to laugh out loud at the salt shakers disguised as snow globes, door stoppers impersonating tree leaves or toilet bowl brushes dressed up as cherry stems. With construction underway on the remaining warehouses, there's much more to come at Asiatique. The shops open at 5pm and close at 10pm, but expect a rush around dinnertime.
ICONSIAM, River City antiques and Pahurat deals
Fantasy ICONSIAM on the river is a mega-complex of shopping and dining/ photo: Pim Tanaboonroeng
For something glittering and new on the river the ICONSIAM (www.iconsiam.com/en) arrived November 2018 with a vast array of shopping, dining, entertainment for the kids and families with Thai art shows, shadow puppets, music and magic. This mega-complex is across the river from the Mandarin Oriental (not on the downtown Bangkok side). No matter, trains, ferries (the mall runs its own service from Saphan Taksin BTS Station ferry terminus to its facility), and tuk-tuks will get you there. Expect a well stocked Siam Takashimaya (www.siamtakashimaya.co.th) store, JD Sports, an automobile and motorcycle section and international designer brands and labels like Apple, ALDO, Bally, BOSE, Charles & Keith, Zara, Chanel, Dior, Dolce & Gabbana, H&M, Gucci, Huawei, Louis Vuitton, Oppo, Prada, SONY, Thann, Uni Qlo, Victoria's Secret and Rolls-Royce. Take your pick of mobile phones and hi-tech devices, the latest in fashion accessories, affordable clothes, shoes for men and women, kids' stuff, babies' clothes, sportswear, spa and wellness ointments, and a host of coffee shops and dining outlets with as many as seven dining zones throughout the complex. This is a mini-destination all on its own.
The older, tried and tested place for Bangkok antique stores is the River City Shopping Complex (23 Yota Road, next to the Royal Orchid Sheraton) where countless musty shops once queued up to sell you and ship door-to-door. The place has been remodelled and returned late 2015 with a new face and fewer antiques. Alas, there are really no such things as antiques these days in Thailand. To get genuine stuff, the shops have to look farther afield, in Myanmar, India, Cambodia and China. At the River City Shopping Complex visit the distinctive Rich Collection (2/F Unit 249-250, tel: [66-2] 237-0077). Here you'll find a fair selection of Burmese and SE Asian statues with paper mache busts running to Bt200,000 or more. Bargain and include shipping too. Most antique dealers at River City will be happy to furnish certificates of antiquity and authenticity.
Try House of Chao (9/1 Decho Road, tel: [66-2] 635-7119). The owner will carefully pack your items herself. A wooden kitchen cabinet costs Bt30,000 (US$696) but you can also make other out-of-the-ordinary requests. For more upbeat antiques, try Chinese furniture or old screens at Lotus Gallery Limited (4/F, 431).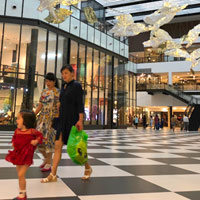 Once-drab and musty River City has a new look / photo: Vijay Verghese
For a better priced shopping area, ask for the directions to The Old Siam Plaza (Pahurat Road). Previously known as the Indian Quarter, Pahurat Road is home to street vendors and shops. It's a bit of a melting pot. On offer are traditional Thai products. No wonder this shopping complex is a favourite hangout for local grandmas and the blue-rinse set. This is perhaps the best place in Bangkok for silk (from Bt250 per metre in most places). The area is abustle with a lot more than silk and there are side streets aplenty to explore. Bring along an umbrella if it's a hot day. Pahurat is also where tailors come to browse for and to purchase their raw material - buttons, zips and the like. Printers are ubiquitous. If you suddenly have the urge to print one thousand invitation cards for your third marriage, this is the place for you. Expensive-looking business cards with gold or silver can be ordered at Bt6 a piece or Bt600 per box of one hundred.
A little further, you can continue your wandering up to Sampeng. Pick up a good Thai phrase book as not much English is spoken here. And do don comfortable shoes and t-shirt - it's a long, hot walk and far more crowded than Chatuchak. CDs sell for Bt100 and DVDs for Bt150. If you fancy a knock-off Bvlgari watch (but first figure out how to pronounce it), by all means, try it on. The Chinatown Charoen Krung Road area is swarming with shops bursting out of every nook and cranny. This is perfect weekend browsing material with everything from old transistor radios and gramophones to gold and silk on sale. Drop by here on your way back from the Grand Palace.
On Silom, street stalls start opening for business early evening. On Patpong, forklift trucks burst into frenzied activity around 4.30pm and by 6pm the shops are up, lit, and running, competing strongly with the go-go bars. There's incredible efficiency in this set-up. Come closing time and the fork-lifts are back like so many teeming ants removing all evidence of commerce.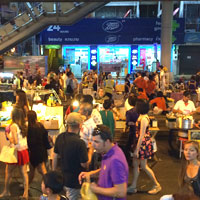 Silom pedestrian weekend market/ photo: Vijay Verghese
Patpong has everything from watches and DVD movies to silk nightsuits and t-shirts. The branded goods are fake (though you wouldn't know the difference), as are several of the "girls" in the area. Watch for those Adam's Apples. Use the BTS SkyTrain Sala Daeng station for this area.
There are lots of trendy eating establishments around Sala Daeng and Convent Road (off Silom) so there will be no need to unduly interrupt your late night shopping spree. Patpong runs till late and the best deals will be early on (as a first customer) or in the wee hours just before closing time when stall owners will be happy to get a last-minute sale clinched at a better rate. Best off all is the recently introduced pedestrian-only Silom weekend market along the road under the Sala Daeng BTS station
Nearby, you can also venture into Lalaisub market that's unexpectedly located inside the Krungthep Bank close to the Saladeang BTS station. Though only open on weekdays between 10.30am and 3pm, the atmosphere is similar to a typical weekend market. Expect handfuls of cheap goods, but beware of fakes and remember to bargain.
Jim Thompson silk shopping guide
Of course no Bangkok shopping visit would be complete without the obligatory visit to the popular Jim Thompson (www.jimthompson.com) outlet on Suriwongse Road (a quick stroll from Patpong). While Jim Thompson's signature silk motifs can be found at a number of hotel outlets, it's worth making the trek here to gawk at the eye-popping colours. Pick from ties, handbags (some quite chic and contemporary), scarves, children's clothes, T-shirts, hair bands, cushion-covers and home furnishing fabrics for sofas, beds and curtains (including some high-end European brands represented by Jim Thompson).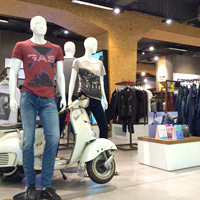 Central Chidlom is great for clothes and ladies shoes/ photo: Vijay Verghese
If you really want to spend time here, grab a table at the nice Thai restaurant upstairs and settle in for some serious silk watching. Jim Thompson silk ensembles are also available at numerous hotel outlets and at the airport. Silk ties range from Bt1,200-Bt1,500, while a silk clutch purse will set you back just Bt1,400. Printed t-shirts start at around Bt600. Cushion covers? No problem. You'll find more colours than you can shake a stick at. An 18-inch square set of four printed or embroidered cushion covers may set you back around Bt3,500 or a tad more. If you can't make it to the outlet, you can splurge on full-priced silks at CentralWorld or make a last-ditch attempt at the duty-free shopping at Bangkok airport.
Adjacent to the historic Oriental Hotel on the river is O P Place in a classic building (dating to 1908) where you can pick up Thai silk, antiques, jewellery, carpets and art. Check out the well-stocked third-floor The Ashwood Gallery (tel: [66-2] 266-0187) with its museum-quality Chinese, Burmese and Thai pieces, art, wall hangings and sculptures. Pick up a giant Tang dynasty Buddha head. Or go for a Ching dynasty painting of the emperor for a cool US$13,000. Also expect giant drums, Buddha heads from Burma and other curios. Ashwood has a ground floor showroom too.
The Pratunam (Watergate) area not far from CentralWorld mall and right next to the Amari Watergate hotel, is a huge street side complex of wall-to-wall shoes, handbags, jeans and all manner of knock-offs. At one time this was the premier place to come and sharpen your bargaining skills. A good afternoon can be spent here rummaging about the makeshift stalls.
If all this is argle-bargle and the heady smell of bubbling green curry chicken is too much, hop on the SkyTrain (or cross the road) and head to the whisper-quiet Gaysorn Plaza (999 Ploenchit Road, tel: [66-2] 656-1929, www.gaysorn.com), the most "in" but strangely empty high-end retail complex. They're all here – Christian Dior, Fendi, La Perla, Burberry, Montblanc, Armani, Prada and Ferragamo.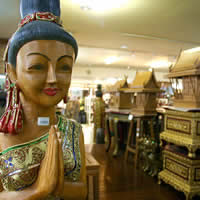 Narai Phand: handicrafts/ photo: Vijay Verghese
If you're not keen on a Bt100,000 outlay for a Gucci suit or a little less for a Gucci belt, sip a coffee and watch the beautiful people spend their money. Gaysorn has of late acquired a couple of patio-style coffee shops so it's not hard to come by a cuppa or hot snack to go. There's a Greyhound café with a reasonable menu as well. On the second floor you'll find the colourful stone-bead handbag creations of Tango Leather Co Ltd (tel: [66-2] 656-1047). In the neighbouring blocks along Ploenchit Road, you'll find all the shopping biggies (most connected by BTS elevated pedestrian walkways), like the gleaming new Erawan Bangkok, the laid-back mid-range Amarin Plaza and Central Chidlom. Next to this building, attached at the waist is Gaysorn Village with smooth curved wood accents and minimalist space with more shops and eats in quiet decor.
Around the corner from Gaysorn is the relocated well-stocked, government-run handicraft complex Narai Phand (www.naraiphand.com). Pick up an intricately patterned six-piece porcelain tea set for Bt14,500 or a bone china set for Bt35,000. Narai Phand will be happy to ship your purchases to your home country. There's a Thai food café here should you fancy a bite. Other items include enamel vases, celadon pottery, wooden spirit houses, statues and so on.
Erawan Bangkok is small but elegant newcomer to the haute couture scene. Here you'll spot the likes of Burberry, Coach, Esprit, and others of that ilk. Pop by the Erawan Tea Room for a rest and avail of the mall's swank public toilets. Central Chidlom (Chidlom Station Exit 5, with branches on Silom Road and Ladprao, www.central.co.th) is a several-floor affair with a range of items for every occasion from weddings to survival gear (well, one follows the other, doesn't it?). This is a huge department store with everything from tiny accessories to TVs. Take your pick. The kids' section with Mothercare and Benetton Kids is on level six and on the seventh floor is a cavernous and trendy "food loft" for some culinary respite. From the station walk right into the surfer-wear section sporting Quicksilver, Roxy, Billabong and Mambo. The same floor hosts Nike, Puma, Levi's, Miss Sixty, Von Dutch jeans, Calvin Klein and a slew of watches from Guess, Swatch, Hermes, Gucci and Longines. Central Chidlom department store is open from 10am-10pm. There is a number of handy ATM cash dispensers right at the No.5 BTS station exit. A great spot for ladies shoes and you'll be spoiled for choice and price.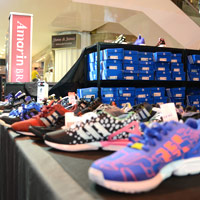 Serious bargain hunting at Amarin, discount shoes/ photo: Vijay Verghese
Amarin Plaza, Siam Square deals
Amarin Plaza
is an unpretentious building that has acquired some glitz in recent years but it is happiest selling cheaper silk and local fashions. A couple of small factory outlets sell their stock here as too. Appart from its cheaper prices, a plus poinht for Amarin is its direct walkway to the Childom BTS Sky Train station. Walk in to spot the wonderful
Green Cotton
store selling 100 percent pure stuff from bathrobes to underwear. On the ground floor you'll spot vast stalls with stuff on sale, from toys and bric-a-brac to ladies' underwear. Spot
Triumph
bras of all manner heaped high and close by, a stylish Mc Donald's that offers leather seating and street views.
Just a station or two down is the Siam Square junction that leads to Siam Discovery, Siam Center and the humongous Mah Boon Krong (or MBK as it is commonly known). Pick a juice and head for the renovated Siam Center One which has local fashions, trendy bargains and few international brands plus some popular fast food and drink outlets. Look out for Sisley, Swatch, Levi's, Benetton, local designer Jaspal, and the welcome ice-cold Haagen Dazs.
Brave the heat and walk through the bylanes of Siam Square proper to find the pulse of Bangkok street fashion. It all started with Siam Bypass (www.facebook.com/pages), where designers found their stride and the most talented watch their wares catapult into retail space in the high-end malls nearby. Next door, facing Siam Paragon at the quieter side of the street, the all transformed but somewhat slow Siam Square One, is a cubist construct of shops and Japanese restaurants and local designer offerings. While the new malls sprout, the 'square's' home-grown style occupies the former parking lot and continues to draws hordes of university students and young professionals. During the day, you can amble from store to store, indoors and outdoors, checking out the piles of leather goods, handbags and jeans galore.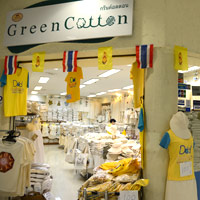 Green Cotton at Amarin, a budget shopping mall/ photo: Vijay Verghese
Thailand's first couture fashion line hails from Siam Square. Dating back to 1985, Theatre is a luxury, posh line that moved into Siam Paragon after many years chucking wares from the humble square. Blending ethnic accents and contemporary trends, Thai designer Sirichai "Jom" Daharanont's creations have long been a favourite among Bangkok's trendsetters.
Consider heading into a few of the tamer shops, such as the famous Thai brand, Issue. Walk through the white string drapes marking the entrance to dusty rose coloured walls, mosaic patterns and chiffon skirts. When you've inevitably found a frock you love, head toward the back but resist the urge to climb the white-iron spiral staircases (apparently it's just for staff). Instead, find your way past the distressed doors, mosque embellishments and vintage curtains into the dressing room.
Down the street you'll more than likely dip into Ulala. If the dark wood floors, antique plates peppering the walls and Victorian furniture don't draw you in, the vintage pocket books will get the job done. Also a Siam Square native, this boutique brand recently expanded to export its wares. Another enchanting little shop is September (Soi 3, tel: [66-8] 1815-8641). At this narrow, bright yellow hole-in-the-wall, you'll find darling polka dots, linen shorts and Fifties-era pencil skirts. Complete with vintage dolls, orange carnations and antique mirrors draped in pearls, this is a must-visit for the girls of all ages.
Behind the hard-to-miss zebra shrine, where vendors lay garlands and food offerings in hope to earn their business stripes, you'll find another gem called Being. This feminine boutique store offers all kinds of bits and bobs, from striped dresses to chequered fedoras. Across the street, stop into Summer is Sweet, a mango-themed restaurant popular for its mango ice-cream and sticky rice. It's worth the wait if you can stomach the line curling around the corner.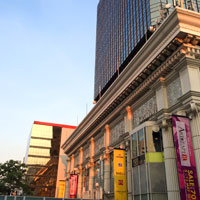 Evening light on Amarin plaza/ photo: Vijay Verghese
As evening creeps in, vendors begin to pull their goods onto Ploenchit Road. Along this main thoroughfare, expects to see recurring trends: Topshop knockoffs, screen prints, tiny skirts and, of course, food stands. After 6pm things really start to up the volume and the area turns into a lively night market. Watch your pocketbook and don't take prices at face value.
For gadget gurus, Digital Gateway will have you lusting after its customised iPhone cases, cameras, free WiFi and the largest Mac store in Bangkok. Though it seems a little out of place, and perhaps not the cleanest of facilities, ladies can also sit down for a quick mani-pedi while the hubby shops for a new laptop. Downstairs, you can haggle over accessories from pop-up shops that seem to turnover constantly. You'll have to elbow out the swarms of students though, as the area is the stomping ground of Bangkok's high schools and universities.
Siam Discovery Center (www.siamdiscoverycenter.co.th) adjoining Siam Center is avant garde chrome and steel with a few international brands. Early 2016 it was in the throes of a major renovation. The fifth floor is Kid's World where you'll find Tiny Tykes, The Maternity House, and Pork Chop & Friends. The sixth floor houses cinemas and assorted entertainment. Siam Discovery is close to both Siam Centre and the monster Mah Boon Krong, or MBK as it is commonly known.
A great place to educate yourself and pick up a historic bauble or two, is The Metropolitan Museum of Art shop (the-met.asia/). The Met Art shops showcase refashioned jewellery and bric-a-brac modelled on original historic pieces housed at the original New York museum. Cufflinks and earrings are always good buys. It has moved to new locations at the Anantara Siam Bangkok, a flagship store on Wireless Road, and a soon-to-open spot at the Mandarin Oriental riverside.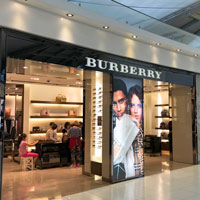 Burberry duty-free store at Bangkok Airport/ photo: Vijay Verghese
It's always sale time at MBK
Bustling MBK is the heart of city's discount shopping. Buy small or buy wholesale. The nearest station is National Stadium, one stop on from Siam Square, but you can easily walk across. MBK is several floors of shops segregated into accessories, furniture, clothing, gold and jewellery and so on, floor by floor. There are some decent restaurants in the complex for a short halt when the feet get weary. Some of the nicest items are to be found in the home decoration area – cushion covers, backrests, tablecloths and sumptuous bedspreads. Grab a signature fold-up Thai mattress that stacks up as a pyramid-shaped cushion for the living room floor. This is the Bangkok cheap shopping Mecca.
Last but not least is the somewhat tamer All Seasons Place next to the Conrad hotel that offers trendy fashions and a few eateries. Explore Asia Books, DAKS, Lacoste, and Wacoal.
Make time to explore of few of the city's community malls. Farther down Sukhumvit, about a five to 10-minute taxi ride from Emporium Bangkok (or off the Prompong BTS station), lies the dog-friendly K-Village. This Japanese community mall is a family favourite thanks to its mix of children's wear, alfresco dining options and pet-friendly environment. It's by no means a designer mall, but it has a fine line-up of boutique shops surrounding the open plaza on the ground floor. Wandering around in the open-air courtyard can get a bit muggy, but the cool spray mists and various fans help abet discomfort.
If you're shopping on a weekend, you may catch a concert, fashion show, or dog competition. During the week, however, the plaza is quiet with a few families roaming around with pooches in tow. Once the shops are in open for business (not until noon on weekdays), expect mostly family-oriented stores with an emphasis on comfort, quality and, of course, man's best friend.
K-Village is just one of many "community" malls cropping up across Bangkok. The first one began at J Avenue Thonglor, which targets fine dining and nightlife. From there, the city has seen a number of outposts emerge: From the cosy local markets at La Villa Aree to Crystal Design Center (www.crystaldesigncenter.com) – the biggest furniture and lifestyle mall with more than 100 local shops – these low-key, casual dining and shopping centres can be a calm respite to the high-speed scramble of Bangkok shopping.
If you need a good map to delve into the streets and alleys one by one, check out the Periplus Bangkok Street Atlas that zooms into metro areas with an easy to follow grid. It's a hefty companion but useful. And do make time to visit the very informative Tourism Authority of Thailand website.
Send us your Feedback / Letter to the Editor