BUSINESS TRAVEL
Mumbai beds for weary suits
In the city that never sleeps, a new airport terminal is changing the way business travellers view India. How to pick the best beds in our Mumbai business hotels review.
with additional reporting by Ryan Rodrigues and Vijay Verghese
SEE ALSO Abu Dhabi business hotels | Andaman Islands | Bangalore guide | New Delhi business hotels | Goa Resorts | Gulmarg | Ladakh guide | India Spas | Pondicherry guide | Rajasthan Palace Hotels | Nepal Treks | Sri Lanka Resorts | Colombo guide

The Taj Mahal Palace & Tower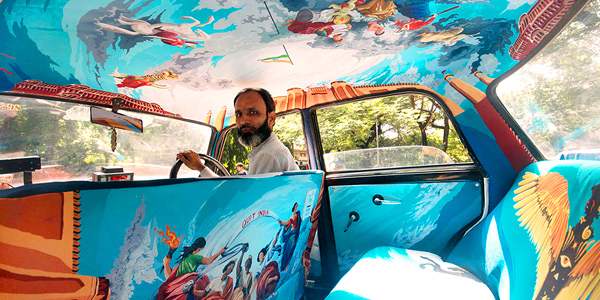 JUMP TO Trains and taxis | Hotel districts | Mumbai nightlife | Shopping | Central, south, east hotels | North Mumbai | Airport hotels | Hotels near the airport | Navi Mumbai | Budget hotels | Hotel Contacts
ONCE UPON A TIME the only thing more exciting than flying into 'Maximum City' – the name coined by novelist Suketu Mehta – on a 2am pink-eye where views of the sprawling Dharavi slum and their Slum-Dog-Millionaires-to-be were graciously obscured, was flying out. This entailed epic queues – not at immigration, but to get into the airport. Things are changing at the swank new T2 (opened February, 2014) at Mumbai Airport, or Chhatrapati Shivaji International Airport (CSIA).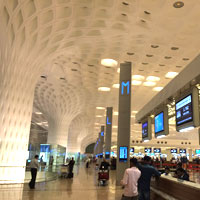 Mumbai's impressive new Terminal 2/ photo: Vijay Verghese
This is a spectacular construct that easily outclasses New Delhi's T3 and several other international competitors with its sprawling well managed and designed spaces that never quite seem overcrowded or out of control. After the obligatory highway scrum, a breezily empty three-kilometre dedicated raised highway deposits travellers to departures.
The four gleaming levels of Terminal 2 exude a jaunty Indian vibe, from the peacock motifs and soaring honeycomb 'jali' ceilings that look like evenly spaced trees with linked canopies all in neat geometric patterns that could have been borrowed from some Middle East fantasy or the Taj Mahal. The much-touted three kilometre "art wall" featuring an assortment of mixed media creations is a bit of a drab let-down despite occasional flashes of inspiration. The overall airport design is futuristic and resolutely modern, with soaring ceilings and ample elbowroom for check-in (188 counters) and departure, high-speed baggage handling, and that most elusive of Indian facilities - a spacious car park. The terminal is A380 friendly too. Ah, the joys of privatization. What more could you want?
Send us your Feedback / Letter to the Editor
With abundance of light, soothing greenery (77,000 plants), and gleaming floors, there's now room for optimism on the part of the 40m passengers who use this complex annually. Good news indeed for weary business travellers.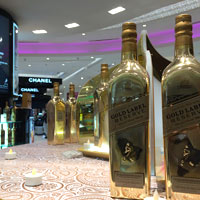 Terminal 2 Duty Free, Johnnie Walker Double Black/ photo: Vijay Verghese
This leaves time enough for later culinary adventures involving crumbling Irani cafés, zesty South Indian sambar and dosa at earthy Udipi joints or the clink champagne glasses on a rooftop bar.
Welcome to Mumbai. Toss that doomsday talk, let your hair down and plunge in. It's fun. As you clear the airport and emerge blinking into the humid hot night, grab a pre-paid coupon taxi.
From the airport/s to South Mumbai (Fort) it costs about Rs670 for an airconditioned 'Cool Cab' (US$1=Rs82.37) and less for a steaming windows-down black-and-yellow city taxi. The Cool Cab rate to Lower Parel (mid-Mumbai in the St Regis area) is about Rs520. The return fixed fare is Rs700. Always ask for a receipt for airport taxis or private taxis. Beware of touts and head straight to your hotel. And never exchange currency with people on the street, no matter how tempting the offer.
Duty-free prices at Mumbai Airport (CSIA) ranged late 2015 from US$40 for a litre of Johnnie Walker Black Label, and the same for a one litre bottle of 12-year-old Chivas, to US$49 for a one litre bottle of Johnnie Walker Double Black. Fork out US$94 for a 50ml EDP of Chanel's Chance perfume, US$68 for BVLGARI's 50ml EDT Rose Essentielle and the same amount for a 50ml bottle of Jasmine Noir also from Bulgari.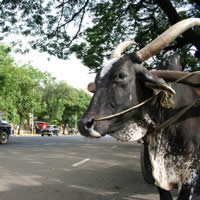 Bovine distractions near Colaba in South Mumbai/ photo: Vijay Verghese
A broad spectrum of designer brands and local fashion outlets are available airside with competitive duty-free prices. Look for Swarovski, Boss, Superdry, Versace, Benetton, Michael Kors and Kimaya. Towards Gate 70 and on the travellator opens into another eating and shopping area with spacious seating under inverted lotus copper lamps.
Food outlets include Indian versions of McDonald's and KFC, which serves some spicy stuff with a tad more flavour than in, say, Hong Kong. Several travellers make a beeline for Indian chicken and mutton burgers and kebabs. Take your pick. There's lots of common space for seating and a few green spaces too.
Taxis, trains, and getting around
Given the extraordinary population pressure with 18 million inhabitants the city runs a pretty 'efficient' railway, but this is not recommended for a visiting businessman or tourist. The heaving carriages carry six million passengers daily on a narrow but long north-south run. Peak time hours, around 9am and 9pm, are sardine time. In the midst of this scrum, tailors, vegetable sellers, button-wallahs, and fisherwomen loudly hawk their wares.
Need a screwdriver? No problem. This is a department store on wheels. Sweaty but effective. If you insist on plunging in, opt for a 'first-class' journey that on the Western Railway costs a maximum of about R200 one way. Air-conditioned coaches with automatic doors have been proposed but these are not expected anytime soon.
Send us your Feedback / Letter to the Editor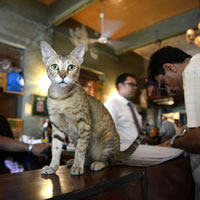 Quirky Britannia for Parsee food - and cats/ photo: Vijay Verghese
The city has an efficient and extensive system of double and single-decker buses. If you really must board one, choose one from the legion of air-conditioned buses. A somewhat complicated route map is available at the BEST Bus site (www.bestundertaking.com).
When grabbing a cab, always insist on the metered price. Meters are not just decorative these days. Make sure the driver turns on the contraption and doesn't charge you the inflated night fare in the day (ask for the taxi meter card as every cab is required to have one – the night fares are printed in red, day fares in black).
Rates start from Rs21 and for every subsequent kilometre, increase by Rs10. The old rattling Fiat cabs are being phased out by newer, more comfortable hatchbacks, and both have automatic meters.
Remember. If they're black and yellow, the fare's the same. Mumbai traffic is legendary - surpassed perhaps only by Bangalore. The Worli Sea Link is one bypass option but there's no telling when traffic may snarl up at some forgotten intersection because a constable is off for tea. The drive in from the airport to Lower Parel (mid-Mumbai) may take up to an hour or more mornings and the drive to the Fort area where the Taj is located can run to an hour-and-a-half or more.
You can also register a complaint with the toll-free number (1800-22-0110) against taxi drivers for refusing to ferry you.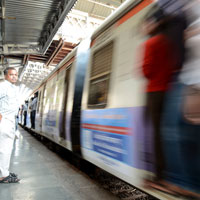 Mumbai train/ photo: Vijay Verghese
But if you don't want to get taken for a ride, opt for private taxis – try out a Meru Cab (tel: [91-22] 4422-4422 or www.merucabs.com), Gold Cabs (tel: [91-22] 6515-1323 or www.mumbaigoldcabs.com), Star Taxis ([91-22] 4211-1111), the much-maligned Uber Cabs (www.uber.com), Ola Cabs (3355-3355 or www.olacabs.com) or the woman-friendly Priyadarshini Cabs ([91] 98202-21107 or www.priyadarshinitaxi.com).
Call well in advance though as they are not always ready at short notice. Plenty of cab companies such as Ola, Uber and Meru now have their own mobile apps for last minute pickups. Most now come with a built-in emergency button.
Mumbai business hotels by district
There are four areas to explore depending on where your business appointments (or friends) are located – Navi Mumbai, the airport area, beside the beach in Juhu, and in upmarket South Mumbai.
Around the domestic and international airports, 30 minutes apart, hotels have sprouted like mushrooms. Hilton Mumbai International Airport (January 2011), a 171-room property that blends colonial-era influences with inventive modern touches. The 547-room Grand Hyatt is among the leading lights and easily among the top Mumbai business hotels here. The Hyatt Regency, ITC Grand Maratha Sheraton, the InterContinental and The Lalit Mumbai all exist happily cheek-by-jowl. The Airport Centaur (now Sahara Star), The Orchid, and The Leela Mumbai were among the first to set up shop in this area.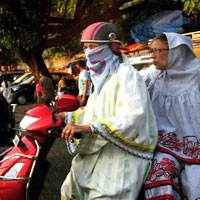 Mumbai maidens out on a Vespa spin in Bandra/ photo: Vijay Verghese
This location is a 20-minute drive from the Bandra Kurla complex, a prime business district in Mumbai. Bandra Kurla's success has been due to its proximity to the large suburban residential area and to the airport. The disadvantage of this location is that your trip will have to be limited to pure business. Here, there is little nightlife and no place of tourist interest. Expect no scenic views. But plenty of swish restaurants now pepper the landscape. The only visual relief is at The Leela and Renaissance, with greener surroundings – and at The Orchid, which serves up a teasing airport runway view.
Bandra Kurla is a fairly recent wonder. If you are on a business trip that involves Nariman Point or adjoining areas like Worli and Prabhadevi, don't think twice – head south. The Trident, Nariman Point, Mumbai (managed by Oberoi), The Oberoi Mumbai, the InterContinental, the Ambassador and Hotel Marine Plaza are located here. This is ideal hunting ground for the better Mumbai business hotels.
A short distance away, overlooking the Gateway of India, is the characterful old world Taj Mahal Palace (the Tower providing the modern high-rise next to the historic heritage wing). Also run by Taj Hotels is the Taj President at Cuffe Parade, the Taj Lands End in Bandra, and the new executive apartments Taj Wellington Mews, where the penthouse costs a staggering Rs2.6 million per month.
Most hotels along Marine Drive (also known as Queen's Necklace for the nighttime view with the street lights sweeping around the bay) have breathtaking complete or partial seafront views. The area is a casual evening hangout especially at sunset as the skies light up some vintage art deco buildings.
The area around the Gateway of India, behind Taj Mahal Palace, is bursting with British colonial buildings, as is the adjacent Kala Ghoda art district, which houses the city's museum, Chhatrapati Shivaji Maharaj Vastu Sangrahalaya, formerly known as The Prince of Wales Museum of Western India (www.bombaymuseum.org), and libraries and art galleries like the National Gallery of Modern Art and the adjacent Jehangir Art Gallery. The area is teeming with shops (at Colaba Causeway), nightlife and good food.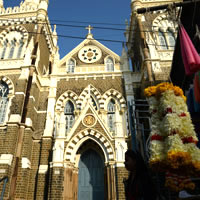 Mount Mary church Bandra/ photo: Vijay Verghese
The ITC Grand Central at Parel is the first major international foray into central Mumbai. The structure was built from bricks imported from Malaysia, but what makes it so striking is the backdrop of derelict textile mills. This project signals change, and for the better, as a catalyst to development.
Proceeds from the land being made available for commercial use will help alleviate Maharashtra state's debt burden, which stands at over US$2 billion. Parel has in fact come a long way and trendy offices are sprouting everywhere.
When it comes to hotel gripes the common charge has been poor customer service and exorbitant prices. Service however, is improving, as are amenities. Take the InterContinental for instance – eight different types of pillows to choose from touchpad lights, laptop-friendly safes with charging sockets and free wireless Internet service.
The JW Marriott's special pool with minerals flown in all the way from the Dead Sea ensures a dip here will save you the need for a tiresome facial. The equipment at the Hyatt gyms is state-of-the-art – treadmills with televisions, air blowers and radios. The older hotels are playing catch-up too. The Leela Mumbai has been renovated and Hotel Novotel Mumbai Juhu Beach (formerly Holiday Inn Mumbai) is a spruced-up Juhu Beach address.
If you have time to kill, pick up the afternoon daily Mid-Day. It has busy what's-on pages and with 25 films screened a day this could be your tryst with Bollywood. There are a myriad theatrical performances at any given time, plenty of art exhibitions and live music performances. It's hard to do it all in the "city that never sleeps", a cliché yes, but one that nevertheless rings true in Mumbai.
Not quite Bollywood - nightlife, bars, dining
Bang at the centre of the tourist trail in Colaba lies the sea-facing Shamiana at the splendid Taj Mahal Palace Hotel. Perfect for steaming chai and watching the ebb and swell of the world going past. A short walk past the frothing ocean will lead you to Basilico (tel: 6634-5670), a quaint bistro and perfect for dawdling the hours away. The tree-lined avenues of Colaba open out onto bustling Colaba Causeway, home to tiny Theobroma (tel:6529-2929). Spear a bite of their very satisfying bacon and chip butty. Wash it all down with freshly baked brownies and hot chocolate.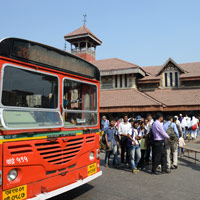 Bandra Station bus/ photo: Vijay Verghese
Cafe Leopold and Cafe Mondegar, once ravaged by the Mumbai terrorist attacks in 2008 have now bounced back and serve as inexpensive watering holes to most of Mumbai's tourists. Old Parsi favourite Britannia continues, peeling and atmospheric as ever in Ballard Estate behind the old Customs House. Chat with ancient owners who shuffle along the aisles to take your order of beri-rice or dhansak (dal and meat curry) all the while extolling the virtues of the British Queen. Pictures of Prince William and Kate hang on the walls along with signs exhorting patrons to "not argue with the management". Fun and delicious.
The well-heeled can trot over to Indigo for some fusion food (tel: 2285-6316), voted one of the 60 top restaurants in the world and it's deli counterpart named, erm...Indigo Deli (tel: 6655-1010). Next door is The Table, perfect for a posh dinner. Leave, plumply replete with matchsticks of perfectly crisp fries and Instagram-ready chicken wing cubes. Everyone's favourite hipster haunt, the Social, serves up excellent drinks and pub grub at a budget.
In the general vicinity lies Samovar, cafe of the Jehangir Art Gallery (tel: 2284-8000), redolent with the aroma of parathas and laid-back charm. For north Indian food, try Khyber (tel: 2648-9315), or the enduring street-side tandoori barbecue favourite Bade Miya just behind the Taj. Roll up your sleeves if you're feeling adventurous and plunge into butter garlic crab at Trishna (tel: 2261-4991), one of Mumbai's best known coastal food restaurants.
Mosey straight past the Keniseth Eliyahoo Synagogue and you will stumble upon The Nutcracker, with its tumbling bougainvillea and wooden windows and doors. Its food mirrors its earthy aesthetic - order the excellent egg concoctions ranging from Parsi-style akuri to cheesy omelettes. Perched opposite the ever-popular Kala Ghoda Café (perfect for coffee and hot chocolate) is the wee patisserie, La Folie. Within its slate-gray walls lie some of the most intricate architectural confections of the city. Try the velvety chocolate cake with tonka bean cremeux doused in fresh raspberry coulis.
As your yellow and black taxi flies beyond the Peddar Road flyover, keep an eye out for the Mahalaxmi Race Course. Ensconced within are two of Mumbai's coolest lounge restaurants – Olive and Tote, where Mumbai's well-heeled, all suitably togged up, flock to display their plumage (tel: 6157-7777). Tote has picked up a few bar design awards.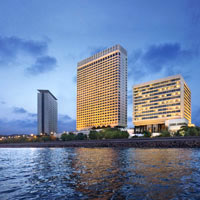 Oberoi Nariman and Trident/ photo: hotel
For lots of lovely live music, you could walk just around the corner to the Mathuradas Mills compound and sink into one of Mumbai's best lounge bars, Blue Frog (www.bluefrog.co.in). Housed in a 6,000 square foot defunct warehouse in Lower Parel, the club blends good acoustics with lush decor offering live performances six nights a week, with international artists featured regularly. Genres of music range from jazz, blues, funk, soul and afro/latin to electronic, club, and rock. Right next door, the whirr of cotton mills has been replaced by the clink of cocktail glasses at New York-style Café Zoe (tel: 2490 2065 or www.cafezoe.in), famous for its tenderloin burgers and hopping house music Fridays. Or wander on until Kamala Mills, for a taste of modern Indian cooking at Bombay Canteen (3395-6107) - the brainchild of New York celebrity chef, Floyd Cardoz.
Not too far away is the Bombay Dying Mill Compound, home to Mumbai's Hard Rock Café (www.hardrock.com) and Shiro (tel: 6615-6969), a cavernous lounge bar and purveyor of excellent pan-Asian food and drink. Stop by for full-on retro boogying.
Teetering on the 34th floor of the Four Seasons hotel is club Aer, with spectacular 360 degree views of the city. Views within Aer are not too bad either with its urbane minimalist decor and beautiful egg-shaped bar not to mention the city's swish set sipping champagne in crystal flutes (tel: 2481-8000).
March northwards. Escape from the complicated ballet that is Mumbai's traffic by speeding down the Worli-Bandra sea link (toll, Rs90 return fare, Rs60 one way). Those in the know should snag an invite to Chef Gresham Fernandes's Swine Dining Nights, a scrumptious ode to everything porcine. But if you can't, there's always Salt Water Café (www.saltwatercafe.in) where the chef whips up everything from tenderloin to pork belly.
You can swan around sipping long drinks at the Olive Bar & Kitchen (tel: 2605-8228) in the busy residential suburb of Bandra, a perennial favourite with models and Bollywood stars. The curiously misspelt Elbo Room is cozy but inviting and packed with regulars that seem to have tumbled straight out of bed into the bar (tel: 2648-3316).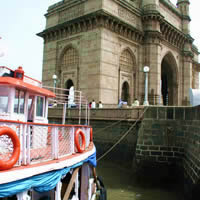 Historic Gateway of India/ photo: Vijay Verghese
Nearby Pali Naka pulses with places to eat – there's the quirky Pali Village Cafe (tel: 2605-0401), housed in a crumbling old Bandra bungalow with twirling wrought iron banisters and wooden chairs. Try the spinach and ricotta ravioli followed by a creamy swirl of pannacotta. Cross the road and you will find yourself at its rustic chic Indian counterpart - Pali Bhavan. On the menu, vada pao sliders jostle for attention with paan-infused kulfi.
Then cross back to tank up at Toto's bar (tel: 2600-5494), college favourite and retro rock haven. Not enough? Hop over to Hoppipolla (2648-7395) for cheap cocktails in whimsical, Enid Blyton-esque surroundings…a small, model airplane contentedly swinging from the ceiling; An entire wall of brightly-coloured bird houses; white rimmed chalkboards as tables; pretty mosaic floor tiles. Much removed from its heavy metal namesake, Soul Fry serves up crispy fried fish and prawn curry and the occasional blasted eardrum on Mondays (karaoke night, tel: 2604-6892). Linger over organic salads and smoothies at Bombay Salad Co (2600-0270) or nibble on nouvelle European cuisine served in stylish surroundings at Smoke House Deli (www.smokehousedeli.in). End the night's debauchery with a sedate swirl of Cocoberry's frozen yoghurt (tel: 2675-8573).
A handful of restaurants have settled in along the palm-lined shores of Juhu Beach. Two of the shore-est shots are Aurus (tel: 6710-6666) and Vie Lounge (tel: 2660-3003). More than likely, a house music DJ will be turning the tables on your jangled city nerves. Meanwhile, closer to the Airport is China House (tel: 6676-1086), the bar lounge at the Grand Hyatt Kalina, and Hi Lounge at Sahara Star, near the domestic airport. In Andheri West do drop in at Firangi Paani (tel: 2674-4144), a bar-pub at Fun Republic, Level 3, opposite Laxmi Industrial Estate. Firangi Paani has been modelled on an old style British pub.
Also in Andheri, The Bar Stock Exchange (tel: 2600-5858) is taking the laws of demand and supply to a crazy new level. BSE is an irreverent homage to the Bombay Stock Exchange, where drinks are sold on a stock market basis. So the more you scoff your favourite drink, the steeper the prices go. For a tot of craft beer, make your way to the more sedate Brewbot (tel: 3015-1044), Andheri's latest microbrewery. Suits and hippies sit side by side here, moistening their throat with beer cocktails and gorging on glorious charcuterie.
Whatever you do, however late it gets, however much your date squeals, there's just one cardinal injunction. NO ICE in your drinks. And always, always, drink mineral water.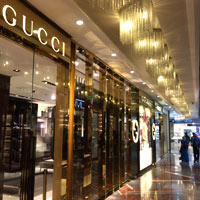 Mumbai brand shopping, Gucci, Palladium/ photo: Vijay Verghese
In and around the warren of Colaba's lanes, you will find everything from jewellery to handicrafts and cheap knockoffs-perfect for the folks back home. The place to start is at Phillips Antiques (tel: [91-22] 2202-0564) on bustling Colaba Causeway. Submerge yourself in the antique bric-a-brac and charming baubles. Then wander off to Ensemble (www.ensembleindia.com), home of Indian designer couture. The folks back home are sure to fall over themselves for knick-knacks from everyone's favourite handicraft emporium, the Bombay Store (www.thebombaystore.com). It now retails online as well.
Super-pricey but totally right now is Bombay Electric (www.bombayelectric.in), smack in the middle of touristy Colaba. Surrender to such whimsies as hand-painted motorcycle helmets, vintage butterfly belts and tribal anklets. In nearby Kala Ghoda's wriggle of old streets, look out for Masaba Gupta (www.houseofmasaba.com) and Nitya Arora's fashionable boutique store, perfect for bohemian lasses with large bank accounts. Next door, lads can get made-to-measure shirts at the bespoke shirt store, Bombay Shirt Company (www.bombayshirts.com). Finally, pop into Filter (www.filtershop.in), a tiny store stocking hipster-happy clothes and stationary.
 At High Street Phoenix (www.highstreetphoenix.com) retail behemoth and popular haunt of Mumbai's ever-burgeoning middle class, you'll find coffee shops, bookshops, multiplexes, pubs, cafes and plenty of fashionable stores, both Indian and international. Towering within the complex is Palladium (www.palladiummumbai.com), an upscale art-deco inspired shopping and entertainment arcade. Tucked away within the tall atrium halls are international designer brands and fun outlets from Gucci, Superdry, Swarovski, Emporio Armani, Ermenegildo Zegna, TOD's, Michael Kors, Zara, Furla, Diesel, Paul & Shark, and Burberry to Aldo and Jimmy Choo for ladies' shoes, along with plenty of fine dining options and even a Jean Claude Biguine salon and spa.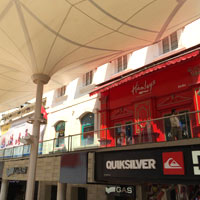 Toys galore - red Hamleys doors at Palladium/ photo: Vijay Verghese
Wander out into the alfresco courtyard to spot the lipstick red doors of Hamleys toy shop just atop the escalator. This is a popular meeting spot for rushed Mumbaikers and visitors alike, the mid-city location perfect from most directions. WiFi is not the easiest here but upstairs at SOCIAL, hidden away behind a teak door flush with the curving wall you'll find a beerhall setting with hearty portions and a grudgingly functioning free WiFi zone. You need to supply your mobile phone number to get the password.
Just a few steps down the road is the large Raghuvanshi Mills compound, swilling with stylish home decor stores that effortlessly marry East and West design. If nowhere else, stop at Good Earth (www.goodearthindia.com) for its delicately refined hand-painted earthenware and a glass of wine at its in-house cafe, The Tasting Room (Raghuvanshi Mills, Senapati Bapat Marg, Lower Parel, tel: 2495-1954 / 6572-0342).
Or you can while away the sunshine hours at Icasa's plush furniture store. Tucked away on the mezzanine is  Zen Café (www.zencafe.co). Regulars swear by its mezze platter and fresh-pressed juices,  while jazz plays softly in the background.
Cropping up in Bandra are a bunch of quirky boutiques housed in old bungalows on leafy, twisting lanes.
Central, South, East Mumbai business hotels
The south is where most of the business travel and entertainment action still is. This is where you'll find the Gateway of India, the National Gallery of Modern Art, the Jehangir Art Gallery, the Kenneseth Eliyahoo Synagogue (Mumbai's oldest Sephardic synagogue), and Kala Ghoda district, engorged with art galleries, restaurants and grand colonial architecture. Wander farther to discover architectural beauties like Victoria Terminus (now Chhatrapati Shivaji Terminus), the Rajabhai Tower and the art deco buildings lining the seafront at Marine Drive. The hour-long evening trip on the MTDC Open Deck Bus Heritage Tour will ferry you through most of the city's landmarks by night.
The best hotels in this area are the 100-year-old Taj Mahal Palace, The Oberoi Mumbai, and the Trident Nariman Point. These hotels were at the centre of the tragic hostage drama 26-28 November 2008.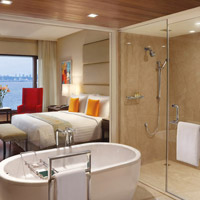 Oberoi Mumbai room/ photo: hotel
Substantial changes have swept through The Oberoi Mumbai, which has abandoned the brass and shine for a minimalist approach with virginal white marble (from Italy, no less) carpeting the vast lobby expanse, completely unruffled by any clutter save for a solitary red grand piano that provides lively counterpoint. A few sofas adorn the otherwise calm lobby that climbs up a skylight atrium to various levels of comfort and pampering. The restyled hotel does not offer club floors but all rooms are serviced by butlers and the 24-hour spa provides splendid apres-work distraction (seeing heavy use as late as 3am).
The 287 new-look rooms include 73 executive suites offering 800sq ft of stretch space with burnished oakwood floors, bright scarlet and saffron cushions, mother-of-pearl inlay detail on tables and a homey yet contemporary feel. Expect a walk-in closet, glass partition for the soaking tub, toiletries from Kama and Forest Essentials, twin vanities, usefully bright mirror-frame lights, and a power shower. In-room find two flat-screen TVs (one in the living room) with DVD players, an obligatory iPod dock, an HDMI data port for electronic interfacing, two three-hole multi-pin electric sockets and large windows with grand views of the sea and Marine Drive.
Light switches are idiot-proof and there is a laptop-friendly safe for those securing earth-shaking secrets. Pop by Ziya, the contemporary Indian restaurant, helmed by Michelin starred chef Vineet Bhatia. Think French plating and fusion food. The touched up Trident (also under Oberoi stewardship) offers a less wallet exercising price point for business travellers.
The thirty-something Vivanta by Taj President with 300 rooms is located in Cuffe Parade. The Lady Executive Suite has bath accessories from Biotique including cleansing milk, a honey gel, conditioner and foam bath.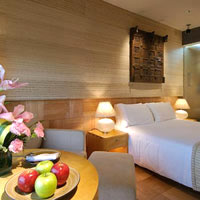 Vivanta by Taj, President/ photo: hotel
Ladies are attended to by female staff and can check out visitors at the door on a videophone. Pink bathrobes and slippers complete the array. Check out the high-octane bar, WINK. Doubling as a restaurant-cum–bar from 6.30pm to 1am, it offers signature specials like the winitini (wasabi martini).
The InterContinental Marine Drive offers the singular charm of a smaller boutique hotel whilst simultaneously offering the amenities of a resort. Much has changed over the years. Corleone, the Italian restaurant has twirled its last spaghetti. Alas! The delightful Thai restaurant, Koh, helmed by Michelin-starred chef Ian Kittichai, is soon to follow suit. Change has swept through the rooms as well; the sensor locks, touchpad lights and remote controlled blinds have bid adieu to harried guests. But perhaps the biggest change is the introduction of the InterContinental's Pure Floor. Escape from the harrowing Mumbai smog by booking a room here. Then heave a deep sigh of relief , literally, since each room comes with an air purifying device.
But much remains the same too. You can still enjoy a complimentary 20-minute welcome massage as soon as you step inside, and then order one of several aromatherapy choices in-room through a personal butler (available round the clock). All rooms sport BOSE speakers, laptop-friendly safe, music system and DVD player – apart from free access to a library of movies. Best of all, you can still snag a drink at Dome, the super trendy rooftop restaurant with a tremendous view of Marine Drive.
At 5 Battery Street in Colaba, South Mumbai, you'll find the refreshingly different Mumbai boutique hotel The Gordon House Hotel. The place is clean and bright and features quirky room types ranging from Mediterranean in ochre, yellow and white, to stark, minimalist Scandinavian.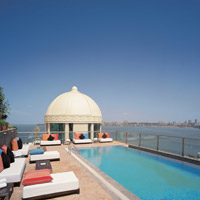 InterContinental rooftop pool/ photo: hotel
There's free and fast WiFi and DVD rentals but otherwise, the rooms run shy of gadgetry. They have digs near the International airport (and in Pune) too. All Stir Fry is their signature restaurant. Retro nightspot Polly Esther's boogied to its last beat years ago, but plans are now afoot for Havana, a South American-themed bar.
The rooms at the Marine Plaza are a tad tatty but all will be forgiven when you draw open the curtains. Voila! Spectacular sea views with the Queen's necklace twinkling away at twilight, the green swathe of Brabourne stadium, and the elegant art deco buildings all round the bay. All rooms have Broadband, workstations and complimentary nibbles. Upstairs, the Allamanda terrace beckons with more breathtaking sea views.

The Taj Mahal Palace is a cultural landmark and, built in 1903, is the grand dame of Mumbai. It takes more than a lick of paint for an old hotel to stay au courant but after being savaged by the 2008 terrorist attacks, the Taj has certainly updated itself with panache. Beneath its tasteful melange of Florentine, Oriental and Moorish architectural styles lies a swathe of opulent and grandly appointed rooms, with glorious views of the Gateway of India and the Arabian Sea.
Aside from the views, there is round-the-clock butler service, free airport transfers, variable check in/check out times and complimentary breakfast and cocktails. This 560-room hotel offers 42 lavish suites as well as club rooms. The suites are a throwback to the Raj with period furniture, butlers, art, 42-inch plasma TVs, DVD players, access to a vast library of film and music, and free WiFi, something the Taj has finally rolled out across all its properties.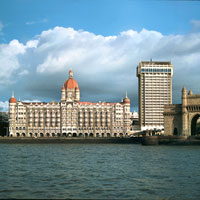 Taj Mahal Palace/ photo: hotel
Refurbished rooms offer a blend of classical and contemporary. Guests can bronze or read at a splendid open-air courtyard pool, or head to the Jiva Spa for wellness treatments. Dining options include Szechuan, Indian, Middle-Eastern, Continental and Japanese. This is not just one of the best Mumbai business hotels with a distinguished track record of hosting everyone from royalty to state dignitaries, it is a piece of history that has presided over momentous events in the timeline of India's independence and Mumbai's emergence as India's commercial capital.
With meetings and function space that can host from 25 to 2,000 persons, and quite comfortably at that, this also ranks among the top Mumbai conference hotels. Still bored? Roar off into the bay on the Taj luxury yacht.
(Taj Mahal Palace is showcased in our exclusive by-invitation Top Asian Hotels Collection, featuring the best Asian hotels, resorts and spas in a printable A4 page with stunning visuals.)
Ensconced in one of Colaba's breezy lanes is a charming 100-year-old boutique hotel, simply called Abode. Once the residence of no less a personage than David Sassoon, this 20-room residence is an homage to Mumbai's hipster leanings. Residents relax on vintage furniture with vividly-coloured ceramic tiled floors at their feet, while chrome fans swirl above their heads. This simulacrum continues into the concise menu which features Bombay style street food and drink. Think vada paav, kheema pav, chilli cheese toast and the much-feted Bombay sandwich.
A Basic room has an en suite shower and basin but a shared toilet. For Rs3,500, you get excellent WiFi, a telly and USB stick stuffed with movies, but the low ceilings and windowless rooms may dampen the mood somewhat.
A Luxury room with high windows and old art works adorning the nooks and crannies serves up an iPod dock, flat-screen TV, in-room safe, en suite bathroom and rain shower. This goes for around Rs7,000, while for a slightly bumped up price, you get a Superior Luxury room, with a free-standing bathtub.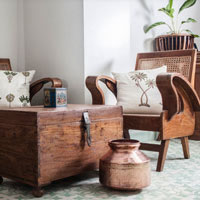 Abode, Colaba/ photo: hotel
All rooms offer all the usual paraphernalia - complimentary breakfasts, adapters, chargers, shoe polish and sewing kits - along with a few extras like yoga mats, hair straighteners, Hindi and Marathi interpreters and quirky local area maps. You won't find telephones in any room though - the staff gives every guest a mobile phone with a Mumbai number, pre-stocked with Rs100 and a direct line back to the hotel. Airport pickups and drops are via women-run taxi companies, visually challenged therapists come in to administer spa treatments, everything is sourced locally and there is a no-plastic policy. Really, what's not to like?
At the Ambassador, executive rooms are less pricy than some. The once-luxurious rooms, now battered by time, are still perfectly adequate. Don't expect posh mod-cons like free WiFi though; some rooms still have old-fashioned tabletop tellies. Bathrobes are available on request, the minibar stocks no hard alcohol and the health centre is small and limited. A remnant of its glory days, the revolving restaurant is still perched atop the building but stopped spinning a while ago. Luckily, Churchgate is awash with restaurants. Hop across the road to Pizza by the Bay, tease apart chicken Kiev at the iconic Gaylord restaurant, then head to K Rustom for one of life's great joys - a brightly-coloured block of ice-cream packed between two wafer biscuits.
Heading into 'Mid-Mumbai', the Four Seasons Hotel Mumbai pulls out all the swank stops and it does it well. Not because of the hotel cachet, but due to the expanse of slums that envelop the surrounds, exciting foreign visitors and eliciting groans from Indians. The hotel literally has needed to rise above its environs, a developing area that holds promise in a good midtown Worli location. Large walls overrun by verdant creepers and bamboo fronds keep out prying eyes and create an oasis within. Enter the small but bright lobby with its saffron paintings, wooden walls and marble floors, and you have begun your journey.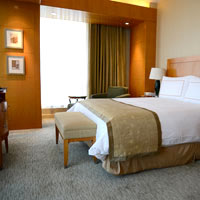 Four Seasons Mumbai,Worli/ photo: Vijay Verghese
The 202 rooms at the Four Seasons are large by Mumbai standards and offer DVD players (fax machines on request), hypoallergenic pillows, deep soaking tubs and rain showers.
The 950sq ft Four Seasons Executive Suites serve up pale wood and golden hues with a living room (with its own flat-screen TV). These are stylish but understated bedrooms with yet another flat-screen TV with DVD, Nespresso machine, working desk with two multi-pin sockets (WiFi is charged), sofa and easy chairs. Expect a rain shower, soaking tub, single vanity, walk-in dressing area., iron and ironing board, hairdryer, L'Occitane toiletries and a flat laptop-size safe. Guests will appreciate their room copies of popular books set in Mumbai – Shantaram and Maximum City. The meeting rooms glimmer in mahogany and maple fittings while the glass walls open out onto city views if you look beyond the shanty town roofs far below. This is one of the top-drawer Mumbai business hotels with a quality product and polished service. Check out the rooftop bar.
In December 2012, the Shangri-La hotel arrived, posh and poised between touristy Colaba and hipster Bandra in the happening Lower Parel area. By late 2013 it had morphed into the Palladium Hotel and on 1 September, 2015 was officially annointed the St Regis Mumbai, joined at the hip with bustling Palladium Mall bristling with more brands than you can shake a stick at. The cavernous lobby - now the Great Hall - perched all the way up on the ninth floor, is a grand yet intimate affair where tall beige marble pillars keep the ceiling well out of the way of beehive hairdos. Expect opulent Indian décor - stone inlay, mother-of-pearl objets d'art, bold silver wall panels and a generally grey, brown, and beige tones.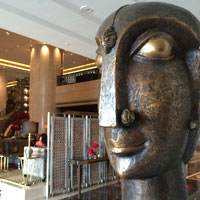 Bronze art on display at St Regis/ photo: Vijay Verghese
This marks the entry of the St Regis brand in India, along with its customary butlers (over 30 of them beetling about busily) and a fresh serving of head-turning art in the lobby featuring bronze faces, horses and a red 'nandi' bull. The curving grand staircase sweeps up past a 'candle' lamp wall. Set behind the bright main foyer on the ninth floor is a recessed clubby bar with large seating arrays, dimmed lights, and strains of baroque music.
Free WiFi is reserved for hotel guests only and this could be a minor niggle for visitors setting up casual meets here. Yet, adequate distraction is on hand with the overall service on wheels, understated, attentive and smiling. Security is tight with a floor-level metal detector, bag check, and personal pat-down. This process is repeated every time you re-enter the premises (even if you wandered to the adjacent mall for a quick designer dekko) but is cheerfully handled.
The rooms that have morphed to cream and pastel from the earlier gold and wood (starting at 45sq m) come with all the mod cons expected of a tony address - a 42" LED telly, a separate glass working desk with ergonomic swivel chairs, nearby three-pin multi-plug sockets, luxe toiletries and, best of all, free WiFi. Also find a pillow menu and hypoallergenic pillows to fend off sneezes. The big city views make up for a somewhat compact, if well-lit bathroom, equipped with a soaking tub, ornate mirror and marble floors. The deep-pocketed should plump for the business suites that are perched on the 34th, 35th and 36th floors. Each boasts customizable office designs, visitor management systems and AV facilities.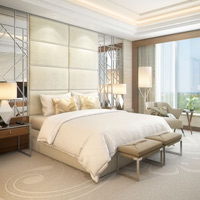 St Regis suite, cream/ photo: hotel
Regular Joes have recourse to the boardrooms and several grand banquet spaces, including the verdant terrace gardens. This address is steadily positioning itself as a Mumbai conference hotels choice, with 11 venues offering 18,300sq ft of space over two floors.
In between meetings, guests can pop into the spa, which offers a convenient half-hour massage. No oil, no change of clothes, no stress. The muscular-minded can head for the Wellness Floor, which, other than the aforementioned spa, also has a well-stocked gymnasium, infinity pool and salon. And then happily replenish all those calories at the hotel's thali of restaurants, including the delightful Sahib Room and Kipling Bar. Try the delicious 'galauti' kebabs or a hearty biryani. But perhaps the biggest draw is the Thai-Vietnamese-Chinese 'By The Mekong', which teeters on Level 37M, while the city heaves gently below it. The view is spectacular, the food better still.
The ITC Grand Central Mumbai soars gloriously above its surrounding chaos in Parel. Executive Club rooms serve up large work desks, a sitting area, and access to endless cocktails and munches. ITC One rooms on the higher floors offer butlers and personalised service along with a rooftop lounge, The Point of View. Like any ITC hotel, its USP is the delicious meal experiences. Unsurprisingly, eating at Kebabs and Kurries or Hornby's Pavilion is de rigueur for most of Mumbai's trendy folk. Not only does it have its Eva floor for ladies travelling alone, it offers age-appropriate goodies in rooms for younger clients.
North Mumbai digs in Juhu, Bandra, Bandra Kurla
South Mumbai to Bandra is a short ten-minute ride on the newly constructed Bandra-Worli Sea link. Bandra is typically known for its crowded winding streets, heritage bungalows, churches and the Parsi fire-temple. Wander by Mount Mary's Basilica if you have time. But there's a new Bandra too, one that pulses with trendy cafes, hip boutique stores and beautiful promenades on Carter Road and Bandra Bandstand.
Locals love popping by the Taj Land's End. There are views of the much-touted Bandra-Worli Sea Link (the new commercial artery easing Mumbai's fearsome traffic jams), flashes of the Arabian Sea and highrises. Take your pick. Business travellers can look forward to the Taj Club Rooms and Suites on higher floors. In Club rooms expect 40sq m of briefcase-swinging space and contemporary design evoking a residential feel.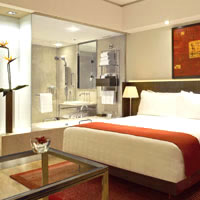 Trident Bandra Kurla Club/ photo: hotel
There is a good size working area with a long desk-cabinet running the length of the room, a 42-inch flat-screen TV and DVD player, free basic WiFi, a handful of dailies, in-room fax and assorted dataports. In all it is a chic, textured environment, from the blond-wood work area to the dark-wood flooring and charcoal headboard all framing a stark white and welcoming king-size bed. The Taj Land's End has a swathe of services for Club lounge residents - free one-way airport transfer, high tea at the Lounge on the house and complimentary laundering of any two items of clothing.  Executive Suites stretch further to 63sq m. and offer well-stocked pantries. The hotel offers a swimming pool, ample business facilities including meeting rooms and, on select floors, butlers.
At first sight, Bandra's Executive Enclave rises rather incongruously from its residential surroundings. Rooms are generous in size and have the usual mod-cons, if not the fancy variety, and the lights are on the dim side. The WiFi is free but a bit spotty and reaching the plug points need the athletic contortions of a Cirque du Soleil performer. Its rooftop cafe and restaurant sometimes hosts EDM sundowners, but we recommend stepping out for a taste of some of Bandra's best standalones.
Le Sutra is a wee hotel in the suburb of Khar, six kilometres from the Domestic Airport. Claiming to be the world's first Indian art hotel, it is a boutique property with 16 rooms themed around ancient philosophies and legends. The views are rubbish and the rooms not especially large, but the décor helps detract from the size - they are bulging with Indian art and bric-a-brac. You'll find free WiFi, plenty of universal plug points, a wide work-table, an alcohol-bereft minibar and a small, but well-equipped bathroom. Small meeting rooms are available in a neighbouring building. If you don't fall for the charms of Out of the Blue, the in house restaurant, it's just a short walk to the seafront which is bristling with cafés.
Bandra Kurla is not exactly the most salubrious location for a five-star hotel, but what the Trident Bandra Kurla Mumbai (December 2009) lacks in views it makes up for in amenities and facilities. There are 412 rooms and 24 suites on offer here. All are bright with red tones, clean modern interiors and spacious look-in glass-wall bathrooms. Don't forget to pull down the shade before hopping in the shower. Expect iPod dock, WiFi, inroom safe, LCD TV and DVD player.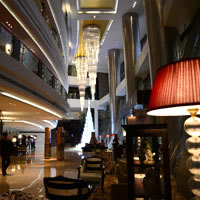 Sofitel mod lobby/ photo: Vijay Verghese
Trident Club rooms are a good bet for business travellers, with complimentary airport transfers and Trident Club access with free breakfast, cocktail hour and all-day snacks daily. There are six meeting rooms, four boardrooms and a business centre to round off the experience. Other facilities include a spa, fitness centre, salon, pool and reference library.
Hotel Sofitel Mumbai BKC (arrived December 2011) is a treat for the senses, successfully taking Sofitel's east-meets-west philosophy to the next level. The attention to detail here is staggering. Enter the hotel and be greeted with a bright, airy marbled lobby atrium dotted with purple cushioned pagodas featuring slanted glass windows, hanging chandeliers and paisley patterned railings on each floor.
There are 302 rooms on offer, all featuring timber floors, purple and black-toned furnishings, LCD TV, internet, daybed, inroom safe, separate shower and bath and telephones in the bathrooms. Remote controls activate the light and heavy blinds, but since the views outside are less than awe-inspiring, leaving them closed may not be such a bad thing. Expect multi-pin sockets, plump white beds set on a raised plinth, long patterned sofa littered with cushions, a white leather chair accompanying a glass work desk (with free WiFi for some guests), Illy coffee, iron and ironing board and top-loading laptop safe with power socket.
Bathrooms are stylish with bright mirror-frame lights for close shavers, a hairdryer, and L'Occitane toiletries. The rain shower is satisfying but the toggle is frustratingly mysterious. A tip - push it up like getting the car into first gear and the water will pour forth miraculously. This niggle aside, an interesting touch is the 'Tale of Two Cities' artworks found in each room. The pieces – following the purple and saffron theme – depict one European monument and one Indian monument on the same canvas. Rooms at this French confection - and it is very French indeed - are angular by design creating an odd sense of space, welcoming for some, confounding to others. The tone is generally dark with a hint of purple woven into the textures both in fabric and glass. Business travellers can book in to the Club Millesime to enjoy additional frills.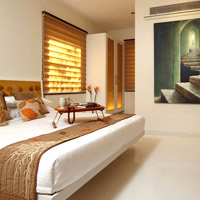 Le Sutra, 'art' hotel/ photo: hotel
The So Spa features gold wood and slate furniture. Try the signature Le Diamantaire facial, which includes 0.5 carats of crushed diamonds to smooth your face. At the So Fit gym, all machines are WiFi-enabled. The Hotel Sofitel Mumbai BKC is among the top choices in our guide to best Mumbai business hotels.
With a location in a clean but uninspiring business area that shuts down after dark, much of the focus is on entertaining and feeding guests. Gourmets will not be left wanting. At one side of the lobby is the open-kitchen Artisan restaurant and plush red diamond-studded Le Bar Diamantaire. Another draw is the Pondicherry Café serving Gujarati and Jain food as well as hotel-made sausages and patisserie selections. The breakfasts - with a lot of South Indian infusions - are delicious, with several innovative styles of egg. Don't forget Jyran, which cranks out excellent Mughlai and tandoori stuff.
The Courtyard Mumbai International Airport is a useful Mumbai business hotel in the BKC district. Don't be fooled by the name – this self-dubbed "four-star premium" Courtyard by Marriott is a high-end property. Upon entering, guests are greeted with a bright high-ceilinged marble-floor lobby atrium. There are 315 rooms and 16 suites on offer here, all with inroom iPod dock, flatscreen TV, rain shower and charged WiFi connectivity. Check out the Executive rooms which offer Executive Lounge access and feature red and wood tones, big windows, glass bathroom and shower, electronic safe, sitting area and complimentary non-alcoholic beverages.
The location is not the best, but the Courtyard makes up for it with friendly service and good facilities, which are attested to by the fact that the hotel is almost always fully booked. There's a fitness centre, pool, separate kids' pool, free WiFi in the lobby, meeting spaces and boardroom, with a spa in the pipeline. Nine meeting and event venues are available, including an 18ft-high ballroom seating up to 400 people.
There's plenty to do in Juhu. Watch a play at Prithvi Cafe, play football on Juhu beach, or go star gazing – almost all of Bollywood has set up house here.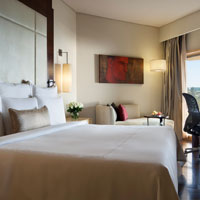 JW Marriott Deluxe/ photo: hotel
Notwithstanding its beachside location, the splendidly revamped JW Marriott Mumbai in Juhu is squarely aimed at the big swinging business traveller, with WiFi, hi-tech data ports in the room, and access to a nearby golf course après CEO chinwag. Secretarial services and translators remain on hand for workaholics. In a 28sq m Deluxe room expect a king-size bed, and soundproof floor-to-ceiling windows that are welcoming of light. Moving up to a 38sq m Premier Club room, get lounge access with seemingly endless bites and cocktails and complimentary business services. If you still need to stretch, the 80sq m Lotus Suite should do the trick with complimentary non-alcoholic drinks and executive lounge access for the usual pampering. And the Presidential Suite weighs in with 206sq m of rumpus room.
Think quiet contemporary decor with pastel tones, fabric headboards, ergonomic chairs, spacious working desks, dark wood floors with rugs, elegant lamps holding up each side of the bed, and occasional peekaboo glass wall bathroom partitions. Lazing sun worshippers can catch some rays by the infinity pool or analyse their chakras at the soothing Quan Spa. Or simply unwind in bed and gazing at the shimmering ocean. The JW is a popular spot for business travellers - and weekend trippers - and brings some MICE muscle to this location as a Mumbai conference hotels choice with 12 meeting rooms, a grand ballroom, and 14,000sq ft of function space. The beach is, well, a city beach. It's a broad expanse but don't expect Phuket.
A little further is the unremarkable but adequate 114-room Ramada Plaza Palm Grove. This is a hotel without the froth and frou frou of its neighbours. Most rooms have an angular view of the sea and are comparatively large, but the minibar with just mineral water, soft drinks and a few chocolates is very limited indeed. The suite is large and provides a DVD player. Storage space is neatly concealed behind a sliding glass door and the bathtub has a Jacuzzi attached. Book through the Ramada website and you'll be rewarded with free airport pickup and drop and free WiFi. Medical tourists wash into the hotel in waves, which might explain its well-designed rooms for the differently abled.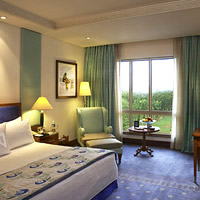 ITC Maratha Club/ photo: hotel
Juhu Residency Boutique hotel is nestled between the monoliths of JW Marriott and Novotel and is a stone's throw from Juhu Beach. The gourmet guest can unwind with a single malt at the luxurious streetside restaurant, Melting Pot. And what better path to somnolence than sinking into soft duvets? Sadly, only Executive rooms offer WiFi and in-room safes.
The scrabbling legions of Mumbai all converge at Juhu Beach in the evenings. Luckily, the Hotel Novotel Mumbai Juhu Beach is located some distance away from the flock, overlooking a quiet strip of sand. The rooms are done up in chic, inoffensive beige and earth tones, each with a media hub for connectivity and entertainment, TV, WiFi, hairdryer, safe and tea and coffee facilities.
There's a decent pool, a sauna, fitness centre and a hammam while its strategic location gives easy access to the airport and south Mumbai. Plus it's a child friendly hotel, offering babysitting services and children's menus.
Watch for the new Taj Santacruz, Mumbai (8 November, 2015), with spacious rooms served by hard working butlers. There's a Jiva Spa to unwind overworked muscles and dining options range from Chinese to Mediterranean. The launch specials start at Rs8,500 plus tax. Taj Santacruz aims to be a solid business traveller address with access to the airport.
In the fast-developing corridor of Goregaon East, business travellers can expect some contemporary comforts and service at the Westin Mumbai Garden City, which opened in January 2010. The 32-storey reflective glass building serves up 269 rooms with a bit more elbow space than most. The Executive Club rooms have all the necessary trappings - iPod docking station, tactile switches, plenty of plug points, free access to the club lounge and Executive Meeting Room. Expect to find the signature Heavenly Bed®, comfortable as a floating cloud, and even a Heavenly Bathroom along with a WestinWORKOUT® fitness centre, the spoiling Heavenly spa, 900sq m of meeting space, and a range of culinary distractions from Italian to Indian.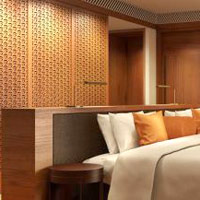 The Chedi Mumbai/ photo: hotel
From Singapore-based GHM a new gleaming highrise sanctuary for luxury and business trippers in the Powai Lake area within striking distance of Bandra Kurla. The Chedi Mumbai (early 2019) rises above Powai in a relatively green residential district favoured by locals and expatriates. The hotel is not too far from the domestic and international airports too, a half hour drive on a good day. The Chedi houses a smart conference and exhibition centre, a unique art auditorium, a cultural plaza, as well as a mix of residences and office spaces. The 312 luxe rooms are spacious and showcase GHM's signature Zen minimalism, woody tones, and textures with clean lines and thoughtfully arranged functionality - a 'home away from home'.
Rounding off this urban oasis is a spa and and wellness retreat. Gourmets can expect considerable pampering at seven stylish restaurant and entertainment venues for power-palates. As GHM's veteran livewire President Hans Jenni puts it, "The food and beverage offerings will set The Chedi Mumbai apart from the rest of the competition." He describes it as a "culinary utopia". GHM brings decades of top-drawer experience to Maximum City and a sensory design infused approach to travel that has won numerous worldwide accolades.
International airport area, boutique hotels
Most of the properties surveyed in this review of Mumbai business hotels are just around a 15-minute taxi ride from the airport and an air-conditioned cab will cost about Rs150. Executive travellers now have a wider selection of accommodation with the arrival of Holiday Inn Mumbai International Airport and Courtyard by Marriott Mumbai International Airport.
The ITC has never shied away from grandiosity and opulence, and so it is with the ITC Maratha Mumbai. The popular ITC One rooms offer in-room check-in, 24 hour butler service, relaxing massage chair, plasma TV, music system and DVD player. Expect a 'Welcome Slumber' gift by your bedside – a set of cotton balls and a band to cover your eyes.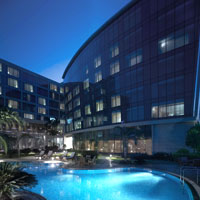 Hyatt Regency/ photo: hotel
The solitary lady traveller need not take fright at the big bad world of Mumbai city – the hotel offers video door phones and caller ID. Indulge at its slew of Indian themed restaurants for an authentic Indian experience – the food is pricey but delicious.
Stumble into the Hyatt Regency and a helpful employee will instantly shimmy forward to help you with your luggage. This high-rise hospitality continues into the rooms which offer up universal adaptors, Wi-Fi and rain showers. The fitness conscious can make use of the complimentary gym with a Pilates machine and squash court. Slip away your cares in the outdoor pool or lie supine while you have them gently smoothed away by the expert hands of masseurs at Club Prana, the wellness spa. A crisp Mumbai business hotel.
Clustered together with the Hyatt Regency and the ITC Maratha is the stately Hilton Mumbai International Airport (formerly the Le Royal Meridien Mumbai), a colonial style hotel with a white domed lobby that features crystal chandeliers and an all-white jazz set used to serenade guests every evening. Its 171 rooms are plush with earthy cream tones and all customary hi-tech accoutrements like WiFi, dual-line telephone, safe, DVD player, iron and ironing board and butler service.
Check-in can be informally done on the move up to your room or at the check-in desk. There are two non-smoking floors, and the hotel is very quiet. Check into the fourth-floor Royal Club and bag a free Mercedes pick-up, 15 pillows and six herbal soaps. That's quite a haul. Expect a small soft toy on your bed for added distraction or in case you lack company for the night. Another thoughtful addition is the indoor winter garden.
At The Lalit Mumbai, prepare to be swept into the Indian-themed rooms by two capsule lifts ascending grandly from the atrium lobby. Expect three fluffy pillows and bath accessories from Kushmi Cosmetics. This is a robust business hotel, not the preserve of the dandified higher echelons. Accordingly, meeting areas are scattered all over the hotel, even by the azure pool waters.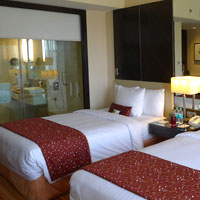 Hilton Mumbai/ photo: hotel
Rooms are comfortably-sized with plug points next to the bed and work table but be warned - WiFi is free only for an hour. Sixth floor guests have access to a business lounge with all the expected accoutrements - printers , fax machines etc. More interesting is Cingani, the cigar shop, tucked away by the coffee shop. Next door, you can partake in the pleasures of the molecular gastronomy restaurant Trendz, and then shimmy the night away at the soon-to-launch Kitty Su.
It's a steep slog into Andheri's Lokhandwala district to reach the gray, glass-fronted Svenska hotel. But Andheri's roiling throb and thrum fades away the moment you enter. The hotel is a celebration of Scandinavian design - wide rooms, clean lines, minimalist décor. The rooms are stocked with all manner of gadgets: iPads, iPods with docking stations, Wii consoles (yes!), free and speedy WiFi (naturally) and flexible workstations with data ports. Other goodies include in-room spa treatment, butler services and plenty of meeting room options. Book early though - Svenska has less than 30 rooms and a constant stream of young actors and businessfolk traipsing through it.
The 11-acre 390-room The Leela Mumbai also has one of the largest shopping areas with everything from carpets and an art gallery, to jewellery shops. At the Leela, Mumbai, the epicure can choose between a host of culinary options to suit any palate, ranging all the way from European fine dining to Southeast Asian. Guests can rest their weary limbs on 'posturepaedic' beds heaped with cushions. Most rooms come with decently-sized work areas, plasma TVs, (paid) WiFi and massage showers unless you plump for the Royal Club rooms perched on the top floors.
The Royal Club on the Leela's 7th and 8th floors is a resort within a resort that offers such indulgences such as a personal butler and concierge, limousine airport transfers, half an hour daily of free Internet at the business centre and a glass of champagne on arrival.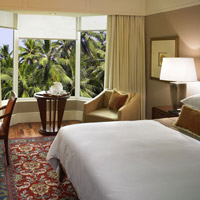 Leela Mumbai/ photo: hotel
That beats the welcome fruit basket any day. All rooms are spacious with sweeping city and pool views. This is a useful conference hotel pick with the grand ballroom holding 700. Alternatively, head to The Spa for some body pampering and ESPA treatments. The Leela Mumbai finished a complete overhaul of rooms and the Spa in late 2010.
Renaissance Mumbai Convention Centre Hotel overlooks the serene waters of Powai Lake and like its name suggests, is a popular address among Mumbai conference hotels with a massive ballroom capacity of 1,750 seated and, at a pinch, up to 7,000 people.
It's suite dreams in its guest rooms with luxurious bedding including custom duvets, clouds of pillows and luxury linens. Plus, each room has a safe, a universal adaptor, work desk and ironing board with iron. The bad news is that it takes upwards of an hour to reach.
Holiday Inn has had a makeover. It looks younger, smells fresher and sounds more contemporary, fitting in with the rebranded Holiday Inns everywhere. It even offers Internet access to and from the airport. There's no more fumbling with housekeeping or laundry either – the telephone One Touch Service guarantees that all needs will be met with the push of just one button.
Opened early 2011, the Hotel Ibis Mumbai Airport offers all the usual accoutrements – 24-hour dining, in-room safe, WiFi, TV, en suite bathroom, coffee and tea making facilities. All this just a 15-minute drive from the international airport.
Tucked away near the International Airport and easy to miss is the welcoming and rather different Waterstones, which has created a boutique space with whimsical design and grafted this onto a large and fully-kitted-out club with large outdoor pool, tennis, gym, and various athletic distractions. The small atrium lobby is all white with flashes of iridescent cushion colours and mosaic columns. There's plenty of light and all manner of bric-a-brac creating a homey and very friendly vibe. There are 95 rooms in all at this establishment that has been around since 2008 but re-emerged as Waterstones in March 2012.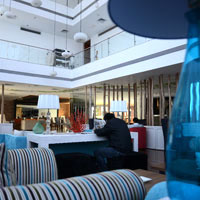 Boutique Waterstones / photo: Vijay Verghese
There's plenty of light and all manner of bric-a-brac creating a homey and very friendly vibe. There are 95 rooms in all at this establishment that has been around since 2008 but re-emerged as Waterstones in March 2012.
Each floor carries a different theme. Expect 400sq ft of stretch space in rooms with suites serving up a spacious 1,100sq ft. Find flat-screen TVs, white marble floors, silken drapes, DVD, large standing tubs, rainshowers and various mod-cons. The Lilly of the Valley room has twin vanities in cream surrounds, hairdryer, a large laptop-friendly safe and small iron and ironing board. There is a generous proportioned living area too, a dining table and kitchenette. A nature themed restaurant is on hand and a sunning patio lined with astro turf beckons, or park at the Waterstones Bar & Grill. On the Rocks is the hotel's small conferencing space. Despite the minor niggle of awkward entrance and rundown surrounds, this is a good pick for travellers who would like something different.
Stays near the (old) domestic airport
Do bear in mind the 'old' domestic airport area is changing with flights slowly moving to the swank new Terminal 2 five kilometres farther down the highway.
Several fresh rooms at the 314-room Grand Hyatt Mumbai launched in August 2011. The 40sq m Grand Rooms weigh in with deep earth tones and olive-grey ribbed carpets, light wood sliding doors revealing the bathing area with tub, power showers and bright lights around the mirror for a really good cosmetic encounter. There is one washbasin.
The washroom is compact but smart and wholly functional. In-room expect a laptop-size safe, iron and ironing board, large bedside tactile light switches reduced to the bare essentials, a dimmer, electric kettle, iPod dock, flatscreen TV, glass work table with data port (with two multi-pin sockets) and stretch room. WiFi is charged but is complimentary in suites. The hotel is mod and littered with art, some of it quite eye-catching. Shopaholics will enjoy the fashion brands adorning its retail space and everyone will enjoy the cuisine at China House.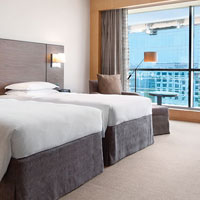 Grand Hyatt twin/ photo: hotel
Business barons at the Courtyard Mumbai International Airport will appreciate the high speed Internet, iPod docking station, flat screen LCDs and data ports in their room. No less loved is the healthy snack tray in the room, perfect for the health-conscious. Courtyard by Marriott is in Andheri, a business and residential hub. Another Andheri East offering with boutique hotel styling (on the inside at least) is The Mirador Hotel with bright rooms serving up 32-inch LCD television, Wi-Fi and herbal toiletries. Club Myra rooms go up to 270sq ft, with parquet flooring, large flat-screen TVs, look-in glass-wall bathrooms and a host of goodies.
Save the hotel, save the world. The Orchid hotel next to the domestic airport recycles sewage and paper, uses solar energy and saves water all the while offering the perfect five-star experience. Ecologically sensitive guests are encouraged to press the Eco button in their room to reduce air-conditioning and win subscriptions to Sanctuary magazine. At the flick of a switch, guests of the Club Privé floor can enjoy 24-hour butler service, but the lack of an in-room safe may hamper some. Now if only other hotels could pluck a leaf out of the Orchid's book…
If you can shut your eyes to the sloppiness that is the facade of Sahara Star and the general tackiness of the decor, the hotel may pleasantly surprise you. It has all the requisite business facilities, including secretarial services, business centre, WiFi, meeting rooms, even a startling boardroom, where you discuss dimes and dollars while fish leap and swirl inside a giant aquarium above your head. Tiny tots may be impervious to the dubious charms of the hotel but mums will welcome the babysitting services and baby products offered.
The somewhat fusty rooms are all named after planets, and boast of motorized curtains, plenty of plug points, LCD TVs, and glass-partitioned bathrooms. Fancy a spot of dinner? Choose from a bouquet of cuisines, including Indian, South East Asian and continental. Plus, located two minutes from the airport, it's a dead cert you'll never miss your plane because of traffic.
Business traveller tips for Navi Mumbai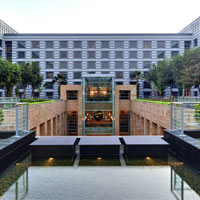 Contemporary 'art space' Grand Hyatt/ photo: hotel
Farther on towards Navi Mumbai, more hotels are in the pipeline to cater for the up-coming Navi Mumbai International Airport.
Four Points by Sheraton Navi Mumbai, is 40km from the centre of Mumbai but only a stroll from the business hub of the Vashi suburb. Rooms are simple and bright with paid WiFi in all rooms, iron and ironing board, coffee and tea facilities, data port, TV and DVD and cable channels. Of the four meeting rooms, the biggest is 478sq m, all fully equipped with audio-visual technology and smart furnishings.
The Park, Navi Mumbai is an urban getaway, a one-hour drive from the domestic airport. Located in the Belapur CBD, rooms range from Rs10,000 to Rs19,000. All rooms have LCD TV screens and high-speed wired Broadband.
Don't bat your eyelids when you suddenly stumble upon what looks like King Louis XVI's palace in Versailles. It's only the startlingly ornate Imperial Palace, Royal Palms Mumbai in Goregaon. Brimming with marble statues and what looks like Renaissance-styled furnishings, the hotel does justice to any discerning business traveller, offering limousine services, personal butler, conference facilities, high speed Internet connectivity, WiFi, and secretarial services.
Rodas Hotel promises plenty of good karma together with top-notch facilities. Sister concern of five star ecotel Orchid, Rodas is committed to green, a fact its website prominently trumpets. Rooms have jute slippers, herbal bath accessories in keeping with its earthy policies. It's no slouch when it comes to business facilities either, offering boardrooms, conference rooms and banqueting facilities with all the latest audio visual paraphernalia.
Budget hotels and guesthouses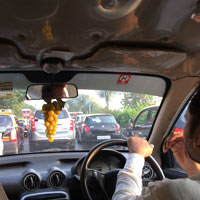 Stranded in traffic, again/ photo: Vijay Verghese
There are many cheap guest houses around Colaba – in fact, every third building offers some kind of accommodation. The best Mumbai budget hotels to explore would be the Sea Green Hotel or Chateau Windsor along Marine Drive. Near the airport there's Suba International, the hotel that's driving all the techies crazy – it uses an iPod Touch to control lights, room service, pay bills and connect to the Internet.
At around US$50 per day, these digs offer a television with cable service, a balcony view and, at Sea Green, you also get a minibar. Simple but adequate – just aircon rooms with modern bathrooms, satellite TV and electronic safes.
Are you hankering after those pink bath slippers and five kinds of gel?
Send us your Feedback / Letter to the Editor
FAST FACTS

/ Hotel Contact List

General taxes: There is a 6 percent government tax on hotel bills. Restaurants charge an additional 23.5 percent tax and health clubs charge an extra 8 percent. Apart from the fixed taxi fare, an additional fee is charged for service. Anything more than a handbag costs an extra Rs5 and charges increase depending on the size of baggage.

Hotel taxes: 10 percent Luxury Tax on room rates. The exchange rate is roughly US$1=Rs82.37.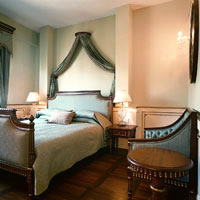 Gordon House/ photo: hotel
Any hotel rates listed here are rule of thumb only and will vary vastly depending on time of year and method of booking. Always check for the best available rate (BAR) on the internet or check with your local agent. In general prices will range from about Rs4,500 at cleaner budget establishments to Rs8,500 for deals at airport area hotels and Rs12,000 at high end five-star hotels. The highest bracket could touch Rs20,000 or more.
Mumbai business hotel guide
Abode. Tel: [91] 8080-234066, (abodeboutiquehotels.com).
Ambassador. Tel: [91-22] 2204-1131, fax: 2204-0004, (e-mail: ambassador@vsnl.com or www.ambassadorindia.com).
Courtyard Mumbai International Airport. Tel: [91-22] 6136-9999, fax: 6136-9988, (www.marriotthotels.com/hotels/travel/bomcy-courtyard-mumbai-international-airport/).
Executive Enclave. Tel: [91-22] 6696-9000/ 2649-0227, fax: 6696-9001/ 2649-6973, (e-mail: enclave@vsnl.com or www.executiveenclave.co.in).
Four Points by Sheraton Navi Mumbai, Vashi. Tel: [91-22] 2781-7777, fax: 2781-7979, (e-mail: reservations@fourpointsvashi.com or www.starwoodhotels.com/fourpoints).
Four Seasons Hotel Mumbai. Tel: [91-22] 2481-8000, fax: 2481-8001, (www.fourseasons.com/mumbai).
Grand Hyatt. Tel: [91-22] 6676-1234, fax: 6676-1235, (www.mumbai.grand.hyatt.com).
Hilton Mumbai International Airport. Tel: [91-22] 2838-0000, fax: 2838-0101, (e-mail: bomap_res@hilton.com or www3.hilton.com/en/hotels/india).
Holiday Inn Mumbai International Airport. Tel: [91-22] 4085-1800, fax: [91-22] 4085-1828, (www.ihg.com/holidayinn/hotels/us/en/mumbai).
Hotel Ibis Mumbai Airport. Tel: [91-22] 6708-7777, fax: 6708-7778, (www.ibis.com/gb/hotel-6367-ibis-mumbai-airport).
Hotel Marine Plaza. Tel: [91-22] 2285-1212, fax: 2282-8585, (e-mail: rvs@hotelmarineplaza.com or hmp@sarovarhotels.com or www.hotelmarineplaza.com).
Hotel Sofitel Mumbai BKC. Tel: [91-22] 6117-5000, fax: 6117-5001, (e-mail: h6451@sofitel.com or www.sofitel.com/gb/hotel-6451-sofitel-mumbai-bkc/).
Hyatt Regency. Tel: [91-22] 6696-1234, fax: 6696-1235, (e-mail: india.reservations@hyatt.com or www.mumbai.regency.hyatt.com).
Imperial Palace, Royal Palms. Tel: [91-22] 2871-6000 / 6713-3000, fax: 28716100, (e-mail: reservations@imperialpalacemumbai.com or www.imperialpalacemumbai.com).
ITC Grand Central Mumbai. Tel: [91-22] 2410-1010, fax: 2410-1111, (www.itchotels.in).
ITC Maratha Mumbai. Tel: [91-22] 2830-3030, fax: 2830-3131, (www.itchotels.in).
InterContinental Marine Drive. Tel: [91-22] 3987-9999, fax: 3987-9600, (www.ihg.com/intercontinental/hotels/gb/en/mumbai).
JW Marriott Mumbai. Tel: [91-22] 6693-3000, fax: 6693-33100, (www.marriott.com/hotels/travel/bomjw-jw-marriott-hotel-mumbai/).
Juhu Residency. Tel: [91-22] 6783 4949, fax: 6783 4950. (e-mail: reservations@juhuresidency.com or www.juhuresidency.com).
Le Sutra. Tel: [91-22] 2649-2995, fax: 9819-8037, (e-mail: reception@lesutra.in or www.lesutra.in).
Hotel Novotel Mumbai Juhu Beach. Tel: [91-22] 6693-4444, (www.novotel.com/gb/hotel-6926-novotel-mumbai-juhu-beach).
Ramada Plaza Palm Grove. Tel: [91-22] 6737-1605, fax: 2611-3682, (e-mail: reservations@ramadaplaza-juhu.com or ramadaplaza-juhu.com).
Renaissance Mumbai Convention Centre Hotel. Tel: [91-22] 6692-7777, fax: 6692-8899, (www.marriott.com/hotels/travel/bombr-renaissance-mumbai-convention-centre-hotel/).
Rodas Hotel. Tel: [91- 22] 6693 6969, fax: 6693-6979. (e-mail: info@rodashotel.com or www.rodashotel.com).
Sahara Star. Tel: [91-22] 3989-5000, fax: 3989-5001, (e-mail: reservations@saharastar.com or www.saharastar.com).
Svenska. Tel: [91-22] 4431-0000, fax: 4431-0011, (e-mail: luxury.mumbai@svenskahotels.com or www. svenskahotels.com).
Taj Lands End. Tel: [91-22] 6668-1234, fax: 6699-4488, (e-mail: landsend.mumbai@tajhotels.com or www.tajhotels.com/luxury/city-hotels/taj-lands-end).
Taj Mahal Palace. Tel: [91-22] 6665-3366, fax: 6665-0323 /24, (e-mail: tmhresv.bom@tajhotels.com or www.tajhotels.com).
Taj Santacruz, Mumbai. (E-mail: Sales.tajsantacruz@tajhotels.com or www.tajhotels.com/luxury/city-hotels/taj-santacruz).
The Chedi Mumbai. (www.ghmhotels.com/en/mumbai/).
The Gordon House Hotel. Tel: [91-22] 22894400, fax: 2289 444, (e-mail: sales.mumbai@ghhotel.com or www.ghhotel.com).
The Leela Mumbai. Tel: [91-22] 6691-1234, fax: 6691-1212, (e-mail: reservations.mumbai@theleela.com or www.theleela.com/locations/mumbai).
The Mirador Hotel. Tel: [91-22] 4248-5000, fax: 2826-9009, (e-mail: reservation@themirador.com or www.themirador.com).
The Lalit Mumbai. Tel: [91-22] 6699-2222, fax: 6699-8888, (www.thelalit.com/hotels-in-mumbai).
The Oberoi Mumbai. Tel: [91-22] 6632-5757, fax: 6632-4142, (e-mail: reservations@oberoigroup.com or www.oberoihotels.com/oberoi_mumbai/).
The Orchid. Tel: [91-22] 2616-4040, fax: 2616-4141, (e-mail: res@orchidhotel.com or www.orchidhotel.com).
The St Regis Mumbai. Tel: [91-22] 6162-8000, (e-mail: stregis.mumbai@stregis.com or www.starwoodhotels.com/stregis/).
Trident Nariman Point. Tel: [91-22] 6632-4343, fax: 6632-5000, (www.tridenthotels.com).
The Westin Mumbai Garden City. Tel: [91-22] 6147-0000, fax: 6147- 0101 (e-mail: westin.mumbaigardencity@westin.com or www.westin.com/mumbaigardencity).
Trident Bandra Kurla. Tel: [91-22] 6672-7777, fax: 6672-7788, (e-mail: reservations@tridenthotels.com or www.tridenthotels.com).
Vivanta by Taj President Mumbai. Tel: [91-22] 6665-0808, fax: 6665-0303, (www.vivantabytaj.com/president-mumbai).
Waterstones. Tel: [91-22] 4090-6633, fax: 4090-6632, (www.waterstoneshotel.com).
Mumbai budget hotels
Chateau Windsor. Tel: [91-22] 6622-4455, fax: 2202-6459, (e-mail: info@cwh.in or info@chataeuwindsor.com or www.chateauwindsor.com).
Sea Green Hotel. Tel: [91-22] 6633-6525, fax: 6633-6530, (e-mail: mail@seagreenhotel.com or www.seagreenhotel.com).
Suba International. Tel: [91-22] 6707-6707, fax: 6707-6777, (e-mail: reservations@hotelsubainternational.com or www.hotelsubainternational.com).