BUSINESS TRAVEL
Beijing business hotels review
A detailed guide to luxury hotels for business travellers or leisure trippers and some stylish fun designer boutiques as the massive Daxing Airpot opens. 'App' taxis and tips for corporate meetings with a Beijing shopping guide for the intrepid.
updated by Vijay Verghese and Staff Reporters
SEE ALSO Small meetings in Asia | Beijing nightlife | Chengdu fun guide | Xian fun guide | Shanghai business hotels | Guilin | Sanya fun guide | Hangzhou | Shenzhen business hotels | Hong Kong Business Hotels | Tokyo | Seoul | China coast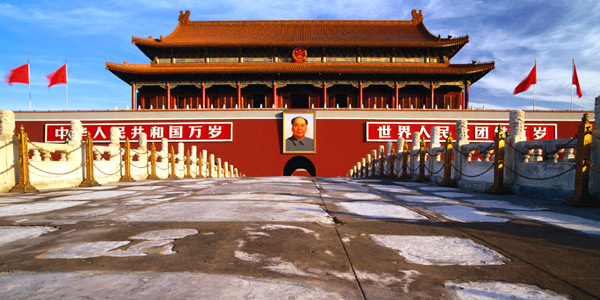 JUMP TO Beijing Airport | New and Central area business hotels | Hip Sanlitun boutiques and Luxury picks | The East | The North | The West | Boutique hotels | Yanqi Lake MICE | Beijing shopping guide and duty-free | Hotel Contacts
THE AMAZING Beijing experience begins as your flight starts its approach through crisp blue winter skies or that impenetrable, unpredictable, smog. There's enough time to get oriented as it's rare for flights to get in, or leave, in timely fashion with Beijing's notorious thrill-or-kill weather.
This means you'll have ample time to explore the cavernous Beijing Capital International Airport (www.beijing-airport.com/) with its soaring red pillars - even if you sensibly arrived early morning for a pink-eye departure that has best chance of a clean getaway. The place dwarfs pretty much everything inside and around.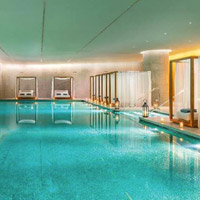 Bulgari Beijing,extensive 1,500sq m spa with pool/ photo: hotel
And to the south of the city, 46km from Tiananmen Square, the massive Beijing Daxing International Airport (daxing-pkx-airport.com/) opened 25 September 2019 with an expected capacity of 72 million passengers by 2025. With its iconic starfish design, this is easily the largest airport in the world with four runways (that can rise to seven) and a 700,000sq m terminal.
Marvel at the burgeoning hotel choices sprouting everywhere. With more luxury hotels than you can shake a stick at keep an eye on these blue-ribbon new faces and pipeline developments - BVLGARI Hotel Beijing (www.bulgarihotels.com/beijing) that opened 2017 in the Chaoyang embassy area, with 119 rooms, a stylish 1,500sq m BVLGARI Spa, 25m swimming pool and a 520sq m ballroom for gala events; InterContinental Beijing Sanlitun (www.ihg.com/beijing/) that opened August 2016; Mandarin Oriental Wangfujing (March 2019 www.mandarinoriental.com/beijing/wangfujing a newer venture - the old CCTV Tower project is still in the deep freeze) in a classical-meets-contemporary style; The Puxuan Hotel and Spa (January 2019 www.urbanresortconcepts.com/the-puxuan/) by Urban Resort Concepts that also runs the darkly handsome The PuLi in Shanghai; MUJI, and the hipster CHAO Hotel that has brought fresh spark to Sanlitun with its industrial grunge that borders on grand.
But back to the old Beijing Capital International Airport. Designed by Sir Norman Foster to resemble a coiling dragon, Beijing International Airport's Terminal 3 has a floor area of a million square metres and took Rmb21 billion, 50,000 workers and four years to build. Bigger than the combined size of all Heathrow's terminals, it's just one of the many contemporary flights of fancy across the capital that sprang up prior to the 2008 Beijing Olympic Games. Add to this, the humungous and even bigger Daxing facility with its smooth transport and transfer facilities (20 minutes to town on an IntercCity train and about the same on the subway for between Rmb24-Rmb35) and you have the makings of a metropolis with mega-connections. Airlines destined for Daxing include China Southern, China Eastern, and British Airways. Others like Malaysian, Ethiopian and Finnair will operate out of both airports.
Beijing is an immense but neatly arranged city. The ancient city was built on two axes, with concentric ring roads emanating from the Forbidden City. The modern city is largely following suit: the 760-hectare Olympic Green lies directly to the north of the Forbidden City, and a sixth ring road has been completed a while back. It all looks very straightforward on a map, but the traffic is choking, so choose your hotel location carefully and allow plenty of travelling time. The city's liveliest area for dining and drinking is Sanlitun, which is just east of the historic centre. More in our fun guide to Beijing nightlife and dining.

Slide Show

E-mail Page

Print

Hotel Contacts
Beijing Capital Airport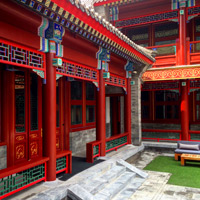 Waldorf Astoria hutong villa for a luxury stay/ photo: Vijay Verghese
Beijing Capital Airport consists of three terminals and six concourses. Most domestic and international flights arrive and depart from Concourses C-E in Terminal 3, except the majority of Chinese domestic airlines which use Terminal 2 or 1.
From the airport, the quickest (16 minutes) and cheapest (Rmb25) way to reach downtown is via the Airport Express (www.bjsubway.com). The 28km light-rail express line has four stops: Terminal 2 and Terminal 3 of the airport, and two in the city, at Sanyuanqiao (with transfers to metro Line 10) and Dongzhimen (with transfers to metro Lines 2 and 13).
Airport-bound trains depart Dongzhimen between 6am and 10.30pm at 10-12 minute intervals. City-bound trains depart Terminal 3 from 6.21am until 10.51pm and Terminal 2 from 6.35am until 11.10pm.
Airport buses run from Xidan, Beijing Railway Station, Gongzhufen, Fangzhuang, Zhongguancun, Wangjing Beijing West Railway Station and Shangdi to Terminal 3, with shuttles between the terminals. Personal vehicles and taxis should take the Airport Southern Line exit from the Airport Expressway.
Send us your Feedback / Letter to the Editor
As you exit the airport, ignore the taxi touts to head to the basement and jump in an authorised cab (the meter starts at Rmb13 and goes up in Rmb2.3 increments per kilometre after three kilometres) for the 45-minute or so trip downtown. There is virtually no English spoken so make sure to have the hotel address in Chinese characters or, better still, call the hotel and have them direct your driver in Chinese. There is an extra Rmb10 charge for the Airport Expressway toll and an Rmb1 fuel surcharge on every trip. A regular taxi from the airport's Terminal 3 to The Ritz-Carlton in Chaoyang will cost around Rmb100. By mid-2017 'app cabs' hired through smartphones were on the prowl with better cars, faster service and GPS coordinates to ensure you arrived at the address of your choice. Such a cab in reverse from The Ritz Chaoyang to the airport, is about Rmb150, or about 50 percent more expensive.
On inner city hops they are well worth the extra change as it will make all the difference between a successul business foray and an epic traffic-logjam-and-no-cabs disaster. On then with our Beijing guide and a Beijing luxury hotels review, some wild boutique digs, and sensible business options.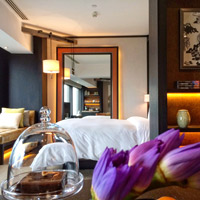 Rosewood Beijing, smart rooms/ photo: Vijay Verghese
Bringing its own special brand of contemporary smarts for transit passengers and those requiring a stay near the airport is the Cordis Beijing Capital Airport (formerly Langham Place Beijing Capital Airport). This playful 372-room hotel (opened 2010) with Djs in the lobby and an art gallery, serves up large beds, oversize baths, flat-screen LCD TVs with DVD players, iPod docks and, of course, Wi-Fi.
Rooms start at 45sq m. The two-floor Club L will keep business suits entertained with Internet stations, a pool table, games and, yes, a boardroom. Also available are conference and meeting spaces playfully termed in airport-speak, Foxtrot, India, Juliet, Kilo, Lima… Dance the night away at Fuel, sample Chinese at Ming Court, or enjoy the work and play vibe at Portal. It is a 30-minute drive into town and around 15-20 minutes by train.
It takes less than four hours between Beijing and Shanghai by high-speed train these days, making this a very popular option for zipping between the two powerhouse cities. Unlike China's notorious airports, the trains run precisely to time and deliver you much closer into the city centre. Seats are comfortable with individual power sockets so you can work (or watch movies) en route. 'G' trains from Shanghai mostly arrive at Beijing South Railway Station. Remember to keep your ticket as you'll need it at both the entrance and exit gates. Like most of the new-generation train halls around the country, Beijing South is well facilitated by fast food restaurants (Starbucks, KFC etc) and smartly integrated into the wider transport network. Follow the signage to reach the official taxi queues in exhaust-choked underground corridors on either side of the station. They invariably stretch for miles, so if your luggage is manageable, a speedier option is the subway.
The metro entrance is directly within the train arrival hall. Make sure you have Rmb1 coins as the automatic ticket machines, bizarrely, only accept coins even though the rest of Beijing seems resolutely intent on using the older Rmb1 notes. All subway trips in Beijing cost just Rmb2 – an absolute bargain, with the added benefit of avoiding the eternally constipated traffic. Beijing South Railway Station metro stop is on Line 4, just a few stops from several major interchange stations. The high-speed rail network connects the capital with major cities across China; it takes around five and half hours to Xi'an, just over four hours to Shenyang and a mere 33 minutes to Tianjin.
New Central, South Beijing business hotels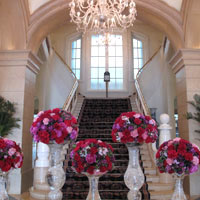 Historic Raffles Beijing swaps name to Beijing Hotel NUO/ photo: Vijay Verghese
Beijing business hotels span all genres and styles. In this section we visit those around the ancient heart of the city. Let's start with a Beijing grand dame. The deflagged former Raffles Beijing Hotel (from 30 Nov 2016) re-emerged 1 December as the Beijing Hotel NUO on stately Chang'an Avenue close to Tiananmen Square is the capital's oldest hotel building and something of a Beijing institution. When the Beaux Arts-style building opened in 1917, it boasted the city's first private baths with flush toilets, and telephones in each room. In what direction its new management plans to take it remains to be seen but the group has a strong focus on luxury.
Despite now being sandwiched between dour wings of the old Beijing Hotel, a US$12 million renovation has revived the nostalgia and romance of its early 20th century heyday, complete with Venetian chandeliers, marble staircases and Persian carpets.
The 171 rooms blend French whimsy and chinoiserie while discreetly integrating modern toys for today's travel elite, including flat screen TVs in gilt frames, free WiFi and a 24-hour valet for every guest. We particularly like the nine "Personality Suites" that range from around 70sq m to 80sq m and are dedicated to luminaries associated with the hotel – from Deng Xiao Ping to Charles de Gaulle (who forged bilateral diplomatic ties between China and France here in 1964). Accessed via Beijing's very first lifts and creaking floorboards, the split-level suites are adorned with four poster beds, rich carpets in muted but resolute tones, an old-world sofa, large wooden work desk with complimentary WiFi (in public areas too), small lampshade chandelier, a wooden almirah, bedside clock with a classic face and a large flat-screen TV. Bathrooms feature a bathtub, rain shower and twin vanities. For business suits there's a flat laptop-friendly safe.
Behind the original building, a skylit atrium connects a '90s tower, which now houses 77 Executive Rooms, with access to a sleek executive lounge, gym and indoor swimming pool. Signature French restaurant Jaan seats just 40 beneath vaulted arches alongside the original 1926 sprung wooden dance floor. East 33 is an all-day dining restaurant offering an international spread, while the distinguished Writer's Bar has comfy leather armchairs and "Beijing Sling" cocktails – adapted from its Singapore parent's famous recipe.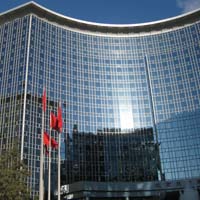 Grand Hyatt's iconic curved facade/ photo: Vijay Verghese
Just across the pedestrianised Wangfujing with its teeming shoppers and Beijing shopping malls (from kitsch to high end), the Grand Hyatt occupies an enviable location above the popular Oriental Plaza shopping mall, which has a handy basement supermarket. The hotel is housed in a sleek arc of reflective glass smack next to offices and shopping. Taxis stream up frequently. Standard rooms are sleek, if somewhat small, while the higher rooms offer views over the winged rooftops of the Forbidden City. Quibbles about ageing rooms have been laid to rest with a steady overhaul worth almost US$30 million that brought 400 new rooms to the active inventory in 2014.
Grand Premium rooms, Grand Suites, and Grand Studios have all upped the ante. A 68sq m Corner Grand Suite is a neat and modular affair for pin-stripers on the go. A cream marble foyer leads to a tan ripple carpet in-room. While the rooms are polygonal and the bedroom a tad compact, wraparound views are on hand through floor-to-ceiling windows that are welcoming of light. A generous living room with clean pastel shades, textured blonde wood and gold satin curtains plants the decor firmly in the realm of contemporary sensibilities where a MICE magnate or a leisure diva might be equally at ease.
Clean uncluttered minimalism is the mantra here coupled with functionality, like the data-port by the glass-top work desk with two three-pin multi-plug sockets, two USB charges (a thoughtful touch), and electric sockets (multi-plug) on either side of the bed. The raised living room coffee table that can double as a work desk is paired with a large purple sofa and a clever use of mirrored walls adds to the sense of visual space and light.
Also find a classic clock, iPod dock, and plain white tactile switches for electrical room commands. Fret no more about 2am light-switch panic. There are two flat screen televisions – one in the bedroom, and one in the living room. The bathroom, while not large, is bright and well ordered, with an uncluttered washbasin ledge (for all your stuff, not hotel impedimenta), a brightly-lit mirror, vanity mirror, bathtub and power shower cubicle. The drawers are similarly emptied of junk so you can stow your clothes with ease. Expect a laptop-friendly safe and an iron to winkle out those stubborn creases along with an espresso machine for your morning cup of Joe.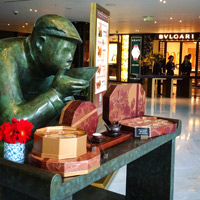 Peninsula's new lobby with bronze statues, mooncakes and designer brand shopping/ photo: Vijay Verghese
The Grand Suites are a bigger version of this elegant and restrained format with a larger rectangle bedroom (some with twin beds), a walk-in closet and patterned white-on-olive-grey carpets. Dark chocolate velvet easy chairs will get your morning newspapers off to a flyer. For the best views, pick room numbers ending in 25 to 35.
These are positioned along the centre of the building's curve. Apres-work there's the flamboyant Club Oasis, with a 24-hour gymnasium, massage facilities, solarium and lagoon pool surrounded by stone columns, waterfalls, luxuriant foliage and a virtual sky.
The ever-popular Made in China restaurant serves up some of the best Peking duck in the capital from its wood-fired oven. Pick from the vast dim sum menu too and one of the best hotel breakfast spreads we've tasted, where you can sample many of Beijing's traditional morning street food favourites. This is one of the best Beijing business hotels in town. It may not be as personal or intimate as some, but it is fiercely brisk and efficient.
Mandarin Oriental Wangfujing (March 2019) overlooks the Forbidden City, with a 25m indoor pool, and bright four-poster-bed rooms in a contemporary Chinese style with blue patterened carpets, and plenty of natural light. A 60sq m Mandarin Room offers floor-to-ceiling windows and marble bathrooms with rain shower, twin vanities and Dyson hairdriers.
Sitting just off Wangfujing behind a traditional painted gate, the wing-roofed Peninsula Beijing offers emperor-worthy accommodation. Originally opened in 1989, the Peninsula may not look as cutting edge as its peers at first appearance, but a major renovation has transformed the interiors and public areas of this Beijing landmark where superior service and classic corporate comforts are a given. Up on the roof, on a good day, huge views open up to Wangfujing and the hutong surrounds (the roof bar is under renovation). The white marble lobby, where you'll be welcomed by beaming crimson-lipped white-capped and suited door women, runs in a 'U' (right in the middle an arrow-straight grand staircase rises up to the ballroom) with comfy seating set all around in hushed surrounds overlooked by designer labels of every hue – the luxury shopping arcade includes the likes of Harry Winston, Bulgari, Graff, Cerruti, Hermes, and Bottega Veneta, with Chanel and Louis Vuitton each taking up two-floor residence at either shoulder of the hotel.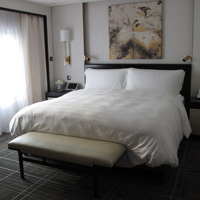 Bright rooms with grey pastels: Peninsula's new-look rooms/ photo: Vijay Verghese
Of an evening a band may take up the beat on a grand piano and double bass with drums and tinkling percussion. Large bronze hunched sculptures add a touch of whimsy to the lobby surrounds and it is next to them, in season, you might spot the hotel's celebrated mooncakes. It is likely you might spend some time here enjoying a splendid afternoon tea.
Grey honeycomb carpets lead to the rooms at this 525-suite address. A 60sq m Deluxe (with a king-size bed or twin ensemble) is a match for any suit or leisure traveller, with tablets for full room electronics control and more, marble bathroom with 19-inch TV, living room in pale grey pastels and Frette bed linen. The remake offers clean whites and cream with flashes of blue amidst the grey and tan. Furniture is in slender dark wood with divans and sofas in cream tones. Expect a fax/printer (in every suite), a valet cabinet, black-and-white rich veined marble floors overlaid with grey cross-hatch carpets, all in powder pastels, a table with data-port offering a three-pin Chinese crow's feet plug socket and a two-pin plug point plus HDMI and USB connections, large flat-screen TVs (behind chic pull-up panels), monochrome art, and flip-out electric socket panels in the bedside tables (also with a crow's foot three-pin and a two pin).
There are assorted charging cables bedside too. A black-frame screen door leads into the white-marble-walled bathing area with twin vanities, a power shower, soaking tub, set on grandly contrasting black marble floors. Tasteful artefacts adorn the desk and cabinets with paintings behind the bed. Executive Suites stretch to a grandiose 102sq m, enough rumpus room for a major corporate chinwag or a family soiree, while each Beijing Suite (there are two per floor) serves up a jaw-dropping 165sq m of space with a soaking tub with a window view in the master bathroom and a private movie theatre.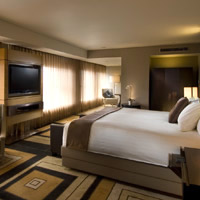 Hilton Wangfujing Suite/ photo: hotel
The Peninsula Spa features Oriental, Ayurvedic and European wellness treatments for women and men in lush surrounds, while the fitness centre and an indoor pool await for more strenuous workouts. Shed calories, sweat, oil up, or get a relaxing rubdown, all on the third floor. This is among the best Beijing business hotels, and with good reason, and is in high demand with a good downtown location. The renovation has injected fresh spring in its stride. Mark it down for your corporate meetings or business travel diary.
Close to both the Pen and the Grand Hyatt, the 255-room Hilton Beijing Wangfujing is a premium mould-breaking "lifestyle" Hilton property. Although part of the Macau Centre, which sits right on the shopping promenade, you enter from the rear of the complex. This gives the hotel an intimate feel, enhanced by a stylish beige marble lobby with fireplaces and clubby grey sofas.
Hilton plays up the design cachet throughout – especially in flamboyant restaurants Chynna (a vaulted white ceiling cavern that does an incredible Rmb128 all-you-can order dim-sum and Chinese for lunch) and Vasco's for international fare – and features a 24-hour gym and business centre, spa and indoor swimming pool.
Carefully considered rooms start at 50sq m and come with a large walk-in wardrobe and neatly tucked-away bag rack. The open-plan bathroom features a deep-soak tub, some looking onto the city, double-jet massage showers and Crabtree & Evelyn products. Other top-level in-room amenities include 42-inch flat screen TV, DVD player, iPod docking station, VGA plug-in cable, pillow menu and even a pet goldfish to keep you company. Executive rooms include fax/printer/copier, on-call concierge team and access to the Executive Lounge with views of the Forbidden City. The hotel can arrange corporate meetings for 50 to 200 in smart hi-tech surrounds. And The Library is always on hand with chocolate treats to welcome guests to the "dark" side.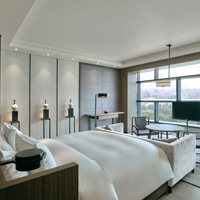 PuXuan Grand Room/ photo: hotel
Due by early 2018, The PuXuan Hotel and Spa, on Wangfujing with many of its 116 rooms looking out across to the Forbidden City, promises a luxury experience with a personal touch. It's DNA is drawn from Shanghai sibling The PuLi, so it won't surprise you to spot some of that rustic chic in the wooden floors, clean straight lines and angles, zen minimalism, and dark wood trim. A Deluxe starts at 40sq m with a Grand Deluxe Room (with its view over the Forbidden City) at 50sq m.
A stylish PuXuan Suite stretches to over 142sq m while a 2-Bedroom Puxuan Suite is 220sq m of luxe rumpus room. Expect lots of natural light, generous rectangular soaking tubs, flat screen TVs and invitingly plump white beds.
The interiors are hushed and soothing to the eye and the absence of clutter encourages line of sight to extend beyond the room to the city outside. URSPA is open from 10am to 10pm and specialises in customised treatments spread across two floors. Pop in for a massage, sauna, steam, a scrub, or a delicate facial. The gym is open 24 hours. Gourmets can pick from Rive Gauche - Le Bistrot, Fu Chun Ju (Cantonese), and other snuggeries.
The Tea Room does what it says with flair, while The PuXuan Club is another departure from the cookie-cutter club lounge norm with 24-hour access for a select few and thoughtful amenities.
The PuXuan will specialise in small corporate meetings and intimate events with a range of versatile venues from a 40sq m meeting room to the 245sq m rooftop terrace. While smack in the middle of Beijing's main humming tourist area and walking distance to several points of interest, the hotel's location close to an Airport Express bus stop makes for speedy, and painless getaways. It is around a 40-minute drive when traffic is kind to T3. This is a Beijing luxury lifestyle hotel - an urban retreat - that promises to be unique enough to be in your top list of choices for a pampered stay in the Chinese capital. Make a note.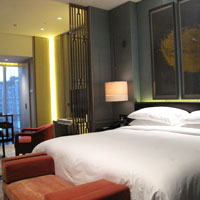 Waldorf Premier/ photo: Vijay Verghese
Right around the corner is the Hilton family's luxe-end Waldorf Astoria Beijing (opened February 2014), a bold construct like a giant gold Dali picture frame with neatly arrayed windows. When the evening sun catches it, setting off the entire ensemble in dazzling bronze, the effect can be startling – stunning, over-the-top, or puzzling, depending on your point of view. The building is not large, with just 171 rooms within its square frame, plus a characterful shale-roof hutong villa complex set around garden courtyards with pools and connected to the main hotel by an underground walkway. Our pick would be the grand standalone West 'Hutong Courtyard Villa' with its red lacquered walls and shale exteriors, underground pool, steam room and sauna. This is over 1,000sq m of space with a 150sq m master bedroom with four-poster bed and lavish interiors. The East hutong is a collection of four villas that can be individually rented out.
Hotel interiors are hushed, dark and coddling. Along with the de rigueur slathering of textured marble and dark timber floors, the lobby mysteriously presents dimly-lit snuggeries and alcoves with pinpoints of soft light. This level is where you'll find the street-facing clubby orange-hued Peacock Alley for drinks and light nibbles and the all-purpose Brasserie 1893 that does breakfasts and more. (One floor up is the Chinese Zijin Mansion where mouthwatering Wagyu beef cubes with green chili and crisp fried lamb strips with coriander await.) Carpeted corridors set up a narrow grid that cuts through the enveloping twilight pointing the eye towards intriguing objets d'art including an eye-catching face with crimson come-hither lips. Occasional give and creak underfoot provides homey assurance as you head to your room through orange passages.
In a 55sq m Premier King Size room, deep brown darkwood flooring, grey surrounds and black lacquered wardrobes are offset by orange cabinet interiors (not unlike an Hermes gift box). Decor follows straight lines in neat squares and rectangles mimicking Chinese interlinking patterns. Spot this on carpets and the metal room partitions. Salvatore Ferragamo toiletries await in the grey-marble bathroom with square-jowled twin vanities, a bathtub with LCD screen, and a Japanese electronic potty eager to demonstrate a versatile range of ministrations for your demanding derriere.
Faucets are delightfully - and thoughtfully - old fashioned with extra-large brass taps that are a joy to operate. The rain shower and hand-jet are similarly idiot proof with separate brass knobs for each device. You won't need an A380 pilot's license to operate any of this.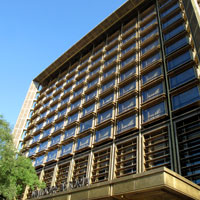 Waldorf Astoria 'picture frame'/ photo: Vijay Verghese
The foyer, dressing area and bathroom, lead on to a bright bedroom ensemble with a powder teal blue silk veneer on the walls, large mirrors, a proudly plump sink-in bed under a large triptych, facing a generously proportioned flat-screen high definition television. The bed may prove too soft for some but, come evening, it will swallow you whole nevertheless and deliver you fresh for another day's business. Instant-on pull-out reading lights are well positioned in the headboard and the three-pin multi-plug sockets on either side of the bed are a nice touch but the large tactile light controls are just out of comfortable fingertip reach. No matter, most items are dealt with via a Samsung tablet that belts out commands for everything from lights and temperature to menus, drapes and TV. Just remember to keep it charged.
The study and living area serves up a tan carpet, sofa, a red easy chair, a second TV and a slim rich burnt-Sienna table facing a full-height window. A flip-out data-port reveals two three-pin sockets. Elsewhere in the room spot two-pin and three-pin crow's-feet local plug points. An elegant box under the table contains all imaginable connecting cables for your various devices. Plug in and party. The dressing-room safe is laptop-friendly and other distractions include a Nespresso shot machine, iPod dock and BOSE sound. WiFi is complimentary. Rooms in general start at 45sq m and the hutong enclave has more stretch space in varying proportions. Service is friendly, attentive and brisk. To burn calories head to the basement for a spa rubdown, a workout at the fitness centre, or a dip in the small indoor heated pool. The Waldorf is the group's ace up the sleeve in a downtown location somewhat overburdened with quality rooms.
With a downtown location next to multinational offices and government buildings, it also presents a splendid venue for small corporate meetings with an accent on style. There is space for up to 200 persons. This is a property in a very different mould from the Shanghai edition, which is housed in a historic building. Waldorf Astoria Beijing is modern, classy, and unrelentingly comfortable. A more varied and fuller breakfast menu would be welcomed by suits and leisure trippers alike but transport has improved. The use of apps to catch cabs has shortened waiting times for taxis as the Wang Fu Jing area can get crowded at times.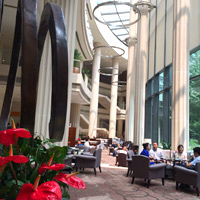 Regent Beijing airy new-look lobby/ photo: Vijay Verghese
Also close to Wangfujing, the Regent exemplifies contemporary urban class. The design by Hirsch Bedner Associates delights with clean lines, glass lifts and pretty splashes of violet, but also integrates ornate traditional carvings from the owner's sandalwood museum. The great Sunday brunches mellow into Weekend Brunches outdoors (during summer), and you can tuck into prime steaks on leather club chairs at American steakhouse Morton's and savour swish Italian fare at Daccapo.
The sun-dappled cream stone and marble lobby is brisk, airy and bright with nice green views through tall glass walls. The minimalism will appeal to business travellers on the go. All 500 rooms come with plasma TV, DVD, floor-to-ceiling windows, coffee press and lemongrass-infused bath products. Think light pastels, woody surrounds, marble bathrooms, and an occasional four-poster bed. Premier rooms start at 45sq m with Executive rooms stretching 60sq m to 70sq m. It is worth, however, paying extra for access to the Executive Club nestled at the top of the hotel – where soaring windows offer dazzling sunset views of the Forbidden City. This is an excellent location for a small corporate meeting on the go and The Ballroom can accommodate up to 420 persons for a banquet. Spend some time too in the Serenity Spa with its 12 treatment suites.
Why have a trite souvenir shop in the lobby when you can have an Aston Martin showroom? If you are not in the market for a posh car, a light-bathed gym, and heated swimming pool with "floating" pool tables and bar round out the excellent facilities. The affiliated four-star Park Plaza adjoins the hotel.
Just opposite The Regent, the Legendale hotel is an uncompromisingly baroque, Parisian confection seemingly plucked off the Seine and plonked down in Beijing. It is a breathtaking, if incongruous, edifice. Step inside to marvel at the astonishing faux-Euro flourishes – marble busts, chandeliers, bronze statues, and carpets deep enough to swallow your foot.
With a sibling in Macau (the Landmark Hotel), the level of opulence is unsurprising. The 390 rooms circle a central, well-lit atrium, offering plump beds, drapes, ornate bathrooms, a large laptop-size safe, free plug-in Broadband, an iron and ironing board and classic Roman numeral clocks. An adjoining tower offers 79 apartments and a popular Portuguese and Chinese restaurant.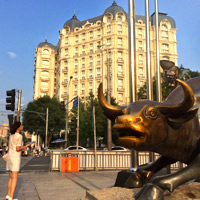 Baroque Legendale is not just ornate bull/ photo: Vijay Verghese
Just past the cathedral on Wangfujing, the ageing Crowne Plaza's freshly renovated look belies its mid-range rates. Its 360 cheery rooms feature fashionable carpeting, small flat-screen TV, and frosted glass bathroom. A soaring lobby is home to the comfortable Atrium Lounge and Champagne Bar.
Correspondent Phil Hawkes says, "If you're a believer in the old adage 'small is beautiful' then you won't find a hotel in Beijing any smaller, nor more beautiful than Cours et Pavillons, the love child of a Beijing businessman and his wife, who have created this four-room Ming Dynasty masterpiece in Beijing's central Weijia Hutong. Seemingly, no expense has been spared with architects and engineers to transform the original heritage buildings into an oasis of calm contemplation around a traditional central courtyard."

Guest rooms are tastefully furnished with genuine Ming and Ching antiques but the real surprises are the modern yet discreet facilities which bring the hotel into the 21st century, such as a cloud-like bed; a large flat screen TV that rises from the foot of the bed; free WiFi; complimentary minibar; a huge bath and rainshower; quality Hermès toiletries; a hairdryer with diffuser (that women will appreciate) ; and a selection of tastefully selected books on Chinese art and architecture.Importantly for Beijing, air and water are treated using a modern purification system.
A gourmet breakfast is included and if the Ming citizens were fond of muesli, yoghurt, fresh fruits, freshly-baked breads, eggs, smoked salmon and pancakes then they'd be right at home here. Dinner is a reservation-only affair, in an intimate space seating only 18 guests and the menu is classic French, as is the Michelin-rated chef.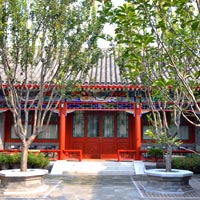 Cours et Pavillions courtyard/ photo: Nicole Tujague
The set courses start at a trifling US$250 per head. Including matched wines, naturellement. Cours et Pavillons is a Beijing boutique hotel for leisure connoisseurs but may also appeal to business travellers seeking peace and quiet. It's a perfect spot to entertain an important guest. Another three-room sibling is in the pipeline in a nearby hutong.
A brief drive south of Wangfujing, near the Temple of Heaven park, the 309-room New World Beijing Hotel (22 November, 2013) serves up a modular, futuristic and functional space, within hailing distance of the serene Temple of Heaven, Qianmen and Beijing Railway Station. This is a lowrise, old district and the hotel blends in with a modern beige stone construct that rises a few floors above the buildings without unduly ruffling the skyline. This is not a steel-and-glass tower yet the interior is unabashedly modern with Chinese touches, like the darkly inviting lobby bar with its black wall fountain and illuminated calligraphy. The lines are straight and clean.
The cream marble runs effortlessly, neatly demarcating well-managed and well-thought-out space for business travellers. The cosy and mod sales-chat room to one side of the lobby is a case in point, where deals and event enquiries can be managed quietly. Given its easy proximity to Beijing's ancient sites, this is an address for leisure travellers as much as executive suits. The rooftop bar Yin extends the calligraphy theme with giant hanging paintbrushes lining the corridor. Outdoors is a beer garden style alfresco space with breezy views in all directions. And yes, there are two private karaoke rooms for the vocally inclined. Lobby-level Tian Tian Kitchen with its basket-weave ceiling is an all-day dining spot in a contemporary format with open kitchens and giant lollipops. And just up from the lobby, 8 Qi Nian, serves up delectable Chinese dishes.
A 61sq m Deluxe Room offers seeming acres of bright space in a long open-plan room mixing rough-finish wooden parquet flooring with a central carpet featuring a blue tidal swirl. The fabric is in grey-blue tones with a white wood table flanked by cream chairs and a data-port with one three-pin multi-plug socket and a second outlet with two additional options. WiFi is free. Speeds are adequate but guests may upgrade at a small fee for greater bandwidth if required.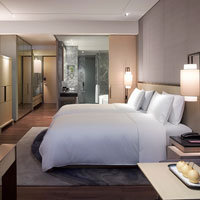 New World Beijing view/ photo: hotel
The classic bedside clock is the only old-world throwback in this smart and contemporary space that has eliminated most hotel clutter. There is a charging point at either side of the bed (these may need an adapter).
Two corner sliding doors next to the bed reveal a stylish modern mottled-grey marble bathroom with rainshower cubicle, soaking tub, a walk-in closet with laptop-friendly safe and brightly-lit mirror. A Superior room weighing in at 47sq m is shorter but similarly fashioned, minus the walk-in closet. Find an iPod dock and a settee too.
At this fresh iteration of New World, things are different and upbeat. For a welcome drink in-room, expect a soup of the day served warm. No juvenile cocktails with twee umbrellas here. And everywhere is that deep crimson wood flanked by impenetrable black, to remind you that you are in China. A ballroom with 1,542sq m of function space for events and corporate meetings is on hand for the MICE set, and for an unwind, expect a health club, spa and indoor swimming pool. Bringing distinctive and high quality five-star service to Chongwenmen, this centrally located hotel is an interesting choice.
Down the road from New World is the same company's mid-range hotel brand. Pentahotel Beijing (formerly Courtyard by Marriot Beijing) is a well-priced Beijing hotel choice that ticks all the right boxes for both leisure and business travellers, with lashings of style and smart extras to boot.
The heaving lobby of this self-described 'neighbourhood lifestyle hotel' doubles as a cool living room, complete with a pizza kitchen, noodle café, bar with inviting leather armchairs, pool tables and sports on big screens. It's all very industrial-chic and funky. There are 307 fuss-free and functional guestrooms starting from a squishy 29sq m, up to a very decent to 56sq m. Go for one of the newly renovated Pentaplus rooms, with large windows letting in plenty of light, blonde wood floors, a super comfortable bed with luxe linens, 37-inch LCD TV, plus a large work desk with multi-plug points.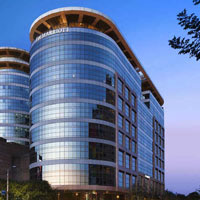 JW Marriott Hotel Beijing Central/ photo: hotel
Bathrooms are small but manageable. Try and avoid rooms by the elevators, as soundproofing is a bit suspect. WiFi is free throughout the hotel and you can whizz off to the nearby Temple of Heaven, Pearl and Silk Markets on a complimentary pentafun bike. It's two minutes' walk from the hotel to Chongwenmen metro station. All in all, a very well-priced, convenient and comfortable Beijing hotel.
Nearby, JW Marriott Hotel Beijing Central (opened 2014) as the second JW in the capital. The name is a tad misleading, it's well south of the Forbidden City, convenient to Beijing South Railway Station (4.5km) and a short walk from Xuanwumen metro station (Lines 2 and 4). This is a conference hotel for business travellers and its grand ballroom is an expansive 800sq m. The 19-storey hotel offers 412 guestrooms starting at a spacious 46sq m. Rooms are plain but well equipped, with large work desks, three-pin multi-plug power points, comfortable executive chair, LED TV and bedside control panels. Expect rust settees, tan carpets, iPod docks, dark woody hues with gold accents. Large marble bathrooms have powerful showerheads, a bathtub and good lighting for make-up or a shave.
A good option for long-stay guests is one of the 18 Residence Suites equipped with full kitchens, dining/lounge areas and separate sleeping quarters. There are also 12 Sky Garden Suites with open-air garden balconies. True to their name, these suites serve up a great deal of space, from 103sq m.  Enjoy a shot of Joe from your very own Krups coffee machine. Alternatively, go for a Club room (floors 15-19) that gets you access to the Club Lounge with complimentary breakfast and evening tipples. The 'happy hour' here runs from 5.30pm to 9.30pm – quite a stretch.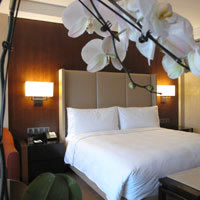 JW Central room, corporate tones/ photo: Vijay Verghese
Find a meeting room that can be yours for two hours, and three work stations including a Mac. The lounge also features an outdoor terrace with lounge chairs and city views – peer closely and you can make out the golden roofline of the Forbidden City.
The wellness facilities are located on the top floor and include a 24-hour gym with latest-gen LifeFitness machines, a whirlpool, steam and sauna, and a 24-metre swimming pool beneath a peaked glass roof. Man Ho is JW's signature Chinese restaurant for fancy Canto cuisine, Casalingo is a casual Italian restaurant and wine bar, while the Lobby Lounge adjoining the immense, light-marble lobby is a cool spot to mix work and pleasure, with TV screens, desk-portals and a sexy sit-up bar. If you're up for a bit of adventure, ask the Concierge to point you in the direction of Liu Li Chang, an old lane beginning just behind the hotel that was a favoured haunt of scholars, painters and calligraphers who gathered here in ancient times. The street is still lined with small shops selling folk art supplies, from calligraphy brushes and parchment to books, pottery and chops. It's a fascinating spot to explore and, if you can find your way through the tangle of intriguing old hutongs, you'll eventually reach Qianmen and Tiananmen Square.
Hip Sanlitun boutiques, luxury picks
If you're in need of a hip and happening hotel in Beijing with all the trimmings, you can't go past Swire's 99-room small luxury hotel, The Opposite House. Designed by Japanese architect Kengo Kuma, the emerald cube glass exterior gives way to minimalist, Zen interiors around the central atrium, which look more like a mod art gallery than a hotel. Sunlight filters through a giant gauze drape, creating a kaleidoscope of mood and light as it encounters red glass walls, brushed oak floors and a giant Perspex medicine cabinet in the lobby. This constant interplay of light and colour is just one more element that separates this playful, multi-textured hostelry from stiff-neck cookie-cutter establishments. Where else would you walk into a lift chamber called "The Egg"? Well, boil me up Scottie.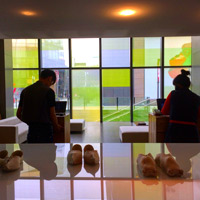 Opposite House, chic and minimalist/ photo: Vijay Verghese
Equally space-age, is the absence of a reception desk. Guests are whisked through the check-in procedures by hosts in Jetsons-like uniforms wielding futuristic digital clipboards and cameras, taken past changing lounge sculptures and art works, then beamed up in glass lifts to the keycard-protected residence floors. Ninety studios and nine suites feature minimal Zen lines and easy-to-use electricals with a do-all button switching on the lights. Expect heated floors, personalised service, and the soothing golden hues of American oakwood. Deep soaking bathtubs are constructed entirely of wood and the kick-ass sound system is wired all the way through to the rainshower. A ribbed rough-wood floor provides traction for the feet so you won't skid around post shower.
Other touches include a swivel flat-screen TV (LISTEN UP - with the volume controlled via the DVD player), comfy bed, free WiFi, work table, stacked data-port, four multi-pin electrical sockets, and an evening turn-down face mask with a hand written note inviting you to relax and slough off the day's grime and stress. The flat laptop safe is rather slim and a gauze drape slides down the glass partition to partially protect the modesty of whoever is soaking in the tub. The full-length windows are welcoming of light and, should anyone across the street choose, a fair amount of scrutiny. This is not one-way glass. People can see in but there's adequate window texture to keep you and your Victoria's Secrets safe. Ladies and long-maned men will appreciate the satisfyingly powerful hairdryer that emits a B747 growl when it gets into stride. This will somewhat offset the fact that the bathroom is a tad dark for a proper shave and makeup.
A level below the hotel, Bei Space, is a 180sq m meeting space specially designed to offer versatile set-ups for small corporate meetings or more. The space can handle banquets and exclusive fashion shows. Expect good useful props like a projector (that can be positioned as suits), overhead screens, and quality sound system.This is a chic striped-down facility with a minimalist feel and exposed ceilings. The Opposite House lies at the southern end of The Village at Taikoo Li Sanlitun, Swire Properties' colourful retail and entertainment development, and close to the infamous Sanlitun bars strip.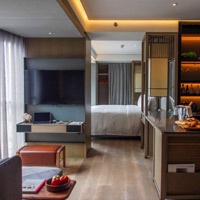 CHAO Hotel, Sanlitun, designer space, Baby Suite 50/ photo: hotel
But then, why step outside when it's always hopping inside, thanks to Chinese restaurant Jing Yaa Tang that does a mean Beijing roast duck, southern European hottie Sureno, and lobby Mesh (see Beijing nightlife for more about these venues). Sanlitun is the spot for cool Beijing shopping in all stripes.
Also in Sanlitun, a new hip addition to the designer hotel scrum is CHAO Hotel with its converted warehouse industrial chic appeal, timbered floors, minimalism, and smart rooms from 40sq m up with Nespresso, artisanal teas, pale woody decor and a free minibar to 'make you feel at home'. What a splendid idea. Our pick would be a higher-floor and bright CHAO Baby Suite 50 with flat screen televisions, lounging space and open views. There are several innovative dining options as well as a pool to work off excess calories.
CHAO Hotel is also an excellent offbeat choice for stylish small corporate meetings in a non-formal setting. The 85sq m Board Room is on hand along with the 205sq m Glasshouse for up to 200 people, and na intimate 600sq m Ball Room for modestly bigger events. The woody Scandi surrounds are appealing for their simplicity as well as the intelligence of design. There is also a 260sq m Cinema Club for small private screenings. CHAO Hotel is an interesting option for a boutique-style conference with intimate spaces unlike large faceless MICE venues.
A high end hotel for business travellers is the InterContinental Beijing Sanlitun where 45sq m Executive Rooms offer views of the entertainment district in curved environs in pale grey with flashes of purple that will attract metrosexuals. Look forward to complimentary WiFi, 48-inch smart TVs, Nespresso machines and complimentary soft drinks in the mini-bar. Suites start from 70sq m and offer a similar contemporary space. The hotel offers meetings facilities too.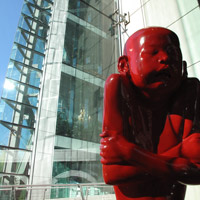 Eclat Beijing whimsy/ photo: Vijay Verghese
Situated next to the Parkview Green mall in the convenient, developing neighbourhood of Fangcaodi is the Hotel Eclat Beijing that pushes whimsy to extreme limits and actually gets away with it. Walk in through the art lobby littered with eye-popping curios including the whale-morphed-into-submarine bronze sculpture and catch a glass lift up if only to marvel at the pint-sized love-seat sofa. The 102 rooms start from the 16th floor. Every level has a Dali sculpture (imitation of course) and some unique quirk that will have your camera clicking in no time. For example, you'll spot gold Buddha statues, a grand piano or a collection of limited edition pedal bicycles from the likes of IWC, Ferrari, Gucci, Chanel and others.
Pale brick walls lead through quiet corridors to a 35-38sq m Deluxe room with a granite-floor entrance that gives way to dark wood timber in the bedroom area. Find a Panasonic massage chair, Blu-ray DVD and a Samsung 3D television plus B&O music system, iPod dock and three multi-pin sockets at the wooden work desk. There's an Illy coffee machine, a compact bathing area with partial view of the bedroom from the tub (the glass partition turns opaque at the flick of a switch), and a laptop-friendly safe for pin-stripers on the go. The transparent plastic chair is from no less a design personage than Philippe Starck.
The Deluxe Pool Suite carries the fine-tuned extravagance further. A spacious and airy living room leads to an outdoor pool and patio with a sofa arrangement. Enjoy a workout bike or grin at the bowler-hat hanging lamps above the dining table. While its Taipei sister property trips up trying to squeeze a lot of fun into a small space, here things are better thought out and planned.
This is a genuine top-rung Beijing boutique hotels choice with quality finishes, a sense of style and never-ending distractions.
Despite all this, rooms are functional, welcoming and bright. And, should you need a pick-me-up in the morning, simply stroll across to Parkview mall to marvel at the playful Miss Piggy (with tattoos and nipple show-through). Yes, there's one in Taipei too. This is a hotel for people who think they are different. And it will work for those with more pedestrian tastes too.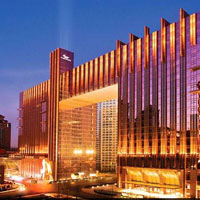 Dramatic Fairmont exterior/ photo: hotel
Not too far from the Park Hyatt, the Fairmont Beijing (opened 2010) is a futuristic reflective glass construct that towers over the landscape like an angular sharp-cornered bag handle with a cutaway right in the centre opening up views, light and air. It is an unusual eye-catching design, meant to resemble a contemporary city gateway (they're big on those in Beijing) with a reflective pink hue that will not appeal to all in a city where architectural whimsy is de rigueur.
Walk in to spot a riot of texture and patterns, gold, tiles, and more. The hotel offers 222 rooms and suites with BOSE sound, cordless phones, Nespresso coffee machines, 42-inch flat-screen TVs and look-in glass-wall bathrooms with oversize soaking tubs and walk-in rain showers as well as electronic toilet seats that will have Japanese guests enraptured. The young at heart can play with the yellow rubber ducky.
Expect dark-wood furnishing and cabinets set off by bright cushions, a work desk, and plenty of stretch space. If you're counting and your eyes are up to it, the bed linen is in 400-thread count. That's smooth enough for frazzled executive bottoms as well as luxury leisure trippers. A cherry-wood work desk serves up a data-port with two multi-pin sockets, and an iPod dock. While WiFi is charged, one consolation is the big laptop-size safe. Later, get a rubdown at the Willow Stream Spa.
The Grand Millennium Beijing arrived in April 2008, with 521 rooms, a spa, indoor swimming pool, sauna, and butlers on the executive floors. Part of Fortune Plaza, it is close to the new CCTV headquarters and The Place shopping.
The adjacent TVCC building, which was to house China's first Mandarin Oriental was damaged by a fire in January 2009. After an internal re-build, the hotel group has announced a late 2015 return to the capital.
So understated that it is often overlooked in a city devoted to in-your-face opulence, the St Regis Beijing is among the top Beijing business hotels. It is located in the leafy diplomatic quarter smack in the downtown central business district. While the exterior is an unremarkable, if neat, box with neatly spaced windows, the interiors are where this hotel's bouquet is best experienced. Staff is brisk and welcoming and the doorman is handy with cabs (that can prove elusive at peak times). The cream marble lobby makes an impressive first impression with its high ceilings, European black-shade chandeliers, and sweeping marble staircase.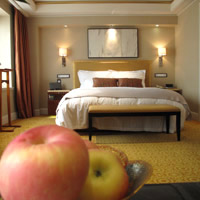 St Regis. classic lux/ photo: Vijay Verghese
The gleaming lobby is formal, intimate and in a firmly classic mould, polished to perfection. The entire place has been refurbished with hallmark classic touches – Chinese quilts, bronze artefacts, gleaming wood cabinets, flat-screen TVs with DVD and, of course, butlers to do your every bidding 24 hours a day. The 255 rooms all have Club access. Earth tone corridors lead to rich mahogany doors that say "corporate traveller".
Walk in to a marble foyer leading to a pale ochre-carpeted room. A 50sq m Diplomat Deluxe room serves up a curved cherry wood desk with the bonus of a side table for work impedimenta, two russet-tone chairs, a plump white bed garnished with a floral silk cushion, black marble-top coffee table with curved cabriole legs and comfy brown sofa. Also expect Bose sound, generic dock for your iPod and other gear, large flat-screen television set in a classic wood cabinet, large light switches, and a single three-pin (multi-socket) bedside electric charging point. A small dressing room (with laptop safe with power socket, an iron and ironing board) is set to one side of the compact yet bright white marble toilet.
Soak in a tub or enjoy a power shower slathering on Remede Spa toiletries. This is an unfussy old-fashioned hotel for business travellers. There's nothing fadish here. It's all genuine functionality - like the useful ATM machine in the lobby, close by the jazz bar. And the in-room power extension cable with SIX multi-plug sockets will please the most hardboiled gadget freak. This is no Muscle MICE hotel but a smart spot for power chats in any one of nine meeting spaces, the largest of which is 4,413sq ft.
Barely contained in a neat tall grey building is the eye-popping energy of the W Beijing - Chang'an that assails you as soon as you step into its dark bling lobby with the pulsing W Lounge bar and a signature red W at the end of a floor-level fashion runway. Blue crystal roof rods blink, lights reflect off mirror panels and, just outside, life strolls by almost street-side. The main road is in fact hidden by a wall but…
A 50sq m-plus 'Wonderful' room serves up a marble foyer with an open-plan circular bathtub facing the bed that sits atop pale-wood herringbone parquet. A pull-across drape separates the bathroom from the bedroom but, for romantics, this will be academic. Expect a flat-screen TV, a conveniently decorated 'selfie' mirror, a swivel settee, small black desk, blue floral carpet and large movie-set light on a tripod.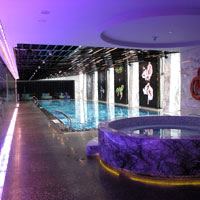 Fantasy swim at W Beijing/ photo: Vijay Verghese
The de rigueur mood lights behind the bed can be adjusted to bring up your current hue. There is a coffee maker, a walk-in closet, rain-shower, free WiFi, and a flat top-loading safe that will manage a laptop.
A spacious corner 'Marvellous' room offers a bit more stretch space, two flat-screen TVs, a white circular tub, twin vanities, and three-pin multi-plug sockets along with local Chinese sockets. Expect the usual 400 thread-count sheets and a pillow menu. Later, unwind in the inviting blue pool set in a darkened chamber with fantasy paintings and underwater music. There is a gym, and a spa too, so evening workouts, light or therapeutic, can be easily arranged. Brisk service, quick smiles, and short waits for taxis perhaps.
Shangri-La manages four Beijing properties, most of which lie within spitting distance in the eastern Chaoyang district. In keeping with Shangri-La's group-wide initiative launched in January 2009, all hotels offer free WiFi throughout. A big corporate thumbs-up.
The 486-room Kerry Hotel Beijing (formerly the Kerry Centre) forms part of an office, residential and retail mall complex. The mid-November 2011 rebranding represents the group's foray into a less rigid business hotel model with an emphasis on lifestyle and more than a dash of gee-whiz design and features. The lobby has been completely transformed from dowdy wood to bright white marble welcoming of both light and space. At one corner the Centro bar is a happening meet-up spot with live music and fancy people.
An entry-level 34sq m Deluxe comes with a white marble floor foyer leading to a pastel grey tiger-stripe carpet. Everything is in pale earth tones with some light wood to offset it. Find a long, tan-leather table, with data port, two three-pin multi-plug sockets, a long reclining settee, and a classic clock by the bed that sensibly lights up when you lift it up.
A large digital clock blinks at you through the mirror in the bathroom ensuring you don't dawdle overly - though the LCD screen will be a distraction - while a Japanese potty awaits to electronically perform discreet ablutions. It all starts with the bottom. The toilet seat lights up discretely at night to ensure you find your way after that boozy night out. There is a rain shower with what is a essentially a non-slip floor, an iron and ironing board for razor-sharp creases.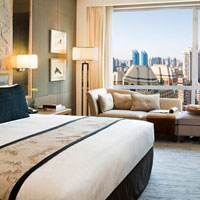 Smart Kerry Deluxe/ photo: hotel
It is an attractive room albeit with an old fashioned and small box safe that may just stretch to house a tiny notebook, but not more. Two features which set the Kerry apart are paperless check-in and check-out as well as complimentary use of the minibar. Suites up the ante with BOSE sound and iPod docks as well as Nespresso machines.
A jewel in the crown is the 7,000sq m Kerry Sports Centre that out punches the competition by a mile. It is the largest in the CBD with over 90 items for fitness fanatics. Expect free weights, cardio workouts, treadmills, steps and personal trainers. Cycle, row, jog. Switch on the LCD screen and sprint through Auckland if you're bored or pootle up steep Californian hills.
And arriving mid November 2013 was the colourful and spacious Adventure Zone for kids and out-of-shape minders. Think slides, stomach-churning vertical drop-slides, obstacle courses, party rooms and a Hello Kitty water dispenser and you get the drift. The vertical red slide is not for the faint hearted. But there are varying drops for every level of derring-do.
There's also a colourful and spacious Adventure Zone for kids and out-of-shape minders. Think slides, stomach-churning vertical drop-slides, obstacle courses, party rooms and a Hello Kitty water dispenser and you get the drift. The vertical red slide is not for the faint hearted. But there are varying drops for every level of derring-do.
Adventure Zone offers 2,000sq m of play room - including tiny tot toilets and a role play area with dolls-house police station, fire station and bank - at Rmb100 for hotel guests (one entry, Rmb200 per day), and Rmb7,500 for members. Later, swim in the large covered pool and then imbibe some classy calories at the Horizon Chinese restaurant with its birdcage design, carved pale wood patterns and delicious menus. Try the wood-smoked duck.
The 716-room China World is about as "Imperial Beijing" as it gets – all lacquered red columns, Ming vase lamps and carved staircases. Things tone down in the guestrooms, decorated in comfortable neutrals with Internet access and a flat screen TV. Aria is a mod-European restaurant with a fine wine selection and live jazz. The fitness centre features a heated indoor swimming pool and an Oxygen Room, and there's an extensive shopping mall in the basement. Shangri-La's four-star Traders Hotel that shared China World's five-star fitness facilities and luxury shopping has ceased operations to be replaced by Hotel Jen. (see below)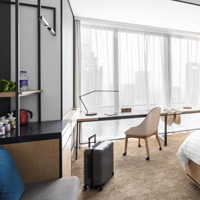 Hotel Jen, bright and contemporary - Jen 40 room/ photo: hotel
Yet another hotel by the brand is the China World Summit Wing Hotel, which opened in August 2010 in the China World Tower – rising 81 storeys above the China World Trade Centre, shopping mall and exhibition hall. Although slap bang in the heart of the bustling business district, it only takes around 15 minutes by taxi to reach the Forbidden City and Tiananmen Square.
In an attempt to provide a more bespoke and personal service, the hotel has limited its number of rooms to "only" 278, all of which are located on the upper floors with jaw-dropping views. These are also some of the most spacious hotel rooms in the city with the standard Executive starting at a generous 55sq m. Other boutique flourishes include a goodie box in the room filled with your favourite treats (they will send you a questionnaire in advance) and fresh "fortune cookies" at turn down.
In-room facilities include Nespresso coffee machine, well-stocked minibar, tea pot with posh teas, writing desk with multi-plug sockets, 40-inch flatscreen TV, DVD, a handy reading light built into the bed's headboard, iPod dock, Internet, iron and board and laptop-sized safe. The marble bathroom contains a separate powder room area, a soaking tub, 15-inch flat screen TV within the mirror, separate rainforest shower and L'Occitane toiletries (Bulgari in suites and above), and complimentary bottles of Welsh spring water. Rooms have a cosy contemporary design with charming Chinese elements such as traditional landscape paintings above the bed.
Also expect a 24-hour gym, infinity pool, CHI Spa, four restaurants, lounge and two bars including Atmosphere on the 80th floor – among the highest bars in Beijing. There is also a convention centre featuring the 2,340sq m Summit Ballroom and 772sq m China Ballroom, plus 12 large meeting rooms.
Come by car or land on the helipad. The entire hotel has a bold, funky and contemporary decor with cute touches such as breakfast snacks served on a real piano. Expect big bursts of zesty colours, eye-catching art and chill-out tunes.
The latest 2017 addition to the Shangri-La family is the mid-range and fun 450-room Hotel Jen Beijing, which is part of the China World Complex in Guomao where rates may be in the vicinity of Rmb1,199. That's a steal for this location. The hotel promises to put guests in a special 'state of mind' with a two-floor 3,500sq m fitness area, free WiFi, the Beersmith Gastropub to re-imbibe some calories, an all-day dining restaurant, purified air (which means a lot in Beijing), and a 'co-working' space for young entrepreneurs on the go.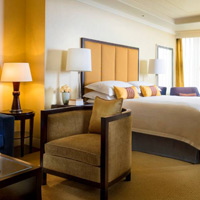 Hushed Four Seasons suite / photo: hotel
In-room expect up to eight USB ports and international plug sockets, plenty of natural light, contemporary decor, a work desk, and a steam iron to stay fresh for morning meetings. Try a bright 40sq m Jen Skyline room with floor-to-ceiling views over the city. It is worth noting that up to two children under six staying with parents can eat free at the buffets.
There's yet another Shangri-La out west, just past the Beijing Zoo. This pleasant garden hotel's 142-room Valley Wing, is full of top-end delights like Michelin-star chef Yannick Alleno's adventurous S.T.A.Y fine-dining restaurant, complete with its own Pastry Library, and a 1,000sq m CHI Spa dressed in rich, earthy chocolates and ochres, with teak sliding doors and traditional Tibetan artefacts.
Ladies should try the 150-minute "Empress Imperial Jade Journey", designed especially for CHI Beijing. Based on Empress Cixi's beauty regimen, the treatment features a lotus milk bath, milk and honey wrap, and pampering jade facial using golden caviar and a customised piece of jade to massage along the meridians.
Towards the northeast of this sprawling city on Liang Ma Qiao Road, Chaoyang, is the plush Four Seasons Hotel Beijing facing a side street with a sun-drenched beige marble lobby, floors polished to skidding intensity, and large calligraphic brush strokes framing reception counters. Staff is alert and responsive, a huge compliment in Beijing where service can be patchy even at top establishments. The 313 golden-hued rooms are decked out in contemporary fashion with tan carpets, teal sofas, classic work desks and rich mahogany carved wood screens.
Tall standing lamps and bedside lamps create a homey feel and bright silk cushions provide the punctuation in this clean, well-ordered space. The 43sq m Deluxe serves up Illy coffee machines, dark wood floor with a khaki carpet under the bed, and large bathroom with lots of natural light. Fancy a tub soak? It's next to the window.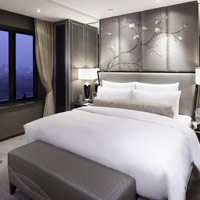 Kunlun Beijing Club Deluxe/ photo: hotel
The work desk data port has two three-pin multi socket plug points and a deep maroon easy chair is on hand for the morning newspaper. The design is classic (with cherry-red mahogany chests of drawers) yet modern (with clean lines and flat tones).
The large tactile electrical switches are a joy. No fiddling about at night here. The 66 roomy Suites up the ante with 730sq m or more of stretch space with the de rigueur down duvets and pillows (hypoallergenic pillows are available on request), iPod docks, generous flat-screen televisions, espresso machines and complimentary shoeshine.
Work out at the high-floor 20m indoor pool with broad views of the city, sweat out some calories at the fitness centre, sample a wellness escape at the atrium Spa (looking up at a flutter of steel butterflies) with facials, scrubs and massage (while you work out what "bioelectric" technology means), or work flat-out at the 24-hour business centre for suits on the go. The Four Seasons Beijing is a swank address for the discriminating set and if the location works for you, this is clearly a standout Beijing business hotel.
Just off the 3rd Ring Road and a little closer into town from Four Seasons, also in upper Chaoyang, is The Kunlun Beijing, from Jian Jiang Premier Hotels, an all-in-one confection in the "grand" Chinese style. Think gold-hued lobby with green columns, offbeat corporate meetings or events in the KTV Glass House that has 17 private rooms for all occasions before morphing into a swinging club at night, a health centre for massage, a fully kitted gym, beauty salon, and the Reiki Spa. Dining ranges from a spreaqd of Chinese cuisines to Japanese and Korean. A 35sq m Deluxe will get you a room kitted out with a large desk and pale cream woody tones, 42-inch television, in-room safe, and sundries like iron or DVD player on request.
A 45sq m Club Deluxe offers complimentary broadband, mini-bar, and aromatherapy to woo business travellers. The smart rooms are in grey pastels with floral headboards. Lamps, heavy drapes and large settees create a homey feel with rich accents.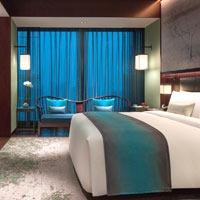 NUO Hotel Beijing deluxe/ photo: hotel
A meeting room may be booked for up to four hours and late checkout is the norm. Suites are vast, from 162sq m up. The hotel weighs in as a Beijing conference hotels contender with 2,750sq m of function space including the Kunlun Ballroom (800sq m) and 15 function rooms for events. This is a more formal counterpoint to the Glass House and should satisfy most requirements from product launches to conferences and weddings.
Veteran correspondent Phil Hawkes believes the new kid on the block, NUO Hotel Beijing (opened mid-2015), is certainly one to watch. Here's why. First, it's a totally Chinese-owned and managed operation, part of a large development called the NUO Centre in the Chao Yang district, located close to the airport freeway. The 438-room address is five star luxury all the way and there's a sister property in the same complex, the Tangram Hotel which bills itself as three star, but punches well above its class while offering excellent value.
More interestingly, NUO is unique in that it represents Ming Dynasty culture and style (something the hotel assiduously patronises and showcases in its fine collection) with beautifully designed interiors and furnishings, and period art and antiques. Yet the contemporary 21st century blends perfectly with the 16th, in the form of "green" and sustainable practices such as top-drawer air and water purification, emphasis on select foods in the extraordinary food hall, and a well equipped gym.
In a 41sq m to 48sq m Deluxe enjoy soothing pastel tones, woody accents, Ming-vase-blue flourishes, 300-thread-count linen cosseting, pillow menu, goose down bedding, iron and ironing board and a generous 48-inch flat-screen television with BOSE sound.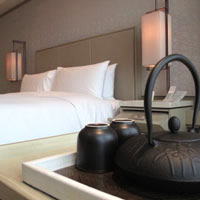 Conrad Beijing tones/ photo: Vijay Verghese
Apres work guests can unwind in a marble bathroom with soaking tub and rain shower. Or they might head to the spa and health club with its 25m heated pool. Try out the 'NUO Tea Journey'. For corporate meetings and events, there's 2,500sq m of versatile function space including a 1,600sq m grand ballroom. There's plenty to distract and entertain guests at this contemporary chic Chinese address. Definitely worth a look even if you're a die-hard Four Seasons or Rosewood fan.
A smart relative newcomer to the area but closer to downtown is the 289-room Conrad Beijing, unmistakable with its sleek and soaring pale bronze "bird's nest" exterior with the giveaway cheese holes, very similar in design to the Langham Xintiandi in Shanghai. The high ceiling lobby is of moderate size with glinting pale metallic squares lining one entire wall and a perforated crystal "rainbow" arching over the sides and ceiling, mirroring the exterior design.
A 46sq m Deluxe runs long with plenty of light. The bathroom stretches along the length of bedroom as well freeing up lots of space. Cool cream tones greet the eye and nothing more than off-white pastels disturb the setting. A settee sits alongside the far window while a curved-side polished wood table with ivory accents serves as a workspace (with WiFi alas at a steep Rmb120 for 12 hours).
Expect an iPod dock, air purifier, large tactile room controls - entirely idiot-proof, even for CEOs - a large flat-screen TV facing the bed, walk-in dressing area, a flat top-loading safe that can handle a laptop, and a jet shower array with varying angles of attack. There are twin vanities for him and her with an LCD screen in a large mirror. The bath menu includes options like relax, revive, support...
An Executive Suite serves up tan carpets in 90sq m of space with views through the "bird's nest" exterior. Find two flat-screen televisions, a sliding door to the bathroom, a tub by the window shielded by white curtains and twin vanities. Again, no rain shower but an innovative power shower with twin nozzles. A basement pool (heated to 28C) is on hand for calorie burners as is a well-equipped gym. With The Spa and a 24-hour Fitness Suite rounding out facilities, Conrad Beijing woos pinstripers as well as those of more leisurely hue.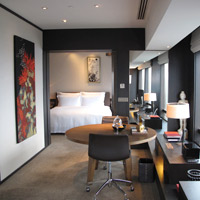 Rosewood Beijing suite: corporate contemporary/ photo: Vijay Verghese
At the lobby level you'll find the dark, woody Lu Yu tea house and, at the opposite end, the bright red lacquer Chapter restaurant with elegant dining in a library setting. The rooftop bar with DJ in attendance, VIVID, opened mid November 2013. Mark this hotel down for small corporate meetings in Beijing and smart CEO chinwags. A bit out of the action but self-contained and briskly run.
Close to the Conrad and not far from the China World Mall, is the 282-room Rosewood Beijing (opened October, 2014), which has created more than just a few ripples in the luxury market as a popular bolthole for business travellers. This was the first foray into East Asia for the storied Rosewood name as it worked to seamlessly import all the award-winning flair, finesse and attention to detail thus far seen mainly in its North American and European properties. That task appears to have been accomplished with speed and the marque is carrying the flag through Sanya, to Thailand and Hong Kong.
The tall grey stone building – constructed with tiles in varying texture – and flanked by large statues at the entrance, sits at a busy intersection with the Third Ring Road. Yet, inside, you might hardly notice it for the green shrubbery screening 'walls' have turned the place into a genuine refuge. The lobby is intimate, small, and restrained, with cream marble floors, gold-tan leather seats, angular interlocking beams overhead, and a glinting steel filigree head offsetting a tall Chinese landscape painting in deep greeny-blues. Sunlight pours into the lounge bar while inner recesses fade to black punctuated by pinpoints of light and art. WiFi is free. Expect sumptuous breakfasts with a lavish selection of breads, and quality restaurants – from Cantonese, to tapas and hot pots – with Country Kitchen dishing out Beijing and northern fare. Everywhere, there is significant attention to detail, from the interplay of the textures to the upkeep of the place, with uniformed ladies darting across the lobby every once in a while with small scissors to prune the carpet off fluff or loose strands. There are even pet packages for pampered pooches with massage and nail treatments, running machines, and a butler for walks.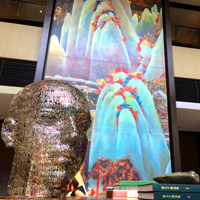 Rosewood lobby art/ photo: Vijay Verghese
Set to one side is almost 38,000sq ft of space for events or a smart corporate chinwag. Pick from a pillarless ballroom (hosting up to 500) or a garden terrace. Large Marilyn lookalike paintings adorn the walls as you proceed into the function area.
Plush yet restrained decor with woody accents and black trim defines the spacious rooms. Premiers start at 50sq m – with an invitingly plump bed facing a large flat-screen TV and broad windows welcoming of light. Think dark wood floors, rustic jute mats under the bed, books and homey artefacts lining low-slung black-stained wood shelves, Nespresso shots, deep sofas and ochre leather chairs. The signature burst of indigo flowers is found in most rooms, its colour accentuating the subtle, down-played but rich, interiors. Think cubist zen, straight lines and minimal clutter. It is a very smart setup with three-pin multi-plug electric sockets combined with crow's feet Chinese plug points as well as two-pin options.
Explore a leather-bound My Beijing book with useful tips, pluck the TV remote from a stylish leather case and get channel surfing, flop on the window-side divan, or dip into the mini-bar (a beer will set you back Rmb60 and is a tad cheaper than The Ritz's Rmb78). The bathroom is spacious with a rain shower and tub cubicle and a hairdryer. Irons are on request. A Suite serves up 70sq m to 80sq m of stretch space with a long line-of-sight from the living area to the bedroom.
Expect 600 thread-count Frette linen, 50-inch LCD smart TVs, and toiletries from Lorenzo Villoresi. For an apres-work massage head to the Senses Spa (with five live-in treatment suites). On the same level are a splendid lap pool under an immense skylight, contemplative yoga space, and a well-stocked fitness room. This is a top Beijing business hotels pick for your diary and the Rosewood Beijing review compares very favourably vs other high-end contenders like The Ritz-Carlton, Waldorf, and Four Seasons.
The lofty Park Hyatt Beijing on the city artery Jianguomen Avenue, spans the 37th to 49th levels of the Yintai Centre, opposite the China World Trade Centre and new CCTV tower, and right above Guomao metro station. The 63rd floor lobby is a stunning entrée, with wraparound views of the sprawling metropolis and hills beyond.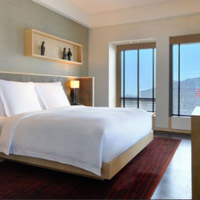 Park Hyatt room/ photo: hotel
On a clear day you can literally see forever. Alternatively, you can simply retreat to this vertiginous eyrie to enjoy some sumptuous service and facilities, all aimed at soothing the discerning and demanding when Beijing's weather is not following the approved storyline.
The 237 rooms and suites flip traditional room design layout and have guests entering into a limestone-lined open bathroom with massive deep soaking tub, heated floors, separate toilet and rain shower and a walk-in wardrobe. Pass through this spa-like space to the luxe living quarters equipped with hi-tech amenities like plasma TVs, DVD players, Wi-Fi, adjustable mood-lighting, electronic blinds – and more great views. Think lots of pale pinewood, pastel greys, charcoal walls, cool stone or wood underfoot with bright carpets framing the beds. Colour tones are quiet, the red apples in a black fruit bowl offsetting the simplicity of the palette. Staff is relentlessly efficient and welcoming, intuiting guest requirements, ensuring everyone is speedily served. Nowhere is more evident than at the grey stone lobby, minimal in all respects save for the clatter of heels as staff race up to greet and assist as the lift doors whoosh open.
Splash out at the highest dining room in the city, the China Grill on the 66th floor, a relaxed international eatery under a glass pyramid with prime meat and seafood and cloud-piercing views. China Bar on level 65 is a great place to unwind in style. There is also a two-storey Tian Spa, two gyms, two stunning pools and crisp business facilities. All in all, Park Hyatt is a premier luxury Beijing business hotel choice with equal appeal for business and leisure travellers. Park Hyatt is not a hotel in the classic mould with deep carpets and Victorian chairs. It is thoroughly modern, reticent with design flourish, yet utterly classical in its hoteliering approach. Again, it is not a spot for MICE mayhem, though 12 function rooms can effortlessly handle mid-size meetings. This is a great downtown location despite being next to a busy intersection often gridlocked at peak hours.
Accor's global Sofitel flagship rebranded as the 417-room Wanda Vista Beijing in January 2018 and anchors the mammoth Wanda Plaza integrated urban hub. Ignore the unprepossessing but strikingly modern shoebox periscope exterior and wander into the bright lobby with its huge choice of sitting areas scattered around like so many cosy living rooms. The wall-length Swarovski crystal flowers display is an eye-catching talking piece that cost a cool US$3 million or so. At the other end of the lobby another huge (and equally expensive) Chinese modern art mural covers an entire wall depicting courtly history. If you need space for a good corporate stretch, pick the Presidential Suite with its 800sq m of rumpus room.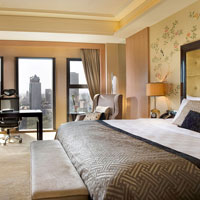 Sofitel Wanda rebranded as the Wanda Vista Beijing Jan 2018/ photo: hotel
Conjuring French art de vivre with classy chinoiserie flourishes, the hotel's luxury ambitions are evident in the seductive black and gold furnishings, hand-painted silk wallpaper, free WiFi, 42-inch flat screen TVs and quality bath products. Suites come with see-through magic bathroom glass walls that frost-over at the flick of a switch, and toilets have the added delight of a 27-inch TV screen.
In general, expect lots of beige marble with rust-red veins, flat top-loading laptop safes, irons and boards, and data-ports with a range of socket options including one three-pin multi-plug electric socket. Pick from a pillow menu that includes feather, foam, orthopedic and chrysanthemum.
Best of all, ladies will love the huge "light" frame around the square mirror that throws light right on your face rather than ghoulishly across it. The hairdryer has a conveniently positioned plug point right under the basin.
Hot water is quick to arrive to the rain shower and hand shower. Taps are conveniently old-fashioned and shower instructions are clear. No fiddling about with shampoo dripping into your eyes here. For business travellers, the work desk is positioned next to a data-port with several electric sockets. There is a top-loading flat laptop-friendly safe too.
The spa features a range of massages, beauty and wellbeing therapies. Wanda Vista is a Beijing business hotel with a difference and with 3,277sq m of meetings space it is no slouch when it comes to organising conferences or small corporate meetings. The 1,368sq m pillar-less grand ballroom can accommodate up to 850 people with the possibility of subdividing the space into three rooms. Apres-work retire to Yipin Chinese restaurant or to the Quyan Chinese restaurant (for traditional 'lu cai' cuisine).
Another property that opted for European-style intimacy over sweeping Forbidden City-esque grandeur is the The Ritz Carlton Beijing, just down the road from the Wanda Vista (former Sofitel Wanda) in Chaoyang's glitzy designer brand shopping epicentre of China Central Place. In fact, The Ritz Carlton has the smallest five-star lobby in Beijing, a wood-panelled parlour entered through bevelled glass doors that gives it a residential feel. It is classic old-world elegance and top-drawer service all the way at this 305-room stunner decked with chandeliers, sconces, flocked wallpapers and silk armchairs. Staff is welcoming, brisk and attentive with a keen desire to serve.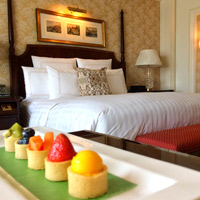 Ritz-Carlton, classic elegance and a 10th anniversary/ photo: Vijay Verghese
The rooms are equally sumptuous—in particular, the magnificent beds. Sleep as if afloat on a big squishy marshmallow in an enormous plump featherbed that you may find impossible to vacate when that dreaded morning alarm squeals. Likewise the deep soak bath in the grand marble bathroom is the perfect place to wash away the stresses of the day.
Charming lamps – several of them – add a warm glow to rooms with gathered opera-style drape curtains adding a homey touch. Behind the white window chintz is a press-button blackout blind that does a rather good job. The standard Deluxe is 48sq m and includes 42-inch flatscreen TV (yes, with CNN and more for plugged in road warriors), writing desk, iPod dock, tucked away top-loading laptop-size safe hidden in the bottom drawer of the TV cabinet, (iron and board on demand), free WiFi and minibar (beer Rmb78 and Pepsi Rmb38). Room controls are via old fashioned fiddly bronze buttons that nevertheless do a fine job. The master switch kills all the lights unlike at many newer hotels. All the décor is due for an upgrade – to a more contemporary 'timeless' look - with the hotel celebrating its 10th anniversary in late 2017.
Meanwhile think gold upholstery, pinks, floral peach wallpaper, Nespresso coffee machine, a white marble bathroom with twin vanities, tub with private LCD screen, and rainshower. The hairdryer packs a good punch and plugs conveniently into the side of the bathroom mirror while a celadon teapot is on hand for a stylish afternoon pour.
Unlike say the Rosewood's solid corporate feel, this is a feminine but hugely inviting scheme with two handsome brown leather chairs providing the sole masculine counterpoint. The place has a sense of humour too – the bathroom weighing scales carry this message: "Depending on what this scale tells you, dial '0' for restaurant reservations or '215' for spa/fitness". Clever.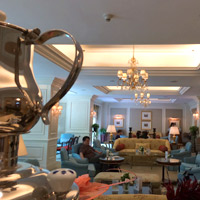 The Ritz-Carlton Lobby Lounge/ photo: Vijay Verghese
The Lobby Lounge is a great spot for classic high tea, while Executive Club guests get the run of a delightful lounge straight out of an English country manor, with five food and beverage presentations throughout the day and evening. There's also a ritzy spa and even a wedding chapel. Cognoscenti in search of top Beijing business hotels with style, luxury and understatement can simply plonk down here. This is a good spot for small corporate meetings too though the 1,100sq m of function space (including a 650sq m ballroom) can hold a fair number of guests. For a spot of unbridalled decadence, head to the hushed and clubby Davidoff Lounge for some top cigars, wine and a spot of live entertainment.
Taxis used to be a niggle here but no more. Get the concierge to arrange an 'app' cab and presto…The Ritz-Carlton rates high in our Beijing business hotels review. Staff is excellent and tuned in to the business traveller's needs. Beijing shopping options are right at your doorstep.
Right next door, the JW Marriott opened by the same owners comes equipped with similar high-end conveniences, along with views over the neighbouring power station from back-facing rooms. The contemporary design is a bit bland, but we do like the I SPA, in sophisticated chocolate tones designed to appeal to male corporate guests. Both hotels are part of China Central Place with easy access to the excellent Shin Kong Place shopping centre. Service here is attentive and efficient with ready smiles.
Another Marriott worth noting (there are nine Marriott hotels in the city) is the humongous Beijing Marriott Hotel City Wall, which opened in 2008 in a central locale near Beijing Railway Station and the Second Ring Road. The cupola-topped monolith boasts – wait for it – 1,312 rooms, making it the largest Marriott outside the USA. It also has over 4,000sq m of banquet and meeting space, five restaurants and bars, a spa, gym and swimming pool and a full-service business centre.
Hilton Beijing is located in the northeast of the city at a convenient entry point to the Third Ring Road. The almost 20-year-old hotel has a new executive tower with 126 rooms, bringing the total number to 503. Rooms feature ergonomically designed furniture, LCD screens in both the living area and bathrooms and Bose CD players.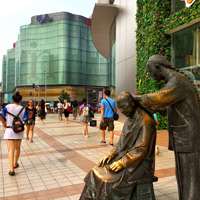 Beijing shopping - statues outside APM Mall Wang Fu Jing/ photo: Vijay Verghese
Five function rooms and the availability of WiFi throughout the entire tower make rooms here a smart choice for business travellers.
Doubletree by Hilton Beijing situated on the Southwest Second Ring Road within striking distance of the Financial Street office area, offers contemporary 30sq m rooms and 60sq m one-bedroom suites with 32-inch flat-screen TV, and iron and ironing board. Pin-stripers can avail of cell-phone rentals and a business centre.
Not far away, the ageing Swissotel opposite the Poly Theatre has completed a long renovation. The tub resembles a footbath, but other amenities are fresh and comfortable. They also offer free local calls, faxes and Broadband on the executive levels, a Hong Kong International Medical Clinic, Bank of China and post office. This is an old timer that chugs on happily with a useful location for in-town calls or a quick airport getaway.
The Kempinski Hotel Beijing Lufthansa Centre is quite a mouthful but does offer a decent blend of business and leisure facilities with 526 rooms, a functional Executive Club floor and lounge, seven restaurants including a great little deli in the lobby, a wellness centre, heated rooftop pool and beauty salon. The hotel also prides itself on its ability to manage meetings of various descriptions. Mark it down on your list of Beijing conference hotels.
The Great Wall Sheraton was China's first international five-star hotel when it opened in 1984 with its signature gleaming reflective glass facade. Years later its location still works to its advantage. The 827 rooms have had a bright and contemporary makeover and feature the obligatory Sheraton Sweet Sleeper Bed. If it's meetings you're after, this is among the more useful Beijing conference hotels with over 1,700sq m of space to play with and prices that can be flexible. As this is an ageing property that has seen considerable wear and tear despite renovations, the brand marque may change at some stage.
Business hotels in the East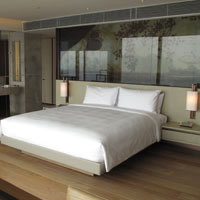 EAST, Beijing/ photo: Verghese
In the fast-developing east near the old Lido is EAST, Beijing (September 2012), a new and hip urban office-shopping-hotel environment for road warriors in search of something different. The reflective glass tower rises above the INDIGO shopping complex with 369 rooms on offer, each with sweeping views.
This is a modern and minimalist space for business travellers with iPod Touch technology. Each room features a Beijing photograph stretched across one wall, in a single vivid colour. Rooms start at 30sq m and go up to 70sq m for a Studio.
The entry-level URBAN rooms serve up a polished stone-floor foyer that doubles as the bathing area on one side with a sliding door leading to the timber-floor bedroom with an invitingly plump bed draped in creaseless, stark white cotton. WiFi is free. Expect a rain shower, a flatscreen swivel TV, and a desk with data-port. Shopping is downstairs and a large urban park is being cultivated next door.
EAST is neither luxury-end digs nor a texture-heavy boutique inn. It is functional, fast and effective with clean lines and light pastels that will not jar the eye. Eat or play, the options are all here. Xian is a surprisingly lively chill-out lounge with live music, a whiskey bar, outdoor terrace and adult play room offering pool, foosball and arcade-style games. Fun. One entire floor is devoted to meetings space with an open kitchen and a "candy wall" too, with 16 different kinds of distraction. Shopping for hip Beijing hotels? This could be a winner if you do not need to be in the centre of town.
Best beds in the North
The Aman at Summer Palace, Beijing opened in September 2008 next door to the Qing dynasty imperial retreat in the city's northwest. With true Aman understatement there is no in-your-face hotel sign, just two white stone lions guarding a quiet entrance just before the East Gate to the Summer Palace. Aman Beijing's pavilion suites are housed in century-old dwellings once used by palace guests awaiting an audience with the Empress Dowager Cixi.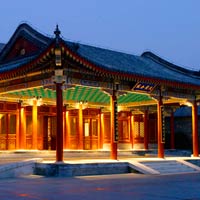 Aman at Summer Palace/ photo: hotel
The seductive design unfolds like a mini Forbidden City, through a procession of meditative courtyards, willow-studded lakes and soothing corridors and pavilions, often adorned with a guzheng player or master calligrapher in action. Grey hutong stone provides a stunning texture for walls with delicate spotlights bringing out the tones. Classical Chinese furniture completes the ensemble.
Rooms in the heritage buildings celebrate ancient Chinese culture in Aman's contemporary streamlined style and feature king-size four-poster beds, hi-tech conveniences, butler service and private grassy courtyards. Although it has just 51 guestrooms, Aman has 357 staff and four restaurants, including The Grill, The Chinese Restaurant and excellent French kaiseki diner, Naoki. The underground spa is a splendid retreat as is the brilliantly seductive indoor pool, large, heated, and beckoning with dark blue-purple tiles. Also underground is a decadently surreal movie theatre with reclining padded leather chairs. Take in a screening of The Last Emperor in situ. Also find two squash courts, a gym, a Pilates studio, and private hairdressing suites. Work, entertain, and play, at a price.
Westin and InterContinental both opened second properties in the city's north prior to the Olympics. The Westin Beijing Chaoyang offers 550 rooms and suites, and eight restaurants and bars. The top four floors of the hotel hold Westin Executive Club rooms where guests have access to a private lounge with food and complimentary drinks, as well as business services. Business travellers are well catered for with ample meeting facilities and a Meeting Concierge on hand for tech support. There are also plenty of options for relaxation at the Heavenly Spa, which covers the whole of the fourth floor and contains a 25m swimming pool, gym, Jacuzzi and saunas. InterContinental Beijing Beichen features 333 guestrooms and 42 suites including four restaurants and lounges, a Spa Intercontinental, 24-hour gym and Executive level premium services.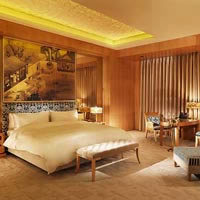 Pangu 7-Star Suite/ photo: hotel
Pangu Plaza stretches the length of seven football fields along a perimeter of Beijing's Olympic Park and is home to a high-rise office tower, shopping mall and a "seven-star hotel", where Bill Gates, Henry Kissinger and Evander Hollyfield were rumoured to have stayed during the Olympics. The Beijing Pangu 7 Star Hotel offers 234 rooms decorated in European style with Chinese flourishes and precious antiques. Traditional Chinese "courtyards in the sky" come with wooden columns, magnolia trees, a swimming pool and sweeping views of the stadiums and Olympic Green. Dining options include Japanese and French restaurants, 26 Chinese private dining rooms and a top-floor lobby bar, along with a banquet hall and three multifunctional halls. There's no shortage of grandiose event facilities for meetings of all sizes and persuasion, including the 888sq m Lotus Ballroom with 15m ceilings, an alfresco terrace and views over the 2008 Olympic Stadiums.
Aloft Beijing, Haidian mixes modern, urban design with hi-tech amenities in a new-age "haute hostel" concept for the budget conscious. Rooms are pared back, but funky and functional, offering a well-edited selection of necessary luxuries. Suffer the paper coffee cup with one-serve tea and coffee bags, soap dispensers in the bathrooms, canteen-style breakfast trays and absence of robe, toothbrush and mini-bar, but delight in free WiFi throughout, 42-inch flat-screen TVs, Bliss bath products, high ceilings, designer flourishes, and of course, the low rates. Refuel at "re:fuel", a snack bar that is open all day and night. Other dining options include Nook, "re:mix" or "w xyz". There's also a "re:charge" mini gym and indoor lap pool.
Aside from the jazzy Four Points by Sheraton hotel opposite, and massive but rather miserable shopping complex down the road, there isn't much happening in this university area. The hip entry from Starwood is a new concept tested in the virtual world of Second Life. Really. Well, unreally, actually...
Hotels to the West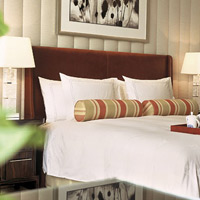 Ritz Financial Street/ photo: hotel
Skipping across town (easier said than done) to Financial Street: a modern district along the western section of the Second Ring Road lined with over 300 financial institutions and several impressive hotels.
Top of the pops is Ritz Carlton Financial Street, a sparkling modern complement to the aforementioned Chaoyang property. Clean lines, sensual Sino design and cosy dimensions have won this 253-room hotel a slew of industry awards. Be sure to take a mellow dip in the softly-lit pool, which has moulded marble Jacuzzi beds and a movie screen showing old black and white films (without sound). If you're hungry head to signature restaurant Cepe, one of the capital's best mod Italians. For a spot of glitzy Beijing shopping just head next door to the giant Lane Crawford, Dior and Louis Vuitton. A good address if you're shopping for top Beijing conference hotels.
On arrival at your room you're welcomed by a small statue of an animal such as a mandarin duck or horse, part of the carefully arranged feng shui designed to spread auspicious vibes throughout the hotel. The standard Deluxe is 535sq ft and feels nicely welcoming thanks to the warm copper and olive tones, cosy furnishings and elegant contemporary Chinese decor. Facilities include writing desk, Internet, PC and fax hook-up and dataport, laptop-size safe, 37-inch LCD TV, iron and board and hairdryer. If space is an issue, try the 2,739sq ft suite for size. It comes with Ming-style furniture, a freestanding bathtub, sauna, and a library area that includes a printer and fax machine.
InterContinental Financial Street is extremely comfortable and corporate, though not quite as impressive as its newer neighbours. Its X-Change bar is a chilled spot for drinks and live music, while Steak Exchange serves mammoth cuts of Australian beef and oversized desserts straight out of Alice in Wonderland. I-Spa pampers with organic Jurlique products.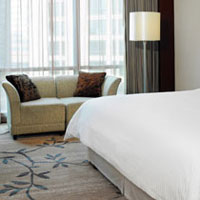 Westin Financial Street/ photo: hotel
The Westin Beijing Financial Street is a massive twin-tower complex around a contemporary Zen garden housing 486 rooms and no less than seven restaurants (Senses does a big Sunday brunch). As per the brand's holistic approach, there's a 2,094sq m Heavenly Spa, a 24-hour gym, heated pool with underwater music, nightly unwind rituals, bath butler and running concierge. The building complex additionally houses 205 residences and one of the largest ballrooms in town at 890sq m. The total meeting space at the Westin Financial Street is over 1,686sq m in various combinations, making this a solid choice among Beijing conference hotels.
That's the long and short of Beijing business hotels, budget finds, and Beijing conference hotel options. Take your pick. Remember to have everything written down in Chinese and pick your location wisely to beat the traffic jams.
Beijing boutique hotels, budget inns
At Beijing boutique hotel, The Emperor. The 56 rooms are smart with a mod design and LCD TVs and high-speed Internet access. Butlers are available at your beck and call. Expect bright splashes of colour like contoured sofas following the curve of the wall and train-sleeper style lime-green sitting alcoves running along corridors.
China's prolific budget chain, Motel 168, has nabbed a prime location opposite the Peninsula near Wangfujing. Branded as a Motel 268, the 256-room property offers basic rooms starting from Rmb417. Double-storey Family Rooms come with two bathrooms and an extra pull-out bed.
Past the infamous Donghuamen Food Market and into a quiet neighbourhood behind the Forbidden City, Hotel Kapok wraps its distinctive milky-green latticed frame around a five-storey former government building. Designed by influential local architect Zhu Pei, the 89-room hotel flips the traditional hutong concept on its ear – re-working the system of courtyards and public spaces in the vertical for the modern-day traveller. Glass corridors wrap around a central courtyard leading to the 27 suites and 62 standard rooms, some with private pebble courtyards.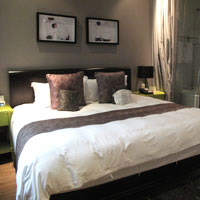 Grace boutique hotel/ photo: Verghese
Rooms feature a small flat screen TV, gingko print wallpaper, and a spacious glass bathroom. The Kapok suites are a luxurious 106sq m with an enormous circular soaking tub. Unfortunately the TV doesn't grow with the room size and you may find yourself straining to watch the screen from the modular chaise lounges. Unfortunately, Kapok suffers from lacklustre, hands-off management that will see you fending for yourself and the rooms don't appear as fresh as they once did.
Beijing's traditional courtyard residences are well suited to being redeveloped as boutique residences. Several enterprising owners have created small inns – though the results tend to be more homely than hip. Hotel Cote Cour is a delightful exception among Beijing boutique hotels. This 14-room gem set around a 500-year-old courtyard mixes traditional Chinese charm and contemporary chic.
Expect flat screen TVs, free WiFi and a swanky lounge where the chef cooks up whatever is fresh from the market that day. Though not as spacious as the suites, the Deluxe Superior (number 203) is the room to book, with higher ceilings and bustling street views.
Beijing's trendy but hard to reach 798 Art District lies en route to the airport bereft of subways and cabs are as rare as dragon's teeth. Nevertheless it is an exuberant sprawl of old warehouses and abandoned factories turned into an artist's paradise. The place is abuzz with design and local flair. It's well worth a visit. Even harder to find here is the delightful 30-room Grace Beijing, a worthy distraction for leisure trippers and business suits (should their offices be in the neighbourhood).
This Beijing boutique hotel is housed in a brick building with a small garden patio out back and each room is an exercise in pure whimsy - but with all mod-cons. First get used to the dark interiors with spot lights, framed mirrors adorning walls and haunting photographs gazing down from dark cobalt blue corridors.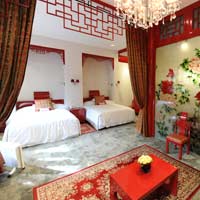 DuGe Boutique Hotel/ photo: hotel
The 70sq m Grace Suite serves up timber floors, a white Chinese chest separating living from bedroom, a comfy bed with purple cushions looking through peekaboo glass into the bathing area with soaking tub, twin vanities and a rain shower. WiFi is free. At a lower level find a mini-gym for a quick workout should you be so inclined. Staff is attentive and eager to please. This one is definitely worth a look.
For boutique on a budget, try Guxiang 20 housed along popular Nanluoguxiang Hutong. Rooms are simple but atmospheric with silk bed-runners and faux-vintage furnishings. The three spacious suites, come with big wooden patios overlooking the hotel's rooftop tennis court.
Just off Nanluoguxiang, DuGe Boutique Hotel is a handsome addition to the courtyard accommodation scene. The Qing dynasty residence has been remodelled to include 10 bedrooms with private en suites, each with its own design theme – such as Silk Road Courtyard and Gold Lotus Room – and featuring original antiques, custom-designed furnishings and contemporary artworks. A small pavilion bar and lime-lacquered Chinese dining room opens onto a sunny courtyard. Shopping boutiques and several cool diners lie on the doorstep, too.
Another courtyard charmer is the Red Capital Club Residence, owned and operated by the people behind the Red Capital Club, one of the city's most endearing dining destinations, which sits two blocks away through ramshackle alleyways. Home to a mere five suites swathed in the Red Capital Club's commie-chic style, the converted courtyard is hidden in an alleyway near the Swissotel, and makes up in elegance what it lacks in space. A bomb shelter in the central courtyard has been converted into a climb-down wine cellar.
Outside town, is the sibling Red Capital Ranch, offering rustic luxury at the former site of a hunting lodge along a section of the Great Wall dating back to the Qin Dynasty (221BC).
Lu Song Yuan used to be a stop on the backpacker circuit until renovations took things up a notch. The hotel, a series of traditional courtyards, is located in the hutongs near the Drama Academy, and the ancient grey-brick neighbourhood is perfect for wandering. Due to the size of the traditional courtyard residences, the above options don't feature health clubs or business centres.
Yanqi Lake MICE and weekends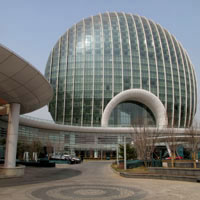 Sunrise Kempinski Beijing/ photo:Vijay Verghese
An hour's drove from downtown Beijing, or a tad more in traffic, is the remarkable Sunrise Kempinski Hotel, Beijing, overlooking tranquil Yanqi Lake, girdled by Chinese-brushstroke mountains and some seriously upscale developments. This space-age orb with smooth glass curves stands upright above the lip of the lake with one steadying arm extended towards the grand ballroom. It presides over a complex managed by Kempinski that includes a scenic resort island with the luxe Yanqi Hotel and 12 designer-chic Boutique Hotels, each a unique self-sustained villa complex.
Yanqi Lake popped up on the map after hosting a grand APEC meeting in November 2014, and various facilities and room categories have been added on since then. There is an 18-hole golf course and, take note, the entire complex is non-smoking.
The Sunrise Kempinski Hotel, Beijing, with 306 rooms is a smart, futuristic, and striking but not luxe, construct, with a starkly grand mottled grey marble lobby, and arrays of crystal shower 'clouds'. This is a weekend leisure resort as well as a muscle MICE venue with 2,866sq m of meeting space including a grand ballroom and 12 function areas. Thinking destination wedding in Beijing? Romantic weekend? Or corporate meetings with a difference? Look no further. The Zen minimalism of the design makes for easy passage and there is ample space for the privately inclined.
There are nice design touches but no excessive adornment. Rooms are visually open, not vast, with floor-to-ceiling windows. Expect pale pastel fabric walls, plump beds with swivel-out reading lights, marble foyer and carpeted bedroom, flat-screen TV (with CNN and BBC), iron, iPod dock clock, top-loading laptop-friendly safe, desk with data-port and two three-min multi-plug sockets (and one bedside). Sliding doors lead to a clean all-white bathroom with tub and rainshower and a single washbasin. The hairdryer packs a good wallop. Suites offer larger bathrooms and 'corner' wraparound views. Prefer rooms that face the lake.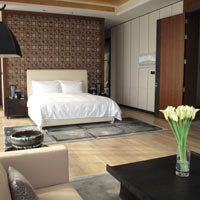 Yanqi Hotel Lake Suite/ photo:Vijay Verghese
Seeming acres of swimming beckon in the basement (Level 2) with the pool heated to a steady 28C. It is open from 7am to 10pm. A Kids' Club and Gym are housed at B1. The Spa and the Tea House are perched at Level 3. Head here for an après-meet massage and customised pummelling. The spa is open from 6am till midnight so there's ample time for a good de-stress. The rooftop VIEWS bar and dance club is a 60's throwback and will range from resoundingly empty to throbbing depending on the hotel occupancy. Pick your time for a carouse or a quiet snuggle. Service levels this far out of Beijing can be variable but staff is eager to please. Patience is the key. This is a child-friendly China resort with modern flair and attractive simplicity. And, should you need them, there are AC and DC electric-car charging bays.
The luxe action is in the manicured island with its winding lanes and picturesque trees in white 'smocks'. Mega MICE events are held at the imposing Beijing Yanqi Lake International Conference Center. This is Chinese construct with Han and Tang Dynasty influences. The central meeting hall features a high ceiling with a huge jade and Swarovski chandelier set amidst painted wooden rafters. This area offers 8,277sq m of meeting space in various configurations.
The Yanqi Hotel, managed by Kempinski, serves up clean square lines, dark wood, and marble inlay floors. Walk past the red-lacquer reception down hushed corridors with their calligraphic art and hanging metal 'peace' birds. The immense Yanqi Lake Suite has a generous lake-view verandah and wraparound views from spacious rooms that offer walk-in wardrobes, pale wood floors, dark wood furniture, rough-hewn marble bathroom walls, electric potties, huge beds, filigree partitions, delicate wall paintings, and ample living (and work) area with deep carpeting and sink-in sofas.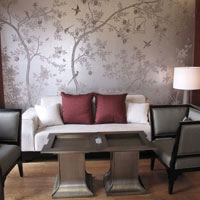 Boutique Hotels, Villa 8, Kempinski/ photo:Vijay Verghese
The Boutique Hotels, also managed by Kempinski, Beijing, are a singularly unique offering in that they are 12 independent, separately designed, villa units set around private courtyards, with spa facilities and ample swimming pools. These are private retreats with 10 to 19 rooms and are let out in entirety. Staff is on hand to manage all needs and hotel facilities are a stone's throw away. Expect soaking tubs, rainshowers, flat-screen televisions, large living and dining spaces, silk-screen hand-painted walls, and room safes. Electric sockets are mainly three-pin crow's feet affairs with a few international three-pin plug points. Of course, adaptors are available. Villa 8 offers 'his' and 'her' suites with mother-of-pearl inlay walls, delicate frescoes, and cool wooden floors. To simplify things, the boutique hotels have been assigned numbers. But they do have names. Look for The Scholar's Retreat and The Poet's Haven.
Beijing shopping is rife with deals if you know where to look. Bargain hungry shoppers can haggle to their hearts desire at the Silk Market (corner of Jianguomenwai Dajie and Dongdaqiao Lu) where over 1,700 stalls sell clothes accessories, trinkets and pearls, and the excellent antique market at Panjiayuan (Panjiayuan Qiao, Chaoyang District), which attracts 10,000 vendors and up to 70,000 visitors on a busy day.
Dashilan, with its look of antiquity, is back after a long renovation with a host of restaurants and traditional shops. Look out for Qianmen Street, which showcases several of Beijing's "time-honoured brands". On Wangfujing are several malls and side alleys with trinkets and gew-gaws. A bigger option is the Intime Lotte department store. The new APM store is always buzzing with a host of stores and restaurants inside like the local dumpling favourite, Shun Yi Fu. Not far from here in a hutong side street is another popular eatery with Northern Chinese fare at reasonable prices, Beijing Pie (No.159-2 Beiheyan Main Street, tel: 6528-2187).
Delve into the contemporary Chinese art scene at 798 Art District (Dashanzi, 4 Jiuxianqiao Lu, Chaoyang District). The 798 Warehouse, and international heavyweights Ullens Center For Contemporary Art and Faurschou Gallery, are especially recommended.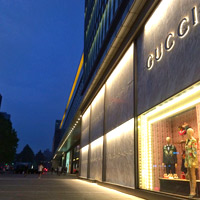 Beijing shopping at Gucci in China Central Place. Chaoyang, behind The Ritz-Carlton/ photo: Vijay Verghese
For more eye-popping stuff and sightseeing, Beijing's latest architectural icons need to be seen to be believed. Start at the Olympic Green in the city's north where the pale blue, bubble wrapped "Watercube" National Aquatics Centre sits calmly beside the strapping steel " Bird's Nest" National Stadium built by Herzog and de Meuron. Head towards Tiananmen Square to the futuristic translucent dome of French architect Paul Andreu's National Grand Theatre. Finally, on the East Third Ring Road don't miss the astounding new CCTV headquarters designed by OMA, whose two 40-storey, 60-degree-leaning towers twist to connect at the bottom and top.
More contemporary is the area around The Ritz-Carlton Beijing - Chaoyang's glitzy designer brand shopping epicentre of China Central Place with everything from a GUCCI flagship store to Chanel, Armani and just about every major international designer brand fashion house you can think of.
Beijing Capital Airport's Terminal 3 has a fair amount of duty-free shopping with a range of brand names, alcohol and perfumes. There are plenty of local souvenirs as well though not terribly exciting. An 18-year-old Chivas 'Gold Signature' one litre bottle will set you back Rmb433 (about US$65.15) while a Johnnie Walker 'Double Black', also one litre, is priced at Rmb238 (about US$35.80). These duty free prices are comparable to rates around Asia. For lady shoppers, a Chanel Chance 'parfum' 7.5ml is Rmb865 (US$130.20). And that's our Beijing shopping guide from designer brands to local stores to airport duty free.
Send us your Feedback / Letter to the Editor
FAST FACTS

/ Hotel Contact List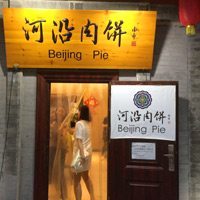 Beijing Pie, off Wangfujing, is a popular eatery with North CHinese fare/ photo: Vijay Verghese
Room rates may be subject to a 15 percent service charge unless stated otherwise. Several hotels offer promotional rates especially during slow winter months. The exchange rate is currently around US$1=Rmb6.60. Generally, only major hotels accept (or charge) American dollars. Credit cards are not generally accepted outside of major hotels. Pick up a copy of The Beijinger (www.thebeijinger.com) found at many hotels and restaurants for the latest goings on.
Beijing hotels directory
aloft Beijing, Haidian. Tel: [86-10] 8846-2798, (e-mail: bejing.aloft@alofthotels.com or www.starwoodhotels.com/alofthotels).
Aman at Summer Palace, Beijing. Tel: [86-10] 5987-9999, fax: 5987-9900, (e-mail: amanatsummerpalace@amanresorts.com or www.amanresorts.com).
Beijing Hotel NUO (former Raffles Beijing Hotel, deflagged 30 Nov 2016). Tel: [86-10] 6526-3388, fax: 6527-3838.
Beijing Marriott Hotel City Wall. Tel: [86-10] 5811-8888, fax: 5811-9999, (www.marriott.com).
Boutique Hotels, managed by Kempinski, Beijing. Tel [86-10] 6961-8888, (e-mail: reservations.yanqilake@kempinski.com or www.kempinski.com).
Bulgari Hotel Beijing. Tel: [86-10] , (www.bulgarihotels.com).
CHAO Hotel. Tel: [86-10] 5871-5588, (ilovechao.com/).
China World Hotel. Tel: [86-10] 6505-2266, fax: 6505-0828, (www.shangri-la.com/beijing/chinaworld/).
China World Summit Wing Hotel. Tel: [86-10] 6505-2299, fax: 6505-8811, (www.shangri-la.com/en/property/beijing/chinaworldsummitwing).
Conrad Beijing. Tel: [86-10] 6584-6000, (conradhotels.hilton.com).
Cote Cour SL. Tel: [86-10] 6523-9591, fax: 6523-9598, (e-mail: reserve@hotelcotecourbj.com or www.hotelcotecourbj.com).
Cours et Pavillions. Tel: [86-10] 6406-9838, fax: 6455-3995,  (www.slh.com/hotels/cours-et-pavillons/).
Crowne Plaza Beijing. Tel: [86-10] 5911-9999, (www.ichotelsgroup.com).
Doubletree by Hilton Beijing. Tel: [86-10] 6338-1888, fax: 6338-1800, (doubletree1.hilton.com).
DuGe Boutique Hotel. Tel: [86-13] 81190-3373, fax: [86-10] 6406-0628, (e-mail: dugecourtyard@dugecourtyard.com or www.dugecourtyard.com).
EAST, Beijing. Tel: [86-10] 8426-0888, fax: 8426-0999, (e-mail: answers@east-beijing.com or www.east-beijing.com).
Fairmont Beijing. Tel: [86-10] 6457-5555, fax: 6457-7755, (e-mail: beijing@fairmont.com or www.fairmont.com/beijing).
Four Seasons Hotel Beijing. Tel: [86-10] 5695-8888, (www.fourseasons.com/beijing/).
Grace Beijing. Tel: [86-10] 6436 1818, (e-mail: res@gracebeijing.com or www.gracebeijing.com).
Grand Hyatt. Tel: [86-10] 8518-1234, fax: 8518-0000, (e-mail: grandhyattbeijing@hyattintl.com or beijing.grand.hyatt.com).
Grand Millennium Beijing. Tel: [86-10] 8587-6888, fax: 8587-6999, (e-mail: sales@millenniumhotels.com or www.millenniumhotels.com).
Great Wall Sheraton. Tel: [86-10] 6590-5566, fax: 6590-5878, (deals.sheraton.com/Great-Wall-Sheraton-Hotel-Beijing).
Guxiang 20. Tel: [86-10] 6400-5566, fax: 6400-3658.
Hilton. Tel: [86-10] 5865-5000, fax: 5865-5800, (e-mail: beijing@hilton.com or www.beijing.hilton.com).
Hilton Beijing Wanfujing. Tel: [86-10] 5812-8888, fax: 5812-8886, (e-mail: wangfujing@hilton.com or www.hilton.com).
Hotel Eclat Beijing. Tel: [86-10] 6500-5511, (www.eclathotels.com).
Hotel Jen Beijing. Tel: [86-10] 6505-2277, (www.hoteljen.com/beijing).
InterContinental Beijing Sanlitun. Tel: [86-10] 6530-8888, (www.ihg.com/intercontinental).
InterContinental Financial Street. Tel: [86-10] 5852-5888, fax: 5852-5999, (e-mail: reservations.fsbj@interconti.com or www.intercontinental.com).
JW Marriott Hotel Beijing. Tel: [86-10] 5908-6688, (www.marriott.com).
JW Marriott Hotel Beijing Central. Tel: [86-10] 6391-6666, fax: 6391-6688, (www.marriott.com).
Kapok Hotel. Tel: [86-10] 6525-9988, (e-mail: stay@kapokhotelbeijing.com or www.kapokhotelbeijing.com).
Kempinski Hotel Beijing Lufthansa Center. Tel: [86-10] 6465-3388, fax: 6465-1202, (e-mail: reservations.beijing@kempinski.com or www.kempinski.com).
Kerry Hotel Beijing. Tel: [86-10] 6561-8833, fax: 6561-2626, (e-mail: hbkc@thekerryhotels.com or www.shangri-la.com/en/property/beijing/kerry).
Cordis Beijing Capital Airport. Tel: [86-10] 6457-5555, (www.cordishotels.com/beijing/).
Legendale Hotel Beijing. 90-92 Jinbao Street, Dongcheng District. Tel: [86-10] 8511-3388, fax: 8511-5566, (e-mail: sm@legendalehotel.com or www.legendalehotel.com).
Lu Song Yuan. No. Tel: [86-10] 6404-0436, fax: 6403-0418, (e-mail: websales@lusongyuanhotel.com or www.lusongyuanhotel.com).
Mandarin Oriental Wangfujing. (March 2019). Tel: [86-10] 8509-8888, (www.mandarinoriental.com/beijing/wangfujing).
Marriott Beijing West. Tel: [86-10] 6872-6699, fax: 6872-7302.
Motel 268. 19 Jinyu Hutong, Wangfujing, Dongcheng District. Tel: [86-10] 5167-1666.
New World Beijing Hotel. (www.beijing.newworldhotels.com).
New World Courtyard. Tel: [86-10] 6708-1188, fax: 6708-1808.
Novotel Peace, Beijing. Tel: [86-10] 6512-8833, fax: 6512-6863, (e-mail: res@novotelpeacebj.com or www.novotel.com).
NUO Hotel Beijing. Tel: [86-10] 5926-8888, fax: 5926-8889, (e-mail: info.beijing@nuohotel.com or www.nuohotel.com/).
Pangu 7 Star Hotel Beijing. Tel: [86-10] 5906-7777, fax: 5906-7888, (e-mail: info@panguhotel.comor or www.panguhotel.com).
Park Hyatt Beijing. Tel: [86-10] 8567-1234, fax: 8567-1000, (e-mail: beijing.park@hyatt.com or beijing.park.hyatt.com).
Park Plaza. 97 Jinbao Street, Dongcheng District. Tel: [86-10] 8522-1999.
Pentahotel Beijing. Tel: [86-10] 6708-1188, fax: 6708-1808, (www.pentahotels.com).
Renaissance Beijing Hotel. Tel: [86-10] 6468-9999, fax: 6468-9913, (e-mail: ren@renaissancebj.com or www.renaissancehotels.com).
Red Capital Club Residence. Tel: [86-10] 8401-8886, fax: 8403-5303, (red-capital-residence-beijing.hotel).
Rosewood Beijing. Tel: [86-10] 6597-8888, (www.rosewoodhotels.com/en/beijing/).
Shangri-La Hotel. Tel: [86-10] 6841-2211, fax: 6841-8002, (e-mail: slb@shangri-la.com or www.shangri-la.com).
St. Regis Beijing. Tel: [86-10] 6460-6688, fax: 6460-3299, (www.stregis.com/beijing).
Sunrise Kempinski Hotel, Beijing. Tel: [86-10] 6961-8888, (e-mail: reservations.yanqilake@kempinski.com or www.kempinski.com).
Swissotel Beijing. Tel: [86-10] 6553 2288, (e-mail: reservations.beijing@swissotel.com or www.swissotel.com or www.beijing.swissotel.com).
The Emperor. Tel: [86-10] 6526-5566, fax: 6523-8786, (en.theemperor.com.cn/).
The Kunlun Beijing. Tel: [86-10] 6590-3388, (www.thekunlunbeijing.com).
The Opposite House. Tel: [86-10] 6417-6688, fax: 6417-7799, (www.theoppositehouse.com).
The Peninsula Beijing. Tel: [86-10] 8516-2888, fax: 6510-6311, (e-mail: pbj@peninsula.com or beijing.peninsula.com).
The PuXuan Hotel and Spa. (www.thepuxuan.com/en/).
The Regent Beijing. Tel: [86-10] 8522-1888, (e-mail: reservation.beijing@regenthotels.com or www.regenthotels.com).
The Ritz-Carlton Beijing. Tel: [86-10] 5908-8888, fax: 5908-8899, (www.ritzcarlton.com).
The Ritz-Carlton Beijing, Financial Street. Tel: [86-10] 6601-6666, fax: 6601-6029, (e-mail: beijingfinancialstreetinquiries@ritzcarlton.com or www.ritzcarlton.com).
The Westin Beijing Financial Street. Tel: [86-10] 6606-8866, (e-mail: reservation.beijing@westin.com or www.westin.com/beijingfinancial).
W Beijing - Chang'an. Tel: [86-10] 6515-8855 (e-mail: whotel.beijing@whotels.com or www.starwoodhotels.com/whotels/).
Waldorf Astoria Beijing. (e-mail: Beijing@waldorfastoria.com or waldorfastoria.hilton.com).
Wanda Beijing. Tel: [86-10] 8599-6666, fax: 8599-6686.
Westin Beijing Chaoyang. Tel: [86-10] 5922-8888, fax: 5922-8999, (e-mail: westin.chaoyang@westin.com or www.westin.com/chaoyang).
Yanqi Hotel, managed by Kempinski. Tel [86-10] 6961-8888, (e-mail: reservations.yanqilake@kempinski.com or www.kempinski.com).