ADVENTURE
Hokkaido all-season pass and Sapporo fun guide
In Japan's northernmost island, tour volcanic highlands, soak in hot springs, and ski some of the world's snowiest slopes. From Sapporo ski resorts to family-friendly adventures and lots of beer.
with original reporting by Akiyoshi Kojima
SEE ALSO Tokyo fun guide | Seoul business hotels | Gulmarg ski resorts | Taiwan spas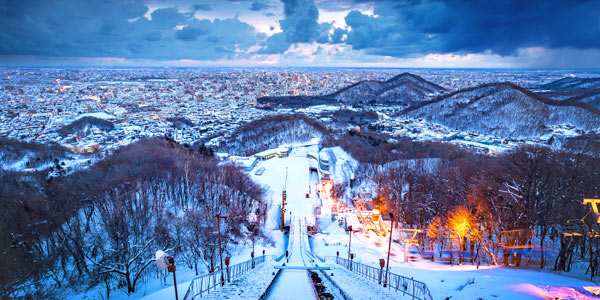 JUMP TO Sapporo guide | Hokkaido ski resorts | Adventure, golf, snowmobiles | Hokkaido fun, spa resorts | Sapporo nightlife | Sapporo beds, ryokans
HOKKAIDO, the northernmost of Japan's major islands, is a literal breath of fresh air. Mild summers draw Asian travellers escaping the heat and humidity further south, while in winter the island catches regular Siberian breezes heavy with snow – and has built a booming ski scene around them.
Invigorating air, sparkling fresh water, hearty food: these basic ingredients have made the summer popular with Asian fly-drive tourists enjoying the empty roads and simple local values. Sample pink cherry blossoms and peruse vast sweeps of indigo - streaked with rainbow colours - blanketing rolling hills as lavender fields come into bloom.
Send us your Feedback / Letter to the Editor
Sapporo, springboard to Hokkaido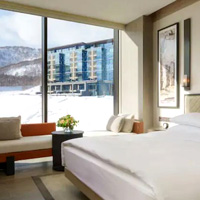 Park Hyatt light-filled oom with snow views in winter/ photo: hotel
For centuries, Hokkaido and its native Ainu people were largely ignored by the Japanese. Sapporo – today Japan's fifth-largest city– is said to have had a population of just seven in 1857. Growth then took off and just 20 years later, there was enough of a market to support the launch of the eponymous beer. The brewery was renovated in 2004 and today the Sapporo Beer Museum is a popular stop on any tour of the city, helped no doubt by free tastings.
The city's 12-block Odori Park is another handy landmark, dividing the city north and south. Here you'll find the iconic Sapporo TV Tower and one of the three venues for the annual Sapporo Snow Festival (www.snowfes.com). This major festival takes place for a week in early February, with ice sculptures, contests, mazes and slides spread across Odori and the other sites, Tsudome and Susukino. January is the coldest month and headgear and snow boots are recommended. The coldest temperature apparently recorded on the island is minus 23 degrees Celsius (on 18 January, 1945).
If the TV tower isn't panoramic enough, there's the 160m-high observation deck of the JR Tower (www.jr-tower.com/foreign). Take the lift to the 38th floor and enjoy the vistas with a coffee by day, or cocktail by night.
For a grounding in the history of the region, try the Historic Village of Hokkaido, an open-air museum incorporating traditional buildings from all over Hokkaido dating back to the Meiji and Taisho periods (AD1868 to AD1926). The signs are mainly in Japanese though so take a Japanese-speaker to get the most out of it. Nearby is the Hokkaido Museum (www.hm.pref.hokkaido.lg.jp), especially strong on the Ainu people and the colonial period of history.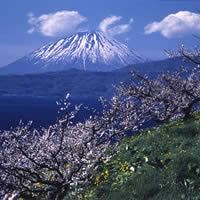 Hokkaido's wide open spaces
Most visitors to Hokkaido fly into Sapporo's New Chitose Airport which handles more than 20m passengers annually. Besides frequent services from Tokyo and other domestic cities, there are increasing connections to major regional hubs. Many visitors head home again laden with duty-free shopping from the airport's alluring selection of Hokkaido specialities. Head for the domestic terminal to find a huge selection of shops where it's easy to browse away an hour or two, sampling freebies. There's also Royce Chocolate World (www.royce.com) here, a museum and chocolate factory dedicated to the delicious products of the Sapporo brand.
Alternatively, there are train connections from Honshu (see Japan Railways, www2.jrhokkaido.co.jpl), though the premium shinkansen services are yet to reach Sapporo – currently extending only as far north as Hakodate.
JR Hokkaido trains take less than 40 minutes to reach Sapporo from the airport, costing Y1,070 (exchange rate roughly US$1 – 111 Japanese yen). There are also a number of bus companies – White Liner and Hokkaido Resort Liner chief among them – running regular winter services for approximately Y4,000 to the booming ski resorts of southwestern and central Hokkaido.
Hokkaido ski resorts – volcano runs
While there are more resorts, lodges, and hideaway places than you could shake a stick at we'll focus on just a few for our Hokkaido ski resorts review.
The most famous name by far is Niseko (www.niseko.ne.jp). The rebirth of this little town over the last 20 years has inspired a widening transformation in the fortunes of Japan's once near-moribund ski industry.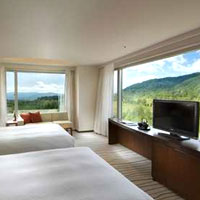 Hilton Niseko views/ photo: hotel
Boasting annual snowfall far in excess of that experienced at European resorts, Niseko capitalised on it with back country access and the development of high-end condo-style accommodation that has fuelled a booming real estate market.
Niseko is four large connected ski fields flanking Annupuri mountain. Together they offer scores of runs as well as back country access through designated gates. Ski passes are available for individual resorts or else you can grab an all-mountain ski pass (Y7,400 for one day, discounted for kids and seniors) for maximum flexibility. See Niseko United (www.niseko.ne.jp) for lift pass info and a useful overview of the area.
Grand Hirafu  is the largest ski area, with heaps of accommodation and international dining options in Hirafu town, directly abutting the slopes. Niseko Village and Annupuri areas suit families and those with their own transport. Hanazono (www.skihanazono.com) is a smaller, quieter field, known for its park and accessible tree runs. Hirafu is where most of the apres action is, with scores of restaurants and bars, offering the most international selection of dining and entertainment of any Japanese ski area. Accommodation is predominantly in condo and apartment developments which are springing up everywhere.
Expect unabashed luxury pampering at the Park Hyatt Niseko Hanazono (www.hyatt.com), a mountain resort with year-round offerings. There's nothing staid here. Get off the beaten path on a back country powder run with the hotel general manager. Winter distractions include "snowmobiles, snow rafting, snowshoeing, snow tubing and horse riding".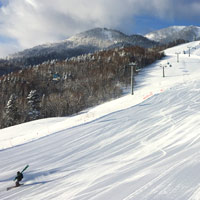 Furano Resort, Central Hokkaido, is a good alternative to busy Niseko/ photo: Steve White
AYA Niseko (tel: [81-136] 231-280, www.ayaniseko.com) is a high-end development with a plumb spot close to the Hirafu intersection. Accommodation ranges from compact studios to apartments with one to four bedrooms, and on up to residences and penthouses. Further along the main street is Hyatt House (tel: [81-136] 214-191) with apartment-style suites upstairs, and a popular deli, restaurants, bars and a gear rental shop downstairs.
The Hilton Niseko Village (tel: [81-136] 441-111, www3.hilton.com/hilton-niseko) has been a centrepiece of the Niseko Village area since opening in 2008. Its biggest draw is its ski-in, ski-out location, just steps away from the gondola that whisks you up the mountain. There are over 500 rooms and an outdoor onsen with fine views of the winter wonderland outside. But it's not just a winter spot - golfers will delight in the two golf courses nearby, and then there's a staggering 23 tennis courts, mountain biking, white water rafting, hiking and horse riding. The Green Leaf Niseko Village (tel: [81-136] 443-311, www.thegreenleafhotel.com) is another landmark, also backed directly onto the slopes.
Just around the mountain from the Hilton, and 150m down from the Annupuri gondola, is Annupuri Village Chalets (www.annupurivillage.com), a picture-postcard collection of alpine-style wooden chalets. Each fully-furnished luxury cabin is set on 2,000sq m of land and can accommodate groups of between two and 12 people. The bilingual guest services team will help arrange everything from airport transfers to restaurant reservations.
Hanazono (www.skihanazono.com) offers over one vertical kilometre of snow with a wide variety of terrain for skiing and riding at all levels. Niseko International Snowsports School (NISS) is based here, offering private and group lessons plus a kids' school, workshops for teenage skiers, know-how sessions for women and powder guides to help you find that all-important virgin snow.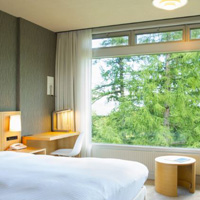 Green Leaf Niseko Village/ photo: hotel
Hanazono has three terrain parks including a half pipe and an adventure park with a winter zipline, snow tubing and snow rafting. And the fun doesn't end when the snow thaws. During the summer months you can keep the adrenaline pumping with a spot of white-water rafting, wakeboarding or take a spin around the impressive mountain bike park, which mixes jumps and forest trails.
Another option for both lessons and gear rental is Rhythm (tel: [81-136] 230-164, www.rhythmjapan.com), one of the most visible rental outfits with multiple locations in the Niseko area. They have over 5,000 items for rent in winter, and in summer they switch to providing bikes, paddle boards and more.
Buses link Niseko to nearby resorts such as tiny Moiwa (niseko-moiwa.jp/), just beyond Annupuri, and eclectic Rusutsu (www.hokkaido-rusutsu.com/). The latter is centred on a pair of hotels. The Rusutsu Resort Hotel (tel: [81-136] 463 111,https://www.hokkaido-rusutsu.com/en-gb) a dated but very child-friendly hotel with amusement arcades and a merry-go-round on the ground floor and a ski hill right out the back. Across the road, The Westin Rusutsu Resort (tel: [81-136] 462 111, www.marriott.com/westin-rusutsu) is more sophisticated and backs onto an array of tree-fringed ridges popular with backcountry merchants. As with Niseko, there's a suite of other adventures on offer, from dog sledding and snowmobiling in winter, to a 72-hole golf course in the summer.
Kiroro (www.kiroro.co.jp/) is another ski area accessible from Niseko that mixes a family-friendly ski hotel, the Sheraton Hokkaido Kiroro Resort (tel: [81-135] 347 111, www.marriott.comsheraton-hokkaido-kiroro), with backcountry haunts popular with ski guiding companies. Between mid-September and mid-October visitors can enjoy fall foliage with blazing reds and attractive prices. Kiroro is an enjoyable year-round getaway with additional lodgings from The Kiroro, a Tribute Portfolio Hotel (www.kirorohokkaido.com/en) and Yu Kiroro (www.yukiroro.com).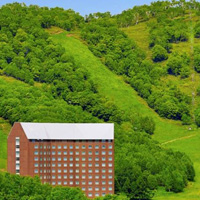 The toy-box Westin Rusutsu/ photo: hotel
There are a growing number of still more rarefied ski experiences too. Tour companies offer cat skiing (where snowcat caterpillars haul you up into steeper less accessible terrain) at places near  the defunct resort of Chisenpuri and the seaside slopes of Iwanai (iwanairesort.com/), and even the chance to ski into the crater of Yotei, the iconic volcano opposite Annupuri.
If you're short on time, or are just trying out skiing or snowboarding, the compact resorts of Teine (sapporo-teine.com) and Kokusai (www.sapporo-kokusai.jp/) lie right outside Sapporo. Both offer gear rental, with a typical set of ski or snowboard gear costing around Y5,200 per day –  the cost is roughly the same just about anywhere in Hokkaido. If you need warm weather apparel too, a jacket, pants, gloves and goggles combination will set you back a similar amount.
Access to Teine is via JR bus from the south exit of Teine Station. There you'll find 15 courses split into two zones: Highland, with more advanced terrain and Olympia which is mostly green runs. A one-day lift pass costs Y5,200 in high season. Kokusai has only seven runs – just one of them black – so is more appealing to beginners and intermediates. Buses there run from the city centre and also direct from the airport.
The northern coast of Hokkaido is another winter hotspot, thanks to an annual phenomenon which sees the sea covered in drift ice from late January. Tourists flock to Abashiri where icebreakers (www.ms-aurora.com/) push out into the floes of what is frozen fresh water from Russia's Amur River far to the north. Floating atop the heavier sea water, it is then pushed by prevailing northerlies down against the Hokkaido coast.
While you are in the area, consider a visit to the Hokkaido Museum of Northern Peoples (hoppohm.org/english/) which has an excellent collection of artefacts, displayed chronologically to allow side-by-side comparison of cultures worldwide.
A bit of adventure, golf, and snowmobiles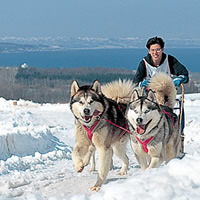 One way to get around using Alaskan husky power
Hokkaido possesses some amazing natural terrain and several companies offer on-the-edge adventure breaks. For die-hard snowmobile nuts, Snowmobile-Land Sapporo (tel: [81-11] 661-5355, facebook.com/Snowmobile-Land-Sapporo) is 20 minutes from downtown Sapporo. Offering a fleet of snowmobiles and tours ranging from 30 minutes to two hours, it sells itself as "the largest snowmobile tour company outside North America".
More rugged rides are available from Mushing Works (www.mushingworks.com/) that will let you mush your own group of Alaskan huskies for a 12km back country dog-sledding adventure. Tours run December to March depending on snow conditions.
For anything ranging from rafting and mountain biking to rock climbing, kayaking and more, try NOASC (tel: [81-136] 231-688, www.noasc.com). The company, which operates in a few Hokkaido locations, has, thank heavens, English-speaking instructors and guides so it is unlikely that you'll find yourself skiing downhill by kayak. Adventure equipment is available too so just bring yourself.
Raft the Mukawa River with Hokkaido Outdoor Adventures (www.rafting-hoa.co.jp/en/) that does three-hour fast whitewater runs at Y6,500 (minimum two persons) for anyone over 13 years of age. Or try genteel family rafting on the Saru river. Bring thermal wear for winter and quick-dry clothing and T-shirts for summer. The company runs Hokkaido snowboarding tours as well.
Hokkaido has a wide range of golf courses to choose from each with something a bit special – historical ambience, great views or scenic grounds. Whatever your ability, there will be a course that more than suits your needs.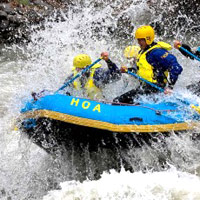 Rafting the Mukawa with HOA/ photo: HOA
If trees and water hazards appeal, try the Katsura Golf Club (www.pacificgolf.co.jp), an 18-hole forest course with undulating fairways and strategically placed dry creeks.
Before you grab your ski gear, hang-glider and canoe, and head to the hills, do check out the Sapporo Tourist Association (www.uu-hokkaido.in) and helpful local web resources from www.sapporo.travel and the Sapporo Convention Bureau (www.conventionsapporo.jp/).
For a genuine steam train experience with grey smoke, coal dust - well not too much - and a super cabin experience try Japanese Steam Locomotives (travair.jp), which runs seasonal puggers on select routes. This is always a favourite with families and a popular Hokkaido child-friendly attraction. The C11-207 engine does a Hokkaido run and the timetable is available on the website. Cabin interiors are spartan, very Japanese, but neat and comfortable with occasional cherry blossom trimmings.
The C11 are smaller locomotives that were produced in the 1930s and a few have undergone repair and a dramatic return to the tracks during holiday seasons.
Hokkaido fun, spa resorts
By April the weather is warming up, though such is the snow in Hokkaido that it is still possible to ski at some spots until well into the month and even into May sometimes. Later still, many of these resorts use their slopes for hiking, mountain biking or rafting, with many operators on hand to offer guided trips.
The arrival of spring is marked by the blooming of skunk cabbage (white flowers, not vegetables), then in late April or early May the cherry blossoms erupt, prompting a giddy epidemic of hanami (flower viewing) parties and honeymooners.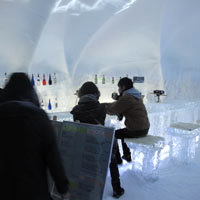 Tomamu Ice Bar/ photo: Ernest Lui
While the ephemeral cherry blossom is iconic nationwide, the lavender fields of Hokkaido have recently become a major draw for Instagrammers and selfie-lovers. Furano and Biei are the classic spots though there are fields throughout much of the island. The show starts as early as late June and runs until August.
On the coast southwest of Sapporo, Otaru City pulls in the tourists year-round, thanks to a canal lined with old buildings and warehouses now reborn as snazzy restaurants, glassworks and museums. Though the fishing industry is much reduced from its heyday, the lure of boat-fresh crab, salmon and sea urchin ensures a steady hum of traffic.
Besides the fresh sushi and sashimi, every visitor should try at least one onsen – the hot springs that litter the landscape of this volcanic country. A Japanese obsession, bathing in these springs can seem dauntingly laden with dos and don'ts but locals are usually forgiving of faux pas – the biggest mistake is to miss out.
The spa town of Noboribetsu, in southwestern Hokkaido, is an ideal place to dip a toe, with piping hot waters loaded with all manner of minerals courtesy of the sulphurous Hell Valley (Jigokudani) nearby. They make for an ideal tonic for the road-weary though don't expect much solitude as this is very much a fixture for local onsen aficionados too. Make sure you avoid the exploitative bear park.
Call the Noboribetsu Tourist Information Office on [81-14] 384-3311 for more information. Noribetsu city also boasts a slightly bizarre but actually quite decent aquarium housed in a Danish-style castle (www.nixe.co.jp) and an equally eccentric Edo-era recreation complex complete with period costumes and the like (www.edo-trip.jp). Want to be a samurai? Drop in.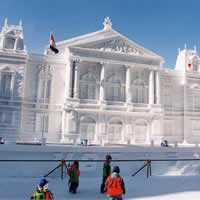 Sapporo Snow Festival
The Noboribetsu Grand Hotel (tel: [81-14] 384-2101, www.nobogura.co.jp) is a comfortable and somewhat modern option. The hotel prides itself in having one of Japan's rare "full-scale, dome-shaped Roman baths" and also has a "garden-style, open-air bath", as well as a "family bath". Bathe as much as you like.
Shogetsu Grand Hotel(tel: [81-11] 598-4126,www.shogetsugrand.com), on the banks of the Toyohira River, enjoys a splendid tree-clad location. The hotel itself offers charming views of the surrounds. Inside things are distinctly Japanese-style with tatami (woven straw mats) in the rooms. You sleep on futons on the floor but there is no skimping on style or luxury. An attractive feature at this hotel is the generous indoor public bath that offers lovely views. There is also an outdoor bath. Spend a moment at the spectacular crater waters of Lake Toya (close to Noboribetsu). Apart from the agreeable scenery, visitors will enjoy the hot springs and ryokan (Japanese inns) dotting the rim of the lake. The waters here are famous for their therapeutic qualities.
Closer to Sapporo is Jozankei Hot Springs (jozankei.jp/en/). Just an hour from the city centre, it sits prettily in a lovely gorge with a picture-postcard waterfall. The area is even accessible directly by bus from the airport (100 minutes, Y1,650). This is as good a spot as any to commence your Sapporo spa circuit. The spa is reputed to cure ailments ranging from gastric disorders to rheumatism. There are a number of hotels to choose from in the area, should you want to stay over.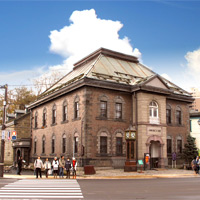 Otaru music box museum/ photo: Ernest Lui
Park Side Spa(tel: [81-11] 512-3456; open 11am to 1am) at the Arc Hotel, Sapporo, (hop off at the Nakajima Koen Station) is a pampering option.
If you're looking for Sapporo spas, try the bathing area here, which is well maintained and classy and the waters are drawn from a natural hot spring that flows beneath the hotel.
Massages and beauty treatments are also available. Bashful bathers will be pleased to learn that there are separate male and female facilities.
Sapporo nightlife, grin and beer it
The people who launched Sapporo Beer really started something. Today there's plenty of good-natured après-ski (or apres anything else for that matter) on tap in Sapporo. The options range from live music to bars, pubs and izakaya – boisterous local joints that offer comfort food to go with the booze.
There are many atmospheric venues across the city but Susukino is party central, chock-full of restaurants, karaoke joints, pachinko parlours and saucy detours for sozzled salarymen.
For local brews beyond the eponymous Sapporo, try brewpub Moon Sun Brewing (moonsunbrewing.com/). Whisky aficionados on the other hand can steep themselves in the classic surroundings of The Bow Bar (www.thebowbar-sapporo.com).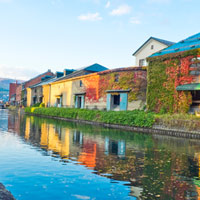 Otaru Canal is a riot of colour in summer
If live music is your bag, Sound Crue (www.soundcrue.com) is a popular venue, with a long suit in alternative music. Jazz lovers can opt for the long-running and unpretentious Bossa (www.bossa.tv) or the intimate Jazz Live Slowboat (www.jazz-slowboat.jp), a favourite with locals.
For pricier tipples with sweeping city views, there is the bar on the 35th floor of the JR Tower Hotel Nikko Sapporo (www.jrhotels.co.jp/tower/). And this is just the tip of the iceberg in our Sapporo fun guide.
This city gave Japan miso ramen – the now universal combo of curly noodles in miso-based broth – and the city is full of great ramen experiences. If you can't choose, a good place to start is on the 10th floor of the Esta mall, at Ramen Kyowakoku (www.sapporo-esta.jp). Described as a ramen 'theme park', the shops here show off an array of tastes.
For delicious okonomiyaki, look no further than Fugetsu (fugetsu-paseo.gorp.jp) handily located in the Paseo mall, also adjoining the JR station. With Paseo's other dining experiences and those in the JR Tower and Esta complexes, you could eat for months without leaving the station. If you are feeling flush, splurge with a visit to Sushizen Honten (www.sushizen.co.jp/en/). This is the flagship restaurant of a national chain known for its insistence on exquisite levels of craftsmanship and service.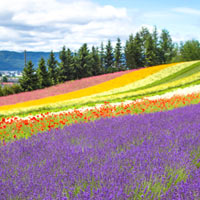 A riot of lavender and rainbow colours carpeting the hillsides
For simpler, heartier fare, start with a draft beer and snacks at the Sapporo Beer Garden (www.sapporo-bier-garten.jp) which can be found next to the brewery in a welcoming red-brick building. Then head up to the second floor Kessel Hall for jingisukan, barbecued mutton. Not so common in the rest of Japan, it is a speciality of Hokkaido.
Another speciality is seafood, but especially crab. Kani Honke Sapporo Station Ekimae (www.kani-ya.co.jp) is a go-to for many locals, with nine floors of seafood-slurping revelry centred on the prized crustacean. A cheaper alternative for oysters and other seafood, as well as crab, is the izakaya Gotsubo in Susukino.
Beds and Japanese ryokans
One of the best ways to experience true Japanese hospitality is by staying in a traditional inn, or ryokan. Don't expect a luxurious five-star experience. Instead, ryokans are simply furnished, with firm futon beds and communal bathrooms. Typically, few if any staff will speak English.
For a top-notch ryokan experience, look for The Ryokan Collection (www.ryokancollection.com) banner. They have three exquisite but pricey (US$500/night and up) addresses though all are outside Sapporo in tranquil spots in remoter parts of Hokkaido.
Far cheaper are the smaller family-run ryokans or ryokan-hotel hybrids on the Japanese Guest Houses website (www.japaneseguesthouses.com/) or at Japan Ryokan And Hotel Association (www.ryokan.or.jp/english/). You'll find these throughout the island, including in Sapporo itself.
Located only 30-minutes from Sapporo, atop Cape Hiraiso in the port city of Otaru, you'll find Ginrinsou (www.ryokancollection.com) one of Hokkaido's most prestigious ryokans. Exquisite but pricey, this inn has a hugely atmospheric open-air hot spring bath, which offers panoramic views of Ishikari Bay. The 18 rooms are elegant in their simplicity and feature natural wood and stone in classic yet welcoming traditional Japanese styles. Many include in-room hot spring baths and views of the bay.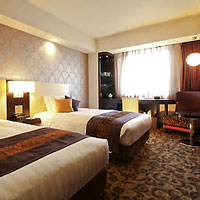 Mercure Sapporo/ photo: hotel
A charming and reasonably priced ryokan is Jozankei Nukumorino-Yado Furukawa (www.yado-furu.com), which has hot spring baths for men and women on its top floor.
If you prefer a more familiar style of accommodation, there's heaps of hotels in the city though don't expect to find too many familiar chains aside from perhaps the Mercure Hotel Sapporo (www.mercure.com), located in Susukino. You'll spot a few other mid-range brands too.
Unsurprisingly, the popular entertainment district has a concentration of hotels, with the Daiwa Roynet Hotel Sapporo Susukino (www.daiwaroynet.jp) a good mid-range choice, modern and well appointed. This expanding brand can be a good name to watch for as you travel elsewhere in the country.
There are plenty of options within a few blocks of the main JR station too starting smack above it with the JR Tower Hotel Nikko Sapporo (www.jrhotels.co.jp/tower/), a real landmark as the tallest building in all Hokkaido.
Established older names to consider include the Hotel Okura Sapporo (www.okura-nikko.com/) which serves up high-end Japanese hospitality and the more affordable but consistently well reviewed Keio Plaza Hotel Sapporo (www.keioplaza-sapporo.co.jp).
And that's our Sapporo fun guide to ski resorts, Hokkaido family adventures, spas, dining and hotels. Sayonara.
Send us your Feedback / Letter to the Editor