CRAZY SALES
Singapore shopping binge
Our guide to Orchard Road designer brands, local malls, duty-free shopping, shoe stores for women, cameras, and back-alley deals in head-bobbing Little India.
Original reporting by Yong Shu Hoong, photography by Vijay Verghese
SEE ALSO Singapore fun guide | Singapore business hotels | Singapore nightlife | Bangkok shopping guide | Top Asian hotel reviews | Hong Kong shopping guide | Kuala Lumpur shopping guide | HK Yuen Long coffee, cafes | Covid-19 responses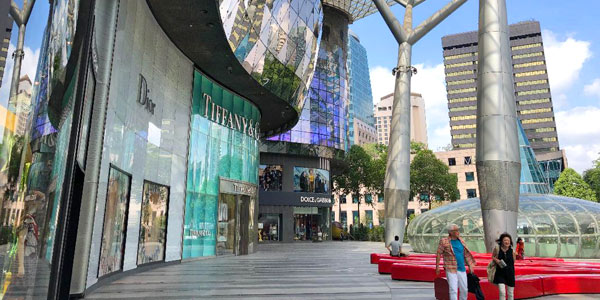 JUMP TO Orchard Singapore malls | Marina and Raffles City | Suntec City | Millenia Walk | Electronics and computer | Bugis Junction and Arab Street | Little India, Chinatown shops, Ann Siang Hill and Club Street | Holland Village and Dempsey Road antiques | Tanglin Road | Resorts World Sentosa | Local malls | Airport duty-free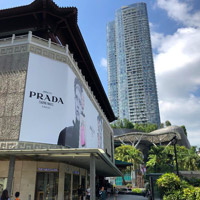 PRADA billboard at Tangs on Scotts facing ION on Orchard/ photo: Vijay Verghese
SINGAPORE has been described by some as one big shopping mall – wall-to-wall glitz and mammoth venues with window displays to lure those with spare change, and others in need of some air-conditioned respite from the sweltering heat. But to shopping aficionados, such a generalisation only means that this modern, safe, green and clean city can lay claim to being one of Asia's most sophisticated yet diverse shopping destinations. And it's not just the famed Orchard Road belt – though there is a mind-boggling concentration of designer brands here – that will keep restless shoppers entertained, there are malls and hideaways everywhere from Marina Bay to Sentosa. Best of all, many Singapore shopping malls are quite child-friendly and some lay claim to excellent nibbles and eats for that mid-afternoon pit stop.
While it's a year-round shopping paradise, the best time to visit is during its annual eight-week Great Singapore Sale (www.visitsingapore.com), when all kinds of discounts and deals pop up island-wide from late June to August.
To kick-start your all-out Singapore shopping spree, there's perhaps no better place than the much vaunted – and flaunted – Orchard Road, where you can peruse a bevy of shopping malls, conveniently stacked one after the other, all the jolly way from Wheelock Place (near the Orchard MRT station) to Plaza Singapura (Dhoby Ghaut station).
MRT, of course, stands for the Mass Rapid Transit trains that run both underground and above ground throughout most of Singapore. But walking is probably the best method to explore Orchard Road. If you can stand the heat and afternoon downpours just to bag that bargain, consider yourself a true shopping loon. On top of a well-connected train system and bus routes, Singapore's ease of transportation quotient has upped in the past year with bike-sharing systems springing up in all the neighborhoods. You can find these bikes almost everywhere from the Central Business District to Orchard Road. Visitors can download any of the four bike-sharing apps for easy access to any available bike they spot in the streets - with rates as low as 30 cents per half hour. Check out anywheel or SGBike among others.
Find the best digs for your trip in our Singapore business hotels review and family hotels roundup.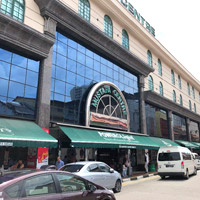 Mustafa Shopping Centre on Syed Alwi, Little India/ photo: Vijay Verghese
And now on we head into the thrum of glitzy Orchard Road - where mega brands trumpet their wares from every billboard and neon-lit mall - and on to scout back street bargains and local designers with some truly unique offerings.
Whatever you're in the mood for, Singapore has it in spades. And yes, the people smile and taxi drivers love to have a yak, often about politics and, no, they're not government agents, just dads and moonlighters who enliven their shifts with passenger exchanges.
It's a cliché but it certainly brings punters back for more. So here's our big Singapore shopping guide for women, metrosexuals, and men about town.
Send us your Feedback / Letter to the Editor
Orchard Road glitz and mega malls
Originally named after the many pepper and nutmeg plantations dotting the road in the 1840s, Orchard Road underwent a S$40 million revamp in 2009 that unveiled widened pedestrian walkways and better lighting. The bustling shopping belt starts off from the busy junction where Wheelock Place (501 Orchard Road, www.wheelockplace.com) stands with an unmistakable glass cone built within its architecture. It lights up like a giant Christmas Tree during the festive season.
Tenants in Wheelock Place include Apple computer and iPod reseller, EpiCentre @ Wheelock Place (02-22, tel: 6238-9381, www.epicentreasia.com), and Marks & Spencer (01-01, tel: 6733-8122), the well-known British department store with fashion, foodstuff, toiletries and decent underwear for men and women. Grab one of their decadent chocolate muffins while you are it. These are some of the most consistent and sinfully delicious pick-me-ups around town, worth every calorie. Keep an eye out for Birkenstock shoes, Crumpler casual bags, Dr Martens shoes, Calvin Klein underwear and Yacht 21.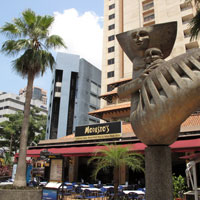 Bronze mother and child, at the Orchard Road shopping strip/ photo: Vijay Verghese
For snappy, chic and affordable menswear, look no further than Benjamin Barker (02-11, tel: 6733-3275, www.benjaminbarker.co) to spruce up your wardrobe with preppy basics, classy eveningwear and tailored work shirts. With fashionable and trendy sales personnel helming the store, you might just emerge looking like you were born fashion forward- albeit with a lighter wallet. 
Straddled atop the Orchard MRT station is the huge and futuristic ION Orchard (2 Orchard Turn, tel: [65] 6238-8228, www.ionorchard.com), touted as "Singapore's first multi-sensory experiential shopping and lifestyle mall". So that's music, colour, perfumed stores, increasingly heavy bags, and a serious sense of space – this gargantuan mall houses more than 300 stores across 66,000sq m of drool-worthy shopping. Aside from visiting the stand-alone stores of Aldo, Bimba & Lola, Boss Selection, Charles & Keith, Clarks, IWC Schaffhausen, Marc Jacobs,Miu Miu, and Vivienne Westwood, shoppers can call on the duplex flagship stores of Cartier, Dior, Dolce & Gabbana, Giorgio Armani, Louis Vuitton, Prada,­_Topshop/Topman, Uniqlo and Zara. If you happen to stop by here before December 2017, head over first to ION's information counter where you can pick up your own ION Orchard Tourist Wallet. The wallet entitles all tourists up to an additional 10 percent off their purchases from a plethora of shops – including DVF, DSquared, BaoBao Issey Miyake and Swarovski. These perks also extend to their range of dining establishments, beauty, wellness and lifestyle shops.
A short detour into Scotts Road will bring you to Far East Plaza (14 Scotts Road, tel: 6734-2325), which in recent years has spruced up its image serving a younger clientele with a variety of small shop units hawking designer t-shirts, dresses and accessories – in particular Level One, which is a designated zone for street fashion.
While the wares here are not always dirt-cheap, limited-edition Japanese tees, for example, are still affordable at just below S$50 (approximate exchange rate is US$1 = 1.38 Singapore dollars). Head to levels 3 and 4 for one-off designs and scour through bargain bins for beautiful steals that will cost you under S$20. Amongst the shops, we picked up a vintage Sonia Rykiel rose tea dress going for S$199.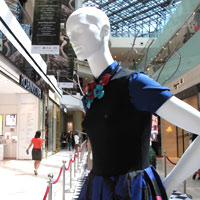 Raffles City mannequin/ photo: Vijay Verghese
Directly opposite the Far East Plaza is DFS Galleria Scottswalk (25 Scotts Road, www.dfs.com/en/singapore). Show your passport for duty-free savings on international luxury brands like Burberry, Mont Blanc, Dunhill, Prada and Tiffany & Co. You can also find the well-loved Helena Rubenstein, unavailable elsewhere in Singapore, here. Be prepared to embrace an assortment of fashion, cosmetics and liquors, as well as a selection of local specialties, like Tiger Balm medicated ointment, Chinese tea and Singapore Sling in takeaway bottles.
While you may not spot this in every Singapore shopping guide, over at Pacific Plaza (tel: 6733-5655) on 9 Scotts Road, our insider tip is to head for Quintessential (02-01, tel: 6738-4811, www.quintessential.com.sg), a multi-brand accessory shop with trendy and classic finds. Look for the colourful vintage-inspired clutches from Babe, a Hong Kong-based brand. All of the bags are hand-crafted, and have been snagged by the likes of Kate Winslet and Gisele Bundchen. Also, don't miss Kam's Roast #(01-04, tel: 6836-7788 for its 1-star Michelin award roast duck and pork while you are there. If roasts are not your thing, right next door is another Michelin-starred hold out, Tsuta (01-01, tel: 6734-4886), which serves up arguably the finest ramen in Tokyo and has made its first base outside Japan on Singapore shores.  
Next to the Grand Hyatt is the reborn Scotts Square (www.scottssquareretail.com), showcasing everything upmarket from Hermes, Alexandar McQueen, Vivienne Westwood, and Christian Louboutin. Step into TYAN (01-04, tel: 6443 4272), a multi-label store which stocks brands like Paule Ke, Roberto Cavalli, Derek Lam, 10 Crosby and more for a one-stop wardrobe update. The overall selection of shops may not be huge but you'll spot some big and interesting fashion brands here.
Upon your exit from Scotts Square, follow the crowd past Crossroads Café (320 Orchard Road, tel: 6735-5800), a popular hangout for tourists and shoppers located at the junction of Scotts Road and Orchard Road, and you'll find yourself in front of Tangs (310 Orchard Road, tel: 6737-5500,www.tangs.com.sg) - a Singapore retail institution, founded by C K Tang in 1932, in what remains the heart of the city.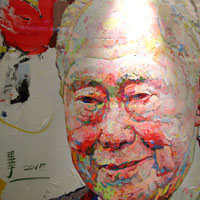 Lee Kuan Yew portrait at Raffles City art gallery ODETOART by Ren Zhen Yu/ photo: Vijay Verghese
The department building is undergoing a facelift to convert 29,000sq ft of space into boutique beauty real estate and the entire Level 4 – dedicated to beauty services – opened in mid-June 2017 with brand names like Cle de Peau Beaute, Espace Beaute Chanel, La Mer Facial Studio, and Dior Institut. A new kids' department arrived on Level 2 in July 2017, and the Men's department on Level 3 sees the introduction of active-wear brands. Overall, expect international fashion brands, shoes, accessories, beauty products, electronics and homeware, as well as exclusive merchandise in this home-grown retailer.
Just a quick underpass away is Wisma Atria (435 Orchard Road, tel: 6235-2103, www.wismaonline.com). Its tenant mix includes international favorites like Cotton On, Forever New and Tory Burch alongside local brands (think affordable and beautiful one-piece and dresses) like MDS, OSMOSE (B1-52, tel: 6737-4237), Flying Cat and Sixties (B1-16, tel: 6737-9483) all lined up along the basement path leading towards Takashimaya, cutsie sweet vintage style boutique L'zzie (B1-35, tel: 6262-5653). Right opposite the basement tenants is the spanking new Mango (B1-01, tel: 6734-7156) which took over the previous tenant Isetan and is now Asia's biggest single story Mango store featuring 200sq m of affordable and fashion forward apparel for men, women and children. To further up the glam factor, look no further than the fresh and fashion-forward line from All Dressed Up (Level 2, www.facebook.com/alldressedup) by Singapore style pioneer, Tina Tan-Leo.
For a thematic food experience, head to the upper levels where Picnic (03-15 tel: 6734-8352), an outdoor-themed indoor-garden dining venue resides. Like the name, you can expect a bit of everything, only on a global platter, with choices like Rosti, Korean Bulgogi, Taiwanese Beef Noodles, Burgers, Pizzas, Rotisserie Chicken, Bentos, Wraps and Gelatos. Alternatively grab a 40-minute breather in Qoosh Nail Spa (03-03, tel: [65] 6734-8057) for a pampering pedicure to revitalise tired feet. The full-service comes with a pre-pedicure Jacuzzi foot spa on a reclining massage chair while the nail technicians clad in yukatas (summer kimonos) serve up hot tea, chocolate and impeccable Japanese service as they scrub, massage and pamper tired feet back into life- before ending the course with a slick of pretty polish for the shopping ahead.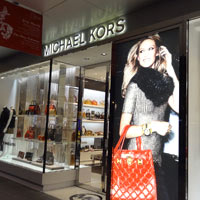 Michael Kors at Scotts/ photo: Vijay Verghese
Lucky Plaza (304 Orchard Road, tel: 6235-3294, www.luckyplaza.com.sg), once a prominent Orchard Road landmark, has lost much of its shine due to the mushrooming of swankier competition around it. It is notorious for touts persistently peddling copy-watches and is a favourite haunt of Singapore's foreign domestic workers on Sundays. Stop off here for shopping bargains, especially for electronic goods such as cameras, DVD players and handsets.
If haggling gives you a headache, you can adjourn to the fixed price tag comfort of Paragon (290 Orchard Road, tel: 6738-5535, www.paragon.com.sg), where you'll find everything under one roof for the fashionista in you – from Prada, Gucci, Burberry, Ermenegildo Zegna, Miu Miu, Salvatore Ferragamo, Banana Republic and G-Star, to department stores such as Metro (tel: 6835-3322, www.metro.com.sg) – founded in Singapore in 1957 as a textile store in a two-storey shophouse. Paragon offers high-end browsing with style, space and, of course, that ubiquitous Singaporean specialty – really cold air-conditioning. For a whiff of luxury, check out the lotions and fragrances from Escentials (3-02, tel: 6737-2478, www.escentials.com.sg) with best-selling scents from Acqua di Parma, Annick Goutal, Creed and Serge Lutens.
The Heeren (260 Orchard Road, tel: 6738-4388, e-mail: mallenquiries@heeren.com.sg or www.heeren.com.sg) underwent a revamp in 2012 and re-emerged in late 2013 as Robinson's Orchard Departmental Store (www.robinsons.com.sg, tel: 6735-8838), another homegrown Singapore department store with an illustrious history as a trusted retailer. Its new premises at Heeren come in a totally different façade with beautiful hanging sculptures that are visible from the first floor. The six-storey departmental store includes ensembles from Ted Baker, Trucco, Jessica, Bonds, and Jigsaw while men can indulge in Matinique and Bertoni. If you're shopping for your home, there are luxurious 1,000-thread count bed sheets from Hotel Collection, exquisite tea by Mariages Freres, and brands like Calvin Klein Home, and Dorma.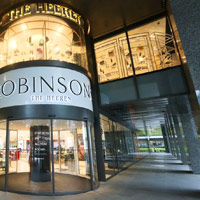 Upscale Hereen hosts Robinsons/ photo: mall
Ngee Ann City (391 Orchard Road, tel: 6506-0462, www.ngeeanncity.com.sg), with its imposing façade and grandiose interiors, is a worthy stopover for a couple of hours (or a day, if you can spare the time) on your shopping itinerary.
The Japanese department store Takashimaya (tel: 6506-0458, www.takashimaya-sin.com) has international labels like DKNY, Kenzo, Bally, Bulgari (or BVLGARI), Hermes, Salvatore Ferragamo, Cartier, Gucci, and Jim Thompson stretched over a whopping six floors from Basement 2 to Level 5. In its food hall, you can also sample Japanese snacks and sweets, and gourmet food items from Harrods and Fauchon.
In the other parts of the expansive Ngee Ann City, you'll find popular designer boutiques signposted by Alfred Dunhill, Chanel, Louis Vuitton, Tiffany & Co, Fendi and Club Monaco. But don't forget to drop by Japanese store Books Kinokuniya (03-09, 6737-5021, kinokuniya.com.sg/), the largest print retail offering in Southeast Asia, and Best Denki (05-01, tel: 6835-2855, bestdenki.com.sg), where you can take your pick from a wide range of electrical appliances. Do not forget to pick up some delightful macarons on your way out at the Laduree teahouse (01-24A and 02-09, tel 6884-7361), which opened its Parisian doors in Singapore in late 2013.
Next to Ngee Ann City is the Mandarin Orchard Singapore (formerly Meritus Mandarin Hotel). The newlook shopping arcade, Mandarin Gallery (tel: 6831-6363, www.mandaringallery.com.sg) is home to more than 100 shops on four floors. The stylish window displays of Elephant & Coral, Béjwl and Gallery Rare will tempt window shoppers to steal more than a quick peek.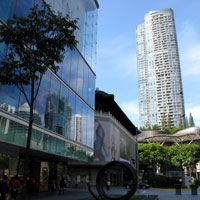 Scotts Square looking onto Tangs and Ion/ photo: Vijay Verghese
There is also a good, varied selection of luxury items: Vertu_mobile phones, Bell & Ross watches, bespoke sustainable jewellery by Choo Yilin, organic beauty products at Bud Cosmetics and exquisite flaky pastries at Antoinette. Update your art collection via a visit to the Art Tree Gallery (04-11, tel: 6238-0086), or pop in next door at Artistique Tea Lounge/Jamming Studio (04-14/15, tel: 6235-8370) for a cup of gourmet brew and watch budding artists work on their craft in the adjoining studio. If you have two or three hours to spare, you could join their ranks by painting your own masterpiece for a small fee (paint and canvas provided by the studio) to take home and remember your Singapore trip by.
For more street fashion, Swedish value retail chain H&M (tel: 6235-1459, www2.hm.com/en) opened September 2011 in Orchard Building, 1 Grange Road just across the street, taking over the previous premises of California Fitness, and plays to packed audiences - mainly young kids and college students.
Nearby Orchard Central (181 Orchard Road, tel: 6238-1051, www.fareastmalls.com.sg/) is a 14-storey shopping mall boasting a smatter of fashion labels like Uniqlo and many gourmet delights such as the popular Lady M Confections (01-27, tel: 6509-3673) and Singapore's first Sanrio character café, POMPOMPURIN Café (04-08, tel: 6509-8672). Neighbouring_313@Somerset (tel: 6496-9313, www.313somerset.com.sg) brings on a slightly different browsing experience as it houses multi-level boutiques, a rarity in Singapore malls. The four-storey Forever 21 store is an instant attraction for shopaholics. Conveniently connected to the Somerset MRT station, the shopping centre spans eight floors and contains a balanced mix of international (Zara, Cotton On) and local (Charles & Keith, Dyel) brands.
Right next door is Orchard Gateway (277, 218 Orchard Road, tel: 6513-4633, www.orchardgateway.sg) which opened its doors in 2014 and like its neighbour, enjoys direct access to Somerset MRT. It houses a men's fashion zone with brands like Tocco Toscano (04-02, www.toccotoscano.com), Elle Homme, Leeden Classic and Diamond Walker Bespoke Shoes (04-03, tel: 6844-9119). To even out the score, treat your lady to Dazzlin' Café Pink (01-27, tel: 6385-6369), a Taiwanese feminine and pretty café that serves up photo and drool-worthy desserts and drinks in almost all-pink surroundings. She'll probably get busy putting her feet up to post pictures on Instagram as you continue your sojourn in the men's fashion arena.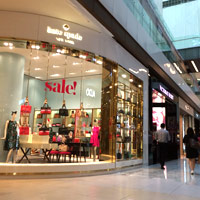 Kate Spade has a large Singapore presence, Raffles City store / photo: Vijay Verghese
Towards the other end of Orchard Road lies Plaza Singapura (68 Orchard Road, www.capitaland.com/sg), built in 1974. The latest addition of an east wing at a cost of $150million has upsized this decades-old grand dame to a whopping 629,000sq ft of shopping space – rivalling the spread of Ion Orchard and providing new shopping experiences and eateries. Dine at the highly raved Tim Ho Wan teahouse, which has queues forming as early as 10.30am. This is a good spot for children's stores and kiddie paraphernalia with a range of shops from Mothercare, Lil'Bambi's Closet, Jelly Bunny, to Cotton On Kids. Bargain lovers will find themselves right at home in S$2 megastore Daiso (05-01/02/03, tel: 6884-9210), which packs over 90,000 different products in its inventory, or the newly launched Japanese fast-fashion brand MINISO (04-15/16, tel: 6341-9136) which supplies everything from home ware, perfume, beauty products and toys at bargain prices.
Marina and Raffles City buys
Moving out of the Orchard Singapore enclave, another shopping area fast gaining prominence is the Marina Bay area, which has a cluster of malls deserving of mention.
Raffles City Complex, designed by world-renowned architect I M Pei, is perched atop City Hall MRT station, and a great starting point for exploration. Raffles City Shopping Centre (252 North Bridge Road, www.capitaland.com/sg/malls/rafflescity), part of the complex that also houses an office block and two hotels, has another branch of Robinsons department store and numerous fashion and specialty shops such as Swatch (01-41, tel: 6334-5951), agnès b (01-26, tel: 6334-4910), Calvin Klein Underwear (02-36, tel: 6532-6469) and Levi's (formerly Dockers, 01-14). A great spot for those casual street-hip blues for the man on the move. Dockers (dockers.com.sg/) can be found at Bugis Junction and the ISETAN Katong.
Find a spacious Shanghai Tang. Raffles City is a hugely convenient spot for a range of designer brands and offbeat shopping too. On the ground floor find COACH, Tumi travel bags, Nine west Timberland, British India, Tommy Hilfiger, Brooks Brothers, Furla, MAC, Aldo, and Swarovski plus a clutch of fancy watch stores including Omega, Rolex, Audemars Piguet & Vaucheron Constantin, Blancpain, and Tissot.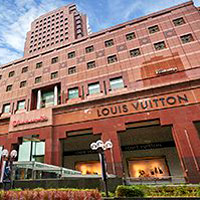 Takashimaya Louis Vuitton at Ngee Ann City/photo: mall
Take the CityLink underground passageway (1 Raffles Link, tel: 6339-9913, www.citylink.com.sg) to an interesting mall below ground that connects you to Marina Square and Suntec City Mall. Along the way, check out the contemporary women's footwear at homegrown Charles & Keith (B1-32/34 31, tel: 6338-0913, www.charleskeith.com), so chic that global luxury-giant LVMH purchased a 20 percent stake of the company in 2011, and has since expanded its offerings to China. The row of shops also includes Chicago-style snacks from Garrett Popcorn Shops (B1-26A, tel: 6238-9918) and Korean imported accessories by MixShop (B1-45, tel: 6327-9225).
Conveniently connected to CityLink is Marina Square (6 Raffles Boulevard, tel: 6339-8787, www.marinasquare.com.sg), comprising four levels of retail with more than 300 outlets including; GEOX (02-127 to 128, tel: 6333-9819), which touts comfy Italian shoes that "breathe"; The Planet Traveller (03-124 to 127, tel: 6337-0291, www.theplanettraveller.com), Asia's largest lifestyle travel store with a floor space of 5,000sq ft catering to all your travel needs; and The Bodyshop (02-340, tel: 6334-9336) for cruelty-free fragrance, bath and skincare products. Do not miss Japanese gourmet provider Emporium Shokuhin, located at the mall's new wing (01-18, tel: 6224-3443) for a good array of snacks and instant noodles to watch Netflix back home with. The emporium also houses its own bistros that serve fresh catches and premium imported meats for a delicious lunch pit stop.
In search of a camera store in Singapore? Check out Cathay Photo (02-215, tel: 6339-6188) for reliable recommendations. Staff are polite and will walk you through the innards of the latest gadgets. Camera prices in Singapore are competitive. Cathay Photo also has a shop in the cheaper Peninsula Plaza where you can pick up lenses, camera bags and tripods.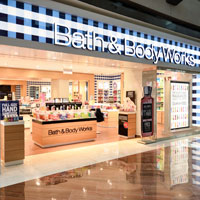 Bath & Bodyworks at the Marina Shoppes/ photo: store
Located across Peninsula Plaza is a once forgotten grand dame The Capitol, recently restored and relaunched in 2016 as The Capitol Piazza (13 Stamford Road, tel: [65] 6499-5168, www.capitolpiazza.com). Consisting of The Patina, a 157-room hotel and member of Leading Hotels of the World, as well as Pritzker Prize Laureate Richard Meier designed Eden Residence plus the revived and refurbished Capitol Theatre, the Capitol Piazza is connected to Cityhall MRT via and underground link and hosts a variety of luxe brands in its arcade that include Villeroy & Boch (01-74, tel: 6384-7309), famed go-to tailor of local politicians CYC (02-11, tel: 6336-3556), Cortina Watch (01-77, tel: 6384-3250), Sulwhasoo (01-72, tel: 6844-9766) and the classic tearoom Angelina (01-82, tel: 6384-0481), founded in Paris in 1903 and world-famous for its hot chocolate and Mont Blanc pastry. 
The Marina Bay Sands Resort shopping mall, named The Shoppes at Marina Bay Sands (www.marinabaysands.com), houses more than 300 retail and dining outlets in over 800,000sq ft of space. Don't be put off by the frou frou name – this place comprises a mix of local and foreign brands, high-end tenants include the likes of Chanel (L1-59, tel: 6634-7350), Saint Laurent (B1-116, tel: 6688-7338), Cartier (1-39A, tel: 6688-7388) and Tiffany & Co (B1-132, 6688-7728). This is Singapore designer brand shopping at its most intense.
One of the new Singapore shopping malls featured in our fun buys guide, this construct also carries several overseas labels that have chosen to make their first foray into Singapore: like iRoo from Taiwan (B2-101, tel: 6688-7046) and Moiselle from Hong Kong (B2-26, tel: 6688-7768). And if you have been one of the multitude who have been getting their Bath & Bodyworks fix via its online shopping site, here's news. The luxurious bath brand has launched its flagship store (B2-42, tel: 6723-8080) in February 2014 and is located next to Sephora (B2-43, tel: 6688-7713), the purveyor of cult and prime beauty products.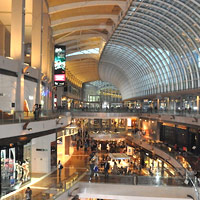 Massive luxury shopping spread at Shoppes at Marina Bay Sands/ photo: mall
Other boutiques in the Shoppes include Hackett (B2-230/231A, tel: 6723-7227), a British retailer that offers a full range of formal wear and gentlemen's club style accessories within its 2,575sq ft space; and La Martina (B1-82/82A, tel: 6723-7234), an Anglo-Argentine leisure clothing label that showcases stylish polo t-shirts within its classical vintage confines. The discerning would appreciate stepping into Berluti (B1-91, tel: 6509-1195) for specially crafted hand-finished custom footwear, Brunello Cucinelli (B1-81, tel: 6688-7216) for stylish cashmere wear, Ermenegildo Zegna (B2M-219, tel: 6634-3731) to get properly suited up, and Tom Ford (B1-128, tel: 6222-3778) for the sleekest ready-to-wear, accessories and fragrance in exclusive surroundings of chrome glass and grey. 
The most popular attraction has been the indoor canal running down the middle of the mall. For S$10, you can take a slow ride on a twee Chinese-style sampan rowboat down the length of the mall and back. So take a break from shopping and instead of heading to a café, head to the canal for a more novel alternative to cake and coffee. At very least it is a child-friendly feature that can distract the tots while you splash out.
Suntec City and one large fountain
Accessible from Marina Square via an overhead bridge is Suntec City Mall (3 Temasek Boulevard, tel: 6825-2667, sunteccity.com.sg/), a sprawling shopping mall divided into four themed zones (Galleria, Tropics, Entertainment Centre and Fountain Terrace) and features the Fountain of Wealth, acknowledged by The Guinness Book of Records as the largest fountain in the world. Legend has it that you should wet your hands in it, return to Singapore, and get instant wealth – although with all this shopping, your wallet might not agree. The Galleria, Entertainment Centre and fountain emerged from renovation late 2013, while the Tropics on Towers are being reworked for launch in late 2014.
As you meander your way through the 888,000sq ft of wall-to-wall retail, check out Owndays (02-465, tel: 6837-0244) for a wide selection of high quality and fashionable spectacle frames in fixed prices and an express service that can get you a pair of lenses ready in 20 minutes.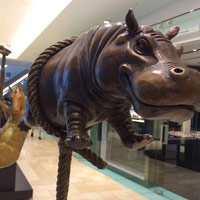 Flying hippo at Raffles City/ photo: Vijay Verghese
While you wait, stop by Superdry for extremely soft cotton and authentic vintage wash t-shirts with iconic hand-drawn graphics. The brand, which echoes Japanese street fashion, was created by two Brits after an inspirational trip to Japan and has attained cult status amongst fashionable kids. Also take a pit stop at electronics giant, Harvey Norman Singapore Millenia Walk Flagship Superstore (02-69, tel: 6332-3212, www.harveynorman.com.sg/). The shop has a large range of stuff from top-drawer cameras and video players to home appliances. It runs several outlets throughout Singapore including at Raffles City (and in Malaysia).
Tick tock, tip-top watches at Millenia Walk
An often-overlooked and less trampled gem we've picked for our crazy sale guide is Millenia Walk (9 Raffles Boulevard, tel: 6883-1122, www.milleniawalk.com), within walking distance from both Marina Square and Suntec City and conveniently linked to hotels like the Ritz-Carlton, Mandarin Oriental and Pan Pacific. Designed by Pritzker Award winning architect Philip Johnson, the cheery mall houses more than 190 interesting fashion spots and speciality shops.
Millenia Walk's choice of fashion outlets to recharge your wardrobe include handmade jewels and throwback dresses at Deja Vu Vintage (01-70, tel: 6338-8013, dejavuvintage.com/), and one-off frock pieces at The Emporium (01-84, tel: 6338-3944), while beauty, spa and cosmetic stores include Senteurs de Provence (01-77, tel: 6334-4163, www.senteurs.com.sg).
If you're into designer furniture and home accessories, check out Commune (02-51, tel: 6338-3823, www.thecommunelife.com) for splurge worthy sofas and throw pillows. Then crank up your wallet again for state-of-the-art home entertainment systems at BOSE MilleniaWalk (01-35, tel: 6339-0966, global.bose.com/en). For more affordable furniture and electronics, roam the sprawling Harvey Norman store (02-57, tel: 6311-9988, www.harveynorman.com.sg/). After thinning your wallet, be sure to fatten yourself up with a decadent treat playfully dubbed the G-Spot – a combination of dark chocolate mousse, chocolate meringue  and hazelnut praline crunch in one sinfully delicious brown dome at Patisserie G (01-40, tel: 6338-7578, www.patisserieg.com/).
Electronics and computer shops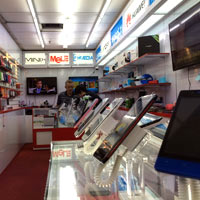 Sim Lim gadgets/ photo: Vijay Verghese
Funan Mall had reopened by mid-2019 and its new tenants include Dyson's Demo Store Beauty Lab, Brompton Bikes and a bespoke scent shop called SIX which concocts immersive scents based on places and spaces for the nose. Also in line with its tech DNA, the mall now hosts a food court, KOPItech Foodcourt, which accepts cryptocurrencies.
Skip over to The Adelphi (1 Coleman Street, tel: 6339-9179) across North Bridge Road and find the most respected hi-fi brands that will satisfy the cravings of even the most ardent audiophile.
Also nearby is another Cathay Photo Store located in Peninsula Plaza (111 North Bridge Road, 01-11, tel: 6337-4274, www.cathayphoto.com.sg), if you wish to stock up on camera lenses or try out the latest digital camera or video-cam.
Bugis Junction and Arab Street
Another place to get cheap computers, electronics and audio-visual equipment is Sim Lim Square (1 Rochor Canal Road, tel: 6338-3859, www.simlimsquare.com.sg) with a lot of room for deals and price negotiations. Do take note that bargains are only found after some expert haggling to bring down inflated prices. To avoid being scammed, watch out for the flyers that are put up quarterly at the lift lobbies by Singapore's consumer watchdog CASE that name and shame errant peddlers within the mall. Sim Lim Square is near the Bugis MRT station, which is also where you can alight to visit Parco Bugis Junction (Bugis Junction, 200 Victoria Street, tel: 6557-6557, www.capitaland.com/sg/malls/bugisjunction), where you'll find department store BHG (02-00, tel: 6223-2222, www.bhgsingapore.com.sg), incorporating the popular Muji store, famous for its minimalist no-brand fashion, stationery and household items.
Apart from various little shops selling everything from fashion to electronic items, Parco Bugis Junction also boasts boutiques such as Little Match Girl (02-05, tel: 6336-3396, www.littlematchgirl.com.sg) and bYSI (01-38, tel: 6883-2778, bysi.com). Other stores include a smaller outlet of Books Kinokuniya (03-09, tel: 6339-1790, kinokuniya.com.sg/) and Sony (01-58, tel: 6837-0646, www.sony.com.sg/).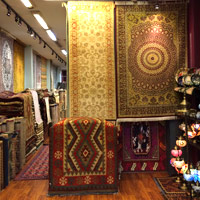 Persian carpets on display at Arab Street / photo: Vijay Verghese
Across Victoria Street, opposite Parco Bugis Junction, is hard-to-miss Bugis+ (201 Victoria Street, tel: 6631-9931, www.capitaland.com/sg/malls/bugisplus/). Formerly known as Iluma, the landmark shopping mall re-launched in 2012 after an extensive makeover. Designed by award-winning Singapore architecture firm Woha, it features a distinctive façade – 10-storeys of studded lights that resemble oversized gemstones. More than 194,000sq ft of entertainment, food outlets and shops for the young, hip and trendy – like edgy yet feminine pieces at The Editor's Market (01-04, tel: 6509 8744, www.theeditorsmarket.com), soft and pretty work clothes at TEMT (02-25, tel: 6238 1479, www.temt.com.sg), and colourful street looks from Pull&Bear (01-19, tel: 6884-4347).
Beside Bugis+, you'll find Bugis Street, with its sheltered walkways and shopping zones housing over 600 stalls of trendy streetwear and eclectic knickknacks. Any breezy, fun Singapore shopping expedition should mark Bugis Street as a must-do.
For more bazaar-style shopping, take a stroll over to the Arab Street area that oozes Malay cultural vibes. Check out hand-woven baskets and other cane, straw and rattan products, as well as antiques, retro artefacts, batik shirts, table linens and sarongs. For textiles ranging from chiffon to silk, stop for a look at Basharahil Bros. (101 Arab Street, tel: 6296-0432) and Poppy Fabric (111 Arab Street, tel: 6296-6352). As Arab Street is near the Sultan Mosque, you'll also find Singapore shop houses selling the holy Quran, prayer mats and songkok (headgear worn by Muslim males) – not to mention coffee shops and restaurants serving Malay, Turkish and Middle Eastern cuisine. For lunch, duck into the shady and cool interiors of Kampong Glam Café (17 Bussorah Steet, tel: 6294 1697) for authentic Malay cuisine. The café serves delicious beef rendang, curry and rice for under S$5 and its central location allows diners to soak in the bustling atmosphere while enjoying a delicious break.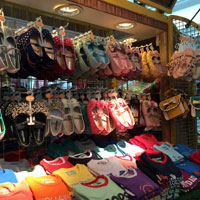 Shoes at Bugis Junction/ photo: Vijay Verghese
After lunch, continue on the same lane past Baghdad Street. Crossing the road at Arab Street, you will find yourself in a quiet bend called Haji Lane. Here, hip boutiques and people are beginning to fill-up its once empty corners and you will find anything from ice-cream parlours, double-storey blogshops, trinkets displays, genuine steals and gorgeous dresses from local designers to a bike shop. Visit carpet retailer, Anil Brothers (28 Haji Lane, tel: 6298-3395), go through Scandinavian style wear and homeware at Mondays Off (76 Haji Lane, www.mondays-off.com) and casual gear from SUP (38 Haji Lane, tel: 8186-4630, blog.supclothing.com). Look the part for summer at Bellakini (69 Haji Lane, tel: 6291-6128, bella-kini.com/), go vintage with your frocks and accessories at Grammah (66 Haji Lane, tel: 6299-0384) and pick up eco-friendly and stylish bamboo clothing at Zhai Eco (82 Haji Lane, tel: 6396-6865).
Bike lovers should stop by Tokyo Bike (38-01 Haji Lane, Tel: 6299-5048), Tokyo's first and only flagship boutique in Asia outside Japan that focuses on city exploration cycling with both simplfied and chic bike features.
Little India, Chinatown, Ann Siang Hill, Club Street
Other ethnic shopping enclaves in Singapore include Little India and Chinatown – both are tourist attractions in their own right, steeped in ethnic colours and flavours.
Little India is about 20 minutes' walk along Selegie Road from Dhoby Ghaut MRT station, (or go straight to Little India MRT station). Here, you can choose from Indian gold jewellery (intricate bridal ornaments to more affordable bangles and ankle bracelets), brassware, silverware and, of course, yards and yards of glittering saris in multiple hues.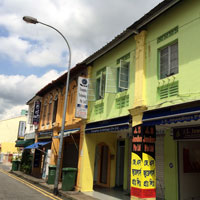 Little India: gold and spice/ photo: Vijay Verghese
If your friends back home enjoy cooking Indian curries, ready-made packets of spice are wonderful take-home gifts. Should the assault to the senses start to numb, you can always escape into Mustafa Centre (145 Syed Alwi Road, tel: 6295-5855, www.mustafa.com.sg), a modern 24-hour department store that offers everything from electronics, clothing and toiletries to foodstuff at very reasonable prices. Small packages of delicious Ceylon tea from Mustafa's shelves make affordable gifts of under S$10.
In the shadow of the financial district's high-rise towers, Singapore's Chinatown is accessible by either Chinatown or Outram Park MRT stations. If you plan a stint of shopping in Singapore, set aside a half hour or hour at least for this district. Chinatown Point (133 New Bridge Road) is situated just above Chinatown station. Recently refurbished and open for shoppers again, the interior of this once-ageing shopping complex has been revived to resemble the inside of The Oriental hotel with fan-shaped carpets. Get your year's supply of bird's nest, an oriental delicacy at Emperor Brand Bird's Nest (B1-07, tel: 6533-5633) or Chinese herbs, Ginseng and tinctures at homegrown medical halls Eu Yan Sang (B1-05, tel: 6702-0180) or Hock Hua Tonic (B1-36, tel: 6694-8616).
Just across the junction from Chinatown Point is Yue Hwa department store (70 Eu Tong Sen Street, tel: 6538-4222, www.yuehwa.com.sg), which offers authentic Chinese products including tea, herbs, medicines, foodstuffs, silks, cheongsams, handicrafts, household items and antiques. OG People's Park (100 Upper Cross Street, tel: 6535-8888, og.com.sg/) is a household name in Singapore, with a long history in Singapore's retail scene. Like any department store, it sells fashion, accessories, beauty and cosmetic products, toys, and so on.
While in Chinatown, you can also venture into the maze of shophouses all along Eu Tong Sen Street, New Bridge Road and South Bridge Road. Don't forget to wander into side streets (like Smith Street, Trengganu Street, Temple Street and Pagoda Street) and any interesting alleyways – you never know what you might find, whether a quaint medicine stall hawking snakeskin, an authentic teashop or a smoky store selling tidbits and barbecued pork.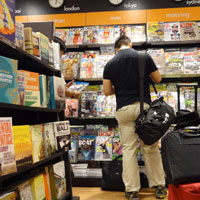 Changi Airport bookstore/ photo: Vijay Verghese
Ann Siang Hill and Club Street may be yuppie hotspots at night, but scour the shops there in the day for some interesting finds. At EggThree (33 Erskine Road, tel: 6536-6977, www.eggthree.com), you will find beautiful and eclectic home accessories, clothing and furniture sourced from all over the world. The world's oldest barbershop Truefitt and Hill (9 Ann Siang Rd, tel: 6223-5263) set up its exclusive quarters here in September 2013, where clients go to enjoy traditional wet shaves and haircuts while enjoying bespoke barber services befitting a gentleman. Expect cocktails served on the side and a cigar bar too. Very Jermyn Street and Old Bond. Since then, the barber has garnered a strong following and recently opened another branch at the Capitol Piazza.
Holland Village and Dempsey Road antiques
Explore Holland Village (accessible by buses 7, 77 or 106 from Orchard Boulevard, or a 20-minute jaunt on foot from Buona Vista MRT station, www.holland-village-singapore.com) for handicrafts and more shopping without the bright lights and ice-cold temperatures.
With its mix of cafés, pubs and eateries, Holland Village is also dubbed Singapore's "bohemian enclave" and the perfect spot for people-watching. This is also where you can find a variety of shops selling well-made souvenirs and handicrafts – from Bali-inspired crafts to Chinese silks.
Located in Holland Road Shopping Centre, Lim's (211 Holland Avenue, 02-01, tel: 6467-1300) brims with interesting Asian-themed furniture and creative décor ideas (like porcelain vases, lacquerware and silk pillow covers) sourced from China, India and Southeast Asian countries such as Vietnam, Indonesia and Thailand.
Just off Holland Road, two bus stops away from the Singapore Botanic Gardens, the Dempsey Road area (now part of Tanglin Village) is home to art galleries, antique shops and furniture and carpet dealers.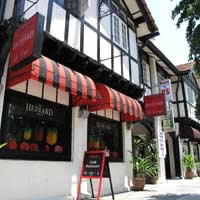 Tudor Court on Tanglin Road / photo: Vijay Verghese
Nestled within the former British army barracks (which later became the Singapore Armed Forces' Central Manpower Base), Linda Gallery (27A Loewen Road, tel: 6476-7000, lindagallery.net/) is a specialist in contemporary Chinese, Indonesian, Indo-European and South-east Asian art, but on occasion also showcases Singapore art. Woody Antique House (13 Dempsey Road 01-05, tel: 6476-7000) is another interesting place to peruse and discover Burmese teak stuff and Chinese antiques.
And finally back to Tanglin Road
Closer to town, just before the Orchard Road shopping bustle, Tanglin Shopping Centre (19 Tanglin Road, tel: 6737-0849, www.tanglinsc.com) is another good place to hunt for Asian antiques and curios – from Persian carpets to Japanese pearls. Antiques of the Orient (02-40, tel: 6734-9351, www.aoto.com.sg) offers antiquarian maps, prints and books, as well as original photographs and postcards and, while you're at it, enjoy the quaint buildings of_Tudor Court (131 Tanglin Road) and enjoy at little foot rub at Le Petit Spa (02-01, tel: 6733-7117, www.lepetitspa.com.sg to relieve aching feet before heading back into the hustle of Orchard Singapore or delve into the quieter side of Tanglin.
Tanglin Mall (163 Tanglin Road, tel: 6736-4922, www.tanglinmall.com.sg) is a centrally located shop stop for families with kids as well as expat singles on the run. The basement food court serves excellent Indian vegetarian as well as Korean and Yantra (01-30, tel: 6836-3088) does excellent Indian kebabs in posh and pricey surrounds with extraordinarily dim-witted and slow service. But why limit your choices. There's lots more. Sample British India (02-04, tel: 6735-3466), House of AnLi (03-17, tel: 6235-3951), Birkenstock Boutique (02-15 tel: 6835-2702), Kidz Story (01-09 tel: 6734-0405), Royal Sporting House (01-21, tel: 6735-5875), as well as Home-Fix the DIY Store (B1-16, tel: 6738-6086) ,an excellent basement spot for bits and bobs for the home). The hugely popular That CD Shop with a huge array of quick compilations and esoteric stuff from Latin American to Cuban to Jazz has moved out with climbing rents alas but can be found at B2-47/48, Canal Level, at glitzy The Shoppes at Marina Bay Sands.
Elsewhere, the Red Dot Design Museum (28 Maxwell Road; nearest MRT station: Tanjong Pagar, tel: 6327-8027, www.museum.red-dot.sg) was still closed mid-2017 with a full refurbishment underway.
More retail madness in Sentosa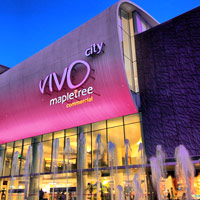 Vivo City lights up evenings/ photo: mall
Now, for a complete shift in mood: VivoCity (1 Harbourfront Walk, tel: 6377-6860, www.vivocity.com.sg) is a sometime rising star on Singapore's competitive retail front. Easily accessible from Harbourfront station, this is Singapore's largest retail, entertainment and lifestyle destination, well-positioned to tap tourist traffic heading for a spot of gambling or theme-park fun at Sentosa Island's Resorts World Integrated Resort.
Designed in the signature style of internationally acclaimed Japanese architect Toyo Ito, it houses quirky and creative stationery from Australian brand, Smiggle (02-17, tel: 6376-8134, www.smiggle.com.au), beauty stores Crabtree & Evelyn (01-09, tel: 6270-6887, crabtree-evelyn.com.sg/) and SaSa (02-176/177, tel: 6376-9713), another branch of electronic chainstore Best Denki (02-07, tel: 6276-6636), and fashion boltholes Pull&Bear (01-28A, tel: 6276-2260), A|X Armani Exchange (01-202, tel: 6304-1448), and $2 shop Daiso (Shop 03-06, tel: 6376-8065). Because who wouldn't love coming home with a truckload of useful/fancy/cutesy/delicious stuff that cost only two bucks apiece? For serious shopaholics headed to Sentosa, VivoCity could make an interesting stop.
In the same area, located close to Sentosa Island in the expansive and fast-developing HarbourFront Precinct is the three-storey HarbourFront Centre (1 Maritime Square, tel: 6570-5508, www.harbourfrontcentre.com.sg). Expect a broad retail mix and food outlets from Vietnamese to Cantonese. If you're looking for Singapore bargain shopping, Yishion (Shop 01-61, 6271-0186) offers fast fashion at affordable prices using high quality fabrics while locally established PurPur (02-92, tel: 6275-9776) offers original designs so pretty and functional you might just find yourself a top or a dress which would be worn over and over again. There is also the flagship store of Mothercare (03-07, tel: 6513-3243), a UK outpost stocking everything high quality that will take shoppers from maternity to their tots' first few years.
A glamorous addition to our Singapore shopping guide is the Resorts World (www.rwsentosa.com/en/retail) on Sentosa Island, the newish hotel-and-entertainment hub that launched in January 2010. The buzzing shopping esplanade connects Crocksford Tower and Hotel Michael, both upscale establishments, and reflects top-drawer tastes as well as fun fashions that will appeal to families and younger couples. At Resorts World Sentosa the Luxury Fashion shopping stretch includes several choice brands, including BVLGARI, Bally, Chanel Watches, COACH, Chopard, Rolex, Tumi (for bags and suitcases with an edge), Victoria's Secret, Polo, and Jimmy Choo. Take a break from those casino winnings for a dip into designer brand shopping without remorse.
Roll-up-the-sleeves local shopping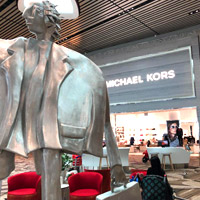 Changi Airport T4 Michael Kors/ photo: Vijay Verghese
It's worthwhile to note that while Orchard Road, Marina Bay and Harbourfront remain the main shopping clusters in Singapore, suburban malls have also cropped up in housing estates like Tiong Bahru (Tiong Bahru Plaza, 302 Tiong Bahru Road, tel: 6276-4686, www.tiongbahruplaza.com.sg), Bishan (Junction 8, 9 Bishan Place, tel: 6354-2955, www.capitaland.com/sg/malls/junction8/), Woodlands (Causeway Point, 1 Woodlands Square, tel: 6894-2237, www.causewaypoint.com.sg) and Boon Lay (Jurong Point, 1 Jurong West Central 2, tel: 6792-5662, jurongpoint.com.sg/)– all of which are easily accessible via MRT.
Most of these malls do not have much character, as they serve the basic needs of residents rather than catering to tourists, but they do have supermarkets (mainly Cold Storage and NTUC Fairprice), and the usual clothing stores like Giordano, Hang Ten and Bossini, where jeans can start from S$20 and polo shirts start from S$10, as well as pharmacies and beauty stores like Guardian Pharmacy, Watson's and The Body Shop. Often they also have healthcare equipment vendors like OSIM and OTO. However, the newer suburban malls built in the recent years have established clout in their zone clusters.
The largest northeast mall in Singapore, NEX (23 Serangoon Central, tel: 6416-6366, www.nex.com.sg), for example, houses its own dog park and waterplay area for toddlers while hosting brands like Sephora, Cotton On, H&M as well as the Japanese retail giant department store ISETAN. Others like JEM (50 Jurong Gateway Road, tel: 6225-5536, www.Jem.sg) boast giant bookstore Kinokuniya, which previously could only be found in malls closer to town such as Bugis Junction or Ngee Ann City in Orchard; and CHANEL BEAUTÉ (more commonly found in the Orchard area within the luxurious confines of upmarket shopping malls).
Literature lovers will relish in the nearby Books Actually (9 Yong Siak Street, 6222-9195, www.booksactually.com). This all-in-one bookshop retails classics by the likes of Truman Capote, hand-stitched notebooks and retro film cameras and typewriters. With books come good steaming Javas and you should not miss a tea-break at Tiong Bahru Bakery (56 Eng Hoon Street, tel: 6220 3430), which bakes its aromatic stuff in-house and rustles up a mean ham and cheese focaccia paired with robust coffee.
Just across the Singapore River is a vintage home goods shop called The Godown (44 Zion Road, tel: 6333-8966, thegodownstore.com), where interior designer Audrey Lee specialises in revitalising and up-cycling used goods. Inspired by Asia's dockside warehouses, this industrial free-range space is full of eclectic accessories and hand-selected furniture.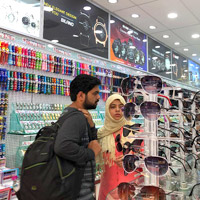 Trinket and gadgets store on Syed Alwi Little India/ photo: Vijay Verghese
Travellers curious enough to venture into the heartland should head towards the Eastern neighbourhood of Tampines (which is also a stop on the MRT line), where there is yet more choice – Tampines Mall (4 Tampines Central 5, tel: 6788-8370, www.capitaland.com/sg/malls/tampinesmall) and Century Square(2 Tampines Central 5, tel: 6789-6261, www.centurysquare.com.sg).
But the most recent addition is Tampines 1 (10 Tampines Central 1, tel: 6572-5522, www.tampines1.com.sg), which aims to bring a dash of "metropolitan lifestyle" to the area, with fashion brands such as Dorothy Perkins (01-32, tel: 6260-8512), Promod (01-01, tel: 6782-8510), Forever New (01-28, tel: 6789-5761) and Japanese jewellery outfit Venus Tears (01-35, tel: 6481-2042).
Duty-free prices at Singapore's Changi Airport
With so many retail choices in downtown Singapore, most visitors won't postpone their shopping experience until just before their departure. But Changi Airport Shopping City (www.changiairport.com/), winning the vote for some of the world's best duty-free shopping, should keep last-minute duty free shoppers more than happy. You'll find heaps of fashionable brands peppered throughout the airport. Look for MAC, Hermes, Longchamp, Marc by Marc Jacobs, Ferragamo, Bally and Bottega Veneta in Terminal 1; Gucci, Boss, Montblanc, Swarovski, and Kiehl's in Terminal 2; and Montblanc, Tiffany & Co, Burberry, Prada and Ermenegildo Zegna in Terminal 3.
Apart from numerous newsstands and the usual Singapore airport duty-free outlets selling fragrances, cosmetics, cigarettes and liquor, departing passengers can check out world cuisine provided by 80 food and beverage outlets. Terminals 1 and 2 have been through upgrades with Terminal 1 relaunched mid 2013 with a breezy new look and a centrepiece "Social Tree" with LCD screens and private kiosks for travellers to take a photo of themselves (or even video) to post on the tree, to their friends or on Facebook.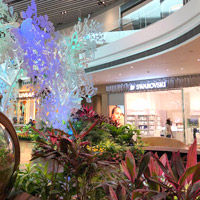 Terminal 4 Swarovski/ photo: Vijay Verghese
The purple and blue pulsating lights keep the kids happy and blushing faces indicate the successful posting of yet another bashful smile. Not sure if you can delete the pics once up. Also in Terminal 1 find Victoria's Secret, Salvatore Ferragamo, BVLGARI, Longchamp, Omega, Gucci, Burberry, and lots of chocolate shops.
In March 2019 the duty-free price for a one litre 12-year-old Scotch blend like the bog-standard and popular Johnnie Walker Black Label would work out to US$36.20 for a KrisShop purchase (compared with US$35.25 at Hong Kong International Airport March 2019, US$38 in Bangkok's Suvarnabhumi Airport, US$39 in Bali, US$44 at Seoul's Incheon International Airport T1, and US$44 at Delhi's T3).
A one-litre Chivas Regal 12-year-old silver case at Changi Airport was just over US$37.40 (US$36.50 at HKIA duty free March 2019) with a Macallan Estate Reserve single malt (0.7 litres) at US$240. There are some good perfume picks available like the GUCCI Bamboo 75ml EDP at US$122 and the 100ml PRADA Infusions Rose EDP at US$125. Changi Airport 2019 duty-free shopping rates suggested some good buys like a 50ml EDP of Jill Stuart Crystal Bloom is at US$62.40 and a BVLGARI 50ml EDP of Rose Goldea at US$95.43. A DIOR J'adore 50ml EDP was US$102 and a Chanel No.5 50ml EDP US$106.20. Do bear in mind that US dollar exchange rates have been fluctuating a fair deal in Asia.
Don't forget to bring along that extra bag – or simply buy one at Changi Airport. Then fill it up right to the top. And that's your A to Z of retail in our Singapore shopping guide for women, travellers in general, or cool metrosexuals.
Send us your Feedback / Letter to the Editor