BUSINESS TRAVEL
Amazing Sydney bed hunt
A review of Sydney business hotels from big to boutique, plus a fun guide with cool bars and tips for shopping, and where to get the best blue swimmer omelette.
SEE ALSO Cairns fun guide | Melbourne guide | Auckland guide | Outback fun guide
JUMP TO Sydney airport | Heritage hotels | Sydney business hotels | Boutique hotels | Shopping guide | Hotel Contacts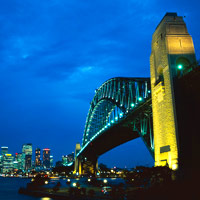 The Harbour Bridge
YOU can't help but fall instantly in love with Sydney. After being cooped up on an achingly long flight from just about anywhere in the world, the city's fresh sea air and dramatic, open spaces feel especially good. Add the dazzling sunshine, free-spirited locals, and buzzing cafes and you may start to contemplate cashing in that return ticket.
One of the best views greets visitors banking high over Sydney on approach to Kingsford Smith airport. There's the iconic iron 'coat hanger' – the widest and heaviest arch bridge ever built; the famous sails of the Opera House seemingly billowing in the sea breeze; surf foaming white against the sandstone coastal cliffs; and the diamond-flecked waterways running inland like varicose veins around sheltered coves and sophisticated residential enclaves. On then to our guide to the best Sydney business hotels for urbane pin-stripers, cosy boutique hotels, heritage digs, and yards of fun from beaches and bods to beer and bubbly.

Slide Show

E-mail Page

Print

Hotel Contacts
But first the ancient airport
Sydney's Kingsford Smith Airport was opened in 1920 making it one of the oldest continuously operating airports in the world. Upgrades to the international and domestic terminals have recently been completed expanding the shopping and dining options and adding comfortable lounge areas. The airport is situated at Botany Bay – where Captain Cook first landed in 1770 – just nine kilometres from the city centre. Due to this close proximity a passenger jet curfew is imposed daily from 11pm to 6am creating a high morning arrival peak of long-haul international airlines 7am-10am.
Send us your Feedback / Letter to the Editor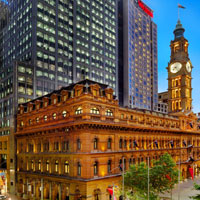 Westin Sydney/ photo: hotel
Swing by Downtown Duty Free on your way through customs where you may purchase up to 2.25 litres of low-cost alcohol without having to declare. The Sydney Visitor Centre in the arrivals area provides free maps and information and can help you book discounted accommodation. There are also several foreign exchange counters, a Vodafone booth where you can rent pre-paid mobile phones, and sunny cafes selling good Aussie coffee.
Australia has notoriously strict quarantine rules (www.daff.gov.au/biosecurity/travel/cant-take). You'll have to 'declare or dump' any food, plant and animal products, including unopened packaged foods, herbs and spices, tea – even your biscuit from the plane. The careful inspection process means there are often slow queues to get through quarantine after collecting your bags from the carousels.
When departing Australia, you can claim a tax refund on goods purchased in Australia as part of the Tourist Refund Scheme (TRS). To do this, visit the TRS office located on the Departures level just after Customs. There are several requirements: you must have spent A$300 or more (including GST) in a single receipt and be able to present the purchased goods to the officers along with your tax invoice, passport and boarding pass. Claims are available up to 30 minutes prior to the scheduled departure of your flight, but leave plenty of time as the queue is generally long.
Rail stations are accessible from the Arrivals level of both international and domestic terminals. Airport Link trains run every 10 minutes or so, taking 15 minutes to the Central Business District (CBD). Expect to pay A$17.20 from the airport to downtown Sydney. Alight at Central station for connections to the suburbs and further afield. There are also direct bus services to Darling Harbour, King's Cross and the inner city. Taxis from the airport to downtown cost approximately A$55.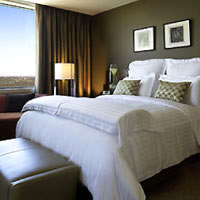 Pullman Olympic Park/ photo: hotel
Central Sydney offers many attractive accommodation options, the best of which involve funky refits of heritage-listed properties – from 19th-century state buildings to old warehouse jetties – and stunning harbour views. The hotels listed in this guide are located in three main areas: The CBD – convenient to businesses, museums, Darling Harbour and great shopping (check out the Strand Arcade for top Australian designers, the Queen Victoria Building, and David Jones department stores). The Rocks – site of Sydney's first settlement in 1788, this area is close to the Harbour Bridge, Opera House and Circular Quay and has a great Saturday market, pubs and souvenir stores. And the trendy eastern suburbs along Oxford Street, alive with charming Victorian terrace houses, antique stores, galleries, boutiques and bohemian cafes. Unless specified, all hotels offer regular conveniences, broadband Internet access and cable TV. So just pick your vibe and view.
Heritage hotels and top-drawer dining
Here's our pick of Sydney business hotels, heritage hideaways and grand addresses. With the 1851 Treasury Building at its heart, the InterContinental Sydney combines the colonial pomp of sandstone arcades with pleasing modern comforts. The spacious rooms in smooth chocolate and cafe latte tones, come with BOSE sound systems and cushioned window seats from where you can take in views of the harbour, Botanic Gardens and Circular Quay. Expect WiFi throughout the hotel for a charge of around A$25 an hour. The rooftop Club InterContinental Lounge enjoys 360-degree city views visible through glass walls, all-day refreshments, a library and outdoor timber deck.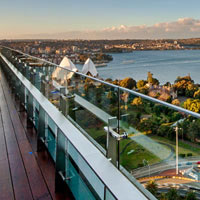 Sydney InterContinental views across the harbour/ photo: hotel
There's also a rather small, enclosed rooftop swimming pool. Don't miss the high tea and historic ambience under the glass cupola of The Cortile Lounge in the lobby, mammoth burgers and sumptuous steaks from The Meat & Wine Co or fresh seafood from the entirely refurbished Cafe Opera. You're also just across the road from the beautiful Botanical Gardens – perfect for morning jogs.
The Westin Sydney at No 1 Martin Place boasts an enviable location right in the heart of the city – indeed, the point from which all points in Sydney were originally measured. Sprouting from the old General Post Office, this crisp smoke-free business hotel combines heritage and high-tech all within steps of the city's best shopping. Most of the 416 guestrooms are in the 31-storey modern tower. These are comfortable, if not particularly memorable, furnished in neutral shades and pale woods with big bathrooms and Heavenly Beds. The rooms to get are the ones in the Heritage Wing, carved from the original three-floor building, with high ceilings, antique window fittings and fireplaces.
The Heritage Long Suite even has the original GPO postmaster's writing desk. Add an extra A$120 for access to the Executive Lounge, which offers complimentary continental breakfast and refreshments. All guests have free use of the health club next door. The light-filled atrium formed from the 1874 colonnaded façade is home to Mosaic, a modern Australian restaurant. Well-known Postales, a Spanish restaurant, and Prime, a steakhouse, are located in the basement, along with other restaurants, an oyster bar, cellar, cheese room and even cabaret performances.
Just on the Westin's doorstep is the Westin Sydney Shopping Centre, opened in 2010, with stores offering everything from luxury brands to hip street wear. For business suits in a hurry, mark this down in your Sydney shopping diary.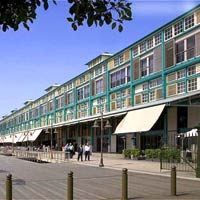 Blue, on the wharf/ photo: hotel
Originally a W Hotel and now owned by top-drawer Indian chain Taj, Blue Sydney is about as 'Sydney' as it gets – jutting right into Sydney Harbour. The heritage-listed Wooloomooloo finger wharf by the navy docks has been converted into a luxury marina, apartment complex, and ultra-contemporary design hotel with low lighting and glass walkways. A range of different rooms – from Rafter Rooms to Ultra Lofts – are decked out in clean lines and hues of muted taupe and electric blue, with lush touches like coffee plungers and cordless phones.
We love the Loft Rooms, split-level apartments with a king-size bed and en suite overlooking the lounge and work area. The Water Bar, in the cavernous lobby, is a favourite Sydney drinking venue. Designed by Cate Young, it features sexy silver banquets and Swarovski crystal curtains. Beware the killer cocktails. This is a Sydney heritage hotel with class.
A clutch of top restaurants (including Aki's and Otto) line the wharf outside. Or better still, join the sailors, soaks and society-types at the window of Harry's Café de Wheels which has been parked by the dock and serving up the world's best pie and mushy peas since 1945.
For lunch, duck up toward King's Cross to popular diner Fratelli Paradiso (12-16 Challis Ave, Potts Point, tel: 9357-1744), which has a daily blackboard menu written in Italian and brooding Roman waiters.
Converted Victorian mansion Simpsons of Potts Point is a small boutique hotel tucked away on a leafy road. Each room is individually furnished and has its own unique old-world charm. The Cloud Suite has the atmosphere of an old-fashioned country cottage with embroidered cushions, quaint lamps and gilded mirrors.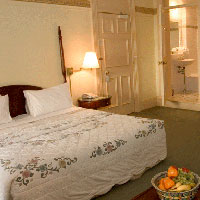 Simpsons of Potts Point/ photo: hotel
Don't worry, you won't be expected to wash in a tin bath – there is a Jacuzzi along with mod cons such as a flatscreen TV and DVD player. There are also larger rooms with three beds for families with "hotel-trained" children. As well as complimentary Broadband throughout the property, guests are invited to sip free glasses of port and sherry. Bottoms up.
Designed from the heritage canvas of the 1890 George Patterson House opposite the Australian Stock Exchange, Sydney boutique hangout Establishment Hotel boasts one of the city's most happening locales, incorporating 31 guestrooms and two penthouse suites, along with several dining, drinking and dancing outlets. Choose your room's colour scheme – dark and sleek, or milky white with soft accents. All come with DVD, CD and large screen TVs, pure cotton bed linens, limestone bathrooms and BVLGARI amenities. Guests get keycard access from the private alley entrance.
Peter Doyle's Est. on the first floor serves three-hat modern Australian cuisine in an elegant creamy dining room majestically lined with cast iron columns and chandeliers. The ground-floor saloon sees cool corporate types propping up the 42m-long marble bar, while Mr Wong is a fashionable spot for Cantonese and Shanghainese dim sum in a hip contemporary dining room with artful touches of old Shanghai.
The Grace Hotel building was designed to be the jewel in the crown of the Grace Bros retail empire, and the impressive art deco property is regarded as one of Australia's best examples of pre-war architecture. You can feel the history at this four-star Sydney heritage hotel. When opened in 1930, the Grace was considered the city's most modern office block, with carpets, radiators and high-speed lifts. It was later requisitioned during the second world war for use as allied headquarters, at which time an air raid shelter was installed in the basement.
The Russell Hotel/ photo: hotel
The original art deco light fittings, main door, pressed metal awnings, terrazzo floors and stained glass GB insignias are all beautifully preserved. The simple, modern rooms are done in earthy tones and come equipped with complimentary WiFi. The Grace is a popular conference venue and leisure travellers can often score good deals on weekends. It's also well placed to city shopping, King Street Wharf and Darling Harbour.
Down at Walsh Bay, in the shadow of the Harbour Bridge, the former P&O Cruises passenger terminal jutting over the harbour waters has been converted into a contemporary-chic retreat. Pier One Sydney Harbour – formerly The Sebel Pier One and now part of Marriott's Autograph Collection – boasts a memorable waterside setting and unique design features.
A stylish nautical theme runs throughout the property, incorporating many of the original heritage fixtures like exposed wooden beams, iron hooks and pulleys once used to haul freight from ships. The Walsh Bay Suites are particularly pleasant, with navy day beds and a telescope looking out over the bay. There's also broadband Internet in rooms, Wireless in the lobby and a pier-side pontoon allowing you to rock up in a water taxi or private boat. Newer Balcony Suites offer private alfresco over-water terraces. This is a popular Sydney conference hotel, with the stunning Water @ Pier One venue hosting up to 400 guests for cocktails.
With its 1887 ancestry intact and proudly evident in the antique bedroom headboards and pine dressers, The Russell Hotel in the heart of the Rocks has a charming, homey atmosphere and rooftop garden looking out to Circular Quay – all at budget prices. Sir Stamford at Circular Quay is a highly regarded Sydney heritage hotel with a hoary pedigree, generous servings of Louis XV furniture and Georgian bric-a-brac, and a splendid location right next to the Botanical Gardens and the Opera House.
More beds for suits and grand views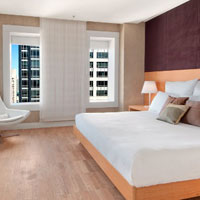 Sydney Hilton Master Suite/ photo: hotel
Located right opposite the Queen Victoria Building in the heart of the CBD, the Hilton Sydney benefited from a three-year, A$200 million reconstruction way back in 2005. The Hilton has 577 rooms, including 31 Relaxation Rooms and Suites offering three distinct zones – an open 'bath zone' with a hydra-spa tub, wall mounted LCD TV screen, body-jet shower and holistic relaxation kit; a 'work zone' equipped with glass desk, adjustable lighting, and colour touch screen IP telephony; and a 'relaxation zone' with comfy bedding, chaise lounges, flat-screen plasma TV and library of books and DVDs. High speed Broadband Internet can be accessed throughout the hotel, and the health club, across an entire floor, offers the trendy resistance-based training system, Kinesis.
Helping to drive the buzz at the Hilton is its drinking and dining scene. The 1893 Marble Bar – which was hermetically sealed throughout the renovations and has been declared a national monument for its stained glass doors and ceilings, carved mahogany bars and 14 Julian Ashton paintings – has been joined by two contemporary Sydney landmarks. Mark this one down on your Sydney business hotels list.
Glass is an antipodean answer to a classic French brasserie. Named after the dazzling floor-to-ceiling glass panes framing the neoclassical façade of the Queen Victoria Building across the street, the restaurant features a 30-metre wine wall, crustacean bar, and Luke Mangan's award-winning cuisine. Sexy Zeta Bar on the fourth floor is all sleek oak woods, leather ottomans and curtained enclaves with a fabulous alfresco terrace. Be prepared to queue on weekends.
Just around the corner is the Swissotel Sydney. This elegant Sydney business hotel, which begins on the eighth floor, feels worlds away from windswept Market Street below. The 359 rooms are tastefully subdued with high-speed Internet access, ergonomically designed workstations and Yukata Japanese robes.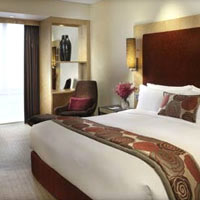 Sofitel Wentworth/ photo: hotel
Special Kid's Rooms come equipped with child-size desks, fun bed linen, toys and a select DVD menu. There is also a heated outdoor swimming pool, well-equipped fitness centre and Amrita Spa. Shopping paradise – the Queen Victoria Building, Pitt Street Mall and Strand Arcade – is right at your doorstep.
Although located in the CBD, Amora Hotel Jamison Sydney beckons to both leisure travellers and pinstriped road warriors with its boutique-style furnishings and corporate comforts. Its 415 rooms are designed with warm, earthy tones and modern perks include PlayStation consoles, laptop-size safes, work desks with convenient data ports, toasters and Broadband. Choose your room wisely as some have views of the harbour while others look over the city. If your wallet is willing, splash out on a top-floor Jamison Club Room and enjoy access to the executive lounge.
Wind down after a long day with a massage at Amora Spa or check out the gym, swimming pool, sauna and steam room. For modern Australian cuisine try Charr on Level One or for a nightcap pop into Inbargo cocktail lounge. The MICE market is also catered for with three function rooms, including a pillarless ballroom, and three smaller boardrooms.
The Radisson Blu Plaza Hotel Sydney is housed within a heritage-listed building on O'Connell Street, also in the CBD. Its sandstone facade dates back to the 1800s, and the building was once home to the Fairfax newspaper empire and the Bank of New South Wales. There are 336 rooms and 26 suites all with iPod docks, complimentary Internet and flatscreen TVs. Business travellers will appreciate the adjustable work desks and ergonomic chairs. Expect walls and fabrics in earth tones – not wildly adventurous but smooth, classic and easy on the eye.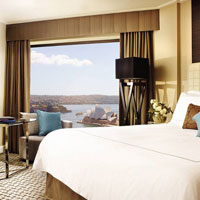 Four Seasons Deluxe/ photo: hotel
Guests in Business Class Rooms have Juliet-style balconies and access to the executive lounge while those in Studio Spa Suites benefit from deep soak tubs and separate lounges. MICE planners take note – the hotel has 500sq m of function space including eight conference rooms with capacity for up to 200 people.
The iconic Sofitel Wentworth Sydney near Circular Quay and the Botanic Gardens occupies another heritage-listed building arranged around a garden courtyard. It attracts luxury travellers with classy Club Sofitel facilities, elegant afternoon teas, and the ultra chic Garden Court restaurant featuring sophisticated French fare. Guests also get access to the adjacent Elix'r health club and Lattouf Hair Spa. Smokers may wish to book elsewhere – this is a 100 percent smoke-free hotel.
The 531-room Four Seasons Hotel Sydney enjoys a convenient location within walking distance to the Rocks, Museum of Contemporary Art, Opera House, and business district. The grandiose cantilevered atrium is impressive. There's a big, outdoor pool and spa and great harbour and city views. A good location for business travellers as well as the well-heeled in search of downtown leisure and shopping. Inroom expect 42-inch LCD TVs with DVD players and iPod docks, marble bathrooms and high speed Internet. Fax machines are on request as are hypo-allergenic pillows. Move up to the Executive Club for a wider raft of facilities. Aeon Spa offers a wide menu from aromatherapy to steam rooms and whirlpools. The Woods restaurant is a timber-chic dining room with a focus on quality meats cooked over a range of naturally flavoured Australian woods – Mallee root, apple, olive, iron bark – in the feature brick oven and flame grill. Grain pours draught beers from local specialist brewers and biodynamic wines in a casual space that captures The Rocks' vibe.
The 36-storey Shangri-La Sydney features the brand's trademark elegance, efficient service and excellent F&B selection. It also reflects its antipodean environment with tones of earthy brown, cream and eucalyptus green, and a fresh, contemporary air.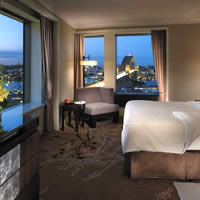 Shangri-La Exec Suite/ photo: hotel
Situated in The Rocks district, looking down the tongue of the bridge, there are harbour views from all 563 rooms, big marble bathrooms stocked with Aigner products, high speed broadband and a safe the size of a bar fridge. Blu Bar on 36, a sophisticated cocktail lounge on the top floor, is a destination in itself. Here, a sparkling crowd is outshone by the sparkling city views from five-metre floor-to-ceiling windows. Mark this Sydney business hotel in your diary.
Travellers shopping for budget hotels in Sydney should check out Sydney Harbour YHA, which boasts a supremely convenient location in The Rocks and views that you'd usually pay a fortune for. Accommodation is available in multi-share and double/twin arrangement, all with en suites and many with Sydney Harbour and Sydney Opera House views. There's also an expansive rooftop enjoying spectacular harbour vistas.
Stroll down Argyle Street and you'll find the buzzing all-in-one drinking, dining and dancing venue, The Argyle Rocks (www.theargylerocks.com). Slam tequila, snack on goat cheese gnocchi, samba the night away, or sip a cocktail in the spacious courtyard.
The Langham, Sydney, formerly known as the Observatory Hotel, is a fabulously flowery heritage five-star down by the water at Walsh Bay. A favourite of visiting celebs, the Victorian-style guestrooms feature fabric-lined walls, walnut writing desks and marble bathrooms. Mod cons like stereo TV, CD, DVD and high speed Broadband are tucked away in polished mahogany armoires. Standards of service are exemplary throughout, and the day spa – one of Sydney's first five-star hotel spas when it opened as the Observatory Spa in 1993 – is still one of its best, with an excellent selection of treatments using Babor products.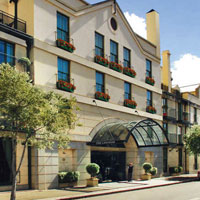 Langham frontage/ photo: hotel
The heated subterranean pool has a galaxy of twinkling lights overhead – a continuation of the stargazing theme that runs throughout the hotel. Hardcore stargazers can name their very own star at the nearby Sydney Observatory.
The low-rise sandstone Park Hyatt returned on 1 February, 2012 after a multi-million dollar renovation and a complete redesign of all guest rooms. A more natural colour scheme of chocolate, cream and beige replaces the previous blue and silver tones. Expect new furniture and paintings by Australian artists. To make the most of its unsurpassed views, with the Harbour Bridge looming almost directly above the hotel and the Opera House right opposite, each of the 155 guestrooms has been kitted out with floor-to-ceiling glass doors and private balconies. Opt for a 75sq m Opera Deluxe with 40-inch LCD television, BOSE music system, Nespresso coffee machine, and round-the-clock butlers. You'll find a generously large work desk and also windows that actually open. Or go for one of three exclusive rooftop suites. The hotel has long set benchmarks for service and accommodation and is well located with magnificent views. It is rightly regarded as one of the best Sydney business hotels.
Sporting the tagline "hotels with personality", Vibe Hotels has three colourful Sydney locations – the CBD, North Sydney and the eastern harbourside suburb of Rushcutters Bay. The hotels appeal to a younger corporate clientele with bright, modern decor, Vibe Out areas and mood CDs, plus an active social media presence. Each hotel is equipped with full conference and event facilities.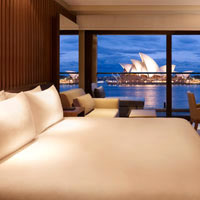 Park Hyatt, Opera House view/ photo: hotel
The Sydney Harbour Marriott Hotel at Circular Quay is centrally located on Pitt Street within walking distance of The Rocks and Circular Quay. A special lounge is free for early arrivals offering showers, tea/coffee, WiFi and a sleeping zone. Complimentary WiFi is available in public areas. Marriott Rewards members can also enjoy free WiFi and Broadband in their guestrooms, which come with crisp blue, red and white accents.
The popular 557-room Sheraton on the Park has been a favoured choice of business travellers for years. Directly fronting the soothing green expanse of Hyde Park, the hotel offers a pool and spa, a smart executive club lounge and extensive conference facilities making this a strong Sydney conference hotel choice. Four Points by Sheraton, Darling Harbour, is one of the city's largest hotels, comprising 683 rooms. Right on the water overlooking Darling Harbour, it is close by the numerous shops and entertainment venues in this part of town. Rooms are stripped down but sleek. Expect the usual amenities like hairdryers, irons, minibars and in-room safes.
The Accor stable of mid-priced business hotels has a strong presence in Sydney. Aside from the top-end Sofitel Wentworth, there are several Novotels, including the conveniently placed Novotel Sydney on Darling Harbour, and Novotel Sydney Manly Pacific in the beachside hamlet of Manly, which enjoys a prime location fronting the main surf beach. The four-star The Menzies Hotel, named after Australia's pioneer hotelier Sir Archibald Menzies and dating back to the 1960s, is now also an Accor-managed hotel. It overlooks Wynyard Park, hailing distance from The Rocks.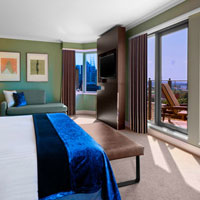 Sheraton on the Park/ photo: hotel
Expect to see both pinstripes and band t-shirts mingling in the lobby of Accor's Pullman Sydney at Olympic Park. This 212-room business hotel sits opposite Stadium Australia and is a popular stopover for concert-weary fans. Expect dark olive walls, amber curtains and tasteful artwork combined with facilities such as 32-inch TVs, work desks, minibars and safes. Guests staying in executive rooms will also have a Jacuzzi in the bathroom and access to the Club Lounge. There are meeting rooms for up to 220 people and Wireless Internet in all areas. The fitness centre is open 24 hours and there's also a wine bar and restaurant. While the hotel is close to Parramatta and North Ryde business districts, it is less convenient for sightseeing.
There are six Ibis hotels in Sydney from downtown to the airport. The 91-room Ibis King Street Wharf beside trendy King Street has modern rooms offering WiFi for a fee, LCD TVs, tea and coffee facilities and mini fridges. For Sydney budget hotels and good value this is ideal hunting ground. At the other end of Darling Harbour, the heritage-listed Holiday Inn Sydney Darling Harbour is a short stroll from the Sydney Convention and Exhibition Centre, with the monorail, light rail, ferries, and buses all close at hand.
Boutique beds and a room for dogs
Featured in Conde Nast Traveller's 2013 'Hot List', QT Sydney bills itself as a 'design boutique' hotel. And while it may not be boutique in size (it has 200 rooms), it certainly is in spirit. As they say on the website: "Brash and bold has long been the Australian way. And if Sydney is lately taking to subtlety, dressing in neutrals and acting ironically detached, it's a trend the QT Sydney wants no part of."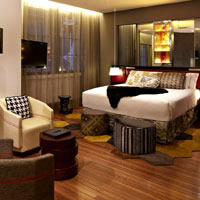 Boutique QT room/ photo: hotel
In the historic former Gowings department store and attached State Theatre on super-central Market Street, QT sizzles with Roaring Twenties glamour. Deep reds, richly upholstered furnishings, coloured glass and art deco patterns make for a sensuous and stunning stay – enhanced with free WiFi and high-tech comforts. The Gilt Lounge and Gowings Bar & Grill attract a lively crowd of locals and jetsetters. You can get slick for the scene at the hotel's vintage barbershop.
The stylish Harbour Rocks Hotel Sydney, part of Accor's M Gallery collection, occupies an 1887 bond store and three sandstone terraces on a peaceful street in the historic Rocks area. Unveiled in 2012 after a A$10 million overhaul, the charming, 59-room hotel exudes quiet class. Sleek rooms adorned with earthy, Aboriginal inspired touches look out to views of leafy treetops and heritage facades. The brick-walled Lobby Library and alfresco Courtyard Lounge are lovely. Scarlett Restaurant, in a sandstone basement chisel ed by convict stonecutters, takes its name from the terrace building's former use – as a brothel.
1888 Hotel sits on the far side of Darling Harbour, near the Sydney Fish Market and Convention Centre in Pyrmont, which is a little away from the main city action. Shorn from an historic woolshed, the designer 90-room pad unveiled in 2013 has been dubbed the 'world's first Instagram hotel'. A 'selfie space' in the lobby, complete with ornate picture frame, invites guests to snap themselves and tag #1888Hotel, prompting their image to appear on a digital mural beside reception.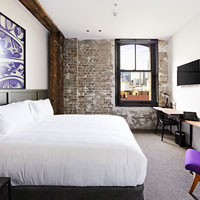 1888 Hotel style/ photo: hotel
Rooms – starting from a squishy 15sq m called 'Shoebox' – all feature three-metre-high ceilings, large sound-proofed period windows, recycled timber work stations and exposed brick walls supported by original Iron Bark beams. Mod-cons include a Smart TV with media hub, plus complimentary WiFi and in-room iPads for all the snapping and tagging activities of its tech-savvy guests, who can win a free night for their efforts. All guests also get free nationwide phone calls and access to the nearby Ian Thorpe Aquatic Centre.
The Medusa transformed a two-storey Victorian terrace into a boutique hacienda with 18 quirky rooms around a peaceful internal courtyard. Painted brightly provocative shades and furnished with style and humour, this well-priced glamour-pad attracts advertising, film, fashion and design buffs, with nice touches like fresh flowers, Aveda amenities and Lindt chocolates. The Business Room with iMac computer, Wireless Internet, colour printer, en suite and kitchenette, can be hired on an hourly or daily basis. Medusa also claims to be the only luxury hotel in Australia to welcome guests' dogs, with up to two canines allowed in select courtyard rooms.
A short walk from infamous Oxford Street, the neighbourhood is chock full of alternate cafes, bars, boutiques and bookshops. Don't miss Stephen Hodges' Fish Face (132 Darlinghurst Rd, Darlinghurst, tel: 9332-4803) where "it's all about fish – how it's caught, killed, stored (in a specially designed refrigerator) and cooked". Expect to queue at this minnow-sized restaurant with an open kitchen and cocktail style seating on tall bar stools. A good plan is to leave your mobile number at the door, go for a beer down the road at smoky Darlo Bar and the staff will ring when a table is free. It's worth the wait for the simply sensational tuna carpaccio or more traditional beer battered fish and chips served in a tall paper cone.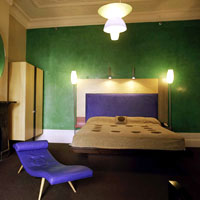 Quirky Medusa/ photo: hotel
Nearby, the tiny, lipstick-red Emmilou (tel: 9360-6991) is as 'out there' as some of its clientele and serves esoteric tapas and wines. And don't leave Surry Hills without stopping in to Billy Kwong (3/355 Crown Street, Surry Hills, tel: 9332-3300) for celebrity chef Kylie Kwong's special brand of modern Chinese cooking using organic produce, like the signature crisp-skinned duck with fresh blood orange sauce.
Situated in the quirky heart of Darlinghurst, The Kirketon is a popular choice for its designer touches, reasonable rates and friendly vibe. Its 40 rooms come with bright blue or red Irish goat hair carpets, plasma screens, Dedece cane chairs, mohair throws and Aveda toiletries. The speakeasy style Eau De Vie bar is a good place to begin your Sydney orientation – it's one of our favourite Sydney bars. The adjoining restaurant has been through several management changes – but you'll hardly go hungry in this area. Or take a short taxi ride to Bistro Moncur (corner Queen St and Moncur St, Woollahra, tel: 9372-9713), attached to the Woollahra Hotel, for Damien Pignolet's memorable French onion soup, pure pork sausages or blue swimmer crab omelettes.
The Kirketon's flashier sibling The Diamant is just down the road, bordering infamous Kings Cross. This contemporary boutique hotel has 77 rooms featuring sleek lines and chocolaty tones along with all the latest mod cons, like 42-inch Internet-enabled flat screen TVs and meltingly good beds. Second-floor rooms are the ones to get – with big walled terraces and cane outdoor lounges. The Diamant scores particularly well on the style to price ratio.
The budget but stylish Pensione down near Central Station and Chinatown, is a simple but beautifully maintained residence that was the King George Hotel way back in 1872. The Gothic Victorian architecture, plaster detailing and carved wooden staircase exist alongside a funky mint-green common room with kitchen, cane lounges and lockers. Skinny corridors with polished wooden floorboards and carpet runners join 68 spotless single, double and family rooms for up to six people. Despite the reasonable price tag, all rooms come with mosaic-tiled en suites, air-conditioning, WiFi and cable TV. In deluxe rooms expect free WiFi.
Behind the Pensione, the heart of Chinatown is a foodie's Mecca. Tempting options include the 20-year-old brusque but bustling Golden Century (393-399 Sussex St, Haymarket, tel: 9212-3901, www.goldencentury.com.au), and Marigold Citymark for great yum cha (4-5/F, 683-689 George St, Haymarket, tel: 9281-3388, www.marigold.com.au). If you like Malaysian street-hawker snacks then try the satay and roti at Mamak (www.mamak.com.au).
Harbour Rocks Hotel/ photo: hotel
A great spot to breakfast and stock up on picnic supplies for the day ahead, Fratelli Fresh is one of the city's best providores. This produce heaven sells crusty slabs of sourdough, cheeses, homemade jams and the freshest organic fruit and vegetables. They have four locations around town combining a mercato (market) with a café (www.fratellifresh.com.au) serving whatever is ripe and fabulous straight from the market shelves. Check the enormous blackboard menu for such delights as fresh oxheart tomatoes with aged balsamic and baby basil, and zucchini flowers stuffed with five Italian cheeses. Locations: 11 Bridge St, CBD, Tel: 8298-2701; 8/16 Hickson Road, Walsh Bay, tel: 8243-7777; 81 Macleay Street, Potts Point, tel: 9368-6666; 52 Mitchell Road, Alexandria, tel: 8399-4788; www.fratellifresh.com.au.
When the weather is fine – as it invariably is in Sydney – there is no better way to spend the day than by the harbour. Start at Coogee Beach with a Massage by the Sea (www.massagebythesea.com.au). Established in 1907 when Sydneysiders preferred to bathe in natural rock pools and sun themselves in deck chairs, Wylie's Baths is the city's only remaining turn-of-the-century bathing facility and is now listed by the National Trust. Soak in the history and salty sea air while enjoying a remedial massage by qualified therapists.
Set off from Coogee on a six-kilometre urban hike along the eastern suburbs shoreline. The paved cliff track passes sheltered beaches, aboriginal rock carvings, and Waverly Cemetery where many famous Australians are buried on prime real estate overlooking the ocean. For more Sydney fun and a munch, end up at Bondi just in time for lunch. Sydney icon Icebergs (1 Notts Ave, Bondi Beach, tel: 9365-9000, www.idrb.com) is located high on the cliffs and boasts knockout views of Australia's most famous strip of sand. If you can peel your eyes away from the Pacific breakers and bronzed bods below, the views inside the long dining room can be just as glamorous. International celebrities can often be spotted enjoying the mod-Italian fare, like the signature salt-crusted rib eye with horseradish and lemon.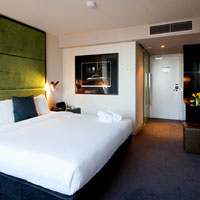 Boutique Diamant / photo: hotel
Get a unique perspective of the harbour from atop its most famous landmark, the Sydney Harbour Bridge. BridgeClimb (www.bridgeclimb.com) takes adventurous sightseers along secure walkways and up a few challenging ladders to the crest of the iron coat hanger, attached all the while to safety cables. Return to earth and toast your achievement with a ginger and saffron daiquiri at King Street Wharf. Lounge-style waterside cocktail bar, The Loft (3 Lime Street, King Street Wharf, tel: 9299-4770, theloftsydney.com) is an ideal spot to watch the blush blaze of sunset over Darling Harbour.
Another wonderful stroll starts from the steps of the iconic Opera House, which celebrated its 40th birthday in 2013. World Heritage-listed since 2007, the seaside theatre designed by Danish architect Jorn Utzon is the world's busiest performing arts centre. Tours of its complex interiors are available daily. Follow the foreshore, through Queen Elizabeth II Gate, into the beautiful, parakeet-filled Botanical Gardens and explore its well-maintained and signposted grottoes and pathways stretching over 30 hectares. The Gardens celebrate their bicentenary in 2016.
Pass Government House, by the same English architect that designed Buckingham Palace. Exit the Gardens and continue toward Mrs Macquarie's Chair carved into a prime lookout spot for the governor's wife in 1810. From here, you can either head up toward the Art Gallery of NSW and Australian Museum, or down toward the docks and waterside dining of Woolloomooloo.
Any Sydney shopping binge should start at the Paddington end of Oxford Street. Head to 'The Intersection' on the corner of Oxford Street and Glenmore Road for the run of top Australian designers – like Collette Dinnigan, Allannah Hill, Bianca Spender and Wayne Cooper – with plenty of good cafe and gallery stops along the way.
Pick up the odd vintage bargain at the Saturday Paddington Flea Market (from 10 am) or try The Rocks Market for trendy souvenirs, arts and crafts. There are more fabulous boutiques as well as an antique jeweller and a great Akubra hat shop in the Victorian-era Strand Arcade (www.strandarcade.com.au) on Pitt Street.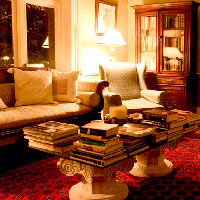 Simpsons Potts Point, plush decor/ photo: hotel
Just across the street, another historic shopping arcade is the Queen Victoria Building, affectionately known as the QVB. The shopping here is a mixed bag – boutiques to look out for include Australian accessories label Mimco and the flagship of UGG Australia, purveyor of the ubiquitous Australian sheepskin ugg boot.
Fans of pretty-coloured gemstones may be interested to note that 95 percent of the world's opals originate Down Under. The Australian Opal Cutters on Pitt Street (3/295-301 Pitt Street; www.australianopalcutters.com) presents one of the largest ranges in the Southern Hemisphere.
Send us your Feedback / Letter to the Editor
FAST FACTS

/ Hotel Contact List

Sydney hotels generally operate on a dynamic rate structure taking into account market driven demand, seasonal fluctuations and competitive Internet prices. Book on the hotel website or ring directly and ask for their 'best available daily rate'. A number of websites offer great deals on last minute bookings. Try: www.wotif.com, www.needitnow.com and www.checkin.com.au. Exchange rate is roughly US$1 = A$1.11.
Sydney business hotels and boutique stays
1888 Hotel. Tel: [61-2] 8586-1888, fax: 8586-1889, (e-mail: info@1888hotel.com.au or www.1888hotel.com.au).
Amora Hotel Jamison Sydney. Tel: [61-2] 9696-2500, fax: 9696-2600, (e-mail: res@sydney.amorahotels.com.au or www.sydney.amorahotels.com).
Blue. Tel: [61-2] 9331-9000, fax: 9331-9031, (e-mail: blue.sydney@tajhotels.com or www.tajhotels.com).
Establishment Hotel. Tel: [61-2] 9240-3100, fax: 9240-3101, (e-mail: info@establishmenthotel.com or merivale.com.au).
Four Points by Sheraton, Darling Harbour. Tel: [61-2] 9290-4000, fax: 9290-4040, (e-mail: sydney.reservations@fourpoints.com or www.starwoodhotels.com/fourpoints/).
Four Seasons Hotel Sydney. Tel: [61-2] 9250-3100, fax: 9251-2851, (e-mail: res.sydney@fourseasons.com or www.fourseasons.com/sydney).
Harbour Rocks Hotel Sydney. Tel: [61-2] 8220-9999, fax: 8220-9998, (e-mail: H8758@accor.com or www.harbourrocks.com.au).
Hilton Sydney. Tel: [61-2] 9266-2000, fax: 9265-6065, (e-mail: sydney@hilton.com or www.hiltonsydney.com.au).
Holiday Inn Sydney Darling Harbour. Tel: [61-2] 9291-0200, fax: 9281-1212, (e-mail: info@HolidayInnDarlingHarbour.com.au or www.holidayinndarlingharbour.com.au).
Ibis King Street Wharf. Tel: [61-2] 8243-0700, fax: 8243-0777, (e-mail: h6412-re01@accor.com or www.ibis.com).
InterContinental Sydney. Tel: [61-2] 9253-9000, fax: 9240-1240, (e-mail: sydney@interconsydney.com or www.interconsydney.com.au).
Medusa. Tel: [61-2] 9331-1000, fax: 9380-6901, (e-mail: info@medusa.com.au or www.medusa.com.au).
Novotel Sydney on Darling Harbour. Tel: [61-2] 9934-0000, fax: 9934-0099, (e-mail: h1181-re@accor.com or www.novoteldarlingharbour.com.au).
Novotel Sydney Manly Pacific. Tel: [61-2] 9977-7666, fax: 9977-7822, (e-mail: h5462@accor.com or www.novotelmanlypacific.com.au).
Park Hyatt Sydney. Tel: [61-2] 9256-1234, fax: 9256-1555, (e-mail: sydney.park@hyatt.com or sydney.park.hyatt.com).
Pensione. Tel: [61-2] 9265-8888, fax: 9211-9825, (www.pensionehotelsydney.net).
Pier One Sydney Harbour. Tel: [61-2] 8298-9999, fax: 8298-9777, (e-mail: info@pieronesydneyharbour.com.au or www.pieronesydneyharbour.com.au).
Pullman at Sydney Olympic Park. Tel: [61-2] 8762-1700, fax: 8762-1701, (e-mail: h6411@accor.com or www.pullmanhotels.com).
QT Sydney. Tel: [61-2] 8262 0000, (e-mail: reservations_sydney@qthotels.com.au or www.qtsydney.com.au).
Radisson Blue Plaza Hotel Sydney. Tel: [61-2] 8214-0000, fax: 8214-1000, (e-mail: res.sydplaza@radisson.com or www.radissonblu.com/plazahotel-sydney).
Shangri-La Hotel Sydney. Tel: [61-2] 9250-6000, fax: 9250-6250, (e-mail: slsn@shangri-la.com or www.shangri-la.com).
Sheraton on the Park. Tel: [61-2] 9286-6000, fax: 9286-6686, (e-mail: sheratononthepark@sheraton.com or www.starwoodhotels.com/sheraton).
Simpsons of Potts Point. Tel: [61-2] 9356-2199, fax: 9356-4476, (e-mail: hotel@simpsonshotel.com or www.simpsonshotel.com).
Sir Stamford at Circular Quay. Tel: [61-2] 9252-4600, fax: 9252-4286, (e-mail: sales@sscq.stamford.com.au or www.stamford.com.au).
Sofitel Wentworth Sydney. Tel: [61-2] 9230-0700, fax: 9228-9133, (e-mail: H3665@accor.com or www.sofitelsydney.com.au).
Swissotel Sydney on Market Street. Tel: [61-2] 9238-8888, fax: 9238-8877, (e-mail: sydney@swissotel.com or www.swissotel.com).
Sydney Harbour Marriott Hotel at Circular Quay. Tel: [61-2] 9259-7000, fax: 9251-1122, (www.marriott.com).
Sydney Harbour YHA. Tel: [61-2] 8272-0900, fax: 8272-0950, (www.yha.com.au).
The Diamant. Tel: [61-2] 9295-8888, fax: 9295-8899, (e-mail: sydney@diamant.com.au or www.8hotels.com).
The Grace Hotel. Tel: [61-2] 9272-6888, fax: 9299-8189, (e-mail: reservations@gracehotel.com.au or www.gracehotel.com.au).
The Kirketon. Tel: [61-2] 9332-2011, fax: 9332-2499, (e-mail: info@kirketon.com.au or www.kirketon.com.au).
The Langham, Sydney. Tel: [61-2] 9256-2222, fax: 8248-5205, (sydney.langhamhotels.com.au).
The Menzies Sydney. Tel: [61-2] 9299-1000, fax: 9290-3819, (stay@menzies.com.au or www.sydneymenzieshotel.com.au).
The Russell Hotel. Tel: [61-2] 9241-3543, fax: 9252-1652, (e-mail: info@therussell.com.au or www.therussell.com.au).
The Westin Sydney. Tel: [61-2] 8223-1111, fax: 8223-1222, (e-mail: westin.sydney@westin.com or www.westinsydney.com).
Vibe Hotels. The Vibe Hotel Sydney, The Vibe Hotel Rushcutters, The Vibe Hotel North Sydney. Tel: [61-2] 8272-3300, fax: 9211-3381 9356-5060, (e-mail: sales@vibehotels.com.au or www.vibehotels.com.au).