CITY GUIDE
Chennai: hot curries, mild nights
A Chennai guide for road warriors with some idli and silk saris thrown in. Our pick of eating, shopping, top Chennai business hotels, heritage stays and eco retreats. Nightlife? Well…
SEE ALSO Andaman Islands | Bangalore guide | New Delhi business hotels | Goa Resorts review | Gulmarg | Himachal | India Spas review | Kerala Resorts | Ladakh guide | Mumbai business hotels | Pondicherry guide | Rajasthan Palace hotels | Zanskar treks | Nepal treks | Sri Lanka Resorts | Bhutan guide | Colombo guide
JUMP TO Chennai business hotels | Downtown stays | Heritage hotels | Luxury stays | Seaside retreats | Chennai nightlife | Shopping | Hotel Contacts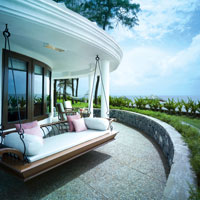 Vivanta by Taj - Fisherman's Cove cottage/ photo: hotel
CHENNAI is a place of stories. Right from the traditional Tamilian homes to the elaborately carved temples and the ancient Portuguese churches, the city is a study in remembered narratives. A whisper of the past still haunts the city, even though today, the future beckons like never before. Amidst the squalid chaos of the metropolis have risen towering edifices thanks to a sudden surge of IT companies. The world hasn't yet flashed its spotlight on this city but make no mistake, Chennai is raring to run with the big boys.

E-mail Page

Print

Hotel Contacts
As you step out into the moist Chennai night, be sure to get yourself a pre-paid taxi. It looks like a normal car with a yellow sign, and it will involve about Rs400 and 40 minutes of hair-tearing traffic to get from the airport to downtown Anna Salai. Night rates go up considerably.
Chennai has no taxis that can be flagged. The alternative is phoning for one or flagging down autos (three-wheeler scooters), which have a notorious reputation for fleecing hapless foreign visitors, especially as the meter is seen as a mere ornament. Check out Chennai Taxi (www.chennaitaxi.com) for an alphabetical listing of call-taxi companies. As a last resort, ask your hotel to arrange for a car and prepare for intimidatingly steep prices.
Send us your Feedback / Letter to the Editor
MRTS trains chug from Beach station to Fort, Park (at Central Station), Egmore, Chetpet, Nungambakkam, Kodambakkam, Mambalam, Saidapet, Guindy, St Thomas Mount, Tirusulam (for the airport), and on down to Tambaram. The second line branches off at Park and hits Light House and Tirumailar (at Kapaleeshwarar Temple). The trains run mostly on time but all of Chennai waits with bated breath for the unveiling of the Metro Rail, slated to commence its first creakings in a couple of years.
Chennai business hotels in the airport area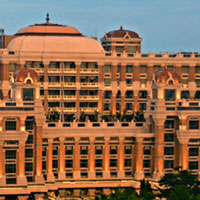 ITC Grand Chola Chennai/ photo: hotel
The Kamaraj domestic terminal and the Anna international terminal at Chennai Airport are situated within minutes of each other. Ahead of the domestic airport you'll sight just a couple of hotels but that's all about to change with a sudden flourish as incoming hospitality chains such as Hilton, Hyatt, Marriott, Leela and ITC make their presence felt.
Built on a grand scale and commanding immediate attention in this neighbourhood, the ITC Grand Chola, Chennai highlights the heritage and architectural traditions of the Imperial Cholas. While the façade is adorned with domed roofs and palatial pillars, the interior serves up white marble staircases, granite carvings and silk curtains. The property is home to 600 rooms, suites and serviced apartments, ranging from 405sq ft to 4,380sq ft in size and spread across three separate wings. Inspired by traditional Indian patterns, the spacious rooms are decorated with regal fabrics and neutral tones. The Eva Wing has been especially designed for female travellers, featuring tailored amenities such as lady butlers, video phones and in-room cocktails. Guests can revitalise at the 23,000sq ft Kaya Kalp Spa or lounge at one of the property's three swimming pools, but it's not all R&R. The hotel is equipped to run a full spectrum of business functions with more than 60,000sq ft of convention and meeting space making it one of the best Chennai conference hotels around.
Strangely, thus far no Chennai hotel has taken advantage of the magnificent coastline but the palatial (and upcoming) Leela should right that soon. The Leela is popping up over on Adyar creek by the beach. Both the Hilton and the Leela have pledged eco-allegiance by monitoring all lighting and sewage management. So what are we waiting for? Onwards to Chennai.
On Velachery Road near Raj Bhawan (just under 10km from the airport) is the 201-room Park Hyatt Chennai, with plunge tubs in lux suites for weary pin-stripers just in from the wall of humidity outside. In typical Park Hyatt mould, the rooms are understated with clean straight zen lines in pastel grey-olive tones and earthy hues.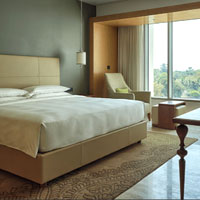 Park Hyatt Chennai/ photo: hotel
The decor is quiet with plump white beds with tan headboards, reading chairs by the large windows, and a simple yet smart work desk. In a 43sq m Park View King room with views across the Guindy reserve, expect cool stone floors (with a carpet under the bed), a hi-def 40-inch flat-screen interactive television for all that Bollywood bustle of an evening, iPod docks, Nespresso machines, safe and high speed internet.
The 87sq m Suites serve up more stretch space with a living room. While the design is zen, Indian accents have squeezed in from the curve of the desk legs to the heft of the coffee table. Beyond that it's unadorned contemporary yet classic space for business travellers on the go. For small corporate meetings and CEO chinwags, there's The Apartment at Park Hyatt Chennai with 8,072sq ft of handshake space. Later, take in the rays at the rooftop infinity pool or get a rubdown at the spa. Check on the weekend spa packages too.
A snarl of traffic will await you as you step into the moist Chennai night. As your car laboriously navigates the road, the first hotel that flashes past will be the Trident Chennai. Outside, bougainvilleas cascade down its walls and within, the pool area is awash in a sea of green. The excellent rooms have double glazed windows and blackout lighting, perfect to soothe those jangled city nerves. The entire hotel is WiFi enabled but only the privileged few on the Club floor get it complimentary. However, rejoice, for even lesser mortals get complimentary airport transfer.
Sitting cheek by jowl with the Trident is the Radisson Hotel Chennai. Aimed squarely at the business traveller, it offers a swathe of services guaranteed to help it stand out. Need a 24-hour business centre? Check. Complimentary airport pick-up and drop?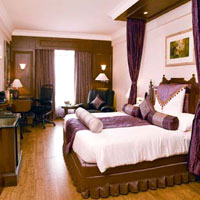 Ornate Radisson room/ photo: hotel
Check. Electronic safe with laptop charging facility? Check. Book an executive room and the hotel will roll out a separate work desk, a multipurpose data-port, massage chairs, mood lighting, security camera on the door, and a cool shower thingamajig that transforms in an instant from rain shower to pounding power jet. To further cocoon the bleary traveller, each guest gets a free 15-minute leg massage and two drinks. Women travellers will get a bit of extra TLC with a special ladies kit and other amenities. But on with our Chennai guide to this and that.
Downtown stays for leisure, business, MICE
Follow the Yellow Brick Road...er, I mean Anna Salai from its inception as the Great Southern Trunk Road all the way down to its last gasp at Fort St George in Georgetown. Along the way you'll find Marina beach, two rivers (the Cooum and the Adyar) snaking in and out and most of the city's hotels.
The Residency is a no-frills but economical and convenient place to hang up your shoes. The rejuvenated rooms offer somewhat ho-hum decor but if you're rooming in the executive section then you get free Internet, a foot massager, an adjustable table, ironing board and rain shower. During cricket matches and any major footie event, TVs go up in all the restaurants and bars.
Women can rest easy in the knowledge that The Residency has taken some extraordinary measures for their security. There's videophone security in the rooms, incoming call screening, and even an escort to accompany any tremulous lady to her chambers. Smokers needn't get their lungs in a flap either – Black and White, the resto-bar offers up a special room for those who need a puff every once in a while.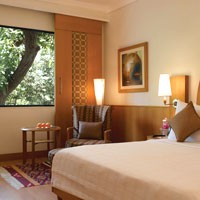 Trident Chennai/ photo: hotel
The Lemon Tree Hotel goes straight to the top of my list because this chain not only adopts a stray dog at each of its hotels but even posts the dog's bio on its website. But enough cooing over canines. The rooms are rather stark and functional and offer the bare bones of a business hotel (Internet, business centre, ergonomic chairs), but its approach to hospitality is the exact opposite – expansive, warm and eager.
If you fancy a little playtime after work, wend your way to the pool table or notch up some high points on a PlayStation console. Aside from the fact that it's a good 45-minute drive from the airport, this hotel is no lemon when it comes to gauging value for money.
Perhaps the best value deal in Chennai, the Residency Towers is only 12km from the airport. The decor is drab and the restaurants mediocre (the cafe offered no green tea), but rooms offer Broadband and WiFi, and rooms for ladies have extra security. Club Room guests get complimentary airport transfers both ways. If you feel an inexplicable urge to brave the skin-roasting Chennai heat, you can step up to the Crown rooftop restaurant for an open-air view of the city.
Business travellers are well taken care of at the Sheraton Chola, which offers WiFi, in-room safes, five meeting rooms and a golf course a stone's throw away. If you've brought the family along, they can enjoy the nearby Spencer Plaza shopping mall and a walk down Marina Beach.
As the sooty darkness descends, head back to your room where warm woody tones, mood lighting and spectacular city views will help you slip gently into the arms of peaceful slumber. Mark this down as one of the better Chennai business hotels.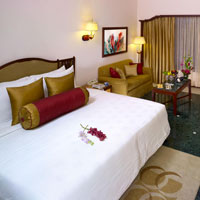 GRT Grand room/ photo: hotel
GRT Grand is all about the MICE market (meetings, incentives, conferences and exhibitions) but don't reach for the pesticide just yet. Guests will enjoy foot massagers and complimentary breakfast but it's really the Grand Club residents who will walk away with all the booty – airport transfers, express check-in, an exclusive lounge for complimentary breakfast and, of course, the foot massage. Service is excellent but the Theme Suites (Rajasthani or European) may strike some as being a tad tacky.
Despite its name, The Park Pod is not a capsule hotel but a boutique property with 20 cosy rooms starting from 260sq ft. Although the decor is minimalist, hand-picked furnishings and black and white wall murals give each room a distinct character. Surf for free with complimentary WiFi and enjoy modern amenities such as 32-inch LCD TVs, minibars and in-room safes.
Business travellers will appreciate the separate living room and work desk in the more spacious 526sq ft Studio Suite. After a long day you can splash around in the scarlet hues of the red-tiled lap pool or work up a sweat in the gym, steam room, sauna or Jacuzzi. There's also an Italian restaurant and a bar offering fruity cocktails or a unique menu of bottled water from around the world.
Heritage hotels and business frills, Anna Salai
The Vivanta by Taj – Connemara has soldiered away for more than a century in one of Chennai's most traffic-choked streets. But no matter. Venture within its whitewashed walls and you will be engulfed by a symphony of antique Tamil sculptures, gracious public spaces and grand staircases. Born in 1854 as the Imperial Hotel, the Connemara is the city's only heritage hotel and its colonial style is infused with a touch of art deco. But the pull of the past does not mean that modern amenities are forgotten.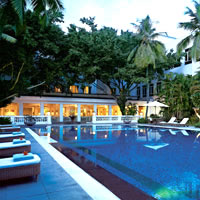 Vivanta by Taj - Connemara/ photo: hotel
Arrive in comfort with in-car massage seats then grab a refreshing drink off the welcome tray. The spacious rooms, especially in the heritage wing, evoke the grandiose days of the Raj with darkly brooding furniture and heavy drapes. Like most Taj hotels, all rooms offer WiFi but it's not complimentary. If you can't sleep, consult the pillow menu. The pool area is picturesque, the service excellent and the food, lip smacking. Your search for Chennai heritage hotels begins and ends here.
Employees at Le Royal Meridien must have been pretty chuffed when the property was picked as the "best business hotel" in the South Pacific region by a prominent writers' association. This is stretching geography considerably but, alas, how the mighty have fallen. About a decade after the award, the ravages of time have taken their toll on the now shabby exterior. Le Royal Meridien has all the usual on-the-road paraphernalia – WiFi, airport transfers, views over its landscaped gardens, but somehow it all feels a little underwhelming. On the plus side though are the hotel's considerable eco-friendly endeavours – its website informs guests that it has an energetic sewage treatment plant, it purifies kitchen exhaust, uses environmentally friendly laundry bags, and conserves energy every way possible.
The baby of the lot is Taj Club House, which is a mere two years old and stands smack in the centre of town. The Club House makes no bones about the fact that it is aimed squarely at the business traveller, offering such perks as transport to and from the office, WiFi (chargeable) and an in-room safe with a laptop-charging socket. Take the edge off all that city living by steering yourself up to the rooftop pool area for complimentary yoga lessons and a visit to the beautiful Mediterranean restaurant Kefi. And if perchance your path leads you to the hotel bar, Blend, on a Friday night, make sure to absorb an experimental cocktail or two and groove to some of India's coolest DJs, flown down especially to light up your weekend.
Also on Anna Salai is The Park Chennai, which offers 214 rooms, a central location and likeable designer twists. Luxury Rooms start from 375sq ft and have muted colour schemes with pale wood flooring, golden headboards and frosted glass. Amenities include 26-inch LCD TVs, in-room safes, work tables, high speed Internet, tea and coffee facilities, minibars and hairdryers.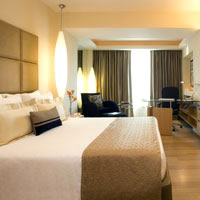 Taj Club House, off Mount Rd/ photo: hotel
Those wanting more stretch space can opt for the 1,100sq ft Premiere Suite, which comes with a private meeting room, kitchenette and butler service on request. The hotel group's signature Aura spa is located on the ninth floor next to a unisex salon. Also expect three conference halls, which are decked out in aqua leather and brown velvet furnishings.
Luxury stays in Alwarpet
If you fancy a gander at luxury living with a conscience, turn your toes towards The Raintree Hotel in the verdant neighbourhood of Alwarpet. Close enough to the throb of the city, but far enough for solitude, this five-star "ecotel" has several restaurants, a bar called Havana and a sexy rooftop pool area. From most rooms you can drink in a commanding city view. Premium rooms boast an iPad dock while in Club rooms you can hunker down into deep feather pillows and use the handy bedside controls for switching on your LCD flatscreen TV. You'll find Raintree hotels on St Mary's Road (Alwarpet) as well as on Anna Salai. At Anna Salai look forward to mod surrounds, mood lighting and, in several rooms, glass-wall look-in bathrooms.
Just a short leafy walk from the Madras Boat Club is the Sheraton Park Hotel and Towers. Don't be put off by the tatty exterior, for an arsenal of services are available within. Designed with business travellers in mind, the hotel offers WiFi throughout, in-room safes, IP phones with Bluetooth handsets and a 24-hour business centre. Sheraton Park manages to pack in five restaurants, a bar, nightclub, grill and shopping centre so you needn't leave the hotel at all.
Seaside retreats along the East Coast
Escape from allegro life and head to Vivanta by Taj – Fisherman's Cove. Located just off the ECR (East Coast Road) on the way to Mahabalipuram, the hotel is miles away from the clutter and chaos of the city proper. This sprawling seaside resort built on the ramparts of an ancient Dutch fort, houses a clutch of cottages (be sure to ask for a sea-facing one) that hug a silver sliver of beach. Hordes of business people can be found here at any time, resplendent in their summer best, so electronic safes, WiFi and large LCD televisions are all par for the course. Your shower is open to the fluffy white clouds above but the more reticent can choose a discreet bathtub. Walk down the grassy path to the new wing to find Scandinavian inspired rooms with a decent work desk.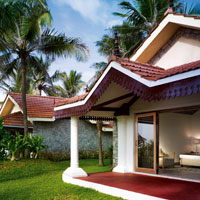 Vivanta by Taj - Fisherman's Cove villa/ photo: hotel
A word of warning – at teatime, the coffee shop proved woefully inadequate and failed to provide any pastries at all. Actually two words of warning – at dinner on weekends, you would do well to book a table at the restaurants in advance. They can get pretty crowded. While romantics flock to these shores, this is also a family-friendly Chennai hotel, indulgent of children and teens.
Cocktails and masala prawns
Chennai nightlife is subdued. And that's an understatement. Partygoers have cited many reasons for this – the city's essential conservatism, draconian laws that require clubs to shut down by midnight but, whatever the reason, Chennai after dark lags far behind Mumbai or Bangalore. If you check out Blend in Taj Mount Road, Chipstead at the Taj Coromandel, Distil at the Taj Connemara and Bike & Barrel at The Residency (where rowdy stags are banished to an upper corner), you've probably covered most of Chennai's nocturnal hotspots. Or you could go red-carpet ready to Zara's for mediocre tapas and cool company.
Much better to dig into fluffy, white, rice-flour idlis and sip frothy filter coffee at Saravana Bhavan or Murugan Idli, both of which are scrupulously vegetarian. For travellers who like to play dress up, there's posh Southern Spice at the Taj Coromandel, which has live music and dance recitals, dramatic coffee rituals that are intrinsic to south Indian culture, and an appam master. The appam is another steamed, rice-flour delicacy, usually served with flavourful coconut curries. For the dance recitals minus the food, you must check out the sprawling Kalakshetra dance complex run by Leela Samson. Swaddled in acres of grass is its piece de resistance – the Koothambalam (dance) hall with slatted walls and a traditional tiled roof.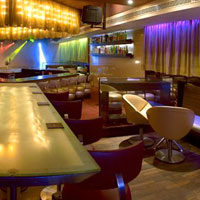 Raintree St Mary's Rd Havana bar/ photo: hotel
Not one for greens? If you don't mind some tummy rumbling the next morning, perhaps one of the best ways to enjoy seafood is by taking an evening trip to Besant Nagar Beach. Here you will find a row of stalls where fishermen's wives fry the day's fresh catch – a plate of food doesn't cost more than Rs50. With your feet digging into the soft sand and the sound of waves gently lapping against the shore, the only decision you'll have to make is whether you want your prawns fried, plain, or with heaps of spicy masala.
But if you've had your fill of fiery Indian food and crave some docile tzatziki instead, make your way to Greek restaurant Kryptos (tel: [91-44] 4503-8001) on Chennai's equivalent of a high street, Khadar Navaz Khan Road. Or head to Bella Ciao (tel: 2451-1130) by the beach in Kottivakam for a wood-fired ortolana pizza washed down with a creamy panna cotta, all under the stern eye of chef Ciro Cattaneo.
It's almost impossible to go to Chennai and not have someone steer you towards Benjarong (tel: 2432-2640, 4211-0061), the Thai restaurant in Alwarpet. Try the much-touted Mein Ka, a plate of spinach leaves accompanied by lemon, peanuts, onion, red chilli, ginger and flakes of dry roasted coconut.
A handful of restaurants have cropped up on the East Coast Road on the way to Mahabalipuram. Cholamandal Artists' Village plays host to the delightful charms of garden cafe Shiraz (tel: 98405-72126), which serves up platefuls of proper Persian fare for those with adventurous palates. Or step into another highway haven, the breezy Kipling Café (tel: 2453-0040), oozing colonial charm, where celebrity Kiwi chef Ross Burden whips up a mean pizza. That's our quick Chennai guide to food.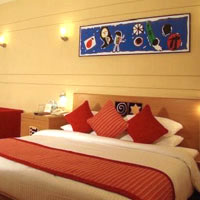 Lemon Tree room/ photo: hotel
A sea of humanity swarms through the streets of T Nagar, the city's prime shopping district for gold jewellery and textiles. For a touch of the traditional, have the experts at the towering Nalli Sari House (tel: [91-44] 2434-4115, 4260-4567) wrap you in an exquisite Kancheepuram silk sari.
Escape the madding heat with a visit to one of the many Chennai shopping malls, like Express Avenue (www.expressavenue.in) and Spencers Plaza. Chennai's oldest mall, Spencers Plaza, stands only sneezing distance from the Taj Connemara and a few steps away from the Taj Club House. On the other side of Taj Club House lies Express Avenue, Chennai's biggest mall.
In upmarket Nungambakkam, you'll find retail bliss on Khadar Navaz Khan Road, heaving with chic boutiques and high street stores. Grumble your way over cratered roads until you find Evoluzione (tel: 2833-3627), home to some of India's finest designer wear all at wallet-popping prices. A few steps away is the artfully rendered Auroville Boutique (tel: 2833-0517), bursting with artsy bric-a-brac made by the folks over at Pondicherry's Auroville ashram.
Though little known outside of Chennai's fashionable circles, Ode Gallery's (tel: 2449-2110) elegant aesthetic has gained the store a devoted following. Go there for quirky home accessories. And then on to my own personal favourite. Expats turn up in droves at Amethyst (tel: 2835-3581), housed in a beautifully restored bungalow. This cavernous store is heaped with expensive goodies such as chunky antique jewellery, designer duds and stately colonial furniture. Finish off your day with a cappuccino at its charming garden cafe, perfect for sloughing off that post-shopping stupor.
Send us your Feedback / Letter to the Editor
FAST FACTS

/ Hotel Contact List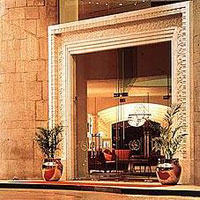 Sheraton Chola's grand entrance/ photo: hotel
Tamil Nadu levies a luxury tax of between 10 and 12.5 percent on all rooms that cost more than Rs1,000 a night and 10.3 percent on services like WiFi or airport transfers.
The exchange rate is roughly US$1 = Rs66.
Rates listed in here are rule of thumb only and will vary vastly depending on time of year and method of booking. Some are brochure or "rack" rates while others are the best rates from the Internet.
Directory of Chennai business hotels and retreats
GRT Grand. Tel: [91-44] 2815-0500, fax: 2815-0778, (e-mail: reservations@grtgrand.com
or www.grthotels.com).
ITC Grand Chola, Chennai. Tel: [91-44] 2220-0000, fax: 2220-0200, (e-mail: reservations.itcgrandchola@itchotels.in or www.itchotels.in/itcgrandcholanew/).
Le Royal Meridien. Tel: [91-44] 2231-4343, fax: 2231-4344, (e-mail: reservation@leroyalmeridien-chennai.com or www.leroyalmeridien-chennai.com).
Lemon Tree. Tel: [91-99] 1170-1701 (www.lemontreehotels.com).
Park Hyatt Chennai. Tel: [91-44] 7177-1234, fax: 7177-1235, (e-mail: chennai.park@hyatt.com or www.chennai.park.hyatt.com).
Residency Towers. Tel: [91-44] 2815-6363, fax: 2815-6969, (e-mail: restowers@vsnl.net or
www.globekey.com).
Radisson Hotel Chennai. Tel: [91-44] 2231-0101, fax: 2231-0202, (e-mail: reservations@radissongrt.com or www.radisson.com).
Raintree Hotel. Tel: [91-44] 4225-2525, fax: 4225-2627, (e-mail: reservations@raintreehotels.com or www.raintreehotels.com).
Sheraton Chola. Tel: [91-44] 2811-0101, fax: 2811-0202, (email: reservations.sheratonchola@itcwelcomgroup.in or www.itcwelcomgroup.in).
Sheraton Park Hotel and Towers. Tel: [91-44] 2499-4101, fax: 2499-7101, (e-mail: reservations.sheratonpark@itcwelcomgroup.in or www.itcwelcomgroup.in).
Taj Club House. Tel: [91-44] 6631-3131, fax: 6631-3030, (e-mail: clubhouse.chennai@tajhotels.com or www.tajhotels.com).
Taj Coromandel. Tel: [91-44] 6600-2827, fax: 6600-2089, (e-mail: coromandel.chennai@tajhotels.com or www.tajhotels.com).
The Park in Chennai. Tel: [91-44] 4267-6000, fax: 4214-4100, (e-mail: resv.che@theparkhotels.com or www.theparkhotels.com).
The Park Pod. Tel: [91-44] 4295-5555, fax: 4295-5556, (e-mail: resv.pod@theparkhotels.com or www.theparkhotels.com).
The Residency. Tel: [91-44] 2825-3434, fax: 2825-0085, (e-mail: resmds@vsnl.com or www.key-res.com).
Trident. Tel: [91-44] 2234-4747, fax: 2234-6699, (www.tridenthotels.com).
Vivanta by Taj – Connemara. Tel: [91-44] 6600-0000, fax: 6600-0555, (e-mail: vivanta.connemara@tajhotels.com or www.vivantabytaj.com).
Vivanta by Taj – Fisherman's Cove. Tel: [91-44] 6741-3333, fax: 6741-3330, (e-mail: vivanta.fishcove@tajhotels.com).