BEACH ESCAPES
How to get sand between the toes
For some good old-fashioned Fiji fun, sip kava and then watch the sunset – if you haven't passed out. Resorts, beaches and kids' stuff in this fast guide.
JUMP TO Money, transport and tours | Boat trips, diving and beaches | Shopping for gew-gaws | Resort options | Dining and drinking spots | Hotel Contacts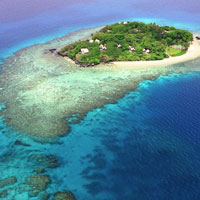 Royal Davui, island idyll/ photo: hotel
FIJI. The very name of this small island nation will conjure up a few key associations for most, usually pleasurable, and perhaps tinged with mildly sedating kava, or rum if the latter is closer at hand. The euphoria is understandable.
Pristine Pacific Ocean waters fringed with white sand – sure, there is plenty of this, which helps the country stay up there at the top of many honeymooners' must-see lists. Island hopping, snorkelling and diving are all very alluring. A surfer's playground – yes, some folk make this a serious focal part of their trip. There are world-class reef waves, such as Cloudbreak where international pro competitions take place. A fearsome rugby sevens team – right again; it has pummelled the opposition in major competitions, including 14 cup victories (up to 2013) at the Hong Kong Rugby Sevens tournament. Mineral water? Well in Hong Kong and several classier hotels in Asia, the bottled stuff is simply named after this speck on the ocean. Laid-back South Pacific Island vibe – this cannot be overstated and is a perennial part of Fiji's charm, once the traveller unwinds from the fraught pace of the big city. Expect requests to be met eventually, and mostly with a smile. Allow yourself to get into 'Fiji time' a term you will hear repeatedly in jest. No one is in hurry so why should you be? The list goes on… and it's all good, clean fun.

Slide Show

E-mail Page

Print

Hotel Contacts
Arrival at small Nadi International Airport (www.airportsfiji.com) sets the mood. Here, the first thing a visitor hears is the sound of live musicians singing infectious harmonies over ukulele and guitar – a theme that will is echoed by ensembles at resort entrances and shopping malls. The contrast 10 hours after a direct longhaul from Hong Kong, which from December 2013 has three flights a week on Fiji Airways (www.fijiairways.com), couldn't be more marked.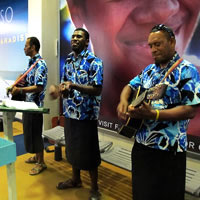 Arrival serenade/ photo: Andrew Dembina
Travel brochures, guides, postcards and Fuji Tourism's website dwell on the aquamarine seascapes dotted with idyllic islets and surrounded by colourful underwater scenes. There certainly are remote romantic hideaway islands among the 330-plus that make up this tropical South Pacific nation that lies 2,000km or so above the northern tip of New Zealand. If staying for five days or more, some of these can be explored on day trips. If considering a shortish visit, stick to the main island, maybe take a half to full-day boat trip and a tour into the lush volcanic interior.
The main island of Viti Levu, home to the international airport and 70 per cent of Fiji's modest population of some 900,000, is the starting point for most visitors – and it's very easy to get around. From the airport it's a short drive northwest to Denarau Island. This beach-fringed zone (half of it, deceptively, is reclaimed) is attached to the mainland via a short bridge, which acts as a security point, and is home to a handful of the best resorts and the lush18-hole Denarau Golf & Raquet Club. Let's start this Fiji fun guide with transport and money, the basics, before we get to the top Fiji beach resorts as well as some clean budget guesthouses that won't break the bank.
Send us your Feedback / Letter to the Editor
Money, transport and tours
You will need local currency – the Fijian dollar, for which the exchange rate is around FJ$1=US$0.53.
Denarau makes a handy base and there are plenty of nearby distractions to keep travellers of all ages amused. It's served by the Bula Bus (bulabuses.com.fj), an open-sided and open-backed vehicle with thatched roof (no joke) that continually circuits the resorts, golf club and port and shopping mall. Tickets cost FJ$8 for a one-day pass or less if buying for a few days and kids under 10 go free. "Bula" is a ubiquitous greeting that you will hear frequently.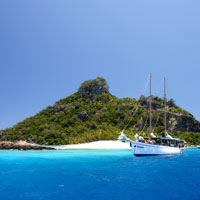 Yacht escape/ photo: South Sea Cruises
Tourist Transport Fiji (www.touristtransportfiji.com) operates large coaches and smaller vehicles, from shuttles to tours. This and Pacific Destinationz (fj.pacificdestinationz.com) are two operators with connections available at Nadi airport – the latter's affable drivers gave me a little insight into the island nation that relies on tourism to take care of around half its economy. Pacific Destinationz offers city and inland tours, from FJ$108 for half a day.
For the most freedom, consider car hire – there are a handful of operators, from Avis (www.avis.com.fj), where three day deals can be had from FJ$326; contact directly for daily quotes. Local car hire firm Go Pink Rentals – with a percentage of every hire going towards the Fiji Cancer Society, has bargain compact cars from FJ$89 per day and some serious easy-rider motorbike rentals (www.motorbikerentalsfiji.com). A top-end Harley Davidson with a 1,200cc engine goes for FJ$500 a day.
For those who like to leave themselves in the hopefully capable hands of tour guides, I recommend some pan-Fijian insights through the friendly and knowledgeable guides at Westerzaif Tours (www.westerzaiftours.com). A half-day tour I took (starting price FJ$99 per person including resort area transfers and admission tickets) touched the southern hemisphere's largest Hindu temple, Sri Siva Subramaniya. Indian immigration to Fiji from the late 19th century, under its old British colonial rule (which ended in 1970), was significant, accounting for nearly half the population by the 1940s. Integration made Hinduism a key faith, and resulted in cultural and ethnic differences with neighbouring Pacific Island nations. The tour meandered past sugar cane plantations (sugar is the country's number two industry) up to the foothills of Sleeping Giant Mountain – so named on account of its silhouette.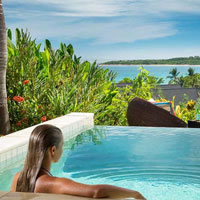 InterContinental/ photo: hotel
The Garden of The Sleeping Giant (admission FJ$16 adult, FJ$8 kids, www.gardenofsleepinggiant.com) experience is beyond expectation. The beautifully landscaped collection of 2,000-plus varieties of Pacific and Asian orchids, lilies and hybrids was once the private collection of the late American actor Raymond Burr. Nearby are the Sabeto mud pools and hot springs – both full of minerals. Slap on the mud, take a few pictures of yourself and travel companions caked in the brown-green goo, let it dry and then immerse in 40 degrees Celsius volcanic spring water to rinse it off. If time allows, treat yourself to further relaxation – open air massage beds beckon; those being worked over looked very blissed out.
Rivers are another way of touring – exploring the lush hinterland from interesting perspectives. Sigatoka Town, 60km south of Nadi is poised at the mouth of one of Viti Levu's most prominent internal waterways. Along its snaking course, Sigatoka River Safari (www.sigatokariver.com) takes visitors by jet-boat to explore the landscape and its inhabitants. The experience is not all about the views or the high-speed boats (which are fun, it has to be said). Up banks lined with lush vegetation, limestone cliffs in parts, giving way to green-swathed volcanic hills and valleys this small tour company visits various laid-back villages.
Having zoomed along some 50km of brown water from Sigatoka Town to Vunaqora Village (population, 175), a muddy kilometre's stroll from its jetty, we received a customary village welcome, including a kava ceremony. Kava is a knobbly root that looks and smells a bit like ginseng, and has a mild relaxant effect, while – they say – not affecting clarity of mind. Traditionally powdered and mixed with water, it is now also used as a herbal supplement for anxiety and insomnia in some countries. I found it to have a mild numbing effect on the mouth and brain. Insights on village life continue at a sit-down meal, as a guide from the village explains life there. Each visited community gets paid and can stop its strenuous normal agricultural work during the visits. Starting price is from FJ$239 per adult; FJD120, children; under threes are free; including return transfers.
Boat trips, diving and beaches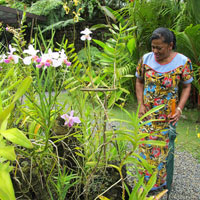 Garden of the Sleeping Giant/ photo: Andrew Dembina
There are daily boat trips departing from Port Denarau – just a few minutes from the resorts area. Denarau Marina, is strewn with moored yachts and some eccentric pleasure craft – I spotted what looked like a mini submarine, tied up beside a bright red speedboat that was mounted with a passenger aircraft-sized jet engine at its rear.
From Denarau, hopping aboard a sightseeing vessel is a must – if with a group, you can wander around the many desks offering charters. Or go for a large sturdy cruiser. This is the fun part of Fiji. The water, and the open seas. The largest network of routes and packages is operated by South Sea Cruises (www.ssc.com.fj). Select from remote isles, where you could consider a stay overnight in small resorts, to half-day hops, such as the Finding Nemo cruise to South Sea Island – a tiny isle, reached in 40 minutes, surrounded by coral and home to a number of colourful fish and starfish (FJ$91, adults: FJ$46 children). Snorkelling gear, hot or cold drinks, including local beer is all inclusive and can be enjoyed in a hammock or in a recliner under a palm on the edge of the beach, by a small swimming family swimming pool on the island or in a recliner under a palm or on the beach.
Also out at sea is the idyllic yet somewhat surreal-looking two-storied floating bar/ restaurant pontoon that is Cloud 9 (www.cloud9.com.fj). Reachable in under an hour from Port Denarau, it suddenly appears as if from nowhere – the most unlikely of sights bobbing atop 360 degrees of azure water. Just off a coral reef and the and within sight of surfers' iconic Cloudbreak waves, off Tavarua Island – where international competitions are held in the middle of the ocean, Cloud 9 floats calmly, in a protected lagoon.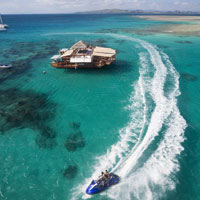 Cloud 9, chablis and coral/ photo: Tor Johnson
Cocktails, chilled beer and wine, along with freshly made barbecue, salads and more can be ordered and enjoyed on wooden decks, under canopies. Founded by Fijian windsurfing champion, Tony Philp, a huge range of water sports, from surfing, windsurfing, paddle boarding, kayaking, wakeboarding and water-skiing to jet-skiing, can all be arranged. You can casually drop by if out on a charter on the turquoise waters, or arrange to be picked up by the establishment itself – boarding charges apply.
One of the best-rated diving operators – there are many (check Fuji Tourism's website at end of this article for these and snorkelling operators) is Tokoriki Diving (www.tokorikidiving.com), manned by PADI certified divers. It is ecologically aware and reportedly has very safe equipment.
Denarau's beaches are not the white sand type. Natadola Beach is worth a visit – located 35km southwest of Nadi on the Coral Coast. Its long sweep of sand can be enjoyed on horseback and plenty of water sports are on offer by local vendors. The Coral Coast itself begins some 15km south of Nadi and resorts spring up from there all the way down its edge at sandy bays that are broken up in part by mangroves.
At Port Denarau you'll find a number of restaurants and cafes with waterfront tables, a spa, and lots of shops with beach ware, local crafts, jewellery – including local pearls – souvenirs, a bakery and large supermarket with basics and gourmet food and drink.
Besides these shops, Nadi Town also has plenty of shopping options – one spot that has some of the best quality products and handicrafts and jewellery is Fiji Market. Despite its name this is an indoor emporium with helpful staff. All purchases in Fiji that add up to more than FJ$500 (about  US$268) are eligible for tax refunds on exiting the country.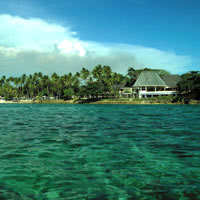 ShangriLa blues/ photo: hotel
Alongside freshwater pearls and woodcarvings, one unique purchase to consider is kava – though this can also bought at Nadi Town's open-sided main produce market, just around the corner.
Resort options for tanning bodies
When it comes to Fiji beach resorts, there's no doubt that Denarau is a convenient location. I stayed at the Wyndham Resort Denarau Island - newly enlarged and re-launched in October 2013, in one of its very spacious deluxe apartments. With one, two and three-bedroom configurations, they have fully-equipped open kitchens, next to a dining area and living-room space with large flat-screen intelligent LG TVs. My terrace had a pool and sea view through palms and its own Weber barbecue unit and outdoor dining furniture. Furnishings and appliances are all top grade and the mood is no-nonsense sleek contemporary. With a family or group of friends with or without kids, this would make a good base.
Sheraton Denarau Villas is one of the rest of the resorts in the vicinity that also offers a luxury stay, with two and three bedroom villas. This resort is right next to the more modern-casual decorated Sheraton Fiji Resort.
On the Coral Coast, on the prime Natadola stretch of sand is Natadola Beach Resort. With 11 suites, a garden and small swimming pool – this place makes its stand for romance. Honeymoon packages are available and no kids under 16 are permitted to stay. Gecko's Resort offers 28 cheerful studio units, which are good for longer stays or families – who can get interconnecting rooms. Set on a four-and-a-half acre historic village site, it's a 10-minute drive to Sigatoka.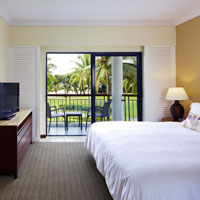 Uncluttered Sofitel suite/ photo: hotel
The Coral Coast's most acclaimed upmarket resort is Shangri-La's Fijian Resort and Spa, Yanuca Island, Fiji, a 400-plus-room resort on a small private islet, reached by a causeway from mainland Fiji. It has a kids' club for four to 12-year-olds and an evergreen distraction is CHI the Spa, the group's signature wellness retreat.
At the high end, also look at the 296-room beachfront Sofitel Fiji Resort and Spa on Denaru Island, as much a getaway for families as for the romantically inclined. Rooms are plain, if smart, with coloured walls for texture and several have balconies with sea views. The restaurants serve their menus with typical French flair and for an evening rubdown, head to the spa for a wellness escape in a private garden compound. Alternatively, dive into the 1,000sq m free-form pool. The InterContinental Fiji Golf Resort & Spa sited on a picturesque curving promontory along Natadola Bay on Viti Levu Island is a child-friendly resort for your diary. Find 271 rooms, a kids' club, four swimming pools for a comfy splashdown, a top spa and an 18-hole championship golf course. This is a breezy hideaway with a definitely romantic edge.
Mango Bay Resort, on the other hand, touts itself as an "upmarket backpacker" guesthouse, and offers a host of water-borne activities, including sports fishing, surfing and diving. No children under 12 can stay here.
Island getaways are numerous, if you fancy a more remote stay – no shops or roads are nearby, and the rewards are the picture postcard clear waters and peace and quiet. Tiliva Resort, reached by 45-minute seaplane transfer from Nadi airport, is one option – the surrounding ocean is renowned its abundance of colour, hard and soft corals, large fans, turtles and rays. Comfortable and cosy Tiliva Resort is minutes from the Astrolabe Reef and Waisomo Reserve – some of Fiji's best-rated diving; kayaks can be rented too. In a more luxurious mode, Royal Davui Island Resort is an adults-only sanctuary on Beqa Lagoon, reached by seaplane and launch transfer. The emphasis here is privacy: in-room dining, spa treatments and private plunge pools apply to its 16 villas.
Dining and drinking spots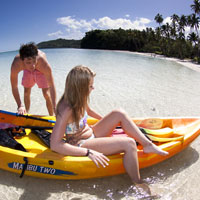 Mango Bay kayak/ photo: hotel
At night, truth be told, in this island paradise it's often easiest to enjoy drinks and dining out at resorts – either your own or one nearby. Mamacita Mexican Restaurant, at Wyndham Resort Denarau Island, launched in September 2013, buzzes and serves upscale Mexican food and good margaritas. The resort is also now home to Fiji's first Karma Beach Bar (Tel: [679] 675-0442) on its seafront - a branch of the international Bohemian chic chill-out bar/ café and restaurants of Karma Resorts. Its decking overlooks low-slung beanbag recliners in the sand, and it is hot with the cocktail set.
Denarau Marina and Nadi have several western and Indian restaurants as well as a few Chinese ones. Bone Fish (tel: [679] 675-0197; www.bonefishfiji.com) specialises in western-style seafood at the marina. The Hard Rock Café Fiji (tel: [679] 675-0032) does its thing, with burgers, ribs and the like being served alongside real clothing and artefacts from Shakira, Steve Tyler and more.  A Nadi Japanese standout is Daikoku Restaurant (tel: [679] 670-3623; www.daikokufiji.com), serving good sushi and sashimi and teppanyaki with flare at its upstairs grill tables. For European-style afternoon tea, Sofitel Fiji Resort and Spa (tel: [679] 675-1111) in Denarau is the place to go. Wicked Walu Seafood Restaurant, located on a little private island off the Coral Coast, has been voted the best restaurant in Fiji. It specialises in western-style grillroom dishes and is located at Warwick Fiji Resort & Spa (tel: [679] 653-0555; www.warwickfijihotel.com).
There is plenty more to do in Fiji than is listed here. Whatever you do, see or eat, though, the laid-back genuinely friendly people add to a relaxed holiday mood on the islands. Now was that fun? We're sure you'll be back to Fiji.
Send us your Feedback / Letter to the Editor
FAST FACTS

/ Hotel Contact List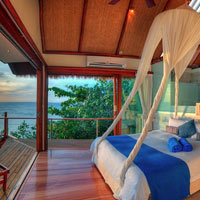 Royal Davui bed with a view/ photo: hotel
All Fiji guides point to the school holidays as the hotel high season, along with its dry season – April to October – when rain is less common and the air is less humid than in other months. Yet even in November, when it may rain most days, resorts and tour operators remain busy.
The Fiji dollar exchange rate is FJ$=US$0.53 and ATM machines allow direct withdrawal with most modern banking plastic.
Useful tourism site: Tourism Fiji (www.fiji.travel).
Airlines flying from Asia include Fiji Airways (www.fijiairways.com), Cathay Pacific (www.cathaypacific.com), Korean Air (www.koreanair.com), Virgin Australia (www.virginaustralia.com), Qantas (www.qantas.com), Jetstar (www.jetstar.com), Air New Zealand (www.airnewzealand.com).
Nausori Airport is the second international airport in Fiji, on the eastern side of main Island, Viti Levu. Smaller airports on smaller islands make island hopping faster. More info at www.airportsfiji.com.
Room prices will range from a low of around FJ$45 (US$24) per person in a private room for upmarket backpackers, to FJ$720 (US$382) or more for double occupancy per night in luxury villas. Prices quoted here are approximate and are subject to seasonal change. Check for the best available rates (BAR) online or with a travel agent.
Fiji resorts directory
Gecko's Resort. Tel: [679] 652-0200, (e-mail: geckossales@connect.com.fj or www.geckosresort.com).
InterContinental Fiji Golf Resort & Spa. Tel: [679] 673-3300, (fiji.intercontinental.com).
Mango Bay Resort. Tel: [679] 653-0069, (e-mail: info@mangobayresortfiji.com or www.mangobayresortfiji.com).
Natadola Beach Resort. Tel: [679] 672-1001, (e-mail: natadola@connect.com.fj or www.natadola.com).
Royal Davui Island Resort (via the Australian reservation office). Tel: [61-2] 9365-2648, (e-mail: res@royaldavui.com or www.royaldavui.com).
Shangri-La's Fijian Resort and Spa, Yanuca Island, Fiji. Tel: [679] 652-0155, (e-mail: fij@shangri-la.com or www.shangri-la.com).
Sheraton Denarau Villas and Sheraton Fiji Resort. Tel: [679] 675-0777, (e-mail: sheraton.fiji@sheraton.com or www.sheratonfiji.com).
Sofitel Fiji Resort and Spa. Tel: [679] 675-1111, (e-mail: reservations@sofitelfiji.com.fj or www.sofitel.com).
Tiliva Resort. Tel: [679] 725-1299, (e-mail: enquiries@tilivaresortfiji.com or www.tilivaresortfiji.com).
Wyndham Resort Denarau Island. Tel: [679] 675-0442, (e-mail: denarau.reception@wyn.com or www.wyndhamap.com).