CULTURE
Lazy Luang Prabang guide
Temples, monks, fun shopping, and bicycles. Our pick of laid back Luang Prabang boutique hotels, spas, and one or two bars that don't close at 11pm. How many kips do you need for a comfortable kip?
updated by Vijay Verghese
SEE ALSO Laos and Vientiane guide | Chiang Mai fun guide | Hanoi guide | Bangkok shopping | Angkor guide | Asian child resorts | Bali fun guide | Vietnam resorts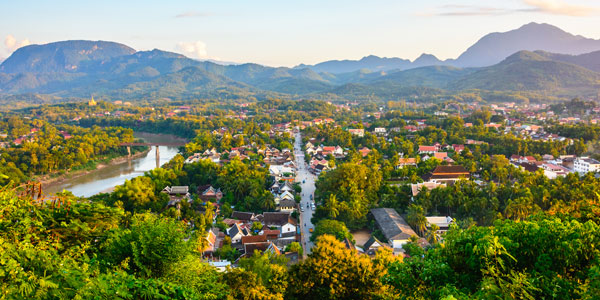 JUMP TO Temples, shopping, massage, spas | Dining in Luang Prabang | Nightlife | Boutique hotels, luxe inns, guesthouses | Sightseeing, adventure | Hotel Contacts
THERE IS a reason why Luang Prabang remains the town that time forgot. It's not the easiest place to get to, not that anything in Laos is a doddle. Lacking the sex, grind, and prurient neon of neighbouring Thai destinations, this is an often overlooked sleepy temple town. Thank Heavens!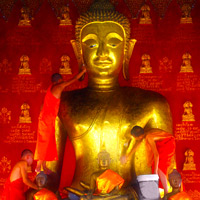 Wat Mahathat - Devotion, simplicity, and reverent worship are the key strands in Luang Prabang life
Snuggled deep in the secretively undulating hills of northwest Laos it was, until the recent past, served by just two alarming modes of travel. The first was Lao Airlines – a carrier often blacklisted by the US Embassy, the UN, and other companies that prefered their employees whole. The second was a punishing ten-hour bus journey from the capital Vientiane, at the mercy of bandits and a million sharp turns. Yet the lure of gilded spires, saffron robes and cobblestones was strong, and the travel pilgrims prevailed as technology and transport options improved. Lao Airlines has come of age in a distinctly Laotian manner and buses are much better.
Back in 1998 an unfussy ' modern' airport - that boasted moulded plastic bucket seats and video screens - was constructed two kilometres from town. By 2017, humming Luang Prabang International Airport (luangprabangairport.com/) was being served by Bangkok Airways, Thai Airways, Singapore Airlines, AirAsia, Vietnam Airlines and a range of familiar international names like Emirates and Air France (through codeshare arrangements). The runway has been extended to accommodate larger jets from even farther afield. Lao Airlines still flies regularly and many like myself – pursuing this elusive Luang Prabang guide – still brave it without a hitch.
The roads are still winding but they are mostly well kept, and banditry is less in evidence. This may be because of the armed, alarming plain-clothes blokes you might find on board buses, but hey, that's all part of the adventure. It is possible to book a VIP bus from Vientiane for around US$20 (exchange rate US$1 = 8,285 kip).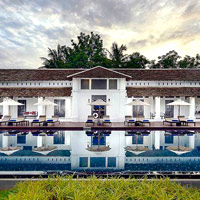 Sofitel's old world charm/ photo: hotel
All buses run from Vientiane through Vang Vieng and range from the eight-hour air-conditioned VIP bus to cheaper local options, which may be a good three hours longer. Both transport versions come loaded with exuberant karaoke entertainment and include a stop-off for lunch.

Slide Show

E-mail Page

Print

Hotel Contacts
Luang Prabang is also served by the river during the wetter seasons. Boats may be chartered from Vientiane's Ban Done river port but can be cramped, and may take up to a few days. Boats north are more common and popular with travellers especially the famous trip to the Thai border crossing in Huai Xi.
Travellers have the option of expensive luxury cruises, crowded backpacker slow boats, or brain-rattling and seemingly dodgy speedboats. Boats tend to be more expensive than the flight, and they do not run when water levels are low. Be sure to check ahead.
Send us your Feedback / Letter to the Editor
A visitor's first sight of the old town is always a doozy. Glorious French-Indochinese architecture intertwines with peeling, traditional houses in a gaggle of small districts, each centred around a wat (temple).
This charmingly maintained medieval urban plan spurred UNESCO to tag the town as a World Heritage site in 1995, and it keeps a sharp eye on development in the area. Many of the villas and shop houses have been carefully converted, meaning plenty of places to eat, stay, and shop. Top drawer luxury resorts have arrived too in Luang Prabang.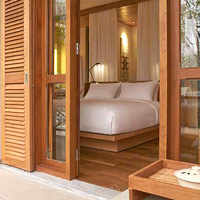 AVANI+ rooms, understated, woody, and classy/ photo: hotel
Your arrival by bus will be greeted by a pleasant array of options. Large, shared tuk-tuks taxi scores of people around town, dropping each off after the other – lengthy but cheap. These can be rented exclusively for a small amount. Alternatively, hop on the back of a moto (motorcycle).
As a couple you'll find your driver game to take you both – with your luggage – in a spirited bid to earn a bit more money and join that potential Asia-wide Fear Factor contest for Maximum Bodies on a Bike (at our last count: five.) There's also the moto sidecar option which is good fun on smooth roads, but a bit rough on cobbles.
Once in town, bicycles are a great way to explore, especially around sunset when the temperature drops. A standard basket-fronted bike can set you back as little as US$2 a day (7am-9pm), while a mountain bike may cost a tad more. There is always an old fashioned recourse - walking, and the main town is small enough for some vigorous, or lazy, strolls past shophouses, wats and rows of saffron-robed monks seeking alms.
Motorbike rental in Luang Prabang is frowned on for visitors, though there are some companies who will rent to you, ferry you out of the city centre, and let you explore farther afield from around $15 per day. Riding motorbikes in Southeast Asia always comes with the caveat - wear helmets and definitely don't wobble around on skiddy roads tanked up on an a few bottled of beer. Laotian roads are unpredictable.
For more information, explore the Timeless Luang Prabang site, which is a good resource and pick up a country overview at Tourism Laos.
Temples, spas, shopping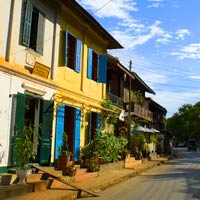 Luang Prabang street/ photo: James Phillips
The wonderful thing about Luang Prabang is its scale: there's plenty to see, but a few morning strolls can take most of it in. The earlier the better in fact, since most folk roll out of bed at 6am to offer alms to the resident monks (in a ceremony known as takbat).
Luang Prabang has no shortage of either monasteries or wats (over thirty at the last count) and for many visitors this is the source of its charm.
Wat Xiang Thong is the grandest. Located near the tip of the northern peninsular, it was built for the royal family in the 16th century and is a prime example of the area's temple architecture. Look out for the large tree of life mosaic on the rear wall. The conical Phou Si wat at the top of the town's central mound provides a great lookout for sunset, while the longboats stored at Wat Saen give you a sampler of the town's boat festival in the autumn.
For a peek into Laos's religious history check out the detailed stucco reliefs at Wat Mai or the creature-strewn façade at the Bamboo Forest Monastery, Wat Pa Phai. Many find that the Royal Palace Museum is a good source of knowledge; whether religious, royal, or revolutionary.
Though the royal family was unceremoniously kicked out in 1975, the new government preserved both the buildings and their contents, leaving murals, statues and other regal paraphernalia. Don't miss the Pha Bang, the Lao's most sacred religious object, and be sure to ask about its adventures through Asia.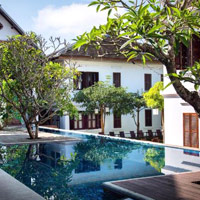 Victoria Xiengthong Palace, visit the Ayu Spa/ photo: hotel
All that sightseeing can definitely take its toll, and this is a good time to check out the price list at your nearest massage parlour or Luang Prabang spa. There are plenty of these around, ranging in sophistication, menus and decor. Massages may range from US$10 per hour up to the princely sum of $25 (for an aromatherapy massage), while facials and scrubs are yours for a little less, and uber-indulgent three-hour packages certainly don't break the bank.
One popular massage spot was the Spa Garden oasis where a 90-minute aromatic oil massage might set you back around US$30 or 250,000 kip, or more, certainly more pricey than local massage options but with superior service. Of late the spa appears to have gone AWOL with its website missing.
The Kamu Lodge (tel: [856-71] 253-903, www.kamulodge.com/) - a rustic tented eco-lodge 'beyond WiFi and beyond satellites', is about a three-hour boat ride from town. Local style Kamu massage, rice planting and net fishing are some of the activities offered. The Kamus are a local ethnic minority, and a traditional Kamu massage combines oil, sometimes quite painfully with strong palm strokes.
Also check out the luxury spa in-town at Burasari Heritage (tel: [856-71] 213-331, www.burasariheritage.com) for an old-world experience with woody accents, A-frame wooden ceilings, floor tiles, and colonial decor by the river. Within your 24sq m room you can expect aircon, a ceiling fan, hairdryer, safe and large 42-inch flat-screen television. Burasari makes for a great romantic escape. The Ayu Spa at Victoria is another good spot for an afternoon's rubdown with oils and other wellness treatments.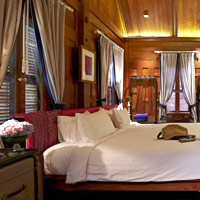 Burasari Heritage, old world wood and relaxing spa / photo: hotel
One of Luang Prabang's best kept secrets is the great massage - and sauna - at the Lao Red Cross ([856-84] 211-264) on Wisunarat Road (by the wat) for only a few dollars.
Other good spas, including a couple at five-star hotels, that will pinch your wallet more keenly but give you an excellent rubdown, are the Angsana Spa (tel: [856-71] 254-609, www.angsanaspa.com) at the regal Maison Souvannaphoum Hotel, Le Spa at the French-chic-meets-Laotian-trad Sofitel (tel: [856-71] 260-777, www.sofitel-luangprabang.com), the small and local L'Hibiscus at 45 Sakhaline Road, and the cheap and affordable Lemongrass Sauna. It goes without saying that most high end hotels will have spa menus on offer and an arsenal of wellness treatments. One reason Luang Prabang spa hotels have exploded is that perfect combination of meditative field, serenity, and the availability of quality massage products, much of it locally sourced.
As the sun goes down the night market starts to emerge, flooding parts of Xiang Thong Rd with silk swatches, cushion covers, lanterns and what not. Pick up a funky pair of slippers for a couple of dollars, or a bed throw for around $15, and feel free to haggle. However remember that Laotians get embarrassed by obvious anger or over excitement, so keep it light. Top buys are silk scarves that serve up fabulous weaves and colour combinations, often one of a kind, as this is a cottage industry where perfect replication is rarely possible.
For a different kind of retail therapy, Okpoptok Textiles (www.ockpoptok.com) is a beautiful shop house filled with locally woven goodies, from clothing to wall hangings. The shop displays info about traditional techniques, motifs and costumes, and can arrange informal interactive demos for those interested. However its quality stuff is a far cry from night market prices.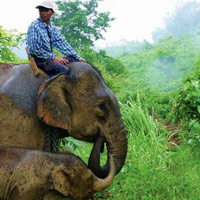 Tiger Trails elephant camp/ photo: Tiger Trail
Well worth checking out if you're looking for quality, socially conscious buys is Kopnoi (tel: 260-348, www.facebook.com/kopnoi/). Kopnoi supports local artisans and sells made-in-Laos attire and handmade jewellery. Its export-centre-shop-gallery is worth a visit. Other Luang Prabang shopping must-sees include the morning market on the banks of the Mekong and, for crafty travellers, excursions to villages specialising in papermaking and weaving.
For something entirely different the Tamnak Lao restaurant opposite Villa Santi offers daily cooking courses (tel: [856-71] 252-525, www.tamnaklao.net/). Led by local and Aussie chefs, guests get to haggle at a local food market, cook and eat two full meals and then, perhaps, walk out with a homemade cookbook. This delightful experience is in an original French-style residence.
Laos dining, bakeries and books
Restaurants are increasing in sophistication (or at least variety), and visitors can now find themselves enjoying curries, burgers and gourmet French cuisine alongside the delicious local fare (like steamed Mekong fish with young ginger, red pork curries, and bamboo salads).
The most obvious place to start would be Xiang Thong, the main strip, where cafes spill tables out onto the sidewalk. Up nearer the quieter end of this street lies Café Des Arts, set apart by its watercolour wall art (by the owner's brother and for sale, naturally), and tasty make-your-own salads.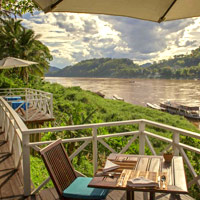 Belle Rive Boutique/ photo: hotel
The Blue Lagoon Restaurant (www.blue-lagoon-cafe.com) is a Luang Prabang favourite with a dedicated following. Located opposite The National Museum, the place serves up a mix of traditional Lao and Swiss dishes. It has indoor and outdoor seating and the bar stays open all day. If you're in the mood for something refreshing try one of its fruit shakes.
Similarly upscale is the La Belle Epoque (tel: [856-71] 260-892) at The Luang Say Residence (www.luangsayresidence.com/), an elegant white-washed set of villas in a verdant green compound with a private fruit and vegetable garden. Fresh produce, fresh taste.
For something classy and chic with a decidedly vintage feel, pop by The Grand (now managed by Banyan Tree) a little out of town to sample Laotian, Western and Thai menus at the Mekong-facing Xiengkeo (www.grandluangprabang.com).
The Restaurant Luang Prabang Bakery Guesthouse is a popular choice near the market with fish 'n' chips, pizzas and Lao mains on the menu. Its a friendly and popular B&B style place.
The wonderful JoMa Bakery Café (www.joma.biz) serves up three outlets in Vientiane – on Rue Setthathirat, Singha Road, and Dongpaina Road. Expect a tempting array of decidedly un-Laotian snacks for a few dollars each. A haven for the heat-weary, and better yet, all food is organic. Try delicious iced cocoa or a safe, filtered water-washed Greek salad.
While on your street meander, Mulberries (www.mulberries.org/), a free trade silk gift shop, makes for an interesting visit.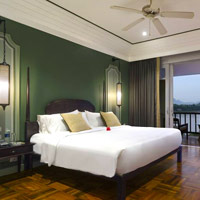 The Grand room with balcony/ photo: hotel
Also drop by the lovely L'etranger on Ban Aphay (www.facebook.com/Booksandtea/ or www.bookslaos.com/), which sells 60-plus kinds of teas, shakes and smoothies, stocks a mini library with books that can be rented by tourists (for residents it's free) and screens art house and mainstream films most nights at 7pm. Otherwise enjoy breakfast in the patio with a good book or have a munch on a savoury sandwich.
Tamarind (tel: [856-71] 213-128, www.tamarindlaos.com), doubles up as a lovely, original gift shop – combining Lao snacks and tasting platters with recipes, tableware, herbs and seeds – all for sale. It also offers cooking classes in a lovely spot a bit outside town. Best visit at lunch though, for it closes early evening.
Down at the southern part of the Mekong things get local, with small dark shop houses offering shaded meals along the river. Laotians sit here and chat at fruit juice stands, and whole fruits are sold on the pavement.
Further along things start to spruce up, with quaint guesthouses, small gift shops and massage parlours. Enjoy views of the lazy brown Mekong at a local cafe, or try 'cocktails at the sleek, vintage Couleur Café (tel: 254-694, www.facebook.com) tucked down a side street.
Alternatively L'Elephant Restaurant Francais (tel: 252-482, elephant-restau.com/) across from Wat Nong is one of the town's more renowned fine dining establishments. The delectable menu du chasseur here can set you back a bit by local standards but at least you can pop it on the credit card.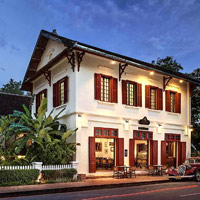 3 Nagas from M Gallery/ photo: hotel
Another option from the people who are responsible for L'Elephant is the Coconut Garden (www.elephant-restau.com), which offers a selection of mostly traditional Lao dishes. The seating is almost entirely alfresco with tables next to the street and in the courtyard at the back. Be sure to save some room for its signature cakes.
Wander along the serene Nam Khan river for a bite at the Apsara Bar and Restaurant, at the charming two-storey The Apsara hotel (www.theapsara.com/), an Asian-chic stop where summer low season monsoon rates start at US$67; its luxe sister Apsara Rive Droite is on the opposite side of the waterway with a nice alfresco swimming pool. These are interesting Luang Prabang boutique hotels choices with a local flavour.
And do stop by the little Sala Café (tel: 254-738, www.facebook.com) for herbal teas, martinis and ice creams in comfy wicker armchairs.
Nightlife, happy feet, cool bars
Luang Prabang is not really a place for night owls. Aside from a few establishments the town tends to wind down at 11pm, with bars and restaurants closing around the same time and streets emptying fast. This means that many simply stay on drinking where they ate, though there are growing pockets of activity to seek out. Making a name for itself just off Sakkarin Road heading towards the river is the Icon Klub (tel: [856-71] 254-905, 5pm-11.30pm, www.iconklub.com/) a fun spot for chillout cocktails, conversations, impromptu live music (get on the house guitar and strum), improvised dance, and clothes with attitude.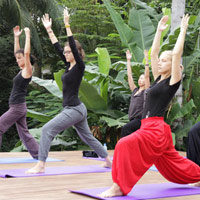 Morning yoga at Utopia/ photo: hotel
There's Le Tam Tam Garden (tel: [856-71] 253-300), a guesthouse with WiFi enlivened by fairy lights, pool tables and a boisterous karaoke bar and, at the bend in the Nam Khan river near Wat Aphay, is the Hive Bar www.hivebarlaos.com) – a moody chillout space that advertises tapas and homemade peanut butter. Also expect a 'living museum fashion show' with performances by Lao ethnic minority tribes, somewhat anachronistic for a bar, but then that's Laos for you, and fun it is. Hive also runs Wings And Things at the Bowling Sports Club, a late night restaurant that does thin crust pizzas and is open from 11pm to 2.30am - hurrah!
Adjacent to Hive is the Lao Lao Garden. Lao Lao is the country's popular rice-based tipple and the Garden offers deals on a variety of fresh juices with the brew, alongside burgers and barbeques. They also do veggie burgers here for the herbivorous.
If you are feeling a little more intrepid then talk to your tuk tuk driver about a visit out to Dao Fa Nightclub (tel: [856-71] 212-075) near the southern bus terminal for some raucous live music and dancing, or to the Reggae Bar opposite Lao Lao Garden for WiFi and beer.
Dao Fa is where Lao youth go to party with the DJ hollering above hip hop and Lao pop tracks. But be warned, this is an after hours night out in the sense that you get to stay up until midnight – at which point the lights pop on as you blink, and the dance floor promptly clears.
Of course for something less head-banging you might try the whimsical split-personality Utopia (www.utopialuangprabang.com/) where you can enjoy yoga, breakfasts, scrabble, greenery, and guitars by day with romantic candlelit dinners and parties by night. Do try the over-stuffed El Matador omelette. This spot is on the 'other' side of Phousi Temple Hill from the night market.
Boutique hotels, inns, guesthouses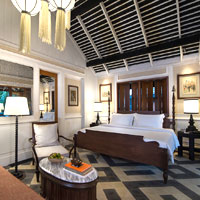 Rosewood style, Lao-French vibes / photo: hotel
Cooler winter months are popular visit time, but braving the spring – the hottest season – will certainly beat the crowds and preserve the sleepy atmosphere.
Reserving low end accommodation in the off season is rarely necessary – there's so much of it around. But the newer luxe and boutique hotels need firm bookings. On with our selection of Luang Prabang hotels, boutique hotels, luxury digs, budget beds and guest houses.
Arriving in time for Easter Rosewood Luang Prabang (end March 2018, www.rosewoodhotels.com) has raised the luxury bar higher in this sleepy provincial town. With 23 smart rooms including Hilltop Tents with tautly stretched canvas and timber floors, all with bathtubs and spoiling toiletries and attentive service. The 'tented villas' as Rosewood likes to call them draw on French-Lao architectural inspiration. Expect homegrown organic food served at The Bistro (Lao menus) and comfort foods for Western palates, poolside. A Rosewood Spa is on hand as well as event space for a romantic destination wedding, resort-style. Get a massage, say 'I-do' or wander off into the countryside on an experiential tour. This hideaway has the makings of a top Luang Prabang luxury resorts escape. Mark it down in your diary if there's cash to flash.
Visitors can reside like royalty at the undeniably grand Maison Souvannaphoum Hotel, once a princely home. Tastefully appointed and managed by the Singapore-based Angsana, the gleaming white estate can be found opposite the town fountain, and features only 24 rooms, most of which boast their own balconies.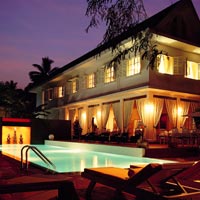 Maison Souvannaphoum/ photo: Angsana
The renovated rooms are suitably lavish, modern, and guests can get wrapped, buffed and massaged outside in one of three spa pavilions.
The pool is smart but not expansive, with its signature broad blue stripes. Later, savour a few happy hour cocktails in the Elephant Blanc Caféand slip back into the world of old royalty.
Closer to town in the direction of Mount Phousi is the newish Azerai (opened February 2017 by Aman founder Adriaan Zecha), which was rebranded AVANI+ Luang Prabang on 1 March 2018. This represents a new brand for AVANI. Sequestered in a quiet inland enclave, this is no wallet-humbling luxury resort, rather an affordable escape yet with all the hallmarks of a great urban retreat - intelligent guest-friendly design, thoughtful decor, and well crafted facilities, all making for a relaxing experience.
An ancient banyan tree looks over the manicured interior courtyard with its striking 25m blue-tile pool lined by sun umbrellas, all within the enveloping arms of the two-storey accommodations. Everything runs in neat clean lines with crisp right angles harking back to the military precision of a French officers' quarters, its original calling in 1914. The building later achieved renown as the Phousi Hotel until its closure for redevelopment in 2014.
The 53 open-plan rooms range in size from 35 to 85sq m with a light woody feel, pale-wood wardrobes and furniture, broad planks of burnished ochre underfoot and tan furnishings, all ensuring a light and airy feel. Bathrooms have twin vanities and showers.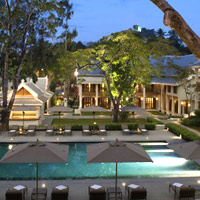 AVANI+ Luang Prabang courtyard/ photo: hotel
WiFi is on tap for all-hours finger exercise and large flatscreen televisions face king-size beds. Louvred windows and doors open onto balconies. There are luxe Thai touches certainly, evident in the shale-roof yoga sala with its peaked roof mirroring the neighbouring wats; and in the treatment of common areas to make them welcomingly residential in feel with pale wood furniture, cream upholstery, wicker chairs and interesting artefacts occupying shelves, much as at home. Also find an exercise and fitness room and spa treatment facilities. Quite a bag of swag at rates from US$250 up.
The charming 3 Nagas (now with the M Gallery Collection from Accor) at the northern end of town is now a mouthful as 3 Nagas Luang Prabang - M Gallery by Sofitel. It has large studio rooms with a trendy Southeast Asian flavour, and introduces its guests to the traditional shoes-off policy. In-room expect ceramic tile floors and four poster beds. Rooms start at 35sq m with an Executive Suite stretching to 44sq m with wooden floors.
The minibar is relatively pricey but if you head outside to the patio café you can savour things like shredded cooked buffalo salad with roasted sesame seeds and betel leaf for next to nothing. Menus do change, of course. The 3 Nagas Restaurant serves up succulent Lao cuisine.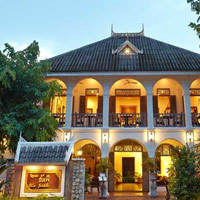 Charming Villa Santi/ photo: hotel
Nearby, the charming Villa Santi is the epitome of colonial Luang Prabang boutique hotel chic, and like the Maison, was once home to royalty. The rooms feature ample, tasteful doses of ornate rosewood furniture and Lao silk furnishings. In-room enjoy a mini-bar, writing desk, a safe and, in the toilet, a genuine bathtub for a long hot soak. The 52-room Villa Santi Resort & Spa can also be found a few kilometres outside the town. This is a pleasant French colonial-style villa recreation, six kilometres from the hotel. It was built in 2001 with 48 rooms and a couple of suites. Several rooms have balconies with nice mountain views looking past green paddy fields and all offer mini-bar, writing desk, satellite TV and a comfortable bathroom. Expect a reasonably sized freeform pool as well. Both places are among the better Luang Prabang hotels.
Not far inland from Villa Santi is the attractive Le Sen Boutique Hotel with an understated elegance and woody tones. Expect a swimming pool, neat design, and low season rates starting around US$105. Upper floors offer a balcony while lower floor rooms have direct access to the small central pool. Suites serve up Jacuzzis and rainshowers.
Amantaka, from Amanresorts has its luxurious, if understated, footprint, just ten minutes from Luang Prabang International Airport. The private complex of 24 suites is a leisurely stroll from Luang Prabang town and 38 magnificent temples. Ranging from 70sq m to 120sq m, the French colonial inspired suites enjoy high ceilings and classical décor.
Expect old-world treats such as writing desk, dining area, drinks cabinet, dressing area, and spoiling bathroom with twin vanities and a deep, deep bathtub. Relax under mango trees in a private outdoor space. Pool suites include an eight-metre pool, stylish in black.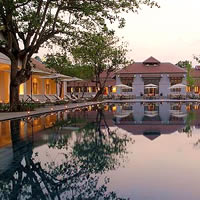 Amantaka/ photo: hotel
Lao-French influence extends to the restaurant while the boutique art gallery focuses on the indigenous artwork and handicrafts of local communities. Expect WiFi, tennis and yoga to keep you busy if the temples and local culture don't. This is premium luxury without fuss.
The Belle Rive Boutique Hotel is a good option for travellers seeking accommodation with flair. Located on the riverbank near Wat Nong and Wat Sensai, the Belle Rive is made up of three historic houses, including the old mayor's house, which includes eight rooms and five suites. All rooms have free WiFi, as well as air-conditioning, safes and a minibar. Laundry service is available and all bathrooms are equipped with rainshowers. Each room enjoys a full river view. The most charming feature of the hotel is an outdoor terrace where meals can be enjoyed overlooking the river. Mark this down on your Luang Prabang boutique hotels list.
Another boutique option is the Satri House on Photisarath Road. Also a former residence of a prince, The Satri House was expanded in 2008 to include six additional buildings faithful to the original colonial style. The hotel, in the heart of the city, is tranquil and understated with flashes of colonial luxury. Not that it overlooks any modern amenities: rooms include coffee facilities, safes, hairdryers and WiFi. Guests also enjoy an outdoor pool. Satri House is a member of Secret Retreats.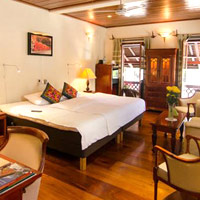 Mekong Riverview Hotel interior style - great location/ photo: hotel
While UNESCO considers the Ancient Inn Luang Prabang (Ban Phoneheuang) to be a rebellious blot on the landscape, this modern four-storey structure is nevertheless bang in the middle of everything, and quite fun for a stay. Previously (and ironically) the New Luang Prabang Hotel, it has a scatty but upmarket feel, with sculptural dark wood furniture perked up by bright local textiles, silk cushions, and rustic 'Flintstones' baths and showers with each room. Check out the terrace upstairs for breakfast above the melee. Villa Somphong is a three-star old town option with free WiFi and prices from US$30. It is a short stroll to the night market.
On the much sleepier Nam Khan River stands The Apsara, an old converted shop house formerly known as the Duang Champa. It is an unassuming structure with a more lively interior. Most rooms have views of the river – or at least the trees that fringe it – and are modestly upmarket with wooden floors, batik accents, modern Asian art, and four poster beds – along with high ceilings and original details. WiFi is available. The restaurant is stylish, though laid back, with baguettes and soups for a few dollars and creative fusion dishes in the evening. Enjoy the paddy field views. On the opposite bank is its companion hotel, The Apsara Rive Droite. The Rive Droite consists of only nine large rooms, each with a river view verandah, a deep bathtub and a king-size bed, plus hairdryer, minibar, air-conditioning and a safe. The hotel also has its own boat, The Apsara Queen, for quick trips downtown.
Former royal residence, the Victoria Xiengthong Palace is a smart establishment on the Nam Khan River with pleasant rooms and the Ayu Spa. It is competently and briskly managed by the Victoria group based in Vietnam. Expect fine food and breezy asides like bicycles for a pedal through town.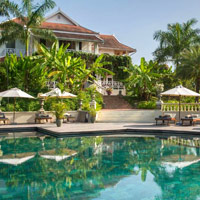 Colonial Luang Say Residence/ photo: hotel
The simple yet attractive and peaceful 12-room Indigo House is a great hideaway close to Mount Phousi with, yes, indigo walls in-room, parquet flooring, a timber balcony with hammock, its own organic garden, a splendid cafe and the venerable Ori Bakery.
Those looking for another riverside option may enjoy The Mekong Riverview Hotel. The hotel, located right on the banks of the Mekong, offers balcony river views from all of its 35 or so rooms. The Riverview's rooms serve up flat-screen cable TV, air-conditioning and a stocked refrigerator, plus old-fashioned Lao charm in the form of handicrafts and traditional design elements.
Rooms have woody accents and just enough comfy furniture to give it all a homey feel. Airport transfers, access to hotel bicycles and golf carts, free WiFi and even daily cake may all be included with the stay. This is a terrific little boutique choice, its 22 rooms set in five newish buildings constructed in the classical Luang Prabang style. The hotel offers its charming Viewpoint Cafe sited above the confluence of the Khan and Mekong Rivers. Park on a wicker chair and kick back with a cocktail or a more substantial nibble. The owner, Urban Paulsson is a Swede who graduated from the Stockholm Hotel and Restaurant School and served with the UN's military service in the Congo, before immersing himself in hoteliering. He arrived in Luang Prabang in 2006, found land, and launched his hotel in December 2007. Get his story in person over one of the hotel's wine evenings for guests.
The Luang Say Residence (opened February 2011) is built in a colonial style but offers contemporary frills. Suites don't skimp on comfort - expect four-poster beds, plenty of dark wood furniture, twin vanities in suite bathrooms with grey chessboard stone floors - and guests have access to one of the town's better pools, sunny, and lined by a smart wooden sundeck with loungers and umbrellas.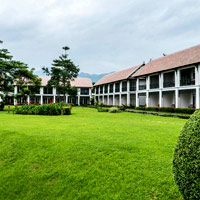 The Grand Luang Prabang/ photo: hotel
The breakfast has its aficionados too. The location is a bit outside the town centre and it is not on the river but the lovely foliage and manicured grounds and white laundered villas make up for it.
For those that like to lose themselves in a really good hotel with history there's The Grand Luang Prabang, a sprawling five-star property about four kilometres out of town. It has an Art Deco elegance to it, and came under the management of Banyan Tree in early 2017. Rooms are large, airy and elegant with all modern amenities, and the hotel thoughtfully lays on a regular shuttle bus to town (and even a shuttle boat during the high season).
Think dark wood parquet floors, balconies, extensive gardens (around which the rooms are set) and a relaxed old world feel. The main fine dining venue, Xiengkeo, gets its name from Xiengkeo Palace, which was once the residence Prince Phetsarath, a staunch nationalist.
The royal grounds - in straight lines and neat rectangles - were converted to a hotel for foreign visitors after the communist struggles were over. So this is a slice of real history.
For more history and heritage there's Villa Maly, housed in a former royal residence. The property offers 33 rooms with timber floors, homey lamps and four-poster beds. Rooms embrace a central garden and pool area. Expect WiFi and air-conditioning throughout, along with safes, minibars, coffee stations, hairdryers and flat screen televisions.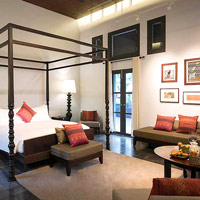 Sofitel four-poster bed/ photo: hotel
The adventurous can rent a bicycle and explore with pedal-power. Villa Maly is located in a traditional residential area to the south of the town centre.
Travel connoisseurs should take a look at the exquisite Sofitel Luang Prabang (formerly Hotel de la Paix, opened October 2010). A lovingly refurbished French garrison and former prison, this all-suite luxury property is another example of a hotel that combines a refined colonial aesthetic with top-notch amenities. The hotel offers 23 well appointed luxury suites surrounded by lush gardens and a pool. It also houses an on-site cooking school and spa.
Bringing its usual brand of East-meets-West French style, Sofitel Luang Prabang is in the quiet residential area of Ban Mano just a five-minute drive from town and 25 minutes from the airport, though time will stand still when you are coasting along in the hotel's vintage Mercedes.
Suites, starting at 55sq m and going up to 120sq m at the Governor's Residence, serve up tasteful four-poster beds, dark tile floors, large flatscreen televisions, svelte dark wood furniture, bright silk cushions and tan rugs.
Some suites come with stylish outdoor bathtubs and private pools. Expect an in-room iron, safe, coffee making facilities and WiFi. Once a dowdy prison, this is a delightful incarceration - and incarnation - indeed.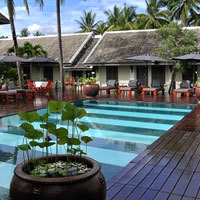 Heritage at Villa Maly/ photo: hotel
The Lao Spirit Resort is a good thirty minutes into the bush, and is a pleasant upscale eco resort with traditional, terraced bungalows and polished interiors. Run in coordination with the Tiger Trails adventure tour group, this Luang Prabang resort sports fun outdoor showers and an open restaurant – close enough to hear the mahout's karaoke wafting over the river from the elephant camp. With minimum electrical appliances this is a great way to comfortably commune with nature. Get out on an elephant safari or kayak up to a waterfall.
The Luang Prabang boutique hotel Kiridara (opened June 2011) is perched on a hillside southeast of the historic district. The property consists of 24 rooms and travellers can expect balconies with lofty views. There is an on-site spa as well as an infinity pool and Jacuzzi with views of the surrounding hills. Look forward to in-room WiFi along with all of the modern conveniences: safes, minibars, hairdryers and coffee-making facilities. Rooms don't skimp on entertainment options with DVD players, iPod docks and satellite TV. Expect wooden floors and contemporary decor and furniture. Rooms are around 36sq m, Suites stretch to 70sq m, and there is a 250sq m Villa too.
Much further into the urban network yet still beyond the fringes of the old town of Luang Prabang lies La Residence Phou Vao (under the Belmond group), a very posh sanctuary type resort. The 34 bedrooms and suites are a riot of rosewood and cotton with lofty views and balconies, and along with cocktail bar and infinity swimming pool (with green views), it boasts conference rooms and a garden spa. It's also good with its shuttles into town.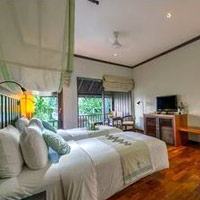 Kiridara boutique style/ photo: hotel
Out around this area there are a number of more affordable options, including Le Parasol Blanc Hotel, which is modestly comfortable and books nightly traditional dance shows during the high season. Going down a tad there's the Manoluck – friendly and comfortable, but perhaps more suited to a whistle-stop business stay than a holiday.
For affordable but prettier accommodation you could try the stretch around Wat Sop, where a smattering of lovely quiet, clean villa guesthouses can be found for reasonable nightly rates.
The two-star Sokxai Residence on Sakkarine Road has a small family feel to it, but with its dark wood interiors, breakfast on the verandah and views of Wat Sop Sickharam across the road it's a charmer if your intentions are modest. Take a top floor room to escape sounds from the reception TV. Villa Senesouk, though rather minimalist, woody, and cluttered, and bang in the heart of the temple bustle and noise, does decent air-conditioned doubles for upwards of US$30. Also check out the two-star Apple Guesthouse and Oui's Guesthouse.
Finally, should you really be saving your pennies and scrounging around for Luang Prabang budget hotels, it is still absolutely possible to find a clean, pleasant room with a fan and an en suite bathroom for about US$10. Try the streets linking lower Xiang Thong with the Mekong, or a few streets leading off it in the opposite direction, just past the Maison Souvannaphoum Hotel.
Sightseeing and adventure tours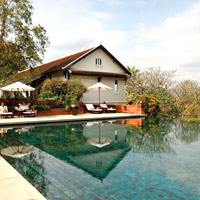 La Residence Phou Vao/ photo: hotel
You'll not be short of options when it comes to tour providers. As well as the many lining Xiang Thong, even the tuk tuk drivers will have printed rates for trips.
Look at half-day tours to the lovely limestone Kuang Si and Tad Se waterfalls – good for a splash and a picnic – and the caves at Pak Ou, which offer a good excuse for a boat trip. Chock full of old Buddha statues the caves are a sombre sight.
Other adventures can of course be taken farther afield. Explore hidden rivers in kayaks, ride elephants through the forest, or trek through the hills and lay your hat at Hmong and Khmu village home-stays along the way. Great insights are on offer on some educational trips that make considerable effort to impart local knowledge beyond the neat 'tourist' package.
Prices can vary from US$50-$100 for one day depending on the agency. Try the reliable and well set up Tiger Trails (www.laos-adventures.com), that offers varied itineraries, often based around its elephant camp.
There are day visits to rice fields (US$99), a one-day Hmong village hike (US$57), or spend a day at Tad Sae falls passing a Khmu minority village with some elephant rides thrown in (US$86). A longer six-day hill tribes excursion will set you back US$531 per person. Depending on time and inclination, a day trip or a couple of half-day trips will serve to whet the appetite and provide a decent glimpse into the local scene.
Elephant Village is a sanctuary for rescued animals/ photo: Elephant Village
Elephant Village (www.elephantvillage-laos.com/) is a remarkable tusker sanctuary that offers insights, tours, and hikes to get to know their various elephants. Set up in 2001 as a conservation project, it occupies a river valley where rescued elephants (most of them from logging contractors) are cared for. Travellers can participate in bathing the elephants, learn more about these pachyderms, and take short rides elephant-back - but without using elephant seats (howdahs). This is a more elephant-friendly practise. So get fit and ready to clamber up and off..
Tourism Laos lists a number of accredited travel agencies that could help with accommodations, tours and more adventurous stuff.
Tigers and bears are sadly no longer found in the hills near Luang Prabang, having escaped to more peaceful, less populated northern climes over a decade ago.
Tiger sighting trips up north are still allegedly possible, but involve days of trekking and sightings will be rare if unlikely. And that's your Luang Prabang guide from A to Z with just about everything from temples and tours to trendy stays at colourful Luang Prabang boutique hotels.
Send us your Feedback / Letter to the Editor
FAST FACTS

/ Hotel Contact List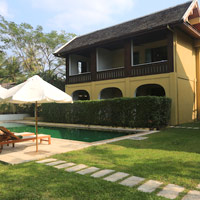 Apsara Rive Droite/ photo: hotel
Luang Prabang hotel rates wherever quoted may be subject to 10 percent government tax and 10 percent service charge. Prices are rule-of-thumb only – varying greatly between high and low seasons (summer monsoon months are best for bargaining) – and many refer to the best available online rate (BAR). Some smaller hotels will require payment in advance. Luang Prabang guesthouses may not always have hot running water, aircon, TV or fridge. WiFi is arriving. Expect room prices to range from US$30 at smaller three-star establishments in the low season to US$50 for good beds and US$100 at posh boutique hotels, with a US$200-US$300 and up pricetag at international chain luxury five star brands.
The exchange rate is around exchange rate US$1 = 8,285 kip. The international departure tax of US$10 should be included on your air ticket. Tax for domestic departures should be on your ticket as well. As far as manners, be aware of where you are pointing your feet in Laos (never at anyone), and try never to step over anyone, or touch them on the head. Remember than many homes will be used to a shoes-off policy at the door. Be very wary of buying medicine from small local pharmacies: the packets may look official but there's no guarantee you'll be getting what you asked for.
For more information, explore the Timeless Luang Prabang site, which is a good resource and pick up a country overview at Tourism Laos. Also, Tourism Laos lists a number of accredited travel agencies that could help with accommodations, tours and more adventurous stuff.
Hikes, tours, elephant safaris, hill tribes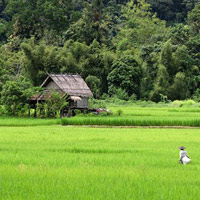 Rice fields tour/ photo: Tiger Trails
All Lao Service. Tel/fax: [856-71] 253-522 (e-mail: alllaoservice@yahoo.com or www.alllaoservice.com). Takes care of tours, tickets, visas and rentals, as well as Internet and overseas calls.
Elephant Village. (e-mail: elephantvillagelpq@gmail.com or www.elephantvillage-laos.com).
Lao Travel Service. Tel: [856-71] 212-725, fax [856 71] 212-252 (e-mail: laotravl@laotel.com or www.laotravelservice.laopdr.com).
Northern Travel Laos. (www.northerntravellaos.com/).
Tiger Trails. Tel/fax: [856-71] 252-655 (e-mail: info@laos-adventures.com or www.laos-adventures.com). Specialist Luang Prabang adventure tours - hikes, elephant safaris, Hmong tribe stays, waterfall visits, rice field explorations and kayak trips.
Luang Prabang hotel guide
Amantaka. Tel: [856-71] 860-333, fax: 860-335, (e-mail: reservations@amanresorts.com or www.amanresorts.com).
Ancient Inn Luang Prabang. Tel: [856-71] 212-264, fax: 212-804, (www.ancientluangprabang.com/ph/).
AVANI+ Luang Prabang. Tel: [856-71] 262-333, fax: 262-555, (www.minorhotels.com/en/avani/luang-prabang).
Indigo House. Tel: [856-71] 212-264, fax: 212-804, (www.indigohouse.la/).
Kiridara Hotel. Tel: [856-71] 261-888, fax: [856-71] 260-935, (kiridarahotelluangprabang.com).
La Residence Phou Vao. Tel: [856-71] 212-530, fax: 212-534, (e-mail: reservations@residencephouvao.com or www.residencephouvao.com).
Lao Spirit Resort. Tel. [856-30] 514 0111, (e-mail: info@lao-spirit.com or www.lao-spirit.com).
Le Sen Boutique Hotel. Tel: [856-71] 261-668, (www.lesenhotel.com or www.facebook.com).
Mekong Riverview Hotel. Tel: [856-71] 254 900, (e-mail: hotel@mekongriverview.com or www.mekongriverview.com).
Maison Souvannaphoum Hotel. Tel: [856-71] 212-200, fax: 212-577, (e-mail: maison@angsana.com or www.angsana.com).
Rosewood Luang Prabang. Tel: [856] 7121-1155, (www.rosewoodhotels.com/en/luang-prabang).
Satri House. Tel: [856-71] 253-491, fax: 253-418, (e-mail: info@satrihouse.com or www.satrihouse.com).
Sofitel Luang Prabang (formerly Hotel de la Paix). Tel: [856-71] 260-777, fax: 260-776, (www.sofitel-luangprabang.com/).
The Apsara. Tel: [856-71] 254-670, fax: 254-252, (e-mail: info@theapsara.com or www.theapsara.com ).
The Apsara Rive Droite. Tel: [856-71] 254 670, fax: 254252, (e-mail: info@theapsara.com or theapsara.com).
The Belle Rive Boutique Hotel. Tel: [856-71] 260-733, fax: 253-063, (e-mail: reservation@thebellerive.com or www.thebellerive.com).
The Grand Luang Prabang. Managed by Banyan Tree. Tel: [856-71] 253-851/7 fax: 253-027/8 (e-mail: info@grandluangprabang.com or www.grandluangprabang.com).
The Luang Say Residence. Tel: [856-71] 260-891, (e-mail: info@luangsayresidence.com or www.luangsayresidence.com).
3 Nagas Luang Prabang - M Gallery by Sofitel. Tel: [856-71] 253-888 fax: 253-999, (www.3-nagas.com/).
Victoria Xiengthong Palace. Saigon head office Tel: [84-8] 6290-9720, (e-mail: reservation@victoriahotels.asia or www.victoriahotels.asia).
Villa Maly. Tel: [856-71] 253-902, fax: 254-912, (e-mail: info@villa-maly.com or www.villa-maly.com).
Villa Santi. Tel: [856-71] 252-157, fax: 252-158, (e-mail: info@villasantihotel.com or www.villasantihotel.com).
Villa Santi Resort & Spa. Tel: [856-71] 252-157, fax: 252-158, (e-mail: info@villasantihotel.com or www.villasantihotel.com).
Villa Somphong. Tel: [856-71] 254-896, (www.villasomphong.lao.ch).
Budget hotels and guest houses
Apple Guesthouse. Tel: [856-71] 252-436, (www.appleguesthouselaos.com/).
Le Parasol Blanc Hotel. Tel: [856-71] 252-124, (e-mail: leparasolblanc@gmail.com).
Manoluck. Tel: [856-71] 254-799, fax: [856-71] 212-508, (e-mail: booking@manoluckhotel.com or www.manoluckhotel.com).
Oui's Guesthouse.
Sokxai Residence. Tel/fax: [856-71] 254-309.
Villa Senesouk. Tel/fax: [856-71] 212-074.