FAMILY FUN
Goa fun, from church to sand as hotels pour on the luxe
A Goa guide to the best beaches and child-friendly getaways. Plan a resort wedding or trawl our Goa resorts review for the best beds as a spate of new brands emerge in 2022/2023.
with reporting by Tenzing Y Thondup and Ryan Rodrigues
SEE ALSO Andaman Islands | Bangalore guide | Chennai | New Delhi business hotels | Gulmarg | India Spas | Kerala Resorts | Ladakh guide | Mumbai business hotels | Pondicherry guide | Rajasthan | Zanskar treks | Bhutan guide | Nepal Treks | Sri Lanka Resorts | Colombo | Bangkok shopping guide | Phuket resorts review | Bali guide | Child friendly hotels in Asia | Maldives resorts review
JUMP TO Getting around | Best Goa beaches | North Goa resorts | Panjim and Central Goa | Head south for luxury | Shopping, dining and nightlife | Sightseeing | Hotel Contacts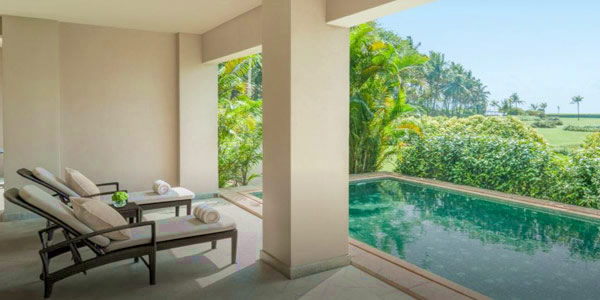 THINK Goa, think sun-kissed white-sand beaches and bikinis. Right? Wrong. To get to that beach you'll need a taxi. And a ride in a local Goa cab could be anywhere on the scale between Fast and Furious speed, utterly unrestrained on higgledy-piggledy roads, and Godfather mafia menace.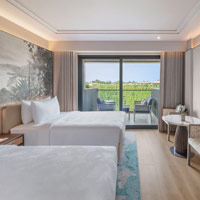 JW Marriott Goa, twin room / photo: hotel
Taxi turf is zealously guarded. As my north Goa taxi pulled into the resort (in south Goa) there was a cinematic moment as the local cabbies blocked our passage to deny entrance. Our taxi was forced to park outside the premises and we carted our belongings in, running the gauntlet of accusing eyes and general slothful sweaty belligerence. Taxi tantrums are a common occurrence when crossing the north-south divide. Each hotel has its own adopted herd of taxis and drivers guard their pickings with great derring-do and pride. Forewarned is forearmed. On then with our Goa fun guide.
There's a substantial difference between north and south Goa. The former is less developed, but famous – or infamous – for its dusk-till-dawn beach parties, booming clubs and boisterous restobars. The south is quieter, well established and popular with families and seasoned travellers looking for tranquillity.
The state of Goa, on the southwest coast of India, is divided into two zones, with two administrative centres – Panjim (or Panaji) the capital, in the north, and Margoa further inland, to the south. Panjim and its surrounds are more developed. The main attraction of the southern coast is the virgin territory that makes up several of the beaches. Goa's coast is palm-fringed, dotted with estuaries and coves against a backdrop of hills and paddy fields, awash with small towns, temples, churches and forts. It is a delightful travel cocktail.

Send us your Feedback

Hotel Contacts
Goa is certainly different. "Let's face it," says one hotelier. "Barring the state of its infrastructure, Goa is nothing like India." For one, its culture and architecture is firmly rooted in its Portuguese past. Goa was ruled by Hindu Brahmins and by the Bahamani Muslims too, but none succeeded in changing lifestyle and habits like the Portuguese.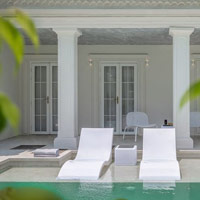 MansionHause is a beautiful 300-year-old private residence/ photo: hotel
Portuguese explorer Vasco da Gama sailed around the Cape of Good Hope to touch Calicut and other points in south India in 1498. He spent some time in Goa on his second voyage in 1502, returning to the enclave as the Portuguese Viceroy in 1524 to remedy administrative abuses. He fell ill and died shortly after before he could grapple with his brief.
After 500 years of planting crosses and building monumental churches to win Catholic souls, the Portuguese left an indelible mark on Goa's culture, people and food. At the very least, just about every Goan worth his salt will know how to strum a guitar, a talent Goa hotels and resorts have seized upon. Prepare for lengthy evening serenades.
Goan cuisine retains a strong Portuguese influence. A must-try is vindaloo – which, in Goa, where the dish originated, is significantly different from the varieties you may be used to. Chock full of garlic and vinegar, Goan vindaloo packs quite the punch. Other recommendations include amotik (sour hot curry), sorpotel (a spicy and fatty pork, liver, chilli, ginger and garlic dish), chicken xacuti (a coconut and poppy seed curry) and tongue-cauterising vinegar-and-chilli Goa sausages. Add spices according to your taste. Traditional buildings are brightly coloured. Everything goes – yellow, green, purple, blue and even fluorescent pink. Starched austere white is reserved for the churches.
No Goa fun guide would be complete without mention of the state's most famous drink, the intoxicating, locally brewed feni, of which there are two kinds – one made from palm sap and the other from the fruit of the cashew tree. Local scuttlebutt has it that feni was first introduced about 500 years ago, to control resistance by locals against their foreign masters. As with opium, regular feni intake helped keep the populace quiet, or fast asleep.
Send us your Feedback / Letter to the Editor
Goa today remains largely asleep – with or without the feni – and continues to bask in sunshine, music and revelry to the accompaniment of crashing surf, lazily strumming guitars and pealing church bells. Money has never been a driving pursuit. Old Goan women are content making "lots of money" carting lunchboxes. Hoteliers are much more alert, and climbing room rates will attest to some measure of business acumen.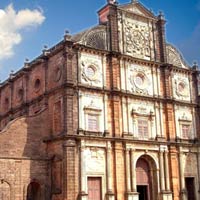 Imposing Basilica of Bom Jesus
October through April, the official tourist season in Goa, is the best time to visit. (The summertime monsoon keeps many smaller hotels, restaurants and other places of interest shuttered, so avoid visiting between May and September unless you enjoy steaming weather, copious rain and are content with fewer activity options. An upside, though, is that accommodation will be cheaper and the beaches, quiet). December and early January are the busiest periods, with hotel rates skyrocketing. Book ahead to avoid disappointment.
Most travellers to Goa still arrive by train, but air traffic is steadily rising. Overworked Dabolim airport used to service the whole state but was joined in December 2022 by the larger Manohar International Airport at Mopa in North Goa.
Exit Dabolim airport to find friendly people at the tourist information counters, where you can pick up an information booklet detailing accommodation and travel options. Some of the information is exaggerated, but it's all there: Goa hotel and resort listings, festival dates, places to visit, churches, folk dances, boat cruises, dolphin spotting, adventure sports, shopping, and even "health tourism" (Goa's next big thing).
Larger resorts offer airport transfers, but grabbing a pre-paid taxi is a good option. There's a stand right outside the airport with placards listing prices to various locations in Goa. Expect to pay around Rs650 for a non-AC taxi ride to the state capital of Panjim, and upwards of Rs1,000 if you're headed to the north or south. Add Rs100 to Rs200 on top of that for air-conditioning, and keep in mind that there's a 25 percent night surcharge between 11pm and 5am.
Getting around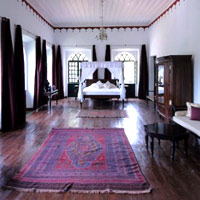 Siolim House Macao Suite/ photo: hotel
Whether you want to party up a storm or just hunker down for some quiet time, select your beach first and then your accommodation (see Goa map). North Goa has only just begun to develop for upmarket travellers, but is well known for its colourful nightlife, parties on the beach, and all manner of boisterous fun. South Goa is more developed and has the highest density of five-star resorts in the state. The atmosphere is quieter and more relaxed, and the clientele is more upmarket, which means prices are higher too. In most areas, Goa child-friendly hotels are not too hard to come by as family fun is high on the agenda throughout.
Travel within Goa can be challenging at the best of times, although the past few years have seen significant improvements in road conditions and signage. Public transportation is available and cheap, but buses are few and far between and service grinds to a halt at 8pm.
The most convenient option is to rent a taxi. For a one-way trip, agree on a price before starting your journey. Don't forget to haggle. If you're intent on exploring the state, grab an all-day cab. Rates start at Rs2,500 in north Goa and Rs3,500 in the south for an air-conditioned car. This is for eight hours and a maximum of 80km, with each additional hour or kilometre charged extra. Drivers often choose longer routes, turning a five-minute journey into a 40-minute epic. Don't attempt to travel in the afternoon either – that's when half of Goa is asleep, enjoying a well earned siesta. The truly brave or independent-minded can opt to rent a motorbike from Rs350 a day, but this is not the safest way to get around, especially with local drivers hop-skip-jumping around each other on the narrow winding roads. Keep in mind that all these prices vary by area and season.
Quick guide to the best beaches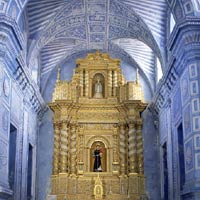 Chapel of St Anthony
First, look at a Goa map and get your bearings. Here's a rundown of Goa beaches from north to south. Right at the northern tip of the state are some of the most untouched beaches in Goa – Arambol, Mandrem, Ashvem and Morjim. Relatively peaceful and popular with backpackers and fun-loving youngsters looking to let down their hair, this stretch of beach is home to some of the best boutique properties. It's also known for its good food and chilled out parties, and a burgeoning yoga and wellness scene. Keri beach, also referred to as Querim, is located even farther north than Arambol. It's the most deserted of the stretch, and a favourite of locals.
The next 30km of shoreline includes some of the busiest and liveliest beaches in Goa. It starts at Vagator and Anjuna in the north, popular old haunts that have become more crowded and commercialised over the years; followed by Baga, the ever-popular Calangute with its Thai massage huts and tattoo parlours, and Candolim beach. Here you'll find the estuary of the Mandovi River, where the Fort Aguada, a 16th century Portuguese structure built as a defence against Dutch and Maratha invaders, is located.
Across the inlet you'll find the Miramar, Bambolim, Bogmalo and Dona Paula beaches (popularly known as "Lovers' Paradise"), These are located close to the state capital of Panjim.
South Goa beaches start with Arossim, meandering down the coast to Majorda, Betalbatim and Colva beaches in quick succession. Colva is always crowded during the weekends. Swimmable areas are marked with flags and lifeguards. Neighbouring Majorda beach is one of the best white sand beaches in Goa. Next in the procession of Goa beaches is Benaulim, followed by well-developed Varca and Cavelossim.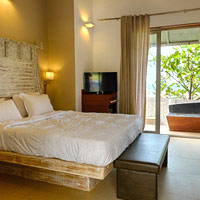 Casa Vagator/ photo: hotel
Down the shoreline is quiet and relatively isolated Morbor beach, followed by Canaguinim, Agonda, Talpona and Gaijibaga. Agonda is a 3km strip of sand fringed by palm trees and casuarinas. It is somewhat off the beaten track, and this poses challenges in access. It also makes for relative solitude and peace. If you're on a two-wheeler, getting here is no problem. Near the end of the Goa coastline is Palolem, one of the best Goa beaches in the area. The beach is quiet and secluded, partially due to its remote location. Palolem is famous for its dolphin cruises. The quieter south is ideal too for Goa resort weddings should you be hunting for a spot in which to say, "I do." Now, dive in to find the best Goa resorts.
North Goa resorts review
The super deluxe properties such as Park Hyatt, Marriott, Alila, Leela and so forth are all found in the south, which is traditionally known for being more developed and geared towards international travellers. However, recent years have seen a flurry of activity in the north. While there are still only a few five-star options (Resort Rio and the two Vivanta by Taj resorts), North Goa has seen a surge in upmarket boutique resorts capitalising on the local nightlife and entertainment.
Stirring up the hospitality waves in this formerly quiet area is the MansionHaus Anjuna (www.facebook.com/mansionhauscollective/), a reimagined private residence where the "secret ingredient is l;ove". The site foes back 300 years so this is hospitality long in the making. Expect old-world Portuguese touches in this homey retreat with laundered white exteriors and a nice sunny pool.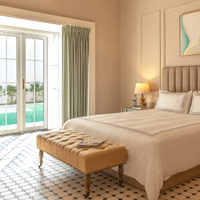 MansionHaus colonial style / photo: hotel
Two such resorts are Palm Grove in Goa, a chic and family-friendly Scandinavian resort located on Mandrem beach, and Little Palm Grove, a more private sister property located 50 metres away. Both resorts have beautifully furnished cottages – each made with a mix of concrete and bamboo, and adorned with roofs of grass.
Amarya Paros on Morjim beach is another good boutique option. The French-owned Amarya Group is known for its top-notch customer service. That's coupled here with the resort's luxury Rajasthani tents (some of which come air-conditioned), and an upper deck restaurant serving good food and fine cocktails.
While there are plenty of small hostels and hotels along this northernmost stretch, more inns can be found from Vagator onwards. Vagator beach in the low season is a largely untouched strip of fine almost white sand sprinkled with a few palm trees. During winter months, however, the beach is a hot venue for midnight parties and after-dark revelry. Getting here is a bit of a trek thanks to the hilly surroundings, but as a result fewer tourists venture here during the day giving it a more secluded feel. Exercise caution when swimming here though, the undertow and currents are deceptively strong.
Perched on the hills overlooking the beach here is Casa Vagator, the first and largest of five boutique properties from Casa Properties. There are 20 airy earth-toned rooms on offer, most with outdoor terraces or patios facing the pool in the centre. Newer rooms look clean and elegant, but older ones do need a lick of paint. Free WiFi is available in select areas, and breakfast is served on the outdoor patio, which offers sweeping views of the bay below. Party animals will like the beach and nightlife, but families may baulk at the booming beats from Nine Bar, 6pm to 10pm daily, during peak season.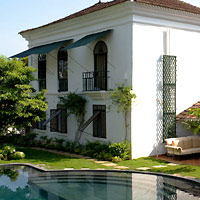 Simple yet stately Siolim House/ photo: hotel
Just a short hop from striking Chapora Fort and the sun-soaked beaches of Chapora and Vagator, the new JW Marriott Goa (2023, www.marriott.com) is a high end bolthole that never forgets the family and kids. There's plenty of space to soak up all that energy and some great distractions for all ages. Expect a 24-hour fitness centre with a sweat-inducing sauna, spa treatments galore, steam baths, and more potions and lotions than you could shake a stick at. Look out for the 'Family by JW' programme at this hideaway that offers a customised experience, melding kids' activities and accommodation. Picture the fun-packed JW Family entertainment centre with virtual reality games, a bowling alley, and a children's play area. Extra perks for BONVOY members.
Nearby Anjuna beach is more accessible, but large protruding rocks and big waves rule out a quick dip. It can get quite crowded during peak season, especially on Wednesdays when the flea market runs. A quick 200m walk away is Casa Anjuna. This second Casa property was originally a converted Portuguese mansion with yellow and white colonial interiors and tropical gardens. The 19 rooms feature four-poster beds and quirky bathrooms meant to pay homage to the hippy culture.
Set amidst lush greenery, the Laguna Anjuna is located slightly inland from Anjuna Beach. This cosy three-star resort offers one and two-bedroom cottages with thick laterite stone walls (a soft red-hued rock used extensively in Goan architecture) and terracotta tiles on slanting roofs. Even the vibrant inroom fabrics are the product of natural dyes. Interiors are bright and clean, if a little empty, with white walls and simple wrought iron furniture underlining the resort's motto of grace and space. There's an emphasis on getting back to basics and working with nature here. The website unabashedly points out, "People who prefer the ceramic kind of five star or boutique hotels may be better off making another choice."
About four kilometres from Anjuna Beach is Siolim House, A Portugese-era manor house built over 300 years ago that once belonged to a governor of Macau. The house is a fusion of European and Indian styles. The owners describe it as a private home with an "oversized overflow pool and exceptionally friendly service". The key word is relaxation. The boutique "house" has 24 rooms and seven suites on offer. For families, the three-room Little Siolim restored villa nearby is another option. Typhoon tykes will have plenty to do be it X-box or PlayStation, water sports or grabbing a book from the library. WiFi is free in common areas, and the pool has a separate children's area. The good news is that air-conditioned suites have arrived and ceiling fans will do the trick most times. Look forward to a 12.5m pool, yoga and massage on site, cooking classes and more. Babysitters are available upon request. Also explore Frangipani, a designer property with swimming pool managed by Siolim House, the four-villa Aranya Center, and the four-bedroom Writer's Retreat (North Goa)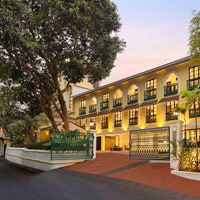 Storii by ITC Hotels Shanti Morada, Saligao/ photo: hotel
Michele's Garden Guesthouse is another solid choice in the Anjuna area. A stone's throw from the beach, the four-room guesthouse is homey and comfortable. Lush greenery envelops the property, and each room comes with a balcony and seating area.
Neighbouring Baga beach draws lots of international visitors year round. Winter months see droves of Europeans descend here to marinate on beach beds and sip cold drinks bought from enterprising shacks nearby. The beach is reasonably clean with fine sand and a long shoreline dotted with palm trees and local fishing vessels. Some of the best Goa nightlife and dining can be found in this area.
New kids on the block are the Radisson Resort Goa Baga (www.radissonhotels.com), close to the beach with 95 rooms, a pool and a fitness centre, and the boutique-style Storii by ITC Hotels Shanti Morada, Saligao (www.itchotels.com/in/en/storiishantimorada-goa), occupying a private residence dating back to 1897. It is just 15km from the capital Panjim. Expect antiquity and heritage in spades.
The Acron Waterfront Resort opened its doors in 2015. The 4-star property has received rave reviews since its opening. Rooms are clean and tastefully furnished. Facilities on the property include a spa, infinity pool and temperature-controlled Jacuzzi. The resort is located right next to the Baga River, where you can fish or enjoy a leisurely boat ride through the backwaters.
Less than a five minute walk away from Baga Beach is the third Casa property, Casa Baga. This Balinese themed boutique resort has 24 rooms and five suites spread out over several colourful bungalows, all with bright red or blue interiors. The resort is a little shabbier than its sister properties, with furniture and walls both visibly showing signs of wear and tear, but makes up for it with the location.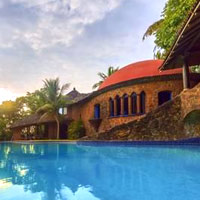 The boutique Nilaya/ photo: hotel
WiFi is available in the lobby area. A few hundred metres further and you'll find Tito's Lane, one of Goa's famous nightlife districts full of music thumping discos and restaurants.
The other two properties are Casa Colvale, a 12-room boutique resort on the backwaters of the River Chapora, and Casa Britona, the smallest property with just eight rooms and two riverside studios. The latter features a free-form turquoise swimming pool and a lounging deck suspended over the riverbed.
Up the Arpora Hills you'll find Nilaya Hermitage overlooking the paddy fields below. Here, there's no signing of bills, waiters or front desks. All formalities are dispensed with at the door. Nilaya provides a more intimate retreat experience. Upon stepping in, guests will be greeted by an arresting deep blue domed lobby sprinkled with silk mattresses and cushions reminiscent of Rajasthani palaces of old.
Understated – if colourful – elegance is the name of the game at Nilaya. Each of its 11 themed rooms are dedicated to an aspect of nature – moon, sun, star, fire, etc – and are appropriately furnished. Don sunglasses, the colours can be blinding, if entirely refreshing. Expect antique colonial furniture, in and outdoor showers, and private terraces facing the sea.
This upmarket Goa resort comes with a hefty price tag, but still well deserved. There are facilities aplenty to keep you occupied. Take a dip in the 33m free form pool, work up a sweat at the gym or jogging trail, play badminton or tennis, do yoga, then hunker down for some relaxation at the Ayurvedic Massage Centre. Or just grab a book or DVD from the library. Staff can also arrange boat cruises on the resort's 65ft long wooden dhow. While this boutique may not be as expansive as some larger hotels in this Goa resorts review, its unique design and peaceful atmosphere definitely deserve a look-see.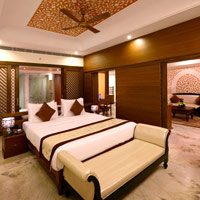 Resort Rio suite/ photo: hotel
A more affordable option is the nearby Lazylagoon Sarovar Portico Suites in the Arpora district next to a lagoon that runs onto Baga beach. This small resort is a collection of 29 suites and 10 rooms housed in cheerful pink and red buildings. All units overlook the central pool, and have not one, but two balconies attached. There are no lifts here. The top floor is a bit of a hike. Suites here feature twin Jacuzzis, teak furniture, private terraces and marble flooring. Lazylagoon offers a wellness centre, spa, salon, gym, and a disco bar overlooking the lagoon.
Further inland is the five-star Resort Rio, one of the better Goa child friendly resorts. Its more remote location creates a quieter atmosphere, which is compounded by the vast paddy fields and lagoon that surround it. Upon entering the large Indo-Portuguese building that serves as the main wing, a majestic marble staircase greets you in the centre of the lobby. There's an open atrium and tall marble pillars that create a bright airy feel, and friendly staff on hand to greet guests as they arrive.
There are 82 rooms and suites in the main building. The wood and marbled interiors feature flatscreen TV, hairdryer, WiFi, spacious marble bathrooms and private balconies. Families might look at the 23 separate villas that form an outer circle around the property. These standalone villas give off a village feel. The three-bedroom villas are a roomy 2,800sq ft with en suite bathrooms and a private verandah, and can comfortably fit up to eight persons. This is a good Goa longstay option, and affordably priced too.
Gourmands can choose from six eating options, including all day dining at Pickled Mango, Mediterranean fare at Mamma Mia, and Rio CafeBar, which serves coffee by day and turns into a lounge by night. A big draw is Jalsa, one of the few purely vegetarian Indian restaurants, which has its own veggie kitchen. There's also a 5,000sq ft pool with a swim-up bar, cinema, yoga and meditation centre and inhouse Zaara spa. Kids will enjoy the Activity Zone for its table tennis, board games and other activities. Make sure to ask for a schedule, daily events are organised for all age groups, including karaoke and Rio Carnivale nights.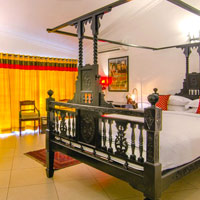 Boutique style Shanti Morada has 20 rooms/ photo: hotel
Also, try the four-star Sun Village resort on the slopes of the Armora hills. It has open-air discos, a flea market and beer gardens. The resort furniture is made of teakwood and wrought iron. The Sunflower buffet restaurant has all-day dining, and an Aztec themed indoor restaurant serves Mexican, Continental and Indian food.
A little south of here is the well-travelled and always bustling Calangute beach. The sand is relatively fine and clean, but don't expect any privacy here. Nearby Calangute village has seen a tremendous change due to the huge influx of tourists. Tour operators, travel agencies, eateries and shops line the streets, and internet cafes greet you at every crossroad. There's plenty to do here in the way of watersports, including surfing, beach volleyball, jetskiing and parasailing. Calangute and Anjuna were the original hippy havens in Goa's free love heyday.
Here you'll find the 13-suite themed resort Pousada Tauma, which in Portugese means "the resting place". Almost every Indian travel magazine has published rave reviews about the place. On the outside, the Pousada is almost completely made of laterite stone, lending an earthy orange hue to the structure. Its suites, scattered around the free-form pool, all have different themes such as the sea, fields, mountains and castles. Each unit has its own private dining area and a garden or terrace patio. The main draw here is the Ayurvedic Centre, where specialist doctors are at hand for consultations.
Another popular choice in the Calangute area is Shanti Morada, a 20-room boutique hotel located about five kilometres from the beach. All rooms come furnished with antique furniture dating back 300 years, including stylish claw-foot bathtubs. They also have large bay windows overlooking the courtyard, and balconies with outdoor seating. There's a swimming pool and Jacuzzi, and in-house massage services as well.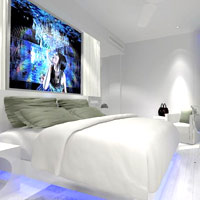 Park's virginal white rooms/ photo: hotel
Nearby, The Park Calangute Goa is a funky property with 30 rooms and a sundeck right on the beach. This smaller Mediterranean-style resort is intimate and elegant, if a little blinding in the sunlight. The lobby is pristine white, broken only by a colourful chandelier centrepiece. The pool area and cabanas are designed in similar vein, which allows the purple pool to really pop out.
There's a cheeky quality to the 30 rooms and studios on offer. Even before stepping in, guests will be greeted by faces of larger-than-life fashion models on the room doors. Once inside, expect a wholly white experience. It's a bit like stepping into an Apple store, or the movie set of The Island starring Ewan McGregor and Scarlett Johansson. The only bit of colour to be found is a hint of purple accented lighting along the walls and one or two pieces of art. Expect 40-inch flatscreen TV, iPod dock, DVD player, electronic safe, hair dryer, and spacious glass bathrooms with a rain and massage shower. WiFi is free throughout the resort. The Park is a good alternative to the regular fare in our Goa resorts review.
Calangute also has the three-star Kamat Holiday Homes Resort, which comprises 140 cheap apartments. It also has a pool and multi-cuisine restaurant, with the option of having poolside barbeques.
Adjoining Calangute in the south and just fifteen kilometres from Panjim is Candolim beach. This is one of the busier Goa beaches. The usual water sports and beach shacks can be found here and the beach is reasonably clean, albeit slightly crowded. The biggest draw is the ship River Princess, which ran ashore in 2000 and has been there ever since.
O Hotel is a relatively new property in the area that is making a name for itself. Designed in a more traditional Indo-Portuguese mould, the short buggy ride from the gate to the lobby passes several water features and palm trees.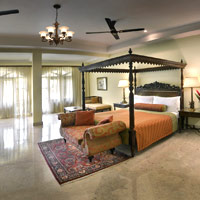 Lalit Goa marble four-poster style/ photo: hotel
The main building is an elongated "H" shape, with two floors housing 75 rooms and suites, a central water feature running down its length, and a dark domed lobby that gives your eyes a chance to decompress. Popular with European travellers, there's an inhouse spa, salon, gym, and two conference spaces holding up to 50 and 150 people. The pool is nestled in a peaceful green lawn, and a short walk away is Candolim Beach.
The red and earth toned rooms feature a mix of traditional and modern furniture and smooth wood floors, and have all the usual mod-cons: TVs with USB port, safe, balconies or patios, WiFi (Rs300 per day) and marbled bathrooms with rain shower. Guests can also arrange for inroom spa treatments. There are also two sea facing suites, and a presidential suite with its own private plunge pool.
The older orange-hued Lemon Tree Amarante Beach Resort is a more affordable option, although it is beginning to show its age. The Heritage, a renovated Portuguese manor adjoining the main building, houses the best accommodations here. Expect four-poster beds with bright patterned pillows, stained glass, timber furniture and bathrooms that are just a tad snug. WiFi is free for the first half hour. A quirky touch is the artwork sprinkled throughout depicting 16th century Portuguese political figures, coats of arms and battles. The Heritage is quite gothic and dimly lit. Check out the Heritage Suite, a two-floor unit with a loft bed, generous living area, and spacious private garden and pool.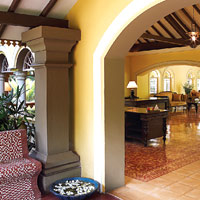 New look Vivanta Holiday Village/ photo: hotel
At the southern tip of Calangute lies Fort Aguada, a 16th century Portuguese structure built to defend against Dutch and Maratha invaders. Alongside the fort there's a church, lighthouse, and the barracks of Aguada Jail, all of which are great spots for culture buffs.
This is where the Vivanta by Taj – Holiday Village and Vivanta by Taj – Fort Aguada are located, nestled almost beside each other but separated by a moat. While they allow common access to the tennis court, spa and fitness centre, they are actually separate entities. The Vivanta by Taj – Holiday Village underwent renovations to ensure all cottages face the sea. As the name suggests, there is a distinct village feel here, with tiled paths meandering across the expanse of the resort. The 142 cottages and villas are brightly coloured, and inroom there's 32-inch TV, safe, hairdryer, weighing scale, and broadband internet charged at Rs730 a day. Each unit also features an outdoor patio or a semi-private garden.
This is a good Goa child friendly resorts option. Activities such as hair braiding, basket making, tennis or billiards are held daily, and there's a dedicated kids pool. Parents looking for some down time can arrange for babysitters or drop kids off at the Activities Centre before heading to the five-hole golf course or Jiva Spa to unwind. Access to the beach here is slightly tricky, but the views are quite picturesque, which makes the resort a popular Goa weddings choice, especially with the expansive lawns available for events.
A short buggy ride away, Vivanta by Taj – Fort Aguada is a popular Goa conference hotel, and the first five-star resort in India. Upon entering the breezy open-air lobby, guests will immediately be greeted by an unobstructed view of the whole Candolim bay area. This is quite a sight. Sports facilities abound here with squash, volleyball, tennis, cricket, golf and a gym. Adrenaline junkies can try rappelling and rock climbing. The sweat-averse can head to the library or Jiva Spa instead.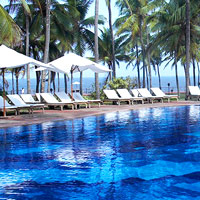 Vivanta Fort Aguada pool/ photo: hotel
Most of the 145 rooms are located in the main building. The rooms were all renovated in 2010 to reflect a more Portuguese feel. Expect white walls, lime green and yellow tones, marble floor bathrooms with separate shower and bathtub, and similar inroom amenities to sister Holiday Village. Or try the Hermitage, a collection of villas along the hillside that hosted Commonwealth heads of state in 1983 such as Indira Gandhi and Margaret Thatcher. Secluded and quiet, these villas are good family friendly options. Remember to call for a buggy though. The villas are quite a hike to get to.
Located slightly farther south is Bougainvillea Guest House. With its eight spacious suites, and a reputation for simple tranquillity, this property is another popular option in the area. It's located a couple of kilometres south of Candolim and a stone's throw from Sinquerium beach.
Panjim hotels and Central Goa
The Mandovi River cuts inland below Fort Aguada, separating it from the state capital on the opposite bank. Panjim, or Panaji as it is sometimes known, is the business centre of Goa. Most offices, upmarket shopping, banks and other institutions will be found here. There is a smattering of hotels in the city itself, but most luxury resorts are slightly farther afield near the coast.
Just three kilometres from Panjim and adjoining the estuary of the Mandovi River is Miramar beach, a popular attraction for locals and tourists alike. The beach is quite commercialised, but the yellow sand is clean, palm trees dot the shore, and there's a clear view of Fort Aguada. Visitors can shop around in the nearby stalls, or grab a few bites to eat at the beach shacks. The seas here are not safe for swimming due to a strong undertow.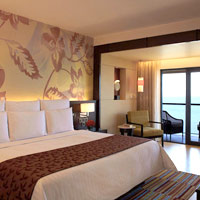 Airy Marriott Bay View room/ photo: hotel
Right on Miramar Beach is the three-floor Goa Marriott Resort & Spa, which underwent a major revamp in July 2011. The new marbled lobby is airy with high ceilings and a good view of the outdoor pool and beach. The waterfront infinity pool is one of the highlights here, and there's a nice poolside café from which to take in the surroundings. The 180 renovated rooms have sleek lines with red and orange accents and dark wood furniture, with floor-to-ceiling windows facing manicured lawns or the bay. All have mod-cons expected of a five-star resort: iron and ironing board, safe, hairdryer, work desk, and bathrooms with separate tub and shower. WiFi is free for Marriott Rewards members. The signature Marriott Quan Spa was also renovated. Grab a signature Marine Algae Bath or Aroma Fusion Massage.
Away from the beach but close to the city centre is Vivanta by Taj – Panaji. This is one of the better Goa business hotels, with 170 rooms and suites arranged around a central atrium. A big draw here is the Caramel Cake Shop, which is famous in Goa for its handmade cakes and pastries. Another is the deep lapis rooftop pool with riverview cabanas scattered around it. Next to it is an open terrace, a popular venue for small events and parties.
There are six categories of rooms including 11 suites. The most convenient option is an Executive room on the fifth floor. These guests get free access to the Executive Club Lounge, which serves up breakfast and happy hour cocktails, and the business centre. Rooms feature surround sound systems, electronic safe, weighing scale, iron and ironing board, and large windows.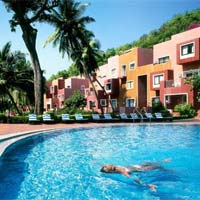 Cidade de Goa, now under Taj/ photo: hotel
Down the shore is Dona Paula beach (popularly known as "Lovers' Paradise") with a good view of Marmagoa harbour that draws crowds during peak season. Here you'll find the old stalwart Cidade de Goa (now under the Taj IHCL SELEQTIONS list). Reception is a five-minute ride from the gate. Cidade is packed in peak season, but even then the friendly staff is on hand to help. Superior and Premium rooms are sea-facing and have private balconies. Deluxe rooms have private patios leading right to the beach. Try a 38sq m Deluxe Room Sea View with Sitout. Expect refurbished bright and airy rooms in pastel shades.
The quirky cubist hotel has a small beach, Vainguinim. Many big Goa resorts have large spaces reserved for golf courses between the hotel and the sea, but the Cidade is actually close to the sea. Hugely popular with holidaymakers, this friendly resort boasts everything from palmists to two swimming pools, tennis courts, volleyball, a giant chess set, jogging trail, badminton and table tennis. The little ones will have a ball.
To the south, Grand Hyatt Goa, which opened in 2011, ranks high in our Goa resorts review, and with good reason. Situated just south of Panjim along Bambolim Bay, guests have easy access to the state's most prized asset: the sea. While the resort does lie on the waterfront, the beach is rather small. Still, the views of the river estuary more than make up for any lack of sand. India's west coast is ideal for family fun. Grand Hyatt serves up diving, snorkelling, windsurfing and other water sports. Friendly multilingual staff can help arrange activities, or day trips to nearby escapes like Arvalem Waterfalls.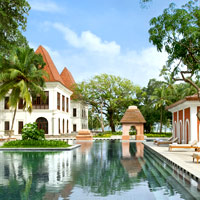 Stylish and laid back Grand Hyatt is a weddings, events, and MICE choice/ photo: hotel
There are 314 rooms housed in seven Indo-Portuguese mansions. All are bright and spacious, featuring private balconies, flatscreen TV, separate bath and rain shower, at least three phones, iPod dock, internet, hairdryer and cribs on request. Some of the best living space here is to be found in the Club rooms and suites, which include complimentary WiFi, access to the Grand Club Lounge and one-hour complimentary use of meeting rooms per stay. The Lounge offer free daily breakfast, all day snacks, and evening cocktails and canapés.
The resort's Shamana Spa is housed in a separate building featuring 19 treatment suites with private sunken baths, vitality pool and rain showers. There's also a lifestyle studio for yoga, Pilates and aerobics, and a well equipped fitness centre. An indoor pool is in the pipeline.
The well-run Camp Hyatt is open every day from 9am to 6pm with offerings like arts and crafts, story time, kite flying, scavenger hunts, pottery and more. Housed in a dedicated Activities Centre, Camp Hyatt entertains kids aged three to 12 for a small daily fee. For an additional fee, a whole slew of fun activities can be arranged, from balloon sculpting and henna tattooing to archery, dance classes and more. But make sure to leave some time to explore the resort. The multi-tiered swimming pool is a treat, and there's even an untouched original 17th century Catholic chapel on the grounds.
Those shopping for a Goa conference and MICE hotels pick need look no further as this address has a slew of meetings facilities for everything from small corporate meetings to glitzy events, product launches, and, of course, splendid backdrops for the Goa resort weddings bound. Expect a 1,150sq m pillar-less Grand Ballroom and 680sq m of flexible function space.
For a cheaper and cheerful Goa hotel option, try the old three-star Mandovi bang in the middle of Panjim city, opposite the Caravela, a casino boat popular for its evening cruises along Mandovi river, tracing Da Gama's journey on his arrival in Goa. Book in advance; the hotel runs full during peak season. It has four restaurants and a pastry shop.
Head south for luxury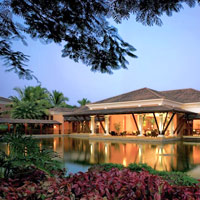 Park Hyatt is a hushed retreat with hip touches too/ photo: hotel
Let's move on to South Goa beaches and resorts. Here you'll find familiar high end luxury brands like the Leela, Park Hyatt, Taj, and Alila clamouring for attention. As mentioned earlier, South Goa is a lot more quiet and laid back and caters to wealthy travellers looking for luxury and top-notch service. This is also a good hunting ground for Goa resort weddings. Unsurprisingly, the cost of everything from taxis to beach shack restaurants to accommodation is that much steeper. On then with our South Goa resorts review.
The latest arrival in the south is The St Regis Goa Resort (formerly Leela Goa, www.marriott.com/), sprawled across 49 manicured acres. Down the shoreline is Morbor beach, a quiet and more isolated stretch of sand managed by this luxe property. Expect a luxury Goa spa resort - with credentials well set by The Leela - with the added bonus of a 12-hole golf course (with three holes skirting the beach) and an extensive fitness and wellness regime.
Just south of the Panjim area is Arossim, a clean and peaceful private beach managed by one of the best Goa resorts – the Park Hyatt Goa Resort and Spa. With its popular Sereno Spa, nearby beachscapes and the much in demand Camp Hyatt (a well oiled programme perfect for rugrats), walking the Park Hyatt's grounds is a bit like meandering into a village. The 250 Pousada-inspired rooms and suites – spread over 45 acres of greenery – are roomy and elegantly understated, featuring traditional Indian darkwood furnishings, and all the mod-cons you'd expect from a five-star resort. Even base category Park view rooms are a roomy 41sq m, and have a private garden or balcony. Bathrooms are generously large and feature sunken tubs and rain shower. Some units also offer outdoor showers.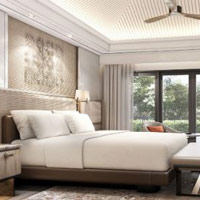 St Regis Goa, Grand Deluxe / photo: hotel
The extensive freeform pool is the resort's centerpiece, and one of the largest pools in India. A giant manmade lagoon also meanders through the property. There's a village square showcasing various dining options. Check out Da Luigi for authentic Italian fare, or signature Goan restaurant Casa Sarita. The latter is a feast for the eyes as well as for the stomach with its black-and-white mosaic tiled floor, chandeliers and mother-of-pearl inlaid windows. Try the signature prawn curry. This bustling restaurant is only open for dinner, so remember to make reservations.
Beside the Hyatt is the Kenilworth Beach Resort & Spa. Its 104 rooms feature quaint straw furniture and bold colours, with private balconies overlooking the sea or pool. In peak season it sets up tents beside the beach (as does the Taj Exotica).
Deluxe rooms have sea views and there's a swim-up bar and a poolside café. Groups can enjoy theme dinners on the beach, complete with local dance performances. There's a gym, beauty parlour and Agua Spa. The extensive free form pool with its slides will likely be a hit for kids and adults alike.
In 2015, Kenilworth got a flashy new neighbour: Planet Hollywood Goa, Asia's first branch of the Las Vegas-based hotel and restaurant chain. The 5-star hotel — with 115 rooms and 15 luxury tents — lives up to its name, paying homage at every turn to Hollywood and its stars. Rooms are spread over eight blocks, with each block representing a different movie genre.
The hotel has its own private beach, peppered with comfortable lounge chairs. It also has a spa, an amply-equipped gym and an outdoor swimming pool that gets prettily illuminated by LED lights at night. F&B options are ample and include a cigar lounge and a beachside seafood-and-grill place. Planet Dailies, the hotel's all-day restaurant, serves up tasty Asian dishes, including several Goan specialties.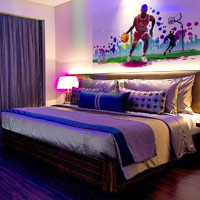 Mood lights and a fun vibe at Planet Hollywood/ photo: hotel
Meander further down the coast to find Majorda, Betalbatim and Colva beaches in quick succession. Colva is always crowded during the weekends, but gets flooded with visitors in October when droves of pilgrims come to pay homage at Colva Church. Swimmable areas are marked with flags and lifeguards stand guard, making Colva one of the safest beaches in Goa. Majorda beach is one of the best white sand beaches in Goa.
Here you'll find the old Majorda Beach Resort. Although the resort has a loyal following of returning Indian visitors, it has definitely seen better days. A complete overhaul is needed but there are no such plans on the horizon. The lobby is dim and slightly faded, as are the 120 rooms and cottages spread out over 20 acres. Rooms each have sea-facing private balconies, and are still functional, if a little spare.
Try the massages here, or opt for the "hydrotherapeutic" Jacuzzi. The hotel also has a disco and mini casino. But in the afternoon, you'll find a large crowd in the pool, basking in the sun or parked inside the shacks on the beach.
A fresher face near Majorda Beach is Vivenda Dos Palhacos, a converted 100-year-old Portuguese villa nestled in a rustic, coconut-fringed cul-de-sac located about one kilometre inland. Opened in 2010 by siblings Simon and Charlotte Hayward, the boutique property has six tastefully-furnished, comfortable guestrooms and a 12m Grecian pool with wooden sun-loungers. Every night, the sibling duo hosts a communal dinner for all guests. These aren't mandatory, but are certainly recommended, with a chance to sample the freshest of local produce and to engage in convivial conversations possibly lasting till the wee hours.
Located about a 20-minute walk away from Majorda Beach is the Alila Diwa Goa from the Singapore-based chain that specialises in chic lifestyle properties. This five-star resort opened December 2009 and overlooks paddy fields rather than the beach.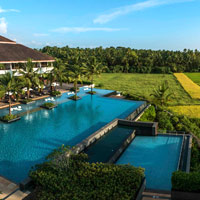 Alila Diwa rice fields panorama/ photo: hotel
It also has an intimate colonial Portuguese vibe. Alila looks sharp and elegant from the get go. The high ceilinged lobby is breezy and peaceful, and the friendly staff is attentive and polite. The hallways and water features are attractive by day, but truly come to life at night when the laterite stone pillars lining the walkways are lit up.
Of the 153 rooms and suites available, 33 are located in the newer crescent-shaped Diwa Wing. Units here range from 44sq m to 128sq m – plenty of room to swing a monkey by its tail. All overlook the dedicated lap pool and lounge area. This wing can and often does act as a separate section for conferences and weddings, with its own check-in area and staff. The newer Diwa Wing section also has a tree house and playground. The whole resort is WiFi-enabled. Just ring the front desk, and staff will create a login account in a jiffy.
Despite its high-end credentials and the signature Spa Alila, the hotel succeeds in being one of the best Goa child friendly resorts. Dip your toes into the picturesque infinity pool and snooze on submerged daybeds, or grab some rays by the poolside instead. Kids can do the same by the dedicated kids' pool, with similar but adorably tiny daybeds, or they can head to the Kids Club for a range of activities. Teens should check out the dedicated Teen Zone, which is open till 10pm and offers computers, pool table, Wii station and more.
There's also a plush private amphitheatre with daily kid movie screenings at 3pm and more adult fare at 7pm. Babysitting services can be easily arranged for tots under three. If you still want the beach experience, the Alila has complimentary beach shuttles from 7am to 7pm, and you can even grab a few bikes at no additional cost.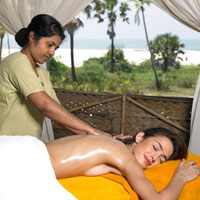 Zuri evening massage/ photo: hotel
Next in the procession of Goa beaches is Benaulim, a relatively developed strip of yellow-white sand dotted with palm trees and local fishing vessels. The Goa flagship for Indian luxury hotel group Taj, the Taj Exotica, is located here. Spread out over 56 acres, the resort puts is land to good use. There are two golf courses, a nine-hole executive course and a standard nine-hole putting course overlooking Benaulim and the Arabian Sea. Other outdoor activities include archery, boating, badminton, cricket, cycling and tennis. Grab a buggy and zip over to the beach restaurant, which serves up seasonal fish and lobsters during the peak season. Kids will be carefully monitored and entertained in the Tex Kids activity centre, while adults can indulge in some relaxation at Jiva Spa, or in cabanas along the beach. The 140 rooms and suites housed in villas along the pool and lawns, with muted pastel and wood tones and private balcony or patio areas. WiFi is available for Rs600 a day.
Neighbouring Varca is a well developed beach and is host to two properties in our top Goa resorts review. The first is The Zuri White Sands Goa Resort & Casino (formerly the Radisson White Sands Resort & Casino), which offers 154 rooms and 4 suites, each with a private balcony. Most rooms here overlook the gratuitously large pool, and all have TV, electronic safe, hairdryer, rain shower, complimentary shoeshine service and free broadband to stay connected. Grab a Royal Princess Makeover at the Maya Spa, try your luck at the Zunes casino, grab a bike and hit the trail, or soak in one of the three Jacuzzis. Kids will enjoy the dedicated children's pool and kids' park. Casino hotels in Goa? This is it. Feeling lucky?
Just a few hundred yards away is Club Mahindra Varca Beach, popular with Indian tourists and known for its three-tier pool. There are 205 colourful and functional rooms and suites with private balconies, dry kitchenettes and sofa-cum-beds.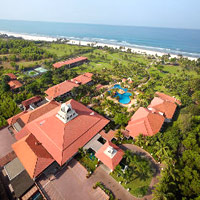 Ramada Caravela, vast beach/ photo: hotel
The resort has a Creative Corner for pottery, painting, magic studio and arts and crafts, and a Thrill Zone for all manner of electronic games and outdoor sports. There's also a cyber café for guests to check emails and feel civilised.
Also on Varca Beach is the 199-room Ramada Caravela Beach Resort that enjoys a verdant setting fronting a broad swathe of beach. Think 24 acres of rumpus room for families, honeymooners or those about to say, "I do". This is a five-star getaway with each room sporting a private balcony with views of green surrounds and the swimming pool, or the expanse of ocean.
Shimmering red shingle roof tiles will remind guests of the area's Portuguese lineage and Goan architecture of old. Comforts do not come in the way of service and relaxation as the resort maintains a relaxed family-friendly style.
It is perhaps better known for its huge range of activities including a nine-hole golf course, an ayurvedic spa, and beachfront lawns where you might explore ideas for a boisterous, or stylish, Goa beach wedding at a resort that is set up for just this kind of event.
Or power down a scenic jogging track. Whether it's a resort wedding in Goa you may be shopping for, an offbeat event space for the company, or a simple relaxing jaunt to beat the city blues, the Ramada Caravela Beach Resort, has 25 years of experience in the game to offer. Apres work, or event, wind down at one of the restaurants or bars and take in the sea breeze with a tall cool drink for company.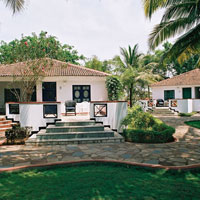 Dona Sylvia cottages/ photo: hotel
After Varca is Cavelossim, which is the end of a continuous strip of sand starting in Majorda. Cavelossim is host to the newish Radisson Blu Resort Goa. The 132 rooms and suites are either in the white-and-orange Portuguese-style main building or in the cheerfully coloured villas that surround it. Rooms are snug but functional with inroom LCD TV, safe, hair dryer, and rain shower. Conveniently, WiFi is complimentary throughout the resort. There is a free-form pool in the middle of the resort with a dedicated kids' pool, as well as a gym, business centre, shopping arcade and the Aura Spa.
Also close to Cavelossim beach is the relaxing and expansive Dona Sylvia. Apart from well-established players like the Taj, this four-star was one of the few stand-alone Indian brands in Goa till it came under Accor as the Novotel Goa Dona Sylvia Resort Hotel. The Mediterranean-style clubby resort has 181 rooms spread over 26 acres along the beach. There is a dining and large shopping area outside the hotel. If you were here at Dona Sylvia on an "all-inclusive" holiday, you would get unlimited drinks (alcoholic and non-alcoholic house brands), breakfast, lunch and dinner, and a free run of the facilities. Much of this style has been retained by Novotel. Pick this one for festive occasions, weddings and family gatherings if you want an informal friendly vibe.
The five-star Holiday Inn Resort is nestled beside The Leela, but caters to a more cost-conscious clientele. It has 203 rooms, many of which overlook the sea. Inroom amenities include WiFi, minibar, 32-inch flatscreen TV, hair dryer, and electronic safe. Non-smoking rooms are available on request. Families can check out the Kids Suite, which has a separate Treasure Island-themed bunk bed area. Typhoon tykes can amuse themselves with the TV, video games and basket of toys the resort has stocked here. Elsewhere, find a spa, health club, casino, game room, yoga and meditation centre, plenty of sports options, and an indoor activity zone.
Near the end of the Goa coastline lie the beaches of Agonda, Palolem and Patnem – a scenic area famous for its dolphin cruises and endangered turtle sightings. Quiet Agonda, a backpacker favourite, is home to Jardim a Mar, a rustic beachside resort. Choose from either beachside rooms, village-side rooms or eco-friendly beach huts, all simply furnished with beds, fans and mosquito nets. WiFi is free. There are daily yoga sessions in the resort's garden. Massages and Ayurvedic treatments are also available.
Palolem beach is one of the more developed in the area, though it's still relatively quiet and uncrowded, partially due to its remote location. Art Resort Goa has 13 cottages on Palolem beach. Each cottage comes with private ocean-facing verandahs, complete with tables and chairs to lounge in. The resort has a beachside restaurant and bar, and also a non-profit art gallery that supports and showcases the work of local artists and students. Expect chilled out vibes.
For even more tranquillity, head about 2km further south to La La Land Resort or Turtle Hill, two popular private boutique properties located near Patnem beach. La La Land has 13 wooden cottages, ranging from small (two-person) to family-sized (four persons). Each cottage is uniquely designed. The House of Cards, for instance, has a mod, pyramid-shaped look, while The Croft is a spacious two-storey bungalow.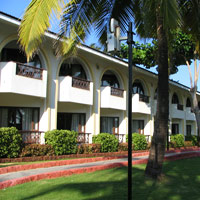 Holiday Inn/ photo: hotel
Turtle Hill has both beachside rooms and two-storey hill bungalows, all furnished with south and Southeast Asian decor. The bungalows come with sun terraces and balconies.
The largest property in the area is the sprawling LaLit Goa Resort (formerly the InterContinental The Lalit Goa Resort) located south of Patnem beach. Built on 85 acres, the property includes a nine-hole golf course beside a kilometre-long beachfront. This is an all-suite resort, divided into 14 casas and 255 suites. There's plenty of wiggle room here. Even the smallest Garden View Suite is a spacious 605sq ft, with private balconies or verandahs, and in-room amenities including a foyer, paid WiFi, 42" TV, hair dryer, electronic safe and iron and ironing board.
The resort has an upmarket spa called Rejuve, and a private yacht holding up to 12 persons available for guests to rent. Children aged two to 12 can head to the Kids Corner, which runs supervised activities from 9am to 8pm every day. Complimentary activities are available for all age groups, including henna painting, kite making, vegetable carving, aqua-aerobics and more. The LaLit's more remote location makes it popular among those looking for Goa corporate meeting hotels. The resort has seven different meeting venues to choose from and can manage conferences of various sizes.
Booming tourism has encouraged Goans to tap into their entrepreneurial spirit and pull out all the stops to keep travellers happy and coming back for more. Here are some top picks for Goa shopping, nightlife and dining.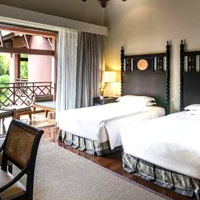 Park Hyatt Twin photo: hotel
There are small bazaars all over Goa where you can buy touristy souvenirs and no Goa fun guide would be complete without a few mentions. The Wednesday Flea Market at Anjuna used to be a place where backpackers and hippies sold unwanted belongings before they returned home. That doesn't happen anymore, but you'll find everything else: trinkets, t-shirts, belts and jewellery. Ingos's Night Bazaar on Arpora hill between Anjuna and Baga offers an eclectic mix of Indian and Western stuff. At Marinha Dourado, a 10-minute drive from Calangute, is Mackies Saturday Night Market. For high end Indian fashion, check out Wendell Rodricks (www.wendellrodricks.com/home.htm) or Malini Ramani (www.maliniramani.com).
Gourmets won't be left wanting in Goa. There are plenty of options to whet the appetite. In North Goa, check out the beloved Sublime, run by Chris Saleem Agha Bee, who's been described as the Goa's "hippy-raver-chef poster child." Located on Morjim beach, the funky alfresco restaurant serves up an eclectic mix of food, from raw food rolls and fresh salads to tandoori prawns and fenugreek risotto. Sublime's famous lychee lemongrass martini is a must-try. Another good option in Morjim is La Plage, an elevated beach shack serving mouthwatering French-Mediterranean food.
Thalassa near Vagator beach is known for amazing sunsets and Greek cuisine. Stop by Curlies (South Anjuna) and sample the mojitos. Also check out Munchies along the same road. For interesting Italian there's Casa Nostra with its enticingly aromatic pizzas. A must see is the Infantaria Bakery, in Calangute. Great cakes and seafood.
In Baga, Go With The Flow, a lively restaurant run by Brazilian chef Guto Souza, is definitely a hotspot. It's best known for its delicious pork belly and exceptional steak. Britto's, also in Baga, is a great choice for breakfast after a late night out, after which you can grab a beer and lie on the beach to continue the party.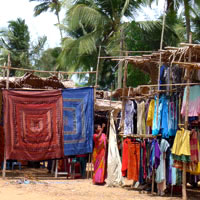 Flea market/ photo: Tenzing Y Thondup
South of Candolim and nestled under a bridge is Amigos, which serves up lip-smacking home-cooked food. To the south there's Fiplees Restaurant (tel: 277-0123 or www.fiplees.com) on Benaulim beach serves a variety of foods and has a live band playing every evening. Near Arossim beach is the popular Zeebob by the Sea that features fresh seafood and great views of the Arabian Sea. Also try Martin's Corner for live music, colourful décor and good Goan cuisine.
The best nightlife options are all clustered in North Goa. First up is the more exclusive Club Fresh in Morjim, with live music, fire dances and DJs spinning until dawn. The long-lived and ever-popular Titos, Mambo's, Kamaki and Capetown Café are all along the same lane in Baga. Nearby Club Cabana has its own pool for party animals to cool off in. Anjuna and Vagator beaches also play host to numerous trance parties and full moon parties during the peak season.
Sightseeing and churches
Goa has eight museums. The Goa State Museum, with its bronze statues, art and sculpture galleries, is worth checking out. So is the archaeological museum at St Francis d'Assisi church in Old Goa. There are also smaller art galleries at Margoa, such as the Yemanja Art Gallery, and the Art Chambers at Calangute. The striking and characterful Basilica of Bom Jesus built in 1605 (in Old Goa) is famous for containing the tomb and remains of St Francis Xavier, while the Se Cathedral, not far from here is built in Tuscan style with staggering proportions and heavily gilded central altars depicting the martyrdom of Saint Catherine. It also contains the "Cross of Miracles", said to have healing properties. Se Cathedral is touted to be the largest church in Asia.
The Santa Monica Launch (tel: 222-4132) departing from the Panjim jetty offers full-moon cruises starting at 10.30pm. There's a cultural show and live music too. Or go for an hour-long sundown cruise starting at 7.15pm. Dolphin cruises, also departing from the jetty, cost Rs400 (about US$8) per person.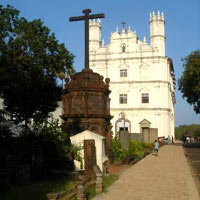 Francis of Assisi/ photo: Ryan Rodrigues
A must-see is the Saligaon Church, which is beautifully lit up at night. The ruins of St Augustine, at Panjim, offer just the 46m tower built in 1602. It would have been the biggest church in the world in its heyday. Just 30 minutes away from Panjim, the Tropical Spice Plantation, is about 150 acres of walks with some typically hot Indian food thrown into the bargain.
Also check out Butterfly Island. Take a banana boat or regular craft from Palolem beach. This is a secluded cove with a good chance of dolphin sightings. For something different, check out the Hinterlands. The government is in the process of setting up several jetties along the banks of the Mandovi River to allow travellers access to Goa's lush inland greenery.
And that's the A to Z of our Goa fun guide for families in search of the best child-friendly resorts on the Indian coast. Arrange a Goa resort wedding, tan, or simply enjoy a large good book. It's all here. In Goa.
FAST FACTS

/ Hotel Contact List

Room stays attract a collective luxury and value-added tax of between six to 12 percent. Tax rates are revised yearly. Any prices listed are approximate best available rates (BAR) on the internet. Prices fluctuate greatly between peak season (winter) and the monsoons (summer). Many hotels double prices over Christmas, and rooms tend to be hard to find during January. In high season, room rates at 5-star hotels could soar to USD$300 while boutique hotels might set you back upwards of USD$100. During the monsoon period rates may be 50 percent off or more. Several quoted rates may include meals, transfers and more.

The exchange rate is roughly US$1 = Rs82.37. Panjim, the Goan capital, is also called Panaji. IDD code: [91-832].

Useful Goa holiday and travel information websites include the excellent government-run www.incredibleindia.org and www.goa-tourism.com while some travel agency sites include www.gogoa.com, and www.goatrip.com.
North Goa resorts
Acron Waterfront Resort. Tel: [91-772] 201-6888, (www.acronwaterfrontresortgoa.com).
Amarya Paros. Tel: [91-114] 175-9267, (e-mail: bookingparos@amaryagroup.com or www.amaryagroup.com/paros-amarya).
Bougainvillea Guest House. Tel: [91-982] 215-11969, (e-mail: lourenco@bougainvilleagoa.com or www.bougainvilleagoa.com).
Casa Anjuna. Tel: [91-832] 241-6737, (e-mail: reservations@casaboutiquehotels.com or sales@casaboutiquehotels.com or www.casaboutiquehotels.com/CasaAnjuna/).
Casa Baga. Tel: [91-832] 227-6957 or [91-832] 651-777, (e-mail: reservations@casaboutiquehotels.com or sales@casaboutiquehotels.com or www.casaboutiquehotels.com/CasaBaga/).
Casa Britona. Tel: [91-832] 227-6957 or [91-832] 651-777, (e-mail: reservations@casaboutiquehotels.com or sales@casaboutiquehotels.com or www.casaboutiquehotels.com/CasaBritona/).
Casa Colvale. Tel: [91-832] 227-6957 or [91-832] 651-777, (e-mail: reservations@casaboutiquehotels.com or sales@casaboutiquehotels.com or www.casacolvale.com).
Casa Vagator. Tel: [91-832] 227-6957 or [91-832] 651-777, (e-mail: reservations@casaboutiquehotels.com or sales@casaboutiquehotels.com or www.casaboutiquehotels.com/CasaVagator/).
Kamat Holiday Homes Resort. Tel: [91-742] 884-4444, (e-mail: info-3@hotelsgds.com or www.kamat-holiday-homes).
Laguna Anjuna. Tel: [91-832] 227-4131, fax: 227-4305, (e-mail: info@lagunaanjuna.com or lagunaanjuna.com).
Lazylagoon Sarovar Portico Suites. Tel: [91-832] 226-9520/1/2/3, fax: 226-9519, (e-mail: reservations@sarovarhotels.com or www.sarovarhotels.com/goa-hotels/).
Lemon Tree Amarante Beach Resort. Tel: [91-991] 180-1701, (e-mail: hi@lemontreehotels.com or www.lemontreehotels.com).
Little Palm Grove. Tel: [91-965] 706-3046. (e-mail: info@littlepalmgrove.com or littlepalmgrove.com/).
MansionHaus Anjuna (www.facebook.com/mansionhauscollective/).
Michele's Garden Guesthouse. Tel: [91-832] 645-2601 (e-mail: michelegoa@gmail.com or www.michelesgardencafe.wordpress.com).
Nilaya Hermitage. Tel: [91-832] 226-9793, fax: 226-9792, (e-mail: info@nilaya.com or www.nilaya.com).
O Hotel. Tel: [91-832] 304-7000, fax: 302-7009, (e-mail: res.goa@ohotelsindia.com or www.ohotelsindia.com).
Palm Grove in Goa. Tel: [91-965] 706-3046, (e-mail: info@palmgroveingoa.com or palmgroveingoa.com/).
The Park Calangute Goa. Tel: [91-1800] 102-7275, (e-mail: resv.goa@theparkhotels.com or www.theparkhotels.com).
Pousada Tauma. Tel: [91-976] 580-4964, fax: 227-9064, (e-mail: neville@pousada-tauma.com or www.pousada-tauma.com).
Radisson Resort Goa Baga (www.radissonhotels.com).
Resort Rio. Tel: [91-832] 226-7300,fax: 226-7301, (e-mail: info@resortrio.com or www.resortrio.com).
Shanti Morada. Tel: [91-832] 227-8884, (e-mail: contact@shantimorada.com or www.shantimorada.com).
Siolim House. Tel: [91-832] 227-2138, 227-2941, (e-mail: info@siolimhouse.com or www.siolimhouse.com).
Storii by ITC Hotels Shanti Morada, Saligao (www.itchotels.com/in).
Hotel Sun Village. Tel (Mumbai office): [91-22] 2445-0051/2, fax: 2445-9777, (e-mail: reservations@sunvillage-goa.com or www.sunvillage-goa.com).
Vivanta by Taj – Fort Aguada. Tel: [91-832] 664-5858, fax: 664-5868, (e-mail: reservations@tajhotels.com or vivanta.tajhotels.com/en-in/fort-aguada-goa/).
Vivanta by Taj – Holiday Village. Tel: [91-832] 664-5858, fax: 664-5502, (e-mail: reservations@tajhotels.com or vivanta.tajhotels.com/en-in/holiday-village-goa/).
Central Goa resorts
Goa Marriott Resort & Spa. Tel: [91-832] 246-3333, fax: 246-3300, (e-mail: reservations.goa@marriotthotels.com or www.marriott.com).
Vivanta by Taj – Panaji. Tel: [91-832] 663-3636, fax: 663-3600, (e-mail: reservations@tajhotels.com or vivanta.tajhotels.com/en-in/panaji-goa/).
Cidade de Goa. SELEQTIONS by Taj. Tel: [91-832] 665-9234, (www.seleqtionshotels.com/en-in/cidade-de-goa/).
Grand Hyatt Goa. Tel: [91-832] 301-1234, fax: 301-1235, (e-mail: grandhyattgoa@hyatt.com or goa.grand.hyatt.com).
Hotel Mandovi. Tel: [91-832] 242-6270, fax: 222-5451, (e-mail: mandovireservation@rediffmail.com or www.hotelmandovigoa.com).
South Goa resorts
Alila Diwa Goa. Tel: [91-832] 274-6800, fax: 274-6801, (e-mail: diwagoa@alilahotels.com or www.alilahotels.com/diwagoa).
Art Resort. Tel: [91-966] 598-2344 (e-mail: art.resort.goa@gmail.com or www.art-resort-goa.com).
Club Mahindra Varca Beach. Tel: [91-443] 988-1000, (www.clubmahindra.com).
Holiday Inn Resort Goa. Tel: [91-832] 646-4677, fax: 287-1333, (e-mail: sales@holidayinngoa.com or www.holidayinngoa.com).
Jardim a Mar. Tel: [91-942] 082-0470, (www.jardim-a-mar-com).
Novotel Goa Dona Sylvia Resort Hotel. Tel: [91-832] 672-7777, (accor.com/).
The Kenilworth Resort & Spa. Tel: [91-832] 669-8888, fax: 275-4183, (e-mail: reservationsgoa@kenilworthhotels.com or www.kenilworthhotels.com/goa/).
La La Land Resort. Tel: [91-706] 612-9588 (https://www.lalalandgoa.in/).
The LaLit Golf & Spa Resort Goa. Tel: [91-832] 266-7777, fax: 266-7711, (e-mail: goaresv@thelalit.com or www.thelalit.com/the-lalit-golf-and-spa-resort/).
Majorda Beach Resort. Tel: [91-832] 668-1111, fax: 228-1124, (e-mail: resv@majordabeachresortgoa.com or majordabeachresort.com).
Park Hyatt Goa. Tel: [91-832] 272-1234, fax: 272-1235, (e-mail: parkhyattgoa@hyatt.com or goa.park.hyatt.com).
Planet Hollywood. Tel: [91-832] 675-1000, (e-mail: reservations@planethollywoodgoa.com  or www.planethollywoodgoa.com).
Radisson Blu Resort Goa Cavelossim Beach. Tel: [91-832] 672-6666, fax: 672-6677, (e-mail: reservations@rdresortgoa.com or www.radissonblu.com/resort-goa).
Ramada Caravela Beach Resort. Tel: [91-832] 669-5000], (e-mail: hello@ramadacaravela.com or www.ramadacaravela.com).
Taj Exotica. Tel: [91-832] 668-3333, fax: 277-1515, (e-mail: reservations@tajhotels.com or www.taj.tajhotels.com/en-in/taj-exotica-goa).
The St Regis Goa Resort (formerly Leela Goa, www.marriott.com/).
Turtle Hill. Tel: [91-942] 125-7164, (e-mail: web@turtle-lounge.com or www.turtle-lounge.com).
Vivenda dos Palhacos. Tel: [91-832] 322-1119, (e-mail: info@vivendagoa.com or www.vivendagoa.com).
The Zuri White Sands Goa Resort & Casino. Tel: [91-832] 272-7272, fax: 272-7282, (www.thezurihotels.com/goa/).