FAMILY FUN
Of pandas and iPads and hotpot dives by the mile
Why hugging a panda will leave you happier but poorer. A business traveller's guide to this fast-growing city and burgeoning hotel scene.
SEE ALSO Beijing business hotels | Shanghai business hotels | Sanya fun guide | Qingdao | China coast cities | Hong Kong hotels | Hong Kong shopping guide | Xian fun guide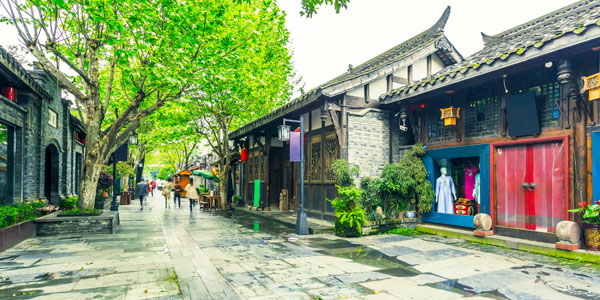 JUMP TO Sights, spice, beer | Downtown shopping, IFS, Taikoo Li | Blue lakes, mountains and a Giant Buddha | Chengdu south, Tianfu New District and MICE | City centre business hotels, boutique picks | Hotel Contacts
STEPPING out of the plane, the first thing you may notice about Chengdu, are the palm trees. You might spot little pandas, enjoying a gambol together – on green Astro Turf, their preferred natural habitat, at least at the airport. This sort of quirky diorama, using stuffed pandas and synthetic palm trees so favoured by Chinese hotel lobbies, sets the tone for any visit to this most charming of China's cities, and the capital of Sichuan.
Talking of hotels, by 2023, several new properties had entered the roster, from Home2 Suites by Hilton Chengdu Wuhou Temple (quite a mouthful, www.hilton.com), the moderately priced Hilton Garden Inn Chengdu Kuanzhai Alley (www.hilton.com), DoubleTree By Hilton Chengdu Riverside (www.hilton.com), to a luxe Gran Melia Chengdu (not far from convention areas, www.melia.com), the W Chengdu (www.marriott.com) also gunning for convention business, and several Mercures and four-star Atours.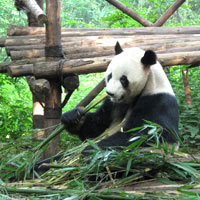 It's always lunchtime at the Panda Base/ photo: Vijay Verghese
Straddling busy trade routes and a gateway to Tibet, Chengdu is old and traditional as it is modern and whimsical, and nothing ever interrupts the narrative, especially unusual props. Pandas are ubiquitous, stuffed, carved, cuddly, soft, wooden or concrete, peering from duty-free shelves, staring hollow-eyed from t-shirts, and perched atop gleaming buildings much in the manner of King Kong – as at the iconic, swank and new International Finance Square (IFS) at the heart of downtown. Here, one enormous specimen is perched precariously with its head bobbing over the roof. Not without good reason, it's referred to as the Panda Building. What else? You can tell this is a fun place, as our guide will reveal.

Send us your Feedback

Hotel Contacts
The real pandas are fortunately tucked away at the immaculately maintained and bamboo forested Panda Base (more correctly, the Chengdu Research Base of Giant Panda Breeding, www.panda.org.cn) far to the northwest of the city, about a 30 to 40-minute taxi ride from most hotels. This is a verdant shelter of calm and picture-postcard serenity from 7.30am when the park throws open its doors until around 9.30am when hordes of flag-waving tourists disgorged from an endless procession of tour buses, scramble in screaming. The frenzy is uncontrollable and the ticket window is by then all but inaccessible.
The pandas take it all in their stride, lazily stripping the green bamboo shoots with the least possible effort, often falling asleep in the process, on their backs, feet splayed for the cameras. Nice paved walks take visitors along various trails past the black swans cruising their private lake, giant pandas, cubs, and the smaller red pandas.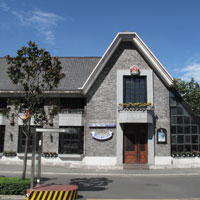 Beergarden gussied up German style near the Shangri-La/ photo: Vijay Verghese
A shuttle bus can take you up to the farthest point but, for those in a rush, an hour's stroll will cover most bases, including the small air-conditioned movie theatre – a life saver in summer – where you can learn about panda 'estrus' (or coming in heat) to the haunting Celtic strains of Enya. No local bamboo flutes or erhus for these pampered few. The place is open from 7.30am to 6pm with the last entry at 5pm. Tickets cost Rmb55 for adults and Rmb27 for student and kids (seniors over sixty can enter free), with a price-tag of Rmb2,000 for what must be the costliest hug in the world that comes with a panda close-up photo-op.
Send us your Feedback / Letter to the Editor
Chengdu Shuangliu International Airport (www.cdairport.com) presents a modern and efficient welcome with not much walking and fast processing. T2, which opened in 2012, is the modern terminal for domestic flights, while the older and fairly compact, bright and pleasant T1 caters for Hong Kong and Macau and international flights. A shared first class Air China lounge with comfy leather chairs serves several airlines and can get pretty crowded if flights are backed up. This at the end of the terminal finger near Gate 106.
At this terminal, expect the de rigueur Starbucks (very much an institution in Chengdu), meagre duty-free shopping pickings, a couple of tiny cafes with spicy soups, and Tibetan pashmina shawls. Every shop in sight sells panda memorabilia.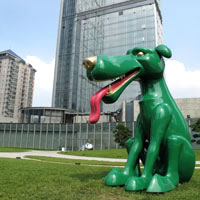 Not just pandas at IFS, a Chengdu shopping stop for luxury brands/ photo: Vijay Verghese
Taxis line up right outside the arrival hall. They belong to different companies but all are coloured green and easy to spot with the meter starting at Rmb8. Most city rides are between Rmb20 and Rmb30 and an airport transfer to a downtown hotel may be in the region of Rmb30-Rmb45. A ride to the Panda Base may be from Rmb50-Rmb80 depending on your hotel of origin. The return journey alas involves haggling and usurious off-the-meter rates that may rocket up to Rmb200 or more. If you do the trip early enough in the morning you will likely get a cabbie willing to use his meter.
Almost no English is spoken here so bring along some flash cards with clear instructions and addresses. Most Chengdu business hotels will have doormen to assist you in this most delicate of transactions. All around the city, private freelance cabs will also cruise up and transport you for just a bit more than the taxi fare. People are generally well mannered and polite though catching a cab is a fine art that involves sharp eyes (and elbows), quick feet, and a fast tongue. There are no regulated taxi ranks and the concept of a queue is alien to most. If you know where you are going, the metro is always a good option.
From the city-centre Tianfu Square, the city radiates outwards in all directions with three ring roads spaced at regular intervals encircling the city. Beyond the elevated Second Ring Road with its efficient BRT (Bus Rapid Transit) where you'll spot the homey Kempinski, the feel gets more residential. Closer to the airport you'll spot wall-to-wall car dealerships and showrooms with brands as diverse as Dodge, Jeep, Citroen, Peugeot, Mazda and Chevrolet. It should not come too much of a surprise as the city claims almost half the Fortune 500 companies are based here or have a plant. Hence the catchphrase, "Can do Chengdu."
Sights and spice are nice… with beer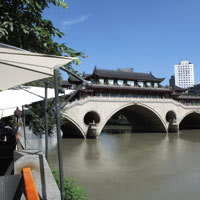 Hejiang Pavilion, Anshun Bridge/ photo: Vijay Verghese
Situated on a flat pancake plain between surrounding hills, the city is notorious for cloudy, fogbound days as the trapped air hangs over the city. People joke the reticent sun is responsible for the unusually fair complexion of local women. The once heavily polluted and now cleaned-up Jinjiang River (or the Funan River) and various tributaries flow through the city past parks and bridges, new, old, and restored (like the striking Anshun, or Lang Qiao Ming Dynasty covered bridge and Hejiang Pavilion) below the Shangri-La Hotel.
Two other redeveloped attractions that pull in vast tourist crowds – and, as a consequence, can get rather twee and touristy – are the old Jinli Street to the west of Tianfu Square, with brick and stone buildings in the Qing Dynasty style, and the area popularly described as 'Wide and Narrow Alley' (also broadly in the same area). The latter is a set of three atmospheric alleys set in an ancient and scenic courtyard home district where people still go about their regular business, including the evening synchronised dancing outside the main gate, a combination of tai-chi and modern moves set to blaring loudspeakers with beaming ladies and an occasional twinkle-toed gent. Explore Kuanxianzi Alley (wide) and Zhaixianzi Alley (narrow) to discover trendy bars, open air cafes, flat-brick hutongs, beguiling courtyard restaurants brimming with the aroma of local Sichuan delicacies, tea houses (for which Chengdu is famous), temples and pavilions.
Both in Jinli and here, if you follow local visitors, the chances are you'll end up gawping at Starbucks, set in remodelled homes, and very much the main event. So while foreign visitors marvel at the grey brick heritage sights, locals head straight for a sip of Seattle's finest Cup of Joe. Despite the gewgaws, Jinli can be fun. Wide and Narrow Alley, though, is more upscale with an air of refinement and a measured pace. If you have the moxie, chow down on spicy Sichuan dishes packed with numbing pepper. You will find prices, even at fancier establishments, surprisingly affordable. Expect main dishes here to be in the Rmb60 range.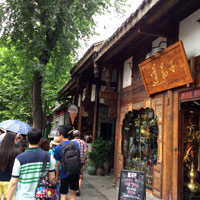 Wide and Narrow Alleys atmosphere/ photo: Vijay Verghese
Here you might wish to sample the immaculately presented multi-course 'State Banquet' at the hugely atmospheric Diaoyutai Boutique's Royal Court (tel: 6633-0509). With original ingredients and traditional low-fat, low-salt menus in a 'fusion' style to suit fussy foreign palates, the official banquet from the Diaoyutai State Guest House that was lavished by Deng on Queen Elizabeth in 1986, and served to dignitaries at the 2008 Beijing Olympics, can be sampled here. Experience constantly changing set courses including perhaps wagyu beef steak with wasabi and cheese and matsutake mushroom chicken soup – the mushrooms sourced at altitudes of over 3,500m and the three-year-old chickens cooked for a fashionably sweaty eight hours. You'll fork out from Rmb780 to Rmb1,600 for this indulgence.
While food will rarely disappoint in Chengdu and the normal prices are far from wallet numbing, you need to dive into local style establishments for a true blue taste of the region. Sample the fiendishly frothing chilli-red Sichuan hot pot in the Yulin Food Court area near the Kempinski Hotel Chengdu and wash it all down later with fresh beer from the hotel's ever-hopping Paulaner Brauhaus (www.kempinski.com/en/chengdu) microbrewery. Yes, you can munch on German wursts too once the taste buds bounce back and get in some nostalgic foot-stomping music too while you're at it. Bavarian meats, pork knuckle, Thuringer sausages, and potato soup. The place is open from 5pm to 1am and smoking is allowed. Need we say more?
The Yulin Food Court is not in an enclosed mall as a visitor might assume. It refers to a residential low-rise district where you can stroll and pick your spot. But come early as by 6.30pm most places are sold out and queues can take hours.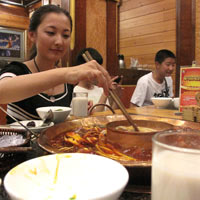 The local style Sichuan hot pot will leave you crying for more - Yulin/ photo: Vijay Verghese
Lao Ma Tho (literally 'old pier') at 27 Middle Road is a cavernous red-and-gold affair set up like a beer hall with rows of wooden tables humming with smoke and spice. Order your extra sauces – garlic, sesame, oil – and once the hot pot is bubbling, toss in lotus root, mushroom, beef, lamb, noodles or even brain. The list is endless. For the squeamish, the hot pot itself is divided into two sections, which enables you to cook two separate broths. Expect a tab of around Rmb100 per person without alcohol.
Also explore the Kehua area near Sichuan University for barbecue, and the Jiuyan Bridge 'bar street' for clubs and cocktails.
Popular Chengdu dining mainstays include the Gingko Sichuan Restaurant (along the river, not far from Shangri-La), Red Apricot (tel: 8325-3388, Jian She North Road), and Impressions of Chengdu (tel: 8514-5678). There are several branches for most and cuisines may vary, so check before you head out. The Ritz-Carlton, Chengdu, serves up some of the finest Sichuan and Cantonese in upscale grey-stone environs at the Li Xuan (tel: 8359-9288). Look for the charcoal fired beef ribs and other sizzling delicacies.
For more late evening fun, just down the slope from the Shangri-La is a low-rise faux-German set of buildings, several set up as beer halls. Step into the Munchen Biergarten for a frothy moustache to get the evening warmed up (as you ponder pandas playing amidst swaying palms) and then stroll across to the Jinjiang River fork along which is the spread out low-rise Lan Kwai Fong entertainment and dining area. Bars and stylish eateries run along this stretch beckoning all comers. This is an excellent area for a slow trawl, and scenic too.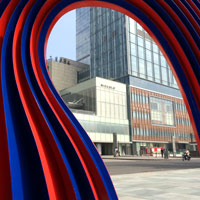 IFS and Niccolo viewed through zany street sculpture/ photo: Vijay Verghese
Tianfu Square with its broad boulevards, Mao statue, and large square cut museums and art galleries is the centre of town around which the business district is sprouting. This is not far from the gleaming IFS on Chunxi Road to the east with its expansive pedestrian zones – watched over by policemen on jaunty Segways – and smartly-paved avenues cutting crisply through the gauntlet of designer brand shopping malls from Isetan and Parkson to the enormous marbled IFS mall itself, the 'panda' building, that boasts the largest Louis Vuitton store in China, along with dramatic storefronts for Ermenegildo Zegna, Dolce & Gabbana, PRADA, Lane Crawford, Ferragamo, Hogan, Chanel, Kookai, Club Monaco, Sephora, Fendi and more. Check out The Basic House (for fun clothes), Kosta Boda (for Swedish blown glass delights), Uni Qlo, and Royal Selangor Pewter. This sprawling mixed-use development rolled out in early 2014.
And one street away is the huge Daci Temple development (launched mid-2015) with its own unique blend of culture, nightlife, accommodation and commerce in the area known as Taikoo Li. From Hong Kong's Swire, this is a slick hutong-style development featuring shale-roof cottages housing premium brands and local designers as well as restaurants and eateries.
Being pedestrian-only, and modestly smog-free, it has attracted a loyal following of the smart and well-heeled as well as the young and restless, all keen to browse everything from Gucci and Hermes, to Balmain, and speciality stores like Brompton Junction (for fabulous bicycles and folding wheels), and drivepro, which stocks Strida cycles, go-karts, Segways, and funky bashed-in moulded Crash Baggage suitcases to make your next journey a talking point among fellow travellers.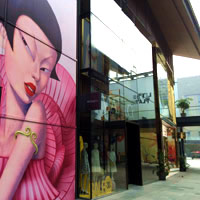 Taikoo Li: hip hutong district/ photo: Vijay Verghese
Later, of an evening, stop to enjoy the dancing fountains that are set to various classical symphonies, ooh-and-aah with the crowds, and gawp at playful pop-art splashed all over vacant walls that connect ancient cottages and temples, with smart brand boutiques. Chengdu has a very affluent young set, and designer brand shopping is very much on the rise.
Also in evidence at Taikoo Li are speciality restaurants - look for Szechuan spices - and offbeat dessert nooks and crannies. Most of all, this is an area for leisurely walks, great for adults and kids alike who will enjoy the sparky wall graffiti, and beautiful people. Just behind the Grand Hyatt is another bustling area for street food, steaming buns, and bric-a-brac.
Blue lakes, mountains and a Giant Buddha
The chances are if you were not here for the Wine Exhibition (late March or early April) or the West China Exhibition in October when rooms are hard to find as conferences and corporate meetings in Chengdu reach their peak, you will be headed to one of the scenic sights like the astonishingly blue, green and even pink limestone lakes of Jiuzhaigou Park and Huanglong, the 70m rock hewn Leshan Giant Buddha, or Mount Emei. You will need to set aside an extra day or two for these sights, which involve a short flight or a long road journey. While Jiuzhaigou is about a 10-hour bus ride from Chengdu, Mount Emei can be reached within four hours or less by car.
Chengdu south, Tianfu New District MICE
What's MICE? An acronym for meetings, incentives, conferences and exhibitions. The Kempinski Hotel Chengdu on the Second Ring Road, is well situated for the airport as well as a downtown foray. It is just 15 minutes from the airport and about the same driving time to Tianfu Square and the central business district, traffic permitting.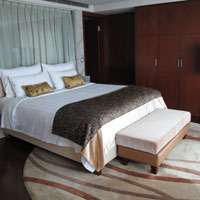 Kempinski suites are huge/ photo: Vijay Verghese
Chengdu traffic can be ferocious at peak hours morning and evening when downtown hotels may get gridlocked. This is an unfussy and very friendly address, ageing (it turned 10 in 2014) and contemplating a facelift in mid 2016, but very much on the go with quick access to conference and exhibition areas to the south. A latter day 'Rhineland castle', the hotel consists of a central cylindrical glass tower with a small conical turret, flanked by two concrete shoulder wings with open city views in all directions.
The spacious 76sq m Deluxe Suites are set right in the middle of the building's curve creating a broad well-lit semi-circular space with the living and dining area in one partition, and the bedroom in the other. Rich wood flooring follows the huge glass frontage, with pale mustard sofa and chairs, a four-seat table, coffee-maker and flat-screen television in the living room. On the other side you'll find a large king-size bed set against a glass bathroom partition shielded by long drapes, a second wall-mounted swivel flat-screen TV, a work desk (WiFi is free),  iPod dock, and traditional Chinese crow's-feet three-pin sockets and some two pin electric sockets. Ask for an adaptor.
Also expect a small bedside classic clock with hands, simple idiot-proof room switches, a laptop-friendly safe, iron and ironing board and, perhaps for some innocent mischief, a cool set of powerful binoculars. The white-marble toilet features a see-through glass washbasin, Aigner toiletries, a bathtub, and a shower cubicle with massage jets and a hand shower. In all, this is a comfortable old-fashioned space where you will immediately feel at home. The only niggle may be the lack of reading lights for a bedtime page-turner, though the hotel thoughtfully leaves guests a colourful bookmark each night with insights into Sichuan, from opera to food.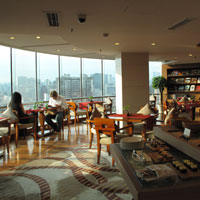 Bright Kempinski Executive Lounge/ photo: Vijay Verghese
With the Executive Lounge on the 19th floor, club rooms (accessed by electronic tap cards) are located on the 18th, 19th and 20th floors. Service at the lounge is excellent and attentive. A six-seat meeting room is available along with two Internet rooms for workaholics. Follow the Seventies-tripping orange-brown tiger-stripe walls along the corridors to an Executive Twin Bed that weighs in at 37sq m. This is narrower, long room, again with a glass partition bathroom, and pretty much the same in-room accompaniment minus the binoculars. The colour tone is earthy with metallic floral bed runners.
The Kempinski offers an airy indoor atrium pool, gym, and spa on the fourth floor, ample F&B from hearty Bavarian at the aforementioned Paulaner Brauhaus to Chinese at the two-level Harmony.
In the southern belt, south of Kempinski is the fast developing exhibition and conferencing zone dominated by siblings InterContinental Century City, InterContinental Chengdu Global Center and the Holiday Inn Chengdu Century City – West Tower who between themselves serve up just over 2,500 rooms for conference-goers. These are serious Muscle MICE hotels with a huge spread of meetings and convention space.
The 'smallest' of the trio is the 555-room InterContinental Century City. Drive in through a manicured garden avenue almost Hawaiian in its intent and step into a humungous lobby with a high-set skylight ceiling welcoming of light to illuminate the vast space with verdant foliage and water features surrounding the Balinese-style café. Think birdsong (it's real), trees, a traditional wooden Chinese teahouse dominating one side, marble slathered everywhere and elaborate mosaic tile patterns in various corners and on lift floors.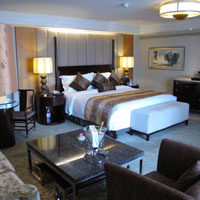 InterContinental Century City, plush/ photo: Vijay Verghese
It's an arresting, if surreal, sight. Clearly there's space to move people, fast. And while this will appeal to business travellers and some leisure trippers, it will not be everyone's cup of personalised tea. There are 24 meeting rooms with 20,000sq m of function and exhibition area. If you need to launch a new green electric vehicle, or roll out fancy film awards, this is the place to do it.
A 55sq m Deluxe Suite opens into a marble foyer that leads on to lush carpeting in pale powder green and mustard. A celadon tea set greets you, as do three-pin multi-plug sockets, tactile light switches, a large flat-screen TV with DVD, a padded tan-leather head wall, comfy sofa, marble table, iPod dock, oval glass work table with data-port and large bedside lamps.  Also find a peekaboo tub set behind a glass partition, L'Occitane toiletries, a Jacuzzi with massage jets, Bose sound, and a power shower. A Deluxe Twin is around 45sq m with a scaled down set-up and gold bed runner. The visual is lavish. The in-room safe could be a tad bigger as it is not really laptop size but will be handy with jewellery.
The 970-room Holiday Inn Chengdu Century City – West Tower adjoins the complex, sharing the 2,800-person Crystal Ballroom, while the InterContinental Chengdu Global Center is a short distance away with spacious rooms also liberally sprinkled in marble and pastels with oversize bathrooms and plenty of light. Expect Club rooms in powder grey with white lintels, elaborate plaster cornices, grey-blue patterned carpets, and rich blue ceramic bedside lamps with classic silk shades. Soaking tubs set behind glass partitions are the centrepiece of the richly veined black marble bathrooms with cream trim. Blue and silver cushions complete the luxe ensemble.
There's free WiFi, a spa and, again, that airy light-filled lobby with trees and all manner of foliage. The hotel's ace up the sleeve is the enormous Paradise Island Water Park with a 100m skylight ceiling and a Mediterranean feel complete with a 'sea' and a 400m beach coastline.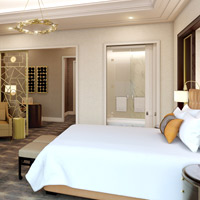 Waldorf Astoria Chengdu/ photo: hotel
Add dancing fountains and mood music and you get the drift… This is a bolthole for families while dads do their conventions.
The developing Tianfu New District alternative CBD and conferencing hub got fresh impetus with the arrival of the 289-room Waldorf Astoria Chengdu (21 July 2017) with its magnificent marble spaces, soaring ceilings, and grand views from atop a 220m 52-storey art deco tower set grandly amidst 190,000sq m mixed-use space.
The hotel occupies the top 18 storeys of the high-rise building with serviced apartments taking up the lower floors. Close to the Tianfu International Financial Centre, the hotel is in an area that has been designated a hi-tech development zone and a second city centre with a metro stop 600m away within strolling distance.
Designers Champalimaud have pulled out all the stops to create an elegant, yet brisk, address for business travellers, corporate meetings, and the leisure bound. Think simple, uncluttered, vast spaces with deep velbet seating, muted pearl-grey pastels in room, lounging divans, marble slathered bathrooms with soaking tubs and twin vanities, an indoor pool, panoramic views from restaurants as well as rooms, and a spoling spa by Jacobs and Valmont with private massage and wellness treatment suites, steam room, ice shower, salt room and a heated indoor stretch-out pool, again with vertiginous, if exhilarating, views from the 48th floor.
Waldorf Astoria Chengdu plans to set the benchmark as the top Chengdu luxury hotels address - with 31 suites - serving up generous lashings of business pizzazz that will prove attractive for multinationals headed for this developing zone. This is an excellent spot for corporate meetings, CEO chinweags and larger events with a Grand Ballroom and five function rooms with 2,000sq m of versatile space including a breezy garden terrace.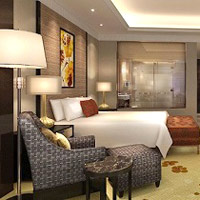 Fairmont serves up woody tones and textures/ photo: hotel
Set farther south, the hotel also has good access to the airport, bypassing the north-south traffic jams that can at times afflict hotels in the IFS area.
Also in the heart of the rising urban landscape of Tianfu, is the Fairmont Chengdu (opened late 2016). This top drawer hotel is a 20-minute drive from the airport and close to both the Century City New International Convention & Exhibition Center and the Tianfu Software Park. Fairmont serves up 336 rooms starting at a generous 45sq m, with 52 rooms set aside for Fairmont Gold executive-floor guests. Rooms are corporate and darkly sumptuous with a woody feel, large flatscreen televisions, and clean straight lines. It's a minimalist approach favoured by business travellers and the de rigueur see-through glass walled bathroom is much in evidence. In larger suites, light pastels and cream tones are employed to create a bright airy feel with patterned carpets.
The hotel offers 1,350sq m of MICE and conference space that includes a 730sq m pillar-less ballroom and nine breakout rooms. The function area is hugely flexible. An external elevator is on hand to help heave large items to the ballroom for product launches and the like.
Apres-work, look forward to Japanese restaurant Cube, spicy Sichuan Chinese food, and the soothing signature Willow Stream Spa. 'Chengdu spa hotels' would not make a common search query but, heck, after all that conferencing and hi-tech gabble, why not surrender to a therapist's massage.
Another biggie in the area opposite the Tianfu Software Park is the Hilton Chengdu (arrived early 2017) south of the Chengdu Highway Ring Road (or, sometimes, Ring Around). The hotel is aimed at families as well as business travellers with the Galaxy Ballroom weighing in at 790sq m and a capacity of 440 for a reception. This is one of the roomiest offerings for MICE and conferences in the Tianfu New District.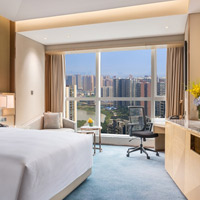 Hilton room in pale wood and pastel/ photo: hotel
There are various meeting venues and configurations at Hilton Chengdu that also sets its eyes on weddings business. Families may avail of babysitting services, high chairs, and children's menus. Others will dip into the indoor pool, and 24-hour fitness centre. Standard rooms run 40-80sq m with full height windows welcoming of light and views while suites may range up to 240sq m. Executive rooms are on higher floors. In higher categories expect 46-inch flat-screen televisions, WiFi, bathtubs, rain showers, in-mirror TVs for news and suds and a pale-wood light pastels palette. A special facility at the hotel are 'Accessible' rooms with specially designed furniture for disadvantaged guests.
The 359-room Millennium Hotel Chengdu is situated in a very pleasant residential locality opposite Shenxian Park, a lovely green belt with rock pools and wooded walks for exercise buffs and tai-chi practitioners.
Redbrick buildings in a European mould add flavour to the area and, yes, one of these is a Starbucks. The hotel offers an indoor pool, a gym, a sauna and steam room and spa services (outsourced). The 13th floor Executive Lounge is a smart spot for an evening's unwind. A 42sq m M Suite offers a cream carpet with brown sofas in the living room separated from the bedroom by a wooden cabinet half-partition. Expect two flat-screen televisions, free WiFi, a glass desk, multi-plug sockets, iPod dock, mini dresser with mirror, laptop-size safe, and a thoughtful clothes steamer.
The bathroom is compact with tub and rain shower. A mini kitchenette at the entrance has its own basin and water faucet. The 34sq m Executive King is nice and bright while the Executive Suite is a good pick, also with the universal half-height windows that run from waist up – a feature at older establishments.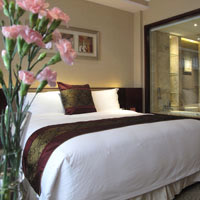 Millennium Hotel, smart and brisk/ photo: Vijay Verghese
Of course this has nothing to do with room functionality or service. For blond-wood and more contemporary feel try the Millennium Suite. This is a friendly and brisk hotel in a nice, unhurried, leafy part of town.
Sister property M Hotel Chengdu (the brand may have changed management by mid 2018) is not too far from here along with the plush serviced apartments of the very smart Oakwood Residence Funder Chengdu for long-stay guests that seems to be in the midst of a management change mid 2018. Do check with your agent about this property. Another Chengdu apartment choice is the 298-unit Ascott Raffles City, Chengdu, on South Renmin Road that runs north to south linking up the Ring Roads. The Ascott offers studios up to four-bedroom residences with fully equipped kitchens.
The Renaissance Chengdu Hotel is another quality business hotel option in a gleaming reflective glass building on South Renmin Road, with marbled spaces, contemporary rooms in earth tones with flat-screen televisions, and 13,014sq ft of meeting space.
Business and boutique picks, city centre
Niccolo Chengdu (May 2015), is the new top-tier brand by the Hong Kong-based group better known for its stable of value business hotels. It offers 230 keys in an 'urban chic' setting at the epicentre of things at the IFS mall. Launched by livewire Andrew Abram, this unfussy bolthole sits atop a glittering shopping mecca in the heart of town, with brisk and attentive staff - always quick with smiles - and grand views over Taikoo Li and its shingle-roof hutong-style shopping and dining district.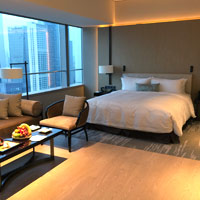 Niccolo, contemporary and minimalist/ photo: Vijay Verghese
No need to bother about traffic and argle-bargle with cranky taxi drivers. Everything is walking distance with broad pedestrian swathes on all sides. Find the spacious Niccolo Ballroom on the seventh floor, a circular belvedere 'Conservatory' on the eighth floor for ceremonial occasions, and 28 meetings rooms with versatile configurations.
The Tiara Suite for bridal couples is the icing on the events cake. The seventh floor opens onto the expansive IFS 'sculpture garden' that hosts a mad ensemble of giant pandas and bronze fruit, making this an excellent MICE venue as well as a fine Chengdu hotel for small corporate meetings. Like to drive a car into the ballroom for a motor show? No problem.
The overall feel of the hotel, from the jewel box glass cube that serves as the lobby lounge, to the intimate reception area, and rooms, is hushed, unfussy and minimalist, all laid out in neat straight lines. In-room expect a generous 45sq m of stretch space and up (reaching 200sq m), pale wood walls and floors, cream-and-grey 'tiger-stripe' carpets, large divans, lamps with dimmers, huge flat screen TVs, soaking tubs (with LCD) behind peekaboo glass partitions and rain showers that will give your back a good pounding. The bathroom mirror is large and well lit and twin vanities cater for him and her.
There are iPads for guest use and free and fast WiFi for road warriors. Windows are not floor-to-ceiling but generous, and the high ceilings – whether in the room or in the public areas – create a satisfying sense of space.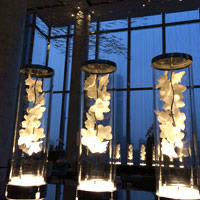 Niccolo lobby lounge: cool glass box/ photo: Vijay Verghese
Rooms are functional and homey and do not try too hard to impress while the bed is deliciously supple yet soft.
Drop the blackout drapes and you have laboratory conditions for a guaranteed jetlag-banishing sleep. A minor niggle, but a pea in shoe nevertheless, is the electronic control for the drapes, which tends to have a mind of its own. Master this, then take the space and make it your own. Other in-room touches include a slim black desk with two three-pin multi-plug sockets (other sockets are two-pin or three-pin crow's feet affairs), a classic bedside clock, a flat top-loading laptop safe, Nespresso machine with coffee shots, and slick frosted glass wardrobes and partitions with neat black trim.
Later, check out the small but cosy indoor pool that catches snatches of sunlight at either end, the fitness centre, the Chinese restaurant Yue Hin for a casual morsel of Cantonese or Szechuan, or the humming first-floor Niccolo Kitchen. By late summer the bar will be hopping with the added alure of an alfresco fire pit where you can sample the creations of veteran mixologists. Belissimo.
Next to Isetan department store across from an IFS corner, you'll spot the curiously named but quite innocent Haiyatt Hotel Chengdu, which has earned first class spurs with decent rooms and a great location. (It is one of a few well-rated local hotels whose ranks also include the larger and pretty solid 700-room Jinjiang Hotel on Renmin Road South with spa and conferencing facilities, right opposite the neat and manicured Minsheng Hotel.) Haiyatt is a stroll from the real McCoy, the genuine article, in-the-flesh Grand Hyatt.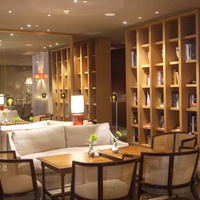 Woody textures and a clubby feel at Grand Hyatt Chengdu/ photo: hotel
Grand Hyatt Chengdu (opened end January 2016) brings the instantly recognizable American marque to haute South Chunxi Road with a spread of 390 rooms with panoramic eagle-eye views of the city. Nestled between the 10th and 39th floors of the soaring, ultra-modern Chicony Square building, the hotel serves up a well featured fitness centre and gym with heated indoor pool, five spa suites for wellness pampering, and quality small corporate meetings for Chengdu-bound CEOs in need of that Hyatt touch.
Rooms are neat with clean straight lines and plenty of pale textured wood for a chic yet homey feel. Food is aplenty, from Chunxi 8, which will feature the spicy local hot pot, to Cafe Kitchen and Steak House that dabbles in European fare. Or park in the generous outdoor garden terrace for some alfresco BBQ. Swim in the indoor pool, work out at the gym, or splash out on all that ubiquitous shopping. The hotel is perched above a mall right next to vast pedestrian districts packed with street food and other distractions.
The Temple House (July 2015, from Swire Hotels) at the Daci Temple complex at Taikoo Li right across the road from the International Finance Square, is set in two neat reflective glass blocks, one offering serviced apartments and the other the hotel wing with 100 rooms and 42 suites. The reception is intriguingly set apart from the hotel in a renovated courtyard of a 100-year-old traditional Qing Dynasty building to give guests a sense of back-in-time arrival.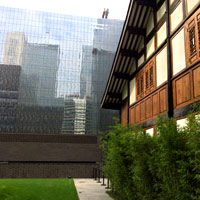 Temple House old and new/ photo: Vijay Verghese
As at The Opposite House, Beijing, this meet-and-greet area features no reception counter or uniformed automatons handing out registration forms. Instead, smartly clad youngsters in slim blue trousers and grey v-neck cardigans will approach you as you enter and sort out formalities in an informal, yet brisk, manner. Feel at home.
This is a shingle-roof wood cottage with a small green courtyard flanked by the library and art gallery. Temple House also offers an indoor basement swimming pool (cleverly designed to catch natural light through skylights), a gym and, a first for Swire, a ballroom for hushed events and small corporate meetings (also in the basement).
There is no Chinese restaurant. The hotel feels, and rightly, there is enough on offer in the city and the Taikoo Li nightlife and entertainment zone with over 300 luxury brand shopping outlets and restaurants, will take care of any left over cravings for food or fashion. Think Jimmy Choo, Gucci, Cartier and a dancing fountain set to classical symphonies. At Temple House, expect a 24-hour café, Italian to tease the palate, and a bar, again, with wood tones predominating.
Accommodation is in a brown-glass low tower lined with a bamboo tree motif. Room décor is simple and contemporary with 63sq m of starting space (in a Studio 60) for a refined rumpus. This is a spartan open plan format (think charcoal walls, virginal white beds, and gauzy white blinds) with a dark strip-wood layered partition separating the bed from the bathing area. No pull-down blinds. Too shy for this? Park at a Hilton. Cream divans with large soft cushions simply scream 'Curl up here'.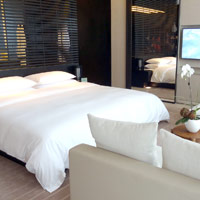 Temple House room in clean cream with black trim/ photo: Vijay Verghese
The earth tone ensemble is sumultaneously inviting and relaxing. Floors are in pale wood with tan carpets. The resort-style bathroom, running along the room behind the bed, serves up elegant black marble finish with twin vanities and a roomy black cube with rain shower and a white stone stool for those who prefer a sit-down soap-up.
There's a long black matte-finish work desk with data-port and four three-pin multi-plug electric sockets while the bedside table features a flip-out three-pin socket with electronic push-button controls for the room.
The St Regis Chengdu (September 2014) wears its definite article with pride, as well it should. At 99 Tidu Street, downtown, it launched exactly 110 years after the storied St Regis New York, the latest flag-bearer in this luxe line from Starwood that is steadily making inroads into China. The hotel's reception is, reassuringly, on the ground floor with a soaring ceiling, and slathered in de rigueur marble in geometric designs, a host of textures, and more rich-veined grey marble trim around the lift-lobby entrances. There is a convenient Bank of China ATM that will please business travellers no end, a grand staircase for events and clustered 'rod' chandeliers. WiFi is free. Find 279 rooms, 65sq m and up – enough to swing an elephant by the tail.
A Grand Deluxe offers the signature St Regis package with an invitingly plump and expansive Simmons bed set against a textured charcoal-grey headboard and perched on a patterned tan carpet with cream sofa by the window, a sloping rust settee by the base of the bed, an easy chair, silk lampshades to soften the straight corporate lines and a large working desk. The high ceilings open up breathing and visual space. It's a nice touch for high rollers as well as lesser mortals.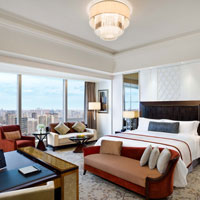 St Regis Grand Deluxe/ photo: hotel
The de rigueur flat-screen television is on hand to entertain or inform with a host of channels and it rises up from a concealed base at the press of a button. Mirrors and marble make up the rest. French doors open onto the marble bathroom with its chandelier, soaking tub, rainforest shower and twin vanities. Remede toiletries, a 19-inch television, and a rear-up-as-you-enter Japanese electronic potty complete the picture.
Best of all, there are no glass partitions to pruriently pry into your companion's showering and morning ablutions. Save the blushes. This is a sound business traveller product. The large work desk, seating two (one at either end) and with two three-pin multi-plug international sockets, is a nice touch.
Expect heated floors – a useful vanity for those with tender soles, walk-in closets, a pillow menu to give your neck the break it needs on the road, and an iPad for in-room controls and room service. Be warned, the device is not for city use. But that's not all. As at other St Regis hotels, a corps of trained butlers is on hand to help unpack, deal with the tedium of shoe-shining and getting those razor-sharp creases perfect. Each room comes with a valet compartment set against the corridor wall for efficient collection of shoes and laundry without disturbing the occupant.
On the 27th floor the contemporary chic Presidential Suite takes up the entire floor with its own outdoor terrace and 12m lap pool. There are two bedrooms with 46-inch televisions. You won't miss out on the news. One caution: motion sensors in the rooms tend to switch off the lights after 15 minutes if nothing moves, so twitch a finger every now and then if you wish to preserve the light setting you have so industriously crafted.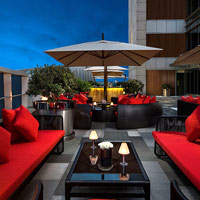 St Regis sky bar Vantage XXVII/ photo: hotel
The Iridium Spa occupies one entire level too clearly demonstrating the hotel's intent. This is not just a getaway for suits, it is sheer indulgence for him and her. Pick from nine treatment rooms including three 'loft' style split-level escapes. Apart from the wellness treatments and massage, look forward to facial care and 'cocooning' with specialised machines to turn you into a perfect hologram of Princess Leia, but at a bit more than the price of a movie ticket, alas. Apres work there is a 26m indoor lap pool with a freeform outdoor section too, and six restaurants and bars including personalised chef tables for those with off-the-menu I'm-crawling-up-the-wall cravings. The Decanter wine bar features its in-house master sommelier, Social does breezy breakfasts, Yan Ting the signature Chinese restaurant serves up Sichuan and Cantonese fare, while the alfresco Vantage XXVII sky bar does mean mixes with music. Unsurprisingly, St Regis aims to be among the top Chengdu business hotels and fares well on our review. Mark it down.
Smack in the centre of town soaring above calm broad avenues, The Ritz-Carlton, Chengdu is an essay in style and class. It is a business traveller's wet dream from the marble-slathered lobby on the 25th floor and its towering glass frontage and stunning rust-ochre zigzag carpet emulating the annual silt-laden deposit of the Minjiang River (the inspiration for much of the design), to the effortless service of countless staff who glide up at every opportunity to assist.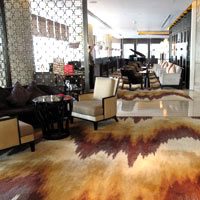 The Ritz-Carlton design follows a local theme around the Minjiang River/ photo: Vijay Verghese
The hotel has a smooth and well-oiled feel to all aspects of operation, be it front office, or at restaurants, like the aforementioned grey-stone Li Xuan. The centrepiece of the lobby is an elegant and minimalist 'palace-style' cube set apart with latticed 'walls'. This leads on one side to the bar and lounge (with grand piano) that serves afternoon teas (with tea ice-cream too) and, on the other to the quietly attractive grey-rust mottled marble floor that sweeps across the spacious high-ceilinged reception area with its pale jade pillars. Think dark rich wood and textured marble and you get an idea of the space.
Meetings are handled on the second floor so as not to interrupt the flow of the main hotel and its coddled guests. This is very much a Chengdu conference hotels choice with 1,700sq m of event space for weddings, exhibitions or conventions. A conference concierge is at hand to help with details.
Club Rooms are 55sq m and brightly lit with natural light and full height windows with dimpled chocolate curtains. Open city views abound. The marble foyer leads to a light yellow-ochre carpet beyond which is some wood parquet flooring by the window. The textures that play out underfoot, are evident everywhere. Expect a comfy bed with silver floral bed runner and tan padded head board, a settee, a marble-top desk with cream leather chair, three-pin multi-pin socket by the bed (in a flip-out panel) with two more by the desk, free WiFi, iPod dock, large grey tactile switches for room controls, a flat-screen TV, Nespresso tea set with seven choices of leaves, and a classic clock.
The cream marble bathroom serves up an electronic Japanese-style potty to pamper the derriere, twin vanities, a rain shower, soaking tub, a pahua shell table, and mother-of-pearl inlay wall. Textures.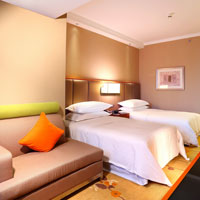 New look Sheraton Grand Deluxe room/ photo: hotel
The small dressing closet has a flat top-loading laptop safe. Perched on floors 38 (where the executive lounge is located) to 41, the Club floors offer great views of Tianfu Square and the in-room tripod-mounted telescope at the Executive Club Suite will aid in your visual explorations while the Asprey toiletries will engage you après-work.
In the downtown area, business travellers should keep an eye out for a JW Marriott that will see competition hot up considerably in panda town. The ageing but gamely marching and ever popular 387-room Sheraton Chengdu Lido Hotel that opened in 2000 is a value option. Despite a showy, marbled atrium lobby with an Aquascutum luxury retail outlet and the de rigueur white grand staircase – no doubt to present photo-ops for many a blushing bride - it shows a few signs of wear, especially in rooms.
Renovations in 2013 have introduced a bright new look with a contemporary feel, and fresh fittings in 'new' Deluxe rooms featuring lush mustard carpets, sparky orange cushions, and pale wood tones. Expect the usual mod-cons like flat-screen LCD television, hairdryer, a data-port for workaholics who need to plug in, in-room safe, iron and ironing board and a well stocked mini-bar.
Yes, that Sheraton Sweet Sleeper Bed is quietly on hand to sink into. Alas, high speed Internet access costs Rmb80 per day but, if your accountant is breathing down your neck, plug in at the lobby level Link@Sheraton for a quick complimentary whirl. There are seven Club level floors and a Club Lounge for road warriors in need of a refresh. Most impressive perhaps is the two-floor 350sq m Presidential Suite with open views through tall windows, two bedrooms to stretch out in, butlers on call, and a dining table to seat 12. Travellers will enjoy the indoor heated swimming pool, steam room, Jacuzzi and fitness area with workouts for end-of-day. There is no spa but a massage parlour is on hand for deep muscle prods.
Dorsett Grand Chengdu is an unassuming converted office tower that sits atop metro lines 1 and 4, on account of which much digging has been done in the area. Yet, the remodelled hotel, while not glittering or over-the-top, is functional and efficient and will get the job done for most business travellers. A tall, narrow cream marble atrium lobby greets visitors, with gold lotus flowers etched along the wall.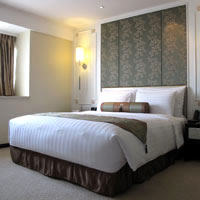 Dorsett Grand's higher room categories are comfortable/ photo: Vijay Verghese
Things are normally bustling here and footsteps echo, indicating work is being done at a brisk pace. The darkened lobby lounge features comfy sofas and a grand piano painted blue. Other key features include meeting rooms on the fifth floor, a 700sq m ballroom on the seventh floor, an outsourced spa on the third floor, and a rocking KTV in the basement (also outsourced).
There are 556 rooms and WiFi is free. There are many twin rooms here that seem popular with local guests, the occasional Japanese visitors and American travellers. Room corridors are in powder baby blue with dark wood walls. Perhaps the nicest pick here is the king-bed 35-45sq m Dorsett Suite with a study and living area with glass desk, TV, silver satin settee facing darkwood walls, and a brighter white-panelled bedroom with plump bed, silk runner, and a second flat-screen television. Expect an iPod dock, and twin vanities in the bathroom. A higher floor Executive Suite (that requires an elevator change) serves up tasteful décor in 48sq m surrounds with olive green floral headboard, and a square tub with a rain shower on the side. There's a walk-in dressing room and mother-of-pearl inlay bedside cabinets. The only drawback here is the half-height windows as this building was originally designed for other purposes. Lower category rooms are a tad plain and uninspiring but functional nonetheless.
Set in the hugely atmospheric and traditional 'Broad and Narrow Alleys' area, The Diaoyutai Boutique, Chengdu (by MGM) is a stunner. There is no other way to describe this seemingly throw-together confection of two immaculately restored courtyard homes – with an alley running in between to offer further challenges to beaming staff who seem to move about on rails. The low-rise edifices, west of the city centre, are in grey flat-brick and stone, following the tone of this old but still inhabited neighbourhood. Dark wooden beams soar up towards high rafters hidden from light, adding to the sense of mystery and romance. And occasional shafts of sunlight streak down – when the heavens are merciful – setting alight a pink silk drape, an imperial red door, or an ancient brooding statue.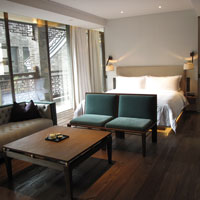 Diaoyutai Boutique Chengdu, stunning/ photo: Vijay Verghese
It is non-stop visual entertainment from the moment you step in through the tall green bamboo fronds at the entrance, walk past the playful ceramic figurines at the foyer, and on through the copper 'birdcage' and gravelled stone garden into the darkened lobby with its solitary burst of orange in the middle.
Creaking wooden floors and 'library' walls create an effortless chiaroscuro that might even stir a Caravaggio in his grave. Quiet and soft-spoken Thomas Rooch is the unflappable general manager entrusted with this hotel art piece and its 45 rooms in four colour themes and 16 categories – a fair bit of action for a small space. Dealing with the hotel's numerous hidden nooks and crannies is a considerable challenge that Rooch and his bustling staff take unflinchingly in their stride, especially on a rainy day when F&B needs to be transported to the 'other' courtyard and some guests need to be ferried under dripping umbrellas to get to breakfast. And it is this that sets Diaoyutai apart from the rest of the competition, as it has no real peers. It is a standalone. Think of it as a leisure bolthole first and then perhaps, as a business escape (in a zone where taxis may be a challenge at times). It will not appeal to all, but travel purists and those in search of the 'real' China are not going to want to leave.
The 800-year-old Diaoyutai tradition harks back to a humble fishing pavilion for the emperor that grew into a guesthouse that was later exhumed by Chairman Mao for the 10th anniversary of Communist China as an official State Guest House. Now the Diaoyutai State Guest House in Beijing serves visiting dignitaries, and its several-course treats are available at the Royal Court (see 'sights and spice') under the supervision of executive chef Huang.
The Chengdu Suite is 95sq m in a rustic but contemporary rough wood setting – the floorboards have intense whorls that you may just sense underfoot. The 'mini' bar is a full-size cabinet with a red interior revealing a coffee shots machine. The open-plan room is neat with straight lines and a long glass window frontage that continues to the bathing area. Outside, a narrow balcony runs the length of the room and the bathroom. The space is very welcoming of light. Expect a square desk, large flat-screen television for the living-room powder-blue sofa area and a huge wall-mounted TV for the bedroom space. A tan puckered-leather sofa compliments the furniture, adding a bit of class.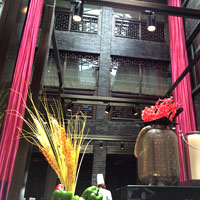 Diaoyutai bar and lounge/ photo: Vijay Verghese
Find an all-white bed with two hanging reading lamps, a classic clock, and three-pin multi-plug sockets on either side with copper button room controls. Also find a top-loading notebook safe, shoe-stretcher, iron, and a huge white marble bathroom that is a delight to use with a double size tub, copper basin, and large rain shower. The second (rooms-only) courtyard home is entered through large red lacquer doors where the Diaoyutai Suite stretches in vast rustic glory, minimalist and neat, with a startling white bed set against a red tinted wall. Excellent finishes and thoughtful in-room touches underscore why this place is a top China boutique hotels choice.
Situated in a very scenic and well developed spot in the southeast quadrant of the city centre, the Shangri-La Chengdu, looks over the manicured banks of the Jinjiang River right above the Hejiang Pavilion and the restored Ming Dynasty Lang Qiao covered stone bridge. This is an area for pleasant strolls, cycling too, camera snaps, beer halls, and bar trawls at the lively Lan Kwai Fong nightlife and entertainment area next door. Pulse-quickening views abound, especially from higher floors, as at the 35th floor Horizon Club lounge with its bling chandeliers, royal blue carpets, flowing canapés and staircase up to the second lounge level. These are arguably the best views in Chengdu bar none. This is not an exaggeration. The feel-good factor of the hotel is somewhat offset by traffic jams along the riverfront road.
The stately reflective glass tower is sited on a gentle rise with the usual grand lobby and Shangri-La fragrance in the air. There is the de rigueur gold on the scooped out ceilings offset by large flower arrangements and deep blue carpets covering creamy marble floors. The lobby lounge has a piano player and fabulous light-filled views. The hotel opened in 2007 with 593 rooms and is a popular spot with free WiFi. A Horizon Club room offers 42sq m of space with a pastel carpet, deep blue sofa, and dark woody wall panels.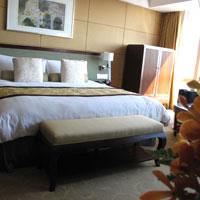 Shangri-La Horizon Floor offers fabulous city views/ photo: Vijay Verghese
There are two three-pin multi-plug sockets at the desk, an old-fashioned clock by the bedside, a large LCT television, a rain shower cubicle and a bathtub set discretely behind sliding doors. The room is simple and functional rather than fussy. Also explore an indoor swimming pool, fitness centre, sauna and massage facilities. And there is CHI – The Spa for a more luxurious take on wellness in one of 11 private treatment rooms. A grand ballroom for 2,500 persons completes the business mix along with a shopping arcade if there's cash to flash.
A five-minute taxi-ride from here is the Rhombus Fantasia Chengdu Hotel (opened December 2012), a fun boutique-style offering with a curious mix of vibrant Korean art, incredible virginal white bathrooms, a cool bar, and a veritable bedlam of 'art' inspired by Disney's The Sorcerer's Apprentice. Encounter ceramic and metal spoons and cups and saucers perched precariously in all manner of artistic depictions. The lobby is minimalist and bare with a low ceiling, a striking contrast from the architectural bravado elsewhere in the city.
This is an all-suite affair with 185 rooms, the smallest weighing in at 50sq m. A 60sq m G60 Deluxe Suite serves up a grey carpeted interior with a bar counter, an L-shaped cream sofa, a Brasilia coffee maker, signature red lamps, a window-edge divan along the sill, iPod dock, and a flat-screen television. Expect an iron, a laptop-friendly safe, mini dressing table, mirror with lights, and a lovely grey marble bathroom. A recurring feature at this hotel is bathtubs set against the outer windows, with twin vanities (tall ceramic vases in effect) and rain shower. See this again in a G50 room that is relatively compact but there's no scrimping on bathing space. Corridors are dark and striped and rooms are hushed and grey but the window-side bathrooms are an explosion of light, repressed imagination, and unspeakable romantic intent. There is a small outdoor pool on the seventh floor if you need to cool down. Nice location and sound choice for higher end value wallets.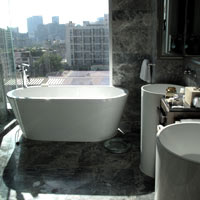 Rhombus Fantasia, plush toilets and much whimsy/ photo: Vijay Verghese
Also along the Jinjiang River not far from Shangri-La is the 262-room Sofitel Chengdu Taihe (formerly Wanda) with smart meeting facilities (there are 11 function rooms), Chinese and Japanese restaurants, a spa, and indoor swimming pool. Expect a fair bit of bling and gold trim at this France-meets-East confection along with deep, corporate-pleasing mahogany wood tones. And developing fast in an adjacent plot also overlooking the river, is the Wanda Reign Chengdu (www.wanda-group.com, arrived late 2015), the top-tier luxury hotel brand from Wanda.
There are more brands in the central zone than you can shake a stick at, from Crowne Plaza Chengdu City Centre (downtown) to home-grown specialities like Buddha Zen Hotel (with 35 bedrooms that take a stab at Tibetan luxe, aimed at "Buddhist dignitaries and high end business persons") to the north of the Tianfu Square area. Choose your bed, for business or pleasure, and enjoy the city's special brand of welcoming hospitality. Don't forget to get everything written down in Chinese for the cabbies. That about wraps up our Chengdu business hotels review and fun guide. But first, hug a panda and empty your wallet to do some genuine good. You know how much those pandas love Enya…
FAST FACTS

/ Hotel Contact List

The currency exchange rate is roughly US$1 = Rmb7.27. With state controlled rates, there is no difference on exchange and it is advisable to change money at your hotel, unlike at other international cities where moneychangers are preferred.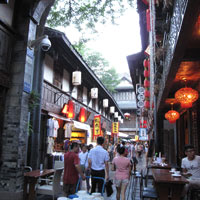 Old streets of Jinli/ photo: Vijay Verghese
While Chengdu is blanketed by clouds for much of the year, the best weather is September to November when the sun breaks through and blue skies are more frequent. During the Wine Exhibition (late March and early April) and the West China Exhibition (October), rooms are harder to find and prices will rise. This is a favoured MICE period for Chengdu conference hotels and constitutes the high season. Leisure travel tends to be fairly consistent through the year and the long hot summer is the low season though school holidays can speedily mop up rooms at times.
Hotel room prices will vary by season. Always check for the best available rates (BAR) online or consult your local travel agent. In general room rates may range from US$80-$100 at local or older establishments, to US$150 at five-star hotels (local and international), to US$250 and up at conference and luxury hotels, high season.
Chengdu hotels directory
Ascott Raffles City, Chengdu. Tel: [86-28] , (www.the-ascott.com/en/china/chengdu/).
Buddha Zen Hotel. Tel: [86-28] , (www.buddhazenhotel.com).
Crowne Plaza Chengdu City Centre. Tel: [86-28] 8678-6666, (www.ihg.com/crowneplaza/). 
Dorsett Grand Chengdu. Tel: [86-28] 8332-8666, (www.dorsetthotels.com/chengdu/).
DoubleTree By Hilton Chengdu Riverside (www.hilton.com)
Fairmont Chengdu. Tel: [86-28] 8800-3333, (www.fairmont.com/chengdu/).
Gran Melia Chengdu (www.melia.com)
Grand Hyatt Chengdu. Tel: [86-28] 6666-1234, fax: 6666-5999, (www.chengdu.grand.hyatt.com).
Hilton Chengdu. Tel: 86-28] 8800-8888, (www3.hilton.com/en/hotels/china).
Hilton Garden Inn Chengdu Kuanzhai Alley (www.hilton.com)
Holiday Inn Chengdu Century City – West Tower. Tel: [86-28] 8534-8888, (www.ihg.com/holidayinn/).
Home2 Suites by Hilton Chengdu Wuhou Temple (www.hilton.com)
InterContinental Century City, Chengdu. Tel: [86-28] 8534-9999, (www.ihg.com/intercontinental/).
InterContinental Chengdu Global Center. Tel: [86-28] 6275-8888, (www.ihg.com/intercontinental/).
Jinjiang Hotel. Tel: [86-28] 800-886-9898, (www.jjhotel.com).
Kempinski Hotel, Chengdu. Tel: [86-28] 8526-9999, (www.kempinski.com/en/chengdu/).
Millennium Hotel Chengdu. Tel: [86-28] 8512-7777, (www.millenniumhotels.com). 
M Hotel Chengdu. Tel: [86-28] 8531-9998.
Niccolo Chengdu. Tel: [86-28] 8220-8888, (www.marcopolohotels.com/niccolo).
Oakwood Residence Funder Chengdu. Tel: [86-28] 8535-6666.
Renaissance Chengdu Hotel. Tel: [86-28] 8887-8888, (www.marriott.com).
Rhombus Fantasia Chengdu Hotel. Tel: [86-28] 6292-8888, (www.rhombuschengduhotel.com).
Shangri-La Hotel Chengdu. Tel: [86-28] 8888-9999, (www.shangri-la.com/chengdu/).
Sheraton Chengdu Lido Hotel. [86-28] 8676-8999, (www.starwoodhotels.com/sheraton/).
Sofitel Chengdu Taihe . Tel: [86-28] 6666-9999, (https://sofitel.accorhotels.com).
The Diaoyutai Boutique, Chengdu. Tel: [86-28] 6625-9999, (www.dytchengdu.com).
The Ritz-Carlton, Chengdu. Tel: [86-28] 8358-8888, (www.ritzcarlton.com).
The St Regis Chengdu. Tel: [86-28] 6287-6666, (www.starwoodhotels.com/stregis/).
The Temple House. Tel: [86-28] 6636-9999, (www.thetemplehousehotel.com).
W Chengdu (www.marriott.com)
Waldorf Astoria Chengdu. Tel: [86-28] 8888-1199, (waldorfastoria3.hilton.com).
Wanda Reign Chengdu. (www.wanda-group.com, due late 2015/ early 2016).